LA FASCINANTE HISTOIRE DE SEIKO (HorloStory)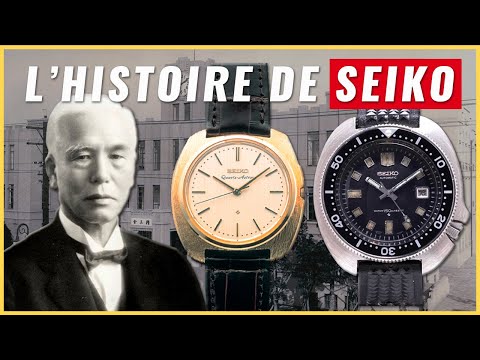 Show Video
Do you think you know Seiko like the back of your hand? Wait until you see this video in which we will tell you its story! We will discover its origins, we will talk about their impact on the sector, their great firsts and many other aspects including some pretty incredible anecdotes. We will also look at other brands of the Seiko Epson group and we will end with some current ones from Seiko. Seiko Holdings Corporation, better known today as Seiko, is an absolutely essential watchmaking house in the global watchmaking landscape. This Japanese giant is synonymous with high standards, innovation, variety, and above all, good value for money. When Kintaro Hattori opened his first shop selling and repairing watches and clocks in central Tokyo in 1881, it was a safe bet that he had no idea that he had actually just installed the first. stone of what would become an empire respected by all years later. At that time, Kintaro was barely 22 years old, but he already carried values ​​of excellence, a job well done and innovation.
Values ​​that he obviously instilled in his first business. For 11 years, he worked tirelessly in his shop selling and repairing imported clocks, perfecting his technical and theoretical skills and discovering day after day all aspects of this complex and fascinating sector. He made a point of paying his suppliers on time or even in advance so as to create a relationship of trust with them. This allowed him to receive orders before his competitors, to obtain better prices and to have access to exclusive products, so that his shop was a real success. He also took the opportunity to save money and to work on a larger project.
It was in 1892 that the evolution of his project took shape, with the purchase of a factory that had fallen into disuse. Kintaro Hattori decided to take over the factory and launch his own watchmaking house by producing his first clocks. The name chosen for this project? Seikosha. In Japanese, as in many languages, especially Asian, a word can have several meanings. In this case, "Seiko" means at the same time "Exquisite", "Success" and "Minute".
As for the suffix "Sha", it means "House". It seems that Mr. Hattori also took advantage of his 11 years of working at the store to find the perfect name for his emerging empire. The success of the Seikosha clocks was rapid and exponential. So much so that just a few years after the factory was launched, in 1895 to be precise, Kintaro Hattori decided it was time to diversify his activities and look into watches.
Over time, he had indeed developed a particular interest in pocket watches and therefore logically decided to produce them. He then offered his first pocket watch, soberly called the Timekeeper, which means "timekeeper". Nothing revolutionary for the time, but a quality achievement for a reliable and robust watch. To do this, he then used parts imported from Europe and America following existing plans with very few modifications. So he practically only followed instructions a bit like assembling a piece of furniture in a kit, but that's what allowed him to deepen his knowledge in the matter.
As he went along, he became more and more involved in the project. He imported machine tools, again from the United States or Switzerland, in order to be able to produce the watch parts in-house and thus overcome the various supply problems during the political quarrels between Japan and certain parts of the country. rest of the world. In 1913, on the other hand, Hattori was indeed at the origin of a first revolution by launching the Laurel, the first wristwatch "Made In Japan", the result of several years of intense development while continuing to be largely based on on American models. At the moment, none of the clocks or watches that come out of the Seikosha factory bear the actual Seiko name. You will see later that the brand is at the origin of many other revolutions, some of which have shaken the entire sector! It was not until 1924 to witness the birth of the first Seiko as such, which was also the first watch to largely free itself from Western models.
This wristwatch appears in a very particular context, since it was put on the market barely more than a year after the almost total destruction of the Seikosha factory in a fire caused by the terrible earthquake that we know. under the name of "Great Kanto Earthquake". Kanto is the name of the full at the epicenter of the disaster that took place on September 1, 1923, which caused almost 143,000 deaths and disappearances. Despite the violence of the event, Kintaro Hattori decided to get Seikosha back on its feet as quickly as possible and to set an example in terms of rebuilding and getting back on its feet with the first Seiko. Seiko's success continued to grow gradually and received a significant boost from the Japanese government in 1929, when the country's railway company chose the Hattori brand as its official supplier. In 1937, the management decided to set up a second manufacturing site in Tokyo, not far from the historic factory, which would take the name of DAINI Seikosha, which means the Second Seikosha. The decision is made to separate the productions: The historic factory will then deal with alarm clocks and other clocks, while Daini Seikosha will focus exclusively on wristwatches.
It is the first big change orchestrated by the sons of the creator of the brand then at the head of the company, following the death of their father in 1934. In 1943, the Second World War rages and the management of Seiko takes a rather unexpected decision: to move a large part of its teams and its machines in the mountains of Nagano. It is in the city of Suwa that a third factory is built and it will take the name of SUWA Seikosha.
This strategy will pay off since between 1944 and 1945, Tokyo was almost wiped off the map by the bombardments. The city's production sites were therefore destroyed, but Seiko managed to rebuild and revive Daini Seikosha as early as 1948, so only 3 years after the end of the war, largely thanks to the decision to transfer resources to Suwa. The two production sites therefore remain in activity and Seiko decides to put them in competition.
Daini Seikosha and Suwa Seikosha become two separate companies which have very little contact with each other, which are independent and which offer their own pieces hoping to get ahead of each other. At that time, the Japanese government realized the growing importance of the watch industry for the archipelago. To motivate this segment of activity, Japan is investing in some of the most promising companies, but it is also launching chronometry competitions in which brands such as Citizen, Daini Seikosha and Suwa Seikosha, other Japanese houses, but also Swiss brands under the name of Japanese resellers who represent them. Rivalries between Daini and Suwa intensify and their respective logos appear on the dials of watches coming off their production lines, originally for customs reasons.
We find the lightning of Daini and the whirlwind of Suwa. If you own vintage Seiko produced at that time, then you can find out which production site they came from by referring to the logo on the dial. Until the mid-1950s, Seiko models continued to be inspired by watches from the West.
But things would soon change. Tsuneya Nakamura, an engineer who has worked at Suwa Seikosha since 1944, asks Seiko's management to let him offer a watch entirely designed by him in order to make the brand look great. Seiko accepted and it was from there that the Seiko Marvel was born in 1956. This modern watch for the time was a commercial and industrial success, but it also won many chronometry competitions in the country thanks to its large movement.
1956 also marked an important turning point for the company, as it was the year in which the "Diashock" protection technology was introduced. This is a process developed by Seiko to protect one of the most vulnerable parts on a mechanical watch in the event of a fall or other impacts: the balance axis. Another year, another innovation. In 1959, Seiko unveiled the Gyro Marvel, a wristwatch using a new mechanism for transmitting the energy created by the oscillating weight. This new economical and extremely efficient mechanism bears the name "Magic Lever" or " Magical Lever" and is still used today in certain self-winding Seiko models. The Gyro Marvel, also produced by Suwa Seikosha, is the first automatic watch with a caliber entirely developed by the Japanese manufacturer.
She was the first in a long line of Marvel descendants. We can also note the arrival of the Lord Marvel, a kind of luxury Marvel with few changes at the mechanical level but the arrival of precious metals, high-end finishes such as hand engravings and for example the appearance solid gold indexes as evidenced by the 8-pointed star on the dial. Its evolution will be the Lord Marvel 36000, which arrived in 1967, the very first Hi-Beat watch from Seiko beating at 36,000 vibrations per hour, a characteristic which remains the signature of many high-end models of the brand even today. In response to Suwa Seikosha's Marvel, Daini Seikosha launched the Seiko Cronos in 1958. It takes a design that is partly similar to the Marvel, but is equipped with an entirely different movement. Everything was thought out and designed with the assumed aim of competing with the Marvel.
From the Seiko Cronos came once again many descendants who have marked the company and its development. To continue this ping-pong between the two manufactures, Suwa Seikosha launched in 1959 the Seiko Crown, intended to compete with the Seiko Cronos. I t is based largely on the Marvel, but with a further improved movement, thanks to a larger balance and therefore more stable allowing increased precision, which offered the Seiko Crown victory over Marvel competitions Chronometry . The Marvel, Cronos and Crown are the first three watches of the modern era of Seiko and they are important for the continuation of the empire. They are also the symbol of this rivalry between factories, Daini representing tradition and Suwa novelty.
The first Grand Seiko which will arrive in 1960 from Suwa Seikosha with the ambition to be the best watch in the world, will be equipped with a movement developed on the basis of that of the Seiko Crown while its finishes and materials will be partly inspired by Lord Marvel. In response to Grand Seiko, Daini Seikosha launched the King Seiko line supposedly rivaling the best of the best. The first King Seiko was developed on the basis of Seiko Cronos.
This rivalry continued until the 1960s, when an upheaval brought it to an end. It was in 1966 that the "Official Bureaux de Contrôle de la Marche des Montres", the bodies in charge of chronometric verifications before the creation of the COSC in 1973, decided to prohibit the use of the word "Chronometer" on the dials of the watches. watches that do not pass precision tests in their Swiss premises. Seiko used this word for its watches which met the standards set by the office, but did its tests in-house, in Japan. From 1966, it was therefore prohibited.
Never mind, Seiko got a quick response and sent a clear message: it implemented an in-house certification even stricter than the Swiss Chronometer standard. This new standard was proposed by the watchmakers working on Grand Seiko at Suwa Seikosha and was therefore named the Grand Seiko standard. This name therefore became synonymous with excellence, and King Seiko took a back seat. Grand Seiko and Suwa Seikosha had somehow won the internal war against Daini Seikosha. Following this, Grand Seiko succeeded, among other things, in offering the most precise mechanical watch in the world in 1969 with minimal daily error margins, but we will talk about it again in our video dedicated to this brand in particular both its creation and its evolution. are exciting. If you want a full video on Grand Seiko, let us know in the comments.
Let's go back a bit. At the same time, Seiko offered the first Japanese watch equipped with a "stopwatch" in 1964 and that same year equipped the entire Tokyo Olympic Games with 1,278 parts, each more precise and reliable than the next. This decision was certainly partly motivated by the titles won by Seiko at the Neuchâtel chronometry competition in 1963: 10 th place thanks to the first portable quartz clock in the world: the Quartz Crystal Chronometer, and in 1964: from 2 nd to 7th place thanks to the evolution of this same portable clock. We will come back to these events right after.
The year that followed was also a pivotal year for the brand, since it was the year that saw the creation of the world's first "Made In Japan" diving watch. It was then waterproof up to 150 meters. When we know the importance of the diving watch sector at Seiko, we understand why 1965 is one of the most important dates for the brand. But Seiko was not done for the decade. In 1969, it offered a world first: The chronograph caliber 6139, which contains the "Magic Lever " automatic winding mechanism mentioned earlier, as well as a vertical clutch and a column wheel.
The 6139 was fitted to the Seiko 6139-600, recognized as the first chronograph in space. It was indeed worn by Colonel William Pogue during the Skylab 4 mission in 1973. The reference has since been commonly called "Pogue" in his honor. Check out our Seiko nicknames video for more. The 6139 is also considered to be the first automatic chronograph movement in the world, even if various sources also speak of the famous El Primero from Zenith released the same year, or of the Caliber 11 of the chronomatic group which consisted of Hamilton-Buren, Dubois. Dépraz,
Breitling and Heuer under the very secret code name of "Project 99". To find out more, you can take a look at our article on the subject on LeCalibre.com. And if you are interested in having it adapted on video, let us know. We are now going to discover the birth of the iconic Seiko 5 before looking at the crisis that has put the entire watchmaking sector to evil, but first, let's quickly come back to a low blow in Swiss watchmaking and Tsuneya Nakamura, the man behind the Marvel, who had the idea to present pieces from Seiko to the Swiss chronometry competitions to be able to rub shoulders with the best worlds in the sector.
As we have mentioned, the brand won titles in the Neuchâtel competition from its first participation in 1963, then in 1964 with an improved portable clock. But Mr. Nakamura, who himself took care of the settings for most of the mechanical watches offered in the competitions, was not entirely satisfied since their wristwatches were not yet at the level of Swiss watches. It was not until the Neuchâtel competition of
1967 that they began to scare the land of chocolate with the following podium: 1st place in the wristwatch category: Omega. 2nd place: Daini Seikosha. 3rd place: Suwa Seikosha. 4th place: Longines But the engineer did not stop there. In 1968, the Japanese firm's watches were responsible for changing the rules in Swiss chronometry competitions: First in May of that same year, the Neuchâtel council announced the cancellation of the chronometry competition, but the results of the watches tested were nonetheless published.
The world was then able to discover that two pieces from Seiko were awarded the second highest score in the history of the competition. Following this, Seiko presented other movements nested in wristwatches at the Geneva competition. These movements won places 4 to 10 on the ranking, while places 1, 2 and 3 were won by the Swiss consortium called Center Électronique Horloger which offered its first drafts of a quartz movement, the BETA 21, of which we'll talk later. These results propel Seiko to the rank of number 1 in the classification of manufactures with 7 parts in the top 10. The best score of a Seiko movement in Geneva also smashes all the previous records of the Geneva competition but also that of Neuchâtel, which made part of the most prestigious, which was then owned by an Omega movement. It was following the results of these 1968 competitions that Switzerland decided purely and simply to exclude all non-European manufacturers from Swiss chronometry competitions.
Knowing that the only two factories outside of Europe that participated were Daini Seikosha and Suwa Seikosha. Many see it as an admission of the weakness of Swiss industry, which could not bear to be beaten on its own ground by Japanese artisans. In 1963, Seiko presented the first Seiko Sportsmatic 5, which would later be shortened to Seiko 5 and would become the name of many iconic collections for the brand. It was a watch combining innovation, quality and robustness, while remaining very accessible. It was Ren Tanaka's project based on a design by Taro Tanaka and on a movement by Mr. Nakamura, again him.
These three individuals have played absolutely significant roles throughout the history of the brand. Originally, it seemed that the "5", pronounced in English FIVE even in Japan from the start, was simply a marketing idea. This was a watch project aimed at young people and mainly for the international market which required a name in English and the use of a number was in fashion. Regarding the 5, Ren Tanaka would have chosen it because the odd numbers conveyed, according to him, a more dynamic image. It was then necessary to make a choice between the odd numbers and the winner will be the 5. It was only later that Seiko decided to communicate on the fact that the "5" referred to 5 characteristics that we had to find on all the Seiko 5.
According to the official Seiko website, these 5 characteristics were: an automatic movement, a single day / date window (the Seiko Sportsmatic 5 was the first watch in the world to offer this display), resistance to water (very important for young people, especially in Japan with hot springs and the like), a crown located at 4 o'clock, and a sturdy and durable bracelet and case Other sources indicate that the "5" actually refers to 5 technical aspects: a "Diaflex" barrel spring , an allegedly unbreakable Seiko innovation, a "Diashock" system, mentioned earlier, automatic winding, a day and date indication, and water resistance. In reality this seems to change a bit over time and even Seiko itself sometimes indicates different characteristics.And moreover, among the multitude of models bearing the mention Seiko 5 that have emerged between 1963 and today, there are references which do not fill either of the two lists entirely. the name Seiko 5 nonetheless remains a guarantee of quality, and the new references take aspects of the vintage collections to offer interesting and always very accessible pieces. The first Seiko Sportsmatic 5 was in any case a huge success during the Tokyo Olympics in 1964.
In the mid-1960s, Seiko even announced that it had sold more Seiko Sportsmatic 5 than all of the Swiss watchmaking exports. entire over the same period ... Many articles written by specialists based on figures and concrete studies even advance the fact that Seiko and the Seiko 5 would be largely responsible for what is called the quartz crisis. we are going to talk right away and that has done a lot of harm to Swiss watchmaking. 1969 was therefore the year of another revolution, which turned out to be one of the most important revolutions in the world of watchmaking and which literally revolutionized the entire watchmaking sector as we knew it at the time. You guessed it, this is the arrival of the first quartz watch intended for the general public: the "Seiko Quartz Astron reference 35SQ".
This arrival had the effect of a bomb in the industry, both in terms of turnaround and in terms of destruction. It is again the engineer Tsuneya Nakamura who was in charge of the project since the beginning of the Sixties. He had already succeeded in 1963 in proposing the first portable quartz clock in the world of which one spoke earlier, but the miniaturization of the caliber to make it fit in a watch while keeping a reasonable power reserve was problematic. The launch of the Seiko Quartz Astron marked the victory of Seiko and the defeat of the Center Electronique Horloger, a consortium of 20 Swiss watchmaking houses created in 1962 with the sole purpose of creating the first quartz movement for a series wristwatch in the story. Among these 20 houses, we found names like IWC, Rado, Longines or Piaget, but also Rolex and Patek Philippe! However, their research was making great strides, as we had seen in 1967 with the presentation of the first prototypes of a caliber called Beta 1. The same year, Seiko announced its own prototypes, which were also promising.
It was at the end of 1968, some time after the presentation of these prototypes, that the CEO of Seiko at the time, Shoji Hattori, imposed an ultimatum on Mr. Nakamura: he began by withdrawing from the project all the teams working on quartz since. years, then demanded the launch of the first quartz watch in the world before January 1, 1970. Nakamura must then completely recreate its teams with new blood to bring an outside perspective on the various issues and offer something in just a few months. The man takes up the challenge and finds a solution to the energy problem: he opts for the use of a "step by step" caliber, a complication also called dead second, causing the second hand to jump once per second.
It was therefore Mr. Nakamura who was at the origin of this choice which still governs the operation of the vast majority of quartz watches all over the planet today. The race was very close, but Seiko managed to cross the finish line on time and first.
The exact date of this launch is recorded on December 25, 1969, the day after Christmas. The Swiss consortium therefore certainly had a very gloomy holiday season, but managed to offer its first quartz caliber, the Beta 21, only 4 months after Seiko's Quartz Astron. The Beta 21 first appeared in the Omega Electroquartz before spreading to other models of the consortium brands. The Seiko Quartz Astron had a margin of error of 5 seconds per month, while still running for a year without needing to reassemble anything.
Characteristics absolutely unattainable with the mechanical technologies of the time, which therefore partly explain the cataclysm created by this launch. This first serial quartz watch only available in Japan was in full gold with hand finishing. It was produced in only 200 copies of which 100 were sold the first week after its launch.
It still cost the equivalent of a small car, such as a Toyota Corolla. Nakamura him, continued to evolve within the company, participated in the development of many technologies such as Kinetic so we will talk later and took part in the ecological work of the company on several levels. He was appointed president of Seiko Epson in 1987, then retired in 1994 to become a patron, helping many projects around education, art and science. It was on December 25, 2018, 49 years to the day after the launch of his absolute masterpiece, that Mr. Nakamura passed away.
Promise this is not the pitch of a film! He greatly contributed to the incredible success of the company and to developments in the entire watchmaking sector, before leaving us peacefully on a meaningful anniversary date, as if to prove to the world that Seiko's story was part of his life until now. 'at the end and that he himself will be part of the soul of this organization forever. We will talk about it later. A few years after the Seiko Quartz Astron, in 1973, Seiko launched the first quartz watch using a liquid crystal display called LCD for Liquid Crystal Display, displaying 6 digits hours, minutes and seconds. A few watches already used some form of LCD in 1972 for a 4-digit display, but it is Seiko that once again goes down in history for the use of a new type of LCD on a 6-digit display. This reference 06LC watch was driven by the
0614 movement and the LCD display was guaranteed for 50,000 hours. It can be noted that the first electronic watch with digital display was unveiled in April 1972 by Hamilton. This was the Pulsar P1, which used an LED to display the time at the push of a button.
It was made entirely of 18-karat gold and cost over $ 2,000, a fortune for the time that would amount to around $ 15,000 today. In the meantime, Seiko acquired the Pulsar brand and is now part of the group. Seiko continued its momentum of world firsts by offering in 1975 the first multifunction quartz watch with digital display.
Caliber 0634 was the driving force behind this watch, which features a chronograph accurate to tenths of a second with LCD display. In the same year, Seiko also presented the first diver's watch with a titanium case, the 6159-7010 nicknamed the TUNA. It was the result of 7 years of research carried out following a letter from a Japanese professional diver received by engineers at Seiko in 1968.
The 1980s also saw the birth of several world firsts at Seiko. 1982: first television watch. Yes yes, you heard that right. It was equipped with a screen and connectors to connect an audio headset and a radio and video receiver , in addition to the classic functions such as an alarm, a chronograph, a calendar, etc. It is also found in a James Bond as we talk about in our video on spy watches. 1983: Appearance of the "Voice Note", the world's first watch equipped with a voice recorder.
It allowed messages to be recorded for up to 8 seconds and offered a voice alarm. It was featured heavily in the 1984 film Ghostbusters as discussed in our movie watch video. Also in 1983: presentation of the first analogue quartz chronograph, precise to 5 hundredths of a second, with a design signed by a great Italian designer of the time: Giorgetto Giugiaro. Another watch that marked the cinema, this time in Aliens. Barely a year later in 1984: birth of the UC-2000, the world's first watch with computer functions.
It was used to store data such as addresses, phone numbers, dates, etc. 2 years later, in 86: the world's first diving watch to use ceramic as an outer layer on its titanium case. It announced water resistance to 1,000 meters. Another 2 years later, in 1988: birth of the first watch using the technology that would later be called "Kinetic" with the caliber 7M22 (the first prototypes date back to 1986).
A quartz watch with an oscillating weight, converting the movements of the wearer's arm into electricity to recharge a battery that powers the quartz movement. Once again a real revolution. And to mark the start of the new decade two years later, in 1990: presentation of the Scubamaster caliber M726, the world's first diving watch equipped with computer functions such as a depth gauge. It is equipped, among other things, with water and depth sensors. Nothing seems to stop the Japanese bulldozer in its race for innovation. The 90s were relatively calm in terms of innovation for Seiko, but in 1999 the brand unveiled the first watch equipped with its unique and in-house developed technology called "Spring-Drive".
This new technology allows precision down to one second per day while offering completely silent continuously moving hands. Il faudra attendre 2005 pour la première innovation au niveau international pour Seiko dans les années 2000. C'est l'année à laquelle elle présenta la première montre analogique solaire au monde recevant des signaux GPS du Japon, des États-Unis et de l'Allemagne pour offrir une précision hors du commun quant au réglage automatique de l'heure. En cette même année 2005, Seiko présenta également ses premiers modèles « Kinetic » à calendriers perpétuels allant jusqu'à fin février 2100. Ces montres utilisent donc l'énergie du mouvement du bras pour créer de l'électricité qu'elles stockent puis utilisent pour alimenter le mouvement à quartz. Ce dernier possède une fonction d'économie d'énergie, ce qui lui permet de passer en mode veille lorsque la montre n'est pas portée et de se remettre à l'heure automatiquement lorsqu'elle est portée à nouveau.
En 2006, Seiko présenta la Credor Spring-Drive Sonnerie, bénéficiant du silence quasi-total du mouvement pour offrir une sonnerie aussi pure que possible. Toujours en 2006, Seiko frappe à nouveau et présente la première montre au monde utilisant la technologie « E-Ink », ou « Electronic Ink », version anglaise de l'« Encre Électronique ». Elle permettait de choisir entre plusieurs modes d'affichage et gagna le Grand Prix de Genève de l'époque.
En 2007, c'est au tour du chronographe de se doter de la technologie Spring-Drive pour une précision jusqu'alors inégalée. En 2010, on découvrait l'édition commémorative « Seiko Spring-Drive Spacewalk », entièrement faite et pensée pour une utilisation dans l'espace. Elle fut la vainqueure du Grand Prix d'Horlogerie de Genève dans la catégorie « Sports Watch ». La même année, une nouvelle première mondiale : la première montre EPD au monde, avec un système de matrice active.
EPD signifie « Electrophoretic Display » et il s'agit du nom de la technologie d'affichage de l'écran LCD utilisé ici. En gros, il s'agit de la même technologie utilisée dans les liseuses, Kindle et autres E-books, adaptée à une montre bracelet. En 2011, on assista à l'arrivée de la Credor Spring-Drive Minute Repeater, encore une fois profitant du silence du mécanisme pour offrir une sonnerie d'une pureté et d'une clarté difficilement égalables. Le métal utilisé pour obtenir cette sonnerie est forgé par un artiste japonais spécialiste du métal du nom de Munemichi Myochin.
Une montre à la sonnerie la plus pure possible grâce à un métal forgé par un artiste unique, encore un exemple du sens de la mise en scène et de l'attention aux détails de Seiko et de ses ingénieurs. Un an plus tard, en 2012, c'est la première montre GPS solaire au monde qui nous est présentée par Seiko, la Seiko Astron GPS Solar. Il s'agit de la première montre au monde pouvant recevoir les signaux GPS internationaux et ainsi donner l'heure sur la totalité des 39 fuseaux horaires du globe. Elle reprend le nom Astron de la première montre à quartz de 69, comme pour marquer l'ampleur d'une telle innovation, permettant d'avoir en permanence une heure exacte et mise à jour automatiquement. Son évolution vit le jour 2 ans plus tard en 2014 : la Seiko Astron GPS Solar 8X Series Chronographe. Elle offre donc une fonction chronographe de 6h, un design plus raffiné dans une montre plus petite, des fonctions simplifiées et une utilisation plus intuitive que sa prédécesseure.
Seiko a eu l'honneur d'être le partenaire officiel de grands évènements, notamment dans le monde du sport. On l'a évoqué plus tôt, la marque japonaise fut sponsor officiel des Jeux Olympiques de Tokyo en 1964, mais ce n'est pas tout. Elle créa des relations fortes avec le monde de l'athlétisme à travers les manifestations de l'IAAF : International Association of Athletics Federations. Seiko s'occupa du chronométrage officiel du championnat international en 1987 à Rome, en 1991 à Tokyo et en 1993 à Stuttgart. Elle fut
aussi choisie pour chronométrer les 25ème Jeux Olympiques en 92. La marque a également lancé une collection entière appelée « Velatura » dédiée au « 49ers », un type de bateau à deux voiles dont les courses sont entrées aux Jeux Olympiques en l'an 2000 à Sydney. Toujours dans le monde du sport, Seiko a créé des partenariats avec de grandes stars comme Novak Djokovic depuis 2014 comme on l'a vu dans notre vidéo sur le sujet. Le sportif a changé de crèmerie en 2021 pour se ranger aux côtés de Hublot.
Aujourd'hui, Seiko Watch Corporation, qui fait partie du conglomérat appelé Seiko Epson, est à la tête de plusieurs marques de montres, dont : Credor, qui propose des montres mécaniques ou à quartz haut de gamme au style résolument classique, utilisant des métaux précieux, plus proche de l'industrie Suisse que peuvent l'être les montres Seiko ou Grand Seiko qui profitent d'inspirations japonaises plus ou moins marquées. Grand Seiko, qui est aujourd'hui une marque à part entière qui se concentre sur le très haut de gamme en prônant des valeurs fortes et un héritage ancré dans la culture japonaise traditionnelle avec des inspirations suisses. Seiko Clocks, la marque qui s'occupe de la production des réveils et autres horloges murales Seiko. Orient, une marque proposant certaines des montres mécaniques et automatiques avec des mouvements faits en interne les plus accessibles du marché avec d'excellents rapports qualité prix.
Orient Star, qui est une sorte de branche Premium de la marque Orient que nous venons d'évoquer. Pulsar, qui se concentre sur les montres digitales et analogiques d'entrée de gamme, travaillées, au style parfois habillé et parfois sportif. Ou encore Lorus, une marque de montres à quartz d'entrée de gamme, offrant principalement des montres analogiques et quelques-unes à affichage digital Sous la marque Seiko en tant que telle, on trouve aujourd'hui plusieurs grandes collections: la collection « Astron GPS » La collection « Prospex », qui signifie "Professionnal Specifications » qui renferme les modèles professionnelles, que ce soit dans le milieu marin, aérien, ou terrestre.    La collection « Presage » qui propose une interprétation purement japonaise du monde de l'horlogerie, en y apportant une touche d'élégance sans pareil. La collection « Seiko 5 » fait partie des plus connues de la marque, en partie parce qu'elle offre des modèles automatiques très accessibles financièrement, tout en appuyant sur la robustesse, la durabilité et sur un design polyvalent. Enfin, la collection « Seiko Premier » qui se concentre sur les « Dress Watches » avec des designs mêlant le classique au moderne, en y ajoutant une touche propre au géant japonais, ainsi que des mouvements d'une qualité irréprochable.
Pour finir, avez-vous entendu parler de Lukia, la gamme de Seiko qui se concentre sur les pièces féminines depuis 1995 ? Si ce n'est pas le cas, pas d'inquiétude, c'est surement parce que ces pièces étaient réservées au marché asiatique jusqu'à 2020. On découvre des lignes fines, des mouvement automatiques, des pierres pièces et des couleurs chatoyantes. Vivement les prochains lancements pour que l'on puisse en tester certaines pour vous ! En 140 ans, cette marque Japonaise a su s'imposer dans le paysage horloger international, notamment grâce à des innovations dont certaines ont complètement révolutionné l'industrie. Elle est aujourd'hui une des marques qui regroupe le plus de passionnés et on comprend pourquoi ! Avec une communauté très active, Seiko fait partie des rares marques à avoir des appellations non officielles qui sont aujourd'hui devenues "internationales" (Turtle, Samouraï etc, dont on parle dans notre vidéo sur le sujet).
La maison est reconnue autant pour ses pièces d'exception que pour le rapport qualité prix quasiment imbattable de beaucoup de ses modèles. Grand nombre de passionnés d'horlogerie ont commencé à découvrir les montres automatiques avec une Seiko au poignet ! Le groupe japonais continue de faire parler de lui régulièrement et le secteur tout entier attend avec impatience ses prochaines innovations et prochains lancements dont certains pourraient bien continuer à modeler et créer les tendances de demain. Alors qu'avez-vous pensé de cette histoire folle et voulez vous que l'on refasse plus d'histoires de marques comme celle-ci ? Répondez en commentaire et cliquez sur le bouton rejoindre pour soutenir la chaine. On tient à remercier chaleureusement Richard et Arnaud pour leur aide précieuse sur le sujet. En attendant, voici 2 vidéos qui devraient vous plaire et à bientôt sur LeCalibre.com !
2021-12-06 18:06
Show Video
Other news