J'M la nouvelle M4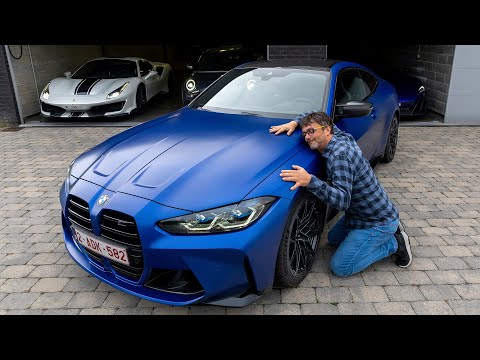 Show Video
I hope you like M's because there will be lots of love in this video, there will be lots of M. Do you like M's, Emmanuel? Me, I like the M. I had an M2, I like the M's. Okay.
BMW was very kind because we have the opportunity to test these two cars until Monday, knowing that it is Thursday. We have an M3 and we have an M4 Competition. It's not the M3 Competition. It's an M3... M3. Yeah, it's an M3... M3. What I want to do, is for me to show the cars interactively and for you to be able to ask questions.
I'll answer your questions, I will look at the story. I'm also asking you poll questions. I've already asked a story question on Instagram and Facebook. Which car am I going to take? You assign me a car. You decide in the story and you will take the other car.
Are you going to respect automotive democracy? Of course. It's not me who chooses. I already know which one you like best. You do? I saw it in your eyes. You know me a little bit.
Frankly, these two are... Both are good. I can't complain, it's impossible. Knowing that we continue the story also on your Instagram @eh0601 and on my Instagram, so live and in a YouTube video at the end to recap it all.
We present the two beasts. The M3 has 480 horsepower, 550 Nm of torque. The M4 Competition has 510 horsepower, 650 Nm of torque. The color is Portimao Blue. It's "Frozen". It is an individual color from BMW.
It is not a covering it is a standard matt color. Yeah, very pretty. It's beautiful.
There are differences. If you look here, we don't have ceramic carbon brakes. Whereas here, the golden caliper indicates that it is ceramic carbon.
Golden caliper, golden rim, golden universe, it's more for me. I took golden rims because it gives character. You, don't you like? Oh yeah, so would that be yours? Normally, if you want to respect... When it's just the callipers, that's fine with me. I remember that we were both on our knees like that, next to rims where you criticized mine a bit.
Now, I'm going to put myself on that side. You're more on this side. These mirrors which have the shape that comes from BMW M3 of the 90s. There, there is no carbon pack. In both cases, the M3 & M4 still have the carbon roof which lowers the center of gravity with two grooves. A small spoiler which is also in carbon, whereas on the M3, it is in body color.
Here, it is not black compared to the M4 for the exhausts. There is no carbon diffuser while here it is all black with a nice carbon diffuser. It's beautiful.
All of it is beautiful. The big difference, the real difference between the two, is the gearbox. There, it is an 8-speed manual gearbox while the M3 is an 8-speed automatic gearbox . Yes.
8-speed automatic while the M3 is a 6-speed manual transmission. There, you see that we can change gear, either automatically or with the carbon paddles on the steering wheel. The story in question. I take the M3 40%, the M4 60%. The M4 wins.
I'll take the M4. As if by chance with carbon seats , etc. As if by chance, and the vote in 25-30 minutes is over. No. Strongly Pog in power.
Polling station open from 8 a.m., 8:30 a.m. it's all over. Election ended. There are a lot of people who voted.
Of course, if it ever switches, we'll trade. But for now, it's going to be the M4, because it's too far ahead. True, but I thought the purist side of the M3, the manual gearbox, etc. Anyway, we'll start of like this.
Yeah, but hey, there you go. I hope we will see each other. See you this weekend. This weekend, and then we exchange the cars anyway.
Yes, we will switch then. Come on, that's a good deal. I have put together my line-up of cars for you. Why? Because I can and also to show you the bucket seats of my different cars.
It's a subject I'm familiar with, I have quite a few. So first of all, among the most beautiful, the bucket seats from Ferrari. In the Pista, it is in Alcantara.
It is colored matching the colors of the car. There is of course the symbol, the Ferrari cavallino on the seat. The rear is mat carbon like everything else in the interior. Certainly beautiful bucket seats .
So, concerning McLaren, it's more classic. It is not that special, except that there is a personalization with purple Alcantara which matches with the Lantana Purple, of the exterior and two-tone. Very original. Another Ferrari.
The Superpog 812 Superfast. What does it look like? Well, that's the problem, with Ferrari seats. They all look alike. Because here, it is the same as in the Pista. Except that there is leather on top and it was the same as in the Poglice except for the leather.
And similarly, at the back, it is very beautiful. Again, here it is brilliant, It is certainly very good, but they would do well to renew in my opinion. The great seats that I love about the M4, so I find them very modern. There, the M4 lights up at night. Between the legs there is a carbon element.
The carbon continues along the seat. There is the mechanism to move the seat. We have a little strap in the M colors. When we lower the seat, we don't even have to push it, it moves and there is the backside which is very beautiful and can be enjoyed from the rear seats.
Which is very cool. While we also have a superb carbon backside at Ferrari. But then, we have to open the seats to be able to show it. RS-POG, the RS6 of the previous generation. Nothing too crazy about these seats a little bucket, except that it is classic RS6.
With the honeycomb motif in the middle, red stitching and the RS6 symbol in the seats. Moving on. The Pogoo. The Pogoo, has Momo seats, with a yellow color that kind of matches the wrap on the Kangoo exterior, and even Momo belts and a small detail, but really makes all the difference Very refined. It's carbon on the mirrors. The mini GP3.
More bucket seats. They are not crazy, but they have the advantage of being different from the other, more classic, Mini seats. Interesting overview of the different bucket seats. Which ones do you prefer ? Do you prefer, for example, the bucket seats of the M4 or those of the Ferrari? Good question.
Before the M4 Competition goes to spend the night and joins the pog-mobiles inside, we will talk about the touchy subject. The big grille. I'll tell you what I think about it, but first I'll tell you what you think because I asked about it in an Instagram and Facebook post and I'm going to read you some of the comments .
"we have to accept it" @ts_ibra tells me "Fire" another tells me. "Its growing on me" tells me a 3rd with a heart. "We get used to it !" "We get used to it" "it's okay" "Me, I'm crazy about it". People who vomit. Another person vomiting.
"I DO NOT LOVE IT, AT ALL" "Personally, I love it" We can see that it is polarizing. There are those who really love it. There are those who don't like I asked you another question in the story. I asked you to vote. There was a 6 out of 10, so 6 out of 10 is really not that great.
When we look in detail, we see that a lot of people score it 1/10 and many score it 10/10. I still see an evolution compared to the series 4 that I showed you when the big grille first appeared. We feel that there are more people who love it. I will tell you about this grille.
I'll tell you what I think. I am in the camp of those who love it, but first I will share the opinion with you. A very interesting, informed opinion of someone who doesn't like it at all. It is Frank Stephenson, an automotive designer that I have met and who designed, for example, the X5, but also the Maserati MC12, but also the Ferrari F430 and also for example, who made the Mini of the 2000s . Someone who certainly knows his stuff, he hates it.
Hate it because he says it's too big, it feels like it was not the BMW design team that made the grille compared to the rest. It does not fit well and he is also critical of the license plate that bars it all and spoils it a bit. He is not only critical of the grille, but also other aspects. This line that you see there is a line that was characteristic of BMWs, but now it has changed. Usually in BMWs and for decades it is above the grip.
It is more pronounced, it is more angular. Frank Stephenson says: "Me, I don't like it, because in the end, it's more commonplace. It is one of the characteristics of BMW that is leaving." Another...
a little bit the soul of BMW which disappeared, in terms of design. Another aspect is here. This is the Hofmeister kink. That's his name. Hofmeister is a designer from BMW in the 60s who made this very particular kink, which represents, it's subtle, but it represents BMWs. You certainly know what I'm talking about.
The Hofmeister kink is done. It has disappeared on this M4. It's not the same angle it's not the same shape.
The purists say to themselves: "It's not right at all because it's still a bit... It's a BMW that looks less like a BMW." Frank Stephenson says that ultimately BMW didn't need to reinvent the styling. My humble opinion: I find it cool and daring to change. Those big grills... I think it's more Manga.
It's more readable, it's simpler, because there were two elements. It's a big mouth with mean eyes that are next to it. It's also a reference to the past because in the 1930s BMWs simply had huge grilles.
I also find that ultimately, it marks the new generation of BMW. So much so that the BMWs that still have the small old grille. They feel dated to me. This interior has a lot of carbon as you can see. Have a listen. On the steering wheel, there is a small M logo.
There are two customizable M buttons. There are also the three M colors in stitching. On the gear grip there is an M.
an "M4 Competition" logo here. On the door sill there is an "M4 Competition". The strap at the back has M colors.
The belt also has M colors. On the outside there are multiple M4 Competition logos. You are sure to remember you bought an M4 Competition.
It's not bad, we have really good cameras, which is still useful when you have a very small garage and want to avoid hitting your Ferrari. Or if you want to avoid hitting your McLaren... Great. Perfect.
It's good. We're gonna do a tiny bit of revs, for fun. The M4 is sleeping in my garage with its new friends and I'm going to take the opportunity to tell you about the next YouTube videos. I'm going to release a video which will be titled "My YouTuber Gear (Millionaire)" You have a preview of this gear, I have more elsewhere.
All of this is for you and only for you. It's not that I'm starting an audiovisual production company. No no. It is for the pleasure of making you nice little videos. About nice things.
In September, hopefully if all goes well, I'm going to release a bunch of videos for you. It will be one video per week and these are videos to celebrate the million YouTube subscribers. Don't blame me if I miss September because it's such a big project.
All the material I bought there will be used on the set of these videos. The entirety. And most impressive, it will not be the cameras, but what the cameras film. So MEGA-POG-POWER. This is the opportunity to tell you about the sponsor of this video which is NordVPN because it is one of the first software that I install when I have a new computer.
So what is a VPN for? It is used to hide your IP address. The advantage of hiding your IP address is that there is information in the IP address that you prefer not to give to just anyone. The IP address is public and all sites can read this IP address. All the sites you surf on. This is why you have certainly seen advertisements that indicate the name of your city.
This is because there is location information in the IP address. So NordVPN allows you to hide this by getting another IP address that is anonymous. I'll show you how NordVPN works. With NordVPN you are spoiled for choice to choose an origin IP address that will replace yours. Either you just click on "Quick Connect", and that's it, your IP address is masked, or you explicitly choose where you want your IP address to come from.
The one that will mask your real IP address. For example, Phoenix in America. I click on Phoenix.
Connection in progress, protected. That's it, it's good. Now, I surf with an IP that comes from Phoenix and the USA. There is another advantage.
In addition to increasing the level of anonymity, It sometimes allows access to content that is reserved for American surfers. I mean people who surf the web because I sound like an American surfer. Also, I have good news. I have a discount code, it is the code "POG".
A strong reduction. Go to NordVPN.com At the payment level, enter the code and you will access the reduction.
Alternatively, if you look at the description, you will find a link that will allow you to go directly to the NordVPN site. To finish with NordVPN, three final things. First of all, it has a "money back policy" 30 days.
Then, they have support in French 24/7. Finally, there are 6 devices that can be installed with NordVPN. Like this, you can protect your PC or Mac and also your phone.
Nathan is filming me. I will join Emmanuel. We will also exchange our cars and what better than a designer to talk about design? It is really well thought out, precisely, these new cars which allow to correspond with the complete use that you have of a car. Whenever you want to have fun, the car has the technologies to let you have lots of fun with it. It's really awesome. That's what's exciting about this car.
It's the everyday car that you take to the track with no worries. My cars, for example my Ferraris, are very focused. It is very good on the track, but it is not great for doing long distances, or it is not very practical. We're in Las Vegas. Emmanuel Macron.
Yes, Emmanuel. I'm fine and you? We arrived at the base of the missile launcher. Hi.
There you have it, such precision. Do you know the place? A little bit. We've been here before with our Pista.
I love it. The M3, I love it. I love it, sincerely... It's top. Really, Not the manual gearbox though.
Ah yes? No. Technically, manual gearbox you have 6 gears. You have 8 gears in the automatic these engines have a lot of power, a lot of torque, etc. The manual lacks gears. Pog! Hey! You good? Yes I'm good.
I saw you were making a video so I came to say "Hello." Nice your little car. Thank you. Have a good Sunday.
You too. See you! He is not in euro 0 standards, he is in euro standards minus I don't know how many. He said: "There is a lot of people there, I think Pog is over there." I see the M. I say to myself...
"the story of a few days ago Well yes! Well no, it's not possible, it's not him. Bah yes! That's what is cool. I did this so that you can see the car in real life. There are a few subscribers who have come.
Emmanuel, are we going to McDonald's now? Yes, but we are no longer going to the one in La Louvière that we had visited with the 765 and the 675. Now we go to McDonald Nivelles. Because we will do all McDonalds in the area.
I told you it would be interactive, which I'll try to engage as much as possible. it is Covid period, so we will not do a big meeting. outside the period Covid we would have done a meeting with hundreds of people to show 2 BMWs. But if you want to come just a few of you. go there, enjoy it. It turned into an impromptu car meeting.
@m4.urban.green came with his M4. This is the F82, the previous generation. a very nice color. We see the difference. How it was.
And now how it is. This is the first meeting of 2021. It's nice. As a bonus at the end of the video, I'm testing the new M3 and M4 on the track and I'll tell you how I feel about it. It's a real M orgy here.
There is also the M8, the all new X3M, the all new X4M and the X6M. These are all new cars because this is the European premiere here in Belgium at the Zolder circuit. Look. The M4 competition convertible, the same thing, but without the roof.
It's still 510 horsepower, 650 Nm of torque, from 0 to 100 km/h in 3,7 seconds. Still that outrageous grille . Look at this. There is no more hard top. It is a soft top, unlike the previous generation. Soft top which allows to gain 70 litres at the rear in trunk capacity, thanks to new technology, also interesting, that you can now fully enjoy the rear of these beautiful carbon seats.
Here. Is this the perfect car to go on vacation? Are you ready? Always ready. You, are you ready? Yes, the weather is nice. Everything is fine.
Guys! It's green! Go go! Do we drive in eco modus or not on track? Always. He put everything in "Sport" Hello. Police control. Does everyone have their seat belts on? It's perfect. We're going to start. Come.
Look an AMG. Look, an AMG in the rearview mirror. Now, we are doubling the colleagues from MINI. This car is fun. We feel that we are always safe.
Makes me want to drift. It's a great track car too. What impresses me the most is the chassis.
The front axle, the precision, the rigidity of the chassis. It is very controllable. Behind the wheel, it is a lot of fun, a lot of sensations of the road. It has power, that's for sure.
The 510 horses on the rear wheels, you can feel them. They are still there the horses. 50 km/h, 150 km/h, still there.
The magic thing is the settings. The possibility of choosing its traction control from a scale of 0 to 10 if you want to drift a little. A little, a lot, passionately drifting.
You choose your level and you can have safe fun. It is the most fabulous car to learn to drift in my opinion. There is even a mode which is "Drift Analyzer" and which gives a rating out of 5 stars, like a video game to its drifts. The craziest thing is that it's practical. Flying on the track while I am in an M3, with lots of space and comfort.
It's mind boggling. Huge kudos to BMW for what they've delivered here. Happy. Happy and delighted. It's low fuel there! Yes.
It's normal You went hard! It's good guys. So. Manual gearbox as usual for you. manual transmission for Emanuel.
On circuit, not really. Darn it! The steering wheel is missing paddles. They took the paddles out of it.
It doesn't go. It's a disaster. It is not progressing? Welcome back to the nineties! Woah! sooooo slow. At some point you can let go of the handbrake. Already this half-second that I miss with each gear change the torque is interrupted, losing speed. Don't we have a Rexona-like sponsor ? Sweat is running down my arms.
Turn in Put your foot on the accelerator. Exit. Accelerate. Ciao Porsches! Stop, I know you're saying this just to piss me off. The instructor is in M8. He's driving with one hand and looking at us.
In his other hand, he has the walkie-talkie. It's the end of our test weekend. Long weekend, 4 days. We were able to discover the cars. What do you think? M3 is the fantasy, from my younger years. I had never driven an M3, and an M4 just one time.
And now I had it for 4 days, just for me. We traded it a bit on Saturday I loved it. Me too.
Big crush. I watched your Insta all weekend, the posts you made, the stories, etc. I thought to myself, is he going to end up buying one? That in touring, in station wagon... Would you like it? Me too. Because I still have to replace my camera car and finally, BMW goes on the terrain of Audi by making ultra sporty breaks.
An ideal daily, and frankly it's not fake talk, or bought talk or whatever. It's just amazing. Drifting, it is just the perfect car for drifting.
We avoided the drift session in the garden. Or at least you haven't seen me do it. There are two flaws I would say. It is first of all the sound which is not like the previous generations. It's not bad. On the inside you hear it, but it's a bit muffled.
It is still relatively loud. It is restricted by legislation. If they could let it go... Nowadays, you have to get used to cars that make less sound.
That's how it is, it's sad, but it is what it is. Also, the gear box... which is...
You are talking about your gearbox? The automatic, yes. That is to say, the gear changes are sharp, ultra fast. It's very effective, but there isn't a lot of personality. There is no jerk.
Everything is customizable and can be personalized well, except for the gearbox where, in the end, you always stay in the same gearbox, whatever the mode. Like you said it is ultra configurable. You have the M1 and M2 button on the steering wheel. For me, M1 is full comfort-mode.
M2 is full on sport-mode. M1, when you're in full comfort, for me the feedback from the steering wheel is far too disconnected In comfort mode, I do not like the feeling. Yours starts at € 85.000 base price. 480 horsepower, 558 Nm of torque, this version does not exist in France.
Okay. It doesn't sell in France, it only sells in Belgium and other countries. But your version is € 101.000 with all the options. Mine, the M4 Competition, starts around € 93.000 and this one is worth € 124.000.
You have ceramic brakes. Yes. You have the carbon pack. You have a special color. a special color. Yes,
which costs € 3.300 including tax. You have carbon seats inside. Still, you have plenty of options. For 100,000 € we already have quite a lot, because it's well equipped as base model.
It's well built, the materials... We walked around it together on Saturday. We looked at all sorts of things. There is no rattling or squeeking.
I don't know about yours, but nothing. No, it's perfect. I should perhaps go and ask for a package of two M3 Touring, a group discount. Moreover, if ever there are other manufacturers who would be kind enough to lend us cars, we would be happy to test them. Two of them, so that we can...
Two cars is a minimum. So we can take off, look at each other and wave at each other. I've never had an M. I like BMW. If you like BMW, you'll probably love an M one day.
Alright. It convinced me. I will have an M one day, the M3 Touring perhaps, we'll see. Maybe before the M3 Touring, maybe I won't wait that long because... It smells like a scoop, now he's said too much.
Go ahead, say it. Let it all out. There is no one listening. To be continued in the next episode.
2021-06-26 04:09
Show Video
Other news