Inauguration of Amazon Software Technology Park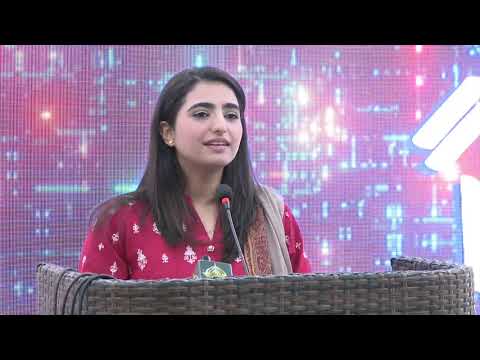 Show Video
instead of being silent On behalf of a manager, I'd like to ask Assalamu alaikum everyone. Can you please settle down? I would like to request everyone to please settle down. Assalamu alaikum. media so that we can start the event. Please.
Assalamu alaikum everyone. My name is Zainab Javed and I'll be your host this afternoon. On behalf of Mr. Shafiq Akbar and Amarat Group, I would like to welcome honorable federal minister, IT and telecommunication, Mr. Sayed Aminul Hak. Along with managing director PSAB, Usman Nasif. To
the inauguration of Amazon software, technology park. Ladies and gentlemen, please be seated for the Lavade Quran. Despair one underw ater home to Ladies and gentlemen, I would now request you to please rise in the respect of national anthem of Pakistan and listen to it with Zeal, Zeist and Honour. Thank you.
Thank you. I'm going with me. Ready, ready? Amara Group collaborated with Mystery of IT and Telecommunication to declare Amazon Business Centre at Amazon software and information technology park. Amari Group is one of the leading construction groups in Pakistan. We had more than a 12 projects which started the construction area of 10 million square feet. We have 50 50
offices in Pakistan. This number will 600 by the end of twenty twenty-2. We have 2, 000 team members. And are expanding globally to cater to the needs of overseas Pakistanis. Our strength is driven by four values. Integrity, respect, innovation and drive. This
being said, I would now like to tell you some key features about Amazon Mall. Amazon Mall is the first delivered project by Amarad Group in Twin Cities. It is also one of its kinds outlet mall. It houses various national and international brands, corporate IT companies along with a gym, children's play area and a food court.
This being said, I would now like to show you some a video of Marl Group which features all our projects. real estate sector. Pakistan Raja market Raja Baja, Rahul Pindi Yeah, he was just Pakistan real estate sector e-commerce platform agency 21. Pakistan network. The real estate key
almighty market chef Afir. Network residential solutions. Pakistan Pakistan cost of construction as one of the pioneers of revolutionizing the real estate sectors of Pakistan. To please come on stage and say a few words. Mr. Shafiq Akbar.
Thank you, Zena. on behalf of ah Emarat Group of Companies I would like to welcome federal minister for information, technology and telecommunication. Sayed Aminudaksha. MD 4, PSCB, Ushman Nasir sir. Representatives of
Pasha and STCA. Ah I believe they are here as well. And our valued partners ah systems limited, Edge, and the other companies which are housed here. Coffee saree details video share presence find out group overseas Pakistanis most of government building material renovation services now we are undertaking the feasibility study for more than thirty countries service launch and that would be a Pakistani brand going out of Pakistan and serving other nations similarly so far we have developed seven different technologies including a very intelligent CRM for real estate management that again is something introduce software export and the most important thing company Propshow Digital Solutions Pakistan real estate missile tower capital do offer all this as well. Or inshallah I hope this partnership continues in the future as well. Thank you very
much once again. Thank you. Now, I would like to request Berkan Saeed, CEC member from Pasha to please come on stage and say a few words. That was a surprise. I had no
idea I would be speaking. But thank you very much. I am very honoured here. Ah ah Shafiq
Saab real estate company but ah very pleased to listen to your vision. Ah I think it's a very very good step and also very pleased to have companies like System Limited. Ah being part of this outlet. I think
Pakistan infrastructure or ah point of view say the Posha's vision special technology zones create infrastruct in three sectors. One is IT. Second is agriculture and third is I think real estate or real estate challenges ah I would also like to thank ah Usman for ah initiating this project. And always like I like to thank our minister Saab, Amin Saab for always supporting, fully supporting everybody in the ministry. Ministry this is a
different ministry top of the line professionals who are always there to support what is needed or ITK exports $3. 1 billion dollars we are targeting special initiatives Puri IT industry 5% cash reward that means every for every exports of $100 we are going to get $5 back from the government is a plan to train at least 10, 000 professionals by different ministry departments. In the latest skills like blockchain, artificial intelligence, cyber security, means track programming, programming. Silent revolution silent revolution. Impact I think
economy that's all I wanted to say. Again, thank you very much. Thank you. Thank you. Now, I would like to request Sayed Ahmed, chairman, PMIT task force to please come on the stage and say a few words about the occasion. Assalamu alaikum. Um I'm really
impressed to see one of the one of the best technology park, buildings in terms of aesthetics, design and I'm pretty sure the company is sitting here would be enjoying this as well. And I must say Usman Nasir is the day he came in. Has been talking about you know dozen not hundreds of technology parks across the country specially in even second tier cities. And ah ah at that time we were kind of circumspect but ah turned around PSEB Usman or specially with the major support of the Malaysia Saab. Before ah most especially the minister Saab and Usman ah geotechnology so I think vision and I think or ah Now, I would like Osman Nasir who is the managing director of Pakistan Software Export Board. He is also the chairman of National Freelancing Policy Committee and is a member of Prime Minister's IT task force.
Round of applause for Mr Osama Nathir on Nasir. Thank you. Um Minister Saab, I'm grateful. Um for you to join us today and grace this occasion. Shafiq Saab, wonderful vision. Um my Pasha team members, my my partners starting with the Sayed Ahmed chair PMIT task force for IT Um. Prakan Saeed, member CEC or
secretary general Pasha Hira Zainab. Thank you very much Thank you everybody to be part of this. Um though sectors Pakistan sectors congratulations valuation Pakistan unicorn revenue Pakistan Software Technology Parks across the country. So this includes So this includes ah the golden triangle Gujarat, Gujaratwala, ah Jamsuro ah Mansera, Ahtabad. So
we launched ah yesterday we ah signed all these agreements. Software Technology Park ah ah so the idea is digital twin services I hope you know visualize that. As a service industry global industry autocad skills all of a sudden we can use them to generate exports for the country. Thank you very much for coming today.
We would now like to show you the first first success story of PSEB in secondary city. education 90% plus IT local Pakistan Karpuro, Shikarpuro, Jamsuro to thank him for his efforts in this collaboration. We will now be presenting a shield to Hira Zainab, secretary general Parsha. Mr Shafiq. Arbar will now
present a shield to Sayed Ahmed. We'll be back. The moment we have all been waiting for. A formal certificate of Amazon Technology Park will be presented by Honorable Federal Minister to Mr. Chairman, Mr Shafiq. Akbar along with the
shield. thirty fifty. Thank you. Honorable Federal Minister will now be presenting a shield to our group director Farhan Javed.
It was indeed an incredible day. Without any further delay. Um honorable Federal Minister will now be presenting a shield to Shafiq Akbar. Thank you. It was indeed an incredible delay, an incredible event. Without any further
delay, let's proceed as lunch is being served. Thank you.
2022-01-07 11:05
Show Video
Other news