Higher Education Reimagined | Prepare all learners for the workforce of the future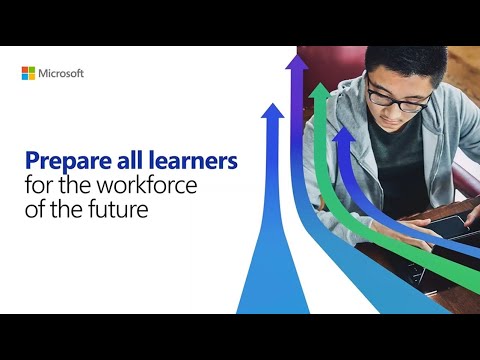 Show Video
(bright music) - Hi everyone, this is Leigh Cresswell, and I have the great fortune to lead Microsoft's skills strategy for K through 12 and higher education. It's great to be with you today because as Anthony articulated, we have huge transformation happening in the world of work, as well as in organizations all around the world. And this is fueling an immense change in terms of the types of jobs and careers that are going to be available to students when they graduate from their higher education studies.
In the next couple of years alone, over 149 million jobs are going to become available in technology fields. And these are areas like software development, cloud and data, privacy and trust, and cyber security. And we need to do a good job now to prepare students with these skills so that they're able to take advantage of the huge potential there is to really drive change in these industries. Now, it's not just about technology jobs. We have seen huge transformation as well as huge demand in other industries as well. But the thing to note is that, the thing behind all of this transformation is actually technology.
So if we look at the top in demand jobs on LinkedIn today, fields such as customer service, digital marketing, are really skyrocketing in terms of the number of jobs that are available to students and to people in the workforce today. And the great thing about this is, these are all being transformed with technology. And what that means is that, not only should technology be a discipline that students learn if they're really excited about going into a technology field, but rather technology needs to be at the foundation of all studies, all disciplines, all subjects, right from K through 12 all the way right up through to higher education. Now, as Anthony mentioned earlier, we have the Higher Education Transformation Framework.
And Anthony mentioned a lot around the data and AI piece, but I wanna hone in more on the future ready skills component of the Higher Education Transformation Framework. Because the fact is, that this is connected across all the components. The more that we can do to provide students with access to the right technology, the right training, the right education resources, the more we'll be successful will be as institutions and as technology companies, to really provide the right talent out into the workforce, so that when students graduate, they are really starting off their careers on the right foot. Now, when we look at the student journey, it doesn't just start at higher education. Microsoft is committed to supporting every student journey from K-12 to higher education, building on the skills that they're going to need every step of the way. If we look at primary school, this starts with sparking interest with students around areas like computer science and STEM, making sure that we provide opportunities for both boys and girls to come together and see the potential and power that technology can bring, so that they can really have a lens on being able to change the world positively with the use of technology.
Microsoft is able to bring products like Minecraft: Education Edition, Made Code, and Flipgrid to students in these areas so that we can get them hands-on in experiencing coding and playful learning in new ways. Our hope with doing this at much earlier ages is that by the time students are getting into high school, they've got a really good understanding of the types of jobs and careers they can actually take on when they go and do their higher education studies, and not just thinking about technology as being a narrow focus. In high school, we're excited to work with students and educators and institutions to bring productivity skills to students, to help them develop their soft skills, like collaboration, communication, and computational thinking, and really encourage them to learn about emerging technologies.
We need to do more as a technology company and together in partnership with education institutions to bring technologies like artificial intelligence and data science to students at younger ages. Whether that be understanding the core technology affects of these solutions, or understanding the ethical and responsible use. Because when every job is going to be powered by some form of technology, understanding how to effectively use these technologies across organizations is going to be key.
As students graduate from high school and they select their degree and their course of study, we're excited to work with higher education students to provide new opportunities for students to improve their skills, to learn technical skills at depth, and to open their world to the employability opportunities that they'll have. Very aligned to the jobs that I mentioned earlier that will be coming available over the next couple of years and beyond. Now, as we think about higher education, we know that faculty and educators need more access and support from technology companies like Microsoft, so that they're able to best keep up with change, 'cause technology changes all the time and it's advancing every single day, and actually teach students these real world skills.
So we're excited to launch Microsoft Learn for Education. And this is a great free online platform that is available for students, institutions, and educators alike, to get access to curriculum, content, hands-on experiences and sandbox environments, so that we can support students to take own learning into their own hands and take learning parts in their own time, as well as support educators to skill up themselves and then teach students about these new technologies. So I'm gonna show you a little bit more in this next video to introduce you to Microsoft Learn. - [Narrator] The world of work is changing.
Jobs in every field are increasingly digital, and over 149 million new tech jobs are expected to emerge by 2025, in areas like software development, cloud, artificial intelligence, data science and more. Education's role in preparing students to be future ready has never been more important, and Microsoft is here to help. Introducing, Microsoft Learn. (upbeat music) It's a principle of learning paths, curriculum, hands-on experiences and certification come together to empower institutions, educators, and students. Educators can get access to ready-to-teach curriculum, to introduce tech concepts to students and prepare them to pass Microsoft's industry recognized certifications. They can also create customized learning paths with collections.
Institutions can link the full Microsoft Learn catalog into their website or learning management system, creating bespoke assignments for students using the Microsoft learn catalog API or LTI app. Students can explore role-based learning paths to hone their skills in a variety of technologies. They'll learn from modules based on real world scenarios, get hands-on experience using the Microsoft Learn sandbox, and prepare themselves to earn Microsoft certifications in areas like power platform, data, cloud, security and AI. Microsoft Learn is available in many different languages, and our content reflects the latest in technology to keep up to date with the pace of technological change. So institutions and educators can adapt to a fast changing world, and students can keep imagining the possibilities.
Start building the path on Microsoft Learn. - I hope by watching that video you got excited about Microsoft Learn. I encourage all of you to go onto Microsoft Learn today and set up your profile, and just get familiar with the platform.
Not only is it great for students, but you can also take your own learning paths. I use Microsoft Learn all the time to keep up to date with technology. And that's one of the best things, because the teachers educators, students, we know that keeping up with the pace of change is really difficult, and so we're committed to keeping Microsoft Learn updated with all of the latest Microsoft announcements on Azure and Microsoft 365 and Dynamics and the whole spectrum of technologies that we have available in there. And we hope that this becomes a core platform that is part of every institution and how they teach their students about technology.
But it doesn't just stop with technology skills. We know that students today are eager to learn more about what jobs are out there, how should they be assessing their skills and how should they be developing new skills in different areas. So we're excited to work closely with LinkedIn and bring catch to all of our higher education institutions around the world. So I'm gonna pass it over to Alicia Redmond, Who's going to share more about Career Coach, and welcome some universities to share their insights and best practices on how they've been able to use Career Coach within their institution.
- Awesome, thanks Leigh. Hi everyone, my name is Alicia Redmond, and I'm one of the product leads for Career Coach The team who developed this product is passionate about helping students find purpose in the work that they're doing, and to help them navigate on their own unique path. We strongly believe that students can become lifelong learners in their careers and that navigating your career doesn't have to be lonely. And so we developed Career Coach It's a Microsoft Teams for Education app powered by LinkedIn that provides personalized guidance for students to navigate their career journey. And for institutions, they now have a unified career solution to help their students discover their career paths, grow real-world skills, and build their network all in one place.
Go ahead and check it out. - [Narrator] Students have big dreams. They're not just searching for a job.
Today's students want to make a difference, do work that matters and find their place in the world. But the journey from education to employment, isn't always straightforward. All students have a different path, based on their unique aspirations, interests, and skills. How can we turn these aspirations into actionable steps? Introducing Career Coach, a new Microsoft Teams for Education app powered by LinkedIn. With Career Coach, institutions can empower their students with personalized guidance, as they discover their career path, grow real-world skills and build their network.
Career Coach meets students right where they are. It can identify skills they've gained from previous experiences. And, once they're interested in learning, then, students can take action. They can set career goals, track progress and find experiences to feel confident on their journey. Students can easily explore career options that match their skills and interests and be inspired by alumni career paths.
Career Coach makes it easy to grow real-world skills. Students can explore learning opportunities across institutional resources and different learning catalogs in one place. Career coach brings students together with their peers, faculty, and alumni, so they can feel supported every step of the way.
Institutions gain valuable insights to optimize curriculum development, drive engagement and enhance student experience. And students get personalized guidance to navigate a career journey full of opportunities to achieve more. Learn more about Career Coach today.
- So you can see that this is a Microsoft and LinkedIn product that's been built together from the very beginning. It uses AI and a unique LinkedIn integration to help align a student's skill profile with the job market trends. We've made it easy for students to find courses and experiences to help them get the skills they need, for the careers that they wanna pursue. We're making it easy for students to connect with peers, alumni, and advisors, to get support whenever they need it. For institutions, they now get insights into what are the skills that students wanna pursue, what are the careers that they're interested in? And institutions can use these insights to inform their curriculum, as well as optimize their students experience. And Career Coach is completely customizable.
Institutions can bring their courses, their programs and connect to their unique alumni network in LinkedIn. Finally, Career Coach is exclusively offered in Teams, and so students can now navigate their career in the flow of their learning experience. Over the past year, we spoken to over 150 institutions and worked really closely with 22 of them to learn about their experience supporting students in their careers.
We saw a unique opportunity for Microsoft and LinkedIn to come together, to serve an important need for future generations as they prepare for the workforce. So I'm really excited to be here with two customers who've been using Career Coach with their students as part of our preview program. And they're here to share more about their experience with you. So today we have Ed Pierson, he's the CIO of the College of Engineering at Texas A&M University, and Eleanor Donoghue, she's the head of Career Services at University College Cork. So we're gonna go ahead and start with a question just to learn more about your institution, and what's been exciting for you about Career Coach So I'll go ahead and start with you, Ed. - Thank you very much.
Yeah, Texas A&M university is 145-year-old university here in the state of Texas, and we're located about 90 miles North of Houston. The College of Engineering represents 21,000 engineering students out of the 70,000 that attend the university, and we represent about $300 million a year in research. It's been interesting looking at where we got excited about this. 'Cause our first thoughts were about using this with our graduating seniors and helping them in that final career choice.
What we moved to, was also using this for our incoming students to help them have an easier time of picking a major, based on their passions they have for particular of engineering. And so we started working with them on this to really give, especially for a very large percentage of our students that may be first gen students for instance, and their families to attend, helping them because they don't have a family background. So helping them understand how different careers are available to them no matter what major they pick inside of engineering. And that's been something that we thought was a tremendous asset for this program, and our use of this program is to help those students be able to understand better the different options that are available. - It makes total sense, thanks Ed. Eleanor, let's pass it over to you.
Can you tell us a little bit more about University College Cork and what's been exciting for you about Career Coach? - Sure, University College Cork is based in Southern Ireland, it's otherwise known as UCC locally. We have a population of about 23,000 students and that's spread over four different colleges in UCC. So we have the College of Arts, Celtic Studies & Social Sciences, the College of Science Engineering and Food Science, the College of Business and Law and the College of Medicine and Health.
We're ranked first from pliability in Ireland, which is really great, and that's why Career Coach is very exciting for us. So we have trialed Career Coach with 1000 students, spread over third years and fourth years at UCC for the last few months. And it's been really exciting to see their journey. Some of them are work placements students in third year going out into the workplace as an intern, and then fourth years are going out into professional life. So Career Coach has been great to follow their journey, see how that skills development aspect has been applied to that learning journey.
So it's been really exciting for us and probability, it's really important to UCC at the moment. The academic strategy really highlights employee ability, the university strategy in general highlights employee ability and our new graduate attributes program is phenomenal for highlighting skills development in UCC students. - Awesome, thank you so much. I would love to hear next, just more about, what has been the response from your students? I know students are really honest, they will tell you exactly what they're thinking.
So we'd love to hear more about, what have you heard from students who've been using it? Eleanor, let's start with you. - Okay, so our students are really, really excited to use Career Coach. Because it's an app based in Teams it's really accessible for the students so they can access it at any time. It's also, I think our feedback has been great. We check in regularly with them through the app.
And they've given us feedback on Teams, they've given us feedback even on emails about their use of Career Coach. And because we use it in classes, in the work placement preparation classes and through the Graduate Attributes Program, we're actually really kind of working as a team to harvest the information and harvest what the students are telling us, so that we can provide extra support. We kind of check in with them regularly, and I think that has been really key to the students actually developing and moving forward with the Career Coach. - It makes total sense.
I love how you have set it up so that you are regularly checking on them, seeing how they're doing, seeing what they need, I think that's a really great practice. Ed, what about you? How has been the response at Texas A&M University from your students? - We've seen significant levels of excitement. Obviously our juniors and seniors that are out looking for internships and jobs get excited about using a product that helps them, helps them identify their skills, helps them to identify how better to present themselves. But we've seen a lot of excitement within our entry-level students coming in, who really coming out of high school and into a college environment, have sometimes struggled to align their passions with what options there are in the future from a work point of view.
So helping them recognize how to link skills together, so that a class project you're working on gives you skills in project management, it gives you skills in collaboration, leadership, et cetera, helps them position themselves for future jobs. But also we we've seen this product help them significantly, in just understanding that if they have a passion in a particular area, think AI, they can use that AI passion in any one of the engineering fields, because in today's world, technology's driving itself into every career path out there. So a passion in AI doesn't mean that they can't major in mechanical engineering or civil or chemical or whatever.
So this type of tool that really helps them see that other students that graduated, went into those careers with this same passion, helps them really look at their options and say, "Ooh, I wanna do this, but I look at all the different jobs that I could go get and still follow my passion." So I think that's been one of the most interesting things out of watching them use this program. - All of the points that you've mentioned have really pointed on a few of the different key values of Career Coach, of what we really try to help students be able to get from the tool.
So that's really, really helpful to hear, thank you. I would love to hear more about, kind of what are your plans for rolling out Career Coach? In talking with a number of different institutions, we've heard a few different ideas for how they're thinking to roll it out to their students, whether it's first years or for their whole student body. And so we'd love to hear a little bit more about how you're thinking about that? - That's been an interesting point that we've had as we've worked with this is and it's really evolved over time as we started seeing the features of the software package. We've settled now, I think, on a two phase rollout, the Career Coaching centers and career centers that we have will help work with our upper level students on how to use a tool like this to position themselves better in the workforce. And then we're looking at including this in our freshmen program in engineering, so that it becomes part of that curriculum where they get exposed to how to identify and use a tool like this to identify career paths that then help them choose what particular branch of engineering they wanna go into. So yeah, we envision this being part embedded into our entry-level curriculums and then being used more from a career coaching point of view for the upper level students.
- Great, Ed, thank you so much. Eleanor, what about you? How are you all thinking about rolling it out at University College Cork? - That's a great question. I suppose we have had so much success with the pilot program so far with 1000 students, that we're kinda gonna go along with the same routes, I think, for the next year or two, and just have it embedded into the third year in work placement program and the final year transitioning out of program.
So, I mean, we're hearing that jobs in the future, we don't even know what they're gonna be yet. There's a lot of jobs that haven't... Even they're not in existence at the moment. So I think using in the graduate attributes framework in UCC would be really beneficial to us.
So it would prepare students to be resilient to, to have that inquiry nature and be really inquisitive about skills development. So I think, having embedded in the work placement where we're working with employers and collaboratively with different teams in the university, is gonna be a really supportive model for us. And I think that's proven already, we've had feedback from students who are preparing to work placement, who were taking on board, some of the courses, just to prepare for the work placement program.
For example, a student heading out into it a little bit pharmaceutical company, has undertaken some of those courses to actually prepare for the IT kind of, and the data platforms that would be used within that company. So that's been really beneficial for those kinds of students. I think for the students who are preparing to transition out to the professional workplace, equally, it's very beneficial for them and we've embedded it into our skills program which is called UCC Works. So it's now helping students with that, to prepare and to get an insight into what's available out there and to even plan for maybe postgraduate programs. So that's I think the roots that we will stick with for a few years, but just to see how things are going. - Makes total sense.
Yeah, I think we're so excited to hear how different institutions plan to roll it out, what the learnings are, and really hear some of the feedback based on the different approaches. So, really appreciate you both sharing what you're thinking there. Our last question that I wanna close on, is just hearing more about, what advice do you have for other institutions who might be considering Career Coach? I expect that there's a number of different institutions on the call today that might be wondering, what's some advice? What are some best practices? What have you learned that you'd like to share with them as they're considering it and thinking how they might incorporate it into their experience? So I'll go ahead and start with you, Eleanor. - Okay, well, I think for us, my two top tips would be to have that collaborative approach, if you can, in the university. In UCC, we have career service staff we have the Graduate Attributes Program staff and we have some academics on board to help the students with the Career Coach platform.
And having that collaborative approach is very supportive to the students and they know they can come to us if they're stuck on anything. So I think having that collaboration is really key. Another tip I think, would be because the team, the Career Coaches in Teams and it's not within the Teams platform, I think it's really, really good for students because it's the chat snappy app that students are now coming to terms with, they're now using more frequently especially over the last year.
And, it's very quick and simple and easy to just make contact and engage with the students. And at a time that's right for them and they can just respond back. I think having that is fantastic. My third tip is to use the LinkedIn learning newsletter that we constantly get. It's jam packed, full of information and really useful for students. So to share some of that content within the Teams app has actually proven really insightful for us, it's really engaging for the students.
So where you kind of share that content, it's been really really positive for us. - Really, really good tips, Eleanor, thank you for sharing those. Ed, what about you? What advice do you have for other institutions that might be considering Career Coach? - I think it goes two directions. One is don't overlook or make assumptions about the fact that most of our students have lived in networks their entire life and social media sites. They still have a lot of questions about why networking and how to do networking. And when you suggest to them that it would be a really good idea to link to COV students as they work with on projects, sometimes you get back this look that says, "Why?" And it's like, well, one of those students could end up being CEO of a company someday, it would be good to be connected.
And so we have learned that we've gotta make sure we stress the way you do professional business networking, versus social services, social environment networking. The other thing I would say is, don't overlook the possibilities that this can have a significant impact on your curriculum development programs, as your college or your university looks at. What do I need to change about some of my curriculums, based on the data that we can now get from our students using programs like this, we can find out, well, yeah, most of them want something extra on AI. So we could start embedding that earlier in some of our programs, especially in our workforce development programs, where you've got people re-careering or whatever, there's a lot of data that can come through this that can help you in that process. So, yeah, don't overestimate the the network friendly status of your students and then don't underestimate the amount of data you can get from this in terms of developing new curriculum.
- Great, thank you, Ed, really appreciate your insights. Well, I'm sad to say that that's the end of our panel but I really appreciate all of the insights that you've shared with everyone on the call today. Your experience is really valuable for others to hear as they're considering whether they might be adding Career Coach to their institution. So I want to thank you, and I am gonna pass it over to Suzanne who might be having some questions that folks want to ask you today.
- Wow, thank you, that was fantastic. Really love hearing your stories. We do have a couple of questions from the audience. I wanna make sure that we get these in. So first question, how has Career Coach helped differentiate your institution? - For us in University Coach Cork, it's been great, it's not like buying something off the shelf.
It's very bespoke to UCC. We have the ability to customize the dashboard, to make it our own, to include our own pictures of campus. You also have the ability to upload your own programs, and students can then upload their own UCC transcript. So for students, I think when students log on, it's really bespoke to them, they know that it's a UCC product in conjunction with Microsoft and LinkedIn.
So it's not just an off the shelf product, and I think that's been really beneficial to us. - That's great. So second question.
You've had the opportunity to work with Microsoft on this preview for over a year. What has that experience been like? - It's been an interesting experience for two ways. One, for our internal staff and faculty just getting to work on something this cutting edge, has been, something an experience that many of them have never had before.
So they got to see how all of this process really works. I think the bigger impact has been on some of the students that have worked on this, because they actually got to see how a product gets created, and the agile methodologies that are followed, they got to see the interaction that occurred from the product management team in the development cycle, to sit down with them and say, "Okay, we thought it should be blue, what do you think?" And being students, they all came back with 17 other colors that they thought it should be. And it was fascinating watching that interaction. And I think it benefited both organizations.
I think it benefited the development cycle on this, but I think it also benefited a lot of our students and faculty that worked with them on it, to get an idea of how hard creating something world-class really is. - That's fantastic. I love hearing that. And I know we thank you for being a part of this preview and all the time that both of you have spent with the team and an Alicia you've been on this of a long time now. So thank you.
- Well, that was so much fun, thank you all so much for joining. - Thank you, it's been great. - Thank you, Alicia, thank you so much. - Really glad you could be here. So I expect that many folks might be wondering what they can do next, how they can learn more. And so I'm gonna pass it over to Leigh to share more of those details.
- Thanks, Alicia. Well, I hope all of you have really enjoyed these sessions. Microsoft is certainly committed to supporting every student on the planet to achieve more, and we're excited to be on this journey with you. If you want to find out more information, we've got some great resources available, to give you a demo and Career Coach, to provide some more information on how to get access to these products, as well as to start your journey on Microsoft Learn.
Just a reminder, Microsoft learn is completely free and it provides curriculum content, sandbox environments and hands-on experiences for students and educators alike, to get access to the latest information and experiences on Microsoft technology. (bright music)
2021-04-26 12:21
Show Video
Other news