Full Measure: January 3, 2021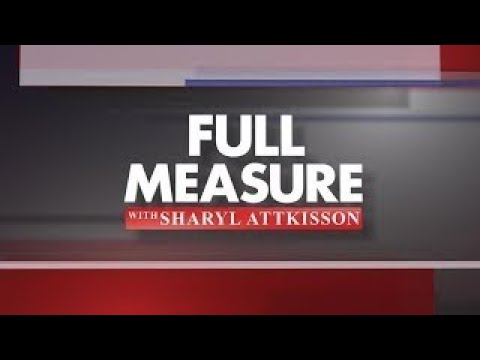 Show Video
>> FOR THOUSANDS OF YEARS, TENS OF THOUSANDS OF YEARS, HUMANS HAVE USED THE OCEAN. >> TIM SHANK IS ON OC OCEANOGRAPHER. >> POTENTIALLY TRILLIONS OF DOLLARS OF SO-CALLED. THIS WEEK, AN EMERGENCY DECLARATION, YOU MAY NOT HAVE HEARD ABOUT. AND A COLD WAR TYPE RACE TO THE BOTTOM OF THE EARTH. >> THERE'S MORE TAX MONEY GOING TOWARD CORONAVIRUS RELIEF THAN ANYTHING TO COMPARE IT TO. >> THAT AMOUNT OF MONEY IS
TYPICALLY GOING TO HAVE SOME AMOUNT OF FRAUD. >> THE CARES ACT GIVES $2.6 TRILLION IN EMERGENCY ASSISTANCE. AND THERE'S MORE JUST WAITING
FOR CONGRESS TO PULL THE TRIGGER. >> IF YOU CAN'T LOOK AT EVERY PENNY, HOW DO YOU DECIDE WHAT TO TRACK. >> TODAY, WHOSE FOLLOWING THE MONEY AND WHAT THEY'RE FINDING. >>> AND THE EVOLUTION TO HAVE THE NEWS. >> WE TAKE A MOMENT FOR A PREVIEW OF MY NEW BOOK, "SLANTED". >> WELCOME TO "FULL MEASURE," I'M SHARYL ATTKISSON.
DURING THE FRENZY LEADING INTO THE ELECTION THERE WAS A NATIONAL EMERGENCY DECLARATION YOU MAY NOT HAVE HEARD ABOUT. IN LATE SEPTEMBER, THE PRESIDENT RARE EARTH MINERALS A NATIONAL EMERGENCY. THOSE MINERALS ARE ESSENTIAL TO TECHNOLOGY FROM OUR PHONES TO NATIONAL DEFENSE WEAPONS. DEEP DIVE BENEATH THE EARTHs SURFACE IN THE OCEAN FOR THE BATTLE BELOW. >> FOR THOUSANDS OF YEARS, TENS
OF THOUSANDS OF YEARS, HUMANS HAVE USED THE OCEAN. THEY'VE RELIED ON THE OCEAN FOR SOURCES OF FOOD AND TRANSPORTATION. AND NOW WE'RE LOOKING MORE AND MORE FOR INDUSTRY OILS AND RESOURCES.
>> TIM SHANK IS ON OCEANOGRAPHER AND A BIOLOGIST. MASSACHUSETTS COAST TOWN GIVEN IT'S NAME TO ONE OF THE WORLD'S LEADING RESEARCH SOWINGS, THE WOOD'S WHOLE OCEANOGRAPHIC. AS FAR AS 35,000 PETE BENEATH THE SURFACE. >> WHEN I START THE 20 YEARS AGO, THE CONVERSATION OF MINERAL RESOURCES AND MINING, AND HARVESTING FROM THE DEEP SEA WASN'T EVEN A TOPIC. AND NOW IT'S THE TOPIC OF EVERY CONVERSATION. EVERY DEEP SEA BIOLOGY MEETING WE HAVE IS AT THE FOREFRONT. BILLIONS, POTENTIALLY TRILLION
DOLLARS WORTH OF VALUABLE MINERALS INCLUDING SO-CALLED RARE EARTHS. GALLIUM CRITICAL FOR SEMICONDUCTORS. ELECTRIC VEHICLES AND WIND TURBINES, AND TURBIUM, IN ALL 17 METAL ELEMENTS FOUND TOGETHER AT THE BOTTOM OF THE TABLE AND AT THE BOTTOM OF THE OCEAN. >> IN THE DEEP OCEAN, THERE'S A LITERAL RACE, LIKE WE HAD TO THE MOON THERE'S A RACE TO THE DEEP OCEAN FOR RESOURCES THAT WE DON'T KNOW ARE THERE YET. >> THE SAME ELEMENTS ARE FOUND ON LAND, THEY'VE BEEN MINED FOR YEARS, BUT THROUGH STRATEGIC PLANS, ONE NATION HAS CORNERED THE MARKET, CHINA.
THERE IS A NEW RACE TO CONTROL THE COMMODITIES THAT CONTROL MOST EVERY FACIT OF MODERN LIFE, BOTH COMMERCIAL AND MILITARY. >> THE CHINA KNEES COMMUNIST PARTY DEVELOPS A PLAN TO CAPTURE KEY SECTORS OF THE ECONOMY. >> PENTAGON AND INTELLIGENCE AGENCIES. HE SEES A CRITICAL NATIONAL
SECURITY VULNERABILITY. >> THE UNITED STATES IMPORTS OVER 80% OF IT'S RARE ELEMENTS FROM CHINA. RARE EARTH ELEMENTS, MANY AIRCRAFTS ARE PARTS AND PANELS DEPEND UPON SPECIFIC ALLOYS THAT BENEFIT FROM RARE EARTH ELEMENTS. AND ANYTHING FROM MISSILE GUIDANCE AND RADARS ALSO INCLUDE RARE EARTH ELEMENTS.
THE CHINA KNEES INDUSTRIAL POLICY IS DELIVERED TO THE COMMUNIST PARTY AN ADVANTAGE. >> FOR THE U.S. IT BECAME MORE PRESSING THIS YEAR. IN JULY, THE CHINA KNEES ALLOWED SANCTIONS TO LIMIT EXPORTS OF KEY RARE EARTH MINERALS THE COMPANY USES IN WEAPONS. >> THEY'RE WILLING TO RESTRICT THE EXPORT FROM CHINA, THESE GOODS CRITICAL FOR U.S. AIR
SPACE AND DEFENSE INDUSTRY. >> ENCOURAGING NEW DOMESTIC SOURCES FOR RARE EARTH. NEW MINES OR REOPEN OLD ONES. >> ONE OF THOSE IS MOUNTAIN PASS IN CALIFORNIA MOJAVE DESSERT. THE PREVIOUS OWNER WENT BANKRUPT PARTLY OF CHINA'S CONTROL OF THE RARE EARTH MARKET.
>> WE LOOK AT IT AS A SURETY OF SUPPLY. >> ANTHONY IS BOTH A VETERAN OF THE U.S. ARMY. LEADING A TEXAS BASED COMPANY THAT PLANS TO START MINING NEAR EL PASO. >> AMERICAN INDUSTRY WILL CATCH UP TO THE CHINESE IN 10 TO TWELVE YEARS TIME. WILL WE BE ABLE TO SUPPLY WHAT THE UNITED STATES NEEDS, NUMBER ONE. >> DEMAND FOR RARE EARTH
MINERALS IS GROWING FASTER AS TECHNOLOGIES EVOLVE AT AN ALMOST EXPONENTIAL RACE. THAT HAS MADE DEEP SEA MINING A HAIL MARY FOR MATERIALS. ONE OF THE BIGGEST SOURCES COULD LIE ON THE SEA FLOOR BETWEEN HAWAII AND MEXICO. A VAST PLAIN AS WIDE AS THE UNITED STATES THOUGHT BE TO FOR COOED WITH MINERAL RICH NODULES. >> SPENT A DECADE STUDYING THE BIOLOGY, GEOLOGY AND CHEMISTRY OF THE SEA FLOOR.
>> METAL ROCKS THAT GROW ON THE SEA FLOOR. SO THEY'RE COMPOSED ALMOST ENTIRELILY OF IRON. >> HOW LONG DO THEY TAKE TO GROW IN? >> TO GROW THE WIDTH OF A PIECE OF PAPER OR A WIDTH OF HUMAN HAIR, INVOLVES TEN THOUSAND YEARS.
>> EFFECTIVELY, SCRAPING AWAY AN ENVIRONMENT FORMED OVER THOUSANDS OR MILLIONS OF YEARS. WHICH MEANS, FOR SCIENTISTS LIKE TIM SHANK, THERE'S ANOTHER RACE NOW UNDERWAY. >> THE RACE IS FOR US TO GATHER INFORMATION AND FIND OUT WHAT'S THERE BEFORE THE MINING STARTS. TO AT LEAST INFORM THE MINING OF
WHAT THE IMPACTS WILL BE. THE RACE IS DIFFICULT BECAUSE THE RATE AT WHICH WE DISCOVER NEW THINGS AND NOT JUST DISCOVER, BUT CAN ASSESS A PLACE OVER A GIVEN PERIOD OF TIME, WHAT'S THERE? WHAT ARE THE HABITATS, WHAT'S THE ECOLOGY OF THE ANIMALS LIVING THERE, IT'S TOO LONG. MINING CAN BE THERE FASTER THAN WE CAN FIGURE THAT OUT. >> IN THE NEAR FUTURE, MORE THAN A DOZEN COMPANIES WILL BEGIN MINING IN THE DEEP LEVELS OF THE OCEAN AT AN INDUSTRIAL LEVEL, NONE OF THEM AMERICAN. >> IT'S LIKE THE WILD, WILD WEST. WHEN I THINK ABOUT THE WORK THAT
I'M DOING IN THE HADAL ENVIRONMENT, THAT IS 4 OR 5 MILES DEEPER INTO THE OCEAN, WE'RE DISCOVERS NOVEL PROTEINS, ENZYMES, NOVEL ADAPTATIONS. >> THE RATE OF DISCOVERY OF NEW LIFE FORMS IN OUR DEEP OCEAN IS EVER INCREASING. IT'S ASTOUNDING, WE'VE DISCOVERED A NEW SPECIES ALMOST 10 DAYS FOR 35 YEARS. >> IT'S REMARKABLE. >> LET'S GO GET THEM, IT'S NOT SUSTAINABLE. >> SUSTAINABLE OR NOT, THE RACE IS ON.
AND RIGHT NOW, THE U.S. IS PLAYING CATCH UP. FOR "FULL MEASURE" I'M LISA FLECKER. >> COMMERCIAL MINING ISN'T SUSTAINABLE BECAUSE IT DESTROYS AN ENVIRONMENT THAT'S TAKEN MILLIONS OF YEARS TO FORM. >> AHEAD ON FULL MEASURE, WE INVESTIGATE THE BILLIONS >> THERE'S MORE TAX MONEY GOING TOWARD CORONAVIRUS RELIEF THAN ANYTHING COMPARABLE. THE AMOUNT IS MORE THAN DOUBLED THE SO-CALLED STIMULUS PLAN IN 2009.
TODAY, WHOSE FOLLOWING THE MONEY AND WHAT THEY'RE FINDING. >> THAT AMOUNT OF MONEY IS TYPICALLY GOING TO HAVE SOME AMOUNT OF FRAUD. >> TIM. ONE OF THE MAIN AGENCIES OVERSEEING ALL THE CORONAVIRUS SPENDING. THE CORONAVIRUS AIDE RELIEF AND ECONOMIC SECURITY, OR CARES ACT, GIVES $2.6 TRILLION IN EMERGENCY ASSISTANCE. PART OF THAT IS THE PAYCHECK
PROTECTION PROGRAM OR P.P.P., UP TO $659 BILLION FOR PAYROLL AND EXPENSES TO KEEP SMALL BUSINESSES GOING. IF YOU CAN'T LOOK AT EVERY PENNY, HOW DO YOU DECIDE WHAT TO TRACK IN >> OUR BIGGEST TASK IS UNDER THE CARES ACT, GAO HAS A MANDATE TO DO ON GOING OVERSIGHT WHERE EVER IT IS NECESSARY, NOT JUST THE SIZE OF THE SPEND, BUT HOW IT'S BEING SPENT, IS IT BEING SPENT IN A WAY THAT IS ACCOUNTABLE, THAT YOU CAN DO PROPER FINANCIAL ACCOUNTING ON IT? ARE WE GETTING RETURN ON INVESTMENT FOR IT? >> A BIG PART OF THAT JOB IS WATCHING FOR WASTE, FRAUD, AND ABUSE, AND THERE'S ALREADY BEEN PLENTY OF THAT. >> THE GENERAL RECENTLY
TESTIFIED AND THIS WAS A TOP LEVEL FINDING THAT HE HAD REPORTED, IS THAT THERE WAS STILL PAYMENTS GOING TO FOR EXAMPLE, PEOPLE WHO ARE DECEASED. >> THE HEAD OF THE G.A.O., GENE TOLD CONGRESS THE I.R.S. KNOWINGLY SENT OUT $1.4 BILLION IN CORONAVIRUS RELIEF PAYMENTS TO 1.1 MILLION DEAD PEOPLE, INCLUDING HIS OWN MOTHER WHO DIED MORE THAN TWO YEARS BEFORE. BELIEVE IT OR NOT, GAO SAYS THE I.R.S. DETERMINED IT DID NOT HAVE THE LEGAL AUTHORITY TO DENY
PAYMENTS TO THOSE WHO FILED A RETURN FOR 2019 EVEN IF THEY WERE DECEASED. >> THE I.R.S. INITIALLY DETERMINED THAT THE DECEASED PEOPLE OR ANYBODY WHO FILED A RETURN IN 2019 OR 2018, SHOULD BE PAID. PEOPLE WHO WERE DECEASED. THANE IT BECAME KNOWN PUBLICLY.
>> WHEN WE'RE TALKING ABOUT TRILLIONS OF DOLLARS, THERE ARE TWO OPPOSING CONCERNS, ONE OF COURSE IS TO GET THE MONEY OUT THE DOOR AS FAST AS POSSIBLE TO HELP PEOPLE. THE OTHER IS TO TRY TO MAKE SURE IT'S NOT LOST TO WASTE, FRAUD, AND ABUSE. >> THAT'S RIGHT. >> HOW DO YOU BALANCE THAT? >> THAT IS THE CORE ISSUE, AND PROTECT HELP CONGRESS LOOK OUT AND PROTECT THE AMERICAN TAXPAYER, THE INVESTMENTS AND THINGS.
THERE'S ALSO A SPECIALIZED UNIT THAT HAS STOOD UP ON THE PANDEMIC. >> SOME OF THE OVERSIGHT INVOLVES CRIMES. >> UNFORTUNATELY, ALMOST EVERY CRISIS BRINGS OUT NOT ONLY THOSE WHO SEEK TO HELP OTHERS, BUT THOSE WHO TRY TO EXPLOIT THE SITUATION FOR THEIR OWN UNLAWFUL GAIN. >> 4 DOZEN PEOPLE WERE CHARGED WITH TRYING TO STEAL $175 MILLION.
FORMER NFL PLAYER JOSH BELLMY IS ACCUSED OF FRAUD AFTER GETTING $1.2 MILLION IN CORONAVIRUS RELIEF MONEY. HE BOUGHT $14,000 IN LUXURY ITEMS AND JEWELRY, HARD ROCK HOTEL AND CASINO, AND APPLIED FOR CORONAVIRUS MONEY FOR FAMILY MEMBERS AND FRIENDS. 10 OTHERS ARE CHARGED WITH THE ALLEGED SCHEME INVOLVING 90 FRAUDULENT APPLICATIONS WORTH MORE THAN $20 MILLION. LOVE AND HIP HOP ATLANTA, GOT 3.7 MILLION TAX DOLLARS FOR HIS BUSINESS FLAME TRUCKING.
POSECUTORS SAY HE USED $1.5 MILLION OF IT TO BUY A ROLLS ROYCE, AND MAKE $40,000 IN CHILD SUPPORT PAYMENTS. AND DAVID HEINES ALLEGEDLY USED $3.9 MILLION IN COVID-19 FUNDS IN PART TO BUY AN $18,500 CAR. $4,600 SHOPPING SPREE. ONE LESSON WE SHOULD HAVE LEARNED AFTER THE 2009 STIMULUS PROGRAM IS WE NEED A NEW AND BETTER STRATEGIC PLAN WHEN IT COMES TO THIS SORT OF SPENDING ON THIS MASSIVE SCALE. >> I THINK YOU REALLY NEED LIKE A GEORGE MARSHAL KIND OF PERSON LOOKING ACROSS AND BE ABLE TO BE BROAD AND DEEP ON THE ISSUES SO THAT THAT ENTIRE SYSTEM CAN BE BUILT SO WE ARE MORE RESPONSIVE IN THINGS. >> GENERAL GEORGE MARSHAL SPEAR
HEADED THE MARSHAL PLAN TO HELP SPUR A REMARKABLE ECONOMIC RECOVERY. >> WE HAVEN'T BEEN AS PREPARED AS WE COULD HAVE BEEN FOR THIS DISEASE OR PRIOR PANDEMICS. I REALLY THINK THE OUNCE OF PREVENTION IS WORTH A POUND OF CURE. >> ALL WE MENTIONED CHARGED HAVE SAID "SLANTED". >> TAKING A MOMENT FROM A PAGE
FROM MY MU BOOK, "SLANTED." IT TRACES THE DEVOLUTION, OF THE NEWS AS WE ONCE KNEW IT. EXHIBIT ONE IS MAJOR MEDIA MISTAKES OF TRUMP. >> TAKE THEIR FIRST DANCE. >> THE TONE WAS SET ON PRESIDENT TRUMP'S FIRST OFFICIAL DAY IN OFFICE CNN CLAIMED NANCY SINATRA WAS NOT HAPPY FOR HER FATHER'S SONG MY WAY. NANCY SINATRA RESPONDED ON TWITTER, THAT'S NOT TRUE, I NEVER SAID THAT, WHY DO YOU LIE, CNN, ACTUALLY I'M WISHING HIM THE BEST.
>> MEANTIME, "TIME REPORTED THAT PRESIDENT TRUMP REMOVED THE BUS STATUTE OF MARTIN LUTHER KING JUNIOR FROM THE OVAL OFFICE." BLACK HISTORY MONTH TO AFRICAN-AMERICAN HISTORY MONTH IMPLYING THE CHANGE WAS RACIST. IN FACT, PRESIDENT'S OBAMA, GEORGE W. BUSH AND CLINTON ALL CALLED BLACK HISTORY MONTH, AFRICAN-AMERICAN MONTH. THE ARTICLE WAS REPEATEDLY UPDATED TO NOTE THAT ONE OF THE REPORTED MEETINGS DID NOT ACTUALLY OCCUR, A CONFERENCE CALL DID NOT HAPPEN AS DESCRIBED IN THE ARTICLE AND ACTIONS ATTRIBUTED TO TRUMP WAS CARRIED OUT BY HIS STAFF. TRUMP CAMPAIGN STAFF AND SENIOR RUSSIAN INTELLIGENCE OFFICIALS, F.B.I. DIRECTOR LATER TESTIFIED IT WAS NOT TRUE.
>> THAT REPORT BY THE "NEW YORK TIMES" WAS NOT TRUE. IS THAT A FAIR STATEMENT? >> IN THE MEAN IT WAS NOT TRUE. IN MAY, THE B.B.C. AND THE GUARDIAN REPORTED BECAUSE TRUMP WASN'T WEARING HEADSETS, HE DIDN'T BOTHER, TRUMP WAS WEARING HIS EAR PIECE IN HIS RIGHT EAR AS ALWAYS SAID THE WHITE HOUSE.
IN JUNE, 2017, NBC YOU SEE NEWS REPORTED THAT RUSSIAN PRESIDENT PUTIN SAID HE HAD COMPROMISING INFORMATION ABOUT TRUMP, ACTUALLY HE SAID THE OPPOSITE. >> WELL, THIS IS JUST ANOTHER LOAD OF NONSENSE. >> CNN AND ABC FALSELY REPORTED THAT F.B.I. DIRECTOR COMEY WAS GOING TO REFUTE DONALD TRUMP'S
CLAIM THAT COMEY TOLD TRUMP THREE TIMES HE WASN'T UNDER INVESTIGATION. INSTEAD, COMEY CONFIRMED TRUMP'S CLAIM UNDER OATH. >> IT APPEARS THAT YOU ACTUALLY VOLUNTEERED THAT ASSURANCE, IS THAT CORRECT? >> THAT'S CORRECT. >> CNN RETRACTED A REPORT CLAIMING CONGRESS WAS INVESTIGATING A RUSSIAN INVESTMENT FUND WITH TIES TO TRUMP OFFICIALS.
NEWS WEEK, REPORTED POLAND'S FIRST LADY REFUSED TO SHAKE TRUMP'S HAND, BUT LATER ACKNOWLEDGED SHE DID. CNN EDITED A VIDEO TO MAKE IT APPEAR THAT TRUMP IMPATIENTLY DUMPED A BOX OF FISH FOOD IN THE WATER IN JAPAN, THE FULL VIDEO SHOWS TRUMP FOLLOWED THE LEAD OF JAPAN'S PRIME MINISTER. SPOKENED TRUMP'S BANK RECORDS, AP REPORTED A NEW SURVEY SHOWED TRUST IN THE MEDIA HAS FALLEN DURING THE TRUMP ADMINISTRATION. THE "NEW YORK TIMES" SAID A HYPOTHETICAL FAMILY'S TAX BILL WOULD RISE MORE THAN $4,000 UNDER TRUMP'S PLAN.
THE "NEW YORK TIMES" AND CNN SHARED A STORY WITH PHOTOS OF IMMIGRANT CHILDREN IN CAGES, IT TURNS OUT THE PHOTOS WERE FROM 2014 DURING THE OBAMA ADMINISTRATION. IN DECEMBER 2018, NBC REPTRUMP THE FIRST PRESIDENT NOT TO VISIT THE TROOPS DURING CHRISTMAS TIME. ABC AIRED VIDEO PER PORTEDLY SHOWING A SLAUGHTER AND HORRIFIC REPORT OF ATROCITIES AFTER PRESIDENT TRUMP WITH DREW U.S. TROOPS. >> BUT THE VIDEO WAS FILE TAPE OF A TRAINING VIDEO IN THE U.S. >> IN NOVEMBER, 2019, NEWS WEEK
FALSELY REPORTED THAT PRESIDENT TRUMP WAS SPENDING THANKSGIVING GOLFING IN FLORIDA, HE WAS ACTUALLY IN AFGHANISTAN SERVING DINNER TO U.S. TROOPS. CBS AIR ADD STORY IN MARCH OF 2020 SUPPOSEDLY SHOWING A U.S. HOSPITAL CROWDED WITH COVID PATIENTS. IT WAS ACTUALLY FILE TAPE FROM ITALY, A WEEK LATER, CBS NEWS MISTAKENLY USED THE VIDEO AGAIN. >> AND THOSE ARE JUST A FEW EXAMPLES, SLANTED IN MY NEW BOOK, I TAKE ON THE MEDIA'S MISREPORTING FROM CORONAVIRUS TO SILICON VALLEY CENSORSHIP, NEXT WEEK ON "FULL MEASURE," WE INVESTIGATE THE EPIC BATTLE FOR CONTROL OF OUR INFORMATION ONLINE. BIG TECH COMPANIES ARE BECOMING MORE HEAVY HANDED THAN EVER IN CONTROLLING THE FREE FLOW OF INFORMATION IN THE NAME OF WHAT THEY CLAIM IS LEGITIMATE OR TRUE.
WE'LL HEAR FROM A MAN WHO WAS A GOOGLE IN INSIDER FOR YEARS AND IS BLOWING THE WHISTLE ON WHAT HE SAYS IS BIG TECH'S AGENDA. >> IT APPEARED THAT GOOGLE WAS ATTEMPTING A CUE ON THE PRESIDENT. NEXT WEEK ON "FULL MEASURE." >> NOW THERE ARE SEVERAL WAYS TO WATCH "FULL MEASURE" AT HOME OR ON THE GO, TO WATCHFUL EPISODES DOWN LOAD THE STIRR APP. CHECK OUT OUR NEW PODCAST "FULL MEASURE" AFTER HOURS, WHERE EVER YOU LIKE TO LISTEN TO PODCASTS. THANKS FOR WATCHING. I'M SHARYL ATTKISSON.
Realtime Closed Captioning provided by U.S. Captioning Company
2021-01-10 11:45
Show Video
Other news