Florida Tech Fall 2020 Virtual Commencement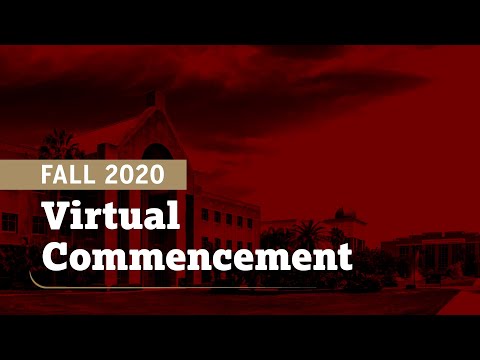 Show Video
♪ Oh, say can you see ♪ ♪ By the dawn's early light ♪ ♪ What so proudly we hailed ♪ ♪ At the twilight's last gleaming ♪ ♪ Whose broad stripes and bright stars ♪ ♪ Through the perilous fight ♪ ♪ O'er the ramparts we watched ♪ ♪ Were so gallantly streaming ♪ ♪ And the rocket's red glare ♪ ♪ The bombs bursting in air ♪ ♪ Gave proof through the night ♪ ♪ That our flag was still there ♪ ♪ Oh, say does that star-spangled banner yet wave ♪ ♪ O'er the land of the free ♪ and the home of the brave ♪ - Hello, everybody, welcome to the latest version of the virtual ceremony for commencement. It's, we were hoping very much to have this in, in the auditorium and have a live commencement. The students encouraged us incredibly but we just were not able to do it. And you know, this is a new beginning for so many of these graduates, in fact, it's a new beginning for all. Some of you will stay in graduate school, some of you will go off to the military, some of you will, will go into jobs as engineers, scientists, business people. I mean, we have psychologist, we have some of, of, of a wide variety of occupations that will be, that will be calling, you will be calling your home here before very long.
So, but you know, the fact that, that we've had such a difficult year and, and nobody that I've talked to doesn't realize this has been the most difficult year any graduating class has ever had to go through. Whether you're attending primarily remotely or primarily in class or both, it's different, we've never had such a difficult year. And guess what? You weathered it, you were able to do all the things that all the other students have done over the years and you did it in an environment with that included face mask, included social distancing, people spraying disinfectant on your hands everywhere you went and you still had to study, you still had to do the work, you still, nobody had any slack cut for them because of this virus.
Now, it would have been much more enjoyable to be able to shake all your hands and, and wish you luck and, and send you on your way with a photograph and we'll do some of that but, but we're not able to do that right now. New vaccine is promised, it should be out as early, as, as as even, as even January. and, but pandemics altered all our lives. You know, as a president, I usually travel every month to one place or another, and I haven't traveled in, in about a year and so nothing is normal, people say we're gonna return to a new normal.
Well, you know, we decided that we would do the things that we needed to do to move the university ahead during this hiatus and we broke ground on a new health science research center and it's being constructed right now on our campus and that, that believe me is a big deal. We'll be training biomedical engineers there, will also be training pre-med students and it's going to be a boom to our campus. It's the, we also have a medical school that will be coming here in about two to three years and so we're moving forward. We're not sitting back and saying, oh, poor us. None of you have done that, none of you have said, poor me, poor me.
You said, hey, I can do this, you know, I'm a, I'm a Florida Tech Panther I can do this and you did. And the fact that you're going through graduation today is proving that you did this. We've opened a new program in African-American studies, we've opened a variety of other programs, our music program continues.
We are doing the things that are gonna make Florida Tech when this pandemic is over, is going to be a better school than it was before, something you can be proud of. And we have one of our graduates who would like to speak to you and encourage you and he's, he's very proud of this school, he's Alma Mater, a two time graduate. And he'll tell you probably that he's amazed that he was able to graduate twice but, and now that I know him really well, I, I understand why he did so well in school. He was All-American soccer player as well as, as, as an MBA student and he went out into industry and then came back home to run alumni affairs and student affairs. So at this point, I'd like to introduce the senior vice president for student life and alumni affairs, Mr. Bino Campanini
- Thank you, Dr. McCay and good morning, class of 2020. As Dr. McCay said, I am a graduate Florida Tech and I usually tell the graduating class that I have a good idea how you're feeling this morning. And I have sat where you're sitting, but the truth is that 30 years ago, when I was a student full of hope and ambition waiting to pick up my Florida Tech degree, I had not spent my last semester having to wear a face mask, having to social distance, having to take classes I've in person with remote classmates or totally remote and I certainly didn't experience commencement like this. You are without doubt one of the most unique graduating classes in Florida Tech history and it's a privilege to address you today.
I know that your families are out there feeling a wide range of emotions today. In my family's case, it was overwhelming relief and complete and utter shock but I'm sure that today the preliminary primary emotion in your household is one of pride, pride in your achievement. And so if you're planning to ask for money in the near future, let me give you a little bit of advice, don't delay, today is the day. Class of 2020, you are about to join over 60,000 alumni in more than 100 countries around the world, who strive to bring honor and esteem to our university.
Florida Tech alumni have respondent to challenges for 60 years, you are now part of that tradition. From the ocean floor to deep space, alumni work to develop long range solutions to complex problems, creating new technology while serving others. Being a Florida Tech graduate means always reaching, always searching for answers. We are confident in your personal example and high standards will enrich our lives. You are following in the footsteps of pioneering alumni whose pursuit of excellence has made a difference in our world. We hope your induction into the Florida Tech Alumni Association is a start of a lifelong bond between you and your Alma Mater.
I hope that you've seen your alumni association working to enhance your college experience for various activities, including F-I-T Homecoming Fest. The alumni association has been part of your time here at Florida Tech and will remain so as you move on to the next phase of your lives. I'm sorry that you are not able to experience Grad Bash but keep an eye out for a special delivery from your alumni association. Class of 2020, you've been part of a golden period in the history of this institution, but wherever you are here in the 1980s like myself or graduating today, we have all contributed to making Florida Tech the special place it is and that does not stop when you leave campus. So, I challenge each of you to support your university and your alumni association with your time, your resources and your talents. Here's a few things you can do, display your diploma of pride, let your colleagues and friends know that you are a proud Florida Tech Panther.
You know, you may have that one colleague that takes great pleasure in reminding you that they attended Harvard. But rest assured they're not a single Harvard graduate ever stepped out of a class in their flip flops, looked up to the sky to witness a rocket launching into space but we have. Also get involved in your local alumni chapter and attend an Alumni Reception when we come to your area. Help recruit the next generation of Panthers, no one knows Florida Tech better than you.
Send us updates about your life and career so we can share them in the alumni magazine with your classmates and yes, support your Alma Mater, participate in our annual day of giving. Before I finish, let me pass on one nugget of advice as a fellow alumni, never be afraid to say, I don't know. Don't be afraid to say, let me get back to you. This will serve you well in your careers and in your life.
None more so than when your parents ask, when are you planning to leave their house. Remember, I don't know, let me get back to you. Class of 2020, you were a student here for a few short years but you will remain a Florida Tech Panther for life. Congratulations on receiving your degree and welcome to the worldwide ranks of Florida Tech Alumni.
It's a brave new world out there but it's one you are equiped to cope with I am confident that you will meet it's challenges. Good luck, make us proud and as always, go Panthers. - Thank you, Bino, thank you so much. Well, now it's time for you to get your degrees and they're gonna be awarded virtually but they count, are still the same they count. You'll get your diploma, you'll be able to use it for convincing your employer that look, I'm a Florida Tech graduate and therefore I deserve not only to be hired but to be given a better salary than most of the others that you're hiring and that tends to work pretty often. You know, but there are a lot of people that contributed to this.
Not, not just, you worked hard, you had to do the work, you had to turn in the homework, you had to take the exams. You did all those things, but you can't forget that, you know, your faculty shepherded you through these four years in some cases, six years in others or, or whatever your degree may be and without them it would have been very, very difficult. And in fact, when we decided that we would go both virtual or remote and in class, the faculty had to completely retool the way they teach. You know how much time we gave them to do that? Two weeks.
And as president, I said, well, this can't be done, you know, they'll never make it. Except for a couple of small exceptions they did it. You know, so I, I was convinced more than ever how dedicated our faculty are and you know, so, so you have to applaud them and you have family and friends that encouraged you and helped you. Some of them paid bills for you, they did the things that were necessary to get you through school and you should not forget them. You know, whether it's grandparents or parents or brothers or sisters, or just friends or whatever don't ever overlook the fact that you had a lot of help.
You had help from inside, you had help from outside. So, at this point, by virtue of the authority that is vested in me by our board of trustees, the commission on colleges and by the state of Florida, I hear by confer upon each of you, the doctoral, master's, bachelor's or associate's degree that you have earned with all the rights, privileges and obligations there to pertaining. Congratulations graduates. You're now an official Florida Tech Panther and we are your official Alma Mater which you shouldn't forget. At this point, we will present the Fall 2020 graduates. As you commence this new stage of your life, your Alma Mater expect you to continue to pursuit of greatness.
We are your Alma Mater, we're proud of you, we want you to be proud of us. You've worked hard to get this degree now, make use of it. And before we conclude, I want to thank all the people that helped make this possible. The young people that are standing on ladders to try to make me look taller and better But we had a lot of people helping us get all these things done. It, it would seem that a virtual commencement might be much easier than a, than a physical commencement, but it isn't actually.
There are a lot of details, a lot of things to be done and we want to thank all those staff. Now, we're gonna sing the Alma Mater together to close the commencement and I want to point out that Henry David Thoreau said, "Success usually comes to those who are too busy to be looking for it." So keep busy and thank you for taking part of your journey and taking part in your journey through Florida Tech. We now have the Alma Mater.
Thank you. (upbeat music) - I'm so proud of you. You've demonstrated a ton of resilience to get through this semester and I know that those skills will serve you well in your futures. - We wish you the best in all of your new adventures. - We hope you have a safe and healthy journey - And we hope that all your dreams come true. - We wanna let you know that we're here for you after you graduate.
- Congratulations! - Class of 2020! - Woo ha! - Woo hoo! - Congratulations and best of luck to all of you. You're making history today. - Campus dining. It was our pleasure to serve you. - Congratulations on your graduation and good luck! (cheering) - Congratulations class of 2020! - It was amazing having you on campus. We can't wait to see what you do with the future.
We love you! - We'll miss you! - There's never gonna be a group of students that had more things happen to them while at the university than this group and the fact that you showed how to persevere, you showed how to be relentless. We're really, really proud of you and you should be proud of yourselves. So congratulations to all of you. It's a major accomplishment. You're ready to go out into the world. Hopefully you'll always be proud of being a Panther4life.
- Don't take no crap now. You went to FIT. Go Panthers! Yeah!
2020-12-20 13:11
Show Video
Other news