F8 Refresh 2021 Keynote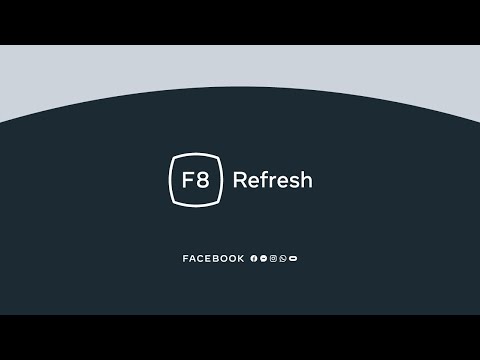 Show Video
Hey, everyone. Now, we can't all get together in person just yet. So I wanted to take this chance to welcome you all to the new F8. Now I say new but, you know, we're actually going back to our roots here because F8 started out as a hackathon for developers. And over the years, we kept adding sessions until it became our main event of the year. We shot off drones and 3D cameras and even Vin Diesel.
And there were lots of announcements for people who used our products, but not so much for the developers who actually build for them. So this year, we're focusing on you, the developers from around the world who are the ones building awesome things on this platform. Over the past year, we've seen the value that developers can create for society. Everything from helping health authorities get accurate COVID information out to helping small businesses move online.
Our industry has been an important part of the global response to this pandemic. And a lot of that just comes down to the creativity of the developer community. This is also why we opened up the platform to begin with. We've had some setbacks along the way but we've always believed that when developers have access to the right tools that they can build things that create value for everyone, whether that's social experiences that bring people joy or new ways for businesses to stay afloat during a crisis. And that's why, this year, we're refocusing F8 on developers.
So that way you can focus on building the best experiences on top of our platform and our infrastructure. And we have a lot of great content lined up for you today. You're going to hear more about the investments we've made for developers and businesses to grow on our platform, covering everything from small businesses to emerging creators and new technologies. There are sessions on business messaging tools including Messenger and WhatsApp APIs, as well as Login in the Facebook Business extension.
For creators, we have a session on Spark AR, which is the most popular AR platform out there and it's one of the foundational technologies for building the metaverse. And you're going to hear more about our work around the PyTorch Ecosystem and how you can use machine learning for rapid prototyping. We're building all of these tools with you in mind. We're committed to building a healthy ecosystem for developers across all our platforms because we know what's possible when people from different backgrounds all around the world come together to solve problems. Some of the most important services in the world started when someone looked at an existing issue and just found a better way to build. And I'm optimistic that some of the next generation of services are going to start right here with you.
So I can't wait to see what you all come up with next. Thank you for being on this journey with us and for building great experiences for the people and businesses that use our services every day. And I hope you all have a great F8. Hi everyone, and welcome to F8. For those of you I haven't met yet, my name is KP and I'm the Vice President of Platform Partnerships here at Facebook. It's often felt hard to focus on any silver linings over the past year.
But one for me, personally, has been the opportunity to spend more time with family. One of my favorite activities has been story time with Amelia, my three-year-old daughter. Especially reading about amazing and inspiring women who have changed the world.
My daughter's favorite is Ada Lovelace, the British-born mathematician. And by the way, we read this book almost every night, but I promise you, I'm not trying to influence my daughter to get into tech too much. The book is as beautiful as Ada's own story. From a young age, Ada developed the passion for solving mathematical problems.
She started dreaming of machines with wings that could move in any direction. And even once she fell sick, it was her imagination and dreams of new inventions that kept her focused on the future. Eventually, it was when she met Charles Babbitt, famous for inventing the calculator, that helped Ada take her own creativity and ingenuity to the next level. She eventually wrote code that would tell the calculator what to do.
And just like that, Ada had invented the language that computers use today. She was one of us, a developer who decided to use science and her imagination to make the world a better place. But let's be honest, her path was not always easy.
When I joined Facebook in 2012, I found inspiration from my own challenges as an entrepreneur at an early startup. In a way, life at the startup is very similar to Ada's life. You have to be resourceful and have a firm belief that you can build something truly meaningful and even when the odds seem to be stacked against you. That fueled my ambition to unblock opportunities for others so that they can build amazing experiences, too. Over the last nine years, I've had the opportunity to discover what is, in essence, my own purpose in life? To become an enabler of growth and innovation.
And I believe that the best way to do that is by building platforms that empower growth and delivering value to those who invest in them. So today, as Mark said, we will cover a wide range of our most recent investments across business messaging, business tools, creator tools, and AI platforms. But before we go deeper, I'd like to spend time talking about where we have been in the last three years and our focus on creating growth opportunities for you, the developers on our platforms, both as individuals as well as the companies and organizations you represent. Three years ago at F8, we talked about our focus on improving the integrity on our platforms. Beyond just using this opportunity to make our platform safer for people, we built a strong foundation and learned that our future platforms will be more sustainable and further aligned with our commitment to deliver value to everyone investing in them.
So, what happened in the last three years is that we reduced the risk for people and developers by deprecating thousands of APIs that were not useful. We renewed our agreement with all the developers on our platform to ensure they're committed to the same values as we are. And we updated our processes to ensure that we build the right safeguards for the platforms of the future.
But that's not really the full story. A lot of exciting things have happened on our platforms during this time, as well. And I wanted to take a few minutes to talk about that. For years, people have turned to the Facebook, Messenger, WhatsApp, and Instagram apps to share what they have been thinking doing, and how they're feeling.
The introduction of Stories meant that people could express themselves in ways that were more casual and less policed. But still captured important moments of their daily lives. For example, Netflix has done a great job allowing people to share Stories through their app.
During the pandemic, I found myself watching different programs and series in a way that allowed me to connect with people through Facebook and Instagram stories. And my daughter Amelia took over my Netflix account to watch Cocomelon. And it seems, I'm not the only one having their Netflix accounts taken over by their kids. (chuckles) Why else would Cocomelon be in the top 10? However, it's not just people that are looking for new ways to express themselves, it's businesses, as well.
The Instagram Content Publishing API seamlessly allows businesses to express themselves and publish their content online. Today, businesses can work with Facebook Marketing Partners who help them grow. Increasingly, this means that partners are developing new solutions which go beyond marketing and expand to messaging, commerce, creative solutions, and more. To reflect this expanded scope, we are renaming the program, Facebook Business Partners. Within this program, we are consolidating more solutions to make it easier for businesses to find the partners they need and for partners and developers to find the support that they deserve. We will share more information in late June.
There are other ways that we've continued to support businesses. We built the Jobs product as a way to provide businesses with opportunities to grow and for job seekers to find employment. We knew, from our own experience, what a difference it makes when new hires bring perspective and help you solve problems that your business faces.
Jobs on Facebook helps communities thrive by connecting employers with local job seekers. It's through these connections that people's trajectories can change for life. For example, like many other companies when Endless Summer Sweets, a local minority and women-owned businesses in Berkeley, California needed to hire people during the pandemic, they turned to Jobs on Facebook.
Partnering with Homebase, they were able to hire 10 people since 2020 after posting their available jobs on our platform. And last but not least, our commitment to understanding our impact on the world is why we are launching a new API specifically built for the research community. Sharing data with researchers has always been important to us, but after 2018, we made some changes to our platform which prevented many of you from being able to do some incredibly important work. We realized that without academics having access to quality data, we have no way of truly understanding our influence on society.
We wanted to make sure we got this right. And we were intentional about developing the best products to support researchers while keeping people's data safe and secure. Today, we are very happy to announce our Researcher API which provides real-time access to public Pages, Groups, Events, and Post-level US Data in a Privacy Protected Environment. This product will be available to the academic community later this year. These are not the only products our team has been working on. As we've mentioned, business messaging has been a key Focus area.
To share more on our vision for messaging platforms, let's hear from Amell. - Hello, everyone. Thank you for joining. I'm Emile, I lead the business messaging products at Facebook. And in a few minutes, we'll share with you what Messenger, Instagram, and WhatsApp teams have been working on for the developer community.
But I wanted to start with why we're investing in business messaging in the first place. At Facebook, our vision for business messaging is to have it be the primary way people and businesses communicate. It is a vision that is very personal for all of us. It is personal to me. I live in Seattle, Washington.
I'm filming this out of my garage. We turned it into a classroom for my kids during the pandemic when the school was remote. Now they're back at school, and it's my office.
Most people know it rains a fair bit in Seattle, but when it rains here, it snows out there in the mountains, a few hours away. And I love taking my kids skiing on the weekends. With COVID restrictions in place, I was having a hard time getting information on how season passes were going to work this year at my favorite mountain. I couldn't find all the answers that I needed on the website. So I started a conversation with them on Messenger and within a few minutes they responded and I knew exactly what I needed to do to get the most out of my season passes.
We had an epic snow season here in the Cascades. So imagine, if all of your interactions with businesses could be just like this. Unobtrusive, convenient, and personalized. Done in a way that's familiar, using the same apps you already know how to use, because you use them to connect with your family and friends. Think of this as an example of our vision, to have business messaging be the primary way people and businesses communicate.
And it's not just us dreaming about this future. In a global survey we did, we learned just how much people prefer to message a business. Seventy-five percent of people we surveyed said they want to be able to message a business. And 64% of people said they prefer it over email or phone calls. Many people prefer messaging. It's familiar.
Vast majority of us stay in touch over messaging already with family and friends and coworkers. It's also convenient. Shooting a message is quick and it's easy. You aren't stuck waiting for a business to respond. You don't have to worry about losing your place in a queue or dropped calls or closed chat windows.
It's a personalized conversation, as well. It's specific to you and your preferences. Imagine you're chatting with a bakery down the street about your daughter's birthday cake. They can tell you exactly what you ordered from the last year, if you asked. Or you can switch to video right there and then and see what they have in-store.
And finally, it builds trust. By engaging the conversation in a very human way, people build trust and loyalty with businesses. Well, messaging is actually better for businesses, too. It's efficient. Businesses can use automation to help resolve common questions faster, saving them both time and money.
It's effective. Businesses can personalize conversation to automatically show the products that they know will appeal. Or to show recent orders or do customer support on your past purchases, all within the message thread and all in a very personalized way. Finally, it builds longterm relationships.
The message thread is persistent to both you and business and you can come back to it and the business can come back to it anytime. Take Samsung, for example. In Belgium and in the Netherlands, Samsung worked with developers Kronos, Flow.ai, and Teleperformance to replace their email and website chat with Messenger.
Not only were they able to reduce their support costs by 25%, they also saw an increase of 54 points in their net promoter score. And in India, Samsung had the same results with WhatsApp chatbot. They connected buyers with local stores, sold phones, and delivered them in just six hours.
That is incredibly fast. So everyone knows that businesses are shifting online to engage with people. Well, this shift, it only accelerated during the pandemic, especially for people messaging businesses.
While we were apart from our friends and our family, we turned to messaging apps to stay in touch. And we expected businesses to be on messaging, also. Over the last year, during the height of COVID, total conversations between people and businesses on Messenger and Instagram grew by more than 40%.
And messaging didn't just play a role with how people interacted with businesses, it played a big role in how people interacted with governments to get trusted COVID-related information. For example, the city government of Buenos Aires worked with a developer partner, Botmaker, to create a WhatsApp chatbot named Boti. It uses AI to help address citizens' needs.
And it was particularly helpful during the pandemic. It helped get accurate information about COVID-19 to citizens and to help them find timely care. In April this year, Boti managed 3.3 million conversations, including making vaccination appointments, sending reminders for those appointments. And it didn't stop there. Today, people can send audio clip of their cough using WhatsApp voice memo feature, and it will check the audio patterns for signs of COVID.
Buenos Aires reported this pilot was 88% accurate. Now Boti does many other tasks over messaging, as well. People of Buenos Aires can use it to pay taxes, find a place to find park their car, or to receive support in cases of gender violence. And hundreds of other governments all around the world have used Messenger and WhatsApp in very similar ways. So these governments and businesses don't generally do this on their own. In all examples I shared, there was a technology partner to help build those solutions.
The experiences you developers build on top of our messaging APIs can transform how people and businesses interact. So we're excited to announce more features for you to build with. And to share those new updates to Messenger API for developers, please welcome Ankur Prasad. Hi everyone, welcome to F8. I'm Ankur Prasad, the Director of Product Marketing for Facebook and Instagram Business Messaging. I'm thrilled to be with all of you at F8 this year.
In fact, this is a very special update for Messenger. Our Messenger platform is five-years-old today, and like many of us over the past year, in spite of the challenges, we are doing our best to celebrate by virtually gathering Messenger's closest friends and family. Birthdays are always a good time to reflect. We started this journey together at F8 in 2016 when we launched the Messenger platform as open APIs.
Back then, we made a couple of bets. Firstly, that many people preferred messaging over traditional channels such as phone and email, and that secondly, our wonderful developer friends would innovate in ways we could not even imagine. Today, with the benefit of hindsight, I'm happy to say we weren't wrong.
What a journey it's been. Today, hundreds of millions of people are messaging businesses on Messenger and Instagram every month. Our developer partners were invaluable every step of the way. You enabled messaging for over half a billion businesses worldwide. Stories of innovation on our platform energize us every day. You helped WestJet create Juliet, their digital assistant powered by natural language processing.
It was really cool to see how Juliet was continuously trained from past interactions, and as time went on, she was able to solve over 50% of inquiries from WestJet's customers. We also helped Crew Clothing create a fun digital assistant to help people find the perfect gift for someone special. Their campaign to send people to their assistant resulted in a 5X return on ad spend. It was really impressive to see that 47% of conversations led to purchases.
On a more somber note, when COVID hit, you helped the World Health Organization create their health alert service to give hundreds of thousands of people all over the world timely and accurate information. Largely due to this creativity and boundary-pushing innovation, we are helping more businesses reach new customers and achieve incredible results than ever before. Just like with WestJet, Crew, and the World Health Organization, over 3 million advertisers now use click to message ads to direct people to Messenger. Throughout this journey, listening and truly understanding what businesses need to thrive, and then working together to build and launch fantastic products, has been the hallmark of our partnerships with developers. This was clearly evident a few months ago.
We learned from you and made major updates to the Facebook Web Chat Plugin, which lets people easily contact businesses from their websites on Messenger. We introduced a fantastic new design and added the ability for people to message businesses even when they are not logged into Facebook. Continuing this trend, we heard from our developer community that businesses really want to know if people are satisfied with how they're providing customer service on Messenger.
So today, I'm really happy to announce a new customer feedback template is available for developers via the Messenger APIs. Businesses will now be able to ask customers for feedback during the chat. Most importantly, they're making it simple, fun, and timely for customers to share feedback with businesses that they interact with on Messenger. We have a fun surprise in store for all of you, so make sure you attend our breakout session a little later today. In the next few years, just like five years ago, you can be certain that we will continue to collaborate to streamline tools, simplify integrations, and transform how people and businesses communicate. On that note, I'm thrilled to invite Pietro from Smarters to truly bring to life how our collaboration comes together.
- Hi, I'm Pietro, Co-founder of Smarters We are an artificial intelligence startup based in Sao Paulo, Brazil, and we believe that messaging is the future in that conversational regions are the key to make our lives smarter. That's why we have been developing on top of the Messenger platform since its launch in 2016, creating our messaging market automation solution for visionary clients like Hyundai and lead retail chains like Promart in Peru. Through Messenger, they have the power to reach, connect, and talk to millions of people. This allows our clients to create innovative brand experiences, launch targeted campaigns, and drive high-quality leads, all in a personal, scalable, and intelligent way.
We are very grateful that Messenger has given us the opportunity to bring our mission to where people are and very excited to be part of the platform evolution, and we are just getting started. - Thank you, Pietro. And now let's talk Instagram.
Most of you are already managing an Instagram presence, so you know that people come to Instagram to be inspired. People want to discover new things they love and they want to engage with their favorite brands. Instagram is just an incredible destination for brands to build lasting relationships with people. In fact, 90% of people on Instagram today follow at least one business. It's really cool how important a role messaging is playing in brands and people interacting on Instagram.
People are able to send direct messages to brands. They're interacting with Stories, and it goes both ways. Brands are also able to start conversations with people by responding to comments.
The opportunities to engage here are huge. People are expressing themselves. They're asking about products and services, and sometimes, it's inevitable, they're complaining. When a business can quickly respond and communicate in a personal way, it builds trust and loyalty and turns people into customers and customers into long-term advocates. As Instagram messaging continues to grow, businesses will need tools to manage the communication on Instagram at scale.
Last October, we announced a limited beta of the Messenger API for Instagram. The fantastic reception and your excitement fueled us and our team worked tirelessly to make today's announcement possible. So now the moment we've all been waiting for: I'm really excited to announce that the Messenger API for Instagram is available to all developers. Developers can now build robust tools and innovative solutions that businesses will need.
There are so many possibilities, so many innovative services that can be built with these APIs on Instagram. I'm going to spend the next few minutes focusing on three that businesses tell us all the time are super important to them. Many people are contacting businesses in many different ways.
Phone calls, emails, posting on their pages, and sending messages. With our API, businesses can now use the same platform they use for other channels to respond to people on Instagram. This means developers can give businesses a single platform, one place, one view to manage all their customer communication, making it so much easier for agents than jumping back and forth between different apps. Furthermore, many businesses have already made significant investments in infrastructure to manage cross-channel communication.
This includes building contact centers, setting up efficient workflows, and training customer service agents. Businesses have told us many times that it is not very efficient for them to be mailing mobile phones to their various teams just so that they can have the Instagram app to respond to messages and comments on their Instagram business page. A single platform enabled by our API lets them easily extend their existing investments to Instagram messaging. Second, with the Messenger API for Instagram, you can build integrated tools that help businesses grow sales, lower costs, improve customer satisfaction, and so much more. For example, you can now seamlessly integrate Instagram messaging with order management systems to let agents instantly look up a person's purchase history.
This will not only make the agent more efficient, but also lead to a more personal conversation, further strengthening the bond between the customer and the brand. Third, many businesses are now recognizing how important it is to be ultra responsive on messaging channels. Automation is key to helping businesses be responsive, and many of you are familiar with and may even have automated experiences live on Messenger. But until now, this was not possible on Instagram. So I'm super happy to share that we're enabling some key automation tools on Instagram for the very first time, and these are accessible only with the API. When done well, automating responses to basic questions like "what time are you open today" can be a powerful tool.
People can get immediate answers to their questions in a pretty intuitive way. But sometimes people need to connect with a live person and that needs to be super simple. So we built in the ability for a business to seamlessly transition a customer from the automated workflow to a conversation with a live agent. Imagine a customer who wants to see the status of an order. Your automated workflow can easily say "hello," gather the necessary information, and let her know that the order is out for delivery.
If she's lost her order, she can seamlessly be transitioned to a live agent who is glad to help. We're already seeing numerous companies that have benefited from the Messenger API for Instagram. I'm pleased to introduce Eda from L'Oreal Malaysia to discuss how the API has helped them scale their customer service. - Hi, I'm Eda Lim, the Head of Digital for L'Oreal Malaysia. In our research, we have noticed that many customers of beauty brands are active Instagram users. Knowing this, we wanted to use the Instagram platform to foster a closer connection with these customers.
However, our customer care agents found it challenging to respond to a large volume of direct messages, comments, and Instagram Stories we received from the community. Our solution was to partner with Jumper.ai to integrate Messenger API for Instagram and build an automated experience for Messenger. With a digital assistant, we could easily connect with people on Instagram and have a conversation with them through messaging on Instagram. The Messenger API for Instagram has been a game changer for our team. We have experienced a 30% increase in qualified leads compared to other channels, and we received a 20% conversion rate from consultation to actual purchases.
Additionally, we reduced the registration completion time for a beauty consultation to just two days. We look forward to integrating the Messenger API for Instagram into more of our workflows to help us continue build lasting customer relationships. - Thank you, Eda. We are thrilled to hear how we are helping L'Oreal strengthen relationships with their customers. Moving on, on behalf of the Messenger and Instagram Business Messaging teams, I want to thank all of you for your partnership over the years and the cool tools you've built on the Messenger platform. Today, we know a lot more than we did five years ago, and we know one thing for sure: You, our developer partners, are going to continue to innovate and bring exciting, impactful, and new solutions with messaging to businesses.
And now, I'd like to pass it over to WhatsApp's Ajit Varma to share what his team's been cooking up. Hey everyone, I'm Ajit Varma. And as the leader of our Business Product team at WhatsApp, I work to empower businesses of all sizes to help them provide a great experience to improve customer happiness, increase sales, and grow their businesses.
Our goal at WhatsApp is to make messaging the best way for people to connect with all businesses in a personal and convenient way, to ask questions, discuss products, and get jobs done. Over the past couple of years, our focus has been building out our solutions for both small businesses using our WhatsApp Business app, and larger businesses using our WhatsApp Business API. Today we support more than 50 million customers on our WhatsApp Business app, and tens of thousands of businesses are using the WhatsApp Business API to answer questions, provide support, and send helpful information customers choose to receive. Some of these businesses have integrated the API directly into their stack, but most were brought onto the API through a partner, what we call a Business Solution Provider.
In total, more than 175 million people message a WhatsApp Business account every day. And we expect this number to keep growing as businesses continue to pivot due to the global pandemic and to compete on a global scale. Because we're at F8, I plan to spend my time today talking about the WhatsApp Business API, which is helping developers and businesses improve customer support, deepen relationships, and increase sales.
We are seeing tremendous growth. It's still early, and now is the time to build for WhatsApp and engage with our over 2 billion users in new and innovative ways. For example, ICICI Bank in India set up a WhatsApp helpline during the pandemic to stay connected to its customers and now has nearly 1 million users. And Sears Mexico, well, it had to close its 90-plus doors for several months during the pandemic, so it turned to WhatsApp to continue serving their customers when they couldn't be together in person. Through Yalochat's WhatsApp solution, customers interact directly with product specialists to learn more about available items, promotions, and payment options, and that has helped more than 400 Sears sales associates continue to work remotely and safely. Now, since both people and businesses are finding WhatsApp a really great way to connect, our focus is on building out new capabilities for business messaging, and bringing many more businesses onto our WhatsApp Business API quickly and easily.
So I'm excited to share some updates today about where we're headed with the WhatsApp Business API. We'll focus on three key areas: new messaging features coming to people and businesses, new types of messages and user controls, and exciting updates to get started much faster, easier, and cheaper. To start, we're building new features for businesses to provide responses so customers can quickly and easily provide an answer or tell the business what they want. These are new, rich message types that are fundamental building blocks to create interactive experiences.
First, we'll soon begin rolling out List Messages for businesses using the API. List Messages will give people a simpler way to make a selection from a menu of up to 10 options when chatting with a business on WhatsApp. Let me show you an example of how these can work. (lively music) - Thanks for having me here today. I wanna share with you guys a really great practice which is the Chevrolet Virtual Assistant.
It's a WhatsApp tool we introduced down in Brazil. For you guys to know, Brazil today is among the largest auto industries in Brazil, and Chevrolet is the market leader. We introduced the tool by mid-last year. It was introduced in June 2020.
And, so far, it generated already 88,000 leads. It represents a boost of 30% in our lead generation. In terms of sales today, this tool represents 20% of the sales we generate with leads. And we sold, since introduction, almost 6,000 units with this tool.
It's a personal contact, 100% virtual, and we are able to connect the customer with a salesperson real time. And we are really proud to be part of the WhatsApp real time beta List Message. And we were able to fine-tune and introduce, like, the list of dealers, and we were able, with this beta testing, to reduce the bounce rate from 18% to 4% just by introducing this new tool. - Similarly, we're also rolling out reply buttons for businesses using the API. Reply buttons will allow people to quickly make a selection from up to three options with just a quick tap. The buttons can be customized for various use cases like for a telco to offer airtime recharges or a retailer to offer shipping or payment options.
Starting to sense a theme? It's that we're making everything faster and more effortless. These simple and easy interactions make things easier for your customers and your business. We're also building new tools to allow the end-to-end commerce journey to happen directly on WhatsApp. For starters, similar to what's already available on the WhatsApp Business app, people will be able to view a business's products on WhatsApp and add items to a cart so they can quickly and easily place an order. These will make ordering my kids' swim lessons more convenient than making a phone call.
These features will provide a richer shopping experience with the simple and personal benefits of messaging a business. This will be a great experience for anything you might want to use a phone, app, or website for today, especially for users who are uncomfortable with technology or don't wanna download and learn another app. And in the future our goal is to bring payments to our business products. We often hear from businesses how they already use WhatsApp to exchange payment info and receipts, so giving them tools in the future to manage this all in one place, we think, will be really valuable. We're building a platform which enables you to be creative and come up with ideas that fit well into conversations and then plug into WhatsApp's massive reach. There will be very successful companies built entirely on WhatsApp.
We can't wait to see what you build. In addition to the ways people respond to messages, we want to offer them the ability to choose to receive new types of messages on WhatsApp, as well. Every day, millions of people start a chat with a business on WhatsApp to ask questions, get support, or receive helpful information like a boarding pass or shipping update on a recent purchase. We started by supporting timely notifications, though we're seeing interest from people in receiving additional information on WhatsApp.
People have requested that health authorities send them updates on the pandemic including when the COVID-19 vaccine is locally available. Daily educational information has empowered teachers and students working from home. Businesses have been able to update customers when something is finally back in stock and ready for purchase. That's why, as we bring more businesses onto WhatsApp, we'll be expanding the types of updates people can choose to receive. These may include things like helpful informational alerts, like daily COVID-19 case counts or helpful tips about a vaccine. Things like product recommendations related to a person's recent purchase, like an installment plan with a bank or insurance for a new cell phone, reminders to book an upcoming appointment, or even offers on travel deals for an upcoming holiday weekend.
We want people to have a valuable experience chatting with businesses on WhatsApp. People are in full control of the businesses they chat with. They can either reach out to start a conversation or opt in to get information and updates from a business by requesting to be contacted from their website. And as we expand these additional uses, we're enhancing our features to give people further control over their chats. These include the ability for people to tell us why they block a business, such as the information they've been sent is no longer needed or they didn't sign up. This helps us understand what conversations people are finding valuable and provides a way for us to give feedback to the business on their chats.
And also, new systems that make it faster for WhatsApp to suspend a business for sending messages when people provide feedback they have had a low quality experience. For example, we'll only allow a business to send a certain amount of messages per day until they demonstrate customers find value in what they're sending. We'll also continue to require businesses to submit templates to help make sure they are not sending spam abuse. This past year has demonstrated how valuable WhatsApp can be in helping people get useful information about a variety of topics from businesses even when they're physically apart. We're excited to give people the choice on the messages they want and chat with businesses on WhatsApp in new ways.
Finally, I want to share some updates on our efforts to make it easier for businesses to get setup and started on the WhatsApp Business API. I think you, the developers, will really like this one. Right now it could take weeks to get a business onto the WhatsApp Business API. We want to cut that down dramatically so more businesses can connect with their customers on WhatsApp.
That's why we recently worked with our business solution provider to create an onboarding solution that takes just five minutes. Just ask our partners at MessageBird what they think. (lively music) - Hi, I'm Robert and I'm the Founder and CEO of MessageBird. At MessageBird, we're building a world where messaging with a business feels as easy and natural as talking to your friends.
And when we heard that WhatsApp is releasing a new onboarding flow, we got really, really excited. Before, it was a little bit of a tedious process, and it might take a while to get onboarded. But right now, it only takes two minutes, and you're ready to go. So, get on WhatsApp and start texting with a business. - Now, businesses that want to get started using the WhatsApp Business API can sign up directly through one of our Business Solution Providers or websites with just a few clicks.
For our partner MessageBird, this led to 120% increase in businesses onboarded per month. We're really excited to reduce the complexity and time it takes to get up and running on WhatsApp, and think this will be a game changer for businesses. And to help bring more businesses onto the WhatsApp Business API in the future, we are going to provide an option for a business to choose to host their messages on secure infrastructure provided by Facebook. Like cloud services companies, Facebook will act here as a hosting service, and we'll clearly call it out so that people have an understanding of how it works. We think this path will make it far easier to get business done on WhatsApp and also supports the growing ecosystem of business messaging providers by getting businesses onto WhatsApp.
Facebook will take on all the hosting. This includes maintenance, network, compute, storage, and everything else. This is one of the major costs for our partners and developers, and we're doing it for free. Reducing your costs helps you increase your investment to provide even better solutions for customers. We've heard from our partners and customers that they're excited about these changes and the ability to get more businesses onto WhatsApp faster, and we hope you are, too. We'll have more details on this new offering in the coming months.
Our mission is to make WhatsApp the most convenient and personal way for businesses to connect with customers. We're really happy with the progress we're seeing around business messaging, and the value it's having on people and businesses around the world. We're excited about these new business experiences that we'll be making available to businesses and developers really soon.
I'll now turn it over to Kelly Stonelake to talk about Login. - I'm Kelly, and I could not be more thrilled to be here. Being on this stage is an honor and a trip.
You see, I joined Facebook twelve-and-a-half years ago, and at F8 2010, I was the person creating the music playlist. I was writing developer FAQs. Heck, I was literally standing outside of the San Francisco Design Center scanning your tickets.
So from being the bouncer to now sitting in my living room with each of you, this is really cool. Okay, so after joining Facebook to work on developer platform in 2009, I went on to spend the next decade building our creative business with advertising partners and creative agencies. I love that work.
I still love that work. There's not much better than taking the best of what we do and the best of what you do and bringing them together to create value for people. But when I had the opportunity last fall to transition from creative leadership and come back to my roots to lead our developer platform product marketing team, it felt like coming home. Because there is so much important work for us to do together. To build a platform that becomes your most valued tool to facilitate meaningful connections with people. To do it in a way that is as seamless and stable and predictable as possible.
To facilitate real value and connection and convenience and even delight for the people engaging with your products. We can do it in a way that is privacy centric with complete transparency and control in everyone's pocket. We can only tackle this unfinished business in partnership. This vision is impossible without you. Thank you. Okay, let's get into it.
I'm here to share some updates on Facebook Login, including announcing a new messaging feature that we plan to make generally available in the coming months. As you may know, Facebook Login offers convenience, personalization, and social experiences to make your business more rich and engaging for everyone. As a universal product, Facebook Login is designed to work seamlessly for billions of people across iPhones, Android devices, web browsers, smart TVs, and so much more.
Login is also easy to implement. Whether on web or mobile, you can add Facebook Login to your app or website using our iOS, Android, and JavaScript SDKs. This can help you reduce onboarding friction and turn your traffic into valuable customer relationships.
Lastly, Facebook Login is built for control. When using Facebook Login, people are empowered to share as little or as much as they want, and can always control access they've granted to their Facebook data from their apps and website settings. We know there is still so much opportunity for Login to help you drive even more value and create more meaningful connections between people and businesses. That's why we are thrilled to announce Login Connect with Messenger. A brand new feature that allows people to opt into messaging with your business right at the point of account creation using Facebook Login. As you can see here, after opening the app, I log in with Facebook.
Next, I allow the business to contact me via Messenger. Later, I receive a welcome message from the business with helpful examples about the support I can receive over Messenger and a 20% off coupon to use on my next purchase. Once I select redeem, the business can automatically apply the coupon in the app during checkout.
We've tested this product with several partners and the results so far are really exciting. First, it serves as a powerful entry point for new customer relationship management. Among test participants who enabled Login Connect, we've so far seen upwards of 70% of users opt in to messaging.
With this vital source of new customer conversations, businesses can now deepen their engagement with people through messaging. Businesses are also using these Messenger threads to improve new user engagement because they're sending personalized welcome messages, offers, and product recommendations to activate new users on Messenger and facilitate the path to purchase. Login Connect also helps businesses provide more personalized and efficient customer care on Messenger. You're leveraging this new channel of Messenger threads alongside chat box to more efficiently respond to customer service inquiries while maintaining a high bar of service and what can be more important than customer service? Maintaining your relationship and providing value to people when they need it most. You can raise the bar on quality and value, plus drive faster response times and more conversation efficiency by leaning into Messenger and introducing chatbots as part of your customer support strategy.
And thank you to our test partners and their customers, AliExpress, Wish, Newchic, Chatbooks and eticket are just a few of the partners who have tested Login Connect with us. Newchic, for example, is an online fashion retailer headquartered in Hong Kong that serves customers in over 200 countries in multiple languages. They use Facebook Login for account creation and were an early adopter of Messenger as a customer support channel. And with Login Connect, Newchic has brought the two together to foster a closer relationship with its shoppers. When someone uses Login Connect to create an account with Newchic, they instantly receive a personalized welcome message via Messenger creating a trusted, tailored shopping experience from the beginning.
As a result, within a month of implementing Login Connect, Newchic estimates that they have been able to support twice as many customers with Messenger, increased their conversions by 2X, and increase their sales by 3X. Here at Facebook, there is nothing we love more than building and growing together with our partners, while creating real value for real people. Please don't miss the login session later today with my amazing teammate, Dare, where he will dive deeper into the power and potential of this new product. You'll also hear from test partners directly, including Newchic. We are so proud of the results our test partners have seen with Login Connect and we are excited for more people and businesses to benefit from it.
Today, we're in closed beta, but we will be rolling this out in phases. So if you have a partner manager, contact them to gain access to Login Connect. Otherwise, you can go to this URL to sign up to be notified when the product rolls out broadly. And now, I'd like to turn it over to Danielle who will share about how the tools in Facebook Business Suite can help your business grow. Hello, I'm Danielle Lepe, I'm the Director of Business Product Marketing for Facebook Business Suite. I'm excited to virtually be here with you all at F8 and to share an update on Facebook Business Extension and what it means for developers and businesses.
And, yes, as with any solid session, I will also share a few product announcements. I want to begin by telling you about a nonprofit organization that I sit on the board of, Southern Marin Moms, which provides philanthropic support and community activities for over 1500 Marin families. My passion in working with this organization is rooted in helping moms get back into the workforce and re-imagine their careers, and supporting at-risk families and underserved communities. I have used Facebook Business Suite to run ads for Southern Marin Moms and countless of business tools that folks in this audience have built. From analytics, attribution platforms, automation, content design templates, editorial calendaring, and so much more. Facebook is leveling the playing field for businesses large and small.
In September, we introduced the Facebook Business Suite, an all-in-one platform for businesses to manage their activity on Facebook, Instagram, and Messenger using our first-party tools. According to a recent Facebook study, 2 out of 3 Facebook Business Suite users say that the interface helps them to connect with more customers. And 63% of users say that the product helps them to grow their business. To further accelerate this, we are focused on bringing third-party tools, built by developers like you, into FBS and other business tools across the Facebook family, reaching millions of businesses. We are thrilled to build together and are committed to ensuring the best of Facebook and developer tools come together to help businesses grow and achieve their goals. So, we're curating a trustworthy marketplace of innovative apps that allow businesses to maximize value on Facebook and drive increased discoverability for the tools that you are building.
With that, I'm thrilled to announce Business Apps, a product that will enable businesses to connect to apps built by developers directly through their Facebook and Instagram profiles. Now, in just a few steps, businesses can easily connect to business apps. This connection will help them to get set up with tools like Pixel, Catalog, and many more to grow their business.
Businesses will be able to access business apps directly from Facebook Business Suite. They may then browse browse our collection, learn about new third-party tools, and connect, all within a few steps. We are currently in early development, offering a limited selection of apps meant to help businesses get online sales, schedule appointments, book reservations, curate compelling content, gain insights, and engage with leads. We believe the tools you build are fundamental for the success of businesses on FBS.
And we're so excited to help you integrate your tools and scale your offerings by bringing them into the hands of businesses within the Facebook family. We are currently working with limited partners and are excited to grow this ecosystem of apps by inviting our developer community to apply for early access. We work with developers to bring businesses a variety of types of apps like commerce, booking platform integrators, and more.
Today, we are excited to announce a new set of Creative Business Apps, providing businesses creative templates to share compelling content with their audience across the Facebook family and acquire more customers. But don't take my word for it. Let's hear directly from Canva, one of our early partners, and learn about their experience and success integrating their app with Facebook.
- Our partnership with Facebook dates back to the very beginning of Canva's journey in 2013, when we launched our first Facebook cover design category. As Canva grew and evolved, so, too, did our partnership with Facebook. We continued to leverage Facebook's marketing APIs to launch new features for our community.
And over time, we've also incorporated a range of new Facebook and Instagram publishing points available directly within Canva. And now through our latest integration with Business Apps, businesses can easily discover Canva and supercharge the way they design and publish to Facebook. - To make this happen, we built a developer platform called Facebook Business Extension. It's the conduit for developers, businesses, and Facebook to make integration with FBS simple.
FBE enables you to showcase your app on Facebook Business Suite, easily get your customer set-up for success with Facebook tools, and empower your customers to achieve their business goals. Take a look at an online merchant who is using Facebook Business Extension to grow their business. TOXOXO, a female led Taiwanese brand that sells online jewelry. They wanted to find an automated solution that would assist its team to work more efficiently and sell products faster. They used SHOPLINE to get the essential e-commerce tools, like ready-to-use payment and logistics solutions, a robust online builder, and, crucially, Facebook Business Extension.
They used FBE to easily link their e-commerce website with their Facebook shop and set up a seamless checkout so that customers referred from the Facebook shop could easily make their purchase on their online store. Notably, they saw a 4.5X increase in sales in just the first two months since integrating Facebook Business Extension.
Finally, to help businesses grow, we want to bring your innovations into the hands of businesses on Facebook Business Suite. Please join our session this afternoon for a product deep dive. And in closing, we welcome you to visit our developer site to learn more and apply to be considered for early access to Facebook Business Extension.
Thank you and we look forward to continuing our partnership with this creative and growing developer community. And now I'm pleased to introduce our next speaker, Chris, who will talk about the latest developments in AR camera technology, capabilities and programs that give creators and developers more to do and boundaries to break. Hi, I'm Chris Barbour, Director of Partnerships for Spark AR. By now you've heard about Facebook's high ambition to build AR glasses, an all-day wearable that lets you move through the world and communicate in a more natural way. We envision a world that is overlaid with a landscape of virtual objects that helps us share, learn, and play together, regardless of the distance between us. Imagine being able to teleport as a hologram to a friend's sofa to watch a show together or being able to share a photo of something awesome you see on a hike without taking out your phone or leaving a virtual note for your partner to discover at your favorite restaurant.
These and other magical experiences will be possible through the increasingly powerful wearable devices that we are building. We're still years away from this future, but we're making tremendous progress thanks to the Spark AR platform. It was on this very stage at F8 2017 that we first introduced Spark AR Studio to the world. Our first step in building standalone AR creation tooling and software, enabling the first prototypes of AR effects for mobile devices.
A year later, we launched new end-to-end visual programming tools and simple-to-use publishing features for creators of all backgrounds, preparing for our first open platform launch in late 2019, where we enabled publishing to Instagram, transforming the way people interact, express themselves, and shop using Facebook's family of apps. Growing from 3,000 beta developers to over 400,000 after the first year. And last year, we made tremendous progress on unifying our camera stack, enabling creators and developers to publish to more surfaces like Portal, Messenger and Instagram Reels. We're launching dozens of new features in AR capabilities that will unlock the next generation of AR experiences.
The years ahead on our road to AR glasses will be successful if we remain committed to two core tenants. First, nurturing our global creator and developer community. And second, filling the world with diverse AR content that people love. Our creator-first approach to AR is critical to making AR both resonant today and delivering on the inclusive future computing platform we envision. Creators are at the cutting edge of defining the future of AR.
Spark doesn't just enable people to respond to trends and culture, it gives people the opportunity to invent trends and culture through technology. People of all types are creating content of all types that is breaking every day on the platform. From robust APIs and access to advanced ML to global programs and learning opportunities and access to helpful documentation and early betas will continue to enable a global community with tools and knowledge to make AR content and experiences that people love to use. Spark continues to be the largest mobile AR platform. More than 600,000 Spark AR creators from 190 countries have published over 2 million AR effects on Facebook and Instagram.
And with a great community comes a great responsibility to bring people together to share knowledge and equip aspiring creators and businesses with new avenues to monetize and earn a living. In October of 2020, we relaunched the Spark AR Partner Network, a program for our most advanced and skilled creators who have collectively generated billions of views for their AR content and experiences. New applications for the Spark Partner Network are opening this summer.
This year, we launched our first ever AR curriculum in partnership with Facebook's Blueprint platform. And generated over 16,000 registrants in the first 30 days. In April, we launched AR Creator Days, a new global series of workshops to inspire and mentor creators looking to improve their AR effects and develop their portfolio. And we're doing much more to help creators learn and connect with one another. We'll test new matching and mentoring programs between brands, businesses, creators, and Spark AR product experts.
Programs like these help you do what you do best. And it's the new technologies we deliver that will help you do what's next. We're investing in cutting edge camera technology and tooling, and, in turn, working with you to push the boundaries. We've heard what you want: New capabilities for more creative, higher fidelity effects that enable people to better express themselves. This year we launched new target trackers to enable both moving and fixed 2D image tracking with multiple images in a single scene. We launched multi-class segmentation, which enables models to run at the same time to unlock fantastical body and hair and person transformations.
And soon, we'll be launching new body tracking capabilities that use the front- or rear-facing camera to identify and augment the human body, unlocking new ways for creative expression. Our vision is a seamlessly connected digital and physical world where AR experiences light up in front of you on your phone today and on your AR glasses years from now. Creators like you are at the forefront of defining these experiences and helping us explore applications beyond expression, like rich communication. And we're taking that step now. I'm excited to introduce a new capability, a multipeer API, which, for the first time, will enable creators and developers to explore what real-time, synchronous, multi-participant AR can do to enrich calls.
Developers, coders, and game designers are already diving in to develop creative new experiences like spatial games, fully embodied AR rooms, and more. As of today, we are accepting applications for the multi-participant closed beta. So please, join our session this afternoon to learn more. The future of human connection is ours to build together.
It's an honor to be on this journey with you. And we look forward to seeing all of the amazing experiences you'll deliver along the way. I'll now pass it over to Lin Qiao, Engineering Director at Facebook AI, to talk about developer tools and how we use them at scale at Facebook.
I'm so excited to be speaking to this amazing developer community today. Before we get started, I want to touch on the word 'community' for a minute. Developers and engineers like yourself, and those I have the pleasure of working alongside at Facebook, continue to redefine state-of-the-art every day, to sharing of ideas and research, and being bold in tackling some of today's most pressing technological challenges.
So thank you. Today, I'm here to speak with you about one of my favorite AI developer tools and how Facebook uses it to power our AI research, as well as our products and experiences across the company. Enjoy this quick video before we dig a little deeper. (relaxed music) - [Narrator] Over time, AI models have become more complex. building and deploying them takes time and resources.
PyTorch and its growing community of contributors is changing that. It's a ubiquitous, open-source library of machine learning code packages that are easier for engineers to work with. And PyTorch can tackle large, complex AI models with speed and flexibility. At Facebook, we're making PyTorch the framework for building all of our AI and machine learning applications.
It's an exciting step forward in our commitment to the development of PyTorch. PyTorch is now a significant part of our effort to improve the user experience on Instagram. We are constantly improving our recommendations.
Today that means training AI models as large as 10 terabytes. Before PyTorch, training and tuning a large-scale model could take months. With PyTorch, it takes weeks or days. AR and VR are important ingredients of the Facebook experience. For example, we build and deploy AI models so that anyone with just their phone camera can enjoy Hollywood-style effects. With machine learning techniques, the models can get smaller, faster, and more mobile-ready.
PyTorch helps us by simplifying and optimizing deployment, regardless of the device, putting the creativity in the hands of the users. We are also applying the power of PyTorch to one of our most critical efforts, keeping our platforms safe. The speed and ever-changing work of adversaries is constant, and we need to stay one step ahead. Tapping the PyTorch ecosystem, shortening the time from research to production, and debugging early, means we can rapidly adapt and scale our protections. The tools built with PyTorch increase the transparency of our AI models, making it easier to explain, understand, and refine the predictions they make. The moment AI engineers have an idea, they want to build, test, and deploy.
PyTorch gets us closer to that vision. And with its open and collaborative ecosystem, everyone working in AI, Facebook included, can benefit. (relaxed music continues) - By now you have probably guessed that the developer tool I'm talking about is PyTorch, a community-driven, open-source AI framework that enables engineers and researchers to do cutting-edge research and seamlessly deploy in production. PyTorch was created by Facebook with other AI leaders in 2016, with many other external partners contributing along the way.
It embraces a philosophy of openness and collaborative research to advance state-of-the-art AI. During the time around which PyTorch was created, the path for taking AI development from research to production historically involved multiple steps and fragmented tooling with poor interoperability. This made it time intensive and complicated to test new approaches, deploy them, and add to it to improve accuracy and performance. PyTorch helped remove those gaps. It allows for more rapid prototyping and experimentation through its flexible and productive programming model. And we are building a PyTorch ecosystem to fully streamline the end-to-end developer and researcher experiments.
One of the true powers of PyTorch lies in this vast ecosystem of tools and the libraries and its growing community. There are nearly 70,000 PyTorch projects on GitHub, and over 1800 contributors to the platform, including independent developers like yourselves and the major corporations like Disney and Tesla. Facebook is also deeply committed to the success of PyTorch.
Not only does our AI team help maintain the platform and contribute new features, but as a company, we also use PyTorch to build and train the complex AI models that are under the hood of our products and that power our research efforts. Today, we're announcing that all of Facebook's AI systems now run on PyTorch. We continue to migrate existing legacy workloads and are committed to building all-new AI models on the platform. You can say we are all-in on PyTorch.
To offer some context, over 1700 inference models are in full production on PyTorch. We have over 600 models developers globally at Facebook using the platform for their work. And now 93% of our training models are powered by PyTorch. This is amazing progress given our scale and the fact that the platform is only a few years old.
So let's briefly talk about some of the examples that were referenced in the video of how Facebook uses PyTorch. The personalization technology team at Instagram uses PyTorch to continually improve and refine the recommendation engines that power Instagram's experiences. The team has also been able to improve its infrastructure, easily explore new architectures, and train models as large as 10 terabytes faster than ever before. Augmented reality and virtual reality are becoming increasingly important parts of Facebook product experiences.
Our researchers and engineers are using PyTorch to build and run person segmentation AI models to c
2021-06-13 20:09
Show Video
Other news