EveryEmotionInPortrait | OPPO Reno6 Series 5G Online Launch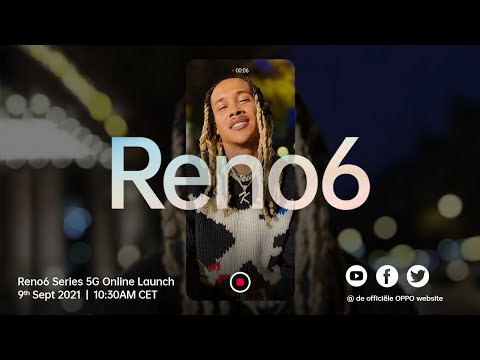 Show Video
- Hi everyone. I'm Nils! Welcome to the Reno6 5G series launch. Seriously guys, let's get back to reality together. That's much better, isn't it? Guys, I'm really excited to be with you from Paris today. No better than the Louis Vuitton Foundation.
This show is for all of you out there who are actually passionate about technology or love videography and photography. So, guys let's see what's coming up! It has been a crazy year. We've been through a lot of emotional moments and tried to navigate as best as we could through these uncertain times. Now, we realise how important it is to enjoy the simple things in life. To hug someone, to go on a date, to come together and to cherish these new moments with the ones we love. But we also noticed that people got more and more creative during this time.
Portrait videos are becoming increasingly important for people to share their stories, because it feels like someone is talking to you like you're living in the moment with the person, even when you're apart. For our new Reno series, we had one goal: creating the perfect phone to capture every emotion in portrait. Taking a good portrait is about finding the right angles and the right light, creating a connection between the portrait and its viewers.
It fuels our curiosity and makes us wonder about the story behind each and every portrait. So, for all of you creatives out there, we built the Reno6 series for you to share your story, your ideas and your passions whenever you want. Speaking of creativity, last year, we set up the Reno Lab where artists and young talents across art, fashion and music can share their creative inspirations and experiences through Reno phones. We've recruited some of the most exciting talents and visionaries across different creative fields, using our smartphone technology to inspire everyone to see the world with a unique lens. And this year for the Reno6 series, I'm excited to announce our latest collaboration at the Reno Lab with artist Kelvyn Colt, Kelvyn has created a unique cultural identity in music that is bold, authentic and reaches millions of people.
Here's a little clip about Kelvyn and OPPO. - Big things are coming up next with Kelvyn Colt! So, make sure to keep an eye on our social media to find out more about this collaboration! As I just mentioned, we're always inspired by the young generation of creatives. So, we've launched something exciting, the OPPO Renovators project. We focus on the youth in different fields of innovation, for the creation of art and design all around the world.
This year, the best creative pieces will be showcased at international festivals, including the London Design Festival and Dubai Expo, so stay tuned for that! As you know, we're living in the moment of emotions. So, to do them justice and express them in the most beautiful way, it's time to introduce the new member of our Reno Series: the Reno6 Pro 5G. This is the Reno6 Pro 5G. Innovation and sophisticated design are incredibly important to us, so we've created a high-performance and stylish new smartphone that will look fantastic in your hand.
The Reno6 Pro has a smooth design and features our unique patented technology, the OPPO Glow. OPPO Glow gives the smartphone a dazzling tone resembling the Milky Way, as soon as it hits the light. We used a unique process to create a crystal glowing effect that you won't find anywhere else. Not only is the Reno6 Pro packed with all the latest tech, it's also one of the slimmest smartphones we've ever created. It weighs only 188 grams and is 7.99 millimeters thin. The design looks pretty cool, right? Our OPPO users really enjoyed the OPPO Glow from last year, so this time it had to make a comeback! The Reno6 Pro is available in two stunning colours: Arctic Blue and Lunar Grey.
They both have a beautiful range of colours that will be revealed under different angles thanks to the OPPO Glow. As you can tell, we spent some time working on a beautiful design like this, but there's even more on the inside! The Reno series is known for its high-performance camera that captures photos and videos in incredible detail. And every year, we find new ways to improve it. We've listened to what you, our OPPO users, want and created a device that excels in how it captures portraits.
Now, to tell you more about our latest video features, I'll let Arne take it from here. - Thanks Nils. Smartphone cameras have come a long way. From producing just grainy snaps to fully fledged, versatile camera systems that can even support large scale prints. Yet, the most impressive development is probably in video. Empowering people through technology has always been our driving force.
These days, there are more than 2 billion people using TikTok and Instagram to share their stories in fun and creative ways. As Nils mentioned, portraits are a great storytelling tool and today we are putting our technology at your service to create your own masterpiece from your smartphone. With the Reno6 Pro, you get a quad-lens camera system. It's a versatile shooting set up, so let's take a closer look. First, we've got a 50 megapixel Ultra Clear lens that provides super fast focus and sharp image output.
Next to it is a 16 megapixel Ultra-Wide-Angle lens offering a field of view of up to 123 degrees to capture even more with one click of a button. The camera system also features a 13 megapixel telephoto lens that boasts five times hybrid zoom and up to 20 times digital zoom and a two megapixel macro lens that renders tiny objects with incredible detail and texture. With the Reno6 Pro quad-lens camera system, you can take incredible pictures in any situation.
We've seamlessly integrated the Colour Temperature Sensor with the flashlight to instantly adjust the lighting around you so that colour looks more accurate and natural in any environment. The main camera also comes with the flagship Sony IMX766 sensor. The large sensor can capture more light and enhanc low-light video shooting while keeping the noise minimal. The Reno6 Pro comes with a powerful and dynamic camera system that caters to all your needs. For video shooting, we took it one step further and created a brand-new feature that will help you to tell your story in a truly unique way.
Introducing the very first Bokeh Flare Portrait Video Mode. People love taking photos with Portrait Mode or in Bokeh Mode where the subject pops and the background transforms into a dreamy sphere of colour and light. With the Reno6 Pro this famous look can also transform your video, making your creations truly unique. Leveraging powerful hardware and AI algorithms trained with more than 10 million datasets, the Bokeh Flare Portrait Video Mode will not just simply blur your background. In real time, the video is segmented into several layers; the background is transformed into a mellow canvas while the subject is treated individually for the best result depending on the actual situation, The Bokeh Flare Portrait Video Mode will give you an epic, almost cinematic look, really focusing on the person's expressions.
This feature is the perfect tool to bring emotions to life. And you don't have to wait for the perfect moment, with the perfect lighting to start recording with our Bokeh Flare. We've made sure our Bokeh Flare can adapt to any environment to better serve your creativity. We've included the AI Highlight Video Feature so you don't have to worry about the lighting around you.
AI Highlight Video combines OPPO's exclusive Ultra Night Video and Live HDR algorithms by automatically detecting the ambient light in a scene and making optimizations accordingly. It can automatically recognise the scene and make sure your video features the maximum detail and the right level of brightness. Last but not least, the Ultra Steady Mode and Focus Tracking technology allows for smooth and steady videos at all times. We've asked cinematographer Gabriel Garai to get creative with the Reno6 Pro and use some of the new video features.
Let's have a look. - As a cinematographer I've worked with many different cameras in the industry over the last 20 years. Shooting an entire music video with the new Reno6 Pro sounded at first like a pretty challenging idea.
But once I starting doing my tests and I was diving into this project even deeper, I actually realised it's a pretty good idea. The music video we are shooting is for a song performed and written by Kelvyn Colt. The song is actually all about emotions. Capturing emotions is not that easy. You have to focus on what's truly important and lose all the distracting elements.
The Reno6 Pro's Bokeh Flare Portrait Video blurs the background and focuses more on the person's expression. Front or back lens doesn't really matter, which gave us the necessary flexibility during this production. Due to the size of our "camera" we were able to try out very unusual angles, which gave us a stunning creative picture and a completely new way of thinking. Even in tricky light situations like backlight or low light, we were able to capture every single detail thanks to the AI Highlight feature of the Reno6 Pro. Keeping the rich details of the otherwise under or overexposed areas.
To be honest, shooting this large production on a mobile phone was a completely new experience. I thought we would face many challenges, but at the end of the day, I was positively surprised how handy and versatile it was to shoot on the Reno6 Pro. This phone makes filmmaking accessible to so many young film directors and storytellers, I'm so curious how it can unleash their creativity. - Thanks Gabriel.
That video is really amazing and shows what can be captured on a powerful smartphone like the Reno6 Pro. Before wrapping up the video features, let's highlight Dual-View Video. It's a really cool feature that allows the front and the back cameras to record at the same time, because there's always two sides to a story, right? For the photo enthusiasts, the Reno6 Pro also provides 108 megapixel ultra clear image resolution powered by our Ultra Clear algorithm. This high resolution can capture richer details, textures, and colours in your photos, all thanks to the Ultra High image resolution. Once you've done all you can to compose the perfect shot, it's time to let some post production magic really bring out the emotion in your photos. AI Palette on the Reno6 Pro is like having a whole post-processing team hidden inside your phone.
If you come across styles that you like and other images, the AI Palette can easily replicate the editing style of those photos onto your own, with just one click. This will give you instant access to new looks for your photos without spending hours trying to find the right filter. Once again, we're pushing the standards for Reno to become your perfect content creation tool with a click of a button. Whether it's recording original videos with a Bokeh Flare, experimenting with night time shooting to reveal new perspectives, or using the dual-view video to capture twice as much, the Reno6 Pro has an all-round camera system that won't let you down. We've managed to find the right balance between AI technology and camera hardware to create a smartphone that will give you the best results effortlessly.
Alright, let's move on to this screen. What's a good phone without a good screen? The Reno6 Pro has a 90 Hertz 3D curved screen that gives you great viewing angles and is actually optimal for gaming or scrolling through social media. On top of the HDR10+ certification, which will make a significant difference in how the colours will show on the screen, the display is also certified by your favourite streaming platforms to make sure you enjoy your shows, series and TV in the best viewing conditions. Of course, we got our screen tested by SGS and receive the Eye Care Display certification thanks to the low level of blue light emissions from the Reno6 Pro. Now, let's get a deeper look at the hardware behind this smartphone. Back to Nils.
- Sure thing, Arne! A powerful hardware is key to support a smartphone that can do that much and so much more. Our new Reno is fast, responsive and will keep up with you all day. Let me show you how this is done. The Reno6 Pro comes with 12 gigabyte of RAM and 256 gigabyte of storage. On top of that, we've included our new RAM expansion technology, which will allow you to run even more heavy apps at the same time by converting some of the smartphone storage to a virtual RAM.
We've combined the extensive RAM with a powerful Qualcomm Snapdragon 870 chipset for ultra-performance. This works really well for games that need high speed and efficiency. We are proud to have the support of Qualcomm, a company who introduced 5G to the world and is making innovative breakthroughs that transform how we connect and communicate with each other. Now, a few words on our collaboration from Qualcomm themselves. - I really want to congratulate the entire OPPO team on the launch today of the OPPO Reno6 Pro, which is the very first device powered by Qualcomms's Snapdragon 875G mobile platform, something we brought to Europe. OPPO and Qualcomm are committed to bringing the ultimate 5G experience to users and the Snapdragon 870 really is the total package backed by premium intelligence, boosted performance and geared-up gaming.
All of these features deliver the total experience with unstoppable speed and efficiency driven by our Qualcomm 585 CPU, which is capable of intense mobile computing up to 3.2 gigahertz - - one of the highest in the market. We have worked with OPPO for many years now and collaborated closely on the launch of their first 5G device back in 2019 so we are now delighted to see their continued commitment to bring 5G to more consumers across the globe. Over our long collaboration, we have witnessed how the OPPO team has consistently created premium-tier devices with breakthrough innovations.
We are so proud to have been part of this. I'm now confident the Reno6 Pro using Qualcomms's Snapdragon 870 5G mobile platform, will be a great success, and I know that this will bring enhanced 5G experiences to European consumers. So dear OPPO team, congratulations again. - Year after year, we're always thankful to collaborate with Qualcomm to provide the best performing smartphones to our OPPO users. So now, the feature that needs no introduction: the SuperVOOC Flash Charging.
If you've been using OPPO phones, then you know it's the perfect solution to cure your low battery anxiety. The Reno6 Pro features the 65 watt SuperVOOC 2.0 charging technology. A five minute charge gives you four hours of video playback. I could go on forever about the SuperVOOC because it's my favourite feature, but I'll let Valeryia tell you how our charging technology is making her daily life so much easier.
- Many things I do come spontaneously. Of course, I have an idea of where I'm heading of what I want and don't, but then in the moment, I like to leave room for things to just happen with the flow. My name is Valeriya Gogunskaya and I'm passionate about longboard dancing. I moved to Portugal six years ago for love and could never imagine where this path would take me. It is crazy to think back about starting the first longboard dancing community in this country and how step by step, skating helped me to feel that I belong to my new home and today, I can live off what I'm passionate about.
A huge part of my work involves using a phone while always being on go. It was hard to believe that I could charge my OPPO Reno6 Pro in only 35 minutes with the SuperVOOC plus charger. With it, I can be ready for any adventure in no time and seize every moment to the fullest. There is no greater feeling than skating with my friends, sharing what we all love and having something to rely on to capture these moments. The OPPO Reno6's camera is very impressive and versatile.
I can film my friends from my board and the images look sharp and stable. The Bokeh Flare Portrait function gives a beautiful and artistic touch to my photos. Just in case the day has more to offer and the battery's running low, I can either do a quick recharge in five minutes, or turn on the Super Power Saving Mode so that I can stay up catching the sunrise. This pandemic has definitely made me appreciate even more the time with my friends and my community. It is about living life to the fullest, capturing every precious emotion and sharing it with others. - Thanks, Valeryia! Really impressive skateboarding skills! It's crazy how a full battery can improve the course of the day and make it stress-free.
We haven't told you much about the phone's capacity for gaming yet. Thanks to the massive amount of RAM and chipset, you'll be able to escape into an immersive world of gaming for hours, without anything interfering with your gameplay. HyperBoost ensures a stable frame rate, lower power consumption and less battery heating when your phone is running at a high load. At the same time, our Game Focus Mode will hide the notifications that could disturb you during your games like messages, calls, and even the status bar.
Our Quick Startup feature will efficiently sort out your games, according to how often you play and launch your favourite ones faster. The Reno6 Pro packs all the latest innovative technologies to provide a better gaming session for you. On top of that, the X-axis Linear Motor has the capacity to release more than 30 unique vibrations to really feel every moment of action. We've also made sure to provide impeccable audio with our ultra-linear stereo speakers and Dolby Atmos. The sound effects will make your games and videos come to life.
Of course, all these amazing specs are powered by the latest ColorOS 11. - So that's our Reno6 Pro. - 5G! - A stunning OPPO Glow in two new colours, - Arctic Blue and Lunar Grey. - 50 megapixel AI Quad Lens Camera System.
- That's right, 50 megapixel main camera, telephoto. - Ultra-Wide-Angle and Macro! - An incredible and safe display. - Certified by Netflix and Amazon Prime video. - And don't forget the hardware! 12 gigabytes of RAM and the Qualcomm Snapdragon 870 chipset. - So what's your favourite feature? - Gotta be the Bokeh Flare Portrait Video - that looks amazing. Yours? - Big fan of the SuperVOOC charging, always have always will.
Wait... aren't we missing something? - Reno6! - Of course, there are two products in the Reno6 series. So for Reno6 5G, we'll keep it short and sweet. All right, Arne, what have we got in the camera? - 64 megapixels main camera. - Nice. Hardware?
- Brand new MediaTek Dimensity 900, 8 gigabytes of RAM and 128 gigabytes of storage. - Great, there's plenty to work with. So, cameras, what do they do? - So much.
- Perfect portrait and videos in your pocket: macro, Bokeh, you name it Nils. - And I'll tell you what, it even has the same charging technology as the Reno6 Pro. - 65 Watts? - Correct. Reno6 also comes in two colours, Arctic Blue and Stellar Black.
Look at that! Today, you've seen our new Reno6 series. We really hope you liked the presentation and enjoyed the sneak peek of our collaboration with Kelvyn Colt. - We've packed the Reno6 smartphone with some of our best innovative features, and we're excited to see you try them out. - Before we end it here, I think there's one more thing that you want to find out.
It's time to reveal the price and availability of the new Reno6 smartphone! The Reno6 Pro comes at 799 euros and the Reno6 at 499 euros. Both devices are available today with the special bundle. With the Reno6 Pro we'll include our newest pair of ear phones, the Enco X, the OPPO Band Style and the Liquid Silicone Protective Case. With the Reno6, you'll get a pair of Enco Free 2 and a Radiant Lighting Protective Case. And you can get the Reno6 5G series in our official online stores and partner stores. Well, we had so much fun showing you the new products today.
- The new Reno6 5G series is the latest in a beautiful line-up of devices that put people first and enable them to feel, capture and share every single emotion. - So we count on you to immortalise the portraits that will tell your story, the story you've all been waiting for. Well, thank you all so much for being with us today.
We'll see you very soon and take care!
2021-09-13 17:02
Show Video
Other news