Edge of Wonderful: Intel's MWC 2021 Event (Replay)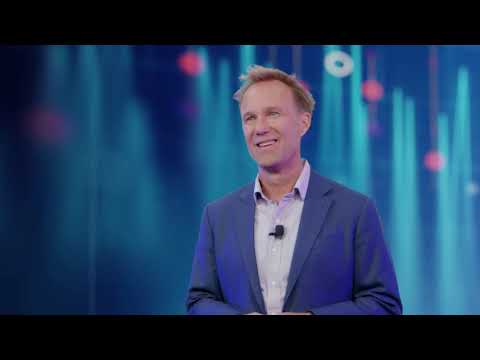 Show Video
(gentle music) Hi and welcome. I'm Dan Rodriguez, Corporate Vice President and General Manager of Intel's Network Platforms Group. I'm so glad you can be here today as we discuss how technology inflection points, like 5G, Edge, Artificial Intelligence and Cloud are shaping industries. Enhancing business operations and delivering new experiences. We'll hear from communication service providers and our Edge partners, to see how they are working with Intel to reap the full value of these technologies in deployments really around the globe.
But first, to share some thoughts about how our economy is going digital and how the technology inflection points are impacting our lives, I'd like to welcome Intel CEO, Pat Gelsinger. (gentle music) - Thanks, Dan, what a great feeling to be back at Intel and to address our many friends heading into Mobile World Congress. These are interesting times for the communications industry, which was already going through a significant transformation before the pandemic.
COVID has markedly accelerated the digitization of everything, spurring rapid innovation and new models of working, learning, interacting and care. I think about how I communicate with my family, friends and colleagues online every day. How my kids and grandkids have had to learn remotely. And of course, each of us is adapting to the new normal of working from home, in healthcare, factories.
The supply chain, in every aspect of human existence, COVID has put front and center the importance of technology. The world is becoming digital, driven by four superpowers, Cloud, Connectivity 5G, Artificial Intelligence, and the Intelligent Edge. I call these superpowers because each expands the impact of the others. And together they are reshaping every aspect of our lives and work. They are also creating a cycle of explosive growth in this industry that will result in sustained growth for a decade or more. At Intel, our purpose is at the heart of everything we do to build world changing technology that improves the life of every human on the planet.
We bring the same purpose to our partnerships. We will continue to help you harness the superpowers to serve the needs of your customers For the past decade, we have been your partner in setting the course for a new era of innovation and network transformations. In this time, we've integrated AI into Intel Xeon scalable processors, introduced Intel Xeon D processors, invested in our FlexRAN reference architecture and built accelerators, FPGA and Ethernet adaptors.
These technologies and our proven ecosystem help our customers deploy a software defined, agile and scalable infrastructure, from Core to Access to Edge. The journey started in the Core network where we have seen tremendous adoption of virtualized functions running on standard off the shelf servers. Now, we look forward to seeing how a virtualized RAN will scale from hundreds to thousands to eventually millions of vRAN base stations globally. And with increased automation capabilities. Dan will share some new, cool customer implementations and the impact they are having in real life situations.
It's exciting to see these super powers in actions in trials and deployments globally. I am both humbled by the challenges we aim to solve and excited by the limitless opportunities made possible by the magic of the technology we create together. I'll close today with a thank you. It's an honor to have the opportunity to speak to all of you and I am looking forward to connecting with you, hopefully in person very soon. (gentle music) - Thanks Pat.
These technology inflection points really are like super powers. They have the power to transform nearly every industry and improve our lives in new and unexpected ways. There are many examples where we can see this technology in a very visible way. And there are equally as many examples where technology is having a major impact behind the scenes to deliver new or better experiences. And while I may be a bit biased here there is no better example than the transformation of the network that underpins the rollout of 5G communications. These transformations have fundamentally changed how networks are designed, how networks operate and how networks services are delivered.
And we're seeing the last decade of investment pay off. It's provided a foundation for new Cloud-like agility, for new Edge services and for new AI capabilities. The journey to create this foundation started in 2012, with the launch of the ETSI NFE working group. And at that time, who would have thought that more than half of all 2021 core network deployments would be virtualized and running on standard off the shelf servers. We've achieved a true tipping point, and it reflects a lot of hard work over the last decade, really across the entire industry. And now we're embarking on the same journey for the Access network, as it transforms to a virtualize RAN, delivered through an open ecosystem.
The progress is tremendous, but we're really just scratching the surface of what's possible with the superpower technologies. Today, we'll look at these technologies in action around the globe and how they're having a transformative impact on both our personal lives, as well as a range of industries. We'll start this journey with Reliance Jio, and the technology innovations they're delivering for India's digital transformatiion. Now, I'm really mindful that this is a heartbreaking time in India with the difficulty of the pandemic across the world, it has been reassuring to see the health and technology sectors come together to mobilize global resources and provide funding support to offer hope for better days ahead. Now, India is one of the fastest growing markets for digital consumers and has been investing in a robust network infrastructure to support these experiences.
Reliance JIO is one of the leading operators in India and is transforming their network from core to access to edge. And today we're announcing a partnership to help support and accelerate this effort. To share more, I'm pleased to welcome Senior Vice President at Reliance JIO, Aayush Bhatnagar Thank you Dan. Reliance JIO has always been committed to provide affordable Internet connectivity for all Indians. As new technologies like 5G are evolving so is the need for digitizing society and industries alike. The JIO and Intel Partnership is working closely to achieve these goals at a pan India scale. JIO and Intel are
working together not only in the areas of 5G and radio and wireless core, but also in associated disciplines like artificial intelligence, cloud computing and edge computing. And this would also help us deploy 5G as we move forward. JIO is truly excited to partner with Intel in this transformative journey.
Thank you Aayush. These digital technology innovations have become an enabler of connectivity, especially as we're transitioning to more digital way of life. We're excited to hear about the continued progress our teams will make with the collaboration on cloud, AI, 5G and edge. With the rollout of 5G, we're seeing a rapid transition to virtualization and Cloud native technologies. And this is now quickly extending to the Radio Access Network too.
This is driven by the same benefits we've seen in the Core network, to gain even more flexibility and agility, as you introduce new use cases and services. We've been investing in our FlexRAN software for the last decade, as well as delivering Intel Xeon processors, accelerators, FPGAs and Ethernet adaptors to support various proof of concepts, trials, and deployments globally. And today, nearly all commercial vRAN deployments are running on Intel technology.
Let's take a look at a successful deployment in Germany a location that is a hotbed for vRAN innovation. Last year, Deutsche Telekom announced the town of Neubrandenburg, a city of 65,000 people, spread out over 33 square miles would become the location for a live network deployment using an Open Virtualized RAN. And almost overnight, the town became known as O-RAN town. Here to tell us more is Deutsche Telekom's SVP of Technology Strategy and Innovation, and also the COO of the O-RAN Alliance, Alex Choi. Thank you for joining us today, - My pleasure. - Hey Alex, let's start with this Deutsche Telekom's O-RAN trials received a lot of attention since you announced it last year.
What's been the most exciting aspect of the O-RAN town journey for your team? - First of all, glad to join you Dan Deutsche Telekom started the X-RAN and later on O-RAN work, together with Intel and a few other industry partners at a time when it was still unthinkable to deploy complex RAN solutions based on cuts, hardware and virtualizations. Now after five years long journey it will be amazing to see this technology being deployed into live network environment of Deutsche Telekom in Germany. Our work at O-RAN town is critical for us to verify the feasibility and the benefits of transitioning from proprietary fixed function platform to general purpose server platforms in the RAN. - It's great to see this technology in action in a live network.
Now, can you tell us about some of your key learnings and maybe some of the challenges that the industry needs to overcome - Implementing an O-cloud architecture on standard server platform, brings rapid innovation, but also has a challenges. On the one hand, it indeed allows the technologies to progress in capabilities, performance and efficiency quite quickly. It is great to see this kind of agility in the market. On the other hand, it brings complex interoperability scenarios, and that will require operators to integrate and managing many more moving parts all maturing and arriving at different times.
This is a pretty big changes from traditional telco models, but a skill that as a telcos need to embrace. The introduction of automation capabilities becomes a must have, to manage the increased network complexity. - We know the ecosystem plays a critical role in this journey, and we really value the partnership with Deutsche Telekom. Can you share a few words on how Deutsche Telekom is using Intel technology in O-RAN town? - Our key focus at Deutsche Telekom is on high performance, RAN deployments at scale. This requires the development and the availability of proven and competitive O-RAN propositions, in terms of performance and cost By using Intel FlexRAN with the accelerators, we benefit from the agility to handle the heavy processing task of the RAN processing protocol stack.
Intel is therefore a key technology partner and we are counting on Intel's partnership and technology leadership as we develop O-RAN town moving forward. Focusing on enhancing performance as well as efficiency. The journey to Open RAN is not a sprint, but the steps we are planning to take with Intel and partners in DT O-RAN town are a critical steps in the right direction. - Alex, thanks so much for joining us and we're looking forward to continuing our strong collaboration as you deliver high-performance RAN at scale. - All my pleasure. Thank you. - As new networks are getting built from the ground up, there are significant benefit to using Cloud native technologies to increase agility and flexibility.
Let's take a quick stop in the United States, where Dish wireless is building the nation's first virtualize O-RAN compliant 5G deployment. To share their Cloud native approach I'm pleased to welcome Executive Vice President and Chief Network Officer at Dish wireless, Marc Rouanne. - Thank you, Dan.
I'm very happy to be with you guys today So indeed at Dish Wireless, we building out what we call the first Cloud native 5G in the United States. And it's very exciting because it's different from what has been done before, and give us an extraordinary flexibility to build and learn as we grow. And it will give us also tremendous flexibility to upgrade very soon, very fast the software and hardware over time Now, what is very important for us is to have a very robust set of technologies with a strong ecosystem with many partners. We are going to consume a lot of technology and the ecosystem that is relying on Intel is such a robust ecosystem which brings us a lot of options in terms of hardware, software, and partners that have a wide experience using Intel capabilities. So when you think about a network that spans from the radio all the way to the Cloud and the service on the web, we basically are using a lot of compute, and a lot of that compute is based on Intel technology. We using it on the Access, on the Edge, on the Core.
Some of those functions and many of those functions actually are natively on the public cloud which is also powered by Intel family of Xeon processors. So we've been working together Dan and your team for what, a couple of years now. We've experimented a lot of support, a lot of speed agility and a common vision of what this new technologies can bring to us and to the market. And this has been an exciting journey so far together. (gentle music) - Thanks Mark.
It's great to see you're using a Cloud architecture in the network, to bring this same server economics that transformed the data center Looking forward to seeing this network live in Las Vegas later this year. And in this case, what happens in Vegas isn't staying in Vegas. We can't wait to see this nationwide In the years ahead, we'll see vRAN deployment scale from hundreds to hundreds of thousands and eventually millions of vRAN based stations globally. To do this, it's crucial for operators to deploy a network with Cloud-like agility and automation In addition, they must also optimize the RAN performance to deliver the right bandwidth and latency to every customer.
Bringing in artificial intelligence capabilities to improve spectral efficiency across the network and help achieve just that. Consider the use of AI to power MAC schedulers. This makes it possible to comprehend past radio channel quality information data, forecast RF quality and then optimize RAN performance It intelligently learns user mobility patterns and allocates RF resources leading to enhanced spectral efficiency and improve quality of service. And ultimately a better user experience. As an example, by using Intel's FlexRAN Reference Architecture, as well as the integrated AI capabilities and Intel Xeon Scalable processor our ecosystem partners can offer deep learning models that are capable of making predictions, that resulted in up to 40% better modular coding scheme allocations. This scheme defines how effectively the user information will transmit between the devices and the RAN based on the quality of the link connection.
Another way to squeeze even more performance from 4G and 5G networks, is by taking a fresh approach to channel assignment and scheduling As an example, integrating and optimizing spectrum multiplier software in the RAN intelligent controller, otherwise known as the RIC, can improve spectrum utilization. We know that hardware and software capabilities are critical to this. And it's been exciting to see how FlexRAN has unleashed a tremendous way of innovation across the entire ecosystem. One of the companies at the forefront of innovation is Cohere Technologies.
Now let's head out to California from Cohere's Chairman and CEO Ray Dolan. Welcome Ray. - Thanks Dan. It's great to be with you And thanks for the partnership that we've developed with you and your Intel FlexRAN team. - Let's start with this. Why are ecosystem companies focusing so much attention on channel optimization and why now? - So channel optimization Dan, is the building block of MU-MIMO or spatial multiplexing.
It's the primary driver of network economics and performance. At the end of the day, the cost structure of the network will be driven by how successful we are there. With time frequency, which is the conventional approach, people are running into tremendous complexity, it's driving compute resources, it's driving power and it's ending up at the wrong cost structure.
Cohere pioneered the delay Doppler approach, and that has changed everything. We've done that together with you in the FlexRAN platform and we just had a chance to show that to Vodafone as you know. - Ray, sounds like you've been doing some unique work that's paying off. Can you tell us a little bit more about it? - Cohere Spectrum Multiplier Software can be integrated within the RAN at several places At the DU, the CU or as an X app the RAN intelligent controller, which is what we just did together at Vodafone.
And that RAN intelligent controller, some people call it RIC, is an essential element of the Telco cloud. And we can do this without any changes to the handset, the radio or the antennas. Everything else in the network is off the shelf.
The software also works with any band, any waveform or on any server plan. But here's the part that's really compelling, when we use our technology the Delayed Doppler Spatial Multiplexing, we improve the spectrum utilization for operators by up to 2X. That's exactly what Vodafone saw their 700 megahertz testing in their labs. And it's going to be even bigger with mid-band spectrum.
That's huge. - Absolutely. That's an incredible improvement. You have a long history in the industry, how would you sum up the significance of vRAN? - So virtualizing the entire network all the way out to the RAN on standard servers and taking advantage of a proven software ecosystem like the FlexRAN platform, those are fundamental to enabling Cohere to deliver the transformative technology in our spectrum multiplying software. This is really fostering right now, a healthy and growing software ecosystem that just wasn't possible before - Thanks for joining us, Ray, it's exciting to see these innovations and how the work you're leading is having an impact in the industry - Thanks, Dan. - We've been looking at the innovations in the public networks, but as we think about the superpowers I mentioned earlier, enterprises can really stand to benefit as well.
In fact, IT decision makers at enterprise companies were asked whether 5G technologies will impact their business. Nearly 80% agree it would. And over 78% believe 5G technology is crucial to keep pace with innovation. And nearly 70% expect to spend 5% or more of their IT budget on 5G technology over the next three years. So clearly this creates a huge opportunity. Private networks that can connect all sorts of underlying network technologies like 5G, will play a pivotal role in future enterprise success.
With enhanced control and connectivity, enterprises can go to market faster with applications, provide real-time and custom services deliver better user experiences and act on insights from ever growing amounts of data. Technologies like 5G and Edge are important as the enterprises implement private network solutions in warehouses, in factories, educational institutions, enterprise campuses, sports arenas and retail locations. The opportunities are endless.
If you step back and consider what's driving the interest in 5G and Edge, it's all about driving new business value. By 2023, 75% of the data will be outside of the data center. Acting quickly on all that data at the Edge locations, means that companies can uncover new revenue sources and draw new insights from previously untapped data sources Businesses across a range of industries are looking to implement Edge computing capabilities to deliver new experiences and drive efficiencies in their operations.
To share more about these capabilities in the manufacturing industry, I'd like to welcome the Vice President of the Internet of Things Group and General Manager of the Industrial Solutions Division at Intel, Christine Boles. (gentle music) - Thank you Dan. Consider the global smart manufacturing market, which is expected to grow from $250 billion today, to over 575 billion over the next seven years. Manufacturers are evaluating ways to take advantage of technologies such as artificial intelligence and 5G, in order to reduce maintenance costs and energy costs and improve workforce productivity. This translates to improved operational efficiencies and a path to speed up their digital transformation. In fact, Intel, Exor International and Telecom Italia have teamed together to enable an end to end smart factory in Verona, Italy.
It's an example of the benefits of industry 4.0 digitalization to manufacturers of all sizes. Here with us today, is the Chief Technology Officer from Exor International, Claudio Ambra (gentle music) - Thank you Christine.
Exor built the smart factory from the ground up, to demonstrate that the full 100% digitalization of the factory is possible with today technology. And to experiment with the emerging technology of the 5G, artificial intelligence and machine learning. The very fact that a manufacturer our dimension can achieve a fully digitalized factory, means that industry 4.0 technology adaptation
is approaching a tipping point. This new smart factory will demonstrate what is possible with the latest networking, Cloud and Edge computing technology, in an agile and a modeler application environment. We are using a breath of Intel products to do this. Intel Xeon, Atom processor and FPGA technology.
We are powering our network and edge infrastructure and we are cooperating this technology in Edge Control, Edge Insight, to gather industrial software to further improve our data insights. We are also integrating Intel's OpenVINO toolkits, use it in our solution for quality spectrum to improve the quality in our HMI production line. Working closely with the Intel teams on this implementation of this technology we are demonstrating real-time benefits, including employee scheduling and time off tracking, weekly inventory and supply tracking. Also we are improving production and order record keeping.
All of this help us respond to a market that continues to demand responses very, very fast. (gentle music) - Thank you, Claudio. It's exciting to see how technologies like 5G and Edge computing can help accelerate industry 4.0. And beyond manufacturing, there's a host of other sectors looking to implement Edge computing capabilities.
(gentle music) - That's right, Christine, and a key consideration is the ability for enterprise customers to quickly customize their Edge applications. To address this need, Intel offers a diverse, Edge ready product portfolio, that includes feature rich Silicon built for the Edge. Like the next-gen Intel Xeon D processors that are sampling now. We also offer open and optimized software and hundreds of pre-configured and integrated Edge to cloud solutions that are delivered through a global partner ecosystem.
With our comprehensive set of offerings, developers are able to converge various capabilities at the Edge. Such as, AI analytics, media, and networking, in an easy to consume manner for end customers. In addition to our horizontal offerings we also provide specific industry solutions to decrease our customers time to market.
For industrial retail, healthcare and smart cities, our aim is to provide developer tools that make it easier to create software and also make it easy for our customers to consume the software on top of our hardware portfolio design for the Edge. One area we focused on is the complexity involved with onboarding and managing Edge applications and network functions. For the MEC layer, we have two software packages that are optimized for Cloud native Edge infrastructure. Intel Smart Edge is our commercial software designed for on-premise use cases, such as private networks and universal CPE. Customers can use it to easily onboard and manage applications and network functions with cloud-like agility across any type of underlying network infrastructure, such as WiFi, wired and 4G or 5G wireless.
With Intel Smart Edge, customers can process mass amounts of data under one, simplified, single pane of glass platform that is connected to various end points. This means, they can more efficiently manage and provision the underlying Edge infrastructure and the applications running on top of it. For ecosystem partners and customers who want to build their own MEC solution. We also developed an open source software toolkit called OpenNESS. We offer software development kits for universal CPE, private networks and the network Edge, that enable developers deliver highly optimized and performing Edge platforms. Today, I'm excited to announce that we're unifying the architecture and code base for these products, to provide even greater value and flexibility to our customers.
Whether they want to buy a commercial solution or build their own MEC solution. The evolved and enhanced Intel Smart Edge Open, formerly known OpenNESS, and the Intel Smart Edge commercial software, are based on a robust layer of tools and capabilities optimized for Cloud native Edge infrastructure. The SDKs for Intel Smart Edge Open, integrate with tools like OpenVINO, FlexRAN and Open Visual Cloud, enabling our customers to converge multiple workloads on their Edge platforms.
And also to create and tune various IOT applications. So whether customer wants to buy a commercial solution or use our open SDKs to build their own MEC solution, our software offerings give them the flexibility to more easily migrate, orchestrate and manage workloads across the Edge, the network and the Cloud. In fact, through our collaboration with Red Hat, they are taking advantage of the capabilities in both of our Smart Edge offerings Intel Smart Edge is available as a deployable solution from partners such as Dell, which offers the Red Hat ecosystem a commercial MEC solution that can dramatically reduce their time to market. Additionally, the Smart Edge Open operators that are certified for Red Hat open shift, allows for easier automation as customers deploy acceleration functions at the network Edge. They enable an out of the box experience, by enabling users to deploy operator bundles with infrastructure provided by Red Hat to Intel, without having to download or build a code, reducing operational complexity and cost.
Solutions using our Intel Smart Edge offerings are in trials and deployments globally, in use cases ranging from retail shopping experiences and inventory management, to industrial factory operations sporting events and more. Let's head over to Spain to hear how Cellnex continues to deliver innovative Edge capabilities, leveraging Intel's MEC software solutions. Here to speak with us today is the Director of Product Strategy Innovation at Cellnex, Jose Antonio Aranda. (gentle music) - Thanks Dan.
Cellnex Telecom is the leading operator of wireless telecommunications and broadcasting infrastructure in Europe with a portfolio of nearly 129,000 sites, 70,000 already operative and the rest of them to be rollout up to 2030. Cellnex operates in 12 European countries, offering products in four areas. Telecommunication infrastructure services, broadcasting network, emergency service network, and IOT and smart cities. Cellnex has been working during the last years to develop our Edge computing capabilities with Intel, Lenovo and Nearby Computing. We have deployed different Edge options from the physical infrastructure to the service management. Including a fully managed services from the devices, to the cloud providers.
To optimize the use of the hardware and the management of the service, we base our solution in the Smart Edge Open from Intel. By leveraging capabilities in the Smart Edge Open, we can act faster on data and provide service level management This help us improve quality of service and deliver a more consistent experience to our end users. With Intel's Smart Edge Open, we are also optimizing the energy consumption and developing our green Edge sustainable solution that we have implemented in our zero emissions site for rural areas. Cellnex Edge computing has already been launched pre commercially integrated with our private network solution. And we are also implementing Edge computing capabilities in our flagship projects, 5G Catalonia in the city of Barcelona. And we are looking forward to expanding to more markets.
- Jose Antonio, thanks for joining us today. As you heard, the combination of hardware, software capabilities and tools, and close collaboration among the ecosystem, is enabling new Edge capabilities that are streamlining operations and improving quality of experiences. It's exciting to see the advancements and real impacts of 5G and Edge across the globe. The work is a journey and it requires investments in leading Edge hardware, software and tools to unleash the true potential of the superpowers. You just heard about our Edge technology solutions. Now we'll take a look at our network solutions that scale across the Core, Access and Edge.
We've invested to offer the most complete portfolio of network solutions for the industry. This includes a full suite of processors, accelerators, Ethernet adapters, memory, software toolkits and solution blueprints. But great ingredients aren't enough. We want to make it easy for our customers and partners to extract the full capabilities of our technologies, and then quickly bring them from development into production. This is exactly why I'm excited to announce today, that we've created the Intel Network Platform.
This platform is a foundation that enables our customers as they build commercial product offerings. It reduces development complexity, accelerates time to market and ensures that our customers and partners can leverage all of the features in our hardware. For well over 10 years, we've been investing in building software for Intel Xeon scalable and Xeon D platforms, making it possible to leverage the latest innovations in our processors and portfolio ingredients.
With the Intel Network Platform, we offer an easier, faster path for our customers to develop optimize your network software, to take advantage of these innovations whether for the wireless core, the RAN or new types of services at the Edge. What's notable here, is that our software investments enable our customers to improve their overall system performance. But they go way beyond that. They include enhancements to the Linux kernel and the Kubernetes and other software building blocks, that are providing platform telemetry, security and power management.
And they're designed to work with our networking and media reference architectures, like FlexRAN and Open Visual Cloud. Intel network platform includes, system level reference architectures drivers and software building blocks that enable rapid development and delivery of network solutions based on Intel platforms. And what's great is that they can be optimized to meet our customer's individual needs and requirements. No other Silicon provider offers this type of flexible, comprehensive software environment.
It's been truly exciting to see how the network platform is resulting in better performing, more secure, scalable, and automated systems, running on our third gen Xeon scalable processors, and it'll soon be running on our Xeon D processors. Pairing the Xeon processors with a suite of platform ingredients, helps you optimize your performance and achieve the right TCO. And to support this, we are further expanding our portfolio with even more offerings for 5G and Edge.
Today, we are announcing a new member of the Agilex family, an FPGA with integrated cryptography acceleration, that can support MEC sec in 5G applications. This has another layer of security to vRAN front haul, mid haul and back haul. It further compliments vRAN portfolio processors, FPGAs, Ethernet adaptors, accelerators and FlexRAN reference software.
We're also announcing a new addition to our Ethernet 800 series. Our first synchy capable Ethernet adaptor, which can be paired with our Xeon processor to help improve overall solution performance and scalability. The Ethernet adaptor is designed for space constrained systems on the Edge It is well suited for both high bandwidth 5G RAN, as well as other time and latency sensitive applications in sectors such as industrial, financial and energy.
Stay tuned for more product announcements, including our next generation of Intel Xeon D processors and Xeon Scalable processors. As you've heard today, the superpowers, 5G, Edge, AI and Cloud are making a tremendous impact on both consumer experiences in a range of industries. We're proud to partner with our customers and partners globally to deliver amazing new experiences and the best business outcomes.
And we remain committed to delivering innovative technologies and fostering the broadest ecosystem and working side by side with you. As you know, this is part of a greater digital transformation vision that Intel's driving. And to share some closing thoughts I would like to welcome Executive Vice President and GM of the Data Platforms Group at Intel, Navin Shenoy.
- Thanks, Dan. It's wonderful to see the innovations we are bringing to life, together with our customers, partners and the network ecosystem. We remain 100% committed to being the leading technology partner that the industry can rely on to accelerate 5G network transformation and to build out of the Edge to enable new and emerging applications.
The superpowers that Pat and Dan spoke of, are dramatically changing the way we all innovate and approach new problems. And our job is to innovate with velocity. Couple of these superpowers, with the explosive growth of data, fueled by the digitization of everything, and the infrastructure requirements must change, they must adapt. And our diverse portfolio of hardware, software, and solutions, strengthened by the proven ecosystem that we've built, it delivers the technology with the performance, scalability and flexibility that you need to deliver on these changing requirements. The examples you heard about today, Deutsche Telokom's O-RAN town in Germany, Dish's launch of a nationwide Cloud native 5G network, and the creative approach to platform manageability from Cellnex, first piloted in the city of Barcelona, all of these are stellar examples of innovative solutions shaping the future of the data center and the network.
We are so excited about our role at Intel bringing the technology and expertise and spirit of collaboration to help connect the world. I look forward to a time hopefully soon, when we can come together in person to geek out over all the incredible ways we are delivering innovation for our customers. In the meantime, let me leave you with a closing thought. Intel is back and by continuing to work together, the industry's best days are ahead of it. I hope you all stay safe and enjoy Mobile World Congress. Thanks.
2021-06-25 06:03
Show Video
Other news