Climatic Episode 2: Smart Construction Startup Showdown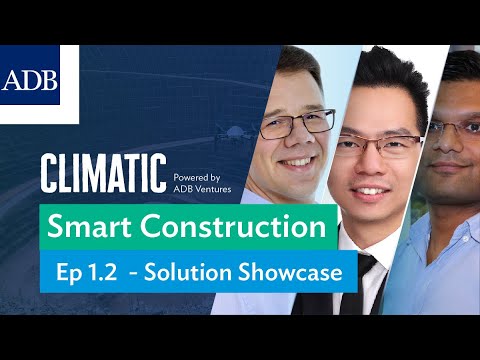 Show Video
Linh Thai: Welcome to the Climatic startup showdown. Today, you're going to meet three up and coming smart construction startups. You'll hear how they're helping the construction industry improve its climate impact. You'll also see them try to convince five of the region's toughest venture stage investors that their businesses are ready to take off. Let's meet those investors now. Jojo Flores co-founded Plug and Play, a Silicon
Valley accelerator that invested in PayPal, Dropbox, Lending Club, and more than 1,200 other companies. Jojo now lives in Manila where he helped start Launch Garage, one of the leading startup accelerators in the Philippines. Daniel Herson is Senior Fund Manager at the Asian Development Bank's ADB Ventures. Prior to this, he was Director of Strategy at BP Ventures and help set up Infuse ventures. India's first early stage clean tech venture capital fund. Shannon Kalaynamitr wears two caps. She is a Bangkok-based partner with Gobi Partners, one of the Asia Pacific region's longest standing early and growth stage investors and she is also Founder and CEO of 5G Catalyst technologies. In addition, Shannon is
also a judge on Shark Tank Thailand. Juan Nieto joins us from Cemex Ventures, the corporate venture capital arm of Cemex. Cemex Ventures focuses on finding the best technologies that can tackle the construction industry's toughest challenges. And last but not least,
Hara Wang joins us from New York, where she leads investment and fund partnerships at Third Derivative, a climate tech accelerator and ecosystem for climate innovation. A warm welcome to all our judges. Now, here are all the rules of the showdown. Our startups will each have three minutes to pitch their business plans. We will hear from all three, one after another. Then it's our judges' turn. The startups will go backstage while the investors discuss their pitches. Completely unfiltered with no-holds-barred. You, the audience, will get to be a fly on the wall,
listening to the kind of discussion that investors normally have only behind closed doors. Then we'll vote and the startup that comes out on top, that's the winner of our Smart Construction Startup Showdown. Are you ready? Okay, let's go. We've pre-selected the order with a random draw. First up is Kush Agarwal from WaveScan. WaveScan is a
Singapore-based startup that uses see-through electromagnetic scanner technology and advanced AI to inspect buildings, aircrafts, and more. Their technology can also be integrated into autonomous vehicles like drones or robots. WaveScan hopes to standardize end-to-end AI-enabled asset inspection for a resilient infrastructure and safer, more productive and more livable cities. Welcome, Kush. Take it away. Kush Agarwal: The building and construction industry contributes a staggering 39% of the world's CO2 emissions. Emissions from demolishing and reconstructing are significantly higher than proactively maintaining our built environment in the useable lifetime. This fix-when-broken mentality has caused multiple large-scale disasters taking human lives and causing huge financial losses, making this a global issue.
The later we intervene into the aging cycle of the asset, the more likely we will have to reconstruct it. And to ensure that this does not happen, the built environment industry must practice proactive maintenance. At WaveScan, we are focusing on the core of non-destructive testing technology that enables efficient automated and data-driven inspections to a decade-long research, and now that we WaveScan we have developed our first-of-its-kind see-through 3D imaging sensor technology that has high resolution, is completely contactless, and is safe to use. We
are integrating our sensors on various robotic platforms to achieve complete automation of data collection. This will enable reliable inspections without risking the safety of inspectors. We are providing an end-to-end 3D imaging solution that enables the built environment ecosystem to automate the data collection, processing, and analysis of the structural defects at various stages of the asset. We are building a solution that enhances the entire value chain of the smart construction industry and fits into the entire process from planning to construction. Our scanners can be used for quality assurance and control of 3D-printed building materials and pre-cut slabs. And with regards to the maintenance
the data will drive the process and AI algorithms would help with predictive maintenance for professional engineers to make more well-informed, timely, proactive decisions. Now after validating our technology with various multinational clients through paid pilot projects in four countries, we are now embarking on a nationwide project with the Housing Development Board of Singapore towards operationalizing our technology at scale with the structural inspections of the core asset's resilience, we have a huge market opportunity in the MDT equipment industry. So far, we have a sizable clientele consisting of over 40 early adopter companies from the built-environment industry, spanning over 12 countries. And at
this stage of the business, we are experimenting with various business models in terms of direct sales, subscriptions, or partnerships to maximize the adoption of our technology in the market. And we feel that our sensor technology is the next game-changer that can position us as a key player in the entity sensor industry, we are able to develop this cutting-edge technology due to deep domain expertise within the team and support from the Singapore government. Seeing recent global natural disasters, we cannot continue feigning ignorance of our actions. So let us
build a safer and more resilient infrastructure towards a sustainable and livable future. Thank you. Linh Thai: Than you Kush and WaveScan Next up, Aku Wilenius from Caidio Caidio uses AI to make higher-qualit concrete with less waste and fewe greenhouse gas emissions. They go their start in Finland, and now hav development and sales operations i China. Is Caidio ready to scale beyon China to the rest of Asia and Pacific Aku, let's hear about your busines model Aku Wilenius: Hello, I'm Aku, the CEO of Caidio. We create data-driven products for producing better concrete. Cement is the most important component in making concrete. But unfortunately, it is responsible in
creating 50% of all CO2 in China. In addition to the CO2 problem, over-using seven costs $6 billion in China every year. One of the problems behind these numbers is that the industry is still using very old methods in some of their processes. For example, the slump test in this picture was invented 200 years ago, and is still in everyday use. Caidio's AI-powered products for concrete production help the concrete industry reduce CO2 by optimizing processes. The product also improves the quality
of concrete, which cuts costs in building our cities and infrastructure. Our product is a combination of rich data sources, IoT edge computation, and cloud analytics. They complete the product by offering apps for data visualization and provide the needed services. The current solutions in the industry are manual, slow, and prone to errors. Whereas our AI product is automated and works in real time. We have a $12 billion market opportunity of which 60% is in China. We are directly
operating in three Chinese cities to tackle this great opportunity to a hardware-enabled SaaS business model. We installed our smart data acquisition units in our customers' production plants for data collection and machine learning. This model allows us to charge for new software capabilities that we release. We have worked with many famous concrete producers in China, and organizations in Europe to pilot and get feedback on our product. Caidio has an experienced team for creating IoT products together with interational sales and marketing backgrounds. We had decades of experience in working at large multinational companies. Caidio is a
concrete intelligence company, which invests in growing, protecting, and maintaining our know-how. We are first in the market and have the access to vast amounts of data for developing key algorithms. We are now raising $1.5 million funding for completing our product portfolio for concrete production and start sales of our first product. To summarize, caidio provides data-driven products for producing better concrete. We help
concrete producers in China save $6 billion in cement and most of our $12 billion business opportunity is in Asia. Linh Thai: Thank you, Aku and Caidio. Last but not least, we have Gary Ng from viAct. viAct automates construction monitoring to increase productivity and safety while also reducing delays. The viAct dashboard can collect data from any online camera, is simple to install, and can be up and running in just five minutes. Over to you, Gary. Gary Ng: Construction industry has seen an increase in productivity in the last twenty-five years. 98% of construction projects are delayed
leading to cost increases of 80%. One in 10 construction workers got injured, costing construction companies more than 1 billion USD dollars. The construction industry is $10 trillion USD market, and just monitoring it is 22 billion USD dollars and half of that is from Asia. More than 80% of construction sites already have real time monitoring. But
it is all done by humans, so it is inaccurate and inefficient. Our AI computer vision solutions automate construction monitoring. We're the first industrial-grade AI-powered solution platform in Asia. We can connect to any kind of different cameras such as CCTV, drone, 360, and even your mobile phone. We are all-in-one solution system on cloud and we can connect to your cameras just in seconds and we can trigger real-time alerts extracting all the relevant datas and insight from your readers and images. We have one of the largest data sets in the construction
domain in Asia and we have built more than 30 proprietary AI models. And we have deployed on more than 50 large different types of construction projects. It is extremely simple to set up, very flexible, and suitable for different construction processes and environments. You can easily connect to all the smart sensors in construction sites. We can reduce more
than 70% of human monitoring, react 10 times faster than humans can running 24-7 non stop. Our core competitor is indus.ai from US and they were recently acquired by Procore for $100 million. How we are the leading company in discriminations and our market is more than three times larger than the US. We are a SaaS model, so we charge by AI modules per per camera per month. We have very strong growth in 2020, and we have hit out 1 million US dollars in 2020. This year, we expand to overseas to Southeast Asia
and Europe. We have some of the top-tier media coverage. And we are ranked as in Top 50 ConTech startups by Cemex Ventures. We are also invested by world-class investors such as Alibaba, SOSV, Vectr Ventures, and Artesian Ventures. We have a great mix of domain expertise and technical expertise in our team. Me and my co-founder Hugo have both operated as construction engineers and became senior management for multinational companies. And we have a whole team with a great mix of AI software
engineers and hobbyists. Thank you. Linh Thai: Great. Thank you, Gary and viAct. Those are our three contenders: WaveScan, Caidio, and viAct. Their fate is now in the judges' hands. Let's kick the conversation off with Hara from Third Derivative. Hara, which of these companies made the best impression on you. Hara Wang: So among the three I actually have a pretty clear favorite and that is Caidio, and it's because of its climate impact. We all know the
cement industry is, I believe, 8% of the world's total global carbon emissions. Their initial market of China, China produces more than half of the world's demand. China has very aggressive goals to try to achieve carbon neutrality across all its heavy industries.
Jojo Flores: I recognize the point of Hara here. It's just a from a point of view of an investor, I don't think it's going to be a big company and it's not. So it doesn't meet my standards, at least for as an investable company and something that can really scale and and be you know, even a unicorn. I think that especially because I think the trend
of the construction industry will be in prefab. I think there could be some opportunity there to tweak what their business model is and who they're trying to sell to. Shannon Kalayanamitr: Yeah, I have to agree with that one as well. I do appreciate the fact that Caidio, does address the main mandate of Climatic.
Although, as an investor, our job is to make the most money and put our money on the the horse that's going to win, right? Hara Wang: This is one key difference that comes in between a climate accelerator versus an investor here. Daniel Hersson: Hara, I'm going to challenge there. If it's not commercially successful, can it scale? Hara Wang: It's too see, right? It's still too early to see. Daniel Hersson: What I'm trying to sort of like, the point is to have really big impact, something has to become meaningfully big and adopted, which therefore requires certain scalability and commercial viability.
But I wonder how scalable is a long sales cycle? And what is the willingness for someone in the cement industry to pay for essentially a software solution? How many clients are there? And are they willing to pay more than, say, $100,000 a year for contract? But I do agree they are tackling what is a very large problem, which is caused emissions from the cement industry. Linh Thai: Why don't we come to Juan? . Juan Nieto: So what Caidio is doing is kind of optimizing the amount of cement that you are putting into concrete by measuring how much water it comes from, like the different sources that you are putting so from the aggregates that have some level of emptied water. So by these ways that is actually currently done manually, they have a huge potential to make a lot of savings in terms of both carbon emissions, but also financial services. Because at the end, what we ended up doing, most of the concrete
suppliers out there, is putting more cement on the mixer, and unless they put in more carbon into the atmosphere. So like, all those three groups are amazing. I'm personally in VR, I met face-to-face with Gary, the viAct founder in Shanghai when I was back there two years ago, when they were doing the SOSV acceleration program. I will say that one of the things that we continuously ask for entrepreneurs, like in construction technology, startups is two things. One, you guys need to understand the
nuance of the construction industry. It's first really traditional, and the mindset itself needs to change a lot. So, mostly having a construction industry background is something that, let's say, saves a lot of time and money to both the team and the investors. And secondly, I will say that COVID has made a lot of groups in the industry change their mindset. And then specifically, one of the things that changed the most is around health and safety. So health and safety now is in place, specifically in Asia I have seen crazy things around health and safety on construction sites. So
personally I will say that the largest pain point for business doctors to be solving is the one that viAct is solving. Daniel Hersson: But I feel like I've seen that solution before. And it doesn't seem like again, that hard to you know, you're talking about image recognition and a little bit of analytics. And I'm sure you know, you know, it takes a few building sites to train that algorithm properly. But once you've done 50 or 100, I mean, I guess it's a model, you know, there's diminishing utility, right? And how much is just about selling it? And wouldn't a lot of the large construction companies already have something in place of this nature? Jojo Flores: viAct, you know what caught my eye was their partnerships with Huawei and Autodesk, and of course investors like Alibaba and SOSV and Vectr investing in them. But the business itself from an investor's
point of view, with this sort of company you're kind of lucky when you get to over $100 million valuation. Shannon Kalayanamitr: So just to add really quickly, one of the reasons why they had really high growth during COVID was because of COVID. So they actually incorporated rules and regulations. And so a lot of their sales picked up from this. So I think like long term its going to be around for a while. I think it's here to stay, right. The other thing I will say is I did Google construction safety and project management software and there were hundreds. So I too, because I wasn't on the deal team, I
too am wondering what is their edge, their competitive edge? Maybe it is the partnerships they have, maybe it is COVID. And maybe they're just really good at what they do you know, in the sales and construction industry. But what what is the thing that makes them stand out? Juan Nieto: Basically, their main competitors are mostly based in the US and the like. What I've seen is that these guys are the only ones doing what they're doing in Asia. So, I do see that there is a lot that they have done already such as educating the market in Hong Kong, Singapore, Southeast Asia, China, and other markets. So always when I make an
introduction to this team, people give me feedback saying that these guys are awesome. There is no other solution is able to serve me in the Philippines, for example, where we have some operations. Daniel Hersson: Yeah, I guess there are maybe slightly different use cases, in more developing countries, maybe more on safety, maybe more of theft control and other things that maybe less to do with productivity and maybe other issues, right? So maybe they had to tailor it a little bit to those needs, right? Jojo Flores: I agree with you, Daniel. And if I can recommend something to them, you know, maybe focus on prevention of theft, which is kind of rampant in the, in the construction industries here in this part of the world, versus in others.
Daniel Hersson: Yeah, that to me is always like we always talk about pain points. You have some things that a site manager goes to bed worrying about. I do think theft on material machines, for example, could be one of those things. But if there's theft of something very valuable on the site, they will be accountable for it, right? So that could be something that keeps him awake at night. And if it doesn't keep someone awake at night, it's a point, but it's not a pain point.
Juan Nieto: I'd actually like to just point out to Daniel, one of the things Linh Thai: Okay, great. I think there were a few people who have not that I also like for them is like they have a modular approach. So basically, I see the future for them to become this platform, or what you guys mentioned already, so they are integrated with a bunch of software that are currently being used in Asia. So if they are effectively are able to transfer this message to the industry then you can use them like for health and safety, like prediction and detection, but also for clocking out trucks. mentioned who their favorite is. Daniel, you want to tell us which one
was your favorite? Daniel Hersson: I do like WaveScan. I see a real technology edge there. My main concern is that I think it's still finding that clear product market fit, that hook. What is the main use case for the technology? This still is a technology, a solution looking for a problem mainly at this stage, I think. And then also consider, I don't know, we talk about preventative maintenance as a main use case. Preventive maintenance all is a
great concept, right? But for people to take a decision today that costs money, to reduce risk and save costs in the future has always been difficult. So there has to be something I think that has like instant gratification, somehow, in terms of usage rights. Hara Wang: My big question mark here is, is it really cost efficient when we are talking about a completely unmanned experience when for so many decades, you were basically just ending a person out there to do this every three months. Is there any cost benefit of using a tech technology based approach? Shannon Kalayanamitr: And just to jump in here, because I kind of know this industry as well, after talking to a bunch of these petrochemical companies during COVID, and the move into more automation and human life that actually has to go and inspect, it is much more preferred that it is done by an unmanned drone, or robot or whatever it is. So I think in terms of saving human life, or making sure that you're protected in terms of whether or not COVID, and or gas explosions, or whatever it is, or chemicals, right, then there's also the cost savings. So again, I haven't seen the
business model here. Jojo Flores: Maybe I should chime in and also be open that we did invest in WaveScan. And I can tell you, a lot of our corporate partners are very excited about what these guys are doing. You know, we were the ones who facilitated the pilot with Thai Oil, and PTT. We facilitated their POCs
with ExxonMobil. They did a pilot and finished with JR Railways, and they're doing stuff with Samsung and in Kajima. So everybody's, you know, we're seeing, we're seeing validation of the technology. We're seeing validation of real problems. Now it's just a matter of quantifying those particular industries.
Linh Thai: Thank you, judges, for such a vigorous discussion. I learned so much from it. Now I'd like to ask you to spend a few minutes to prepare your votes for our Climatic Startup Showdown smart construction champion. While our judges do that, let's return to our contestants. They've been watching from backstage. Kush, Aku, Gary, welcome back. Aku, let's start with you and Caidio. So, some of the feedback that we heard from the judges
was that Caidio would have issues convincing customers to change their processes to accept your technology, because you have a lot of companies that have been mixing submit for many years. So have you encountered this problem and how are you solving that? Aku Wilenius: Yes. Yeah, we understand that we are serving as an industry that is still changing to digital technologies. And some customers are
earlier in the technology adoption than others others. And to address these challenges we are piloting with our customers offering our systems we're piloting and are working very closely with our customers to help them understand the power of our technology. We basically install our Caidio water content optimizer in customers' production facilities. And we work closely with our customers to make sure it is running optimally in their facilities, and also customize a little bit our product for their needs now in the early phases of our development. Linh Thai: Think about the overall comments that the judges made. What do you think? Do you agree? Do you disagree? What are your thoughts? Aku Wilenius: Well one thing that caught my attention was the environmental friendliness versus financial impact of our product. And
because this is a climate-focused show, I tailored my pitch towards the climate message. But I also realized after listening to the judges that still especially among the VC audience, environmental friendliness is important. But of course VCs invest, because of, of the monetary impact the startup is making, which is very important for us to understand.
Linh Thai: But yes, definitely the double bottom line is always key. You can't have one without the other. Gary, we just heard from the judges about viAct. What do you think? What are your thoughts?
Gary Ng: So I've heard a lot of questions regarding like the AI monitoring solutions, the potentials behind this industry, like construction, for example. So I think those are really common questions that we come across, when we talk to see VCs as well, especially if they are not really into to the construction industry, they don't know how much those data means to the construction company, for example. And our technology basically just simplifies the process for you to capture those valuable data separately from the construction site. So yeah, that's like the process to educate the market, but at the same time, is educating the whole industry as well. So sometimes we're just being an educator, rather than a technology solution provider.
Linh Thai: That's definitely a good point that you bring up because a lot of technology companies that are breaking the borders, they're operating on the frontiers of technology, have to spend a lot of time educating, and like you said, not just investors, but the actual consumers. And so that actually takes up a lot of time and money. One of the other comments that the judges had was on your focus on Asia, and they liked this fact, because Asia is a growing area for construction. What are your thoughts on that? Gary Ng: I think we are lucky, actually, in a market that is very focused in construction productivity and safety. So in Asia there's a few
top-tier countries that are starting to be the pioneers in terms of deploying new technologies to improve the safety and productivity in the region. And I think the time that we actually set out to do with this business is around 2017. So we got like an early mover in the regions to start doing it. And we have like, more than 50 to 60 deployments as of right now, all time, in Asia. And that gives us the advantage in terms of the domain knowledge and the deployment experience that we gained over the years. So a lot of the construction companies after development, first,
they trust the solutions, they trust the accuracy, they trust what AI can do, and they just continue to explore, like new applications from you. So in that standpoint, I think we are lucky. And on the other side, like some of the head to head competitors we have is mainly from the US. And these two competitors, actually they either got acquired or they got some very serious funding. So I think in the other side, the investment sector already agreed
that this is an area that has a lot of potential and I think the markets just keep going for us. Yeah. Linh Thai: Kush, we just heard the judge's comments about WaveScan. What do you think? Kush Agarwal: I think in terms of comment, I mean, we hear the same kind of comments from VCs when we are talking about fundraising, construction tech in general, I think, as the other founders mentioned, it's a traditional industry. And there is a lot of knowledge sharing, in terms of technology, talking to clients, in educating or explaining them, how it can improvise, their processes, efficiencies, and all of that. So I think in that regard, the comments were very in line to what we are facing in terms of industry challenges in terms of acquiring the market, or converting the paid pilot projects and things like that. I mean though we
have over 50 clients in pipeline but these pilot projects are happening one by one. And at the same time, we are not a project company, but a products company. So the idea is to acquire these clients. And then once we launch a commercial product, then push the technology to these clients in terms of either products or subscription models. Linh Thai: So one of the other comments that the judges made was about predictive technology. It feels like it's a nice-to-have, because you're not really sure who's going to pay for this, because you don't really see the benefit of it, immediately, you kind of think it's a 10-year return. And we're just not sure if companies really have that type of
long term viewpoint. What are your thoughts on that comment? Kush Agarwal: In general, the technology adoption is happening. And with digitization, automation, drones, and other aspects coming in, I think there is a huge market opening up for new sensor technology. Today, though,
the construction tech is very reactive and traditional in nature. But I think most of the stakeholders are moving in that direction. And besides just the predictive maintenance part, we have technology that can address multiple use cases where there is no existing sensor technology to capture that kind of data or anomaly happening on a structural level. So in that regard, as well, we based on all of our client engagements currently in turnover countries, the clients coming from very traditional backgrounds or industries as well, are very excited about this technology. And this also becomes very essential in a way they're building and construction authorities or government counterparts are also talking about this. So like,
for example, recently, we have started an 18-month project with the Housing Development Board of Singapore. And their primary focus is towards moving on data-driven maintenance, predictive maintenance, so in the longer run, they can minimize the downtime of the assets or even in terms of basically asset management in general. Linh Thai: Gentlemen, thank you for your pitches. In selecting contestants for the Startup Showdown, we scoured Asia and the Pacific for the very best early-stage smart construction startups. Only one of you can be our Smart Construction Startup Showdown champion. I've spoken individually
with our judges, and I know that they're all enthusiastic about all three of you. We're excited to see you all grow. Okay, now it's time for the judging. Daniel, can we hear what your thoughts are on your favorite company? Daniel Hersson: So these are three really exciting companies. And I
really like all of them. Actually, I think there's aspects to each of them that I find really interesting. And I would love to have another conversation with them. And they're all trying to transform a very conservative industry that also have a very, very significant climate impact. But having to pick one winner out of three, putting an investor hat on, I'd like to see something that has a clearer barrier to entry, a clearer moat, something that can be potentially a must have solution. And
on that basis, I go for WaveScan. But I would like to see a bit more focus on which industry you're going to target. And ideally, I would like to see more significantly clear climate impact.
Linh Thai: All right, WaveScan gets one vote. Shannon, what about you? Shannon Kalayanamitr: OK. So, the team, there could only be one winner. This team and this company excites me. Great team, great tech, defensible. They have real POCs, they have real traction. The exit's gonna be great. Their IP is defensible so far. And I love that it's transferable to other industries. So, WaveScan is my vote.
Linh Thai: Wow, WaveScan two votes. All right, let's see. Juan, what do you think? Juan Nieto: So three tier-one teams, solving real pain points for the second-largest industry in the world. So that decision, but I will say that the founders perspective, and the industry understanding from viAct is very much unique. So my winner's vote goes to viAct. Linh Thai: All right, WaveScan two and viAct one. Hara. What do you think? What's your favorite? Hara Wang: It's three teams doing the very, very difficult task of transforming the construction industry, and I would prefer to partner was a team that disrupt the construction industry while creating outsized climate impact. So my vote goes to Caidio.
Linh Thai: Okay, now we've got quite a diversity. Two WaveScan, one viAct, and one Caidio. Jojo, what do you think? What are your thoughts? Jojo Flores: Kudos to all the founders and the entrepreneurs today, I wish you all success. And thank you for making this world a better place to live in for all of us. The primary reason for my choice is scalability, and sustainability of the product and the technology. For this, I place my
vote on WaveScan. Linh Thai: Wow, okay, so we've got it. The winner is WaveScan. Congratulations, WaveScan. Kush Agarwal: Thanks, Linh. I think all these three startups that
participated in this challenge have been disrupting the industry in their own ways. And there is a lot more work that needs to be done in terms of accelerating this laidback traditional industry. And kudos to all the founders who are disrupting this market and industry. And best of luck
to both Gary and Aku. Linh Thai: I think we can all agree that the showdown was hard fought. Each of the startups had their strengths and each also had their own areas of improvement. The key is striking the fine balance between historical traction plus future potential. Again, congratulations to
WaveScan. That's all the time we have. Thank you to our panel: Jojo Flores from Plug and Play, Daniel Hersson from ADB Ventures, Shannon Kalayanamitr from Gobi Ventures, Juan Nieto from Cemex Ventures, and Hara Wang from Third Derivative. And also a warm thank you to our showtime competitors Caidio, viAct, and WaveScan. We appreciate all your work and contributions keeping our environment cleaner and greener. Keep growing, keep innovating, and keep resilient.
2021-09-10 07:14
Show Video
Other news