Chief Future Officer: Harmit Singh, Levi's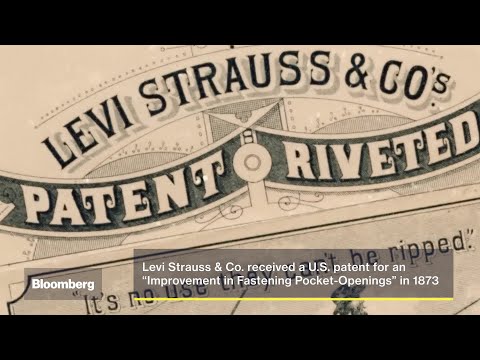 Show Video
After 150 years manufacturing a classic American product Levi's has a tradition of quality and brand awareness that few companies can match. Just a few of Levi's blue jeans and a lot of High Flyers. The company's name is almost synonymous with blue jeans. But this history offered little protection when the Covid pandemic devastated global retail in early 2020. All the sudden most of our stores around the world were closed like that and we saw our revenues pretty much dry up as the shock of the crisis subsided and economies began to reopen. Levi's and its industry peers stood at a crossroads. I think that at the end of the day what was really unique for those that took advantage was Covid
was this opportunity for companies to refashion their businesses for the future. We are going to emerge from the pandemic a much stronger company. And now we're saying okay what is the next five to 10 years look like. This is the question Levi CFO Harmeet Singh grapples with every day. As CFO the one important thing is to show you you're able to connect the dots and always think longer term I think is critical. Harmeet Singh has lots of dots to connect. He's managing the company's complex advances into digital technology ensuring that it can meet ambitious
sustainability targets and making sure that all its processes from sourcing to sales are integrated into this transformation. He's an operator and he's he understands the business at a very granular level but can also copter up high to 40000 feet and think about where are we going. That's why you could call Harmeet Singh Levi's chief future officer. Levi's literally invented the word pants that would come to be known as blue jeans. Cotton gin a process for sewing rivets into
denim clothing. Way back in 1873. But that pioneer spirit was lagging on the financial side of the business. When Chip hired Harmeet Singh in 2013 when I joined the company eight nine years ago the balance sheet was a constraint. We were not investing for growth. We had two billion dollars of debt on the balance sheet. We were actually spending more money on interest expense than we were advertising our brand. And one of his first missions was to turn the balance sheet from a liability into an asset. If we did that we paid down a billion dollars in debt and we started reinvesting back in the Levi's brand. And that's been central to the turnaround of the business. Revenues grew steadily through the decade peaking in 2019 when the company
went public. Levi's maintained a dominant share of the market for jeans. Then came the pandemic and by early 2020. All of this progress was put on pause. We saw a billion dollars of revenue evaporate that first quarter of the pandemic because our stores were close our wholesale partner doors were closed as we got into the pandemic. We said we've got two things we've got to manage through the crisis which is all about preserving cash driving profitably and communicating with all our stakeholders. But importantly we had to emerge stronger because the consumer and employee experiences were changing. What are some decisions you made under pandemic pressure that you're really proud of. We pivoted to a new strategic blueprint. The pivot was on three basic things. Elevation of the brand
acceleration of a direct to consumer business and diversifying our product base. A number of brands. We just close a deal and entered the activist segment that beyond yoga. The other thing we did was we continue to invest for the long term. So we invested a lot more capital in accelerating our e-commerce business. E-commerce is becoming a bigger piece of our business
is profitable today as well as we spend the time ensuring that we balanced all stakeholders. So for example we took the unfortunate decision of laying people off but we cut dividends. We also extended you know our benefits. We introduced paid sick leave because ensuring safety and health of a frontline staff was critical. So I think the decisions we were taking were guided but not only to emerge stronger financially but also ensuring that our values as a company continue to resonate with all our stakeholders in the middle of the pandemic. Suddenly there's this shift away from skinny jeans and toward mom jeans. Was this disruption a huge benefit to Levi's. Because people are now turning over their wardrobes. They want something new. Yeah
you know done the research. 40 percent of all wear sizes had changed during the pandemic. Some wind up someone down both for him as well. So that does mean that you've got to go back and make a change in your closet. And you you tend to engage with brands that are engaging with you. So I think a combination of direct engagement with the consumer even during tough tough times investing in things like growing e-commerce I think things that will continue to resonate whereas Levi's on that path right now to a digital future today. Today visual ecosystem is about 20 percent of our total business. Very profitable. We aspire to make this a third of our business. Our direct to consumer business which includes our stores is about
40 percent of our business is to be half that years ago. We aspire to grow that to about you know 60 percent or two thirds of our business. If the analogy is a baseball analogy where we I'd say we're bottom of the fourth inning. We've got a long runway for growth. So supply chain disruption commodity costs this is all putting pressure on the process of bringing anything
to market. What is the new normal going to be there when it comes to supply chain disruption pricing issues et cetera. If you think of supply chain think of two broad buckets. One is sourcing and second is is commodity and costing on the sourcing side very early on we say we want put all eggs in one basket. And so we source across 24 countries and not from any single country to resource more than 20 percent. You talked about costs you know
given our global buying power. We've already negotiated the first half of the year. A very low single digit inflation relative to last year. The one thing. Because the brands so hard has been really resonating the consumers will continue to take pricing even during the pandemic. The brand today has pricing far. Levi's 20 21 full year revenues are on track to match 2019
fulfilling the company's pledge to emerge stronger from the Covid crisis we committed in the middle of the pandemic. But when our revenues go back to pre pandemic levels our margins would be up more than two points and we've now delivered on that. But with the virus still weighing on consumer confidence and supply chains and inflation surging around the globe this is no time for any retailer to relax. As you look forward over here I think the biggest question. This was going to take the
learnings from the pandemic versus who was just going to feed back what they did in the past. I think over time you know because the loans people have had during the pandemic there is going to be thinking about how to globalize your supply chain. Do you concentrated on a few countries. Do you diversify. Do you bring some production home. One of the programs we started a couple of years ago was Air Flex program is using lasers to finish your denim product. It used to be done by hand. It is to be done overseas. But now we bring in the blanks and we finish it closer to markets. And so we are in the process of expanding that program around the world. So I think people need to just think about different ways of doing it. And I believe technology
will play a key role. Coming up. For Levi's a successful future means a sustainable future. That's a challenge. Harmeet Singh is determined to meet one of the few companies where ESG and sustainability is the cornerstone offers to digital plant. That's next. This is Bloomberg. Harmeet Singh's affinity for Levi's tracks all the way back to when he was a teenager in India. I had an aunt who coming overseas and she said what do you want. And I said I want a pair of Levi's at an early age. He decided to study finance. I did. My CPA chartered accountancy with a goal that I want to start my own CPA form. The allure of entrepreneurship faded when Harmeet
got married and started a family. He took a job as a financial analyst at American Express in India. If someone is doing me at that point me you would be working in the US would be CFO of two large American icons hired and Levi's take two companies public. I wouldn't bet against it. Harmeet Singh first reached the C suite in the US when he was named Chief Financial Officer of Pizza Hut. He then took the same role at parent company Yum. Restaurants after a successful stint as CFO for Hyatt Hotels.
Chip Berg hired him at Levi's in January 2013. I've been very fortunate been lucky have had great mentors. And you know one thing has led to the other throughout their time. Working together Chip Berg and Harmeet Singh have been partners in a steady push to make Levi's more sustainable. First is not something the business started. It's
been in our DNA as people in the news says woven into our fabric. Harmeet has been driving a lot of the investments behind making this company a more sustainable company. Many of these investments have gone into the Eureka Innovation Lab a research and development center a few blocks from corporate headquarters. Progress made here has helped Levi significantly reduce its
greenhouse gas emissions and water use in the past decade. And now Levi's has made sustainability a central pillar of its consumer strategy with a highly nontraditional even counterintuitive ad campaign by Better Wear Longer. We had a lot of internal debates about you know it's the selling idea by better wear longer are going to reduce consumption. You know I fundamentally believe that it plays to our strong suit. It is kind of it almost defines what the Levi's brand is all
about. We believe because you know the younger generation the millennials for them you know interacting and engaging with consumer companies they aspire to be more sustainable has allowed us to reach out to newer consumers. So even though people may buy less we believe they're reaching out a lot more new consumers. And that's why it actually in our view it actually will grow the revenue and grow profitability while at the same time ensuring you know that our party is sustainable. We're doing the right thing for the planet. The wear longer theme is meeting the moment. According to research by global data between 2010 and 2020 reshaped clothing doubled as a share of the consumer closet and could potentially double again by 2030. Levi's has put its own stamp on reconditioning and resale with tailor shops as a feature of its stores. It allows us to directly engage with the consumer. We started
the tailor shops in Europe. It was a runaway success and nobody expects to expanded it around the world. Most of us stores in the U.S. have it all on next gen stores which are our latest format have tailor shops. We're taking the reins in our own hands. It's a I think the addressable size of the market is about 30 billion dollars and we just entered it. So that's clearly an opportunity for us. In 2020 Levi's issued its first standalone sustainability report. It covers environmental social and governance issues outlining programs priorities and principles and setting ambitious targets for performance. It will be up to Harmeet Singh and Chief Operating Officer Liz
O'Neill to execute the plans they helped devise. Harmeet and I worked together a lot on figuring out what is the what's the strategic direction how are we going to get there and how are we going to invest in order to actually make that a reality. What falls under the CEO umbrella in the C S O umbrella. And where did those over overlap. Well sustainability reports and through
me. So I have the supply chain as well as the sustainability team. But nothing happens without the CFO. The CFO is imperative to this. And honestly right now we're in such a big transformation as an industry as we try to transform. We need the help of the CFO to really help us figure out what are those focus areas and how do we distort our resources and our investments to those areas that are going to matter most. Every year we do a strategic business plan. One of the few companies where ESG and sustainability is the cornerstone of us to. Plant and thinking about you you're saving
all this money in negotiation. Are you going to drop it to the profitability. Or are you going to invest for the long term. Think about this place right. People ask me is this get getting the payback. I say you can measure this from a payback. If 80 percent of our innovation is coming from here we are building
for tomorrow. You know this is a very easy answer. You're getting the payback. And I think that's the discussion that happens on a regular basis. It O'Neill showed me how that discussion is driving. Leave ISE through a major shift from hardware traditional resource intensive manufacturing processes to software. They gave me an iPod and told me to design the jeans of my dreams. You can come down here and we all love our damaged and destructive chains. Yes we can load external damage like an add
damage but that wasn't even the coolest part. So what do you customize. It will come to life. OK so we're gonna see my damages on there. I guess that's been happening in real time like that. A distressed pair of Levi's that just needs one short wash to be ready to wear. This technology is already in use and already delivering results. We've reduced the amount of water by almost 90 percent across most of our product line over the last 10 years saving billions of litres of water. I'm finding new ways to finish the genes that are just much more sustainable. How long can you recycle the water for. How long before you have to dispose of. Well we with the laser finishing that we use it in many of the factories. We can recycle the water virtually
endlessly. So on the right. These are traditional washing machines. They use a lot of water. Right on the left is an ozone driven washing machine. No water. And so it washes the pants. Exactly. And using this technology all our factories now use that technology. And if you go back and look at how much water we have saved since 2011 is approximately 13 billion litres of
water. Harmeet Singh has taken his commitment to sustainability beyond his role at Levi's. He's a leader among financial executives who want their work to help protect the future of the planet. Prince Charles has an organization called Accounting for Sustainability. He started this probably 10 12 years ago. And
today I am the you know the call chair for the U.S. chapter. What we're doing as a group of surfers is we're sharing best practices. We engage with investors. We also engage with the SCC the ISE first as they establish disclosure standards. So I think you know it's the least I can do something that's so important. Up next Harmeet Singh talks about how sports gives him an outlet
beyond the office but he's also found a way to make it part of his work. My recognition of whatever those hired to Levi's is ahead for six awards. And you know what I tell people is it's like knocking the ball out of the box. And he tells me what skills achieve future officer will need to succeed. I think listening. Being empathetic.
Building trust by being authentic. This is Bloomberg. Leave ISE CFO Harmeet Singh love sports. He played basketball and cricket growing up in India and more recently took up golf. Why do you love about sports. Are you ultra competitive. Does it help you relax or decompress. I like to win but win the right way. But it also gets me to relax because I like to associate a little bit of downtime watch a game of golf play a game of golf.
Folks see some cricket. So I think a good combination of what you have created your own award tied to cricket for your team here at Levi's. It's called Hit for Six. Well I tell people is it's like knocking the ball out of the box or link it back to baseball. It's a home. It's a homerun. And I give it to folks who you know go beyond their normal job and make a big difference. I'm a big believer in recognizing good work because I think that really helps motivate people motivate teams. And you know people believed in me and that's why I'm here. So my job to believe in people from telling sports in business also intersected proceeding when Levi's purchased naming rights to the San Francisco 49ers new stadium. Although at first he was
blindsided by the deal. That was a week into this role. The balance sheet was constrained. He walks into my office with his build brands and he says what do you think of naming rights for Levi's Stadium. And I said How much is going to cost. And he says you know a small sum of 200 million dollars. I said Really. I got into the wrong company. We got together and said okay how do you make this happen and make this a success. And you know the 49ers did well that you know they had a Super Bowl in a couple of years into it and everybody goes there. I'd say dresses casually. Hopefully a lot
more casual after the pandemic. But a lot of them are wearing our product. So it's really resonates with who we are. A brand with a 150 year history isn't going to change its core identity even after a disruption like the pandemic. But Levi's like retail companies everywhere is determined to build lessons from the last two years into a vision for the future. We have to sustain what we have emerged out of ensuring that we continue invest in the digital transformation of the company is critical. Transforming to digital doesn't mean abandoning physical retail. Even though Bloomberg Intelligence sees brick and mortar apparel sales declining from a 20 19 peak BMO Capital managing director Simeon SIEGEL says stores still have an important place in the omni channel mix. The retail model in the past worked for a reason and it still
does. So disrupting doesn't mean destroying the consumer doesn't wake up in the morning and go. Today it's going to be a brick and mortar day or today is going to be an e-commerce day. They wake up and they go I want to buy a pair of Levi's. I think what we're gonna find is omni channel doesn't need being everywhere for everyone. It probably means using everything that you have to the best of its ability and figuring out how to represent once you know what you want to be. From sales channels to sustainability from profit margins to core principles. Harmeet Singh we'll be making decisions that guide Levi's into the
future. So I asked him what he sees when he looks ahead. What's the opportunity for Levi's in the next 10 years that excites you most. I think you know owning a bigger share of the closet and it's not only denim it's also activewear. It's not only bottoms. It's owning tops. And so diversifying our product base you know currently we have you know a big brand in Levi's. We've just been beyond yoga. And the question is can we make the company with a company that has more portfolio brands longer term. What's the challenge for Levi's in the next 10 years that keeps you up at night. I'd say you know going through different
crises because there's a you know living in a very uncertain world. I think dealing with issues like climate I would say cyber security and the dangers offered. I'd say ensuring that we balance you know all our stakeholders without disappointing any as well as growing the market cap of the company which we've done successfully over the last couple of years. So quite a few things are keeping you up at night. Yeah. You know I'm a 24/7 person and I love thinking about ISE here for the one important thing is to show you you're able to connect the dots and just making sure we're able to do that and always think longer term I think is critical. How do you see your role as CFO changing in the next decade. I'd say having a broader influence are a lot many things. I think the desire to. Unlock not only shareholder value but also
stakeholder value I think becomes important. I think the desire to build a very successful team a talent that is diverse and is making an impact through the organization I think is critical. What is a skill set skill area that you think every CFO will need to heart in the next decade. I think listening being empathetic. Building trust by being authentic I think are going to be really critical skills that he offers and probably need longer term. What advice would you give to a CFO who got promoted today. Learn the business. Build your relationships. And don't unleash the playbook that you grew up
with. Make it relevant to the circumstance in this situation because a lot of times people just come with a playbook and say OK we're going to roll that. Don't do that. Think longer term and build your equity but with a longer term perspective. Look forward not backward and don't rely on what worked before. Not what you'd expect from a steward of an American icon but exactly what makes Harmeet Singh Levi's chief future officer. I'm Emily Chang. This is Bloomberg.
2021-11-05 08:16
Show Video
Other news