CES 2022 Press Conference: Co-create the Future of Entertainment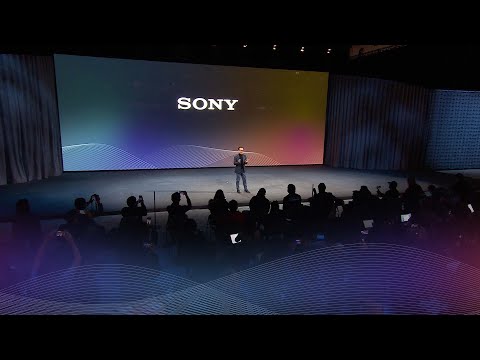 Show Video
[MUSIC PLAYING] Please welcome Kenichiro Yoshida [APPLAUSE] Welcome to CES 2022 Thank you for joining Sony's press conference Throughout the past two challenging years, we have reaffirmed the importance of our purpose: to fill the world with emotion, through the power of creativity and technology. This purpose drives our corporate direction of getting closer to people including creators and users. As a creative entertainment company, our care for people and the planet are an essential part of our corporate responsibility. We want to contribute the betterment of society, and the planet through our business and technology. STAR SPHERE, our space inspiration project, provides a view of earth Earth from space.
We want to help people to feel the emotion of seeing our planet and to evaluate more deeply. We are also supporting people who are affected by covid-19, and have put effort into important social justice work. In 2020, the Sony group established two funds, one to support those around the world affected by the global pandemic, and the other to contribute to social justice. Sony global relief on for COVID-19, established in April 2020, is a $100 million U.S. bond that supports the frontline workers, children who represent our future and people in the creative community who have been deeply impacted by the pandemic.
The various support efforts we are making through the funds are driven by the ideas and passion of our diverse employees across the Sony group. We are committed to continue to support communities in need for a sustainable society. Racial injustice is a worldwide issue that affects our employees, artists, songwriters, consumers and society at large. As a company, we have taken a firm stance on driving support, both monetarily and by taking action through partnerships and community involvement.
The "Global Social Justice Fund" which we began in June 2020 is a 100 million dollar fund with a mission to align with community partners and stakeholders to help advance bipartisan solutions in three areas: civic and community engagement, criminal justice reform and access to education. Today we are on track to connect with nearly 400 community partners globally supporting organizations that are working to break down social justice barriers in local communities around the world that directly impact vulnerable and historically excluded populations These populations are disproportionately impacted by hate crime and racist sentiment Treating all people with dignity and respect and creating equal opportunities for everyone is one of Sony's most important codes of conduct and therefore we'll continue to drive changes because all voices must be heard. With everything we do, we want to enable people to connect more deeply with those who share the same interests and form stronger bonds within their communities.
In the music field, we recently worked closely with Adele on her new album, "30." Her vision and raw emotion so beautifully produced and performed has resonated with audiences around the globe. Now let me introduce our initiatives that are getting us closer to creators, by helping them bring their visions to life The first is Virtual Production As we showcased in a virtual film set in 2020 based on our Ghostbusters IP, Sony Innovation studios has evolved its virtual production solution to create a streamlined workflow. We have advanced asset capturing creation, and real time rendering technologies.
However, one of the most important elements in virtual production is the LED screen. Our crystal LED can deliver the creator's intention by projecting bright images with high contrast and vivid colors, as you can see from these images of "Demon Slayer" Also, creators can combine the Crystal LED and virtual production capabilities with our VENICE camera for cutting-edge results Through our virtual production technology, we can seamlessly shift creators from one place to another, from where they are, to where they want to be In addition AirPeak which we recently introduced to the market transports creators to new, and unreachable places. By expanding their perspective, AirPeak enables video creators to explore new frontiers for visual expression.
Sony Xperia smartphones continue to inspire users to become creators Our Xperia PRO-I features Alpha imaging technology and the 1.0 type image sensor found in our RX100 mark 7. It maximizes creativity for image and video capture and allows you to share your stories in real time. It's clear with our virtual productions, drones and smartphones "Creativity Has No Limits" We have also developed exciting collaborations between Sony group companies that empower creators to transform their creative assets into new forms of entertainment, from games to movies. By combining ideas, and integrating people, we leverage our agility in shifting people to new contexts and new worlds.
From here, I would like to ask our special guests to share how we partnered with them to venture into the Uncharted Let me begin by inviting Tom Rothman, chairman and CEO of the Sony pictures entertainment motion picture group and superstar, Tom Holland. [APPLAUSE] [MUSIC] >>Oooh, Thank you Yoshida-san. >>Thank You Hello Everyone! >> How are we? >> We are good. [Laugh]
Congratulations. >> Congratulations Boss >> Alright Right now Tom is in the number one movie in every country all over the world. Thats ah. That buys you a day in Vegas
>> Thank you. Thank you. Yeah, Something to be very proud of. >> Very good. Well We are proud and we are grateful. >> Yes
>> It is like my second home. >> That's right >> That is a photo of our lot at Culver City Where a lot of our great tech... >> That's car my parking space Thats where I park my car. >> You can park your car wherever you want to buddy. That's where a lot of the fabulous technology that Yoshida-san referred to. It is set up and we use it all of the time. But no rest for the weary or the
or the wicked. We are here to talk about the next big swing. I am sorry, Uncharted. So, tell me, me do you play the games? >> I'm a huge fan of the games. I hadn't discovered the games until I made Spider-Man homecoming, and one of the luxuries of making the movies it is made by Sony one of the luxuries of working for Sony is PlayStation so all the actors trailers were fitted with the best TVs and the newest PlayStaion and one of the games they gave me was "Uncharted." Making this big movies you can be in your trailer waiting for four hours while the DOP are messing with the lights, and cameras and all that sort of stuff... >> The bane of my existance.
>> Right, I can imagine so my best friend and I while we were making Spider-Man 1 started working on the "Uncharted" series. As soon as we started, we did not stop. I remember them trying to drag me from my trailer to come back to set I was like "No, no, we are about to complete this mission. Leave me alone." as I played the games and I fell in love with the games we had a conversation about the idea of making this into a movie and bringing it to life on the big screen and here we are today. We are very proud of the movie.
>> Yup and you now are Nathan Drake. >> Yes >> A little bit younger than the Nathan used in most of the games. Didnt age too badly, but that it's because you guys and the filmmaker had the idea to show us new territory, lower pressure territory, Nate in his young 20s and how he became Nathan Drake where he acquired the skills. If you take a little bit maybe from "Indy" Where he got the whip and the scars.Tell us about building the arc of Nathan. >> It is interesting one. As an actor it is your job to develop the arc of your character.
you bring it to life but when you're dealing with an IP that is loved around the world as Uncharted, you need to build these relationships and these partnerships. Neil Druckmann and Naughty Dog and Sony Pictures and Ruben our director was a facilitator of that partnership. And for us the creative's, we have to talk about our goal was. The goal was to bring this character to life in a new way,a refreshing way, while maintaining what we love about the characters from the games. We did not want to lose the essence of the game. So for us as a team of creatives we put our heads
together and came up with this interesting take on Nathan Drake. I'm delighted to say I think we achived our goal that we created a film that has a lot of heart, that pays respects to the games but also gives fans and people that love the games something new and something refreshing. >> So staying true to the essence of the game is important to you. And obviously the essence of the game as serious gamers and casual gamers, anyone who has brushed up against uncharted would know, obviously, this speaks to the relationship between Nate and Sully. And their very particular dynamic. >> Yeah, It is interesting. In these
big action movies, I often find that the heart and soul of the movies can be lost in the action but what is nice about our movie we have this tangible relationship between Nate and Sully which is the heart and soul of the movie. There we are, looking handsome. For me it was very important to build this relationship. It is about a young orphan looking for his family and in turn finding a family in the most unorthodox way. But the heart and soul is still very much present. >> Yeah, so we get the relationships but it is an Uncharted movie after all so we better have some mind- blowing action in it.
>> Which is why your insurance policy is so high. >> Yes, it is quite high, thats right the rates keep going up. >> I am sure. >> We obviously had a lot of state-of-the-art Sony technology and virtual production, CGI, and Sony Pictures Image Works etc., but on a movie like Uncharted, where the star does not wear a mask, as in certain other films there is a lot of big analog action in it as well. You are standing here, so you must have survived but how was it? >> It was tough. It was tough I mean I remember
when I was reading the script after making two Spider-Man movies at this point. I thought this film would be a walk in the park, but the luxury of wearing the Spider-Man suit is so incredible. When I'm playing Spider-Man I just have to do this, and the rest is done on a computer. But here, you know, we are doing everything. We really made this film kind of in the way like back in the day when you were a young producer, way back when...
>> No, It's not that bad. >> We built practical sets that the ships are real, we put on the gimble that was bigger than this building and it could tilt on its sides. We were do real practical stunts, real dangerous stunts thought I was still nursing some injuries from that job so thank you very much for that, But it was amazing. I think when you watch the film you will really feel the authenticity of of the action and the fighting and the stunts and nothing will seem fake.
We are very grateful to Tom. As he mentioned, the filmmakers on Uncharted worked initmately with PlayStation to ensure that its perspective was reflected throughout the film. This would not have been possible without access to and close collaboration with the games creators themselves. Accordingly, I am pleased now to throw to one of the giant creative forces behind the genius of UNCHARTED, Naughty Dog Co-President himself, Neil Druckmann, Neil...
>>Hi, As you can imagine this is an exciting time for us at Naughty Dog. The original Uncharted launched back in 2007 Since then, the franchise has become known for its character-driven stories, globe-trotting, treasure-seeking adventures and blockbuster set pieces. We are proud that Nathan Drake is coming to the big screen - given an opportunity to reconnect with our fans, as well as reach a whole new audience. The team behind this movie has put a new and exciting spin on Nathan Drake's origin while still retaining the spirit of what made the stories made the stories in the game so special. That sense of intrigue, spectacle, humor and most importantly the relationship between its characters.
Seeing such a talented group of cinematic artists adapt Uncharted for this whole other medium has been incredibly thrilling Tom Holland's interpretation of Nathan Drake honors his roots. while still carving out a unique vision of the charming scoundrel. This is just the start of our collaboration with Sony Pictures and we look forward to expanding this collaboration going forward. We are thrilled you will get to experience Uncharted in theaters this February and we cannot wait to show you more of another one of our collaborations "The Last of Us" HBO TV Series and we are dying to share with you the multiple game projects we have in the works at Naughty Dog.
>> Thank you Neil, As Neil said, we are currently developing numerous other film and television productions at Sony Pictures such as Twisted Metal and The Last of-Us on the TV side. On the film side we will be adapting the hugely successful action adventure game, "Ghost of Tsushima." With the director of "John Wick" Chad Stahelski. That game has sold over 8 million copies, just since its July 2020 debut. On all of these productions, It is critical that we work hand-in-hand with our partners at PlayStation Productions and Sony Interactive Entertainment to ensure that the end products-úare faithful to the spirit of and the essence of the games and apropos of that, I now have the distinct pleasure to hand over to Jim Ryan to talk about their side of the story and the process of building one of Sony's biggest and most important constituencies, the gaming community. Jim. [ APPLAUSE ] [MUSIC] >>Thanks Tom, it is great to be back at CES we could not be more excited for "Unchartered" and the vision of PlayStation Productions to bring our stories and characters to new forms of entertainment. We are just past the one year
mark in the lifecycle of PS five and we had a tremendous holiday season. None of this would be possible without the support of PlayStation fans and the invaluable contributions of the development community and our publishing partners. Under the PlayStation Studios family we now have a total of 17 studios and we are looking forward to seeing these teams shine as they unleash their creative talents and bring their own sense of innovation to our first party content portfolio. Innovation on PlayStation five also extends to the platform experience itself, and in its first year we have already added new features to the console such as 3D audio on TV speakers share play between PS5 and PS4 This year we are also planning to introduce a new tournaments feature on PS5.
Innovation for us at PlayStation also means that we are going to lead the way with exploring new technology that unlocks new entertainment experiences. Virtual Reality is central to that philosophy, nothing elicits emotion quite like the VR medium. With next generation VR for PS 5 it is our vision to provide the ultimate entertainment experiences to players. Today I am thrilled to announce the official name for the next-gen VR system PlayStation VR2 And our next-gen controllers will be called PlayStation VR2 Sense Controllers.
PlayStation VR2 will introduce a new generation of VR games that enable players to feel a greater sense of presence and become more immersed within their game worlds once they put on the headset, and wield the controllers. PlayStation VR2 will bring together the power of technology with the creativity of developers. For gamers, that means experiences that can evoke a whole range or emotions. PlayStation VR2 taps into the latest technology to deliver truly next-generation experience that brings the player closer to the gameplay experience. We have developed new Sensory features, enhanced controls and tracking, and upgraded visual fidelity. For example, with eye tracking. you will be able to interact more intuitively as your character while allowing for improved social expression.
The headset also has feedback, so players will feel subtle, responsive vibrations that heighten the sensations of their in game actions. Visually PlayStation VR2 will offer a best-in-class experience with 4K HDR, Foveated Rendering 110-degree field of view. All of this is on top of the new PlayStation VR2 Sense Controllers.
Which enable players to feel and interact with games in a much more visceral way. We are also excited to announce one of the biggest exclusive franchises on PlayStation will be coming to PlayStation VR2. "Horizon - Call of the Mountain" from Guerilla Games and Firesprite Games. This is an original game built for PlayStation VR2 that will take players deeper into the world of Horizon. Let's take an early look at "Horizon - Call of the Mountain" [MUSIC] Hi Everyone! I am Jan Bart Van Beek. I am one of the studio directors
at Guerilla. Everyone at our studio is working to put the last finishing touches on "Horizon - Forbidden West" as we get ready for launch. We are all very excited and can't wait to get the game into your hands on the 18th of February. It's only a few more weeks. Now as you join ALoy, on her journey into the forbidden West.It is great to know
that this is not the final frontier of the world of Horizon. In fact it is only the beginning. Our teams have also been working on a brand-new game set in the world of Horizon which we are very proud to announce.
So today, we would like to tell you that we are creating a unique new Horizon experience. One that has been built from the ground up for PlayStation next generation VR hardware. It is been designed to push gameplay technology and hardware innovation and it truly shows what's possible with the hardware's best-in-class visual experience and brand new controllers allowing you to interact and feel immersed in the world of Horizon in a whole-únew way. Please enjoy this glimpse into our new adventure. Welcome to "Horizon - Call of the Mountain."
[MUSIC and GAME AUDIO FOLLOWS] >>There >>Whats that Talmac doing there? >>It's headed towards the tall grass >> It's headed towards us! In 2020, Sony Interactive Entertainment jointly aquired EVO the world's largest fighting game competition alongside with our partners RTS. While we look forward to building on the momentum in the field of eSports through EVO in 2022, we are also working to create new value and new experiences for the live sports community. Our Hawkeye innovations provides real-time vision processing and unique video replay technology to assist sports officials, right holders and broadcasters. Their new skeletal tracking technology converts live movement from video into data using advanced AI recognition and image processing.- This data can be used to generate three-dimensional content in real time. It provides opportunities to innovate in live sports entertainment.
Recently, we have announced virtual fan engagement partnership with Manchester city. This proof of concept will explore new ways to leverage Sony's technologies to engage sports fans from anywhere in the world. To talk briefly about our new trial to engage with fans, here Ferran Soriano. >> We are so excited to welcome Sony as our virtual fan engagement partner. This is our home. Our physical home. The Ethiad Stadium in Manchester.
But now, we are putting together the technology and the entertainment experience of Sony with the knowledge and experience in global football from Manchester City and the City Football Group to develop new virtual experiences for the millions of fans that Manchester City has. Fans will be able to develop their own avatars and interact and enjoy in a virtual space like this. We have a number of new ideas, activities, and activation plans for the next weeks and months. I can't wait to show them, to the world, for the Manchester city fans across the world but also for all global football fans. >> Across Sony business units, whether PlayStation or Hawkeye, we are committed to providing places for community engagement. Shared experiences of game day úand sports are excellent-úexamples of our ability to enable users to seamlessly shift from one place to another.
As we look towards the future, we continue to see possibilities for new, and exciting social entertainment spaces. Let me talk about the megatrend of mobility, another way we can connect people. We unveiled the vision-S prototype here at CES in 2020, with the goal of contributing to the evolution of mobility. The human need for mobility will continue and there is an opportunity satisfy both peoples desire to move safely and to be entertained. The excitement we received after the announcement of Vision-S encouraged us to further consider how we can bring creativity and technology to change the experience of moving from one place to another.
And today, I would like to show you a new Vision-S prototype [MUSIC] This is our new prototype SUV. Vision-S has been developed on the foundation of safety, adaptability and entertainment. Safety has been our number-one priority in developing comfortable mobility experience. That has not changed when building this SUV. A total of 40 sensors, including Sony's CMOS image sensors are installed inside and outside the vehicle to monitor safety. In terms of adaptability
the Vision-S prototype is equipped with network connectivity, which allows us to build a vehicle that continuously evolves. It also makes it possible to personalize the cabin for each user. And, with 5G, it enables high-speed, high-capacity and low-latency connection between the in-vehicle system and the cloud. The Vision-S also involves mobility as an
entertainment space and features our 360 reality audio , gaming experiences and BRAVIA Core for Vision-S. A fully integrated digital video service We have learned more about mobility through our exploration of Vision-S and from the various partners who have supported these efforts. With our imaging and sensing, cloud, 5G, and entertainment technologies combined with our content mastery, we believe Sony is well-positioned as a creative entertainment company to redefine mobility. That being said, I am excited to announce this spring, we are establishing a new company, Sony Mobility Inc.
It will accelerate these efforts. And, we are exploring commercial launch of Sony's EV. [APPLAUSE] Sony mobility Inc., will harness the potential of mobility, utilizing our AI and robotics. This is a bold step into the future, bringing our expertise in creating diverse and innovative solutions to the world.
Thank you for being with us today. Enjoy CES! [APPLAUSE] >> When I was a little girl I was in my bedroom and i was listening to music. It just transported me into another world. >> It is amazing how different it sounds. Its that thing where you dont know what you want before you've experienced it.
>> PlayStation Studios at its heart is a diverse and passionate group of storytellers. Everything we do is driven and inspired by storytelling. >> I use them because I love them. They are absolutely amazing cameras, great features and an incredible imagery.
>> 360 audio, a game changer for sure. [MUSIC PLAYING]
2022-01-11 10:22
Show Video
Other news