CBC News: The National | Djokovic deported, Ottawa explosion victims, Omicron and schools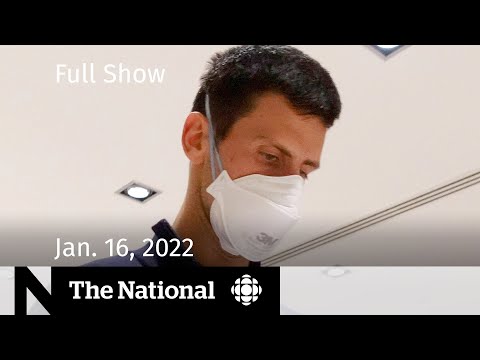 Show Video
DISMISSED HIS APPEAL. >> THE AMENDED APPLICATION BE DISMISSED WITH COSTS. >> Reporter: IN A STATEMENT, DJOKOVIC SAID THAT HE WAS EXTREMELY DISAPPOINTED, BUT WOULD ACCEPT THE DECISION AND COOPERATE WITH THE AUTHORITIES.
HE FLEW OUT OF AUSTRALIA SHORTLY AFTER. >> [CHANTING] >> Reporter: THERE WAS MIXED REACTION FROM FANS. >> DJOKOVIC HAS NEVER, ACCOMPLICE ITALY SUPPORTED EXTREME ANTI-VACCINATION ACTIVISTS BUT BACK IN SEPTEMBER HE WAS PHOTOGRAPHED, MASKLESS, KNOWING THAT HE WAS COVID POSITIVE. THIS HAS GALVANIZED THE MOVEMENT. >> THIS IS CREATING A LOT OF BACKLASH, BUT EQUALLY HIS WHOLE TREATMENT OF THE CASE IS EQUALLY LIKELY TO CREATE -- TO KIND OF FAN THE ANTI-VACCINE SENTIMENT. >> Reporter: THIS SPORTS MARKETING EXPERT SAYS THAT AUSTRALIA IS SENDING A STRONG MESSAGE.
>> THAT THESE ATHLETES ARE NOT ABOVE THE LAW. THEY NEED TO FOLLOW THE RULES OF GOVERNMENT AND FOLLOW THE RULES OF AUTHORITIES AND NOT THINK THAT THEIR STATUS, THEIR ACCOMPLISHMENTS, THEIR BRAND, SUPERSEDES ANYTHING THAT AFFECTS EVERYBODY ELSE. >> Reporter: DJOKOVIC'S NEXT CHANCE AT A GRAND SLAM TITLE IS THE FRENCH OPEN IN MAY.
ALTHOUGH FRANCE DOESN'T HAVE THE SAME LEVEL OF RESTRICTIONS AS OF AUSTRALIA, THERE MAY BE MORE CONTROVERSY AND LEGAL BATTLES AHEAD. KAREN PAULS, CBC NEWS, TORONTO. >> Ian: HERE IN CANADA, MILLIONS OF STUDENTS VACCINATED AND NOT WILL BE HEADED BACK TO SCHOOL TOMORROW. IN FOUR PROVINCES, IT'S THE FIRST TIME THEY'LL BE BACK IN THE CLASSROOM SINCE DECEMBER. AS TALIA RICCI EXPLAINS, THAT HAS MANY KIDS EXCITED AND SOME PARENTS AND TEACHERS NERVOUS.
>> Reporter: AT THIS VACCINE CLINIC IN BRAMPTON, ONTARIO, A NEW KIND OF BACK-TO-SCHOOL PREP VACCINE DOSES FOR KIDS ABOUT TO RETURN TO CLASS. >> IT DIDN'T HURT AS MUCH AS LAST TIME. >> Reporter: LUCAS, HOW DID YOUR VACCINE GO? >> GOOD. >> Reporter: AND THE STUDENTS ARE ALSO RETURNING TO SCHOOL ON MONDAY. DELAYED AS OMICRON SPREAD OVER THE HOLIDAYS.
>> NO MATTER WHAT WE HAVE TO DO TO MAKE SURE THEY GET BACK INTO CLASS. >> Reporter: PROVINCIAL GOVERNMENTS SAY THAT THEY'RE PROVIDING MORE RAPID TESTS, INCREASING ACCESS TO MASKS, AND TRYING TO IMPROVE SCHOOL VENTILATION. BUT WITH CASES STILL SKY HIGH AND MANY CHILDREN NOT FULLY VACCINATED, INCLUDING THOSE WHO ARE TOO YOUNG, PARENTS MUST NOW MAKE A DECISION. >> I'M PRETTY NERVOUS ABOUT IT, TO BE HONEST. I'M GOING TO KEEP MY 5-YEAR-OLD HOME FROM KINDERGARTEN FOR THE WEEK. >> THE SCHOOL IS DOING GREAT FOR THE JOB, LIKE, KEEPING THEM SAFE.
SO THAT'S WHY WE'RE NOT WORRIED ABOUT IT. >> Reporter: BUT SCHOOL BOARDS ARE WORRIED ABOUT STAFFING. MANY WARNING OF POTENTIAL LAST-MINUTE CLASS CANCELLATIONS QUÉBEC'S SAME PARENTS MAY BE CALLED IN TO SUPERVISE CLASSROOMS IF TOO MANY TEACHERS ARE OFF SICK. >> I'M VERY CONCERNED ABOUT SAFETY, I REALLY AM, BECAUSE IT MAKES SENSE TO HAVE ALL OF THESE PEOPLE TOGETHER? LARGE GROUPS OF PEOPLE.
>> Reporter: DOCTORS SAY THAT IT MAY BE IMPOSSIBLE TO EVER ADDRESS ALL CONCERNS PERFECTLY. AND THAT IT MIGHT BE TIME TO LOOK AT THE RISK DIFFERENTLY. >> YOU SEE DIFFERENT PROVINCES TRYING TO NAVIGATE THE LEAST BAD PATH FORWARD.
OBVIOUSLY, REGARDLESS, THERE ARE GOING TO BE CASES IN SCHOOLS. >> WE ARE WORKING MORE TOWARDS TREATING COVID, SIMILAR TO OTHER COLD AND FLU VIRUSES THAT WE HAVE IN THE PAST. >> Reporter: WHILE KIDS ARE MORE FOCUSED TO GETTING BACK TO THE THINGS THEY HAVE BEEN MISSING. WHAT ARE YOU MOST EXCITED FOR TO GO BACK TO SCHOOL? >> LEARNING. >> PLAYING WITH MY FRIENDS OUTSIDE.
>> Ian: AND, TALIA, AFTER MONDAY, TAKE US THROUGH THE PROVINCES WHERE THE STUDENTS WILL STILL BE OUT OF THE CLASSROOM. >> Reporter: WELL, NEW BRUNSWICK, P.E.I., NEWFOUNDLAND AND NUNAVUT ARE SET TO CONTINUE WITH REMOTE LEARNING FOR AT LEAST ANOTHER WEEK. AND WE SHOULD MENTION THAT THERE IS SOMETHING ELSE THAT IS POISED TO DISRUPT SCHOOL FOR SOME ONTARIO AND QUÉBEC STUDENTS OVER THE NEXT COUPLE DAYS -- NOT COVID FOR ONCE, BUT AN INCOMING STORM.
SO MANY WILL END UP WITH AN OLD-FASHIONED SNOW DAY, IAN. >> Ian: ALL RIGHT, TALIA, THANK YOU. >>> AND WE'RE GOING TO CONTINUE THIS CONVERSATION A LITTLE LATER WITH A COUPLE OF DOCTORS.
PAEDIATRIC INFECTIOUS DISEASE SPECIALIST DR. JACQUELINE WONG AND DR. FATIMA KAKKAR WILL BE HERE WITH WHAT TO LOOK FOR AND WHAT TO DO IF YOUR CHILD IS EXPOSED TO COVID. THAT'S IN ABOUT 20 MINUTES.
>>> AFTER TONIGHT QUÉBEC'S COVID CURFEW WILL BE LIFTED. BUT AS VALERIA CORI-MANOCCHIO EXPLAINS, THE SITUATION IN HOSPITALS CONTINUES TO GET WORSE. >> Reporter: THIS IS THE LAST NIGHT QUÉBECERS WILL HAVE TO BE HOME BY 10:00 P.M. AFTER 17 DAYS, THE LOCAL GOVERNMENT IS ENDING THE CURFEW, SAYING ON THURSDAY THAT HOSPITALIZATIONS WERE EXPECTED TO PEAK IN THE COMING DAYS.
>> BUT WHEN WE TALK ABOUT A PEAK, IT MEANS THAT THE SITUATION IS NOT GOING TO GET MUCH WORSE THAN IT CURRENTLY IS THAT DOESN'T MEAN THAT THE SITUATION IS OKAY. THE SITUATION IS STILL QUITE DIRE. >> Reporter: IN FACT, PUBLIC SERVANTS ARE BEING ASKED TO VOLUNTEER IN OVERWHELMED HOSPITALS AS COVID PUSHES SEVERAL TO THEIR HIGHEST ALERT LEVELS, MEANING THEY'RE CANCELLING UP TO 80% OF SURGERIES AND CLOSING ERs.
TWO OTHER HOSPITALS SAY THEY'LL SOON NEED TO GO BEYOND THAT. >> NOW WE'RE FACING A SITUATION WHERE ACTUALLY PEOPLE'S LIFE CAN BE PUT AT RISK BY DISRUPTIONS. >> Reporter: MEANWHILE, THE PROVINCE IS EXPANDING ITS VACCINATION PASSPORT. STARTING TUESDAY, IT WILL BE REQUIRED TO ENTER A GOVERNMENT LIQUOR OR CANNABIS STORE. LATER THIS MONTH, IT WILL BE NEEDED FOR BIG BOX STORES TOO.
AND THERE ARE STILL QUESTIONS ABOUT ANOTHER UNIQUE QUÉBEC PLAN TO TAX UNVACCINATED ADULTS, INCLUDING WHETHER IT WOULD EVEN WORK. >> PEOPLE, WHEN THEY'RE PUSHED INTO A CORNER AND THEY HAVE A PRETTY STRONG BELIEF AND, CERTAINLY, A BELIEF THAT IS BEING DRIVEN BY FEAR, THE HARDER YOU PUSH, THE MORE THEY'LL DIG THEIR HEELS IN AND THEY WILL RESIST. >> [Speaking French] >> Reporter: TONIGHT LEGAULT DEFENDED HIS PLAN. >> [Speaking French] >> Reporter: LEGAULT SAYS IF QUÉBECERS REFUSE TO BE VACCINATED AND PUTTING A HUGE BURDEN ON THE HEALTH NETWORK, HE THINKS THAT IT'S ONLY RIGHT THEY SHOULD PAY A CONTRIBUTION AND THAT QUÉBECERS AGREE. HE SAYS HE PLANS TO SUBMIT A BILL FOR DEBATE IN THE NATIONAL ASSEMBLY IN EARLY FEBRUARY. VALERIA CORI-MANOCCHIO, CBC NEWS, MONTRÉAL.
>> Ian: AS PROVINCES TURN TO THE FEDERAL GOVERNMENT FOR HELP THROUGH THIS OMICRON WAVE, OTTAWA IS NOTICING ONE BIG DIFFERENCE FROM PAST SURGES -- ALL THE HELP IS NEEDED AT ONCE. >> OBVIOUSLY, OUR JOB IS TO DO WHATEVER WE CAN TO SUPPORT THEM WE'RE CONFIDENT THAT WE'RE IN A POSITION TO RESPOND TO THOSE REQUESTS, BUT UNLIKE PREVIOUS WAVES, THEY'RE SORT OF ALL COMING AT THE SAME TIME. >> Ian: ONE OF THE BIG REQUESTS FROM PROVINCES IS FOR MORE RAPID TESTS, WITH SOME OF THOSE PROVINCES REPORTING DELIVERY DELAY. DOMINIC LeBLANC TOLD "ROSEMARY BARTON LIVE" THAT HE IS CONFIDENT THAT THE FEDERAL GOVERNMENT WILL FULFILL ITS PLEDGE TO GET 140 MILLION RAPID TESTS TO PROVINCE THIS IS MONTH >>> AND AS OMICRON CONTINUES TO SPREAD ACROSS CANADA'S NORTH, THERE'S AN URGENT NEED FOR MORE HEALTH CARE WORKERS. AND TONIGHT CBC NEWS HAS LEARNED THAT THE FEDERAL GOVERNMENT IS ANSWERING NUNAVUT'S CALL FOR ASSISTANCE, SUPPLYING THE TERRITORY WITH THREE TO FOUR NURSES.
JUANITA TAYLOR HAS MORE ON WHAT THE NORTH IS UP AGAINST. >> Reporter: NUNAVUT IN ALL OF ITS BEAUTY AND REMOTENESS. OMICRON IS HERE AND SPREADING. THE ENTIRE TERRITORY HAS BEEN UNDER A FULL LOCKDOWN SINCE CHRISTMAS EVE. >> IT'S A THREAT OF OMICRON THAT IS VERY REAL. >> Reporter: THE TERRITORIAL GOVERNMENT IS SOUNDING THE ALARM AGAIN THAT NUNAVUT NEEDS MORE HEALTH CARE WORKERS.
SEVERAL HEALTH CARE CENTRES ARE OPERATING ON EMERGENCY ONLY OR REDUCED CAPACITY SERVICES. NOW STAFFING SHORTAGES ARE SLOWING DOWN ADMINISTERING THE COVID-19 VACCINE. >> ANYTHING THAT IS SLOWING DOWN OUR DELIVERY OF VACCINES TO NUNAVUT RESIDENTS IS A BIG CONCERN TO ME.
>> Reporter: CAMBRIDGE BAY, NUNAVUT, HAD MANAGED TO AVOID THE VIRUS UNTIL NOW. THERE ARE CLOSE TO A DOZEN CASES IN THIS SMALL COMMUNITY. >> I WAKE UP EVERY DAY WAITING FOR THE NEW NUMBERS.
>> Reporter: PUTTING A STRAIN ON STAFF AT THIS HEALTH CENTRE. ONE NURSE HAD TOLD THE MAYOR HOW BAD IT'S BEEN. >> SHE HAD GONE 16 DAYS WITHOUT A FULL NIGHT'S REST AND BEING CALLED THROUGH THE NIGHT FOR VARIOUS CALLS. >> Reporter: THE TERRITORIAL GOVERNMENT HAS SET UP A HOTLINE FOR HEALTH-RELATED QUESTIONS TO EASE THE PRESSURE.
MEANWHILE HERE IN THE NORTHWEST TERRITORIES, THERE IS ALSO A NEED FOR MORE HEALTHCARE WORKERS. THERE ARE OVER 1,000 ACTIVE COVID CASES, THE HIGHEST CASELOAD THAT THE TERRITORY HAS EVER SEEN. >> IT'S NOT BEEN AN OVERWHELMING NUMBER OF HOSPITALIZATIONS, BUT THAT'S ONLY ONE VERY SMALL PART OF THE HEALTH CARE SYSTEM.
THE TESTING RESOURCES HAVE BEEN INCREDIBLY STRETCHED. >> Reporter: WHILE THESE ISSUES EXIST ACROSS THE COUNTRY, THERE ARE PARTICULAR CHALLENGES HERE. >> I THINK THAT THE IMPACTS OF THAT ON THE NORTH ARE EVEN MORE SIGNIFICANT BECAUSE OF THE REMOTENESS OF SO MANY COMMUNITIES, BECAUSE OF THE LIMITED LEVEL OF HEALTH CARE THAT'S AVAILABLE.
I THINK THAT IT SPEAKS TO THE NEED TO CONTINUE TO INVEST IN OUR NORTHERN HEALTH CARE SYSTEM, TO HAVE STAFF SO THAT WE DON'T CONTINUALLY FIND OURSELVES IN THIS ONE CRISIS AFTER THE NEXT. >> Reporter: THE FEDERAL GOVERNMENT IS SUPPLYING RAPID TEST KITS AND N-95 MASKS TO NUNAVUT. AND DESPITE HIGH CASES, OFFICIALS IN NUNAVUT ARE REMOVING LOCKDOWN RESTRICTIONS ON MONDAY.
JUANITA TAYLOR, CBC NEWS, YELLOWKNIFE. >> Ian: BEIJING HAS REPORTED ITS FIRST LOCALLY TRANSMITTED OMICRON CASE, JUST 19 DAYS BEFORE THE WINTER OLYMPICS BEGIN. AUTHORITIES SAY THAT THE INFECTED PERSON DIDN'T TRAVEL OUTSIDE THE CITY IN PAST TWO WEEKS. FEBRUARY 1ST STARTS THE MARK OF THE LUNAR NEW YEAR AND THEY URGE PEOPLE TO STAY PUT INSTEAD OF TRAVELLING BACK TO THEIR HOMETOWNS. THE OLYMPIC OPENING CEREMONY IS SCHEDULED FOR FEBRUARY 4TH. >>> A GLOBAL VACCINE SHARING PROGRAMME IS MARKING A MILESTONE, ONE BILLION SHOTS DELIVERED.
BUT THEY MISSED A TARGET OF TWO BILLION BY THE END OF LAST YEAR AND WEALTHIER COUNTRIES SECURED MOST OF THE SUPPLY. THE WORLD HEALTH ORGINISATION SAYS THAT DESPITE A RECENT INFLUX THAT VACCINE INEQUITY REMAINS AN ISSUE. >>> TURNING TO OTHER NEWS, OTTAWA OFFICIALS SAY THEY STILL DON'T KNOW THE CAUSE OF THURSDAY'S MASSIVE EXPLOSION AT A TANKER TRAILER FACILITY, BUT WE DO KNOW MORE ABOUT SOME OF THE PEOPLE WHO DIED. AND AS TRAVIS DHANRAJ EXPLAINS, THE INVESTIGATION WILL TAKE TIME, ESPECIALLY WITH A BIG SNOWSTORM CLOSING IN. >> I WOULD JUST TELL HER THEY LOVE HER.
>> Reporter: WORDS MARIA FERGUSON WISHES THAT SHE COULD SAY ONE LAST TIME TO A COUSIN THAT SHE CONSIDERED A SISTER. >> SHE WAS A GREAT HUMAN BEING WHO HAD A HEART OF GOLD AND LOVED EVERY SINGLE PERSON IN HER LIFE TO THE ENDS OF THE WORLD. >> Reporter: KAYLA FERGUSON WAS A WELDER AT EASTWAY PUMP AND METRE.
A JOB THAT SHE LOVED. THE SITE WAS HIT WITH A MASSIVE EXPLOSION. THE SCOPE OF THE DAMAGE CLEAR FROM NEW AERIAL IMAGES RELEASED BY INVESTIGATORS. MUCH OF THE SCENE IS STILL TOO DANGEROUS TO ACCESS.
>> THE COLD, THE SITE CONDITIONS, THE SIZE OF THE AREA, AND THE MAGNITUDE OF THE BLAST HAVE CREATED CHALLENGES. >> Reporter: THOSE CHALLENGES ARE MOUNTING. A STORM IS EXPECTED TO DUMP UP TO 40 CENTIMETRES OF SNOW ON THE OTTAWA AREA TONIGHT. THE FIRE DEPARTMENT IS RUSHING TO PROTECT THE SITE. >> THESE LARGE TENTS WILL HELP PROTECT THE EVIDENCE THAT'S EXPOSED TO THE ELEMENTS. >> Reporter: REMAINS OF FOUR PEOPLE HAVE BEEN FOUND BUT IT'S STILL TOO DANGEROUS TO RECOVER AND IDENTIFY THEM.
IN ALL, SIX PEOPLE ARE BELIEVED TO HAVE DIED, INCLUDING RICK BASTIEN, A HUSBAND AND FATHER JUST THREE YEARS FROM HUSBAND. ETIENNE MABIALA, HE HAD TWO DAUGHTERS AND A WIFE THAT HE WOULD CALL EVERY LUNCH HOUR. AND 29-YEAR-OLD ELECTRICIAN DANNY BEALE. >> HE WOULD HAVE BEEN DEVASTATED TO SEE HIS CO-WORKERS AND HIS FRIENDS HAVE TO GO THROUGH SOMETHING LIKE THIS. >> Reporter: IT COULD TAKE WEEKS FOR INVESTIGATORS TO IDENTIFY A CAUSE, IF AT ALL. THE SHEER FORCE OF THE BLAST COULD MAKE IT IMPOSSIBLE AS LOVED ONES WAIT FOR ANSWERS, A MEMORIAL HAS BEEN SET UP AT A SAFE DISTANCE WHERE THEY CAN REMEMBER THOSE LOST.
TRAVIS DHANRAJ, CBC NEWS, OTTAWA. >> Ian: FUNERALS WERE HELD FOR THE VICTIMS OF A HIGH-RISE FIRE 15 COFFINS WERE BROUGHT INSIDE AN ISLAMIC CULTURAL CENTRE. SO CROWDED THAT MOURNERS HAD TO BE WARNED ABOUT FIRE HAZARDS. ELECTED OFFICIALS ON HAND WERE CRITICIZED FOR CONDITIONS IN THE VICTIMS' NEIGHBORHOOD.
A FAULTY HEATER BLAMED FOR STARTING THE FIRE. >>> PRIME MINISTER TRUDEAU AND U.S. PRESIDENT JOE BIDEN ARE CALLING TODAY'S STANDOFF AT A TEXAS SYNAGOGUE ANTI-SEMITISM. BUT THEY ARE TRYING TO FIGURE OUT WHY THE MAN TARGETED THAT HOUSE OF WORSHIP.
HE HELD FOUR PEOPLE HOSTAGE, RELEASING ONE BEFORE A DRAMATIC RESCUE OPERATION. KATIE SIMPSON HAS THE LATEST DETAILS ON THE ORDEAL. >> Reporter: F.B.I. AGENTS MOVED IN AFTER NEARLY 11 HOURS OF NEGOTIATION. IT'S QUICK, BUT YOU CAN SEE THE MOMENT THAT THE HOSTAGES MAKE IT OUT ALIVE. PANICKED, TRIPPING OUT THE DOOR, THEIR HORRIFIC NIGHTMARE OVER.
>> THE HRT, THE HOSTAGE RESCUE TEAM, BREACHED THE SYNAGOGUE. THEY RESCUED THE THREE HOSTAGES AND THE SUBJECT IS DECEASED. >> Reporter: THE GUNMAN HAS BEEN IDENTIFIED AS MALIK FAISAL AKRAM, A 44-YEAR-OLD BRITISH CITIZEN.
HE WAS DEMANDING THE RELEASE OF AAFIA SIDDIQUI, A JAILED SCIENTIST HELD IN TEXAS, CONVICTED OF TRYING TO KILL U.S. SOLDIERS IN AFGHANISTAN. AUDIO OF THE CHAOS WAS BROADCAST LIVE ON THE MEDIA SITE. >> [indiscernible] >> President Joe Biden: THIS WAS AN ACT OF TERROR, THIS WAS AN ACT OF TERROR. >> Reporter: THE PRESIDENT SAYS THAT HE AND HIS ATTORNEY GENERAL ARE FOCUSED ON DEALING WITH THESE KINDS OF ACTS. >> President Joe Biden: WE'RE NOT GOING TO TOLERATE THIS, THAT WE HAVE THIS CAPACITY TO DEAL WITH ASSAULTS ON PARTICULARLY THE ANTI-SEMITISM THAT HAS GROWN UP.
>> Reporter: NO HOSTAGES WERE PHYSICALLY HURT, THANKS IN PART TO SECURITY TRAINING. RABBI WALKER WROTE IN A STATEMENT, WITHOUT THE INSTRUCTION WE RECEIVED, WE WOULD NOT HAVE BEEN PREPARED TO ACT AND FLEE. >> ALL OF A SUDDEN WE HAVE TO BECOME EXPERTS IN SECURITY. I DID NOT BECOME A RABBI TO BEING AN EXPERT IN SECURITY. >> Reporter: THIS IS A FAMILIAR PAIN FOR THIS CONGREGATION, SHE HAD TO TESTIMONY HER MOM, A HOLOCAUST SURVIVOR, WHAT HAPPENED AT THEIR SYNAGOGUE.
>> I SAW HER FEAR, CLASHES OF MEMORY, SOME FEARFULNESS, AND IT WAS HARD BECAUSE, YOU KNOW, ONE DOESN'T THINK THAT THESE THINGS WILL HAPPEN IN THIS DAY AND AGE >> Reporter: AUTHORITIES IN THE U.K. ARRESTED TWO TEENS IN SOUTH MANCHESTER AS PART OF THIS INVESTIGATION THAT IS NOW WELL UNDERWAY. KATIE SIMPSON, CBC NEWS, WASHINGTON. >> Ian: COMMUNICATION WITH MOST OF THE SMALL NATION OF TONGA IN THE SOUTH PACIFIC IS STILL CUT OFF TONIGHT AFTER THAT MASSIVE UNDERWATER VOLCANO ERUPTED, TRIGGERING A TSUNAMI.
TONGA IS REMOTE, A SERIES OF ISLAND BUSY 2,300 KILOMETRES OFF THE COAST OF NEW ZEALAND. AND AS SUSANA da SILVA TELLS US, IT'S DIFFICULT TO GET A GOOD SENSE OF WHAT THE SITUATION IS THERE ON THE GROUND. >> IT'S RAINING, AND IT'S DROPPING ASHES RIGHT NOW. >> Reporter: SOCIAL MEDIA POSTS SHOW THE DARK SKIES AND ASH BLANKETING THE LANDSCAPE.
ELSEWHERE, TSUNAMI WAVES CRASHING INTO COMMUNITIES, BUT COMMUNICATIONS HAVE BEEN SPARSE WITH THE MAIN TELECOMMUNICATIONS LINE LINKING THE ISLAND CUT OFF, AND LEAVING FAMILY MEMBERS AROUND THE WORLD DESPERATE FOR INFORMATION. >> I HAVEN'T BEEN ABLE TO CONTACT MY FATHER OR ANY FAMILY IN TONGA FOR THE LAST COUPLE OF DAYS. IT'S A POSITION THAT A LOT OF PEOPLE AROUND THE WORLD ARE HAVING. >> Reporter: A NEW ZEALAND AIR FORCE PLANE HAS BEEN SENT TO SURVEY THE DAMAGE.
ASH THAT REACHED NEARLY 20 KILOMETRES HIGH HAD PREVENTED HELP FROM THE AIR. >> A CLEAR INDICATION HAS COME FROM TONGA IS A NEED FOR WATER. >> Reporter: NEW ZEALAND SAYS THAT IT IS READY TO HELP BUT -- >> IT WILL TAKE SEVERAL DAYS TO REACH TONGA. WE NEED TO FINELY BALANCE THE NEED TO GET THERE QUICKLY BUT ALSO TO MAKE SURE THAT THEY GET THE RESOURCES THEY NEED. >> Reporter: THE VOLCANO HAD SMALLER ERUPTIONS STARTING IN DECEMBER. IT WAS DECLARED DORMANT AGAIN ON JANUARY 10th BUT THEN BEGAN TO SPEW ASH A FEW DAYS LATER.
THE LATEST ERUPTION LED TO WIDESPREAD TSUNAMI ALERTS, WAVES KILLED TWO WOMEN IN A COASTAL COMMUNITY IN PERU, MORE THAN 10,000 KILOMETRES AWAY. AND THE VOLCANO MAY NOT BE DONE YET. ALREADY THERE HAVE BEEN REPORTS OF TWO MORE LOUD EXPLOSIONS. >> WHILE VOLCANOS ARE UNIFORM IN THEIR UNPREDICT ACT, SO, I MEAN, WE COULD SEE MORE ERUPTIONS COMING FROM IT, THOUGH USUALLY AND OFTEN WHEN YOU HAVE THAT ONE BIG EXPLOSIVE ERUPTION THAT SEEMS TO RELEASE SOME OF THE PRESSURE.
>> Reporter: WITH SO MUCH UNCERTAINTY, TONGANS ARE DOING WHAT THEY CAN. >> WE ARE REACHING OUT TO THE WORLD TO SAY, LOOK, THIS HAS HAPPENED TO OUR LITTLE ISLAND IN THE PACIFIC, WE'RE GOING TO NEED SOME HELP. >> Reporter: AS ASSESSMENTS CONTINUE TO FIGURE OUT HOW DAMAGING AND DEADLY THIS ERUPTION WAS. SUSANA da SILVA, CBC NEWS, VANCOUVER. >> Ian: A BRUTAL CIVIL CONFLICT IN ETHIOPIA HAS CUT PEOPLE OFF FROM THEIR LOVED ONES. UP NEXT, HOW THEY ARE FEELING THE PAIN FROM AFAR.
PLUS -- >>> GROWING CONCERNS ABOUT CHINESE ESPIONAGE HERE IN CANADA. >> OVER TIME THE FOREIGNERS ARE OFTEN CAJOLED INTO TRANSFERRING OVER CLASSIFIED MATERIALS. >> Ian: COMING UP, ALLEGATIONS OF BEIJING TURNING ORDINARY CITIZENS INTO SPIES. AND A LITTLE LATER -- >>> A BEAUTIFUL VIEW FROM VANCOUVER ISLAND, BUT SOMETHING DIDN'T ADD UP.
>> I COULD NOT BELIEVE MY EYES. I SAW WHAT LOOKED EXACTLY LIKE A HUGE ICEBERG THAT WAS FLOATING BY. >> >> Ian: THE RUSSIAN MILITARY BUILD UP ALONG THE BORDER WITH UKRAINE HAS OTTAWA WARNING CANADIANS TONIGHT AGAIN NON-ESSENTIAL TRAVEL. THE FOREIGN AFFAIRS MINISTER MÉLANIE JOLY IS ON HER WAY TO MEET WITH UKRAINIAN OFFICIALS.
AND CANADIAN MILITARY TRAINERS IN WESTERN UKRAINE. CANADA AND THE U.S. HAVE ALREADY PLEDGED TO WORK TOGETHER TO DETER RUSSIAN AGGRESSION.
>>> OTTAWA IS ALSO WATCHING THE CONFLICT IN ETHIOPIA. PRIME MINISTER TRUDEAU URGING HIS ETHIOPIAN COUNTERPART TO WORK TOWARDS ENDING THE BATTLE THAT KILLED THOUSANDS. THE BATTLE THAT MANY HERE IN CANADA ARE WATCHING IN PAIN FROM AFAR. ELLEN MAURO BRINGS US THEIR STORY. >> I DON'T KNOW WHAT TO SAY. >> Reporter: SHE IS OVERCOME, HEARTBROKEN BY WHAT ETHIOPIA'S WAR TOOK FROM HER.
>> YEAH, I COULDN'T SAY GOODBYE TO MY MOM. >> Reporter: HER MOTHER DIED FROM ILLNESS IN NOVEMBER 2020, JUST AS THE FIGHTING BETWEEN GOVERNMENT TROOPS AND THE REBEL FORCES BEGAN. THE VIOLENCE PREVENTED MARESU FROM TRAVELLING TO THE TIGRAY REGION WHERE HER FAMILY LIVES. >> I DIDN'T GET TO SEE HER OR HER LAST WORDS OR TO, LIKE, SAY GOODBYE. >> Reporter: ETHIOPIA'S WAR HAS WROUGHT UNBEARABLE PAIN. DOZENS IN TIGRAY WERE KILLED IN A PURPORTED GOVERNMENT AIRSTRIKE EARLIER THIS MONTH.
DOZENS MORE, INCLUDING CHILDREN, INJURED. THIS HOSPITAL STRUGGLING TO TREAT THEM WITH AID TO THE REGION CUT OFF. THE BLOCKADE HAS ALSO LEFT HUNDREDS OF THOUSANDS FACING STARVATION.
THE WORLD HEALTH ORGINISATION BLAMING ETHIOPIAN PRIME MINISTER ABI ABMED. >> THEY ARE DENYING THEIR PEOPLE FOOD AND MEDICINE AND THE REST TO SURVIVE. >> Reporter: IN 2019, ABI WON THE NOBEL PEACE PRIZE FOR SOLVING A YEARS LONG CONFLICT WITH ERITREA, BUT TWO YEARS LATER HE'S GONE TO THE FRONTLINES OF THIS INTERNAL FIGHT. THE NOBEL COMMITTEE THAT ONCE LAUDED HIM, NOW PLEADING TO END THE BLOODSHED AFTER HIS PROMISES TO DESTROY THE ENEMY. TIGRAYAN FORCES TOO HAVE BEEN ACCUSED OF TARGETING CIVILIANS AND TAKING THOUSANDS OF PRISONERS.
BOTH SIDES HAVE BEEN ACCUSED OF USING RAPE AS A WEAPON. >> FREE ETHIOPIA! >> Reporter: SUPPORTERS HAVE RALLIED ACROSS CANADA AND AROUND THE WORLD, BLAMING THE WAR ON THE TIGRAYAN AGGRESSION. >> HE IS THE PRIME MINISTER AND WE TRUST IN HIM, WE BELIEVE IN HIM. >> Reporter: THERE ARE SIGNS THAT THE CONFLICT FUELLED BY A DEEPLY ROOTED POWER STRUGGLE COULD BE SOFTENING, BUT THERE ARE NO PLANS YET FOR TALKS AS ETHIOPIA'S ETHNIC DIVIDES ONLY DEEPEN. (Speaking Foreign Language).
>> Reporter: "I'M NOW GUARDING MY CITY WITH A STICK," THIS PRO GOVERNMENT VOLUNTEER SAYS "BUT IF REQUIRED THEY WILL GIVE ME A WEAPON." >> I FEEL DEVASTATED. >> Reporter: MAKING IT WORSE, MARESU CANNOT REACH HER FAMILY WITH THE COMMUNICATIONS CUT. >> I CAN'T EVEN TALK TO THEM, SO IMAGINE, LIKE, FOR A WHOLE YEAR YOU CAN'T EVEN TALK TO YOUR FAMILY. >> Reporter: AND SHE DOESN'T KNOW WHEN SHE'LL BE ABLE TO AGAIN. ELLEN MAURO, CBC NEWS, TORONTO.
>> Ian: MILLIONS OF KIDS ARE HEADING BACK INTO CLASSROOMS TOMORROW AND THEY'RE FACING A LOT OF UNCERTAINTY. COMING UP NEXT, TWO PAEDIATRIC INFECTIOUS DISEASE DOCTORS WITH ANSWERS TO QUESTIONS ON THE MINDS OF STUDENTS AND PARENTS. PLUS -- >> I COULD NOT BELIEVE MY EYES, I WAS REALLY STUNNED.
>> Ian: THE MYSTERY BEHIND THIS >> Announcer: Coroner , Thursdays at 8:00 on CBC and CBC Gem. >> ARE YOU EXCITED TO GO BACK TO SCHOOL? >> YES. >> KIDS HAVE TO GO BACK. >> PRETTY MUCH, WHATEVER WE HAVE TO DO TO MAKE SURE THEY GET BACK IN CLASS. >> Ian: TOMORROW KIDS IN MANY PROVINCES ARE HEADING BACK TO THE CLASSROOM FOR THE FIRST TIME SINCE WINTER BREAK. A RETURN DELAYED AS OMICRON SURGED.
IN BRITISH COLUMBIA, STUDENTS RETURNED A WEEK AGO, BUT SOME PARENTS ARE STILL STRUGGLING TO GET CLEAR ANSWERS ON HOW TO HANDLE SOME COVID ISSUES. FOR EXAMPLE, AS BRADY STRACHAN SHOWS US, WHETHER THEY CAN SEND THEIR KIDS TO SCHOOL IF SOMEONE ELSE IN THE HOME IS SICK OR ISOLATING. >> WHAT IS THIS? >> Reporter: IT'S ANOTHER DAY AT HOME FOR REBECCA AND HER 2-YEAR-OLD SON. AN EXPOSURE TO COVID AT DAY-CARE HAS THEM IN ISOLATION, AWAY FROM THE REST OF THE FAMILY. >> JUST BEING ALONE WITH A TODDLER FOR 10 DAYS IS VERY TRYING, EVEN IF YOU CAN SUCCESSFULLY FEEL THAT YOU HAVE PROTECTED OTHER PEOPLE BY ISOLATING.
>> Reporter: SHE'S TRYING TO NAVIGATE THE RULES AROUND ISOLATION FOR HER SON AND HIS 7-YEAR-OLD BROTHER IN ELEMENTARY SCHOOL. >> IT'S LIKE TRYING TO DEVINE WATER USING A STICK. YOU HAVE WHAT PUBLIC HEALTH SAYS TO DO, WHICH IS COMPLEX.
AND, SO, FOR EXAMPLE, IF YOU HAVE HAD AN EXPOSURE, THERE'S A SORT OF FLOWCHART DOCUMENT THAT YOU LOOK AT. >> Reporter: GUIDANCE FROM THE FRASER HEALTH AUTHORITY CALLS FOR 10 DAYS OF ISOLATION FOR HER CHILDREN IF THEY'RE EXPOSED TO SOMEONE WITH COVID-19. IT'S MESSAGING THAT MANY SCHOOL DISTRICTS ALSO HAVE OR LINK TO ON THEIR WEBSITES, BUT NOT IN LINE WITH WHAT B.C.'S CHIEF MEDICAL OFFICER HAS SAID WHEN ASKED IF KIDS CAN GO BACK TO SCHOOL IF SOMEONE IN THEIR HOME IS SICK. >> YES, WE ARE STILL ALLOWING CHILDREN TO GO TO SCHOOL IN THOSE SETTINGS, AND TO MONITOR VERY CAREFULLY.
IF THERE'S A REALLY SICK PEOPLE IN THE HOUSE AND, YOU KNOW, IT MAY BE UP TO FAMILIES TO MAKE THOSE DECISIONS ABOUT WHETHER THEY WANT TO KEEP CHILDREN HOME IN THOSE SCENARIOS. >> Reporter: EDUCATION ADVOCATES SAY THAT THIS MESSAGING IS CONFUSING AND PUTS A LOT OF STRESS ON PARENTS. >> A LACK OF CLARITY LEADS TO PEOPLE JUST KIND OF, LIKE, WELL, I'LL WING IT, AND I THINK THAT IS REALLY RISKY. >> MOMMY CAN HAVE A CHIP? >> Reporter: BACK AT HOME, SHE'S COUNTING THE DAYS AND WATCHING CAREFULLY FOR ANY SYMPTOMS.
>> IT BASICALLY FEELS THAT YOU COULD BE GOING ON FOREVER ISOLATING. >> Reporter: SHE IS ALSO HOPING FOR MORE CLARITY ON THE BEST WAY TO KEEP HER KIDS AND COMMUNITY SAFE. BRADY STRACHAN, CBC NEWS, KELOWNA, BRITISH COLUMBIA. >> Ian: SO PARENTS ACROSS COUNTRY HAVE A LOT OF QUESTIONS WHETHER THEIR KIDS JUST WENT BACK OR ARE ABOUT TO GO BACK TO SCHOOL. WE'RE JOINED BY TWO PAEDIATRIC INFECTIOUS DISEASE SPECIALIST, DR. JACQUELINE WONG IN HAMILTON
AND DR. FATIMA KAKKAR IN MONTRÉAL. WELCOME TO BOTH OF YOU. WE KNOW THAT THERE'S A LOT OF OMICRON OUT THERE IN SCHOOLS AND OUTSIDE AND I WANT TO PUT THE SAME QUESTION TO BOTH OF YOU, STARTING WITH DR. KAKKAR, WHAT WOULD YOU SAY TO A FAMILY WHO WONDERS HOW LONG THEY SHOULD ISOLATE IF THAT CHILD HAS BEEN EXPOSED TO COVID? >> IT'S CONFUSING, AND SO WHAT I'LL GIVE YOU ARE SOME GUIDING PRINCIPLES, BUT DON'T BE ALARMED IF A SPECIFIC HEALTH DISTRICT CHANGES THIS.
A CONTACT OF A KNOWN CASE DEPENDS ON WHETHER IT'S A HOME SETTING OR THE SCHOOL SETTING. SO IF IT'S A HOUSEHOLD CONTACT, IN GENERAL, THEY WILL NEED TO ISOLATE. IF IT'S A CONTACT THAT HAPPENED IN THE SCHOOL SETTING, ACROSS MOST PROVINCES RIGHT NOW THAT CHILD DOES NOT NEED TO ISOLATE. SO THERE MIGHT BE SPECIFIC INSTANCES WHERE IT'S HIGH RISK BUT THE SCHOOL SETTING IS NOT CONSIDERED A HIGH RISK ENVIRONMENT. SO CHILDREN WOULD NOT HAVE TO ISOLATE. >> Ian: DR. WONG, ANYTHING THAT
YOU WANTED TO ADD TO THAT? >> NO -- I AGREE WITH THAT RISK ASSESSMENT, BECAUSE WE HAVE TO DEAL WITH WHAT THE NATURE OF THE PERSON'S CONTACT WITH IS WITH THAT PERSON THAT IS A POSITIVE CASE, YOU KNOW, IS IT A SET SETTING WHERE THEY PROBABLY HAVE A MASK ON AND OTHER LAYERS OF PROTECTION. TO THE QUESTION OF ABOUT HOW LONG THEY SHOULD ISOLATE FOR, IT DEPENDS ON THE ENVIRONMENT THAT THEY'RE GOING BACK TO AND TO DRY ACROSS THE COUNTRY. BUT WE'RE SEEING MORE AND MORE JURISDICTIONS WHERE, YOU KNOW, IF YOU'RE A CONTACT OF A POSITIVE CASE, THAT DURATION OF ISOLATION IS SHORTENING. AND ESPECIALLY IF THEY'RE GOING BACK TO A SETTING LIKE SCHOOL WHERE YOU'RE NOT SEEING A LOT OF HIGH-RISK INDIVIDUALS AND YOU'RE SEEING A LOT OF HEALTHY PEOPLE, I AGREE THAT WE SHOULD SHORTEN THAT POSITIVE OF ISOLATION. >> Ian: I'M INTERESTED TO HEAR WHAT EACH OF YOU ARE SEEING IN TERMS OF KIDS WITH COVID, WHETHER IT'S IN HOSPITAL OR NOT IN HOSPITAL.
DR. WONG, WHAT ABOUT IN HAMILTON? >> YEAH, SO ANECDOTALLY, IAN, DR. KAKKAR REFERRED TO THIS THE LAST TIME WE MET, THERE ARE A LOT OF RESPIRATORY OR NASAL SYMPTOMS LIKE CONGESTION AND RUNNY NOSE AND SORE THROAT. AND THAT'S WHAT I'M HEARING FROM PEOPLE AND TESTING POSITIVE AND NOT NEEDING TO BE ADMITTED TO HOSPITAL.
THROUGHOUT THIS PANDEMIC, WE HAVE SEEN LOW LEVEL NUMBER OF ADMISSIONS IN OUR PAEDIATRIC HOSPITALS, SO WE'RE TALKING LESS THAN 10 A DAY. AND THE MINORITY OF THAT WOULD BE ADMITTED TO THE ICU AND THOSE ADMITTED TO THE WARD, PROBABLY ABOUT HALF OF THEM ARE INTDENTALLY FOUND TO HAVE COVID, AS OPPOSED TO THE OTHER HALF WHO ARE ADMITTED FOR COVID. IT'S USUALLY FEVER MANAGEMENT AND HYDRATION AND OCCASIONALLY NEEDING A LITTLE BIT OF OXYGEN. >> Ian: AND DR. KAKKAR, AS DR. WONG POINTS OUT, THIS IS
ANECDOTAL, BUT WHAT ARE YOU SEEING IN MONTRÉAL? >> HAVING BEEN ON CALL THE LAST FEW WEEKS THERE'S MORE COVID NOW THAN I HAVE SEEN SINCE THE BEGINNING OF THE PANDEMIC, BUT THE VAST MAJORITY IS MILD. AND AS DR. WONG SAYS, OVER HALF OF THE KIDS ARE NOT ADMITTED FOR COVID AND THEY'RE JUST TESTING POSITIVE ON ADMISSION. IN THE COMMUNITY I CAN SAY ABOUT A THIRD OF MY PATIENTS THAT HAD COVID OVER THE LAST FEW WEEKS. SO THERE'S WIDESPREAD COMMUNITY AND COVID, BUT THE VAST MAJORITY OF THOSE CHILDREN ARE NOT BEING HOSPITALIZED.
AND RIGHT NOW WE'RE DEALING WITH THE MOST COMMON SYMPTOMS, FOR EXAMPLE, A COLD AND NASAL CONGESTION AND SORE THROAT AND MAYBE FEVER, WHICH IS VERY DIFFERENT FROM WHAT WE SAW EARLY ON IN THE PANDEMIC. >> Ian: THE LAST QUESTION ALSO TO BOTH OF YOU, AND MAYBE YOU HAVE 30 OR 40 SECONDS TO ANSWER AND I'LL START WITH YOU, DR. KAKKAR. ACROSS THE COUNTRY, PARENTS HAVE KIDS WHO ARE EITHER RETURNING TO SCHOOL OR HAVE BEEN IN SCHOOL FOR A SHORT PERIOD OF TIME.
THEY MIGHT BE ANXIOUS. WHAT WOULD YOU SAY TO THEM? >> I DO WANT TO REASSURE THEM. SO I HAVE SEEN SO MUCH PAEDIATRIC COVID IN LAST FEW YEARS AND THE EFFECTS OF NOT BEING IN SCHOOL. AND REALLY FOR MOST CHILDREN THE BENEFITS OF BEING IN SCHOOL FAR OUTWEIGH ANY POTENTIAL RISK FROM COVID. AND ANY OF THAT POTENTIAL RISK IS MINIMIZED THROUGH VACCINATION.
SO I REALLY DO WANT TO REASSURE PARENTS THAT IT IS SAFE TO START SCHOOL TOMORROW. >> Ian: DR. WONG? >> I HAVE TO ECHO THE SAME THING.
WE'RE TALKING ABOUT RISK AND BENEFITS OF DIFFERENT THINGS. AND KIDS REALLY HAVE STRUGGLED FROM NOT HAVING CONSISTENT IN-PERSON SCHOOLING. SO, AGAIN, SIMILAR MESSAGE. I CAN APPRECIATE IT IS A BIT OF AN UNCERTAIN TIME, THERE'S A LOT OF CHANGE IN PRACTISE HAPPENING AND A LOT OF CHANGE IN PHILOSOPHY, BUT CHILDREN BELONG IN SCHOOL. THEY DESERVE IN-PERSON SCHOOLING.
AND THEY WILL DO WELL. >> Ian: THERE'S A LOT OF CONTROVERSY ON THIS ISSUE AS YOU KNOW, AND SO I APPRECIATE YOUR WILLINGNESS TO GIVE US YOUR ADVICE. THANKS TO BOTH OF YOU. >> THANK YOU. >> MY PLEASURE.
>> Ian: WITH ATHLETES FROM AROUND THE WORLD ABOUT TO ARRIVEIN BEIJING FOR THE WINTER OLYMPICS, THERE ARE TROUBLING ACTIVITIES WITH CHINA ABROAD. >> THEY'RE LOOKING FOR ANY AND ALL AREAS OF VULNERABILITY. >> Ian: COMING UP, THE ACCUSATIONS THAT CHEAP USES FOREIGN RESEARCHER AS SPIES AND >> Announcer: Coroner , Thursdays at 8:00 on CBC and CBC Gem. >> HI, I'M ANGELA STERRITT.
TOMORROW ON CBC'S DAILY NEWS PODCAST "FRONTBURNER," A LOOK AT A SIGNIFICANCE OF A LANDMARK TRIAL IN GERMANY THAT HAS FOUND A HIGH-RANKING SYRIAN OFFICIAL GUILTY OF CRIMES AGAINST HUMANITY. SUBSCRIBE WHEREVER YOU GET YOUR PODCASTS. >> Ian: WITH THE WINTER OLYMPICS LESS THAN THREE WEEKS AWAY, THE I.O.C. IS GIVING THE VENUES ONE MORE LOOK.
FOR ORGANIZERS, THAT MEANS MAKING SURE THAT THE ICE IS SMOOTH, THE SIGNS LOOK SHARP. SAFETY MEASURES ARE IN PLACE. AND FOR ATHLETES THIS IS A CHANCE TO GRAB SOME TRAINING TIME. BUT CHINA IS HOSTING OF THE GAMES IS COMPLICATED FOR CANADA OTTAWA'S RELATIONSHIP WITH BEIJING IS A DIFFICULT ONE. TONIGHT IN PART TWO OF OUR SERIES, TERENCE McKENNA LOOKS AT ALLEGATIONS THAT CHINA IS BEHIND A SYSTEMATIC SCHEME OF INDUSTRIAL ESPIONAGE AND THEFT IN THIS COUNTRY. (♪♪) >> Reporter: PRESIDENT XI JINPING OFTEN BRAGS ABOUT CHINA'S THOUSAND TALENT PROGRAMMES, DESIGNED TO BRING CUTTING-EDGE RESEARCH AND TECHNOLOGY TO CHINA THROUGH LUCRATIVE GRANTS AND CO-PRODUCTION AGREEMENTS WITH FOREIGN SCIENTISTS.
THE "TORONTOSTAR" JOURNALIST ISR OF A REPORT. >> THEY TRY TO RECRUIT FOREIGNERS TO WORK WITH CHINA, USING THE PROMISE OF A LOT OF FUNDING, THE COMMERCIALIZATION OF THEIR RESEARCH IN EXCHANGE FOR THEM HANDING OVER THEIR RESEARCH, THE RIGHTS TO THE GOVERNMENT. WHICH COULD BE USED FOR POTENTIALLY MILITARY, FOR ECONOMIC OR ALL OF THESE MEANS IN SERVICE OF THE STATE. >> Reporter: THAT PROGRAMME CAN TURN TO ESPIONAGE, ACCORDING TO CHARLES BURTON, WHO ATTENDED UNIVERSITY IN CHINA AND SERVED AS A DIPLOMAT IN THE CANADIAN EMBASSY THERE. >> OFTEN IT STARTS SMALL WITH, YOU KNOW, WITH MATTERS WHICH ARE PERHAPS MORE BASIC. AND THEN OVER TIME THE FOREIGNERS ARE OFTEN CAJOLED OVER TO CLASSIFYING MATERIALS TO THE CHINESE STATE TO SERVE CHINA'S OVERALL RISE TO POWER.
>> Reporter: A CASE IN POINT CAME FROM HARVARD UNIVERSITY AND THE EMINENT PROFESSOR CHARLES LIEBER. HE DENIED RECEIVING ANY IMPROPER PAYMENTS FROM CHINA THROUGH HIS JOINT RESEARCH PROGRAMMES THERE UNTIL THE F.B.I. CONFRONTED HIM WITH THIS THOUSAND TALENTS PROGRAMME CONTRACT, WHICH SECRETLY PAID HIM $50,000 A MONTH AND $158,000 IN LIVING EXPENSES. >> Reporter: YOU WANT TO RESPOND TO THE ALLEGATIONS AT ALL? >> Reporter: HOW DO YOU EXPLAIN THE CHARGE? >> Reporter: LAST MONTH IN BOSTON HE WAS CONVICTED OF TAX EVASION AND LIES TO FEDERAL AGENTS.
>> THIS IS A SOFT SAMPLE OF CHINA'S ONGOING CAMPAIGN TO SIPHON OFF AMERICAN TECHNOLOGY AND KNOWHOW FOR CHINESE GAIN. >> Reporter: LAST JANUARY, THE DIRECTOR OF CSIS RAISED THE ALARM ABOUT CHINA'S THREAT TO CANADA. >> TO BE CLEAR, THE THREAT DOES NOT COME FROM THE CHINESE PEOPLE, BUT, RATHER, FROM GOVERNMENT OF CHINA THAT IS USING ALL STATE POWER TO CARRY OUT ACTIVITIES THAT ARE A DIRECT THREAT TO OUR NATIONAL SECURITY AND SOVEREIGNTY. WE ALL MUST STRENGTHEN OUR DEFENCES. >> Reporter: THE FIRST BIG HINT OF CHINESE INDUSTRIAL SPYING IN CANADA CAME WITH THE STORY OF NORTEL NETWORKS.
IN THE 1990s, THE DYNAMIC CANADIAN COMPANY SUPPLIED ABOUT 70% OF THE WORLD'S MOST SOPHISTICATED COMMUNICATIONS HARDWARE. THEY BUILT THIS RESEARCH FACILITY NEAR OTTAWA AND ENTERED INTO A CO-PRODUCTION AGREEMENT WITH THE RISING CHINESE TELECOMMUNICATION COMPANY HUAWEI. >> IN 1990s, WE STARTED TO SEE SOME ACTIVITIES AROUND NORTEL.
>> Reporter: AT THAT TIME, THE CHIEF OF THE ASIA PACIFIC DESK AT C.S.I.S., HE REMEMBERS COMING OVER TO THE NORTEL HEADQUARTERS TO WARN ABOUT THE SPYING THREAT FROM CHINA. >> WE HAD CONCERN ABOUT SOME OF THE INDIVIDUALS -- TECHNICIANS, ENGINEERS, COMING FROM CHINA FOR A LONG HEAD OF TIME AND GETTING ACCESS TO VERY SENSITIVE AREA. AND THE RECEPTION WAS VERY, VERY COLD SHOULDERS.
WE TRIED TO -- TO WARN THEM, BUT BASICALLY THEY ALMOST TOLD US DON'T COME BACK. >> Reporter: IN 2004, A NORTEL CYBERSECURITY TEAM DISCOVERED THAT THE COMPANY HAD BEEN HACKED. THOUSANDS OF HIGHLY CONFIDENTIAL COMPANY DOCUMENTS HAD BEEN ILLEGALLY DOWNLOADED.
THE HACK WAS TRACED TO CHINA. SHORTLY THEREAFTER, NORTEL COLLAPSED IN A FINANCIAL SCANDAL. AND HUAWEI TOOK ITS PLACE AS THE WORLD'S PREEMINENT SUPPLIER OF TELECOMMUNICATIONS GEAR. >> IT WAS A CANADIAN RESEARCH, IT WAS CANADIAN GENIUS, THAT SORT OF CAME OUT WITH THIS AND IT BENEFITED VERY, VERY MUCH, HUAWEI.
BUT THE WORLD'S SUCCESS CAME WITH A CANADIAN INNOVATION THAT WAS STOLEN FROM US. >> Reporter: AS THE ABANDONED NORTEL BUILDING WAS BEING RENOVATED FOR CANADA'S DEFENCE DEPARTMENT, MICROPHONES AND TINY SPY CAMERAS WERE APPARENTLY FOUND IMPLANTED IN THE WALLS. CANADIAN GOVERNMENT INTELLECTUAL PROPERTY IS ALSO A TARGET FOR CHINA. AT WINNIPEG'S NATIONAL MICROBIOLOGY LAB, CHINESE SCIENTIST WAS RECENTLY FIRED AND MARCHED OUT OF THE BUILDING BY THE RCMP AFTER SHE WAS ACCUSED OF SECRETLY SHIPPING EBOLA AND VIRUS MATERIAL BACK TO CHINA AND FILING FOR PATENTS THERE BASED ON RESEARCH.
NO CHARGES HAVE BEEN LAID, AND THEY HAVE TRIED TO RESTRICT ALL OF THE INFORMATION ON THE GROWNS OF NATIONAL SECURITY. CONSERVATIVE M.P. MICHAEL CHUNG SAYS THAT PARLIAMENT NEEDS ANSWERS.
>> WE KNOW THAT PEOPLE'S LIBERATION ARMY SCIENTISTS WERE GRANTED ACCESS TO THE LAB. WE KNOW THAT SOME OF THE RESEARCH AT THE LAB WAS FUNDED BY THE GOVERNMENT IN CHINA. AND SO I THINK THAT THEY'RE LOOKING FOR ANY AND ALL AREAS OF VULNERABILITY TO BE ABLE TO NOT ONLY BREACH NATIONAL SECURITY, BUT ALSO TO STEAL INTELLECTUAL PROPERTY FROM THE RESEARCH THAT WE DO HERE AND IN OTHER DEMOCRACIES. >> Reporter: AN INDEPENDENT SENATOR THINKS THAT ANTI-CHINA HYSTERIA IS HURTING RESEARCH. >> WE ARE ENTERING AN ENVIRONMENT IN THIS COUNTRY WHERE ANY TIES WITH CHINESE COUNTERPARTS ARE PUT UNDER A MAGNIFYING GLASS AND OFTEN DEEMED TO BE SUSPICIOUS WITHOUT THE NECESSARY EVIDENCE TO SHOW THAT, IN FACT, THEY ARE SUSPICIOUS OR EVEN DAMAGING TO NATIONAL INTEREST. >> Reporter: JOANNA CHIU SAYS THAT THE BEIJING REGIME HAS TURNED ANTI-WESTERN CHINA SENTIMENT TO ITS ADVANTAGE.
>> I THINK THAT THE CHINESE PARTY CAPITALIZES ON THIS AROUND THE WORLD TO BE, LIKE, SO, SEE, YOU'RE NOT ACCEPTED AROUND THE WORLD AS, YOU KNOW, AS CANADIANS, AMERICANS, SO YOU'RE CHINESE AND YOU SHOULD BE LOYAL WITH CHINA. BECAUSE WE'RE YOUR MOTHERLAND AND WE WILL SUPPORT YOU AND ACCEPT YOU. >> Reporter: AUSTRALIA RECENTLY TIGHTENED ITS SECURITY LAWS AND EXPELLED NUMEROUS CHINESE SCIENTISTS AND STUDENTS. >> WE DON'T WANT TO GET EATEN BY ANY BIG FISH, RIGHT, IT DOESN'T MATTER WHO THEY ARE. >> Reporter: FORMER AUSTRALIAN PRIME MINISTER TURNBULL SPOKE ABOUT THAT AT THE RECENT SECURITY FORUM. >> ULTIMATELY YOU JUST HAVE TO KNOW WHO YOU ARE DEALING WITH.
IF, IN FACT, YOU ARE IN PARTNERSHIP WITH, YOU KNOW, AN ORGINISATION THAT IS ESSENTIALLY FOR THE LIBERATION ARMY, YOU NEED TO KNOW ABOUT IT. >> Reporter: THE UNITED STATES HAS ARRESTED CHINESE SCIENTISTS AND ISSUED WANTED POSTERS FOR DOZENS OF OTHERS IN WHAT IS CALLED THE F.B.I.'S CHINA INITIATIVE. FORMER C.S.I.S. DIRECTOR RICHARD FADDEN SAYS THAT THE CANADIAN GOVERNMENT CLEARLY HAS NO INTEREST IN LAUNCHING A SIMILAR CRACKDOWN ON CHINA.
>> IF THE RCMP CAME OUT TOMORROW, YOU KNOW, PLASTERING POST OFFICES AS THEY USED TO DO IN THE MOVIES WITH PICTURES OF WHOM THEY THOUGHT WERE DOING THE SORTS OF THINGS YOU'RE TALKING ABOUT, I'M NOT SURE THAT GOVERNMENT WOULD BE ECSTATIC. I REALLY AM NOT. WHEREAS, IN THE UNITED STATES IT'S THOUGHT TO BE A GOOD THING THEY'RE PROTECTING THEIR NATIONAL INTERESTS AND THEIR NATIONAL SECURITY. >> WELL, OUR LEGISLATION WITH REGARD TO THE TRANSFER OF CLASSIFIED TECHNOLOGIES TO AGENTS OF A FOREIGN STATE IS MUCH WEAKER THAN THAT OF OTHER COUNTRIES. YOU KNOW, IT'S UNFORTUNATE THAT CANADA SEEMS TO BE A VERY WEAK LINK IN OUR ALLIANCE OF LIKE-MINDED COUNTRIES THAT ARE COMING TO TERMS WITH THE THREAT OF CHINESE MALIGNED ACTIVITIES.
>> Reporter: IN A SPEECH RELEASED IN LATE DECEMBER, PRESIDENT XI ANNOUNCED THE CHINESE COMMUNIST PARTY WAS DOUBLING DOWN ON THE THOUSAND TALENTS PROGRAMME. HE SAID CHINA WOULD EXHAUST ALL MEANS TO RECRUIT INTELLIGENT AND INTELLECTUAL PROFESSIONALS FROM AROUND THE WORLD AND THAT WOULD ALLOW CHINA TO BECOME A WORLD LEADER IN SCIENCE AND TECHNOLOGY WITHIN TWO DECADES. TERENCE McKENNA, CBC NEWS, TORONTO. >> Ian: UP NEXT, A CHANGE OF PACE. A STRANGE DISCOVERY OFF THE EAST COAST OF VANCOUVER ISLAND.
A WOMAN SPOTS WHAT LOOKS LIKE AN ICEBERG, IT SEEMED IMPOSSIBLE, AND IT WAS. WHAT SHE ACTUALLY SAW IS JUST AHEAD. >> Announcer: Coroner , Thursdays at 8:00 on CBC and CBC Gem. >> Ian: AN INCREDIBLE IMAGE CAPTURED OFF THE COAST OF VANCOUVER ISLAND NEAR NANAIMO LOOKS A LOT LIKE AN ICEBERG, RIGHT? BUT HOW COULD AN ICEBERG END UP SO CLOSE TO THE ISLAND IN WATERS THAT ARE TOO WARM AND A WATERWAY TOO BUSY? THE ANSWER IS THERE'S MORE THAN MEETS THE EYE IN OUR "MOMENT." (♪♪) >>> I WAS LOOKING AND TAKING A COUPLE OF PICTURES AND I SWERVED OVER TO THE LEFT AND I SAW AN OBJECT THAT WAS REALLY SHINY IN THE DISTANCE.
AND IT WAS VERY LARGE. I SAW WHAT LOOKED EXACTLY LIKE A HUGE ICEBERG THAT WAS FLOATING BY. AND I COULD NOT BELIEVE MY EYES I WAS REALLY STUNNED.
I POSTED IT ON SOCIAL MEDIA JUST TO SEE IF OTHER PEOPLE HAD SEEN THE SAME STRUCTURE, PHENOMENA, WHATEVER IT WAS. THE EXPLANATION SCIENTIFICALLY VIEWED IS THAT IT IS LARGE, SO WE WERE ABLE TO ACTUALLY FIND A CORRELATION TO MOUNT CHIUM IN CHILLIWACK WHICH IS ALMOST 20 KILOMETRES AWAY. >> NORMALLY THE ATMOSPHERE JUST GETTING COLDER AS IT GETS UP, BUT WE HAD THIS MILD WARM AIR ABOVE, AND THAT AIR WAS ALSO VERY DRY, WHICH HELPED THE VISIBILITY OF THE ATMOSPHERE. >> I'M ALMOST OUT THERE IN NATURE EVERY DAY WITH MY CAMERA, AND I HAD NEVER EXPECTED TO SEE SOMETHING LIKE THIS.
>> Ian: SO I HAVE VAGUE MEMORIES OF READING ABOUT INVERSIONS OF UPSIDE DOWN SHIPS THAT PEOPLE WOULD SEE AT SEA. IMAGINE HOW TERRIFYING THAT WOULD BE. AND NOW YOU JUST SEE AN INVERSION LIKE THAT AND IT DOESN'T FEEL QUITE RIGHT AND POSTED ON THE INTERNET. IN A FEW MINUTES PEOPLE ARE WEIGHING IN WITH THEIR ANSWERS. STILL, THAT DISTANCE BETWEEN WHERE THAT MOUNTAIN IS AND WHERE SHE WAS TAKING PICTURES IS INCREDIBLE.
>>> THAT IS "THE NATIONAL" FOR JANUARY 16TH. GOOD NIGHT.
2022-01-20 02:30
Show Video
Other news