Can Technology Save a Warming Planet?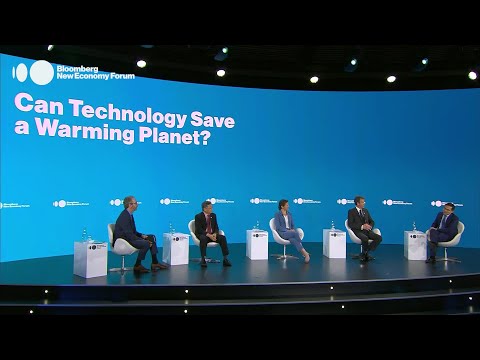 Show Video
♪ >> PLEASE WELCOME OUR MODERATOR AND HIS PANELISTS. >> THANK YOU. >> THANKS, EVERYONE. WE ARE ON THIS PANEL KEENLY AWARE THAT OTHER THAN THE PLENARY AFTER US, WE ARE THE ONLY THING STANDING BETWEEN YOU AND YOUR REFRESHMENT OF CHOICE, SO WE HOPE TO MAKE THIS A LIVELY AND INTERESTING PANEL. WE HAD A GOOD DISCUSSION IN THE GREEN ROOM WHERE I LEARNED TO MY RELIEF AND COST ME SOME HAPPINESS THAT THERE ARE A LOT OF OPTIMISTS ON THIS PANEL.
WE HAVE HEARD A LOT OF DOOM AND GLOOM AND A LOT OF BAD NEWS ABOUT THE CLIMATE AND AS A CANADIAN, I FEEL OBLIGED TO SAY I'M THINKING ABOUT PEOPLE IN BRITISH COLUMBIA BACK IN. WE WERE TALKING ABOUT THE HORRIFIC PICTURES YOU ARE SEEING OF THE INFRASTRUCTURE DAMAGE FROM THE FLOODING IN BRITISH COLUMBIA. SO IF THERE IS ANYBODY AWAKE, WE ARE ALL THINKING OF YOU HERE. OUR TOPIC TODAY IS WILL TECHNOLOGY SAVE THE WORLD? IT IS OBVIOUSLY A BIT OF AN OVERSTATEMENT, BUT I WOULD LIKE TO START BY GETTING FROM EACH OF YOU, WHY SHOULD WE BE OPTIMISTIC? WHAT IS THE BEST NEWS GOING ON IN THE TECHNOLOGY SPHERE WHEN IT COMES TO CLIMATE CHANGE? >> I THINK ONE OF THE MOST IMPORTANT OF THE GOOD NEWS IS THAT THINK THE WORLD IS BECOMING AWARE OF THE CHALLENGES OF SUSTAINABILITY. THIS IS PARTICULARLY SO WITH THE EXPERIENCE OF COVID-19.
MANY OF US WERE STRUCK BY THE PANDEMIC, NOT JUST IN THE ECONOMY, BUT ALSO IN THE WAY WE LIVE. SUSTAINABILITY BECAME A VERY IMPORTANT FACTOR IN OUR ECONOMY, AS WELL AS IN OUR LIVES. I THINK THAT THIS AWARENESS IS A CAUSE FOR OPTIMISM.
OF COURSE, THE ROAD TO THE SOLUTION IS GOING TO BE A LONG ONE. I THINK IT IS IMPORTANT FOR US TO FIND A WAY TO WORK TOGETHER, ALL THE STAKEHOLDERS, ALL THE COUNTRIES MUST COME TOGETHER, BECAUSE THIS IS A GLOBAL PROBLEM AND IT REQUIRES A GLOBAL SOLUTION AND THE OUTCOME OF THE COP 26 GIVES SOME SENSE OF OPTIMISM, WHILE IT IS NOT AS MUCH AS WE HAD HOPED TO ACHIEVE. I THINK THERE ARE SIGNS OF PROGRESS. I'M CONFIDENT THAT IF WE
CONTINUE TO WORK TOGETHER, WE WILL BE ABLE TO FIND A SOLUTION AND GOING FORWARD, IT IS THROUGH TECHNOLOGY OR COLLABORATION OR CUTTING BACK ON OUR CONSUMPTION, I THINK THERE ARE MANY OPPORTUNITIES FOR US TO WORK TOGETHER. WE HAVE MANY COLLABORATIONS ON SUSTAINABILITY AND WE ARE DISCUSSING THE GREEN ECONOMY OPPORTUNITIES. IN TIME TO COME, I THINK SUSTAINABILITY IS NOT JUST A BURDEN OF SOMETHING WE NEED TO DO, BUT I HOPE WE CAN EMBRACE IT SO IT BECOMES SOMETHING WE REALLY WANT TO DO. I'M CONFIDENT AND OPTIMISTIC THAT THE YOUNGER GENERATION PARTICULARLY ARE BEGINNING TO CHANGE THEIR DEMAND AND NEEDS AND THEY ARE LOOKING AT SUSTAINABILITY AS SOMETHING THAT THEY WANT TO HAVE AND IN THAT CONSUMPTION PATTERN, THEY ARE BEGINNING TO CHOOSE A MORE SUSTAINABLE PRODUCT, SERVICES AND PRODUCTS THAT ARE PRODUCED IN A SUSTAINABLE WAY. THIS GIVES HOPE THAT OVER TIME COMPANIES AND BUSINESSES IN THE PEOPLE WHO COME ALONG WILL RECOGNIZE AND EMBRACE SUSTAINABILITY AS PART OF OUR WAY OF LIFE. GERALD:
THANK YOU, MINISTER. THE MINISTER, AS WELL AS HAVING A VERY SERIOUS PORTFOLIO IN THE GOVERNMENT, IS ALSO COORDINATING THE COVID RESPONSE FOR SINGAPORE. YOU HAVE PROBABLY WON ONE OF THE BUSIEST PEOPLE ANOTHER PLANET.
>> ALL OF US ARE VERY BUSY. GERALD: YOU ARE RUNNING ONE OF THE MOST INTERESTING AND IMPORTANT COMPANIES FOR THE ENERGY TRANSITION IN EUROPE. YOU COME FROM THE CONVENTIONAL ENERGY BACKGROUND. PERHAPS YOU COULD TELL US A LITTLE BIT ABOUT YOUR OWN PERSONAL JOURNEY THROUGH THE SPACE AND WHERE YOU ARE TAKING IT.
>> IT IS REALLY A VERY EXCITING TIME TO BE IN THE ENERGY SPACE. WE ARE GOING THROUGH THIS TRANSFORMATION. WE ARE GOING FULL SPEED INTO RENEWABLES. WE ARE EXCITED ABOUT THE DROPPING COSTS OF THE TECHNOLOGY OF RENEWABLES, WHICH IS MAKING IT SO ATTRACTIVE TO SUPPLY TO MANY OF OUR CUSTOMERS. THE ISSUE WITH RENEWABLES [INDISCERNIBLE] THE TECHNOLOGY CAP WE HAVE TO BRIDGE, WHICH I'M VERY EXCITED ABOUT, IS THE ABILITY TO OFFER TO CUSTOMERS 100% RENEWABLE ENERGY OFFERS. IT SOUNDS SIMPLE.
SOMETIMES YOU HAVE WIND, SOMETIMES YOU HAVE SOLAR, RARELY BOTH, AND THAT NIGHT IT IS COMPLETELY OFF FROM THAT STANDPOINT. IT IS THE ABILITY TO PACKAGE AND OFFER A 24 HOURS, SEVEN DAYS BASIS FOR OUR CUSTOMERS. [INDISCERNIBLE] EVERY TIME THAT THEY CONSUME ENERGY, IT IS FROM RENEWABLE SOURCES. IT IS NOT ENOUGH. YOU NEED TO HAVE A GREEN INITIATIVE.
YOU NEED TO HAVE ENERGY MANAGEMENT SYSTEMS TO PROVIDE. CATHERINE: A LOT OF SMARTNESS. A LOT OF ENERGY BEHIND IT. THERE IS TECHNOLOGY AND TO SOURCE THE RIGHT SUPPLY. THAT IS VERY EXCITING.
GERALD: WE HAVE HEARD ON MANY OF THE OTHER PANELS, NOT JUST ABOUT CLIMATE CHANGE, THE NEED FOR PUBLIC AND PRIVATE SECTOR COOPERATION. IT IS GREAT WE HAVE TWO MINISTERS FROM IMPORTANT GOVERNMENTS ALONG WITH TWO VERY IMPORTANT AND SUCCESSFUL GOVERNMENT LEADERS. MINISTER, TELL US WHAT IS HAPPENING IN AUSTRALIA AND HOW YOU FEEL ABOUT THE PACE OF THE ENERGY TRANSITION. >> CAN I JUST SAY HOW GREAT IT IS TO BE HERE AND TO BE HERE IN PERSON ON STAGE WITH THESE WONDERFUL PRESENTERS AND ALSO TO HAVE AN AUDIENCE. I COMMEND BLOOMBERG FOR PUTTING THIS ON AND SINGAPORE FOR HOSTING BECAUSE THE WORLD IS GETTING BACK TO NORMAL AGAIN AND WE ARE LIVING AND BREATHING THAT HERE AT THIS CONFERENCE, WHICH IS JUST WONDERFUL.
I'M INCREDIBLY OPTIMISTIC THAT TECHNOLOGY WILL BE THE KEY TO SOLVING THE ISSUES WE ARE FACING. YOU SEE IT ON THIS PANEL HERE. YOU HAVE TWO MEMBERS OF GOVERNMENT WHO ARE AT THIS MOMENT NEGOTIATING A GREEN ECONOMY AGREEMENT. OUR CHIEF NEGOTIATOR WILL HEAD TO SINGAPORE NEXT WEEK TO REALLY START FIRMING UP THAT AGREEMENT AND IT IS HOPEFULLY AN AGREEMENT WHICH THE REST OF THE REGION AND MAYBE THE REST OF THE WORLD WILL LOOK AT AND SEEK TO ADAPT. THE KEY TO IT IS SHARING THE INFORMATION TO NEED TO SOLVE TO THESE PROBLEMS. THE TWO COMPANIES HERE ARE ALSO WORKING WITH THE AUSTRALIAN GOVERNMENT DOING THAT.
SERIOUS AND SIGNIFICANT INVESTMENTS IN RENEWABLE ENERGY IN AUSTRALIA AND WE ARE LOOKING AT PARTNERSHIPS AROUND HYDROGEN, WHICH WILL BE ONE OF THE ABSOLUTE KEYS GOING FORWARD. WE ARE IN A JOINT VENTURE WITH ONE OF OUR BIGGEST IRON OR TO SEE WHAT TECHNOLOGY WILL NEED TO DRIVE THIS TRANSITION. IT IS A JOINT VENTURE LOOKING AT THAT.
IN THIS PANEL, WE SEE HOW WE ARE GOING TO SOLVE THESE PROBLEMS. I THINK THE FUTURE WILL BE BRIGHT. I'VE JUST BEEN WITH ONE OF THE LARGEST AGRICULTURAL COMPANIES IN THE WORLD. THEY ARE ALSO LOOKING FOR SOLUTIONS WHEN IT COMES TO AGRICULTURE. ONE OF THE AREAS WE DON'T TALK ABOUT, THEY ARE DOING ENORMOUS RESEARCH AND INVESTMENT INCLUDING AND HOW WE SOLVE FOR THAT. DEFINITELY TECHNOLOGY WILL GET
US THERE AND I'M VERY CONFIDENT WITH THE HELP OF THIS PANEL THAT WE ARE AT THE FOREFRONT OF HELPING ACHIEVE THAT. GERALD: THAT IS TERRIFIC. LEE, YOU RUN, CORRECT ME IF I'M WRONG, THE ONLY MAINLAND CHINESE COMPANY COMMITTED TO 100% RENEWABLES BY THE MIDDLE OF THE DECADE. >> YES. GERALD: YOU ARE CONFIDENT YOU ARE GOING TO MEET THAT GOAL AND TELL US ABOUT IT.
>> [INDISCERNIBLE] GERALD: TELL US ABOUT THE TECHNOLOGICAL ADVANCEMENT THAT HAS FACILITATED THIS. >> [INDISCERNIBLE] WE CREATED THE WORLD'S FIRST ZERO INDUSTRIAL PARK. COST IS LOWER THAN FOSSIL FUEL. THE TRANSMISSION GRID TAKES TIME.
WHAT WE CAN DO IS WE SHIFT OUR DEMAND. WE CREATED THIS NET ZERO PARK. IT IS COMBINED WITH SOLAR AND SHORT-TERM STORAGE WITH DIGITAL SOLUTIONS. THE 100% RENEWABLES, WE OFFER 100% RENEWABLES DIRECTLY TO THE CUSTOMER.
WE ARE MAKING BATTERIES. IF WE DO NOT GO2NET ZERO BY 2028, WE WILL BE EMITTING [INDISCERNIBLE] CO2 PER YEAR. WE ALSO INTRODUCED THE LARGEST COMMERCIAL VEHICLE COMPANY IN CHINA TO MAKING EV WITH THIS INDUSTRIAL PARK. WE ARE 100% GREEN MAKING AND AT THE SAME TIME WE ARE MAKING GREEN PRODUCTS FOR SOCIETY. THIS INDUSTRIAL PARK IT HAPPEN EVERYWHERE, COULD HAPPEN IN AUSTRALIA. SO, YOU HAVE SOME ISLAND NEARBY, WHICH COULD BE A NET ZERO DATA CENTER. IT COULD HAPPEN IN SPACE.
IT IS A REPLICABLE MODEL. GERALD: I TOLD YOU, IT IS AN OPTIMISTIC GROUP HERE. GAN: A QUICK RESPONSE. WE ARE LOOKING AT MAKING OUR ZERO ISLAND, PETROCHEMICAL ISLAND, TO ACHIEVE EVENTUALLY NET CARBON NEUTRAL, SO WE ARE TRYING TO ACHIEVE WHAT YOU SAID. WE MIGHT NOT BE ABLE TO DO IT FOR THE WHOLE OF SINGAPORE, BUT WE DO INTEND TO HAVE A SPECIFIC PROJECT. WE ARE HAPPY TO DISCUSS WITH YOU HOW WE ARE GETTING THERE.
LEI: I'M SO READY FOR YOU. IT IS ALWAYS TOP OF MIND. [INDISCERNIBLE] [INDISCERNIBLE] WHAT DO YOU NEED? YOU NEED GREEN HYDROGEN AND GREEN AMMONIUM AND YOU TAKE THE AGRICULTURE FROM SOUTH ASIA, THEN YOU CREATE THIS PROJECT WERE BEIJING PROVIDES THE TECHNOLOGY TO D CARBONIZED YOUR PETROCHEMICAL BUSINESS. [APPLAUSE] [LAUGHTER] DAN: JUST TO ADD TO THAT POINT, THAT IS WHAT WE ARE GOING TO NEED TO DO. WE ARE GOING TO NEED TO WORK TOGETHER AND USE THE TECHNOLOGY AND WORK TOGETHER TO ACHIEVE IT.
IF WE ALL TRY TO SOLVE FOR IT OURSELVES, IT WON'T WORK. WE'VE GOT TO USE ALL THE COLLECTIVE KNOWLEDGE THAT WE HAVE, ALL THE COLLECTIVE TECHNOLOGY, AND BE PREPARED TO SHARE IT IF WE ARE GOING TO DO THIS. IT IS NOT PUTTING UP BARRIERS, IT IS TEARING BARRIERS DOWN TO GET THE TYPE OF COLLABORATION THAT WILL LEAD TO US GETTING TO WHERE WE NEED TO IN A WAY THAT BRINGS US TOGETHER RATHER THAN DIVIDES US. GERALD: IT HAS GOTTEN SOME POSITIVE
APPEAR, I FEEL THE NEED TO BRING IT DOWN A LITTLE BIT. [LAUGHTER] GERALD: WE ARE COMING OUT OF AN ERA OF TECHNOLOGICAL ADVANCEMENT AND COMMUNICATIONS TECHNOLOGY THAT HAD A LOT OF PROMISE. I'M OLD ENOUGH TO REMEMBER WHEN FACEBOOK WAS GOING TO BRING THE WORLD TOGETHER IN THE WAY THAT IT NEVER HAD BEFORE AND IT STRIKES ME THAT A LOT OF PEOPLE INVOLVED IN THE CLEANTECH SECTOR ARE SIMILARLY OPTIMISTIC, SHALL WE SAY, ABOUT PROSPECTS FOR ENERGY. IS THERE A POINT AT WHICH WE ARE GETTING A LITTLE AHEAD OF OURSELVES IN THIS DEBATE, IN THIS DISCUSSION, WHERE WE ARE NOT SEEING THE PITFALLS, THE UNINTENDED CONSEQUENCES THAT WE ARE SUFFERING THROUGH IN THE GROWTH OF PLATFORMS? I'M GOING TO HAVE TO RECALIBRATE. GAN:
WHILE WE ARE OPTIMISTIC, IT IS STILL A VERY LONG JOURNEY. THERE ARE STILL OBSTACLES ALONG THE WAY. THE SOLUTIONS ARE NOT EASY TO COME BY.
SINGAPORE, SUSTAINABILITY IS SOMETHING WE KNOW VERY WELL FROM MANY DECADES AGO, WE HAVE PRACTICALLY ZERO RESOURCES. WE HAVE TO ENSURE THAT OUR ECONOMIC DEVELOPMENT IS DONE IN A SUSTAINABLE WAY. WE OPTIMIZE, WE ECONOMIZE, WE MINIMIZE WHATEVER WE NEED TO USE SO THAT WE ARE ABLE TO USE THE LEAST AND DO THE MOST. ONE EXAMPLE IS WE RECYCLE OUR DRINKING WATER, SO THAT WE ARE LESS DEPENDENT ON THE IMPORTED WATER AND WE ALSO LOOK AT HOW WE CAN CONSERVE OUR ENERGY SO THAT WE CAN MAXIMIZE WHATEVER WE HAVE.
I THINK SUSTAINABILITY IS SOMETHING THAT WE LIVE BY RIGHT FROM THE BEGINNING, BUT OF COURSE THERE WILL BE ADDITIONAL CHALLENGES OF DECARBONIZATION. FOR US, WE UNFORTUNATELY DO NOT HAVE AN ABUNDANT SUPPLY OF RENEWABLE ENERGY AND WE ARE VERY LIMITED. SOLAR POWER IS SOMETHING WE HAVE DONE QUITE A LOT. WE HAVE PUT SOLAR CELLS ON PRACTICALLY EVERY ROOFTOP AND EVERY SPACE YOU CAN SEE WE HAVE PUT SOLAR CELLS.
WE HAVE ALSO STARTED PUTTING SOLAR CELLS ON RESERVOIRS, AS WELL AS ON OUR C BEDS. THESE ARE THE THINGS WE TRY TO DO TO MAXIMIZE OUR RENEWABLE SOURCES OF ENERGY. BUT THERE IS STILL A LIMIT TO HOW FAR WE CAN GO. THERE ARE SOME TECHNOLOGIES THAT ARE VERY PROMISING, WHETHER IT IS HYDROGEN, CARBON CAPTURE. SOME OF THESE STILL HAVE SIGNIFICANT TECHNOLOGICAL HURDLES. WE ARE ALSO RECENTLY TALKING ABOUT IMPORTING ENERGY, ELECTRICITY FROM AS FAR AWAY AS AUSTRALIA.
AS YOU CAN IMAGINE, THERE ARE IN NORMA'S CHALLENGES IN BRINGING ELECTRICITY FROM AUSTRALIA TO SINGAPORE, BUT WE NEVER SAY NO AND WE CONTINUE TO EXPLORE AND WILL EVENTUALLY FIND A SOLUTION TO SUSTAINABILITY FOR SINGAPORE. CATHERINE: MAYBE I WILL COMMENT A LITTLE BIT ON HYDROGEN. THERE IS SO MUCH BUZZ AROUND HYDROGEN. WHAT WE SEE IS THAT THEY'RE GOING TO BE SOME THINGS THAT ARE GOING TO BE EASIER THAN OTHERS. THE EASIER STUFF IS THE STUFF
WE ARE DOING WITH A BIG MANUFACTURER, THEY USE HYDROGEN, IT IS GREEN HYDROGEN, SO IT IS VERY CARBON INTENSIVE HYDROGEN. WE HAVE THE USAGE, SO WE DO A GREEN HYDROGEN PRODUCTION. WE DROP IT INTO THE EXISTING PROCESS. IT'S A COST ISSUE. WE HAVE THE HELP OF THE GOVERNMENT AND WE MAKE THAT PROJECT WORK. YOU CAN SEE HOW THAT IS FAIRLY EASY TO DO. WHERE IT GETS DIFFICULT IS WHEN THE USER OF HYDROGEN HAS TO INVEST TO CHANGE THE PROCESSES.
HERE YOU GET INTO EXAMPLES LIKE THE STEEL INDUSTRY. HYDROGEN IS GOING TO BE PROBABLY THE SOLUTION, BUT FOR THAT THEY NEED TO INVEST MAJOR DOLLARS AND IT IS GOING TO TAKE SOME TIME BEFORE THE DEMAND IS ACTUALLY A REALITY. SO, YOU WANT TO PUT HYDROGEN, BUT THE USAGE IS THERE FIVE YEARS LATER AND A FEW BILLION EUROS AFTER. YOU CAN SEE HOW BOTH CALENDAR AND ECONOMICS CAN CHANGE.
WHAT IS VERY IMPORTANT FOR US AS POTENTIAL PRODUCERS AND PROVIDERS, ANYTHING THAT CAN HELP US AGGREGATE THE DEMAND IS GOING TO BE VERY HELPFUL. TO UNDERSTAND THE COST CURVES AND THAT IS REALLY IMPORTANT. THE FIRST MOVERS COALITION IS A VERY NICE STEP TOWARD THAT ACTION, WHICH IS TRYING TO SAY WE ARE GOING TO PUT THE PEOPLE WHO NEED HYDROGEN OR LOW CARBON STUFF, WE WILL PUT THEM TOGETHER AND THERE IS GOING TO BE SOME COMMITMENT, AN AGREEMENT THAT WILL BE A BIT MORE EXPENSIVE, BUT THE PRODUCERS WILL HAVE SOME VISIBILITY AND THEN WE CAN PASS ON TO THE TECHNOLOGY PROVIDER, WHO ALSO NEED THAT VISIBILITY IN ORDER TO GET THE COST DOWN. GERALD: IN YOUR VIEW, HOW IMPORTANT IS CARBON PRICING IS A POLICY TO UNDERPIN THAT? CATHERINE: I THINK CARBON PRICING IS VERY IMPORTANT. VERY IMPORTANT. TO HAVE A BIT OF STABILITY AND VISIBILITY. VERY IMPORTANT.
DAN: GOING TO YOUR QUESTION, I THINK IT IS A VERY GOOD ONE. GEOSTRATEGIC CHALLENGES WILL REMAIN WHILE WE DEAL WITH THIS ISSUE. IT IS SOMETHING WE WILL ALL HAVE TO HAVE IN THE BACK OF OUR MINDS. BUT IF YOU LOOK AT WHAT HAS EVEN HAPPENED IN THE LAST SEVEN DAYS, THE WAY THAT THE U.S.
AND CHINA WERE ABLE TO COME TOGETHER TO BE ABLE TO SAY, OK, THIS IS SOMETHING THAT WE NEED TO DEAL WITH TOGETHER BECAUSE IT IS A GLOBAL CHALLENGE, I THINK IT DOES POINT THE WAY THAT WE SHOULD BE ABLE TO COME TO SOME OF THOSE GEOSTRATEGIC CHALLENGES TO DEAL WITH THIS. WE CAN'T BE COMPLETELY IDEALISTIC AND THINK THAT IS NOT IN THE BACKGROUND AND THAT IS SOMETHING WHICH WILL BE COMPLETELY PUT ASIDE, BUT I THINK ALL OF US UNDERSTAND THAT GIVEN THE GLOBAL NATURE, THAT WE WILL HAVE TO WORK IN ONE WAY OR ANOTHER IN PARTNERSHIP, EVEN THOUGH THOSE GEOSTRATEGIC CHALLENGES WILL BE THERE IN THE BACKGROUND. THAT IS I THINK ALL OF OUR HOPE, THAT IN A WAY THAT THIS IS ONE OF THOSE ISSUES THAT WILL BE ABLE TO BRING US TOGETHER RATHER THAN TO BE ONE WHERE YOU ARE SEEING COMPETITION FOR GEOSTRATEGIC PURPOSES. I THINK THERE IS THE ABILITY THERE OF MORE THAN ANY OTHER ISSUE PROBABLY FOR US TO BE ABLE TO BRING THAT TOGETHER. LOOK, I AGREE WITH WHAT CATHERINE SAYS. HYDROGEN I THINK ESPECIALLY FOR
THOSE THAT DON'T WANT TO GO DOWN THE NUCLEAR ROAD IS VERY MUCH I CAN TO HOW WE ARE GOING TO SOLVE FOR THIS PROBLEM, BUT IT IS GOING TO BE INCREDIBLY CHALLENGING. IT IS VERY HARD TO COMMERCIALLY PRODUCE HYDROGEN, ESPECIALLY TO BE ABLE TO EXPORT AT A PRICE WHICH IS GOING TO GENERATE THE TYPE OF RETURNS AND THE TYPE OF ENERGY THAT IS REQUIRED AT THIS STAGE, BUT IT DOESN'T HAVE TO BE HYDROGEN. ONE OF THE BIGGEST ELECTRICITY USERS IN AUSTRALIA IS OUR ALUMINUM SMELTERS.
ONE OF THE SMELTERS IN AUSTRALIA IS ALREADY LOOKING AT HOW THEY CAN USE RENEWABLE WIND AND BATTERIES WITH SOME BACKUP AND YOU CAN USE CARBON CAPTURE AND STORAGE UTILIZATION, SO WE ARE FAIRLY OPTIMISTIC IN THE NEXT 5-7 YEARS THAT YOU COULD HAVE ONE OF THE BIGGEST USERS IN AUSTRALIA, WHICH IS A GREEN ALUMINUM SMELTER. WE STILL HAVE A WAY TO GO, BUT IT IS SOMETHING WHICH A DECADE AGO WOULD HAVE SEEMED COMPLETELY UNREALISTIC. NOW, ESPECIALLY WITH WHAT IS HAPPENING WITH BATTERY STORAGE, IT IS NOT BEYOND US AND MAY BE ABOUT THE NEXT 5-6 YEARS. GERALD: I SEE WE ONLY HAVE 6.5 MINUTES LEFT, SO I WILL NOT OPEN A
DISCUSSION OF NUCLEAR. PROBABLY TO EVERYBODY ELSE'S HAPPINESS ON THE PANEL. LEI, I WANT YOU TO SHARE WITH THE AUDIENCE SOMETHING YOU SAID IN THE GREENROOM AND THAT IS THE PROPER RELATIONSHIP BETWEEN THE INNOVATIVE CAPACITY OF THE PRIVATE SECTOR AND THE GLOBAL MACRO POLICY FUNCTION OF MULTILATERAL FORA LIKE COP 26. HE SAID SOMETHING PROVOCATIVE
BACKSTAGE THAT I WONDER IF YOU COULD SHARE WITH EVERYBODY. LEI: SURE. TECHNOLOGY WILL NEVER DISAPPOINT US. ALTHOUGH SOMETIMES GOVERNMENT POLICY DISAPPOINTS US. IF WE COMPARE THE GLASGOW COP, WITH THE PARIS COP, NOT TOO MUCH DIFFERENCE, TO BE HONEST, FIVE YEARS PASSED. BUT WHAT WE HAVE ACHIEVED ON THE TECHNOLOGY SIDE, IF YOU COMPARE 10 YEARS AGO WITH THE COPENHAGEN COP, RENEWABLE ENERGY DROPPED 90%. TECHNOLOGY IS FLYING, BUT ONLY
TECHNOLOGY IS NOT SUFFICIENT. YOU NEED TO TURN TECHNOLOGY INTO SCALABLE PRODUCT. SCALABLE PRODUCT IS NOT SUFFICIENT. YOU NEED TO TURN IT INTO ICONIC
PROJECTS. THIS CHAIN IS COMPLICATED, IT IS LONG, BUT THAT IS WHY COLLABORATIONS AND GOVERNMENT POLICY SUPPORTS SHOULD HAPPEN. SO, COME BACK TO HYDROGEN. OUR FRIEND HAS AMBITIOUS TARGETS.
5-10 GIGAWATTS A YEAR TO MAKE HYDROGEN. THE LARGEST HYDROGEN OUTPUT FACTORY MAYBE IS ONLY 0.5 GIGAWATTS. WHERE CAN WE GET [INDISCERNIBLE] LOTS OF INDUSTRIALIZATION IS THE KEY. TECHNOLOGY ALONE IS NOT SUFFICIENT. INDUSTRIALIZATION. GAN: I LIKE THE OPTIMISM AND I THINK IT IS IMPORTANT THAT WE FOCUS AND INVEST IN TECHNOLOGY AND CHANGE OUR INDUSTRIALIZATION PROCESS.
IT IS ALSO IMPORTANT FOR US TO TAKE A WHOLE NATION APPROACH. YOU HAVE TO CAN CHANGE THE HABITS. LEI: YES. GAN: THAT IS WHY WE ROLL OUT IN SINGAPORE THE SINGAPORE GREEN PLAN 2030, WHICH ENCAPSULATES WHAT WE ARE DOING NOW AND WHAT WE WANT TO DO OVER THE NEXT 10 YEARS TO MOVE THE PEOPLE, TO MOBILIZE THE PEOPLE AROUND CHANGING THE WAY WE LIVE, CHANGING OUR ELECTRIFYING OUR MOTOR TRANSPORT, CHANGING OUR POWER GENERATION AND DECARBONIZING, AND ALSO CHANGING OUR INDUSTRIAL PROCESSES. I THINK IT REQUIRES A WHOLE OF NATION APPROACH AND WE ARE HOPING THAT AS GOVERNMENTS, OUR JOB IS TO MOBILIZE THE NATIONS TO MOVE IN THE RIGHT DIRECTION. GERALD: I CAN'T LET THIS PANEL LEND WITHOUT ASKING YOU THIS QUESTION.
WE HAVE SO FAR BEEN TALKING ABOUT TECHNOLOGICAL INNOVATION MEASURES THAT WILL REDUCE, HOPEFULLY, THE RATE AT WHICH WE ARE EMITTING GREENHOUSE CAUSING GASES THROUGH THE ATMOSPHERE, BUT OF COURSE THERE IS ALREADY ONE TRILLION TONS OF GREENHOUSE GASES IN THE ATMOSPHERE THAT HAVE NO BUSINESS BEING THERE. IF WE WAIT, DEPENDING ON THE STUDY, IT WILL TAKE 30-50 YEARS FOR THEM TO ABATE NATURALLY. IS THERE ANY GOING ON IN THE DIRECT AIR CAPTURE TECHNOLOGY SECTOR THAT GIVES YOU CONFIDENCE THAT WE COULD ACHIEVE SOME BREAKTHROUGH AT SCALE THAT WOULD ALLOW US TO DO CARBON REMOVAL AT A RATE THAT IS COMMENSURATE WITH THE PROBLEM? LEI: L LEI: THE BEST CARBON CAPTURE TECHNOLOGY IS COAL.
EVERYONE TURN OF CALL IS -- COAL ABSOLVING 2.5 TONS OF CO2. WITH NORMAL TEMPERATURE, NORMAL PRESSURE, ZERO COST. WHAT WE SHOULD DO IS STOP BURNING COAL, WHICH IS THE BEST CARBON CAPTURE TECHNOLOGY. YOU JUST STOP BURNING COAL USING RENEWABLE ENERGY. CATHERINE: STOP BURNING COAL. LEI:
LOWEST COST FOR CARBON STORAGE. GERALD: WE HAVE A QUESTION FROM THE AUDIENCE HERE. THE WORLD WILL FIND A TECHNOLOGICAL SILVER BULLET TO SAVE US FROM CLIMATE CATASTROPHE? A. NO. YOU GUYS TELL ME WHERE YOU ARE ON THE SPECTRUM HERE AND WE WILL GIVE THE AUDIENCE A MOMENT TO ANSWER THE QUESTION. CATHERINE: I MEAN, DEFINITELY B. DEFINITELY. WE DID NOT TALK TOO MUCH ABOUT IT BUT THE SOCIAL IMPACT AND CONSEQUENCES. THE COST OF THE ENERGY
TRANSITION. THIS GIVES US A VERY NARROW PATH ACTUALLY, WHICH WE HAVE TO BE VERY AWARE OF AND I FIND SOMETIMES IS EVEN A BIGGER CHALLENGE THAN THE TECHNOLOGY. GERALD: I CERTAINLY AGREE WITH THAT. SOMEONE ONCE SAID THE ENERGY TRANSITION WILL MOVE AT THE SPEED OF TRUST AND THERE'S A LOT TO BE SAID FOR THAT. MINISTERS? >> TECHNOLOGY PLAYS A VERY IMPORTANT PART. IT ALLOWS US TO SOLVE A TECHNOLOGICAL ISSUE, BUT EVENTUALLY, WE NEED TO MOVE THE WHOLE PEOPLE ALONG.
AS A NATIONAL GOVERNMENT, WE NEED TO MOVE OUR NATION. AND TOGETHER, WE NEED TO MOVE THE WORLD SO WE CAN COME TOGETHER TO SOLVE AND ADDRESS THE PROBLEM, NOT JUST FROM A TECHNOLOGICAL POINT OF VIEW, BUT FROM A CONVICTION POINT OF VIEW, THAT WE BELIEVE IN AND AND WE MUST MOVE TOWARDS IN A VERY, VERY DEFINITIVE STEPS. I SHARE THE OPTIMISM WITH DAN THAT WITH COP26, WITH THE COLLABORATION BETWEEN CHINA AND THE U.S., IT GIVES US A RENEWED HOPE THAT WE WILL BE ABLE TO MOVE FORWARD IN THIS DIRECTION.
>> I WILL GIVE A REAL POLITICIAN'S ANSWER HERE AND SAY THAT I DON'T THINK WE WILL QUITE SOME UP WHAT WE NEED TO DO. IT'S A MIXTURE OF B. AND C. THERE IS NO QUESTION THAT THE TECHNOLOGY IS THE KEY. THAT'S I THINK WITHOUT DOUBT. BUT IT'S HOW WE UTILIZE THAT TECHNOLOGY COLLECTIVELY THAT ULTIMATELY IS GOING TO DECIDE WHETHER WE GET TO NET ZERO BY 2050 OR NOT.
THAT'S GOING TO BE THE KEY. THAT'S UP TO ALL OF US. EVERYONE CAN PLAY THEIR SMALL PART. AND IF WE ALL DO THAT, AND TECHNOLOGY IS ABLE TO FIND THE PATH, I AM CONFIDENT THAT WE CAN GET THERE. BUT IT'S GOING TO TAKE COLLECTIVE ACTION AND IT'S GOING TO REQUIRE ALL OF US LEANING INTO IT. BUT IF WE DO THAT, I AM
CONFIDENT THAT WE CAN GET THERE. I LOOK AT WHAT WE'VE DONE WITH VACCINES THROUGH THIS PANDEMIC. I MEAN, WE'VE DONE WHAT 10 YEARS AGO IT WOULD HAVE TAKEN 5 TO 10 YEARS TO DO, DEVELOP A VACCINE FOR A CORONAVIRUS. AND YET, WE HAVE BEEN ABLE TO MANAGE THAT IN THE SPACE OF 12 MONTHS.
THE RESEARCH AND DEVELOPMENT NOW GOING INTO THIS AREA MAKES WHAT WE ARE ABLE TO PUT INTO VACCINE DEVELOPMENT PALE TO INSIGNIFICANCE. WHETHER IT'S TRYING TO CAPTURE CARBON INTO SOIL, WHICH I THINK HAS ENORMOUS POTENTIAL IF WE CAN DO IT RIGHT, AND WE ARE NOW STARTING TO SEE THE R&D GOING. THINK IF WE STOP SUBSIDIZING AGRICULTURE AND PUT ALL THAT MONEY INTO R&D TO IMPROVE LAND-USE, THAT WOULD BE AN EXTRAORDINARY CHANGE. EVEN IF WE CAN DO A LITTLE BIT OF THAT BY CUTTING AGRICULTURAL SUBSIDIES, YOU SEE EMISSIONS DOWN. IF YOU PUT THAT MONEY INTO R&D INTO HOW YOU CAN PUT MORE CARBON INTO THE SOIL, THAT'S A GAME CHANGER. IT'S GOING TO TAKE US A LITTLE WHILE TO GET THERE. BUT WITH THAT SORT OF
INNOVATION AND THAT SORT OF APPROACH BY GOVERNMENTS, I THINK WE CAN GET THERE. I CANNOT SAY ONE OF THOSE ABSOLUTELY ENCAPSULATING WHERE WE NEED TO GO. IT'S SORT OF A MAKE SURE OF B. AND C. GERALD: LEI ZHANG? LEI: MY ANSWER IS D. YOU WOULD MAKE A GOOD POLITICIAN.
TECHNOLOGY -- AND SUPPORTS BY GOVERNMENT. TODAY, BUSINESS IS WAITING FOR GOVERNMENT POLICY CHANGE, CARBON PRICING, BUT THE GOVERNMENT IS WAITING FOR US. CAN WE GET MORE CONFIDENCE TO MODIFY OUR POLICIES? TECHNOLOGY ALREADY IS THERE, COST IS THERE.
BUT YOU NEED ENTREPRENEURSHIP TO DRIVE THIS WITH BOTH VISION, TO TAKE BIG ACTIONS WITH NEW PROJECTS. THINK ABOUT ELECTRIC VEHICLES. HOW CAN WE BRING TODAY. ELON MUSK HAD SUCH A STRONG VISION, COMMITMENT. NOW, THE ENTIRE EV SECTOR, AUTOMOTIVE'S HAVE BIG CHANGE.
-- HAVE THE OPPORTUNITY WITH A TESLA. GREEN HYDROGEN, DIGITALIZATION FOR DECARBONIZATION, WE NEED ENTREPRENEURSHIP TO DRIVE THIS MOMENTUM TO KICK OFF WITH PROJECTS. THEN, EVERYTHING IS GOING TO FOLLOW. GERALD:
2021-11-20 23:57
Show Video
Other news