Why Train Tickets Cost So Much In America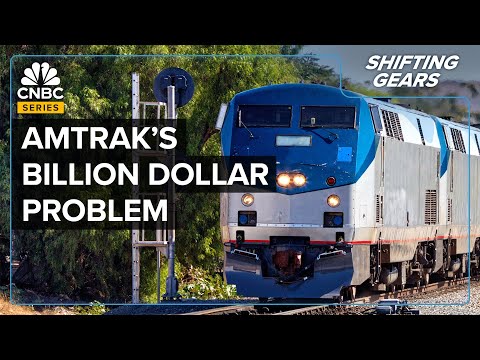 Show Video
This is Moynihan train hall at Penn Station in New York City. It's one of several stations along the Northeast Corridor, which is the busiest stretch of rail line in North America. One of the train companies that operates on this rail line is Amtrak, which is an inner city rail company that ferries passengers from one large city to another.
In 2021, when this hall opened, more than 4 million Amtrak passengers came through this station. In 2019, before COVID, more than 10 million people came through Penn Station. The Northeast Corridor is also home to the fastest train in the Western Hemisphere, the Acela. It can hit a top speed of 150 miles per hour, though it usually travels at speeds slower than that. The full trip from Boston to Washington, D.C., takes about 7 hours.
You might notice if you try to book a ticket on one of these trains, they are expensive. Even with high ticket prices in stations like this one, Amtrak has never made money. Its status as a for profit company owned and funded by the federal government has earned it a lot of criticism.
But just before COVID, Amtrak was in its strongest financial position in history. Ridership has slowly recovered and it has big plans to expand its service, including in fast growing regions that are underserved. There's, I think, tremendous public sentiment for rail as a mode and with all of the public attention on sustainability, really, this is the time for rail travel.
Transportation researchers think there is a future for rail like Amtrak. A number of private investors are starting their own projects. There are two basic types of passenger train in the U.S.: commuter trains, which typically
travel from the center of a major city to its suburbs and intercity trains, which, as the name suggests, offers service from one large city to another. Commuter trains are often run by local public transportation agencies, but almost all intercity trains in the U.S. are run by Amtrak.
Amtrak was created in 1970 by the Rail Passenger Service Act. Its formal name is the National Rail Passenger Corporation. It was created to buy out the private passenger rail businesses then struggling to compete. Amtrak operates more than 30 routes on about 21,000 miles of track. It stops at 526 stations across 46 U.S. states, Washington, D.C.
and three Canadian provinces. Amtrak can be thought of as three systems in one. There's the Northeast Corridor, a 457 mile stretch of track that runs from Boston to Washington, D.C.
That is the only route that makes Amtrak money. Then there are these state-supported rail systems, which are jointly run by Amtrak and 17 states. Over 220 such trains run each weekday on 28 corridors of less than 750 miles. Those account for about 45% of Amtrak's total ridership. Lastly, there are 15 long distance
routes. All of these are at least 750 miles in length, and they range up to 2728 miles. These are the trains that traverse broad swaths of the country. They have observation cars, sleeping cabins and dedicated dining cars. The vast majority of passengers only ride these for a portion of the total trip. They serve a number of purposes.
They connect small communities with each other and with large metropolitan areas. These trains are the only Amtrak trains in half of the states where Amtrak operates. They also are the only form of intercity passenger transportation in some of these communities. That includes busses and airplanes. Understanding these
three systems is key to understanding the cost of a train ticket. The Northeast Corridor is the most heavily used portion of the system, in fact, of the about 12.1 million trips taken on an Amtrak train, about 4.4 million of those travel through the northeast corridor. These heavily used Northeast Corridor routes are also the most expensive.
We do a lot of work to study what consumer willingness is to pay and also how much capacity we have for any given point in time. So our prices essentially reflect both willingness to pay and market demand in any market. But service in the lower priced areas can be a lot spottier. In some regions of the country, one of Amtrak's long distance trains might roll into a stop just once a day, often at odd hours. Delays are common. Here I'm going to try to book a ticket from Moynihan Train Hall at Penn Station in New York to Union Station in Washington, D.C. And I'm going try to book the ticket for tomorrow. On this particular search, it is
impossible to find a train ticket on either an Acela or a slower Northeast regional train or one of the long distance trains for less than $100. All of them cost more than $100. One way that means you're going to pay about the same amount coming back. So the round trip ticket on the Acela is going to cost $674 for a business class ticket. Bear in mind that first would be even more.
And now on Delta, a flight leaving at 9:00 in the morning and arriving at 10:25 a.m.. So just an hour and a half later starts at $448 round trip and $548 for first. So a first class ticket on a Delta flight roundtrip at around the same time would be more than $100 cheaper than the Acela ticket. All right. So now what I'm going to do is book a ticket for a trip that's going to be further in the future. So let's say I wanted to book a ticket on an Amtrak train around the Christmas holiday, let's say on Friday the 23rd.
And I want to come back on Monday, the 26th. So my total ticket for that trip on the Acela is going to cost $457. Now we can try the same thing with the airline tickets. So a round trip ticket leaving at 9:00 in the morning on December 23rd is $243. For a basic economy main cabin. A comfort ticket is $273 and a first class ticket is only $343.
Tickets on slower Northeast corridor trains are cheaper than Acela tickets. If you think about other modes of transportation like airlines and highways, there's a lot of federal investment that goes into infrastructure, such as airports, air traffic control systems, highways. And so when people look at Amtrak, they often think about the infrastructure that we spend money on that's required for us to operate, which really isn't seen in other modes of transportation. So airlines are not paying for their own airports. They're paying user fees, which defray costs that the federal government invested up front. Amtrak's NEC trains are also a lot more expensive than comparable systems in other countries.
Fares on Amtrak's Northeast Regional trains average $0.70 per mile. That is about three times the price of a fare on a train in France or Germany. Trains in Europe also tend to be faster or tend to run more frequently or have other advantages. None of these networks is perfect.
They're just much better than the American one. Amtrak's system is demand-based, meaning that prices are determined in part by the demand for tickets, the same way airline tickets are priced. Amtrak has a shortage of trains, a shortage of rolling stock with which to provide the highest capacity service.
And this is something that especially afflicts the higher end service, the Acela. This is partly self-inflicted. Amtrak's Acela trains are essentially high speed trains that are running on tracks that are not meant for high speed trains. The tracks are older and curvy, which is not ideal. In order to mitigate this. Amtrak's Acela trains have a tilting mechanism that allows them to maximize their speed on curved tracks.
That's not unusual. These tilting mechanisms are seen on some trains around the world. For example, in Japan, Switzerland, Spain, Italy, Germany and Sweden. However, there are different types of tilting mechanisms, and the one that is seen on Acela trains is the most aggressive. It has been largely discontinued elsewhere because of the high maintenance costs. At the time they were built, Acela trains were also beefed up to meet U.S.
regulations. They were so heavy, the French workers who built them called the Acela locomotive Le Cochon, the pig. That makes them even more maintenance intensive.
There are 20 Acela train sets, and as of a couple of years ago, 16 out of the 20 were available at a given time. So it's 80% availability, which is just not good. The TGVs in France achieve high nineties. Tickets could be a lot cheaper if the trains allowed for higher capacity, but the high cost of the trains and low availability hampers that. That's why the service appeals to
travelers who value time over money. The convenience of leaving literally from Capitol Hill in Washington and showing up in midtown Manhattan two and a half hours later, as opposed to leaving from Dulles Airport 30 miles outside of Washington and landing in LaGuardia, far out on Long Island. So that convenience actually, I think, is something that a lot of travelers may place a premium on. Amtrak has always struggled financially. For example, it lost about $1.7 billion in the two years leading up to the pandemic.
In early March 2020, Amtrak was on its way to making money for the first time in its 50 year history. But within weeks, ridership plummeted 97%. Gross ticket revenue in 2019 was just over $2.3 billion. In 2020, it fell by nearly half, then it fell again by another 30% in 2021. Expenses in 2021 totaled $4 billion.
About half of Amtrak's expenses are wages, salaries and benefits for its roughly 17,000 employees. One of the biggest sources of expenditure is its aging fleet and infrastructure. Amtrak's diesel locomotives are about 25 years old on average, and its railcars average 35 years. The typical useful lifespan is about 40 years. The trains are out of date mechanically, hard to find parts for, unreliable and pretty rundown. In addition, the Northeast Corridor has a $42 billion repair backlog.
Amtrak would not be able to make money at the fares that trains in France and Germany make a decent amount of money on or fares that the Japanese trains, that the Shinkansen trains there, about 35 to 40 U.S. cents per mile. So fares that the Japanese operators are making windfall profits off of.
Amtrak would not be able to make a profit on these. The biggest financial challenges we face are to recover the farebox, so in other words, to get the ticket revenue back to where it was pre-COVID, and actually account for the fact that there has been considerable inflation during the Covid period. So it's not just good enough to get back to where we were, but we truly have to compensate for a lot of what's been going on in terms of inflation in the last few years. Amtrak expects its revenue to be relatively low in 2022 again and to have trouble covering its costs. Part of Amtrak's financial difficulty results from the need to operate three systems that perform very differently. There's the Northeast Corridor, where demand is high, even with high fares.
There are the various state-supported railways, which vary in their success. State-supported routes recover about 66% of their costs through ticket revenue. That's about twice the average for public transit. Finally, there are the long distance routes, which are the biggest money pits.
They are expensive services to run. You run into lots of different conflicts because you're running these very, very long routes. They can be hours delayed plus. We've seen those horror stories before. One of Amtrak's key challenges is that outside the Northeast Corridor, the company rents tracks from freight companies. Federal law requires that freight companies give Amtrak trains priority over freight. However, the Department of Justice has not enforced this law since 1979.
These right of way issues are the primary reason long distance trains are delayed and those delays drive up costs. Despite their financial troubles, the long distance routes enjoy a lot of support. In some places, these trains are the only form of intercity transit. To a certain degree, you can take the view that they don't always cover their full operating costs from ticket revenue, but they provide a lot of services to the communities they pass through, the value of which is not really captured in a ticket price, as it were. There's been lots of calls for getting rid of them and eliminating them. And those don't
really seem to go anywhere because it does have the strange bedfellows that exist around supporting these these services. Transportation researchers do think there is a future for rail in this country, but it may take some different forms than it has in the past. There's a lot of experimentation going on in this country, and that's actually a good thing when it comes to transportation. The pandemic has disrupted the way that Americans travel. It's hard to overstate just how
transformative it's been. But what comes out of it is really what's going to be interesting. A few private operators are attempting to build various projects throughout the country, including in regions where Amtrak has less of a presence. These private projects focus on connecting cities that are what people call too far to drive and too close to fly. We've seen lots of examples in in Southeast Asia and in Europe.
About 400 miles seems to be about the right distance. And we've got lots of corridors in this country that can take advantage of that. There is the planned 240 mile Texas Central railway meant to connect North Texas with the greater Houston area. The planned train would be able to travel in excess of 200 miles per hour. The whole trip is projected to take 90 minutes. A company called Brightline, funded by Fortress Investment Group, is already operating between three stations in Florida.
Brightline runs on tracks owned by the Florida East Coast Railway, a freight railway. A search for tickets on Brightline for a midday 40 minute trip from Fort Lauderdale to West Palm Beach revealed fares starting at $17 each way for one of its basic tickets and $37 for a premium ticket that comes with a range of extras, including rides to and from the station. Driving the same distance would take about 55 minutes. Prices are higher during rush hour.
The company plans to expand its service in Florida and is planning another project called Brightline West, a service connecting the greater Los Angeles area with Las Vegas. Amtrak's expansion plan includes service along the same route. The last time Amtrak offered service between those two cities was in 1997. Brightline West plans to build its rail largely in the center of the Interstate 15 highway that runs between the two cities. This will allow it to avoid having to acquire land to build its own tracks, a major problem for other projects. It also won't need to rent track from freight companies. Currently a major challenge for
Amtrak. There is something that is changing and if we can pull off the private element to it, I think you'll see a lot more people trying to invest in those as well because that's a real indication of the market demand that's out there right now. Some state level programs have generated controversy. You have programs like California High Speed Rail, which famously is over budget, over time.
It's not really delivering on the promise of taking somebody from Los Angeles to San Francisco. It's now running this inland route that's going to stop short of those major metros. And so at the same time, you have success stories elsewhere in the country and some promising investments, you have this other project, which a lot of folks are wondering if it's ever going to be viable.
Private sector investors may continue to have a role to play, but so will the government. Anything that's at national scale is going to have to be largely a public sector undertaking. We believe that open competition is healthy for everybody. It keeps us all honest in our
business, and it also shows us innovation that we can share more broadly across the industry. Our interest is really in driving the rail mode to be successful in this country. There could be more public private arrangements. I'd really like to see good partnerships between the public and the private sector when it comes to all modes of transportation, but particularly when it comes to passenger rail travel, because especially if we have private investment, let's say in Texas, for example, between Dallas and Houston, people are going to get off the trains and going to want to connect to other services. And so you have other kind of train services in those metropolitan areas. You have robust bus service in those metropolitan areas. And so better
coordination between the public and the private side will take advantage of those different investments and make the whole system run much more efficiently. Amtrak has its own expansion plan, which it released in April 2021. Amtrak Connects Us, as it is called, has the ambitious goal of bringing intercity rail to 160 communities across the country, including the 50 most populous metropolitan areas. Many of the parts of the country that have grown fastest since Amtrak was founded have little to no service.
The company wants to add 20 million riders to its annual total, more than doubling its 2019 ridership. That would add $800 million in revenue. We want to get more customers onto our existing services through more frequencies, larger trains, more popular services. But we also want to spread passenger rail to new parts of the country. Amtrak is positioning itself as a greener alternative to driving.
It received $66 billion in funding from the Bipartisan Infrastructure bill. $22 billion is dedicated directly to the agency for fleet upgrades and other systemwide improvements. $6 billion goes to the Northeast Corridor and $16 billion to state-supported railways. Last year, we hired 3700 new employees to help us in our infrastructure projects. And this is part of the new spending that we're incurring to make the investment projects work. The remaining $44 billion is going to the Federal Railroad Administration, which will hand out the money in grants to various state agencies for upgrades to intercity railway.
That's more money than Amtrak has received in its entire history. The infrastructure bill has also provided enough funding for Amtrak to replace its entire fleet, including long distance trains and Northeast regionals. New Acelas will also be rolled out in 2023.
There are other assets that will be funded either directly by Amtrak or through the Federal Railroad Administration. In terms of tunnels, bridges and other infrastructure needed to operate the Northeast Corridor efficiently. The disruptions of the coronavirus pandemic have created a whole new set of opportunities for transportation. In certain parts of the country, particularly in the Northeast and in our long distance services, we're basically back to the levels of demand that we saw pre 2019. Not all of our demographic groups and customer demand groups are back to the same level, but we're seeing a lot of new customers and this is what we find so encouraging.
It's hard to say what the future is going to look like because we've just come through this tremendous transformation when it comes to travel. But I think when we emerge from the pandemic, we're going to see that that these kinds of services are critically important for helping the country move. And I certainly am bullish of the future of passenger rail service United States.
2022-11-15 07:18
Show Video
Other news