Why Summer Means Big Bucks For Companies | CNBC Marathon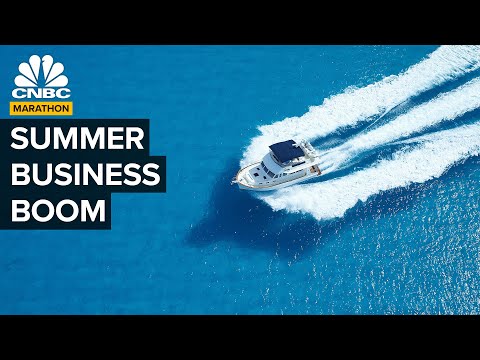 Show Video
Outdoor living is the number one place where millennials want to invest. You look at the number of pools that have been built. Last year and this year. This is basically creating several hundred million dollars. In revenue. So when comparing composites versus wood, there's really no competition.
Which material is better? Boating has gotten easier. It's joystick control people who couldn't get boats last year and still trying to find them. Dealers trying to catch up, manufacturers trying to catch up. So it's end up being a big boon for the industry that should continue for a number of years.
Over the last several decades, a growing number of Americans have chosen to spend more time and money on swimming pools, and that has sent investors flocking to pool supply companies. One such company is Pool Corp, a humble distributor of pool cleaning and maintenance products. A $15 billion cash generator with a soaring share price.
It is massive compared to its competitors resistant to competition from Internet retail and specializes in products pool owners cannot do without. And there is Leslie's the largest chain of pool supply retail stores in the country. It has seen its share price rise since its IPO in late 2020 and is, say analysts, already beating expectations and raising targets. Americans stuck at home during the coronavirus pandemic turned their attention to surroundings they could enjoy and focused on their backyards.
It's a great time to be in this industry because we're just at the beginning of the spike. But the recent spike of interest in outdoor living is part of a decades long trend that industry analysts say is likely to continue even after the pandemic recedes. There are, of course, risks a slowing housing market or trouble in the economy could imperil growth. There have also been some recent short term hiccups, such as a shortage of chlorine tablets used to purify pool water. But already in 2021, people are opening up their pools 20 to 30% earlier in the year than they did in 2020, which means they will need more chemicals and supplies to keep their pools swimmable. For now, demand is pretty strong.
Analysts who follow the pool industry say it has been steadily growing since the 1970s. There was an explosion of interest in pools and swimming following the 1972 Munich Olympics, when Mark Spitz won seven gold medals. A record number that was only surpassed by the eight gold medals won in the 2008 Olympics by Michael Phelps. There are a few trends that have fueled the growth migrations to suburban areas or more temperate states, and a rising interest in outdoor living, which includes spending more time in the backyard and more money on landscaping, barbecues and, of course, pools. Outdoor living is expanding your usable space to the outside. So what that means is you either put in a deck,
you put in a patio, you put in an outdoor kitchen, a fire pit, a pool, and you're basically spending time with the family in the backyard. There are about 14 million pools and spas across the United States. A lot of those pools are concentrated in certain states, especially in the southern and western regions of the country. There are about 5.2 million in-ground pools in the United States.
75% of them are concentrated in ten states, and more than half of American pools are located in just the top three California, Florida and Texas. The southern and western parts of the US have also seen populations grow over the last several decades. The South, for example, has had net population gains most years since 1981, according to a note from Goldman Sachs. In the first quarter of 2021, more than 35% of home searches on Redfin, a national real estate brokerage in metro areas in southern states such as Texas, Arizona and Nevada were done by people living outside those metros. In contrast, less than 13% of searches for real estate in Washington, D.C., New York, Chicago, Los Angeles
and Boston were done by out-of-towners. A lot of these growing metro areas are more affordable, according to Goldman Sachs, again citing Redfin data. In areas such as Phenix, Las Vegas and Austin, out-of-towners had an average home buying budget that was 23%, 16% and 32%, respectively, above average. That may leave homeowners in these areas with more money to spend on home upgrades, according to the note. That will include pools that need to be built,
installed and maintained. The millennial dream has changed, and now the millennial dream looks more like the Boomer dream. And I'm going to. Live in a suburb and a little house with a pet, a dog, a kid and a pool. Interest in pools is growing so much that local pool maintenance businesses have even become social media stars. Mark Jones started Blue Street Pools in 2017 after he became fed up with working in the corporate car business. After he and his wife bought a house in New
Orleans, Louisiana, he started working on the pool in the backyard. A neighbor impressed with his handiwork. Asked if Jones would be interested in taking on a. Client if he needs my help, there's probably 15 to 20 other people that will need my help.
And if I secure 15 to 20 accounts, I'll be making what I was making and I'll be good to go. So I just pretty much just made some fliers, passed them out, and my neighborhood, you know, went on Google Maps, looked at all the pools in my area, found out that there was 38 pools around my subdivision alone. So I just targeted all the green pools that I saw on the map because I knew those people needed help. Jones said he is on track to pull in about $100,000 annually and plans to hire workers and expand the business. He also began posting about his work on Instagram and a friend told him he should try TikTok. He said he tries to break down his process simply without jargon, to help people understand how to take care of their pools.
Now that the water level is low, let's get the brush. As of July 2021, Jones had about 1.8 million followers on TikTok and counting. A lot of his clients come through word of mouth, but his social media presence has helped raise his profile and given him a low cost and relatively easy way to market himself.
They can connect with me before they even know me, and then when they call, I'm the guy picking up the phone. So, you know, it's crazy. People call me, but hey, you're a pool pro. Mj from Tik Tok, man, you really picked up the phone. It's like, Yeah, man, this is my business, dude. It has also led to some sponsorship deals with pool supply brands such as Blu ray Excel, a chemical product, and pool parts to go a retailer.
There are a few companies that lead different segments of the pool market. There is Latham, a leading builder of fiberglass pools. The company is a bit of a disruptor. Fiberglass pools can be constructed more quickly than concrete and vinyl pools, and for a relatively affordable price.
Hayward and Pentair make pool equipment such as pumps, pool cleaners and filtration machinery. Leslie's is the country's largest pool supply retailer. Leslie is really serving those residential homeowners that have pools in their backyard. That's the bread and butter, a five and a half million active customers in that demographic.
It went public in the 1990s, but was later taken private again and remained so until its recent IPO in October 2020. It has more than 900 stores which sell chemicals, supplies and even aboveground pools and saunas. About 80% of its sales are non-discretionary items, meaning they are things pool owners have to buy in order to maintain their pools. These include things like chemicals for treating water and filters for pool cleaning equipment. Unlike many other retail segments, a lot of pool products don't change that much from year to year. So the retailer does not have to worry about short shelf lives or product obsolescence.
Leslie's is also a multichannel retailer. In addition to its stores, it has a web business, a mobile app and exposure to a third party marketplace. Our digital reach is five times greater than the next digital competitor, and we actually capture almost 60% of all pool and spa digital traffic. It is also pretty vertically integrated. It manufactures or at least packages a lot of the products it sells, which allows it to both better control its supply chain and control product quality.
Finally, like a lot of specialty retailers, it tries to distinguish itself by offering an extra level of customer service. But we have, as of last year, a new digitized water test in these stores. It's called Active Blue. And it's I mean, it's terrific, right? You put water in this little thing. It looks like a. Centrifuge, swirls it around and then it prints out.
Across ten. Different chemical parameters. The Health of your pool.
Mark Jones of Blue Street Pools sources his supplies from different places. But he learned a lot about cleaning pools just by walking into the local Leslie's and has kept shopping there because he has a relationship with one of the staff members. The first time I came, it was just like I was another customer. But I kept coming back like every other day. Like, yo, like what is this? How does this work? How are you trying to pump? I was asking question after question after question.
By early July of 2021. Shares were up since the IPO and the company had a market cap of about $5 billion. Take a look at tailwind from this pandemic. And you look at the number of pools that have been built. Last year and this year.
This is basically. Creating several hundred million dollars. In revenue for Leslie over the long. Term.
And then there is Pool Corporation, the largest of this group, and a leading distributor of pool maintenance supplies and chemicals. The company started out as a small warehouse wholesaler based in New Orleans, Louisiana, in 1981. It went public on the Nasdaq Stock Exchange in 1995. Its customers are the extremely fragmented population of local contractors that are either building or remodeling a pool or putting chemicals in the pool for maintenance. Those contractors need a local one stop distributor. I would say. Pool Corp is very unique because they are
the dominant distributor. They are about 15 times bigger than the number of two player. Pool Corp also has generated very consistent sales and earnings growth over a long period of time. Earnings growth has averaged about 20%. Shares have performed fantastically well in early June of 2021, for example, they were trading around $440 and had risen more than 65% in the previous 12 months and 373% over the last five years. Over a 25 year period, on average, the shareholder return has been almost 30%.
That is far greater than the S&P 500. So Pool Corp is just a very special business. Sales have grown every year since 2010, though their biggest leap was in 2020, when the COVID pandemic sparked a 23% increase. Pool Corporation's revenue streams are also steady. About 60% of what it sells is non-discretionary.
There is reason to think the longer term trends driving pool construction will continue. Number one, you have millennials starting to buy homes for the first time. They're one of the largest cohorts ever.
And surveys that I've seen suggest that outdoor living is the number one place where millennials want invest. Two, you've got more working from home with people working from home. They're investing in the home and they want to extend the home to have more outside space.
You also have migration out of cities to the suburbs where people are more likely to have a pool and then you've got an acceleration of the population migration south to the big pool states. Pool installations are still far below historical highs. In 2020, we saw 94,000 in-ground pools installed. This year we're looking for between 105 and.
110,000. To be installed. And for the next couple of years, experts are. Projecting in that six figure range.
So that is above recent history, but it is still a massive discount relative to what we were seeing decades ago in terms of annual installation. It's not all optimistic. There's a chlorine tablet shortage due to the COVID 19 pandemic and a fire at a plant in Louisiana in August 2020. The Biolab Lake Charles plant is one of the largest chlorine suppliers in North America.
About 60 to 70% of pools in the US use chlorine tablets. There are alternatives to chlorine tablets. Some forms of liquid bleach are safe for pools. There is also salt chlorination equipment that turns salt into chlorine. Chlorine tablet prices have gone up dramatically, but industry analysts like Merkle say customers shouldn't worry too much, that they won't be able to sanitize their pools.
Longer term risks are things like whether a cold and rainy spring or fall can shorten the pool season. Bad weather also slows down new pool construction or remodels. But overall, there are good reasons to think that the pool market will continue to thrive. It also stands to benefit from technological change.
One of the biggest complaints that people have about putting a pool in is that they're a pain in the neck to maintain. Well, if you can now control these products with your phone and what I'm talking about is the lights, the pump, the heater, the pool cover, you've just made your life a lot easier. The other thing that these products can do is you can connect them to your contractor so that they can do preventative maintenance. So if you want to have that pool party for Memorial Day weekend and your pump goes out, your contractor is going to get an alert and they're going to be able to come out and fix that for you. Based on the research we have, only about 20 or 30% of the install base actually has any kind of smart technology or Iot connected products, and it's a huge opportunity that we think is going to grow over the next 20 years. Leslie's is already rolling out a program called Accu Blue Home, which is a connected device that monitors the pool's water chemistry and a subscription plan for chemicals and services.
All you do is you scoop a little water out of your pool. You've got the device, the home version of the device, stick it in there, spins around your pool score, goes to our app and shows you step by step what you need to do and which products you need. And then you just push a button that is basically a fix my pool buddy. And we either deliver the products you need to your home or we deliver them to a store where you can come pick them up. And the software in both those devices is identical.
It's our proprietary software. So, you know, you're going to get consistent results. As of June 20, 21, 5.5 million customers already
have the service installed. Everything is going through automation. So where now you have a robot that had clean the bottom of your pool for you, you can control it from your phone.
You can control the speed of your motor from from low, medium to high from your phone. You can control everything from your iPad, from your TV. All this type of stuff is automated. So it's going to be a lot of things that are going to be taken over by robot, not less, because we have pool robots like robots and and technology and software and things like that. But they're still going to be a need for pool guys and girls out there because it is only so much that they can do. Such solutions may allow swimmers to spend less time worrying about the chlorine and more time enjoying the water.
During the COVID 19 pandemic, Americans stuck at home started to take a hard look at their surroundings, and that has led to a home improvement boom. Furniture retailers, pool companies and others have seen demand soar and share prices rise. Pool installer Latham said its sales for the first quarter of 2021 were up 191% year over year. High end home goods and design company RH said its revenue for the first quarter of 2021 was up 78%.
It was down 19% a year ago and many customers are also deciding it is time to build a deck. Skyrocketing demand, combined with historically high lumber prices, led to very good fortune for a couple of publicly traded companies that make a rather humble sounding product. Fake wood decks.
Strictly speaking, these are composite decks and polymer decks. Composite decks are typically made of plastic, often with wood fiber and sawdust mixed in polymer or PVC. Decks are pretty similar, but made entirely from plastic. They typically have two layers a core made of plastic, sometimes combined with wood flour or sawdust, and a cap that seals the product and achieves the look that simulates wood.
Two of the biggest names in this space are Trex and ASC. Together, they control about 75% of the composite decking market, which is in turn about 20% of the entire $8 Billion decking market. A third brand fiber on has about 10% share. Wood Alternative deck makers say their products often look nearly identical to wood and last for decades, much longer than a typical wood deck. They are also building themselves as an eco friendly option. Trex product is made almost
entirely from recycled materials and as has been working to boost its products, recycled content. Both are commonly available brands that were growing sales even prior to the pandemic due to growth in the housing market and aging housing stock and an increased interest in alternatives to wood, which may look great but can cost more money and energy to maintain over its lifetime. And both Asec and Trex say there is room to grow. So do some of the contractors who install decks, both wood and wood alternatives. But these materials are expensive and they are not without their drawbacks. How much share can these players grab? How many people would pay for a fake wood deck? The total decking market is growing at a rate of about 6% per year.
Composite decking has been growing at a rate closer to 10% per year, and some companies are doing better than that. Trex is the market leader with about 50%. Whereas the Trex company has grown at about 16% average over the last five years, mostly because of our actions on converting wood into composite buyers and bringing more attention to the industry, making sure that we're educating those consumers, that there are affordable products that will perform for 25 years plus on their deck rather than installing wood, which will probably have to be replaced between ten and 15 years at the high end.
Trex started in 1988 when a businessman named Roger Wittenberg blended sawdust with recycled plastic to make a park bench. The company started producing composite decking in 1993. Trex then went public in 1999. Its sales have roughly doubled in five years, from 440.8 million in 2015 to 880.8 million in 2020.
Over the same time, net income has grown from $48.1 Million in 2015 to 175.6 million in 2020. In the fourth quarter of 2020, Trex sales grew 39% over the same quarter in 2019. That is notable because the final quarter of the year is when winter and the holiday season are setting in and construction tends to slow down by mid-July of 2021. The company shares had risen more than 700% in the past five years. Isaac is second in the industry and markets itself has a more premium product line.
It was founded in 1983 as a manufacturer of plastic sheet products for commercial and industrial applications. It later expanded into low maintenance, high performance residential building products, as branded trim came out in 1999 and decking and railing followed in the 2000s. Timber Teck, its main decking brand, was founded in 1997 and bought by ASC, then called CPG in 2012. Isaac went public in June of 2020 and its sales have grown from 632.6 million in 2017 to 899.3
million in 2020. But the company has been losing money. It had a net loss of 20.2 million in 2019 and a loss
of 122.2 million in 2020. In each of the categories that we play, it's really important for us that that we have technology that gives you a better esthetic and allows you to to to have more design flexibility. And and so we tend to be the visual leader.
We have more. We have more types of products. And in each of the categories, we're differentiated that way. Our outdoor living business,
which includes decking really over the last ten years, has had a 14% growth rate. And so really independent of which window you look at, whether it's five years or ten years, we've seen really, really strong growth for the category, especially coming into the pandemic. Nevertheless, as shares have risen since the company's IPO, both Trex and Isaac make use of recycled materials. 95% of what goes into Trex is decking comes from recycled materials. The company buys wood and secures recycled polyethylene, mostly from plastic bags wrap and canisters from its roughly 32,000 collection stations at stores and distribution centers across the United States and Canada.
It converts this into decking through a process. It closely guards most organizations, most manufacturing. They want a very clean, very consistent stream coming into the front part of the manufacturing line. And I'll give you a consistent product at the end of the line. We do the opposite. We get a highly variable raw material stream coming in the beginning of the line, and it will give you a highly consistent, highly valuable product at the end of the line.
Isaac says it uses up to 80% recycled content in its capped composite decking and approximately 50% recycled content in its capped polymer decking. It's investing in raising the recycled material content of its product. For example, the company recently bought a PVC recycling facility. There are a few reasons why demand for these lumber alternatives is growing. The first is an increased interest in outdoor living, a trend that has been growing for years, but that accelerated during the COVID 19 pandemic. The American Institute of Architects Annual Home Design Trends survey shows that interest in outdoor living has been extremely popular in recent years.
In its most recent survey, in the first quarter of 2021, architects saw a dramatic uptick in spending on outdoor living space over a year earlier. About 74% of architects surveyed reported requests from clients related to outdoor living spaces. That is about a 20% jump over the same quarter in 2020. The uptick is notable in part because outdoor
space improvements have been popular among clients for years. In addition, the millennial generation is beginning to move out to the suburbs and seek home ownership. The second reason is long term cost effectiveness versus wood. The price of composite decking is generally quite a bit higher than a similar wood product.
Trex estimates that composite decking will have a starting cost of $30 per square foot, including installation, whereas lumber, recent dramatic price swings notwithstanding, starts at about half that. Trex has tried to peg the price of its product at no more than twice the cost of lumber. These companies say wood alternatives won't need the same amount of maintenance no stripping, sanding or refinishing, and are far more resistant to fading. Both ASC and Trex say their composite or PVC products will last decades. At the same time, COVID related demand spiked, lumber prices began to skyrocket.
They shot up 275% during the pandemic before finally backing off in May of 2021. There were two things that we needed to do to increase that conversion rate. First was have a product that sold for two times the price of wood. It didn't have to be right at the price of wood, but two times the price of wood.
Whereas about a $600 upcharge for the average deck, that was where the consumer is able to say, Oh, okay, I can afford that. That makes sense. And once the consumer sees that they can do that, they're actually willing to move up to a higher level of esthetic as well. While Wood has a natural charm to it, many customers are not terribly thrilled with the maintenance. Even before the pandemic, composite decking was still winning converts.
Composite boards can withstand years of sun and snow and won't fade, rot or become termites. So when comparing composites versus wood, there's really no competition. Which material is better over the 25 year lifetime of a composite deck? The maintenance savings versus wood is in the thousands of dollars. The third reason for rising interest is esthetics, using composites and PVC allows for a wide variety of looks.
For example, Ask has several collections with different names like Vintage and Harvest that give clues as to what kind of wood the material is mimicking. We've got an ability now with newer technologies that you can really design the environment you want, whether that's a wood look, a more modern look. And in many cases and in our case, almost all cases, it's really indistinguishable from from the natural equivalent, with the one exception of it's going to look the same for 30 to 50 years and it uses recycled materials and it's construct. Eric Perkins is a contractor in North Carolina who also has a YouTube channel with his brother called Perkins Brothers Builders. He has been sponsored by Trex in the past, but currently has no such relationship with any decking company. Yeah, some of the older products really looked like plastic decking. They were like gray speckled looking
boards, and all the companies have done a great job to really make it look more realistic, make it look more like wood grain and the multi-colored of a wood natural wood would look you are going to pay a price for that. And so some people are willing to do that. And they the clients that we've had have really loved it. And but it's one of those things that's, do I want nicer cabinets or do I want a nicer looking deck finish. For a deck that gets a lot of sunlight? A composite or PVC deck will resist fading, but composite decks also get pretty hot since the material is so dense. Pvc does not get as hot, but it will be more expensive and has its own limitations.
If you have a dark color so you know, buyer beware. If you're going to get Trex or other composite decking and you're going to put it in direct sunlight and you live in Mississippi, you might want to think about getting the lightest color possible and obviously will stay a little cooler. The companies in this space think composites can take a lot of share away from wood they already have in other categories. In siding, for example, Wood only commands a 13% market share in fiber, cement, vinyl, PVC and other materials have all but taken over that segment of the market. Trex has been betting on continued growth for some time. In June 2019, the company announced a multi-year capital investment plan worth $200 million.
At the time, executives said the plan was a response to faster than expected conversions from lumber to composite. King As part of the plan, Trex built a new 200,000 square foot factory. The new building, which opened in January 2021, is part of the $200 million plan designed to achieve a 70% increase in decking capacity. Trucks also made upgrades to production facilities in Nevada. Wood accounts for about 78% of the overall
marketplace, and Trex especially thinks it can steal more of a share from lumber. There are about 60 million decks in the United States and about half of them are thought to be past their useful life. While Isaac also wants to grow its decking business. It is also thinking of how it can cluster decking products within a larger outdoor product portfolio. We think that that this category is going to continue to expand. We deal with porches, which is the front of the house as people look at the backyard. It's not just
deck. People are doing much more on surfaces. I mentioned patios. There's just a lot of opportunity as people focus more and more outside for companies like us, as as we continue to invest not only in the decking side of the business, but the stuff around the outside of the house that that provide that sustainable, low maintenance beauty. Both companies are leaning into sustainability and recycling, in part because both believe social responsibility is a high priority for a lot of customers today, especially younger ones. Just as Trex has been the pioneer in the composite decking category, it is also led in the use of recycled materials.
In 2020, it used £362 million of recycled plastic and another £547 million of reclaimed wood. That said, ASC is committed to catching up to its rival. Within the last year, it completed a life cycle assessment and found that its composite and PVC products have lower total carbon footprints than sustainably harvested pine 15% lower for wood composite and 5% for PVC. In fiscal year 2020, as used £400 million of recycled material to make its products mostly recycled plastic with some recycled wood flour.
It wants to raise that to £1,000,000,000 annually by the end of 2026. It's important not to oversell the sustainability angle, says Eric Perkins. But if they look good, last a long time and provide minimal worry, they might continue their spread across the country.
Almost half the people in the United States live in a county that touches a coastline. And every year about a third of Americans spend at least some time on a boat. And many of them can't seem to get enough in the landscape of traditional power sports, which includes boats. Some categories, like motorcycles, have seen
their fair share of struggles in recent years. Boat industry revenues have mostly been growing since the US began to lift itself out of the wreckage of the financial crisis of 2008. Boats can be used for fishing, skiing and socializing and their appeal is widening. Boat customers are skewing younger and more diverse. The changes that boating manufacturers have made over the past few years has really changed the landscape and the demand level.
Improvements in technology now allow boaters to easily navigate and dock the boat. Boat sales have seen a boost during COVID, which leads some to fear that demand will crater if and when life returns to normal. But some analysts think the growth is poised to continue, in part because of how boats are sold from one customer to another. The extent that consumer confidence remains healthy, we think that boat demand will remain so as well. Companies are also experimenting with membership programs and similar concepts. It is another way to lure customers, especially cash strapped ones, without having to convince them to pay for something that costs as much as a new car.
Typically, industry analysts break up recreational power boating into three categories saltwater fishing boats, such as those sold under the Boston Whaler and Grady White Brands. As the name suggests, these boats are typically marketed for fishing and cruising in the ocean. Then there are recreational fiberglass boats, such as the Sea Ray Brand. These are generally boats that will be used for a range of activities, including water skiing, fishing or cruising. Fiberglass construction generally makes a boat more stable in the water and less likely to drift.
Fiberglass boats can also be formed in too many different shapes to either enhance performance or looks. Aluminum boats include both fishing and pontoon boats. Aluminum boats tend to be a lot cheaper than fiberglass and are also more resistant to damage. They are good for those who want to travel down rivers or through shallow waters where rocks or boulders might be a problem.
Pontoon boats basically consist of two big aluminum pontoons with a deck thrown over them. These boats are intentionally simple and practical, meant for maximizing seating and storage space and offering a stable, comfortable ride. We have a boat business that basically ranks number three against all boat companies. And specifically in the pontoon segment, we are a clear number one and that pontoon segment has been growing at a very rapid pace. And we're also number one in deck boats with our hurricane brand. And some of the major publicly traded companies in this area include manufacturers such as Mastercraft, Brunswick, Malibu and Polaris and retailers such as Marine Max and one.
Water analysts often refer to boats as big ticket discretionary items or something similar. This means they tend to cost a pretty big chunk of money and are not necessary purchases for most of the people who buy them. Boat buyers do tend to have relatively high incomes.
That said, boating is not exclusively a pursuit for the rich. About 100 million Americans, almost a third of the US population go boating each year. A 2018 report from the US Coast Guard showed that 52.3% of people who spent time on a boat that year had a household income of $75,000 or less. About 43% of boaters in that survey spent time on a boat that was owned by someone in their household, but another 41% opted for a rental. The remainder was nearly evenly split between those who either jointly owned a boat with someone else or those who chartered boats.
A new aluminum boat package, which includes trailer engine and other accessories costs on average about $36,000. A new personal watercraft. The types of things sold under brand names like Jet Ski, Sea Do and Wave Runner averages about 13,000.
93% of the boat products we sell are under 100,000. So it is people that love to fish for a living. These are anglers. These are people that get out on
their boats with their family. The US market bottomed out right after the financial crisis in 2010. There were just shy of 178,000 boats sold in the U.S., totaling $27.3 billion. But since 2012, the industry has been in growth mode. Total boat sales hit 286,000 units in 2018, where
they held relatively steady in 2019, despite some damage from poor weather during the late spring early summer period. Then, as was the case in many other industries, recreational boating took some hits for about a 6 to 8 week period in April and May of 2020, when stay at home measures and concerns over the COVID 19 virus disrupted production and kept buyers away from dealerships. The trouble was, the surge in demand, coupled with the production shutdowns, really tightened inventory.
All the inventory out there and the dealer channels got purchased by consumers and there was nothing out there. And so this demand surge has continued into 2021 with people who couldn't get boats last year and still trying to find them, dealers trying to catch up, manufacturers trying to catch up. So it's end up being a big boon for the industry that should continue for a number of years. New boat sales then hit a 13 year high of 318,550 units in 2020. 1,048,500 used boats sold that year. Total retail expenditures reached a high of $49.4
billion for the first time in more than a decade. The number of first time boat buyers rose. About 100,000 people bought their first boat in 2020, about 30% of all buyers. A lot of these buyers went for smaller boats, typically less than 26 feet that can be towed behind a vehicle and are versatile enough for very different types of activities. As the market is growing, it is undergoing some of the same changes seen elsewhere, both in terms of who is getting into boats and how they are doing it. So the typical boat buyer has definitely evolved over time. You're seeing the buyer become younger,
they're becoming more female. Are you seeing more minorities buy boats? So the typical boat buyer has definitely changed. Visits to discover boating. A consumer resource run by the National Marine Manufacturers Association saw 90% growth year over year in the 18 to 24 segment, and the largest user segment to the website is 25 to 34 years old. Visits to the site by women are up 41% year over year. Part of what has enabled this is changing technology.
Boats are a lot more sophisticated than they were decades ago and as a result have become a lot easier to own. Boating has gotten easier. It's joystick controlled, it's ending. You get in cars, you automatic docking, everything's connected to your phones. You know the health of your boat.
When you replace the battery, the gas level, you can start it up from somewhere else and you just technology's gotten so much better. That's attracted younger generations into an industry that used to be thought of as more of a stodgy, retired kind of industry. There have also been some trends that have fueled interest in boating. One segment of boats that seems to be doing especially well is towboats boats, intended to be used specifically for water skiing, wakeboarding, weight surfing and similar sports. Back in the day, we you water ski. You had to control the ballast to have people switch to one side of the boat. You're going to lean
over that those days are gone. You push a button now and it changes everything to what the choices of the user in a heartbeat. Pontoon boats large, hearty and relatively simple. They're especially liked by first time buyers. Paths to boating have also smoothed their are boat subscription services such as Freedom Boat Club, the oldest and largest such service, which was acquired by manufacturer Brunswick in May of 2019. Customers sign up online, pay an initial down payment, which averages about 5000 and monthly dues.
That average 300 to $400. This gives them access to a fleet of boats at a local club. Really, as easy as you drive your friends or your family to the marina, your park, your car, the boat is waiting for you. Gassed, cleaned, ready.
You get on the boat, you enjoy your day, you bring the boat back, you throw the keys to the harbor, to the to the dock assisted and you get your car and you go home. The company is seeing record growth, adding 40 new locations in 2020 and nearly 10,000 new members, a 36% increase in memberships year over year. When we bought it. Add 170 locations under 20,000
members and there are a couple thousand boats in the fleet. Two years later there is now over 310 locations, including international locations in Spain and in England and 40 plus thousand members. The growth here is certainly outpacing the overall normal boating market. There's also a company called Boat Setter, a boater to boater rental and charter marketplace on track to more than double business in 2021.
50% of the company's renters are millennials, and 43% are female. Even bullish investors and analysts highlight a few risks. One is the question of whether these companies can maintain or build on their success, especially after the recent spike in sales from COVID. Industry analysts do think that wide vaccine distribution and a desire among many consumers to return to normal life will at least slightly slow sales growth. This risk is a bit greater to dealers, in part because strong recent demand means manufacturers still have the task of refilling dealer inventories to keep them busy in the short term.
For a lot of manufacturers, the OEMs, Mastercraft, Malibu, Brunswick, those companies just to get inventory the channel back to where it needs to be to satisfy normal demand. They're looking at at least 2 to 3 years of manufacturing at full capacity. Analysts who follow the industry say these risks are probably pretty well understood by investors and priced into shares. The wider risks analysts consider are factors such as higher interest rates or changes to tax and economic policy. This especially includes hikes in corporate
taxes and personal income and capital gains tax hikes on high earners who make up a considerable portion of boat owners. This is a highly discretionary big ticket purchase. And so when consumer confidence takes a hit. Boat buying can be an easily defensible purchase. And so that's something we watch very, very closely with with oil prices starting to move higher, with inflation moving higher, with commodity costs moving higher. That's something definitely, definitely worth watching. Brunswick has been trying to reposition its portfolio to protect against downturns.
Models like Freedom Boat Club are one example, but the company is also leaning into things like parts and service to capture customers with boats who need to maintain them year in and year out. People still need to upkeep their product and a lot of it's just a function of usage. It's oils and lubes and boat parts and systems that over time just wear down and need to be replaced. That business, even in a in an economic downturn, we believe will will function much different than than a kind of a more cyclical part of the economy. In fact, supply is a greater concern for the industry in the short term than demand.
Boat makers have been affected by challenges in securing resins and plastics. For example. You as a boat manufacturer can build as many boats as you want, but if you can't get a steering wheel, that's a problem or you can't get an engine. That's a problem where you can't get seats. That's a problem. However, companies say they are managing. We're dealing with the supply chain disruptions extremely well. We expect to meet our production
forecasts for this year and although as you mentioned, Labor is tight, we're being very creative in our various areas to get the labor we need. So I think we're producing very efficiently and very effectively and we're adding capacity to try and help alleviate that that backlog issue. About 40% of Americans live in counties about a coast, according to the National Oceanic and Atmospheric Administration, that includes oceanic shorelines, major estuaries like the Chesapeake Bay, and even large landlocked bodies of water like the Great Lakes. The trick is getting consumers to consider the day on the water is within reach.
2022-07-20 02:22
Show Video
Other news