Why did Ghulam Nabi Azad + 70 Congress leaders Quit in the last 8yrs?? | Akash Banerjee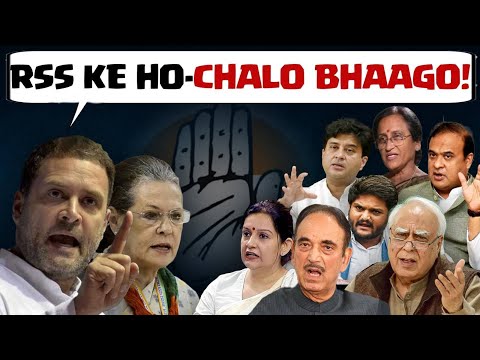 Show Video
INC - Indian National Congress - the grand old party of India is speeding downhill After losing 2014 and then in 2019 lok sabha elections the party also lost several state assembly elections 3 years and counting they have no elected leader, no strategy and no vision Adding insult to injury, prominent leaders have left the party and the trend continues The party IT cell makes excuses like, good riddance, hungry for power, etc. In fact Rahul Gandhi once said, RSS agent leave We compiled a list of 70 politicians who quit the Congress party. You may read their names on the ticker below. So they are hungry for power and incompetent? Who is not hungry for power and not incompetent - Rahul and Sonia Gandhi. Why all of them write similar things in their resignation? Whether it is Ghulam Nabi Azad or Himanta Biswa everyone says...
...that party leadership is not bothered in the least and there is no process and structure Do they make sense? Or only Gandhis are right? In this episode let us closely examine the problem... how many left were incompetent or corrupt and how many because of leadership? This is important and worrying because a strong opposition maintains democracy Democracy will suffer without an opposition The congress has lost 2 Lok Sabha elections and ruling only 2 states Ghulam Nabi Azad wrote 5 page letter to Sonia Gandhi and left with a heavy heart Meaning, they lack the will to fight for India Consultative mechanism demolished by Rahul Gandhi Ghulam Nabi Azad mentioned immaturity of Rahul Gandhi After so many losses what gives you the right to lead... Congress is reduced to coalition partner in many states Rahul Gandhi did not consult senior party functionaries before stepping down Ghulam Nabi Azad exposed hypocrisy of top Congress leadership who claim they don't want power The last insult will make Rahul angrier Rahul Gandhi's security guards and PAs take important decisions This is not coming from stranger... these remarks from someone who worked all his life in the party Today allegations like Azad was useless and did nothing for party... then why he was in the party for so long?
A day before, young and dynamic spokesperson Jaiveer Shergill also quit the party Jaiveer Shergill gave almost the same reason for resigning Decision making is influenced by self-serving interests of cosy club of PAs coterie and cabal Trend is similar... but I am not saying these politicians who quit are all correct... many may be motivated by power The pattern is same... no one questioned the way of Congress and party ideology... they all pointed finger at leadership Himanta Biswa Sarma was a high profile exit and once again attacked Congress Himanta said he wasted 23 years in Congress Party is losing respect due to callous attitude Now you will say he was paid by BJP Sushmita Dev, whose father was also in Congress, spent 30 years with the party She was president of All India Mahila Congress when she resigned She was close to Nehru-Gandhi family Because she observed lackluster growth potential she went to TMC Rita Bahuguna Joshi was a Congress leader for 24 years, then switched to BJP She said, party lost the reputation and Rahul Gandhi's leadership not acceptable to people Rao Inderjit Singh, worked in Congress for 35 years, before 2014 he resigned and joined BJP and won twice in Lok Sabha election Rao Inderjit Singh gave interesting reason for exit. He had asked for probe on Robert Vadra deals in Haryana Jyotiraditya Scindia resigned because he was not satisfied with leadership of Rahul Gandhi. He joined BJP. BJP placed Scindia to a significant post. Priyanka Chaturvedi was erudite and strong speaker as was seen in debates In Uttar Pradesh an incident of misbehavior happened but the accused was reinstated in party That is why Priyanka Chaturvedi resigned and joined Shiv Sena Politicians don't leave only to enter another party Sanjay Jha, spokesperson of Congress and Divya Spandana, leader of IT cell Sanjay Jha was sacked for talking about change in party process and structure. He says on Twitter bio, Congress by DNA
Divya Spandana is a popular actress and helped Congress social media outreach, but for whatever reason, she left Of course opportunists also left the party let's quickly go through... Jitin Prasada, Hardik Patel Long serving opportunists like Kapil Sibal, in Congress for 30 yrs, wanted Rajya Sabha seat Amarinder Singh was 27 yrs with Congress but left because of management issue There is politics, greed and hunger but leaders were humiliated, often not listened to Sunil Kumar Jakhar, who worked for 50 years, 5 decades in the party, left... He won multiple times and only resigned in 2022 and why...?
No intent is seen to save the party. Chintan Shivir is just a formality. High command is surrounded by sycophants Ashwani Kumar, 46 years with Congress, left Hurl as many abuses but do ponder why one who served 46 years left R. P. N. Singh, 32 years with Congress, resigned before UP election 2022 Are they power hungry? Maybe. But their statements are true.
PC Chako, one who served from 1972 to 2021... that is several decades... and he too left... was it for power? Maybe. Congress has become a headless party Think about this... Rahul Gandhi is refusing to be president of Congress since 3 years... when people will vote in his name he may be prime minister Ripun Bora worked from 1976 to 2022 He joined TMC... so not everyone is joining BJP. He felt demoralized by infighting within Congress and which was why BJP grew I can do nothing if I stay with Congress Aditi Singh was heavily trolled by social media cell, once considered sister of Priyanka and Rahul Gandhi Vijay Bahuguna, former Uttarakhand chief minister, joined BJP with 8 rebels The trend continues. Senior leaders wanted communication but Rahul and Sonia Gandhi were inaccessible Luizinho Faleiro, former Goa chief minister left Congress to join TMC and why..
All long serving leaders left are they all greedy? He did not leave Congress philosophy and ideology, he left the party for he saw no hope or will to prevent the party's collapse Mukul Sangma, same reason, INC failed to listen. He was with congress from 1998 to 2021 Post poll, congress failed to derail attempts to poach its members He left and joined TMC Jayanthi Natarajan, high profile leader, spent 28 years in the congress party, before resigning Again, same thing that the party let down its members This episode got too long, even before we mentioned all 70 in our list, which itself is incomplete One pattern - the failure of top leadership - is clear More in the rebel group could resign... who will it be? Many prominent leaders are being sidelined by the party Where is the will to lead? The will to fight for democracy. The mission to unite India when party itself is falling apart? Ghulam Nabi Azad rightly commented, launch Congress jodo initiative first, as more leaders will resign They are leaving not because of differences in ideology but because of Rahul and Sonia Gandhi They hold on to powers, then claim they don't want it. The CWC keep Gandhis at the top, whereas many party members demand change. 364 for BJP is guaranteed in 2024 if nothing changes Too much power in one hand is not desirable for nation There should be healthy opposition to keep ruling party in check, which is not happening at the moment, and may not happen, because of Gandhi family SUBSCRIBE AND PRESS THE BELL ICON
2022-08-28 21:40
Show Video
Other news