We Flew the Worlds Best Business Class Airplane Seat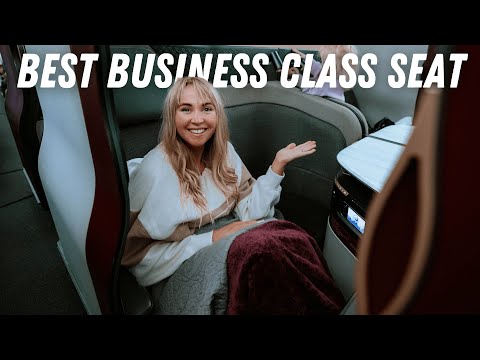 Show Video
- Today's the day. We've booked a one way ticket and we're flying to Europe. - [Jess] And to get there, we are going to be flying one of the best airlines in the world.
- Oh and we'll be flying business class in our literal own mini apartment in the sky. - I don't know who's more happier, Hunter or mommy. - Hi, we're Stephen, Jess and Hunter, a little family from Australia who just spent the last year completing our goal of driving a lap around Australia in our self-converted van, Cooper.
But today we are saying goodbye to Coops and venturing out on a brand new adventure together. - So this trip has actually been a long time coming. We had flights to Europe booked in 2020.
It got canceled and then it got pushed to 2021 and of course that got canceled. And now we're here in 2022 and we're going to finally be boarding those flights to Italy. Hunter, what does a plane do? - Go fly. - [Jess] Are you gonna go flying in a plane today? - Yeah. - [Jess] Yay! Bye, Jake.
You wanna go into the airport? - Yeah. - Say bye Jake, thanks for taking me to the airport. See you Jake, so see you. - See you when you're even more older. - I know. Where are we going? Are you excited? Sorry we had to wake you up. She's excited to go on a plane.
Let's run. Oh my goodness, I feel so thankful we get to walk down this aisle right now, damn. You're so happy. (laughing) - [Stephen] Wow, it's only middle of the year and we did not need any sort of test to get to our final destination, which already feels good. - How exciting is this? (laughing) - [Stephen] So Qatar doesn't have their own lounge here at the Perth airport but because they are Star Lines, there's a New Zealand lounge here so just enjoying a bit of a drink before our flight. Cheers. - Cheers, Steve.
- Cheers. - Is it good juice? - Yeah. Apple. - [Jess] One, two, three. (upbeat acoustic guitar music) - [Hunter] Plane. - [Jess] Is there a plane? Are we gonna go over on there and have a sleepover with a pillow? - Yeah.
- And a blanket? Go find me the plane, Hunter. - What? - [Jess] Go, find me the plane. - Big, big plane.
- [Jess] Big plane, let's go find it. Hmm, where could it be? Here, baba. - Big plane.
- You're gonna have the biggest seat you've ever sat on. - Yeah! (Jess laughing) Big plane, big plane. - Step, watch the step. - Hello, welcome on board. - Hi, hello. - [Hunter] Wow! - Did you hear her? She was like, "Wow!" This is our room.
This is amazing. I just said to Stephen, "Wait, this is first class." And I realized this is what their business looks like. Wow! - [Stephen] She's made herself at home. - She's ready to go. (laughing)
- Hi, here's complimentary lounge wear and a pair of slippers for you. - Oh, thank you so much. - Welcome. - [Jess] Is it a surprise?
What could it be? Ooh. Wow. So this goes on your lips, so you go like this, ready? Put it on. Thank you. - Aw, thank you so much. - Ooh wow. - Hello, dada. - [Stephen] Hey, baba.
- Do you wanna cheers with daddy? Hold it to your hands. Do you wanna cheers? Cheers, Steve. - [Stephen] Cheers. - That's really good. It's like a lime mint drink and she said it was like a traditional, right? In Middle East. Really good.
I'm speechless, this looks, I've never seen a photo or a video or anything of what this looks like. Oh, thank you. - On that side. - Thank you so much. - [Stephen] Thank you so much. - Daddy, mommy, daddy, mommy. - Another cheers.
Had to do the rose as well. I don't know who's more happier, Hunter or mommy. Shall we find a movie? There's "Sing 2". You love "Sing 2". Do you remember the one we watched Cooper? Or there's "Encanto".
♪ We don't talk about Bruno ♪ She's like, "Okay mommy." - [Stephen] Thank you, baba. - Do you know what you do with it? You get it, open it up like this, and then you go like this.
- This is already getting me excited for the flight, normally a flight from Australia to Europe, little bit daunting. If you are from Australia you know exactly what it's like and the staff were so nice, they moved some people around, Jess and Hunter have the Q suite so they're joined together into this ultimate big room, which we'll show you all around. But I wanted the window seat for take off so I could see Perth, my home, for just one last time. Hey, baba. - Hello, mama.
- There's pajamas. I'm gonna go put them on. - Definitely feels extra special. - They even gave me slippers. I ran into a lady, she was like, "Jammy time?", I'm like, "Jammy time." (both laughing) - [Stephen] All righty, super smooth take off. Now I wanna go join Hunter and Jess, next to them.
- Hunter, you ready? Go. Huh? It's happening. Are we gonna lie down? It's like a full on bed. Are we lying down in a plane right now? (Jess laughing) Are we lying down in a plane? This is so fun, Steve. Huh? Is it your movie? Are we watching a movie in bed? - I think it's time that I go get into my pajamas. Very, very comfy.
Let's give you guys a quick bathroom tour. First off, this is, as with the Q suite, the biggest bathroom on an airplane I've ever been in. Like I kid you not, it is humongous. Of course, there's the toilet.
Wet wipes here, there's a drawer for toothpaste and a shaver? Oh no, it's already been claimed by everyone here on the plane. Hopefully they top them up later but on top of that, there is infused luxury facial water. This is the first time I've used it ever in my life. Okay, that is pretty refreshing. As well as luxurious hand wash and velvet hand cream.
Okay, I definitely feel refreshed after coming in here. - [Hostess] Let me know if you need anything, just enjoy. - Thank you. Did you see? She gave you a toy, look. Hello. Do you wanna give it a cuddle? - Hello. - Hello, toy. That's so nice.
- Oh wow, thank you so much. - Oh my gosh, I'm not even hungry but I wanna taste. - Daddy. - I think Hunter's decided she wants to sit in your seat now. (laughing)
- Is it good? - Movie. - Shall we put a movie on? Okay. So I'm currently having a candlelit dinner with my little one. The cool thing about Qatar is that it's on demand dining, so there isn't a certain time you can eat.
You literally just grab a menu, order what you want, I've gone for the vegetarian option, it looks like a veggie pie with a side salad, plus you get some salt and pepper shakers. I know it's the smallest things, you get them at restaurants all the time, but 'cause you're on a plane it feels extra special. What an extra touch, wow. - It is currently 12:30 AM and I wanna taste.
- Do you wanna try? (laughing) - Just one bite. - Just so I can have some dinner in peace without everyone stealing my pie. (laughing) That's a good pie. Dinner, 10 out of 10. Didn't need to eat it but also needed to eat it. Now they're gonna set my seat for bed time.
There's something almost childlike about having someone make your bed for you. It feels extra special. Hunter, can I ask you a question. It's past midnight, how are you still awake? I'm getting all the pillows.
Boing, boing, boing, boing. - Oh no. - That is a very soft blanket. So yes, the Q suite is a completely flat lay business class seat.
They said it's seven hours 'til breakfast. The only time on a flight when you wanna say, "I wish it was longer." They topped up. And one last spritz before bed. Ah. (gentle string music) I'll see you guys in the morning.
- Morning. How long did we sleep for? Like six hours. And now our tummy's rumbling.
Do you want mommy to order us some pancakes? The only time we've ever flown business class was in Qantas like four years ago and my main memory of it was eating pancakes with proper cutlery and I need to re-do that moment with Hunter. It's my favorite part about business class. Eating pancakes in the sky. Wow. This must be the fanciest meal I've ever been served on a plane.
Hunter, have you seen these pancakes? With the berries and the cream. (gasping) You want my strawberries don't you? That is fine. Oh my goodness, Steve. What are you gonna get? - [Stephen] I think I'm gonna go for the eggs. That's so good.
I feel like we're on a little family breakfast date. - It's like everyone's stealing my pancakes. - Ah. Mm. Dink.
I totally might have stolen Jess's last pancakes. These are just the best pancakes I think I've ever had. I was wondering if I could order breakfast, please.
- [Hostess] Of course. - So they just offered me some fruit and I didn't expect them to bring out the fanciest platter ever. They even have half a passion fruit. - Welcome to my two course breakfast that I have ordered, they've just brought out a starter, which is this eloquent fruit platter.
I mean has anybody prepared a fruit salad that kinda looks like you've ordered some sushi rolls before? We have two types of melon, we got kiwi fruit, we've got strawberries, I'll save this for Hunter, watermelon, passion fruit and pineapple. Plus a warm bread roll with my own little strawberry jam. Are you wanting to join me for breakfast? (both laughing) I feel like we have a little cheeky person jumping between mine and Jessica's breakfast.
You can have the strawberry, that's fine. Cheers. She comes in, steals my breakfast and then goes back to mom. Thank you so much. So for my mains, I have some scrambled eggs, potatoes, looks like a little bit of tofu, a side salad, mushrooms and a piece of toast. The icing on top is a cappuccino coffee to wash it all down.
- [Jess] So we land in an hour and seeing as they're giving us a box of very fancy bits and bobs, I thought I may as well use them to freshen up before we land in Doha. Diptyque. Little bit of face cream. Do you want some face cream? Mm, this stuff is nice. Wow.
Oh, a little natural spray. They got a body lotion. (laughing) Woops. (laughing) To be honest it doesn't taste that bad for body lotion. A spray. That smells good, Steve.
Where was this eight hours ago? I'm ready to land now. - Okay, guys, I'm going to go and get changed and then I can give you a tour of our Q suite. So this is the Qatar business Q suite. It's found on a wide range of their aircraft but we're currently on the Boeing 777-300. And it literally feels like we are in an apartment. Like look at this space.
Let me give you guys a quick room tour. Course on the Q suite, it's a little apartment, you can close this door to have complete privacy in your room. There is a massive 32 inch touch screen which we can also operate with a mini remote that has its own touch screen.
Because your room is so big, you need to lean forward to use it, so you can easily just be lazy, lean back and pick what you wanna watch. We have flight maps, latest Hollywood movies, Bollywood movies, TV shows, pretty much everything you need to stay entertained. And then next to your main seat, you always have this little booster seat and inside the booster seat, first of all, gives you just so much extra room.
It feels like you are given two seats. Especially perfect with Hunter and underneath there you have your personal storage plus some complimentary water and a pair of noise-canceling headphones. They work good. Plus in front of you next to the screen you have a wide range of buttons, one to control the multitude of angles that you can put your lie flat bed to, plus multiple USB charging ports, a universal AC adapter if you wanna plug in a laptop, do some charging.
Of course, our menus, which is order anytime so you can order your food when you want. If you guys were wondering what the other options are, you could've chosen between the vegetarian option, stir fry chicken or an Angus beef burger. Plus breakfast was choice of a cheese omelet, scrambled eggs or the pancakes, which is our recommendation. Oh and there's also this other menu just stacked with wine choices. But of course the best bit is that if you book with a family member or a friend you guys can just have an apartment together or not. All right, let's land in Doha.
Just real quick, we wanted to say a massive thank you to EcoFlow for keeping Cooper juiced up on our van trip around Australia. So we've decided to pick up a portable home battery system, we went with the EcoFlow Delta Max 2000, so that we can go and explore more of Australia off grid with no worries. So this has gotta be one of the most eco-friendly battery charging solutions on the market at the moment. They have fast charging, which gets you from zero to 80 percent in one hour if you plug it in. Plus if you're like us and picked up a couple of solar panels it's renewable energy. We've actually picked up a couple of them and they take up less space than our beach chairs.
I think the bit that I like the most about this is how simple it is. We've just got two cables straight from the solar panels and then you just have this adapter to plug it into the battery. Then you can just let it charge in the sun plus we've picked up a couple of 160 watt solar panels so that, of course, is gonna make it charge a lot quicker 'cause it's able to get a lot more renewable energy in. Luckily it's actually a pretty hot day today in Australia, but if it does rain, luckily it's waterproof 'cause of the one seamless designs. Now if you're like me and just want things to work without thinking about it, they've also got an app, it's the EcoFlow app and you can just Bluetooth connect to the battery and it lets you know how long it's gonna take to charge as well as if you are plugging devices in how much battery you got left. So yeah, if you guys are interested in picking up one of these for your van life, I'll leave a link in the description below.
- [Pilot] Cabin crew, prepare for landing. - Welcome to Doha, everybody. This is only the second time we've been here. It is just a quick layover before we do jump on to our next flight but I think it's a couple hours and our flight was 25 minutes early. - [Jess] Welcome to Doha, everyone. We now have three hours to kill and there are two things here that are gonna keep us busy.
First is a lounge. Stephen loves a good lounge. And second is an amazing playground and you all know Hunter loves a good playground. - Well that was super nice because we had a little bit of a tight layover, we had an escort take us literally from the airplane, walk us through to the lounge, so I've just been sweating up a storm, it's like 42 degrees. So I found out there's a shower in the lounge. I'm gonna take full advantage of this. Shampoo, conditioner, shower gel, all this luxury stuff we had on the plane.
Fresh towels and I'm now gonna go and enjoy a shower. See you guys after the shower. Short, sweet but hit the spot.
Now let's go find Jess and Hunter. What have you got? - So she's about to go play soccer in a Disney outfit. We had an accident, I don't have anymore clothes, rookie mistake, so the only place we could find that had kids' clothes was the Adidas store and the only kids' clothes they had was Mickey Mouse themed soccer outfit. - [Stephen] Hunter, shall we go play soccer? - [Jess] She loves it. (both laughing)
Shall we go? - We've just come to the Oryx lounge and grabbing a quick cup of coffee before we try to get some more energy out of Hunter. - Mommy, mommy. - Peek a boo. - Play ground. - You wanna go to the play ground? - Okay. - Okay. (laughing) So second flight, we're jumping on Qatar's dream liner.
Excited to see what the seats look like. - Come on, Mrs. Soccer Player. Up we get, baby. - [Stephen] So I think Italy's a bit stricter with their masks. Before we boarded they made everyone switch to this but we have our welcome drinks, a nice cold towel, they did give you the option of warm or cold but it is like 40 degrees out in Doha today. So this is just perfect.
It's been a long but unforgettable day. I have waited four hours for lunch. Hunter literally just passed out for the last four hours and it was just too awkward to try and have lunch. Thank you so much. I feel like this is probably the seventh coffee I've had today. I think we have like a three course lunch.
Starting with a quinoa salad. Mm. I don't know if it's just 'cause I'm so hungry but this just tastes so good.
And then for mains, we have a bit of a crumbed tofu, we've got some veggies, we got some rice going here. Honestly I'm just happy with the anywhere dining that I can just eat. Even though I think we land in about an hour. Well, well, well, look who's back for daddy's dessert, huh? You. (laughing) Thank you. Mm.
- Hunter, did you see what she brought you? - What's this sneaky bonus dessert? - There go dada. - Give me the fruit, huh, so you can take the good stuff. Not feeding dad that one, that's for Hunter. Hunter, have you enjoyed this flight? - Yeah.
- I can see on your mouth you've enjoyed this flight. - Yum. - Is it yum? Couldn't agree more. (laughing) As I enjoy this final bit of this absolutely amazing day of flying with Qatar.
Ending it with this. I thought I'd give you guys a very quick tour of our seats before we land, I'm leaving it at the last minute as always. What was in these little pods, full flat bed, as I tested out with Hunter having a four hour nap on me. This time with our amenities they've given us a little big of a bag, an eye mask, some more moisturizers, and I noticed this time round there's a male version and a female version and they match it up depending on who booked the seat. Full menu, like before. We can charge our phones, they have a USB outlet, we have the storage compartment.
And what I thought was kinda cool, a little shoe storage compartment as well and slightly smaller screen but still humongous for a plane. But now we're coming in to our final destination of Rome and I'm gonna enjoy this as we land. (plane engine roaring) - Welcome to Europe. Still can't get over her little outfit. (upbeat pop music) We made it. It is time for a shower. Goodnight, Italy.
(Hunter laughing) (alarm beeping) - Porridge. - [Jess] You have porridge. - Porridge. - All righty, waited three hours for this but the sun is finally out. Let's go see the city. (upbeat orchestral music) Okay, there has to be one perk about jet lag and waking up at 3:00 AM is that we are up and there is nobody here in front of the coliseum. ♪ If you ever wanna leave ♪ ♪ I'll be here when you're feeling low ♪ ♪ Be awake when you're asleep ♪ ♪ When you're dreaming of a way to get home ♪ ♪ Don't call another ♪ ♪ And don't look around ♪ ♪ I'll be all you want ♪ - So when looking for a place to stay, we decided just to look up the cheapest guesthouse we could find that was walking distance to the coliseum and I am now glad we did because this morning we were like, "Do you just wanna go and grab breakfast in front of the coliseum?" And here we are having our first coffee here in Italy right in front of this guy.
(upbeat piano music) - [Stephen] So I will admit last time we were in Europe, or at least in Italy seven years ago, play grounds were not on the agenda. But I think they're gonna be going to the top of the sight seeing list with Hunter. But honestly not even mad, this play ground is in front of a 16th century manor and some Roman baths from 109 AD.
Pretty cool spot. Oh, wee. - Daddy? - Mommy. Mommy. - Yeah.
♪ You're all I wanted ♪ ♪ All I wanted ♪ (Hunter laughing)
2022-06-23 07:19
Show Video
Other news