Pepperdine Graziadio Business School Summer Commencement 2022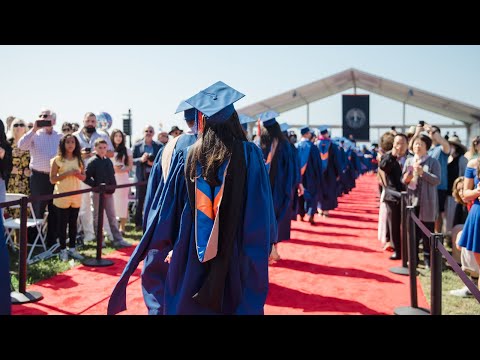 Show Video
. ≫ TESTING, TESTING. THIS ACLOSED CAPTIONING TEST. THIS IS A TEST. THIS EVENT WILL BEGIN SHORTLY. THANK YOU. PLEASE STAND BY. THIS IS A TEST. THIS IS A TEST. TESTING, ONE.
TWO. THREE. THIS IS A TEST. THIS IS A TEST.
PLEASE STAND BY. THANK YOU. THIS IS A TEST. PLEASE STAND BY. THANK YOU. THIS IS A TEST. PLEASE STAND BY. THANK YOU.
THIS IS A TEST. THIS IS A CLOSED CAPTIONING TEST. THANK YOU.
THIS IS A TEST. PLEASE STAND BY. PLEASE STAND BY. THIS IS A TEST.
PLEASE STAND BY. TESTING, TESTING, PLEASE STAND BY. PLEASE STAND BY. THIS IS A CLOSED CAPTIONING TEST. PLEASE STAND BY.
THIS IS A CLOSED CAPTIONING TEST. THANK YOU. ≫ TO ENSURE THAT EVERYONE IN ATTENDANCE CAN VIEW THE PROCESSIONAL, IT IS IMPORTANT THAT EVERYONE TAKE THEIR SEATS AT THIS TIME AND PLEASE REMAIN IN YOUR SEATS UNTIL THE PROCESSIONAL IS COMPLETE. LADIES AND GENTLEMEN, PLEASE WELCOME THE FACULTY OF PEPPERDINE UNIVERSITY'S GRAZIADIO BUSINESS SCHOOL.
. ≫ NOW, LADIES AND GENTLEMEN, THE MOMENT WE'VE BEEN WAITING FOR. PLEASE WELCOME THE SUMMER, 2022 GRADUATING CLASS OF THE GRAZIADIO BUSINESS SCHOOL AT PEPPERDINE UNIVERSITY. ≫> AND FINALLY, LADIES AND GENTLEMEN, PLEASE WELCOME OUR PLATFORM PARTY.
≫> LADIES AND GENTLEMEN, SUMMER 2022 COMMENCEMENT CEREMONY FOR PEPPERDINE'S GRAZIADIO BUSINESS SCHOOL IS HERE BY OPENED. THE INVOCATION WILL BE GIVEN BY JAMES DILELLIO, ASSOCIATE PROFESSOR OF DECISION SCIENCES AND MEMBER OF THE GRAZIADIO CLASS OF 2007 AND THE INVOCATION WILL BE POLLED BIT PLEDGE OF ALLEGIANCE LED BY CHRISTOPHER NGUYEN LE AND FINALLY, THE NATIONAL ANTHEM WILL BE PERFORMED BY JOCELYN RODRIGUEZ, ALSO A MEMBER OF THE CLAFS 2022. PLEASE RISE NOW FOR THE INVOCATION AND PLEDGE OF ALLEGIANCE AND REMAIN STANDING FOR THE SINGING OF THE NATIONAL ANTHEM. ≫ WOULD YOU PLEASE JOIN ME IN PRAYER. SHOUT FOR JOY TO THE LORD, ALL THE EARTH. WORSHIP THE LORD WITH GLADNESS AND COME BEFORE HIM IN JOYFUL SONG. KNOW THE LORD IS GOD.
HE MADE US AND WE ARE HIS, WE ARE HIS PEOPLE, THE SHEEP OF HIS PASTURE. ENTER HIS GATES WITH THANKSGIVING AND HIS COURTS WITH PRAISE. GIVE THANKS TO HIM AND PRAISE HIS NAME. FOR THE LORD IS GOOD, AND HIS LOVE ENDURES FOREVER. HIS FAITHFULNESS CONTINUES THROUGH ALL GENERATIONS. HEAVENLY FATHER, THANK YOU FOR THIS SPECIAL DAY.
AND FOR ALL OF THE STUDENTS WHO ARE ASSEMBLED HERE, WE ASK FOR YOUR ALL MIGHTY HAND TO BE UPON ALL OF THOSE WHO GRADUATE TODAY. MAY THEY FEEL A SENSE OF ACHIEVEMENT AND EXCITEMENT ABOUT THEIR FUTURE. MAY EACH STUDENT KNOW YOUR PRESENCE IN THEIR LIVES AND UNDERSTAND HOW TO USE THEIR ABILITIES FOR YOUR GLORY AND KINGDOM.
AND MAY THEY CONTINUE TO LIVE LIGHT IN LEARNING AND DISCOVERY AND DOING SO BRING GREAT BLESSINGS TO THE WORLD. BLESS THEIR LIVES FROM THIS DAY, ON, WITH GOODNESS, AND WITH LOVE. HELP THEM TO STAY TRUE TO THEIR DREAMS, USE THEIR GIFTS WISELY, TO WALK INTO THE FUTURE WITH FAITH AND HOPE AND TO LEAD LIVES OF SERVICE, PURPOSE, AND LEADERSHIP. AMEN. [ PLEDGE OF ALLEGIANCE ]. [ SINGING OF THE NATIONAL ANTHEM ].
≫ THANK YOU, AND NOW, EVERYONE, PLEASE BE SEATED. IT IS NOW MY PLEASURE TO INTRODUCE THE PROVOST OF PEPPERDINE UNIVERSITY DR. JAY BREWSTER. ≫ GOOD MORNING EVERYONE, IT IS GOOD TO SEE YOU OUT THERE. IT IS NOT A WONDERFUL DAY TO BE TOGETHER? ON BEHALF OF THE ENTIRETY OF PEPPERDINE UNIVERSITY, I AM DELIGHTED TO WELCOME YOU TO OUR CAMPUS, AND TO THE SUMMER, 2022 COMMENCEMENT CEREMONY FOR THE GRAZIADIO BUSINESS SCHOOL. WELCOME.
THE STUDENTS WE HONOR HERE TODAY HAVE TRAVELED LONG, AND A CHALLENGING ROAD TO EARN THEIR BUSINESS DEGREES. THAT ROAD INCLUDED RIGOROUS INSTRUCTION IN FINANCE, AND ENTREPRENEURSHIP, FROM SOME OF THE WORLD'S LEADING BUSINESS SCHOLARS. BUT IT ALSO INCLUDED EXTENSIVE TRAINING IN ETHICS, SO THAT OUR STUDENTS COULD APPLY THEIR EXPERTISE IN THE RIGHT WAY, UP LIFTING NOT ONLY THEMSELVES, BUT ALSO, THE COMMUNITY IN WHICH THEY SERVE. SUCH A COURSE OF STUDY IS NOT AN EASY ONE. BUT IT IS VITAL TO SHAPING THE PURPOSE-DRIVEN LEADERS WHICH WE ARE CALLED TO BE.
A CALLING THAT LIES AT THE VERY HEART OF PEPPERDINE, AND THE HEART OF OUR MISSION. THIS CEREMONY IS AN OPPORTUNITY FOR US TO BOTH SALUTE THE OUTSTANDING STUDENTS THEY HAVE BEEN AN THE OUTSTANDING STUDENT LEADERS THEY WILL LOOK. BUSINESS EDUCATION HAS BEEN AN IMPORTANT COMPONENT OF PEPPERDINE'S CURRICULUM SINCE GEORGE PEPPERDINE COLLEGE WELCOMED ITS FIRST STUDENTS IN FALL, 1937. THIS INSTITUTION, AFTER ALL, OHS IT'S EXISTENCE TO GEORGE PEPPERDINE'S WELL EARNED SUCCESS AS A BUSINESSMAN, HARD WORK AND ENTREPRENEURIAL SPIRIT TRANSFORMED HIM FROM A KANSAS FARM BOY WITH $5 IN HIS POCKET, TO THE HEAD OF ONE OF THE FASTEST-GROWING RETAIL COMPANIES OF THE EARLY 20TH CENTURY AN MR. PEPPERDINE FERVENTLY BELIEVED IN CREATING OPPORTUNITIES FOR FUTURE GENERATIONS TO CREATE SIMILAR STORIES OF SUCCESS IN THEIR OWN LIVES.
TODAY WE HONOR AND CELEBRATE THE EXAMPLE SET BY THE BENEFACTOR FOR WHOM PEPPERDINE'S BUSINESS SCHOOL IS NAMED. TODAY, NOT TOMORROW IS SIMPLE, YET POWERFUL STATEMENT IS ONE OF GEORGE L GRAZIADIO'S DEFINING TESTAMENTS TO PURPOSE DRIVEN LEADERSHIP. A BRANDSON OF ITALIAN IMMIGRANTS GEORGE GRAZIADIO CAME TO AMERICA IN PURSUIT OF OPPORTUNITY, LEARNING FROM HIS FATHER, HE SOON GREW TO BE SUCCESSFUL AND SET HIS SIGHTS ON CALIFORNIA WHERE HE'D MEET THE LOVE OF HIS LIFE, REVA AND START A FAMILY. WITH HIS BUSINESS PARTNER HE OPENED THE FIRST IMPERIAL BANK WHICH HELPED TURN LOS ANGELES INTO THE ECONOMIC POWER HOUSE THAT IS IT KNOWN FOR TODAY N1996, GEORGE AND REVA GRAZIADIO ENDOW THE BUSINESS SCHOOL THAT HOLDS THE NAME WE SEE TODAY. HIS UNWAVERING SUPPORT FOR PEPPERDINE VALUES, OF SERVICE, PURPOSE AND LEADERSHIP PAVED THE WAY FOR OUR MISSION OF DEVELOPING BEST FOR THE WORLD LEADERS.
LEADERS WHO ADVANCE RESPONSIBLE BUSINESS TO MAKE AN IMPACT ON BOTH THE ORGANIZATIONS AND IT'S SURROUNDING COMMUNITIES. TODAY, WE THANK GEORGE GRAZIADIO FOR HIS LEGACY, GUIDANCE, AND ENTREPRENEURIAL SPIRIT AND HONOR HIM THROUGH OUR COMMITMENT TO PURPOSE-DRIVEN LEADERSHIP. WE WILL FOREVER BE INDEBTED TO GEORGE AND REVA GRAZIADIO FOR WHAT THEY MADE POSSIBLE HERE AT PEPPERDINE AND WE'RE GRATEFUL FOR THEIR SON, LOUIS AND DAUGHTERS ALIDA AND MARY LOU AND THEIR SPOUSES FOR ADDING TO THE GRAZIADIO FAMILY LEGACY.
IT IS CLEAR THEY, TOO, HEARD THE CALL FROM MATTHEW CHAPTER TEN THAT INSPIRED GEORGE PEPPERDINE AND CONTINUES TO SERVE AT THE UNIVERSITY MOTTO. FREELY YE RECEIVED, FREELY GIVE. WE'RE GOING TO TRANSITION AND WELCOME A STUDENT SPEAKER TO THE PODIUM. EACH OF THE FIVE SCHOOLS DO
THIS. A TRADITION AT COMMENCEMENT CEREMONY OF GIVING A PARTICULARLY DISTINGUISHED MEMBER OF THE GRADUATING CLASS AN OPPORTUNITY TO OFFER PERSONAL MEMORIES AND REFLECTIONS. GIVES ME GREAT PLEASURE TODAY TO INTRODUCE TOW'S STUDENT SPEAKER, JESSE MECK, A MEMBER OF THE GRAZIADIO CLASS OF 2022. JESSE EARNED HER BACHELOR'S DEGREE AT BUSINESS MARKETING AT UNIVERSITY OF ARIZONA ELLER COLLEGE OF MANAGEMENT WHERE SHE APPEARED REGULARLY ON THE DEAN'S LIST, AFTER GRADUATING IN 2011 SHE WENT TO WORK AS AN ASSISTANT ACCOUNTS MANAGER AT DIRECT RESULTS RADIO IN VENICE, CALIFORNIA AND MOVED TO THE DIGITAL MARKETING AGENCY OF STUDIO 71 WORKING UP TO THE HEAD OF MARKETING BEFORE LEAVING TO FOUND HER OWN FIRM SHAY PLUS SUNNY STUDIOS IN JANUARY, 2016. AND SHE DID THIS WHILE PROUDLY SERVING AS A LAKER GIRL REPRESENTING THE FRANCHISE BOTH AT FAMES IN LOS ANGELES AND APPEARANCES AS FAR AS MEXICO, THE PHILIPPINES AND CHINA. HERE AT GRAZIADIO JESSE HAS BEEN ACTIVE IN SEVERAL STUDENT ORGANIZATIONS, INCLUDING SERVING ON THE LEADERSHIP TEAM OF NET IMPACT A SUSTAINABILITY ORGANIZATION WITH MORE THAN 400 CHAPTERS WORLD WIDE.
JESSE IS AN OUTSTANDING EXAMPLE OF THE WORK ETHIC, DRIVE AND COMMITMENT TO SERVICE THAT WE STRIVE TO BRING OUT IN ALL OF OUR GRAZIADIO STUDENTS. AND WE'RE PROUD TO HAVE HER REPRESENTING PEPPERDINE AS AN ALUMNI IN LOS ANGELES AND BEYOND. PLEASE JOIN ME IN GIVING A VERY WARM WELCOME TO JESSE MECK. ≫ IF MORNING, FACULTY, GUESTS, FRIENDS, FAMILY, AND MOST IMPORTANTLY, MY FELLOW PEPPERDINE GRAZIADIO BUSINESS SCHOOL CLASSMATES AND GRAD WAITING CLASS OF 2022. IT AN HONOR TO BE HERE TODAY TO SHARE MEMORIES, AND A MORE OF AN HONOR TO BE GRADUATING ALONG SIDE A COMMUNITY OF BRILLIANT, AMBITIOUS AND GENUINE INDIVIDUALS. WHEN I TOLD MY NIECE, WHO HAD JUST GRADUATED PRESCHOOL THAT I WAS GOING TO BE SPEAKING AT COMMENCEMENT, SHE SQUEALED WITH GLEE AND PROMPTLY ASKED WHICH SONG I WAS GOING TO SING. I TRIED TO EXPLAIN TO HER THAT
AT OUR GRADUATION WE DON'T GET TO SING SONGS FOR PARENTS AND GUESTS AND IF THAT WAS THE JOB OF THE COMMENCEMENT SPEAKER I WOULD NOT HAVE BEEN SELECTED BUT SHE WON'T TAKE NO FOR AN ANSWER. I TOLL HER I WAS GOING TO SING "THIS LITTLE LIGHT OF MINE". THOSE OF YOU WHO KNOW ME ARE VERY AWARE THAT I WOULD NOT BE THAT CHALLENGE SO I WILL LEAD THE SINGING TO JOYCELYN, AND SAVE EARS AND SHARE THOUGHTS ABOUT HOW MY CLASSMATES ARE THAT LIGHT. THE CLASS OF 2022 IS SPECIAL THIS, GRAD WAITING LAS CHALLENGED THE ATTUS QUO. THE REST OF THE WORLD SHUT DOWN, WE LET OUT.
WE SAW OPPORTUNITIES IN THE MIDST OF UNCERTAINTY AND LIENED INTO THAT. AND FIXING OUR EYES UPON A GOAL, AND DARING TO DREAM JUST A LITTLE BIGGER. TODAY, WE REACH THAT PEAK AND STAND HERE AS DIFFERENT PEOPLE THAN WHEN WE STARTED THE ACADEMIC PROGRAM AND THE FACULTY OF GRAZIADIO SCHOOL PLAYED A ROLE IN THAT SUCCESS ARMING US WITH KNOWLEDGE AND INSTILLING IN US A MIND SET OF INTEGRITY AND INNOVATION, CLASSMATES, YOU'RE THE HEART OF THE PROGRAM.
YOUR WIT, DETERMINATION AND DIVERSITY POINTS HAVE SHAPED THIS EXPERIENCE. YOU'RE NOT AFRAID TO STAND UP WHEN YOUR WORLD VIEWS DIFFERENT FROM ONE ANOTHER. YOU HAVE USED YOUR VOICE TO AMPLIFY THE VOICE OF THE UNHEARD AND ADVANCE INCLUSION. AND YOU'RE PURPOSE DRIVEN. YOU DO NOT HESITATE TO REACH FOR PERCEIVE BLI UNAT TAINABLE GOALS AND FAILURE ONLY MAKES YOU CLIMB HIGHER, SO THE CULMINATION OF THE JOURNEY HAS NOT SIMPLY PROVIDED WITH US A DEGREE AND NETWORK BUT IT HAS ALLOWED TO US BUILD A COMMUNITY THAT WILL DRIVE US TO CHANGE THE WORLD. I WANT TO YOU TAKE A MOMENT AND LOOK AT THE PEOPLE SILTING AROUND YOU. THESE ARE THE FACES OF THE
FUTURE CEOs, BUSINESS OWNERS, CHANGE MAKERS AND WORLD LEADERS. THESE BRILLIANT SOULS WILL CONTINUE PUSHING THE NEEDLE FORWARD DRIVING MEANINGFUL, POSITIVE CHANGE BECAUSE THAT IS WHAT WORLD LEADERS DOX I CAN'T WAIT TO SEE WHAT WE ALL ACCOMPLISH. AND TO OUR FRIENDS AND FAMILIES, SITTING IN THE STANDS, AND TO THOSE WHO COULDN'T MAKE IT TODAY, OR NO LONGER BYES WE WON'T BE HERE WITHOUT YOU. SO LET'S GIVE THEM ALL A CHEER! THANK YOU, FROM THE BOTTOM OF OUR HEARTS FOR BEING PART OF OUR JOURNEY. AND AS WE GO BACK OUT INTO THE WORLD, I KNOW THAT EACH ONE OF US WILL CONTINUE TO BE A LIGHT WHENEVER OUR CURIOSITY MAY LEAD US NEXT. CONGRATULATIONS CLASS OF 2022, THIS IS JUST THE BEGINNING. ≫ THANK YOU, JESSE AND WISE
WORDS. ENCOURAGING WORDS. WE WANT TO WELCOME THE GUESTS HAVE YOU WITH US TODAY. YOUR PARENTS -- I'M GOING TO ASK THEM TO STAND TOGETHER AS I ANNOUNCE YOU AND CAPTURE A PHOTO OF THE GROUP. AMY AND TIM MECK, WOULD YOU RISE FOR US? WELCOME. BROTHER AND SISTER-IN-LAW, DREW AND SARAH MECK. THEIR DAUGHTER ANITA AS WELL. AND THERE SHE IS.
ADD YOUR GOD PARENTS TERESA MECK AND TONI ANDEL. WELCOME. I'D LIKE TO INVITE GRAZIADIO INTERIM DEAN, DAVID M SMITH AND PEPPERDINE PRESIDENT TO INTRODUCE OUR COMMENCEMENT SPEAKER AND PRESENT HIM WITH THIS YEAR'S DISTINGUISHED ALUMNIIST AWARD. ≫ THANK YOU, PROVOST BREWSTER, STUDENTS AND GUESTS, I HAVE THE UNIQUE PRIVILEGE OF INTRODUCING SOMEONE WHO MADE MANY OF THESE HAPPY AT AN EARLIER STAGE OF THEIR LIVES WHETHER REALIZING IT OR NOT, STEVEN TOTKEE SERVED A QUARTER CENTURY AT MATTEL INCORPORATED ONE OF THE WORLD'S LEAD PROING DUESERS OF TOYS AND CHILDREN'S MEDIA.
STEVE FIRST JOINED MATTEL IN 1995 AND MOVED TO SPIN MASTER CORPORATION AND HELPING TO BUILD A PLEDGE LING FIRM WITH ONLY A FEW DOZEN EMPLOYEES INTO A WORLD WIDE POWER HOUSE THAT WOULD GO ON TO PURCHASE THE RUBIK'S CUBE BRAND AND LAUNCH FRANCHISES SUCH AS PAW PATROL THAT YOUR CHILDREN, NIECES, NEPHEWS AND GRANDCHILDREN ALMOST CERTAINLY BEGGED ARE NOW AT SOME POINT IN THE LAST YEARS. STEVEN RETURNED TO MATTEL IN 2002 TO OVERSEE CANADIAN AND AUSTRALIAN OPERATIONS BEFORE JOINING LEADERSHIP TEAM AT COMPANY'S WORLD WIDE HEAD QUARTERS IN SOUTHERN CALIFORNIA N2016 HE BECAME COMMERCIAL EXECUTIVE VICE PRESIDENT FOR MATTEL'S NORTH AMERICAN DIVISION AND THIS APRIL NAMED PRESIDENT OF THE COMPANY. HE OVERSEES A NASDAQ LISTED CORPORATION WITH 36,000 EMPLOYEES WORLD WIDE AND LAST YEAR EARNED FIVE AND A HALF BILLION DOLLARS IN REVENUE FROM BRANDS AS BARBIE, HOT WHEELS, FISHER-PRICE, AND AMERICAN GIRL.
A MEMBER OF THE ADVISORY BOARD FOR THE WOMEN IN TOYS ASSOCIATION, STEVE ALSO SERVES ON THE BOARD OF DIRECTORS FOR TOY ASSOCIATION, AND THE MATTEL CHILDREN'S FOUNDATION. SO SO STUDENTS IF YOU WANT TO KNOW HOW TO BUILD AN INCREDIBLY SUCCESSFUL CAREER IN BUSINESS LEADERSHIP WHILE HAVING FUN AND NEVER NEGLECTING YOUR INNER CHILD YOU'RE IN LUCK BECAUSE OUR COMMENCEMENT SPEAKER TODAY CAN TELL YOU EXACTLY HOW TO DO IT. NEEDLESS TO SAY I AM PROUD AND DELIGHTED TO PRESENT STEVEN TOTZKE MEMBER OF THE MBA CLASS OF 2015 AS GRAZIADIO BUSINESS SCHOOL'S 2022 DISTINGUISHED ALUMNI AWARD RECIPIENT AND AS OUR COMMENCEMENT SPEAKER.
≫ HELLO, EVERYBODY. THANK YOU DEAN SMITH AND PROVOST BREWSTER AND PRESIDENT GASH. THIS IS A HUMBLING AND N EXPECTED RECOGNITION, GRAZIADIO IS A SPECIAL PLACE AND I REMAIN INCREDIBLY INSPIRED AND GRATEFUL FOR MY TIME HERE. IN FACT, I FIND MYSELF DRAWING ON THE LESSONS LEARNED AT THIS OUTSTANDING SCHOOL AND FROM THESE WORLD CLASS PROFESSORS ON A NEAR DAILY BASIS. AND I KNOW YOU WILL, TOO. IMPORTANTLY, CONGRATULATIONS TO ALL OF YOU AMAZING GRADUATES.
AND TO ALL OF YOUR SUPPORT NETWORKS, FAMILY, FRIENDS AND EDUCATORS IT DOES TAKE A VILLAGE TO COMPLETE THIS MILESTONE AND I KNOW YOU ALL ARE EXTREMELY PROUD. I WOULD LIKE TO TAKE A MOMENT TO THANK MY OWN SUPPORT NETWORK. SOME ARE HERE TODAY. MY WIFE JOANNE, OF 27 YEARS, MY INCREDIBLE CHILDREN, HANNAH AND OWEN, BOTH AMID THEIR UNIVERSITY MATRICULATION AT THE MOMENT AND MY MOTHER, NANCY WATCHING LIVE STREAM IN MY HOME COUNTRY OF CANADA HI, MOM! I'LL FACE TIME YOU LATER TODAY. I HAVE BEEN LOVED AND SUPPORTED UNCONDITIONALLY BY EVERYBODY AND ALL OF THEM AND IT'S MADE SUCH A DIFFERENCE.
SO YOU KNOW I WAS TAUGHT WHEN GIVING A PRESENTATION, BE BRIEF, IMPACTFUL AND BE GONE ESPECIALLY WHEN THE AUDIENCE IS ROPED UP IN CALIFORNIA SUMMER, I WILL ATTEMPT TO GET ON WITH THE PROGRAM. I THOUGHT THAT WOULD GET A GOOD ONE. AS YOU HEARD BY THAT GENEROUS INTRODUCTION I'M P THE PRESIDENT AND CHIEF COMMERCIAL OFFICER FOR MATTEL. VERY BEEN PLAYING WITH BARBIE AND HOT WHEELS AND AMERICAN GIRL OVER HALF OF MY LIFE NOW. I DO QUALIFY AS AN ADULT, BUT
IT DOES KEEP ME IN TOUCH WITH MY INNER 8-YEAR-OLD. WHILE WAYS PREPARING FOR TODAY, I WAS STRUCK BY HOW MANY SIMILARITIES I HAVE WITH GRAZIADIO. FOUNDED IN 1969, I WAS BORN IN 1969. GRAZIADIO WAS PART OF A SOUTHERN CALIFORNIA ICONIC INSTITUTION, PEPPERDINE UNIVERSITY. I AM PART OF A SOUTHERN CALIFORNIA ICONIC INSTITUTION, MATTEL FOUNDED DOWN THE STREET IN TORRANCE IN 1945 AND BARBIE IS FROM MALIBU, AFTER ALL. GRAZ FWRAZ IS GROUNDED IN PURPOSE DRIVEN LEADERSHIP, AS AM I. AND FINALLY, ONE COMMONALITY IS
A LOT OF PEOPLE HAVE DIFFICULTY PRONOUNCING OUR NAMES. GRAZIADIO AND TOTZE, MUST BE THE Z. THERE ARE YOU TUBES TO HELP YOU.
NOT THAT I NEEDED THIS TODAY. MY CAREER WAS BUILT OLD SCHOOL. MEANING THAT IT BEGAN WITH ME ACCEPTING THE MOST ENTRY LEVEL DIVISION FOR THE SMALLEST BRAND ON THE SMALLEST ACCOUNT BUT ONCE I HAD THAT FOOT IN THE DOOR I WAS DETERMINED TO MAKE THE MOST OF IT. THROUGH COUNTLESS SUCCESSES AND FAILURES AND LOSS BOSS AND PROMOTIONS AN COUNTRIES AND CONTINENTS I REACHED PRESIDENT THIS YEAR. AND MY STRATEGY IN THOSE DAYS WAS TO STAY OPEN MINDED AS POSSIBLE AND TAKE ON THE DIFFICULT ASSIGNMENTS, AND LOOK FOR OPPORTUNITIES THAT WOULD MAKE A POSITIVE IMPACT ON THE BUSINESS AND LEAD TO PERSONAL AND PROFESSIONAL GROWTH. NOW, IN HINDSIGHT, THIS PROVED TO BE A VERY SUCCESSFUL APPROACH, BUT I MUST ADMIT THERE WAS A LOT OF WINE CONSUMED ONE NIGHT IN 2007 WITH JOANNE CONSIDERING MOVING OUR FAMILY FROM TORONTO, CANADA TO MELBOURNE, AUSTRALIA WHEN WE GOT ON THE PLAIN IT WAS MINUS 25. YOU CAN USE THAT TODAY.
WHEN WE LANDED IT WAS PLUS 115 AND THAT TURNED OUT TO BE THE SMALLEST ADJUSTMENT WE HAD TO MAKE BUT IN THE END IT WAS A MAGICAL EXPERIENCE FULL OF PERSONAL AND PROFESSIONAL GROWTH I CAN HANDLE. NOW, I AM NOT GOING TO GET YOU THROUGH MY WHOLE CAREER I THOUGHT I'D LEAVE YOU WITH THREE TRAITS THAT MIGHT HELP YOU. COINCIDENTALLY AND APPROPRIATE TODAY, THEY BEGIN WITH P.
FIRST ONE, YOU CAN PROBABLY GUESS IT. IT IS PASSION. YOU LIKELY HEARD A LINE OF FIND SOMETHING YOU LOVE TO DO AND YOU'LL NEVER WORK A DAY IN YOUR LIFE AND THAT IS TRUE, I THINK THERE IS A MORE HUANCED PATH TO THAT END. I WAS PRETTY PASSIONATE ABOUT FINDING A JOB WHEN I GRADUATED. AS EQUALLY PASSIONATE AS MY LANDLORD WAS TO GET PAID RENT.
SO. YOU KNOW, I STARTED INTO MY FIRST JOB AND ONCE I DID, IT WAS THEN, I STARTED TO WORK OUT WHAT I TRULY LOVED TO DO. DID I WANT TO BE IN SALES? MARKET SOMETHING WHAT INDUSTRY DID I WANT TO BE IN? HOW WAS I GOING TO PRIORITIZE WORK, FAMILY AND COMMUNITY? IT IS CRITICALLY IMPORTANT TO REMAIN OPEN MINDED AND CURIOUS AND YOUR PASSION WILL EVOLVE AS YOU MAKE YOUR WAY THROUGH YOUR CAREER. ONCE YOU FOUND IT, LEAN IN,
BIG. AND IT WILL KEEP YOU ENERGIZED AND ENERGY THOSE AROUND YOU. AND IF YOU LOSE THAT FIRE, FIND ANOTHER ROLE.
FIND ANOTHER CAREER. IT GOES BY SO FAST THAT YOU DON'T WANT TO BE SPENDING THAT TIME UNING SO SOMETHING THAT DOESN'T LIGHT YOU UP. SECOND TRAIT AND MAYBE MOST IMPORTANT IS PERSISTENCE. I ATTENDED AN ALL BOYS CATHOLIC HIGH SCHOOL IN CANADA AND WILL NEVER FORGET MY FIRST YEAR HUMANITIES TEACHER BROTHER ED BENSON, PERSISTENCE COUNTS, GENTLEMEN. HE'D BANG ON ABOUT IT ND BECAME A BIT OF A RUNNING JOKE BUT HE WAS 100% CORRECT. AND I HAD THE IMMENSE PRIVILEGE
TO WORK WITH GREAT CEOs AND ENTREPRENEURS, ENTERTAINERS, EDUCATORS AND THE DOMINANT TRUE LINE FOR ALL OF THEM, THEY'RE AMONG THE MOST PERSISTENT PEOPLE I HAVE EVER MET. PERSISTENCE IS PROBLEM SOLVING AND HAVING A SOLUTION ORIENTATION. AND DETERMINATION, AND FRANKLY, IT'S BEEN CRITICAL SUCCESS FOR ME. WHICH LEADS ME TO THINK FINAL
AND MAYBE FAVORITE TRAIT AND ONE THAT DOESN'T REGISTER, THAT IS PERSONAL ACCOUNTABILITY. THE PRACTICE OF PERSONAL ACCOUNTABILITY HAS BEEN A GAME CHANGER FOR MY CAREER AND EMPOWERING AND ENLIGHTENING AND STARTED ABOUT 20 YEARS AGO. I CAME ACROSS A BOOK CALLED THE CUBIC CURE, QUESTION BEHIND THE QUESTION, THE SIMPLE BOOK YOU'LL EVER READ AND ALL ABOUT PERSONAL ACCOUNTABILITY. NOW. WHEN I WAS GRADUATING BUSINESS CLASS AND N SOMEONE SAID DO I HAVE A BOOK FOR YOU. LET ME EX-COMPLAIN THE CONCEPT. YOU TAKE ANY PROBLEM STATEMENT AND REPHRASE IT BACK TO YOURSELF AS A REQUEST WITH A HOW OR WHAT. SO. EXAMPLE, IT IS A HARD JOB
MARKET OUT THERE. WHAT CAN I DO TO ENSURE THAT I STAND OUT IN THIS JOB MARKET? OR, HOW CAN I BE PROPERLY PREPARED FOR THIS NEXT INTERVIEW? IN FACT, IT WAS THIS CONCEPT ABOUT FIVE YEARS AGO, WHY DECIDE TO RETURN TO SCHOOL TO GET MY MBA? I WAS FEELING COME PLACE YENLT AND MAYBE STUCK AT WORK, HIGHLY UNUSUAL FOR ME. SO I ASKED THE QBQ. WHAT CAN I DO TO STIMULATE MY LEARNING AND LEADERSHIP JOURNEY BETTER PREPARING FOR FUTURE PROMOTION? THAT LED ME TO PEPPERDINE. THE PRACTICE WILL IMPROVE YOUR
LIFE, CHANGE YOUR CAREER AND HAVE POSITIVE IMPACT. NOW, THOSE ARE THE THREE STRAITS TRAITS BUT I'M IN THE BOY BUSINESS AND IN THE TOY BUSINESS WE LOVE A A GIFT WITH PURCHASE I'M GOING TO PROVIDE ONE FINAL GROUNDING TRAIT THAT HAS BEEN A BIT OF A THEME TODAY. THAT IS ONE OF PURPOSE. AT MATTEL, YOU ARE PURPOSE IS TO INSPIRE THE NEXT GENERATION TO EXPLORE THE WONDER OF CHILDHOOD AND REACH THEIR FULL POTENTIAL. THAT IS A GOOD WAY TO SPEND
YOUR DAY. AND GRAZIADIO IS ANCHORED IN THIS THE CORE VALUES OF INTEGRITY AND INNOVATION AND DEDICATED TO SHAPING BEST OF WORLD LEADERS THAT DRIVE MEANINGFUL, POSITIVE CHANGE IN HAD TIER GLOBAL ORGANIZATIONS AND COMMUNITIES AND THAT IS TERRIFIC. NOW. MY OWN CAREER PURPOSE EVOLVED
OVER THE YEARS IS NOW TOWARDS TEACHING AND MENTORSHIP AND DEVELOPING EMPATHETIC LEADERS AND I TRIED TO APPROACH THIS WITH PASSION AN PERSISTENCE AND YOU GUESSED IT. PERSONAL ACCOUNTABILITY. NOW, AS I CLOSE I'M NOT HERE ON A RECRUELTYING -- RECRUITING MISSION. WE HAVE GREAT JOBS COMING UP. HIT THE MALLEL LINK, HIT ME UP ON LINKED N.
YOU NEVER KNOW. YOUR PASSION MIGHT BE A CHOICE IN ENTERTAINMENT. THANK YOU, AGAIN FOR THIS RECOGNITION, CONGRATULATIONS. GOOD LUCK AND GO WAVES, THANK YOU. ≫ THANK YOU, STEVE ESPECIALLY FOR PAW PATROL. THANK YOU FOR FROM THE PEPPERDINE COMMUNITY AND WANT TO ACKNOWLEDGE YOUR GUESTS AND HAVE THEM STAND.
YOUR WIFE, JOE AN AND CHILDREN, HANNAH AND OWEN. WELCOME. WE'RE GLAD YOU'RE HERE TODAY. AND NOW, JOINING PRESIDENT GASH TO PRESENT THE DOCTOR OF BUSINESS DEGREE IS INTERIM DEAN, DAVID SMITH PLEASE COME TO THE PODIUM. ≫ WILL THE CANDIDATES FOR DOCTOR OF BUSINESS ADMINISTRATION DEGREE PLEASE RISE? PRESIDENT GASH THESE INDIVIDUALS HAVE FINISHED REQUIREMENTS ARE DOCTOR OF BUSINESS ADMINISTRATION DEGREE AND RECOMMENDED BY PACK CULT OF THE GRAZIADIO BIGS SCHOOL TO RECEIVE THEIR DOCTORAL DEGREES. ≫ THANK YOU, DEAN SMITH, UPON THE RECOMMENDATION OF THE FACULTY OF GRAZIADIO BUSINESS SCHOOL AND AUTHORITY VESTED IN ME BY THE BOARD OF REGENTS OF PEPPERDINE UNIVERSITY I AM PLEASED TO CONFER UPON EACH OF YOU THE DOCTORAL DEGREE IN BUSINESS ADMINISTRATION WITH RIGHTS, DUTIES AN PRIVILEGES PERTAINING THERE TO APPEAR TAINING.
CONGRATULATIONS. I WOULD LIKE TO INVITE THE FIRST ROW TO COME FORWARD TO RECEIVE YOUR DIPLOMAS AND BE HOODED BY YOUR DISSERTATION SUPERVISOR, OTHER GRADUATES PLEASE REMAIN SEATED UNTIL IT'S TIME TO APPROACH THE PLATFORM, AFTER RECEIVING DIPLOMAS YOU MAY RETURN TO YOUR SEATS. [ READING GRADUATE NAMES ]. [ READING GRADUATE NAMES ] [ READING GRADUATE NAMES ] . ≫ GOOD JOB GRADUATES. WILL CANDIDATES FOR BACCALAUREATE DEGREE PLEASE RISE.
PRESIDENT FWASH THESE INDIVIDUALS SUCCESSFULLY COMPLETED THEIR SCRIBED COURSES AND RECOMMENDED BY THE FACULTY OF THE GRAZIADIO SCHOOL OF BUSINESS FOR AWARD OF BASH LAUREATE DEGREE. ≫ THANK YOU, DEAN SMITH. UPON YOUR RECOMMENDATION, AND RECOMMENDATION OF THE FACULTY OF THE GRAZIADIO BUSINESS SCHOOL AND AUTHORITY VESTED IN ME BY THE BOARD OF REGENTS OF PEPPERDINE UNIVERSITY I'M PLEASED TO CONFER UPON YOU THE BACHELOR'S DEGREE WITH RIGHTS, DUTIES AN PRIVILEGES THERE TO, APPERTAINING. CONGRATULATIONS. FIRST ROW OF GRADUATES PLEASE COME FORWARD. GRADUATES AFTER RECEIVING YOUR DIPLOMAS YOU MAY RETURN TO YOUR SEATS.
[ READING GRADUATE NAMES ]. [ READING GRADUATE NAMES ]. [ READING GRADUATE NAMES ] [ READING GRADUATE NAMES ]. [ READING GRADUATE NAMES ].
≫ WILL CANDIDATES FOR MASTERS GRADUATE DEGREES PLEASE RISE. . ≫ PRESIDENT GASH THESE INDIVIDUALS HAVE SUCCESSFULLY COMPLETED THEIR PRESCRIBED COURSES AND RECOMMENDED BY FACULTY OF THE FWRAZ GRAZ BUSINESS SCHOOL TO RECEIVE THEIR MASTERS DEGREES. ≫ THANK YOU, DEAN SMITH. ON YOUR RECOMMENDATION AND THAT OF THE FACULTY OF THE GRAZIADIO BUSINESS SCHOOL, BY THE POWER VESTED IN ME BY PEEP PEPPERDINE BOARD OF REGENTS I'M PLEASED TO CONFER UPON EACH OF YOU A MASTER'S DEGREE, WITH ALL OF THE RIGHTS, DUTIES AND PRIVILEGES THERE TO APPERTAINING. CONGRATULATIONS.
FIRST ROW GRADUATES MAY COME FORWARD. OTHER GRADUATES MAY REMAIN SEATED UNTIL IT TIME FOR YOUR ROW TO PROCEED TO THE PLATFORM, GRADUATES AFTER RECEIVING YOUR DIPLOMA, YOU MAY RETURN TO YOUR SEATS. [ READING GRADUATE NAMES ]. [ READING GRADUATE NAMES ] [ READING GRADUATE NAMES ] [ READING GRADUATE NAMES ]. [ READING GRADUATE NAMES ] [ READING GRADUATE NAMES ] [ READING GRADUATE NAMES ] [ READING GRADUATE NAMES ] [ READING GRADUATE NAMES ] [ READING GRAD UATE NAMES ].
[ READING GRADUATE NAMES ]. [ READING GRADUATE NAMES ] [ READING GRADUATE NAMES ]. [ READING GRADUATE NAMES ] [ READING GRADUATE NAMES ]. [ READING GRADUATE NAMES ] . [ READING GRADUATE NAMES ].
[ READING GRADUATE NAMES ]. [ READING GRADUATE NAMES ] [ READING GRADUATE NAMES ]. [ READING GRADUATE NAMES ]. [ READING GRADUATE NAMES ]. [ READING GRADUATE NAMES ]. [ READING GRADUATE NAMES ].
[ READING GRADUATE NAMES ]. [ READING GRADUATE NAMES ]. [ READING GRADUATE NAMES ]. [ READING GRADUATE NAMES ]. [ READING GRADUATE NAMES ]. RAK .
[ READING GRADUATE NAMES ]. [ READING GRADUATE NAMES ]. [ READING GRADUATE NAMES ]. [ READING GRADUATE NAMES ].
[ READING GRADUATE NAMES ]. [ READING GRADUATE NAMES ]. [ READING GRADUATE NAMES ]. [ READING GRADUATE NAMES ]. [ READING GRADUATE NAMES ].
[ READING GRADUATE NAMES ]. [ READING GRADUATE NAMES ]. [ READING GRADUATE NAMES ]. [ READING GRADUATE NAMES ].
[ READING GRADUATE NAMES ]. [ READING GRADUATE NAMES ]. [ READING GRADUATE NAMES ]. [ READING GRADUATE NAMES ] [ READING GRADUATE NAMES ]. [ READING GRADUATE NAMES ]. [ READING GRADUATE NAMES ]. [ READING
GRADUATE NAMES ]. [ READING GRADUATE NAMES ]. ≫> LADIES AND GENTLEMEN, PLEASE JOIN ME IN CONGRATULATING THE NEWEST CLASS OF 2022. BECAUSE I KNOW THEY HAVE THE SUPPORT OF FAMILY AND FRIENDS WHILE THEY TRAVEL THIS JOURNEY, LET'S GIVE A GREAT BIG HAND FOR THESE WONDERFUL FOLKS. ONE MORE ROUND OF APPLAUSE FOR OUTSTANDING PROFESSORS BEHIND ME. ≫ IT'S GOING TO BE HARD TO COME
UP WITH WORDS OF ENCOURAGEMENT THAT ARE AS UP BEAT AS THE ONES OUR COMMENCEMENT SPEAKER OFFERED EARLIER, EXCELLENT JOB. TO ENCOURAGE GRADUATES, YOU CAN SIT. BY THE WAY. YOU GET TO WALK OUT IN JUST A MOMENT.
YOU'VE ENCOURAGED GRADUATES TO LOOK YOU UP. AS HAD ACADEMICALLY RUNS IT'S COURSE, MAYBE I'LL CALL YOU ABOUT A JOB AT HOT WHEELS. I WANT TO REFER BACK TO SOMETHING PROVOST BREWSTER SAID.
BUSINESS PEOPLE AND ENTREPRENEURS YOU'RE PART OF THE FIELD AND YOU'RE GOING TO BE ENCOURAGED EVERY DAY TO MAXIMIZE PROFITS AND KEEP YOUR EYE ON THE BOTTOM LINE. I KNOW PROFESSORS HERE AT GRAZIADIO SCHOOL HAVE GIVEN YOU INSIGHTS IN HOW TO DO THAT AND I HOPE YOU'RE GOING TO BE FANTASTIC AT IT BUT I HOPE THAT NOT YOU'LL BE GOOD AT. THE BUSINESS WORLD IS OFTEN FILLED WITH PEOPLE WHO CAN ONLY SEE DOLLAR SIGNS AND WHO CAN'T, OR WON'T, THINK FURTHER THAN WHAT IS IN IT FOR ME.
WE KNOW THIS WORLD HAS ENOUGH OF THE PEOPLE IN IT. AND I HOPE YOU REMEMBER TO ENCOURAGE PEOPLE TO PURSUE PROFIT ANT BUSINESS WHILE ACTING RESPONSIBLY AND ETHICALLY. AND BE MINDFUL ABOUT HOW THAT PURSUIT CAN AFFECT OTHER PEOPLE AND HOW A GAME CAN BE USED TO IMPACT COMMUNITIES AND MAKE OUR SOCIETY BETTER, THE DECISIONS YOU MAKE AND ACTIONS YOU TAKE WILL AFFECT MORE THAN JUST YOU AND YOUR BANK ACCOUNTS. WILL AFFECT YOUR EMPLOYEES AND YOUR VENDORS, EVERY PERSON TOUCHED BY PRODUCTS AND SERVICES THIS YOU PROVIDE. I HOPE YOUR APPROACH TO THESE DECISIONS WILL BE THAT OF A SERVANT HEART AS PROVOST BREWSTER SAID AND PERSONAL SUCCESS FUN AND BRAT FIING SHARING SUCCESS WITH YOUR COMMUNITIES SATISFIES YOUR SOUL AND CREATES GOOD IN THE WORLD AND HAS POWER TO ENRICH GENERATIONS. THIS IS WHAT IT MEANS TO BE A
PURPOSE DRIVEN SERVANT LEADER THAT PEPPERDINE'S MISSION IS BUILT AROUND AND THE BEST THING YOU CAN DO TO REPRESENT YOUR ALMA MATTER AND LET THAT SPIRIT GUIDE YOU IN HAD EVERYTHING THAT YOU DO. AND AS A SHOW OF GRATITUDE THIS UNIVERSITY PLEDGES TO BE YOUR HOME, A PLACE OF BELONGING FOR YOU NO MATTER WHERE YOUR LIVES AND CAREERS TAKE YOU AND SECOND BEST THING IS MAKE LEARNING A LIFE LONG MATTER AND FACULTY AND STAFF WILL BE THERE TO KNOWLEDGE, INSIGHT, AND ENCOURAGEMENT. JUST AS THEY'VE BEEN OVER YOUR YEARS AS STUDENTS. WE MAKE A PLEDGE WE'LL BE YOUR FAMILY HERE. AND NOW, AS MARSHAL ABRAHAM PARK PREPARES TO CONCLUDE OUR CEREMONY, I WOULD LIKE TO WELCOME DR. KYLE MURPHY YU, PRACTITIONER, LECTURER AND STRATEGY AND MEMBER OF THE CLASSES OF 2004 AND 2005, TO OFFER BENEDICTION, PLEASE RISE NOW AND THEN, BE SEATED FOR THE RECESSIONAL.
≫ MY FELLOW WAVES, FAMILY AND FRIENDS, PLEASE, JOIN ME IN PRAYER, HEAVENLY FATHER, I ASK FOR YOUR BLESSING UPON YOUR GRADUATES AS THEY AND THEIR FAMILIES CELEBRATE. GIVE THEM THE DIRECTION AND PERSEVERANCE TO ENTER THE NEXT PHASE OF THEIR LIVES. MAY THEY FIND COMFORT AND SUPPORT AS THEY JOURNEY THROUGH LIFE. HELP THEM STAY TRUE TO DREAMS AND USE GIFTS WISELY AND WALK WITH FAITH AND LOVE. AND WE ASK TO YOU CONTINUE TO GUIDE THEM FOR PURPOSE, SERVICE AND LEADERSHIP. AND WE APPROACH YOU IN THE NAME OF YOUR SON, JESUS CHRIST, AMEN.
GUESTS, PLEASE REMAIN SEATED AND NOW, SUMMER OF 2022 COMMENCEMENT FOR THE GRAZIADIO BUSINESS SCHOOL WILL CONCLUDE WITH A RECESSIONAL MARCH. GUESTS WE ASK YOU REMAIN IN YOUR SEATS UNTIL THE PLATFORM PARTY, FACULTY AND GRADUATES HAVE EXITED. THANK YOU FOR BEING PART OF OUR CELEBRATION TODAY, HAVE A GOOD AFTERNOON, GODS BLESS YOU. HAVE A WONDERFUL WEEKEND.
2022-08-16 03:08
Show Video
Other news