Paramore & Hayley Williams' Love-Hate Relationship with "Misery Business"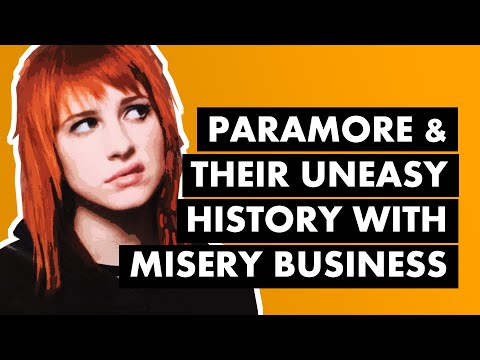 Show Video
For many, the commercial breakthrough of emo-pop of the mid-00s was all about the bombast of My Chemical Romance, the wordplay of Fall Out Boy and the theatre of Panic! At the Disco. But fifteen years later, Paramore are the band whose impact is the most visible. Singer Hayley Williams' female point of view and impressive voice proved to be much needed in the sea of dramatic boys falling apart to songs about hips and hearts. To the pity party, Paramore brought a barrage of solid-gold anthems, recalling the best of Jimmy Eat World, with choruses that, rather than bitterly commiserating, uplifted and consoled. However over the years, their biggest hit proved to be contentious. This is the story of Paramore and their Uneasy History with "Misery Business."
Paramore had a somewhat muddled inception. Sometime in 2002, singer Hayley Williams moved to Franklin, Tennessee. There, while still in her early teens, she joined up with the brothers Farro, Josh on guitar and Zak on drums, and bassist Jeremy Davis, playing alternative rock-influenced songs in the Farros' basement. "Growing up listening to pop and R&B music, and then being thrown into their world, where I'm listening to Elliott Smith and Radiohead and Deftones, I was like, 'What do I do with this? I've never tried to write music like this. [But] Zac started playing a drum beat, and all of a sudden it became this song called 'Conspiracy' that's on our first record. I just literally sat with the mic and quietly sang the words that I wrote."
Alongside this, Williams' parents were pushing her toward a solo career. Her voice honed by choir practice and singing in a Christian funk covers group with Davis, Williams would sign a solo development deal with Atlantic records in 2003. The original plan was to market her as a teenage pop starlet, similar to Avril Lavigne, an Arista triumph the year prior. While Williams had attempted to work with some Nashville professional songwriters, she knew that the songs she'd written in that basement were more substantial, miles better and what she actually wanted to be doing. And at the age of 15, that is what she fought Atlantic for. Said Atlantic A&R Steve Robinson: "She wanted to make sure that we didn't look at her as some straight to Top 40 pop princess.
She wanted to make sure that she and her band got the chance to show what they can do as a rock band writing their own songs." To assimilate in this role, Paramore were signed to Vinnie from Less Than Jake's Fueled By Ramen label, then home to the likes of Panic! At the Disco, The Academy Is… and Cute Is What We Aim For, giving the appearance of authenticity, After getting some local buzz through touring, the band released their debut, All We Know is Falling in July 2005. While still inspired by Sunny Day Real Estate, Death Cab For Cutie and Failure, on their debut the band would move musically toward their labelmates. "The guys and I didn't listen to pop punk before writing "Pressure." We listened to heavier stuff like Deftones. We wanted to be darker.
Suddenly, we wrote "Pressure," and that was it — we were gonna write emo bops! Sick! I'm psyched that happened. But suddenly the type of attention we were getting was different. I did not know how toxic that world could be." Much of this toxicity would reveal itself when Paramore joined the Vans Warped Tour, a long running punk festival that had evolved to encompass all things alternative. As such you had old-guard Epitaph bands like NOFX rubbing up against the unseasoned Fueled By Ramen stable.
And yet still, over the five years Paramore played, Williams remained one of the few women performing at the festival. On-and-off stage, she was having to shield herself from sexist remarks and flung condoms, a tour sponsor being Trojan. Further setting them apart was the group's shared devout Christianity, in tandem with a very un-punk-rock wholesomeness: polite, never swearing, and with their stimulant of choice being sugar-encrusted cereal. Even if they had the impulse to do so, on their first few Summers on Warped, none of the band were old enough to drink. NOFX's Fat Mike found them, and fellow Christians Underoath, especially easy targets for mockery, even going so far as asserting onstage to have fathered the seventeen-year-old Williams.
But due to social media platform Myspace and their flourishing online community, as the tour progressed, Paramore's crowds kept getting bigger. Despite whatever negativity they'd faced, the Warped Tour was essential to the band's growth. "It was my high school.
We learned how to connect to people from a stage. By halfway through, there were girls showing up with hair like mine." Despite their debut enduring a collective critical shrug, it sold well, and Paramore were voted Best New Band by Kerrang! Readers in 2006, beating out the much bigger Panic! At the Disco. Paramania had begun.
But with their label hoping for even bigger things with album number two, the band were feeling the pressure. In January 2007, Paramore moved to New Jersey to record with David Bendeth, of Breaking Benjamin, Red Jumpsuit Apparatus and Killswitch Engage fame. Wanting to increase the return on their investment, Atlantic pushed the band to work with outside songwriters before the album sessions. "They lived in Nashville, and they were able to get to Los Angeles and write with some different people. And, you know, every single co-write really ended up not working, because the band was so specific about what they wanted." Riot! was an evolution of their sound.
While All We Know is Falling had been often mistaken for post-hardcore, with fleeting screamo affects, Paramore's second album continued along the path that Jimmy Eat World set out on with Bleed American. Heart-on-sleeve pop songs with a bubblepunk crunch that condense the worries, questions and angst of teenagehood into a reassuring I've-been-there-too chorus. "I didn't realise my head was so cluttered. There were so many feelings that I didn't know were there. As soon as we got off the road, I sat down and things just started pouring out. Before I knew it, we had all these songs.
I don't even remember writing some of it." But that doesn't mean there aren't a few surprises, whether the agitated 6/8 beat of "That's What You Get," the caffeinated country-shuffle of "Fences" or the interpolation of Refused's "Liberation Frequency" on "Born For This." Future third single "Crushcrushcrush" with its dance-punk groove and sinister whispers was supposed to counter the super-hyped songs that deal with that first blush of teenage love, songs like Avril Lavigne's "Girlfriend." "It's meant to be the dark, obsessive side of an innocent crush. It happens, it's not always frilly and pretty and great.
Sometimes crushes are frustrating and tedious and dark and angry." This was one of the things that Williams felt marked her band out from artists like Lavigne or Kelly Clarkson. Paramore's songs had been written by an actual teenage girl rather than a committee of songwriters, so could more effectively communicate real female experiences and feelings to their audience, something that was severely lacking from rock music at the time. "People tend not to believe bands who have young girl singers because there are so many out there who are singing songs written by 42-year-old record producers.
But we're not like that. We make music that comes from the heart." And Riot!'s definitive anthem-directly-from-the heart-of-teenage-old-girl was undeniably "Misery Business." For teenagers in 2007, that snare cracked with the same impact that "Like a Rolling Stone" had back in 1965. And like Dylan's seismic single, though lyrically not about a down-on-her-luck debutante, "Misery Business" still revels in the downfall of another. The title phrase's first usage in pop culture was in the 1990 film adaptation of Stephen King's Misery, James Caan's author complaining about the vapidness of the book series that made him a household name: The working title was "Mexico" in reference to the pretty out-there decision to start the song with a short Mariachi band reworking of itself.
However that acts as the calm before the storm, because as soon as Zak Farro hits that snare it's a non-stop headrush til the end, powered by the interplay of Zak's heartstopping fills and Josh Farro's agile riff, one of the most insistent, compelling guitar-lines in emo-pop. In part the song serves as a rebuke to their critics, the Fat Mikes of the world, proving that they aren't all sweetness and light. "Okay, so we're not particularly riotous, but everyone has their dark side, right? Don't go thinking that we don't get fricking angry and curse the world every now and then, because we do." As Williams told Spin Magazine at the time, the song was inspired by a situation back when she was fourteen, featuring a girl who "...used her sexuality to reach out to a
guy I really loved. She completely destroyed him. I hated that girl. Though I'm not generally that extreme."
In the song's narrative, despite this girl's wicked ways, Williams' love triumphs over all and wins the guy in the end. It was years later that she revealed that the "guy she really loved" was Josh Farro, who by time they composed "Misery Business" Williams was secretly dating. The chorus is Williams bragging about her victory in the competition she'd made up in her head. So far so teenage. While recording the track, Williams was unsure about describing someone more open with her sexuality than herself as a "whore." "I remember at the time, she looked at me and said, 'I don't think I can sing this.
I don't think I can say this. This just isn't me,' and I said, 'Hayley, it is you and you wrote it. You have to sing it,' and she says, 'I just don't think it's right. I think morally it's wrong to call somebody that.'
I said, 'You're not. You're explaining the situation,' and she said, 'Okay, I'm going to sing it. I'm not going to like it, but I'm going to sing it.'" Little did either of them know the trouble that decision would cause. By the release of "Misery Business" and Riot!, the interband goings-on were treated by the press as a soap-opera, each instalment leapt upon with tabloid-style glee, by the British music weeklies especially. Alongside the multiple cancelled tours and the actually-true rumours of Williams and Josh Farro dating, the band endured multiple line-up upheavals: Bassist Jeremy Davis being forced out only to return a month later.
Their official line-up also collapsed from five members to four, Hunter Lamb's supplementary guitar filled in by touring guitarist and childhood friend Taylor York. The press catching word of this rotating line-up looked for someone to blame, and focused on Williams. The press had already been fixating on her, being the front-person, a more comfortable interviewee than her bandmates and, most important for their purposes, photogenic and female in a largely male-dominated genre. She graced the front of Kerrang! with Wil Francis from Aiden and the boy-who-would-be-Skrillex six months before the first cover with her actual bandmates.
It had become such a problem that Williams started sporting t-shirts with the slogan "Paramore is a band." But the music press is fickle. If there are problems in Paramore it must be her. Wrote Tom Byrant of Kerrang! about Williams exacting standards during a band photoshoot.
"Though 18 now, there's something of the little girl arranging dolls for a tea-party, something snooty, something a little bossy." At the time Williams would take to LiveJournal, arguing with the journalist's spin and what she thought was a distant relationship with the truth. Later though she would realise the double standards present in his and the other majority-male press attacks. "I find it interesting that bands we've loved who have been through lineup changes — even bands who haven't — have been honest about how much they hate each other, and you never question their loyalty. You never think, 'Oh, Thom Yorke must be the fucking Hitler of Radiohead.'
I wonder if it's simply because I'm a woman? I could have had a dick and the story wouldn't have gotten any traction." Despite the sour press, "Misery Business" would be the band's first single to chart in the UK reaching number 17. It also shot to number 26 on the Billboard Top 100.
But almost immediately there was a backlash from sections of their fanbase. Though its recent usage in Panic! At the Disco's "I Write Sins Not Tragedies" had passed unexamined, some felt the use of "whore" in 2007 was a bit too puritanical and old-testament judgey. Another more zealous part of the fanbase objected to Williams taking the Lord's name in vain in the chorus.
Williams would then agonise over her words on the band's Livejournal: "i'm ashamed to say that, although i'm a believer in Jesus Christ and i claim him as my God, when i wrote those lyrics i wasn't addressing him. i was using his name casually. in vain, to be blunt. i don't want to be held accountable for being the cause of so many people using his name in vain. believer or not, i might have led some of ya'll to believe that i take my saviour lightly.
and i don't." Being a Christian in a rock band is a tricky balance. A hint of blasphemy and you lose the faithful, become too pious and you get accused by the secular of shoving your faith down their throat. "Misery Business" and its fallout alienated members of both factions. Williams' continued alleged lyrical-blasphemy would be cited by Josh Farro as one of the reasons for his exit from the band after the release of the band's third studio album, 2009's Brand New Eyes.
"Hayley presented lyrics to us that were really negative and we didn't agree with. For example, 'the truth never set me free,' which contradicts what the Bible says in John 8:32." ("Then you will know the truth, and the truth will set you free.") "Misery Business" though remained their biggest song, their crowning achievement and the song most people knew by Paramore. The eternal final song of their setlists.
That all changed around its tenth anniversary. The Paramore of 2017 were a very different band, and Williams a very different person. A decade will do that. In the interim, Williams and Josh Farro had split, Williams started dating then married then divorced New Found Glory's Chad Gilbert. The band released three albums. The Farros left on extremely bad terms at the end of 2010 with a letter revealing the formerly underwraps "only Hayley is signed to Atlantic" revelation and their "hired gun" status.
In 2015, Davis left and sued the band for a cut of royalties, the band won a Grammy for "Ain't It Fun," and, as everyone else was doing it, Williams quit the band in secret due to nervous exhaustion. For this brief moment, Taylor York was the only remaining member of Paramore. Zak Farro returned to Paramore in 2017 in time to record the synth-funk cry-for-help After Laughter. And in these ten years, Hayley Williams had ruminated on the words of "Misery Business" a whole lot; what they meant to her and what their impact on their fanbase has been. As she posted on her Tumblr in May 2015: "'Misery Business' is not a set of lyrics that I relate to as a 26-year-old woman.
I haven't related to it in a very long time. it was quite literally a page in my diary about a singular moment I experienced as a high schooler. What I couldn't have known at the time was that I was feeding into a lie that I'd bought into, just like so many other teenagers – and many adults – before me.
The whole, 'I'm not like the other girls' thing… this 'cool girl' religion. What even is that?" In a similar way that she had imagined herself in competition with that high school girl for her crush's heart (and soul), Williams herself had always been placed in the press, by her label, even in her words, in opposition to the Avrils of the world. Just like Avril had been placed as an alternative to Britney and Christina. The music industry was fabricating this animosity for profit.
And "Misery Business" perpetuated this constructed bad blood. Young women saw themselves in the song, opposed to the "million other women just like [the target of Misery Business]." On the 9th September 2018, one of the last shows of the After Laughter tour, Williams announced on stage that they would be retiring the song. And for a long time, Paramore did not play "Misery Business." Williams even doubled-down on her stance in March 2020, when the track was placed alongside her new solo single "Simmer" into Spotify's Women in Rock playlist. "I know it's one of the band's biggest songs but it shouldn't be used to promote anything having to do with female empowerment or solidarity."
Women have existed within rock spaces since the beginning, but have always been the minority. As a teenager, Williams sought out role models, and was found wanting, there being a scant few in the emo or pop punk mainstream. But in the same way Joan Jett, Debbie Harry, Courtney Love and Gwen Stefani had served previous generations of rock-inclined women, Williams herself survived the misogyny of the press and other bands to become the de facto female rock singer of the late 2000s and beyond. However, that means that every pop-punkish band with a female singer from the last fifteen years has had the Paramore comparison forced on them by lazy journalists, no matter what the band actually sound like. That said, the exponential increase of female-musicians in guitar bands since the height of Paramore might have something to do with them, girls having their own mainstream rock idol to aspire to.
They for one kickstarted the imagination of Lindsey Jordan aka Snail Mail: "I grew up on Paramore — I saw them on the Riot tour when I was 8. And I freaked out. That's when I knew I wanted to play in a band. Until I saw Paramore, I didn't know girls were allowed in bands.
But Paramore and Williams' influence goes beyond the rock-sphere. Lil Uzi Vert got his first viral attention miming along to "Ain't It Fun" on Tiktok. Alt-pop star Chloe Moriondo on "Favorite Band" opines how, instead of being out with someone she has found lacking, she could... "be at home with my headphones and Paramore," before stating: "And Hayley just gets me/The way you never did."
And it even reached all the way to Taylor Swift, her song "Better Than Revenge" from 2010 has some obvious thematic similarities to "Misery Business" to match its pop-punk coating. Williams would later be drafted for the Avengers-style team-up video for "Bad Blood." Olivia Rodrigo's "Good 4 U" supposedly sounded so much like Paramore's problematic hit that Williams and Josh Farro eventually got writing credits on it. When Billie Eilish headlined Coachella in April 2022, she invited Williams onstage for a duet of "Misery Business," the first time in almost four years that she'd performed the song live.
Importantly, Eilish skipped over the offending word. Initially Williams had tried to persuade Eilish to sing a different song together but quickly realised "...it shouldn't be about me. People grow and learn. I'd already called myself out and done a lot of work on the misogyny I'd metabolised as a young girl. Only now that we've felt lighter about the band, it's like I don't feel defined by that song." Six months later, Paramore were back playing "Misery Business," with some asterisks.
When Paramore played Mechanics Bank Arena in Bakersfield in October 2022, Williams stated: For some "Misery Business" is still beset by problems; Williams playfully tutting when a crowd sing that line back at her isn't removing the anti-feminist themes at its core. But for some others it's still a fuckin' tune, a throwback to their adolescence, its intro an instant infusion of nostalgia. The band may retire a song, may prefer you to listen to "That's What You Get" or "Ain't It Fun" instead - but they can never stop you from enjoying "Misery Business." For better and for worse, it defined that era of emo-pop.
Thanks for watching. So what do you think? Are you still listening to Misery Business or have you retired it from your playlists? Let me know in the comments. A very special thanks to Maggie Mae Fish who did the Hayley Williams Lines. If you want quality media discussion with production value and a side of dry wit, you should definitely check out her channel. I'd also like to thank everyone that supports me on Patreon.
I could not continue the channel without you. And I'll see you in a week and a half for something a bit hardcore, but like emotional too.
2022-12-02 20:14
Show Video
Other news