Microsoft Business Applications Launch Event 2022 release wave 1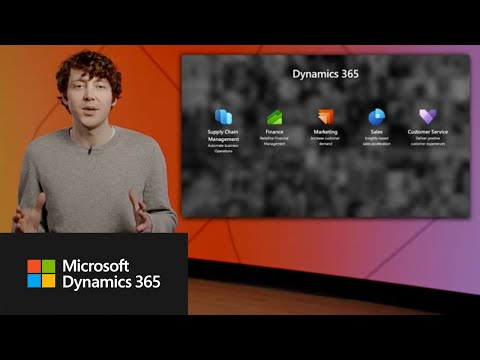 Show Video
(upbeat music) - We've been able to create a single sales journey for all prospects. And as a result, develop strategies to try and increase our conversion rates across every step of the journey. - We wanna make sure that we can predict potential issues as a early as possible.
- We're really getting the most we can out of the few developers that we have. - We leaned into transformation and it changed our entire buying process to begin with digital technology. - We now can see what we have coming from suppliers and allows us to make the best possible decisions to know that we're gonna get product out to the market when it's needed.
(upbeat music) - Hi everyone. I'm Charles Lamanna, Corporate Vice President of Business Applications & Platform. I'm excited to be here today to introduce the latest wave of Dynamics 365 & Power Platform capabilities.
We know the critical role technology plays in the success of all our organizations, the need for agility, resilience, and the ability to adapt quickly to business environments has never been greater. With the upcoming wave of innovation, we have hundreds of new capabilities that will add even more value to your organization. And we are going to give you a preview of some of the biggest features for business apps at Microsoft. And we have in ana amazing set of demos, lined up to show you how you can start getting value from these capabilities today. Before we go into demos, I wanna set some context. Companies need to innovate quickly to be resilient so they can keep their production processes going, find new ways to engage their customers and empower all of their employees.
If you look at our customers and who is using our applications within these organizations, it is amazing to see the broad spectrum of users that are benefiting from Dynamics 365 and the Power Platform. There really isn't a standard role for a business app user. It's not just people in IT, in an office or pro developers. It's everyone. Everyone from the first line worker in a store, to customer support agents, doctors, teachers, and factory workers, all the way up to the CMO, CFO or CEO. Business apps empower everyone in your organization.
This is what we are focused on at Microsoft, creating applications and experiences that add value to the role of every single person in every single organization, making their jobs easier and giving them the ability to be more productive and drive success. Now, if you look across every business in almost every industry, there is a core set of functions and needs. These range from acquiring raw materials, creating a more resilient supply chain, getting more efficiency outta manufacturers, processes, connecting employees to collaborate and delivering personalized marketing, selling and support for your products and services. Across the entire landscape of business processes, you need solutions that are designed for the specific function.
That enables a finance professional to forecast their budget more accurately, help a seller increase their close rate, or get a customer service agent the right information to deliver faster service. And when there is no finish application from Dynamics 365, the Power Platform gives everyone, citizen devs to pro devs, a low code way to quickly create custom solutions for your very specific business needs and get immediate value. We have built Dynamics 365 in the Power Platform to plug into the full power of the Microsoft Cloud. From Azure as the foundation for professional developers to Microsoft 365 as the foundation for your information workers, the Microsoft Cloud is the most complete way to empower your employees, and digitally enlighten your business. I want to share an example of a customer that brings this to life. Supply chain continuity is top of mind for every manufacturing business right now.
In Daimler Trucks, one of the largest truck manufacturers in the world is no different. Ensuring its factories are supplied with the parts needed to build trucks is critical to their success. They're using Dynamics 365 in the Microsoft Cloud to drive efficiency in their manufacturing process from sourcing parts, all the way to delivering finished trucks to their customers.
Let's take a look. (air whooshing) (upbeat music) - Daimler Truck AG, is the leading global truck manufacturing and Daimler Trucks North America, is the leading truck manufacturer in the US, with the brands, Western Star and Freightliner, and Detroit brand producing our heavy and medium duty engines for the electric truck. We have hundreds of thousands of parts, which we are sourcing from suppliers globally. Customer dealer partners are expecting a certain experience in everything, what they do with us. And we need to constantly work on improving that. And we cannot do that when we are sitting on a landscape, which is fragmented.
What I need to do is I need to use Dynamics 365 supply chain insights. This will enable me to make the process more efficient, end to end, reducing downtime, reducing parts shortages. So we are looking into the supply chain and then we know exactly, all right, is there a problem because we have a commitment to our customers for delivery of the truck. This end-to-end process optimization is not just reducing down times, but is also helping us in faster decision making. Using the data correctly, we could actually achieve a significant automation in certain processes, we have process efficiencies here and we can drive the decision making in a completely different way.
Microsoft is innovating, very rapid, and that's what I'm looking for because this is helping me to drive the company to the next level. (upbeat music) (air whooshing) - I love that story because it shows how digital technology can reach everyone, from factory workers, so they don't have work stoppages to people sourcing parts from suppliers who may be small businesses, and the trucker to ensure that they have a truck to drive. Daimler is just one example of the over 500,000 companies using Dynamics 365 and the Power Platform to drive their business forward. We are proud to have partnered with and supported global brands with our technologies through the pandemic, as well as we all get back to the new normal.
And special thanks to all of our customers that are listening in. Our customers are in the midst of a generational shift in business applications and development. And that is for three reasons.
Data, AI and collaboration. Data is ubiquitous and it's generated by every part of an organization. too often business applications that ingest that data, trap that data, and only use it for tactical reporting. Data is just an afterthought. We are unlocking data silos so that organizations can leverage all their data across every business process and where we have data, we can apply AI to make predictions and reimagine business processes with automation and by augmenting people. That last detail is so critical.
People are at the heart of each and every company and enabling deeper collaboration across everyone is existential. We need to work together all the time to solve business challenges, whether we're working on a document, spreadsheet or a presentation or using business applications to manage our sales opportunities. Marketing campaigns, customer support issues, financial forecast, or supply chain disruption. Collaboration is table stakes, and it will make our business processes all the more human. And what is fascinating, is that data AI and collaboration are all interrelated.
We need to bring people and data together, and we need to enrich both with AI. This is the future of business and a journey we are going on with our customers. And one such customer is Heineken.
They are using Dynamics 365 in the Power Platform, along with our machine learning capabilities, to understand their customers better, to innovate along with them to meet their needs. (air whooshing) (upbeat music) - Heineken wants to become the best connected brewer. And actually that's based on our history.
We have super strong connections with our consumers and we have known them for 157 years. We build our strategy, which is called Evergreen. How do we keep growing? How do we understand our consumers? Where do we invest? Where do we innovate? - You always start with your company's strategy. And then you look at digital tools. - Microsoft has a real understanding of the art of the possible, and bringing the knowledge of Heineken where we really know, what makes customers tick, what the relationship is, what the pain points are, transforming that into actionable insights for our customers to really build a bigger business. - We need sales rep for value add activities.
For example, now that owner starts a bar, is short on cash. How can the company help in a tailored way? You can talk about design. You can inform an outlet owner on pricing. The role of these sales reps are changing because of the digitization.
- AI machine learning are actually the tools of today, targeted sales activities, or next best action. Where's the most value? What should sales reps discuss? - And the data will tell us where the biggest uplift is coming from. This is a machine learning, a data decision, and then step by step in a very organized and intentional process that will create happiness of a customer. - Heineken and Microsoft together, can build something which is super powerful. Microsoft is bringing people together and we will add the flavor for that over a beer in a bar, we can create real true and emotional connections with people.
Bringing those two elements together is gonna be magic. (air whooshing) - Such a great example of how data AI, and collaboration, deliver personalized experiences for Heineken's customers. And this use of data, AI and collaboration is what we are going to show you throughout the launch event today. How global brands across industries are using Dynamics 365 in the Power Platform to be more predictive, productive and to modernize, how they work. With this, let me hand it off to Lori Lampkin to show you how we are reimagining the marketing and sales experience.
(air whooshing) - Hey, thanks, Charles. Engaging with customers in today's world is challenging, every interaction matters. Done right, positive customer experiences can lead to lasting relationships, trust and loyalty. This became so important during the pandemic, as all of our interactions became digital.
Now that we are returning to hybrid experiences, communications need to be multifaceted. They need to span everything from generating that initial spark of interest to closing a sale, to providing exceptional ongoing service and support. Every relationship and customer interaction needs to be informed and nurtured each step of the way. And our expectations for the kind of experiences we want have increased.
As people, we look for connection and meaningful interactions in our relationships, but the way we get those is much different than it was two years ago. Access to vast amounts of data and new technologies has put us as consumers in control. There is a new higher bar for the level of personalization we now expect in every interaction. We expect companies to understand our needs, empathize with us and offer us a seamless experience when interacting with different parts of the business. For the last few release waves, we've been showing you how you can use Dynamics 365 to deliver superior experiences by understanding your audience, orchestrating AI power journeys, and engaging with customers in real time. with the new capabilities launching in April wave, we're taking this to the next level.
We enable you to use your data not only to deeply understand each one of your individual customers, but also to predict their intent using new out of the box, AI models. Now you can meet their needs, perhaps even before they know it. We empower you to use your creativity, to orchestrate any experience you can dream of. Trigger journeys or measure goals from customer data changes across any Dynamics 365 customer data. Or trigger Power Automate flows directly from the journey. Now there is truly no limit to the experiences you can design to make customers feel special at every touchpoint.
We give you the flexibility to engage customers in the moments that matter when they want to engage. AI generated suggestions and prescriptive guidance helps with digital and human interactions, so you can interact when and how your customers prefer. The end goal is to delight everyone involved, who is either creating, experiencing, those next level journeys. We want you delight your employees by bringing the right people, tools, and data together into their flow of work, to improve productivity. And ultimately we want you to delight your customers with magnificent experiences that will grow your business and build lifelong fans.
So, let's see how this comes to life through the lens of our customer Investec. Look, creating great customer experiences is hard. It was hard before, and it's still hard. We want long term customers, and those customers want us to adapt to their needs. At the same time, we want to be just as nimble with our workforce as they can be happy, fulfilled and ultimately succeed. This doesn't have to be hard.
In fact, it's all possible now. Investec, provides private banking and wealth investment services for every stage of your life. Whether you're an individual, a business, or an intermediary acting for clients, Investec and its global workforce are dedicated to deepening customer relationships to meet evolving demands. But that's not just a slogan or mantra.
Leveraging the power of Microsoft, Investec has been able to not only meet customer needs, but exceed them, and the value didn't stop with their customers it extended to their own people as well. Let's jump in and look at how this works. People are craving relationships that surpass transactional interactions like opening a savings account.
With that in mind, Investec's marketing team are hosting a webinar series named Out of the Ordinary. The goal is to bring in clients to draw on the expertise of internal and external professionals to spark discussions and answer questions. With Dynamics 365 marketing, Investec's marketing Teams can orchestrate realtime customer journeys that engage customers through personalized experiences. Best of all, the marketing team's efforts are shared and enhanced by the sales and service Teams at Investec, with all disciplines sharing data on a single platform.
Everyone working together as an organization allows Investec to not only foster a community, but also enhance and expand direct relationships with prospects and clients. We will start by identifying the right group of people. The marketing team wants to target high potential clients.
Out of the box, AI models and customer insights, create segments, identifying these clients, saving a lot of time, figuring out who is best to talk to now. Based on the requirements set by the event team, that data analysts can configure an out of the box churn model to predict which customers are likely to churn. They then create a segment with a subset of these customers that are UK-based, private limited companies with a 10 to 250 million pound turnover. This event could be a great initiator to reignite the enthusiasm and partnership leading to more Investec relationships and transactions.
As the team is working on building out the campaign for the event, Investec marketing team can design and deliver content through the right channels, in the moment of interaction for personal customer journeys. The team is happy to have this single journey orchestration engine that allows for cross channel collaboration. The event requires active participation and contribution from multiple Teams, as there are many moving parts. Marketers can collaborate, right from the journey canvas, using the new embedded team's chat feature. Dynamics is a collaborative app. Having access to immediate feedback from different points of view, nurtures creativity and avoids difficulties caused by lack of transparency.
We get more work done together. As customers interact with the journey, the ones with high severity cases are automatically exited from the journey, based on real time updates to the case record, within their customer service system. That means, this stops those customers from getting drowned with content, from marketing at a time of crisis, with support. The marketing team is happy to create a simplified journey that allows them to send multiple reminders using a single tile to make sure the prospects respond to the call to the action, to register for the event. As the marketing team is working on the post registration email, that notifies the customer with event details, they can build out personalized content based on conditions, such as calling out details for specific event sessions and varying this for each client type in a single email.
Corporate members get a different experience than the rest of the recipients. It's great to see immediate feedback from the sales team, this new builtin integration to Teams chat makes the entire process transparent and efficient. We can be one unified Investec to our customers.
Focusing back on the journey, once a prospect is registered for the event, the marketing team wants to automatically hand off the list of registered participants to a third party vendor to send out merchandise. This vendor will send out personalized zebies, these small zebra toys that represent Investec, journey orchestration just hooks this up via the new direct link through Power Automate. This direct link makes it very easy for the marketers to take advantage of the integration points directly from the journey. It really helps to break down silos between every customer touchpoint. Through the out of the ordinary webinar, the marketing team has generated many prospects for the sales organization.
Let's see how the sales team has made progress with one of them. Over to you, Ryan. - Thanks Lori. As Matt, the relationship manager at Investec, I take pride in providing results for my customers, by making connections that are unique and personal to them. A big part of that is being dependent on effective collaboration with the right teammates and easy access to relevant information while I'm engaging with them.
It's nice not to feel alone throughout the process. Dynamics 365 sales, allows me to have everything I need in one place. Key details about my client, any follow up activities that need immediate attention. AI suggestions to focus on the highest priorities, with the best propensity to close, as well as easy access to additional teammates via their Teams chat.
I start my everyday routine by going through my prioritized work list. So I can focus on the most urgent and active prospects and opportunities. I just got a real time notification letting me know, that one of my key stakeholders from my manufacturing client has just responded to the email regarding the recent webinar. They've been identified as a warm prospect. This manufacturing client was a great candidate for the event.
They've made some significant contributions to our past event. They fit the profile of the customer we're targeting for, and recently, they haven't been responding to my direct calls and emails. So this is great news.
As this allows me to have something to connect about in our recent engagement, which just took place. Working capital and treasury sales product has been recommended, based on the predictive models that run in the background. As they've been engaging with content shared to them via the webinar. Based on their interests, my newly developed prescriptive guidance suggests that I schedule a meeting to pitch the product to them. I love that I didn't have to spend hours researching and feel confident, qualifying them to an opportunity. As I'm working towards closing this opportunity and gearing up for the upcoming presentation.
I understand the value of having the right team members involved to help influence a deal based on their own personal relationships and past deal experience. I'm excited to build my A team, by taking advantage of AI suggestions from exchange. I can now start a group Teams chat with the recommended team members to get a better understanding of the client, so we create a valuable presentation. We were able to successfully gather the important files and key talking points needed for this upcoming presentation. Now it's time for the pitch meeting, my team and I feel well prepared.
As we engage in this Teams meeting. The most important thing for me as a seller is to have everything I need in one place. As our clients join the call, I can immediately see key details about the opportunity.
As I'm presenting, intelligence embedded within Teams, take care of documenting the call transcription, any follow up activities while analyzing the sentiment expressed during the meeting. This way, I can focus on the presentation and actively engage in the conversation without worrying about missing out on anything. The meeting went well, with a lot of insightful conversations and well defined next steps.
My team is happy with the results. We can analyze the meeting details post call to finalize our next steps. We have the entire call script along with a call highlights and summary, that we can look through, as we plan out our next steps. I enjoy the ease of collaboration with my team.
As we discuss the call details and assign our follow up activities. As I'm getting ready to pack up for the day, I receive an incoming call from our main contact we've been working with at the manufacturing client. He mentions that they feel well taken care of by our team. Having all their questions answered, concerns converted to follow up activities as well as the learnings and networking provided to them from the out of the ordinary webinar, they are satisfied with our partnership and happy to move on to the next stage with us. My team and I are overjoyed by the results, as this has been a massive group effort. With the power to easily collaborate across Teams and platforms via a Microsoft customer experience Platform, our productivity, as well as our morale has improved tremendously.
With that being said, thank you, and back to you, Lori. - Thanks, Ryan. You just saw what we are doing across Dynamics 365 to Transform end to end customer experiences. But this is just a small piece of what we are delivering with the April wave.
We have hundreds of new features coming across Dynamics 365 apps, beyond what you just saw. I'd like to hand over to Jeff and Tom who will continue to show us how we can improve customer experiences this time through the lens of customer service. (air whooshing) - Thank you, Lori.
As we just heard, customer expectations continue to increase and with more choices than ever before, even one bad customer service experience, can drive a customer to switch brands. That's why transforming the contact center to enable the delivery of consistent, personalized and predictive experiences over all channels of engagement has never been more critical. To help our customers accelerate their ability to exceed those rising expectations, you'll see, we're continuing to enhance our all in one digital contact center solution that is data driven and AI infused, with Dynamics 365 Customer Service. As individual companies, both Microsoft and Nuance have invested heavily, in enhancing the contact center experience. And we're incredibly excited to now be one organization, together, delivering on our shared vision to transform contact centers across industries. Nuance has a proven track record of delivering powerful AI driven contact center solutions that are deployed worldwide spanning industries.
In fact, 85% of the Fortune 100, including companies like Best Buy, JPMorgan Chase and Humana use Nuance's best of breed, conversational AI and security AI capabilities to support more efficient customer experiences and accelerate business outcomes. Nuance's intent recognition delivers accuracy of 90% driving higher levels of self-service resolution as well as lower handle times. With over 600 million biometric prints enrolled, and more than eight billion transactions processed every year, we're able to deliver a 99% biometric authentication success rate. In other words, we can tell who you are by your voice alone, which not only streamlines that common step for customers, but also frees up agents to focus on delivering outstanding service.
And with 90% and higher detection of attempted fraud, we are able to prevent more than two billion in fraud losses every year. As we look at the areas of innovation for Dynamics 365 Customer Service for the April wave, you'll see we're already hard at work, ensuring Nuance capabilities, work seamlessly, with our all in one digital contact center. This brings a fully integrated end-to-end solution, that includes all channels of engagement, case management, agent desktop, and much more, together with nuances market leading AI and all delivered on the Microsoft Cloud. And we're also excited to be releasing a whole host of other capabilities, focused on the areas of enhanced productivity, collaboration and service optimization.
To see some of these capabilities in action, I'll turn it over to Tom, to show them off through the lens of one of our customers, HP. Tom. - Thank you Jeff.
HP's vision is to create to technology that makes life better for everyone, everywhere. Every person, every organization, and every community around the globe. HP and Microsoft are alliances partners, and we embrace using leading technologies to improve the customer experience.
Let's take a look at some of the capabilities releasing in the April wave, through the lens of HP, and how consumer, support agent, and internal experts all benefit. Let's look at Tim, an HP customer. Tim runs a local bakery and purchased an HP desk jet printer almost three months ago for printing menus and signage, and has a trial of HP Instant Ink. Recently, Tim noticed that he's printing more than what his trial comes with, since his trial offer is almost up, he wants to increase his monthly plan to 300 pages. While Tim could purchase this on the website, he prefers using voice. So he calls HP and is connected to a virtual agent.
Let's see it in action. - [Virtual Agent] Hi Tim. I am your virtual support agent. Thank you for calling HP support today. Are you calling about your HP DeskJet 2755e printer? - Yes, I am.
- [Virtual Agent] I'm happy to help, what do you need? - I'd like to upgrade my plan to 300 pages. - [Virtual Agent] We've authenticated you through your voice. Please confirm that you would like to activate an Instant Ink subscription, for 300 pages. - Confirmed. - [Virtual Agent] Thank you. I have updated your subscription.
Your confirmation number will be sent to you via email. Can I help you with anything else? - Actually, yes. I'd like to chat with someone about extending my warranty options. - [Virtual Agent] Great, I'm happy to help you.
Let me transfer you to an HP agent who can help you with this request. - If we take a pause for a second, let's think about the conversation, that just happened. It was drew driven by an AI powered virtual agent with predictive intent, that knows what the customer is calling about. Seamless authentication, combined with biometric fraud detection makes the interaction frictionless for the customer and also secure.
All of this is available on every channel and is powered by Nuance with brand new integrations to Dynamics 365. Let's get back to our customer, Tim. Based on his request for help with the warranty unified routing, connects Tim with the best available agent, Kristin.
Kristin is a tier one support agent at HP who can handle warranty extensions. through Nuance capabilities, Tim's intent, language, and even the fact that he previously gave Kristin a high satisfaction rating in another call, all result in this being a deliberate match. Kristin uses the inbox view in Dynamics 365 Customer Service to manage her work effectively every day. This experience allows her to focus on cases in the best order, and provides her all she needs to know, including customer details, knowledge articles, agent scripts, and more.
When the call comes in from Tim, she accepts it and is connected. With Dynamics 365 Customer Service and Nuance working together, Kristin is better armed than ever before with relevant insights about the conversation. The customer journey across all previous channels of engagement, are there for Kristin to see. Nuance's natural language understanding can pick out and highlight any issues it thinks that Kristin should know about.
In this case, Kristin simply sees a green light indicating nothing out of the ordinary. She can also see that Tim has already been authenticated by the IVR, and can skip manual verification. Based on the conversation so far, smart assist, proactively offers suggestions to Kristin, putting answers right at her fingertips. After some conversation, Tim has now asked a very particular question about warranty transfers, and Kristin needs to pull in a warranty technical expert to provide some quick input. As a key part of our all-in-one contact center solution, Kristin can access real time collaboration capabilities, right from the same experience she's using with a single click. Brand new embedded Team's collaboration in Dynamics 365 Customer Service, helps unlock the knowledge from across the organization to provide next level customer service for Tim.
Kristin can use this collaboration interface to quickly find available technical experts to help. These experts are recommended by AI, based on various factors, such as having closed similar previous cases. New AI capabilities automatically summarize the conversation into an easy to understand outline. This takes an unstructured conversation and puts it a into a structured format, saving everyone time.
If needed, Kristin can make changes to the summary as she sees fit. The expert quickly gets up to speed via the conversation summary and works together with Kristin to answer the question. Kristin can relay that answer easily since it's in the same agent experience. Tim is happy with the quick help and the fact that he didn't have to wait for follow up and the call is resolved. Our all in one contact center solution provides exactly their right capabilities to help customers quickly. As Kristin finishes the prior call with Tim, she turns back to her inbox and picks up the next case.
Here, the customer is asking about HP's toner cartridge recycling program, and if they can recycle a very specialized cartridge. This question is nuanced and Kristin needs help from a few individuals. Collaboration in an organization has different modes and isn't one size fits all. In the April wave, we're also introducing brand new customer support swarming, which allows agents to bring in skilled experts from across the organization in an automated and efficient way, right in the context of each case. In this case, Kristin can start a swarm with a single click. This allows her to create a quick summary of the issue and the system suggests potential skills that would be helpful.
The best people from across the organization are matched, according to the skills identified and a notification sent to them, requesting their help. When the experts agree to join they're automatically brought together. The swarming experience provides a unique, contextual and dedicated environment for the team to work in. This is a full collaborative experience, including the ability to share files, images, videos, and more. This makes it an extremely efficient way to work together, and they can resolve the issue collaboratively. We're bringing together the know-how from across the organization to solve the most complex cases, and provide the best customer experience with our all in one contact center solution.
What we just saw was the perspective of Kristin, the agent, working in Dynamics 365 Customer Service and experiencing swarming. Let's look at the point of view of someone collaborating with the agent and swarming is equally as seamless for them. As an expert, I spend my time working within Teams all day.
When a request comes in for my expertise, I'm able to accept it and join the swarm immediately, without leaving Teams. I've got access to the same rich information that the agent sees, such as the case details and the customer insights. This allows me to have all the information I need and provide my best input to the team. Customer service is a team sport and swarming allows us to solve our customers complex issues as quickly and effectively as possible.
Through the lens of HP, we saw how new capabilities in the April wave, makes customer service, a team sport with everyone working together to provide fantastic customer experiences. Thank you, and Jeff, back to you. - Thank you, Tom. Everything you saw in that demo was delivered entirely through Microsoft capabilities.
You saw how we're bringing together Nuance and Dynamics to allow organizations to deliver even more personalized and predictive service. Nuance's voice authentication means that we can seamlessly recognize customers from their voice alone. And the advanced conversational AI makes for natural and intuitive self-service experiences. We saw how seamless it was for the customer to transition from self-service to assisted service with their intent and all the relevant context flowing to find the best skilled agent for the customer. And delivering great customer service is a team sport.
So collaboration is another core theme that you saw in the demo. With embedded Teams collaboration and swarming, agents can go outside the boundaries of the contact center to find the right expertise in the organization to resolve issues, quickly. And a AI is infused throughout. Recommending the right experts and providing them automatic conversation summaries so they can get up to speed quickly. And best of all, collaborators can stay in Microsoft Teams and see all the relevant data they need to help the customer.
You saw a few other new features from our April release, and there are a lot more coming that enhance the all in one solution. Helping our customers unlock the contact center of the future. Thank you, and now over to Ray.
(air whooshing) - Thanks Jeff. Supply chains are the nervous system of many organizations. They are complex, rely heavily on a constant flow of accurate and timely information, And they span the breadth of how we design, plan, produce, fulfill, ship, and operate our products. Historically though, supply chains have been seen as call centers, made up of manual steps within legacy systems, that are siloed, rigid, and costly to maintain. Most organizations have struggled to justify a digital transformation in this area with a, 'if it ain't broken, why fix it?' thought process.
In the last two years, however, the world has been exposed to the fragility of our supply chains. It has fundamentally transformed how the market views them. As issues arise and blockages occur, businesses recognize the need for end-to-end visibility, and the ability to adapt across these siloed systems. What's more? They're realizing that supply chains can be a big differentiator, driving top line growth and enabling them to build a better brand. At their very core, supply chains are a data problem. Customers need to unlock data and insights from multiple sources and then orchestrate, automate, anticipate and react better, across the full network of their suppliers.
This is a tectonic shift across the entire supply chain network. It's clear to Microsoft that our customers simply don't have the time to go on a full transformation journey. They need a composable approach to solve these immediate challenges. So to support you, our customers, we've created Dynamics 365 Supply Chain Management. This is not a rip and replace solution.
Instead, it's a solution designed to surround your existing investments in ERP and legacy solutions. Whether you're using our own Dynamics 365 ERP, or something third party, Dynamics 365 Supply Chain Management works effortlessly alongside it. It's incredibly easy to adopt and means you can immediately unlock capabilities and insights and quickly overcome challenges. The capabilities are turnkey and can be introduced individually or in tandem. The key to success of Dynamics 365 Supply Chain Management, is our extensible platform. Every capability in Dynamic 365 supply Chain Management is underpinned by a common data model.
We also place a great emphasis on AI and analytics. Furthermore, where Teams embedded directly in the workflow, internals and stakeholders can easily communicate with each other, in the moment of impact. This is the supply chain solution that the market is demanding right now. We're also focusing on key partnerships that extend our offering. So, I'm excited to share with you today, an incredible example of this, our partnership with FedEx.
FedEx and Microsoft share a vision for re imagining commerce experiences for businesses. So they can offer their consumers more integrated ways to shop and faster, more efficient deliveries across the globe. Together, FedEx and Microsoft are using AI and machine learning to extrapolate new insights from the 17 million packages that pass through the FedEx network, each day.
Ultimately to help brands deliver more improved customer experiences. Today, Lydia is going to show an example of our most recent supply chain management investments, including this exciting FedEx integration through the lens of our customer FOCO. Over to you Lydia. (air whooshing) - Thanks Ray. Before the global pandemic, did you ever give any thought to supply chain? When you ordered a product, did you think, "Hmm, it says it'll be here in March, but maybe it won't actually arrive until August."
Or maybe it won't turn up at all. The fact they we're even thinking about supply chain, demonstrates how much of a global problem it has become, in the past two years. Supply chain used to be something that just existed in the background. The customers had no awareness of, something we took for granted, not anymore.
COVID 19, and the ongoing impacts on supply chain are massive. Not only are businesses having to deal with a complete shutdown of factories, producing parts, they're also facing major shipping issues, new federal regulations, losing large portions of their workforce. And for the first time, customers who are hyper aware of these challenges and now expect an accurate prediction of exactly what day and time a product will arrive in order to place that order. What would a world look like where all of these problems went away? Today, I'm going to share with you a really wonderful success story. FOCO is an incredibly successful retailer and manufacturer of sports and entertainment merchandise.
For 20 years, they've held relationships with over 700 sports and entertainment brands. On their site, you'll find products from the NFL, the NBA, 60 different English football clubs, Disney, DC Comics. The list goes on. We're going to see how FOCO is not only overcoming supply chain problems, but actually taking the opportunity to turn supply chain, from a cost center into a way to differentiate and deliver an awesome reliable customer experience.
Let's see how this works. I'm FOCO's merchandise buyer, today, I'm placing a rather large order of hats from my manufacturer. These will ultimately be sold to consumers all over the country. One of my top priorities in this time is to make sure that this order is completed on time to meet predicted demand.
There are a whole host of factors that can impact when this order arrives at my warehouse, weather patterns, issues at port, part availability. Historically, I had no concrete way to predict or track any potential issues without a large amount of effort on my part. Now, with supply chain insights, this is far easier.
It was incredibly easy to get this connected to my existing ERP solutions without needing to replace them. And I can now easily understand exactly when an order is expected to make it to my warehouse. At the first sign of trouble, AI detects an anomaly and lets me know that there will be a four week delay in shipment of the order from my manufacturer to me. This is going to cause a serious delay and means products will not be available to ship to customers. I immediately explore alternative options and choose the suggestion to select a different manufacturer from my list of approved manufacturers. This means the orders will be produced on time and we can still meet customer demand.
The decision to switch from one manufacturer to another, isn't a small one. Usually this collaboration and plan adjustment happens in a mess of different places. Over email, in Word documents on memos, not ideal.
Instead using embedded Teams, collaboration capabilities, we can all work from the same hub. We can communicate with the new manufacturer and easily share required information in one place. Get agreement and make sure that these products are delivered to our warehouse in time to meet my delivery deadlines. We're back on track. Fast forward, six weeks and potential disaster avoided the products have arrived at my distribution center. Businesses like FOCO, sell through a multitude of channels.
And here our order manager can see a centralized view of all of the orders. For our order manager, insights are crucial to ensure we can meet the delivery commitment we made to the customer. Where inventory and orders are typically tracked in separate solutions, using intelligent order management, we can see a clear combined view, that helps us to understand exactly where inventory is, and where it needs to go. We take that even further, thanks to the newly released Microsoft FedEx integration.
This gives FOCO access to a whole host of capabilities. They could offer two day delivery with FedEx, have access to live information about the capacity across their fleets and intelligent delivery dates are instantly calculated using AI from FedEx. With this clear understanding of when an order must be delivered by and the most cost and time effective way to deliver each order. We can confirm delivery choices for all orders confidently shut an order progress update with every consumer via text or their preferred channel, and get them on the road.
With our orders delivered on time, it's time for consumers to try the products. It's not uncommon for customers to purchase multiple items and then keep the one they love the most. Providing a seamless returns experience is a crucial part of delivering an amazing brand experience. FOCO used the new order management returns app, which plugs into their existing eCommerce solution. It provides consumers with a really simple guided self returns experience. The experience captures just enough information to drive the business process and coordinate a refund or exchange, requiring minimum effort from the consumer.
They head to a drop off location of their choice, present a simple QR code, drop off their items without the need to box them up. And the return is complete. This is such a simple and positive experience for the consumer.
The final step for FOCO is very simple. Multiple unbox returns from multiple drop off locations are tracked, and FOCO can coordinate a simple consolidated return to the warehouse. Furthermore, FOCO has access to clear insights to let them know how efficient their operations are throughout the delivery and returns process so that they can identify ways to work more effectively. We've seen today, how FOCO is able to triumph in times of great supply chain challenge. They're able to transform their end to end journey using Dynamics 365 Supply Chain Management alongside their existing ERP deployments.
They can predict delays, effortlessly deploy a plan that avoids or minimizes those delays, and then coordinate an on time, cost effective delivery to the consumer. And importantly, the consumers have the visibility and understanding that they're craving. In times when consumers are struggling with their relationships with brands, they can be confident that FOCO is a retailer that they can rely on.
This was all made possible, thanks to Dynamics 365. Back to you Ray. (air whooshing) - Thanks Lydia. It's so exciting to share the incredible investments we're making in supply chain and especially around intelligent order management. in a time when our customers are calling for turnkey solutions, that transform the supply chain experience, it's an absolute game changer.
And with that, I'll hand over to Charles. (air whooshing) - Thanks Ray. One of the areas that I'm really excited about is how we're working to bring people together with the physical and digital world. This is the next frontier of business process transformation.
If you look at what we have done with digital automation and digital applications on a PC or a mobile device, we are just bringing that same level of innovation to physical spaces. The ability to connect the physical and digital opens up new ways for companies to optimize how they lay out their factories, provide assistance to their field service workers in every corner of the planet and use insights from product usage to enable subscription-based billing models. All ultimately enabling better experiences for their customers and employees. The next scenario we are going to show you is from Marks & Spencer, a leading international retailer based in the UK, who is using Connected Spaces to understand traffic and customer behavior within its stores to design the most effective displays, minimize queuing, and ensure the right staffing levels. And as they are looking for customer patterns through cameras and computer vision, they are doing it with the privacy and security of their customers at the forefront.
This is a core design element of Connected Spaces. Video feeds from cameras are processed locally in the store with no personally identifiable information tracked or stored. Let me hand it over to Alissa, to see how it works. (air whooshing) - Thanks Charles, picture this. In this very moment, millions of people across the globe are shopping online. They're heading to a website and it's easy.
They're presented with an optimized experience featuring top products and offers where they're most likely to look. And there's never a queue. Now, compare that to most physical store locations you've walked into. How often did the retailer adapt and adjust to the customers in the store? Say by opening more checkout queues, optimizing the design of the store or sending someone to help you exactly when you needed it.
I would bet, less frequently than you'd like, right? But why? Well, it's simple. Unlike with the online experience, the retailer simply does not have a scalable way to understand the in-store customer behavior that can drive these types of optimized customer experiences. But it's 2022, isn't it time we fix that? Marks & Spencer thought so.
As a forward looking, successful British retailer, with 15,000 stores globally, they wanted to do exactly that. They began partnering with Microsoft as we developed our Dynamics 365 Connected Spaces solution. Over the years, they've not just used, but also pushed the solution to the next level. Let's take a look at what they've achieved. Marks & Spencer wanted to know, peak visiting hours, check out queue length and time in the queue.
Customer engagement with displays and promotions and how well those displays are performing. With Connected Spaces, they have answers to every single one of those questions and they can use that information to deliver a great in-store customer experience. So how does it work? Connected Spaces has been built from the ground up with customer privacy, security and convenience at the heart. Let's start with convenience. Connected Spaces uses the cameras Marks & Spencer already has.
There is no need for expensive, new or specialized cameras. It's just a matter of connecting their existing cameras to an Azure Stack Edge gateway, and they're ready to go. It's very, very simple.
With the stores cameras connected, we then choose one of the built-in skills. Each skill will help Marks & Spencer understand a specific type of in-store behavior. They follow a simple step by high step configuration wizard. This part of the process is fast and easy. So Marks & Spencer will be generating insights in no time. Next, let's talk about customer privacy.
This is arguably Marks & Spencer's top priority. for both Marks & Spencer and Microsoft, respecting the anonymity of their customers is an absolute non-negotiable. With the skill set up, Connected Spaces uses vision AI, to process and analyze the in-store video streams.
The customer interactions captured on the in-store cameras are processed on the Edge, meaning their process locally in the store. Vision AI recognizes the difference between people and other objects in the video feed. And importantly, it has no need to store the video feeds.
No footage of customers ever needs to leave the store. Connected Spaces simply analyzes the video streams, creates anonymous insights and shares those with store managers, who can review them wherever, and whenever they want. Marks & Spencer can be confident that their customer privacy is deeply respected. Let's see the rich analytics we've now unlocked. First, store managers know exactly what's happening with customer traffic. They have access to concrete insights that help them with their staff and labor planning.
When is there the most football? When are the queues the longest? When should we open more or less registers? When is the best time to assign restocking tasks that may otherwise impact the customer experience in high traffic areas? Shifts and staffing can now be planned according to real data and real patterns in the store, rather than guesswork or worse and reaction to a bad customer feedback or long queues. As a customer walks into the store, Marks & Spencer have anticipated how to staff the store, to help provide customers an optimized shopping experience. Additionally, store and engagement managers can immediately see the impact of advertisements and other marketing campaigns on the number of customers visiting that area of the store, or on the performance of certain products. Is that wine of the month promotion really driving more people to the wine area? What actions do or don't have an impact? Thanks to their efforts, Marks & Spencer have bridged the data they have from the digital and physical worlds. Combining the behavioral data generated through Connected Spaces and the digital data, from the point of sales, advertisement and marketing systems, they've been able to gain a true understanding of the effectiveness of their campaigns. This helps them understand, what customers are excited about, what they wanna see more of, how to optimize advertising spend.
How to optimize store placement and ultimately improve ROI. What's more? Is thanks to Power BI and Microsoft Teams, this information is always available at the fingertips of the store and engagement managers. These insights ensure they're focusing their intention, where it counts, on what their customers want. We've seen how Marks & Spencer can accurately predict the needs of their customer, but despite the best insights, practices and planning, there will always be those exceptional days where queues or foot traffic doesn't go as expected.
On those surprisingly busy days, Connected Spaces acts as the store manager's loyal assistant, coming to the rescue at their time of need by monitoring conditions like queue length or time at a display. Connected Spaces can trigger immediate actions and notifications. The integration with Power Platform and Power Automate, ensures Marks & Spencer has the flexibility, to automate the most important actions to support them in the moment, when it counts. This could be a simple team's notification to the store manager, when a certain queue length has been reached. Or it could be a more advanced process like leveraging staffing and expertise information held in Teams and automatically notifying and dispatching a wine specialist to the wine area where customers are spending more time there than usual, and could use assistance. All together, Connected Spaces gives Marks & Spencer the opportunity to anticipate customer needs, making in-store shopping feel easy, fast, and considered just like online.
Back to you, Charles. (air whooshing) - Thanks Alissa. Alongside the finished Dynamics 365 applications, the Power Platform provides the world's leading low code platform.
You can quickly build solutions when there is no app for that. Microsoft Power Platform includes Power BI for data reporting and analytics. Power Apps for creating web and mobile applications.
Power Automate for workflow and RPA, and Power Virtual Agents for conversational experiences. And because it is low code, the Power Platform empowers everybody in the organization, to be a developer. Your whole company can now participate in creating digital solutions.
And one of my favorite examples is Lauren Taylor, who is the principal at Manitou Park Elementary, part of the Tacoma School District right here in Washington. Lauren found and taught herself how to use Power Apps and built an app to improve the reading assessment process for students and educators. This app is now being used across the entire school system. Lauren is also using Power Automate to automate manual processes, giving her and her teachers more time to spend with her students, let's hear from her.
(air whooshing) (upbeat music) - My name's Lauren Taylor. I am the principal at Manitou Park Elementary. Last year, I was the assistant principal.
And during that time, I came across Power Apps. For the very first app that I created was our reading app. That's really what sparked kind of, of the ingenuity and realizing, okay, I can use this for lots of different systems.
(upbeat music) With COVID, this school year is one like no other. Teachers needed to submit their schedules for working in the building. And so that we could all follow health department guidelines. And so one suggest that we were given was a Word document that teachers fill out, and then they would email to the principal.
I saw so many emails in my inbox, it almost terrified me. I was looking on the Office 365 homepage and I clicked on Power Automate. And I thought, oh, this automates things. Creating the approval flow in Power Automate has saved us time. Success for us is, even in a pandemic, starting with remote learning, our babies are gonna learn. There's going to be student growth.
The principle role, it's kind of a catchall, anything that needs to be done, you get in there and you do it. I'm often asked, "Do you consider yourself a developer?" And I always say, no, I'm an educator. However, I am developing apps, I'll leave it at that. (laughing) (air whooshing) - Such a great story that shows how everyone can use the Power Platform to have an immediate impact. Now, Ryan, Steven, and Will are going to show us what's new in the Power platform.
(air whooshing) - Thank you, Charles. Today, we're gonna talk about Hearing Australia. This is an organization that is the largest provider of government funded hearing services in the entire country. And they have a specialty focused on Aboriginal communities and early childhood interventions, where unfortunately, children are at a particularly high incidence of risk for early childhood hearing loss and disease.
But early intervention makes all the difference. Being able to work with the child early on detect and treat can make a massive difference in long term outcomes and quality of life for this really critical population. And the challenge here is being able to do it at scale.
147 locations across Australia, individual communities that have very specific needs and cultural norms to be sensitive to, a massive force of audiologists, many of them volunteers. A huge, huge challenge when it comes to logistics and information management, or at least it was, until Jacqui Peck, who herself, trained audiologist with a lot of experience working on that front line, found Power Platform. and Jacqui, first on her own, and then working together with the IT team at Hearing Australia, was able to use Power Platform to completely transform this business process and experience and really start to improve how much time frontline audiologists are able to spend with patients. Let's take a look at how they did it. Now, the first and most important part of this experience is the audiologist themselves working in the field and getting ready to go visit a new community.
Getting all the background information, who am I gonna go visit? What do I need to be aware of? Where do I need to go? What do I need to be sensitive to while I'm there? That used to be an incredibly difficult pile of information to impart to every single person in this vast network. Think about phone calls and manual research, or just winging it on your own. But now today, all of that is packed into a modern and beautiful Power App. And in fact, with the capability that's now available in this Release Wave, to wrap a Power App as if it were any other native mobile app, this experience feels consumer great.
It's just like I'm interacting with any other app on my phone. I pop it up from my home screen here, tells me exactly where I need to go, what I need to be aware of, what I need to be thinking about all of that, very scannable with my thumb, as I'm getting ready to really cuts down on the time spent in pre-work. And so, I can spend a lot more time with patients. Now, of course, all of that is possible because of a lot going on in the background and particularly a lot of the innovation that Jacqui and her team have brought to the back office experience with Power Apps as well.
What looking at here is a modern Po
2022-06-03 14:50
Show Video
Other news