Mein "Finnair" Business Class Flug von Montreal nach München | Miles & Marcel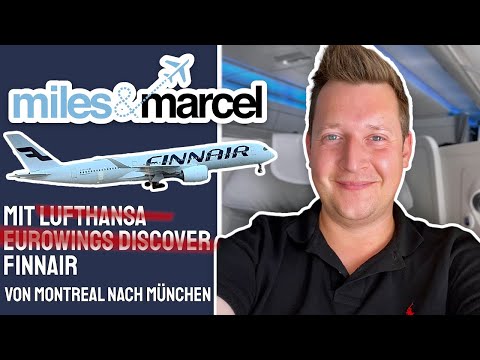 Show Video
Hello and welcome to a new video by Miles & Marcel. I'm sitting here in Air Canada's Maple Leaf Lounge in Montreal and today I'm going to Munich with Finnair on the A350-900. And it was a difficult journey, I will tell you more about that in a moment and of course also show you how it is here in the lounge and then of course the exciting thing: How is the flight with Finnair in business class? Have fun with the new video. Actually, this video should have started with an Air Canada Rouge feeder flight from Quebec to Montreal. However, Air Canada Rouge decided to cancel this feeder flight to Montreal and not offer another one for that day.
So I had no choice but to take the bus and taxi to catch my connecting flight to Munich. [Music] It really wasn't a pleasant journey because I almost didn't get a ticket for the bus and had to stay in Quebec for another day. Fortunately, the First Class check-in counter at the airport was already open, which I can use as a Lufthansa Senator or Star Alliance Gold member. At least now the first might be surprised. Why does he check in with Lufthansa when he flies with Finnair? It happened like this: I booked the flight with Lufthansa, outward flight with Air Canada, the video is already online and the return flight with Lufthansa. Some time before the return flight, the information came that the flight was now taken over by Eurowings Discover . That wasn't so bad now, because I'm still missing a long-haul flight with Eurowings Discover on my channel, but then a short time later I received further information that the flight is now being operated by Finnair . So a Lufthansa flight, operated by Eurowings Discover, operated by Finnair.
Lufthansa cannot handle the large number of passengers with the current staff and therefore has a limited cooperation with Finnair, which currently has a lot of free capacity, as thousands of Asia flights are not taking place. This is how this unique constellation came about. In the meantime, I had arrived at Air Canada's Maple Leaf Lounge, which is open to all Business Class passengers and status customers.
For example, as a Star Alliance Gold member you also have free access here, provided you can show a Star Alliance flight on the same day. The lounge was quite crowded and offers a good selection of food and drinks. I particularly liked the fact that you could choose from a variety of hot dishes , which were then freshly prepared after you ordered them. I tried almost the entire product range once and everything tasted very good. The large windows, which allow a clear view of the runway, are also very nice and so I was able to see that the Finnair plane arrived in Montreal with a little delay.
Unfortunately, there was a bus gate, but we'll get to that in a moment. It was time to say goodbye to the lounge and Canada, and it was a short walk to the gate. Unfortunately, there were no uniform rules for queuing there and there was a little chaos when the various boarding groups were called one after the other, because many Business Class or status customers had to make their way through the masses from the very back . The special thing about the airport in Montreal is that although you will be taken to the plane by bus at a bus gate as usual, this bus has a lifting function and can move several meters upwards. This makes it possible to board the bus without climbing stairs, which then lowers the entire cabin and drives like a normal bus to the aircraft, where the entire cabin goes up again and then the guests can board the aircraft again without climbing stairs. A great solution, especially for people with physical disabilities. But if you stand on the wrong side when getting off, you can stand there for a very long time and wait until you can get out.
How was that again with priority boarding for business class customers? I praise myself, for example, Swiss, who provide a separate bus for Business Class passengers and give you the feeling of preferential treatment that you buy for a lot of money. And with that, a warm welcome to Finnair's A350-900. My first impression of the cabin was very positive, the blue light is reminiscent of the Smurfs, but is calming and very pleasant for the eyes, especially at night. Seats are arranged in a 1-2-1 configuration, giving everyone clear aisle access. This seat looked very familiar to me, it is also used in many other aircraft . A small bag can be stowed under the footrest, we'll come to the monitor in a moment.
The headphones and the menu card are located at the seat itself, which we will of course look at in detail again later. In addition, an adjustable reading light, a remote control for the entertainment program, and a connection for the headphones, USB and power. There is also a small control panel that you can use to adjust the seat to a completely flat lying surface. A bottle of water is also located directly at the seat.
The Business Class cabin was far from fully booked and so I was looking forward to what was probably a very quiet night flight. The service brought a few nuts and I made some space on the shelf by hanging the headphones on the hooks provided, because there was a welcome glass of water, orange juice or sparkling wine. I decided on water, the nuts tasted good and I was then able to study the menu for this flight.
I was really pleasantly surprised by the selection and it was very pleasant to get a very strong change from Lufthansa's regular offer. The drinks also differed significantly from Lufthansa, one must not forget here: I had originally booked a Lufthansa flight, now operated by Eurowings Discover, operated by Finnair - amazing! Personally, I didn't miss anything when it came to the selection of drinks, but everyone is individual. It was very noticeable that Eurowings Discover advertised a so-called elephant gin, probably also an allusion to the fact that Eurowings Discover offers flights to South Africa. Let's get to the monitor, which can be folded out at the push of a button and moved in its direction. Different languages ​​can be set here and of course it was noticeable that I didn't find any German soundtrack or setting there. Only English, Finnish or Swedish and a few Asian languages ​​were available, as well as Russian.
Unfortunately, I don't master that, so I had to be content with English. However, this can certainly cause problems for Lufthansa customers, especially those who do not speak English very well. What I really like about modern planes like the A350-900 is the flight cameras, where you have a great view of the plane and below you, which is very, very cool especially during daytime flights or even during takeoff and landing. There was a selection of films, but not outstanding at first glance, but there should be something for every taste here. Series and games are also available.
What I really liked is that the system reacted very quickly to finger pressure . I also really liked the display of the flight map and I like it when you can turn the globe back and forth directly on the monitor to take a close look at your flight. In addition, service can be called via the entertainment program and the lights above you can be switched on and off. Two windows are available to you, at least if you have booked a window seat. There was a shopping bag from Lufthansa as an amenity kit. I've given you my opinion on this several times in the videos, just click on the i if you want to hear it and see the content. On the aisle side there is another small storage compartment and the armrest can be easily adjusted upwards at the push of a button, so that you have a more comfortable additional armrest or later create a little more space when sleeping by adjusting it downwards again.
The overhead bins offered plenty of storage space. When the cabin is fully occupied, however, things may look quite different, as there are no overhead bins in the middle. If there are two of you flying, the two middle seats might be a good idea. Here you can at least wave at each other. And let's take a quick look at the on-board toilet before we take off.
There are two cabins at the front of the aircraft for Business Class. What immediately struck me as very positive is the brightness and also that you can stand properly. Further back there are two more toilets for Business Class, so that even when the seats are full, you shouldn't have to wait too long.
Everything important is available in the toilet: soapy hand cream, disinfectant spray, but no other amenities. I especially like it when there is a window. You don't always have such a great view when you visit the toilet. But now it was really time to get back to the seat, buckle up and off to the runway. Since we have a night flight and there was really hardly anything to see outside, this time I filmed the take-off on the monitor. Sometimes a completely different picture and a new perspective for the start.
In any case, I wish you a lot of fun and we'll see and hear each other again shortly [music] The service started relatively quickly. You don't have much time on a night flight of almost seven hours and there was even a hot towel that lived up to its name. In general, I really liked the service on this flight, the flight attendants were very, very friendly, very attentive - that was great. The table can be easily rotated out of the side and unfolded, is stable and can still be easily rotated to the side even when unfolded, so that it is easier to get up during the flight. Appetizer and main course were brought together and I opted for the beef fillet on this flight. Visually, the whole thing makes a very good impression on me.
It should also be mentioned here that the food comes from Eurowings Discover and not from Lufthansa or Finnair. It's all very confusing, but I hope you find your way. The napkin had the buttonhole that I love so much.
I always like that very much and coincidentally I also had a button with me and could attach the serviette to it so that I didn't get so pissed off while eating like I sometimes do. The potato gratin and especially the beans were really very delicious, that Filet was like you know it from airplanes. It tasted perfectly fine, but it was really, really difficult to cut. On the one hand, this was perhaps due to the fact that you didn't get a steak knife or something similar , the knife might have been a bit blunt.
But of course, after so many hours, the meat is simply not as freshly cooked. But it still tasted good. And there was even a surprise with the meal. A lot of airlines have barely managed to do that over the last two years: there was indeed salt and pepper from the start. This in turn from Lufthansa, to really make the confusion complete as to who is responsible for the flight here now. Finnair offers you paid internet on a flight, I have shown you the prices here . Shortly before landing, I treated myself to an hour of internet for €7.95 and
was able to find out that my connecting flight from Munich to Hamburg was cancelled. But I didn't know anything about that when I made myself comfortable for the night. eE provided a blanket, again from Eurowings, and there was the option, as previously announced, of converting the seat into a completely straight lying surface. For me personally, it always feels a bit awkward to get into the sleeping position. You have to sit on the seat, turn your legs to the side and move your whole upper body , but in the end I managed it and found a comfortable sleeping position.
At just under 1.90 meters tall, you could stretch out comfortably and your head just barely fit in the seat. Time to close your eyes and get some sleep The two hours of sleep were far too short, but I was able to have this fantastic one Enjoy the sunrise from the plane. Now it was time to wake up properly. And fortunately there is still the control panel for the seat adjustment, because I would probably hardly have gotten up on my own.
Right after the service noticed that I was awake, I was brought a breakfast that really is 100% what I wanted for breakfast on an airplane. There was a really delicious muesli with yoghurt and fresh fruit, as well as orange juice, a croissant and Nutella. This is exactly how breakfast should be for me on the plane. And here's a question for the Nutella fans among you. Do you belong to the faction that cut off the gold foil once around the edge with the knife and then remove the foil? Or are you one of those people who poke a knife or finger in there and then push the gold foil to the side and then tear it off.
I would be very interested in that, since opinions differ as to which variant is the only true one. But either way - a croissant with Nutella for breakfast - fantastic. After this very good breakfast I was able to start the day relaxed. And since I wanted to visit the toilets again, it was really a great advantage that you can fold the table to the side and escape from the seat again. A short time later it was time for the landing in Munich.
[Music] Except for external circumstances such as two connecting flights being canceled within 24 hours, I really enjoyed this Finnair/Eurowings Discover/Lufthansa flight. The flight attendants were super friendly, helpful and accommodating. That's how it should be. I am aware that the constellation of these flights is quite unique and will probably not happen again in the next few months. For me it was a great opportunity to test Finnair's business class, even though there were Eurowings and Lufthansa products on board.
I hope you enjoyed this video, if so, please give me a thumbs up. Feel free to write a comment. If you have any questions, please write them in the comments.
And of course I am very happy about a subscription to this channel. I look forward to seeing you again on the next flight. All the best - your Marcel [music]
2022-11-15 11:23
Show Video
Other news