Luxus über den Wolken - Sternekoch serviert im A380 | Mittendrin Flughafen Frankfurt 48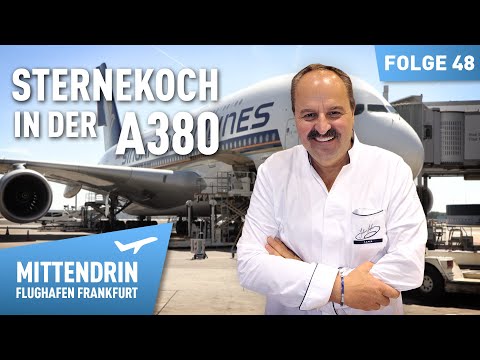 Show Video
I always have my half second where I think: Wow! Dream job on the dream plane. Michelle Mattys-Müller works for a luxury airline with suites. You can make a double bed out of it. It's like a hotel room. Everything has to be perfect.
Every day a race against time, also for the catering. We have 110 minutes. That can be very tight. Star chef above the clouds. Johann Lafer serves gourmet menus. These are spareribs from Styria. The air is dry up here.
That's why it has to be more intensely seasoned. Cooking on the plane, a challenge in a small space. 32 menus come out of an oven. This is really difficult. Minor accidents included. This is a special service for you. - Thank you so much! * Radio messages * 31 airlines land in Frankfurt, including the most luxurious in the world.
Not only freedom but also comfort can be limitless above the clouds. If you miss butlers, double beds and golden plates on an airplane, you can find happiness here. These airlines offer pure luxury for the ticket price of a small car. In return, the passenger gets: suites, showers, bars, the finest wines and à la carte, of course, from a star chef.
Fly almost like in a private jet, that 's what this airline promises with its giant bird. One of their A380s comes to Germany twice a day. Late today. The route: New York — Singapore, in 22 hours, with a stopover in Frankfurt, in the world's largest passenger plane. From now on, the ground staff has 110 minutes for cleaning, refueling and catering. They still have to wait. Only when all passengers are on board can they get started: the plane is fully booked. 474 passengers.
Everyone has to get out, including the passengers who fly on to Singapore. Your flight with Singapore Airlines? Go straight ma'am. You have to wait in the security area, says Michelle Matthys-Müller, who is responsible for handling.
Today she exclusively shows us her favorite plane. I'm very proud. We've been waiting desperately for the A380 to come back. Why do you like the plane so much? Because it's just gigantic. If you fly with it and it's so calm in the air, it's such a huge, fat bird that takes off so elegantly and just hovers in the air, you have to be amazed.
Well, welcome aboard! As you can see, big hustle and bustle, these are the most important people here. Normally we are not allowed in the cockpit. But since our cockpit crew isn't here yet, let's take a quick look. I greet you. Good day. Technical service.
Standard on every stopover. A German airline has the order. Now let's go straight to my incredibly exciting part. The A380 has three decks: bottom for cargo and baggage, middle deck for economy and upper deck for upper class. When it's cleared, cleaned, I think this is awesome. On board two bathrooms with courtesy kit and hairdryer.
Competitors also offer showers, wellness massages and hairdresser appointments. Here you can relax, you have space, very chic here. This luxury only fits in an A380. Also suites, with desk, internet, telephone, cotton bathrobe, slippers and double bed. It's like a hotel room.
There are the two... I have to think about which two those are... Ah, here. Then you can lower that partition and you can make a double bed out of it, but there are only a few where that's possible. A ticket in a double bed to Singapore and back costs a mere 11,000 euros.
Of course we don't want to forget these gentlemen. If they didn't clean, we wouldn't be able to offer a clean product. So I am very grateful. Sometimes they work under a lot of stress because we come in late.
We have a tight timeframe to clean all of this up. That's a challenge for most here. Everything has to be sparkling clean. From the orchid leaf to the fluffy carpet. The passenger does not tolerate any inconveniences in this price category and certainly does not tolerate crumbs in the leather armchair. Business Class, on the other hand, is almost a bargain, for only 5,000 euros, for those who have it.
Michelle is South African, comes from Cape Town. She moved to Neu-Isenburg for love. My husband is German. We met in Cape Town. But I had studied German and wasn't very good at it. It was an ambition, I wanted to experience his country, but also learn German.
Two separate rooms also make a double bed, with silk bed linen, of course. Michelle Matthy-Müller first worked for North West and South African Airways at Frankfurt Airport, then she switched to the luxury airline. Now we have come to the end of our upperdecks! Downstairs is the budget class, economy class. Under time pressure, the cleaners clean 474 seats, 200 windows, 16 toilets and 550 square meters of carpeting, the size of ten squash courts. There are three ground handlers working here or four, including Lufthansa Technik.
They wait and see if everything is ok. Securitas does our security checks. One hour left until the start. The work in the cabin is on schedule. I want us to go down then.
Because I want you to get to know our team, our flying personnel. Does the luggage arrive on time? Will the colleagues on the ground finish in time? Michelle wants to check. Luxury airlines don't serve regular sandwiches. You work with star chefs. A caterer in Kelsterbach and 26 dishes based on recipes by Johann Lafer.
And this man copied them. Can you put to the vinaigrette a little bit of oil, lemon oil?! And does it taste good to Mr. Lafer? The first verdict was very good from Johann Lafer. But lemon oil is missing. Now let's wait, this is the first plate today. Yes, you have a lot planned for today. They test 15 out of 26 dishes.
Gourmet menus for first and business class. An order from Singapore Airlines to Johann Lafer. He cannot produce his recipes in large quantities. For this he needs Abdi Yurdakul, a chef specializing in the mass production of on-board menus.
Will he convince Johann Lafer? Also the airline? The station manager for Germany and their PR manager? Cooking above the clouds is demanding, even for star chefs. Airplane or airline catering is a particular challenge, because at 10,000 meters you know for sure that the dryness in some parts of the cabin means you can't absorb the aromas as fully as you can on the ground. You have to season everything extremely. Everyone knows that, tomato juice with salt and pepper.
I think few people drink this here, but it's very popular on the plane. The Asian airline works with top chefs from all over the world. Can Johann Lafer join the ranks with his alpine cuisine? You start with the appetizers. This is now roast beef, mashed potatoes and this is Frankfurt green sauce. Now at the latest the whole world will know what kind of sauce Frankfurt has. Not only football, but that she also has good food.
Well, more of a message for first class and suite guests. This walk is for them. Abdi, can we please make chive oil? Heat chives with vegetable oil to 80 degrees, mix lots of chives and let stand and then you can drizzle it over here.
Then you have a really nice, juicy roast beef. We put a little bit of chives, what is chives? Abdi Yurdakul is head chef at the gourmet caterer from Kelsterbach. Did you make it according to my recipe, the Frankfurt green sauce? - Yes.
Is good. Mix up the oil with the boiled eggs? Yes. He is an Austrian Turk and under constant stress. He and his team have been making haute cuisine for 18 years. Star cuisine on the plane is difficult.
It has to work perfectly up there. Don't overheat anything. I have to see that nothing can happen. That's how we have to produce it, arrange it, to ensure that the passenger gets it that way. Speaking of hot, appetizer number 3 has been cooking for ten minutes. Oh this is good.
Barley soup with smoked mountains statement. Barley soup actually with coarse mountain sausage. Johann Lafer, born in Austria, at home in Rhineland-Palatinate, married, two children, star chef, helicopter pilot, author, restaurateur, entrepreneur, winner of several awards, does that fit? And the soup? Does it fit? Good taste? The sausages look a little bit grey, they can look a little bit more red. More red? OK.
Okay, then just with Debrecziner sausages. They don't go gray while cooking. And otherwise? Perfect. Or? - Yes. I am very excited. However, you always have to be critical. Ultimately, you stand for what is offered.
But we are on the right track. The challenge is that the mentality is not always comparable to ours. We love it so powerfully, so intensely. The Asian might say it's too salty for me.
You always have to find a middle way. That's why we're here today, to find the finalization and also to be very self-critical about everything we thought about up here and during the test cooking. Cooking pots are not allowed on airplanes. As usual, Abdi Yurdakul serves in aluminum boxes on board. I'm the flight attendant now.
There are sure to be prettier than me, but I try my best. We have the pike-perch, vintner's style. walleye. Perfect! Runs for Abdi. He was also head of canteen kitchens in Austria, Miami and New York.
I started learning when I was 15, now I'm 50, 35 years old. I don't look it. - Thank you, Mr. Lafer. It was always my dream.
Fast forward to the test meal. The meat gets cold. A breast of guinea fowl filled with ham and mountain cheese. The chicken should be well seasoned and juicy, emphasizes the airline's station manager. That's the only way the Asian guests will like it. yes the chicken Is too dry. Now we have it. The first complaint.
And that means? I need to change the quality of the chicken, order another one. We'll take corn-fed chicken. This is a chicken raised on corn. Nice yellow flesh and that is juicier. It's not the complaints that count, but the solutions, says the chef and serves main course number 5. Now comes the spare ribs, pointed cabbage ragout, cabbage seasoned with the natural juice from the spare ribs and caraway seeds.
But you can't get some higher one? The spare ribs are too thin for Mr. Lafer. And now? I'll ask someone. The taste is probably better due to the height, juicier. We can't get them in bulk, difficult.
Of course, Mr. Lafer has relationships with meat suppliers, almost worldwide. Hello! I'm currently at Singapore Airlines and have a question. We need 50 kilos of spare ribs a week.
Per day or per week? Per day. 50 kilos of spare ribs but cut according to our specifications. Is this something you can get? Understood. Goodbye.
case solved. Now for the desserts. Five pieces. Will they arrive? Back to the airport and the posh Airbus A380 at Terminal 1.
The airline has been landing in Frankfurt for 50 years. August 3, 1972. The maiden flight then still as Malaysia Singapore Airlines. With a Boeing 707 they flew from Singapore via Mumbai, Bahrain and Rome to Frankfurt and on to London and back. They have been flying non-stop to the city-state since 1987.
They fly the world's first A380 in scheduled flight. They are the first foreign airline to land in Frankfurt with the giant. Since then, Michelle Matthys Müller has been in love with the plane. It's just very impressive to look at. When I'm on the ramp, even if I'm stressed, we have to unload or we have to do something, I always have my half second where I think: Wow, that's unique.
We go now. When our machine arrives, it is super important for us to make sure that the loading crew is there. We want all luggage that reaches us to be loaded. The airport has far too few staff in the aftermath of the pandemic, says the person responsible for handling.
Thousands of suitcases arrive late or not at all. By the way, her favorite place is here. Take a look! That is amazing. What dimensions, right? I'm very small, but standing here, it's just overwhelming. By the way, the boarding begins. She often tells her two children and her father-in-law about her favorite bird.
My father-in-law was a Lufthansa employee. Now he lives through stories and marvels deeply at how the world has changed. It's a lot more stressful. The turnaround times are shorter. Our crew, for example, hardly has time to enjoy the country. They have to sleep, they have to rest so that they are fresh for the next stage. That's the way it is.
In his time, you had three weeks on Easter Island, three weeks in Tokyo. I don't think we can enjoy this anymore. It would also be a pleasure to take off on time today. But that doesn't look bad, she found out.
Several containers with luggage are missing. The flight to Singapore takes 12 hours, days to send luggage afterwards. Then they prefer to start later.
How many containers do we have left? - We still have to load ten. In order to save time, the handling of flight SQ25 will be completed. Doors closed, bridges gone, tugs on, so they can leave immediately when the missing containers are on board. But that can still take a while. We're having trouble loading. That's where the colleague has to go.
It took too long. I assume that there was little staff there. So it's a bit tight now. You have to hurry up.
But the colleague is informed. I say goodbye. Thanks, ciao Your next favorite bird is due tomorrow morning at just before seven. Back to the test meal in Kelsterbach with Johann Lafer. Dishes are often eaten faster than pronounced. Brittle puff pastry with mascarpone mocha liqueur cream with raspberries and red fruit jelly.
A recipe by Johann Lafer implemented by patisserie boss Maria. But first comes the cake. This is now Linzertorte. A specialty of the Austrian star chef.
We made a cream out of hazelnuts, currant jelly and again a fluffy hazelnut base with currant sauce and currants. This is a lattice made of egg whites and sprinkled with hazelnuts. In principle, this is the Linzertorte with the contents, just completely reassembled. Linzertorte 2.0, that's what he calls his sweet temptation. Maria, if possible, the floor, only half and the cream higher.
The ratio of two thirds cream, one third base, otherwise it is a bit too fat, only less base, great taste. All good, very good. Maria! If you do that now with the jelly, you can also make it a little higher, the jelly. The blackcurrant jelly two millimeters more, then it will be even juicier in proportion. Is this here now... - Yes, her curd dumplings. It's alpine here, folks.
That's home, isn't it? This is european, this is not asian style. What is that? These are curd dumplings with apricots and vanilla foam. Then there is pistachio ice cream, homemade chocolates, coffee and the already mentioned brittle puff pastry with mascarpone mocha liqueur cream with raspberries and red fruit jelly. And the dessert. Groats? - Right. We should make for this a raspberry sauce inside here.
do you make a raspberry sauce Boil raspberry puree with milk and sugar. Is better than the grits, then you have a sauce all around. then the guest can pour it over it. 15 dishes in three hours, went well.
Now chef Abdi can sleep peacefully, right? Yes, of course, I can always sleep well. was a lie I couldn't sleep well last night because of nervousness of course. Now that everything went well, I can sleep well. Are these big changes now? No, small changes. But I expected them. Done: Even the airline's station manager is convinced.
Perfect. The drop is sucked. They have the order. Alpine cuisine in an Asian plane. You did a really great job, big compliment. And thank you very much. I am very happy if this is implemented in this way. You are great. Thanks.
*applause* Back to the airport. Three weeks after the test meal. Flight SQ 25 to Singapore. The crew is already looking forward to it: today they have a new colleague, a famous chef from Styria. You don't know him, neither does Styria.
It doesn't matter, they celebrate premieres with his dishes. Only that counts. But before that, another Austrian comes into play. Abdi Yurdakul responsible for 500 meals. Now it's getting a little stressful, now we have to get out of the way. Including the 84 gourmet menus. When they're done loading, we'll go through.
We hand over to Johann, give him the food. I took a little something extra with me. After the handover I hiss off, stress in the company.
Luxury airlines from Japan, Dubai and Qatar have also ordered food from Abdi Yurdakul and his colleagues. Cabin crew please boarding passengers now. Thank you. The passengers come with a celebrity chef. I'm so excited that it's finally starting and I can see what the guests say about it when I cook now. It's something special, you don't have an airplane every day.
No, and then to Asia, Singapore Airlines is something special. I am very honored. I'm very tense, but that's also an honor for me as a chef. I wish you success! - Thanks. Servus, everything ok? - Here with you? Everything is under control? - Yes, everything is great. Have a seat and then we'll meet.
Yes, okay. Thank you. Nice to meet you. Will the passengers like his recipes? Did Abdi and his team cook properly? It's not exciting yet. It's exciting when the plane takes off. I hope it tastes good, the food tastes different up here.
30 minutes until the start. Menu briefing among chefs. This is roast beef for the first class with Frankfurt green sauce. I make everything nice.
250 starters, 180 desserts and 100 main courses. Including the zander fillet. Alpine cuisine, boarding completed. An exciting premiere, even for an experienced star chef.
Very exciting. I will be 65 years old in September. But the fact that I can still experience that is really something special. Very good, everything is great. Good flight. Hope everything turns out the way you want. "Don't worry," whispers friend Johann.
The chefs calm each other down. Have a good flight everyone, I hope it tastes the way it should. Abdi Yurdakul has to go back to the canteen kitchen. The plane is ready to take off, on time.
But the taxiway to the runway is blocked. Too much traffic on the apron. Standstill for flight SQ25. 40 minutes later: Finally, the way is clear. Thank you for your attention.
18 West is their runway, four kilometers away. The flight takes 12 hours. They have time to eat. * dynamic music * Johann Lafer flies to Singapore. And Abdi Yurdakul is cooking in Kelsterbach again. So life is. *beeping* Yes. Here they work on behalf of 15 airlines at Frankfurt Airport.
That's the Emirates starter, home cured salmon. This is business class. - 160 plates per day. I do my rounds before shift change. Make sure everything is ready in time for the new shift to start. How many shifts do you have? - At the moment we have two shifts.
Do you work a full week? - Yes, seven days, two shifts. Origami with pastrami: the high art of folding fine ham on sweet melon tartare. This is a Johann Lafer plate. We implement it the way Johann showed us. Of course folding is part of it. You eat with your eyes.
The customer has to think it's nice, not just good. Then we fold it as it was presented. And you see the crowd, the crowd matters. 200 plates daily. Tons of groceries pass through their hands every week.
You work with suppliers around the world. An extra order for a demand flyer. I don't want to tell the customer.
Demand pilot means private jet? Yes, that means top customers, top VIPs, politicians, actors, everything through the bank. Her customers also include international presidents when they have to go to Germany. I don't want to say which ones, but we already have three.
What's it like cooking for Presidents? More difficult than for normal customers. Everything is controlled. They send the vanguard here to check production. It's not easy, but it's a pleasure for us.
Not everyone can and should do that. The corn-fed chicken with mountain cheese. At the test meal with guinea fowl breast.
It was kicked out. Just warm up on board. We have prepared something for the crew. It's similar to here. We've got heat-up times on it. For the crew, that means: how long each dish goes in the oven. They have stoves that are stronger than ours.
If the crew pushes that too long, the customer complains that it's too dry, that comes back to me. This is how we ensure that it runs properly. The sauce was too thick. It will be re-cooked.
It will be remade. We do food tastings internally. If something doesn't fit, it's changed immediately. Does that mean you eat this every day? I can't eat everything every day. We have 50 different menus. I eat a lot, you can see it. But we do spot checks.
The caterer has branches at airports worldwide. According to their own statements, they produce 700 million meals a year, including for crews. I'm going to make a wok now. We have a special order from a captain, I don't want to tell the customers, who we also serve. If he has a special request, we'll do it. Just for the captain? - Just for him. She does.
Supak Schmidt comes from the north-east of Thailand. She has lived in Germany for 14 years. She cooks typical of the country according to her recipes.
Where did you learn to cook? - At my mother's. That's ready, then it's served with rice and goes on the plane, where the captain ordered it. Thank you Supak - With pleasure.
This is roast beef Japanese style. Our Japanese chef makes this just for the ANA, for the starter. Thank you Kawashima. That means you have special chefs for each nationality? Yes, it is not prescribed by the airline, but it is also good for us if we cook authentically.
For the ANA, the All Nippon, we have a Japanese chef. For Singapore from Singapore. We have our Indian chef. From every airline we have chefs who can ensure that we deliver the product as we promised.
Roast beef, same same. Where are you coming from? Japan, Osaka. And how long you live here? Three years. But I can't speak German.
The Arabic mezze for the Emirates will be. In Business Class: everything is homemade, nothing bought. Over there Mandi-Chicken, Emirates, in business class too. Here is the halal area. 150 plates for just one airline, every day.
Everything strictly separated: sink, employees, production tables. Nothing and no one should come into contact with non-halal products . There is nothing worse than making a mistake on a halal airline where we use anything that contains pork or alcohol: a no go. The caterer has 120 employees, including seven cooks.
With so much stress, can Abdi relax at all after a fire in the evening? Yes, motorcycling. Where I don't have to listen to anyone, don't have to speak to anyone, only hear the engine, that's my relaxation. I do that every day after work if the weather cooperates. Abdi lives in Kelsterbach, is married and has two children.
Fine, I'll get in touch with you then. Good bye! There you go, now let's go to the patisserie. Just to show that we produce everything in-house. Nothing is bought. Like our panna cotta, pecan tart, Schönbrunner cake, cheesecake, homemade chocolates.
Economy class cakes, all in-house. The curd dumplings à la Lafer, prepared by Sara Schumann. Dessert for First Class and Suites.
Very popular at the moment: the raspberry cake. 35 pieces a day. - And not easy to do. This really needs to be layered individually.
You have to make the base, then a layer of mousse, then comes the jelly, another layer of mousse, then the chocolate is grated over it. That always has to be cooled in between. Yes, it's laborious. - Very complex. It's not that you're done quickly. And with other airlines, what is going so well there? At Etihad, for example, we have buns or the chocolate tart.
And in Oman we have such an almond cake with cherries. There are different things, exactly. Then there is usually compote, vanilla sauce, fresh fruit and mint to decorate.
It never gets boring! * atmospheric music * There you go. Now we go to the delivery cold store. Whether zander fillet, corn-fed chicken or puff pastry. Whether First, Business or Economy, every dish ends up here. They take the food to the plane in refrigerated trucks three hours before departure.
This is what the ovens look like. We fill them with warm food in the shop, which are then pushed directly into the ovens and heated up. * atmospheric music * Another plane ready.
That's what it looks like. Privately, Abdi loves the simple kitchen. Pizzeria, tavern: just the right thing to do after work. * Music fades away. * From Kelsterbach towards the Black Sea.
Premiere at an altitude of 11 km with star chef Johann Lafer. Alpine cuisine in an Asian airline, served by a star chef, a premiere. How is that received? The reputation of German cuisine abroad is fraught with prejudice, says Johann Lafer. We can do more than bratwurst and sauerkraut. The galleys are small in the world's largest passenger plane. No problem for him, the man knows his way around every kitchen.
This is breakfast for tomorrow. The croissants are now stored here, packed perfectly, they will be baked tomorrow. I have to understand that, otherwise I'll have a problem when I think about something: how does it even work? That's why I often fly myself.
And I help so that I have the feeling that I know my way around, otherwise: how is that supposed to work? Look at the cars here, so little space, that's crazy. You have to understand the system before you start cooking, says the man from Guldental. Here, these are the bars. There are two plates on it. Two aluminum bowls. That's two, four, six, eight, ten, twelve, fourteen ... that
's sixteen bowls. That's like: 32 menus come out of an oven. If you now have 90 passengers sitting here, three ovens, everyone wants something different, everything has to be hot at the same time. Things have different cooking times. This is really difficult. Guests in the suites get their food first: an 11-course meal, with a choice of meat or fish. Almost everyone wants zander.
* calm music * creamed herbs. Then we have crispy fried pike-perch fillet here, two pieces. Was it fried like this beforehand? This was only lightly fried, it is finished here in the oven. So, nice the juice on it from the fish. Then, of course, I have here, very important, the grapes.
Fresh halved grapes. Then here we have croutons, bacon. This is of course a challenge. But it's also fun because you're very proud when you've done it. So, and now just add this nice sauce over it, Riesling sauce.
It's all very hot. A little green on it, pluck a little dill on it. So, and already we have two plates ready. *quiet music* There you go, that's for you now. * quiet music * A married couple from Austria on vacation. I wish you a good appetite, I am so happy! Thank you, thank you very much! - Bon Appetit.
Plus Chardonnay from Australia. And how does the alpine pike-perch taste on frame herb? Excellent, that's an excellent combination. Does that mean something to you or would you say you can eat something else? That's when the holiday begins, so relaxed. It's a privilege to be in this class.
Yes, you can enjoy that. We enjoy it! And in business class? 78 guests, like a full restaurant. On the menu a 7 course meal. Created by Mr. Lafer, cooked by Abdi, served by flight attendants, this is teamwork in the luxury sector. Photos help with the desired look on the plate.
Above their heads the order list of the guests. Chan Pei Pei is chief stewardess. With the airline for 27 years.
I am originally from Malaysia. But I am now Singaporean Citizen. She is married, has two sons, wears a red sarong kebaya, the traditional uniform. A blouse with a skirt of different colors.
They represent the rank of service. Blue for flight attendants, green for the head stewardess, red for the chief stewardess, purple for the cabin manager. Silk sarong kebaya designed in 1968 by Parisian fashion designer Pierre Balmain. The Austrian is cooking in the kitchen at the back. Let's wear the mask.
*beeps* The spare ribs need to get out of the oven. Here you can see for example: medium steam, pasta, noodles, beef and chicken, they have no temperature control. You just have to trust what is written here. That's the big challenge: It's amazing to find out how long it takes for the meat to be warm and the vegetables not to be overcooked. The plates: preheated. Yes, must be, are preheated.
Otherwise the food will be cold by the time it is served. Can I start now? * Brass band music * Alpine cuisine part 2. Spare ribs on cabbage dumplings with caraway. The meat is now thicker than the test meal.
By the way: Wiener Schnitzel doesn't even go on a plane, says Johann Lafer. The breading tastes terrible when warmed up. Now there is something typically Alpine, spare ribs from Styria with cabbage dumplings and white cabbage. There are no hotplates on the plane, no grill, not even a freezer for the pistachio ice cream.
Look here, I'll show you something. That's one way to serve something really cool on an A380. That's how you transport it. Just like everyone gets their ice cream from the supermarket, it says up here, look, here. And no more. There is no beef cooler. It's awesome, isn't it? Pumpkin seed parfait with wild blueberries and a chocolate tart with raspberries.
And how is it, the alpine cuisine? Very hearty, very intense. So that was... I found it surprising. Very strong Austrian touch. I liked. Great taste. Super tender meat. However, we've been sitting for so long now. And accordingly it was already much simpler.
Now enjoy the rest. Now comes cheese and everything, cognac and coffee. It went pretty well, except for one small accident. Special service. - Specially for you. Yes, just for me. Thank you so much! Johann Lafer's menus, a piece of German-Austrian culture on the way to Singapore.
In three days he flies back to Germany. The airline would like more Alpine recipe ideas. Subtitle copyright: hr 2022
2022-08-11 18:46
Show Video
Other news