Growing Our Side Hustles From $0 To Over $100,000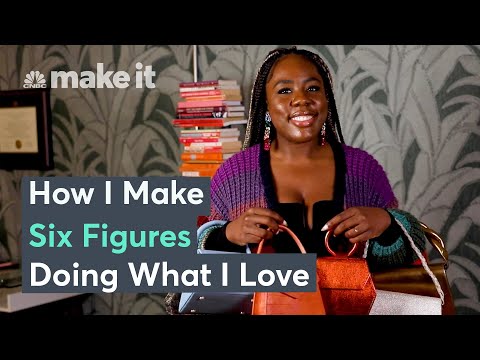 Show Video
I've always been very fashionable person. People always ask me, Where'd you get this? Where'd you get that? And I'm like, Hey, maybe people will just buy it for me. As I started building it and growing the community and seeing how much people loved the bags, I realized that this could really be something big, like it was giving billion dollar business idea. I always worked multiple jobs throughout college, and so being able to just have one job that is my own setting, my own hours, making my own schedule has been such a blessing for me. I wake up every morning so excited to work with the clients that I work with and to do what I love. I really created this side hustle as a means to take back control of my life.
I felt so powerless working during the pandemic. I felt like I was going to work really and truly out of necessity. You have bills to pay, you have mouths to feed, and the work has to go on no matter what. As I started building and growing the community and seeing how much people loved the bags, I realized that this could really be something big, like it was giving billion dollar business idea. My name is Lori Tanjong. I am the founder and CEO of Anima Iris and I am 25 years old.
Wilglory is a full time MBA student at UPenn Wharton School of Business, and she also runs Anima Iris, a luxury handbag brand. Since launching in February 2020, the company has brought in over $725,000 in sales. And that's not all. Anima Iris has caught the attention of celebrities like Beyoncé, big retailers like Revolve and Nordstrom and was even seen on Issa Rae show, "Insecure." These bags are spotted everywhere and this is just the beginning. Here's how a full time MBA student built a profitable handbag business out of her knack for fashion and desire to share black stories.
This is on the side. I've always been very fashionable person. People always ask me, Where'd you get this? Where'd you get that? And I'm like, Hey, maybe people would just buy it for me. Wilglory doesn't have a formal background in fashion, but saw an opportunity when she realized friends were always asking about her outfits. This got her thinking that she could make
a business out of her love for style and desire to provide economic opportunities for Africa. Since launching Anima Iris, Wiglory has built out her brand's production facility in Senegal in West Africa, where the bags are hand-sewn. The company now manufactures over 500 bags a month. Wiglory was born in Cameroon and grew up in Maryland with her two sisters. Her parents owned a laundromat and juggled various other jobs. Her family was financially stable until her parents separated and tumbled into economic hardships when she was 14 years old.
I'll never forget the day when my mom told us that we were like finally approved for food stamps. And my older sister and I remember we were like, so ecstatic. But then we, like, stopped. And we looked at each other. We're like, Oh, my
God. Like, how did we get here? Wilglory promised herself that she would become financially independent. Her first steps were studying hard in school and getting a job. My first paid working job ever was actually working in a skating rink.
I worked in minimum wage and I remember working so hard and after two weeks looking at my paycheck and I'm like, This is it. I promised myself I was like, "Wilglory, you are never going to earn minimum wage again in your life." Her hard work paid off at work and at school. She earned a full ride to Princeton University. My parents didn't go to college, so I am a first generation college graduate.
Unfortunately, during Wilglory's senior year. Her mom passed away from breast cancer. My mom was a huge part of my childhood and my mom was my biggest motivator. After we buried her, I just went back to school, put my head down, had my senior thesis, and I put a lot of effort into it and just kind of like ignored everything that I was feeling and actually dealing with. Wilglory ended up inheriting about $50,000 from her mother. I was really surprised to see that she had quite a formidable savings and that our home actually had a lot of equity in it.
By the time she graduated in June 2018, she also saved about $22,000 from her on campus job and a few summer internships. And right after graduation, Wilglory started a full time job in Atlanta, making around $86,000 a year as an operational manager at a manufacturing and supply company. I really thought that making all this money coming out of college and having a job that wasn't really demanding was actually going to make me really happy. But I was actually the unhappiest I had ever been. So I had never really taken a moment to actually slow down, to really deal with the passing of the most important person in my life. In June 2019, Wilglory took a leave of absence from her job to focus on her mental health during her break.
She returned to Africa not knowing that it would also become the birthplace of her company. Her first stop was in Ghana, where she connected with small business owners and creatives. Later on, she traveled to Kenya and then Senegal's capital, Dakar. There is like a community in Senegal, essentially, where these artisans gather and they're creating all kinds of things. So that's where I went. During her trip, she was inspired to start the African Hustle series, a platform that featured interviews with entrepreneurs. She met and showcased their work on YouTube and Instagram.
So we're here at Mama Rocks with Paul, who is the evening head chef who is going to actually guide us through the kitchen and showcase to us the operation behind the scenes. Meeting all of these people inspired Wilglory. And so she drew up a purse and took it to an artisan to be made. She also designed jewelry, but soon decided to focus on handbags.
I remember emailing my financial advisor and saying, Hey, so I'm going to start making bags for fun and I need like $5,000. And she transferred it over the money. And I know she was thinking, this girl does not know where this is going, but that's how it started. And that's where I got the money from, from my savings. That money went to creating 50 purses, paying for Wilglory travel expenses and covering materials and labor to make the bags.
I brought them back to America, set up a website and just started selling them. I thought that this could be a great side hustle to recoup a lot of the money that I had spent in the last couple of months while I was traveling. In March 2020, the same week COVID was declared a pandemic, she quit her job and moved to Philadelphia. She was determined to build her company. Just three months later, Wilglory experienced a defining point in her business journey.
I had been building our website. It was like 1 a.m. in the morning and. One of the Vogue editors tagged me and I was like, No way, you are lying. Like, I am not in vogue. Then there was a Twitter moment. It received like almost 30,000 retweets.
It was crazy. The website sold out. And then, of course, the biggest, best moment today was my queen, Beyoncé wearing her bag, posting the bag on Instagram. That was definitely it's like still one of the greatest moments, if not the greatest moment of my life. That day alone, Anima Iris raked in over $23,000 in sales.
It was absolutely nuts. But that taught me is time to expand. Then we have the regular Zuri was just has a leather top handle. The price point for this bag is between 5 to $600 this year.
We forecasted earlier in the year that we would end the year making 350,000, and we've already surpassed that. We've already done half a million dollars. Anima Iris generated over $600,000 in sales in 2021 alone. Its biggest month to date was November of that year. The company brought in about $168,000. Black Friday was also the brand's biggest day yet, bringing in over $62,000 in revenue. As sales skyrocket, so has production.
But none of it would be possible without the help of Wilglory's growing team and the artisans who help make her bags. Welcome to the Anima Iris facility where all the bags are made by a wonderful team of very talented artists. My artisans make twice what the average artisan in Dakar makes. I now have seven artisans that work for me and it's a really comfortable place. So it's air conditioned, of course.
But running Anima Iris isn't the only thing Wilglory has to manage. Right now I'm taking four classes and then one independent study. I wanted to get an MBA because I wanted to build the company while also learning how to build a company. But what ended up happening is that I didn't foresee Anima Iris growing so quickly. Wilglory says people always ask why she's continuing grad school since she already has a successful business.
I honestly haven't dropped out because, like I said, I graduated from Princeton with no debt. Now I have all this debt. I am like at least $100,000 in debt.
Technically, I should drop out, but the African immigrant child in me probably can't. Currently, she's on track to graduate with her MBA in spring 2022. So I am crawling for dear life to the finish line.
In the coming months, Anima Iris will be branching out beyond the E commerce space and will also be sold at Saks Fifth Avenue. My larger goal is to turn this into a full lifestyle brand, right? So I want to be selling clothes, but most importantly, I want us to really remain made in Africa. I didn't come from the most privileged background, but I've definitely leveraged my resources. If I do anything in this life, I'm always
going to bet on me. I'm really living life to the fullest extent and it's so possible for you to have that same life experience. But you have to be willing to like reach out and like go find that life for yourself. I always worked multiple jobs throughout college, and so being able to just have one job that is my own setting, my own hours, making my own schedule has been such a blessing for me.
I wake up every morning so excited to work with the clients that I work with and to do what I love. Perfect. I'm a little closer to him. My name is Grace Torres. I'm 23 years old and I make $177,000 a year doing my wedding photography. Side Hustle Turned Full Time Job
Living in Lakeland, Florida. I've always loved photography and art as a child, but my passion for photography really began in 2012, right before my family decided to take an RV road trip from New Jersey all the way out to Colorado. In 2012, 13 year old Grace got her first camera and it changed her life. Her family trip to Colorado began her roots in photography, shooting nature and national parks before working with people. Even as a 13 year old, I saw it as an investment. 2012 is when I made my first investment purchase into a semiprofessional grade camera, like an entry level professional camera.
I bought my first camera with money I had saved up from birthdays and Christmases. A family friend took her daughter, a dancer and grace to the beach where Grace had her first mock photo shoot. And I absolutely loved it. I went to public high school in my hometown here in New Jersey and was really heavily involved in the sciences because I thought that was the direction that my career was going to take.
However, I still loved photography on the side, so I took senior photos for friends. I shot Sweet Sixteens and just shot portraits for fun just to be more involved in photography. However, I never thought of it as a career option for me. My first ever paid gig was a Sweet 16 and I made $100 for probably like 4 hours of coverage. My parents have always encouraged me to have a financial plan and to be financially independent.
So starting photography for me was always a side hustle until I was more than 100% sure that I would be able to sustain myself in a career. And by the time that I got to that point, they were really supportive. At age 16, Grace started working at Chick fil A about 15 hours a week to have spending money and to build her savings.
I've always been a big saver. Working that job really allowed me to save up money to purchase the camera equipment that I wanted to. I realized that I did need better equipment and better lenses to really do the kind of photography that I wanted to do, which was portrait photography. At 18, Grace began taking her first clients and made under $500. Throughout college, I was constantly working 2 to 3 jobs on student leadership at my school as a resident assistant, working in the PR department at my university, working a news internship. I've always enjoyed working and being busy, and I knew that in order for photography to become something more, I would have to really put in the extra work and work those jobs while doing photography on the side.
At 19, Grace gained enough clients to make around $1,500. The following year, she grossed $7,000. In 2019 is when I really started to follow other full time photographers on Instagram and realized that there were people making a full time living off of photography. Both my parents work very traditional jobs and I just wasn't aware that people did freelance work. When I got to college.
I think my eyes were really open to the freelance world and the opportunities that there are. I started shooting every other week instead of every other month. My business was beginning to scale so quickly I knew that I wanted to take photography full time instead of pursuing a traditional 9 to 5 job. After graduating from Southeastern University in Lakeland, Florida in December 2020, Grace started exploring photography as a full time business. I knew what I needed to feel comfortable to make that jump, and that for me was mainly being financially secure. So I worked really hard to make that a reality for myself. About a month before graduation, I was
projecting my revenue and really just trying to get a handle on the business side of my business. I was really focused on client acquisition through organic social media marketing, and then I started to invest in things like legal contracts, having a CPA to help me file my taxes and some of the more backend nitty gritty parts of the business. Grace decided to keep her part time internship at a nonprofit. I'm not a huge risk taker, especially when it comes to finances, so jumping right from college to entrepreneurship would be a huge change for me. Having that part time job really just gave me the stability and the confidence that I needed to put more time into photography, but not feel the financial burden of not having a steady income. Grace's love of portraits and being around people evolved into shooting weddings.
I took my photography business full time in May of 2021, five months after I graduated college. I love people's love stories, and I love how fast paced weddings are. They always keep me on my toes and they're just really fun and joyful days. I did a lot of reinvesting in my business and I know it is really common to not be profiting a ton or even profiting at all in your early years of business. Grace started with a $500 investment toward her first camera and lens. Since then, she spent about $50,000 on equipment, education and contractors.
In the beginning, I was really focused on growing the business and I was putting a lot of time into it, but definitely neglecting my social life, my friends, things like taking days off, traveling. And now that I've grown, I do prioritize giving myself some PTO and days off, only shooting on weekends if it's a wedding and just prioritizing time off and rest. However, being an entrepreneur, being a solopreneur specifically, there isn't a lot of outside affirmation for what you're doing, and you have to have a lot of confidence in yourself. Taking the time to speak with her clients about the different services she offers has helped Grace remain fair and confident while running her business.
I structure my services in a package format, including specific hours of coverage and then other deliverables, like the number of photos and the print rights. Clients get 8 to 10 hours of coverage from one or two photographers, and typically 500 to 900 photos, depending on the package they. Choose right now. Lifestyle photoshoots, like an engagement shoot or a family session start at $450 and my weddings start at $4,000.
But my average spend is typically between 4,500 and 5,500. In the wedding photography industry, there is a standard of $50 an hour for second shooters and $100 an hour for associate photographers. Grace takes care of her administrative operations out of her home office in Florida, and delegates work like bookkeeping and editing to contractors. I definitely experienced some burnout with the post COVID wedding boom. I had a lot on my plate that year.
I shot 46 weddings and once I shot ten weddings in one month, which is a crazy workload, I started to see the value in outsourcing when I knew that I was burning myself out by taking on too much. Grace has decreased the numbers of weddings. She takes a year to have more personal time and has maintained a steady monthly revenue. I am typically grossing over 10,000 a month so I can feel confident in what I'm going to pay myself that month.
In the beginning stages of my business, social media marketing was crucial for my growth. But now that I've had some more time in the wedding industry, a lot of my wedding clients come from referrals from other planners, coordinators, and even other photographers. Hey, guys, are you so excited for your wedding? Yeah, we're so ready. We're so pumped. The pandemic in 2020, it was really devastating to not only the wedding industry, but also all of my wedding clients. And I definitely had a lot of compassion for what they were going through.
Grace had her first fully booked year when the pandemic struck. I had a lot of wedding cancellations and returned a lot of deposits. I just wanted to be a compassionate person during that time, and it definitely taught me a lot about business. 2021 was Grace's busiest year, yet she shot 46 weddings and has 34 booked for 2022. So we'll just keep you for maybe 15 to 20 minutes for those photos and then you'll get to join cocktail hour and really enjoy the wedding with everyone. In the near future. I want to continue building my
company and growing and scaling so that I have just more opportunities to work with more couples who I really connect with and to travel to places that I've always wanted to go to. In 2023, I plan to cap at between 25 and 27 weddings and I'm halfway booked. I wanted to share my story to show you that you don't have to jump right from your corporate job to being a full time entrepreneur.
And I also just wanted to show other young female entrepreneurs that it is possible to have a successful business so young and that reaching six figures is not so far away. If you really work hard, it is totally possible to take what you love and turn it into a business. I couldn't envision a career in cooking. I didn't see that, hey, you can actually make a living off of your talent. I was always taught, get good grades, behave in school, get a degree, get a good job with a pension, and you'll live happily ever after. My name is Helena Foster and I'm 35 years old.
I'm from Freeport, New York. I am a NICU nurse and my side hustle made $117,000 in 2021. He re is callaloo. And this is Jamaica's national dish, ackee and salt fish. As a personal fave, I prefer fried dumpling or festival.
And last but not least, we have fried plantain. In 2018, Helena started sharing food pictures on Instagram with her friends and family. About a year later, she decided to take food blogging more seriously, and spent around $700 to officially launch her business.
And that all went to groceries. A ringlight and a tripod. Because you not only have to just buy the food you're going to cook, you also have to buy the props to stage it as well. I said, "I'm going to turn my kitchen into my studio."
So I literally work out of my kitchen in my home. Not only does Helena manage all aspects of her business, but she also juggles her job as a NICU nurse. I've been a registered nurse for 12 years now. I work in the ICU and more specifically, I take care of neonates and infants who were born with congenital heart disease. Helena earned up to 126,000 a year, working as a full time nurse.
I worked 12 hour shifts 13 times a month. Due to the success of my side hustle. Now I've been able to scale it back to eight shifts a month.
She says working during the pandemic was extremely difficult. The most challenging part was leaving my family like everyone's at home sheltering and you're literally going out to fight a war. And it was really during that year where I really decided that I have to go even harder with my business. I am first generation Jamaican. I grew up in Crown Heights, Brooklyn,
surrounded by a plethora of Caribbean influence. Helena developed a passion for cooking at a young age. Growing up, her mother often sent her off to buy ingredients like Scotch, bonnet, garlic and browning. At age 15, she was inspired to cook and learned by watching her mother. My mom, she didn't always have the patience to teach and it was kind of challenging because they don't cook with measurements. So I would say how much garlic powder should I put? And she would literally look at me and say, "Use your judgment." Anyone out there who is a first
generation American and are born to parents who are immigrants, we were always raised to crave stability. Helena pursued a profession in nursing, but her love for Jamaican cuisine didn't stop her from cooking. My mom is super Jamaican. When I told her I was not going to grad school.
I think she aged ten years. She was like, "What do you mean you're not going to? You mean you're not going to grad school and you're going to cook?" But when she started seeing the money coming in, then she was like, Oh, I think you might be on to something here. Okay, so these are the curries that I have here. I love my Jamaican curry.
When I first started this side hustle, I legit was so passionate about seeing my dreams come true that I did not stop. I literally worked every single day that I was not working at the hospital. Usually Helena is up at five in the morning to get to work. On her days off, she gets her kids ready for school and focuses on her business. I'm on email.
I'll be looking over contracts. I'm also thinking and brainstorming content ideas. Aside from groceries, I don't really incur a lot of expenses. My equipment is stable. I only need to replace it if it breaks. She spends around $600 a month on groceries for her business.
Sometimes I go to the grocery store with pure vibes. No list, just vibes. I walk through the aisles and I let the food speak to me. Yes. Would you like some oxtail this evening? And I say, Oh, let me grab that, let me grab that and let me grab that. I pretty much end up spending a ridiculous amount of money on groceries per month. In 2021, my side hustle created three streams of income. The first one was from ad revenue. I collected $7,500 from that.
The second was from brand collabs and I made $40,000 off of that. And the most lucrative stream of income was my eBooks, and I made $71,000 off of that. Helena released two e-books in 2020 and 2021. One has her premium dishes with some of her cooking secrets, and the other has fifteen 30 minute recipes. In total, she made about $117,000 from her side hustle in 2021 and says she's just getting started.
June of 2021 was an explosive month for my side hustle between some lucrative brand collabs that came through and an amazing Father's Day sale that shattered expectations. We pulled in $25,000 in one month. Helena's biggest brand deal to date brought in $7,000. You do not have to either sit behind a computer or walk into a traditional 9 to 5 in order to have the life that you want. If you have a talent, harness that talent, learn as much as you can from it and monetize that thang ! I really created this side hustle as a means to take back control of my life.
I felt so powerless working during the pandemic. I felt like I was going to work really and truly out of necessity. You have bills to pay, you have mouths to feed, and the work has to go on no matter what. So much of my identity is being a nurse. Part of me can't even envision a life without it. But I really hope that I am getting to a point where I live life on my terms, and if I do want to do something nursing related, then I have that choice.
If this story helps someone and says, You know what? I can get up and I can do it. Listen, I did it as a registered nurse working through a pandemic with a husband, a house and children. So if I did it, you can do it, too.
2022-07-05 20:36
Show Video
Other news