Developments in Inwood | The Stoler Report-New York's Business Report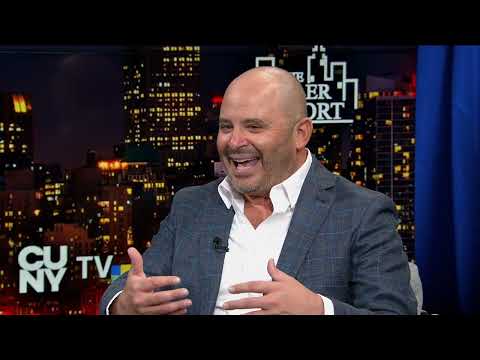 Show Video
♪ [Theme Music] ♪ ♪ [Theme Music] ♪ >>> Michael: You know, it takes time to get things accomplished in New York, especially for development. Sometimes it's done over a couple of years. Sometimes it takes 25 years. Okay? The question is, there's this wonderful community called Inwood. It's in New York City. And people would love to be developing. But due to certain political actions, other moves, it took a long time. So today with the help of my executive producer Eli Weiss, [guests laughing] we're going to talk about developments taking place in Inwood. My first guest that
Eli brought was Katherine Kelman, who's a managing director at LMXD. Next to her is our buddy over here, Eli Weiss, who is the chief cook and bottle washer, managing partner at [guests laughing] Joy Construction. Okay? And last but not least, George Separis. >>> George: Tsapelas. [laughs]
>>> Michael: Tsapelas -- who is a vice-president at Taconic Partners. Since you brought everybody over here, and since you are the maven, you understand everything about Inwood, tell us what, what, what in, what Inwood is, and let's talk about the redevelopment. >>> Eli: Sure. So just from a geographic point of view, Inwood is the most northern neighborhood in Manhattan. It's bordered to the north by the Spuyten Duyvil canal. And then
after that would be Riverdale. Underneath it would be Washington Heights. It's a neighborhood that is residential in nature. It has waterfront, on both sides park.
Has wonderful train access by both the 1 train and the A line. And as starting in about 2014, the city undertook the preliminary-- pre-- preliminary actions to study the neighborhood for a rezoning, and then the area was ultimately rezoned. And the goal of the rezoning is to revitalize the area, both from a housing point of view, to bring units of affordable housing and new housing to the area, also to build parks, a waterfront, a new library. And
I'm here today with my friends, Katherine and George, who are in the same industry as me. >>> Michael: Why did you bring these two people here? [Katherine and George laughing] >>> Eli: Well, they're also active in the neighborhood and I think we all share, you know, a vision of trying to do what we do on a professional level and bring this to this neighborhood. >>> Michael: So, since the two of you are working on the similar project, tell me a little bit about the project and the involvement of Katherine and the Taconic people together on this deal. >>> George: Sure. So, Taconic acquired the site at the end of 2015. >>> Michael: Where is the site exactly? >>> George: The site is at 207th Street and 9th Avenue. So
just over the 207th Street bridge. So, it's between 9th and 10th avenues in Inwood. It's an 80,000 square foot site. Previously a Pathmark Supermarket. It was brought to Taconic at the end of 2015 by our partners from -- associates. But sort of the default plan was that we could renovate the supermarket piece of it, and we can add an out parcel on the site. But there was something much larger and
more interesting, which Eli alluded to, was that the city was starting to kick around a possible rezoning of Inwood larger. You know, 2016, 17, 18, we sort of got behind the city's efforts at the time, supported the rezoning. It ultimately passed sort of mid-2018. And that allowed us to then build a 770,000 square foot mixed use building on the site, with retail, community facility space and about 700 units. Unfortunately, we had to sit it out for a while, while the article 78 challenge proceeded. Following a rezoning
parties are allowed to bring a challenge to, to the rezoning within 90 days. In this instance, a group Northern Manhattan, not for sale brought a challenge on the basis that the city did not properly study the racial impact of this rezoning. The city contested that they were not required to. It was then upheld in a higher court. So, it wasn't really until December of 2019 that we had the green light and the rezoning was fully implemented. At that point in time, we brought on our now partners from LMXD and a firm called M Squared as well. And we've been working on the development of the design of the site for the past 18 months, and are planning to break ground in the next few weeks.
>>> Michael: So, tell us about your involvement with the site. >>> Katherine: Sure. So, LMXD is a mixed income affiliate of L + M Development Partners. L + M has worked with Taconic on a number of projects, like Essex Crossing and, and others. So, we were excited to join this effort. MSquared is the company that Alicia Glen founded. So, a woman-owned sort of development
investment platform. We each bring sort of different expertise to the project. L + M will be constructing the job. Taconic will be managing it, as well as doing the market rate leasing. MSquared has been instrumental in the financing, sort of structuring of it. So, it's been kind of a fun effort. It's a very large project. It has a complex capital stack. As
George mentioned, it's -- >>> Michael: Let's talk about -- we'll get back to Eli in a second. Let's talk about the apartments complex and, and the arrangement of what you had to make with the city, with regard to market rate, affordable, AMI, and so on. >>> Katherine: Right. So, the site is mapped for mandatory
inclusionary housing, which happens anytime the city rezones an area, which would have required 25 to 30% of the units to be permanently affordable. We're actually exceeding that. We're going to have 40% of the building, or it's roughly 280 units, be affordable, to a mixture of 40/60, and 80% of area median income. So, averaging to 60,
which is considered low income. And we're doing that with the help of state tax exempt bonds and low-income housing tax credits. They're the financing sources that are making that possible. The 40% affordability. We'll have an additional 10% piece that's sort of workforce housing, and the rest will be market rate. And all of these units are distributed throughout the building. You know, single
lobby. Everybody will have access to all of the same amenities, you know, same finishes, same design. So, it's really, you know, a great opportunity to provide housing at all income levels. And I think make this building, which will be very large addition, to the -- >>> Michael: What's the highest income level that a family of four could be earning to qualify to get an apartment? >>> Katherine: I believe at 80% AMI, it would be something along -- >>> Eli: 80% of 130 these days, 130,000. So, it would be 20% --
it's about $100,000 a year for a family of four. >>> Katherine: Yeah. That's the, yeah, that's the highest. And then 40% is half of that. So around 50,000.
>>> Michael: And it's a lottery too? >>> Katherine: Yep. It'll go through the city lottery. So, you know, which is obviously open to everybody in the city and we'll have workshops. >>> Michael: How many buildings is your project? >>> Katherine: The -- it's about 700 apartments in total. >>> Michael: One building, two buildings? >>> Katherine: It's technically two, two buildings, but they're really adjacent. They found -- you know, function as a single complex. Everything will be connected.
>>> Michael: Right. Let's talk a little bit about the man who spent a lot of time in Inwood. >>> Eli: I think we all, [guests laugh] we all spent a lot of time. But ironically, my project is directly across the street. It's also on 207th and 9th Avenue. It's a slightly
different project, whereas the project that Jordan and Kat -- are talking to are talking about was always on residential. My site was zoned manufacturing. And my site is on the waterfront. And so, my site had a lot more interactive play with the city in terms of land use and putting the water site -- waterfront through our site, and de-mapping streets that believe it or not are underwater in the river. And so, we as part of all of that land use, have committed to build the site as 100% affordable housing, with area median income is very similar to what Taco-- Taconic and LMXD and MSquared are doing. >>> Michael: And how do you finance your -- >>> Eli: So, we'll be financing it with a very similar capital stack with a mix of tax exempt bonds and tax credits and subsidies. Obviously, you know, COVID -- what the part of the story of the rezoning that it was just as we came out of the legal aspect post the rezoning, you know, we all sort of huddled together and like, okay, here, we're ready to go.
And 60 days later, we were ready to go home for six months. And so many of our projects got delayed. But ultimately, I think that -- >>> Michael: Have you broken ground yet? >>> Eli: So, we've done all the site work. But we've not broken ground on vertical construction. But we cleared the site. The site is now 100% shovel ready to go vertical. >>> Michael: How long will it take for you to build your site? >>> Eli: So, our project is about 640,000 square feet, it's 611 units, about 90,000 square feet of community facility and retail. I would say in today's environment, from start to
finish is 36 months. >>> Michael: So, let's also talk about the community space and the retail. Do you have that on your site also? >>> George: We will, yeah. We'll have about 15,000 square
feet, along 207th Street, sort of a variety of inline spaces. We can also accommodate restaurants. We'd love to work with a local restaurant operator. On the east side of the site, we have a 15,000 square foot supermarket that's being filed through the FRESH program.
>>> Michael: FRESH prog -- Explain what the FRESH program. I'm, I'm familiar, but -- >>> George: Yeah. So, it's a program through city planning whereby the developer and the operator, ultimately the operator, will be required to allocate a certain percentage of the square footage of the space for perishable goods. It's to, it's to encourage bringing fresh food to places that otherwise wouldn't have sort of that opportunity, in exchange there's benefits for the development that you get an FIR bonus, sort of equal to the size of the supermarket. And there's also benefits for the operator as well in terms of tax benefits and the like. So, we'll be filing a su-- the
supermarket through the FRESH program. So, we'll have a 15,000 square foot supermarket with 5,000 square feet of lower-- lower level storage back of house space. That'll be on the east side of the site. And then we're working with a local theater group to have about a 20,000 square foot theater and cultural center on the south side of the site.
>>> Michael: To take care of the community facility site. >>> George: Correct. Yes. And the theater is, is intended to be very much sort of a community facility space that everybody can use. The operator that we're working with wants
to keep it active all day, every day, you know, allow seniors to utilize the space, allow elected officials to utilize the space, to communicate with the local constituency. So, it's very much going to be, you know, again, a space that's not just the theater, but something for the entire community. >>> Michael: What about healthcare? You're very close to the New York Presbyterian over there. >>> Eli: I mean, I, I generally find as we're marketing our commercial space, we're seeing a radical shift from who the traditional commercial tenants were. And we're seeing a lot more healthcare. I know at Essex Crossing, you were able
to get a very large medical tenant. So, I think we're all seeing the shift in retail. And I think that over the next year and a half, two years, as our projects are coming out of the ground, we're going to see even more of a shift in what commercial space gets used for, with work from home coming into the equation, with medical facilities expanding. I would
definitely say that, have we done these projects 10 years ago -- >>> Michael: You bring up an interesting subject. Have you changed your plans to make them larger apartments because of people working from home? >>> Katherine: Well, we've addressed it in different ways. We certainly focus on in laying out an apartment areas where people can work. So, it's not necessarily -- it could be making it larger adding an additional room, it could also be a den, or just laying it out so that you could have a work desk and things like that. We definitely -- we're providing a
very large coworking space in the building as an amenity. I think that's become critical. And -- >>> Michael: So, you're having coworking space in both of your properties? >>> Eli: Well, community areas where people can work.
>>> Michael: Okay. >>> Eli: They're not formerly coworking spaces operated -- >>> Michael: Does the person have to pay rent, or is that included? >>> Katherine: No, it's part of the amenities in the building similar to the gym, but it's a space geared to people working with lots of individuals, seating arrangements for some privacy, and, you know, conference rooms, things like that. As well as just opportunities to work throughout the building, you know. Because people will go to a lounge, or even the lobby sometimes and work, because we all kind of work at weird times and in, in new ways now. So that's a big part of it. Certainly outdoor space because
of COVID has become critical. We have a lot of outdoor spaces, second floor courtyards, roof decks, terraces, you know, that people really value these days. So those are kind of the main outcomes I would say. >>> Eli: In our, in our business, we typically talk about our developments with affordable housing as a public-private partnership. And I think to add on that, the
city came out with a wonderful post-COVID policy, which mandated developers using their program, city programs, to provide free broadband and wifi just because of last time people didn't have high speed wifi and their children needed to attend school from home and they were left, you know, in a, in a difficult situation. So, you know, both the development community, and the city are constantly thinking of policies in terms of reaction to what we went through. >>> Michael: So, let's talk about what, what are the developers or how much development is projected for the Inwood section.
>>> Eli: So, you know, I think we're all here today talking about fairly large scale sites. The first project that really broke ground was, you know, what's known as the library project, which is just north of Dyckman on Broadway, which is a mix of affordable and supportive housing. And we're, we'll rebuild the library that existed there before. And I think in total that's about 185 apartments. But you know, I think as we were speaking earlier, there weren't a plethora of development sites in Inwood. >>> Michael: You mean, you didn't have auto dealerships, repair shops to work on? >>> Eli: No, there were, there were really a few very prime sites. And they were really concentrated in a few areas and
the scope of the rezoning gotten much smaller as the rezoning process went on. So, you know, the areas that are going to be developed in Inwood are much more limited than when it was originally forecasted or thought through. And, you know, I don't think that there are more than 15 to 20 developable sites throughout the entire neighborhood.
>>> Michael: And I think all of them, everything that received an upzoning is either a vacant site or it's a one-story warehouse. And some of the, we actually worked with the city through the rezoning, some of the sites actually received a bit of different zoning treatment so that they can actually accept some of those wholesale uses, particularly in Sherman's Creek. So that wholesale businesses don't have to leave the Sherman Creek area. They can sort of become incorporated as part of the -- >>> Michael: What sort of a wholesale business are we talking about? >>> George: It's a it's there's, there's a sort of a cluster along 9th Avenue there, that sort of serves sort of the local bodega and restaurant community, where they go for buying produce, dairy. There's a big kitchen equipment supply
store. So, they're really reliant on it. It's sort of like an all, all cash transaction area. And it's really the lifeblood of supplying a lot of these businesses in the Bronx and northern Manhattan. So again, working with the city, we figured out a way that we can sort of keep some of these businesses in the area for preservation of jobs it was important for the community. >>> Eli: Speaking of that, how rare is it to have three professionals speaking about large scale projects and not one of those projects has displaced business. None of our
sites displaced an operating business that existed on the site before. >>> Michael: What was on your site? >>> Eli: I mean, it was a parking -- it was basically spare parking for trucks and that, but it was not being operated as a formal parking business. It was just literally spare parking.
>>> Michael: Yours was a supermarket place. >>> George: It was a supermarket that had closed. And now we're, we're -- >>> Katherine: Building a new one. >>> George: Setting a new supermarket on the site. >>> Eli: Not one housing tenant, not one commercial tenant was displaced in all of this wonderful development. >>> Michael: So, what else are you thinking of doing in Inwood? >>> Eli: So, I, I do have a smaller site, just north of Dyckman, actually adjacent to the library site at 4778 Broadway. And I'm doing a similar project to what Taconic
and LMXD are doing, which is a standard mandatory inclusionary where -- >>> Michael: you know, for my audience, would you explain what the, the inclusionary requirement is? >>> Eli: Sure. I believe in 2014 or 2015, New York adapted mandatory inclusionary housing. And basically, that said that when any zoning action or rezoning took place in a particular neighborhood or a particular site, as it pertained to affordable housing, you had two choices, to either reserve twenty-five percent of the units up to 60% of the area median income, or option two which was to reserve 30% of the units up to 80% of the area median income. And all of our projects, even though all of our projects are going to exceed those goals are still governed by mandatory inclusionary. The fact that we'll end up exceeding them, I think, is a testament to what we view best the neighborhood, what we've invest to our overall corporate missions -- >>> Michael: After doing this, what do you have -- 30-year tax abatement? >>> Eli: No, it's not connected to the tax abatement. The
program with the tax abatement, they actually dovetail each other. But in theory, you, you are still required to do mandatory inclusionary and not use what is known as 421a. You can get a different tax abatement, but you can get, I mean, it's not realistic, you could do no tax abatement. The mandatory inclusionary is mandatory. >>> Michael: How much has land developments gone up since the rezoning? >>> Eli: I haven't looked at comps more recently, but -- >>> Katherine: That's a good question because I think they're not a tremendous variety of sites. It's a little
bit hard to know. You know, there are not a lot of large sites that have hit the market. You know, I think, you know, our site was a little bit of an assemblage that, you know, Taconic conducted. >>> George: And took a lot of risk on it. You know, again, sitting there for four years, you know, and riding it out through the rezoning. >>> Michael: I mean, Eli is set on development sites even longer than 40 years.
>>> Eli: [laughs] Absolutely. You know, the, the irony in all of this, as it pertains to my site -- was your site manufacturing overlay? What was the -- your zoning? >>> George: The, so our sites two lots. It's 80,000 feet, but the 60,000 feet was like an R7-4, something like that. It
was a, it was sort of a lighter residential treatment, but I remember there being a significant commercial piece that we would have had to include. >>> Eli: So, the, the irony of my site is it's a 70,000 square foot site zoned for manufacturing. And during all of the sort of back and forth with the rezoning, what property type became the most valuable would be to build, you know, a distribution center, or a last mile -- >>> George: Right on the water -- >>> Eli: Right on the water, right over the bridge, right on the highway in Manhattan. And that's the irony of all of that. It would have been a much smaller project. It would have
offered no housing. It would have created less jobs. And it became more valuable. I think the reason that we are stuck with our original affordable housing game plan is the same reason that, you know, I know there are companies for many years that, you know, we, we tried to do what we say we're going to do, because we're thinking of the next project.
>>> Michael: If I have to bring up something, I think you did something in Brooklyn, you were supposed to be building housing and you built a self-storage? >>> Eli: No, no. I, I took down a storage facility in Brooklyn and I'm building affordable housing. >>> George: And while we could have built residential, we would have been building it across from Eli's industrial -- >>> Eli: Exactly. That's right. >>> George: -- in a, in a, you know, a neighborhood filled with empty lots in one story warehouses. What the city did, was create a roadmap to really create a neighborhood here. And it's all going to be stitched together. I don't think we've
talked about it yet. The waterfront access plan that there'll be a promenade that wraps all around Sherman Creek. And the idea is, it's a great amenity for the people in the neighborhood, but it also helps to kind of stitch together, so that there's not two Inwoods. So that people from the west of 10th will come into Sherman Creek and that and the neighborhood can really kind of integrate with the rest of Inwood. >>> Michael: What about schools and the libraries that you're talking about? Are, are there new schools being built to take care of the -- to accommodate all the new tenants? -- Katherine? >>> Katherine: Well, certainly the city conducted a thorough EIS when they were working on the rezoning that I think took, took that into account. So, I'm aware of a couple of schools that I think are under construction.
>>> Eli: And several charter schools have taken space. And typically, in a rezoning, as the neighborhood advocates for its sell through its elected officials, they ask for improvements that go beyond just the zoning designations. They want investment in the infrastructure for transportation, a new library, schools, funding for various social programs. It's a comprehensive package that just goes beyond R-7, R-9. You know, if someone were to sit down and read all the documentation that go into any neighborhood rezoning, they could probably spend four to five years reading it all. So, it's really more than just a
change of zoning. It's a comprehensive plan to improve a neighborhood. >>> Michael: So where are the other opportunity -- I mean, are there opportunities to build in Washington Heights today? Like the YU sites? >>> Eli: I mean, I, I think there's just a constraint of land. I think that's what we all deal with on a day-to-day basis. >>> Michael: You can't build anymore. >>> Eli: Well, we can build. We have to find where to put them.
>>> Katherine: The interesting thing about Inwood is that I think over the last couple of decades, it seems something like 200 units developed, you know, apartment units. It's definitely lagged behind the rest of Manhattan and really any other borough in the city. You know, we think there's a lot of pent up demand in the neighborhood from maybe younger people who grew up there and want to live in a newer building, you know, with amenities and like a modern heating system, you know, in addition to just like the general demand for rental housing in the metro area. >>> Michael: For my viewers, what do you believe the rents will be in your, your property and your property and the configuration of, you know, studios, one bedroom, two bedrooms, and three bedrooms? >>> Katherine: I think today they're probably in the high $40 a square foot, something like that in Inwood. You know,
and I think it will probably go up somewhat over the construction period and we'll have to, you know, see if it ends up being somewhere in the low fifties. I think that's kind of the trajectory. >>> George: Yeah. I think the challenge I'm sure you could attest to it is we're kind of pioneering effort up there. We can't really point to another site. So, we have to point to other neighborhoods that have -- >>> Michael: -- Train is right there. It's very convenient.
It's a nice, beautiful community. You know. >>> Eli: And it's aesthetically beautiful. >>> Katherine: It's a wonderful place to live >>> Eli: Yeah. It's a wonderful place to live. >>> Katherine: Surrounded by water on all sides. I think trains is really the key. You know, our sites are all, you know, right near the 1 train stop. You know, same block. The
A train is a couple blocks away. That's a 30-something commute to Midtown. We're right across the bridge from the University Heights Metro North stop on the Hudson Line. So that integrates you to Westchester and Grand Central.
You know, and we're seeing this from leasing, L + M with a joint venture partner, Wilder Balter Partners, we have a number of buildings in New Rochelle, downtown. There are a lot of people who live there and commute to New York. So, I think a lot of people may want to live, you know, kind of, maybe they're coming from Westchester, they want to live in Inwood. Or they're coming from Inwood and they might want to be close to the city and Westchester. That integration
into kind of the regional transportation network is actually key, which not a lot of neighborhoods have. >>> Eli: And the neighborhood already has an infrastructure of great restaurants, places to go out. I mean, I definitely gained 10 pounds [guests laughing] during the rezoning. There's tremendous amount of infrastructure that's already there. >>> Michael: At least you're taking care of the local tenant -- >>> Katherine: That's right. He's supporting the -- >>> Michael: Supporting the community.
So, if I had to look at my little apples over here, I'd say it's very bright for the opportunities that may have taken a long time to get the rezoning and the court case and everything else, but I'm happy that I've had the, today that people who are involved in building major projects. I'd like to thank Katherine, Eli, my producer needless to say, and George, and I'll see you next week. >>> Katherine: Thank you very much. Thanks for having us.
>>> Eli: Thanks, George. ♪ [Theme Music] ♪
2022-05-20 18:23
Show Video
Other news