Bloomberg Surveillance 07/15/2022 China's Slowdown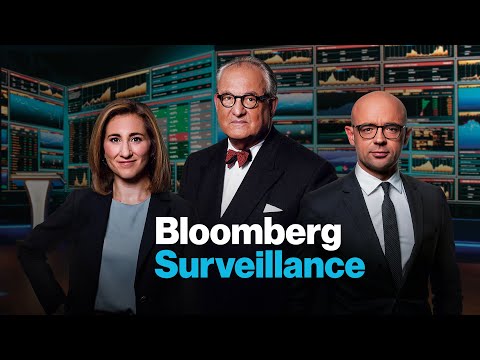 Show Video
WE HAVE THE FED HERE. THEY HAVE SAID THEY'RE GOING TO DO WHATEVER THE NEED TO DO FOR INFLATION. >> RIGHT NOW, THE MARKET IS GIVING THE FED A GREEN LIGHT TO GO TO A 100 BASIS POINT AT THE JULY MEETING. >> THE FED IS FOCUSED SO MUCH ON THE HEADLINE INFLATION IS THAT THEY ARE LOSING TRACK OF THE MOMENTUM.
>> WENT RISK ASSETS ARE MOVING THIS FAST, THEY TAKE OVER DATA. >> THE MARKET IS PRICING IN A MUCH HIGHER MOBILITY OF RECESSION. >> THIS IS BLOOMBERG SURVEILLANCE WITH TOM KEENE, LISA ABRAMOWICZ. >> GOOD MORNING. IT IS A FRIDAY TO GET YOU THROUGH THE WEEKEND. THROUGH JULY, TO THE FED
MEETING ON JULY 27. LISA, I DON'T KNOW WHERE TO BEGIN. LET'S BEGIN WITH SLOW CHINA. IRON ORE IS DOWN 53%, AND COPPER IS DOWN 34%. >> I'M SO GLAD YOU TALKED ABOUT THIS. THE CHINESE GOVERNMENT IS
PUSHING OUT OFFICIAL DATA THAT CONFIRMED THE SLOWDOWN WE ARE LOOKING AT. IT IS SHOCKING TO SEE THE SLOW DOWN, BUT MORE SHOCKING TO SEE PEOPLE REFLECT THAT WITH SOME ACCURACY, HIGHLIGHTING THIS QUESTION THEY ARE FACING RIGHT NOW. TOM: ALL OF THESE DEBATES, BUT I WANT TO PAUSE BACK ON APRIL 12 OR APRIL 13 WHEN THE WTO CAME OUT AND SAID 3%, SOME 3% GLOBAL GROWTH, AND EVERYONE SAID YES, MAYBE. HERE IT IS. LISA: HERE'S THE ISSUE. WE FURTHER FROM J.P. MORGAN. EVERYONE SEES THE CLASS. IT IS THE MOST EXPRESSIVE -- EXPECTED RECESSION GLOBALLY. HOW DO WE LOOK AT THE NOW.
IT LOOKS PRETTY GOOD. THAT IS WHAT J.P. MORGAN'S JAMIE DIMON WAS TRYING TO PARSE THROUGH, AND THAT'S WHAT WE'LL GET FROM CITIGROUP AND WELLS FARGO, TODAY. TOM: MATT MILLER, THE COMPANY OF ITEMS HERE, LET'S GO TO AN OPEN QUESTION TO YOU. WHAT IN THE MARKET HAS YOUR ATTENTION? MATT: WE SAW MIKE MCKEE SIT DOWN WITH CHRIS WALLER, AND HE SAID HE IS GOING TO WATCH. WALLER WILL BE WATCHING VERY CLOSELY THE RETAIL NUMBERS. WE WILL GET THEM OUT TODAY.
I SPOKE WITH ALLISON WILLIAMS FROM BLOOMBERG INTELLIGENCE, AND SHE SAID WERE GOING TO GET REALLY KEY DATA ON THE CONSUMER FROM CITY, AS WELL, AS WE GOT YESTERDAY FROM J.P. MORGAN. I THINK CONSUMER, THE U.S. CONSUMER IS WHAT I AM WATCHING. TOM: THIS IS REALLY IMPORTANT. MATT: VICTOR, IDAHO. TOM: YOU'RE THE KIND OF GUY WHO SETS US UP. WALLER'S OUT THERE WAS SOME
FANCY FLY WERE ODD -- FLY ROD. THAT'S WHAT WE COME DOWN TO. MATT: GETTING READY FOR CAMP IN AUGUST. OR WATCHING VERY CLOSELY TO SEE HOW DEEP THIS RECESSION IS GOING TO BE. IT IS NOT A QUESTION OF IF THE RECESSION, BUT WHEN. WHAT KIND. AS POINTED OUT, WE ARE SEEING A LOT OF FORECASTS FOR MAYBE A QUICK AND SHALLOW RECESSION. THE QUESTION IS, CAN WE BE
OPTIMISTIC? LISA: TOM: WHAT'S REMARKABLE THROUGH THIS WEEK, WE WILL BE ON WALL STREET WEEK, AND WE WILL BE LOOKING FORWARD TO THAT, BUT WHAT IS AMAZING IS THAT WE ARE DISASSOCIATING ALL OF THESE GLOBAL AND DOMESTIC STORIES, AND CURRENCIES AND BONDS AND COMMODITIES. LISA: RIGHT NOW, THE CURRENCY MARKET IS THE MARKET OF STRESS. IT'S WHERE YOU SEE PEOPLE EXPRESS CONCERN. IT IS IN THE DOLLAR STRENGTH WE SAW YESTERDAY, ALTHOUGH YOU ARE EASING OFF AFTER RESERVE FROM CHRIS WALLER, AND JIM BULLARD, BASICALLY PUSHING BACK AGAINST 100 BASIS POINTS.
THAT ACTUALLY COMBED THE MARKETS. BUT RIGHT NOW, WHAT WE ARE LOOKING AT OUR MARKETS THAT DON'T KNOW WHERE TO GO AND STOCKS ARE REALLY HIGHLIGHTING THAT. TOM: LET'S GET TO THE DATA. MATT MILLER IS IN FOR JONATHAN FERRO.
I WANT TO FOCUS ON CURRENCY. THE DEAL X OVER 108 IS THE WEAKNESS OF THE STRONG DOLLAR AGAINST PARITY. 1.0038. THE YEN IS WEAK. I'M LOOKING AT E.M., AS WELL. LISA: THAT'S ON THE HEELS OF THE DOLLAR STRENGTH. THAT IS THE STORY OF THE WEEK. BUT THROUGHOUT THE WEEK, RIPROARING RALLY, AND AS CONVICTION TRADE WE HEAR FROM SO MANY INVESTORS, WE GET THOSE SLOW BANK EARNINGS CONTINUING WITH CITIGROUP COMING OUT AROUND 8:00.
WELLS FARGO AT 7:00. THESE ARE GOING TO BE FASCINATING NOT JUST FOR THEIR BANKS AND THEIR TURNAROUND PLANS, BUT ALSO FOR THE MACROECONOMY. WELLS FARGO AND PROTECT HER WITH MORTGAGES, THE HOUSING MARKET, CITIGROUP WITH THE CONSUMER.
BOTH OF THEM WITH A KEY INTO PREPARATIONS, IN TERMS OF EXPANSION PLANS. ALSO, WE GET A SLEW OF ECONOMIC DATA. WE WERE TALKING AND MATT MENTIONED RETAIL SALES. FOR THE MONTH OF JUNE, HOW MUCH DO WE SEE AN ONGOING REDUCTION IN SPENDING, PARTICULARLY ON AN INTERESTED BASIS -- ADJUSTED BASIS? UNIVERSITY OF MICHIGAN CONSUMER SENTIMENT DATA 10:00 MAY BE A KEY FACTOR, ESPECIALLY WITH THEIR EXPECTATIONS OF CONSUMERS FOR INFLATION OVER THE NEXT FIVE TO 10 YEARS. WE KNOW THAT'S A KEY DATA POINT
FOR THE FED CHAIR. THE LAST TIME THEY ACTUALLY WENT 75 BASIS POINTS, DID WE SEE AN ONGOING SURPRISE THERE? THERE IS A SLOW FED SPEAK. IS THE LAST SLEW OF FED SPEAK BEFORE A BLACKOUT. THAT STARTS NEXT WEEK AHEAD OF THEIR MEETING ON JULY 27. THE ATLANTA FED AND MARY DALY
ALL LINED UP. WHAT DO THEY SAY? DO THEY CONTINUE TO KNOCK DOWN THE 100 BASIS POINT RATE HIKE AS THEY DID YESTERDAY? THEY CAME IN MORE CONSERVATIVE WELL AGAIN, HIGHLIGHTING THEIR AGGRESSIVE FIGHTING OF INFLATION. TOM: WE NEED TO STOP HERE WITH ALL THE WORK MICHAEL MCKEE HAS DONE WITH JAMES BULLARD OF THE ST. LOUIS FED.
BULLARD'S EFFORT, I WILL SAY, FOR FIVE YEARS AGO, TO CODIFY THE PHRASE REGIME CHANGE LITERALLY WILL GO DOWN IN FED HISTORY WITH WHAT WE'VE PUT UP WITH IN THE LAST YEAR. LISA: HE HAS BEEN OUT FRONT IN BE MORE AGGRESSIVE WITH THE FED. THAT IS THE REASON IT WAS SO INTERESTING YESTERDAY WHEN HE PUSHED BACK AGAINST 100 BASIS POINT RATE HIKE, REITERATING THE 75 BASIS POINTS. IT IS PARSING THESE BASIS
POINTS. IT DOESN'T MATTER IN THE SHORT RUN, BUT LONGER-TERM, IT SHOWS WHERE THEIR MIND IS THAT IN TERMS OF FIGHTING INFLATION. TOM: CHRIS JOINS US, AND WE DO THIS WITH A BROADER SWEEP ON WALL STREET WEEK. FRAME YOUR INVESTMENT THESIS. THE COURAGE TO INVEST FOR 2024. HOW DO YOU DO THAT, HOW DO YOU VALUE AND DEVELOP TWO OR THREE YEAR PERSPECTIVE? >> THANKS. THAT IS WHAT WERE LOOKING AT. WERE LOOKING AT THREE TO FIVE YEARS.
WHAT ARE THE GOOD INDUSTRIES, WHAT ARE THE GOOD COMPANIES, AND HOW BAD IS BAD. CAN THE COMPANIES MAKE IT THROUGH WHATEVER COMES IN THE NEXT 18 MONTHS? WHEN YOU LOOK AT IT THAT WAY, WE ARE PRETTY CALM. WE THINK AS JAMIE DIMON POINTED OUT, THE ECONOMY WILL BE BIGGER THAN IT WAS IN FIVE OR 10 YEARS, AND A LOT OF UNCERTAINTY AND BALLS IN THE AIR. WERE NOT GOOD TO GET THEM ALL RIGHT, BUT WE TRY TO DO THE BEST WE CAN.
>> LISA, MY RESEARCH COMMENT WAS THAT DAVID GEORGE, WHO LEANED IN AND SAID WOULD EVERYONE CALM DOWN ABOUT THE HURRICANE THAT'S OUT THERE. THIS IS ON J.P. MORGAN THEY ARE SIMPLY SAYING LOSE THE HURRICANE. LISA: THAT'S WHAT JAMIE DIMON WAS SAYING. THERE MIGHT BE A HURRICANE. WE ARE EXPECTING RECESSION, BUT THINGS LOOK GOOD. CHRIS, YOU LOOK PRETTY CONSTRUCTIVELY, BUT YOU TALK ABOUT THE SIX EYES.
INFLATION, INTEREST RATES, AND INTERNATIONAL RATES AND INFECTION RATE YOU ADDED INVERSION OR IMPLOSION. THAT DOESN'T SOUND OPTIMISTIC GREAT HOW DO YOU DOVETAIL AFTER MS. HIM -- PESSIMISM INTO OPTIMISM. >> FOR WATCHING THE SAME THINGS EVERYONE ELSE'S. WALL STREET IS ON ITS KEISTER. GREENSTREET SEEMS TO BE DOING BETTER, ALTHOUGH SOME SIGNS OF STRESS, AND THOSE WE WILL WATCH CAREFULLY USING DATA YOU MENTIONED EARLIER. IT WOULDN'T SURPRISE ME THAT WE SEE A RECESSION VERY SOON.
I THINK IT IS SHALLOW. PROBABLY LENGTHIER THAN A LOT OF PEOPLE HOPE. >> WHAT ABOUT THE INFRASTRUCTURE AND INCOME TAX.
WE HAVE A LOT TO DO ON THE FORMER, AND WE PAY WAY TOO MUCH ON THE LATTER. THAT WILL NOT CHANGE. >> NEWS THAT THE MOST POWERFUL JOE AND WASHINGTON -- IN WASHINGTON, JOE MANCHIN, IS PUSHING ACT AGAINST ANY EFFORT TO GET A BUILD HACK -- BACK BETTER BILL -- I'VE BEEN CONCERNED THAT IN THE LAST COUPLE OF YEARS WE HAVE NOTHING MOVEMENT ON TAXES. THAT SOMETHING NEED TO GET IN ORDER IN THE NEXT TERM. OBVIOUSLY WE HAVE NEAR-TERM ISSUES TO DEAL WITH. MATT: ON RATES, EVERYONE'S TALKING ABOUT 75 VERSUS 100 AND WHAT WILL SEE ON THE FOLLOWING MEETING, BUT IF YOU LOOK AT THE BIGGER PICTURE, IT IS MORE IMPORTANT IF YOU SEE THE FRAMEWORK COMING BACK DOWN INTO 2023.
IS THAT HOW YOU SEE IT >> --? >> THAT'S HOW I SEE IT. I SHARE THE PERSPECTIVE, AND I NEED TO GET AFTER THIS QUICKLY AND AGGRESSIVELY. MAYBE THAT MEANS 100 AT THE NEXT MEETING. THEY DO HAVE THE ABILITY TO CUT AND STIMULATE AGAIN. TOM:
WERE DOING WALL STREET WEEK TONIGHT. CAN WE GO MARIO GO BELLY ON YOU? CAN WE GET YOUR BEST PREDICTION? >> IS THE SAME ONE I'VE HAD AFTER THE LAST MONTH. I WANT TO TALK ABOUT A PUBLIC COMPANY, THE ABILITY TO OWN ONE OF 30 MAJOR LEAGUE BASEBALL TEAMS, AND WHAT HAPPENS TO BE DOING PRETTY WELL. THERE CONTROLLED BY THE LIBERTY
MEDIA EMPIRE. THEY ARE LIKELY TO BE SPUN OFF IN THE NEXT 18 MONTHS. IS TRADING AT 25 WHICH APPLIES 1.5 BILLION DOLLARS OF VALUE FOR THE TEAM. AS CLOSER TO 3 BILLION. >> WALL STREET WEEK, THANK YOU CHRIS.
I THINK THIS WILL BE A LOT OF FUN. IN THIS CACOPHONY, AND ALL THE WORRY, PARTICULARLY ACROSS ASSETS WE HAVE SEEN THIS WEEK, THE EQUITY GUYS, THEY ARE FOCUSED ON 2, 3, 4 YEARS, EACH WITH A DIFFERENT VIEW. >> SHORT-TERM, IT IS GETTING DARKER, THAT COMES FROM THE PIVOT, BUT THE FED IS GOING TO BE MORE AGGRESSIVE. WE HEARD THAT FROM MARIO PATEL WHO IS RETHINKING THAT. I DO WONDER, WHEN YOU TALK ABOUT SPORTS TEAMS, THAT HAS BECOME AN ASSET CLASS IN ITSELF, AND A LOT OF INVESTORS HAVE BEEN PLOWING INTO THAT. KIND OF INTERESTING, ESPECIALLY IF YOU WANT TO INVEST. >> DEEP CONFERENCE CALL YESTERDAY.
UNIVERSITY OF COLLEGE IN LONDON, THERE WAS WOMAN IN TURN YEARS -- IN TEARS OVER WHAT THE ORIOLES ARE DOING. IT WAS NO OTHER WAY TO PUT IT. MATT MILLER, WE SAW A HUMMER, H3 ON FIFTH AVENUE. OUR BIG CAR IS STILL SELLING?
>> LOOK AT THE NEW HOVER -- HUMMER. ELECTRIC HUMMER THAT COST SOMEWHERE WAY NORTH OF $100,000. IT'S GIGANTIC. THE H3 IS THE MOST EMBARRASSING
HUMMER TO OWN OF ALL HUMMERS. IT MARKED THE END OF A BRAND. NOW IT IS REBORN IN THE BIGGEST CAR OF ALL TIME. >> THAT'S WHERE JONATHAN FERRO IS PRETTY'S TEST DRIVING THE NEW HOVER ON AN EXCURSION HALFWAY TO TALK HER LEG. YOU ARE WITH US ON FRIDAY. LISA ABRAMOWICZ AND I WILL BE
WORKING THROUGH THE DAY TO BRING YOU THE VIEW INTO JULY, AND THAT CRITICAL FED MEETING ON JULY 27. IN JEDDAH, WE ARE WITH THE PRESIDENT, LEAVING FOR JETTA, THE HISTORIC FLIGHT NEAR THE 830 MARK IT YOUR TIME. THIS IS BLOOMBERG. >> KEEP YOU UP TODAY WITH NEWS FROM AROUND THE WORLD, I AM CRITIC AGRIPPA -- RIDDICK A GOOD DEBT. -- RIKITA GUPTA.
AFTER HIS MEETING WITH THE CROWN PRINCE, PRESIDENT BIDEN WILL LEAVE WITH NO PUBLIC ANNOUNCEMENT ON OIL SUPPLY. GOVERNMENTS HAVE BEEN DISCUSSING ENERGY MARKETS, REGARDING OUTPUTS FROM THE MEMBERS OF THE OPEC CARTEL. IN BETHLEHEM, PRESIDENT BIDEN THOUGHT TO CUT TIES WITH THE PALESTINIAN AUTHORITY. HE MET WITH MAHMOUD ABBAS, AND HE IS INVESTING $60 MILLION. DONALD TRUMP CUT OFF MOST TIES
WITH THE PALESTINIAN AUTHORITY'S. THAT WAS AFTER A SERIES OF DISPUTE. IN THE U.K., THE RACE TO SUCCEED BORIS JOHNSON AS
CONSERVATIVE PARTY LEADER AND PRIMUS ARE GOES ON TV TODAY. THE REMAINING CANDIDATES WILL FACE OFF IN A TELEVISED DEBATE. THE MINISTERS PULLED AHEAD OF THEIR RIVALS IN THE SECOND ROUND OF VOTING ON THURSDAY. THE NEXT BALLOT IS ON MONDAY. THE CHINA'S ECONOMY GREW AT ITS SLOWEST PACE IS BEING HIT BY THE PANDEMIC TO SKIP IT IT WAS EXPECTED TO BE .4%.
THAT UNDERLIES THE IMPACT OF THE COVID ZERO POLICY. BEIJING IS LIKELY TO MISS ITS GOAL BY A WIDE MARGIN. GLOBAL NEWS, TOY FOR HOURS A DAY, ON AIR, POWERED BY MORE THAN 2700 JOURNALISTS AND ANALYSTS IN MORE THAN 120 COUNTRIES. THIS IS BLOOMBERG. >> I HAVE NEVER BEEN QUIET ABOUT TALKING ABOUT HUMAN RIGHTS. I AM GOING TO SAUDI ARABIA, THOUGH, TO PROMOTE U.S. INTERESTS. I THINK WE HAVE AN OPPORTUNITY TO REASSERT WHAT I THINK WHEN WE MADE A MISTAKE OF WALKING AWAY.
OUR INFLUENCE IN THE MIDDLE EAST. TOM: THE PRESIDENT OF THE UNITED STATES BEFORE A MOST HISTORIC FLIGHT. FOR THOSE OF US REMEMBER 1967, FRANKLY, FOR OUR ELDERS REMEMBER 1948, THIS IS AN EXTRAORDINARY MOMENT.
ISRAEL, PALESTINE, AND ONTO THE SHORES OF THE RED SEA. AN IMAGE OF PRESIDENTS OF SAUDI ARABIA, AND MAYBE PRESIDENT TRUMP WITH LCC OF EGYPT, AND WHEN THEY TOUCH THE ORB. NOT TOUCHING THE ORB, SHE IS IN JETTA, WE ARE JOINED ON BLOOMBERG WASHINGTON. OUR CORRESPONDENT. I'M GOING TO GUESS THAT WHEN PRESIDENT BIDEN IS THERE, THERE'LL BE NO TOUCHING OF THE ORB. >> I DON'T THINK THERE WILL BE IN ORB, I DON'T THINK IT IS A TRADITIONAL SAUDI SWORD DANCE, AND ANYONE WHO HAS COME TO THE KINGDOM, OR HAS NOT BEEN A PART OF WHAT WE WILL POTENTIALLY SEE.
THE PRESIDENT WILL MEET HIS COUNTERPART AT THE WHITE HOUSE. KING SALMAN. HE WILL HAVE A WORKING SESSION. THE CROWN PRINCE, MOHAMMAD BIN SALMAN. BY THE TIME WE GET TO THE IMAGES, WE MIGHT BE SITTING AT A TABLE, SO THEY MIGHT BE ABLE TO AVOID THE IMAGE WHICH THEY DON'T WANT THE FRONT PAGE OF NEWSPAPERS ON TOMORROW MORNING, WHICH IS A HANDSHAKE OR SOMETHING CHUMMY WHEN PRESIDENT BIDEN AND THE CROWN PRINCE MEET. LISA: THIS IS A GEOPOLITICAL
STRATEGY. THAT IS WHAT PRESIDENT BIDEN HAS FRAMED IT AS PRAYED WE ARE HOPING FOR SOME SORT OF OUTCOME WHEN IT COMES TO THE PRODUCTION AND DRILLING OF OIL FROM SAUDI ARABIA. WE UNDERSTAND FOR YOUR REPORTING THAT THEY WILL NOT COME OUT WITH A STATEMENT ON THAT, FOLLOWING THE MEETING, BUT WHAT DOES SONY RATE YOUR WANT IN RETURN? -- SAUDI ARABIA WANT IN RETURN? ANNMARIE: THE PRESIDENT COMING IS IMPORTANT FOR MOHAMMAD BIN SALMAN IN THAT IT LEGITIMIZES HIM. HE CANNOT HAVE THE PRESIDENT SAYING HE WANTS TO MAKE HIS GOVERNMENT A PARIAH.
THERE WOULD BE NOTE REDEEMING QUALITY ABOUT THE CURRENT GOVERNMENT THAT HE WOULD NOT BE DEALING DIRECTLY WITH PRESIDENT BIDEN. THIS LEGITIMIZES HIM, TO A POPULATION THAT IS INCREDIBLY YOUNG HERE IN SAUDI, AND ALSO, VERY, HONESTLY, THEY TRAVEL TO AMERICA. MANY SAUDI'S, HUNDREDS, THEY ALL GO TO THE UNITED STATES TO STUDY. IT IS AN IMPORTANT MOMENT FOR HIM AS HE CHANGES A LOT, SOCIALLY, IN THE KINGDOM. IF THE PRESIDENT OF THE UNITED STATES THERE, HAVING A MEETING WITH HIM.
IT LEGITIMIZES HIM AS A SAUDI LEADER, AND THE PRESIDENT HAS CONTINUOUSLY SAID HE IS MEETING WITH THE LEADERSHIP OF SAUDI ARABIA, SO IT IS A COUP FOR HIM, NOT JUST HERE, BUT GLOBALLY. LISA: THIS GOES TO THE QUESTION WE WERE ASKING EARLIER IN THE WEEK. IS THE JUICE WORSE -- WORTH THE SQUEEZE? IS SAUDI ARABIA GETTING RECOGNITION FROM THE U.S. PRESIDENT? WHAT DO WE GET IN RETURN IF WE WILL NOT HEAR A STATEMENT ON OIL AND GAS.
IT IS UNCLEAR SAUDI ARABIA HAS THE CAPACITY TO PRODUCE MUCH MORE. WHAT BENEFIT DOES THE U.S. EMERGE FROM? ANNMARIE: A FEW THINGS ON OIL AND GAS -- I'VE BEEN TO OPEC MEETINGS WHEN PRESIDENT TRUMP WOULD TWEET THAT THE CARTEL NEEDS TO PUMP MORE. NONE OF THOSE MOMENTS WITH THE CARTEL ACT. THESE THINGS TAKE WEEKS OF ENGAGEMENT, AND THE ENTIRE GROUP WOULD HAVE TO SIGN OFF ON IT, BUT WHAT WE DO KNOW IS THAT THERE HAS BEEN ENGAGEMENT FOR MONTHS, THERE CONTINUES TO BE, WITH U.S. GOVERNMENT OFFICIALS AND SAUDI OFFICIALS. WE SHOULD LOOK AHEAD TO THE NEXT OPEC MEETING. RIGHT NOW, THEY ARE UNDER A
STRICT DEAL, AND POTENTIALLY, THERE COULD BE MORE OIL COMING TO THE MARKET. POTENTIALLY, THE KINGDOM IS NOT GOING TO BE THE SOLE PROVIDER THAT CAN FIX BIDEN ISSUE OF A LITTLE UNDER FIVE DOLLARS OF A GALLON OF GASOLINE, BUT WE CANNOT FIX THE OIL MARKET WITHOUT SAUDI ARABIA. THERE ARE TONS OF QUESTIONS ABOUT HOW MUCH CAPACITY THEY HAVE, AND IF THEY HIT THE LIMIT, HOW MUCH THEY CAN GO FOR. WE SHOULD KNOW THAT THE SAUDI'S HAVE NEVER VOWED TO HIT SOMETHING AND THEN NOT DO IT. THEY PRIDE THEMSELVES ON BEING ABLE TO HIT ALL OF THEIR TARGETS, ESPECIALLY AROUND THEM. MATT: IT SEEMS LIKE THE PRESIDENT IS WASTING A LOT OF CAPITAL, EVEN IF THERE IS NO ORBIT.
AMERICA STILL SEES HIM AS GOING TO SAUDI ARABIA TO FIGURATIVELY KISS THE RING OF A MURDERER WHO AT LEAST ACCORDING TO INTELLIGENCE SOURCES HERE, APPROVED THE DISMEMBERMENT OF A JOURNALIST. WHY RISK THAT WHEN IT SEEMS LIKE HE COULD GET MORE PRODUCTION OUT OF TEXAS AND OKLAHOMA, WERE HE TO CHANGE HIS POLICY TOWARDS U.S. PRODUCERS? ANNMARIE: THIS IS WHY THE TRIP IS POLITICALLY VERY DIFFICULT FOR THE PRESIDENT. IT IS A FINE LINE. YES TO WALK.
THE REASON WHY AMERICANS DON'T WANT TO COME TO THE KINGDOM, AND THE PRESIDENT HIMSELF HAS BEEN CREDIBLY TOUGH ON MOHAMMED IN SALMON WHEN IT CAME TO THE CAMPAIGN TRAIL, AND WHEN THEY WENT TO THE MINISTRATION. BUT THE ADMINISTRATION ANALYSES, ESPECIALLY AFTER RUSSIAN INVASION RING, THEY NEED TO MAKE SURE THEY ARE STIRRING UP THEIR ALLIES, RIGHT NOW. WELL YES, YOU CAN POTENTIALLY GET MORE PRODUCTION AROUND THE WORLD, SAUDI ARABIA IS THE NATURAL PRODUCER. IT IS VERY DIFFICULT TO FIX AN OIL MARKET WITHOUT HAVING THE KINGDOM ON BOARD. WE SHOULD ALSO NOTE THAT BEFORE THE PRESIDENT FLIES IN, HE DID GET ONE WHEN THAT FOR YEARS PEOPLE HAVE BEEN TRYING TO DO, THAT IS TO OPEN THE SAUDI AIRSPACE FOR ALL FLIGHTS, INCLUDING ANY FLIGHT COMING OUT OF ISRAEL.
RIGHT NOW, THAT IS ONLY POSSIBLE FOR FLIGHTS OUT OF TEL AVIV GOING TO THE EMIRATES OR BAHRAIN. TOM: THANK YOU SO MUCH. THE PRESIDENT'S LANDING IN JETTA LATE THIS AFTERNOON. SEVEN HOURS AHEAD OF WHERE WE ARE HERE IN NEW YORK.
I NEED TO GET BACK TO THE MARKETS ON A FRIDAY. WHAT YOU NEED TO KNOW WITH A BANK EARNING COMING UP AND EQUITY FUTURES UP 10 AND DOW FUTURES UP 97. THE VIX, I HAVEN'T LOOKED FOR THE WEEK, BUT PRETTY MUCH BUNCHED HERE. 26.39. CERTAINLY INSTRUCTIVE AWAY FROM THE STRESS OF A 30 LEVEL THERE ARE BIG CHAINS. WE HAVEN'T MENTIONED IT. THE CURVING VERSION IS ASKED ORDINARY. LISA: IT IS THE DEEPEST AND LONGEST
GOING BACK YEARS AND YEARS. BEYOND THE CRISIS THAT WE SAW IN 2008, AND RIGHT BEFORE THAT. THE DEEPEST INVERSION SINCE 2007. WHAT DOES THIS MEAN IN TERMS OF HOW IT IS INFECTING THE FED RHETORIC? THEY DON'T WANT TO SEE THIS. THEY DON'T WANT TO SEE IF -- A DEEP CURVE INVERSION FOR A LONG TIME FOR IT THAT IS WHERE THEY PIVOTED YESTERDAY. TOM: NO QUESTION ABOUT THAT.
FOR THOSE OF YOU ON RADIO, IMAGES OF THE AMERICAN FLAG, THE PALESTINIAN FLAG, THE PRESIDENT MEETS WITH MR. ABBAS. COMMENTS -- IT IS A BUSY SCHEDULE FOR THE PRESIDENT AND ISRAEL. NOW, PALESTINE, THE DELICACIES, AND THEN I THINK IT IS A GOOD 700 MILES TO JETTA. IT IS NOT RIYADH, AND THOSE OF YOU WHO KNOW SAUDI ONE-TO-ONE, IT IS A COMMERCIAL PORT. IT IS ONE OF THE LARGEST PORTS
IN THE WORLD. IT IS ON THE RED SEA. THEY WILL CHECK IN THEIR TWO JET -- TO JETTA. THE DOLLAR STRENGTH IS RESILIENT. WHAT AM I WATCHING? ANYTHING IN A SIGNIFICANT MARKET .
ALL IN ALL, I WOULD SAY THE EURO IS ON PARITY WATCH. 1.0040. NEXT WEEK, THE ECB. STAY WITH US. THIS IS BLOOMBERG. >> GOOD MORNING, BLOOMBERG SURVEILLANCE. MATTHEW MILLER'S INNER FOR JONATHAN FERRO PRINT HE IS TEST DRIVING THE NEW HUMBER THIS WEEKEND. HE IS UP NORTH. THAT IS A BEAUTIFUL THING. WE ARE GETTING READY FOR THE WEEKEND. ONE AN EVENTFUL WEEK IT HAS
BEEN. AN ANNOUNCEMENT THAT WE WILL TALK ABOUT ON WALL STREET WEEK. WE ARE LOOKING FORWARD TO THAT. LORI IS GOING TO RECALIBRATE ON EQUITIES AS WELL. FUTURES ARE UP, AND THERE IS A SPREAD. INVERSION IS IN PLAY.
-19 BASIS POINTS FOR THOSE IN THE BOND SPACE, AS WELL. WE HAVE AN EVENTFUL HALF-HOUR TO SAY THE LEAST. TWO HOUSEKEEPING NOTES.
MOMENTS AGO, DAMIEN PUBLISHED A NOTE ON THE CARNAGE THIS WEEK IN JEROME POWELL'S EMERGING MARKETS. THE BASIC IDEA IS THAT IN BOND FLOWS, PRICE IS DOWN, FIVE YEARS OF IAN PROFITABILITY, AND IT IS WIPED OUT. WE THINK LAWRENCE MCDONNELL FOR ATTENDANCE.
HE WAS JUST BRILLIANT. DO WE AGREE? WE'VE IGNORED CHINA THIS WEEK. I THINK WE CAN AGREE. LISA: WE'VE TALKED ABOUT AS A PERIPHERAL STORY BUT IT IS MORE CENTRAL. TOM: I WOULD SAY SO. A BUSY HALF-HOUR -- WERE JOINED BY OUR AGENT ECONOMICS CORRESPONDENT. WHAT WAS THE SURPRISE HERE? IT IS ALWAYS SQUISHY WITH CHINA DATA, BUT WALK WAS -- WHAT WAS THE DISTINCTIVE SURPRISE? >> IT WAS LEFT BY A BIG LONG DANCE IN APRIL AND MAY.
SECOND-QUARTER GROWTH CAME IN AT 0.4% IT IT WAS LOWER THAN EXPECTATIONS, AND IT REALLY WORKS THE IDEA THAT CHINA IS POSSIBLY ACHIEVING HIS 5.5% OF GROWTH TARGET. WE'VE HAD A LOT OF OTHER NUMBERS AS WELL.
WE JUST WENT OVER SOME OF THEM. RETAIL SALES A MINUTE 3.1% FOR JUNE. THEN THE HEADLINE FOR CONSUMERS RECOVERING, BUT NEGATIVE INFLATION EFFECT FOR CONSUMER REBOUND WAS ACTUALLY QUITE SOFT EVEN THOUGH UNEMPLOYMENT FELL, USEFUL EMPLOYMENT INCREASED TO 20%. CHINA'S RECOVERY IS A LONG WAY TO GO. TOM:
I'M KIDDING YOU NOT, FOLKS, STARBUCKS IN THE FRENCH QUARTER OF SHANGHAI, AND A VERY YOUNG AMERICAN ECONOMIST SAID TO ME, THERE IS NO OTHER MANDATE OTHER THAN TO KEEP PEOPLE EMPLOYED. AT RUT -- WHAT RISK IS BEIJING IN A HISTORIC SLOWDOWN WHERE THEY CAN'T KEEP PEOPLE EMPLOYED? ENDA: JOB CREATION IS PRIORITY NUMBER ONE, AS WE ALL KNOW. OFFICIALS ROUTINELY COME OUT AND MAKE A POINT THAT THEY'VE GOT TO CREATE JOBS. WE DID SEE A SURVEY JOBLESS RATE FALL BACK TO 5% TODAY. IT WAS INDICATED THAT JOBS ARE GOING BACK, BUT AS MENTIONED, THE PROBLEM SEEMS TO BE USEFUL EMPLOYMENT.
16 TO 24-YEAR-OLDS, WITH 10 MILLION GRADUATES COMING ONTO THE SCENE ON THIS YEAR ALONE. THE UNEMPLOYMENT RATE FOR THAT SECTOR GROWS TO 19.3%. THERE IS A LOT OF DISCONTENT AMONG YOUNGER PEOPLE ABOUT WHAT OPPORTUNITIES THERE ARE FOR THEM IN CHINA. A GROWTH STORY IS STARTING TO FADE, WITH A CRACKDOWN ON THE TECH SECTOR TO SLOW.
IT IS ALL JUST RESULTS COMING TOGETHER, AND IT IS SQUEEZING JOBS FROM PEOPLE. LISA: THE SURPRISE WAS THE DOWNSIDE READ, BUT IT WAS ALSO REFLECTED AS SUCH IN THE OFFICIAL NUMBERS. WHAT IS THE LIKELY POLICY IMPLICATION THAT OFFICIALS THEMSELVES ARE RECOGNIZING WEEK THIS THAT THE PRIVATE SECTORS WERE TALKING ABOUT FOR MONTHS. ENDA: THIS HAS TO UNDERSCORE GOVERNMENT WILLINGNESS NOW. INTERESTINGLY, FOR CENTRAL BANK OPTED AGAINST PUTTING EXTRA LIQUIDITY IN THE FINANCIAL SYSTEM BECAUSE THEY ARE SAYING THERE IS ENOUGH LIQUIDITY THERE. THERE IS A VIEW THAT CHINA
DOESN'T NEED LOWER INTEREST RATES. THAT IS NOT THE TONIC TO SOLVE THE PROBLEMS. IT WILL COME WITH MORE GOVERNMENT SPENDING, ESPECIALLY ON INFRASTRUCTURE PROJECTS. MOST LIKELY, MAYBE, WE WILL SEE
ALTERNATIVE ENERGY PROJECTS GETTING OFF THE GROUND, AS WELL. WE ARE ALREADY SEEING STORIES OF RAMPING UP BORROWING AND SPENDING. IT WILL BE A MIX OF EXTRA SPENDING, CUT RATES FOR SMALL COMPANIES, AND MOSTLY ON THE FISCAL SIDE.
THE CENTRAL BANK WILL PLAY FOR MORE SUPPORT. MATT: TO ME, THE BIGGEST SHOCK WAS POINTED OUT EARLIER. IT IS JUST A TRANSPARENCY. I CAN'T BELIEVE THAT THEY ARE TELLING US THE ACTUAL FIGURES OR WHAT LOOKS TO BE AT LEAST A HUGE MESS FROM THEIR FORECASTS. WHY? ENDA:
THERE ARE THOSE THAT SAY THESE FIGURES THEMSELVES ARE ALREADY STRETCHING THINGS TO OUR. THEY ALREADY LOOK LIKE TOO OPTIMISTIC, BUT MOSTLY, NOBODY CAN DENY TRENDS. DIRECTION FOR CHINA'S ECONOMY AND THE FIRST HALF OF THE A. IT WASN'T JUST SHANGHAI THAT
WAS LOCKED DOWN. THERE WERE OTHER CITIES. THERE WERE RESTRICTIONS ALL AROUND THE COMPANY -- COUNTRY. IT IMPACTED PORTS AND LOGISTICS. IT IMPACTED CONSUMERS, AND DON'T FORGET THE REAL ESTATE SIDE OF THINGS.
THE NUMBERS THAT CAME OUT WERE ALSO QUITE NEGATIVE. THEY SHOWED ANOTHER SLIDE, AND PRICES WITH INVESTMENT. IN MADE UP 20% OF THE ECONOMY. AS I SAY, THERE IS ALWAYS SCRUTINY AND SKEPTICISM ON CHINA'S SIDE.
THE NUMBERS -- BROADLY SPEAKING -- NEGATIVE. I DON'T THINK ANYONE COULD HAVE COVER THAT UP. TOM: THANK YOU FOR THE COVERAGE. CLAUDIUS PSALM HAS BEEN LISTENING ON. A CENTRAL BANKER TO THE WORLD,
SHE HAS BEEN CONSULTING, AND MOST IMPORTANTLY, WHAT AN ODDITY OF RECESSION BLOOM INTO A FULLY EMPLOYED AMERICA. LET''S GET THIS PHRASE THAT WAS NEVER IN THE MICHIGAN TEXTBOOKS. CAN YOU HAVE A RECESSION IN A FULLY EMPLOYED ECONOMY? CLAUDIA: AT THIS POINT, WE CAN HAVE ANYTHING.
NOTHING WOULD SURPRISE ME. IT IS ABSOLUTELY UNUSUAL TO HAVE A RECESSION, TO SEE ACTIVITY, TO SEE GDP CONTRACTING FOR TWO QUARTERS STRAIGHT. AT THE SAME TIME, WE WOULD HAVE LOW UNEMPLOYMENT AND MASSIVE JOB GAINS. WE HAVE WHAT IS CALLED A JOB FULL RECESSION. THIS IS NOT USUAL. TOM: YOU ACADEMICALLY GREW UP IN THE CRUCIBLE OF INFLATION STUDY. MICHIGAN IS THE FRANCHISE FOR
STUDYING FOLKS, SLICING AND DICING. SHOULD OUR BANKERS BE LOOKING AT TOPLINE INFLATION OR TRIMMED INFLATION OR THE CORE INFLATION OR THE PSALM INFLATION WHICH MARK --? CLAUDIA: MAMA SEE -- MONTY POLICYMAKERS SHOULD LOOK AT EVERY PIECE OF INFLATION, AT THE TOP LINE AND STRIPPING OUT FOOD AND ENERGY, AND THE COMPONENTS. WE REALLY NEED TO UNDERSTAND WHAT IS DRIVING THIS TO UNDERSTAND WHERE IT IS GOING. NOW, ONE THING THAT I HAVE HEARD FROM JEROME POWELL THAT IS DISCONCERTING IS THE IDEA THAT TOPLINE, INCLUDING THESE MASSIVE ENERGIES WINGS, WILL HELP GUIDE THE POLICY.
THAT IS PROBLEMATIC. WE KNOW FOOD AND ENERGY WHIPS ALL AROUND, AND THE FED, THOSE ARE SOME HIGH PROBLEMS. THEY CANNOT DO ANYTHING ABOUT THAT. THAT IS HARD TO HEAR. IT IS TRUE. WE HAD BIG ENERGY INCREASES, AND WHAT THEY ARE CONCERNED ABOUT IS THAT CONSUMERS LOOK AT THAT AND THEY START TO EXPECT MORE INFLATION, AND THEY CHANGE THEIR BEHAVIOR AND THEY CAUSE MORE INFLATION. THAT WOULD BE BAD. LISA: THIS IS THE REASON WHY THE FED IS BETWEEN A ROCK AND A HARD PLACE. THEY DON'T WANT TO CAUSE RECESSION, BUT THEY DON'T WANT
TO ALLOW EXPECTATIONS TO BECOME ENTRENCHED IT YOU HAVE ARGUED THAT THE FED SHOULD DO WHAT IT NEEDS TO DO TO TAKE DOWN INFLATION. OTHER SUPPLY-SIDE ISSUES ARE NOT THEIR ISSUE. IT IS REALLY CONGRESS. WHAT HAPPENS IN WASHINGTON, AS A RESULT, THEY SHOULD NOT GO TOO FAR. AT THIS POINT, GIVEN THE LACK OF ACTION IN, WHAT IS TOO FAR? HOW FAR SHOULD THE FED GO, EXPECTING WE WILL NOT GET ANYTHING AS FAR AS LEGISLATION? >> WE LEARNED LAST NIGHT THAT JOE MANCHIN IS WALKING AWAY FROM ANY KIND OF ENERGY LEGISLATION.
THAT MEANS THE FED IS ON ITS OWN. THE ADMINISTRATION HAS FLOATED NOTHING THAT WILL GET GAS PRICES DOWN, SO IT IS UP TO THE FED. THAT INFLATION WILL BE TRANSITORY. ONE WAY OR THE OTHER, THE FED
WILL GUARANTEE THAT. THAT IS NOT WHAT WERE GOING TO WANT. THE FED WILL TRY THEIR HARDEST TO AVOID A RECESSION, BUT WHAT THEY'RE DOING NOW, THE FULL EFFECT OF IT, IT COMES NEXT YEAR.
THAT -- NO ONE KNOWS WHAT COMES NEXT YEAR. WE HAVE TO HAVE SOME THINGS IN THE WORLD GO OUR WAY, AND THAT HAS NOT BEEN THE CASE FOR TWO AND A HALF YEARS. THAT IS NOT A PRETTY PICTURE, AND FRANKLY, AS THEY WALK AWAY, GETS WORSE IT >> THE TIMING SEEMS BAD BECAUSE THE FED IS GOING ALL OUT, GUNS BLAZING, AND WERE TALKING ABOUT A FULL PERCENTAGE POINT INCREASE AT A TIME WHEN IT SEEMS INFLATION REALLY HAS PEAKED. IF YOU LOOK AT THE COMMODITY INDEX, ON THE OILS, THEY ARE ALL COMING DOWN MARKEDLY, AND DO YOU THINK WE ARE GOING TO SEE INFLATION -- WHERE DO YOU THINK WE WILL SEE IT AT THE END OF THE AIR, AND WILL IS STILL BEHEADED TOWARDS FOR? >> THIS IS PART OF THE REASON THAT THE CPI PRINTED THIS WEEK, AND IT WAS SO CRUSHING. THE FED IS NOT GOING TO STOP UNTIL THEY SEE INFLATION, PUBLISHED IN ELATION'S COMING DOWN IN A MEANINGFUL WAY. WE HAVE BEEN HEAD FAKE BY
SUPPLY CHAINS GETTING BETTER AND THEN PRUDENCE JOSEPH. THEN THEY GET WORSE AGAIN. OR CHINA SHUTS DOWN, THEY GET WORSE AGAIN. THE FED NEEDS TO SEE IT.
WE HAVEN'T SEEN IT. >> END OF THE WEEKEND, WHAT'S YOUR FIVE OR SIX DECILES OF AMERICAN FLAT ON THEIR BACK WITH MASSIVE REAL WAGE GROWTH? HOW DO WE DEAL WITH THAT? I'VE NEVER SEEN THAT. THE AREA BEFORE -- BELOW THE ZERO LINE. WE'VE GOT TO GET INFLATION DOWN. THE LABOR MARKET IS STRONG.
PEOPLE ARE GETTING JOBS. THEY ARE GETTING PAYCHECKS. WE HAVE SEEN WAGE RAISES. LESS RECENTLY, YOU SAW INFLATION DOWN. WE HAVE TO GET THE PURCHASING
POWER. HOUSEHOLDS HAVE A LOT OF MONEY ON THE SIDE, FROM THE RELIEF PACKAGES, THEIR LABOR MARKET. THAT IS HELPING WITH SPENDING. THAT CAN ONLY GO ON SO LONG INCOME IS THE BEST PREDICTOR OF ANY.
SPENDING IS THE BIGGEST PART OF ACTIVITIES RID THAT'S -- THANK YOU SO MUCH. CLAUDIUS SONG GETTING US THE END OF THE WEEKEND. PLEASE STAY WITH US. FUTURES ARE GREEN. UPDATE. THIS IS BLOOMBERG. >> WITH FIRST WORD NEWS I AM RITIKA GUPTA.
A HUGE BLOW TO PRESIDENT BIDEN'S AMBITIOUS AGENDA. A DEMOCRATIC LEADER SAID HE WOULD NOT SUPPORT SPENDING ON CLIMATE MEASURES. TAX INCREASES OR OTHER MISSIONS PRETTY WILL BACK HEALTH CARE AND DRUG PRICES. THE EUROPEAN UNION IS FALLING BEHIND ON THE HIGH-PROFILE PROMISES TO DELIVER A SUBSTANTIAL EIGHT PACKAGE. IT IS ALMOST TWO MONTHS SINCE THE EASE THAT SHE YOU PRESIDENT SAID SPENDING LOANS, BUT ONLY A FRACTION IS BEEN AGREED ON. THEY ARE FACING SEVERE ECONOMIC PAIN FROM INFLATION ANY POSSIBLE CUT OFF OF RUSSIAN GAS. ITALY, THE PRIME MINISTER HAS
LESS THAN ONE WEEK TO FORGE SOME DIFFICULT COMPROMISES WITH POPULACE IN HIS GOVERNMENT. THE DECISION TO OFFER HIS IS IGNITION PLUNGED THE COUNTRY INTO A PUT A COAT CRISIS. HE SAID HE CAN NO LONGER TRUST THE PARTIES AND THE ABILITY TO GOVERNMENT. A CONFIDENCE VOTE MAY BE HELD NEXT WEEK. NEWS, 20 FOR HOURS A DAY,
POWERED BY MORE THAN 2700 JOURNALISTS AND ANALYSTS IN MORE THAN 100 20 COUNTRIES. THIS IS BLOOMBERG. TOM: BREAKING NEWS ON AMERICAN RANKING. THIS IS A BANK WE TALK LESS OF, AND A TROUBLED WELLS FARGO. THEY HAVE REESE LEASED THEY HAVE RELEASED EARNINGS, AND THEY MUST GREATER SHOCK THAN WEALTH MANAGER ACCUMULATOR OF ASSETS AT MORGAN STANLEY. I HEARD MATT MILLER AND SONALI
BASAK WHEN THESE HEADLINES CAME OUT, THEY SIMPLY SAID WOW. WHAT IS THE LEVEL OF THIS. LET'S GO THERE RIGHT NOW. WHAT IS THE LEVEL? >> IS A SIGNIFICANT MYTHS. IT COMES BELOW ONE LIEN DOLLARS.
IT IS SUCH A PROBLEM. INTEREST RATES ARE RISING. THEY HAVE A DOUBLE EDGED SWORD. NOT ONLY IS INTEREST COME UNDER PRESSURE, BUT THE PROVISIONS FOR CREDIT LOSSES ARE ALSO HIGHER THAN EXPECTED. THEY EXPECT CREDIT LOSSES TO KEEP INCREASING FROM THESE LEVELS.
TOM: IN OCTOBER, MR. STUMPF WITH SHOWN THE DOOR. THIS IS A MYSTERY THAT THEY ARE IN SAN FRANCISCO, AND HE DOES A COMMUTE AS WELL. HERE'S THE REALITY. THIS IS A GREAT SHRINKING BANK. I'VE GOT JP MORGAN OVER FOUR YEARS, 115 COME UP TO ONE 58. THAT IS DIAMOND LIKE GROWTH. AT THE SAME TIME, WELLS FARGO IS SHRINKING FROM 86 TO 73. IN THE SHRINKAGE PLAN, HOW DOES THIS LOUSY REPORT FIT IN.
>> THEY ARE STILL UNDER THE ASSET CAP, BUT BEYOND THAT, WE HAVE CHARLIE WHO IS A PROTEGE. FOR HIM TO SHRINK THIS BANK TO GREATNESS IS A DIFFERENT TYPE OF STRATEGY IN AN ERA WHERE THEIR COSTS ARE STILL EXORBITANT. HIGHER THAN WALL STREET EXPECTS. THAT IS GOING TO BE COSTLY FOR
HIM. TOM: WHAT'S GREAT ABOUT THIS, AND WERE COMING UP WITH THIS, IT IS LIKE SONALI, THEY ARE ENCAPSULATING A HOCKEY CAREER SHRINKING MYSELF TO GREATNESS. YOU CANNOT -- THAT IS NOT A BUSINESS PLAN. LISA: IT IS A DIFFICULT ONE AND A TERRAIN WHERE THERE ARE DIFFICULT GROWTH OPPORTUNITIES AND THE EXISTING BUSINESSES CHALLENGING PRE-AT HOW MUCH ARE THESE WEEK RESULTS A STORY OF WELLS FARGO, AND HOW MUCH ARE THEY MACRO CONCERN OF WHAT IS AHEAD? SONALI: WE KNEW THAT WELLS FARGO WILL BE EXPOSED TO THE MACRO STORY BECAUSE THEY ARE THE BIGGEST HOME LENDER OF THE BIG X. JAMIE DIMON WAS SAYING THAT MORE BANK SHOULD PROBABLY GET OUT OF THE BUSINESS IN A BIGGER WAY. WHETHER THAT EXPOSED NOT JUST MORTGAGES BUT THE CONSUMER PICTURE, PROVISION STARTING TO INCREASE FURTHER, AND CREDIT LOSSES ARE STARTING TO GET HIGHER, WELLS IS EXPOSED. TOM:
WILLIE GETTING INTO THE SHOCKS OF THE VOLATILITY. 107 MILLION DOLLAR RIGHT DOWN DUE TO MARKET SPREAD WIDENING. TRANSLATE. SONALI: THIS IS WHAT WE'RE TALKING ABOUT. BEING EXPOSED TO WHILE PRICE SWINGS IN THE MARKET. YOU WERE TALKING ABOUT THIS, AND YOU MADE FUN OF ME, WHEN I SAID VALUE AND RISK WERE PROBLEM. TOM: JUST LIKE THE OLD DAYS.
SOMEBODY LOST MONEY. SONALI: THIS IS NOT A BIG INVESTMENT BANK COMPARED TO OTHERS. YOU'RE SEEING CONSUMER ISSUES AND CRACKS IN THE CORPORATE AND BY SIDE CLIENTS. TOM: DIVE INTO IT, AND WE WILL WITH
SONALI BASAK. THIS IS A GREAT JOY. WE HAVE THE CEO OF KP W. THEY ARE A COMPANY, BUT FAR MORE, HE IS A GREAT VOICE ON THE STATE OF AMERICAN BANKING. HE IS NOT A SECURITY ANALYST. HE IS ACTUALLY OUT THERE TRYING TO DO BUSINESS. TOM, WHERE IS THE AMERICAN BANKING INDUSTRY, AND FOR THAT MATTER, WELLS FARGO, IN 36 MONTHS? I THINK WE HAVE TO PAUSE THERE. I THOUGHT MY HEARING WENT.
THERE HE IS. TOM, CONTINUE. TOM: WELLS FARGO, I THINK IS A UNIQUE SITUATION UNTO ITSELF BECAUSE OF THE TRANSITION THERE. I'VE BEEN LISTENING TO THE RESULTS, JUST AS THEY HAVE BEEN COMING OUT, AND I HAVE NOT HAD AN OPPORTUNITY TO DIG INTO THAT, BUT I THINK IT DEPENDS ON WHO YOU ARE. IN MY OPINION. WHAT TYPE OF BANK YOU ARE. WHAT TYPE OF BUSINESS YOU ARE. THE BIZ -- BIG MONEY CENTER BANKS, THERE BUSINESSES ARE ALREADY IN RECESSION. RECESSION IS THE CENTRAL POINT TO EVERYTHING. IT IS GOING TO DRIVE WHAT
HAPPENS TO REVENUES, AND WHAT HAPPENS TO CREDIT. THE INVESTMENT BANKS, RIGHT NOW, THEY ARE SHOWING DECLINING REVENUES, AND REVENUES ARE DOWN 11% TO MORGAN STANLEY. WE THINK ANY BANK WITH A BIG INVESTMENT BANKING BUSINESS IS GOING TO HAVE A TOUGHER ON ON REVENUES. AT THE SAME TIME, DON'T FORGET THE CORE REGIONAL BANKS. WE'VE HAD TO REGIONAL BANKS REPORT SO FAR.
FIRST, THE PUBLIC REVENUES WERE UP 22%. YEAR-OVER-YEAR, WHILE MORGAN STANLEY WAS DOWN 11. THE WASHINGTON FEDERAL REPORTED YESTERDAY, AND THEY WERE UP 17% WHILE JP MORGAN REVENUES WERE FLAT.
I THINK IT DEPENDS ON WHAT YOUR BUSINESS MIXES, AND WE SHOULD ALSO HAVE A CONVERSATION ABOUT CREDIT. LISA: WHAT IS THE LEADING INDICATOR HERE? WALL STREET OR MAINSTREET? THOMAS: I THINK THE MAIN STREET BECAUSE THERE IS A SMALLER NUMBER OF INVESTMENT BANKS FOR THE INDUSTRY. THE BIG INVESTMENT BANKS, THE WRITE-DOWNS YOU MENTIONED EARLIER, ONE, THAT IS A REAL ISSUE, WHICH IS CREDIT SPREADS HAVE WIDENED OUT, AND AS A CREDIT SPREAD, THAT HAS BEEN PART OF THE STORY IN THE QUARTER. THE MARKS ON A LOT OF THESE
ASSETS. THESE ARE NOT THE ASSETS THAT REGIONAL BANKS OWN. THESE ARE THE ASSETS OF BANKS. I THINK THEIR DILEMMA, AND THERE CHALLENGES ARE DIFFERENT, AND IT IS ALSO GOING TO BE QUITE STARK BECAUSE LAST YEAR, IT WAS AN INCREDIBLE YEAR. THE COMPARISONS ARE DRAMATIC. DON'T FORGET, JP MORGAN HAD A DIFFICULT QUARTER, AND IT TURNED 16 ON EQUITY. MORGAN STANLEY HAD A DIFFICULT
QUARTER AND EARNED 15 ON EQUITY. I THINK YOU HAVE TO REMEMBER THE UNDERLYING BASIS OF THE COMPANIES IS STILL PRETTY GOOD. WERE NOT LOOKING AT A MELTDOWN IN THE FINANCIAL SECTOR. THERE IS A QUESTION AS LARRY MCDOWELL SAID, AND AT WHAT POINT DO MARKETS OVERTAKE THE ECONOMY? DO THEY OVERTAKE THE NARRATIVE IN A BROADER WORLD? HOW ARE WE LOOKING AT A DIFFICULTY OF COMPANIES RAISING MONEY, THEY SPEAK TO YOU AS SOMEONE WHO IS A BIRDSEYE VIEW INTO BANKING ACTIVITY THROUGH KBW? THOMAS: THE WORLD HAS CHANGED, AND EVERY DAY GOES MORE. I AM PERSONAL OPINION ABOUT THE INEVITABILITY OF THE RECESSION CONTINUES TO GROW, AND THERE ARE ACTUALLY POCKETS OF BUSINESS THAT FEEL LIKE THEY ARE ALREADY THERE. IF YOU''RE IN THE EQUITY CAPITAL MARKET, AND YOU'VE ESSENTIALLY SEIZED THESE BUSINESSES, IF CEASED OPERATIONS. THEY ARE DOWN 70%.
IF THAT FEELS LIKE A RECESSION, IF YOU ARE IN THE MORTGAGE ORIGINATION BUSINESS, THAT IS GOING TO FEEL LIKE A RECESSION. WERE LOOKING FOR ORIGINATIONS TO BE DOWN 41%. I THINK THIS IS GOING TO BE SOMETHING OF A ROLLING EXPERIENCE. THE QUESTION IS, REALLY, IS THIS A CRISIS. I THINK IT IS INEVITABLE THAT
WE WILL HAVE A TECHNICAL RECESSION. THE QUESTION IS, IS IT A MILD RECESSION OR A CRISIS. AS OF NOW, MY INSTINCTS ARE NOT RACIST. I THINK IT IS INEVITABLE THAT THE ECONOMY IS SLOWING, AND I AM WATCHING FORECASTS, AND I'M WATCHING GDP SENDING SIGNALS. MATT: I WONDER HOW THE HOUSING MARKET PLAYS INTO THAT, BUT I'VE SEEN THE TERMS MARKET TO MARKET USED IN BANK EARNINGS OVER THE LAST COUPLE OF DAYS.
MORGAN STANLEY AND JP MORGAN. THEY DON'T HAVE TO DO THAT, BUT THE CONSUMER REALLY IS STRETCHED TO GET THE MOST UNAFFORDABLE HOUSES OVER THE LAST TWO QUARTERS, WHILE THE RECESSION IS A PROBLEM FOR THESE BANKS. THOMAS: THE UNDERWRITING HAS BEEN EXTRAORDINARILY SOUND. WHEN NON-PERFORMERS GO UP, WHICH THEY WILL, THE SURPRISE SHOULD NOT BE THAT THEY'VE GONE UP. THE SURPRISE SHOULD BE THAT THEY WERE ZERO FOR SO LONG. IT IS A REMARKABLE -- THIS IS THE MOST PRISTINE I'VE SEEN THE RATIOS IN MY CAREER. IT'S INEVITABLE THAT IT WILL GO
UP. WHERE IS THE REAL BIG RISK? I WILL SAY TWO QUICK POINTS. SHADOW BANKING INDUSTRY EXPLODED IN SIZE DURING ZERO INTEREST RATE POLICY. I THINK IT WILL BE VERY KEEN TO WATCH WHAT HAPPENS IN THE SHADOW BANKING INDUSTRY. IT'S FOUR TIMES THE SIZE OF THE BANKING INDUSTRY, WE THINK. NUMBER TWO IS, THE MAJORITY WAS REALLY GOOD. THESE BANKS HAVE MORE CAPITAL, MORE LIQUIDITY, AND THEY MAY HAVE HIGHER NONPERFORMERS, BUT I THINK THEY WILL CHURN THROUGH IT. TOM:
JAMIE ON PARK AVENUE JUST EMAILED IN AND SAID CAN WE TALK ABOUT A REAL BANK? ON THE HONOR ROLL, DAVE BARRY, ARE THE BANKS OUT THERE GETTING IT DONE? ONE OF THEM IS FIRST NATIONAL BANK OF LONG ISLAND. WHAT CAN JAMES DIMON, WHAT CAN BRIAN MOYNIHAN, WHAT CAN MR. SCHARF, WHAT CAN THEY LEARN FROM THE OPERATION THAT YOU'VE AWARDED OF THE FIRST NATIONAL BANK OF LONG ISLAND? MATT: COMPANIES LIKE THAT BANK KEEP IT SIMPLE. THEY TEND TO TAKE A LOT OF COLLATERAL AND THEY DON'T REQUIRE A LOT OF MARKET ACTIVITY TO GENERATE REVENUE. THEY ARE VERY SPREAD BASED. THEY HAVE CHALLENGES BECAUSE TECHNOLOGY HAS IMPACTED THE NEED TO AFFORD IT, BUT THE KEY PART OF THAT IS WE JUST WENT THROUGH A VERY LONG.
OF TIME OF ZERO INTEREST RATES. SPREAD LENDING WAS NOT BUILT TO REALLY EXCEL WHEN INTEREST RATES WERE ZERO. AS LONG AS WE DON'T GET INTO A CRISIS, WE HAVE A HIGHER ENVIRONMENT.
IT'S GOING TO BE OK FOR A TYPICAL TANK. TOM: 30 SECONDS. HOW DO THEY SURVIVE DIGITAL BANKING? HOW DO THEY SURVIVE THE MOBILE CELL PHONE AND MY CHASE ACCOUNT? THOMAS: THEY BETTER GET ON THE TREND BECAUSE CUSTOMER USAGE IS HERE. COVID ACCELERATED AND FIVE MONTHS DURING COVID, WITH ABOUT FOUR YEARS OF ADOPTION.
BETTER GET ON BOARD, OR THEY WILL BECOME DINOSAURS, WE ARE SEEING THEM WORK HARD, BUT THERE WILL PROBABLY BE MORE CONSOLIDATION FOR THAT REASON. TOM: THANK YOU. THOMAS SHOWED OF KP W AT WELLS FARGO REPORTING. EACH OF THESE BANKS IS DIFFERENT, AND I'VE BEEN REMISS OF THIS. I'VE UNDERREPORTED WELLS FARGO FOR YEARS. NOW, WITH ORGAN TRAITS MOVING
FROM 3.2, ON A MOVING AVERAGE BASIS, IT IS HERE 6%. IT IS A BIG DEAL. LISA: THIS BANK HAS BEEN EXPOSED TO THE CONSUMER, AND THEY ARE SAYING IT MAY BE A GOOD SPOT. IT IS REALLY LOSING MOMENTUM. THAT IS THE STORY. TOM:
WE'LL HAVE TO SEE. MATT MILLERS AND FOR JONATHAN FAIR WITH LISA ABRAMOWICZ. THE PRESIDENT IS ON THE WAY TO JEDDAH. EMORY HORTON IN JEDDAH. THIS IS BLOOMBERG FUTURES, UP 10. >> WE HAVE THE FED HERE THAT HAS SAID THEY ARE GOING TO DO WHATEVER THEY NEED TO DO FOR INFLATION.
>> RIGHT >> WHEN RISK ASSETS ARE MOVING THIS FAST, THE RISK ASSET TAKES OVER ECONOMIC DATA. >> THE HIGHER PROBABILITY OF A RECESSION. >> THIS IS "BLOOMBERG SURVEILLANCE." TOM: GOOD MORNING. BLOOMBERG SURVEILLANCE, A VERY
EVENTFUL FRIDAY. THE PRESIDENT TRAVELING IN THE MIDDLE EAST, THE MOST HISTORIC MOMENT IN 90 MINUTES. COSTO, -- ALSO, MATTHEW MILLER IN FOR JON FERRO THIS MORNING. LISA, THE NEWS FLOW IS EXTORT YOUR. WHAT IS YOUR STORY ON THIS
FRIDAY? LISA: RETAIL SALES AND UNIVERSITY OF MICHIGAN, ALSO WHAT FED OFFICIALS HAVE TO SAY. BANK EARNINGS ARE INTERESTING, BUT WELLS FARGO IS NOT JP MORGAN. IT IS NOT CLEAR-CUT, BELL WEATHER AS PERCEIVED BY THE MARKET. THE MARKET IS SHRUGGING OFF WHAT COULD BE VIEWED AS A FAIRLY MS. -- FAIRLY BIG MISS. TOM: GLOBAL WALL STREET, WHAT OCCURRED THIS WEEK IS URBAN VERSION--CURVE INVERSION, 19 BASIS POINTS. WE HAVE BEEN OUT FRONT OF THIS,
MAYBE I AM OVEREMPHASIZING THE EMERGING-MARKET DECAY. LISA: IT IS ANOTHER SYMPTOM OF THE DOLLAR STRENGTH. IT IS ANOTHER KNOCK ON EFFECT THAT IS GOING TO CAUSE SERIOUS ISSUES. WE ARE SEEING THAT WITH OUR OWN DAMIAN SASSOWER POINTING OUT IN THE CREDIT SCARE OF SOVEREIGN DEBT, IN EMERGING MARKETS YOU HAVE SEEN FIVE YEARS OF PROFIT WIPED OUT IN A COUPLE MONTHS. THAT IS WHAT WE ARE SEEING. HOW MUCH AND HOW FAR CAN THIS DOLLAR GO AS A HAVEN BET AT A TIME WHEN THERE IS SO MANY NATIONS FEELING THE OTHER SIDE OF PAIN? TOM: IT IS INTERESTING TO SEE THIS. I'M GOING TO FOLD THE DOLLAR CHECK IN WITH CANADA OUT TO -- THE BIGGEST SHOCK OF THE WEEK.
MATT, THE BIGGEST SHOCK OF THE WEEK WHICH FOLDS INTO THE GERMAN GAS DEBATE IN THIS AUTUMN, THE HEAT WAVE IN EUROPE. THEY ARE TALKING OF MODELING OF 100 DEGREES FAHRENHEIT IN LONDON THIS WEEKEND. THIS CODES TO L -- GOES TO LEEDS AND SHREWSBERRY.
MATT, YOU HAVE LIVED THERE. HOW IS IT DIFFERENT IN AMERICA? MATT: I AM NOT SURE IF WE'RE GOING TO HIT THE ONE HUNDREDS HERE. IN NEW YORK CITY, WE WILL. THAT IS A TYPICAL TEMPERATURE FOR EARL AND IN AUGUST. THE INTERESTING THING TO ME, THIS WEEK HAS BEEN THE EURO GOING DOWN THROUGH PARITY. THAT IS SO TIGHTLY CONNECTED TO THE GAS ISSUES. TOM: CONNECT THE TWO.
MATT: AS JORDAN ROCHESTER SAID A COUPLE OF TIMES THIS WEEK, AS WE HAD GAS CONCERNS, AS WE GET CLOSER TO A RATIONING OF GAS USE IN COUNTRIES LIKE GERMANY, THE ECONOMY, THE ECONOMIC CONCERNS JUST SKYROCKET. THAT IS WHY YOU SEE THE EURO DUMPING DOWN BELOW A DOLLAR. TOM: THE FRENZY ON FRIDAY IS A CACOPHONY.
IT IS LIKE WE ARE GETTING HIT FROM ALL SIDES THE VIX TELLS ME EQUITIES HAVE BEEN RESILIENT. ARE WE SURPRISED? LISA: SOME WOULD SAY YES. IF YOU LISTEN TO SO MANY SURVEYS, CONSUMER IS STILL SPENDING. THERE IS STILL ENOUGH STRENGTH. THE JOB MARKET IS INCREDIBLY
TIGHT. WE ARE LOOKING INTO A STORM FROM A PLACE OF RELATIVE CALM. THAT IS THE CONUNDRUM CAUSING THE CALM WE ARE SEEING IN RISK ASSETS. TOM: DID WE SEE A -- HIGH YIELD DOWN TO INVESTMENT. LISA:
PEOPLE NOT SEEING ANY KIND OF CATASTROPHE, HOW MUCH SPECIFICALLY PEOPLE ARE LOOKING FOR YIELDS IN NOT SEEING THE DEFAULT CYCLE IN THE SAME WAY AS IN THE PAST. TOM: RETAIL SALES THIS MORNING, I THINK THEY WILL BE MORE IMPORTANT THAN THE 9.1% INFLATION REPORT. THE SHELTERED ATTRIBUTES OF THAT INFLATION REPORT JUMPSTARTED THE PERSISTENCY OF INFLATION THAT SOME ARE GUESSING ON. MATT: THE RETAIL SALES NUMBER TO ME, IN CONJUNCTION WITH BANK EARNINGS AND THE COLOR WE GET FROM EXECUTIVES ARE KEY. WE HEARD YESTERDAY FROM CHRIS WALLER, WE HEARD TODAY FROM CLAUDIA PSALM THE OPTIMISM THAT THE U.S. CONSUMER HAS MONEY STUFFED AWAY
FROM THE STIMULUS. ON THE OTHER HAND, CREDIT CARD SPENDING IS RISING. QUESTION FOR ME IS, HOW LEVERAGE DOES THIS GIVE THE CONSUMER TO KEEP SPENDING? LISA: THERE IS A FAIRLY BIG CORRECTION I WANT TO BRING. -- BELOW BILLION DOLLARS, CORRECTED TO BEING OVER $10 BILLION. WHICH COHERES TO WHAT THE CEO
IS TALKING ABOUT. HUGE CORRECTION. THIS IS REVERSING IT, THEY BEAT ON THAT INTEREST INCOME. THAT IS HELPING SUPPORT THEIR BOTTOM LINE AS CHARLIE SHARP HAS BEEN TALKING ABOUT IN THE PRESS RELEASE. TOM: WE HAVE TO STOP THE SHOW RIGHT NOW, THIS IS IMPORTANT. WHEN THERE IS A CORRECTION, WE DO NOT CARE WHO SCREWED UP.
WE JUST WANT TO REPORT IT TO YOU. THE MARKET PARTICIPANTS, TELL ME IN THE CONTROL ROOM, WELLS FARGO STOCK IS DOING PREMARKET IS DOING BETTER. SONALI IS WITH US AS SHE LOOKS AT THE MOTHER OF ALL CORRECTIONS.
>> THE CORRECTION CAME UP ON THE NET INTEREST INCOME LINE. IT IS IMPORTANT BECAUSE THEY NEED TO MAKE MONEY ELSEWHERE. MORTGAGE LEADERS TALKING TO OUR DOW, WE REPORTED CONSUMER BANKING HAS BEEN DOING BETTER, MARGINALLY ABOUT 2% IN TERMS OF REVENUE YEAR-OVER-YEAR THAN EXPECTED.
YOU SEE OTHER LINES OF THE CONSUMER BUSINESS DOING BETTER. YOU HAVE CHARLIE SHARP SAYING LOAN BALANCES ARE INCREASING, BUT NET INCOME DID KLEIN IN THE SECOND QUARTER. IT IS A MIXED BAG FOR WELLS FARGO. THEY NEED TO EARN -- INTEREST IN TERMS OF CREDIT QUALITY. TOM: I WILL PUT UP WITH THE STOCK IS DOING. I WILL CALL IT DOWN
SUBSTANTIALLY. LISA: IT IS STILL DOWN. SONALI: IT IS A CREDIT COST. IT IS THE WORRY, YESTERDAY'S NUMBERS DO NOT GIVE YOU TOMORROW'S SUCCESS.
TOM: EVERYTHING CHANGES AS MAY BE YOU GET TO A NORMAL SPREAD BUSINESS IN BAKING. VIX, 26.21. YIELDS, YOU'VE GOT AN INVERSION. LET'S PIVOT OFF A 10 YEAR YIELD, A TWO POINT 93%, BELOW 3% LEVEL. THAT CURVE INVERSION, 19 BASIS POINTS, .9% POINTS. I WANT TO MENTION, ITALIAN SPREADS DID WIDEN OUT OFF OF DRAGHI. IS IT A RESIGNATION? LISA: HE TRIED TO RESIGN. THE PRESIDENT REJECTED IT.
THEY ARE TRYING TO FIGURE OUT WHAT IS NEXT. IT HAS BEEN A CRISIS IN ITALY, WHICH RAISES HUGE CONCERNS FOR ECB AND HAS TO FACE THE PROSPECT OF BEING ACCUSED OF POLITICAL --. TOM: HOPEFULLY, WE WENT FOR A WIDER SPREAD THERE. ITALY, THE TAKEAWAY OF THE GERMAN YIELD IS MORE GRIM. DOLLAR RESILIENT, 108.34. STERLING, 118.40. AN IMPORTANT CONVERSATION OUT IN ATLANTA, THE FIGHTING TEXAS ADD GEES -- AGGIES, VICTORIA GREEN JOINS US. VICTORIA, IT IS NICE TO TALK TO
SOMEBODY THAT ACTUALLY KNOWS HOW IMPORTANT TEXAS A AND M FOOTBALL USED TO BE. SOMEBODY AT THAT GAME IS GOING TO GO, I NEED TO REALLOCATE. I NEED TO HAVE COURAGE TO BE IN THE MARKET. HOW DO YOU REALLOCATE AMID THIS CHAOS? VICTORIA: YOU ARE LOOKING FOR DEFENSE STILL. IT'S NOT TIME TO BUY THE STUFF SOLD OFF THE HARDEST. I THINK AS EARNINGS ARE ALL IN, YOU CAN SEE THEY ARE ALL MIXED AT BEST. UNITEDHEALTH IS GOOD, PNC, GOOD.
MORGAN STANLEY, MORE MIXED AND DOWNTRODDEN. LISTEN TO WHAT THESE PEOPLE ARE SAYING. A LOT OF THE CEOS ARE NOT SUPER BULLISH. THEY ARE WARNING ABOUT LOAN LOSSES ON THE BANKING SIDE.
WE ARE LOOKING NOT TO BUY THE STEP YET. WE THINK THE FED IS GOING TO HAVE TO MOVE. A LOT OF PRESSURE IS ON THE CONSUMER. WE TALK ABOUT HOW CONSUMER SPENDING HAS STAYED RELATIVELY STABLE, BUT THAT IS BECAUSE THEY ARE BORROWING. WHEN YOU LOOK AT HOW MUCH THE CONSUMER DEBT IS RISING, EVEN THOUGH CONSUMERS HAVE BEEN SPENDING AND TRAVEL HAS BEEN ROBUST, IT IS NOT THAT THEY ARE SAVING OR PULLING THIS FROM CASH, THEY ARE ADDING TO THEIR BALANCE SHEETS AND ADDING DEBT. SOMETHING WE ARE WATCHING, WE FEEL THE CONSUMER IS VERY STRESSED RIGHT NOW. THE U.S. ECONOMY LIVES AND DIES ON ITS
CONSUMER. LISA: WHAT DISPLAYING DEFENSE MEAN AT THE TIME WHEN THE FED IS VERY MUCH IN PLAY AND BONDS HAVE BEEN OUT OF FAVOR MAJORITY OF THE YEAR? VICTORIA: WE WOULD FOCUS ON THE 92 120 DAY RESPONSE. WE DO NOT WANT DURATION. WE WANT TO BE BORING.
I KNOW THAT IS SILLY, BUT BORING IS FANTASTIC. WE WENT CAP STOCKS MAKING A LOT OF MONEY. WE ARE PLAYING DEFENSE AND HEALTH AND STAPLES. WE ARE LOOKING FOR COMPANIES WITH RESILIENT REVENUE STREAMS, A STRONG DOLLAR. A ROSS STORE, A COSTCO THAT IS
MOSTLY U.S. REVENUE. YOU'RE GOING TO BE HIT LESS ON THIS DOLLAR, I FEEL THAT IS A BIG HEADWIND FOR A LOT OF MULTINATIONAL COMPANIES THAT IS BEING UNDERESTIMATED NOW BECAUSE, AS THE WORLD CONTINUES TO EVOLVE AND THE U.S. RELATIVE TO OTHER COUNTRIES IS POSSIBLY GOING TO TIGHTEN FASTER AND RAISE RATES FASTER, I DO NOT SEE THE DOLLAR PRESSURE EASING OFF. I THINK VERSUS THE EURO AND
YEN, BECAUSE IT IS ALL RELATIVE, THE DOLLAR IS GOING TO BE EXTREMELY STRONG THE NEXT FORESEEABLE FUTURE. MATT: MY GOOD FRIEND PAUL SWEENEY, THREE DECADE WALL STREET ANAREN, HIS NUMBER ONE RULE --VETERAN, HIS NUMBER ONE RULE, DO NOT FIGHT THE FED. YOU POINT THAT OUT AS ONE OF YOUR CONVICTIONS, AS WELL. IS THERE A POINT OR YOU SEE THE FED START TO TURN OVER THAT YOU START TO GO IN THERE? VICTORIA: ABSOLUTELY. IF WE HAVE CAPITULATION OR THE FED STARTS TO PUT ANYTHING DOVISH AND, YOU KNOW HOW WE LOVE TO LOOK AT THE MEETING MINUTES AND PARSE OUT TINY CHANGES TO SEE WHAT THEY MAY BE THINKING.
I WOULD BE LOOKING AT THE DATA. THEY ARE GOING TO HIKE UNTIL SOMETHING BREAKS, EITHER THE ECONOMY IS GOING TO BREAK, THE LABOR MARKET IS GOING TO BREAK OR THE QUANTITY IS GOING TO BREAK INFLATION MIGHT RAKE. THOSE ARE THE THINGS ARE LOOKING AT, WHAT IS GOING TO GIVE FIRST. WE ARE IN THIS MASSIVE TUG OF WAR, HIGH INFLATION, TIGHT LABOR. CLICK TO OF TO THE MARKETS ABSORB THEM WELL. THE FED ONLY CARES ABOUT THE MARKET IF LIQUIDITY DRIES UP.
WE ARE LOOKING FOR THOSE SCENARIOS -- CANARIES IN THE COAL MINE. THE FED IS GOING TO NEED A REASON TO CHANGE, IT IS GOING TO BE STATUS QUO AND HAWKISH UNTIL SOMETHING CHANGES IN THE DATA. TOM: THANK YOU SO MUCH, G SQUARED FOR BEING WITH US. I WANT TO SCOPE OUT WELLS FARGO WITH A DROP DOWN FROM A 3880, ALMOST A 39 LEVEL, DOWN TO MIDDLE 37. WE HAVE MADE HALFWAY BACK ON WELLS FARGO WITH NET INCOME CORRECTION. LISA: THEY HAVE INCREASED THEIR PROVISIONS FOR CREDIT LOSSES. PERHAPS, THAT IS WHAT PEOPLE
ARE PICKING UP ON FOR A BANK EXPOSED TO THE CONSUMER. THEY ARE SAYING INTEREST INCOME WAS A HUGE BENEFIT TO THEIR BUSINESS AND EXPECTS IT TO CONTINUE TO BE, GIVEN HIGHER INTEREST RATES, GIVEN WHERE WE ARE IN THE ENVIRONMENT. GOING FORWARD, IT WILL BE INTERESTING TO SEE WHAT THEY HAVE TO SAY ABOUT THE MORTGAGE BUSINESS THAT HAS LOST FAVOR WITH A LOT OF INVESTMENT BANKS, CONSIDERING THE FACT MORTGAGE RATES ARE HIGH. ALSO, HOW MUCH THEY SEE THE CONSUMER WEAKENING CURRENTLY, VERSUS THE STRENGTH WE HEAR FROM OTHERS. TOM: WHAT IS ADVENTUROUS IS THE EQUITY MARKET WITH A NICE LIFT. FUTURES UP 13, DOW FUTURES DOWN
28. FOR THE THIRD DAY IN A ROW OR SO, WE HAVE THE LARGER INDICES LEADING THE NASDAQ HIGHER. THAT SOMEHOW CHANGES IN THE AFTERNOON. RIGHT NOW, DOW LEADING SPX FOR ACTUALLY, LEADING ON A PERCENTAGE BASIS. NASDAQ 100, NASDAQ UP .3%.
WE ARE GOING TO CONTINUE MOST IMPORTANTLY TO MONITOR THE TRAVELS OF THE PRESIDENT OF THE UNITED STATES. HE WILL MOVE SOUTH TO A HISTORIC VISIT. THE KINGDOM OF SAUDI ARABIA, >> I FULLY SUPPORT ANOTHER 75 BASIS POINT INCREASE. HOWEVER, MY BASE CASE FOR JULY DEPENDS ON INCOMING DATA. IF THAT DATA COMES IN MATERIALLY STRONGER THAN EXPECTED, IT WOULD MAKE ME LEAN TOWARDS A LARGER HIKE AT THE JULY MEETING. TOM: ONE OF THE BEST RESEARCHERS IN
AMERICA, WHO WILL JOIN US LATER. VINCENT REINHART OF THE FED KNOWS WELL, CHRISTOPHER WALLER IS TRULY ONE OF OUR GREAT THINKERS ON ECONOMICS, THE GOVERNOR OF THE FEDERAL RESERVE AFTER HIS OWNERSHIP OF RESEARCH AT FEDERAL RESERVE BANK OF ST. LOUIS. I WANT TO DIVE DEEPER INTO JEROME POWELL, THE CENTRAL BANKER OF THE WORLD AND BOUNCE OFF LAWRENCE MCDONALD AND HIS APPEARANCE YESTERDAY AND THE GREAT WORK OF DAMIAN SASSOWER. WE QUOTE THE DOW, WE QUOTE THE STANDARD 500, FOCUS. THE FIVE YEAR YIELD EACH UP, LISA, IS 16.5%, IT HAS GONE
FROM PAR DOWN TO 72 WITH THREE DAYS OF EROSION THIS WEEK. EM BONDS ARE GRAHAM, ACCORDING TO DAMIAN SASSOWER. LISA: AND ACCORDING TO EVERY METRIC YOU LOOK AT, BECAUSE OF ISSUES HAVING TO DO WITH COMMODITY PRICES SPIKING WITH A LOT OF THESE NATIONS BEING COMMODITY IMPORTERS. I THINK OF EGYPT AND HOW HINGED THEY ARE TO UKRAINIAN WHEAT. IF YOU THINK ABOUT THE BUTTERFLY EFFECT THAT IS GOING ON GLOBALLY, IT IS CREATING DISTRESS. TOM: AS YOU PREPARE TO GET THE DELIGHT 27 FED MEETING TOMORROW, -- JULY 27 FED MEETING TOMORROW TALKING TO THE INTERNATIONAL MONETARY FUND INTO AUGUST. ANNMARIE KNOWS THIS, IT IS 109 DEGREES IN
RIYADH SO SHE DECIDED SHE WOULD GO WHERE IT IS COOLER. IT IS ONLY 100 DEGREES IN JEDDAH . A STRATEGIC MOVE FOR ANNMARIE. WHAT KIND OF HEAT WILL BIDEN RECEIVED FROM HIM? ANNMARIE: IT IS HOT IN RIYADH, BUT IT IS MUCH MORE HUMID BECAUSE WE ARE ON THE RED SEA.
THE PRESIDENT IS COMING INTO A DIFFICULT LINE TO WALK WHEN HE SETS FOOT IN THE KINGDOM. HE WILL BE MEETING THE KING FIRST, AND THAT MEETING WITH MOHAMMED. ALL EYES ARE ON THIS MEETING. THIS IS THE PIVOTAL MOMENT OF THE TRIP. MOHAMMED IS GRACIOUS FOR THE
ADMINISTRATION TO COME AND MEET HIM, ESPECIALLY THE PRESIDENT. I DO NOT THINK HE WILL GET THE SAME HEAT OTHERS IN THE ADMINISTRATION HAVE GOTTEN FROM MOHAMMED. I THINK HE WILL MAKE IT CLEAR THAT, I AM THE INDIVIDUAL. I AM THE KING'S SON. I AM RUNNING DAY-TO-DAY OPERATIONS FOR MY FATHER. IF YOU NEED SOMETHING OUT OF
THE KINGDOM, YOU HAVE TO GO THROUGH ME. LISA: HOW MUCH ARE WE GOING TO HAVE HEAR ABOUT THE POTENTIAL CAPPING OF -- A LOT OF PEOPLE THINK -- DO NOT THINK THE SANCTIONS HAVE WORKED IN AN ACTING MORE PAIN ON RUSSIA THAN THE REST OF THE WORLD. ANNMARIE: GREAT QUESTION. THE ADMINISTRATION WANTS TO ENACT THIS, BUT NEEDS A LOT OF INDIVIDUALS COUNTRIES ON BOARD WITH THIS, OPEC RUSSIA IS PART OF OPEC PLUS, AND HAS STRATEGIC RELATIONSHIPS WHEN IT COMES TO THE ENERGY MARKET WITH THE KINGDOM. THEY HAVE TO GET THOSE SHIPPERS AND INSURERS INVOLVED IF THEY ARE GOING TO HAVE A PRICE CAP. WE SHOULD KNOW WHAT IS HAPPENING IN THE MARKET RIGHT NOW IS THAT RUSSIAN OIL IS STILL LEAVING RUSSIA, JUST HEAVILY DISCOUNTED. A LOT IS GOING TO INDIA, A LOT IS GOING TO CHINA, A LOT IS GOING TO THE MIDDLE EAST. A LOT IS GOING TO THE PORT AND UNITED
ARAB EMIRATES, INTO THE MIDDLE EAST AND BEING EXPORTED OUT, DEPENDING ON WHETHER OR NOT IT IS GOING INTO VASELINE, DIESEL, JET FUEL. THERE IS THE MARKET WORKING IN A SENSE OF A PRICE CAP, A RUSSIAN CRUDE IS HEAVILY DISCOUNTED TO THOSE BUYERS. MATT: THOSE DIGITAL AND'S ARE GOING STRAIGHT BACK TO EUROPE AND THE COUNTRIES THAT SANCTIONED RUSSIAN OIL INITIALLY. PUTIN IS MAKING A TON OF MONEY
THROUGHOUT THIS. BACK TO SAUDI ARABIA, BACK TO PRESIDENT BIDEN STRIP. FOR YOU WERE A WASHINGTON CORRESPONDENT, YOU SPENT A GOOD DECADE GOING TO OPEC MEETINGS AND COVERING THE OIL MARKET CLOSELY.
ARE WE WRONG TO BE WORRIED ABOUT SPARE CAPACITY? IT DOES NOT LOOK LIKE A LOT OF OPEC NATIONS HAVE SO MUCH. IS THAT A STATION WE SHOULD BE MAKING, THE BASE LEVEL CAN PRODUCE AND THE BASE CAPACITY? ANNMARIE: IT IS A GREAT QUESTION TO BE ASKING. YES, YOU SHOULD BE WORRIED ABOUT IN THE SENSE YOU HAVE OPEC COUNTRIES NOT HITTING THEIR TARGETS RIGHT NOW. WHEN YOU LOOK AT NIGERIA, LIBYA FOR THAT MATTER.
THERE ARE ONLY TWO COUNTRIES THAT HAVE THIS SPARE CAPACITY, WHICH IS THE KING OF SAUDI ARABIA AND THE UNITED ARAB EMIRATES. THERE ARE A LOT OF QUESTION MARKS ABOUT HOW MUCH SPARE CAPACITY THEY HAVE WHEN THEY PUMP THAT OIL, THEY WERE ABLE TO DO IT FOR ABOUT THREE WEEKS AND THAT WAS IT. THE QUESTION OF, WHAT SPARE CAPACITY THEY HAVE, AND HOW LONG COULD IT LAST? THE KINGDOM HAS TOOK A LOT OF PRIDE IN MAKING SURE THEY CAN DELIVER BARRELS ON THE MARKET, BUT YOU HAVE TO THINK THAT IF YOU HAVE THE UAE AND THE KINGDOM GOING FULL ON OIL MARKET, PRICES WILL PROBABLY RISE BECAUSE THEY WILL REALIZE THERE IS NOT A LOT OF SPARE CAPACITY. I IMAGINE THE CONVERSATION IS FOR A GRADUAL INCREASE OF BARRELS TO THE MARKET. TOM: WHAT IS THE PRICE OF THIS? WHAT IS THE MILITARY HARDWARE WE HAVE TO MIGRATE TO PROTECT THEM FROM THE INSURGENTS OF YEMEN? ANNMARIE: WE ARE NOT SURE YET IN TERMS OF WHAT THE ADMINISTRATION IS GOING TO SIGN OFF. WE DO KNOW THAT WHEN IT COMES
TO THE KINGDOM, THERE HAS BEEN A LOT MORE CONVERSATIONS WITH THE DEFENSE INDUSTRY, AS WELL AS OUR PENTAGON. THEY DEFINITELY WANT MORE DEFENSIVE MISSILES, THAT HAS BEEN AND ASK FOR DECADES AND YEARS. I THINK WHAT THE KINGDOM IS LOOKING MORE SO FROM THIS VISIT IS THE FACT THAT WHAT IT SYMBOLIZES TO THE REGION, WHICH IS THAT OUR PARTNERS ARE STILL WITH US IN THE REGION AND THE BUCK STOPS AT THEM. AMERICANS ARE THE STRATEGIC
PARTNER IN THE REGION, AND THEY WANT TO SEND THAT SIGNAL TO TO RUN. TOM: WE ARE MINUTES AWAY FROM THE MOST HISTORIC MEETING. IT DOES SPEAK TO THE REGIONAL STABILITY, STARTING WITH TUNISIA OR THREE WEEKS AGO, NOT TO BE THE GLOOM OF AN ARAB SPRING, BUT WITH YIELDS IN EACH UP AT 16%, IT SPEAKS OF ARAB FRAGILITY. LISA: WE ARE HEARING FROM JANET YELLEN GETTING CONCERNED ABOUT FUND FLOWS INTO EMERGING MARKETS, CAUTIONING AGAINST VOLATILITY THERE.
IT COULD BECOME AN AREA OF MUCH BIGGER DISTRESS. YOU ARE RIGHT TO POINT TO EGYPT, IT IS ONE OF THE KEY NODES WHEN IT COMES TO THE LACK OF WHEAT EXPORTS COMING FROM UKRAINE. HOW DO WE LOOK AT THAT AND AVOID A SOCIAL UNREST IF YOU SEE THE PRICES OF THE BASIC STAPLES OF THE DAILY LIFE BEING RISEN THAT MUCH? TOM: I WANT TO TAKE 48 SECONDS AND TALK ABOUT THE GLOOM WE ARE GOING TO SEE ON WALL STREET INTERNET THIS WEEK.
WE ARE GOING TO DO WALL STREET TONIGHT. STARTING 3:00 P.M. FRIDAY, DOOM AND GLOOM. A SINGLE BULLET FROM DOUGLAS KASS, WHO TRADES OFTEN. SOMETIMES, MAKES MONEY. HE GOES, I AM BUYING. THAT IS A LONELY VOICE. MATT:
ABSOLUTELY. ESPECIALLY BECAUSE A LOT OF PEOPLE THINK WE ARE ONLY HALFWAY THROUGH THIS CORRECTION. MICHAEL BURRY HAS BEEN TWEETING IT. TOM: WE TALK ABOUT MANY DIFFERENT OPINIONS TONIGHT.
I BELIEVE PROFESSOR SUMMERS WILL WALK IN THE DOOR TONIGHT. TONIGHT, LISA AND MYSELF. WALL STREET WEEK. TOM: GOOD MORNING, EVERYONE. MATTHEW MILLER IN FOR MR. FERRO. FUTURES UP 14. VIX, 26.11. BRENT CRUDE BACK ABOVE $100 A BARREL.
OTHER THAN THAT, IT IS STASIS. I WANT TO TAKE 12 SECONDS AND NOTE A GRIM AND TALLY AND -- ITALIAN INFLATION REPORT. IT IS OUT 8% IN JUNE, BACK TO 1986.
WHAT IS STUNNING IN THE REPORT, FOR LOW EARNERS WHERE THEY SUBGROUP THAT OUT, IT WAS 8.3% IN THE FIRST QUARTER, AND 9.8% FOR LOW EARNERS IN ITALY IN THE SECOND QUARTER. THE UNEVEN BURDEN OF INFLATION IS TANGIBLE. ON INDIVIDUAL SECURITIES, LISA. LISA:
I WANT TO TAKE A LOOK AT THE BANK EARNINGS. WE DID GET EARNINGS FROM WELLS FARGO SHOWING THEY DID HAVE IN-LINE INTEREST INCOME, WHICH WAS THE SUPPORTER. SHARES DOWN .8%. YOU'RE LOOKING AT BLACKROCK,
SHARES UNCHANGED. BLACKROCK REPORTED EARNINGS WITH A DECLINE IN THE AMOUNT OF FLOWS, WITH A DECLINE IN TOTAL ASSETS AND A DECLINE WHEN IT COMES TO WITHDRAWALS FROM THEIR ACTIVE FUNDS. IF YOU LOOK ACROSS ASSETS, UNITEDHEALTH WAS INTERESTING AND REPORTED EARNINGS, THEY BEAT ESTIMATES BY A SIGNIFICANT MARGIN.
THEY INCREASED THEIR FORECAST GOING FORWARD, WHICH IS INTERESTING AT A TIME WHEN SO MANY PEOPLE ARE EXPECTING HEALTH CARE COSTS TO INCREASE AND PUSH TO INFLATIONARY COSTS. MARITIME DIGITAL AND MICROSTRATEGY DOING WELL BECAUSE OF THE BITCOIN GAIN WE ARE SEEING. MARGINAL, BUT IT SHOWS HOW MUCH THESE ARE ADDING TO THE MARGINAL MOOD AND FRAUD THEIR ASSETS. TOM: -->? MATT: THE MAIN REASON I CARE IS WE SHOW, OR LEARN HOW CONNECTED -- IS. HIS FTX, HIS OTHER FUNDS HAD THEIR TENTACLES DEEP INTO THESE DIFFERENT CRYPTO LENDERS AND BUSINESSES. IT IS AMAZING, SOME HAVE CALLED HIM THE JP MORGAN OF CRYPTO.
TOM: HOW IS HE DOING 60,000 DOWN TO 20,000? HOW IS THIS GUY DOING, GIVING -- GIVEN THESE LOSSES? MATT: I THINK HE IS DOING ALL RIGHT. TOM: HE CAN BUY THE HUMMER JON FERRO IS LOOKING AT. MICHAEL COLLINS, JOINS US NOW. MICHAEL, I LOVE YOUR RESEARCH NOTE WHEN YOU TALK ABOUT THE RELATIVE VALUE TRADE, THE RELATIVE VALUE RATIONALIZATION THAT IS OUT THERE. AMID THIS VOLATILITY. YOU CANNOT DO IT, CAN YOU? MICHAEL: THE MARKETS, THE CREDIT MARKETS ARE PERFORMING IN A PRETTY CONTROLLED WAY.
THE SELLOFF, AS BRUTAL AS IT SEEMS, HAS BEEN ORDERLY. BUT, THERE ARE A LOT OF GOOD RELATIVE VALUE OPPORTUNITIES RIGHT NOW. I DO NOT KNOW IF IT IS A GREAT TIME TO JUMP IN AND BY RATES OR CREDIT, BUT THERE ARE A LOT OF INTERESTING OPPORTUNITIES. TOM: WHAT DOES A RELATIVE VALUE TRADE --CONSTRUCTIVE -- CONSTRUCT A RELATIVE TRADE FOR US IN REAL TIME. MICHAEL: THE ONE THAT HASN'T BEEN WORKING IS IN OUR PLAIN OLD STATE TREASURY MARKET.
THAT 20 YEAR TREASURY, WHICH THEY HAVE TALKED ABOUT FOR A LONG TIME AND ISSUED A COUPLE OF YEARS AGO AND PUT ON A TREASURY FUTURE RECENTLY, IS ONE OF THE CHEAPEST BONDS IN THE WORLD ON A LIT HAVE BASIS
2022-07-18 15:13
Show Video
Other news