'Bloomberg The Open' Full Show (08/29/2022)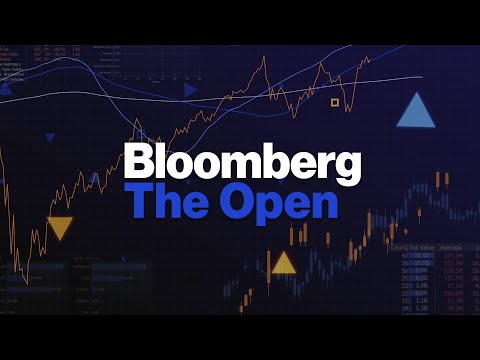 Show Video
JONATHAN: LIVE FROM NEW YORK CITY THIS MORNING. THE COUNTDOWN TO THE UP AND STARTS RIGHT NOW. >> EVERYTHING YOU NEED TO GET SET FOR THE START OF U.S. TRADING. THIS IS BLOOMBERG THE OPEN WITH JONATHAN FERRO. JONATHAN: LIVE FROM NEW YORK CITY, WE BEGAN.
MARKET ROUTES WITH A SPEECH FROM CHAIRMAN POWELL. >> VERY STRONG AND SUSTAINED SPEECH. >> VERY DIRECT AND VERY CLEAR.
>> A MORE HAWKISH TONE. WESTON WAS NOT A SURPRISE TO SEE HIM FORCEFULLY PUSHBACK AGAINST THE IDEA OF A PITTED. >> THIS IS AN OPPORTUNITY TO RECALIBRATE THE MARKET. >> JEROME POWELL AND SAYING WHAT HE'S DEAD AND DOWN GOES ALL THE --WHAT SAID DOWN GOES ALL THE SPECULATION.
>> PROMISING -- IT WILL TAKE MORE RISK. JONATHAN: DO YOU BELIEVE THE FED WILL KEEP HIKING RATE IN THE FACE OF RECESSION? >> ALL THE OTHER FED SPEAKERS HAVE BEEN ABSOLUTE IN THEIR STANCE, SAYING THAT THEY NEED TO BRING PRICE PRESSURES DOWN. WE DO NEED THIS POLICY TO CONTINUE. THIS IS IN ADDITION TO WHAT WE ARE SEEING, AS WELL AS IN CORPORATE EARNINGS. JONATHAN: MANY ARE CALLING IT THE ANTI-PITTED SPEECH. WOULD YOU AGREE WITH THAT? WHAT'S IN TERMS OF A PITTED ACTION, JUST SAYING THAT IT IS FLOWING. THE EQUITY MARKET THOUGHT IT
WAS A 180 AND WE DO NOT SEE IT UNTIL NEXT YEAR, WHERE MY GROWTH SLOWS MORE. RISK MANAGEMENT IS PARAMOUNT AND WE BELIEVE WE ARE IN A LATE CYCLE ENVIRONMENT. JONATHAN: DO YOU THINK -- >> WE ARE KEEPING A CLOSE EYE ON IT AND THE TRAJECTORY IS THERE WITH THE FED CONTINUING TO REMAIN COMMITTED TO ITS MONETARY POLICY TIGHTENING. WE WILL SEE THOSE SORT --SHORT-TERM RATES MOVING UP. JONATHAN: WE WILL WORK THROUGH THE EQUITY MARKET BRIEFLY. YIELDS ARE UP BY THREE BASIS
POINTS. WE --TAYLOR IS ACTING THIS DOWN. >> WE WANT TO START WITH SOME OF THOSE EQUITY MARKETS. NOT CLASSIC RISK FOR TRADE. IT REALLY CONTINUES AND WE ARE CONTINUING THAT TODAY AS WELL. SOME OF THESE SECTORS ARE GETTING HIT HARDER. ALL OF THIS CAN COME DOWN TO THE FUNDAMENTAL RATE STORY.
IT IS ACTUALLY SLOWLY CREEPING BACK UP TOYS 70 FIVE IN SEPTEMBER VERSUS 50. IT REALLY STARTING TO SEE THAT RATE PICK UP. >> HEADLINES FROM OVERNIGHT, THEY ARE THE HIGHEST WE HAVE SEEN SINCE 2007. WE HEAVILY SEEING THAT TWO YEAR
PICKING UP. GOING A LITTLE BIT WEAKER, WE ARE WONDERING IF WE CAN REALLY TACKLE INFLATION THIS TIME AROUND. JONATHAN: EQUITY FUTURES ARE LOWER. OVER THE WEEKEND, THE FIRST HALF WAS ALL ABOUT THE FED AND RATES.
THE SECOND HALF WILL BE ABOUT EARNING. MAKING IT CRYSTAL CLEAR THAT THEIR JOB REMAIN UNFINISHED. LEGAL MATERIAL DOWNSIDE. HE SAID, LET ME COME TO YOU ON THAT. WE WILL SEE MATERIAL DOWNSIDE. ARE YOU ON THE SAME PAGE AS WILSON? >> OUR BASE CASE IS THAT WE WILL SEE CONTINUED SLOWING GROWTH. THERE ARE RISKS TO THE EARNINGS
FRONT. OUR REASON FOR OUR MODESTLY CAUTIOUS STANCE IS OFF OF THE BACK THAT WE HAVE HAD A REPRICING THAT HAS BEEN CUTTING DOWN. EARNING THAT IS REFLECTING THOSE POTENTIALLY DIMINISHED GROWTH PROSPECTS. JONATHAN: THE SECOND HALF IS GOING TO BE ABOUT EARNINGS? QUESTION WE ARE TRYING TO FIND EARNINGS AND MARGINS, A BETTER BALANCE SHEET TO MITIGATE RISK. HIGHER-QUALITY, U.S.
EQUITIES, LESS CYCLICAL STOCKS, TRYING TO GET THEM TO MITIGATE THE EARNINGS. JONATHAN: WE JUST WENT THROUGH A SELECTION OF QUOTES FROM CHAIRMAN POWELL. SHARON POWELL PUSHING BACK AGAINST SOME OF THAT CONVERSATION SAYING THAT IT WILL LIKELY REQUIRE RESTRICTIVE POLICIES FOR SOME TIME. AGAIN, IF THAT HOLDS FOR A WHILE -- THE HISTORIC RECORD ADVISES AGAINST LOOSENING POLICY. THAT FEELS LIKE A DIRECT PUSHBACK. A GREAT JOB OF ESTABLISHING THE MOMENT WHERE WE ARE NOW. WOULD YOU GO WITH CUTTING RATES NEXT YEAR? >> I THINK YOU TALKED ABOUT ON TWITTER WHAT THE FED SAID AT THIS TIME LAST YEAR.
INFLATION IS GOING TO BE TRANSITORY, WE ARE NOT GOING TO TIGHTEN THAT MUCH, WE ARE GOING TO BE SLOW. THIS ONE IS DOING A ONE 80 AND NOW WE ARE NOT CUTTING RATES. THEY NEED TO KEEP THEM PRICED. THEY ARE GOING TO BE CUTTING CA. USUALLY 75 BASIS POINT, WE ARE NOT EVEN TALKING ABOUT QT YET.
THIS IS ALL GOING TO HAVE TO SWITCH. JONATHAN: WHAT IS THE IMPACT THAT YOU ARE EXPECTING? >> WE THINK IT WILL FALL. IT WILL ABSORB LIQUIDITY. IT WILL DRAIN LIQUIDITY OUT OF THE MARKET.
IT IS ANOTHER FORM OF TIGHTENING. 70 FIVE BASIS POINTS, 50 BASIS POINTS -- ANOTHER 50 AND ABOUT ANOTHER FIVE MONTHS TIME. THAT IS A LOT OF TIGHTENING IN THE SYSTEM. IT IS HIGHER PRICES FOR THE CONSUMER. THERE IS A LOT OF TIGHTENING THAT WE THINK WILL SHOW UP IN THE ECONOMY.
JONATHAN: LISA, WHAT ARE YOUR THOUGHTS ON THE KIND OF IMPACT THEY WILL HAVE IN THE COMING MONTHS AND QUARTERS? >> IT IS SOMETHING THAT WE WILL CONTINUE TO WATCH. WE HAVE BEEN USED TO YEARS OF SUPPORTING THE BOND MARKET WITH LIQUIDITY. AS THAT LIQUIDITY COMES OUT, WE EXPECT TO SEE SOME IMPACT ON VOLATILITY. IT IS THE EQUIVALENT OF ADDITIONAL RATE HIKES, SO WE WILL HAVE TO WATCH THE CUMULATIVE IMPACT ON WHAT HAPPENS WITH THE ECONOMY.
JONATHAN: THE OLD CONSENSUS WAS TRANSITORY. IF WE GET A RECESSION, IT WILL BE MILD. RIGHT NOW, IT IS SHORT AND SHALLOW. QUICK SPEED DO BELIEVE THAT IF WE GET A GROWTH SLOWDOWN, HOPEFULLY IT WILL BE MORE MILD OFF OF THE BACK THAT WE CAME INTO THIS PARTICULAR PERIOD WITH A RELATIVELY STRONG CORPORATE FINANCE. DEPENDING ON HOW INFLATION CONTINUES TO RESOLVE AND HOW DURABLY IT COMES DOWN, AS WELL AS THE PRESENCE OF ANY SHOCK ON THE ECONOMY, IT IS HARD TO SAY HOW THIS IS GOING TO PLAY OUT. THAT IS WHAT THE MARKETS ARE REFLECTING RIGHT NOW IS THE LEVEL OF ECONOMIC UNCERTAINTY AT THIS POINT. THERE IS MORE REACTION TO EVERY
DATA POINT THAT COMES OUT. >> IT IS SETTING UP RISK. YOU HAVE HAD A FINANCIAL SPILLOVER EFFECT. THEY ARE TRYING TO BREAK SOMETHING. WITH THINKING ABOUT WHERE TO PUT RISK, WE ARE TRYING TO THINK ABOUT INCOME, HIGHER-QUALITY EQUITIES AND PLACES TO ALLOCATE CAPITAL. JONATHAN: SOME OF THE QUOTES THAT CAME OUT, SOME REALLY POWERFUL STUFF ABOUT CLARITY AND BRINGING DOWN INFLATION. THE PRICE THAT WE NEED TO PAY
IS LOWER GROWTH. THE ECB EXECUTIVE BOARD MEMBER, EVEN IF WE ENTER A RECESSION, WE HAVE LITTLE CHOICE BUT TO CONTINUE A NORMALIZATION PATH. END THAT. LET'S GET YOU SOME MOVEMENT INTO THE OPEN. >> A LOT OF THAT PRESSURE IS COMING SPECIFICALLY FROM TECH. IT IS TESLA, APPLE, NVIDIA, ALL FALLING.
THIS FED IS STAYING THE COURSE. UNDER PRESSURE, THIS STOCK CANNOT CATCH A BREAK. THERE ARE SOME HINTS. SHOOTING HIGHER AFTER ANALYSTS CALL STRONG EARNINGS.
BED, BATH & BEYOND ALSO UP. I COULD NOT TELL YOU WHY EXCEPT MAYBE SPECULATORS ARE OUT, BUT THAT IS NOT THE CASE IN CRYPTO. TAKING A DIVE. HE HAD BITCOIN HOVERING AROUND
20 K. IT WAS A ROUGH WEEKEND. JONATHAN: I WANT NO PART OF THAT. RAMPING UP THE HAWKISH RHETORIC. >> THE NEXT STEP WILL BE A SIGNIFICANT MOVER IN SEPTEMBER. IT DEPENDS ON THE INCOMING DATA.
[INDISCERNIBLE] >> WE HAVE HIGH INFLATION. THE NEXT STEP WILL BE A SIGNIFICANT MOVER IN SEPTEMBER. IT DEPENDS ON THE INCOMING STATE. [INDISCERNIBLE] JONATHAN: THE ECB RAMPING UP THE HAWKISH RHETORIC. TEAM COVERAGE RIGHT NOW. AND LOOKING AT TAYLOR RIGGS.
>> BECAUSE OF ALL OF THOSE HAWKISH COMMENTS OVER THE WEEKEND, THE ECB IS TO ACT FORCEFULLY DESPITE THE RECESSION RATE. MORE INTERESTING THAN THAT, USUALLY A LITTLE BIT MORE CAUTIOUS. AND THEN YOU HAVE SOME SAYING, IN ORDER TO AVOID BEING UNNECESSARILY BRUTAL DOWN THE LINE --RIGHT NOW IN BARCELONA, IT WILL MARK THE START OF A NEW POLICY PHASE.
BUT BASICALLY, THE MESSAGE IS, YOU CAN CONTROL INFLATION EXPECTATIONS. IT IS FLOATING AROUND RECENTLY. IF THE LABOR MARKET IS TIED TO IT, THAT WOULD MAKE FIVE BASIS POINTS MORE LIKELY, BUT THERE IS THE CONSIDERATION OF WHAT CAN ITALY DO? JONATHAN: LET'S TALK ABOUT THAT DATA LATER THIS WEEK. >> SOME OF THE DATA COMING OUT EARLIER THIS MORNING, YOU THINK ABOUT THE EQUITY MARKET TRYING TO FIND ITS FOOTING AND THE EUROPEAN UNION TRYING TO PUSH SOME OF THOSE PRICES. WE TALKED ABOUT SOME OF THE INFLATIONARY PRESSURES UNDERWAY.
WE DO NOT KNOW WHAT THE INTERVENTION WOULD LOOK LIKE, BUT WE ARE HOPING TO GET A PLAN AS SOON AS THIS WEEK. WHEN YOU TAKE A LOOK AT SOME OF THE TERMINALS THAT WE HAVE ABOUT THE MASSIVE RISE IN PRICE IS AND HOW IT HAS BEEN IMPACTING SOME OF THE DATA POINTS, IT REALLY POINTED OUT THERE. TAKE A LOOK AT WHAT WE HAVE, THE TERMINAL DATA POINTS IS WHEN IT IS COLDEST. REALLY HIGHLIGHTING THOSE CONTRACTS. THE DISTRIBUTION OF DATA
UNDERWAY. JONATHAN: IF YOU STAND IN FRONT OF A PIANO, YOU HAVE TO PLAY IT. MAYBE NEXT TIME. THANK YOU VERY MUCH. I WANT TO PICK UP ON THAT
CLOSER I MENTIONED A FEW TIMES FROM THE ECB. LISA, I WANT TO COME TO YOU WITH A QUESTION ON IT. EVEN IF WE ENTER AND INFLATION, THERE IS LITTLE CHOICE BUT TO CONTINUE THE NORMALIZATION PATH. WHAT DOES THAT MEAN TO YOU?
>> WE RECOMMEND A CAUTIOUS STANCE AGAINST INTERNATIONAL AND EUROPEAN STOCKS AS WELL. IT IS FOR THE REASON THAT WE ARE TALKING ABOUT RIGHT HERE. THERE IS A DIFFICULT SITUATION WHERE THERE IS SOME GROWTH SWELLING. THE UNDERLYING INFLATION IS TO
A GREATER DEGREE AN ISSUE THERE BECAUSE OF THE PROXIMITY TO THE UKRAINE AND RUSSIA CONFLICT AND THE IMPACT THAT IT HAS HAD ON THEIR ENERGY CRISIS. THE ECB IS IN A TOUGH SPOT. LIKE IN THE U.S., THEY HAVE GROWTH SLOWING. JONATHAN: EUROPEAN EQUITY MARKETS ARE VERY CYCLICAL.
IT MAKES THE CURRENT OUTLOOK BLEAK. THEY ARE NOT ALONE. I HEAR THIS FROM EVERYBODY. IT IS BRUTAL AND BLEAK. PICK WHICHEVER WORD YOU WANT TO GO WITH. WHY IS THE NOT WEAKER? WHAT DO YOU MAKE OF THAT? THERE ARE DIFFERENT WAYS OF LOOKING AT THIS. THERE IS ANOTHER WAY. STILL, IT IS IN AND AROUND. >> IT IS A FAIR POINT. THE ECB IS STARTING TO TIGHTEN
AND RAISE RATES. THERE HAS BEEN AN UNDER APPRECIATION OF TIGHTENING POLICY. STEPPING BACK, I DO NOT GET IT. IF YOU HAVE SUPPLY SHOCK, RAISING RATES IS NOT GOING TO HELP THAT. IT WILL NOT HELP WITH GAS PRICES. YOU HAVE TO DEAL WITH THIS ENERGY CRISIS. I THINK THAT IS THE WAY TO GO VERSUS RAISING RATES.
THEY ARE IN A TOP POSITION. WE HAVE JUST TRYING TO FIND OUT HOW TO GET THAT SPREAD DOWN. YOU JUST HAVE TO BE CAREFUL AROUND THERE.
THE ONLY THING I WILL SAY TO THE EUROPEAN ENERGY MARKET IS THAT THERE IS THE FEAR OF ASKED BONJOUR. INFLATION HI, THEY PASS ALONG THOSE PRICES. YOU JUST HAVE TO BE CAREFUL WHEN EVERYBODY IS ON ONE SIDE OF THAT TRADE. JONATHAN: PUSHING THE IDEA OF THE CLASSIC LATE CYCLE. DO YOU THINK IT DOES WORK? >> WE THINK THAT IT EVENTUALLY ROLLS OVER AND.
IT IS A HIGH DATA PART OF THE MARKET. RIGHT NOW, YOU JUST HAVE TO BE CAREFUL. WE DO ON THE VALUE SIDE SEE OUR STRATEGIES RELATIVE TO FINANCIALS.
THEY HAVE BEEN DOING WELL THERE AND THEY ARE MAKING SURE THAT THE PORTFOLIO DOES NOT HAVE ONE BIG ENERGY PLAY BECAUSE IT IS SO CRUCIAL. JONATHAN: USE THEM TO FUND THE MARKET. THAT IS WHAT YOU WANT TO DO.
>> VI AT A NEUTRAL PLACE ON ENERGY RIGHT NOW. WHAT YOU SEE IS THAT CERTAINLY, CAPACITY RELATIVE IS LOW. CERTAINLY, AS WE CONTINUE TO MIGRATE, WE CONTINUE THE NEED FROM A MORE TRADITIONAL FORUM. AS HE WAS POINTING OUT, WITH GROWTH COMING OUT AND SUBJECT TO POTENTIALLY WORSE SHOCKS, THAT IS NOT THE BEST PLACE TO FOCUS ON THE ENERGY SECTOR, SO WE BELIEVE STAYING IN A NEUTRAL POSITION MAKES MORE SENSE. JONATHAN: THANK YOU.
ABOUT POINT 7% ON THE S&P 500. A TIDAL WAVE, AND AVALANCHE. UP NEXT, THE MORNING CALLS. ANTICIPATING A RECESS. JONATHAN: STOCKS ARE UP. EQUITY MARKET ON THE S&P. NOW DOWN .9%. YIELDS ARE VERY CLOSE TO THE 350. JUST UP TWO BASIS POINTS THIS SESSION.
HERE ARE YOUR MORNING CALLS. SIGNIFICANT EXPOSURE AND SOFTENING COMMODITY PRICES. EXPECTING RECENT REGULATORY APPROVAL. THAT STOCK IS UNCHANGED ON THE DAY. THE FED CUTTING ITS TARGET.
EXPECTING A CHALLENGING ENVIRONMENT. COMING UP, WHY IT IS NOT TIME. YOUR EQUITY MARKET DOWN BY POINT 75%. BOND YIELDS ARE LITTLE BIT HIGHER. THE 10 YEAR IS UP THREE OR FOUR BASIS POINTS. JONATHAN: 23 SECONDS AWAY FROM THE OPENING. THE BIGGEST ONE-DAY DROP SINCE
JUNE. THIS MORNING, BUT YEAR BOND YIELD TAKING OUT THE JUNE HI. DOWN ABOUT .9%. YOU WILL NOTICE THE MOVERS. YIELDS ARE HIGHER, MUCH HIGHER. HIGH OF THE SESSION, 340 EIGHT RIGHT NOW. THE EURO IS STRONGER, JUST ABOVE PARITY.
UP A LITTLE BIT MORE THAN ONE DOLLAR. LET'S GET TO THE MOVERS AT THE OPENING BELL. >> TESLA IS THE POSTER CHILD OF THEM. OFF BY ABOUT ONE POINT 8%, COMING BACK AS WE KICK OFF TRADING.
FINANCIALS ARE NOT DOING TOO HIGH EITHER. THE YIELD CURVE. NOT GIVING ANY BID TO BANK OF AMERICA. DOWN BY ABOUT ONE POINT TWO PERCENT, ONE OF THE LARGEST GENERATORS IN THE U.S. WITH ABOUT POINT 5%. LET'S TALK ABOUT SOME OF THE MEME STOCKS. THEY ARE HIGHER BY ABOUT 6% BUT THEN WE LOOK AT SOME OF THE ORIGINALS LIKE GAMESTOP AND AMC. AMC IS NOT UP THAT MUCH.
NOT REALLY A NARRATIVE, BUT IT IS VERY HIT OR MISS AND THE MEANS SECTOR. JONATHAN: THAT WAS THE WHOLE POINT. WE APPRECIATE IT. EQUITY IS DOWN ABOUT --BIG TECH IS UNDER PRESSURE RIGHT NOW. ANOTHER DAY OF DECLINES. THE WORST DAY SINCE JUNE. >> DISCONTINUES WITH SOME OF THE BIGGER UNDERPERFORMERS.
THIS IS ANY WAY THAT YOU GO. THIS IS SOME OF THE DATA FROM FRIDAY. THAT IS FOR DATA AS OF WEDNESDAY. THERE WAS SOME CHANGE IN THE SHORT POSITION, CLOSING IT OUT. THIS WAS BY ABOUT $6 BILLION. HOW MUCH OF THIS WAS IN
ANTICIPATION OF JAY POWELL --IT ALSO COULD BE SOME OF THE RATE HIKES. MAYBE YOU DO NOT WANT TO BE IN SOME OF THOSE LONG ASSETS. WE KNOW THAT COMING OFF OF COVID , THERE WAS A BIG DEFENSIVE PLAY. HOW DOES THIS IMPACT THAT PRESENT VALUE? JONATHAN: STILL AFTER JUNE 16'S LOW. ALONGSIDE TOM KEENE, WE CAUGHT UP WITH MORGAN STANLEY. >> HIGH RISK CAME BACK INTO THE MARKET VERY QUICKLY, AND THOSE ARE DANGEROUS SIGNS OF JEROME POWELL GETTING UP, SAYING WHAT HE SAID, AND DOWN GOES ALL THE SPECULATION FOR THE MARKET.
>> IF YOU LOOK AT BITCOIN, IT IS TRYING TO STAY POSITIVE, HOVERING AROUND 20,000 A COIN. THIS GROUP TRADES IN LOSS. YOU DO HAVE SOME OF THE MINORS OUTPERFORMING A LITTLE BIT. IF YOU LOOK AT COINBASE, THERE ARE A LOT OF HEAT -- IDIOSYNCRATIC PROBLEMS AND IT IS OFF BY ABOUT 1%. LOOK AT WHERE BITCOIN HAS BEEN. OVER 70% FROM EARLY NOVEMBER, 2021.
THE NASDAQ 100, DOWN 20 2% JUST FOR SOME CONTEXT. LET'S ADD SOME LINES TO THIS. $10,000 INTERVALS. THIS IS A MARKET THAT LOVES ROUND NUMBERS.
IT REALLY LOOKS LIKE A STAIRCASE. A LITTLE BIT ABOVE THAT FED PIVOT. IT REMAINS TO BE WHETHER WE GO TO 30,000 OR 10. CANNOT WAIT. JONATHAN: THANK YOU. LOOKING FOR THE FED'S NEXT MOVE. THE WORST OF THE BEAR MARKET IS OVER. WE'LL LIQUIDITY AND FURTHER RATE HIKES BASED ON INCREASED LIKELIHOOD. WHERE WE GO FROM HERE SHOULD
DEPEND ON THE FED. TELL ME -- WALK ME THROUGH WHAT THIS MEANS. >> THE INFLATION RATES WERE STARTING TO RISE AGAIN. IT WAS CLEAR THAT THEY HAD INFLATION IN HAND, SO THAT IS WHERE I THINK IT IS VERY CLEAR. TO LISTEN TO THE INFLECTION IN
THE VOICE MADE IT VERY CLEAR THAT THE FED IS GOING TO BE AGGRESSIVE. I AGREE WITH A COUPLE OTHER PEOPLE THAT YOU MENTIONED THAT IT IS NOT ABOUT THE FED RATE HIKE AT THIS POINT. I THINK IT IS THE IMPACT OF THE RATE HIKE AND WHAT IT WILL MEAN FOR ECONOMIC OUTPUT, THAT IT WILL BE THE CAUSE FOR THIS INDIGESTION THAT WE WILL BE IN. >> WE SAID THIS. THEIR JOB REMAINS UNFINISHED. IT WILL BE DETERMINED BY EARNINGS. THE MESSAGE IS ABOUT RATE HIKES. WHERE ARE YOU ON EARNINGS?
DO YOU EXPECT THE MARKET IS APPROPRIATELY ANTICIPATING? >> IS A GENERATIONALLY LEVERAGED SYSTEM. IT IS NOT THE RECIPE FOR HIGHER EARNINGS. THERE ARE NOT A LOT OF US. I REMEMBER, EVERYONE WAS ON THE MOMENTUM TRAIN. BUT IT COMES DOWN TO, AND I AGREE WITH THAT. BASICALLY, YOU HAVE TO FIGHT ONE OR THE OTHER.
ULTIMATELY, SINCE WE HAVE KNOWN EACH OTHER IT HAS BEEN MARKET CORRELATION IN THE DIRECTION OF EARNINGS. IT IS DRIVEN BY ECONOMIC ACTIVITY AND AVAILABILITY. PEOPLE ARE USED TO BE --ME BEING VERY BULLISH. WHEN YOU LOOK AT THE PERCENTAGE AND YIELD CURVES THAT ARE INVERTED, PEOPLE LOVE TO TALK ABOUT THEIR FAVORITE YIELD CURVE. LET'S TALK ABOUT ALL OF THEM.
55% OF THEM OF THE POSSIBLE YIELD CURVES ARE INVERTED. YOU GO INTO A RECESSION EACH TIME. YOU DO NOT HAVE TO PICK YOUR FAVORITE ONE. WHEN THE FED RAISES RATES, IT IS NOT GREAT FOR ECONOMIC OUTPUT. WE HAD TAKING EXTRAORDINARY STEPS TO MAKE IT HAPPEN. JONATHAN: ARE WE MAKING? I MENTIONED LAST WHAT DO YOU MAKE OF THE NEW CONSENSUS? ARE YOU UNCOMFORTABLE WITH HOW COMFORTABLE PEOPLE ARE ABOUT THIS IDEA THAT THE RECESSION WILL BE MILD? >> THIS IS WHERE I THINK I AM A LITTLE BIT DIFFERENT.
THE FED IS CLEARLY TIGHTENING. IT IS NOT A GREAT SET UP. PEOPLE WANT TO GO BACK. YOU HAD A GENERATIONAL LOW IN GDP VERSUS A GENERATIONAL HI. IT DOES NOT HAVE A DRAMATIC IMPACT ON EARNINGS. BUT HERE IS THE INTERESTING PART.
BY THE END OF THE YEAR, WHAT IF INFLATION IS COMING DOWN? THEY ALL SUGGEST THAT IT IS BUT I THINK THAT PEOPLE ARE LOOKING AT THE WRONG THING. WHEN YOU GET CLOSE TO THE ELECTION AND YOU SEE A MEANINGFUL MOVE HIGHER IN THE UNEMPLOYMENT RATE, WHICH IS DRIVEN BY INDEPENDENT BUSINESSES HIRING PLAN, WE ARE EXPECTING A PRETTY MEANINGFUL INCREASE GOING INTO THE END OF THE YEAR, SO YOU COULD HAVE A VERY DIFFERENT NARRATIVE IF YOU ARE HAVING BETTER TRENDING INFLATION, BUT NOW YOU HAVE A SPIKING UNEMPLOYMENT RATE AND RIGHT NOW IT IS SMALL AND SHALLOW BECAUSE YOU DO NOT HAVE THAT ACTUAL ECONOMIC DATA YET. IF WE GET TOWARDS THE LOW -- OUR PLAN CHANGES SO OFTEN.
WE EXPECTED THIS ON THE TRANSITION VERY MONETARY POLICY. DOWN 24% WITH A STILL POSITIVE GROWTH RATE IN THE ECONOMY AND A HISTORIC LEVEL OF PESSIMISM IS SET UP FOR A SUMMER RALLY. WE HAVE TO DEAL WITH REALITY. WHAT HAPPENS IN THE ECONOMIC DATA BEGINS TO START WEAKENING. THAT WAS THE FIRST PART OF DECLINE, BUT ACTUALLY WEAKENING, WHAT MIGHT HAPPEN AND THE FEAR OF WHAT IS HAPPENING.
FEAR OF WHAT IS HAPPENING IS WHEN YOU PULL BACK TOWARDS THAT LOW. LOOK AT THE INTERNALS TO THE MARKET. RIGHT NOW, I DO NOT THINK YOU HAVE TO MAKE YOUR BED. WE LOVE TO TALK ABOUT MAKING A
BET. YOU DO NOT HAVE TO MAKE A BIG ONE. WE STAY LIGHT AND TIGHT. MAYBE YOU CAN REDUCE EXPOSURE AND HAVE LESS EXPOSURE. WE HAVE BEEN TALKING ABOUT THAT AS WELL. >> WE REALLY COMPLICATE THIS BUT IT IS NOT A COMPLICATED GAME. GET MONEY INVESTED IN STUFF. A HISTORIC SURGE IN THAT MONEY. NOW YOU HAVE A SHRINKING.
YOU HAVE TO PAY ATTENTION TO THAT UNTIL THERE ARE SIGNS OF REAL CHANGE. NOT ONLY WILL THERE BE SOFTENING , BUT NOW IT IS BLACK AND WHITE. THEY DO START TO SOFTEN THEIR TONE. YOU KNOW WHEN TO PIVOT. JONATHAN: THINGS ARE BETTER. WE ARE ONLY LOWER BY A LITTLE MORE THAN A 10TH OF 1%.
THE BOND MARKET, THAT MOVE HAS FADED A LOT. THAT IS ON MY SCREEN RIGHT NOW. EUROPE IS GRAPPLING WITH SURGING PRICES. >> SKYROCKETING ELECTRICITY PRICES ARE EXPLODING. FOR DIFFERENT REASONS. LIMITATIONS OF OUR CURRENT ELECTRICITY MARKET DESIGN. JONATHAN:
AND BY ONE LETTER MIGHT MAKE THINGS WORSE. THAT IS NEXT. IN YOU ARE HAD THIS IS BLOOMBERG. >> SKYROCKETING ELECTRICITY PRICES ARE EXPOSING A DIFFERENT REASON. THE LIMITATIONS OF OUR CURRENT ELECTRICITY MARKET. IT WAS DEVELOPED FOR COMPLETELY DIFFERENT CIRCUMSTANCES. COMPLETELY DIFFERENT PURPOSES. IT IS NO MORE FIT.
THAT IS WHY WE, THE COMMISSION, ARE WORKING ON AN EMERGENCY INTERVENTION. JONATHAN: AN INTERVENTION TO ALLEVIATE SOARING PRICES. OFFERING LITTLE DETAIL WITH MEMBER STATES CALLING FOR A PRICE CAP. U.S. SECRETARY URGING ALL REFINERS
TO CURB THEIR FUEL EXPORTS. COVERAGE STARTS RIGHT NOW. EMILY, DOES THE STATE DEPARTMENT KNOW AND DOES THE -- >> THEY HAVE BEEN WITH THE REFINERS FOR SOME TIME NOW. THE CONCERN IS THAT THEY ARE AT HISTORIC LOWS RIGHT NOW AND WHAT THE SECRETARY SAID IN THIS LETTER IS SAYING, WE HOPE THAT YOU GUYS REALIZE THIS ISSUE AND THAT YOU WILL FOCUS MORE ON THE ISSUE THAT FUEL IS GOING TO AMERICAN CONSUMERS, ESPECIALLY AS HURRICANE SEASON GET STARTED. THEY ARE NOT DOING ANY DRASTIC MEASURES. THEY ARE NOT PUTTING IN ANY
EXPORT CONTROLS. THEY ARE THINKING ABOUT HOW TO SELL GAS AND FUEL IN THE NEXT SEVERAL MONTHS. JONATHAN: HISTORICALLY LOW LEVELS IN THE EAST. IT IS HOPE THAT THEY WILL ADDRESS THIS NEED, BUT IF THEY DO NOT, THIS IS WHAT THEY SAY. AN ADDITIONAL REQUIREMENT FOR OTHER EMERGENCY MEASURES, SO ESSENTIALLY YOU HAVE THE SECRETARY ASKING REFINERS. YOU CAN SEE HOW THIS MIGHT GET COMPLICATED.
>> INDEED. IT IS REALLY SHOWING A DIFFERENCE IN THE MAGNITUDE OF HOW QUICKLY THINGS ARE RISING. GAS FEATURES ARE DOWN TO ONLY ABOUT NINE.
TAKE A LOOK AT THE TERMINAL CHARGE. THE INCREASE THAT WE HAVE SEEN IN EUROPE, SOME OF THE U.K. PRICES AS WELL. JUST FOLLOWING THAT NEWS THAT WE WERE TALKING ABOUT, SOME OF THOSE COMMENTS ABOUT PRICE CAPS AWAITING THEM. THAT IS HELPING WITH SOME OF THE NEWS TODAY, DESPITE IN THE U.S., DOING WHAT WE CAN, LOOKING AT GAS PRODUCTION
HITTING A RECORD. WE DO NOT HAVE THE LARGE INFRASTRUCTURE TO INCREASE THIS, LET ALONE THINKING ABOUT THE DIFFICULTIES IN EXPORTS. >> WHAT WOULD THE FALLOUT BE? >> AT LEAST HERE, IF I FOCUS ON MY SIDE, THEY HAVE BEEN CONCERNED. I THINK THE FOCUS, WHETHER YOU LIKE IT OR NOT HAS BEEN ON THE AMERICAN CONSUMER AND THE INFLATIONARY IMPACT AT HOME. >> THE DIFFERENCE IS RECONCILING THE TENSION AT HOME WITH POLICY ABROAD. TRYING TO GET ON THE SAME SIDE WHEN IT COMES TO RUSSIA.
CONSUMERS I'M TOLD REPEATEDLY THAT CONSUMERS IN AMERICA ARE STILL STRONG AND RESILIENT. WOULD YOU AGREE? >> THEY HAVE BEEN RESILIENT. IF YOU THINK ABOUT WHAT IS HAPPENING IN THE EQUITY MARKET AND FIXED INCOME MARKET, SOME OF THE SOFTWARE NAMES HAVE ACTUALLY COLLAPSED. PERCEIVED WEALTH HAS BEEN LOST THROUGH THAT.
WHAT WE HAVE TO DO IS GET THE UPDATED DATA, BUT THAT WHOLE CONVERSATION ABOUT ENERGY REMAINS IN PLACE, HERE. WHERE THE CONSUMER HAS BEEN OK IS THAT YOU HAVE NOT REALLY SEEN THE BIG CHANGE. I KIND OF LAUGH WHEN I SAY. A RATE HIKE TAKES BETWEEN THREE MONTHS. WE ARE ONLY THEY HAVE NOT REALLY IT HAS BEEN A DOUBLING MORTGAGE RATE.
THEY DOUBLED OVER THE LAST COUPLE OF YEARS. IT IS JUST NOT A GREAT SET UP FOR THE CONSUMER, EVEN THOUGH THE DATA, BECAUSE IT IS THE END OF MARCH, IT SUGGESTED THAT IT MIGHT BE. >> LET'S EXPLORE THIS AGAIN. WHAT DO YOU GET THERE? >> OF COURSE. WE HAVE BEEN TALKING THIS WHOLE YEAR ABOUT THE FED BEING IN A BOX.
THEY ARE USING INFLATION AND THEY ARE USING EMPLOYMENT. BOTH ARE LAGGING DATA INDICATORS. WE HAD GOING INTO RECESSION, HISTORICALLY.
IF YOU LOOK AT ANY OF THE MAJOR, ECONOMIC DATA POINTS, IT IS POINTING TOWARDS A RECESSION. IT HAS BEEN A STRONG ECONOMY. INCOME WAS GOING UP. THE ISSUE IS WHAT HAPPENS GOING INTO EARLY 2023. WE DO NOT DO THIS ENOUGH. THE DIFFERENCE BETWEEN THE ECONOMY AND THE MARKET. THE STOCK MARKET IS GETTING HIT
IN THE EMPLOYMENT RATE IS RISING AGGRESSIVELY. INFLATION IS COMING DOWN AND BY THE MIDTERM ELECTIONS, I ASKED ACT THERE TO BE SOME KIND OF BETTER STATEMENT FROM THE FED THAT THEY ARE GETTING MORE SUCCESSFUL, THAT WILL ALLOW US TO HOLD THE LOWS. IT IS JUST ONE OF THOSE TIMES. LET'S DO SOMETHING ON THE NEXT ONE.
UNTIL WE GOT OVERSOLD LIKE WE WERE, NOW WE ARE IN THE MIDDLE. THEY ARE IN THE NEUTRAL ZONE. IT IS VERY UNCLEAR WHAT IS HAPPENING WITH INTEREST RATES, SO THEY HAVE ALREADY MOVED UP. IT IS TIME TO SIT TIGHT AND REACT VERSUS TRYING TO GET IN FRONT OF IT. JONATHAN: THANK YOU. COMING UP, THE TRADING DIARY. THAT IS NEXT. JONATHAN: ABOUT 20 SIX MINUTES INTO THE SESSION THIS MORNING. DOWN ABOUT ONE THIRD OF 1%.
LET'S GET TO THE TRADING DIARY. LOOKING A LITTLE BIT LIKE THIS. WE WILL HEAR FROM WILLIAMS ON TUESDAY. REMARKS FROM THE FED PRESIDENT ON WEDNESDAY. AND THEN THE MAIN EVENT ON FRIDAY.
2022-08-31 17:48
Show Video
Other news