'Bloomberg The Open' Full Show (08/17/2022)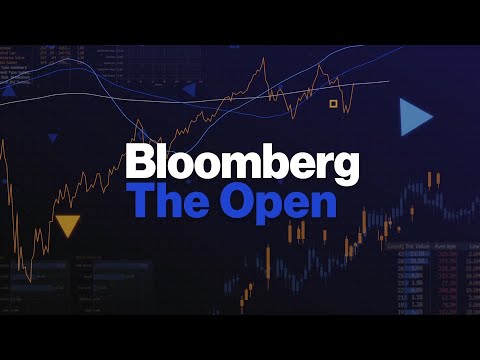 Show Video
JONATHAN: YIELDS ARE UP, STOCKS ARE DOWN. S&P DOWN 9/10 OF 1%. THE COUNT DOWN TO THE OPEN STARTS NOW. ANNOUNCER: EVERYTHING YOU NEED TO GET SET FOR THE START OF U.S. TRADING. THIS IS "BLOOMBERG: THE OPEN." WITH JONATHAN FERRO. JONATHAN: LIVE FROM NEW YORK WE BEGIN WITH A BIG ISSUE, THE TUG-OF-WAR OF THE FINANCIAL CONDITIONS.
>> THE EASING OF FINANCIAL CONDITIONS. >> IT OCCURS IN EQUITIES. >> MARKETS ARE IGNORING THE FED. >> EVEN THE MOST DOVISH OFFICIALS HAVE BEEN HAWKISH.
>> FINANCIAL CONDITIONS HAVE EASED TOO MUCH. >> IT IS COMPLICATED WHAT THEY NEED TO DO. >> WE HAVE THIS BIG TUG-OF-WAR. >> THE PAYROLL IS DOWN AND THE INFLATION PRINT. >> AT THE SAME TIME, YOU HAVE WEEKLY JOBLESS CLAIMS MOVING HIGHER.
>> THE EMPIRE NUMBER. >> A LOT OF THEM ARE SINGLE. >> 8.5% INFLATION THE PLAYBOOK IS DIFFERENT. >> THE ROADMAP IS, LET'S TIGHTEN A LOT.
>> THEY ARE NOT HEARING THE MESSAGE. >> THERE IS A TUG-OF-WAR GOING ON. JONATHAN: LET'S TALK ABOUT THAT TUG-OF-WAR. JOINING US IS JP MORGAN'S ELYSE AUSTENBAUGH AND KATA ME SECURITIES PETER TCHIR -- AND ACADEMY SECURITIES PETER TCHIR.
EVERYBODY IS SAYING DON'T CHASE IT. ARE YOU SAYING THE SAME? ELYSE: WE HAVE TO REMEMBER THAT IS THE OPPOSITE OF WHAT THEY WANT TO SEE AND THEY ARE LIVING IN THE NOW. TO BOOST THE LABOR MARKET RESILIENCE ADDED WITH THE LOOSENING OF FINANCIAL CONDITIONS COULD GALVANIZE THE FED'S HAWKISH IN US. WE KNOW THE OBJECTIVE IS NOT
JUST TO BRING INFLATION DOWN BUT TO KEEP IT DOWN. WE DO NOT WANT INVESTORS GETTING THEIR HOPES UP ABOUT MEANINGFUL DOVISH PIVOT UNTIL WE HEAR MORE COMING OUT OF JACKSON HOLE NEXT WEEK. THE RALLY IS A WELCOME REPRIEVE BUT WITH CAUTION. JONATHAN: YOU ARE NOT ALONE. WE ARE DOWN 9/10 OF 1% ON THE S&P.
HERE IS THE PUSHBACK FROM CITI THAT SAYS IT IS JUSTIFIED. UBS ALSO SAYING WHILE INFLATION TAKES RATES PRESSURE OFF, WOULD CAUTION INVESTORS AGAINST CHASING THE RALLY. PETER TCHIR, ARE YOU ON BOARD WITH THAT THINKING? PETER: WE HAVE BEEN TRYING TO TRADE THIS FROM BOTH SIDES. YOU SEE THE MEME STOCKS COMING BACK.
IT IS HARD TO STOP IN FRONT OF THE FREIGHT TRAIN. I THINK WE ARE GOING TO GET FED MINUTES THE PUSH DOWN. I AM WATCHING THE INVENTORY AND WE SAW IN CHINESE DATA EXPORTS PLUMMETED. THAT CONFIRMS WE HAVE BUILT UP TOO MUCH INVENTORY AND THAT WILL BE A PROBLEM. JONATHAN: ARE WE WORKING THROUGH THAT INVENTORY STILL? WE HEARD FROM TARGET THIS MORNING.
WHAT IS YOUR TAKE ON THAT? PETER: I THINK WE ARE JUST STARTING. IF YOU LOOK AT THE COMPANIES THAT IPO'D THE LAST YEAR, THEY ARE DOWN 50% TO 80%. WE HAVE NOT SEEN THE CAPITULATION WHERE PEOPLE HAD TO DISCOUNT SOMETHING AND I THINK THAT IS COMING. JONATHAN: WE ARE DOWN 1% ON THE NASDAQ. THE S&P DOWN 9/10 OF 1%. IT IS NOT JUST THE RETAIL SALES
NUMBER, IT IS THE UPSIDE TO PRICE ON U.K. CPI. YIELDS ARE HIGHER IN THE U.K., GERMANY AND THE U.S. THE 10 YEAR YIELD UP AROUND SIX BASIS POINTS. THE TWO YEAR UP BY SEVEN. MIKE MCKEE, YOU SAID REPEATEDLY, IT WILL BE ABOUT RETAIL SALES X GAS. MIKE: ALMOST ALL OF THE GAINS IN THE HEADLINE COME FROM NON-STORE RETAILERS.
THAT IS NOT BROKEN DOWN BY PRODUCT BUT IT DOES SUGGEST PEOPLE WENT BACK TO THE INTERNET TO GO SHOPPING IN JULY. DEPARTMENT STORES AND OTHER RETAILERS THAT WOULD SELL BACK TO SCHOOL STUFF DID NOT DO WELL. IT WILL BE INTERESTING TO SEE HOW THE FED INTERPRETS IT. WE HAVE SAID OVER THE PAST COUPLE OF WEEKS THE BOND MARKET, AND EVEN THE STOCK MARKET, WILL BE ABOUT VOLATILITY. THIS IS WHAT NOW IS PROBABLE FROM THE FED. THEY WILL RAISE HIGHER THAN THE MARKET AND THEY ARE GOING TO STAY THERE FOR A LONGER TIME. THAT IS THE ISSUE AT PLAY.
WHAT DO THEY THINK THE FED IS GOING TO DO? YOU LOOK AT WHAT THE FED HAS ACCOMPLISHED SO FAR. MORTGAGE RATES WENT UP AND HOME SALES SIGNIFICANTLY DROPPED. HOME SALES AND REFI DIED. LOOK WHAT HAPPENED IN JUNE ON THE RIGHT-HAND SIDE. THAT WAS ONE THE MORTGAGE MARKETS STARTED TO ROLL OVER. RATES CAME DOWN AND THAT IS
BECAUSE THE STOCK MARKET WENT UP AND THE BOND MARKET WENT UP. THEY SUDDENLY SHIFTED DIRECTIONS. WHERE DO WE GO FROM HERE? IS THE MARKET GOING TO DRIVE THE FED? OR IS THE FED GOING TO DRIVE THE MARKET? WE WILL FIND OUT NEXT WEEK WHEN JAY POWELL SPEAKS IN JACKSON HOLE. JONATHAN: HOW USEFUL ARE THE FED MINUTES? MIKE: I DO NOT THINK THEY WILL BE USEFUL. THEY ARE ALMOST THREE OR FOUR WEEKS AGO AND WE HAD NOT EVEN HAD THE GOOD JOBS REPORT LET ALONE THE DECLINE IN INFLATION AND THE NUMBERS WE HAVE HAD SINCE THEN.
MAKES IT HARD TO GET A READING OF THE ECONOMY. WHATEVER THEY WERE THINKING WEEKS AGO ON THE 27TH OF JUNE, THEY HAVE PROBABLY HAD TO REFINE THAT BY NOW. JONATHAN: MIKE MCKEE, THANK YOU. LET'S CATCH UP LATER. NICE UPSIDE SURPRISE ON RETAIL SUPPLIES IF YOU STRIP OUT THE GAS STORY. EVERCORE TALKED ABOUT THE
FINANCIAL CONDITIONS. RIGHT NOW, THE FED IS LOSING. THEY WILL LOOK TO REGAIN JACKSON HOLE STARTING WITH A SHORT RATES PATH. INVESTORS IN RISK ASSETS ARE SHORT. IT WILL INCH UP WITH BUTTER INFLATION NEWS. ELYSE, HOW BIG IS THE DISCONNECT BETWEEN WHAT THE FED IS TELLING US AND WHAT THE MARKET IS PRICING? HOW DO YOU EXPECT THAT DISCONNECT TO BE RECONCILED? ELYSE: I THINK WE SHOULD EXPECT MARKET PRICE FED FUNDS FUTURES TO BE VERY VOLATILE WITH EVERY MAJOR DATA RELEASE. I EMPHASIZE THE FED IS LIVING IN THE NOW.
THEY HAVE DEVIATED AWAY FROM GIVING US INFO FORWARD GUIDANCE. TO THE EXTENT THAT WE CAN PICK APART ANY CLUES WE MIGHT GET FOR FROM INCOMING INFLATION DATA, I THINK THE MARKET WILL CONTINUE TO DO THAT. BUT ALL IN ALL, THE MARKET MAY BE OVER IN HOW QUICK THE FED WILL BRING DOWN RATES. JONATHAN: IT HAS NOT JUST BEEN EQUITIES. CREDIT SPREADS AGGRESSIVELY TIED TO THE LAST EIGHT WEEKS. ELYSE: WE ARE VERY MUCH DIGGING IN OUR HEELS AND CONTINUING TO EMPHASIZE DEFENSIVENESS AND QUALITY IN PORTFOLIOS. THIS MARKET RALLY HAS BEEN A WELCOME REPRIEVE, BUT BELOW 4300, EVEN IF YOU TAKE THE MARKET AT ITS WORD AND ASSUME $2 44 DOLLARS OF EARNINGS NEXT YEAR, THERE IS NOT A LOT OF UPSIDE.
MY GRANDMA ALWAYS SAID THE BEST TIME TO PREPARE FOR RAIN IS WHEN THE SUN IS STILL SHINING. WE THINK YOU CAN USE THIS RALLY TO CONSIDER ROTATING INTO HIGHER-QUALITY ALLOCATION, LIKE CORE BONDS, TO THE EXTENT IT WILL ALLOW THEM TO STAY ON TRACK FOR THEIR GOALS. JONATHAN: I WILL CONTINUE THE CONVERSATION YOU AND YOUR MOTHER GRANDMOTHER HAD WITH PETER TCHIR. WILL THE SUN BE SHINING ON
YIELDS AT THE YEAR END? PETER: I LIKE INVESTMENT GRADE CREDIT AS WELL. I THINK WE WILL SEE THE SHIFT WHERE PEOPLE WANT YIELDS. LONG-DURATION BONDS SHOULD BE INTERESTING. THE WEAKER END WILL SEE LOANS. TAKE ADVANTAGE OF THE RALLY AND SELL DOWN.
YOU WANT TO OWN INVESTMENT GRADE AND DURATION. EVEN THE EQUITY SIDE. OPPORTUNITIES TO PLAY IN THE YIELD EQUITIES AND I LIKE EMERGING MARKETS. I THINK THE FED IS GOING TO HAVE TO STOP THE HIKING SOONER RATHER THAN LATER. THE MARKET IS PRICING WAY TOO MUCH OF A SOFT LANDING. I THINK WE ARE GOING TO SEE A
HARD LANDING. JONATHAN: IMPORTANT NOTE. THERE IS A DIFFERENCE BETWEEN THE WEAKNESS BEING AVOIDABLE AND DELAYED. DO YOU THINK THE WEAKNESS IS BEING DELAYED? OR DO YOU THINK PEOPLE ARE IGNORING WHAT YOU ARE SEEING? PETER: I THINK WE ARE ALREADY SEEING MORE WEAKNESS AND WE ARE IGNORING SOME OF IT. EVEN ON THE JOBS DATA.
WE TALK ABOUT THE ESTABLISHMENT NUMBER. THERE IS ALMOST $2 MILLION DIFFERENCE BETWEEN THE HOUSEHOLD AND ESTABLISHMENT DATA. THERE IS ALL SORTS OF PESKY THINGS BOTHERING ME. I THINK WE COULD SEE GREATER WEAKNESS IN THE NEXT TWO MONTHS THAT IS EXPECTED. SOME OF THAT IS PROBABLY
ALREADY PRESENT. JONATHAN: I AM STRUGGLING TO GET A CLEAN READ. THERE COULD BE WEAKNESS IN THE U.S. ECONOMY, I SEE STRENGTH IN PAYROLL. AND YOU SEE EMPIRE MANUFACTURING TREMENDOUSLY WEAK, CPI SOFTER. THE NARRATIVE SEEMS TO SHIFT FROM A STRONG ECONOMY, TO A SOFT ECONOMY, TO A FED THAT NEEDS TO DO MORE, TO A FED THAT NEEDS TO DO LESS. ELYSE: WE ARE CALLING THE ODDS OF A
RECESSION HAPPENING IN THE NEXT 12 MONTHS A COIN FLIP FOR THIS REASON. I WANTED TO TAG ONTO THE CONVERSATION. GIVEN SOME OF THE STRAIN WE ARE ANTICIPATING WITHIN THE HIGH-YIELD SPACE, FOR THOSE INVESTORS WHO WANT THE HIGHER INCOME GENERATION, WE WOULD PREFER THEY LOOK SOMEWHERE LIKE THE PREFERRED MARKET. YOU ARE GETTING INVESTMENT GRADE QUALITY AND ALSO A TOUCH OF DURATION WHILE STILL GETTING THE MEANINGFUL PICKUP OVER IG. JONATHAN: DOWN 8/10 OF 1%. YIELDS ARE HIGHER SIX BASIS POINTS. YIELDS TO THE FRONT END CREEPING HIGHER THE LAST MONTH OR SO. GIVEN WHERE WE WERE IN THE BLOOD JUNE JUST REMEMBER THE YIELDS PEAKED TWO WEEKS BEFORE THE EQUITIES BOTTOMED.
REAL YIELD FADED IN THE EQUITY MARKET WAS OFF TO THE RACES. MORE RECENTLY, YIELDS ARE STARTING TO CLIMB AT THE FRONT END. WE WILL CALL IT 332. LET'S GET SOME MOVERS. ABIGAIL: WE HAVE SOME BREAKING NEWS CROSSING THE TERMINAL. THE REDHEAD THAT GENESIS, THE CEO STEPPING DOWN AS THE CRYPTO BROKER SLASHED ITS WORKFORCE 20%. THEY WERE STUNG BY EXPOSURE TO THE BANKRUPTCY HEDGE FRONT THREE ARROWS -- FUND THREE ARROWS IN THE DOWNTURN IN THE CRYPTO SPACE. IF YOU GO TO THEIR WEBSITE, IT
LOOKS LIKE THEY ARE PREPARING TO GO PUBLIC. THERE IS A LOT OF LINKS TO THE SEC. IT WILL BE INTERESTING TO SEE WHETHER OR NOT THAT HAPPENS. BUT AGAIN, THE CEO AT GENESIS, THE PRIVATELY HELD CRYPTO BROKER, HAS STEPPED DOWN.
AS FOR SOME OF THE BIG MOVERS, WE ARE LOOKING AT EARNINGS AND STARTING WITH LOWE'S. THE CEO SAID THE SALES TRENDS ARE IMPROVING AND THEY SEE EARNINGS AT THE TOP END OF THE RANGE. STOCK OFF OF THE HIGHS. TARGET DOWN 2.8%. THEY MISSED THE LOWEST ESTIMATES, SAYING THE REBOUND IS COMING BUT PROFIT CONTINUES TO BE HIT BY SLASHING PRICES TO MOVE INVENTORY OUT. AS FOR BIG TECH, WE HAVE YIELDS
HIGHER ON THE DAY. THAT IS HURTING MICROSOFT, NVIDIA AND OTHERS. THIS MAKING VALUATION MORE EXPENSIVE. THESE STOCKS LOOK MORE EXPENSIVE. NVIDIA ALSO OUT WITH AN INTERESTING IDEA THAT LAST WEEK'S ANNOUNCEMENT HELPED, BUT NVIDIA WOULD BE HELPED EVEN MORE IF THEY CUT GUIDANCE AGAIN.
THAT WOULD "CLEAR THE DECK." JONATHAN: THANK YOU. COMING UP, TARGET SIGNALS THE INVENTORY PAIN MAY BE COMING TO A CLOSE. >> EVERY SINGLE COMPANY HAS TALKED ABOUT THE FACT WHEN IT WAS LATE MAY OR EARLY JUNE THROUGH MID JULY, PRESSURE POINTS. AND WE HAVE A LOT OF INVENTORY. JONATHAN: THE STORY ON THAT INVENTORY, NEXT. DANA: EVERY SINGLE COMPANY HAS TALKED ABOUT THE FACT WHETHER IT WAS FROM LATE MAY OR EARLY JUNE UNTIL MID JULY, THERE ARE PRESSURE POINTS.
CONSUMERS STOP SPENDING. THE CONSUMER BELOW $100,000 INCOME WAS PRESSURED BY RISING GAS PRICES. BUT I AM STILL HEARING FROM RETAILERS THAT THERE IS A MISMATCH AND WE ARE GOING TO HAVE MORE GOODS AVAILABLE IN SEPTEMBER, OCTOBER. JONATHAN: I LOVE DANA TE LSEY. KAILEY LEINZ THIS MORNING SAID IT LOOKED LIKE A PROMO FOR "THE AVENGERS" IN JACKSON HOLE THIS MORNING. I WANT TO TALK ABOUT TARGET RIGHT NOW. THE NUMBERS FALLING WELL SHORT
OF PROFIT ESTIMATES. SLASHING PRICES TO OFFLOAD UNWANTED INVENTORY. THE CFO SIGNALING THE WORST MIGHT BE BEHIND THEM. HE SAID, "THE VAST MAJORITY OF
OUR INVENTORY HAS ALREADY BEEN INCURRED. WE FEEL REALLY GOOD ABOUT OUR INVENTORY POSITION HEADING INTO THE BACK HALF OF THE YEAR." LET'S GET TO TAYLOR RIGGS FOR MORE. TAYLOR: THE KEY FOCUS IS WALMART AND HOME DEPOT CUTTING GUIDANCE AND COMING IN WITH LOWERED EXPECTATIONS. THAT IS THE PUSH-PULL NARRATIVE AND SOME OF THE OTHER BIG MOVERS TODAY. LOWE'S AND TARGET CUTTING
TARGETS. THEY ARE MANAGING TO BEAT THOSE. TARGET A DIFFERENT STORY. WE ARE TALKING ABOUT INVENTORY TODAY AND IF THERE WAS ENOUGH OF A CUT TO REALLY SET YOU UP NICELY FOR THE BACK HALF. THAT IS THE BIG DEBATE AMONGST
ANALYSTS ON THE STREET. IS ANOTHER CUT COMING? OR DID WE PUT ALL OF THOSE INVENTORY ISSUES BEHIND US IN THE FIRST HALF OF THE YEAR? THERE IS NO BETTER WAY TO TALK ABOUT INVENTORY THAN TO TALK ABOUT MARGINS. WE HAD TALKED ABOUT THE DEFLATIONARY EFFECTS OF WRITING DOWN PRICES TO CLEAR INVENTORY. INVENTORY ACTUALLY ROSE LAST QUARTER. THAT WAS ONE CONCERN. IN ORDER TO CLEAR THAT OUT,
YOUR TAKEN CUTS ON THE TOP LINE. THAT WAS A BIG HIT IN THE MARGIN STORY ON THE RIGHT-HAND SIDE OF THE SCREEN. WE TALKED A LOT ABOUT BIG-BOX RETAILERS.
WALMART, TARGET, HARD WE MATCH UP? YOU ARE LOOKING AT PRICE HIKES NOT SO MUCH OF A FACTOR AT TARGET. SALES ARE UP 2.6% FOR TARGET. TRANSACTIONS ARE UP. THE AVERAGE TICKET NOT RISING AS MUCH AND THAT MAY BE AS THE PRESSURES WE SEE ON THE MARGIN STORY. BUT AGAIN, GOING FORWARD THE BIG STORY IS, HOW TO BE CLEAR THE PICTURE OUT AND GET STRONG VISIBILITY IN THE SECOND HALF OF THE YEAR? JONATHAN: HOPEFULLY WE ARE GETTING SOME OF THAT RIGHT NOW. THANK YOU. AWESOME FROM TAYLOR AS W ALWAYS. YOU GET THE FEELING MAYBE THIS MORNING THE STORY IS BECOMING WELL PRICED.
WHEN WE HAD NEGATIVE SURPRISES FROM TARGET IN THE PAST YOU HAD A COLLAPSE IN THE STOCK. I THINK MAY 18 IT DROPPED 25%. THIS MORNING ON A BIG DOWNSIDE SURPRISE ON EPS WE ARE DOWN 2.9%. IS THE FUTURE GOING TO BE BETTER? I'M GOING TO GO BACK TO THE QUOTE. "THE VAST MAJORITY OF OUR
INVENTORY COST HAVE ALREADY BEEN INCURRED. WE FEEL GOOD ABOUT OUR POSITION HEADING INTO THE BACK HALF OF THE YEAR." PETER TCHIR, YOUR THOUGHTS. YOU MENTIONED IT 15 MINUTES AGO. DO YOU FEEL GOOD ABOUT THE BACK HALF OF THE YEAR? PETER: NOT AT ALL. I THINK HE COMES DOWN TO IF YOU BELIEVE CONSUMER SPENDING WAS A FUNCTION OF HIGH GAS PRICES, INFLATION AND THAT THEY CAN COME BACK. GREAT. IF YOU THINK IT WAS THE FACT WE HAD STIMULUS, MASSIVE WEALTH DISRUPTION IN HOUSING, YOUR PORTFOLIO, CRYPTO. I THINK THE WEALTH EFFECT IS
BIG. THIS FAR LEFT MONEY FLOATING AROUND THE SYSTEM. PEOPLE ARE GOING TO ADJUST TO A WEAKER CONSUMER WAS NOT SPENDING AS MUCH REGARDLESS OF WHAT HAPPENS TO GASOLINE PRICES. JONATHAN: HE SAW THE NEWS ON GENESIS. ABBY BROKE IT DOWN FOR US. YOU HAVE TALKED AND WRITTEN ABOUT THE WEALTH EFFECT OUT OF CRYPTO.
IS THAT STILL UNREALIZED FOR MANY PEOPLE? PETER: I THINK IT IS STILL UNREALIZED. PEOPLE HAVE BEEN TRYING TO MAKE MONEY. THEY HAVE SEEN THE WEALTH BUT WE ARE ABOVE $23,000 ON BITCOIN. PEOPLE ARE HOLDING OUT. WHAT CONCERNS ME IS, A, IF THAT CONTINUES TO GO DOWN AND YOU HAVE MORE WEALTH DESTRUCTION, BUT ALSO THE JOBS BEING LOST. THEIR ABILITY TO GET NEW SYSTEMS, PAY SERVICE PROVIDERS WILL DECLINE. I THINK THAT IS PART OF THE ECONOMY THAT HAS NOT BEEN CAPTURED BEFORE BECAUSE WE NEVER HAD SOMETHING LIKE THAT. THAT IS WHERE THE RISK IS AT.
WE WILL SEE THIS FINANCIAL SLOWDOWN DRIVEN BY AREAS MANY OF US IGNORED AND THE WEALTH EFFECT THAT WAS THERE, EMPLOYEES ARE HURTING, THE JOBS ARE NOT AS GOOD, AND THE COMPANIES ARE GOING TO HAVE TO REDUCE SPENDING. THAT IS WHERE I DIFFER FROM OTHER ECONOMISTS. JONATHAN: THESE ARE BLIND SPOTS FOR A LOT OF US. ELYSE, WE GO FULL-CIRCLE. TRYING TO GET A READ OF THE CONSUMER IS DIFFICULT. WHEN YOU LOOK AT A RETAILER EXPERIENCING INVENTORY PROBLEMS, THAT IS DIFFERENT THAN SAYING THE CONSUMER IS WEAKER.
DOES THAT CONFUSE YOUR APPROACH TO WHAT TO DO WITH THE CONSUMER STORY IN THE EQUITY MARKET AND TO GET A GAUGE ON WHERE THE ECONOMY IS? ELYSE: NOT NECESSARILY. WE KNOW THE CONSUMER DOES NOT FEEL GREAT RIGHT NOW. WHAT WE DO NOW IS RELATIVE TO WHAT YOU MIGHT EXPECT DURING PERIODS OF DIRE STRESS, THE CONSUMER SEEMS TO BE HOLDING UP FINE. THAT SAID, WE ARE NOT SUPER CONSTRUCTIVE ON THE DISCRETIONARY SECTOR. INSTEAD, WE WOULD PREFER EXPOSURES TO AREAS THAT HAVE MORE EXPOSURE TO THINGS LIKE CORPORATE SPENDING, PARTICULARLY CAPEX. ALL AND ALL, ESPECIALLY WITH HOW STRONG THE LABOR MARKET STILL IS EVEN AS WE SEE THESE TINY CRACKS STARTING TO FORM WHEN YOU LOOK AT THINGS LIKE INITIAL UNEMPLOYMENT CLAIMS, THE PICTURE FOR THE CONSUMER LOOKS GENERALLY OK. JONATHAN: WOULD YOU MAINTAIN A U.S.
APPROACH WITH MARKETS ON A GLOBAL BASIS? WOULD YOU MAINTAIN THE U.S. BIAS? ELYSE: WE WOULD. WE THINK THE MACRO RISKS IN EUROPE ARE MUCH MORE ELEVATED THAN THEY ARE IN THE U.S. CHINA WITH EVERYTHING GOING ON CONTINUES TO BE RELATIVELY AN AREA WE ARE APPROACHING WITH CAUTION. THE UNITED STATES IS HISTORICALLY MORE DEFENSIVE MARKET AND CONTINUES TO BE OUR HIGHEST CONVICTION REGION FROM A GLOBAL PERSPECTIVE. JONATHAN: FINAL WORDS, PETER, WOULD YOU AGREE? PETER: I AM LOOKING MORE FOR JAPAN. I THINK THE TANGENT WE ARE
SEEING IN ASIA WILL HELP JAPAN. I MIGHT LOOK AT EMERGING MARKETS. FINALLY, I AM DESPERATELY WAITING FOR THE CHANCE TO BUY EUROPE. I AM PAYING CLOSE ATTENTION TO THE BIG NATIONAL BANKS IN EUROPE. IF THOSE START TURNING AROUND, I THINK THAT COULD BE A REAL KEY FOR GROWTH AND A BIG OPPORTUNITY FOR THOSE STOCKS. JONATHAN: AWESOME TO CATCH UP.
PETER TCHIR OF ACADEMY AND ELYSE AUSTENBAUGH OF JP MORGAN. HERE'S A STORY WE ARE TRYING TO STAY ON TOP OF AFTER ELON MUSK JOKED ABOUT BUYING MANCHESTER UNITED. WE CAN TELL YOU, AND THIS IS A REAL HEADLINE, THEY ARE OPEN TO SELLING A MINORITY OF MANCHESTER UNITED. THE GLAZER'S, THE CURRENT OWNERS, ARE OPEN TO A SALE OF A MINORITY MANCHESTER UNITED STAKE.
THE TIMING OF THE STORY IS INTERESTING CONSIDERING THE JOKE FROM ELON MUSK 12 HOURS AGO. WE WILL BRING YOU AN UPDATE ON THAT AROUND THE OPENING BELL. THE MORNING CALLS HER NEXT AND LATER, KEITH LERNER OF TRUIST ON WHY THE UPSIDE IS LIMITED. THIS IS BLOOMBERG. JONATHAN: FOUR MINUTES AWAY FROM THE OPENING BELL. FUTURES DOWN 8/10 OF 1%. S&P NEGATIVE FOUR PERCENTAGE POINTS.
HERE ARE THE MORNING CALLS. CREDIT SUISSE, OUTPERFORMING HIGHLIGHTING COMPETITIVE ADVANTAGES. THE STOCK NEGATIVE 4/10. BLACK & DECKER SEEING MANY HEADWINDS.
THE LAST STOCK DOWN 4.1%. AFTER RALLYING 17% FROM JUNE LOWS KEITH LERNER OF TRUIST SAYS THE UPSIDE IS LIMITED. WE WILL GET YOU THE LATEST ON MANCHESTER UNITED AND NO, IT IS NOT ABOUT ELON MUSK. JONATHAN: 24 SECONDS AWAY FROM THE OPENING BELL. GOOD MORNING. I PROMISED YOU THE UPDATE ON
THE MANCHESTER UNITED STORY. THAT IN A FEW MINUTES. FUTURES -9/10 OF 1% ON THE S&P. NASDAQ DOWN ONE PERCENTAGE POINT. THE STORY IN THE BOND MARKET IS THE EQUITY MARKET.
THE OPENING BELL, RETAIL SALES, CPI AND THE U.K. DOUBLE DIGITS. YOUR 10 YEAR IS 287.31. IN THE FX MARKET, THE EURO-DOLLAR NEGATIVE AND CRUDE UP 6/10 OF 1%. LET'S GET YOU MOVERS AROUND THE
OPEN. ABIGAIL: WE ARE LOOKING AT A ROUGH START FOR STOCKS AS YOU ARE OUTLINING. THE S&P 500 DOWN 9/10 OF 1%. A LOT OF THIS HAS TO DO WITH SELLING BIG TECH. THIS AS YIELDS ARE HIGHER, PRESSURING BIG TECH STOCKS FROM ALPHABET TO INTEL AMONG OTHERS, AS VALUATION CONCERNS COME TO THE FOREFRONT. TARGET IS DOWN 3.7% AFTER THEY
PUT UP A SOMEWHAT DISAPPOINTING QUARTER. IT WAS A MEDIOCRE QUARTER. THEY MISSED PROFIT BY SLASHING PRICES TO MOVE INVENTORY. THE CEO TALKING ABOUT A REBOUND
BUT INVESTORS ARE NOT LOOKING AT THAT TODAY. ESPECIALLY AFTER WALMART YESTERDAY BEAT THE ESTIMATES. T.J. MAXX COMPANIES DOWN 1.2%. THEY CUT THE FULL-YEAR FORECAST. THEY SAW INFLATION WEIGH INTO SALES. THE TREASURE HUNT DID NOT HAPPEN THE PREVIOUS QUARTER AND MAYBE IT WILL NOT HAPPEN AS MUCH IS EXPECTED. JONATHAN:
WE WILL BE BACK TO YOU IN A MOMENT TO CATCH UP ON MANCHESTER UNITED. LET US GET TO THE RETAILERS AND TAYLOR RIGGS. TAYLOR: THERE IS TARGET BEING THE BIG ONE. ANALYSTS WONDERING IF THAT CAN
CONTINUE IN THE SECOND HALF OF THE YEAR OR IF THE WORST IS BEHIND US. YOU TALKED ABOUT LOWE'S AS WELL, T.J. MAXX, A LITTLE BIT OF DOWNSIDE ON THIS OPENING BELL. WE TALKED ABOUT THE RETAIL PROBLEMS EVERYWHERE AND TODAY GIVEN THE RETAIL SALES NUMBERS A GOOD TIME TO DIGEST WALMART, LOWE'S,. TARGET.
IT DOES NOT LOOK WONDERFUL. WE TALKED ABOUT THE MARGIN MISSES, THE EPS DROP. AND SOME OF THE FULL YEAR CUTS WE TALKED ABOUT WITH T.J. MAXX. FROM THE BIG REBOUND OFF OF THE GAINS OF MID-JUNE IT HAS BEEN DISCRETIONARY LEADING. UP 30%.
THE MARKET WILL LEAD IN MANY INSTANCES. IN THIS CASE, THAT COULD BE IT. NOT SOME OF THE STAPLES THOUGH. YOU WONDER IF THAT IS PIVOTING TO THE STABLE SECTORS. JONATHAN: THANK YOU. HERE IS ANOTHER RETAILER WITH A DIFFERENCE.
BED, BATH & BEYOND EXTENDING A MONSTER RALLY. IT IS UP 40%. KAILEY LEINZ, WHERE ARE WE NOW? KAILEY: THE STOCK HAS BEEN UP 15 OF THE LAST 16 DAYS. IT IS NOW UP OVER 500%. LITERALLY FOR NO GOOD REASON
OTHER THAN IT ONCE AGAIN HAS GOT THE ATTENTION OF MEME TRADERS. THEY LIKE TO SAY "TO THE MOON," BUT IT IS BORDERLINE INSANE. THE RETAIL TRADING CROWN HAS PUSHED $99 MILLION INTO THE STOCK SINCE JULY 26.
EVEN AS ANALYSTS ARE SAYING THE VALUATION IS NOT REALISTIC AND THE RISK-REWARD IS NOT GREAT. THAT IS ALSO TRUE FOR OTHER MEME STOCKS. AM HAS BEEN SEEINGC MORE POSITIVE AS WELL. THIS HAS PROVEN ONCE AGAIN NOT TO BE THE CASE. THAT LEADS ME TO THE FACT THERE ARE LOSERS TO THE TRADE.
THE WRONG SIDE OF IT RIGHT NOW SHORT-SELLERS. LOOK AT THE SHORT INTEREST ON BED, BATH & BEYOND. 44%, THAT HAS GOT TO BE BURNING. JONATHAN:
DOING THIS ALL OVER AGAIN. EXCITING TIMES. KAILEY LEINZ, THANK YOU. DIFFICULT TIMES IF YOU ARE A MANCHESTER UNITED FAN AND COMPLEX IF YOU ARE AN INVESTOR. THE GLAZER FAMILY SAID THEY HAD AN INTEREST IN SELLING A MINORITY STAKE. THIS COMING HOURS AFTER ELON MUSK JOKED ABOUT BUYING THE TEAM AND TWEETING, "I AM BUYING MANCHESTER UNITED. YOU'RE WELCOME." FOLLOWING THAT UP WITH, "THIS IS A LONG RUNNING JOKE ON TWITTER. I AM NOT BUYING ANY SPORTS
TEAM." IS THIS ANYTHING BUT A JOKE? ABIGAIL: THE HEADLINES BREAKING THAT THE GLAZER FAMILY WOULD CONSIDER SELLING A MINORITY STAKE. PEOPLE FAMILIAR WITH THE MATTER SAYING THE GLAZER FAMILY RECENTLY PUT THE ESTIMATES AT $4.7 BILLION.
THEY OWN A LOT OF COMMERCIAL REAL ESTATE AND SPORTS TEAMS, INCLUDING THIS MINORITY STAKE IN THE MANCHESTER UNITED, ALONG WITH HAVING BOUGHT THE TAMPA BAY BUCCANEERS IN 1995. THEY ARE IN THIS BIG-TIME. WHEN THEY TOOK THE STAKE IN MANCHESTER IT WAS A BIT CONTROVERSIAL. BUT WHAT MAKES IT SO INTERESTING ARE THE TWEETS FROM ELON MUSK THE LAST 12 HOURS. YESTERDAY REALLY DOING WHAT HE
DOES BEST, CREATING A STIR. SAYING HE WAS BUYING THE ENGLISH SOCCER TEAM AND THEN SOMEDAY ASKED IF HE WAS SERIOUS AND HE SAID NOW THIS I A. LONG RUNNING JOKE. ELON MUSK ALSO SAYING, "STAND
UP IS MY SIDE HUSSLE." THIS FACTOR IS SO INTERESTING. IT IS REALLY INTERESTING TO THINK ABOUT THIS BECAUSE HE HAD SCUFFLES ABOUT MARKET MOVING TWEETS. THAT STOCK WAS UP 17%. IF YOU ARE SHORT, YOU MIGHT BE UPSET ABOUT THAT.
AND HE HAS THE UPCOMING LITIGATION OVER TWITTER. YOU HAVE TO LOOK AT TESLA UP MORE THAN 27%. HE CLEARLY HAS NO FEAR BUT IT WILL BE INTERESTING TO SEE WHAT HAPPENS WITH THE GLAZER FAMILY BEING INTERESTED IN SELLING ITS MINORITY STAKE. JONATHAN: THANK YOU FOR THAT. AS FOR ELON MUSK JOKING ABOUT BUYING A PUBLIC COMPANY, EVEN IF IT IS A SPORTS TEAM, WE ARE WAITING A FEW HOURS -- AND WAITING A FEW HOURS TO TELL YOU IS A JOKE IS NOT HELPFUL. REMEMBER THAT THE CHELSEA TAKE OUT WAS 4.2 BILLION STERLING.
THIS COULD BE VALUED AT $6 BILLION U.S. I AM SURE AS OF FAN YOU WILL BE INTERESTED WHETHER THE GLAZER'S WILL G LEAVE CONTROL OF THE CLUB. THEY HAD PRELIMINARY DISCUSSIONS ABOUT THE POSSIBILITY OF BRINGING IN A NEW INVESTOR. THE AMERICAN GLAZER FAMILY IS
NOT YET READY TO RELIEVE CONTROL OF MANCHESTER UNITED. THAT IS WHY WE TALK ABOUT SELLING A MINORITY STAKE. I WANT TO GET BACK TO THE BROADER MARKET BECAUSE SOME OF YOU DO NOT LIKE IT FOOTBALL AND CALL IT SOCCER. NASDAQ IS DOWN 8/10 OF 1%. KEITH LERNER OF TRUIST SAYS THIS, THE CASE FOR A NEW BULL MARKET IS LESS CLEAR THAN THE SET UP COMING OUT OF 2020. CURRENTLY, WE VIEW THE NEAR-TERM RISK-REWARD AS LESS FAVORABLE.
KEITH, ALSO TO CATCH UP. I WOULD NOT CALL YOU A BEAR. YOU ARE LOOKING FOR MORE UPSIDE. WALK ME THROUGH YOUR THINKING. KEITH: GREAT TO BE WITH YOU. IF WE TAKE A STEP BACK TO MID-JUNE, BACK THEN WE WERE URGING INVESTORS NOT TO SELL BECAUSE WE HAD ONE OF THE MOST OVERSOLD MARKETS IN THE LAST 30 YEARS. WHEN YOU ARE DOWN 24% YOU ARE BAKING IN THE MEDIAN DECLINE AROUND RECESSION. WE HAD THIS MONSTER RALLY BACK
UP AND 17%, 18%. PART OF THE REASON WHY THAT IS IS OUR VIEW IS RECESSION RISK WAS NOT THE FIRST HALF OF THE YEAR INTO NEXT YEAR. NOW THAT WE HAVE THE EMPLOYMENT REPORT, WE VALUED HIGHER, INFLATION HAS BEEN BETTER THAN EXPECTED, EARNINGS HAVE BEEN BETTER THAN FEARED.
NOW WE HAVE FUNDAMENTAL RESISTANCE AROUND THE 18 MULTIPLE AND THE MAY HIGHS. YOU CAN OVERSHOOT BECAUSE THE ONE THING GOING GOOD FOR THIS MARKET'S EXPECTATIONS ARE STILL REALLY LOVE AND POSITION IS OFFSIDE. IN ORDER FOR YOU TO SAY THIS SHOULD BE AT A HIGHER VALUE, I THINK YOU HAVE TO BE BETTING STRONGLY ON THAT SOFT LANDING. WE HAVE THE MOST AGGRESSIVE GLOBAL BANKING CYCLE WE HAVE A 30 YEARS. I DON'T THINK THAT SHOULD BE THE BASE CASE. AT THESE LEVELS WE WOULD SAY IF YOU ARE OVER EQUITIES, THIS IS THE PLACE TO TRADE BACK.
WE HAVE TO GO BY THE EVIDENCE. THAT IS WORST IN TODAY. JONATHAN: TALK ABOUT WHERE YOU WOULD TRIM. WHERE IN THE EQUITY MARKET WOULD YOU CUT BACK? KEITH: WE STILL THINK ON A RELATIVE BASIS THE U.S.
IS IN A BETTER POSITION. WE HAVE THE LONG-STANDING -- THERE IS ALSO LESS CYCLICAL MARKET. WE WOULD STILL BE DEVELOPING INTERNATIONAL. WE CUT OUR EXPOSURE TO ZERO EARLIER THIS YEAR.
ESPECIALLY ON THE SHORT END WHEN YOU ARE ABOVE 3% ON THE TWO-YEAR YIELD, WE THINK THERE IS OPPORTUNITY TO INCREASE FIXED INCOME. AT LEAST YIELDS ARE PRODUCTIVE ON THE SHORTER END. MORE ON THE SECTOR STANDPOINT, WE ARE MORE DEFENSIVELY INCLINED. YOU MENTIONED STAPLES EARLIER. WE THINK THAT IS AN AREA THAT IF THE ECONOMY SLOWS, THAT SHOULD HOLD UP.
ONE SECTOR WE HAVE BEEN IN OVER A YEAR'S ENERGY AND WE THINK THAT HAS A GOOD DEMAND AND SUPPLY DYNAMIC. JONATHAN: THE ENERGY STORY CONFUSES PEOPLE. WHEN THEY HEAR THAT WE HAVE THIS AGGRESSIVE TIMING CYCLE, WE HAVE THESE RISK GROWTHS, IN EUROPE A RECESSION, IN CHINA A SLOW DOWN. MATERIALIZING IN THE U.S. AS WELL. HOW DOES ENERGY HOLD UP? KEITH:
NORMALLY VERY WELL. I THINK THE ONLY DIFFERENCE -- AND I DON'T WANT TO SAY IT IS DIFFERENT THIS TIME -- BUT THE GEOPOLITICAL UNCERTAINTY OVERSEAS. THERE HAS BEEN A SECULAR SHIFT WE HAVE NOT BEEN INVESTING IN THAT AREA AS MUCH. I THINK IT IS SOMEWHAT DIFFERENT IT IS ALSO A HEDGE FOR DEFENSIVE POSTURING.
THINK ABOUT THIS IN A PORTFOLIO/SECTOR COMPOSURE. WITH MANCHESTER, THIS IS ONE OF THE MOST COMPLEX MARKETS I HAVE SEEN THE LAST 20 PLUS YEARS. BUT AGAIN, I THINK AFTER THE MOVE UP THE RISK-REWARD IS LESS FAVORABLE. JONATHAN: I WILL NOT ASK YOU ABOUT MANCHESTER.
I WILL ASK ABOUT TIMING CYCLES AND FINANCIAL CONDITIONS. I THINK WE FORGET ONE OF THE BIGGEST BUBBLES WE HAVE EVER SEEN IN HISTORY WAS BLOWN UP IN A WORLD WHEN RATES WERE CLIMBING. I WONDER WHETHER THIS EQUITY MARKET CAN ACTUALLY KEEP DELIVERING IN THE FACE OF TIGHTER POLICY FROM THIS FED UNTIL THINGS GO POP. THAT IS NOT WHAT I'M TRYING TO SAY THAT WE ARE THERE, BUT FINANCIALS CAN EASE. CAN WE SEE IT AGAIN? KEITH:
I ACTUALLY THINK THE FED HAS SCAR TISSUE FROM IT HAPPEN THE LAST YEAR AS FAR AS INFLATION. THERE IS A LOT OF DEBATE AS FAR AS IF THE FED IS GOING TO START CUTTING RATES EARLY NEXT YEAR. THAT IS PART OF THE REVALUATION BASED ON THE TERMINAL FED FUNDS RATE. THAT MAY BE TRUE BUT WE THINK THE FED, BECAUSE ABOUT SCAR TISSUE, THEY WILL NOT CUT AS AGGRESSIVELY OR ALL IN THE FIRST HALF. TO THE POINT ABOUT FINANCIAL CONDITIONS, THEY HAVE BEEN SAYING DIRECTLY THEY WANT HIGHER FINANCIAL CONDITIONS. WHAT WE HAVE SEEN THE LAST MONTH OR TWO IS A COMPLETE REVERSE OF THAT. I THINK THAT IS STILL A CONCERN
FOR THE OVERALL MARKET. JONATHAN: I WANT TO EXPLORE THE THEME OF SCAR TISSUE. DO YOU THINK THE INVESTOR CONDITIONING FROM THE SPRING LOWS OF 2020 ARE, HEARING THE SAME THING OVER AND OVER THAT WE ARE GOING TO RETEST AND THEY MISSED OUT ON 20 PERCENTAGE POINTS. DO YOU THINK FRFOMO STARTS TO KICK IN AGAIN? KEITH: ETHIC IT HAS ALREADY. -- I THINK IT HAS ALREADY. WHEN YOU GO FROM INDISCRIMINATE SELLING TO DISCRIMINATE BUYING, WE CAN MEASURE THAT. THAT HAPPENS AFTER MAJOR LOWS. THAT WAS ONE OF THE THINGS WE TALKED ABOUT IN 2020.
FULLY ENDORSE IN THAT SIGNAL. AND THE YIELD CURVE INVERSION IS THE DEEPEST SINCE 2000. THE CONDITIONS ARE DIFFERENT AND YOU HAVE THIS MOMENTUM ON ONE SIDE, BUT DETERIORATING MONETARY AND MACRO CONDITIONS ON THE OTHER. THAT TELLS US NOT TO BE AGGRESSIVE AND NOT JUST TO TAKE A SIGNAL BY ITSELF, BUT IF YOU ARE LOOKING FOR SOMETHING TO HANG ONTO, I THINK IT IS THE PRICE MOMENTUM AND FOMO. EVERYONE GOT STEAMROLLED THE
LAST FEW MONTHS. JONATHAN: DO YOU THINK THE STAGE IS SET FOR CHAIRMAN POWELL THE PUSHBACK? KEITH: I THINK IT IS PREMATURE FOR HIM TO DO ANYTHING DIFFERENT. EVEN IF THEY THOUGHT INFLATION WAS GOING DOWN, WHY QUIT NOW? THEY WANT TO SEE INFLATION SQUASHED AND I SEE NO REASON WHY HE WOULD PIVOT EVEN IF THEY THINK THE DATA IS SOFTENING. JONATHAN: AWESOME TO CATCH UP. LET'S TALK SOON. KEITH LERNER OF TRUIST ON THE LATEST. WE ARE GETTING CAUTIOUS CLOSE TO THE 4300. WE ARE DOWN 8/10 OF 1% ON THE
S&P 500. NASDAQ DOWN 1.2%. COMING UP, PRESIDENT BIDEN SUNDAY THE INFLATION REDUCTION ACT INTO LAW. PRES. BIDEN: ONE OF THE MOST SIGNIFICANT LAWS IN OUR HISTORY. LET ME SAY FROM THE START WITH HIS LAW, THE AMERICAN PEOPLE WON AND THE SPECIAL INTEREST LOST. JONATHAN:
THAT CONVERSATION, NEXT. ♪ PRES. BIDEN: WE HAVE NOT WAVERED, WE HAVE NOT FLINCHED AND WE HAVE NOT GIVEN IN. INSTEAD, WE ARE DELIVERING RESULTS FOR THE AMERICAN PEOPLE. WE DID NOT TEAR DOWN, WE BUILD UP. WE DID NOT LOOK BACK, WE LOOKED FORWARD.
TODAY OFFERS FURTHER PROOF THE SOUL OF AMERICA IS VIBRANT, THE FUTURE OF AMERICA IS BRIGHT AND THE PROMISE OF AMERICA ISRAEL AND JUST BEGINNING. -- IS REAL AND JUST BEGINNING. JONATHAN: GASOLINE PRICES KEEP SINKING, POSTING THE LONGEST DOWNWARD STREAK SINCE 2018. AND IS IN D.C. WITH MORE. GOOD NEWS FOR THIS PRESIDENT -- ANNMARIE HORDERN IS IN D.C.
WITH MORE. GOOD NEWS FOR THE PRESIDENT. ANNMARIE: HE WAS TALKING ABOUT HOW THIS WAS NOT A WIN FOR THE SPECIAL INTEREST. EVEN THOUGH TO GET THIS OVER THE FINISH YOU HAD SENATOR SINEMA SIDING WITH HEDGE FUND MANAGERS IN MAKING SURE THE CARRIED INTEREST PROVISION DID NOT GO INTO THE BILL.
THEY RENEGED ON THAT, WHICH IS A SPECIAL INTEREST, BUT IT IS GOOD NEWS FOR TWO REASONS. ONE, THEY WERE ABLE TO SHOW THEY WERE ABLE TO GET THIS DEAL OVER THE FINISH LINE IN THE SENSE THEY HAVE BEEN TALKING ABOUT THIS SINCE THE START OF THE BIDEN DEMONSTRATION. IT WAS CALLED BUILD BACK BETTER AND NOW THE INFLATION REDUCTION ACT. IT IS SO MUCH SMALLER.
THEY WERE TALKING $10 TRILLION AT SOME POINT. BUT THEY CAN NOW GO INTO THE MIDTERMS CAMPAIGNING ON IT AND YOU LOOK AT RECENT MORNING CONSULT AND POLITICAL POLLS. THERE IS A LOT OF SUPPORT FOR THINGS IN THIS BILL, LIKE LOWERING PRESCRIPTION DRUGS AND MONEY TO GO TOWARD RENEWABLES. THIS IS A HUGE WIN FOR THEM GOING INTO NOVEMBER. JONATHAN: I DON'T THINK FOUR DOLLARS GET THAT DONE AT THE PUMP. BUT THIS IS A CONVERSATION YOU DO NOT HEAR ABOUT IN WASHINGTON.
ANNMARIE: IT IS STARTING TO EVAPORATE. PEOPLE ARE LESS CONCERNED ABOUT THE FACT THAT GASOLINE IS NO LONGER HOVERING AROUND THE FIVE DOLLAR GALLON RANGE. IF YOU LOOK AT THE TRIPLE AVERAGE, IT IS BELOW FOUR DOLLARS A BARREL. IN SOME PLACES, IT IS LOWER.
THAT IS GIVING THEM BREATHING ROOM. THIS WAS THE MAJOR CONCERN WHEN YOU LOOKED AT THE POLLS. ONE OF THE BIGGEST COMPONENTS OF INFLATION FOR EVERYDAY AMERICAN CONSUMERS IS ENERGY PRICES AND FOOD. JONATHAN: THANK YOU. WE CAUGHT UP WITH OPEC'S NEW SECRETARY GENERAL. >> I THINK WE ARE RUNNING ON THIN ICE.
CAPACITY IS BECOMING SCARCE AND THIS IS LIKE AN INSURANCE POLICY. WE DO NOT WANT THE OIL MARKETS TO RUN WITHOUT THE INSURANCE POLICY. JONATHAN: JULIAN LEE, AWESOME TO CATCH UP WITH YOU. HE TALKED ABOUT THE WORD SCARCITY.
WHAT IS THE SIGNAL FROM OPEC? JULIAN: THE SIGNAL IS, AND THE GENERAL MADE CLEAR, THEY HAVE NOT GOT A LOT MORE ROOM TO BOOST OUT OF WE NEED IT. THAT IS A PERENNIAL WORRY. THE MARKET ALWAYS GETS JITTERY WHEN SPARE CAPACITY RUNS LOW. IT HAS BEEN RARELY AS LOW AS IT IS NOW, IF EVER.
THAT IS A CAUSE FOR CONCERN AND I THINK THAT IS PART OF THE REASON WE HAVE SEEN SOME BIG DAILY SWINGS IN OIL PRICES. 5% MOVES USED TO BE RARE. NOW THEY'RE HAPPENING MULTIPLE TIMES A WEEK. THIS IS PART OF THE REASON FOR
THAT. YOU ADD TO THAT LOOMING EU SANCTIONS ON OIL, RECESSION FEARS, WILL CHINA COME BACK AS A CONSUMER? YOU'VE GOT A LOT OF VOLATILITY. JONATHAN: WHERE IS THE IRAN STORY? IT HAS BEEN IN THE BACKGROUND FOR QUITE A WHILE. JULIAN: AT THE MOMENT, THE EUROPEAN UNION PUT THIS LAST DITCH PROPOSAL ON THE TABLE. IT WAS BUILT AS BEING A TAKE IT OR LEAVE IT COMPROMISE AGREEMENT. AND IF EVERYBODY DID NOT SIGN UP, THE WHOLE PROCESS APPEARS TO BE DEAD. THE IRANIANS HAVE RESPONDED IN
A WAY SEEMS POSITIVE. THE AMERICANS AND THE EUROPEANS ARE NOW LOOKING AT IT. WE ARE EXPECTING A U.S. RESPONSE ANY DAY NOW. THAT WILL DECIDE WHETHER WE GO BACK TO SOME KIND OF AGREEMENT AS WE HAD BEFORE PRESIDENT TRUMP CAME INTO OFFICE. IT WOULD ALLOW IRAN TO START EXPORTING OIL AGAIN IN RETURN FOR RESTRICTIONS ON NUCLEAR AMBITIONS.
IF WE DO NOT GET THAT, I THINK THE SITUATION WE HAVE AT THE MONTH PERSISTS. JONATHAN: JULIAN LEE WITH THE LATEST ON THE COMMODITY MARKET ALONG WITH ANNMARIE HORDERN. GASOLINE PRICES HAVE COME DOWN. BECAUSE RETAIL SALES ARE NOMINAL, YOU HAVE TO STRIP GAS OUT TO GET A BETTER READ OF UNDERLYING DEMAND. U.S. RETAIL SALES ARE DECENTERED THAT ADDS TO THE MOVE AT THE FRONT END.
YIELDS UP, STOCKS DOWN. THE S&P DOWN THREE QUARTERS OF 1%. JONATHAN: THREE WINNING STREAK SNAPPING ON THE S&P. THAT IS THE PRICE ACTION. HERE'S THE TRADING DIARY. A HOST OF FED SPEAK COMING UP AT 2:30. RETAIL EARNINGS CONTINUING TO ROLL IN. THAT IS FOLLOWED BY EXISTING
HOME SALES AND ANOTHER ROUND OF JOBLESS CLAIMS. THAT IS IT FOR ME. THANK YOU FOR CHOOSING BLOOMBERG TV.
2022-08-23 19:59
Show Video
Other news