'Bloomberg The Open' Full Show (08/08/2022)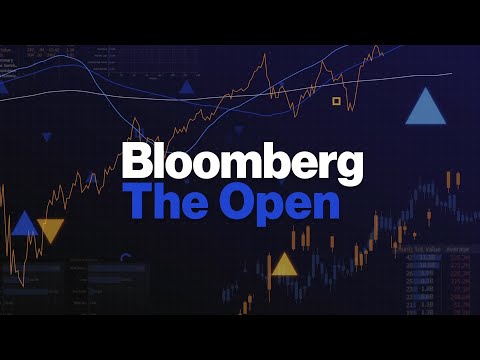 Show Video
LISA: THE COUNTDOWN TO THE OPEN STARTS RIGHT NOW. ANNOUNCER: EVERYTHING YOU NEED TO GET BACK TO THE START OF U.S. TRADING. THIS IS "BLOOMBERG: THE OPEN" FOR JONATHAN FERRO. TOM: -- LISA: THE BIG ISSUE, THE NEXT BIG DATA POINT. >> ANOTHER CPI READING COMING OUT THIS WEEK.
>> THE INFLATION NUMBER. >> IT IS REALLY CLEAR THAT THEY ARE ON A PATH TO CONTINUE TO RAISE THOSE RATES. >> CERTAINLY, 75 BASIS POINTS WILL BE ON THE TABLE. INFLATION IS VERY HIGH.
>> THE FED NEEDS TO DO MORE HERE. >> THE FED NEEDS TO DO MORE WORK. >> THE INFLATION OF 9% CPI. >> THEY ARE GOING TO HAVE TO GO EVEN MORE. LISA: JOINING US NOW IS MORGAN STANLEY'S MICHAEL --.
MICHAEL, HOW MUCH WILL THIS REPORT BEGINNING WEDNESDAY TO DICTATE THE TONE OF WHAT YOU PROJECT TO HAPPEN GOING FORWARD? >> I THINK IT IS VERY IMPORTANT. WE CAN WAITING A LONG TIME FOR INFLATION TO COME DOWN. COMMODITY PRICES, SHELTER PRICES, WAGE GROWTH HAVE ALL BEEN KEEPING SUPPLY TO THE UPSIDE. IT IS VERY IMPORTANT AT A MINIMUM, BUT MORE IMPORTANT THAN THAT IS TO HAVE THAT COURT CPA START FALLING ON A MONTH-TO-MONTH BASIS. LISA: HOW MUCH IS THIS GOING TO
ACTUALLY SHAPE WAVE ARE LOOKING AT? >> GOOD MORNING, THANK YOU VERY MUCH. THE FED HAS TOLD THE MARKET THAT THEY ARE GOING TO BE DATA-DEPENDENT WHICH MEANS THEY ARE SPECIFICALLY LOOKING AT OTHER DATA POINTS AS WELL. I THINK THAT THE DATA IS REALLY GOING TO MATTER. WE ALL KNOW THAT HEADLINE INFLATION IS GOING TO DECELERATE BECAUSE WE'VE SEEN A PRETTY NICE RETRACING AND SOME OF THE ENERGY COMMODITY PRICES, BUT WHEN IT COMES TO CORE AND SERVICES, I THINK WHAT IS REALLY GOING TO MOVE THE MARKET FOR THE NEEDLE AND INVESTORS, WE NEED TO SEE THOSE COMPONENTS START TO SLOW DOWN. THE HURDLE -- IS THAT REALLY WHAT YOU'RE LOOKING AT, PERHAPS IN OVERAMBITIOUS MARKET REVERSING COURSE? >> I THINK THAT IS VERY TRUE WHAT WE ARE TALKING ABOUT IS AN AMELIORATION SLOWDOWN TO SLOW DOWN THE PACE OF THE RATE HIKES. NOT IN TERMS OF RATE CUTS NEXT YEAR.
WE ARE TALKING ABOUT THE FED RAISING POINTS. RATHER THAN COMING DOWN AT THE MARGIN . MAYBE THE FED NEEDS TO GO BEFORE THIS NUMBER.
I THINK IT IS ABOUT HOW MUCH HIGHER THEY GO, NOT WHETHER THEY COME DOWN OR NOT. LISA: ALSO ABOUT CREDIT. >> I THINK THEY ARE FOCUSED ON THE QUIDDITY IN THE BROADER SYSTEM. WHETHER THERE IS AN ABILITY TO
RAISE CAPITAL, WHICH AS OF LAST WEEK, THERE WAS A STRONG MOVE. ONE THING THAT WE NEED TO KEEP IN MIND IS THAT THE FED AND CHAIR POWELL HAVE REALLY EMPHASIZED THE DELAY AND TIGHTENING OF POLICY, AND THE ACTUAL REACTION IN THE BROADER ECONOMY. NEED TO KEEP IN MIND THAT THE FED IS DATA DEPENDENT BUT ALSO, WHAT IS THE EFFECT OF RATE HIKING? ONE REASON WE ARE NOT EXPECTING TO SEE IT BY THE END OF THE YEAR IS BECAUSE WE THINK THAT THERE WILL BE SOME TOLERANCE FOR SLOWING DOWN THE RATE HIKE. INFLATION IS STARTING TO COME DOWN. THE FED WILL SLOW DOWN RATE HIKES AND TRIED TO HOLD RATES STEADY TO TRY TO SEE HOW THE ECONOMY REACTS. LISA: WE GET A LOT OF THEM THIS WEEK. A HOST OF ECONOMIC DATA AHEAD
OF THAT MEETING. WE ARE LOOKING FOR THE LATEST ON INFLATION BUT ALSO THE UNIVERSITY OF MICHIGAN SENT OUT A SURVEY. BLOOMBERG ECONOMICS YOU LENA JOINS US. HOW IMPORTANT WILL THIS FIGURE BE BECAUSE THE HEADLINE IS SUPPOSED TO COME DOWN.
HOW IMPORTANT IS IT FOR IT TO COME DOWN TO A SIGNIFICANT DEGREE FOR PEOPLE TO THINK THAT THE FED PIVOT IS STILL IN PLAY? >> I THINK IT WILL DRIVE INFLATION IN THE NEXT FEW MONTHS. IF WE LOOK AT THE HEADLINE, EVERYBODY SEEMS TO AGREE THAT THE HEADLINE HAS COME DOWN. WHAT REALLY MATTERS IS HOW THE PRICES WILL BEHAVE, GOING FORWARD AND OTHER COMPONENTS. WAGE PRESSURES DO NOT SHOW ANY SIGNS OF DECELERATING.
THE LABOR MARKET ON FRIDAY SHOWS THAT EARNINGS FAILED TO DECELERATE. THEY KEEP ON RISING. THEY ALSO WAGES THAT ARE GROWING AT A SIGNIFICANT PACE. LISA: WHAT IS YOUR PROJECTION FOR HOW QUICKLY THIS WILL COME DOWN? FIRST, I WOULD LOVE TO GET YOUR TAKE. HOW QUICKLY CAN WE GET BACK TO FOUR OR THAT 2% TARGET WITH THE FED? ? AROUND 8% FOR CPI, JUST SLIGHTLY LOWER BY THE END OF THIS YEAR. WE SEE VERY SLOW DECELERATION
GOING INTO NEXT YEAR, SO I THINK THE FED WILL HIKE AND IT WILL HIKE AGGRESSIVELY. THIS IS PROBABLY THE HIGHEST IN TERMS OF FED FUNDS. LISA: THANK YOU FOR JOINING US TODAY. MICHAEL, WHAT IS YOUR VIEW ON THIS, CONSIDERING THAT WE DO SEE THIS IDEA, EVEN IF YOU HAVE A DECLINE IN INFLATION, HOW BIG OF A DECLINE BEFORE THE IDEA OF CAUSING OR SLOWING THOSE RATE HIKES? >> TAKE INTO ACCOUNT THAT THE FED HAS KEPT RATCHETING UP THEIR FORECAST. THOSE NUMBERS KEEP GETTING PUSHED HIGHER BECAUSE INFLATION HAS NOT SHOWN SIGNS OF STABILIZING, LET ALONE COMING DOWN.
INFLATION IS PERSISTENT. IT WILL BE DIFFICULT TO SEE A DROP ANYTIME SOON, SO WHAT WE NEED TO SEE IS A DOWNWARD TRAJECTORY. INSIDE THE FOURTH QUARTER, WE WILL SEE MONTH ON MONTH CHANGES, WHICH HAVE A MINIMUM. THAT WILL BE GOOD ENOUGH GIVEN THE POLICY. IT WILL POTENTIALLY MAKE THE FED COMFORTABLE ENOUGH.
WE WILL SEE HOW MUCH INFLATION WILL CONTINUE TO DECELERATE INTO 2023. WE STARTED TO SEE THOSE NUMBERS COME DOWN. .5%. THAT NUMBER HAS TO GET THERE BY THE END OF THE YEAR, SOMETIME EARLY IN THE FOURTH QUARTER, IN ORDER FOR THE FED TO BECOME MORE COMFORTABLE ON THIS PERSISTENT DOWNWARD TRAJECTORY. LISA: GIVEN THAT THIS IS THE DEBATE, IT IS WHETHER COMPANIES STOCK TRADERS AND CREDIT TRADERS ARE ACTIVELY REFLECTING THE RISK EMBEDDED IN THE SCENARIO TO BRING THE INFLATION RATE TO THE FED TARGET. NVIDIA HAS A PROJECTION THAT COMES IN BELOW EXPECTATIONS. SHARES ARE TAKING AHEAD OF THE MARKET OPEN.
FROM A CREDIT PERSPECTIVE, DOES IT MAKE SENSE THAT WE JUST SAW THE HIGHEST RALLY GOING BACK TO 2011 AND INTO THE MONTH OF AUGUST? >> I WOULD SAY THE MAGNITUDE HAS BEEN QUITE SURPRISING, BUT THE DIRECTION IS NOT WHAT WE WERE EXPECTING. THEY CAME INTO THE SLOWDOWN IN REALLY GOOD, RALPH, SOLID SHAPE FROM A BALANCE SHEET PERSPECTIVE. IT IS NO SURPRISE THAT THERE WAS A LOT OF GROWTH AND ULTRALOW BORROWING COSTS, BUT YOUR STARTING POINT WILL BE QUITE SOLID.
IT MIGHT BE A LITTLE BIT STRETCHED, BUT WE ARE LOOKING AT A CHANGE IN THE MARKET WHICH HAS ALSO BEEN QUITE MEANINGFUL. WE ARE SEEING FAR FEWER DISTRESSED COMPANY IS. A LOT OF THE LIQUIDITY CONDITIONS IN THE MARKET ARE VERY MUCH SELF-FULFILLING. THEY WERE KIND OF CUT OFF LIQUIDITY SO LOWER RATED ISSUERS. THEY ARE EXPECTING THAT THINGS WILL BE A LITTLE BIT MORE STABLE AND ABLE CONTINUE TO ALLOW FOR THE GROWTH THAT IS NEEDED TO GET THROUGH SOME OF THESE MORE TRANSITIONAL TIMES.
LISA: YOUR FINAL WORD ON CREDIT? >> I THINK VERY SIMILARLY. THERE IS VERY LIMITED SUPPLY. IT IS RUNNING AT RECORD LOWS AFTER RECORD HIGHS A COUPLE YEARS AGO. THEY HAVE DONE A GOOD JOB OF FOLLOWING THE MONEY WHEN YIELD ARE LOW. THAT TECHNICAL ADVANTAGE WITH ONGOING CASH FLOW, HAVING COUPON PAYMENTS THAT NEED TO BE REINVESTED. ON THE OTHER HAND, THE ECONOMY HAS SLOWED AND IS LIKELY TO STAY ON A SLOW TRAJECTORY, MOVING FORWARD.
THINK IT WILL BE RELATIVELY MILD. LONGER-TERM HIGH-YIELD LOOKS OK, BUT WE DO THINK IT IS A LITTLE STRETCHED. >> BOTH OF YOU ARE STICKING WITH US.
ABBY DOOLITTLE IS HERE WITH US. ABBY: WE HAVE FUTURES HIGHER. PFIZER IS BUYING THE FIRM. PFIZER HAS MADE IT CLEAR THAT THEY WILL BE INVESTING INTO NEW THERAPIES.
CLEAN ENERGY IS GENERALLY HIGHER. JP MORGAN HAS UPGRADED. ANALYSTS SAYING THIS IS THE BIGGEST MOVE FOR CLIMATE. TO THE DOWNSIDE, IT IS TUMBLING AS THE DATA FIRM CUTS PROFIT OUTLOOK.
ALSO, COMMERCIAL FLIGHTS HAVE BEEN TRYING TO GROW. SPEAKING OF, YOU ARE JUST TALKING ABOUT THAT ANNOUNCEMENT FROM NVIDIA. THEY HAVE ANNOUNCED TO THE DOWNSIDE, AND SIGNIFICANTLY. THEY ARE SAYING ABLE COME IN AND THEY REPORT ON AUGUST 24.
NOT A GOOD TIME FOR THAT SHIP MAKER. WHAT DOES THIS SAY ABOUT THE U.S. ECONOMY? LISA: COMING UP, SENATE DEMOCRATS GIVING A BOOST. >> MANY TIMES, IT LOOKED LIKE IT WOULD NEVER HAPPEN, BUT HERE WE ARE.
WE GOT IT DONE. >> WE DID SEE A RALLY. THOSE YIELDS HEADED A LITTLE BIT LOWER. THIS IS BLOOMBERG.
>> AT LAST, WE HAVE ARRIVED. IT IS ONE OF THE DEFINING FEATS OF THE 21ST CENTURY. IT CREATES MANUFACTURING JOBS, ENHANCES OUR ENERGY SECURITY. LISA: PASSING THE TAX CHEATING IS ECONOMIC AGENDA AHEAD OF THE GOP ELECTION. DEMOCRATS INSIST ON POURING FUEL ON THE FIRE WITH ANOTHER SPENDING SPREE THAT WILL FURTHER EXACERBATE A RECESSION THAT WE ARE LIKELY IN. LET'S BRING IN EMILY WILKINS FROM DCE -- WASHINGTON DC. WHAT IS THIS GOING TO DO?
HOW BIG OF A DEAL IS THIS LEGISLATION? >> IT IS A HUGE WIN. THEY WILL COME BACK ON FRIDAY. THE REAL TRICK IS GOING TO BE IN TERMS OF WHAT IMPACT IT WILL HAVE. IT WILL HAVE AN IMPACT ON RENEWABLE ENERGY AND DRUG PRICES FOR MEDICARE. I THINK THERE IS A BIG QUESTION ABOUT WHAT KIND OF IMPACT THIS WILL HAVE ON THE NOVEMBER ELECTION, WHICH WILL BE INTERESTING TO SEE. THIS IS SOMETHING THAT THEY CAN CONTAIN ON AND TALK ABOUT.
INFLATION IS STILL A NUMBER ONE CONCERN FOR A LOT OF AMERICANS. WE WILL HAVE TO EVENTUALLY IMPLEMENT ALL OF THESE THINGS. IT DOES NOT NECESSARILY MEAN THAT DEMOCRATS WILL WIN IN NOVEMBER JUST BECAUSE THEY ARE PASSING BIDEN'S AGENDA. LISA: WHAT WILL BE THE RAMIFICATIONS ON THE 15% MINIMUM TAX THAT WILL BE IMPOSED ON SPECIFIC COMPANIES THAT HAD GOTTEN AWAY WITH FINDING LOOPHOLES? >> THEY HAVE SHOWN THAT MANY DO NOT THINK THAT COMPANIES ARE PAYING THEIR FAIR SHARE. IT APPLIES TO THE BIGGER AND LARGER COMPANIES.
THEY ARE TRYING TO KEEP THE IMPACTS AWAY FROM SMALLER BUSINESSES. THIS IS SOMETHING THAT THEY WILL TOWN AS A VICTORY ON BEHALF OF THEIR VOTERS AND IT WILL HELP TO PAY FOR THE LEGISLATION. JOE MANCHIN WAS PUSHING FOR THIS.
LISA: THANK YOU SO MUCH. MICHAEL, FROM YOUR PERSPECTIVE, ANOTHER COMPONENT OF THIS BILL TO SHORE UP THE NATIONAL PROFILE. HOW MUCH DOES THAT HAVE A TANGIBLE MARKET READ THROUGH, WHICH HINGES ON THE WORTHINESS OF THE U.S.?
>> LONGER-TERM, IT IS IMPORTANT. IT IS NOT REALLY SUSTAINABLE WHEN THINGS ARE RELATIVELY GOOD, SO WHAT HAPPENS WHEN THE NEXT RECESSION COMES, WHICH WILL EVENTUALLY HAPPEN IN THE NEXT SEVERAL YEARS? IN ADDITION, LOW INTEREST RATE SEEMS OVER AS WELL, SO THE INTEREST SPENT ON THE NATIONAL DEBT GROWS, WHICH, UNLESS OTHER TAXES ARE RAISED, THAT WOULD SUSPEND PROGRAM SPENDING. LEGALLY MANDATED SPENDING AFFECTS DISCRETIONARY SPENDING. THE ABILITY TO REIN DOWN DEFICITS AND SLOW THE GROWTH OF NATIONAL DEBT IS IMPORTANT, LONGER-TERM, OTHERWISE WE'VE RUN INTO A SITUATION DOWN THE ROAD WHERE THERE WILL BE A PREMIUM, SOME KIND OF PREMIUM PUT ON CHARGES. LISA: THERE IS AN ANALOG THAT IS PRETTY DIRECT.
YOU HAVE SEEN THEM PUSH MATURITIES FAR INTO THE DISTANCE. HOW MUCH DO WE SEE COMPANIES ACTUALLY PAYING DOWN THEIR DEBT MORE SIGNIFICANTLY, IN ANTICIPATION OF HIGHER RATE TO COME, BOTH ON THE INTEREST RATE SIDE AND CREDIT? >> BEEN NOT SEEN A LOT OF OUTRIGHT DEBT PAYDOWN JUST YET. IT WOULD TAKE A SUSTAINABLE MOVE HIGHER IN YIELDS FOR CORPORATE AMERICA TO SAY, WE NEED TO REDUCE OUR DEBT LOAD ACROSS THE BOARD. WHAT WE HAVE SEEN SOME NICE DELEVERAGING BECAUSE WE HAVE SEEN EARNINGS GROWTH COMING BACK ONLINE.
WHEN WE LOOK AT THE OTHER IMPORTANT CREDIT RATIOS, THINGS LIKE INTEREST COVERAGE OR SERVICE DEBT IS STILL AT THE VERY ELEVATED LEVELS. IN ORDER FOR CORPORATE AMERICA TO SAY, WE NEED TO START CHANGING OUR BEHAVIOR SIGNIFICANTLY, WE NEED TO SEE THOSE RATIOS COMING DOWN. OR ALTERNATIVELY SEE THE RATINGS AGENCIES ADDING VERY PROACTIVE, ESPECIALLY FROM TRIPLE BE TO DOUBLE BE. IF RATES GO TO 4%, DO NOT SEE THAT AS A PARTICULAR PROBLEM, GIVEN THAT SPREADS ARE RELATIVELY INTACT. GIVEN WHAT WAS GOING ON IN THE BACKGROUND, WE WOULD NEED TO SEE A SIGNIFICANT MOVE HIGHER IN RATES FOR A LOT OF BALANCE SHEETS TO BE SUSTAINABLE IN NATURE. IN AGGREGATE THAT WOULD NOT NECESSARILY BE A CRITICAL DOWNGRADE MOMENT ACROSS THE BROADER MARKET. LISA:
THANK YOU SO MUCH FOR BEING WITH US. PRESIDENT BIDEN IS SPEAKING. HE IS ON HIS WAY FROM DELAWARE, ONTO KENTUCKY TO VISIT THE VICTIMS OF THE RECENT FLOODING THERE. HE HAS GIVEN SOME COMMENTS AS HE HEADS ONTO THE PLANE. LATER, RECESSION RISKS PRICED INTO THE MARKET.
THAT CONVERSATION STILL AHEAD. WE ARE SEEING A RALLY. PERHAPS NOT AS MUCH OF A GAIN AS IT WAS EARLIER. THIS IS BLOOMBERG. LISA: LISTENING TO ANALYSTS RECOMMENDATIONS THIS MORNING. RAISING PRICES. EXPECTING MOMENTUM IS TO REMAIN SECURE.
CUTTING VALUATIONS AND FINALLY, JP MORGAN DOWNGRADING, SEEING UNATTRACTIVE RISK REWARDS. LISA: THIS IS COUNTDOWN TO THE OPEN. WE ARE SEEING A BIT OF MOMENTUM. HOW MUCH OF THAT IS LED? A BIT INTO TREASURIES. THAT IS FASCINATING. WE ARE, PARTICULARLY THE LONG AND DOWN TO 2.8 7%. CRUDE IS STEADILY BELOW $90 A BARREL.
IT IS SHOCKING TO SEE HOW MUCH THAT HAS COME OFF. JOINING IS KATIE GREIFELD. KITTY: THIS IS SURGING THIS MORNING AFTER A 16% RALLY. PREPARING.
ALMOST 16%. DEMOCRATS CALLING THE BEST EVER IN FIGHTING CLIMATE CHANGE. LEADING ON THE BACK OF THIS BILL .
FINALLY, RISING AGAIN. A FUNDAMENTAL REASON MIGHT BE THE MARKET, BUT WE ARE SEEING HEAVY RETAIL INTEREST. LISA: KATIE GREIFELD, THANK YOU SO MUCH. AN INCREASINGLY UNSTOPPABLE BEHAVIOR. LET'S BRING IN ABIGAIL DOOLITTLE. ABIGAIL: IT IS INTERESTING TO SEE.
THAT IS EXACTLY RIGHT BECAUSE IT IS UP MORE THAN 9%. A COMBINATION OF EARNINGS, BASIS POINTS, IT REALLY STIRRED THEIR SPIRITS. TAKE A LOOK AT SECTORS JUST ROARING HIGHER. YOU ALSO HAVE INDUSTRIALS. VERY HEALTHY, BROAD-BASED RALLY. A LOT OF INVESTORS ARE ACTUALLY MISSING OUT.
THAT DOWNTREND IS STILL IN PLACE. MOST RECENTLY, WE HAVE THIS GOING ALL THE WAY BACK TO 2016. A LOT OF PEOPLE ARE ACTUALLY MISSING OUT ON THIS RALLY AND FINALLY, TAKING A LOOK AT OPTIONS.
THEY SEEM TO BE DROPPING OUT OF AN UPTREND. THAT COULD SUGGEST THAT MORE GAINS ARE AHEAD. A LOT OF TRADERS AND INVESTORS DO NOT LIKE IT.
BUT IT HAS BEEN MORE PREDICTABLE. IT IS CREEPING HIGHER AND IT TENDS TO BE VERY EARLY. THEY SUGGEST THAT THE RALLY COULD HAVE LIFE IN THE COMING WEEKS AND MONTHS. WATCH THE INDEX. IT COULD SUGGEST THAT THAT DOWNTURN WILL REMAIN IN PLAY. LISA: MIKE WILSON PUT UP GREAT NOTE OVER THE WEEKEND EXPECTING A DENT IN PROFIT MARGINS.
LOOKING FOR MARGINS TO FALL BY 25 BASIS POINTS IN 2023 WITH A CONTRACTION IN EVERY SECTOR. >> IF YOU LOOK BACK, THEY HAVE NOT BEEN THAT BAD. THEY HAD BEATING EXPECTATIONS AND THAT HAS HELPED.
IT IS ACTUALLY THE BEST START, GOING BACK. WE ARE TALKING 25 YEARS. THEY OBVIOUSLY DO NOT THINK THE RALLY WILL LAST. EXPECTING PROFIT MARGINS TO CONTRACT.
WE WILL GET A READ ON THAT. IT IS CRITICAL FOR THE FEDERAL RESERVE, BUT THAT IS REALLY THE GIST OF IT. THEY WILL NOT HAVE AS MUCH SUCCESS PASSING THEM ON AS DEMAND STARTS TO LANE. THERE WILL BE A CONTRACTION BUT IN ANOTHER SECTOR, WE HAVE STARTED TO SEE EXPECTATIONS LOWERED FOR THIS YEAR. IT IS DOWN, JUST AT THE BEGINNING OF JULY. BUT IF YOU BELIEVED THE BEARS, THERE IS STILL A WAYS TO GO.
LISA: STUART KAISER HAS WRITTEN, WE SEE STRONG DATA. WE CONTINUE TO SEE A HIGH BAR FOR ESTIMATES, GIVEN THE POSITIVE NOMINAL. I WOULD LOVE TO GET YOUR SENSE OF HOW MUCH YOU CAN FIGHT THE NEGATIVITY THAT YOUR HEARING ACROSS WALL STREET, SO YOU GUYS SAY WE ARE LOOKING CONFIDENT.
>> I THINK IT SPEAKS TO HOW WELL THEY WORK. THEY HAVE STARTED TO PULL PEOPLE IN A LITTLE BIT. THEY HAVE BEEN REVISED.
THE NEGATIVITY THAT WAS PRICED IN, IT GIVES YOU A LITTLE MORE SPACE. POSITIONING IS LOW. WE DEFINITELY THINK ABOUT IT. LISA: WE ARE SEEING THE MOST INVERSION GOING BACK TO 2000. WE HAVE SEEN ENOUGH WEAKNESS IN THE MARKET THAT THE FED PIVOTS. >> THIS IS THE ULTIMATE TRADE-OFF. IT HAS CALLED MARKET DOWN. EXPECTATIONS ARE LOWER.
THE FED IS TRYING TO BALANCE THESE THINGS AND BECAUSE WE HAVE SEEN STRONG GROWTH, IT GIVES THE FED A LITTLE MORE SPACE AND WIGGLE ROOM TO KEEP THEM AT BAY. YOU WOULD RATHER HAVE ONE TAIL RISK THAN TWO. AS LONG AS THE GROWTH DATA REMAIN SOLID, THAT IS WHERE WE ARE SETTING. LISA: THIS IS KIND OF JON FERRO'S PROPERTY. DOES IT MAKE SENSE TO YOU, GIVEN THAT IF THERE IS SOME WEAKENING, IT COULD BE NEGATIVE FOR DISCRETIONARY.
I THINK THEY ARE TWO ASPECTS TO THIS. OBVIOUSLY, THE JOBS REPORT WAS NEAT. IT IS JUST THAT EXPECTATIONS WERE SO INCREDIBLY LOW. I THINK THERE ARE JOBS COMMUNICATING THAT THE FED NEEDS TO CREATE INFLATION. I DID NOT THINK THAT IS
NECESSARILY THE CASE. THE MARKET IS NOT GOING TO TRADE AGAIN OR THE MARKET IS TRADING RIGHT NOW WITH INFLATION UNDER CONTROL. LISA: MIKE WILSON IS OVER THERE SPEAKING ABOUT HOW QUICKLY YOU HAVE TO SEE IT COME DOWN. THE FED MIGHT NEED TO GO A LITTLE BIT FURTHER. >> YOU HAVE CORE ESTIMATES AROUND 40 TO 50.
FOR THAT REASON, WE DO NOT THINK IT IS A NEGATIVE EVENT THIS MONTH. WE NEED TO SEE NOT ONLY THOSE LEVELS PRINT THIS MONTH, BUT WE NEED TO CONSISTENTLY STEP DOWN IN COMING MONTHS. IS THERE ANYTHING THAT CAN MAKE IT SO THAT THEY CAN BACK OFF THE ACCELERATOR LITTLE BIT? THE MARKET RESPONDS POSITIVELY. WE NEED TO SEE THE DATA COME IN. >> SIX MONTHS IS A LITTLE BIT
MUCH. WE ARE STICKING WITH LARGE QUALITY. A LOT OF IT IS BECAUSE OF POLICY STANDS. AT THE EXPENSE OF GROWTH, IF HE BELIEVED THAT IS WHERE IT HAS BEEN, WE THINK IT PUTS YOU IN THINGS. >> A LOT OF THE DATA HAS NOT LOOKED THIS GOOD. AS WE LOOK ACROSS THE OCEAN, IT LOOKS PRETTY GOOD. OUTSIDE OF PAYROLLS COME OUTSIDE OF THE U.S., WE ARE
SEEING MEANINGFUL SLOWING. IT COULD MEAN THAT WE ARE GETTING A LITTLE BIT OF A FALSE SIGNAL FROM THE ECONOMY. A LOT OF THESE HARD LANDING OUTCOMES.
LISA: PEOPLE ARE LOOKING AT THOSE PAYROLLS AND SAYING, IT IS ACTUALLY REALLY STRONG. WE CAN DEAL WITH IT. BACK IN 2021, BEYOND DATA THAT WAS REVISED UPWARDS. WE HAD BETTER THAN EXPECTED LABOR MARKETS THAT COMPLETELY CHANGED THE PROFILE FOR HOW PEOPLE LOOK AT THE ECONOMY. HOW SIGNIFICANT OF A CHANGE WITH THAT THE FOR YOU? >> THAT WOULD BE A MAJOR CHANGE. THIS RISK IS LARGER AND CLOSER.
YOU DO START TO GET INTO A SITUATION WHERE THE FED IS IN A LOT OF TROUBLE. I THINK THAT IS A DANGEROUS RISK TO THE MARKET. GROWTH IS DECELERATING SO MUCH THAT I THINK IT IS THE WORST CASE. NOW YOU HAVE ADDED GROWTH. I THINK THAT IS EXACTLY WHAT THEY WANT TO AVOID. >> RAMPING UP ACTIVITY. >> I DO NOT THINK THEY WILL DO ANYTHING.
LISA QUAN SPEAKER PELOSI'S VISIT CONTINUING TO WEIGH. PERHAPS A JOBS REPORT SHOWING MORE STRENGTH IN THE LABOR MARKET THAN WHAT MANY PEOPLE THOUGHT. THIS IS BLOOMBERG. ♪ PRESIDENT BIDEN: I DO NOT THINK THEY ARE GOING TO DO ANYTHING. LISA: RAMPING UP. THIS IS COMING AS THE SECRETARY TRAVELS. >> OUR RELATIONSHIP IS QUITE EXTRAORDINARY.
IT IS FRIENDSHIP AND IT IS FRIENDSHIP AND IS FORAGED ON PARTNERSHIP. WE THINK THE TIES BETWEEN US ARE UNIQUE. IT IS TREMENDOUS VALUE. LISA: HOW SIGNIFICANT IS IT THAT THEY HAVE BEEN DOING SOME OF THESE PRACTICE RUNS AROUND TAIWAN? >> THEY ARE VERY SIGNIFICANT IN THAT WE HAVE NOT SEEN THIS LEVEL TO DATE. CHINA IS WORKING HARD TO INTIMIDATE TAIWAN AND IT MAKING OTHERS IN THE REGION UNCOMFORTABLE. NOTHING MAKES FRIENDS FASTER
THAN A COMMON FOE. PRESIDENT BIDEN HAS INVITED THE RELATIVELY NEW PRESIDENT TO THE WHITE HOUSE, ALTHOUGH NOTHING HAS BEEN SCHEDULED ON THAT YET. I WOULD EXPECT TO SEE MORE LANGUAGE LIKE THIS. LANGUAGE IN THE U.S. THAT SEEKS TO TEMPER WHAT CHINA IS UP TO IN TAIWAN. LISA: HOW MUCH ARE THEY TRYING TO RAMP UP RISK ON.
-- RAMP UP RESPONSE? >> IT IS NOT SOMETHING THAT IS EXPECTED TO BE HAPPENING ANYTIME SOON. WILL BE IN FACT STEP UP MILITARILY? THE WHITE HOUSE HAS TRIED TO CLARIFY THOSE REMARKS. AFTER WHAT WE HAVE SEEN OVER THE PAST WEEK, DURING AND FOLLOWING NANCY PELOSI'S VISIT, IT IS AN CREATED CONVERSATION ABOUT WHAT IN THE MEANTIME DIPLOMACY. IT IS A MUTUAL DEFENSE GOING TO JAPAN AND TRYING TO CONSOLIDATE THAT DIPLOMATIC POWER.
LISA: THE COVID POLICY COMMIT -- CONTINUES TO WEIGH ON DEMAND. IS THIS A SIGN OF SOMETHING ELSE? >> HALF OF THE MOVE IS DUE TO THE MOVE IN COMMODITY PRICES. THEY NEED THE SERVICE ON THE EXPORT SIDE OF THE LEDGER. DOUBLING THE MARKET SHARE YOU CAN SEE CHINA FILLING THE GAP AND YOU CAN SEE THEM REAPING THE BENEFITS.
LISA QUAN WE WILL HAVE MORE ON THAT, COMING UP. I HAD TO SAY THAT SOME OF THE DEVELOPMENTS -- HOW MUCH DO YOU VIEW WHAT IS GOING ON IN TERMS OF HOW MUCH OIL PRICES COME DOWN , THE LACK OF DEMAND AND AN ECONOMY THAT IS SHUT DOWN. >> IT HAS BEEN AN INTERESTING CASE THIS YEAR. THE TITLE WAVE OF SLOWING HAS KIND OF WASHED THAT AWAY. THE MACRO IS SORT OF WASHED OVER. A LOT OF WHAT WE ARE SEEING AND CHINA IS A SLOWER U.S.
AND DEMAND. LISA: NOT SURE WHETHER IT WAS COPPER, COAL OR OIL. IS THIS GOING INTO REVERSE? DOES THIS GO INTO THE GAINS THAT WE ALREADY HAVE? HOW DO WE LOOK TO THE NEXT PHASE OF THE CYCLE, WHICH IS PERHAPS A LITTLE MORE OF A DOWNDRAFT? >> I THINK IT MAKES A LOT OF SENSE, GIVEN THE RISKS THAT ARE OUT THERE, BUT IT IS HARD TO IMAGINE AHEAD OF HEATING SEASON, OIL REMAINING UNDER PRESSURE. IT IS MORE TACTICAL THAN STEPPING AWAY FROM THE COMMODITY COMPLEX. IT IS HARD TO IMAGINE THEM
DOING THAT. LISA: THERE IS A MORE SENSITIVE QUESTION. THE IDEA OF COMPANIES IN THE U.S. MAKING GOODS AND USING CHINA. COMPANIES THAT ANNOUNCED THAT THEY ARE REASSURING OR AND SHORING PRODUCTION WITHIN CHINA ARE BEING REWARDED. HOW DO YOU LOOK AT THIS IN YOUR PORTFOLIO, AS YOU PARSE THROUGH THIS DATA? >> EVEN A LOT OF OUR COVID TESTS ARE BEING MADE IN CHINA.
MY VIEW WOULD BE, IF ON SHORING IS POSITIVE, IT DOES INCREASE PRODUCTION COST. I THINK YOU WILL HAVE PEOPLE LOOKING AT THAT AS A SHORT-TERM PHENOMENA. IF A CONSUMER IS REALLY UNDER PRICE PRESSURE, THE ABILITY TO TRADE UP, IT MIGHT BE TIME-DEPENDENT.
>> WERE TALKING ABOUT EUROPE. HOW MUCH DO YOU NEED EUROPE TO DO A LITTLE BIT BETTER? DO YOU NEED THEM TO COME IN TO MAINTAIN YOUR CONSTRUCTIVE VIEW ON EQUITIES? >> I THINK IT IS IMPORTANT. THEY GENERATE A LOT OF REVENUE. IT IS A BIG HEADWIND AS WELL. THE HIGHER DOLLAR IMPACT, THE NUMBER ONE IS GROWTH. YOU WANT TO SEE CHINA AND EUROPE AS MUCH AS POSSIBLE.
LISA: THANK YOU FOR BEING HERE IN STUDIO. WE WILL BE WATCHING IT NEXT IN OUR TRADING DIARY. GREEN ACROSS THE BOARD. LED BY PARTICULAR TECH GAINS. AMAZON SHARES UP MORE THAN 2%. META-IS AT ALMOST 4%. LISA: WHAT YOU NEED TO BE WATCHING IN THE WEEK AHEAD. WE WILL GET THE LATEST READ ON
INFLATION AMERICA WITH CPI FROM WEDNESDAY. U.S. PPI WITH ANOTHER ROUND OF JOBLESS CLAIMS AND ROUNDING OUT THE LEAK WITH THE UNIVERSITY OF MICHIGAN SURVEY. RIGHT NOW YOU ARE SEEING THE RALLY EXTENDED. THIS IS BLOOMBERG.
2022-08-13 20:39
Show Video
Other news