'Bloomberg The Open' Full Show (07/28/2022)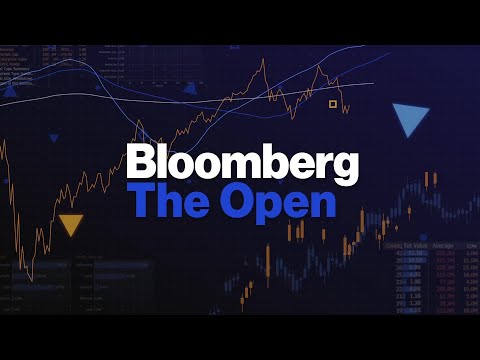 Show Video
JONATHAN: GOOD MORNING, GOOD MORNING. A SECOND STRAIGHT NEGATIVE QUARTER IN AMERICA. I HATE THIS DEBATE. THE COUNTDOWN TO THE OPEN STARTS RIGHT NOW. >> EVERYTHING YOU NEED TO GET SET FOR THE START OF U.S. TRADING, THIS IS "BLOOMBERG THE OPEN," WITH JONATHAN FERRO.
JONATHAN: LIVE FROM NEW YORK CITY, THE BIG ISSUE. IT'S ALL ABOUT THE DATA. >> DATA. >> DATA. >> WE HAVE A LOT OF DATA.
>> JOBS DATA. >> WAGE DATA. NEXT THE CHAIR TOLD US ITS DATA DEPENDENT.
>> THE GDP REPORT. >> OF COURSE THE GDP NUMBER WILL BE VERY IMPORTANT. WE GET PAYROLL. WE GET THE UNEMPLOYMENT INDEX. LACKS EMPLOYMENT COSTS INDEX. >> THE CONCEPT OF WAGE PRICE SPIRAL.
>> IT'S SUPER IMPORTANT. >> THE FED, GETTING RID OF GUIDANCE, THEY ARE DATA DEPENDENT. >> VERY DATA DEPENDENT. JONATHAN: DEPENDENT ON WHAT DATA? THE ECONOMY SHRINKING FOR A SECOND STRAIGHT QUARTER. YOUR RESPONSE TO THAT DATA, 30
MINUTES AGO? >> IT WAS A SURPRISE. MOST PEOPLE WERE EXPECTING A MODEST, POSITIVE TREND. -1% IS DEFINITELY SOMETHING THAT CATCHES YOUR EYE AND THE FACT THAT YOU HAVE TWO QUARTERS OF NEGATIVE GROWTH, NOT A RECESSION, DOESN'T FEEL LIKE A RECESSION, BUT THE PRICE ACTION IN THE BOND MARKET TODAY IS REALLY WHAT DATA DEPENDENCE IS ALL ABOUT. YOU GET THE INFORMATION AND THE MARKET IMMEDIATELY REACTS TO THE WEAKER TREND. YOU WILL SEE THE VOLATILITY IN THE MARKET IN THE COMING MONTHS. JONATHAN: JUST BELOW 290. JIM, YOUR THOUGHTS? JIM: IT'S A RECESSION. WE CAN STAND ON OUR HEAD AND
TWIST ALL WE WANT. BUT GETTING RID OF FORWARD GUIDANCE, THANK GOD THEY DID, COUNT ME AS ONE, THIS WILL MAKE THE BOND MARKET MORE VOLATILE BECAUSE WE WILL NOT HAVE EXTREME REACTIONS TO DATA. STRONG INFLATION DATA, DOWN THE ROAD, NO INTEREST RATES. EVERYBODY GET READY, THIS WILL BE A VOLATILE ENVIRONMENT.
JONATHAN: AS SUBADRA POINTED OUT, YOU COULD INTERPRET THIS AS WEEKEND THE FED ASK AWAY. IS THAT YOUR INTERPRETATION? JIM: THIS IS THE QUESTION. WANT TO LOOK PAST OF THE DATA? 9% INFLATION MIGHT COME DOWN TO THE HIGHGATE. NEGATIVE GDP, WHICH MATTERS
MORE? WALL STREET, THE NEGATIVE REAL GROWTH DATA MATTERS MORE. BUT I HAVE A FEELING AT THE FEDERAL RESERVE IT WILL BE THE HIGH INFLATION DATA. THE FEDERAL RESERVE RAISED RATES 70 FIVE BASIS POINTS LESS THAN 24 HOURS BEFORE THE SECOND NEGATIVE GDP REPORT AND TOLD US THEY WOULD CONTINUE TO RAISE RATES. SENDING US THE SIGNAL THAT YOU MIGHT HOPE WE COULD STOP BECAUSE OF THIS WEEK DATA BUT I HAVE A FEELING THEY WON'T UNTIL THERE'S A SERIOUS SIGN THAT THE INFLATION DATA HAS TURNED AND WE DON'T HAVE THAT AT. JONATHAN: WE HAVE A NON-HANDLE ON INFLATION. HOW MUCH WEAKNESS IN THE
ECONOMY DO YOU THINK THEY ARE WILLING TO TOLERATE? SUBADRA: I HAVE ARGUED FOR A WHILE NOW THAT IT MAKES VERY LITTLE SENSE FOR THE FED TO RAISE RATES FOR CAN TUMORS BECAUSE OF INFLATION GET DOWN TO 4% WERE BEYOND AND THEN ORCHESTRATE A HARD LANDING AND IN THE NEXT YEAR THEY CUT RATES AGGRESSIVELY TO COUNTER THAT SLOWDOWN IN THE ECONOMY. I THINK A MUCH MORE SENSIBLE APPROACH WOULD BE FOR THEM TO SORT OF ASSESS THE DATA. MAYBE YES ON THE FED FUNDS RATE AROUND THREE QUARTERS OF A PERCENT AND THEN THEY WOULDN'T HAVE TO CUT NEARLY AS MUCH AS INFLATION REMAINS HIGH. THAT IS WHERE THE MARKET IS RIGHT NOW, RISING IN THE FUND RATE. MOVED ON SUBSTANTIALLY. THE MARKET HAS A MUCH MORE FLATPACK AFTER THE PEAK FED FUND RATE. JONATHAN:
THAT SOUNDS LIKE THE SHOULD SHOULDN'T DEBATE. SHOULD DO AND SHOULDN'T DO. IS THAT THE SAME AS WHAT THEY WILL DO? SUBADRA: THAT'S HARD TO KNOW, COURSE.
IT ALL DEPENDS ON THE DATA. AT SOME POINT LATER THIS YEAR THEY WILL HAVE THAT DEBATE ABOUT WHETHER THE AIR MORE ABOUT INFLATION OR THE UNEMPLOYMENT PICTURE. YOU ARE STARTING TO SEE CLAIMS RISING GRADUALLY THAT THE EMPLOYMENT PICTURE IS PRETTY ROBUST BUT WEAKNESS IN GROWTH, LOOKING AT THE DATA, LOOKING AT MANUFACTURING, HOUSING, THE TUMOR, CONSUMER SENTIMENT, YOU START TO SEE WEAKNESS ACROSS A BROAD WALK OF METRIC IN THE FED WILL HAVE TO WAIVE THE INFLATION MANDATE WITH THE FULL EMPLOYMENT MANDATE AT SOME POINT AND THAT HE THINKS WILL HAPPEN LATER THIS YEAR. JONATHAN: COMING UP NEXT WEEK. FUTURES ARE UP -1/10 OF 1%, ALL
OVER THE PLACE IN THE LAST 30 MINUTES OR SO. YIELDS ARE LOWER ON THE FRONT AND ON A TWO-YEAR. MIKE MCKEE SPENT THE WHOLE WEEK TELLING US WHAT IS AND IS NOT A RECESSION. WHAT DO YOU MAKE OF THIS? MIKE:
NOT A RECESSION BUT IT DOESN'T FEEL GOOD, THAT'S HOW I PUT IT. THE FOLKS IN WASHINGTON WILL BE ARGUING OVER THIS FOR QUITE SOME TIME. EAST OF 20TH STREET, YOU WILL BE JUST LOOKING AT THE HEADLINE NUMBER BUT THE FED TAKING IT APART WILL SEE CONSUMER SPENDING IS NOT GOOD, UP 1% HANGING IN THERE, NOT GREAT.
THE THING ABOUT CONSUMER SPENDING IS WE SAW A BIG SHIFT FROM SERVICES TO GOODS, AS EXPECTED. IF THAT CONTINUES IT WILL CHANGE THE DYNAMIC OF AN NATION. BUSINESS INVESTMENT IS DOWN 1/10. MOST OF THAT IN STRUCTURES. THE OTHER THING THAT REALLY WENT DOWN IS RESIDENTIAL HOUSING, DOWN 14%. YOU CAN SEE THE INTEREST RATE
INCREASES MAYBE HAVING AN EFFECT. THE THIRD NUMBER, INVENTORIES, IT MADE THE BIG DIFFERENCE. THIS IS ALL PANDEMIC RELATED. THERE WAS A BIG DROP IN INVENTORIES OF COMPANIES THAT SOLD OUT OF EVERYTHING DURING THE PANDEMIC. IT ORDERED -- THEY ORDERED
STUFF IT CAME IN SLOWLY AND ALL OF A SUDDEN IT WAS THERE, BIG INVENTORIES AND NOW THEY AREN'T GROWING AS MUCH. THAT TOOK 2% OFF OF GDP. EXPORTS BETTER THAN EXPECTED, 1.4% GAIN FOR GDB BECAUSE OF THAT. YOU MENTIONED INFLATION. LOOKING AT THE NOMINAL NUMBERS, GDP WAS UP AND WE LOST 9/10 IN THE REAL NUMBERS. THERE IS A MAJOR INFLATION IMPACT IN THE DATA. FINALLY, YOUR QUESTION.
RECESSIONS? JIM IS RIGHT. WE HAVE NEVER HAD TWO CONSECUTIVE QUARTERS THAT WERE NOT RECESSIONS BUT WE HAVE HAD RECESSIONS WITHOUT TO NEGATIVE ORDERS AND IN A LOT OF THEM THE NEGATIVE QUARTERS DIDN'T COME UNTIL LATER IN THE RECESSION. I WON'T GO WITH RECESSION YET. THE REAL QUESTION OF COURSE IS
WHAT DOES IT MEAN FOR THE FED. NOTHING AT THE MOMENT. THEY WILL TAKE APART THE NUMBERS , THEY WILL LOOK AND THEY'VE GOT A LOT OF DATA AROUND THE ECB. WE WILL HAVE TWO JOBS REPORTS BEFORE THEN. PUTTING IT IN A WAY YOU WOULD UNDERSTAND, JOHN, TRYING TO FIGURE OUT TODAY WHAT THE FED IS GOING TO DO ON SEPTEMBER 21. SEPTEMBER 18, CHELSEA AT LIVERPOOL, TELL ME THE SCORE. JONATHAN: YEAH AND I'VE GOT NO IDEA.
WE COULD BE IN A RADICALLY DIFFERENT PLACE. MIKE, THIS WILL BE A BATTLE ABOUT LABELS AND WHAT TO CALL THIS. CAN WE CALL IT STAGFLATION? CAN WE DO THAT? MIKE: YES, YOU COULD CALL IT STAGFLATION. TWO QUARTERS IS ENOUGH TO DO
THAT. JONATHAN: AND THAT IS A PROBLEM. BAD NEWS GOOD NEWS FOR THIS MARKET, JIM BIANCO? >> -- JIM: I THINK SO INNOCENT IT HAS BEEN THAT CASE.
ONE WEEK FROM TOMORROW WHEN WE GET THE PAYROLL APART -- REPORT, WE GET ANOTHER STRONG ONE, THE DOW WILL BE RECEIVED AS GOOD NEWS AND THE PAYROLL FRONT REALLY BAD NEWS FOR THE MARKETS AS IT MAKES THE FED <GO> HARDER. A WEEK NUMBER WOULD BE PERCEIVED AS GOOD NEWS LIKE YOU SEE TODAY. THAT'S THE REACTION TO A WEEK GDP REPORT, REDUCING THE PROBABILITY OF A 75 POINT HIKE IN SEPTEMBER AND IMMEDIATELY THE FUTURES MARKETS. JONATHAN: DOWN ON THE FRONT-END IN THE GERMAN MARKET ON A DAY WHERE WE JUST HAD A REALLY HOT NATION TREND.
WHAT DO YOU MAKE OF HOW THE BOND MARKET RESPONSE TO THE INFORMATION ON OUT BUT. LABOR MARKET DATA, INFLATION. ETC. I DON'T THINK I CAN CONNECT WITH SUBADRA: SUBADRA, SO I CAN JUST ASK YOU, JIM.
JIM, WE JUST HAD RED HOT CPI JIM: GERMANY. THE LATEST DATA IS THE WEAK GROWTH IN THE U.S.. IN UNITED STATES, TOO, A BIG MOVE DOWN IN YIELDS ON THE YIELD CURVE AS WELL AS SEEING A BIT OF A DEEPENING OF THE EURO PER, NEGATIVE BUT LESS NEGATIVE. THE MARKET IS REACTING TO THIS DATA INTO ITS BACK TO THE EARLIER QUESTION THAT YOU ASKED US. WE HAVE GOT HIGH INFLATION AND WE HAVE GOT NEGATIVE GROWTH. THAT IS STAGFLATION.
WHICH WILL MATTER MORE? I WILL COME BACK TO WHAT I SAID BEFORE. ON THE MARKET LEVEL WE BELIEVE REAL GROWTH MATTERS MORE BUT THE CENTRAL BANK THAT ARE WILL RESERVE LEVEL, THEY WILL THINK THAT DEFLATION MATT -- DEFLATION NUMBERS MATTER MORE. JONATHAN: THEY CAME OUT YESTERDAY, SAYING THAT THEY READ THE PRESS CONFERENCE AS MORE HAWKISH THAN THE MARKET INTERPRETATION AND CONTINUE TO EXPECT FOR INTERPRETATION TO CONTINUE TO HIKE THE FED MORE AGGRESSIVELY THAN THEY ANTICIPATE IN SEPTEMBER WITH POLICY RATES REACHING FOR PERCENT BY YEAR END. DOES THAT RESONATE WITH YOU IN ANY WAY, SHAPE, OR FORM? JIM: TOTALLY BECAUSE IT'S SIMILAR TO WHAT I THINK THE FED IS GOING TO DO AS WELL.
THERE IS A BELIEF IN THE MARKETPLACE THAT INFLATION IS STILL NOT A THING. THAT IT MIGHT BE TRANSITORY AND PEAK RIGHT NOW. THE IDEA THAT THE FED ABANDONED FORWARD GUIDANCE AND IS DATA DEPENDENT, THERE'S A HOPE THAT OVER THE NEXT FEW MONTHS THE INFLATION DATA WILL CLEARLY SHOW A PEAK, CORE AND HEADLINE TO GIVE THE FED ROOM TO BACK OFF ON THE RATE HIKES. IF THAT HAPPENS, IT'S TRUE. BUT I TEND TO BE IN THE CAMP THAT THAT DATA, THE INFLATION DATA IS GOING TO BE MORE STICKY. ESPECIALLY THE CORE DATA. LOOK, THE SHELTER NUMBERS ARE GOING TO ALMOST GUARANTEE STRONG CORE INFLATION NUMBERS. THAT IS GOING TO KEEP THE HEAT
ON THE FED TO KEEP RAISING RATES AND THE WISH OF WALL STREET THAT WEEK INFLATION DATA IS JUST AROUND THE CORNER TO GET THE FED TO BACK OFF MIKE TO BE -- YET AGAIN. JONATHAN: WALL STREET, GETTING ITS WISH RIGHT NOW, DOWN 11 POINTS ON A TWO-YEAR. WE ARE GOING TO TRY TO REESTABLISH THAT CONNECTION WITH SUBADRA, JIM STICKING WITH US.
SINGLE NAMES, A BIG AFTERNOON OF EARNINGS COMING UP WITH KAILEY LEINZ. >> BUCKLE UP, MEDA REPORTED YESTERDAY WITH THEIR FIRST EVER QUARTER OF REVENUE GROWTH DROPPING INTO NEGATIVE TERRITORY AND FORECAST AS DISAPPOINTED, EXACERBATED BY THE COMPETITION FROM TIKTOK AND THE APPLE PRIVACY RULE CHANGES FACEBOOK HAS BEEN WARNING ABOUT SOMETIME. QUALCOMM, ALSO DOWN ON DISAPPOINTING GUIDANCE, THE BIGGEST CHIPMAKER FOR SMARTPHONES WARNING THAT HE IS WEAKENING ECONOMY MEANS CONSUMER SPENDING ON MOBILE DEVICES GOES DOWN. THAT STOCK IS DOWN 3%. THE HEALTH SUPPLY COMPANY THEY ARE CUTTING THEIR FORECAST CITING SUPPLY CHAIN CHALLENGES AND IN SHERRY USHERS.
STORIES WE HAVE HEARD BEFORE. ANYTHING IN THE CLEAN ENERGY SPACE IS GETTING A HUGE PIG TODAY AFTER THAT DEAL BETWEEN JOE MANCHIN AND CHUCK SCHUMER. ONE OF THOSE STOCKS UP 17% BEFORE THE OPENING BELL. JONATHAN: COMING UP, THE RECESSION DEBATE, DOWN IN D.C. >> WE ARE NOT TRYING TO HAVE A RECESSION AND I DON'T THINK WE HAVE TO. >> THE U.S. ECONOMY IS NOT IN RECESSION.
JONATHAN: CAN'T GO -- GUARANTEE YOU MUCH, REPUBLICANS IN LIFE WILL SAY WE ARE IN RECESSION, DEMOCRAT PROBABLY SAY NO. WE WILL COVER THAT NEXT. >> WE ARE NOT TRYING TO HAVE A RECESSION, I DON'T THINK WE HAVE TO. JONATHAN: THAT WAS CHAIRMAN POWELL, YESTERDAY. USG THESE CONTRACTING FOR A SECOND STRAIGHT QUARTER, SETTING THE STAGE FOR A HEATED DEBATE IN D.C. WITH SECRETARY YELLEN AND PRESIDENT BIDEN SCHEDULED TO SPEAK LATER THIS AFTERNOON DOWN IN WASHINGTON. AMH, YOU KNOW HOW THIS IS GOING
TO GO. NEXT SEVERAL HOURS, WEEKS, MONTHS. >> DEMOCRATS WILL TRY TO CHANGE THE DEFINITION OF A TECHNICAL RECESSION, TWO BACK-TO-BACK QUARTERS OF NEGATIVE GROWTH.
WE HAVE NEVER HAD A RECESSION IN THE UNITED STATES WHERE WE DIDN'T SEE THAT AND MANY REPUBLICANS WILL CALL THIS A TECHNICAL RECESSION. REGARDLESS OF THE DEFINITION, EVERYONE IN WASHINGTON AND NON-ECONOMISTS WILL TELL YOU, WITH MOHAMED EL-ERIAN TALKING ABOUT THIS TODAY, WE HAVE BEEN FLAGGING THIS MONTH'S, DEEPENING STAGFLATION WITH RECESSIONARY RISK. THE ADMINISTRATION NEEDS TO DEAL WITH THE FACT THAT THERE IS RECESSIONARY RISK 100 DAYS OUT FROM THE MIDTERM. JONATHAN: YESTERDAY THEY GOT SOME GOOD NEWS, AN AGREEMENT WITH SENATOR JOE MANCHIN. WHAT DOES THAT DO TO ADDRESS SOME OF THIS? ANNMARIE: BRING DOWN THE DEFICIT, RIGHT? THIS IS THE BIGGEST PROVISION HE WANTED TO BE INCLUDED. IF YOU ARE PUMPING MONEY INTO THE SYSTEM IT CANNOT INFLATIONARY. HE SEEMS TO BE HAPPY ENOUGH
WITH THAT AND LARRY SUMMERS WAS ON CNN TALKING ABOUT THE FACT THAT IT WOULD NOT BE INFLATIONARY AND IT WAS A HUGE WIN FOR THE ADMINISTRATION. THEY ARE GETTING SOME CHANGES IN TAX PROVISIONS, ENERGY, CLIMATE. THE ISSUE IS IS THAT IT WASN'T AS BIG AS THEY HOPED FOR BUT IT IS A WIN AND SENATOR MANCHIN WAS ABLE TO DO THAT FOR THE PRESIDENT. THEY GOT THIS MINIATURE BILL BACK BETTER YESTERDAY THIS MORNING WAKING UP WITH SOME CONCERNING DATA. JONATHAN: A LITTLE BIT LATER WE WILL HEAR FROM THE PRESIDENT AND JANET YELLEN ON THIS TOPIC AND YOU CAN IMAGINE HOW IT'S GOING TO GO. SUBADRA RAJAPPA JOINING US ON THE PHONE JUST NOW, INTERNET PROBLEM AND THAT'S LIFE, DOING THIS ON THE PHONE JUST BRIEFLY.
HOW DOES THE CHAIRMAN KNOW? SUBADRA: I DON'T THINK ANY OF US KNOW WHERE EXACTLY. WE WILL KNOW WHEN HE HAS HIKE TO MUTUALLY AROUND THE SURROUNDING ECONOMY, BUT HONESTLY IT WILL BE HARD FOR THEM TO SHOW EXACTLY. HAVING LONG ARGUED THAT THE NEUTRAL IS AROUND 4%. YOU KNOW, THOSE THINGS CHANGE NEATLY, SLOWING DOWN AND GROWTH. IT'S GOING TO BE VERY TOUGH WITH THE FED ULTIMATELY FOR THEM TO CONTINUE TO RAISE RATES THROUGH INFLATION. THEY WILL HAVE TO BALANCE, IF YOU WILL, THE MANAGEMENT BETWEEN INFLATION AND EMPLOYMENT. JONATHAN: AND THOSE TWO SIDES IS A
MANDATE WILL BE AN OBVIOUS CONFLICT. ALWAYS GREAT TO CATCH UP WITH YOU THERE. JIM, WHAT DO YOU MAKE OF THIS DEBATE DOWN IN WASHINGTON? JIM: YOU KNOW, THIS IS NOT NEW. GOING BACK TO THE LATE 1970'S, A PROMINENT ECONOMIST SPOKE TO THE CARTER ADMINISTRATION WHO WAS TRYING TO REDEFINE A RECESSION AND HE SAID IT WAS A BANANA, WE DO OR DON'T HAVE A BANANA. FEELS LIKE WE HAVE GONE BACK TO WHERE WE WERE 50 YEARS AGO AND NOTHING HAS CHANGED. IT'S ALWAYS BEEN POLITICAL TO
DECIDE WHETHER OR NOT THERE IS A RECESSION OR THERE ISN'T, BUT WHAT WE DO HAVE IS REAL GROWTH SLOWING QUITE DRAMATICALLY FOR THE SECOND CONSECUTIVE ORDER AND WE MIGHT NOT BE DONE. REMEMBER, THE REASON WE ARE HAVING A HARD TIME UNDERSTANDING THIS IS WE HAVE POSITIVE REAL GROWTH, IT'S JUST NOT FASTER THE -- FASTER THAN THE INFLATION RATE AND WE MIGHT HAVE ANOTHER NEGATIVE RECORDER AND THAT WILL FURTHER EMBOLDEN THE DEBATE. JONATHAN: LOOK AT THIS MOVE ON THE FRONT END OF THIS MORNING. 17 BASIS POINTS, DOWN 12, JIM, YOU AND I SPEAK TO A LOT OF PEOPLE, YOU HEAR THEM ON THIS SHOW. THERE'S A FEELING THAT PEOPLE THINK WE ARE GOING BACK TO 2019 AGAIN. LOW RATES, LOW GROWTH.
ARE YOU PUSHING BACK AGAINST THAT? JIM: YES, I'VE BEEN PUSHING BACK HARD ABOUT THAT ARGUMENT. WHAT IT MEANS IS THAT THE PANDEMIC MEANT NOTHING AND THAT PEOPLE LEAVE THE ECONOMY IS FUNDAMENTALLY THE SAME AS IT WAS AND I ARGUE IT REALLY ISN'T. THERE'S BEEN A CHANGE IN THE ECONOMY. DON'T MISTAKE THAT DYSTOPIAN. IT'S DIFFERENT. ONE OF THEM IS THE ENORMOUS AMOUNT OF WORK FROM HOME CHANGES YOUR LIFESTYLE, MY LIFESTYLE, THE CONSUMPTION BASKET. I THINK THAT'S WHY WE HAVE CHRONIC SUPPLY CHAIN PROBLEMS AND WE NEED TO HAVE THAT REVAMP OF THE ENTIRE SYSTEM BUT INSTEAD WE KEEP SAYING WAIT, INFLATION WILL GO AWAY, PEOPLE WILL RETURN TO THE OFFICE AND EVERYTHING WILL GO BACK TO 2019, BUT UNTIL WE ARE READY TO HAVE THAT CONVERSATION, I THINK WE WILL CONTINUE TO STAY WITH PROBLEMS AND YOU SEE IT WITH THE MARKETS TODAY. THIS IS A TYPICAL 2019 RESPONSE
TO THE MARKET. WEAK REAL DATA, INTEREST RATES PLUNGE. WHAT ABOUT INFLATION? THE INFLATION DATA THAT WE HOPE WILL MATCH THAT IN THE FUTURE AND IT VERY WELL MAY, BUT SO FAR IT HASN'T. JONATHAN: THIS RAISES BIG QUESTIONS ABOUT THE AD FUND RATE AND HOW LONG IT STAYS THERE IF YOU BELIEVE THAT INFLATION WILL PERSIST FOR A LOT LONGER. JIM: THE FED LIKES TO SAY THAT THE INTEREST RATE IS HALF OF 1% ABOVE THE INFLATION RATE.
IT DOESN'T HAVE TO GO TO 9.5. INFLATION WILL PROBABLY COME DOWN SOME. BUT LOOK AT WAGES, THEY ARE GROWING AT 5% AND IF WE CONTINUE TO HAVE 5% WAGE GROWTH, PEOPLE CAN PAY A 5% RATION RATE, SUGGESTING WE COULD HAVE A 5.5% FUNDS RATE. WILL THE WAGES COME DOWN TO 2%? THAT WILL BE TOUGH. THE ATLANTA WAGE TRACKER SAYS
THAT PEOPLE WHO SWITCH JOBS GET A SIX POINT 5% RAISE IN PEOPLE WHOSE THEY ARE GETTING A 4% RAISE SO THERE IS INCENTIVE BY EMPLOYERS TO PAY UP FOR TALENT AND THEY WILL CONTINUE TO DO IT. IT WON'T BE 9% WITH STRONG WAGES FOR FOUR OR FIVE AND IF HAVE TO DO POSITIVE RIGHT THERE'S A LOT TO DO. JONATHAN: STRAIGHT OUT OF THE GATE WITH RECESSION, THE R WORD. JIM, GOOD TO CATCH UP, BUDDY. LATER, JOINING US AROUND THE
OPENING BELL, A DISCUSSION ON FED HAWKISH NEST TO LEAD RISK ASSETS HIGHER. WE WILL GET SOME MORE OF THAT IN JUST A MOMENT. THIS IS BLOOMBERG. JONATHAN: FOUR MINUTES AWAY FROM THE OPENING BELL, APPARENTLY FOR NOW BAD NEWS IS GOOD GOOD HOW LONG THAT STICKS, I DON'T KNOW. BEST BUY MOVED TO HOLD
HIGHLIGHTING THEIR UNDERWHELMING RESULTS IN CHALLENGING MACRO ENVIRONMENTS WITH KRAFT HEINZ ON A BY, STRONGER PRICING POWER WITH CONTINUING INTERNATIONAL GROWTH DRIVING SHARES HIGHER WITH PRICE SANDLER CUTTING THE PRICES WITH FX HEADWINDS AND WEAKER AD SPENDING TO CONTINUE. COMING UP NEXT, BROWN POSITIONS VALUATION WITH RISK ASSETS CONTINUING TO DRIVE HIGHER. JONATHAN: THREE CONSECUTIVE QUARTERS OF NEGATIVE GROWTH IN AMERICA COMING INTO THE OPENING BELL, S&P FUTURES ARE POSITIVE WITH APPLE AND AMAZON REPORTING AFTER THE CLOSING BELL A BIT LATER, THAT'S NEXT BIG STOP FOR EARNINGS. THE NASDAQ, DOWN .1%.
NOVEMBER OF 20 WAS THE LAST BIG POP. THIS IS HOW WE REACT TO A DOWNSIDE SURPRISED WITH A 10 YEAR YIELD RISING LOWER ALONGSIDE YOUR TWO YEAR AND 10 YEAR YIELD. THE TWO-YEAR DOWN EVEN MORE. THE EURO-DOLLAR, 100 168. THE CRUISE MARKET LOOKS A BIT SOMETHING LIKE THIS, BACKING AWAY FROM 100, GOT CLOSE EARLIER, POSITIVE ABOUT 1.76%. CROSS ASSET PRICE ACTION, LET'S GET YOU SOME MOVERS WITH KAYLEE GREIFELD. KAILEY: HARLEY DAVIDSON, SECOND TICKER EARNINGS, HARLEY DAVIDSON, MOTORCYCLES RISING WITH LIKE SALES FALLING 28%.
SHAREHOLDERS CHEERING THE TURNAROUND PLAN. ADJUSTED PROFIT TRIPLING TO $3.7 BILLION. STEEL ROSE, EVEN THOUGH CAR PRICES DID AS WELL AND IT IS WORTH POINTING OUT THAT THIS IS THEIR LAST EARNINGS REPORT BEFORE CUTTING THOUSANDS OF JOBS. SOUTHWEST AIRLINES, NOT FARING AS WELL, FORCED TO DELAY AND CANCEL FLIGHTS, WAITING ON EARNINGS AND HIGH LABOR COSTS. BEST BUY, ANOTHER
PREANNOUNCEMENT OF AD NEWS. CUTTING THEIR PROFIT IN SALES OUTLOOK, SITTING -- CITING HIGH INFLATION AND DEMAND. WE HAVE THE SAME THING FROM WALMART THIS WEEK. JONATHAN: EVERY TIME WE HEAR THIS ANOTHER
TIME, THE STOCK CAP SLOWER. THANK YOU. WE ARE ONE MINUTE 30 SECONDS INTO THIS WITH UTILITIES AT THE TOP OF THE PILE AND AT THE BOTTOM YOU SEE HOW SCARED. THAT MIGHT CHANGE IN A MOMENT. COMMUNICATIONS SERVICES DOWN, GDP, ANOTHER NEGATIVE GDP PUT IN AMERICA, REVISING BEAL DEBATE. BAD NEWS GOOD NEWS. KAILEY: THAT'S THE QUESTION. AFTER TWO BACK-TO-BACK QUARTERS WE HAVE STOCKS CONTINUING TO RALLY FROM YESTERDAY. UP ON THE S&P AND NASDAQ WITH MASSIVE MOVES IN THE BOND MARKET.
WE ARE AT THE LOWEST LEVEL SINCE MID APRIL AT 266 AND THE MOVE IS EVEN BIGGER ON THE SHORT END. THE QUESTION IS, IS IT GOING TO HOLD? LOOKING AT THE MOVES FROM THE LAST TWO FED MEETINGS WE SAW JUMBO HIKES AND RALLIES BUT THEY DIDN'T HOLD THE DAY AFTER THE MEETING AND HISTORICALLY WHEN THEY S&P RALLIES 1% OR MORE ON THESE DECISIONS A DAY AVERAGE HAS BEEN A DECLINE WITH GAINS LESS THAN HALF OF THE TIME AND IF YOU LOOK AT THE FOLLOWING WEEK AND THE TIME UNTIL THE NEXT FED MEETING, STOCKS ARE TRADITIONALLY LOWER ON THE DAY OF A FED DAY, SO WE WILL SEE IF THE PATTERN HOLDS. HIGHER NOW WHEN IT COMES TO EQUITIES BECAUSE OF THE BAD NEWS GOOD NEWS STORY AND ONCE AGAIN THE LEADERSHIP COMING MORE FROM GROWTH INSTEAD OF DEFENSIVE, THE IDEA HERE BEING THAT MAYBE THE FED ISN'T GOING TO HAVE TO MOVE AS AGGRESSIVELY. JONATHAN: WHAT A MOVE AFTER THE EQUITY MARKET EATING. THIS IS WHAT FED -- KATIE IS TALKING ABOUT.
THE TWO YEAR YIELD, THE 10 YEAR YIELD, THEY TOPPED THE DAY BEFORE THE JUNE MEETING AND WE TALKED ABOUT THAT YESTERDAY. JUNE 14 WAS 300 AND 49 POINT 65. NOW IT IS 265.61. BIG TURNAROUND, YIELDS LOWER. THE HIGH, JUNE 14, 340 519. BIG DROP LOWER. JIM BIANCO SAID IT EARLIER, THE FED WILL BECOME DATA-DEPENDENT AND WE WILL BECOME SENSITIVE TO THE INCOMING ECONOMIC DATA, THOUGH SINCE WE DON'T HAVE A CLEAR RESPONSE TO THE AMPLIFICATION IT WILL JUST MAGNIFY THE MOVE AND MIKE A KEY, THAT IS WHAT WE SEE IN THIS BOND MARKET. MIKE:
YEAH AND I TELL YOU, THE FED TO FUND FUTURES ON THE SEPTEMBER MEETING HAVE FALLEN OFF A CLIFF BECAUSE AT THIS POINT PEOPLE ARE SUGGESTING WE WILL BE IN RECESSION AND THE FED WILL HAVE TO BACK OFF IT AS I REMINDED YOU THERE IS A LONG WAY TO GO BETWEEN NOW AND SEPTEMBER 20 FIRST. GDP NUMBERS WERE NOT GOOD. AT THIS POINT THEY ARE DOWN 9/10 AND WORSE MUCH OF THAT. -- 9/10 AND IT COULD BE WORSE, MUCH OF THAT IS INVENTORY.
THESE NUMBERS ARE COMING UP AHEAD OF THE FED MEETING. YOU WILL HAVE A LOT OF DATA THAT COULD CHANGE PEOPLE'S MINDS. NOW WHEN JAY POWELL WAS TALKING YESTERDAY HE TALKED ABOUT TRYING NOT TO CONTRIBUTE TO VOLATILITY BUT THEY WON'T HAVE MUCH CHOICE ON THAT, URGENTLY. THE MARKET WILL REACT AS THE MARKET IS GOING TO REACT BECAUSE AT THIS POINT THERE IS NO MORE OR -- FORWARD GUIDANCE. THEY WILL OBVIOUSLY BE PAYING A LOT OF ATTENTION TO THE JACKSON HOLE SPEECH JAY POWELL GIVES AT THE END OF AUGUST AND ALL THE FED SPEECHES BETWEEN NOW AND THEN.
KEEP AN EYE ON THE FED FUND FUTURES. THEY OBVIOUSLY CHANGED TODAY BUT THEY WILL CHANGE MANY TIMES AHEAD AND YOU CAN SEE IT THERE, THE VIEW FROM WALL STREET IS THAT THE FED WILL BE MUCH SLOWER TO RAISE RATES AND WE WILL SEE IF THAT CHANGES WITH STRONG NUMBERS AND OTHER DATA RELEASES, PARTICULARLY EPI. JONATHAN: THE DATA HEADLINE THAT YOU JUST PUT UP, THERE WAS ONE THAT STOOD OUT, SEPTEMBER 13. COMES DURING A QUIET TIME. IS THAT GOING TO MAKE A DIFFERENCE OR DO WE HAVE A NEW ROUTINE FOR THE FED? MIKE: I DON'T THINK THEY WILL DO THAT AGAIN. IT'S TOUGH FOR THEM TO DO THAT AND MAINTAIN CREDIBILITY.
IF THEY WANT THE MARKETS TO REACT CORRECTLY TO WHAT THEY ARE DOING, IT IS GOING TO PRESENT A DILEMMA BECAUSE IT IS THE QUIET TIME AND WE WILL KNOW WHAT THEY THINK ABOUT THAT NUMBER AND IT'S ANOTHER REASON FOR VOLATILITY AHEAD. JONATHAN: VOLATILITY IN THE BOND MARKET RIGHT NOW, AND AS ALWAYS, YIELDS ARE LOWER ON THE TWO-YEAR, 10 YEAR DOWN 13, EQUITY MARKETS DOING OK ON THE S&P. SAM LYNTON-BROWN EXPECTS THAT YOU COULD SEE A LOT MORE OF THE SAME. THE RISK RALLY, REALIZING, CAUTIONING THIS PROVIDED A TRIGGER WITH MARKET POSITIONS AND VALUATIONS SUGGESTING RISK ASSETS COULD CONTINUE TO GAIN. SAM JOINS US NOW. GOOD TO CATCH UP, SIR. AS ALWAYS, IS BAD NEWS GOOD NEWS? SAM: IT IS TODAY. THE MARKET HAS POSITIONED
VIRTUAL RISK VALUATIONS AND THE BAR FOR A TRIGGER FOR EIGHT SQUEEZE ON THAT POSITION INTO THE SUMMER IS VERY LOW AND WITH THE DOVISH FED YESTERDAY WITH A BUILT-IN THE PREMIUM, IT WAS THE FEELING THAT WE WOULD BEGIN TO SEE ELEMENTS OF A LESS HAWKISH FED GOING FORWARD AND GIVEN THAT THE MARKET IS STILL SHORT, WE THINK POSITIONS CAN CONTINUE TO EASE INTO THE SUMMER. JONATHAN: WHEN DO WE START TO FOCUS ON WHY THEY WILL BE LESS HAWKISH? JUST THAT A SECOND CONSECUTIVE QUARTER OF NEGATIVE GROWTH IN AMERICA. EUROPE, GOLDMAN IS CALLING IT RECESSION. JP MORGAN IS CALLING IT RECESSION. WHEN DO WE FOCUS ON THAT? SAM: IT'S THE KEY POINT AND IF WE LOOK AT WHAT HAPPENED SINCE JUNE 3, IT'S QUITE INTERESTING. THE FIRST THOUGHT WOULD BE THAT INFLATION EXPECTATIONS IN THE U.S. HAVE GONE DOWN. SECOND, LESS TIGHTENING IS NOW
PRICED FOR THE FED AND THOSE TWO OBSERVATIONS COMBINED SUGGEST THAT THE MARKET BACKDROP IS MORE FEARFUL OF ACTIVITY SLOWING DOWN, AS YOU ARE POINTING OUT. BUT IF WE THEN LOOK AT THE WAY THAT RISK ASSETS ARE TRADED, STRONGER LEVELS ACROSS BOTH EQUITY LEVELS THAN THEY WERE AT THE TIME OF JUNE 7. WHILE OF WORSE TO SOME DEGREE THERE ARE CONCERNS DRIVING PEOPLE, PERHAPS THERE IS ALSO SOMETHING GOING ON AROUND THE MARKET PERCEPTION OF INFLATION. WE ARE SEEING THAT IN SOME OF THE TMI DATA SHOWING SUPPLY CONSTRAINED BEGINNING TO EASE AND TO SOME EXTENT THE MARKET MIGHT BE QUESTIONING IF THE SECOND ROUND HIGHER ENERGY PRICES WILL BE AS STRONG AT THE MOMENT EVEN THAT GROWTH IS WORSE SLOWING. I DON'T THINK THAT THERE WILL
BE A REPEAT OF HAWKISH IS IN THE MARKET. THAT IS A KEY PART OF IT BUT I THINK IT IS ALSO PART OF THE CONVICTION AROUND INFLATION AND IF THAT CONTINUES TO DRIVE THE MARKET DIRECTION, THEN I THINK IT SUGGESTS A RISK RALLY. [NO AUDIO] BIGGEST SQUEEZES. THAT WE HAVE BROADENED THE DISCUSSION BEHIND -- BEYOND JUST EQUITY MARKETS. IN LONG DOLLARS WE THINK THAT IS A POSITION IT WILL BE CHALLENGED IN THE NEXT MONTH IN THE NEXT LONG DOLLARS AGAINST THE CURRENCIES WILL TYPICALLY GO DOWN, MID GROWTH, LIKE THE AUSTRALIAN DOLLAR AND THE KRONA AND TECHNOLOGY EXPORTERS, THOSE WILL SQUEEZE HIGHER AGAINST THE DOLLAR THIS WEEK.
IN EUROPE, THE EQUITY POSITION IS QUITE IRISH AND HERE WE THINK THE FINANCIALS COULD RECOVER. IN THE U.S. WE LIKE DOMESTICALLY ORIENTATED VALUE, WHICH CAN OUTPERFORM. SIMILARLY, ENERGY, NOT JUSTIFIED IN THE CURRENT ENVIRONMENT, THAT'S A SECTOR IN THE U.S. WE ARE LOOKING OUT FOR.
JONATHAN: YOU KNOW YOU HAVE THE CALL ON BANKS THAT IS CONTROVERSIAL. CAN YOU TELL ME HOW THEY PERFORM WITH ECB HIKING INTO RECESSION? SAM: IT'S A QUESTION OF HOW MUCH IS IN FLUX. I THINK THAT THE MOVEMENT WE HAVE SEEN IN EUROPEAN YIELD, THE POPULAR MARKET NARRATIVE ABOUT THE BACKDROP OF EUROPE IS HEAVILY DISCOUNTED ALREADY IN THE CURRENT MARKET PRICES. YOU SEE THAT ACROSS A NUMBER OF METRICS IN EUROPE. CURRENTLY AT HIGHER LEVELS THAN DURING THE PEAK OF COVID. IN ORDER TO RATIONALIZE CURRENT PRICES, EARNINGS NEED TO FALL BY AN AMOUNT THAT IS NOT ONLY COMPATIBLE WITH A MILD RECESSION , WHICH LOOKS LIKELY. IT'S EFFECTIVELY THE BASE CASE.
BUT ALSO ONE THAT IS A DEEPER RECESSION. THE WAY WE WOULD ADVOCATE POSITIONING PORTFOLIOS WOULD BE HEDGING THE DOWNSIDE WITH AN ENERGY CRISIS AND A SERIOUS DOWNSIDE IT NEEDS TO BE PROTECTED AGAINST WITH A CORE PORTFOLIO POSITION. JONATHAN: HOW DO YOU NAVIGATE THE REDENOMINATION RISK THAT MIGHT COME OUT IN THE PERIPHERY? HOW IS THAT A FACTOR IN ALL THIS? SAM: ULTIMATELY WE THINK THAT WHAT WAS INTRODUCED IN THE MEDIAN WILL PROVE TO BE CREDIBLE. THAT SAID, THE CONSTRUCTION OF
IT FOR THE THRESHOLD MIGHT BE HIGH IS VERY MUCH DISCRETIONARY. THE ECB HAS INTRODUCED A COOLER THAT IS IN SOME RESPECTS MORE REACTIVE THAN PREVENTATIVE AT A TIME WHERE IDIOSYNCRATIC POLITICAL SCHENECTADY IS RATHER HIGH. WE EXPECT SPREADS TO WIDEN AND THAT IT WILL TRADE OUT. THAT SAID IN THE MEDIUM-TERM, WE DON'T THINK THE MARKET IS GOING TO BE ABLE TO RELY ON THE PRICE REDENOMINATION RISK OR SYSTEMIC RISK IN EUROPE. ALSO THE SUPRANATIONAL MUTUALLY ASSURED ISSUE COMING AS A RESULT OF THE EU IS ANOTHER. JONATHAN: SO MANY ACRONYMS WHEN IT COMES TO EUROPE.
SAM, APPRECIATED, BUDDY. EUROPE AND WHY THINKS THE RALLY COULD CONTINUE. STALLING NOW LITTLE BIT, -2/10 ON THE NASDAQ, TALKING A LOT ABOUT THE BOND MARKET, I WILL KEEP GOING OVER IT FOR YOU. THE 10 IS DOWN 11. THAT'S HOW WE RESPOND TO THE DOWNSIDE SURPRISE ON JUDY THE, SENDING YIELDS A LOT LOWER. COMING UP ARE LOOKING TO APPLE
AND AMAZON RESULTS WITH GROWING CONCERNS OVER THE U.S. ECONOMY. >> WITH THE KIND OF CONCERN OVER THE INFLATION IN THE ECONOMY, A LOT OF THE FOCUS WILL BE ON THE OUTLOOK FOR THE LET -- THE NEXT QUARTER. WHAT ARE THE TEA LEAVES ON ECONOMIC WEAKNESS? JONATHAN: THAT CONVERSATION, UP NEXT. >> PERPETUAL HEADWINDS IS AN UNDERSTATEMENT.
FOR MUCH OF THEIR HISTORY THEY WERE A PROFITABLE PUBLIC COMPANY AND HERE IT IS, LIKE STRUGGLING TO FIND ITS WAY WITH THIS UNCERTAIN FUTURE AND A SEEMINGLY VERY CHALLENGE CURRENT BUSINESS AND SHE PROBLEMS RIGHT AND LEFT. JONATHAN: FACEBOOK, YESTERDAY, COMING IN LATER. APPLE AND AMAZON, IT'S ALL ABOUT THE SECOND CONSECUTIVE GROWTH IN AMERICA, TECHNICAL RECESSION CONFIRMED WITH REAL GDP CONTRACTING IN THE SECOND ORDER, MAKING IT A TECHNICAL RECESSION WITH STRONGER GROWTH. WE HAVE A STATEMENT FROM THE WHITE HOUSE, JUST GONE THROUGH IT AND THE R WORK DOES NOT TAKE AN APPEARANCE.
FOR MORE LET'S CATCH UP DOWN IN D.C. WITH ANNMARIE. ANNMARIE: THEY WILL DO EVERYTHING THEY CAN TO AVOID THAT WORD. CALLING A RECESSION A BANANA? WE ARE ALMOST AT THAT POINT WITH THIS ADMINISTRATION. COMING OFF OF LAST YEAR'S
HISTORIC ECONOMIC REGION -- REGAINING THE PRIVATE SECTOR JOBS LOST, IT'S NO SURPRISE THAT THE ECONOMY IS SLOWING AS THERE IS AN ACT TO BRING DOWN INFLATION AND THE PRESIDENT MADE CLEAR HE WANTS THE FED TO BE INDEPENDENT INTO CERTAIN HE WANTS INFLATION TO COME DOWN, HE TOP PRIORITY OF AMERICANS ACROSS THE POLLS BUT IN DOING THAT THERE HAS ALWAYS BEEN THIS RISK THAT THERE WOULD BE DOES NARROW LANDING OF POTENTIALLY AVOIDING A RECESSION AND RIGHT NOW WHAT WE HAVE TODAY SHOWS THAT WE HAVE TWO QUARTERS OF BACK-TO-BACK NEGATIVE GROWTH. COMMON RULE OF THUMB, THAT'S A TECHNICAL RECESSION. THIS ADMINISTRATION IS GOING TO DO A LOT OF WORK OVER THE NEXT 24 TO 48 HOURS TO TELL YOU WHAT NOT. JONATHAN: IT HAD ALREADY STARTED IN THE LAST WEEK. ANNMARIE, GREAT WORK AS ALWAYS. THE ECONOMY, SLOWING. WE CAN ALL AGREE.
MARK ZUCKERBERG AGREES OVER AT A SPOKE. SAYING THAT WE SEEM TO HAVE ENTERED AN ECONOMIC DOWNTURN WITH A BROAD IMPACT AND THE SITUATION SEEMS WORSE THAN IT DID A QUARTER AGO ON THE WEST COAST. LET'S GET TO ED LUDLOW. >> HELLO, JONATHAN. THE STOCK IS ON TRACK FOR ITS WORST PERFORMANCE SINCE FEBRUARY, AND THEY WERE WORTH FOUR THINGS WHERE GROWTH STAGNATED. SO THE DRAMA AROUND WHAT YOU ARE SEEING PLAY OUT, WALL STREET REACTION, IT'S A SMORGASBORD. THE FIRST EVER QUARTERLY DECLINE ON THE TOP LINE FOR META-. YOU HEARD WHAT DAVID KIRKPATRICK HAD TO SAY.
IF THE STREAKS HE'S A SMORGASBORD OF ISSUES, THE CHANGES THEY NEED TO IOS PRIVACY TRACKING HURTING THE COMPANY. WHAT'S SO INTERESTING FOR THE FACEBOOK PARENT IS THE IMPACT OF THE STRONG DOLLAR WEIGHING ON THE COMPANY. HOW OFTEN HAVE WE HEARD THAT IN THE LAST COLOGNE FROM THE LIKES OF MICROSOFT AND ALPHABET? DAYS LIKE THIS, LOOKING AT THOSE NUMBERS, I LIKE TO LOOK AT THE EARNINGS GRID. THE DEVIATION BETWEEN THE TOP
LINE OF WHAT THEY POSTED IN CONSENSUS WAS MARGINAL BUT STRAIGHT TO AD REVENUE AND IT WAS MUCH WIDER, 1.4% AND IT'S SIMPLE, THERE'S A PULLBACK IN THE ADVERTISING INDUSTRY DUE TO THE MACRO PICTURE IN THEY ARE ALL COMPETING FOR SMALLER BUDGET IN BASED ON THE COMMENTARY OF THE EARNINGS CALL, NAMES LIKE TIKTOK ARE WINNING OUT FACEBOOK PIVOTING NOW TO REELZ, AND IT'S YIELDING A MUCH LOWER REVENUE PER USER OR PER AD THAN THE REST OF THE PLATFORM HISTORICALLY HAS DONE. LOTS OF PROBLEMS HERE WITH NO IMMEDIATE SIGN. JONATHAN: HAPPY TO SAY THAT APP IS NOT ON MY PHONE. THANK YOU, ED LUDLOW. HE'S A BUSY MAN. KAILEY LEINZ HAS MORE. KAILEY:
7 TRILLION IN THE MARKET CAP ON THE S&P 500 AND THAT IS JUST TWO COMPANIES, ONE THIRD OF THAT. BOTH STOCKS ARE DOWN TODAY AHEAD OF THEIR WAS ALL. COMING INTO TODAY, APPLE IS UP 15% IN JULY, HEADING TOWARDS THE BIGGEST MONTHLY GAINS IN TWO YEARS, RAISING THE BAR AS THEY FACE CHALLENGES LIKE COOLING CONSUMER DEMAND.
DEMAND AND SUPPLY ISSUES IN CHINA STEMMING FROM THE COVID ZERO POLICY WHERE THOSE TOP-TIER IPHONES WILL BE GOING ON SALE IN THAT MARKET. PUT IT ALTOGETHER, REVENUE IS EXPECTED TO BE UP 2%. FOR AMAZON, EARNINGS ARE EXPECTED OF ALL 31% AS THEY DEAL WITH HIGH COSTS AND LABOR AND FREIGHT. WE ARE LOOKING FOR A REBOUND FOR THE CONSUMER AND THE JOB MARKET FROM AMAZON.
NOT ONLY IS IT ONE OF THE BIGGEST OF MARKET WEIGHTED COMPANIES, IS THE SECOND-BIGGEST EMPLOYER DURING THE -- IN UNITED STATES AND WE ALREADY HEARD THAT THEY OVER HIRED DURING PANDEMIC. TAKING A LOOK AT THE STATEMENT THEY JUST PUT OUT ON SECOND-QUARTER GDP, THE PRESENT -- PRESIDENT TALKING ABOUT HISTORICALLY STRONG JOB MARKETS, HOW MUCH WILL AMAZON BE A TELL ON HOW MUCH OR HOW LITTLE OF THAT IS STILL TRUE? JONATHAN: INTERESTING. THANK YOU. MAY 4, THAT WAS FED MEETING DAY. JUNE 15, FED MEETING DAY. UP. MAY 5, DAY AFTER, DOWN 5%. JUNE 16, DOWN 4%. TODAY THE NASDAQ 100 IS DOWN 1%
AFTER BEING HIT HARD BY 4% YESTERDAY. YOU GET THE PICTURE. IT GETS CHOPPY 24 HOURS AROUND THE FED, DON'T DEFINE THE MEETING BY INTRADAY PRICE ACTION. IT WILL BE ALL ABOUT THE DATA AND THE GDP THIS MORNING. NEXT WEEK, CPI. TOMORROW, THE EMPLOYMENT COSTS
INDEX. ECI COMING RIGHT UP. WHAT DO YOU NEED TO BE WATCHING? THAT'S NEXT. THIS IS BLOOMBERG. JONATHAN: IS BAD NEWS GOOD NEWS? THE ANSWER TO THAT SEEMS TO CHANGE EVERY 10 MINUTES. RIGHT NOW IT'S BAD NEWS, DOWN SIX CENTS OF 1%. ON THE NASDAQ, FOUR PERCENTAGE
POINTS. FOR THE BOND MARKETS, DOWN 12 BASIS POINTS. THAT'S THE PRICE ACTION BUT HERE IS YOUR TRADING DIARY, AFTER A SECOND CONSECUTIVE QUARTER OF NEGATIVE GROWTH, SECRETARY YELLEN HAS THINGS TO SAY. THE PRESIDENT HAS THINGS TO SAY
AS WELL. EARNINGS FROM APPLE AND AMAZON AFTER THE CLOSE. EUROPEAN BANK EARNINGS ROUNDING OUT THE WEEK WITH PCE. ON THIS SIDE OF THE ATLANTIC,
CPI IS ON THE OTHERS. FROM NEW YORK CITY, THIS WAS THE COUNTDOWN TO THE OPEN.
2022-08-03 22:07
Show Video
Other news