'Bloomberg The Open' Full Show (06/16/2022)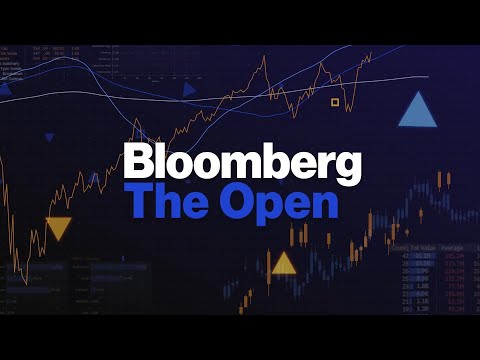 Show Video
>> FEATURES AND DOWN -- FUTURES ARE DOWN. THE OPEN STARTS NOW. >> EVERYTHING YOU NEED TO GET STARTED FOR THE START OF U.S. TRADING. THIS IS BLOOMBERG DEAL BEEN WITH JONATHAN FERRO. JONATHAN: LIVE FROM NEW YORK. SOFT LANDING IS LOOKING A
LITTLE MORE >> IS THERE A PATH TO A SOFT LANDING? >> ALL THESE NUMBERS THEY THROUGHOUT IS FANTASYLAND. >> IT IS MAKING IT VERY DIFFICULT TO TRY TO MANAGE A SOFT LANDING. >> BALANCE BETWEEN SOFT AND HARD LANDING IS INCREDIBLY DIFFICULT. >> WHAT WE HAVE IS MASSIVE INFLATION.
>> THEY ARE >> YOU ALMOST HAVE TO BE MORE AGGRESSIVE. JONATHAN: YOUR THOUGHTS ON WHAT WE HEARD YESTERDAY? >> I THINK IT WAS PRETTY EXPLOSIVE. THE INFORMATION THAT WE GUY, IT IS PROBABLY DESIGNED FOR US HAVING AN FICTION. I THINK THEY DANCED AROUND THAT AT THE PRESS CONFERENCE. NOBODY WANTS TO SAY THAT WE ARE HEADING INTO A RECESSION. THAT WAS THE MESSAGE THAT I TOOK AWAY. JONATHAN:
WELLS FARGO SAID THIS. DO YOU SHARE THIS VIEW? >> AND WILL SAY THAT IT HAS BEEN GOING UP FOR SOME TIME. THE OUTCOME IS CERTAINLY IS SUBSTANTIAL. JONATHAN: I IMAGINE YOU CONSIDER THIS. LET ME GO THROUGH A COUPLE. IT THE UNEMPLOYMENT RATE YEAR AT 3.9%.
THEY HAVE THE FED FUND AT 3.8. WHICH PIECE OF THAT IS EXPECTED TO BE ABOUT 1.7%? ARE THERE ARE SOME THINGS THAT STAND OUT MORE THAN OTHERS? >> I THINK WE ARE ALREADY STARTING TO SEE SOME SOFTNESS IN THE JOB MARKET. THIS IS SHOWING UP IN SOME OF THE REGIONAL FED RIGHT ABSENT WE HAVE SEEN. I'M A LITTLE SURPRISED THAT
THEY HAVE THAT OPTIMISTIC FORECAST. WE ARE HEARING FROM THE COMPANY THAT THEY ARE NOT HIRING THE WAY THAT THEY WERE. HIRING FREEZES ARE TAKING PLACE. IF I HAD TO PUT A NUMBER ON IT,
IT WOULD BE HIGHER NEXT YEAR. JONATHAN: I WANT TO KNOW WHAT TO DO WITH THE BOND MARKET. CLOSE TO 350. IS IT NOW? CLAXTON GIVEN THEM, I DO NOT THINK WE ARE VERY FAR. THERE ARE CERTAIN GROWTH EXPECTATIONS. 2022 IS BELOW THE FED.
WE EXPECT THE FED TO BE HIKING, TO BE ON A HIKING PATH. I TOOK BOTH OF THOSE THINGS INTO ACCOUNT. I WOULD SAY, IT WOULD BE -- WE ARE NOT THAT FAR FROM GETTING MUCH MORE INTERESTING THINGS TO LOOK AT. >> WE HAVE BEEN SUGGESTING, GRADUALLY, BUT I THINK THAT AS THE FED MOVES TO TIGHTEN THE YIELD CURVE AND INEVITABLY WITH CONDITIONS TIGHTENING, WE WILL SHIFT IN THE LONG END.
THE PROBLEM IS THAT WE HAVE VOLATILITY, SO WE WILL GET SOME OF THESE SPIKES. IF I RECALL PREVIOUS SITUATIONS, TO ME, IT REMINDS ME OF THE EARLY 1980'S WITH MASSIVE RATE HIKES BY THE FENCE. AND WE HAD VERY SHARP AND SHORT BACK TO BACK ME SESSIONS. I THINK THAT COULD BE WHAT WE ARE LOOKING AT AND THOSE WERE TIME PERIOD THAT THEY STARTED TO COME BACK DOWN. >> I AM SO GLAD YOU BROUGHT THIS UP.
IT GETS THROWN AROUND SO MUCH. NOBODY TALKS ABOUT THE KIND OF RECESSION THAT WE COULD GET. CAN YOU TALK TO ME ABOUT THAT? RAISED ON WHAT YOU HAVE SEEN, WHAT KIND OF DOWNTURN BUT IT BE? WHAT DID THEY LOOK LIKE? >> THAT IS A VERY GOOD QUESTION. WE NEED TO DIVE INTO THAT. IT WOULD BE RELATIVELY SHALLOW COMPARED TO THE PAST SESSIONS THAT WE HAVE HAD.
THE FRAMEWORK COMES THROUGH VERY DIFFERENT. ESPECIALLY -- THERE COULD BE A RECESSION AND THEN WE SEE A PICKUP AND DEFAULT, BUT NOT A SPIKE IN DEFAULTS. WE SAW A PRETTY SUBSTANTIAL SPIKE IN THE PUBLIC. HERE, I WOULD EXPECT IT TO BE MUCH MORE MUTED BECAUSE WE ARE LOOKING AT A DIFFERENT POINT ON THE BALANCE SHEET.
SO, THIS RECESSION IS GOING TO BE -- IT IS GOING TO FEEL VERY DIFFERENT. IN THE EARLY 80'S, THERE MUST BE DRAMATIC SPIKES. WE DID NOT SEE DRAMATIC SPIKES AND COMPANY DEFAULTS. JONATHAN: SHOULD WE BEAR THAT IN MIND? CAN YOU SHARE THAT WITH US NOW? WHAT WOULD YOU BE LOOKING TO AVOID WITH ALL OF IN MIND? >> WE WOULD BE LOOKING TO OWN HIGHER-QUALITY, MORE INVESTMENT OVER HIGH-YIELD. WE WOULD BE LOOKING MORE TOWARDS HIGH-QUALITY BONDS.
I THINK WE WILL ALSO BE LOOKING AT SOME OF THE LOWER-PRICED BONDS THAT HAVE BEEN ISSUED IN THE LAST FEW YEARS, THAT I THINK I PRETTY SUBSTANTIAL. BECAUSE WE DO NOT EXPECT IT FROM THIS POINT ONWARD, GOOD ENTRY POINTS ARE AROUND THERE. JONATHAN: THIS HAPPENED YESTERDAY. I DO NOT EXPECT MOVES LIKE THIS. THERE WAS A BASIS POINT INCREASE. THEY CAME OUT STRAIGHTAWAY SAYING, WE BELIEVE IT WILL GO INTO A 50 BASIS POINT HIKE.
MIKE MCKEE, RIGHT ON CUE THIS WARNING. >> THE HOUSING MARKET IS SLOWING. THEY POINT OUT THAT THE TOTAL NUMBER IS ABOUT WHAT WAS EXPECTED. IT MIGHT BE A LITTLE EARLY, BUT IT LOOKS LIKE THINGS ARE SLOWING DOWN. HERE IS WHAT YOU WANT TO WATCH EVERY MORNING.
THIS IS WHAT THE FED THINKS IS GOING TO HAPPEN. IT IS THE IDEA THAT THE FED IS WATCHING CONSUMER EXPECTATIONS FOR INFLATION. YOU CAN EXPECT FOR IT TO GET MORE HEATED. THE FED IS GOING TO BE RAISING INTEREST RATES BECAUSE THEY MOVED THE PLOT UP SIGNIFICANTLY. AT THIS POINT, THE QUESTION IS WHETHER THEY WILL DO ANOTHER 175. IT IS A QUESTION OF HOW HIGH THEY WILL GO NEXT YEAR.
THEY NEED TO GO OVER 4% TO GET INFLATION DOWN. THAT IS SOMETHING ELSE TO KEEP AN EYE ON. FINALLY, TALKING ABOUT THE RECESSION. THE BUREAU OF ECONOMIC RESEARCH IS SORTING OUT WHETHER IT IS A RECESSION OR NOT. I DO THIS TO ANNOY TOM KEENE.
BUT BASICALLY, WHAT IT IS SHOWING YOU IS IS UPPING THE INDICATORS TO DETERMINE IF THERE IS A RECESSION. AT THIS POINT, IT DOES NOT LOOK LIKE WE ARE THERE. YOU CAN PROJECT WHAT IS GOING TO HAPPEN, BUT THAT IS WHAT IT IS, A PROJECTION. PROJECTIONS CAN BE WRONG. JONATHAN FERRO: -- JONATHAN: PEOPLE PUSHBACK.
YOU HAD ANDREW WHO SAID 50, 50, 50 AND PEOPLE PUSHBACK. JIM FLOATED ONE OUT THERE AND I LAUGHED, AND I PUSHED BACK. HERE WE ARE, 75 YESTERDAY. I THINK YOU ASKED ONE OF THE
MOST IMPORTANT QUESTIONS. I BROUGHT IT DOWN TO ONE LINE THAT YOU MENTIONED. IS THE FED GOING TO CHASE THE PRICE OF OIL? >> THAT IS THE PROBLEM FOR THEM. WHAT PEOPLE WORRY ABOUT AND SEE
EVERY DAY IS THE PRICE OF GASOLINE AND THE PRICE OF FOOD. THOSE ARE STILL RISING. IF THAT CONTINUES, THE FED HAS A PROBLEM. WHAT DID THEY DO? JAY POWELL'S ADMISSION TO THAT QUESTION WAS SAYING, THERE IS NOT A LOT THAT WE CAN DO. JONATHAN: THEY ARE IN TROUBLE.
THANK YOU VERY MUCH. YOU WILL BE STICKING WITH US, IF YOU CAN. OPENING FUTURES ARE NEGATIVE AND BOND YIELDS ARE A LOT HIGHER. LET'S SAY HELLO.
ABBY: IT HAS CERTAINLY FADED. WE HAVE FUTURES DOWN SHARPLY. INTERESTING. RIGHT AROUND WHERE WE WERE HEAD OF THE FED MEETING. NOT A LOT OF ACTUAL CHANGE SO FAR, BUT IT IS A BIG TECH RALLY. A WIDE VARIETY, LOWER AS YIELDS ARE HIRED.
KIND OF WHERE THEY WERE HEAD OF THE MEETING, BUT THAT MEANS THAT VALUATION AND CONCERNS OF MORE EXPENSIVE EVERYTHING IS WEIGHING ON TANK AND ON FUTURES. JONATHAN: THE PRESIDENT AND THE WHITE HOUSE HAS A PROBLEM AT THE PUMP. >> INCREASING OUTPUT AND LOWERING COSTS AT THE PUMP, INCLUDING EMERGING AUTHORITIES LIKE THE DEFENSE PROTECTION ACT.
JONATHAN: THAT IS COMING UP, NEXT. CLICK SHOWN A WILLINGNESS TO LOWER COST FOR FAMILIES. WE ARE SAYING THAT THE PRESIDENT HAS USED IT BEFORE AND HE IS WILLING TO DO THAT AGAIN. JONATHAN: OPEN TO DECREASING THE PRICE OF GASOLINE. THE U.S. GOVERNMENT COULD ENACT MEASURES FOLLOWING HURRICANES OR OTHER DISRUPTIONS. THERE ARE CERTAIN FUEL SPECIFICATIONS.
THAT LETTER WENT ON TO SAY AND CONCLUDED WITH A REALLY IMPORTANT LINE. LONGER-TERM, GOVERNMENT 10 YEARS CLEAR AND CONSISTENT POLICY THAT SUPPORTS RESOURCES. THERE IS A SUPPORT FOR INFRASTRUCTURE. THIS IS THE DISCONNECT RIGHT NOW, ISN'T IT? >> LATE LAST NIGHT, WE GOT A LETTER FROM CHEVRON SAYING THAT THEY UNDERSTAND THAT THERE ARE HIGHER FUEL PRICES.
WE SHARE THESE CONCERNS AND WE EXPECT THE APPROACH TO BETTER REFLECT ADDRESSING THEM. UNFORTUNATELY, WE HAVE SEEN SINCE JANUARY 2021, SENDING A MESSAGE TO IMPOSE OBSTACLES TO DELIVERING ENERGY RESOURCES THAT THE WORLD NEEDS. THE OIL INDUSTRY -- WHAT THEY ARE ASKING BACK IS A LITTLE BIT MORE CLEAR POLICY. DO YOU WANT THIS TO BE AN INDUSTRY THAT FLOURISHES IN AMERICA OR NOT? WHEN YOU LOOK AT WHAT THEY CAN DO IN THE SHORT-TERM, THEY ARE GOING TO NEED HELP. YOU HAVE THE PRESS SECRETARY
TALKING ABOUT WHAT IT ACTUALLY MEANS. THERE IS NOT A LOT OF REFINERY THAT YOU CAN JUST START OVERNIGHT. THIS WILL TAKE A LOT OF CAPITAL INVESTMENT. JONATHAN: WHAT ARE YOU FOCUSED ON? ARE YOU FOCUSED ON WHAT THEY CAN DO DOMESTICALLY? WHAT CAN I SEE TO ALLEVIATE SOME OF THE PAIN? THAT IS THE POLITICAL WIND THAT THEY ARE FOCUSED ON. >> IT IS ABOUT FIVE DOLLARS A GALLON RIGHT NOW.
OBVIOUSLY, THERE HAS BEEN CONSTRAINTS THERE, COMING OUT OF A PANDEMIC, THERE IS A LOT MORE DEMAND. IT IS EXACERBATED BY TAKING OUT THE SUPER COMMODITY STORE. POTENTIALLY, THERE COULD BE MORE THERE IN SAUDI ARABIA AFTER THE PRESIDENT MAKES HIS VISIT, BUT SAUDI ARABIA ALONE -- THAT WILL NOT SOLVE FIVE DOLLAR A GALLON GASOLINE BY ITSELF. THE OTHER ISSUE LETTER WAS
ADDRESSING WAS REFINING CAPACITY. THE U.S. WILL BE VERY HARD TO TRY TO GET MORE REFINERIES. IT WILL REQUIRE LONG-TERM INVESTMENT.
THEY WERE STRUGGLING BEFORE THE PANDEMIC HIT. WE CANNOT SEE ANOTHER REFINERY BEING BUILT IN THE U.S., SO THIS IS A PROBLEM THAT THE ADMINISTRATION HAS. FIRST YOU NEED TO GET MORE OIL AND SECOND, HOW DO YOU TURN IT INTO MORE PRODUCT? JONATHAN: IT COULD GET A LOT WORSE.
>> MARKETS MOVED FASTER AND THEY ARE PUTTING FUNDAMENTAL TIGHTNESS OUT THERE. THIS IS WHERE WE SHOULD BE, BUT IT IS A LOT DEEPER THAN WHAT WE WOULD HAVE SIDE. AS WE GO INTO THE SUMMER MONTHS, IT IS TO THE UPSIDE. JONATHAN: IS THIS FEDERAL RESERVE GOING TO KEEP CHASING? WHAT IS HAPPENING IN THE MARKET? >> IT IS A REAL CONUNDRUM. THEY CAN FOCUS ON BRINGING DEMAND DOWN TO MEET THAT LIMITED SUPPLY. IF IT CONTINUES TO DO THAT, WE ARE GOING TO SEE A RECESSION AND WE ARE GOING TO SEE IT HAPPENING LATER. I HOPE IT IS NOT JUST FOCUSED
ON GAS PRICES. BUT I DO KNOW THAT IT WORKS ITS WAY INTO INFLATION, SO THEY ARE CAUGHT IN A ROUGH SPOT. I THINK IT WILL TRY TO NAVIGATE THIS AS BEST AS THEY CAN. IT SEEMS LIKE THE FED IS FOCUSED ON JUMP LINING, BUT THERE IS NOTHING LEFT TO DO BUT TO KEEP RAISING RATES. THAT IS NOT A GOOD SCENARIO FOR THE ECONOMY. JONATHAN: LET'S TALK ABOUT IT. YOU HAVE ENERGY THAT EVERYBODY
IS TERRIBLE AT FORECASTING. WITH THAT IN MIND, HOW PREDICTABLE IS IT WHEN YOU START TO THINK ABOUT WHAT THE FED IS GOING TO BE DOING BEYOND THE SUMMER? THAT IS WHAT IS INFLUENCING EXPECTATIONS. >> THAT IS ONLY FOR THE CENTRAL BANK.
OUR EXPECTATIONS ARE THAT ANOTHER BASIS POINT HIKE IN THE JULY MEETING, WE CONTINUE TO SEE IT ON THE CPI AND ON THE DATA. AS WELL AS SOME OF THE WORK THAT YOU CAN GET ON THE MARKET. THE DAY AFTER, AREA ECONOMISTS THINK THAT 50 BASIS POINTS -- 25 BASIS POINTS HIKE IN DECEMBER. I DO NOT THINK THAT MEANS INFLATION IS THE TOP OF PRIORITY FOR THE FED. WE EXPECT THAT THEY WILL
CONTINUE TO FRONTLOAD THEIR POLICY. JONATHAN: THANK YOU. LOOKING AT THE BLOOMBERG, I DO NOT THINK I HAVE EVER SEEN THIS. THE ITALIAN CENTRAL BANK GOVERNOR PUTS A LEVEL ON THE SPREAD. JUST QUICKLY WORK THE BLOOMBERG FOR ME. A SPREAD RIGHT NOW OF 200 BASIS POINTS.
LAST YEAR IT WAS INSIDE 100. THIS IS WHAT THEY HAD TO SAY. THE SPREAD SHOULD BE 150 BASIS POINTS, BASED ON THE ECONOMY. THE FRAGMENTATION IS IN THE PERIPHERY OF WHAT HAPPENS. THE RECENT INCREASE IN SPREAD IS UNJUSTIFIED. THIS IS THE PUSHBACK THAT YOU ARE STARTING TO SEE IN THE BOND MARKET. YOU HAVE A CENTRAL BANK GOVERNOR IN ITALY MAKING THE CASE, ONE HUNDRED 50 BASIS POINTS. YOU HAVE CENTRAL BANKERS COMING
IN WHERE THEY THINK THE PRICE OF THE MARKET SHOULD BE BASED ON THE ECONOMY. YOU HAVE THE CENTRAL BANK GOVERNORS SAYING IT SHOULD BE 150 BASIS POINTS, BASED ON THE ECONOMY. GO FIGURE. WE ARE NOW 52 BASIS POINTS OF THAT SPREAD. TRYING TO INCREASE INTEREST RATES AND TIGHTEN CONDITIONS, BUT NOT TOO MUCH. THAT MEANS THAT WE GET
FRAGMENTATION IN THE BOND MARKET. THEY HAVE TO BACK AWAY. THE DILEMMA IS HAVING TO DO BOTH. HOW DO YOU ACHIEVE HIGHER INTEREST RATES? YOU HAVE TO MAKE SURE THAT YOU DO NOT EASE FINANCIAL CONDITIONS.
WE HAVE A CENTRAL BANK IN EUROPE TRYING TO PUT A PRICE ON THE MARKETS TO SAY THAT THIS WAS JUSTIFIED. BACK INTO THE CORNER NOW. THEY HAVE TO COME UP WITH -- IT IS NOT THE LIST THAT THEY ARE TRYING TO KEEP ON SPREAD.
ONE TO THINK ABOUT. LATER, INVESTORS REPOSITIONING AFTER AN INTEREST RATE HIKE. JONATHAN: [INDISCERNIBLE] CAUTIOUS STOCK IS LOWERED BY 1.5%. THERE IS A LIKELIHOOD OF A RECESSION GROWING. IT IS TIME TO BUY STOCKS.
JONATHAN: WE ARE CLOSE TO THE OPENING NOW. NASDAQ 500 IS DOWN. TAKE IT AWAY. YESTERDAY, ALMOST UPSIDE DOWN. YIELDS UP 15 BASIS POINTS.
THE EURO-DOLLAR TRYING TO HOLD ON UNTIL 104. 104.62. ABOUT 15 SECONDS INTO THIS. REAL ESTATE IS DOWN BY 1.9%. HOUSING STOCK IS UGLY. DOWN 1.99% NOW WITH MORE STOCKS COMING UP IN.
GETTING SOME MOVERS ADDIE: ON THE OPEN, A LOT OF THOSE HEAVY TAX WEIGHING IN. WE HAVE A LOT OF INFLATION AS WELL. KROGER, THE GROCERY STORE COMPANY IS DOWN AS MARGIN PRESSURES ARE OVERSHADOWING. GROSS MARGINS ARE UP. RISING COST EATS INTO THEIR
PROFIT. A LOT OF MARKETS ARE EXACTLY WHERE THEY WERE YESTERDAY, HEAD OF THE FED. OIL IS ACTUALLY LOWER. FOR BIG OIL, NOT SO MUCH. YOU CAN SEE THOSE SHARES LAGGING AND SAGGING.
THIS AFTER THOSE WEEK RETAIL SALES A COUPLE WEEKS AGO. ALSO, THEY SHARED THAT THEY ARE LOSING MONEY ON THEIR MUSTANG EV SUV. THEY ARE PREPARING FOR A RECESSION. A POSSIBLE BRIGHT SPOT. ELON MUSK IS TAKING TO THE TWITTER STOCK FOR THE FIRST TIME. THEY LEARNED THE DISNEYLAND TRIP -- ELON MUSK SPEAKING AND TRADERS LIKE THAT.
JONATHAN: STILL PRETTY WIDE. WE ARE DOWN BY ABOUT 2%. NEGATIVE ONE POINT 2%. DISCRETIONARY DOWN ALMOST 2.3. GOOD MORNING, ED. EDIT: LOOKING AT THE FUNCTION ON THE
BLOOMBERG AND THE NASDAQ 100, YOU LOOK AT IT AND NOT JUST THE BIGGEST POINTS DRAG, BUT DOWN A SERIOUS DECLINE IN SOME OF THOSE NAMES. I THINK YOU ARE DISCUSSING THIS THE OTHER DAY. HOW MANY TIMES HAVE WE HAD A FED MEETING WHERE STOCKS RALLY, PARTICULARLY THE TECHNOLOGY SECTOR? WE SEE IT SET UP.
IT IS EXACTLY HOW WE SAW ON THE LAST 12 TO 24 HOURS. LOOK AT THAT CHART. THAT IS THE STORY RIGHT NOW, BUT REALLY ACROSS BLOOMBERG, WE HAVE MOVED TO HIGHER RATES. WE GO BACK TO WHAT WE LEARNED IN EARNINGS SEASON. IT IS EXTENDING TO BITCOIN, WHICH I WILL GIVE A QUICK SHOUT OUT TO. OVER LONGER DURATIONS, THIS CAN REALLY DROP.
WE LISTEN TO THEM SAYING THAT THIS IS NOT DIVERSIFYING PRAISE. THIS IS A RISK ASSET, JUST LIKE EVERYTHING ELSE AND IT SHOULD HAVE BEEN A LEADING INDICATOR OF WHAT WAS TO COME, REALLY INTERESTING FROM HIM. JONATHAN: LET'S CATCH UP ON TWITTER AND A MOMENT. THE FEDERAL RESERVE MEETING BY THE FACTION. WE TALKED ABOUT THAT YESTERDAY. MASSIVE MOVES. IT EVAPORATED PRETTY QUICKLY.
>> WE LEARNED THAT AT THE CLOSING, RIGHT AFTER YOUR SHOW. WE THINK ABOUT WHERE WE ARE WITH SOME OF THE STRATEGY TARGETS. WE ARE DOWN FROM LAST MONTH. I DO NOT KNOW IF THIS IS THE JP MORGAN NOTE THAT JUST CAME OUT. I DO NOT KNOW IF THIS IS JUST A BASIC HIGHER YIELD.
EITHER WAY, YOU ARE STARTING TO SEE SOME OF THE PRICE TARGETS COMING DOWN A LITTLE BIT. PETE TORRES HAS DONE A LOT OF GOOD WORK ON THIS. SORT OF HOLDING TO YOUR GUNS. WE ARE STARTING TO SEE THE GUYS IN THE MIDDLE, BRINGING DOWN THOSE PRICE TARGET. THE BIG QUESTION HAS ALWAYS BEEN WHAT IS -- WE ARE LEARNING THAT THE NEW DEFENSIVE IS NOT THE OPPOSITE. YOU CAN SEE THAT GROWTH IS THE PERFORMER. IT GIVES YOU THAT OPTIONALITY. JONATHAN: CASH COME APPARENTLY.
THANK YOU. POSITIVE ON EQUITIES. A HARD LANDING IS NOT PREDETERMINED. >> WE HAVE HAD A RATING.
[INDISCERNIBLE] IT IS QUICKER. [INDISCERNIBLE] THIS IS BEEN LEVEL TO BE. JONATHAN: CAN YOU TELL ME RIGHT -- WHAT YOU ARE EXPECTING? >> [INDISCERNIBLE] I THINK. IT IS ALL ABOUT DATA DEPENDENCE. IN THE NEAR-TERM, INDEPENDENT,
IT IS LIKELY. JONATHAN: AS THEY GET MORE BULLISH, ARE YOU COMFORTABLE? DO YOU THINK WE HAVE SEEN SUFFICIENT DOWNGRADES? HERE ARE THINGS THAT ARE HAPPENING. >> IT IS A QUESTION OF WHAT THE MARKET WAS PRICING.
[INDISCERNIBLE] IT IS [INDISCERNIBLE] JONATHAN: YOU WANT TO BE BUYING OVER THE MEDIUM TERM. WHAT ARE YOU COMFORTABLE STEPPING INTO AND WHAT WOULD HE WANT TO AVOID? >> WE LIKE POSITIONING. THE REASON IT IS ATTRACTIVE IS IT FELT WRONG.
A BIG UPSIDE POTENTIAL. THE FED BE ACTION -- I WOULD SAY [INDISCERNIBLE] JONATHAN: WE HAVE TO TALK ABOUT THE BANKS. ARE YOU READY? THE ONLY THING WE HAVE FOR A PLAN THAT THEY CAN ENGINEER AND USE ANYTIME SOON.
>> I THINK HE SAID IT WELL. I THINK THERE HAS BEEN A BIG DEVELOPMENT OF THIS POSSIBILITY. AN ANNOUNCEMENT COULD BE SEEN IN THE PAST 30 MINUTES. [INDISCERNIBLE] IT COULD BE A LITTLE BIT WIDER.
[INDISCERNIBLE] JONATHAN: STICK WITH US AND WE WILL TALK ABOUT IT. I WANT TO TOUCH ON WHAT IS HAPPENING. ELON MUSK AS WELL HOLDING THIS MEETING WITH TWITTER EMPLOYEES. CAN YOU TELL US WHAT WE CAN
EXPECT TODAY? >> ELON MUSK WILL DO A VIRTUAL HAND. THIS IS NOT A NORMAL DEAL SCENARIO. WHEN DEALS ARE NORMAL, THEY WILL ADDRESS STOCKS THAT THEY HAVE RECEIVED. TWITTER STOCKS ARE BEING INVITED TO SUBMIT QUESTIONS. IS THIS DEAL GOING TO HAPPEN? FAIR ENOUGH.
MANY TWITTER STAFF ARE LEFT-LEANING. THEY DO NOT AGREE WITH CERTAIN POLITICS. THIS IS ABOUT THINGS THAT IMPACT THEM. IT COULD HAVE AN INDEFINITE WORK FROM HOME POLICY.
BOLDEST CHANGE? JONATHAN: ED LUDLOW WILL STAY ON TOP OF THAT. YESTERDAY WE HAD A 75 BASIS POINT MOVE FROM THE FED. THE FIRST RATE HIKE FROM THE FIRST NATIONAL BANK IN 15 YEARS. >> INFLATION IS NOW HIGHER. JONATHAN: 60 BASIS POINT HIKE. THAT CONVERSATION IS JUST AROUND THE CORNER.
♪ COMING UP -- >> THIS IS BLOOMBERG. ♪ >> IT IS NECESSARY TO INCREASE RISKS TODAY. IT CLEARLY SHOWS THAT INFLATION IS HIGHER.
INFLATION DOES NOT COME BACK BY 2% BY ITSELF. WE CAME TO THE CONCLUSION THAT IT IS NOT THE RIGHT TIME. JONATHAN: THEY WENT 50 BASIS POINTS.
THE BANK OF ENGLAND FOLLOWED. THE COMMITTEE WILL BE ALERTED TO INDICATIONS OF MORE INSISTENT INFLATION. FORCEFULLY, IN RESPONSE. 75 BASIS POINTS FROM THE FED. 50 FROM THE S&P AND 25 FROM THE BANK OF ENGLAND. JOINING US NOW FROM BRUSSELS.
THEY HAVE A PLAN. >> HE WAS ASKED ABOUT THE RISK TO THE ECONOMY AND HE WAS VERY CLEAR. HE SAID 150 BASIS POINTS. EVERYTHING ELSE THAT YOU SEE, INCLUDING THE BIG BLOWUP THAT WE SAW IS THAT IT IS PENALIZING IN A WAY THAT IS UNFAIR. HE IS NOT THE ONLY ONE THAT WOULD TELL YOU THIS. THEY LOOK AT IT LIKE THE BASKET CASE, BUT THEY DO NOT PRICE IT IN. THIS IS A DIFFERENT LEADERSHIP. IT IS A BIG CHALLENGE FOR THE COUNTRY.
ALL OF THIS, I HAD TO SAY TO INCREASE THE STAKES GOING INTO THE MEETING. THE EUROPEAN CENTRAL BANKS REALLY NEED TO BE READY TO GO BY THE JULY MEETING. ON THE ONE HAND, YOU TAKE RATES HIGHER. 25 BASIS POINTS. JUST HOPE THAT IT WILL CREATE A SENSE OF CALMNESS IN THE MARKET. THAT IS THE HOPE OF THE CENTRAL BANK. WHETHER IT WORKS, WE WILL HAVE TO WAIT AND SEE. JONATHAN:
WE ARE LUCKY TO HAVE HIM WITH US BECAUSE HE HAS A DIFFERENT VIEW ON EUROPE. CONSTRUCTIVE ON EUROPEAN EQUITIES AND THE BANKS IN PARTICULAR. LET'S TALK ABOUT THIS. THE MOST EFFECTIVE BACKSTOP I HAVE EVER SEEN. IT WAS THE WHATEVER IT TAKES. THEY NEVER EVEN HAVE TO BE USED.
HE DID NOT HAVE TO BUY A SINGLE BOND FOR IT TO WORK. HIKING RATES, NOT CUTTING RATES. HAVE YOU GOT A REALLY STRONG IDEA? DO YOU HAVE AN IDEA OF WHAT THEY ARE ABOUT TO DO? >> INTERESTING THAT YOU MENTION INFLATION AS A CHALLENGE.
I THINK IT IS ACTUALLY VERY IMPORTANT CONCERNING SUSTAINABILITY IN ITALY. HIGHER INFLATION, TO THE EXTENT THAT IT WILL LEAD TO FINANCIAL GROWTH WILL ACTUALLY MAKE THE PRIMARY STEPS REQUIRED FOR SUSTAINABILITY REASONABLE, MUCH MORE OBTAINABLE. FROM THAT ALONE -- I AGREE WITH THE COMMENTS FROM YOUR COLLEAGUE THAT THE MARKET IS TRADING WITH A DIFFERENT PERCEPTION. IN TERMS OF THE ECB, WHAT WE ARE EXPECTING IS THAT IT WILL BE ANNOUNCED. THEY ANNOUNCED THAT THEY WILL LIKELY COME WITH GREATER UNCERTAINTY. THEREFORE, YOU HAVE A COMBINATION.
THAT COMBINATION OF FACTORS -- JONATHAN: IS THAT WHAT YOU ARE EXPECTING THE ECB TO ENGINEER? >> I'M NOT SURE THAT IS WHAT WAS HAPPENING AT NEXT GENERATION E.U. IN 2020 AND 2021. MARKET EXPECTATIONS WERE MET VERY QUICKLY. THEY WILL BEGIN TO IN AGAIN -- BUY IN AGAIN. THE ECB SIMPLY CANNOT ALLOW THE TRENDS MISSION TO BE IMPAIRED.
-- TRANSMISSION TO BE IMPAIRED. THAT DOES NOT MEAN -- [INDISCERNIBLE] IT IS MORE THE PACE OF THE MOVEMENT. OUR TARGET IS WIDER THAN CURRENT LEVELS. [INDISCERNIBLE] JONATHAN: THEY ARE GETTING HAMMERED RIGHT NOW. GOOD TO CATCH UP AND GET YOUR
PERSPECTIVE ON THINGS. I THINK HE IS RIGHT. WE SHOULD ALL GIVE HIM A ROUND OF APPLAUSE. BUT RIGHT NOW, IT IS A DIFFICULT CALL. THE NASDAQ IS DOWN BY 3%. THAT IS THE EQUITY PITCH.
THE HOUSING DATA WAS DREADFUL. COMING UP, THE MARKET MOVE DEVELOPING IN YOUR TRADING DIARY IS UP NEXT. JONATHAN: WE WERE UP ALMOST 27%. WE HAD A NEGATIVE BY 2.7% NOW. THAT IS IN THE S&P 500. IN THE NASDAQ WE HAD DOWN 3%.
YIELDS ARE STILL CLIMBING. YOU ARE 10 YEAR CLOSE TO 350 EARLIER. UP 14 BASIS POINTS ON -- A LIST OF WEAK DATA. ANOTHER BANK OF JAPAN RATE DECISION COMING UP. THAT WILL BE INTERESTING. YOU WILL HEAR FROM THE FED CHAIR , JAY POWELL AS WELL. U.S. MARKETS CLOSED ON MONDAY.
FINALLY, -- WOW, WHAT A COUPLE OF DAYS WE STILL HAVE TO COME, THROUGH TODAY AND INTO TOMORROW. THANK YOU FOR DOING -- THANK YOU FOR CHOOSING BLOOMBERG TV. THIS IS BLOOMBERG.
2022-06-19 23:14
Show Video
Other news