'Bloomberg The Open' Full Show (05/16/2022)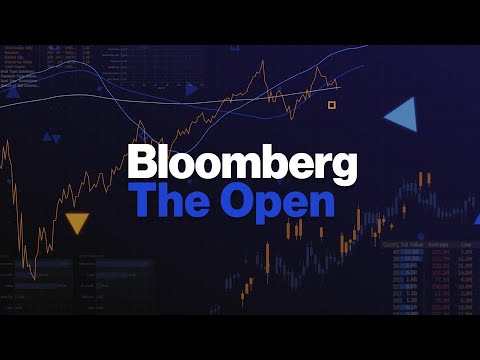 Show Video
JONATHAN: GOOD MORNING, GOOD MORNING. WITH YOUR S&P 500 DOWN A COUPLE OF TENTHS OF 1%, "THE COUNTDOWN TO THE OPEN" STARTS NOW. >> EVERYTHING YOU NEED TO GET SET FOR THE START OF U.S. TRADING. THIS IS "BLOOMBERG: THE OPEN" WITH JONATHAN FERRO.
JONATHAN: LIVE FROM NEW YORK CITY, WE BEGIN WITH THE BIG ISSUE. THERE COMES THE DOWNGRADE. >> WE ARE SEEING A LOT OF HEADWINDS. >> NOTABLY LOWER GROWTH. >> FRUSTRATINGLY HIGH INFLATION. STAGFLATION IS THE BASELINE. >> STAGFLATION IS TOXIC FOR TRADITIONAL ASSETS. >> IS A SOFT LANDING, IS IT A RECESSION? >> WALL STREET'S BIGGEST CONCERN IS INFLATION.
>> THERE ARE A LOT OF CONFLICTING SIGNALS. >> WHETHER WE GET SOMETHING WORSE DEPENDS ON THE SOFT LANDING DEBATE FOR THE FED. >> THE FED IS TRYING TO THREAD A NEEDLE WEARING OVEN MITTS LINE FOLDED. IT MAY END UP HIKING TOO MUCH AND PUSHING US INTO A RECESSION. >> THERE ARE SO MANY HEADWINDS. JONATHAN: JOINING US ARE ESTY DWEK AND MARK CABANA. HAVE WE SEEN THE WORST OF THIS
YET? ESTY: I AM HOPING BUT WE PROBABLY HAVE NOT. WE GOT DISAPPOINTING DATA FROM CHINA. WE DO NOT KNOW THE IMPACT FROM THE SHANGHAI LOCKDOWNS IF THAT IS GOING TO IMPACT INFLATION AND FORCE THE FED TO HIKE MORE THAN THEY WANT OR THEY WOULD IN OTHER CIRCUMSTANCES. WE SEE THERE ARE LACK OF BUYERS IN THE MARKET. THERE IS STILL A LOT OF FEAR AND WE PROBABLY HAVE A LITTLE MORE TO GO ON THE DOWNSIDE. JONATHAN: YOUR TWO-YEAR IS 258.
YOUR AT 350. HOW DO WE GO FROM HERE TO THERE? MARK: WE THINK THIS INFLATION BACKDROP WE ARE SEEING TODAY WILL LIKELY WARRANT ONGOING TIGHTENING FROM THE FED BEYOND WHAT THE MARKET IS PRICING. OUR ECONOMIST FORECAST IS FOR FED FUNDS TO REACH 3.5 TO 3.25% BY MAY OF NEXT YEAR.
WE SEE RISKS IT COULD BE HIGHER OR THE TIMING COULD BE FASTER THAN WE CURRENTLY ANTICIPATE. THIS IS DUE TO THE FACT INFLATION IS ELEVATED AND THE REAL POLICY PATH, THE REAL POLICY RATE IS TOO LOW. WE THINK THE FED NEEDS TO TIGHTEN FINANCIAL CONDITIONS MORE IN ORDER TO GET THAT INFLATION SLOWED DOWN. UNFORTUNATELY THAT IS PROBABLY GOING TO MEAN MORE TURBULENCE FOR MARKETS AHEAD. JONATHAN:
WHAT IS YOUR INFLATION FORECAST THROUGH THE REST OF THE YEAR? MARK: WE HAVE CORE PCE AT 4.1% BY THE END OF THE YEAR, IN LINE WITH THE FED. BY THE END OF NEXT YEAR THAT IS 2.5%. IT IS MODERATING, BUT IT NEVER GOES BACK TO WHERE THE FED 2% TARGET IS, AT LEAST OVER THE NEXT 18 MONTHS OR SO. AS A RESULT WE THINK THE FED WILL BE FRUSTRATED BY HIGH INFLATION, LABOR MARKET THAT IS STILL STRONG, AND IT WILL PROBABLY HAVE TO DO MORE TIGHTENING THAN THE MARKET CURRENTLY ANTICIPATES. JONATHAN: WHAT WOULD THAT MEAN FOR YOU? 3.60 ON THE TWO-YEAR? ESTY: THAT WOULD MEAN A LOT MORE PAIN.
THAT MEANS THE FED WILL CONTINUE TO HIKE AND IF IT DOES NOT ACKNOWLEDGE IT WILL HAVE TO KEEP AN ION GROWTH, THE EXPECTATIONS THEY WILL MANAGE A SOFT LANDING WILL BANISH COMPLETELY. I DO NOT THINK WE ARE PRICING IN A FULL RECESSION. WE ARE PRICING IN A GROWTH SCARE. WE ARE STARTED PRICING A HARD
LANDING BUT WE ARE NOT PRICING IN A RECESSION IN THE U.S.. THAT MEANS MORE DOWNSIDE FOR THE EQUITY MARKET AS WELL AS A LOT MORE PAIN ON THE BOND SIDE. I AM HOPING THE FED SEES THE GRADUAL PERCENT OF INFLATION THAT WE ARE GOING IN THE RIGHT DIRECTION AT SOME POINT THEY COLLEGE THEY HAVE TO KEEP AN ION GROWTH AND THEY HAVE TO KEEP AN EYE ON THE LABOR MARKET. JONATHAN: DAVID COSTIN PUT OUT HIS WORK, THAT WAS ONE OF THE DOWNGRADES WE TALKED ABOUT. ON THE S&P 500 THEY HAVE COME DOWN TO 4300.
THEY THICKLY GAINS WILL BE THE BACK END OF THE YEAR. THEY SAY THEY SUSPECT AS THE YEAR PROGRESSES THE FED WILL GAIN CONFIDENCE. ALL OF THE ABOVE, RECESSION RISK WILL RISE MODESTLY. IT IS A THREE-MONTH CALL THAT GETS MY ATTENTION. THE REASON BEING EQUITY MARKETS GOING HIGHER WOULD EASE FINANCIAL CONDITIONS THAT IS NOT WITH THIS FED WANTS. THIS IS WHAT MARY DALY SAID LAST WEEK, THEY WANT TIGHTER FINANCIAL CONDITIONS. IF THEY JUST GIVEN THE GAME
AWAY FOR THE REST OF THE SUMMER? THIS FED WANTS EQUITIES LOWER AND CREDIT SPREADS WIDER? ESTY: THOSE ARE THE BIGGEST COMPONENTS IN YOUR FINANCIAL CONDITIONS INDEX. I DO NOT THINK THEY WANT EQUITY MARKETS LOWER AND THEY SHOULD NOT UNDERESTIMATE THE WEALTH IMPACT IN THE U.S. AND HOW THE U.S. CONSUMER IS GOING TO FEEL
POORLY COMPARED TO LAST TWO YEARS. THEY CERTAINLY DO NOT THINK THEY HAVE TIGHTENED ENOUGH YET. THEY ARE STILL THINKING ABOUT FRONTLOADING SO WE GET TWO MORE 50 BASIS POINT HIKES THAT HAS PROBABLY A FURTHER IMPACT ON EQUITIES AND ON CREDIT SPREADS BECAUSE THEY WILL KEEP THAT RHETORIC HAWKISH IN THE SHORT-TERM. LATER IN THE SUMMER THEY WILL ACKNOWLEDGE THEY HAVE DONE QUITE A BIT. WHEN YOU THINK ABOUT RE-ANCHORING LONG-TERM INFLATION EXPECTATIONS, THEY ARE NOT OUTRAGEOUS.
IT IS NEXT 12 MONTHS AND HAVING EXPECTATIONS TO WATCH INFLATION COME DOWN. THE NEXT MONTHS WILL STAY PAINFUL FOR THE MARKETS. JONATHAN: THIS IS WHAT I HEAR A LOT. YOU GET TO THE BACK END OF THE YEAR AND THINGS START TO IMPROVE, MAYBE THE FED BACKS OFF. THE ESSENCE OF YOUR CALL IS THEY DON'T, THEY CAN'T, THEY
WON'T. YOU GET THAT PUSHBACK IN YOUR CLIENT CONVERSATIONS AND WHAT YOU SAY BACK? MARK: WE ARE HEARING THAT PUSHBACK MORE. OUR VIEW IS CONSISTENT WITH THE NOTION THE U.S. LABOR MARKET HAS BEEN VERY TIGHT, IT WILL TIGHTEN FURTHER.
THE ECONOMY HAS A LOT OF MOMENTUM, THE FED WILL HAVE TO PUT POLICY IN PLACE SUCH THAT FINANCIAL CONDITIONS TIGHTEN AND OVERALL CONSUMPTION SLOWS. THAT IS THE ONLY WAY THE FED CAN GET INFLATION UNDER CONTROL. A LOT OF PUSHBACK WE GET IS WHAT ABOUT THE EQUITY PUT, WHAT ABOUT HOW TIGHT FINANCIAL CONDITIONS NEED TO GO, WHAT CAN THE FED DO ABOUT THIS.
OUR VIEW IS RIGHT NOW, WHEN THE FED LOOKS AT THE STRENGTH OF THE ECONOMY, THEY HAVE AN INFLATION PROBLEM, THEY NEED TO KEEP GOING AND THEY NEED TO INCREDIBLY -- THEY NEED TO CREDIBLY ENSURE INFLATION FALLS. WE ARE STILL SEEING INFLATION ON THE HIGH SIDE WHICH MEANS THE FED WILL HAVE TO REMAIN IN A RELATIVELY HAWKISH PLACE AND KEEP GOING. IF THEY DO NOT SEE INFLATION BEGINS TO MODERATE, AND WE SAW A PRETTY BIG BEAT ON CORE CPI, IF THEY DO NOT SEE THE INFLATION START TO FALL IN LINE WITH THEIR FORECAST AND THE STREET'S FORECAST, THEN THEY WILL KEEP POLICY IN A TIGHT POSITION.
THE TRADE-OFF MUST BE THEY WILL ACCEPT SLOWER GROWTH IN ORDER FOR LOWER INFLATION. JONATHAN: IT SEEMS OUR RELATIONSHIP WITH FINANCIAL CONDITIONS AND HOW THAT RELATES TO THE FED IS STUCK IN THE PREVIOUS CYCLE. WE KEEP SEEING THESE MOVES TO THE MARKET AS PROBLEMATIC. ARE YOU SAYING IT IS A FEATURE, NOT A BUG? MARK: THIS IS HOW THEY IMPACT THE REAL ECONOMY. IF THE FED IS GOING TO SLOW INFLATION IT WILL BE THROUGH FINANCIAL CONDITIONS. LET'S NOT FORGET FINANCIAL CONDITIONS HAVE EASED A TREMENDOUS AMOUNT OVER THE LAST FEW YEARS.
THE FED ERRED ON THE SIDE OF PROVIDING TOO MUCH ACCOMMODATION , ARGUABLY FOR TOO LONG, BUT THEY DID THAT IN LINE WITH A SHARP ECONOMIC SLOWDOWN AFTER THE PANDEMIC. NOW THE FED HAS TO GET THE ECONOMY INTO A BETTER EQUILIBRIUM. THEY HAVE TO TAKE SOME OF THE AIR OUT OF FINANCIAL CONDITIONS. THAT IS THE DIRECTION THEY ARE MOVING IN. POLICY IS EXTRAORDINARILY EASY.
THE REAL POLICY RATE IS DEEPLY NEGATIVE. THIS IS SOMETHING THE FED WILL HAVE TO FIX IF THEY WANT THE ECONOMY TO REACH A BETTER EQUILIBRIUM OR FOR INFLATION TO MODERATE. JONATHAN: 22 MINUTES AWAY FROM THE OPENING BELL. KAILEY LEINZ, WE HAVE HAD A TON OF GROUND GRADES -- BATON OF DOWNGRADES OVER THE WEEKEND. KAILEY:
THIS YEAR HAS GONE A LOT WORSE THAN ANYONE ANTICIPATED. IN FEBRUARY THE AVERAGE STRATEGIST BUT THE S&P WOULD RISE TO ABOUT 5000, WE ARE NOW DOWN AROUND 4000. THE CONSENSUS AT THE START OF THE YEAR WAS THE 10 YEAR YIELD WOULD HIT 2% BY JUNE INSTEAD OF EARLY FEBRUARY AND TOUCH AS HIGH AS 3.2% THIS MONTH. STRATEGIST HAVING TO RAPIDLY ADJUST TO THIS MARKET. HALF THE EQUITY STRATEGIST TRACKED BY BLOOMBERG HAVE LOWERED THEIR YEAR END TARGET.
GOLDMAN IS AMONG THEM. ANALYSTS ARE ALSO SLASHING THEIR PRICE TARGET THE FASTEST SINCE 2020. WE ARE LOOKING AT THE NUMBER OF DAILY PRICE TARGETS CUT. WE SOME -- WE SAW ONE DAY LAST WEEK WHEN THERE WERE 130 CUTS. THE AVERAGE HAS BEEN ABOUT 80. PART OF THE REASON IS DETERIORATING GROWTH OUTLOOK. SLOWER GROWTH COULD START TO
WEIGH ON EARNINGS. ON THE BRIGHT SIDE THE DOWNGRADES ARE HITTING AT GOLDMAN AS WELL, CUTTING THE OUTLOOK FOR THIS YEAR AND NEXT. 2022 LOWERED TO 2.4% FROM 2.6% AND 2023 FROM 2.2% DOWN TO 1.6%. JONATHAN: ALWAYS ENJOY MIKE WILSON FROM MORGAN STANLEY. HE SAYS SOMETHING BEARISH AND AND SIT WITH ENJOY YOUR SUNDAY -- AND ENDS IT WITH ENJOY YOUR SUNDAY. ON THE S&P, MIKE WILSON THANKS, "WE REMAIN CONFIDENT LOWER PRICES ARE STILL AHEAD.
THE S&P 500 WITH AT THAT LEVELS CLOSER TO 400." BEFORE HE WROTE THAT, HE WROTE "WITH VALUATIONS MORE ATTRACTIVE -- STOPS APPEARED TO HAVE BEGUN ANOTHER MATERIAL BEAR MARKET RALLY." ESTY, WOULD YOU CALL WHAT WE ARE SEEING PLAY OUT A BIT OF A SQUEEZE, BEAR MARKET RALLY, BUT ULTIMATELY WE HAVE NOT SEEN THE LOWS YET? ESTY: WE ARE FLIRTING WITH THAT 20%, WHETHER IT IS A BEAR MARKET RALLY OR NOT I AGREE THAT FOR NOW THEY WILL BE RELATIVELY SHORT-TERM AND THERE IS FURTHER PAIN. THE TECHNICAL PICTURE IS STILL POINTING TO FURTHER DOWNSIDE AND FURTHER PAIN. AT THE MOMENT IT DOES FEEL LIKE THESE RALLIES ARE GOING TO BE VIOLENT BUT PROBABLY SHORT AND PEOPLE WILL WANT TO FEED THEM UNTIL WE FEEL WE HAVE A MORE SOLID BOTTOM, HOPEFULLY IN JUNE THAT CAN GIVE CONFIDENCE FOR INVESTORS TO COME BACK IN. FOR THE NEXT MONTH, IT DOES NOT FEEL VERY ATTRACTIVE, IT DOES NOT LOOK VERY ATTRACTIVE.
IF WHAT YOU SAID EARLY ABOUT THE NUMBER OF RATE RIGHTS -- RATE HIKES -- JONATHAN: YOU HAVE ANY CONFIDENCE THAT THINGS HAVE STABILIZED IN THE TREASURY MARKET? ESTY: IT WAS INTERESTING TO SEE YOUR TREASURY YIELDS ARE COMING DOWN WHY YOUR EQUITY MARKET IS COMING DOWN SO THE POSITIVE CORRELATION APPEARS TO HAVE PAUSED, IF NOT BROKEN. IT IS ALSO INTERESTING TO SEE THE VIX DOWN DESPITE WHAT WE SAW IN THE MARKETS. AT SOME POINT WE ARE STARTING TO SEE INCREMENTAL BETTER NEWS AND POSITIVE SIGNS FOR THE MARKETS. WE ARE HEARING SHANGHAI SHOULD BE REOPENING RELATIVELY QUICKLY OVER THE NEXT COUPLE OF WEEKS.
WE ARE SEEING INFLATION IS POINTING DOWNWARDS, MAYBE NOT FAST ENOUGH, BUT AT LEAST IN THE RIGHT DIRECTION. WE ARE STARTING TO GET THE POSITIVE SIGNALS. IF THE FED STICKS WITH ITS HAWKISH RHETORIC, YOU'LL HAVE THAT GROWTH PICTURE START TO WORRY INVESTORS AND THAT COULD WEIGH ON MARKETS FURTHER. JONATHAN: WE ARE GETTING SOME FED SPEAK FROM THE NEW YORK FED PRESIDENT WILLIAMS WHO SAYS WE NEED TO GET REAL RATES BACK TO ZERO IN THE NEXT YEAR. MARK, THAT ISSUE IS THE REAL RATE VIEW. THEY THINK WE NEED TO GET BACK TO ZERO.
MANY EXPECT INFLATION TO DECLINE NEXT YEAR. IT HOME THAT STORY AND THAT MESSAGE YOU HAVE WITH THE TEAM OF BANK OF AMERICA, THAT IT NOT ABOUT NOMINAL RATES, IT IS ABOUT REAL RATES AND WHERE YOU THINK THAT NEEDS TO BE. MARK: THIS IS EXACTLY WHAT WE HAVE RECENTLY BEEN ARGUING AND IS WHAT WE'D USED TO TO JUSTIFY OUR FORECAST REVISION SOMEWHAT HIGHER. WHEN THE FED HAS RECENTLY TALKED ABOUT THE NEUTRAL RATE, THEY HAVE BEEN TALKING ABOUT THE NOMINAL NEUTRAL RATE. JAY POWELL SAYS WE WANT TO HIKE UNTIL WE GET TO NEUTRAL, WHICH IS 2% TO 3%.
WHEN HE TALKS LIKE THAT, WE HEAR HIM TALKING ABOUT THE NOMINAL RATE, THE ONE THAT INCLUDES INFLATION. WE KNOW HOW HIGH INFLATION IS. AS A RESULT OF THAT THE NOMINAL NEUTRAL RATE IS NOT A RELEVANT CONCEPT.
WHAT MATTERS IS THE FED WANTS TO GET A HANDLE ON INFLATION IS WHERE THE REAL POLICY RATE ULTIMATELY ENDS UP. WE COMPLETELY AGREE WITH NEW YORK FED PRESIDENT JOHN WILLIAMS , WRITING ABOUT HOW WE THOUGHT THAT RHETORIC WOULD SHIFT IN THIS DIRECTION TO FOCUS MORE ON THE REAL POLICY RATES. AS A RESULT OF THAT, THE FED HAS TO KEEP HIKING RATES, AT LEAST IN THE NEAR TERM. WE DO NOT KNOW WHEN THEY WANT TO GET THE REAL POLICY RATE POSITIVE. IF IT IS BY THE END OF THE YEAR, THEN THE FED ULTIMATELY NEEDS TO GET THE POLICY RATE ABOVE 4%. WE THINK THAT IS A BIT EXTREME.
THE FED IS LIKELY LOOKING FORWARD ON WHERE INFLATION IS HEADED. EVEN IF THEY AGREE INFLATION WILL BE 2.5% BY THE END OF NEXT YEAR, THEN THE FED FUNDS TARGET RATE HAS TO BE QUITE A BIT ABOVE THAT IN ORDER TO TRY TO SLOW THE ECONOMY. WE CONTINUE TO EXPECT A LOT MORE DISCUSSION AND FOCUS FROM THE FED ON NOT JUST THE NOMINAL NEUTRAL POLICY RATE, BUT THE REAL RATE, WHICH IS WHAT WILL MATTER FOR THE ECONOMY, AND THAT IS WHAT WILL SLOW FINANCIAL CONDITIONS. IT LOOKS LIKE THE FED IS INDEED MOVING IN THE DIRECTION WE HAVE BEEN WRITING ABOUT. JONATHAN:
MARK CABANA STICKING WITH US ALONGSIDE ESTY DWEK. WITH FUTURE SOFTER, HERE IS ABBY. ABIGAIL: WITH A FLAT SURFACE WE HAVE SOME OUTSIZED MOVERS, SHARES OF SPIRIT AIRLINES SOARING ON A HOSTILE TAKEOVER BID FROM JETBLUE. YOU CAN SEE THE STOCK STILL TRADING CLOSER TO THE FRONTIER BID. CARVANA UP SHARPLY AS THE USED CAR RETAILER IS SOARING ON A LARGE EARNINGS OUTLOOK. LAST FRIDAY WAS ALL ABOUT THE BIG TECH RALLY.
WE HAVE NVIDIA LAST FRIDAY UP ABOUT 9.5%, THE BEST DAY SINCE MARCH, NOW DOWN. TWITTER HEADING TOWARDS ITS SEVENTH DOWN DAY IN A ROW. LOSING ABOUT 20% OVER THE LAST
SIX DAYS. ELON MUSK'S IT IS ON HOLD. CAN TWITTER MAKE IT AN UPDATE? NOT AS MUCH. JONATHAN: COMING UP, CHINA'S ECONOMY PAYING THE PRICE FOR THE NATION'S COVID ZERO POLICY. >> YOU SEE THE SHOCK OUT OF CHINA DOCUMENTED BY THE NUMBERS OVERNIGHT. WE SAW SUPER AWESOME DECLINE IN
CONSUMER SPENDING. JONATHAN: THAT CONVERSATION IS UP NEXT. >> ZERO-TOLERANCE FOR COVID IS HERE TO STAY. THAT IS THE POLICY OF THE LAND. I DO NOT SEE ANY SIGN OF THEM BREAKING. WE SEE THE SHOCK OUT OF CHINA DOCUMENTED BY THE NUMBERS OVERNIGHT, AND AWESOME DECLINE IN INDUSTRIAL PRODUCTION. AND AWESOME DECLINE IN CONSUMER
SPENDING. WE ARE LOOKING AT A CONTRACTION FOR THE SECOND QUARTER. JONATHAN: THE ECONOMY IN CHINA BUCKLING UNDER THE COUNTRY STRINGENT COVID ZERO POLICY. INDUSTRIAL OUTPUT AND CONSUMER
SPENDING PLUNGING TO THE WORST LEVEL SINCE THE BEGINNING OF THE PANDEMIC. HERE'S A STAT. NOT A SINGLE CAR SOLD IN SHANGHAI LAST MONTH WITH 25 MILLION RESIDENTS UNDER LOCKDOWN. MICHAEL MCKEE HAS MORE. MICHAEL: YOU HAVE TO LOVE THE WAY CARL PUT IT, SUPER AWESOME DECLINE. THEY WERE DOWN 11% ON A YEAR-OVER-YEAR BASIS IN APRIL AND WE SAW A DECLINE IN INDUSTRIAL PRODUCTION ON 2.9%. EVERYONE FOCUSING ON SHANGHAI BUT A LOT OF OTHER IMPORTANT CITIES IN CHINA WERE SHUT DOWN. YOU CAN SEE THE RESULTS WE GOT OUT OF THAT, THE ONE THING I HAD NOT MENTIONED IS UNEMPLOYMENT RISING, THE YELLOW LINE.
WE ARE BACK TO WHERE WE WERE AT THE HEIGHT OF THE PANDEMIC, CAUSING A LOT OF DAMAGE TO THE CHINESE ECONOMY MEANING IT WILL CAUSE DAMAGE TO THE GLOBAL ECONOMY. SHANGHAI IS STARTING TO OPEN UP BUT WILL NOT GET BACK TO WHATEVER NORMAL IS UNTIL SOMETIME IN MID JUNE OR AFTER. CITIGROUP AND MORGAN STANLEY CUTTING THEIR GDP FORECAST. A LOT OF PEOPLE EXPECTING THE SECOND QUARTER TO GO NEGATIVE, INCLUDING BLOOMBERG. YOU LOOK AT GLOBAL SUPPLY CHAINS. WE SAW THAT IN THE EMPIRE RESULTS IN THE UNITED STATES, PLUNGING INTO NEGATIVE TERRITORY FOR THE MONTH OF MAY. WHERE DOES IT LEAVE US?
KIND OF WORRIED. THE CHINESE HAVE NOT BEEN CUTTING THEIR MAIN INTEREST RATE, THEY HAVE CUT THE RESERVE RATIO, BUT AS YOU CAN SEE, WE DO NOT HAVE A LOT OF CREDIT DEMAND. IT DOES NOT MATTER. THEY ARE NOT GETTING MUCH BANG FOR THEIR MONETARY POLICY BUCK. IS THERE MORE STUFF THEY CAN BUILD? THAT IS WHY YOU SEE IN THE BLOOMBERG MONTHLY INDEX IT IS STARTING TO GO BELOW ZERO IN TERMS OF TOTAL GROWTH.
NOT GOOD NEWS FOR CHINA OR THE WORLD. JONATHAN: SOME OF THESE NUMBERS ARE BRUTAL. ESTY DWEK AND MARK CABANA WITH THE FINAL WORD. HOW UNCOMFORTABLE IS IT TO GET LONG EUROPE WITH NUMBERS LIKE THAT OUT OF CHINA AND THE SITUATION EVOLVING IN UKRAINE? ESTY: I THINK IT IS VERY DIFFICULT TO BE OVERWEIGHT EUROPE. WHEN YOU LOOK AT THE NUMBERS OUT OF CHINA AND CONSIDER THE SIZE OF THE IMPORT AND EXPORT MARKET THAT CHINA REPRESENTS FOR EUROPE , THESE LOCKDOWNS WILL CONTINUE. THEY WILL NOT HELP WITH THE INFLATION PICTURE, ALTHOUGH WE ARE GETTING BETTER NEWS IN SHANGHAI. YOU COUPLE THAT WITH REFUGEES
AND THE FOOD PRICES AND THE ENERGY PRICES FOR EUROPE THAT ARE SO DEPENDENT ON GAS AND NOT JUST RUSSIAN OIL. THE PICTURE IS LOOKING RECESSIONARY AND POTENTIALLY MUCH MORE THAN THAT. I THINK EUROPEAN EQUITIES HAVE BEEN RESILIENT DURING THIS BACKDROP. I WOULD EXPECT THEM TO
OUTPERFORM. JONATHAN: THIS GIVES YOU THE FINAL WORD. A SLOWDOWN IN CHINA, SLOW DOWN IN EUROPE. PEOPLE ARGUING FOR RECESSION. THE FED NOT MOVING JUST YET.
YOU THINK THEY WANT TO DO A LOT OF WORK. IF PEOPLE SAY LOOK AT HOW THINGS ARE AND WE'VE ONLY GOTTEN STARTED, WHY DO THEY HAVE TO GO A LOT FURTHER GIVEN EVERYTHING WE'VE ALREADY SEEN PLAY OUT? MARK: CERTAINLY THERE IS DOWNSIDE RISK TO THE GLOBAL ECONOMIC BACKDROP IN THE FED WILL BE TAKING THAT INTO CONSIDERATION. THE TRUTH IS DOMESTICALLY, INFLATION IS STILL FAR TOO HIGH FOR THEM TO EXPECT. MONETARY POLICY IS STILL TOO EASY FOR THEM TO ACCEPT, THEY HAVE TO GET POLICY IN A TIGHT POSITION IF THEY WANT TO HAVE ANY HOPE OF SEEING INFLATION FALL. THE QUESTION FOR THE FED IS CAN THEY GET THIS BALANCE RIGHT? SLOWING THE ECONOMY TO BRING INFLATION DOWN, WHILE THERE ARE GLOBAL HEADWINDS TO GROWTH.
ARE THEY GOING TO ENGINEER THE SOFTWARE AND OR WILL THEY OVERDO IT AS THEY HAVE DONE? WE SEE RISKS THEY OVERDO IT, WE SEE RISKS THEY TIGHTEN TOO FAR IN THE FACE OF AN ECONOMIC SLOWDOWN. IT MAY STOP THEM TIGHTENING IF THEY SEE A RECESSION IN THE U.S.. IN THE NEAR TERM THE ECONOMY REMAIN STRONG, THE FED HAS TO KEEP TIGHTENING IN THIS TYPE OF ENVIRONMENT AND THEN NEED TO SEE CLEARER SIGNS OF DOMESTIC SLOW DOWN WHICH WE DO NOT SEE QUITE YET. JONATHAN: I KNOW YOUR VIEW. WE WILL SEE A LOT MORE. MARK CABANA AND ESTY DWEK.
JONATHAN: JP MORGAN UPGRADING CIGNA TO OVERWEIGHT. WEDBUSH UPGRADING NETFLIX TO OUTPERFORM. DP CUTTING THE RALPH LAUREN PRICE TARGET, PUTTING TWO A WEEK SET UP AHEAD OF EARNINGS. JONATHAN: GOOD MORNING. SIX STRAIGHT WEEKS OF LOSSES ON THE S&P. WE EQUALED THE TALLY BACK TO 2011 AND A LOT OF YOU HOPING WE DO NOT MAKE IT SEVEN.
ON THE NASDAQ WE ARE DOWN .5%. ON THE RUSSELL DOWN ONE THIRD. THERE IS YOUR OPENING BELL. YIELDS IN A COUPLE OF BASIS POINTS TO 2.8931. THE SIXTH WEEK OF LOSSES ON THE EQUITY MARKET.
LAST WEEK YIELDS LOWER, LOWER AGAIN TODAY BY A COUPLE OF BASIS POINTS. THE EURO A LITTLE BIT STRONGER. CRUDE DOWN ONE THIRD OF 1%. ABOUT 20 SECONDS OF THE OPEN WITH YOUR MOVERS, HERE IS ABBY. ABIGAIL: LET'S HONE IN ON SOME OF THE WEAKNESS WE ARE SEEING.
THAT HAS TO DO WITH BIG CAP. AMD AND NVIDIA UP MORE THAN 5% LAST FRIDAY ON THAT TECH RALLY. TODAY GIVING SOME OF THAT BACK. TAYLOR RIGGS WILL BE LOOKING AT SOME OF THE OTHER NAMES INCLUDING TWITTER. TO THE UPSIDE WE HAVE OCCIDENTAL PETROLEUM. THE BEST SECTOR ON THE DATE. OCCIDENTAL PETROLEUM UP. AMC HAD BEEN TRYING FOR A THIRD
UPDATE. NOT SO MUCH RIGHT NOW. JONATHAN: ABOUT A MINUTE INTO THIS, ENERGY AT THE TOP OF THE PILE. INFORMATION TECHNOLOGY DOWN 1%. DOWN FOR POINT -- DOWN .4% AND THE HOURLY PART OF THE SESSION. BIG TECH HAS BEEN A BIG PROBLEM. TAYLOR: THE NUMBER YOU HAVE POINTED OUT HAS BEEN THE THEME FOR THE YEAR. ENERGY AND TECHNOLOGY IS AT THE BOTTOM OF THE PILE THAT CONTINUES TODAY.
WE HAD A DECENT BOUNCE ON FRIDAY BUT WE ARE CLIMBING OUT OF A PRETTY BIG HOLE AND IN THE OPEN WE ARE ROLLING OVER AGAIN WHEN WE THINK ABOUT SOME OF THE BIG TECH COMPANIES. WHEN YOU TALK ABOUT MARKET CAP, THE MASSIVE DROP DOWN ON THE NASDAQ 100, YOU ARE DOWN IN HALL SOMETHING LIKE 26% FROM THE LATEST DRAWN DOWN AND RECORD HIGHS WE HAD. THAT IS A PRETTY BIG COOLDOWN. WE HAVE WIPED OUT ABOUT 3.7 JOINT DOLLARS IN THE MARKET CAP DURING THAT TIME.
TWITTER IS NOT NECESSARILY BIG TECH BUT IS SOMETHING WE TALKED A LOT ABOUT. NOWHERE NEAR THE 5420 PRICE TARGET. A LOT OF PRICE TARGETS GIVEN THE BUYOUT WAS AT $54.20 A LOT
OF ANALYSTS SAY THAT IS OVERPAYING, IT IS JUST NOT WORTH THAT MUCH. JONATHAN: IF YOU GO TO THE ANR FUNCTION ON THE BLOOMBERG, YOU CAN FIND OUT WHAT THE PREVIOUS PRICE TARGETS WORK BEFORE THEY ALL WENT TO $54.20. I'M THINKING OF GOLDMAN AT $30. RIGHT NOW, $38. TAYLOR: DIDN'T ELON MUSK SAY HE WAS PUTTING IT ON HOLD? A LOT OF THE ANALYSTS STRUGGLED WITH, IT WAS IN THE 70'S A YEAR AGO, BUT THIS LAST PRICE TARGET IS NO INDICATION OF WHAT THE FUTURE VALUE OF THE COMPANY IS WORTH, PARTICULARLY AS WE REWRITE THE COMPANIES.
I'M NOT HEARING IT IS WORTH ANYWHERE NEAR $54.20. JONATHAN: I'M SURE FACEBOOK WOULD LIKE TO LIVE IN 2021 AGAIN AS WELL, NETFLIX, TOO. LIFE DOES NOT WORK THAT WAY. LET'S NOT GET TOO PHILOSOPHICAL. TAYLOR, THANK YOU. TAYLOR:
TOO EARLY. JONATHAN: IT IS NEVER APPROPRIATE WHEN WE TALK ABOUT FINANCE TO GET PHILOSOPHICAL AND DEEP ABOUT ANYTHING. $38, TWITTER. I STILL DO NOT IT WOULD PUT IN THE DEAL ON HOLD MEANS. RETAIL SALES TOMORROW. LET'S GET TO KAILEY LEINZ FOR
MORE. KAILEY: LET'S TALK ABOUT WHAT WE ARE EXPECTING OUT OF THE RETAIL SALES DATA FOR APRIL. THE HEADLINE FIGURE EXPECTED TO RISE 1%. WHEN YOU BACK OUT AUTO AND GAS IS ONLY EXPECTED TO BE .7%. WILL BE LOOKING FOR CLUES AS TO JUST HOW MUCH HIGHER PRICES HAVE CRIMPED DISCRETIONARY SPENDING AND WHETHER DEMAND DESTRUCTION HAS STARTED TO KICK IN. RETAILERS REPORTING HOW MUCH PRICING POWER HAVE THEY BEEN ABLE TO EXERCISE AND THE ABILITY TO PASS ON HIGHER INPUT COSTS THEY ARE FACING.
OUR ANALYST AT BLOOMBERG INTELLIGENCE SAY GROSS MARGIN COULD CONTRACT DUE TO ELEVATED COSTS. WE WILL GET THOSE FIGURES AS WELL AS HOME DEPOT TOMORROW. TARGET AND LOWS AND TJX TOMORROW AND COALS ON THURSDAY AND ALL OF THIS TO BRING INSIGHT INTO HOW MUCH CONSUMERS CAN BRING FOR THINGS THEY WANT VERSUS THINGS THAT THEY NEED. IT IS THE DIFFERENCE BETWEEN STAPLES AND DISCRETIONARY THAT IS FRONT AND CENTER. FROM A STOCK PERFORMANCE PERSPECTIVE WE HAVE SEEN STAPLES OUTPERFORM DISCRETIONARY BY A MARGIN OF 20 PERCENTAGE POINTS, THE WIDEST MARGIN BACK TO 2001. STAPLES THE SECOND-BEST PERFORMER IN THE S&P. DISCRETIONARY AT THE BOTTOM,
DOWN 19% SO FAR. INTERESTING TO SEE OF EARNINGS REINFORCE THAT SENTIMENT. JONATHAN: ALSO WORKED AS ALWAYS. THIS IS MY INBOX FROM PETER TCHIR OF ACADEMY SECURITIES THAT IS SO IMPORTANT AS WE THINK ABOUT THIS MARKET COMPARED TO THIS MARKET 10 YEARS AGO. "MOST OF THE TIME WALL STREET TENDS TO FOCUS ON BIG INSTITUTIONAL FLOWS. FOR YEARS THAT WAS PROBABLY OK.
THAT LEAD TO HORRIBLE DECISIONS TURN THE PANDEMIC. RETAIL FLOWS WERE A CRUCIAL DRIVER OF MARKETS AND WE ARE AT AN INFLECTION POINT WHERE RETAIL WILL BE A BIG DETERMINANT OF WHAT HAPPENS NEXT." PETER JOINS US NOW. I WAS LOOKING FORWARD TO CATCH UP WITH YOU ONCE I READ THE NOTE. YOU SAID TRADITIONAL VERSUS DEVELOPED -- TRADITIONAL VERSUS DESTRUCTIVE PORTFOLIO CONSTRUCTION. LET'S WORK OUR WAY DOWN. WHAT ARE YOU TRYING TO GET AT? PETER: IF YOU GO BACK, IT WOULD BE HERE ARE SOME RISKY ASSETS, TREASURIES, MONEY MARKETS, AND I THINK WHAT WE START DOING IN THE PANDEMIC IS DISRUPTIVE INVESTORS. THEY CAME IN AND THEY WANT AND FTS, THEY CONSIDER DISRUPTIVE TECH, BITCOIN, AS THEIR CORE PORTFOLIO.
I THINK THEY CONSIDERED BIG TECH AS THEIR SAFE HAVEN. I THINK WHAT WE ARE SEEING IS A BIG UNWIND OF THAT. YOU ARE SEEING PHENOMENAL WEALTH DESTRUCTION.
THERE WAS PHENOMENAL WEALTH CREATED THAT IS BEING DESTROYED AND WE ARE AT AN INFLECTION POINT WHERE PEOPLE CAN SATE WE CAN DOUBLE DOWN. I HAVE TO PROTECT THIS WILL I ORIGINALLY HAD AND HAVE GIVEN SO MUCH UP. JONATHAN: TALK TO ME ABOUT HOW THAT DICTATES HOW WE FALL DOWN AND HOW WE RECOVER AS WE BOUNCE? PETER: MORE DOWNSIDE TO BIG TECH , WE ARE WATCHING APPLES AND MICROSOFT STARTING TO SEE THAT AS PEOPLE MOVED TO TRUE SAFETY, MONEY MARKETS, BANK ACCOUNTS. WE HAVE MUCH BETTER YIELDS THAN WE DID. THE 10 YEAR YIELD IS ABOVE THE S&P DIVIDEND. I THINK YOU WILL SEE A SHIFT WHERE PEOPLE SAY I WILL TAKE SLIGHTLY LESS RISK FOR SIMILAR RETURNS COMMENT OF CRYPTO CRACKS, AND I THINK BITCOIN HAS THAT POSSIBILITY, I THINK YOU SEE AN ACCELERATED SELLOFF IN CRYPTO, AND THAT DRAGS EVERYTHING ELSE DOWN WITH IT.
JONATHAN: I USED TO HATE THIS TERM, THE SMART MONEY VERSUS THE DUMB MONEY, WHAT USED TO MEET WAS PEOPLE STARING DOWN THEIR NOSE AT INSTITUTIONAL VERSUS RETAIL, RETAIL BEING THE DUMB MONEY. THE POINT YOU'RE MAKING IS WHAT HAS LED US HAS BEEN THE RETAIL FLOWS. YOU'RE NOT THE ONLY ONE TO MAKE THAT POINT.
JIM BIANCO HAS BEEN ON TOP OF THAT POINT AS WELL. WHAT SHOULD OUR LEADING INDICATORS BE AND WHERE YOU WOULD LOOK TO FOR THEM? PETER: I'M LOOKING AT BITCOIN. AND I'M LOOKING AT THE APPLES AND MICROSOFT TO SEE IF THERE IS AT SELLING PRESSURE. THEY STARTED TO ROLL OVER A
LITTLE BIT. IF I AM CORRECT AND THESE DISRUPTIVE INVESTORS WERE HOLDING THESE STOCKS IS THEIR EQUIVALENT OF CASH, THERE IS MORE DOWNSIDE. BECAUSE THESE ARE SUCH BIG COMPONENTS OF THE INDICES, THEY TRACK THE S&P DOWN AND TAKE THE MARKET DOWN ANOTHER 5% TO 10%. JONATHAN: HOW RECEPTIVE OUR CLIENTS WHEN YOU HAVE THIS CONVERSATION AND TRY TO EXPLAIN HOW IT WAS COMPARED TO LAST 10 YEARS. PETER: I THINK IT HAS BEEN SUCH A DIFFICULT MARKET TO FOLLOW.
WE ARE LOOKING FOR WHAT MAKES SENSE AND WHAT IS A THEORY THAT LOOKS LIKE IT HAS PLAYED OUT. THEY ARE SEEING IN THE FLOWS, THEY ARE SEEING IN THE THOUGHT PROCESS. EVERYONE WANTS TO BUY THE DIP. YOU KEEP TALKING CAPITULATION. IF YOU LOOK AT THE RISKIER ASSETS WHICH IS A TRIPLE LEVERED MASTEC 100 ETF, THAT IS ALMOST THE BIGGEST SIZE EVER. I DO NOT THINK YOU HAVE SEEN CAPITULATION AND THAT IS WHAT I THINK WE ARE ON THE CUSP OF. BITCOIN GOING DOWN BELOW 25,000 PROBABLY TRIGGERS THAT. JONATHAN:
IN TERMS OF THESE COHORTS COME ARE THE CATALYSTS FOR THEIR INVESTMENT DECISIONS DIFFERENT, TODAY IN SPOHN TO DIFFERENT THINGS -- DO THEY RESPOND TO DIFFERENT THINGS? PETER: IF YOU'RE A LARGE HEAD FUND YOU ARE TRYING TO STAY CLOSE TO HOME BECAUSE IT HAS BEEN SO LIQUID. ON THE ASSET MANAGER SIDE EVERYBODY IS TIME -- EVERYBODY IS TRYING TO STAY CLOSE TO HOME. IF WE GET THE SELLOFF PEOPLE WILL BE CAPITULATED INTO IT AND THAT WILL BE THE REAL BUYING OPPORTUNITY IN THE SELLOFF WILL BE LED BY RETAIL.
INVESTORS ON THE INSTITUTIONAL SIDE ARE MUCH MORE BALANCED THAN THEY HAVE BEEN IN A LONG TIME. JONATHAN: THAT SOUNDS LIKE YOU WANT TO BUY, BUT ULTIMATELY DO NOT THINK WE HAVE SEEN THE LOWS. PETER: THAT IS RIGHT. I LIKE CREDIT WHERE IT IS. AT THAT WE HAVE ONE MORE LEG DOWN IN STOCKS. I HAVE BEEN A BIG FAN OF ENERGY
COMPANIES. I THINK WE'LL SEE A LOT OF SPENDING TO REVITALIZE OUR ENERGY INDUSTRY. JONATHAN: WHAT IS THE CREDIT VERSUS EQUITY STORY FOR YOU? PETER: IT IS MUCH MORE OF EVALUATION STORY. I DO NOT THINK WE ARE HEADED TOWARDS A DEEP RECESSION. WE WE MIGHT GET A SMALL RECESSION.
CREDIT IS SO WELL PROTECTED. I THINK YOU WILL SEE PEOPLE MOVING FROM RISK WOODY -- FROM RISKY ENTITIES -- CORPORATE BONDS INTO TREASURIES. THAT IS THAT LOCATION WHICH WILL BE SUPPORTED GOING FORWARD ON YIELDS IN CORPORATE DEBT. JONATHAN: DO RETAIL FLOWS EVER COME BACK IN THE WAY THEY WERE BUILT UP THE BACK END OF 2020 FROM THE SHORT DATED VOLUME WE WERE SEEING IN SOME OF THESE THE NAMES OR ADJUST BEGETS MORE SELLING AND MORE BUYING. WILL THAT EVER COME BACK? PETER: I DON'T THINK SO. I THINK IT COMES DOWN TO THE WEEKLY OPTIONS.
WALL STREET HAS GOTTEN MUCH SMARTER. YOU ARE SEEING IT ACROSS THE BOARD. YOU LOOK AT THE GAMBLING STOCKS. PARTICIPATION OF THE GAMBLING NATION IS DROPPING OFF. THERE WAS A LOT OF EXCESS LIQUIDITY, A LOT OF EXCESS CASH. THEY TOOK THAT FREE MONEY AND
WERE VERY CARELESS WITH IT. THAT HAS CHANGED. JONATHAN: YOU'VE WALKED ME THROUGH HOW THE RETAIL FLOWS WILL DICTATE TO THE BOND TERMS. DOES NOT SOUND LIKE YOU THINK THEY WILL DICTATE THE RECOVERY. PETER: THAT WILL BE INSTITUTIONAL
FLOWS AND HEDGE FUNDS REALIZING THE WORST IS BEHIND US. A LOT OF PRESSURE LEADING ON THE MARKETS. THE HEAT TRYING TO PUSH FUTURES DOWN. I THINK IT WILL BE A FAST AND VICIOUS RALLY.
PEOPLE WILL LOOK TO PILE INTO MONEY AND OUTPACED THEIR INDEXES I THINK THE HEDGE FUNDS HAVE A LOT OF CAPACITY. THE FINAL RALLY WILL COME FROM INSTITUTIONAL INVESTORS, BUT WE HAVE TO WATCH RETAIL. JONATHAN: SOME PARTS OF THIS MARKET WILL JUST BE LEFT FOR DEAD BECAUSE THAT INSTITUTIONAL MONEY WILL NOT BE IT IN THE SAME WAY RETAIL FLOWS FOR -- RETAIL FLOWS WERE. PETER: I THINK IT WILL BE BACK TO A 2% TO 5% PER YEAR ALLOCATION. YOU WILL SAY YOU WANT RISKY
ALLOCATIONS, BUT THIS PROCESS THAT I WANT 30% OF MY PORTFOLIO SOMETHING THAT COULD DOUBLE IN TWO WEEKS, THAT IS OVER. JONATHAN: PETER TCHIR COME INTERESTING TO CATCH UP. SOMETHING WE HAVE NOT GIVEN ENOUGH THOUGHT TO. YOUR NASDAQ IS DOWN AROUND ONE
THIRD. WE'VE BEEN ALL OVER THE PLACE. COMING UP, NATO AROUND FINLAND AND SWEDEN AFTER ANNOUNCING PLANS TO JOIN THE ALLIANCE. >> BRINGING THEM INTO THE ALLIANCE IF THEY CHOOSE TO FORMALLY APPLY. JONATHAN: THIS IS BLOOMBERG. >> THERE IS VERY STRONG CONSENSUS FOR BRINGING FINLAND AND SWEDEN INTO THE ALLIANCE IF THEY CHOOSE TO FORMALLY APPLY COMMENT AS TO THE DIFFERENCES BETWEEN TURKEY, FINLAND, AND SWEDEN THAT I HAVE NOT TALKED ABOUT, THERE IS AN ONGOING CONVERSATION. THE BOTTOM LINE IS WHEN IT COMES TO THE MEMBERSHIP PROCESS, I'M VERY CONFIDENT WE WILL REACH CONSENSUS. JONATHAN: NATO PREPARING TO ADD FINLAND
AND SWEDEN INTO THE ALLIANCE AS GERMANY LOOKS TO HALT RUSSIAN OIL IMPORTS BY THE END OF THE YEAR WITH OR WITHOUT AN EU AGREEMENT. THE FOREIGN MINISTER SAYING WE HAVE TO CLARIFY A FEW THINGS THAT WILL NOT HAPPEN TODAY, BUT I'M CONFIDENT WE WILL COME TO A CONCLUSION IN THE COMING DAYS. JOINING US IS ANNMARIE HORDERN WHO IS NOT ON VACATION, SAID SHE IS IN ABU DHABI. RIO TADDEO IN BRUSSELS. MARIA: WE NOW HEAR FROM SWEDEN, ALSO CONFIRMATION FROM THE SOCIALIST PARTY IN THE COUNTRY, THE GOVERNMENT THERE SAYS THEY WILL APPLY FOR NATO MEMBERSHIP. THERE IS VERY IMPORTANT SUMMIT AT THE END OF JUNE. THE IDEA IS FINLAND AND SWEDEN WILL MEET THE FORMAL STEPS BY THEN AND BY THE END OF THE SUMMER THEY WILL BE FULL ON MEMBERS OF NATO.
WHEN YOU LOOK AT THE PERENNIAL CONVERSATION IN EUROPE, WHICH IS ENERGY. WE HEAR FROM THE GERMANS WHO SAY WE ARE READY TO PULL ON THIS OIL EMBARGO. YOU HAVE TO LOOK AT THE NUMBERS. NUMBER OIL BARRELS GOING FROM THE RUSSIAN FEDERATION INTO GERMANY HAVE DECLINED FROM 35% BEFORE THE WAR TO NOW 12. THIS IS.
A BIG DEAL AT THIS POINT. WHAT IS A BIG DEAL IS GAS. THAT CONTINUES TO BE A NO GO. THE HUNGARIANS SAY THEY WOULD VETO ANY ENERGY EMBARGO OR ANY ENERGY MEASURES THAT WOULD LEAD THEIR ECONOMY INTO RECESSION. NO CONSENSUS FOR THE TIME BEING. JONATHAN: ON A SERIOUS NOTE, WHAT IS THE RELATIONSHIP BETWEEN WHERE YOU ARE AND WHAT IS TAKING PLACE IN UKRAINE AND THE SITUATION WITH RUSSIA? ANNMARIE: IT IS INTERESTING IN THE UNITED ARAB EMIRATES. THIS IS A SAFE HAVEN FOR RUSSIAN MONEY, EVEN IF YOU LOOK AT THE REAL ESTATE MARKET, RECORD START TO THE YEAR. A LOT OF THAT IS ATTRACTING RUSSIAN WEALTH.
THIS IS A PLACE WHERE OLIGARCHS CAN COME AND PARK THERE CASH. AT THE SAME TIME WE HAVE THE UNITED STATES ASKING THE LIKES OF THE UAE AND SAUDI ARABIA TO PUMP MORE OIL. THEY ARE IN AN INTERESTING RELATIONSHIP BECAUSE IT TOOK THEM YEARS. I WAS THERE FOR MANY OF THE
YEARS AS THEY TRIED TO CONTROL THE RUSSIANS TO JOIN IN ON THIS OPEC-PLUS AND AT THE MOMENT THEY DO NOT THINK THE MARKET NEEDS THAT OIL . YOU'VE NOT HEARD THE IMMORALITIES CONDONE WHAT IS GOING ON -- THE EMIRATES CONDONE WHAT IS GOING ON. JONATHAN: THE U.S. HAS CALLED THE UAE A PARTNER. I'M TRY TO FIGURE OUT HOW YOU DEFINE THAT PARTNERSHIP AT THE MOMENT? ANNMARIE: IT IS A GREAT QUESTION BECAUSE IT HAS BEEN A TRICKY ONE OVER THE COURSE OF THE LAST YEAR. FROM THE EMIRATES PERSPECTIVE AS WELL AS THE KINGDOM, IT HAS BEEN TRICKY IN TERMS OF THE IRANIAN BACKED WHO THESE HAVING STRIKES ON BOTH OF THE COUNTRY AND WASHINGTON HAVING TALKED WITH IRAN AND WASHINGTON HAVING THIS URGENCY TO REENTER THE IRANIAN NUCLEAR AGREEMENT. THIS IS SOMETHING MANY GCC COUNTRIES DO NOT WANT TO SEE.
AT THE SAME TIME HE OF WASHINGTON CALLING CAPITALS ASKING TO PUMP MORE OIL. WHAT YOU HAVE TODAY IS A MASSIVE SHOW OF FORCE. IF YOU LOOK AT THE LIST OF INDIVIDUALS, WE JUST GOT A FULL REPORT SHE WILL BE SPEAKING WITH THE NOW LEADER OF THE UAE, SHE IS ALONGSIDE THE SECRETARY OF DEFENSE, THE CIA, CLIMATE ENVOY JOHN KERRY, WHO I TRAVEL HERE WITH, SECRETARY BLINKEN. THIS IS A MASSIVE SHOW OF FORCE. NORMAN RAUL WHO USED TO WORK FOR THE CIA SAID IF YOU LOOK AT THE DELEGATION THAT CAN TELL YOU THE SIGNALS THE U.S. IS TRYING TO SEND. JONATHAN:
WENT TO THE SAUDIS SAID IN? ANNMARIE: THEY HAVE YET TO GET A VISIT AS HIGH-LEVEL AS THIS. THIS IS THE VICE PRESIDENT FLANKED BY MEMBERS OF THE PRESIDENT'S CABINET. AT THIS TIME THERE A LOT OF NEGOTIATIONS BEHIND CLOSED DOORS BACK AND FORTH FROM WASHINGTON. THEY'RE ARE WORKING ON A NUMBER OF FRONTS. INVESTMENT, OIL, AND OF COURSE
DEFENSE AND SECURITY. I RAN -- WHEN IT COMES TO THE SALLY'S -- WHEN IT COMES TO THE SAUDIS, THE PRESIDENT HAD CAMPAIGNED ON MAKING THIS UP RIOT ESTATE DUE TO THE KILLING OF JAMAL KHASHOGGI. NOW YOU SEE THE ADMINISTRATION MAKING A SHIFT. WE ARE RECENT CALL BETWEEN THE PRESIDENT AND KING SOLOMON OF SAUDI ARABIA.
WILL BE INTERESTING WHAT HAPPENS WITH THE CROWN PRINCE. AT SOME POINT THE ADMINISTRATION WILL LIKELY HAVE TO ENGAGE WITH THEM. JONATHAN: ON THE ENERGY FRONT IN EUROPE, WHAT IS THE SIGNAL WE SHOULD TAKE AWAY FROM THE EU LEVEL DECISIONS WE HAVE BECOME ACCUSTOMED TO, FROM THE GERMAN SAYING IT SOUNDS LIKE WE WILL HAVE TO GO IT ALONE. MARIA: WHAT THEY ARE TRYING TO DO IS PUT AN ULTIMATUM ON THE TABLE USING SOMETHING THAT WILL NOT HAVE A SHOCKING IMPACT ON THE GERMAN ECONOMY. THIS CONVERSATION ABOUT GAS
WOULD BE ENTIRELY DIFFERENT. THE FACT THAT IS OIL AND THEY CAN DO THAT, I THINK THERE TRY TO PRESSURE EVERYONE ELSE. THE GERMANS ARE SENDING A POLITICAL SIGNAL THAT INJECTS A LOT OF MOMENTUM INTO THE CONVERSATION. THIS IS A MOVE DESIGNED TO GET THE HUNGARIANS ON BOARD.
FOR THE TIME BEING THERE IS NO SHIFT WHATSOEVER FROM VICTOR ORBAN. HE SAYS AS LONG AS THIS DAMAGES BY ECONOMY I CANNOT SIGN ON. JONATHAN: I PROMISED YOU A FINAL WORD ON THE EUROVISION SONG CONTEST OVER THE WEEKEND AND YOUR DISAPPOINTMENT SPAIN DID NOT MAKE IT. MARIA: I FEEL LIKE THE FACT THAT UKRAINE WON THIS, THE COUNTRY DESERVES THIS. IT WAS A MOMENT OF CATHARSIS FOR A LOT OF PEOPLE.
SPADE DID GREAT, SHE IS AMAZING, -- SPAIN DID GREAT, SHE IS AMAZING, SHE WILL BE A HUGE STAR. I DID NOT GET PAID TO SAY THIS. I BELIEVE THIS. JONATHAN: YOU SAID YOU MUST WATCH THE WOMAN FROM SPAIN. ANNMARIE: THIS IS HIGHLY DIPLOMATIC FROM MARIA TADEO. JONATHAN: THANK YOU TO BOTH OF YOU AS ALWAYS.
EQUITIES LOWER .7% ON THE S&P. JONATHAN: 26 MINUTES INTO THE SESSION. NOTHING NEW. DOWN .5%. ON THE NASDAQ DOWN .8%. PRESIDENT BIDEN MEETING WITH THE GREAT PRIME MINISTER AT 3:30. U.S. RETAIL SALES -- WITH THE GREEK PRIME MINISTER. U.S. RETAIL TOMORROW. A HOST OF FED SPEAK THROUGHOUT THE WEEK.
ANOTHER ROUND OF JOBLESS CLAIMS ON THURSDAY MORNING. FROM NEW YORK, NEW TRADING WEEK, SAME STORY. ON THE NASDAQ DOWN ABOUT 1%.
2022-05-17 23:53
Show Video
Other news