'Bloomberg The Open' Full Show (04/27/2022)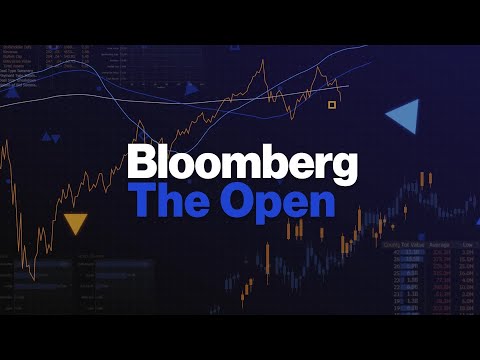 Show Video
>> GOOD MORNING, WE ARE LOOKING TO BOUNCE FROM AN UGLY TUESDAY. THE COUNTDOWN TO THE OPEN STARTS RIGHT NOW. >> EVERYTHING YOU NEED TO GET SET FOR THE START OF U.S. TRADING.
THIS IS BLOOMBERG THE OPEN WITH JONATHAN FERRO. JONATHAN: LIVE FROM NEW YORK CITY, WE BEGIN WITH THE BIG ISSUE. QUARTERLY BEATS GETTING LITTLE REWARD. >> EARNINGS ARE NOT THAT BAD.
>> INDIVIDUAL COMPANY EARNINGS LOOK SOLID. BUT THAT IS NOT HELPING THE SHARE PRICES RIGHT NOW. >> WE ARE SEEING MANY DIFFERENT TYPES OF REACTION DEPENDING ON EARNINGS. >> ANY SLIGHT EARNING GUIDANCE, WEAKNESS, THEY ARE SOLD. AND THEY ARE SOLD HARD. PEOPLE ARE NOT ASKING QUESTIONS, THEY ARE JUST SAYING ADIOS.
>> IT WAS ALREADY PESSIMISTIC COMING INTO THE EARNINGS SEASON. >> THERE IS A NEED TO RIP OFF THE BAND-AID AND DEAL WITH SOME OF THE BACK HALF FORECASTS. >> A PRETTY CRITICAL WEEK.
>> WE HAD A TREMENDOUS BACKUP AND YIELDS. >> HAVING TO LIVE IN A MACRO DRIVEN WORLD. JONATHAN: WITH MACRO UNCERTAINTY, JOINING US AS BOB DOLE AND -- DOLL AND KATY KAMINAKI. WHAT IS DRIVING THIS? KATY: IT IS A LONG-TERM VERSUS SHORT-TERM ISSUE. LONGER-TERM, WE SEE THE PRESSURE OF INTEREST RATES BE THE BIGGER PROBLEM. SOME EARNINGS ARE GOOD, THE TRUTH IS LONGER-TERM ISSUES ARE NOT RESOLVED. SO ANY SORT OF SENSE OF
WEAKNESS IS GOING TO BE JUMPED ON. JUST HOW EXTREME THE MOVE WAS SHOWED THAT, PEOPLE ARE NERVOUS. THEY ARE NERVOUS WHAT IS GOING TO HAPPEN IF INTEREST RATES HOLD. WE HAVE NOT SEEN ANYTHING HAPPEN YET. THAT IS WHY WE ARE SEEING THE WEAKNESS. JONATHAN: BOB, YOU WERE NERVOUS. MUCH MORE BEARISH THAN I HAD HER DOING THE YEARS I HAD KNOWN YOU.
YOU ARE SAYING CYCLICAL RISKS ARE INCREASING, NOT DECREASING. WHY IS THAT? BOB: INTEREST RATES, THAT IS THE WHOLE STORY. MARCH 30 FIRST, 10-YEAR TREASURY YIELD WAS 232, LAST FRIDAY 292.
THE 232 WAS UP FROM 151 ON DECEMBER 31, UP FROM 50 BASIS POINTS TWO YEARS AGO. THE STOCK MARKET CANNOT HANDLE ON A VALUATION BASIS THIS INTEREST RATE INCREASE. THAT IS THE MAJOR ISSUE. JONATHAN: WHY CAN'T THE BANKS GET IT DONE WITH THESE KINDS OF INCREASES? I AM GOING THROUGH YEAR-TO-DATE MOVES IN THE LIKES OF JP MORGAN AND ELSEWHERE. THEY ARE UGLY, UGLY.
JP DOWN 22% YEAR TO DATE, BANK OF AMERICA DEBT 18 PERCENTAGE POINTS. WHY IS IT THAT BAD FOR THOSE NAMES? BOB: WERE YOU ARE, I AM BETTING TO THEM. I FEEL LIKE I'M CATCHING A FALLING KNIFE. IT IS ALL ABOUT RECESSION FEARS
IF INTEREST RATES GO UP, THAT IS GENERALLY GOOD NEWS FOR BANKS UNLESS WE ARE GOING TO HAVE RECESSION. THEN, YOU WANT TO SELL THE BANK. I AM BETTING NO RECESSION TO THE SECOND HALF OF 2023. JONATHAN: UP 6/10 OF 1%, A FIVE-YEAR HIGH. THE DOLLAR INDEX -- THE STRENGTH IN THIS ONE, CAN YOU SEE ANYTHING ELSE GETTING STRONGER AGAINST IN THE NEAR TERM? KATY: THERE'S BEEN SOME DISPERSION, I WOULD SAY THE BIGGEST DRIVER HAS BEEN THE EURO. THE EURO IS VERY WEAK TODAY.
WE ARE SEEING SOME OF THE RELATIVE VALUATION DIFFERENCE ACROSS THE BOARD, WHERE THE U.S. IS JUST LOOKING A LITTLE STRONGER THAN OTHER AREAS. I THINK THIS DISPERSION WE HAVE SEEN RELATED TO CERTAIN CURRENCIES ALSO DISSIPATED WHEN RECESSION FEARS DROVE THE MARKET PRICES DOWN. I THINK THE DOLLAR HAS BEEN THE BIGGEST WINNER AND THE BIGGEST TREND THIS WEEK, THOUGH WE HAVE SEEN SOME REVERSION IN OTHER ASSET CLASSES. JONATHAN:
EURO-DOLLAR 10557, JUST ABOUT 4/10 ON THE S&P. WHAT A WEEK FOR EARNINGS, CLOSING FACEBOOK TOMORROW, APPLE AND AMAZON 80% OF THE S&P HOLDING ESTIMATE SO FAR. MANY OF THEM GETTING LITTLE REWARD.
>> BY AND LARGE, EARNINGS SEASON SHAPED UP TO BE QUITE STRONG WHEN YOU LOOK AT THE NUMBER OF COMPANIES MEETING ON AVERAGE BY AROUND 6%. THE VAST MAJORITY ARE SEEING GROWTH ON THE TOP AND BOTTOM LINE. IT IS MET WITH LITTLE REWARD IN THE MARKET.
THE AVERAGE ONE-DAY MOVE POST EARNINGS FOR THE COMPANY REPORTED THUS FAR DOWN BY ABOUT HALF OF 1%. LOOKING AT EQUITY BENCHMARKS AS A WHOLE IS JP MORGAN KICKS THINGS OFF, THEY ARE DOWN ACROSS THE BOARD. DOW DOWN ABOUT 3%, S&P BY 6%. FOR TECH, IT HAS BEEN EVEN MORE
BRUTAL. NASDAQ 100 INDEX FALLING TO THE LOWEST LEVEL IN ALMOST A YEAR AND MAY 2021. IT IS NOW DOWN ABOUT 21% YEAR TO DATE, THAT RIVALS WHAT WE SAW BACK IN BP PAN-DEM AERO FEAR IN MARCH 2020.
-- PANDEMIC ERA FEAR IN MARCH 2020. WE WILL SEE WHAT KIND OF INFLUENCE THE REST OF THE TECH COMPANIES REPORT THROUGHOUT THIS WEEK WILL HAVE ON THE MARKET AS A WHOLE. JONATHAN: LOOKING FORWARD TO IT. THIS QUOTE FROM BANK OF AMERICA GOT MY ATTENTION, THIS IS WHAT IT SAID THE FED IS LIKELY TO SHIP FROM A SOURCE OF VOLATILITY TO ONE OF MORE STABILITY OVER THE COMING MONTHS. AND MORE CERTAIN FED COULD HAVE LOWER RATES AND PROVIDE CONFIDENCE TO THE MARKET. GREATER RATE SHORTENS THE --
CERTAINTY SHOULD GIVE INVESTORS MORE COMFORT TO LEAN LONG-TERM DURATION. BOB: IF YOU COULD JUST TELL ME RATES ARE GOING TO STAY HERE FOR A WHILE, I THINK THE EQUITY MARKET CAN BEGIN TO PAY ATTENTION TO THE GOOD EARNINGS. THIS YEAR IS A TUG-OF-WAR, THE TAILWIND EARNINGS BY VALUATIONS AND VALUATIONS, THE WHOLE STORY RIGHT NOW, DIRECTLY RELATED TO THE PACE OF INTEREST RATE INCREASE. JONATHAN: HAVE YOU GOT A DECENT UNDERSTANDING OF WHO WINS THE TUG-OF-WAR? BOB: WE CALLED FOR A DOWN YEAR IN DECEMBER, THE TARGET IS 4550, WHICH IS NICE. IF THAT IS WHERE WE END UP, THE HEADWINDS EVALUATION WILL WIN THE RACE. THAT IS WHAT HAPPENED SO FAR THIS YEAR. JONATHAN: THAT IS WHAT HAPPENED IN THE
EQUITY MARKET. FROM A BOND MARKET PERSPECTIVE, OVER THE NEXT FEW MONTHS ON A YEAR-OVER-YEAR BASIS, WE WILL GET THE SO-CALLED MECHANICAL PEAK IN CPI IN AMERICA. SHOULD I BRING PEOPLE COMFORT, EVEN IF WE HAVE A PROLONGED PERIOD OF ABOVE TARGET INFLATION? OVER THE NEXT FEW MEETINGS, WE HAVE A DECENT UNDERSTANDING OF WHAT THE FED WILL DO. 50-50, MAYBE 50 FROM THERE.
THAT IS WHERE THE UNCERTAINTY IS, ISN'T IT? KATY: THAT IS CORRECT. I THINK THE CHALLENGES, WE HAVE A LONG WAY TO GO. THE CERTAIN SITUATION WITH HIGHER INFLATION, WHETHER IT HAS PEAKED OR NOT, INFLATION IS CHALLENGING. IT IS INSIDIOUS, GOES TO DIFFERENT PLACES AND CAUSES ISSUES ACROSS THE BOARD. COUPLE THAT WITH SUPPLY CHAIN AND SCARCITY ISSUES IN THE COMMODITY MARKET, WE ARE IN THE HEADWIND OF AN ENVIRONMENT WHERE THE FED HAS EVERY INCENTIVE TO MAKE THIS RIGHT IS SMOOTH. I THINK THE GOAL IS THIS IS A SMOOTH RIDE AND THE EQUITY MARKET CAN WAIVER IT.
I THINK WE ARE A LITTLE CONCERNED THAT IF THAT DOES NOT END UP THE CASE AND WE HAVE MORE CHALLENGE, WE MIGHT HAVE A GOOD PROBABILITY OF SOME SORT OF REVERSAL OR RECESSION, HENCE THE MARKET BEHAVIOR YESTERDAY. IT IS A REAL RISK. JONATHAN: TAKE SOME COMFORT FOR YESTERDAY, A CLASSIC RISK OFF MODE AND RISK ON THIS MORNING, EQUITIES UP, YIELDS UP. YIELDS DOWN, EQUITIES DOWN. THE PROBLEM WE HAD MORE RECENTLY OVER THE LAST SEVERAL MONTHS IS THE BACK TRIP HIT BOTH STOCKS AND BONDS. IS THAT A DYNAMIC YOU THINK IS HERE TO STAY? BOB: I DO NOT THINK SO. BACK TO YOUR COMMENT, IF THE FED STABILIZES THINGS OR IS ABLE TO STABILIZE THINGS, COME BACK TO THE INFLATION STORY.
INFLATION WAS TOO, IT IS NOW EIGHT. ENDING THE YEAR AROUND FOUR TO USE RUN NUMBERS. -- ROUND NUMBERS. WE PEAKED THE SECOND QUARTER, AS MANY OF US EXPECT, THAT WILL GIVE SOME PAUSE TO THIS BEARISH NOISE AROUND VALUATION. WE CAN GET SOME TRADES. I DO NOT KNOW THEY ARE LASTING, BUT I FIND MYSELF TRYING TO DEFEND THE BULLS AT 4200 ON THE S&P. JONATHAN: IF WE GET DOWN TO FOUR ON INFLATION, WHERE IS NOMINAL GROWTH? WHERE IS REAL GROWTH? BOB: I THINK WE WILL HAVE A YEAR THAT IS 2.5 TO THREE, THE
PROBLEM IS, IT IS STILL DECELERATING AS WE END THE YEAR GOING INTO NEXT YEAR AND DO WE HAVE A RECESSION? THAT IS WITH THE MARKET DEALING WITH NOW, WEEDED OUT OF THE ANSWERS. JONATHAN: IS THAT IS THE WORLD YOU WOULD LIKE TO FIND THE NASDAQ IN? BOB: NOT JUST YET. I THINK THERE ARE THREE PARTS OF TECH. HIGH PE , TECH THAT IS LONG-DURATION, EQUITY HAS GOTTEN HORRIBLY PUNISHED. NOT INTERESTING TO ME. THE STOCKS MIXED AS YOU POINTED OUT, I THINK THE OLD VALUE TECH COMPANIES THAT ARE SELLING MUCH CHEAPER, THAT IS RE-HAVE TO HANG OUT WITH TECH AND THE ENVIRONMENT. JONATHAN: AT 3.9 PERCENT YESTERDAY, WE
LOOKED AT ABOUT THIS MORNING OF ABOUT 1%. NOW WE ARE NEGATIVE. ON THE MONTH, DOWN 12%. ON THE YEAR, DOWN 20 PERCENTAGE POINTS. BOB DOLL AND KATY KAMINSKI STICKING WITH US.
IT IS TAYLOR RIGGS. TAYLOR: YOU WERE TALKING WITH US ABOUT HOW HE WAS FOCUSED ON MICROSOFT AND THE CLOUD, SOME OF WHAT HE SAID RANG TRUE WHEN WE GOT QUARTERLY RESULTS WITHIN MICROSOFT. A HUGE SORT OF OUTPERFORMER FOR THE COMPANY. OTHERWISE, MAYBE SOME SPOTS OF WEAKNESS. THE STOCK PRICE UP ABOUT 4% THIS MORNING.
ALSO TO THE UPSIDE, CERTAINLY LOOKING AT THE COMPANY AFTER REAFFIRMING THE FOUR-YEAR GUIDED IS A CHIP SHORTAGE EASING, MAYBE INVESTORS TRYING TO TAKE GOOD NEWS OUT OF THAT. TO THE DOWNSIDE, BE CAREFUL. ALPHABET FELT PRETTY GOOD, YOU TALK ABOUT HIGH EXPECTATIONS FOR YOUTUBE AND SOME OF THE ADDED SERVICES THERE, MAYBE IT IS BEING HURT A LITTLE BIT BY COMPETITION.
MACRO ECONOMIC CONCERNS COMING OUT OF EUROPE. SPEAKING OF MACRO ECONOMIC CONCERNS, A COMPLICATED COMPANY BUT ECHOING SIMILAR COMMENTS OF GE BREAKDOWN HIGHLIGHTING INFLATION, WAR. MAYBE THAT IS OFFSETTING THAT WE ARE EXPECTING FREE CASH FLOW BURDEN AND WORSE THAN EXPECTED LOSS ON THE BOTTOM LINE.
JONATHAN: THERE ARE ENOUGH EXCUSES OUT THERE IF YOU NEED THEM, THANK YOU. POSTED $2 BILLION MISSED ON REVENUE, THAT IS NOT PRETTY. COMING UP, THE ENERGY STANDOFF BETWEEN RUSSIA AND EUROPE. >> OUR GUIDANCE IS VERY CLEAR. TO PAY IN RUBLE. IF THIS IS NOT FOR SEEN IN THE CONTRACT, TO PAY IN RUBLE IS THE BREACH OF OUR SANCTIONS. JONATHAN:
RIGHT NOW, THERE IS NOTHING CLEAR ABOUT THE ENERGY SITUATION IN EUROPE. THAT CONVERSATION, NEXT. ♪ >> OUR GUIDANCE HERE IS VERY CLEAR. TO PAY IN RUBLE, IF THIS IS NOT FORESEEN IN THE CONTRACT, TO PAY IN RUBLE IS A BREACH OF OUR SANCTIONS. WE HAVE AROUND 97% OF ALL CONTRACTS THAT EXPLICITLY SITUATE PAYMENTS IN EUROS OR DOLLARS. COMPANIES WITH SUCH CONTRACTS SHOULD NOT EXCEED TO THE RUSSIAN COMMAND, THIS WOULD BE A BREACH OF THE SANCTION. JONATHAN: RUSSIA CUTTING OFF GAS APPLIED TO POLAND AND BULGARIA UNTIL PAYMENTS ARE MADE IN RUBLE.
THE GERMAN ECONOMIC MINISTER SAID THIS. THE COUNTRY'S GAS SUPPLY, WE ARE DOING EVERY THING TO KEEP IT THAT WAY. IT IS QUOTE, STABLE RIGHT NOW. I DO NOT THINK -- TO MAKE SENSE OF SOMETHING I DO NOT THINK WE CAN MAKE SENSE OF, MARIA, CAN YOU MAKE SENSE OF WHAT IS GOING ON, WHY POLAND AND BULGARIA HAVE BEEN CUT OFF, SAYING NO ONE CAN PAY IN RUBLES? MARIA: THE ONLY THING CLEAR AT THIS HOUR IS THIS IS A MAJOR ESCALATION BETWEEN RUSSIA AND THE EUROPEAN UNION.
A LOT OF THIS IS POLITICAL. POLAND HAS BEEN INCREDIBLY HAWKISH ON THE RUSSIAN GOVERNMENT, THEY HAD GAS CUT OFF. THE SAME HAPPENED AND BULGARIA. WE ARE SEEING RUSSIA IS MAKING GOOD ON THE THREAT, WE ALWAYS KNEW THIS IS GOING TO BE THE MOST DELICATE TIME IN THE SAGA, THE END OF APRIL, BEGINNING OF MAY. IF YOU ARE A EUROPEAN COMPANY, IT IS DIFFICULT TO NAVIGATE THE SPACE. THE HEAD OF THE COMMISSION IS GIVING YOU A CLEAR GUIDANCE, DO NOT PAY IN RUBLE. THIS IS SOMETHING THE RUSSIANS ARE DOING TO PROP UP THEIR ECONOMY AND CURRENCY THAT WOULD BE IN BREACH OF SANCTIONS.
AT THE SAME TIME, COMPANIES BELIEVE THERE IS A GREAT AREA WHERE THEY PAY IN EUROS AND GAS TO CONVERT IT INTO RUBLES. THERE'S A BIG THREAT FROM THE RUSSIANS SAYING IF YOU DO NOT PAY, WE WILL MAKE GOOD ON THIS. YOU WILL NOT GET YOUR GAS. WE HAVE SEEN AND BULGARIA. ONE THING I WOULD NOTE IS WE ARE NOT EXPECTING ANY CUT OFF OF GAS SUPPLY FROM RUSSIA FOR THE TIME BEING. IF ANYTHING, IT WOULD BE AT THE END OF MAY. FOR THE TIME BEING, IT SEEMS
THE SITUATION IN GERMANY IS ABLE, I WOULD WALK MIND -- REMIND EVERYONE THAT POLAND, LIKE UKRAINE IS A TRANSIT COUNTRY. JONATHAN: LET US GO THROUGH THIS TOGETHER. OUR REPORTING SUGGESTS THEY MADE RUBLE PAYMENTS TO RUSSIA. 10 BUYERS OPENED RUBLE ACCOUNTS. I AM TRYING TO UNDERSTAND WHY POLAND AND BULGARIA GOT CUT OFF, YOU HAVE GOT URSULA SAYING YOU CANNOT MAKE PAYMENTS IN RUBLES.
WE ARE REPORTING THIS PAYMENTS HAVE BEEN MADE. SURELY, IF THE RUSSIANS ARE SAYING THEY NEED TO BE PAID IN RUBLES AND YOU DO NOT GET YOUR GAS IF YOU DON'T, THAT MAKE SENSE FOR POLAND AND BULGARIA TO BE CUT OFF. WHY IS NO ONE ELSE BEING CUT OFF? HAVE THEY BEEN PAYING IN RUBLES? MARIA: THEY DECIDED THEY WOULD BE OPEN FOR THIS, HUNGARY SET ON THE RECORD THEY WOULD PAY RUBLE AND DID NOT SEE AN ISSUE WITH THAT. FOR THE OTHER THREE, WE DID GET
A COMMENT SAYING IT WAS NOT AUSTRIA. AT ONE POINT IT WAS SUGGESTED THE COUNTRY COULD DO THAT. FOR THE TIME BEING, THIS IS A GUESSING GAME IN TERMS OF THE OTHER THREE. WHEN IT COMES TO THE OTHER 10
ACCOUNTS, EASTERN EUROPEAN COMPANIES, NOT COUNTRIES, COMPANIES. IF YOU ASK WHY THIS IS HAPPENING WITH POLAND, IT IS POLITICAL. THIS IS A GOVERNMENT LED BY THE POLAND PRIME MINISTER, WHO IS INCREDIBLY HAWKISH ON RUSSIA WHO SENT IN TANKS AT THE START OF THE WEEK. WHEN YOU GO TO BULGARIA, THE
ECONOMY DOES NOT DO A LOT OF DAMAGE, BUT IT SENDS A CLEAR SIGNAL TO OTHER COUNTRIES COULD COME NEXT. JONATHAN: IF HE HAD TO EXPLAIN WHAT WAS GOING ON WITH RUSSIA, WHAT WOULD YOU TELL THEM? >> I WOULD TELL THEM IT IS COMPLICATED. THIS IS SOMETHING I'D IMAGINE THE ADMINISTRATION WAS EXPECTING. EVERYONE KNEW PRESIDENT PUTIN
HAD THE ABILITY TO DO IT, WHAT HE IS DOING, THERE WAS AN OPINION PIECE ABOUT THIS, HE IS DUMPING THE EUROPEANS BEFORE THEY HAVE THE CHANCE TO DUMP HIM. THIS WAS ALMOST INEVITABLE. HE HAS BEEN SAYING FOR WEEKS YOU HAVE TO PAY IN RUBLE, OR WE WILL CUT OFF SUPPLY. MARIA IS TALKING ABOUT A POTENTIAL GRAY AREA. IT SEEMS SOME COMPANIES ARE
USING THE GRAY AREA. WHAT PRUDENT IS DOING BY FORCING COMPANIES TO SET UP BANKS -- ACCOUNT THAT THESE BANKS, GUESS YOU CAN PAY IN EUROS AND U.S. DOLLARS. THE BANK WILL TAKE CARE OF THE TRADE AND EXCHANGE.
BUT THAT PROTECTS GAZPROM BANKS FROM ANY SORT OF SANCTION. YOU CANNOT SANCTION THE BANK IF YOU ARE RELIANT ON THEM DOING THESE TRANSACTIONS TO MAKE SURE YOU GET SOME SUPPLY. WITH THE U.S. IS DOING IS WHAT WE HAVE KNOWN
SINCE MARCH. PRESIDENT BIDEN SAID THIS ALONGSIDE URSULA, THEY ARE GOING TO SEND SO MANY CUBIC METERS OF LNG, BUT IT IS TINY IN COMPARISON. JONATHAN: MARIA, HAPPY BIRTHDAY. I FORGOT YOU WERE NOT HERE. MY PLEASURE, OUR PLEASURE. THE SITUATION IN EUROPE CONTINUES FOR MANY PEOPLE TO BE ABSOLUTELY EMBARRASSING. THE SITUATION FOR THE ECB GETTING INCREASINGLY DIFFICULT, STUCK BETWEEN A ROCK AND A HARD PLACE. THE ROCK ON THE HIGH INFLATION,
THE HARD PLACE DECELERATING GROWTH. MARK IS OPTIMISTIC, HE SAID THE RUSSIAN GAS EXPORT DEVELOPMENT OUT OF EUROPE ARE A REMINDER OF THE POTENTIAL FOR ESCALATION. HOWEVER, EUROPE HAS MANY DIPLOMATIC AND FISCAL RESPONSE ABILITIES TO PREVENT AN ENERGY INDUCED RECESSION.
KATY KAMINSKI, DO YOU AGREE OR DISAGREE? KATY: WE WILL NOT KNOW THE ANSWER TO THAT FOR A WHILE. WHAT WE DO KNOW IS THIS NARRATIVE OF INFLATION IS MUCH MORE AT PLAY BECAUSE OF THE SCARCITY OF THE ISSUES RELATED TO OIL PRICES, THE VOLATILITY WE ARE SEEING IS GOING TO CONTINUE TO PLAGUE INVESTORS AND COMPANIES. I THINK RIGHT NOW, WE ARE IN A STANDOFF SITUATION, WHICH IS NEVER A GOOD SITUATION FOR SUPPLY CHAINS. THAT IS WHERE I VIEW IT, YES, A RECESSION COULD ALWAYS BE AN ISSUE. BUT RIGHT NOW, IT IS STILL VERY UNCLEAR, VERY VOLATILE. WE'LL HAVE TO WAIT AND SEE.
JONATHAN: FOR MUCH OF THIS YEAR, THE ONLY SURE BEEN THE EQUITY MARKET WAS ENERGY. ENERGY IN THE COMMODITY MARKET, ENERGY EQUITIES. IF WE SEE GROWTH DECELERATE, DO YOU EXPECT ENERGY STOCKS TO HOLD UP? BOB: I THINK THEY WILL EXPERIENCE MORE PROFIT TAKEN, LIKE WE HAVE SEEN IN RECENT DAYS. THEY WERE 40% OF THEIR PEAK, TAKING MONEY OFF THE TABLE. JONATHAN: READY YOU STAND? -- WHERE DO YOU STAND? KATY: ENERGY IS BULLISH ON OUR SIDE, IT WAS EXTREMELY EXTENDED UNTIL EARLY MARCH. WHAT I WOULD SAY IS WE ARE STILL SORT OF SEEING SOME INFLUENCE OF TECHNICAL SIGNALS SAYING THAT ENERGY IS GOING TO REMAIN HIGH. BUT WE ARE DEFINITELY MORE
TEPID IN TERMS OF THE FACT THERE IS A LOT MORE VOLATILITY RELATED TO DEMAND ISSUES. WE WERE TALKING ABOUT WHAT WAS GOING ON WITH CHINA RECENTLY, THAT IS NOT IN THE NARRATIVE TODAY, NOTHING NARRATIVE IS ZERO. WE ARE KIND OF SEEING A LOT MORE OF A SOMEWHAT POTENTIAL INFLECTION POINT FOR THIS TRADE. BUT IT IS STILL'S CONSOLIDATING. JONATHAN: ALSO TO CATCH UP. THIS SITUATION, WHICH IS INCREDIBLY DIFFICULT TO BREAK DOWN, BOB DOLL AND KATY KAMINSKI , THE EURO IS DEEPLY NEGATIVE.
THIS IS THE EUROS PROBLEM IN A NUTSHELL. HE SAID BASED ON MARKET PRICING, EVEN IF THE FED STOPS TURNING IN A FEW MONTHS, THE U.S. IS EXPECTED TO HAVE HIGHER RATES THAN THE EURO THROUGH THE WHOLE OF 2023.
THERE'S A DIFFERENCE BETWEEN RATE HIKES IN THE NEAR TERM AND THE PROSPECT OF RATE HIKES DOWN THE ROAD. HE SAID THE VALUE OF A BIRD IN HAND, RATE HIKES SOON, HAS GONE UP. THE VALUE OF A BIRD IN THE BUSH, RATE HIKES IN THE FUTURE, HAS GONE DOWN BECAUSE OF INCREASED LONG-TERM UNCERTAINTIES. WHAT WE DO KNOW IN THE NEAR
TERM IS WE GET FED HIKES. LONGER-TERM, ECB, I HAVE NO IDEA WHAT IT CAN DELIVER. THAT IS THE PROBLEM FOR THE EURO, WEAKER FOR A FIFTH STRAIGHT SESSION. 10 FIVE HANDEL, 103 WAS LOWER THE LAST 10 YEARS, THE EURO-DOLLAR, THAT WAS LATE 2016, EARLY 2017.
AS WE SAID REPEATEDLY, THE ECB, THAT WAS A POLICY GOAL. AN OBJECTIVE TO GET A WEAKER CURRENCY TO DO SOMETHING ABOUT INFLATION THAT BACK THEN, WAS TOO LOW. THIS TIME, THAT IS NOT A POLICY GOAL, THAT IS A PROBLEM. COMING UP LATER, ALPHABET REPORTING A REAR EARNINGS MISS WITH SLOWING SALES STARTING TO BITE.
THE CONVERSATION AHEAD WITH JUSTIN PATTERSON. AT THAT STOCKED AT ABOUT 3.7%, EQUITY FUTURES. FUTURES ONLY UP 2/10 OF 1% ON THE S&P 500, THEY WERE HIGHER BY ABOUT 1%.
THE NASDAQ HAS BEEN DRIFTING IN AND OUT OF NEGATIVE TERRITORY FOR THE LAST 20 MINUTES. FROM NEW YORK, THIS IS BLOOMBERG. JONATHAN: THIS EQUITY BOUNCE DOES NOT STICK. RIGHT NOW, JUST ABOUT POSITIVE
ON THE NASDAQ, NEGATIVE RETURN ON THE S&P 500 COME UP ABOUT A QUARTER OF 1%. THE BOND MARKET SHAPING THINGS AS FOLLOWS ON 2/10 OF 30, YIELD WAS HIGHER THAN HIS EARLIER. 25180 ONE, ABOUT 25 BASIS POINTS BELOW THE HIGHS OF THE YEAR, WHICH ARE ONLY A WEEK AGO. FIRST UP, JP MORGAN AND JETBLUE UNDERWAY ITS OVERWEIGHT, CITING LOW CONFIDENCE IN MANAGEMENT ABILITY TO GET HIGHER PRICES UNDER CONTROL. STOCK IS DOWN ANOTHER 2.7%.
DOWNGRADE CAPITAL WENT TO NEUTRAL, 143 PRICE TARGET EXPECTING NEW EARNINGS GROWTH FOR THE NEXT COUPLE YEARS. FINALLY, RAISING MICROSOFT PRICE MARKET TO 350 AFTER EARNINGS, HIGHLIGHTING IMPRESSIVE GUIDANCE AND SOLID DEMAND. COMING UP, REWARDING MICROSOFT RESULTS, BUT A DIFFERENT STORY FOR ALPHABET. THAT CONVERSATION UP NEXT WITH JUSTIN PATTERSON. THAT STOCK IS DOWN 3.7%, THIS IS BLOOMBERG. JONATHAN: 24 SECONDS AWAY FROM THE OPENING BELL, GOOD MORNING. ON THE NASDAQ, WE ARE JUST
ABOUT POSITIVE BY 0.05%, NEGATIVE ON THE S&P UP A QUARTER OF 1% AND YESTERDAY, WAS BRUTAL. THE OPENING BELL, LET'S GET TO THE BOND MARKET, YIELDS HIGHER AT THE FRONT END TO THE CURVE COME UP THREE BASIS POINTS. EVEN THAT MOVE TODAY, 27561. EURO-DOLLAR DOWN 9/10 OF 1%. THIS IS THE FIFTH STRAIGHT DAY, EURO-DOLLAR 10541.
CREWS HOLDING ONTO A 100 OR 125, -1.4%. DOWN ABOUT A DOLLAR AND $.50 SO FAR. THAT IS 20 SECONDS INTO THE SESSION, LET'S BREAK IT DOWN. INFORMATION TECHNOLOGY BOUNCED
BACK, IN A 9/10 OF 1%. S&P UP A LITTLE MORE THAN INTENSE, LET US CALL IT 2/10 OF 1% HIGHER. KAILEY: THE LEADING THE TECHNOLOGY SECTOR IS MICROSOFT.
THAT WAS THE NEWS STORY FROM TECH REPORTS WE GOT AFTER THE BELL YESTERDAY. THANK YOU VERY MUCH TO THE CLOUD, THAT WAS THE DRIVING FORCE BEHIND 18% GROWTH BONDS REVENUE. THE 19TH STRAIGHT QUARTER OF DOUBLE-DIGIT SALES GROWTH FOR THE COMPANY. THE SALES PICTURE IS NOT SO GREAT FOR ALPHABET, THEY ARE FACING A LOT OF HEADWIND ON THE ADVERTISING FRONT INCLUDING SOFTNESS IN THE EUROPEAN MARKET, TIKTOK TAKING A BITE OUT OF YOUTUBE AND THE APPLE PRIVACY RULE CHANGES THAT DROPPED THINGS LIKE FACEBOOK. IT'LL BE INTERESTING TO SEE HOW THAT SHAKES OUT AFTER THE BELL. THE CHIPMAKER HAD TO CUT ITS FORECAST DUE TO CHINA'S COVID ZERO POLICY, THAT CREATING SUPPLY CONSTRAINTS FOR THE COMPANY. FINALLY, A ON TWITTER. IT WILL BE REPORTING TOMORROW,
BUT NO CONFERENCE CALL BECAUSE ELON MUSK IS COMING INTO BY THE COMPANY. 5420 IS THE DEAL PRICE, 4908 IS WHERE WE TREATED THE OPENING BELL. AND INVESTORS ARE STILL HESITANT AROUND SOME OF THE RISK, INCLUDING WHERE HE WILL GET THE FINANCING AND WHAT REGULATORS THINK. JONATHAN:
FIVE DOLLARS OF DOUBT IN THE EQUITY MARKET RIGHT NOW. KAILEY LEINZ KEEPING AN EYE ON THAT. TO ALPHABET AND MICROSOFT, THREE BIG NAMES ARE STILL RIGHT IN FRONT OF US.
TAYLOR: COUNTDOWN TO THE HORSE RACE, AS YOU SAID. META IS ONE WE ARE GOING TO BE WATCHING. WHEN YOU THINK ABOUT THE CHIP SHORTAGE TO WHERE WE ARE WITH EACH SHORTAGE BEHIND US, THEN GOOD RATES ON THE CONSUMER IF YOU THINK ABOUT APPLE AND AMAZON, KAILEY CORRECTLY SAID NO ONE CARES ABOUT TWITTER GIVEN THE STORY IS OLD WHEN HE THINK ABOUT QUARTERLY RESULTS. WHAT TO WATCH, DECENT NUMBERS EXPECTED ON THE TOP LINE.
BOTTOM LINE MAY BE LOOKS A LITTLE SQUISHY. I WANT TO DO A HUGE CAVEAT, APPLE IS GOING TO GENERATE NORTH OF $90 BILLION IN FREE CASH FLOW THIS YEAR. AMAZON FROM THE CLOUD BUSINESS ALONE WILL GENERATE NORTH OF $20 BILLION IN OPERATING PROFIT. I WANT TO BE CAREFUL WHEN WE THINK ABOUT DECLINES ON THE BOTTOM LINE. WE JUST THINK ABOUT MASSIVE FREE CASH FLOWS, THESE COMPANIES ARE GENERATING. THE BIG PICTURE, TAKE A LOOK AT
THE NASDAQ 100 AND THE FORWARD PE RATIOS, RELATIVE TO THE S&P 500, SOME ARGUABLY MAY SAY IT IS STUNNING TO LOOK CHEAP GIVEN THE BIG DECLINES. YOU CAN SEE BIG DECLINES GOING BACK TO ABOUT 2020 WHEN YOU THINK OF VALUATIONS ON A PE BASIS. JONATHAN: WHAT A TOUGH MONTH IT HAS BEEN FOR THE NASDAQ 100, DOWN MORE THAN 20% OR SO, DOWN ABOUT 20% RIGHT NOW. GOOGLE AND ALPHABET DOWN BY FOUR PERCENTAGE POINTS, JUSTIN PATTERSON SAYING WE ARE LOWERING LEARNINGS ESTIMATE SERVE RELATE -- REFLECT ELEVATED COST. HE JOINS US
RIGHT NOW FOR MORE. YOUR TIME IS VALUABLE THIS TIME OF YEAR, THANK YOU FOR GIVING IT TO US. LET US START WITH THE LIKES OF ALPHABET. YOU WERE A LITTLE CAUTIOUS GOING INTO THIS, ANYWAY.
WAS WHAT YOU EXPECTED AND THIS NUMBER WHEN IT WAS RELEASED IN THE LAST ONE HE FOUR HOURS? -- 24 HOURS? JUSTIN: BETTER THAN WE FORECASTED, REFLECTING THE DURABILITY. YOUTUBE WAS THE BIG NEGATIVE VARIANCE FOR OUR MODEL. THAT WAS THE FUNCTION OF SOFTER BRAND ADVERTISING ENVIRONMENT, PULLBACKS FROM EUROPE. A DIFFICULT, FROM A YEAR-OVER-YEAR PERSPECTIVE AND THE APPLE PLATFORM CHANGES. NOW, THERE IS AN OPEN ENDED DEBATE ON WHETHER TIKTOK IS HAVING AN IMPACT.
THOSE FACTORS THROW IN THE FX WEAKNESS, WHERE THE EURO IS AT CURRENTLY, THE FORECAST DOES NOT CHANGE THAT MUCH. EARNINGS GROWTH ARE LARGELY THE SAME. JONATHAN: THEY ARGUABLY TRANSFORM THE COMPANY WHEN IT COMES TO BUYBACKS. IS THAT NOT MAKING A DIFFERENCE?
CAN YOU HELP ME UNDERSTAND CAPITAL RETURNS AND WHAT IT MEANS FOR THE STOCK? JUSTIN: THERE ARE TWO PIECES IN THERE. IF I LOOK AT OVERALL OPERATING INCOME GROWTH, THAT WAS VERY HEALTHY THIS QUARTER, ROUGHLY 20%. WHERE YOU SOME MORE OF THE VARIATION WAS BELOW THE LINE AT THE INTEREST IN FINANCIAL INCOME LEVELS, VARIOUS INVESTMENTS THAT ARE GETTING NEGATIVE AND THUS YOU HAD EPF GROWTH LOOK MORE MUTED.
BUYBACK HELPS INSULATE THAT OVER THE COURSE OF THE YEAR, WITH GOOGLE IT HAS NEARLY GIVEN ALL OF FREE CASH FLOW GENERATION BACK TO THE BUYBACK. THAT IS WHY I AM NOT TOO CONCERNED ABOUT THE STOCK. THERE IS A STRONG BALANCE SHEET, STILL HEALTHY FREE CASH GENERATION. WE WORK THROUGH SOME TOUGH TIMES 2022, CERTAINLY GETTING BACK TO MORE NORMAL EARNINGS GROWTH PROFILE NEXT YEAR.
JONATHAN: I'VE GOT A FEW OTHER NAMES TO RATTLE THROUGH, SOMETHING THAT JUMPED OUT FOR ME. JUST TO SEE 54 ANALYSTS ON ALPHABET WITH 54 BUYS AND A ZERO HOLDS, ZERO CELLS. DOES THAT MAKE YOU UNCOMFORTABLE, JUST HOW BIG THE CONSENSUS IS AROUND A SINGLE NAME AT THE MOMENT? JUSTIN: I TO SAY GOOGLE HAS BEEN THE MOST CONSENSUS LONG AND THE GROUP SO FAR. THAT REFLECT THE DURABILITY OF
THE BUSINESS, WHERE AS YOU SAW META DO INCREMENTAL PRESSURE FROM PLATFORM CHANGES BY APPLE, YOU REALLY HAVE NOT HAD AS MUCH OF A HEADWIND WITHIN GOOGLE'S BUSINESS. MORE DIVERSIFIED, LESS PLATFORM PRESSURE, CREATES MORE DURABILITY FOR THE LONG-TERM FREE CASH GROWTH. IN A MARKET LIKE THIS, WHERE ANY STOCK CAN GET SOLD, THAT CREATES A BIT OF A PORTFOLIO TURNOVER. RELATIVE TO OTHERS, YOU HAVE NEGATIVE REVISIONS ON ALPHABET. JONATHAN: DOWN 17% MONTH TO DATE, IT HAS BEEN BRUTAL. ANYWAY TO CROSS HERE FOR META,
TO SEE IF WE LEARNED ANYTHING FROM ALPHABET, WHAT IT COULD MEAN FOR THEM? JUSTIN: COMBINING THESE RESULTS OF SNAP FROM LAST WEEK, BRAND ADVERTISING A BIT SOFTER, THAT IS ONE CAUTIONARY FLAG. JUST THE EURO REMAINS A HEADWIND, I THINK ROUGHLY 105 THIS MORNING. THAT IS ONE MORE FACTOR THAT WILL WAIT ON REPORTED REVENUE GROWTH, MAKING MUTUAL GROWTH THE KEY VARIABLE TO WATCH. JONATHAN: YOU ARE IN THE INTO TO ANSWER THE NEXT QUESTION. THE SITUATION WITH TWITTER,
WHAT ARE WE LEARNING ABOUT THE SITUATION AND THUS LESS CENSORSHIP MEAN MORE DIFFICULTY WITHOUT EVER TIES OR'S, AND IS THAT TO THE BENEFIT -- ADVERTISERS, AND IS THAT TO THE BENEFIT OF FACEBOOK? JUSTIN: TWITTER HAS 85% BRAND REVENUE EXPOSURE, CONSENSUS OF AROUND 25% ADDED GROWTH FOR THE QUARTER. BETTER QUALITY ASSETS ARE GROWING, ROUGHLY AROUND 25% RIGHT NOW. TWITTER IS MORE EXPOSED TO THE NEGATIVE REVISIONS GOING FORWARD , WHICH REINFORCES THE NEED TO SELL. TWITTER IS REALLY A NEWS PLATFORM MORE THAN ANYTHING ELSE.
IT HAS TO GO OUT, GET THE USERS ENGAGED MORE FIRST. IT IS NOT LIKE ELON MUSK HAS PLANS FOR THAT. IF IT CAN DO THAT IN A BRAND A SAFE MANNER, PERHAPS ADVERTISERS STICK AROUND. RIGHT NOW, A LOT MORE UNCERTAINTY, A LOT MORE CONTENT MODERATION THE NEEDS TO BE DONE. BE CAUTIOUS ABOUT NEAR-TERM PULLBACKS OF SPEND ON TWITTER. JONATHAN: WOULD YOU THINK ABOUT THE FACT WE GET EARNINGS THIS WEEK, BUT NOT THE CALL? ANY REACTION? DOES THAT TELL YOU ABOUT SOMETHING WE MIGHT GET, OR AM I BEING TOO CYNICAL? JUSTIN: A LITTLE MORE OF THE LATTER, IT IS STANDARD PRACTICE THAT ONE DEAL IS TAKING PLACE, COMPANIES PULL THE CONFERENCE CALL.
I WOULD NOT READ TOO MUCH INTO THAT. I'LL BE CURIOUS TO SEE IF TWITTER GOES THROUGH A DIFFICULT SHAREHOLDER LETTER PROCESS OR KEEPS IT. JONATHAN: WHAT DO I READ INTO 48 HANDLE ON THE STOCK IN EARLY TRADING THIS MORNING? 48 NOW, THE OFFER CRISIS WAS $34.20? -- $54.20? JUSTIN: THERE'S CERTAINLY DOUBT WHETHER THAT IS JUST REGULATION OR A VIEW THAT PERHAPS ELON MUSK MAY BE OVERPAYING AND RETHINKING THE BED. PROBABLY MORE REGULATION CONCERNS, BUT WE WILL SEE WHAT TRANSPIRES. JONATHAN: I KNOW YOU HAVE A FEW MORE
COMPANIES TO COVER THROUGH THE EARNINGS SEASON, THANK YOU. TWITTER DOWN 1.8%, $48.80. COMING UP, BIG WEEK. >> IT WILL COME DOWN TO FRIDAY'S DATA. THE COST INDEX IS GOING TO BE A VERY IMPORTANT DATA POINT FOR THE FED IN TERMS OF DETERMINING HOW MUCH WAGE PRESSURES ARE STILL IN THE SYSTEM. JONATHAN: THE EMPLOYMENT COST INDEX. WHERE THE EUCLID A BIG WEEK OR NOT, I DO NOT KNOW. MICHAEL PURVES JOINS US NEXT.
♪ >> IT WILL COME DOWN TO FRIDAY'S DATA. THE COST INDEX IS GOING TO BE A VERY IMPORTANT DATA POINT FOR THE FED IN TERMS OF DETERMINING HOW MUCH WAGE PRESSURES ARE STILL IN THE SYSTEM. IT HANGS ITS HAT ON. JONATHAN: THE DATA COMING UP THIS FRIDAY, HOW DO YOU TAKE A PORTFOLIO FROM 1.5 BILLION DOLLARS TO $35 BILLION?
HE REPEATEDLY MADE MATERIAL FALSE AND MISLEADING STATEMENTS ABOUT PORTFOLIO SECURITIES TO NUMEROUS LEADING GLOBAL INVESTMENT BANKS AND BROKERAGES, FOLLOWING SO MUCH OF THE LAST YEAR. >> WE HAVE A SITUATION WITH THE FORMER CEO OF OUR KIDDOS -- RK GHOSTS -- ARCHEGOS WERE ARRESTED THIS MORNING. WE ARE EXPECTING A PRESS CONFERENCE, WE HAVE A SITUATION WITH A LOT OF DETAIL. IN ALMOST 60 PAGE, UNSEALED INDICTMENT IS REVEALED JUST HOW BIG ARCHEGOS GOT, HIS COMMUNICATION WITH OTHER BANKS AND THE SHEER SIDE OF THE POSITIONS HE TOOK.
HOW MUCH HE OWNED OF GSX AND DISCOVERY, HUGE STOCKS THAT ARE TRADED EVERY DAY IN NORMAL MARKETS. WE KNOW THE LOSS THE BANKS HAD GONE THROUGH, NOW WE ARE SEEING THE EXTENT TO WHICH ARCHEGOS HAD GONE. THEY ARE ACCUSED OF MARKET MANIPULATION AND FRAUD. RACKETEERING APPEARS AS WELL AND THE INDICTMENT. JONATHAN: HAVE WE GOT AN IDEA OF THE DEFENSE AND HOW EMBARRASSING THIS MIGHT BE? SOME OF THE NAMES OF THE BANKS ON THAT BOARD? SONALI: WE WANT TO SEE WHAT THEY WILL SAY NEXT. WILL HE COUNTERSUED IN ANY FASHION? WILL BANKS SEEK TO RECLAIM LOSSES? THERE IS A TALL ORDER IN WHICH THE BANKS WOULD TRY TO RECLAIM, THERE ARE OTHER THINGS GOING ON IN THE BACKGROUND.
THE DOJ AND OTHER REGULATORS KEEPING AN EYE ON HOW THIS HAPPENED WITH THE BANKS. ARE THERE MORE REGULATIONS THAT NEED TO BE IN PLACE? WAS THERE ANYTHING UNTOWARD THAT HAPPENED IN THE BANKS THEMSELVES? HE AMASSED THE POSITIONS ON MARGIN, THROUGH SWABS. SHOULD THERE HAVE BEEN MORE CLARITY? SHOULD THERE HAVE BEEN MORE COMMUNICATION WITH REGULATORS EARLIER ON? THAT IS THE LOOMING QUESTION. JONATHAN: THERE ARE SOME ALLEGATIONS SOME PEOPLE MIGHT LOOK AT AND SAY, I THOUGHT THAT WAS JUST NORMAL PRACTICE. YOU DON'T HAVE TO DISCLOSE IT. DO THINK THEY'RE GOING TO BE NERVOUS FUND MANAGERS AS WELL? SONALI: YES, BECAUSE THERE ARE SOME FUNDS THAT WERE NAMED. THERE WERE NOT NAMED, EXACTLY, IT'S IN THEIR REFUNDS FUNDS IN THE BACKGROUND.
A BLOCK TRADING INVESTIGATION IS ALSO GOING ON IN THE BACKGROUND IN WHICH BOTH FUND MANAGERS AND PRIME BROKERAGES ARE KEEPING AN EYE ON SOME OF THE STOCKS NAMED. THEY INVOLVE HUGE BLOCK TRADES. IT IS NOT JUST THE FUND MANAGERS BEING NERVOUS. COMPANIES ARE FRUSTRATED WITH WHAT HAPPENED. IF YOU ARE DISCOVERY AND SOMEBODY AMASSED THIS MUCH OF YOUR STOCK, WHERE ARE THE BANKS LETTING YOU KNOW WHAT IS GOING ON? WE SPOKE TO SOME OF THE COMPANIES IN WHICH ARCHEGOS WAS AN INVESTOR, THEY DID NOT GET A LOT OF CLARITY. SO A LOT OF QUESTIONS ON HOW INVESTORS ARE ABLE TO MASS POSITIONS. JONATHAN:
FASCINATING STORY, LOOKING FORWARD TO YOUR COVERAGE THROUGH THE NEXT FEW WEEKS AND YEARS. JOINING US NOW, INDUSTRY TOUGH IS MICHAEL PURVES WITH THE S&P BOUNCING BACK BY 1%, NASDAQ UP 1.46. YOU ARE KEEN TO COMPARE THE S&P EQUAL WAY WITH THE S&P 500 MARKET AREA WHAT DOES THAT TELL YOU? MICHAEL: THE S&P EQUAL WITH THE CYCLICAL FLASH VALUE PROXY IN A WAY, IT TAKES THE BIG TECH STOCKS DOWN TO THE SITTING POSITIONS OF MUCH SMALLER COMPANIES THAT ARE MUCH MORE ECONOMICALLY SENSITIVE AND DO NOT HAVE THE STRUCTURAL GROWTH OR FANTASTIC DIGITAL BUSINESS MODELS SOME BIG TECH COMPANIES HAVE THE BENEFIT OF.
IT IS REALLY JUST A VERY SIMPLE WAY. WHAT I THINK IS INTERESTING IS THE EQUITY RISK PREMIUM FOR VARIOUS INDUSTRIES, THE SPX OR OTHERS, THERE IS A VERY LARGE DISPERSION OF WHERE THE EQUITY RISK PREMIUMS ARE. WE ALWAYS SORT OF FOCUS ON THE S&P 500, THAT IS WHERE THE CONVERSATION STARTS AND STOPS. IN TERMS OF RELATIVE VALUATION TO TREASURY DISCUSSION, THOSE METRICS ARE REALLY VERY DIFFERENT COMPARED TO HISTORIC NORMS. THE EQUAL WEIGHT INDEX
HAS BEEN A MUCH EASIER BY THEN THE S&P AND NASDAQ. JONATHAN: SOME PEOPLE WONDER NOT WHETHER IT IS TIME TO BUY THE NASDAQ, BUT TIME TO BUY THE CYCLICALS, THE BANKS. LET'S TALK ABOUT THE BANKS, THEY HAVE DONE POORLY. I'VE GONE THROUGH YEAR TODAY FIGURES ON JP MORGAN, DOWN 22%. CITIBANK DOWN 60% AND BANK OF AMERICA DOWN 17% -- 16% AND BANK OF AMERICA DOWN 17%. THE TRAIT HAS NOT WORKED. IS THERE ANY REASON TO BELIEVE IT WILL WORK AT SOME POINT THIS YEAR? MICHAEL: YOU KNOW, YOU LOOK AT BANK OF AMERICA VALUATION RELATIVE TO THE MARKETS. IT IS THAT A PRETTY CHEAP LEVEL.
I DO NOT UNDERSTAND THE SEVERITY OF THE DOWN MOVE IN BANKS, I HAVE BEEN BUYING THE DIP AND LARGE CAPITAL FINANCIAL, HIGHER RATE STORY SHOULD BE VERY CONSTRUCTIVE. IT SEEMS TO BE THE RECESSION AND INEVITABLE NARRATIVE THAT IT IS COMING ROUND THE CORNER SOMEHOW, BUT I STILL STRUGGLE WITH THAT. I AM NOT ON THE RECESSION IS AN OBVIOUS BASE CASE IN 2023, THEREFORE I AM MUCH MORE COMFORTABLE HOLDING THE BANKS. IF WE DO GET A RECEPTION -- RECESSION, I WOULD EXPECT IT TO BE LINEAR. YES, THERE IS SOME CORRELATION WITH THE TRENDING CURVES OF THE PERFORMANCE OF BIG BANK SHARES.
SOME HISTORICAL TRADING HISTORY. AGAIN, I THINK JAMIE DIMON WILL TELL YOU THIS, HIGHER RATES ACROSS THE COVER MUCH MORE CONSTRUCTIVE. IF YOU OPENED A SIMPLE BANK ACCOUNT AND LOOK AT THE INTEREST RATE YOU GET PAID, TURN AROUND AND BUYING TEAR TREASURIES WITH THAT IS A NICE ARBITRAGE FOR THE BANKS TO LOCK UP. JONATHAN: I LOOK FORWARD TO SEEING HOW MUCH INTEREST GOES ON MY DEPOSITS THE NEXT COUPLE MONTHS. IT WILL BE ANYWHERE NEAR THAT AMOUNT.
LOOKING FORWARD FROM HERE, HE SAID THAT IS NOT THE OBVIOUS CASE FOR 2023. YOU THINK IT OBVIOUS BASE CASE EXISTS NEXT YEAR? MICHAEL: THAT IS A GREAT QUESTION. I THINK THIS CYCLE, ONE THING ABOUT IS THERE IS MASSIVE DISTORTIONS WITHIN THE CYCLE. I'D ARGUE THE MARKET JUMPED TO LATE CYCLE CONDITION, EVEN EARLY IN 2021. EQUITIES, I AM ARGUING ARE MORE THIS CYCLE. YOU HAVE THESE ODD DISPLACEMENTS.
IF YOU LOOK AT THE PROJECTED EARNINGS GROWTH, NOT MY EARNINGS GROWTH ESTIMATES BUT THOSE COMPILED BY BLOOMBERG, THEY ARE NOT GROWING THE WAY THEY WERE IN 2021. BUT THE EARNINGS TRAJECTORY IS REALLY NOT LOOKING AT ALL LIKE A RECESSION IS SNEAKING AROUND THE CORNER. THE RESILIENCE OF THE EARNINGS STREAMS IS REALLY PRETTY REMARKABLE. I KEEP COMING BACK TO THE EQUITY GYRATIONS, YOU SEE YOUR TODAY, IT IS COMING AFTER AN INCREDIBLY STRONG 2021. WE HAD A FANTASTIC NEARLY 30%
RALLY ON THE S&P 500 ON TOP OF A VERY STRONG 2020. WALKING INTO A MASSIVE FED PIVOT WITH MASSIVE SUPPLY SHOCK THINGS TO UKRAINE EXACERBATING EVERYTHING ELSE, YEAR-TO-DATE THE MARKET IS DOWN 12%. THAT IS NOT THAT SEVERE. I THINK IT IS A TESTAMENT. PEOPLE CAN SAY EQUITIES ARE DOWN, MAYBE THEY ARE NOT SO DUMB.
MAYBE THAT IS A TELL THERE IS A LOT OF INHERENT RESILIENCE WHEN LOOKING AT NOMINAL GDP THIS YEAR THAT COULD BE WELL NORTH OF 8%. VERY STRONG EARNINGS FOR THE LARGER COMPANIES. THEY ARE WITH THE BACK END OF THE TREASURY CURVE, BUT IF THERE IS SOME STABILITY THAT IS DOWN THERE NEXT FEW MONTHS, YOU WILL START SEEING A MUCH MORE CONSTRUCTIVE PATH FORWARD.
BUT NO FUSS IN THE NEAR TERM BROUGHT THAT VOLATILITIES ARE EXTREMELY HIGH. THE UNCERTAINTY FACTORS WILL BE HIGH. IT IS A TRADERS MARKET. I'VE BEEN PLAYING THE MARKET LONG AND SHORT OVER THE LAST THREE MONTHS. JONATHAN: MICHAEL PURVES, GREAT TO CATCH UP. WE NEEDED TO SETTLE DOWN, STABILITY WOULD BE HELPFUL. BUT THE OVERALL MARKET THIS
MORNING, S&P A LITTLE MORE THAN 1%, TECHNOLOGY ANSWERING BACK BY 2.76%. A LOT OF EARNINGS COMING UP. AFTER THE CLOSE, WE HEAR FROM META. TOMORROW, AMAZON AND APPLE. JONATHAN: YESTERDAY WAS BRUTAL GOING INTO THE CLOSE, 25 MINUTES OUT OF THE OPEN, WE ARE POSITIVE.
THERE IS A BOUNCE, WILL IT STICK? NASDAQ 100 UP BY 1.35 PERCENTAGE POINTS. U.S. ATTORNEY'S OFFICE HOLDING A PRESS CONFERENCE ON THE ARCHEGOS CHARGES IT STARTS AT 11:30 EASTERN, THEN BACK TO BIG EARNINGS WITH META REPORTING AFTER THE CLOSING BELL. APPLE, AMAZON AND TWITTER COMING UP TOMORROW. PLUS, A BANK OF AMERICA DECISION AND FINALLY, ROUNDING OUT THE WEEK WITH A READ ON WAGES AND CONSUMPTIONS IS COMING FRIDAY.
FROM NEW YORK, THANK YOU FOR CHOOSING BLOOMBERG TV. THIS IS BLOOMBERG. ♪
2022-04-29 17:24
Show Video
Other news