'Bloomberg Surveillance Simulcast' Full Show 12/28/2022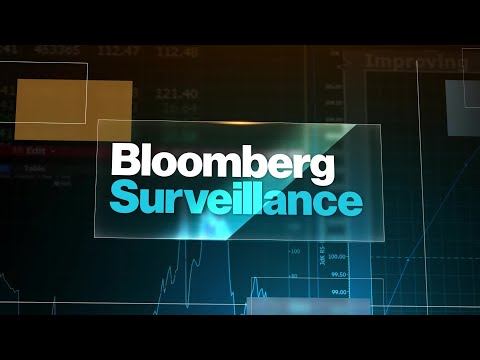 Show Video
♪ >> WE FLIPPED TO GOOD NEWS IS GOOD NEWS AND BAD NEWS IS BAD NEWS. >> EXPECTATIONS NEED TO COME DOWN. WE HAVE HAVE AN INCREDIBLE RUN. RUN. >> THERE IS A LOT OF OPPORTUNITY FOR POSITIVE SURPRISES. >> WE ARE GETTING BACK INTO A MORE NORMAL ZONE ON CONSUMER PRICE SENSITIVITY AND THAT'S KEY.
>> THIS IS BLOOMBERG SURVEILLANCE. KAILEY: FROM NEW YORK CITY, THIS IS BLOOMBERG SURVEILLANCE WITH MATT MILLER. LISA ABRAMOWICZ WILL BE BACK TOMORROW. MATT: I JUST READ THAT THERE ARE A LOT OF WORDS ABOUT THE S&P 500 THIS MORNING. WHEREVER LISA IS I'M SURE IS PAYING CLOSE ATTENTION BUT SHE BE ABLE TO GET BACK. IF SHE IS AN AIRPLANE AWAY FROM US, IT COULD BE DIFFICULT BECAUSE THE TRAVEL CHAOS CONTINUES. KAILEY:
ESPECIALLY FOR SOUTHWEST AIRLINES WITH REDUCED SCHEDULE AGAIN TODAY. THE CEO SAID HE THINKS THINGS WILL BE BACK TO NORMAL BEFORE NEXT WEEK. IF YOU ARE CURRENTLY STRANDED IN AN AIRPORT, PROBABLY ISN'T WHAT YOU WANT TO HEAR. MATT: UNLESS YOU ARE STRANDED IN A GREAT PLACE. MY BROTHERS HAD THEIR FLIGHTS CANCELED IN JAMAICA. THEY WERE SCRAMBLING TO REBOOK
BUT I THOUGHT WHY NOT STAY? KAILEY: THAT SOUNDS BETTER THAN THE COLD WE HAVE BEEN DEALING WITH ON THE EAST COAST FOR THE LAST FEW DAYS. DID YOU SEE THE LATEST DATA OUT OF CHINA AFTER THE NEWS THEY ARE NO LONGER GOING TO REQUIRE QUARANTINE FOR INBOUND TRAVELERS, BOOKINGS WERE UP LIKE 250% FOR TRAVEL OUT OF CHINA. CAN THOSE CHINESE TRAVELERS ACTUALLY ARRIVE IN OTHER COUNTRIES BECAUSE WE ARE SEEING SOME RESTRICTIONS PUT IN PLACE BECAUSE OF CONCERNS AROUND NEW VARIANTS. MATT: WHAT WOULD BE THE DEMAND TO TRAVEL INTO CHINA. THERE COULD BE AN EXIT IS OUT AND MAYBE THEY ARE CONCERNED THAT CHINA GO BACK TO A COVID ZERO POLICY OR MAYBURY -- OR MAYBE THEY DON'T GO COMFORTABLE. -- MAYBE THEY DON'T FEEL
COMFORTABLE. MAYBE THINGS ARE GOING IN THE OPPOSITE DIRECTION I EXPECTED. KAILEY: I THINK IT IS REVENGE TRAVEL THAT THE REST OF THE WORLD GOT OUT OF OUR SYSTEMS. FOR THOSE LIVING IN CHINA, IT'S
BEEN DIFFICULT TO DO FOR SEVERAL YEARS. MAYBE THAT PENT-UP DEMAND IS WHAT IS COMING TO THE FORE NOW. LET'S CHECK THE MARKS BECAUSE CHINA INITIALLY HAD A POSITIVE IMPACT ON THE EQUITY MARKETS YESTERDAY BUT THE RALLY FED INTO THE CLOSE AND THIS MORNING HAS BEEN A LITTLE WISHY-WASHY BUT WE ARE POSITIVE RIGHT NOW ON THE S&P FUTURES. WE STILL REMAIN BELOW THE AVERAGE YEAR END TARGET WITH JUST ABOUT THREE TRADING DAYS TO GO. IN THE BOND MARKET, WE SAW MASSIVE MOVES YESTERDAY WITH THE 10-YEAR TREASURY YIELD SURGING UP WORD AROUND THE WORLD. THE 10 YEAR YIELD IN AUSTRALIA
WAS UP 21 BASIS POINTS. THE 10 YEAR IN THE STATES CAME DOWN ABOUT TWO BASIS POINTS. WE ARE HIGHER THAN WE WERE LAST TIME -- THIS TIME LAST WEEK. MATT: OUR FRIENDS TRADING THIS MORNING, WE ARE WATCHING THE ITALIAN BTP'S AND THE SPREAD FROM THE BUND IS UP AND WE NEED TO WAIT TO GET TO 300 BEFORE WE WORRY ABOUT WHAT'S GETTING -- WHAT'S GOING ON IN ITALY. YOU SO TRADING AT $70 AND CHANGE FOR NYMEX CRUDE.
I WAS LOOKING AT THE COMMODITIES INDEX TO SEE HOW FAR UP WE'VE SHOT SINCE REOPENING CHINA AND WE HAVEN'T AT ALL. WE HAVEN'T MOVED HIGHER ON THAT INDEX SO ALTHOUGH YOU WOULD EXPECT A REOPENING IN CHINA TO DRIVE GROWTH AND DEMAND FOR COMMODITIES -- WE HAVE SEEN PRICES TAKE UP HERE AND THERE BUT IF YOU LOOK ACROSS THE SECTOR, YOU DON'T SEE A TAKE OFF FROM THE LEVELS WE HAVE SEEN OVER THE PAST FEW WEEKS AND MONTHS. KAILEY: NOT THE KIND OF BEHAVIOR YOU WOULD THINK CHINA WOULD INSPIRE. LET'S GET ANOTHER PERSPECTIVE
ON THIS. HOW ARE YOU THINKING ABOUT THE CHINA REOPENING STORY? HOW DOES IT INFLUENCE YOUR EXPECTATIONS FOR MARKETS ACROSS ASSET CLASSES IN THE COMING YEAR? >> GOOD MORNING, I THINK IT'S A MAJOR MACRO EVENT. THE BOOKINGS UP TO HUNDRED PERCENT COMING OUT OF CHINA AND TRAVELING ESPECIALLY WITH RESTRICTIONS IN PLACE, I THINK TOURISM IS ONE OF THE FACTORS THAT WILL DRIVE ACTIVITY GLOBALLY. THOSE ACCOUNT FOR A FEW HUNDRED BILLION DOLLARS ANNUALLY TO CHINESE TOURISM IN TERMS OF GLOBAL ACTIVITY BUT IT DOESN'T SOUND LIKE MUCH BUT I THINK IT CAN BE IMPACTFUL. METALS INDEX IS ONE THAT HAS PERKED UP A BIT AND THE AUSTRALIAN BONDS WERE UP LIKE 20 BASIS POINTS OVERNIGHT AND THAT'S AN EXAMPLE OF A COUNTRY THAT WILL BE DIRECTLY IMPACTED BY CHINA REOPENING. THEIR EXPECTATION FOR RATES ARE BREAKING UP TO HIKES BUT I THINK MARKETS ARE GETTING READY TO FACE A MACRO FACTOR FOR NEXT YEAR. MATT: MERRY CHRISTMAS TO YOU.
HAPPY NEW YEAR IF I DON'T SEE YOU BEFORE THEN. I HAD BEEN DEBATING WITH MANY GUESTS OVER THE PAST FEW WEEKS -- DOES HE REOPENING IN CHINA AND REVERSAL OF THE COVID ZERO POLICY BODE WELL FOR GLOBAL GROWTH IN MARKETS AS YOU WOULD EXPECT? OR IS IT MORE OF A CONCERN IF THE DISEASE SPREADS RAPIDLY AND CAUSES MASSIVE AMOUNTS OF FATALITIES IN CHINA? IT SEEMS TO BE UP FOR DEBATE BUT HAVE WE DECIDED THAT IT'S GOOD FOR GLOBAL GROWTH AND GOOD FOR MARKETS AND COMMODITIES AND CAN YOU GET AHEAD OF THAT TRADE BY BUYING INTO THE YEAR AND? - END? >> THE MARKETS SEEM TO BE PRICING THAT THIS WILL BE A RELATIVELY POSITIVE CATALYST FOR GLOBAL GROWTH BUT THERE IS A LOT PESSIMISM OUT THERE THAT WE WILL HIT A RECESSION NEXT YEAR IN THE UNITED STATES AND WE ARE ALREADY IN A RECESSION IN EUROPE. THE CHINA REOPENING IS WEIGHING AGAINST THOSE EXPECTATIONS. YET THERE IS A RISK THAT THE BORDERS IN CHINA WILL OPEN AND THERE COULD BE NEW VARIANTS ATTICUS BECAUSE -- AND IT COULD CAUSE SOME DISRUPTIONS.
THEY SAY THAT DISRUPTION WILL BE LESS AND MARKETS SEEM TO BE MORE LEANING TO A POSITIVE GROWTH CATALYST OR AT LEAST WEIGHING AGAINST RECESSION EXPECTATIONS. I THINK YOU CAN BUY INTO THIS SO YOU COULD HAVE INTERNATIONAL EXPOSURE. ASIA IS AN OPPORTUNITY BECAUSE THAT'S AN OPPORTUNITY THAT HAS -- THAT IS BEEN A REGION THAT HAS BEEN LAGGING. THAT'S THE LAST ONE YOU CAN TRADE. MATT: SINCE DECEMBER 1, WE HAVE COME DOWN FROM ABOUT 4100 ON THE S&P 500 TO 3829 YESTERDAY. TYPICALLY, TRADERS TALK ABOUT
OR EXPECT A SANTA CLAUS RALLY, NOT THESE KIND OF DROPS. YOU NOTED THAT 50 YEARS AGO THAT THE SANTA CLAUS RALLY WAS ABOUT THE LAST FIVE DAYS OF THE TRADING YEAR AND THE FIRST TWO DAYS OF THE FOLLOWING YEAR. IS IT STILL LIKE THAT? DOES IT BODE WELL FOR NEXT YEAR IF WE GET IT? >> IT MAY BE POSSIBLE. THE CHINA REOPENING IS THE STORY TO MAYBE DRIVE THIS RALLY. IT'S THE LAST FIVE DAYS OF THE YEAR INTO NEXT YEAR AND IT'S THAT GENERATING FACTOR. IT'S TECHNICAL ANALYSIS BUT IT
SEEMS TO BE HAVING A SEASONAL HISTORICAL RELEVANCE. BONDS ARE SEASONAL AS WELL AROUND THIS TIME. THEY TEND TO DECLINE IN THE MONTH OF DECEMBER SO THE COMBINATION OF RISING YIELDS AND EXPECTATIONS OF CHINA AFFECTING GLOBAL GROWTH POSITIVELY, YOU COULD HAVE A MINI SANTA CLAUS RALLY SO WE WILL SEE WHAT HAPPENS. KAILEY:
ON THE SUBJECT OF BONDS WITH THE UPWARD PRESSURE OF YIELDS, THE BANK OF JAPAN DECIDED TO SHOW UP ONCE AGAIN WITH UNANNOUNCED BOND PURCHASES EVEN THOUGH THEY MADE SOME TWEAKS TO YIELD CURVE CONTROL AND RAISED THE CAP. THEY ARE STILL CONDUCTING YIELD CURVE CONTROL. HOW MUCH PRESSURE WILL BE ON CORONA IN THE FIRST FEW MONTHS OF THE YEAR AND WHOEVER TAKES OVER TO ABANDON THAT POLICY ENTIRELY IF WE SEE THE INFLATIONARY PRESSURES MORE PERSISTENT? >> I THINK CORONA HAS HELPED THEM ABANDON POLICY ALTOGETHER.
THERE IS EXTREME MONETARY POLICY WHICH IS A MAJOR EFFORT. THEY CAN APPLY ANYTHING THEY WANT TO APPLY IN TERMS OF EASING. TO DO THIS UNEXPECTED MOVE BEFORE GETTING OUT OF OFFICE AND RECOGNIZING INFLATION IS RISING IN JAPAN COULD LEAD TO A DIFFERENT ENVIRONMENT AND PROTRACTED DEFLATION THAT THEY WERE WORRIED ABOUT.
POLITICALLY, YOU CANNOT LEAVE THE CONTROL OUT OF THE BOND MARKET AND START TAKING ABOUT RAISING THE POLICY RATES TO POSITIVE. I THINK THAT'S WITH THE MARKET IS DOING. THE TWO YEAR YIELD IN JAPAN IS POSITIVE AND I THINK THERE IS EXPECT TATIAN THAT THE CONTROL WILL BE A POLICY FROM THE PAST.
I THINK CORONA HAS SET IT UP FOR THE NEW GOVERNOR THAT COULD COME INTO THE BANK OF JAPAN IN THE SPRING AND MAY ABANDON THE POLICY. KAILEY: THE JAPANESE YEN IS WEAKER AGAINST THE U.S. DOLLAR RIGHT NOW. THANK YOU FOR JOINING US. THE YEN STORY IS NOT LIMITED TO TODAY.
THE YEN IS THE WORST PERFORMING CURRENCY AGAINST THE DOLLAR THIS YEAR. MATT: I REMEMBER THE DAYS OF YOU TELLING ME THAT IT'S AT $1.46. EVEN THAT KIND OF RECOVERY HAS NOT HELPED. I WANT TO RECOMMEND BEN'S RESEARCH. THESE NOTES ARE NOT ONLY READABLE AND UNDERSTANDABLE FOR A LAYPERSON BUT HE TAKES A POSITION AND MAKES IT ALL AND HE INCLUDES A LOT OF CHARTS AND I THINK IT'S HELPFUL RESEARCH INVESTING IN THESE MARKETS. KAILEY: ESPECIALLY IF YOU HAVE A BLOOMBERG TERMINAL. MATT: THAT'S THE BASIC PACKAGE AND
THEN YOU ADD OPTIONS LIKE BEN EMONS RESEARCH. I THINK HE WALKS YOU THROUGH WALL STREET THE WAY YOU NEED TO BE EVERY MORNING. KAILEY: WE TRY TO DO THE SAME BUT IN A DIFFERENT WAY PERHAPS. WE WILL CONTINUE TO WALK YOU THROUGH THESE MARKETS AS WE GET THOSE ARE TO THE OPENING BELL WITH FUTURES POSITIVE 0.2% AND WE WILL CONTINUE THE MARKETS CONVERSATION IN THE NEXT HOUR. CATHERINE ROONEY BARRA WILL BE
JOINING US. THIS IS BLOOMBERG. ♪ KRITI: RITIKA: CHINA'S DECISION TO ABANDON ITS COVID ZERO POLICY AND REOPEN ITS BORDERS HAVE PROMPTED A GLOBAL RESPONSE IN COUNTRY IS CONSIDERING WHETHER TO TEST OR RESTRAIN TRAVELERS FROM CHINA. REVERSAL HAS TRIGGERED NATIONWIDE COVID OUTBREAKS.
OTHER COUNTRIES ARE A WAVING NEW RESTRICTIONS. THE NUMBER OF FATALITIES HAS RISEN IN WESTERN NEW YORK. AT LEAST 31 PEOPLE HAVE DIED IN THE STORM DUMPED MORE THAN 40 FEET OF SNOW ON BUFFALO. TRAVELERS ARE IN A NIGHTMARE FOR THOUSANDS.
SOUTHWEST HAS SCRAPPED 60% OF TODAY'S FLIGHTS. THE VATICAN SAYS THE RETIRED POPE BENEDICT HEALTH IS GETTING WORSE AND POPE FRANCIS HAS GONE TO VISIT HIM. NO WORD ON WHAT HIS ILLNESS IS.
HE IS 95 AND SERVED AS HEAD OF THE ROMAN CATHOLIC CHURCH FOR ALMOST EIGHT YEARS IN 2013. HE WAS THE FIRST POPE AND 600 YEARS TO STEP DOWN. THE BIDEN ADMINISTRATION WILL COMPLY WITH SUPREME COURT THAT WILL KEEP BORDER CONTROLS.
THE COURT ORDERED THE RESTRICTIONS KNOWN AS TITLE 42 STAY IN EFFECT WHILE A LAWSUIT GOES AHEAD. PRESIDENT BIDEN SAYS HE WILL ENFORCE THE ORDER BUT BELIEVES LIFTING THE MEASURE IS A GOOD THING. YEARS OF DONALD TRUMP'S TAX RETURNS WILL BE RELEASED FRIDAY BY A HOUSE COMMITTEE. THE -- ACCOUNT NUMBERS WILL BE BLACKED OUT AND IT WILL BE THE FIRST COMPLETE LOOK AT THE FALLEN PRESENCE TAX RECORDS IN THE YEARS HE WAS RUNNING AND IN THE WHITE HOUSE. GLOBAL NEWS, 24 HOURS A DAY AND ON BLOOMBERG QUICKTAKE, POWERED BY MORE THAN 2700 JOURNALISTS AND ANALYSTS IN MORE THAN 120 COUNTRIES. THIS IS BLOOMBERG. ♪ ♪ >> IT'S VERY NORMAL NOW.
THAT IS WHY HE HAS COME TO THE RIGHT TIME THAT WE WILL DO WITHOUT THE VACCINATION PASS. THAT IS EXACTLY WHAT THIS GOVERNMENT HAS BEEN PLANNING TO DO FOR NORMALIZATION. IT HAS COME TO A TIME WHERE WE DON'T HAVE TO RELY ON THE VACCINATION PASS. KAILEY: THAT WAS THE CHIEF EXECUTIVE OF HONG KONG AS THEY LIFT SOME OF THE LAST REMAINING COVID RESTRICTIONS.
WE CONTINUE TO GET THE REOPENING NEWS OUT OF CHINA AND ITS SURROUNDING REGION BUT THAT IS NOT SEEMING TO LIFT RISK SENTIMENT IN U.S. MARKETS. THERE WAS A LITTLE LIFT IN THE HANG SENG MARKET BUT U.S. MARKETS ARE ONLY MODESTLY IN POSITIVE TERRITORY.
A LITTLE BIT OF A REBOUND FROM LOSSES YESTERDAY AND YESTERDAY WAS MORE ABOUT THE BOND MARKET WITH THE 10 YEAR YIELD ROCKETING HIGHER AND WE COMMENTED TOUCH ABOUT BASIS POINT OR SO TO THREE DOLLARS 82 CENTS ON THE TREASURY YIELD. DESPITE THE REOPENING OF CHINA, WTI CRUDE IS DOWN BY A FULL PERCENTAGE POINT. MATT: IT'S REALLY THE BIG TECH STOCKS THAT ARE MOST NOTABLE. WE WERE TALKING ABOUT TESLA THIS MORNING AND IT'S DIFFICULT NOT TO USE PROFANITY WHEN TALKING ABOUT THESE DROPS. THE STOCK CONTINUES TO GET DECIMATED.
IF WE DROP IN THE CASH SESSION, IT'S DOWN EIGHT DAYS IN A ROW, THE LONGEST LOSING STREAK SINCE THE IPO. KAILEY: IN THE PREMARKET AFTER BEING LOWER BY MORE THAN 3% EARLIER, WE ARE NO POSITIVE ON THE STOCK BY 2.5% BUT IT HAS BEEN ABSOLUTELY BRUTAL FOR THIS STOCK OVER THE COURSE OF THE YEAR. IT'S ALREADY DOWN 69% IN 2022 IN THE MARKET VALUE IS NO LESS THAN 350 BILLION DOLLARS AFTER STARTING THE YEAR IS A $1 TRILLION COMPANY. THE CHINA STORY PLAYS IN SIGNIFICANTLY BECAUSE WHAT LED THE DECLINE YESTERDAY AND WHAT LED TO A LOT OF THE DETERIORATION IN SENTIMENT AROUND THIS STOCK IS CONCERNED ABOUT DEMAND IN THE CHINA MARKET AND PRODUCTION AT THEIR SHANGHAI MARKET LOOKS LIKE. MATT:
A LOT OF IT IS ELON MUSK AND HIS PURCHASE OF TWITTER AND MAYBE HE HAS PUSHED FOR THIS BUT A 69% IS MEAN AND THE STOCK WORLD BUT HE'S INTO THAT KIND OF THING. KAILEY: KEY SOLD A LOT OF TESLA STOCK TO DO THE TWITTER DEAL. MATT: IT'S NOT THE ONLY TECH STOCK THAT'S LOSING. APPLE IS DOWN ON CONCERN ABOUT IPHONE DEMAND SO IT'S NOT JUST WORRY ABOUT PEOPLE BUYING TESLA'S. YOU DON'T SEE A DROP OF THAT SIZE AND APPLE STOCK.
IT'S DOWN TO $130 PER SHARE. KAILEY: THE CHINA MARKET IS WHAT'S CRUCIAL TO BOTH OF THOSE COMPANIES. AS CHINA REOPENS, ONCE YOU GET PAST THE SURGEON COVID CASES UNDERWAY, DO YOU START TO SEE DEMAND RECOVERY TAKING SHAPE? MATT: ALAN WAN IS SITTING BY IN SHANGHAI FOR US. I KNOW YOU HAVE HAD A LONG DAY OF COVERING THIS REOPENING AND THE NEWS KEEPS COMING IN.
GIVE US THE LATEST. WE WERE TALKING ABOUT REVENGE TRAVEL AND PEOPLE FINALLY ALLOWED TO GO ON VACATION OR BOOKING FLIGHTS. >> YEAH, THESE RESTRICTIONS -- JAPAN WAS ONE OF THE FIRST COUNTRIES TO REQUIRE CHINESE VISITORS PRODUCE NEGATIVE TEST RESULTS UPON ARRIVAL.
OTHER COUNTRIES ARE TAKING PRECAUTIONS AS WELL. KAILEY: IT LOOKS LIKE WE ARE HAVING SOME DIFFICULTY WITH THE CONNECTION. HE HAS BEEN COVERING THIS STORY ALL DAY.
TO PUT SOME NUMBERS AROUND THE TRAVEL STORY -- MATT: HE WAS BUFFERING. KAILEY: TRIP.COM SAYS HOLIDAY BOOKINGS FOR OUTBOUND FLIGHT FROM MAINLAND CHINA JUMPED 254% TUESDAY MORNING FROM THE DAY BEFORE. THAT IS JUST STUNNING AND THE QUESTION IS, WILL THERE BE DEMAND TO GO INTO CHINA? WILL IT BE THE DOMESTIC POPULATION GOING OUT? MATT: I SAW YESTERDAY THEY ARE PREPARING TO RAISE THE CAP IN JANUARY 8 ON INTERNATIONAL FLIGHTS.
I WONDERED HOW MANY PEOPLE WILL FLIGHT INTO U.S. BUSINESSPEOPLE GOING OVER THERE TO DO DEALS WHICH THEY HAVE HAD A DIFFICULT TIME DOING OVER THE LAST THREE YEARS. YOU HAVE TO THINK ABOUT THE PEOPLE WHO HAVE BEEN TRAPPED TO WANT TO GET OUT. IT MAKES PERFECT SENSE AND I
HADN'T THOUGHT ABOUT THAT. IT MAKES SENSE YOU WANT TO BOOK A TRIP AS SOON AS YOU COULD. NOW THAT YOU CAN, YOU'RE PROBABLY LOOKING TO BOOK A FLIGHT TO ANYPLACE THAT IS WARM. WE WERE TALKING WITH ALAN WAN IN SHANGHAI AND HAS BEEN COVERING THIS REOPENING 24/7 SINCE THE HEADLINE STARTED ROLLING IN POST-CHRISTMAS. A COUPLE OF WEEKS AGO, WE HAD
THESE PROTESTS, THE LIKES OF WHICH WE FOUND VERY SURPRISING. YOU DON'T EXPECT CHINESE CITIZENS TO, AND PROTEST THAT SEVERELY AGAINST GOVERNMENT RESTRICTIONS AND YET THEY DID. THE GOVERNMENT HAS ANSWERED AND SAID NO PROBLEM, COVID ZERO IS REVERSED. WILL THE CHINESE CONTINUE TO PROTEST OR WILL THEY USE THEIR NEWFOUND POWER FOR OTHER POLICIES? KAILEY: IT'S A QUESTION OF HOW FAR THE COMMUNIST POLICIES WILLING TO LET THIS GO. THERE IS SERIOUS ECONOMIC INCENTIVE 4G ZHENG PAYING -- FOR XI JINPING.
CHINA USED TO BE THE GROWTH MARKET OF THE WORLD. SO MANY POCKETS OF THE ECONOMY WERE LOCKED DOWN FOR SO LONG. THEY WOULD LIKE TO ACHIEVE GROWTH IN 2023 BUT MAYBE IN ORDER TO DO SO, MIGHT HAVE TO UNLEASH YOUR CITIZENS. MATT: BLOOMBERG ECONOMICS SAYS THEY WILL ACHIEVE THAT IN 2023. THERE IS THE POSSIBILITY OF BLACK OR GRAY OR WHITE SWANS HAS TO BE HUGE. YOU'VE GOT TO TAKE THAT FORECAST WITH A GRAIN OF SALT ESPECIALLY LOOKING AT A GLOBAL RECESSION. IF WE ARE NOT ALREADY IN
RECESSION IN EUROPE, WE WILL SEE A CONTRACTION IN GROWTH THERE. WHAT KIND OF RECESSION WILL WE SEE IN THE U.S.? KAILEY: I UNDERSTAND WE HAVE ALL EN WAN ON THE PHONE FROM HONG KONG.
ICU, YOU ARE NOT JUST ON THE PHONE. WE WERE TALKING ABOUT REVENGE TRAVEL. CAN YOU WALK US THROUGH WHAT THE LATEST IS BECAUSE HONG KONG IS MAKING ITS OWN MOVES? >> JAPAN BECAME THE FIRST COUNTRY TO ANNOUNCE THESE RESTRICTIONS TO REQUIRE THAT CHINESE TRAVELERS PRODUCE NEGATIVE TEST RESULTS ON ARRIVAL.
OTHER COUNTRIES ARE CONCERNED LIKE THE U.S.. IT'S MAINLY BECAUSE IT'S CONCERN ABOUT A LACK OF TRANSPARENCY IN CHINA AND CONCERN THAT CHINA IS OPENING UP THE FLOODGATES AND THERE WILL BE MORE VARIANTS FLOATING AROUND. THE REALITY IS, THE STUDIES SHOW THAT THE VARIANTS CIRCLING AND CHINA ARE SIMILAR TO WHAT WE HAVE SEEN AROUND THE WORLD. OTHER COUNTRIES LIKE MALAYSIA AND INDIA ARE ALSO CONCERNED AS WELL.
TAIWAN IS CONSIDERING TESTING CHINESE TRAVELERS ON ARRIVAL. ONE PHILIPPINE MINISTER SAID THEY WANT TO CONSIDER CURBS ON CHINESE TRAVEL AS WELL. I ASKED MY FRIENDS WHAT THEY THOUGHT ABOUT THIS. THEY DIDN'T SEEM TO BE OFFENDED.
THEY ARE WORRIED THAT IF THEY GO TO JAPAN, THEY MAY HAVE TO QUARANTINE FOR A WEEK. IT'S BETTER THAN WHAT HAS BEEN HAPPENING RECENTLY. KAILEY: THANK YOU SO MUCH FOR YOUR CONTINUED REPORTING ON THIS, PLEASE GET SOME REST. WE WILL BE HERE WITH YOU ON SURVEILLANCE FOR THE NEXT COUPLE OF HOURS AS WE GET CLOSER TO THE OPENING BELL.
KAILEY: THREE DAYS IS HOW MUCH IS LEFT FOR THE YEAR OF 2022. IT'S A HOLIDAY WEEK AND TRADING IS LIGHTER THAN USUAL BUT WE ARE TRACKING IT. KRITI: A LITTLE BIT MORE GREEN ON THE SCREEN THEN WE SAW IN THE EARLY EDITION. WE ARE SEEING MORE CONVICTION SO FUTURES ARE SLIGHTLY HIGHER BUT NOTHING TO WRITE HOME ABOUT. LOW VOLUME IN THE RUSSELL 2000. A LITTLE MORE GAMES ACROSS THE ATLANTIC SO I WONDER HOW MUCH WILL BE VOLUME.
THE STOXX 600 IS ONLY UP 0.4%. WHAT HAS CHANGED THE NARRATIVE HAS BEEN THE DOLLAR IN THE LAST HOUR AND YOU WANT TO LOOK AT THE INTRADAY MOVE BECAUSE IT'S STARTING TO SLIDE A LITTLE BIT AND THAT WEAKNESS IS CORRESPONDING IN STRENGTH IN SOME OF THE COMMODITY CURRENCIES LIKE THE AUSTRALIAN DOLLAR OR THE NEW ZEALAND DOLLAR AND THE CANADIAN DOLLAR. THE EXCEPTION IS THE JAPANESE YEN WHICH IS COMING OFF A BOND PURCHASES.
YOU WOULD THINK THE COMMODITY COMPLEX IS HIGHER BUT THAT'S NOT THE CASE TODAY. BRENT CRUDE IN GOLD ARE ACTUALLY DECLINING WHICH IS INTERESTING BECAUSE IT'S COMING AS THE DOLLAR IS GETTING WEAKER AND WEAKER AND THOSE ARE USUALLY INVERSE CORRELATIONS. COPPER IS INTERESTING, IT'S THE ANOMALY, HIGHER ABOUT 0.3%. THAT'S JUST TO CONTINUE -- A CONTINUATION OF THE CHINA REOPENING STORY. GOLD IS DOWN ABOUT 0.5% FOLLOWING A MOVE LOWER COST
COMMODITIES BROADLY. >> AMAZING THAT THE POUND HAS MANAGED TO CLIMB MORE THAN 20% SINCE THE BUDGET CRISIS IN ENGLAND IN OUTSET ONE DOLLAR 20. THAT'S ONLY BEEN LIKE THREE MONTHS.
YOU MENTIONED DOLLAR WEAKNESS AND WHEN THE DOLLAR DROPS, AT LEAST THIS YEAR, THAT'S BEEN GREAT FOR RISK ASSETS AND THAT'S WHAT'S TURNED AROUND THE MARKET. I LOOKED ACROSS THE OTHER CURRENCIES AND THE POUND IS THAT $1.21. IT SURPRISED ME WE SAW THIS KIND OF GAINING BY 0.5% IN ONE MONTH? KAILEY: ALL IT TOOK FOR THE U.K. WAS A TOTAL LEADERSHIP CHANGE. THANK YOU FOR THE MARKET CHECK. MATT:
I THOUGHT I WAS TALKING TO HER AND I SAW THAT SHE IS CLEAR SO SHE HAS LEFT THE ROOM SO SHE CLEARLY CAN'T ANSWER ME. KAILEY: YOU MAKE A GOOD POINT, ON THE RECOVERY AND OTHER G10 CURRENCIES RAISES THE QUESTION IF THE DOLLAR PEAK HAS BEEN DONE AND IT'S BEEN A PHENOMENAL YEAR FOR THE DOLLAR AND THE RATE DIFFERENTIAL STORY IS WHAT WAS DRIVING THAT FOR SO LONG BUT YOU HAVE OTHER CENTRAL BANKS PLAYING CATCH-UP AND MORE CONVICTION IN THIS MARKET THAT THE FEDERAL RESERVE WILL CHANGE COURSE AT SOME POINT NEXT YEAR EVEN IF THEY SAY THEY AREN'T. MATT: IT LOOKS LIKE THE DOLLAR PEAK AT 1253 ON THE DOLLAR INDEX CAME AT THE END OF SEPTEMBER, RIGHT WHEN WE GOT THAT MANY BUDGET OUT OF THE U.K. THAT'S WHEN YOU SAW THE POUND GO BELOW PARITY ON SEPTEMBER 23. THAT'S WHEN WE SAW THE DOLLAR PEAK AND SINCE THEN, IT'S BEEN A REVERSAL FOR THE GREENBACK AS WELL AS THE POUND AND THE U.K.
GOVERNMENT. IT'S STILL A TORY GOVERNMENT. KAILEY: I CAN'T BELIEVE THAT ONLY HAPPENED THREE MONTHS AGO AND THAT WAS JUST ONE OF THE BORDERLINE CATACLYSMIC MARKET EVENTS OF THE YEAR. THERE WAS THE POUND, THERE WAS THE YEN AT ONE POINT AND THAT'S JUST IN FX. THERE HAVE BEEN SO MANY
REMARKABLE MARKET SHAKING INSTANCES OVER THE COURSE OF 2020. MATT: IT'S A POLY CRISIS AS OUR NEXT GUEST PUTS IT. IS THE CO-CHIEF INVESTMENT OFFICER. GREAT TO HAVE YOU AND THANK YOU FOR JOINING US THIS MORNING. WE HAVE SEEN SO MANY CRISES FROM THE CURRENCY CRISIS AND THE FIXED INCOME PROBLEM IN THE U.K. AS A RESULT OF THAT MANY BUDGET
BUT THE WAR IN UKRAINE HAS TO STAND OUT IN 20 AND THE PANDEMIC OVER THE LAST FEW YEARS. NOW WE ARE HEADING FOR WHAT MOST PEOPLE THINK IS A RECESSION, A GLOBAL GLOBAL -- GROWTH RECESSION. I KNOW YOU ARE FOCUSED ON ESG INVESTING, HOW DO YOU DEAL WITH THESE CRISES? ALL OF THEM LEAD TO A RE-THINK OF ENERGY POLICY. >> THANK YOU FOLKS FOR HAVING ME HERE.
I WANT TO STEP BACK AND SAY WHAT DIFFERENTIATES US AT NORTHSTAR AS TO HOW WE THINK ABOUT THE CURRENT SITUATION IS THAT WE LOOK AT IT ENOUGH ALL LISTED PERSPECTIVE. IN TERMS OF A POLY CRISIS, WE ARE CONFRONTING SEVERAL CHALLENGES THAT POSE SERIOUS THREATS TO HUMANITY. I AM STILL CONCERNED ABOUT CERTAIN ITEMS SUCH AS THE WAR IN UKRAINE. I AM CONCERNED ABOUT THE FACT THAT WE DON'T HAVE WHAT I WOULD CONSIDER A WELL PLAN TO TRANSITION TO RENEWABLE ENERGY. YES, I AM CONCERNED ABOUT THE FACT THAT IN TERMS OF OUR RELATIONSHIP WITH CHINA AND THE GEOPOLITICAL RISKS THAT ARE PRESENT, WHAT THAT MEANS FOR OUR ECONOMY GOING FORWARD. WHILE I AM CONCERNED ABOUT ALL OF THOSE THINGS, I THINK IT'S IMPORTANT TO STEP BACK AND LOOK AT HOW ALL OF THESE THINGS ARE INTERRELATED AND WHAT THAT MEANS.
WHAT REALLY MEANS IS WHEN YOU LOOK AT THE RISK, THE WHOLE IS MUCH GREATER THAN THE RISK OF THE SUM OF THE PARTS. THAT IS REALLY THE WAY WE KIND OF APPROACH THINKING ABOUT HOW WE ARE GOING TO POSITION OUR PORTFOLIO OVER THE NEXT COUPLE OF YEARS AREA WE THINK ABOUT IT IN THE SENSE THAT THERE MIGHT BE ONE OR TWO THINGS THAT MIGHT GO RIGHT NEXT YEAR. MAYBE THE FED DECIDES TO STOP RAISING INTEREST RATES BUT THERE ARE SO MANY THINGS WE HAVE TO FOCUS ON WITH RESPECT TO MANAGING RISK. KAILEY: SPEAKING ABOUT HOW YOU POSITION YOUR PORTFOLIO TO HEDGE AGAINST THAT RISK ON A WHAT DOES THAT ACTUALLY LOOK LIKE IN REALITY? >> WHAT THAT REALLY LOOKS LIKE FOR US IS OWNING QUALITY STOCKS.
THESE ARE STOCKS THAT WE KNOW WELL. WE ARE NOT FREQUENT TRADERS. WE ALSO LOOK FOR CONSISTENT EARNINGS. WE ARE CURRENTLY FOCUSED ON STOCKS RIGHT NOW WHERE THERE IS STRONG CASH FLOW IMMEDIATELY.
ALSO LOOK FOR GOOD MANAGEMENT TEAMS. WITH THAT BEING SAID, I THINK QUALITY BESTING CAPITAL IT -- ENCAPSULATES WHAT WE ARE LOOKING FOR RIGHT NOW. KAILEY: AS YOU TALK ABOUT CASH FLOW IN EARNINGS, THE ONES THAT HAVE BEEN RAKING IT IN THIS YEAR OUR ENERGY COMPANIES. THAT COMES BACK TO YOUR POINT ABOUT A REVIVAL OF FOSSIL FUEL FOR A WORLD THAT WAS SUPPOSED TO BE TRANSITIONING WITH THE GOAL OF REACHING ZERO. THE WAR IN UKRAINE AND THE
ENERGY CRISIS IN EUROPE HAS DRIVEN EVERYONE BACK TO THE LEGACY FUELS. HOW DO YOU THINK ABOUT THAT IN A PORTFOLIO WHERE YOU ARE TRYING TO PRIORITIZE ESG STRATEGIES BUT THE SAME TIME, THE PROPHET HAS BEEN CRUISE? >> -- HAS BEEN IN CRUDE? >> WE HAVE A FUND THAT IS FOSSIL FREE. OUR CLIENTS UNDERSTAND AND WE ARE IN CONSTANT COMMUNICATION WITH THEM ABOUT THESE ISSUES. THAT IS SOMEWHAT UNIQUE. YOU ARE RIGHT, FOSSIL FUELS ARE UP.
WHEN I STARTED OFF AND WAS TALKING ABOUT THE CRISIS, IF WE DON'T FIGURE OUT A WAY TO ADDRESS CLIMATE CHANGE, THERE IS A SERIOUS RISK TO HUMANITY. OUR CLIENTS UNDERSTAND THAT SAID THEY ARE MORE THAN WILLING TO NOT PROFIT FROM OIL AND GAS RIGHT NOW. FOR US, IT'S NOT A CONSIDERATION. YOU CAN STILL BE HIGHLY DIVERSIFIED WITHOUT OWNING FOSSIL FUELS. MATT: THAT'S AN IMPORTANT MESSAGE. WE DON'T HEAR IT IS VERY OFTEN ON THIS CHANNEL AS A MANY INVESTORS ARE FOCUSED SOLELY ON PROPHECY WAS INTERESTING TO HEAR YOU SAY THAT. IT'S ALSO INTERESTING TO HEAR YOU SAY THE FED COULD STOP RAISING RATES AND THAT'S WHAT THE MARKET IS HOPING FOR BROADLY. WHAT IS YOUR VIEW FROM AN ESG PERSPECTIVE ON INFLATION? IT'S BEEN ONE OF THE PROBLEMS FOR THE TRANSITION TO CLEANER ENERGY OR RENEWABLE ENERGY. INFLATION HAS DRIVEN US BACK TO
FOSSIL FUELS. HOW DO YOU WEIGH THE BENEFITS OF THE FED POLICY VERSUS THE INFLATION THAT HAS PUT US HERE? >> GOOD QUESTION -- IN TERMS OF THE ENERGY CRISIS, WE DON'T HAVE A WELL-THOUGHT-OUT PLAN IN TERMS OF TRANSITIONING. SOME OF THE UNCERTAINTY IS EXPECTED AND GOING FORWARD, WE WILL CONTINUE TO SEE THIS TYPE OF UNCERTAINTY. ANYBODY WHO IS LOOKING AT THE SITUATION AT THE BEGINNING OF 2022, WE DID NOT SEE THE WAR IN UKRAINE COMING AND WE DID NOT SEE THE CHALLENGES THAT EUROPE WOULD HAVE IN TERMS OF SECURING ENOUGH ENERGY. WITH THAT BEING SAID, I THINK
WE WILL CONTINUE TO HAVE A LOT OF UNEXPECTED EVENTS AFFECTING ENERGY OVER THE NEXT FEW YEARS. WE ARE DEALING WITH IT THE BEST WE CAN. KAILEY: SO MUCH OF IT SEEMS TO COME DOWN TO POLICY.
A WEEK FROM NOW, WE WILL HAVE A NEW CONGRESS IN SESSION WITH THE REPUBLICAN CONTROLLED HOUSE AND WE HAVE SEEN PUSHBACK ON THE SOME REPUBLICAN LAWMAKERS ON THE IDEA OF ESG STRATEGIES. I'M WONDERING HOW YOU NAVIGATE THE KIND OF POLITICAL UNCERTAINTY WHEN YOU ARE THINKING ABOUT HOW TO PUT TOGETHER AN ESG PORTFOLIO? >> FOR US, THIS IS NOT SOMETHING WE HAVE TO BE CONCERNED WITH. OVER ALL, IS VERY TROUBLING. LET ME BE CLEAR IN SAYING THERE IS A STRING OF ANTI-INTELLECTUALISM RUNNING THROUGH THIS ARGUMENT BECAUSE WHEN YOU THINK OF WHAT ESG IS, WERE CONSIDERING NONTRADITIONAL FACTORS. MOST INVESTORS WOULD AGREE THAT THEIR CLIENTS WANT THEM TO BE WELL INFORMED. IT DOESN'T MAKE ANY SENSE REALLY TO SAY YOU SHOULDN'T LOOK AT ALL THE AVAILABLE DATA THAT YOU POSSIBLY CAN WHEN MAKING DECISIONS.
FOR US, OUR CLIENTS SUPPORT THE STRATEGY WE HAVE. HE CONSTANTLY HAD COMMUNICATIONS WITH THEM ABOUT THESE ISSUES SO IT'S NOT REALLY A PROBLEM. OVERALL, IT'S A PROBLEM BECAUSE WHETHER WE LIKE IT OR NOT, THERE IS SCIENTIFIC EVIDENCE THAT CLIMATE IS CHANGING. WE ALSO KNOW THAT IN TERMS OF NATURE, WE ARE CONSUMING MORE RESOURCES THAN CAN BE GENERATED AND THAT LEADS TO A WHOLE HOST OF NEGATIVE IMPACTS FROM HARVEST AND NOT HAVING ENOUGH FOOD AND EVEN MORE EXTREME EVENTS.
THIS IS VERY TROUBLING BECAUSE PEOPLE WILL CONTINUE TO LOSE THEIR LIVES. KAILEY: WE'VE SEEN SO MUCH OF THAT OVER THE COURSE OF THIS YEAR. THANK YOU SO MUCH FOR JOINING US. THIS IS BLOOMBERG. ♪ RITIKA: KEEPING YOU UP-TO-DATE WITH NEWS AROUND THE WORLD, STRANDED TRAVELERS IN THE U.S.
BUT FACED DAYS OF DELAYS IF THEY ARE BOOKED ON SOUTHWEST AIRLINES. THE CARRIER HAS ALREADY SCRAPPED 60% OF ITS FLIGHTS TODAY AND ABOUT 20% OF TOMORROW. IN NEW YORK, THE DEATH TOLL HAS RISEN IN WESTERN NEW YORK FROM THE RECORD RAKING STORM. BUFFALO IS DIGGING OUT FROM
MORE THAN FOUR FEET OF SNOW. IN HONG KONG, THE GOVERNMENT IS MAKING SWEEPING OVERHAULS OF CODE POLICY IN AN ATTEMPT TO REVIVE ITS REPUTATION AS A GLOBAL FINANCIAL CENTER. THEY WILL NO LONGER REQUIRE PROOF OF VACCINATION TO ENTRY TO SOME VENUES. CUSTOMERS CONNECTED WITH FTX HAVE SUED IN BANKRUPTCY COURT TO TRY TO RECOVER SOME OF THE BILLIONS LOST IN THE MELT DOWN.
THE LAWSUIT ASKED FOR A JUDGE TO GIVE CUSTOMERS PAYMENT PRIORITY OVER OTHER FTX CREDITORS. GEORGE SANTOS POSES A TEST FOR GOP LEADERS KEVIN MCCARTHY. HE HAS ADMITTED THAT HE FABRICATED STORIES ON JOBS AT BIG BANKS AND PROPERTY OWNERSHIP TO BE ELECTED HOUSE SPEAKER AND NEEDS EVERY VOTE HE CAN GET. HE IS THE SUBJECT OF AN ETHICS INQUIRY BUT MCCARTHY'S NOT SAYING WHAT HE WILL DO. GLOBAL NEWS, 24 HOURS A DAY AND ON BLOOMBERG QUICKTAKE, POWERED BY MORE THAN 2700 JOURNALISTS AND ANALYSTS IN MORE THAN 120 COUNTRIES. THIS IS BLOOMBERG.
♪ KAILEY: WELCOME BACK TO BLOOMBERG SURVEILLANCE, WE ARE COUNTING YOU DOWN TO THE THIRD TO LAST TRADING DAY OF THE YEAR? WE HAVE THREE DAYS LEFT. MATT: THURSDAY-FRIDAY, YES. KAILEY: IT LOOKS LIKE IT WILL BE AN UP DAY FOR THE MARKET TODAY. IT SEEMS LIKE A LITTLE MORE CONVICTION IS COMING IN. WE STILL REMAIN BELOW WERE STRATEGISTS AT LARGE THAT WE WOULD BE ENDING THE YEAR. THEY WERE GUESSING AROUND 4000
BUT WE HAVE A COUPLE OF DAYS LEFT. THE 10 YEAR YIELD IS DOWN ABOUT 10 BASIS POINTS ARE WELL OFF THE HIGHS OF THE YEAR. WE REACHED THAT A MATTER OF WEEKS AGO AND CRUDE IS NOT GETTING A LIFT, DOWN ABOUT 0.1%. MATT: THE SO-CALLED SANTA CLAUS RALLY THAT EVERYONE WAS HOPING FOR THAT EVERY YEAR WE TALK ABOUT ACTUALLY HAPPENS THE LAST FIVE DAYS OF THE YEAR AND THE FIRST TWO DAYS OF THE FOLLOWING YEAR AT LEAST ACCORDING TO YAEL HERSCH FROM THE STOCK TRADER'S ALMANAC.
MAYBE WE STILL GET THAT AND MAYBE WE STILL MAKE IT TO THE YEAR-END TARGET OF 4000 AND CHANGE BUT IT LOOKS LIKE IT WILL BE BY THE SKIN OF AIR T. KAILEY: SO SANTA CLAUS COMES TO TOWN AFTER CHRISTMAS. MATT: YOU HAVE TO DELIVER THE PRESENTS TO THE KIDS FIRST. THE NATIONAL AIR AND SPACE MUSEUM IS OPEN TO THE PUBLIC FOLLOWING A MASSIVE RENOVATION. JOE MATHIEU SAT DOWN WITH THE MUSEUM DIRECTOR FOR A BEHIND-THE-SCENES LOOK AT THE WASHINGTON, D.C. INSTITUTION WHICH INCLUDES NEW
EXHIBITS AND EMPHASIS ON HOW DIVERSE VOICES PLAYED A ROLE IN SPACE EXPLORATION AND HE HOPES THE MUSEUM WILL SPUR MORE INNOVATION. >> IT'S KNOWN AS THE SANCTUARY, THE ICONIC DISPLAYS, THE SENSE OF HISTORY THAT IT BRINGS. WHAT IS SCARIER, PLANTING AN F-14 ON THE DECK OF AN AIRCRAFT CARRIER AT NIGHT OR RE-ENVISIONING ONE OF THE MOST BUSY MUSEUMS IN THE WORLD? >> I THINK THE BIGGER TASK IS RE-ENVISIONING THIS NATIONAL TREASURE FOR THE FUTURE. WE KNOW THE IMPACT YOU JUST SAID IT HAS INFLUENCED YOU. I CAME HERE 1977 AND I WAS 19 YEARS OLD AND I WAS STRUCK BY THE D.C. THREE ABOVE US. I MADE THAT CONNECTION THAT THE LEAD TO MY PROFESSIONAL LIFE IN AVIATION SO WE KNOW THE POWER. IT'S NOT AS SCARY AS LANDING A
NIGHT ON THE SHIP BUT VERY IMPORTANT. >> THE LEVEL OF STRESS MIGHT BE APPROACHING THAT. IT'S INTERESTING TO THINK THAT THIS WING HAS BEEN CLOSED SINCE BEFORE COVID, 2018. YOU SAID WHEN IT REOPENED RECENTLY, THE REAL MEASURE OF SUCCESS IS WHEN VISITORS RETURN HOME AND SAY YOU MUST SEE THIS. IS THAT ALREADY HAPPENING? >> ABSOLUTELY, WE ARE GETTING ABOUT 5000 VISITORS PER DAY AND HAVE HAD GOOD FEEDBACK THROUGH THE MEDIA AND VISITORS.
PART OF IT IS BECAUSE ALMOST 50% OF THE ARTIFACTS IN THE MUSEUM TODAY ARE HERE FOR THE FIRST TIME. WE ARE ABLE TO EXPAND THE STORYTELLING AND AWAIT THE OTHER MEASURE OF SUCCESS IS WE HOPE EVERYBODY COMING INTO THIS MUSEUM, HOWEVER THEY PRESENT OR WHATEVER THEY LOOK LIKE OR WHATEVER THE -- WHEREVER THEY COME FROM, THEY WILL BE ABLE TO SEE THEMSELVES IN THE STORIES AND ARTIFACTS LIKE I DID IN 1977. >> THE BIG TALKER IS THE X WING FIGHTER FROM THE STAR WARS MOVIES. IT'S NOT AN OPERATIONAL
AIRCRAFT LIKE SOME OF THESE OTHER EXHIBITS BUT IT SPEAKS OF THE VISION YOU HAVE IN CONNECTING FANTASY WITH INNOVATION. WHAT IS THAT LESSON FOR YOUNG PEOPLE? >> IT STARTS WITH AN IDEA. THERE IS THAT MOMENT OF INSPIRATION AND IT CAN COME IN A NUMBER OF WAYS. IF YOU GO INTO THE DESTINATION MOON GALLERY THAT TELLS THE STORY OF APOLLO, YOU WILL SEE GAMES AND SOME THINGS YOUNG ASTRONAUTS WERE INFLUENCED BY HIS CHILDREN.
WE KNOW THE ICONIC VALUE OR THE INFLUENCE YOU VALUE OF THESE ARTIFACTS. I'VE TAKEN SOME HEAT FOR THE X WING. PEOPLE SAID IT'S NEVER FLOWN SO WHY IS IT HERE. I REMIND FOLKS THAT WE HAD 6000 PLANES THAT NEVER FLEW SO IT'S MEETING OUR AUDIENCES WHERE THEY ARE. WHAT CONNECTS TO THEM THAT RESONATES AND WE KNOW THE POWER OF THE X WING FIGHTER DOES THAT FOR A LOT OF THE AUDIENCE. >> YOU GOT A LOT OF COMPETITION FOR EYEBALLS IN INTEREST AND TRYING TO APPEAL TO KIDS WEREN'T TIKTOK AND SOCIAL MEDIA AND HAVE THE ATTENTION SPAN OF A 10 SECOND VIDEO SO I'M GUESSING THIS HELPS BRIDGE THAT DIVIDE.
>> IT DOES AND WHAT WE HOLD DEAR AT THE SMITHSONIAN AND HERE AT THIS MUSEUM IS A COMMITMENT TO AUTHENTICITY AND ACCURACY. WHEN YOU COME HERE WHETHER IT'S IN PERSON OR VIRTUALLY, THIS IS THE REAL DEAL. SOMETIMES, SOME OF THE OTHER MEDIA AND INFLUENCES IN OUR LIVES CANNOT LAY THAT CLAIM. IT'S IMPORTANT WE HOLD TO THAT BECAUSE NOT JUST THE ARTIFACTS AND HOW REAL THEY ARE, IT'S THE PEOPLE STORIES BEHIND THEM.
>> THERE ARE AMAZING STORIES AROUND THIS INCLUDING THE APOLLO MISSION AND THE APOLLO 11 CAPSULE. IT REMINDS US OF THE HARSH ENVIRONMENT THAT IS SPACE. AS WE SIT HERE, AN ORION SPACE CAPSULES ORBITING THE MOON. HOW MUCH TO CURRENT EVENTS DRIVE THE MISSION FOR THE MUSEUM? >> PEOPLE THINK ABOUT MUSEUMS HAVING A RETROSPECTIVE LOOK SO WHY DO WE HAVE A GALLERY DEDICATED TO THE APOLLO MISSIONS, WHAT'S THE RELEVANCE? OTHER THAN THE FACT THAT IT WAS AN AMAZING STORY. THE PRESIDENT A FEW MONTHS AGO USED TO THE TERM MOON SHOT. WHAT DOES THAT MEAN TO A GENERATION TODAY THAT WAS NOT ALIVE DURING APOLLO? MOST OF THE PEOPLE COMING INTO THE GALLERY TODAY WOULD NOT HAVE BEEN ALIVE TO SEE THE LAUNCHES OF THE SATURN FIVE AND APOLLO. THE REASON WE TELL THE APOLLO
STORY GETS DOWN TO FOUR ELEMENTS -- ONE IS TO TAKE ON A BIG CHALLENGE AND SOLVE PROBLEMS YOU NEED A STRONG VISION THAT PRESIDENT KENNEDY ARTICULATED. YOU NEED A COMMITMENT OF NATIONAL RESOURCE, 400,000 AMERICANS WITH MILLIONS OF DOLLARS WORKING ON THE PROJECT. YOU NEED A TOLERANCE FOR RISK. YOU HAVE TO BE WILLING TO TAKE CHANCES. AND THEN YOU HAVE TO HAVE THAT
INGENUITY THAT I THINK IS OFTEN UNDERESTIMATED. WHEN YOU PUT THOSE THINGS TOGETHER, WHAT THE APOLLO MISSIONS DEMONSTRATED AS YOU CAN DO INCREDIBLE THINGS. HOW DOES THAT PLAY UP WITH CLIMATE CHANGE AND CURING CANCER AND SOME OF THE SEEMINGLY TRACTABLE PROBLEMS? I WANT FOR THAT GALLERY AND SAY NO, WE CAN SOLVE PROBLEMS. >> A SEVEN YEAR PROJECT IN TOTAL? >> YES. .
>> IT'S A HUGE UNDERTAKING SO DOES IT HAVE A PRICE TAG? >> IT'S TAKEN ON BY THE CITIZENS OF THE COUNTRY AS THEIR TAXES WILL PAY FOR A PORTION OF REBUILDING THIS BUILDING. IT HAS HAD A LOT OF WEAR AND TEAR SINCE IT FIRST OPENED OVER 40 YEARS AGO. IMPORTANTLY, THE ACTUAL GALLERY, THE LOOK AND FEEL IS FINANCED PRIVATELY AND THROUGH CORPORATE AND INDIVIDUAL BENEFACTORS, PEOPLE THAT HAVE TRUST IN US AND HAVE GIVEN US THEIR TREASURE, THEIR DONATIONS TO FINISH THIS PROJECT. THAT EQUATES TO OVER $250 MILLION.
>> YOU ARE A FULL-TIME FUNDRAISER AS WELL? >> INDEED, BUT PEOPLE DON'T GIVE TO ME, THEY GIVE TO THE MUSEUM AND THE STORIES WE ARE TELLING. >> I AM COMPELLED BY YOUR PERSONAL STORY AND YOUR CAREER. 315 TRAPS, MORE THAN 500 HOURS FLYING THE F-14 TOMCAT, THE ICONIC FIGHTER PLANE THAT HAS ITS OWN CULT FOLLOWING NOW. YOU WENT ON TO BE THE MANAGER OF DULLES AIRPORT, REAGAN NATIONAL AIRPORT AND THE DIRECTOR OF THE AIR AND SPACE MUSEUM. BUT YOU HAVE SAID IN CONVERSATIONS THAT IN-FLIGHT SCHOOL, YOU EXPERIENCE SOMETHING CALLED A FLIGHT DOWN? >> ABSOLUTELY.
>> YOU ACTUALLY FAILED THE EQUIVALENT OF A CERTAIN EXERCISE THAT YOU NEEDED TO PASS IN YOUR TRAINING. I WONDER HOW MUCH THAT INFLUENCED YOUR APPROACH TO YOUR CAREER OR YOUR TRAJECTORY AFTER THAT? >> IT'S VERY HUMBLING TO BE TOLD THAT YOU FAILED AND SOMETHING YOU WORKED HARD AT. I THINK WHAT IT DOES IS IT'S A TEST OF CHARACTER TO DECIDE HOW INVESTED YOU ARE IN WHAT IT IS YOU'RE DOING. WITH EXPLORATION WITH APOLLO AND ALL THESE STORIES, THERE WAS FAILURE ALONG THE WAY. YOU LEARN FROM YOUR FAILURES. IT'S ALWAYS IMPORTANT NOT TO REPEAT THE FAILURES BUT LEARN FROM THEM.
TO THINK WE WILL DO INCREDIBLE THINGS EITHER AT A LEVEL LIKE THIS MUSEUM, LAND THE PERSON ON THE MOON OR IN MY CASE, LEARN TO LIEN AIRCRAFT ON AND OFF A CARRIER, FAILURE IS PART OF THAT PROCESS. KAILEY: I LOVE THAT CONVERSATION. I LOVE ANY TIME ANYONE BRINGS UP AN F-14 BECAUSE MY DAD WAS A NAVAL AVIATOR. MATT: WE THANK YOU FOR YOUR SERVICE. KAILEY: HE APPRECIATES THAT. I'M SURE HE IS WATCHING AND LISTENING NOW. WE ARE NOT AT HOME, WE ARE WORKING THIS WEEK AND WORKING THROUGH THE MARKET ACTION THIS MORNING. ABOUT 2.5 HOURS TO GO UNTIL THE
OPENING BELL AND FUTURES ARE UP >> WE HAVE FLIPPED TO GOOD NEWS IS GOOD NEWS AND BAD NEWS IS BAD NEWS. >> THE WORST WON'T HAPPEN BY THE END OF THE YEAR, IT WILL HAPPEN IN THE MIDDLE OF THE YEAR. >> WE HAD AN INCREDIBLE RUN. >> THERE IS A LOT OF OPPORTUNITY FOR POSITIVE SURPRISES. >> WE ARE GETTING BACK INTO A MORE NORMAL ZONE OF CONSUMER PRICE SENSITIVITY AND THAT IS KEY. >> THIS IS BLOOMBERG SURVEILLANCE.
KAILEY: JUST A FEW DAYS LEFT TO GO IN A BRUTAL YEAR FOR EQUITY MARKETS AROUND THE WORLD. FROM NEW YORK FOR OUR AUDIENCE WORLDWIDE, GOOD MORNING, THIS IS BLOOMBERG SURVEILLANCE ON BLOOM -- ON TELEVISION AND RADIO. JOHN, TOM AND LISA ARE OFF TODAY. AND MATT MILLER SPEAKING GERMAN.
LET'S TALK ABOUT THE MARKETS. MATT: IT'S BEEN INTERESTING BECAUSE WE HAVE HAD A YEAR WHEN AT THE BEGINNING OF 20, STRATEGIST WERE FORECASTING 4900 ON THE S&P 500 AND NOW WE ARE NOT EVEN AT 3900. WE ARE COMING IN 1000 POINTS BELOW WHERE WE THOUGHT WE WOULD BE AND WE HAVE HAD UNEXPECTED NEGATIVE SURPRISES LIKE THE WAR IN UKRAINE. THAT IS WHAT HAS BEEN PROBLEMATIC FOR THE ENERGY SECTOR, DRIVEN INFLATION HIGHER AND PROBABLY WILL PUSHES INTO A RECESSION IN 2023.
WILL WE EVEN GET TO 3900 ON THE S&P FIVE -- 500 AT THE END OF NEXT YEAR? KAILEY: CONSIDERING HOW CONSENSUS HAS CHANGED OVER THE LAST FEW MONTHS, HOW MUCH UP OR DOWN SIDE IS THERE TO THOSE FORECAST LOOKING INTO THE YEAR AHEAD? THE CONSENSUS SEEMS TO HAVE BUILT THAT IT WILL BE A VERY ROUGH FIRST HALF AND EVENTUALLY WE WILL REACH UP BOTTOM MAY BE AS LOW AS 3000 IF YOU BELIEVE MORGAN STANLEY AND SOMETHING IN THE SHAPE OF A RECOVERY WILL TAKE PLACE BUT ULTIMATELY WILL GET US BACK TO WHERE WE ARE NOW. A YEAR OF LITTLE TO NO RETURN WHATSOEVER BUT UPSIDE OR DOWNSIDE RISK, GIVEN THE YEAR WE HAVE BEEN THROUGH, YOU CANNOT RULE ANYTHING OUT. IT LOOKS LIKE WE WILL HAVE A RECESSION. MATT: THEN EARNINGS WILL HAVE TO BE REVISED DOWN AGAIN. ANOTHER ANALYST SAID WE HAVE NOT HAD A RECESSION WHERE EVALUATIONS HAVEN'T FALLEN TO 15 TIMES FORWARD EARNINGS.
WE STILL HAVE A WAYS TO GO. 3500 WOULD BE A BEST CASE SCENARIO IF WE GET A RECESSION IN THAT OPINION. PROBABLY BELOW THAT. KAILEY: YOU HAVE THE TOP DOWN STRATEGIST SAYING ESTIMATES NEED TO GO DOWN BUT THEY ARE SIMPLY NOT REVISING SO THERE IS A MISMATCH THERE. EARNINGS WILL BE MORE PRESSURED IF INFLATION IS MORE PERSISTENT.
THERE HAS BEEN CONCERN OVER THE LAST DAY OR SO -- WERE SO OF CHINA REFUELING THE INFLATION. MATT: THE REOPENING IN CHINA IS ONE OF THE BIG STORIES. HOW DO YOU PREPARE FOR 2023, HOW DO YOU WRAP UP THIS YEAR? LET'S BRING IN CATHERINE ROONEY VERA THE HEAD OF GLOBAL MACRO RESEARCH SO SHE IS A TOP-DOWN PERSON.
THANK YOU FOR COMING INTO THE STUDIO IN A COLD, DARK AND WET NEW YORK. >> I'M FROM NEW JERSEY BUT I LIVE IN MIAMI. MATT: WHAT YOU THINK ABOUT THE CONUNDRUM -- IT DOESN'T SEEM LIKE A RECESSION IS EVEN PRICED IN YET AND IT'S CRAZY GIVEN THE RING ONE EXPECTS A RECESSION.
>> I THINK WE ARE BEYOND TALKING ABOUT A RECESSION. IT'S ALL ABOUT INFLATION AND YES IT'S ABOUT LAOIS AND BUT FOR ME, IT'S ABOUT THE LABOR MARKET IS IT'S BEEN SO STRONG AND INCREASES IN SALARIES ARE NOT COMMENSURATE WITH A 2% INFLATION TARGET. THE FED KNOWS IT HAS TO GET INFLATION HIGHER. MATT:
WE WILL TALK WITH CLAUDIASAHM A LITTLE LATER AND SHE THINKS THAT'S A MISTAKE TO ARGUE THAT THE PHILLIPS CURVE IS STILL ALIVE AND WELL AND YOU'VE GOT TO PUSH UP UNEMPLOYMENT EMPLOYMENT TO PULL DOWN INFLATION. >> I WOULD LIKE TO HEAR HER VIEW ON WHERE THE NERU IS WHICH I THINK IS 4.9%. FOR THE NATURAL LEVEL OF UNEMPLOYMENT, IF IT'S 4.9
PERCENT, ANYTHING BELOW THAT IS INFLATIONARY. WHAT'S THE VIEW ON WAGE PRICE SPIRAL? MATT: I'M WRITING THESE QUESTIONS DOWN. >> LOOKING AT HISTORY, AND UNEMPLOYMENT MOVE OF THAT AMOUNT IS NEVER NOT COINCIDED WITH AN ECONOMY ALREADY IN RECESSION. I THINK THAT'S IMPORTANT TO NOTE. THE YIELD CURVE IS PRICING IN RECESSION BUT THERE COULD BE NORMALIZATION NEXT YEAR AND MY THING IS EVERYONE IS TALKING ABOUT HAVE NEXT YEAR THE FED WILL NOT CUT BUT IF YOU LOOK AT HISTORY, THE PAST 14 MONETARY CYCLES, THE LAST HIKE VERSUS THE FIRST CUT, THAT TIMING IS MUCH SHORTER THAN YOU THINK. IT'S ON AVERAGE FOUR MONTHS.
KAILEY: CHAIRMAN POWELL SAYS WE ARE NOT GOING TO DO THAT, HIGHER FOR LONGER AND WILL NOT GIVE UP UNTIL INFLATION IS OUR TARGET SO EVEN IF INFLATION IS COOLING, WE ARE FAR AWAY FROM THAT. WHAT GIVES YOU THE CONVICTION THE BED IS NOT GOING TO TOLERATE THE WEAKNESS IN THE LABOR MARKET AND THE BROADER ECONOMY AS THEY SAY THEY WILL AND HAVE TO MAKE THAT PIVOT? >> I THINK IT WILL HAVE TO COME DOWN TO HOW FAR THE LABOR MARKET ROLLS OVER. I THINK UNEMPLOYMENT GOES TO 4.9%. IT'S HARD TO ESTIMATE. MATT: WE ARE AT 3.7% RIGHT NOW? >> YES AND I THINK IT NEEDS TO FORCE THE LABOR MARKET ROLL OVER. WE TALK ABOUT THE SUPPLY-SIDE
FORCES IMPROVING AND USED CAR LOTS ARE PACKED NOW. MATT: I'VE SEEN PRICES COME DOWN CONSIDERABLY. >> I KNOW YOU LOVE CARS. I THINK SUPPLY-SIDE FORCES ARE
IMPROVING AND YOU HAVE CHINA REOPENING. THE DEMAND-SIDE REALLY HASN'T TAKEN A HIT YET. MATT: WE ALSO GOT A $1.7 TRILLION OMNIBUS.
>> WE DO HAVE INFLATIONARY IMPULSES BUT THAT WILL AGGRAVATE THE DEMAND-SIDE WHICH HASN'T YET ROLLED OVER. CONSUMPTION IS STILL PRETTY GOOD. IT'S BEEN VERY RESILIENT. IF YOU LOOK AT THE CONFERENCE BOARD, THAT'S BEEN RESILIENT AND THAT HAS A STRONG CORRELATION WITH THE UNEMPLOYMENT RATE. IF UNEMPLOYMENT MOVES HIGHER, CONFIDENCE DROPS AND YOU GET A ROLLOVER IN CONSUMPTION. PEOPLE ARE STILL SPENDING EVEN THOUGH INFLATION IS VERY HIGH BECAUSE THEY HAVE JOBS. KAILEY:
WHEN PEOPLE ARE STILL SPENDING AND MAYBE LEVERAGING UP THE PANDEMIC MONEY, WHAT DOES THAT MEAN FOR CORPORATE EARNINGS? PEOPLE ARE STILL OUT THERE TOLERATING HIGHER PRICES AND CAN YOU CONTINUE PASSING ON HIGHER COSTS AND MARGINS AND PROFITS HOLD UP? >> YOU HAVE NOMINAL GROWTH IT INFLATION SO I THE NEXT YEAR INFLATION WILL COME DOWN. I'VE BEEN OUT OF CONSENSUS ON THAT SINCE THE BEGINNING OF THIS YEAR. STAGFLATION TO INFLATION WAS MY OUTLOOK FOR THIS YEAR AND I THINK WE COULD GET EARNINGS HAVING TO BE REVISED LOWER AND NOMINAL GROWTH IN MY VIEW IS POSITIVE BUT REAL GROWTH NEXT YEAR I HAVE IT -0.4%. I HAVE FOUR QUARTERS BAKED IN OF NEGATIVE ANNUALIZED GROWTH IN THE U.S. MATT: SAVINGS RATES HAVE FALLEN SUBSTANTIALLY. DURING THE PANDEMIC, THEY SHUT UP TO RECORD HIGHS FOR AMERICAN SAVINGS RATES AND NOW WE ARE BACK DOWN TO ABOUT 2% SAVINGS RATES. MICHAEL MCKEE PULLED UP BANK
BALANCES. THANK BALANCES ARE STILL HOLDING PRETTY HIGH RIGHT NOW. THEY START AS A ROLLOVER A LITTLE BIT BUT THEY ARE STILL PRETTY FAT. THE U.S. CONSUMERS SHOULD NOT BE COUNTED OUT QUITE YET. KAILEY: YOU CAN FIND THIS ON YOUR BLOOMBERG TERMINAL. MATT:
LET'S JUST SAY THEY WILL THAT BIG TIME DURING THE PANDEMIC AND WE SHOWED THIS AND THEY HAVE HELD THEIR PRETTY WELL. HOWEVER, CREDIT CARD DEBT IS STARTING TO CLIMB AND THE CONSUMER IS STARTING TO LEVERAGE OF. HOW DO YOU TAKE THIS INTO ACCOUNT AND PUT IT INTO YOUR INVESTMENT STRATEGY? ARE YOU STILL DEFENSIVE AND WIND -- AND WIND WE FIND AN INFLECTION POINT WHERE YOU CAN START INVESTING AGAIN? -- AND WHEN WILL WE REACH AN INFLECTION POINT WHERE YOU CAN START INVESTING AGAIN? >> WHEN YOU GET THE CHANGE IN THE LABOR MARKET, I THINK THAT'S WHERE THE MARKET DROPS A BIT FURTHER. I THINK WE COULD GO LOWER ON THE S&P 500 AND I THINK WE START TALKING ABOUT THE FED GUIDANCE TURNING A LITTLE MORE DOVISH. I AM IN THE CAMP WHERE THE LABOR MARKET DETERMINES HOW WEEKLY THE FED WOULD STOP TALKING ABOUT HIGHER FOR LONGER. THE FED IS ALL AND NOW BUT THE
POLICY MISTAKE HAS ALREADY BEEN MADE KAILEY: THANK YOU SO MUCH FOR JOINING US IN STUDIO. HOW ARE YOU GETTING BACK TO MIAMI? >> OH, GOD, SPIRIT AIRLINES. FOR TALL PEOPLE, THAT'S COMPLICATED. MATT: IT'S DIFFICULT AND I DON'T ENVY
YOU WE WILL TALK TO HELENE BECKER ABOUT THE AIRLINE SITUATION SHE SAYS THEY HAVE A STRONG BALANCE SHEET SO AS AN INVESTMENT, MAYBE NOT THE WORST AIRLINE BUT I HAVE HEARD THEM REFERRED TO AS SOUTH WORST. KAILEY: THANK YOU AGAIN FOR JOINING US AND BEST OF LUCK WITH YOUR TRAVELS. I JUST TOOK A LOOK AT SOUTHWEST STOCK, DOWN ANOTHER 1% AFTER A 6% LOSS YESTERDAY BE AS IT COULD STILL BE A REDUCED SCHEDULE FOR DAYS. INVESTORS SAVE IT COULD TRANSLATE INTO A NONSIGNIFICANT EARNINGS PERIOD.
MOST EVERYTHING IS PROBABLY BETTER THAN TESLA. I WONDER IF WE WILL CONTINUE TO SEE THE MARKET FIGHTING THE FED NEXT YEAR OR MARKETS QUESTIONING THE FED CREDIBILITY. UNTIL WE SEE UNEMPLOYMENT TAKE UP IN THE FED DOING TO RAISE RATES AND RUSSIA'S THERE, I THINK MARKET WILL CONTINUE TO ASK THOSE QUESTIONS OF JEROME POWELL. KAILEY: IT'S A QUESTION HOW STRONG THE MARKET PUSHES BACK AGAINST THE FED AND HOW THE FED PUSHES BACK IN RETURN.
THIS IS A CONVERSATION WE WILL CONTINUE TO HAVE. CHRISTINA COOPER WILL BE WITH US AT 8:00 A.M. AND WE WILL DISCUSS MORE ABOUT THE MARKETS AS WE HAVE FUTURES IN POSITIVE TERRITORY. THIS IS BLOOMBERG. ♪ RITIKA: KEEPING YOU UP-TO-DATE WITH NEWS AROUND THE WORLD, IN WESTERN NEW YORK, THE NUMBER OF FATALITIES HAS RISEN FROM THE RECORD-BREAKING SNOWSTORM. THE STORM DUMPED MORE THAN FOUR FEET OF SNOW ON BUFFALO.
TRAVELERS ARE BOOKED ON SOUTHWEST AIRLINES AND IT'S A NIGHTMARE FOR. THEY HAVE DELAYED 60% OF FLIGHTS TODAY. CHINA'S ABANDONING OF COVID ZERO POLICY HAS PROMPTED A GLOBAL RESPONSE WITH COUNTRIES CONSIDERED WHETHER TO RESTRICT TRAVELERS FROM CHINA. THE POLICY REVERSAL HAS TRIGGERED NATIONWIDE COVERT OUTBREAKS BUT THE U.S.
AND JAPAN ARE WEIGHING NEW RESTRICTIONS ON PEOPLE ARRIVING FROM CHINA. THE VATICAN SAYS RETIRED HOPE BENEDICT'S HEALTH IS GETTING WORSE DUE TO HIS AGE AND POPE FRANCIS HAS GONE TO VISIT HIM. BENEDICTS IS 90 FIVE AND SERVE AS HEAD OF THE ROMAN CATHOLIC CHURCH FOR ALMOST EIGHT YEARS. HE BECAME THE FIRST POPE AND 600 YEARS TO STEP DOWN. THE BIDEN ADMINISTRATION WILL COMPLY WITH THE SUPREME COURT ORDER THAT KEEPS IN PLACE ORDER CONTROLS. THE COURT ORDERED THE
RESTRICTIONS STAY IN EFFECT WHILE THE LAWSUIT GOES FORWARD AND PRESIDENT BIDEN SAYS HE WILL ENFORCE THE ORDER BUT BELIEVES CHANGING THE MEASURE IS OVERDUE. YEARS OF DONALD TRUMP'S TAX RETURNS WILL BE RELEASED RIGHT A BUY A HOUSE COMMITTEE. INFORMATION SUCH AS ACCOUNT NUMBER WILL BE BLACKED OUT IN THE DOCUMENTS WILL GIVE A COMPLETE LOOK AT THE FORMER PRESIDENT'S TAX RECORDS FOR THE YEARS HE WAS RUNNING AND IN THE WHITE HOUSE. GLOBAL NEWS, 24 HOURS A DAY AND ON BLOOMBERG QUICKTAKE, POWERED BY MORE THAN 2700 JOURNALISTS AND ANALYSTS IN MORE THAN 120 COUNTRIES. THIS IS BLOOMBERG. ♪ >> WE SHOULD EXPECT SOME LEGISLATION BUT I DON'T THINK YOU WILL GET A COMPREHENSIVE BILL THAT SOME WANTS BUT I THINK IT WILL BE MORE NARROWLY TARGETED.
THAT'S SOMETHING THE CONGRESS UNDERSTANDS, LIKE A MONEY MARKET FUND, LIKE A DEPOSIT ACCOUNT THEY CAN GET THEIR ARMS AROUND THAT. KAILEY: THE POLICY RESEARCH DIRECTOR SPEAKING TO US ABOUT CRYPTO REGULATION YESTERDAY. IT HAS BEEN A TERRIBLE YEAR FOR THE CRYPTOCURRENCY MARKET.
BITCOIN DOWN ON THE YEAR 64%. WHAT IS DOWN HARDER ON THE YEAR IS TESLA, DOWN 69%. MATT: IT'S NOT AS BAD AS TESLA WILL BE MY REFRAIN FOR THE END OF 2020. IT'S BEEN UNBELIEVABLE TO WATCH THIS CRASH. BITCOIN IS DOWN CONSIDERABLY ON
THE YEAR BUT TO ME, STILL AMAZING TO SEE BITCOIN TRADING AT MORE THAN $16,000. I BOUGHT MY FIRST ONE FOR $600. 16,000 IS STILL PRETTY AMAZING FOR LINES OF CODE. CONSIDERING WHAT IT IS AND CONSIDERING WHAT HAS HAPPENED WITH THE COLLAPSE OF FTX.
BITCOIN INITIALLY DROPPED ON THAT IMPLOSION BUT SINCE THEN, HAS BEEN SO STABLE. IT'S THE ENVY OF THE REST OF THE MARKET IN TERMS OF THE LACK OF VOLATILITY. IT USED TO KAILEY: BE THE POSTER CHILD FOR VOLATILITY. BIT GOING IS GETTING STUCK IN CONSISTENT RANGES IN THE VOLATILITY IS EVAPORATING AND A STOCK LIKE TESLA WHICH WAS A $1 TRILLION COMPANY, ONE THAT SHOULD NOT BE THAT VOLATILE GIVEN ITS SIZE HAS BEEN THE OPPOSITE AND IT'S BEEN GOING BANANAS. MATT: 11% DROP YESTERDAY CAUGHT MY EYE THIS MORNING.
ED LUDLOW WAS TELLING US IT'S DOWN 25% OVER THE LAST SEVEN TRADING DAYS. I ALWAYS PULL UP A COMP SCREEN WHEN I LOOK AT STOCKS. I WANT TO SEE HAVE THE HAVE DONE AGAINST THE BROADER MARKET AND OTHER COMPETITORS. IT AUTOMATICALLY REVERTS TO A FIVE-YEAR WINDOW WHICH IS A GOOD WAY TO LOOK AT STOCKS. OVER THE LAST FIVE YEARS, TESLA IS UP 400 20% SO IF YOU ARE A LONG-TERM INVESTMENT, IT'S NOT THE WORST THING THAT HAS EVER HAPPENED TO YOU. AT ONE POINT, IT WAS UP ALMOST 2000%. IT HAS DEFINITELY COME IN FROM
THE HIGHS WE SAW DURING THE PANDEMIC. LET'S GET OVER TO ED LUDLOW WHO COVERS TESLA AND THE EEEV SPACE. I BELIEVE YOU ARE STILL IN LONDON, DID CHELSEA WIN LAST NIGHT? ED: 2-0 MATT: SCORING TWO GOALS IS AMAZING FOR A SOCCER GAME.
IT MUST HAVE BEEN EXCITING. ED: IT WAS EXCITING WHAT I WAS COLD AND I WAS LATE. SHALL WE TALK ABOUT TESLA? MATT: WHAT THE HECK IS GOING ON? YOU ARE SAYING SEVEN-DAY LOSING STREAK IN THE WORST SINCE 2018 AND HAS DROPPED 25% SINCE THEN. IF WE DROP TODAY IT, IT COULD BE THE CURSED -- THE WORST LOSING STREAK SINCE THE IPO. ED: WHEN I LEFT FOR THE STADIUM LAST NIGHT, THE DECLINES WERE SIGNIFICANT, 11% TO KLINE'S BUT WHEN I WENT TO BED, RSI WAS AT 16. THE PRESSURE HAS BEEN IMMENSE. OVER THE LAST SEVEN DAYS, SEVEN SESSIONS, WE ARE DOWN ALMOST 33% WITH EVERY YEAR TO DATE DECLINE IS $.69.
WE ARE HIGHER BY 1.6% IN PREMARKET. EITHER TESLA HAS SNAPPED ITS WORST RUN WITH SEVEN STRAIGHT SESSION SINCE SEPTEMBER 2018 OR YOU GO THE OTHER WAY AND SAY THIS STOCK HAS AVOIDED ITS WORST EVER RUN OF THE CLIENT. IT HAS NEVER DROPPED FOR EIGHT CONSECUTIVE SESSIONS. MATT: IT'S WAY OVERSOLD. YOU HAVE TO TELL PEOPLE THAT MEANS THE RELATIVE STRENGTH INDEX.
ED: THE QUESTION IS WHY, WHAT IS GOING ON? WE STARTED THIS CONVERSATION TWO OR THREE WEEKS AGO ABOUT KEY RISKS WITH ELON MUSK INTO DISTRACTED BY TWITTER. INVESTORS TOOK TO TWITTER AND OTHER FORMS TO VOICE THAT CONCERN BUT THE NARRATIVE OF THE LAST FEW SESSIONS HAS BEEN AROUND DEMAND. THE LATEST CATALYST FOR THE 11% DROP IN YESTERDAY SESSION WAS A REPORT FROM REUTERS THAT BETWEEN JANUARY 3 AND 19, TESLA WILL CUT PRODUCTION AND SHANGHAI. AT THE END OF JANUARY, FOLLOWING JANUARY 19, THEY WILL SHUT THE WENT DOWN COMPLETELY FOR THE REST OF THAT MONTH TO MAKE SCHEDULED UPDATES FOR REPAIRS WHICH IS PART OF THE CHINESE NEW YEAR. THERE SEEMS TO BE A WORRY ABOUT DEMAND. KAILEY: IF IT IS ABOUT DEMAND, ARE WE TALKING ABOUT DEMAND FOR ELECTRIC NICHOLS WANING OR THE DEMAND FOR TESLA AS A MARKET SHARE? ED: THERE ARE MANY MORE OPTIONS FOR THE INVESTOR AND THE CONSUMER.
THERE WAS A TIME WHEN HE WANTED TO BE AN EQUITY INVESTOR IN ELECTRIC VEHICLES AND TESLA WAS HOME -- WAS THE ONLY GAME IN TOWN. THAT'S NOT TRUE ANYMORE. RIVIAN AND LUCID ARE THE WORST PERFORMING STOCKS WITH 80% TO KLINE'S WHICH IS WORSE THAN TESLA SO THE ARGUMENT DOESN'T STAND UP. ON THE CONSUMER SIDE, THERE ARE MANY MORE OPTIONS AVAILABLE AND MANY MORE LEGACY PLAYERS FROM THE UNITED STATES AND EUROPE STARTING TO PRODUCE IN MORE MEANINGFUL VOLUME. THERE IS STILL NOISE FROM THE MARKET ABOUT THIS BRAND EQUITY ISSUE, THE DISCOUNT ON TESLA RIGHT NOW REFLECTS ANXIETY ABOUT ELON MUSK AND HIS BEHAVIOR. THAT'S ONE SCHOOL OF THOUGHT
OUT THERE. MATT: YOU WERE RIGHT AND I DOUBLE CHECKED. WE ARE HOLDING INTO YOUR WORD AND LUCID IS DOWN 84% YOUR TO DATE. RIVIAN IS A BUMMER BECAUSE I LOVE THE TRUCK IS DOWN 83% YEAR TO DATE. BOTH OF THEM UNDERPERFORMING TESLA SO WHAT'S THE PROBLEM WITH RIVIAN? ARE THEY NOT MEETING PRODUCTION TARGETS? ED: AT THE TIME OF THE IPO IN NOVEMBER 2021, THEY WERE SO OVERVALUED THAT THEY SHUT PAST $100 BILLION OF MARKET CAP. THEY THEN MET THE REALITY OF PRODUCTION COUPLED WITH THE SUPPLY CHAIN CRUNCH. WE STARTED THIS YEAR WITH
RIVIAN HOPING TO MAKE 50,000 EEEV'S ACROSS THE MARKET. THEY LOOK ON TRACK TO 25,000 THIS YEAR. INVESTORS HAVE PULLED BACK THEIR EXPECTATIONS. A SIX-FIGURE IPO BECAUSE OF THE AMAZON BACKING. IT WAS SEXY, AND ELECTRIC PICKUP TRUCK NOW, REALITY TAKES HOLD. KAILEY: AND THEY COME CRASHING BACK
DOWN TO EARTH, THANK YOU SO MUCH AS ALWAYS. WE COVERED THE EV PART OF THE CONVERSATION THAT WE TALKED ABOUT THE COMPARISON BETWEEN SOME OF THESE COMPANIES AND CRYPTO. ON THE SUBJECT OF CRYPTO, WE CONTINUED TO GET UPDATES AROUND THE FTX BANKRUPTCY AND THE LATEST IS SAM BANKMAN-FRIED SAID HE BARRED ABOUT HALF $1 BILLION TO BUY A BIG STAKE IN ROBINHOOD SO WHO DOES THAT STATE BELONG TO AND WHAT HAPPENS WITH THESE ASSETS IN THE BANKRUPTCY? MATT: NORMALLY, THE ANSWER IS IT BELONGS TO THE EXECUTOR WHO IS RUNNING DOWN THE COMPANY AND TRYING TO PAY BACK THE PEOPLE WHO LOST MONEY IN THE BANKRUPTCY. THE PROBLEM IS THERE ARE NUMBER OF DIFFERENT JURISDICTIONS THAT WANT TO CLAIM OWNERSHIP. IT'S NOT JUST THE BANKRUPTCY COURT IN NEW YORK FOR A BANKRUPTCY COURT IN DELAWARE BUT I THINK IT'S ANTIGO WANTS A PIECE, THE BAHAMAS WANTS THAT STAKE, SOME FAILED CRYPTO LENDERS CLAIM THEY WERE GIVEN THAT AS COLLATERAL WANT IT AS WELL SO IT'S VERY INTERESTING. IT'S ONE OF THE ASSETS THAT
CREDITORS WILL TAKE OVER. KAILEY: CUSTOMERS ARE ALSO SUING NOW BECAUSE THEY WANT TO BE MADE WHOLE FIRST. WE ARE WATCHING MARKETS MORE BROADLY BEYOND THE CRYPTO WORLD AND EQUITY FUTURES ARE POSITIVE BY OF -- BY AROUND 0.3% IN THE 10 YEAR YIELD IS TRADING AT $381. -- AT 381. MANAGING DIRECTOR AND PORTFOLIO MANAGER WILL JOIN US COMING UP. MATT: THIS IS "BLOOMBERG SURVEILLANCE: THE FED DECIDES."
ALONGSIDE MATT MILLER, I AM KAILEY LEINZ. MANY PEOPLE ARE TRADING VOLUMES THAT WILL BE LIGHT BUT WE ARE SEEING IF SANTA CLAUS SHOWS UP. HE ALREADY GOT THE GIFTS TO THE KIDS. RIGHT NOW, FUTURES IN POSITIVE TERRITORY.
MORE CONVICTION DROPPING CLOSER TO THE OPENING BELL. S&P 500 UP 3/10 OF 1%. 3865, IF I CAN GET MY WORDS OUT. AS WE HAVE BEEN DISCUSSING,
THAT IS STILL BELOW WHERE STRATEGISTS WERE HOPING. KAILEY: WE ARE LOOKING FOR ABOUT 4000 AND CHANGE. MATT: THE SAME IS TRUE FOR THE END OF 2023. STRATEGISTS ARE SAYING WE ARE NOT MAKING ANY HEADWAY IN 2023. THEY THINK, FOR THE MOST PART, WE ARE COMING DOWN IN THE MIDDLE OF THE YEAR AND THEN BACK WHERE WE ARE NOW BY THE END OF THE YEAR. KAILEY: IT IS NOT ABOUT US GOING
NOWHERE THE NEXT 12 MONTHS. A LOT OF VOLATILITY AND THE ROLLER COASTER IS EXPECTED, EVEN IF IT BRINGS US TO THE SAME PLACE. THE CONSENSUS IS EARNINGS EXPECTATIONS ARE GOING TO COME DOWN. YOU ARE GOING TO SEE THE PAIN IN CORPORATE PROFITS THAT THE FED IS DOING AND THE RESULTING DEMAND EFFECT IT HAS IN THE U.S. ECONOMY. AS A RESULT, MORE PAIN IS TO COME IN THE FIRST PART OF THE YEAR.
IT BECOMES A QUESTION OF IF THE FED WILL PIVOT AND OF RECOVERY WILL FOLLOW. MATT: IT IS INTERESTING TO SEE THE TOP DOWN STRATEGISTS REALLY NEGATIVE ON EARNINGS BUT BOTTOMS OF ANALYSTS ARE SAYING WE SEE MORE. THERE IS A HUGE DELTA -- I THINK TOM WOULD SAY THAT. KAILEY: ANY THREE LETTER WORD FOR TOM.
MATT: I NEVER KNOW WHICH CAMERA. THEY HAVE SIX DIFFERENT CAMERAS AND A HANDHELD. [LAUGHTER] KAILEY: FOR OUR LISTENERS ON RADIO, YOU ARE SPARED OUR BOBBLEHEADS.
MATT: BUT YOU ARE MISSING OUT ON MY BEARD. KAILEY: THIS IS TRUE. I AM GOING TO PUT A PULLOUT ON TWITTER IF WE LIKE THE BEARD OR NOT. MATT: LET'S GET BACK TO THE IMPORTANT BUSINESS OF THE DAY AND THAT IS THE MARKETS. WE ARE FORTUNATE TO HAVE DAVID SOWERBY STANDING BY, PORTFOLIO MANAGER AT ANCORA. THANK YOU FOR JOINING US.
THERE IS A COUPLE OF DYNAMICS THAT WE HAVE BEEN TALKING ABOUT TODAY. THE FIGHT BETWEEN THE MARKET AND THE FED. THE MARKET DOES NOT BELIEVE JEROME POWELL IS WILLING TO PUSH INTO HIGHER UNEMPLOYMENT AND REALLY DIFFICULT EQUITIES, PRICES, AND ESPECIALLY NOT IF IT THE FIXED INCOME SIDE. THE OTHER DYNAMIC IS THAT TOP DOWN STRATEGISTS SEE A VERY DIFFERENT WHEN IT COMES TO EARNINGS. HELP US, HELP ME, IN TERMS OF WHAT I SHOULD BE LOOKING AT FOR 2023. DAVID:
LOVE TO BE HERE, FIRST. MATT: THANKS. DAVID: IT IS THE BOTTOM UP. WHAT ARE COMPANIES TELLING YOU? THAT MATTERS MORE THAN THE WALL STREET STRATEGISTS LINED UP END TO END. BUT THE BOTTOM UP IS COMPANIES ARE GENERATING 11% TO 13% CASH FLOW MARGIN AND ARE SELLING ON A FREE CASH FLOW BASIS, AS WELL AS PRICE TO EARNINGS. THAT IS WHAT IS GOING TO GUIDE ME IN 2023. THE NEGATIVE SENTIMENT IS GOOD
FOR NEXT YEAR'S RETURNS AS WELL. I AM MORE OFTEN THAN NOT FULLY INVESTED IN STOCKS. MATT: IS THAT EQUATION GOING TO CONTINUE TO MAKE MATHEMATICAL SENSE IF THE FED RAISES TO 5%, 5.5%? IF UNEMPLOYMENT GOES TO 5%? ARE WE GOING TO SEE THOSE EARNINGS PAN OUT IN 2023? DAVID: THEY COULD GO LOWER WHEN WE START TO GET THE ANECDOTAL NEWS FOR Q4 EARNINGS. BUT THEY HAD A FREE CASH FLOW YIELD.
COMPANIES HAVE A 6% TO 7% CASH FLOW YIELD WHICH IS FAVORABLE TO THE 3.7%. I THINK THE MARKET HAS ROOM TO DIGEST MORE NEGATIVE ACTIVITY AND THE FED HAS MORE WORK TO DO TO GET INFLATION INTO THE 3% HANDLE. BUT HERE WE ARE, FOURTH-QUARTER, WE ARE UP 10% FOR MOST INVESTORS.
I THINK THAT SETS THE TABLE FOR 2023 BEING A LITTLE BIT BETTER THAN AVERAGE. THAT MIGHT NOT BE CONSENSUS, BUT I THINK IT HOLDS. KAILEY: YOU SAY UP 10% WHICH IS WHAT THE ANNUALIZED TOTAL RETURN FOR THE S&P HAS BEEN OVER THE COURSE OF SEVERAL DECADES. BUT IF WE ARE TALKING ABOUT A WORLD, AND EVEN IF THE FED PIVOTS AND BEGINS TO CUT, THE CONSENSUS I AM HEARING IS WE ARE NOT GOING BACK DOWN.
WE DO NOT LIVE IN THAT WORLD ANYMORE. HOW DO EXPECTATIONS FOR WHAT KIND OF RETURNS YOU CAN GENERATE IN EQUITIES NEED TO CHANGE TO REFLECT THAT? DAVID: I THINK IF YOU SET THE TABLE FOR THE S&P 500, WHICH MAY NOT BE THE BEST BAROMETER HE NEXT YEAR, BUT IF YOU DIG DOWN INTO THE MID-CAP AND SMALL-CAP RANGE, I THINK YOU CAN SEE HIGH SINGLE DIGIT RATE OF RETURN. THAT IS GOING TO OUTPERFORM BONDS, OUTPERFORM OTHER ASSET CLASSES, AND FRANKLY, THE FED NEEDS TO DO MORE WORK. THERE ARE NOT ENOUGH MONITORS AT THE FED BOARD THAT RECOGNIZE INFLATION IS, AND ALWAYS WILL BE, A MONETARY EVENT. THEY HAVE TO BE MORE RESTRICTIVE FOR THE FIRST QUARTER AND ONCE THE INCREMENTAL INFLATION NEWS GETS BETTER, AND IT IS STARTING TO, I THINK THAT SETS THE RIGHT BACKDROP FOR THE, LET'S SAY, TEMPERED RISK ON STRATEGY. KAILEY: IN YOUR MIND WHEN WE THINK ABOUT THE FED OVERDOING IT VERSUS THE RISK OF UNDER DOING IT, WHICH IS GREATER? DAVID: WELL, THEY TEND TO ALWAYS OVERDO IT WHETHER IT IS ON THE RESTRICTIVE SIDE.
THEY COULD OVERDO IT BUT NUMBER ONE, IF YOU ARE LOOKING AT THE RETURN ON STOCKS FROM 1967 TO 1982, THEY WERE DOWN 50%. IF THE FED OVER DOES IT TO GET INFLATION BACK TO THAT 3% HANDLE, I MAY NOT LIKE IT IN THE NEAR TERM, BUT I LIKE WHEN I LOOK OUT THREE OR FOUR YEARS AND SAY, WHERE AM I GOING TO MEET MY PENSION FUND LIABILITIES? WHERE AM I GOING TO GET RETURNS? IT IS A ST STOCKMARKET BACK IN THAT 7% TO 8% RETURN. MATT: YOU ARE ON THE INVESTMENT ADVISORY COMMITTEE FOR THE MICHIGAN PENSION FUND, $50 BILLION, $60 BILLION PENSION FUND. HOW ARE THOSE BIG INSTITUTIONS GOING TO FAIR INTO -- FARE 2023? ARE THE
2023-01-02 07:59
Show Video
Other news