Bloomberg Crypto Full Show (03/15/2022)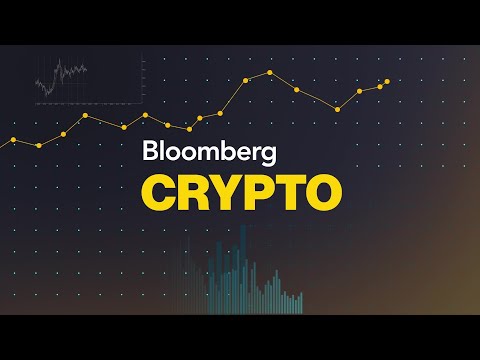 Show Video
>> WE ARE LIVE FROM BLOOMBERG'S WORLD HEADQUARTERS IN MANHATTAN, STREAMING ON TWITTER, AND FACEBOOK. I MATT MILLER. >> I'M KAILEY LEINZ. WELCOME TO BLOOMBERG CRYPTO, THE PEOPLE, TRANSACTIONS, AND TECHNOLOGY SHAPING THE WORLD. >> COMING UP, THE BEAR CASE FOR CRYPTO FOR DIGITAL GOLD. A SKEPTIC JOINS US AND DEBATES THE COIN'S UTILITY AND LONGEVITY.
>> AND FEDERAL WATCHDOGS ONCE HELD BACK OUR FRONT AND CENTER IN THE CRYPTO REGULATION GAME. WE HAVE MORE WITH THE CHAMBER OF DIGITAL COMMERCE. MATT: GOLDMAN SACHS TEAMS UP WITH GALAXY DIGITAL. DETAILS ON THE LATEST MOVE BY WALL STREET TO EMBRACE DIGITAL ASSETS. KAILEY:
WE WILL HAVE DETAILS ON THOSE COMING UP AT FIRST, LET'S GET YOU UP TODAY WITH THE MOVES ACROSS DIGITAL ASSETS. THE BEST WAY TO DO THAT ON YOUR BLOOMBERG TERMINAL IS T.R.Y. TO GO.
HERE IS -- CRTY GO. DIGITAL COINS ARE MOVING UPWARD INTENDED RISK ASSETS. BITCOIN IS UP 3.3% AND WE ARE TRADING AROUND 42,005 HUNDRED. ROUGHLY IN THE SAME RANGE WE HAVE BEEN IN ALL YEAR, ON THE HIGHER END OF IT. YOU ALSO SEE EITHER A BY 3%. WE ARE JUST BELOW 3000.
FOR THE LAST WEEK OR SO, YOU HAVE SEEN EITHER OUTPERFORMING BITCOIN RATHER DRAMATICALLY. THERE IS A LOT OF ANTICIPATION BUILDING ABOUT THE UPGRADE ABOUT ETHEREUM BLOCKCHAIN. WHILE YOU ARE SEEING DIGITAL COINS IN THE GREEN, YOU ARE SEEING CORRESPONDING MOVES IN SOME CRYPTO RELATED EQUITIES, MARATHON DIGITAL, AND RIOT BLOCKCHAIN HIGHER BY 8.4% AND 5.4% RESPECTIVELY. MATT: BITCOIN IS STILL THE BIG BEHEMOTH. I'M OLD ENOUGH TO REMEMBER WHEN
IT COST LESS THAN AN OUNCE OF GOLD TO BUY ONE BITCOIN. YOU CAN SEE FROM THIS CHART, GOING BACK TO 2019, IT COST ROUGHLY FIVE OUNCES OF GOLD TO BUY ONE BITCOIN, THEN AS WE HIT THE PANDEMIC, THE PRICE SHUT UP. WE TOPPED $65,000 PER BITCOIN AND WE WENT UP TO ABOUT 35 OUNCES OF GOLD. RIGHT NOW WE ARE TRADING AT 22 OUNCES OF GOLD, HOW MUCH YOU WILL PAY FOR ONE BITCOIN IN GOLD TERMS. MIKE NOVA GRASS MADE THE BULLISH CASE FOR THE DIGITAL CURRENCY ON OUR DEBUT SHOW LAST WEEK. >> I THINK BITCOIN HAS THIS BEAUTIFUL LANE OF BEING DIGITAL GOLD OR A STORE OF VALUE. IF YOU DO NOT TRUST YOUR
GOVERNMENTS CURRENCY, TRADITIONALLY WE PUT IT IN DIMONS OR GOLD. THIS IS THE FIRST DIGITAL VERSION OF THAT. THE WORLD WILL NOT BE -- BITCOIN WILL NOT PUT THE WORLD OVERNIGHT BUT YOU MIGHT SEE PEOPLE SAY I WANT SOME OF IT OUTSIDE THE STOCK MARKET. TO COIN IS A LIFELINE TO THOSE WITH POOR STARSHIPS OF THEIR ECONOMY. WE SHOULD BE THRILLED RUSSIANS CAN GET SOME OF THEIR MONEY IN BITCOIN SO THEY'RE NOT COMPLETELY BROKE HOLDING WORTHLESS RUBLES. KAILEY: THAT WAS MIKE NOVAGRASS WITH
HIS VIEW. LET'S GET THE COUNTER OPINION AND BRING IN NOTABLE CRYPTO SKEPTIC, AUTHOR OF SEVERAL BOOKS INCLUDING THE NEW GREAT DEPRESSION AND EDITOR OF FINANCIAL NEWSLETTERS, STRATEGIC INTELLIGENCE, JIM RECKER, JOINING US HERE IN OUR NEW YORK CITY STUDIO. THANK YOU FOR BEING HERE. YOU OBVIOUSLY HAVE BEEN
SKEPTICAL ON CRYPTOCURRENCIES FOR SOME TIME. GIVEN THE EVOLUTION IN THE LAST MONTH, THE WAR IN UKRAINE, SANCTIONS ON RUSSIA, HAVE YOU CHANGED YOUR VIEW? JIM: I WOULD NOT SAM SKEPTICAL ON CRYPTOCURRENCIES. THE THING WITH CRYPTO CURRENCY IS IS IT MONEY OR NOT? I WAS ASKING A DIFFERENT QUESTION. IF BITCOIN IS MONEY, WHAT DOES THAT SAY ABOUT THE DEFINITION OF MONEY? I THINK THAT IS THE REVOLUTION. BITCOIN IS A MEDIUM LIKE TELEVISION AND RADIO OR THE COMPUTER, ANYTHING I CAME ALONG. IT DISRUPTS THINGS BUT WHAT IT
IS DISRUPTING IS THE DEFINITION OF MONEY. I THINK WE ARE AT A POINT WHERE WE HAVE LOST THE THREAT. THE FED DOESN'T EVEN KNOW WHERE THE MONEY IS BECAUSE THEY HAVE THREE DIFFERENT DEFINITIONS, THROWING GOLD, CRYPTO, BITCOIN, ETC.. THE MOST RECENT ACADEMIC RESEARCH ON THIS, A COUPLE
SCHOLARS DID A GREAT JOB. THEY IDENTIFIED 40 DIFFERENT CHARACTERISTICS. THE CLASSIC IS MEDIUM OF EXCHANGE. THEY HAVE 40. AS A GOOD FOR MONEY LAUNDERING OR NOT? IS IT GOOD FOR TAX EVASION OR NOT? IS IT ANONYMOUS OR NOT? ACROSS 15 DIFFERENT KIND OF MONEY. THERE WAS 600 BLOCKS THAT YOU COULD CHECK THE BOX DOES IT OR DOES IT NOT HAVE JURISDICTION. MATT:
BUT YOU DO THINK IT IS MONEY. YOU THINK BITCOIN IS AS MUCH MONEY AS IT IS AS GOLD WITH A SHORTER TRACK RECORD? JIM: YOU HAVE TO TAKE THE FISH OUT OF THE WATER. WE ARE IN AN ELECTRONIC ENVIRONMENT AND AT HAS COME AND AFFECTED OTHER TYPES OF MEDIUM. THERE IS SOME CHARACTERISTICS OF MONEY, BUT I DESCRIBE THE 600 BOX MATRIX IS SORT OF NAME YOUR OWN MONEY. WE LOST THE THREAT TO WHAT MONEY IS. MATT: HOW MUCH DO YOU THINK INVESTORS
SHOULD BE WILLING TO PUT INTO DIGITAL CURRENCIES, ESPECIALLY AS WE WATCH -- AND KAILEY WAS REFERRING TO A DEDOLLARIZATION. NOT THAT WE HAVE FLOATED COMPLETELY AWAY FROM THE DOLLAR IS A WORLD CURRENCY OR WE WILL IN DECADES BUT WE HAVE HAD A TASTE OF THAT FROM THIS WAR IN UKRAINE. JIM: THE RESERVE CURRENCY ROLE FROM IS THE DOLLAR SOUND MONEY, SEPARATE IT. I THINK WE DO NOT KNOW WHAT MONEY IS RIGHT NOW. SUDDENLY THE PEOPLE'S BANK OF CHINA HAS $100 BILLS IN THE BASEMENT, THEY DO NOT. THERE HAS TO BE A BOND MARKET, DENOMINATED DOLLARS SO THE DOLLAR IS -- BUT THERE IS NO BITCOIN BOND MARKET. THERE IS NO CHINESE YUAN BOND
MARKET. SO THOSE THINGS CANNOT BE RESERVE CURRENCIES BECAUSE THERE IS SOMETHING TO INVEST IN. IF THE EXCHANGE IS TRADABLE, YOU CAN BUY SOMETHING WITH A BUCK CANNOT INVEST IN SOMETHING. THE DOLLAR CAN BE RESERVE CURRENCY BUT I'M POINTING TO A LARGER ISSUE WHICH IS PEOPLE ARE GOING TO GO IN 50 DIFFERENT DIRECTIONS.
IN TERMS OF WHAT MONEY IS, IT IS NOT SURPRISING YOUNGER PEOPLE TOOK BITCOIN, ASKING NOT SO MUCH HOW MUCH THEY OWN BUT WHAT PERCENTAGE OF EACH TENURE TRAUSCH OWNS BITCOIN, THAT IS MUCH HIGHER FOR MILLENNIALS THAN GENERATION Z. THINK ABOUT WHEN THEY WERE FIVE YEARS OLD, WHAT WERE THEY DOING? PLAYING VIDEO GAMES. KAILEY: RAISED IN A DIGITAL WORLD. JIM: NOT JUST THAT BUT DIGITAL WORLD WITH DIGITAL MONEY. IT WAS NOT ODD TO THEM. MATT: I KNOW PEOPLE WHO MINED IT ON
THEIR NINTENDO'S BACK IN THE DAY. BUT YOU SEE PEOPLE IN COUNTRIES OR CIVILIZATIONS WHERE THE CURRENCY HAS COLLAPSED, INVESTING IN BITCOIN, IN VENEZUELA, IN ZIMBABWE, MAYBE IN RUSSIA AND UKRAINE. DO YOU THINK THAT IS THE WRONG IDEA? JIM: IF YOU ARE IN DISTRESS, A REFUGEE, A WAR ZONE, CRYPTOCURRENCY INCLUDING BITCOIN HAVE A ROLE TO GET MONEY OUT. I WAS TALKING TO GUYS IN THE SERBIAN WAR AND SAY WE WANTED TO GO -- WE WANT TO GOLD, COULD NOT FIND IT, WE WANTED EURO'S, COULD NOT FIND IT. SO THEY WANTED THEIR SEPTIC TANKS FILLED WITH GASOLINE. PEOPLE DO WHATEVER IT TAKES TO GET A STORE OF VALUE.
BUT THERE ARE NO -- IN THE WORLD THERE ARE NO INVESTORS IN BITCOIN BECAUSE IT IS NOT AN INVESTMENT. IT IS AN ASSET. KAILEY: CAN IT BE A HEDGE? JIM: NO. IT GOES UP AND DOWN. IT CAN GO TO 100000 AND 200,000. IT COULD GO EITHER WAY. THE BEST ANALOGY IS LIKELY TO A CASINO AND PUTTING MONEY DOWN ON THE TABLE AND I GET A CHIP. THAT IS AN ASSET THAT HAS VALUE AND I COULD WALK OUT WITH A LOT MORE OR LOSE IT. SO IT GOES UP AND DOWN, HAS ASSET AND HAS VALUE BUT IT IS A FORM OF GAMBLING. FOR EXAMPLE, THERE IS A
CRYPTOCURRENCY CALLED HIGH STREET TRADING AROUND THREE DOLLARS. THE OTHER DAY IT WENT TO $16 FOR A MINUTE AND THEN WENT DOWN TO SIX DOLLARS. SOME PEOPLE SAY THAT IS STILL GOOD BUT WHAT IS THAT $16 SPIKE? I HAVE NO IDEA WHAT CAUSED IT. WITH SOMETHING LIKE THAT, THAT IS NOT EXACTLY AN INVESTMENT. MATT:
IT WILL BE INTERESTING TO SEE IF YOUR VIEWS CHANGE AS WE GET MORE REGULATION AND IT IS MORE OF WALL STREET EXCEPTING THIS INSTITUTION. LOOKS LIKE IT IS HAPPENING. IN ANY CASE, JIM, THANK YOU FOR BEING ON THE PROGRAM. EDITOR OF STRATEGIC INTELLIGENCE AND AUTHOR OF SEVERAL BOOKS, INCLUDING THE NEW GREAT DEPRESSION. COMING UP, CRYPTO UNDER SCRUTINY. WE SPEAK WITH THE HEAD OF THE WORLD'S LEADING TRADE ASSOCIATION REPRESENTING THE DIGITAL ASSET IN BLOCKCHAIN INDUSTRIES. KAILEY:
PLUS GOLDMAN'S OVER-THE-COUNTER CRYPTO OFFERINGS TRADE. MATT: AND TO ACCESS ALL THE LATEST DATA AND NEWS ON CRYPTO ON YOUR BLOOMBERG TERMINAL, TYPE CR YPG GO. THIS IS BLOOMBERG. KAILEY: THIS IS BLOOMBERG CRYPTO AND I'M KAILEY LEINZ WITH MATT MILLER AT OUR WORLD HEADQUARTERS IN NEW YORK. WE WERE TALKING TO JIM RICKARDS AND ONE OF THE THING YOU RACE WE DID NOT COULD YOU SPEAK ABOUT WITH JIM IS REGULATION. LET'S GET TO THAT ISSUE.
PRESIDENT BIDEN'S CRYPTO EXECUTIVE ORDER PUT THE NATIONS TO FEDERAL CONSUMER PROTECTION REGULATORS FRONT AND CENTER IN REGULATING DIGITAL MONEY. LET'S GET MORE WITH ALLISON BRILL, OUR CRYPTO REGULATION REPORTER IN D.C.. WHAT DID PRESIDENT BIDEN'S ORDER GIVE TO REGULATORS LIKE THE FEDERAL TRADE COMMISSION AND CONSUMER FINANCIAL PROTECTION BUREAU? >> THE EXECUTIVE ORDER TASKED FEDERAL AGENCIES ACROSS THE BOARD, DOZENS OF THEM, WITH STUDYING A RANGE OF ISSUES AND WITH THESE CONSUMER WATCHDOG AGENCIES LIKE THE CONSUMER FINANCIAL PROTECTION BUREAU AND THE FEDERAL TRADE COMMISSION. HE SPECIFICALLY ASKED THEM TO LOOK AT ANY CONSUMER PROTECTION ISSUES, HE WANTED THEM TO LOOK AT CHANGES TO THE FINANCIAL MARKET, INFRASTRUCTURE, PAYMENT STRUCTURE AND CIRCUMSTANCES THAT COULD LEAD TO MASS ADOPTION AND WHAT THAT MEANS FOR USER PRIVACY. THERE'S A LOT THAT THEY WILL BE LOOKING AT. IT IS IMPORTANT BECAUSE WE HAVE NOT SEEN, WHEN WE TALK ABOUT CRYPTO, WE THINK OF THE SECURITIES AND EXCHANGE COMMISSION, BRINGING SOME OF THESE AGENCIES INTO THE CONVERSATION. MATT:
DEFINITELY IMPORTANT FOR THIS INDUSTRY. HAS EITHER REGULATOR INDICATED WHERE IT MIGHT FOCUS ITS EFFORTS? ALLYSON: SO WE HAVE SEEN, EVEN BEFORE THE EXECUTIVE ORDER, WE SAW THE DIRECTOR OF THE CFPB TALKING A LOT ABOUT INTEREST IN WHAT BIG TECH COMPANIES WERE DOING IN THE CRYPTO SPACE, IF THEY WERE PLANNING ON ADOPTING THIS AND TO SOME OF THE PAYMENT PRODUCTS THEY HAVE OUT THERE. HE FEELS LIKE THAT IS REALLY GOING TO BE THE IMPACT TO MASS ADOPTION AND ONCE TO LOOK AT WHAT THAT MEANS FOR CONSUMERS AND PRIVACY AND MAKING SURE PEOPLE ARE PROTECTED IN THE SPACE. MATT: THANK YOU FOR JOINING US, ALLYSON VERSPRILLE, OUR CRYPTO REGULATION REPORTER OUT OF WASHINGTON, D.C. JOINING US IN NEW YORK IS THE FOUNDER AND CEO OF THE CHAMBER OF DIGITAL COMMERCE AND TRADE ASSOCIATION REPRESENTING THE DIGITAL ASSET AND BLOCKCHAIN INDUSTRIES.
GREAT TO HAVE YOU IN THE STUDIO. THANKS FOR JOINING US. WHAT IS YOUR HOPE FOR REGULATION? CLEARLY THERE WILL BE MULTIPLE AGENCIES INVOLVED AND IT WILL BE VERY COMPLEX. HOW DO YOU SEE HOW WOULD YOU LIKE TO SEE IT TURN OUT--. PERIANNE: IN 2019 WE CALLED FOR NATIONAL ACTION PLAN IN BLOCKCHAIN. SO WE HAVE GAPS IN THE WAY THE
FEDERAL GOVERNMENT HAS BEEN APPROACHING DIGITAL ASSETS. WE HAVE A FRAGMENTED APPROACH TO REGULATION WITH THE FCC AND FTC AND TREASURY. YOU HAVE DIFFERENT APPROACHES FROM IRS AND CONGRESS IS GETTING INVOLVED.
YOU MENTIONED THE CONSUMER REGULATORS, THE FTC, THE CFPB, THERE ARE A LOT OF STAKEHOLDERS AND COOKS IN THE KITCHEN. SO U.S. COMPETITIVENESS HAS BEEN ONE OF THE THINGS THAT I THOUGHT WAS MOST PROMISING THAT CAME OUT OF THAT EXECUTIVE ORDER. IT TAPPED THE COMMERCE APARTMENT TO ENSURE THE U.S.
CAN COMPETE GLOBALLY. I THING WE NEED TO HAVE A STRATEGY AND A PLAN. WE NEED TO HAVE A WAY THESE AGENCIES CAN COORDINATE IN FORMAL WAY SO BUSINESSES KNOW THE RULES TO THE ROAD AND THEY CAN COMPETE ON A GLOBAL PLAYING FIELD. KAILEY: IF YOU ARE MAKING THE PLAN,
WHAT WOULD IT LOOK LIKE? PERIANNE: FIRST WE NEED TO RECOGNIZE THE CRITICAL IMPORTANCE OF THIS TECHNOLOGY. AS JIM RICKARDS JUST STATED, THIS IS BIGGER THAN MOST OF US CAN COMPREHEND. I THINK THIS IS THE MOST IMPORTANT TECHNOLOGY WE WILL SEE IN OUR LIFETIME. MARKED RECENT SAYS IT IS JUST AS IMPORTANT AS THE INTERNET ITSELF. FIRST WE NEED TO RECOGNIZE --
MATT: AND JIM SAID IT IS A MEDIUM LIKE THE COMPUTER. PERIANNE: ABSOLUTELY. IT IS A TECHNOLOGY AND IT IS A TOOL AND IT WILL HAVE WIDE REACHING IMPACTS FOR THE FINANCIAL SECTOR BUT ALSO OTHER INDUSTRIES. WE NEED TO ENSURE WE HAVE PUBLIC POLICIES IN PLACE THAT PROTECTS THE THINGS WE CARE ABOUT BUT DOES NOT DIE VAULT INNOVATION AND FURTHER ENCOURAGES THE DEVELOPMENT OF THIS TECHNOLOGY HERE IN THE UNITED STATES. KAILEY: YOU AT THE CHAMBER OF DIGITAL COMMERCE AT ACCOUNTING STANDARDS IS ONE OF THE BIGGEST BARRIERS. HOW DO YOU GO ABOUT FIXING OR FORMULATING THAT? PERIANNE: WE HAVE CALLED ON THE FINANCIAL ACCOUNTING STANDARDS TO ISSUE ACCOUNTING STANDARDS FOR DIGITAL ASSETS. IT SEEMS LIKE SUCH A SIMPLE THING. WITHOUT HAVING ACCOUNTING
STANDARDS, U.S. PUBLIC AND PRIVATE BUSINESSES DO NOT HAVE THE TOOLS TO MAKE INVESTMENTS IN CRYPTOCURRENCIES AND PUT THEM ON THEIR BALANCE SHEETS. SO THE LACK OF HAVING ACCOUNTING STANDARDS HAS CAUSED ALL OF THESE COMPANIES TO TREAT THEM AS INDEFINITE INTANGIBLE ASSETS, WHICH IS INCREDIBLY PUNITIVE TO COMPANIES LIKE BITCOIN AND OTHER DIGITAL ASSETS BEING ON THE BALANCE SHEET. IT IS A SIMPLE FIX. COMMENTS HAVE BEEN TAKEN FROM THE PUBLIC LAST YEAR AND FOUND AT THE END OF LAST YEAR, THE BOARD FOUND CRYPTOCURRENCY IS THE NUMBER ONE PRIORITY OF THEIR STAKEHOLDERS.
THE PROCESS IS IN PLACE BUT THEY HAVE TO MAKE THAT DECISION TO ISSUE THESE STANDARDS AND WE ARE ENCOURAGING THEM TO DO SO. MATT: KAILEY AND I WERE TALKING BEFORE THE SHOW ABOUT AN ISSUE A LOT OF PEOPLE RAISED ON BLOOMBERG TELEVISION, THE FACT CHINA LOOKS LIKE IT IS MORE COMPETITIVE THAN THE U.S. RIGHT NOW BECAUSE THEY ALREADY HAD THE DIGITAL YUAN.
WHEN WE TALK TO A BLOOMBERG SENIOR ANALYST FOR COMMODITIES, HE SAYS WE HAVE A DIGITAL DOLLAR TOO IN THE FORM OF TETHER AND THAT MAKES US COMPETITIVE OR MAYBE MORE BECAUSE IT IS THE MOST TRADED DIGITAL CURRENCY. PERIANNE: GREAT POINT. WE DO NOT WANT TO COMPETE WITH CHINA BY TRYING TO OUT TRY ANOTHER CHINESE. WE DO NOT SHARE THE SAME VALUES. WE WANT TO MAKE SURE THE RAILS
THAT WILL BE USED TO FUEL OUR FINANCIAL SYSTEM GLOBALLY IS FILLED WITH WESTERN VALUES. I BELIEVE THE WAY WE WIN THIS, THIS RACE GLOBALLY, IS TO EMPOWER OUR PRIVATE SECTOR. THERE ARE MANY U.S. BUSINESSES THAT ARE REGULATED
HERE IN THE UNITED STATES HAVE ISSUED DIGITAL DOLLARS AND WE SHOULD BE FINDING WAYS TO PARTNER WITH THEM TO ENSURE THE US DOLLAR IS EXTENDED GLOBALLY AND IN BLOCKCHAIN. KAILEY: LET'S TALK ABOUT WESTERN SECTIONS. THERE IS A NARRATIVE CRYPTOCURRENCIES CAN CIRCUMVENT THAT. WE HEARD THE ECB PRESIDENT TALKING ABOUT THAT VERY THING, ESSENTIALLY SAYING AS WE SPEAK THAT IS WHAT IS BEING DONE, AND THAT IS SOMETHING WE HAVE HEARD FROM ELIZABETH WARREN AS WELL. WHAT WOULD YOU SAY THEY ARE GETTING RIGHT OR WRONG? PERIANNE: THEY ARE GETTING IT WRONG. LET'S JUST DEBUNK THIS AND LOOK AT THE FACTS AND THE DATA. U.S.
TREASURY UNDERSECRETARY NELLY LANGE ISSUED A STATEMENT WHERE SHE SAID THE TRANSACTION VOLUME IS SO SMALL THAT SHE DOES NOT BELIEVE THIS COULD BE A TOOL FOR WIDESPREAD SANCTIONS OF ASIANS. MATT: SHOULDN'T IT BE SOMEDAY? ISN'T THAT THE POINT? WE HAVE BEEN ABLE TO EVADE GOVERNMENT CENSORSHIP WITH BITCOIN, IT IS A LIBERTARIAN CURRENCY. PERIANNE: THERE ARE GOVERNMENTS AND THEY HAVE THE TOOLS TO TRACK AND TRACE ALL TRANSACTIONS HAPPENING ON OPEN BLOCKCHAIN'S LIKE BITCOIN. THIS IS NOT A GOOD TOOL FOR BAD ACTORS BECAUSE LAW ENFORCEMENT KNOWS HOW TO TRACK AND TRACE THE MONEY MUCH MORE EFFECTIVELY THAN OTHER FORMS OF MONEY LIKE FIAT OR OTHERS. WE ARE NOT SEEING ANY REAL
TRANSACTION GOING INTO BASE SANCTIONS. THE TOP LAW ENFORCEMENT AGENCIES, EVEN AT THE WHITE HOUSE, WITHIN FINCEN AND AT THE FBI HAVE ALL MADE STATEMENTS SAYING THEY SEE CRYPTO AS A POOR TOOL FOR SANCTIONED EVASION -- SANCTIONS EVASION. IN THE BLACK MARKET WHERE THAT COULD POTENTIALLY BE HAPPENING, THERE IS NOT ENOUGH TRANSACTION VOLUME IN THOSE MARKETS TO DO ANYTHING ON A WIDE SCALE. MATT: I WONDER WHICH CURRENCY PEOPLE EVADE SANCTIONS THE MOST. MATT: THE U.S. DOLLAR. THANK YOU FOR JOINING US.
GREAT FOR HAVING YOU IN THE STUDIO. SHE IS THE FOUNDER AND CEO OF THE CHAMBER OF DIGITAL COMMERCE. COMING UP, GOLDMAN SACHS OVER-THE-COUNTER COULD TO OPTIONS TRADE, MORE ON HOW THE BANK IS EXPANDING ITS DIGITAL ASSET OFFERING. THIS IS BLOOMBERG. ♪ >> CRYPTO HAS BEEN ONE OF THE GREAT STORIES OF FINANCE OVER THE LAST ROUGHLY 15 YEARS. I STILL HAVE MY SKEPTICISM, BUT
THERE ARE HUNDREDS OF MILLIONS OF PEOPLE IN THIS WORLD TODAY WHO DISAGREE WITH THAT. SO TO THE EXTENT WE ARE TRYING TO HELP INSTITUTIONS AND INVESTORS SOLVE THEIR PORTFOLIO ALLOCATION PROBLEMS, WE HAVE TO GIVE SERIOUS CONSIDERATION TO BEING A MARKET MAKER IN CRYPTO. I THINK IT IS FAIR TO ASSUME OVER THE MONTHS TO COME, YOU WILL SEE US ENGAGE IN MAKING MARKETS FOR CRYPTOCURRENCIES. KAILEY: THAT WAS SAID FOUNDER AND CEO KEN GRIFFIN. YOU CAN WATCH THE FULL INTERVIEW TONIGHT AT 9:00 P.M.
IN NEW YORK. WHILE WE ARE TALKING ABOUT INSTITUTIONAL ADOPTION IN CRYPTO ASSETS, GOLDMAN SACHS HAS EXECUTED ITS FIRST OVER-THE-COUNTER CURTO OPTIONS TRADE, ONE STEP IN THE EXPANSION OF ITS DIGITAL ASSET OFFERINGS TO WALL STREET INVESTORS. FOR MORE, WE ARE JOINED BY SONALI BASAK.
WHAT DOES THIS MEAN MORE BROADLY SPEAKING FOR THE WAY THE INDUSTRY IS ADOPTING CRYPTO? SONALI: REMEMBER GOLDMAN SACHS WAS ONE OF THE FIRST TO START BUILDING UP THIS MARKET FOR CRYPTO DERIVATIVES, GETTING IN EARLY WHEN HE CAME TO FUTURES, EARLY WHEN IT CAME TO NDS, IN THE CURRENCY MARKET WHERE IT IS POPULAR, AND ALSO NOW OPTIONS TRADING. SO YOU HAVE THEM ACROSS THE WHOLE BOARD. WHAT DOES THIS GO TO SAY? THAT EVERY DAY THERE IS NOT A SPOT ETF OR BITCOIN.
INVESTORS WILL LOOK TO DIFFERENT DERIVATIVE OPTIONS. WHAT YOU SEE GOLDMAN FACILITY HERE, [INDISCERNIBLE] MATT: IN THE U.S. BECAUSE WE HAVE SPOT ETF'S TO CANADA AS WELL AS EXTREMES TRADE PRODUCTS. YOU SIT ACROSS FROM ME IN THE NEWSROOM SO I HEAR YOU TALKING TO THE BIGGEST PLAYERS ON WALL STREET ALL DAY LONG. YOUR COSTS ONLY WORKING THE PHONES. WHAT DO THEY TELL YOU ABOUT INSTITUTIONAL ADOPTION OF CRYPTO OR ARE THEY INVESTING FOR THEIR OWN ENL'S? SONALI: IF YOU ARE INVESTING IN BIG GOING AS I FUND, MANY PEOPLE SAID WE DO NOT NEED THESE PRODUCTS, WE CAN BUY IT OURSELVES.
THE PEOPLE NOT COMFORTABLE WITH THE CUSTODY ASPECT, WITH SECURITY THAT HAS TO DO WITH BITCOIN, THEY DO LOOK TO BANKS AND GALAXY AND GENESIS AND OTHER FIRMS OFFERING DERIVATIVES. ONE NOTE I WANT TO POINT OUT FROM ERIC YEAR, HOW LUCRATIVE THE CRYPTO INTERMEDIATE BUSINESS IS. $50 BILLION IN FEES OVER A 12 MONTH PERIOD IS THREE TIMES AN ETF MARKET MAKER. THERE'S A LOT OF MONEY TO BE MADE HERE AND THERE IS A LOT OF DEMAND FOR CLIENTS IN THESE DIFFERENT FORMS OF PRODUCTS BECAUSE OF THE RISK TOLERANCE BEING DIFFERENT. KAILEY:
WHAT SHOULD WE BE WATCHING FOR AS POTENTIAL NEXT MOVES FROM WALL STREET? SONALI: WE TALKED ABOUT TRADING. THE INVESTMENT BANKING PART IS ALSO INTERESTING. THIS IDEA YOU CAN BE BIGGER WHEN IT COMES TO LISTING TOKENS, AND IT COMES TO RAISING MONEY IN DIFFERENT FORMS, WHETHER IT BE IN THE NFT WORLD, THE DOW WORLD, SOME SAYING WE JOKE AROUND A LOT ABOUT IS THERE GOING TO BE A BLACKROCK NOW BECAUSE THERE ARE SO MANY OTHER INVESTING DOUBTS FORMED. WEALTH MANAGEMENT, A LOT OF PEOPLE IN WEALTH MANAGEMENT -- WE SAW MORGAN STANLEY GET INTO THIS BUSINESS VIA THEIR BOARD WITH GALAXY, BUT WILL CREDIT SUISSE GET BIGGER INTO THE SPACE SUCH THAT SOME OF THE WEALTHIEST CLIENTS -- MATT: THEY HAVE TO, DON'T THEY? YOU TALK ABOUT ALL KINDS ABOUT RAISING MONEY IN DIGITAL ASSETS. THAT IS THE QUESTION, DO THEY HAVE TO? THEY LOOK AT IT AND THEY HAVE A LOT OF FEARS. THERE ARE WATCHING TO SEE HOW CERTAIN SEC PROPOSALS COME THROUGH, TO SEE HOW CERTAIN NOT REGULATORY MATTERS BUT OTHER MATTERS COME THROUGH.
THEY WANT TO SEE HOW MONEY IS USED NOT ONLY FOR THE BETTER BUT ALSO FOR THE WORSE. MATT: WE ARE WATCHING BLITHE MASTER SPACKLE GANGBUSTERS RIGHT NOW. OBVIOUSLY INVESTORS ARE DOWN TO CLOUD. THANK YOU SO MUCH, SONALI BOSTICK, FOR JOINING US. NEXT WEEK, WE SPEAK WITH THE CHIEF STRATEGY OFFICER AT COIN SHARE. THEY HAVE A PRODUCT AND THE FOUNDER OF FAIRLY STRATEGIES. KAILEY:
SHE WILL RUN US THROUGH THE TECHNICALS WHICH WE KNOW ARE SO IMPORTANT, ESPECIALLY FOR THIS ASPECT CLASS. WE WILL BE LOOKING FORWARD TO GETTING HER PERSPECTIVE. NEXT TUESDAY, SAME TIME AND SAME PLACE, 1:00 P.M. EASTERN HERE ON BLOOMBERG TELEVISION. THIS IS BLOOMBERG.
2022-03-26 18:14
Show Video
Other news