ALDECO FUTURE HEALING 2021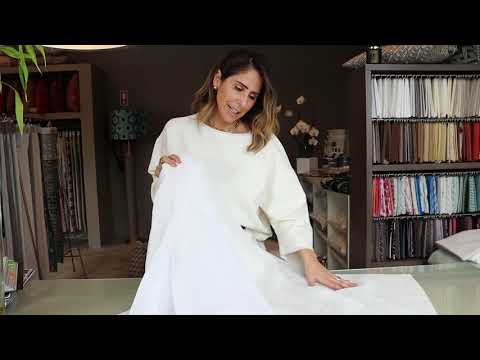 Show Video
Aldeco presents FUTURE HEALING Collection 2021 Hi everyone, my name is Susana dias and I'm Aldeco's Brand Creative Director. Today is a very, very special day because we celebrate 28 years of existence. We are happy to present our Future Healing collection. We had not yet launched the collection as we usually do in January.
At the beginning of every year and this year we decided on this special date to launch our new collection. This is a very special collection because it symbolizes the spirit of a better world, and a sustainable world also. and simultaneously in this way we want to thank all our partners all our team for all the affection, all the dedication that they've given us and that involves us in a highly contagious and positive energy that motivates us on a daily basis to do more and better every day. We hope you like our collection that understand all of our effort to create a very sober collection very natural, very discreet but with enormous potential at sustainable level so that, in this way, it is possible to embrace on this journey so we can all live in a better world.
This date will also be well remembered because it was the day that we've selected to present our first Wallpaper collection, our first wallpaper book, We hope you enjoy it. BIO RECYCLED FR We'll start by presenting in the Future Healing collection the Smarter range and we'll start by BIO, which is a fabric inspired by 1950's fabrics. It has a very dry, very natural look, as if it was a linen burlap we present 13 colors, all of them very natural within the inspiration of tweed fabrics and it's a fabric with a very masculine feeling .
It has great potential within the designation of sustainable fabrics, It has a very special production. CORDVELVET The second fabric that we'll present is Cordvelvet . It is a velvet with a matte look It is 3 mt wide. We've nammed it Cordvelvet because it has a striée effect we present a very interesting palette with 32 colours as you can check here...
Cordvelvet is a curtain fabric that is also heavy weighted drapes phenomenaly. The texture is smooth almost as a suede or peach skin. This curtain is 297 cm. It is perfect for drapery and has a small strié effect. as you can check here... It's ideal for drapery,
for bedding and we believe it will be quite successful. RISE WLB Our third proposal for curtain is our fabric RISE WLB. We present it in a 23 colour palette palete de 23 cores, is a very elegant curtain with a calendered finish, to give the elegant look but without too much shine because this collection is all without sparkles it is very natural. The colour palette, we have the natural shades, the stone shades, the dry tones, more elegant hues, pastel shades and also the darker tones and the more masculine colours.
But it is a very elegant curtain with a soft touch and and an amazing fall. DAYDREAMING WLB Daydreaming, our fourth proposal It's a curtain with very very natural look We present it in an off-white tone, a very pure white as snow. We also have a more natural tone, a creamy shade. Daydreaming is 3 mt wide which is a great plus side.
This curtain fabric has a textured transparency. This curtain fabric has a textured transparency with natural look and truly smooth. This mixed 60% polyester and 40% linen has as main advantages offer a very distinctive appearance, similar to a 100% linen fabric very light and elegant, but without the disadvantages inherent to this natural fiber, as it is resistant to light and washes, does not shrink, the weight is almost 435 gr per linear meter. It has level 5 at Lightfastness and as, I mentioned before, has ecological lead band. DREAMSTIME WLB Our fifth proposal is Dreamstime, a very special curtain, because it is very textured, very heavy.
It is a curtain with 700 gr per linear meter, is very tight has you can see but has a transparency and a lovely volume, very easy to hang so it's one of those safe choices for who wants to have some privacy while maintaining enough brightness in parallel. Dreamstime is a curtain presented in 5 colours in a very natural palette, we have Pure White, Champagne, Linen tone, White Silver and White Stone. TATAMI WLB Our last proposal for Smarter range is another curtain fabric. Tamami that has a very minimalist style inspired in the japanese style. Tatami is a merged effect curtain with a fantastic effect and silky touch, very natural and I love this curtain.
I think it has a very very prety look. Tatami is 100% poliester although very natural, can be washed in 30º C, lightfastness is 5, it weights 402 gr per linear meter and has already ecological lead band. The colours presented are all very natural, 4 natural shades: Natural White, White Cream, Light Dove and Light Stone. It presents a very light merged effect almost like the japanese straws.
It is beautiful, You will love it. SEALIFE Sealifeis one of the stars of this collection. We represent in this printed fabric the life itself and the concern of the environmental issues of today and the future.
The corals are very sensitive and they bless us with the most beautiful and amazing colors when the oceans are clean, but if the environment is polluted, the corals die and lose their beautiful colours In this printed heavy bodied fabric, we offer a very natural background and it's 290 cm width makes it perfect for drapery and bedding. Although this fabric does not have a high pilling we recommend it for drapery and bedding. Composition is 100% polyester and weights a 1200 gr per linear meter. It has level 5 lightfastness and can be washed at 30ºC. RESCUE EASY CLEAN FR Rescue is an innovative upholstery fabric because is 100% recycled. This fabric is produced through recovery of plastic bottles recovered from oceans.
It is a very heavy fabric, presented in 20 colours is the perfect answer to our commitment to decorate the future and make this world a better place is made of 100% recycled material. It does not generate any waste in its production and is extremely durable besides being extremely comfortable. It also has anti-stain protection, it has OEKO-TEX certification and has a martindale greater than 100,000 cycles which is quite high Pilling is level 4/5 pés and weights 760 grams per linear meter, it is 140 cm width. It has basic fire retardancy but can also be upgraded in more world standard certifications. ECOOL EASY CLEAN Ecool is our third proposal on the Aldeco brand. As its name implies, it is a very relaxed fabric, very natural, with a semi buclé effect.
It is inspired by the burlaps and the arts & crafts concept, it is available in 36 colours. It has the Dropeasy treatment it is an easy clean treatment that allows low maintenance. It has a dobby structure with a very smooth touch and with a semi-bouclé effect. CHILL FR Chill FR is a 3 meters wide fabric. It is very structured and has a huge color variation, we present it in 32 colors, has Fire Retardant certification in several standards.
Its width has high potential because is 3 meters wide, taking into account that it is a very heavy, very structured, has a rustic feel, very natural and that also gives it a very cool vibe, because of its naturality, the expression of the fabric's texture. We present it in 32 colours, it has level 5 lightfastness. It has 1200 gr per linear meter HILL FR Hill FR is a great curtain proposal is has a fantastic blended effect with 300 meters wide. It is a 100% inherent polyester and has a wide variety of fire retardant certificates. We present it in 13 beautifull colours, very natural, with blended effect very structured, very soft. All allied to the fact that it can be used in the hospitality world and contract, we have here a fabric with enormous potential.
RECYCLING Recycling is a double width fabric, very heavy and textured. With Recycling we focus on creating a future beyond tomorrow. Recycling uses yarn produced from pre consumer and post consumer waste this prevents wastage of potentially useful materials and resources along with many other benefits. These recycled materials follow a complete, verified chain of custody from input to final product. ln order to provide
a traceability throughout the entire production process to prove the level of recycled material, following the GRS (GLOBAL RECYCLED STANDARDS) criteria. And so we have a true Future Healing. GRAINY Grainy it's one of my favorite fabrics from this collection. It is curtain fabric, has double width, is 310 cm wide.
We present it in 6 colours It has an bouclé effect, so it has that casual look, relaxing with lots of volume, with texture that will transform our windows in a very charming way. The composition is a combination of linen and polyester. We have the linen touch that that attracts us and makes us wish of being involved into by Granny of our new Collection. We present it in 6 colours, all of them on the range of the natural tones. It's easy to see the blended effect that the fabric presents through colour combination, and the bouclé yarn with linen. We have a high lightfastness, level 5.
It weights 977 gr per linear meter. The natural look is present in the entire collection for perfect coordination. ALLURE Now we'll present a fantastic upholstery fabric called Allure because it has that glamour, that usual charm from Aldeco Fabrics This fabric conquered us with the chenille bouclé effect that provides the natural look sought through our entire collection. All the charm, the elegance obtained through the combination of the chenille bouclé effect.
Allure is a yarn dyed jacquard fabric with an extremely smooth touch. Inspired in the classic bouclé tweed, this magnificent upholstery fabric is available in 35 gorgeous colours with the bouclé effect of the textured chenille yarn. What makes this fabric so interesting, besides the amazing looks, is the fact that it is washable and the colors are very resistant. Composition is 73% viscose and 27% polyester, Weights 741 gr per linear meter, has high lightfastness, Pilling is also great, and has 60.000 for Martindale result. Can be washed at 30ºC. It is gorgeous,
it conquered us completely. WILD THING Wild Thing, this name must already be somehow familiar we made an upgrade of 8 colours to this gorgeous fabric that we've launched on our previous collection, in January. On Invicta Collection we launched this fabric in one single colour but it was so successfull and marks the natural trend present in Future Healing Collection that we decided to bet heavily, developed and launched 8 new colours. So now Wild Thing
has a total of 9 colours. The fabric is defined by its amazing volume. It has a chevron effect that contrasts with the bouclé yarn and the warp. We created contrasts using the base of the fabric to play and create a stronger contrast or also in a different level a lighter contrast but maintaining the solidity of the color more present. The first colour we have is White On Black the does the black & white effect, we have a very special colour very cute, with soft touch, great beauty at the same time it sends a message with its wild look, it's White Cotton, we have White Sand, the colour from previous collection Invicta Wild White, Creamy Shadow beacuse we have the contrast between warp and the creamy tone of the bouclé yarn, on the second part we have the more solid colours, the warp is more neutral, we have the Linen tone, this lovely green called Oil Green, Terracota shade, this highly seductive blue Indigo Blue. Here on this colour sequence on these big samples we can easly see the beauty of the volume of the fabric, the magnific touch and hand feel obtained with the combination of yarns like the cotton and linen viscose, polyester and is a safe bet for you because, as we all know, the bouclé effect is a huge trend, because it follows the natural look trend and is definitively Aldeco's image for it's beauty and combination of the chevron effect with the bouclé. InHaus Bauhaus inspiration is present in urban geometric architecture deconstructed and assembled according to aesthetics of this artistic movement.
This design takes us to a cozy place where the harmony of geometric and organic forms come together as a picture of an Urban Architecture on this soft velvet. It is available in 3 colors and FR. can be treated in fire-retardant, It is possible to order with COEX FR certificate how ever it can not be simultaneously with anti viral treatment. This treatment rereduces 99% of viruses within 2 hours. The composition of the pile is 100% cotton and the base that provides that fantastic touch, very smooth has 93% cotton plus 7% modal, the width is 140 cm and weifhts 630 gr per linear meter has a 40.000 cycles Martindale, we present it 3 colours...
Leafy Blue and Green e on this big sample where you can see nature's greens blue is representing the sea and the oceans, a renewed appreciation for nature in the shades of deep olive shades and darker blues. We present a new colour Spice-Up, in Terracota shades and spicy tones combine with warm colors such as orange, brown or combine with neutral colours to simply spice up the mood. And the neutral colour called Toast and Coffee Warm neutral tones like creamy toast, combined with the popularity and calming Effect of coffee and chocolate shades. Embrace this journey for a Future Healing.
And so we end this collection presentation Future Healing Thanks for being with us. WALLDECO 1 We present a compilation of our best designs in celebration of our 28 years of history. 18 iconic designs: A complete showcase of floral and geometric designs that will bring Aldeco's essence and elegance to your walls. This collection is presented with standard sizes and can also be made to measure, meaning that we provide a complete service of customization of the panels, in order to suit all needs. The standard measurements are W-450 x H-280 and W-100 x H-280 cm. We also present on this collection
MADE TO MEASURE SERVICE with WALLDECO transform spaces, giving each one a unique personality. Every project is exclusive. We provide a service for designing and adapting made to measure murals, fulfilling the requirements of each one of your clients. 28 years Turning Dreams Into Fabrics Happy Birthday ALDECO!! FUTURE HEALING!!
2021-04-27 01:43
Show Video
Other news