Честный обзор Triumph Tiger 1200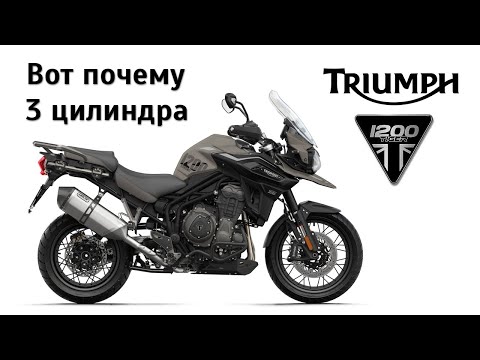 Show Video
I travel a lot on different adventure motorcycles and this is a review of Triumph Tiger 1200 motorcycle. On a long test I had a Tiger in 2020 for a long time, I traveled alone and with a passenger, in three different helmets in different conditions - I rolled around 3000 kg. There were no misunderstood points, but I took a bite and wanted to test the first version of Tiger Explorer, which is why there was no review for a long time.
Well, and I waited until 2000 likes were typed under the last video, of course. And something somehow went wrong - I'm literally touched one Tiger and settled with the owner for some time later, but when got around, bike was already sold. The second option was with a lowered suspension - boring.
Another option was in Holland, but the owner left somewhere and will not give it until next year. Explorer's main differences were obviously indistinct Nissin brakes and soft KYB suspension with manual adjustments. About brakes and without a test, everything is clear, but what kind of Tiger with a soft suspension in the Japanese style - in fact, for the sake of this one nuance, I arranged a safari on the Tiger for six months. I'm must end with perfectionism. And since we're talking about versions, a new Tiger is expected in 2022. A year and a half ago there were already spy shots, and just a month ago Triumph posted on its channel a short teaser of the model for 24 seconds, of which 15 seconds is a black screen with a logo.
Then a few more videos came out with a little more information. Actually, almost everything interesting from the spy shots remained. Most likely, in the fall-winter there will be a full-fledged presentation and in the spring the motorcycle will appear in European showrooms. I decided to make a not quite ordinary review, but at the same time share my thoughts on the prototype. This is important in this case, because my main gripe with the Tiger 1200 is that it feels a bit outdated from the 800 generation of the Tiger. The 1200 loses in some respects
to the updated Tiger 900 and the mid-size bike looks more technologically advanced, which should not be on a flagship touring motorcycle. So, the model appeared in 2012 and Triumph did not have a similar cubic capacity before. An interesting time. Close your eyes and imagine the early 2010s are outside the window. A dollar for 30 rubles each, Putin is not the president, BMW is quietly making GSs, and bam, over the course of two years, several manufacturers have thrown completely new motorcycle models onto the market, forming the class as we now imagine it.
And right there on the side, some kind of incomprehensible class of 1000cc crossovers is formed. Super Tenere, Multistrada 1200 and the updated Moto-Guzzi Stelvio 8V with a normal tank just came out, here are some very hot new items - Tiger and Crosstourer, and next year I was waiting for the Caponord 1200 and KTM 1190, which was fundamentally different from the previous 900 line with 21" wheels. Imagine how difficult it was to choose a motorcycle in 2012. You could spit and take default motorcycle, a bulwark of stability, but BMW just at this time is transferring GS to liquid and Internet is raging about the lusciousness of the first bikes, plus BMW immediately presents the Rallye version, confusing everyone even more. It's good that now you don't need to hammer in your head - half of this list has long been discontinued - the Japanese have unanimously left the market, only Ducati remained from Italians.
New brands in the segment, except for Harley-Davidson, have not appeared for a long time, no one has money for such motorcycles and it is impossible to go anywhere. In 2016, Tiger Explorer was updated with good bug fixes. Various modern electronics were added, but most importantly, they began to put Brembo brakes and a semi-active WP suspension instead of KYB. The weight also changed in each version. I will not count kilograms, because even within the same generation in different versions the weight was very different and around the same time Triumph decided to stop indicating curb weight, marking only a beautiful weight without liquids in the hopes of at least fooling someone.
A year later, in 2018, Tiger was formally updated once again, but not so dramatically. Explorer prefix disappeared from the name, the engine was slightly redesigned, a color TFT screen, keyless, fashionable lens with adaptive cornering illumination and several electronic assistants appeared. In addition to the differences over the years, add Triumph's favorite entertainment - breaking the motorcycle into different versions with meaningless names.
The latest generation of the Tiger 1200 was produced in eight versions. XR are alloy wheel versions, XC is spoke version, the last letter in the index stands for trim level, and Low stands for understated version. When you begin to understand this, Triumph will throw a mystery - Alpine Edition and Desert Edition models without indexes. In general, Triumph loves to release limited editions with original livery. Now, for example, they were selling several hundred copies of Tiger 900 and Scrambler in the style of agent 007. Alpine Edition on alloy wheels, Desert on spokes - these versions are distinguished by original plastic paintwork, black frame, black engine protection and a pre-premium package, including all the necessary electronics. quickshifter, lightweight
carbon muffler and LED lights, but not, for example, foglights, tall glass and adaptive cornering lights, which are on the top version XCa. Fog lights and windscreen can be installed separately, but the headlight with adaptive light, as far as I understand, cannot be put on Desert, and Desert coloring cannot be selected for XCa. By the way, I have Desert Edition on my test.
The options also include heated seats for the driver and passenger, tire pressure sensors, the entire set of Givi branded cases, etc. By the way, on original aluminum cases the maximum weight allowed is 5 kg. I think no one will break this record of law security. What I see from interesting on the prototype Tiger 1200. Firstly, the engine, obviously, does not look like the old one, one- on-one with the Speed ​​Triple 1200, which is indirectly hinted at by the promises. The Triumph website announces that the new Tiger is lighter and more powerful.
The most interesting thing is the line in text "Now it is much lighter than its closest competitor." If asked, I would say that tiger's closest competitor is Pan America, but apparently it meant a skinny GS weighing 249 kg on alloy wheels. Pan America, KTM and Multistrada are still lighter, and the heavy Japanese are out of action.
From the current naked version, they need to somehow lose about 15 kg. It is unlikely to be achieved by lightening the frame alone, so I believe in a radically different engine. Naked bikes is not my specification, but for fun I looked, new Speed ​​Triple is considered one of the lightest hyper nakeds.
Smaller engine capacity. The current Tiger has 1215 cc, Speed ​​Triple has 1160. Perhaps flash order will be changed, like on Tiger 900. If we take and do not change anything, we will see such a picture. Straight Multistrada, only with fat low revs. But you rejoice early.
Do you want me to explain on fingers why Triumph loves three-cylinder engines? No? Then maybe you want to know why NC750X is the most economical in the class, and why 1250 GS with its huge torque cannot physically catch up with the Multistrada? This lesson is not for a long time, but otherwise the philosophy of Triumph engines cannot be explained. From afar. The engine displacement is calculated from cylinder bore, piston stroke, and all this is multiplied by the number of cylinders. There is a special calculation formula, if anyone is interested. These are the main 3 parameters that determine the character of the engine.
Try to imagine yourself as an engineer who needs to create yet another GS killer. You have a bottle with 1200 milliliters of water and a bunch of different glasses. These glasses are not very different in width, and the main thing from which you can actually choose is either take 4 low glasses or 2 high ones.
Triumph engineers are the only ones in the class to take 3 medium glasses. Now there will be a very simplified scheme - each engine is unique and each uses its own technologies. Let's pretend that all our engines differ only in these three parameters. Just keep in mind that these are 3 very important parameters, but there are a couple of dozen others. Let's start with diameter of cylinder.
The larger cylinder diameter, the larger valves can be, and the more mixture can drive through cylinder due to the greater throughput of valve channels. As a consequence, more energy per unit of time can be converted into motion. There are variations in how many valves to use for the inlet and outlet, throughput of the channels can be different for a variety of reasons, but let's say we all have the same.
This can be clearly depicted in the form of a round tray in the role of a cylinder, and throughput of the valves in the role of glasses. On a small tray only 2 big glasses or 4 small glasses will fit, on a large 4 big glasses and at least 8 small glasses. Both there and there seem to be 4 valves, but, obviously, 4 big glasses can be drunk stronger. Even if you improve efficiency of the flow channel, increase valve opening timings, in any case, you physically run into volume of the tray, i.e. in cylinder diameter.
The difference is even more significant, because diameter of the valve stem must be removed from diameter of each valve, which cannot be too thin; there must also be sufficient clearance between valve and cylinder walls for a good flow of air-fuel mixture. Diameter of cylinder in civilian motorcycles and cars has optimal values ​​and manufacturers are very limited in this parameter. If diameter is too small, it is more difficult to create a reliable and efficient mixture delivery system due to limited valve sizes - fine work, plus a not very efficient engine in terms of power-to-weight. If you look at how cylinder diameters change with an increase in engine displacement in small scooters and motorcycles, it is noticeable that cylinder diameter is increased at the first opportunity, and only then piston stroke is slowly increased. Roughly speaking, scooters with a volume of 50 and 90 cubes, or 100 and 200 cubes, as a rule, differ only in diameter of cylinder. And already with a 250 cc, diameter may be the same as that of a 1000 cc.
Moreover, diameter of the piston in engine of an airplane and a large cruiser can also be the same. If the diameter is too large, piston becomes too heavy - the mechanical load on pistons and cylinders themselves increases, engine is prone to increased vibrations and everything that goes with it. This is especially important in two-wheeled ones, where the weight of motorcycle itself is small and any engine vibrations are more noticeable, there are also obvious restrictions on weight of engine itself and there is no way to strengthen walls of the block, inter-cylinder walls, frame, etc., when on a civilian car +/- 50 kg does not play such a role. If you take a closer look at the table, all motorcycles in the class with a diameter greater than 100 mm are just vibrators, and those with a small diameter are really soft, even with a missing balance shaft, as is the case with VFR. Looking ahead, I will say that a long piston stroke creates a large inertial load and increases vibration.
Now we multiply cylinder diameter by the number of motorcycle cylinders (amount is just indicated in brackets). The larger sum of diameters, the higher generated energy and fuel consumption, respectively, at this time we skip efficiency. By the way, there is one more thing - long-stroke engines save fuel only at the bottom, and at maximum speeds they can eat even more short-stroke ones. And on short-stroke engines, there is often the effect that you drive whatever you like, and the flow rate is kept in a narrow range, without falling or rising. This is my personal observation. With all conventions of the scheme, the most voracious motorcycles in the class - with the largest sum of diameters, VFR and Multistrada V4.
But! Vibrations of cylinders do not add up, and in most multi - cylinder engines, cylinders generally compensate for each other's work. V4-cylinder engines compensate for vibrations well, four-cylinder in-line usually itch, where all cylinders work in the same direction. Theoretical self-balancing is clearly seen on the example of the opposite (boxer). Imagine swinging a large sledgehammer in one hand. The sledgehammer will also drag you around the room by inertia.
If you take the same sledgehammer in other hand and swing them synchronously, but in different directions, you will feel that you are not pulled when rolling. Opposite cylinders have less vibration than one cylinder. This is the essence of the two-cylinder opposite (boxer). But what a hundred times to say, let's better show the magic of a real self-balancing BMW opposites.
Did you really believe that they could make an engine that doesn't shake your heart out? But there is some truth to this - even small single-cylinder motorcycles tend to vibrate more than large engines. Besides balancing, this is due to the large piston. For example, KTM 690 has a larger bore than big GS, and KTM 390 has a larger bore than Tiger 1200. The engines seem to be small, but they are more stressful, especially given low weight of the bikes.
On a single-cylinder engine, of course, you can also make a balance shaft, but it will not solve the problem 100%. But the fewer cylinders, the lighter and more compact engine, because engine shell itself is smaller and there are fewer accompanying parts. Usually, but not always. Now about piston stroke. The table is sorted exactly as it goes and for a reason. The shorter piston stroke, the faster it goes through cycle, i.e. piston must travel less physical distance
down and up, down and up - four strokes for one cycle. For example, the piston on Multistrada needs to travel 216 mm per cycle, and Super Tenere 320 mm, which is one and a half times more even without taking in mind the fact that weight of Multistrada piston is much lighter. At the same time, sum of diameters of Multistrada is almost 2 times larger than that of Super Tenere, i.e. can
convert more energy into movement. Hence the dramatic difference in dynamics, despite the fact that Super Tenere has an even larger engine displacement. All other things being equal, short-stroke engines gain significantly higher revs in the same time as long-stroke ones, i.e. reach peak power values ​​faster. For example, Yamaha R1 piston stroke is 51 mm, in Formula 1 piston stroke is about 40 mm. Another important point that we will need later - when reconfiguring engine for another motorcycle, cylinder diameter and piston stroke almost never change, so when they say that engine is from a sportbike on some adventure bike - of course, it will be reconfigured to low revs, but finally you can't get rid of sportiness due to the geometry of cylinders.
The trick is that piston strokes do not add up like diameters, all cylinders work simultaneously, and not one after the other, so engines with a large number of cylinders still dominate in sports technology. All sports engines have a huge amount of diameters with a very short stroke, for which they pay with increased fuel consumption, problems with heat removal, higher loads, the problem of valve hanging at high speeds, which just eliminates pneumatic or desmodrome, etc. True, if we consider sports disciplines, now they are very regulated and not indicative. Now the policy is to increase safety of events and to make engines environmentally friendly, more like civilians.
For example, in Formula 1 now limitation on V6 with a volume of 1600 cc, and earlier, and 3000 cc were allowed, and V12 was usual. It is believed that short-stroke engines still have a torque dip at low revs, associated with insufficient air-fuel mixture flow rate or turbulence during this period, so mid-cubic four-cylinder sports are very thoughtful, but in larger engines this is well compensated by excess power. Engines with a long cylinder stroke save fuel - the fuel mixture burns longer and the crankshaft cranks a few percent more in one cycle, in general they work more efficiently at low revs, giving out more torque at the bottom.
We cannot change diameter of cylinders too much, therefore, with the same engine volume, as a rule, the fewer cylinders, the lower fuel consumption due to the longer piston stroke relative to diameter. In ordinary cars, in general, piston stroke is often either equal to diameter, or stroke is greater, because there efficiency is one of the most important parameters. This is not quite a straightforward pattern, but as a general rule - the smaller sum of diameters and the larger piston stroke, the higher efficiency and the lower consumption. According to automotive classification, all motorcycles in the table would be considered short-stroke anyway, even Africa Twin, against background of mass-produced cars, would be sports. The NC750X, on the other hand, is unique in that it is a long-stroke motor even in its auto-classification, i.e. piston stroke is larger than
bore, so it really feels like an automobile in feel and is the only one in class that can eat even less than 3 liters on low-speed country roads. This is a unique story for the class, but in general it is usual for large cruisers - long-stroke with car dynamics. These are such unhurried tractors, about which they say "with locomotive traction."
Buyers often want a classic-style V-twin, manufacturers can expand cylinder bore to a certain limit, and only the height of cylinders remains, eventually exceeding diameter. Long-stroke engines are designed for low rpm, because as rpm rises, the inertial load on engine parts increases, which reduces engine lifetime and increases vibrations, plus there is a problem with efficiency. A huge disadvantage of long-stroke engines is that they are dull. When NC is dull, this is understandable.
Probably 1200 motorcycles are not bought to save fuel, right? Actually, at the top of the table are motorcycles with boring engines, on which you will turn gray faster than revs up. This is what I always said that the torque graph is not an acceleration graph, I show it to understand character of the engine and the general representation of thrust. This is the main mystery of 1250 GS with over-the- top torque, but not nearly as fast. Phenomenon of Multistrada is not at peak of the moment, but in how lightning-fast is gaining revs. The largest flow of energy delivered per second due to the combination of a crazy sum of bore sizes and short piston strokes, as well as the low weight of the motorcycle.
Everything else is complementary technology. In fact, Multistrada V4 is now the only four-cylinder engine in its class. When people say "I love 2-cylinder engines", context is important. I myself love medium-sized 2-cylinder engines, but from a 1000 cc 2-cyliners - barrels either dull, or vibrators. I have a theory as to why 1200 class is now dominated by two-cylinder engines, although, in my opinion, this is a strange idea.
Gradual development of generations. Take BMW 80 G/S - there engine was 800 cc - i.e. 2 cylinders are optimal. The engine capacity is higher on new GSs. It seems that each generation of the engine only slightly increases, but in 40 years it was just necessary at some point to stop inflating the volume of cylinder and add additional ones. KTM has a similar situation - a systematic evolution of the engine from a two-cylinder mid-bore. And, of course, there are competitors who do not hesitate to shove deuces to do everything like GS.
So, looking at the table, you can understand why Triumph chooses three-cylinder engines and what lesson was about - a balance of different approaches. On the one hand, average stroke of piston, on the other, cylinders small in diameter. In general, impeccable balance is the key characteristic of the Tiger.
An inquisitive viewer could even guess why Speed ​​Triple is table. As I said, cylinder diameter and piston stroke rarely change when engine is adapted to another class, at least not drastically. Such parameters of power and torque, of course, do not need to wait.
The Tigers - 800, 900 or 1200 have a characteristic feature - the smoothest shelf of torque in the class. I don't think Triumph will give it up, the fans will be damned, and personally I am a fan of the Tiger dynamics. But already now we can guess what to expect.
Of course, the power will be cut, somewhere up to 150 forces or even less, the bottom will be added, but a more sporty character is very likely. They can also go the other way - to compete with the more evil KTM and Ducati, then they will have to break the shelf of torque and hold out to 160 forces. So, what is the video about? Honest review Tiger, blah blah blah. The tiger is a mammal, the largest representative of feline family. Have you ever wondered that the Bengal tiger has the dumbest camouflage in the world? Difficult to see lion in a burnt African shroud, a bear cannot be seen either against the background of trees or against background of earth, a black panther cannot be seen at dusk. And the tiger has a bright coloring, which can be seen everywhere.
It turns out that human sees the tiger bright, and some animals from his food supply see only a narrow spectrum and the tiger is perceived as green like grass. The Tiger now has a very predictable smooth engine. It doesn't have the agility of KTM-Ducati, nor does it boast some outstanding numbers, although in fact it is the most powerful shaft drive adventure motorcycle so far. For all that, I like the dynamics of Tiger 1200 for real life more than other bikesin the class. You can be mistaken for a couple of gears - the engine does not care, in city ​​below the third, it also almost did not switch on the rings.
Remember, I said that competitors from 30 to 100 km/h ride well in third gear? So the Tiger in third normally rides from zero to 140, it rides absolutely adequately, not resting on the cut-off. The engine is one of the smoothest - especially fat middle somewhere from 4500 to 8000 rpm, but there is no particular failure at the bottom . What I love about such smooth engines is that they give more tactical maneuver in terms of revs. Here you select gears not by speed, but taking in mind further actions. Conventionally, 90 km/h can be riden at 3 or 6 gears with the same thrust - whichever is needed next.
If you are riding behind a truck at a highway exit, you can turn on sixth one in advance. There is a traffic jam ahead - you can tuck the gear down in advance. A series of turns on a serpentine road with sections of acceleration - in one third gear you can both turn and accelerate. Well, etc. How is he at low revs? Great, 2000 rpm is already working.
Somewhere at 1700 rpm, you don't even need to tighten clutch - it pulls smooth without choking. At some point, I became insolent and stopped using clutch even in traffic jams, and suddenly I stalled for myself at about 1000 rpm in city, just forgetting that it was not an automatic gearbox. The engine is sharpened at legal speeds. After 150 it accelerates, of course, but it's already boring.
For some, this is a minus, for me - a plus, because I want the efficient operation of the engine up to 130 km/h. Well, another + 15% for overtaking. What happens next with the engine - i don't care. And the mirrors don't shake up to 150 km/h - that's fine with me.
There is a slight itching on hands somewhere after 4000 revolutions. I can't say that this is directly the level of Japanese or Tiger 800, but it is quite comfortable - by the evening, my hands were not hammered. The engine is quite warm, but the feel depends on the gear. I traveled on it when most of the time it was +35-37, including riding around cities, nothing bothers me in normal tourist pants. But in thin pants, if you ride around city, a block sticking out on the right bakes up and a part of the tank near the saddle sets fire to hips.
The engine is quiet, the sound itself would not say that it evokes any emotions in me, but it is pleasantly bass without strain. During trip, it does not bother and does not focus on itself - this is the main thing that I need in sound of a touring motorcycle. Desert Edition has a lightweight Arrow muffler. Consumption due to the relatively large sum of cylinder diameters, just what I talked about in lesson, is stable - it does not drop much, but not like four-cylinder competitors. Ate in any mode in a narrow range of 5.2-5.3 liters per 100 km. 110 km/h you go or in the mountains - 5.2 liters, 130 km/h on cruise control - 5.3 liters.
The power reserve cannot be called outstanding, but it is more than psychological threshold, when you start looking for a gas station after 300 km and a reserve of almost a hundred remains. Interestingly, Triumph was also developing a 25-liter version of the motorcycle, but for some reason they scored. Brakes. On the first version, Nissin was staged with complaints. The latest version has Brembo in front - four-piston radial. Good, but not super top now.
On smaller Tiger 900, disc diameter is now at least larger than that of big brother and top Brembo Stylema. In general, I have no particular complaints about the front brake, but the rear one is rather vague - there are also two-piston Nissin. According to my feelings, the problem with progression is at first too soft, and then bam and you block the wheel. So for a week and not used to, more often just ignoring the rear brake.
The brakes are generally strange - there the electronics of either unit or suspension doing something and periodically there is such a slight computer vibration on rear brake lever, and an extraneous sound at the moment of braking. Even in the parking lot, rolling back and forth. If you take out the key from ignition, sound and vibration disappear. This is jokes, in general, the brakes are normal. Brembo Stylema brakes are clearly visible on the prototype - in fact, it is logical after the 900.
For the new Tiger, I am calm - the British are still do not save, which pleases. On an early prototype, I noticed an unusual swingarm. The current version has an identical twin of Paralever with an additional lever, the design itself is one - sided swingarm, also like that of GS.
Firstly, it is beautiful, and secondly, there is also a practical sense - with a one-sided swingarm, you can move muffler closer to the wheel and panniers will not stick out during installation. Plus, with such a layout, you can almost always put normal straight frames, compatible with any panniers and bags. And because of the recessed muffler, bags don't melt.
Even with a one-sided swingarm, it is easier to remove and install the wheel, which is really so. Like, some pluses, why does Triumph deliberately switch to a two-way design? One-sided swingarms have a problem - it is obvious that making a double-sided swingarm is much easier to make. Secondly, due to the load on one side, there are associated problems with torsional loads, bearing life, etc. In addition, even without talking about the ingress of water and rust, any paralleling analog has a weak point - the rupture in swingarm, where the bend point is. Obviously, a system with such a connection can withstand less load than a simple profile pipe for 3 cents. If you operate on asphalt and according to the instructions do not fold more than 5 kg into cases, nothing will happen with your motorcycle.
When racing on stones with clogged cases, this system works, obviously, worse than two pipes from garden market, therefore, for example, KTM Super Duke has a one-sided swingarm, while Super Adventure does not. Ducati Multistrada 1260 is one-sided, but 1260 Enduro is not. Triumph decided to make the new version clearly more off-road and want to close durability problem once and for all by replacing it with a two-sided swingarm. The current Tigers encounter swingarm problems. I looked at a couple of situations with breakdowns - just the situations occurred when the motorcycle was heavily loaded. For the same reason, on new Multistrada they abandoned one-sided swingarm - a simple increase in strength due to more off-road positioning, which in case of Ducati is even too much.
Don't look at the outlandish technology of double-sided levers of prototype itself - it's not that important. As you know, any European innovation has already been implemented on necrojapanese. The same solution was used on Kawasaki GTR1400. In fact, there is no fundamental difference in action between them - all swingarms with additional levers are designed to remove one single shaft effect. Due to the rigid connection, the shaft with a conventional swingarm works as a whole - vertical movement causes the shaft to rotate, and rotation of the shaft causes vertical movement, so there is a slight jacking up of suspension on older shaft motorcycles during acceleration.
Paralever just doesn't make sense with a chain or belt, and doesn't have much of an impact with a long swingarm, so on most bikes it isn't necessary at all. Any system, no matter how it looks, simply forces shaft and swingarm to act separately. There are levers on one side, on both sides, from below, from above - it doesn't matter.
Or, as in the case of VFR, everything is turned inside out - swingarm is rigid, and shaft, on the contrary, lengthens when swingarm rotates. The essence is exactly the same. On the prototype, shape of plastic was reshaped, which should change wind protection.
Let me tell you a secret - for many brands, the design makes by designers, and often they have nothing to do with the factory, but not engineers. Therefore, most motorcycles have ergonomic or aerodynamic oddities that can be detected on the very first test. For example, for KTM, it does Kiska Design, which draws both sneakers and motorcycles for you, which is probably why KTM always has so so aerodynamics.
Triumph has an internal design department where engineers sit. The main positions in design department are for people who have only been doing motorcycles for 15-20 years. Do you feel the difference in approaches? I've read reviews Triumph employees - they often complain that the main decisions are made only by those who have been working for a long time in their circle. The downside is that it is difficult to expect something revolutionary from Triumph.
The plus is that people know what they are doing and why. Looking at Tiger 1200, I can see that this is the creation of people who have traveled on a motorcycle, in rainy England. Stick on any edge - you can understand why it is exactly like this and why it was conceived. A bit old-fashioned design, but functional with a characteristic layering of details, such as various spoiler deflectors. Again, radically different from Ducati approach, where shape is monolithic and rigidly tied to the action in wind tunnel.
I'm not sure that Triumph was riden through a wind tunnel, and not by eye. As a result, the wind protection is a rather strange experience. On the one hand, you sort of sink into a motorcycle - everything closes and bends around you, but at the same time it blows into your knees and there are extra swirls in front of windscreen. If we were in 2018, I would say that this is great wind protection. After Multistrada, or at least Pan America, I can't say so.
There are no straight faults of ergonomics. For example, on Tiger 900, knees rest against joints of panels, the 1200 does not. Windscreen is generally unique. Standard windscreens, so that they can work fully at stock for tall ones - these are only Pan America, Multistrada V4 and Tiger 1200.
Here I ride with a stock on routes up to 90 km/h wearing glasses with a raised visor, midges do not fly, nothing bothers me. Due to the additional transparent deflectors, it does not blow into the shoulders at all. in other countries there is also a more expensive version of XRt, which can be distinguished by its high touring windscreen - I have not tried it, I do not know. But windscreen is unique for another reason. Tiger has the only electric windscreen in the class. Windscreen is really far from the hands, it is unrealistic to reach it while riding, so electronic adjustment is appropriate, although personally I would prefer plastic mechanics for relief.
Nevertheless, in the heat it is convenient to crawl back and forth with buttons. A big city began - click, turned on airflow more, rode onto a fast highway - lifted windscreen with a joystick and nothing interferes. If you want it even faster, on the contrary, you have lowered windscreen so that motorcycle better burn into stream. I like the fit, it is very similar to Crosstourer.
The footrests are slightly removed forward and leg is horizontal, handlebars are high and slightly pushed forward - you feel like on a large motorcycle, but you don't have to stretch as much behind handlebar as in VFR. For 188 cm everything is fine, I would not change anything, I would not put any spacers, it is also good in stay position, if you do not forget that this is a 1200 cc with a wide saddle. Interestingly, Tiger is not very high on the saddle. The saddle is adjustable 2 cm, in low position 835 mm.
At the same time, the motorcycle has a really impressive ground clearance of just over 20 cm. This means that there is a range for underestimation without deterioration in quality. There was a lowered version with short-travel suspensions with a seat height of 790 mm.
For example, the underestimated GS is 800 mm. I want to note the excellent hand protection. Guards completely covers hands from wind - this is understandable, but the chip is in a cool shape. To understand, here's the classic hand protection - this is Barkbusters or SW-Motech, one of the most popular hand protections, in general, they only have plastic pads that differ. What is the problem with the classics - handlebar are not straight, the handles are bent towards rider. Accordingly, this form of hand protection begins to stick out and actually increases the width of handlebar by 10-15 cm, which interferes with traffic jams.
On Tiger, hand guards comes with a rounding of outer corner and significantly increases dimensions of handlebar. In my opinion, this is an obvious shape, but for some reason almost no one guesses. Thanks to this trick, Tiger 1200 practically does not lag behind the most compact in its class. And another unobvious nuance is the sense of size. On Tiger, edge is +1 cm to finger, and not 5, as in competitors, so motorcycle's feel in traffic is better.
By the way, in the first generations of Tigers, the total width of the motorcycle, including hand guards and mirrors, is 3 cm wider. I did not compare it live, most likely because of the changed shape of the mirrors. The mirrors of the latest generation are pleasant. Please note that they have a thin frame and shape itself without a strong narrowing - everything is visible. Dimensions of the mirror are flush with hand guards. Again, in traffic jams, this makes it easier to understand dimensions of the motorcycle.
The prototype has old-fashioned oval mirrors - great too. Mirrors at high revs somewhere from 8000 will shake, but not from speed, namely from engine vibrations, in normal mode up to 150 km/h they will not shake. Another important characteristic of Tiger is suspension.
The first version had KYB, obviously soft - I'm not a fan of such bikes over 1000 cc and I would hardly say anything good about it. Current version is another matter. Here semi-active suspension is installed on all versions except the most basic XR, WP suspension itself. WP is a subsidiary of KTM. Here KTM genes are very much felt, and Triumph ordered exactly what I want - suspension is the same as Super Adventure, only range of work is shifted to softness. It doesn't have maximum stiffness of KTM, but suspension is significantly more comfortable.
Tiger's hardest setting is roughly average KTM setting, and Tiger's comfort setting goes beyond softness of KTM. I know KTM has an optional Pro suspension, I still can't get it. Before a big comparison of the whole class, I will test it, for now I am talking only about basic one. So, suspension of Triumph, for my taste, is balanced. You can adjust rebound and compression yourself, or turn on automatic mode - system will itself determine on which surface motorcycle is riding and adjust. Suspension is neither very soft nor hard - it is just moderately comfortable.
Moreover, that you can just ride on sports - it does not hammer at joints, which is completely shifted along serpentines without jelly, but not because such electronics are perfect, but because range of adjustments is very narrow - you can leave one middle position and that's it. This is exactly what I want, but for sure someone will not like excessive elasticity. The most relish is how suspension works off-road, its KTM genes show through. This is such an elastic suspension with good feedback, you can safely get into pits at speed - it does not try to throw it out of saddle and roll over, I liked it. It is very predictable - I know how suspension should work in a given situation - it does just that. I will say more - for off-road in 1200 class, this is suspension number 2 after KTM.
For weight of Tiger, even too much - obviously, no one will climb into any rallies on it, and suspension on new Tiger 900 GT seems to me to be more balanced and comfortable. In addition to impressive weight, Tiger has a tank and an engine on top that will not be easy with it. The logic of suspension is exactly like on KTM - priority is perfect handling, not comfort. But handling on serpentines flawlessly for its class. In the prototype, apparently, there will be a completely different suspension - let's talk in due time. On the one hand, I don't want to lose such handling as WP gives, on the other hand, on Tigers 900, both GT and Rally have a perfectly matched suspension, these guys can be trusted.
And on the Tigers 800 there was an semi-elastic suspension. Now motorcycle on standard wheels for the class 19 and 17 inches, depending on version of the alloy or spoke. Rumor has it that new version will have a spoked version with 21", that is, they mark competitors KTM Super Adventure R and Africa Twin.
In this generation, there is no sensible separation of XR and XC lines at all, because the difference in wheels is small and suspension moves are identical. Existence of version on alloy wheels I do not understand at all. The motorcycle has such a huge mass that it is easy to damage wheels, it is better to leave only reliable spokes. By the way, in the first version there were no spoked wheels at all.
In the first version, wheels were still installed. A little narrower, 110 mm in front and 150 mm in rear. It used to be a common tire size for adventure bikes and all the first 1200s had to focus on it. As there were many motorcycles, tire manufacturers for large adventure motorcycles began to make tires a little wider - 120 and 170 mm and all elephants on it gladly switched for. The same reason there is a problem on Africa Twin Adventure Sports - DCT version of the bike weighs 250-253 kg, which is a lot even for 1200s adventure bikes, plus it's kind of like of motorcycles for travel, load 3 cases, and at the same time tires is the same as on bikes for kids.
All why? Because for the sake of one Africa Twin with a non-standard wheels diameter for large adventure motorcycles, well, and several owners of KTM 1290 Super Adventure of a non-mainstream R version, manufacturers will not rush to make the entire line of tires from cross-country to sports-road - this does not make economic sense. How is Tiger 1200 riden? Well, it's still a very heavy bike and heaviness is felt. Roughly the same thing that I said in video about VFR, it also rides stably, it's just that VFR has a more pronounced steering response due to its greater weight.
Tiger is very stable - you just put on course, cases and wind do not twitch, the front wheel does not start to fidget on 180 km/h, even with topcase. Unlike VFR, Tiger is perfectly axially balanced - it is easy to roll it back and forth with your hands and it feels much lighter off-road than the same VFR. Until you tilt the motorcycle - here high center of gravity and the raised tank make themselves felt, you will not be able to twirl Tiger like a toy.
An additional pleasant sensation is provided by clicking of gears. When a quickshifter appeared on Tiger, initially it was not, of course - it was definitely the best quickshifter in the class. In 2021, it won't surprise anyone, but it's still good. For example, Ducati needs less foot force and V4 shifts gears instantly, feeling like a racing machine. On Tiger, foot needs to be pressed with great effort and more pause, but it smoothly switches at least to 3000, at least to 8000, and on Multistrada, smooth switching is not on the entire range, if you try find fault.
In general, gearbox works very well - there have never been any undershoots, problems with finding neutral, etc. Only grip itself could be softer, but foot clicks with noticeable effort, as I said. Where the motorcycle is definitely outdated is display. Different versions had different displays. Now a color TFT display is being installed, Explorer had a simple LCD display. There were also intermediate motorcycles of a new generation with full functionality, but a monochrome LCD display, which is still installed in the basic version of XR.
The color display has 3 styles, but all of them smell like 90s. Had to try to draw menu so tasteless - I mean all these gradients, strokes, colors. For some reason, tachometer dominates in 2 styles, speedometer is in second place. In a motorcycle that is clearly not about sports and with such an elasticity of engine and the most even shelf of torque, focusing on tachometer is a strange idea.
And only the basic style is better, where tachometer is pushed further away. The top-end versions XCa and XRt also have a choice of three display skins. Display itself can be slightly tilted - a useful feature on all TFT displays to get rid of glare. There are exactly 2 chips on display that are convenient to use. It does not disable selection of active parameter by inactivity - it is convenient, for example, to bring up suspension mode and use joystick to play on the go while riding up and down, literally changing settings by a step.
I liked this implementation. Another option is to select parameter for changing the height of windscreen and also play with windscreen on the go from time to time with one click. And switch to fuel reserve is also well implemented.
Firstly, switching is noticeable and you will not miss it, plus it begins to display instantaneous fuel consumption and reserve in kilometers - you can visually select eco speed mode in order to precisely hold out. It seems logical, but I can't remember such an implementation. In general, Triumph has a lot of non-standard thoughtful features. Not in the sense that they are such geniuses and no one else does anything.
It's just that everyone is used to others. For example, Japanese are on the same wave and approach to ergonomics of both Honda, Yamaha, Suzuki and Kawasaki most often intersects and common details can be found. And Triumph is the only British on mass market. It is impossible to make motorcycles like everyone else, when you regularly ride a double-decker bus in opposite lane - this clearly affects the psyche.
For example, at Triumph, you still need to start the engine only with clutch - even Suzuki have long since departed from this tradition. I really like concept of handlebar buttons on Tiger 1200 - exact opposite of Pan America or Africa Twin with their redundancy of buttons. Here they tried to minimize number of buttons without losing functionality - moreover, there is room for an emergency gang, and separate buttons for changing modes, heated grips, heated saddles, etc.
For example, starting the tidy is combined with a kill switch. The first press of kill switch turns on display, the second press starts the engine, and vice versa. Is it logical? The handle heating button is located on handle itself, is it logical? My favorite part is cruise control double-button. There is simply no extra cruise control button, which makes no sense. There is an automatic shutdown of turn signals - again, for 2018 it's OK, modern systems have gone a little further, not the point.
But there is an additional mode, if you quickly press turn signal, it will blink briefly 3 times, like on cars. The idea is interesting, the implementation let us down. Joystick with a short stroke and difference is not in the force of pressing, but in timing. The problem is that the sense of time depends on speed and change in rhythm. If you ride smoothly along highway, you can clearly distinguish where there will be a short press, where there will be a long one. And if you ride on adrenaline - it seems that you press for a long time, but no, it turns out shortly.
So in a week I was not used to it and 2 times longer I had to press button to be sure. Of course, you can turn off this function altogether, which I did in the end, but I just want to refine it - I liked the idea itself. Or how the bottom in complex is elegantly designed. Japanese always have something sticking out, here even the central stand is made so as not to cling. Or how maded crash bars.
Usually, crash bars cover entire side plastic and increase center of gravity, here they are laconic and as low as possible - on the one hand, risk of scratches on tank remains, but center of gravity does not lift up - I am for such a compromise. In terms of accessories, the model is still doing well. In all versions, except for the most basic XR, there is an LED headlight. Although XR cannot be called a very simple version either - for example, there is cruise control, the main part of a touring motorcycle after throttle.
Some competitors still do not have a cruise in the database. In the top-end versions, adaptive turning illumination - 3 LEDs on each side, and depending on angle of inclination, required amount of light is turned on at different angles. Everything is like best.
There is a DIN socket, and, as usual with Triumph, there is a USB under the saddle with an additional socket - plug in whatever you want. You can change riding modes, of course. The modes themselves change ABS levels, throttle response and traction control level.
For each mode, you can change these presets slightly. You can also make selected suspension mode automatically save for the current riding mode, or work independently of the modes. The only fat minus of modes on all Tigers is that after off-road mode, you cannot switch to road mode on the go.
A classic example - here you are riding on a dirt road in enduro mode. Dirt ends, you go to highway and want to finally accelerate. In no scenario is there a desire to stop and change mode to road. On this part, they could learn from BMW, where there are no such far-fetched restrictions.
Results. That's interesting with Tigers - there is no title of the best motorcycle, opinions about reliability are polar, but in general 1200's reputation for reliability is not very good, but owners are very fond of Tigers. For example, I know in Spain as many as 3 companies with tours in Spain or with rent, which started their business with Tigers. Someone still create tours only with Tigers.
Despite the fact that it is difficult to find a rational explanation - this is not the most popular adventure motorcycle and at the same time it is not so rare, there are competitors, for the price it is, plus or minus, the same as everyone else. Beaten track - use standard GSs. And with what warmth the owners of companies say about Tigers, which have Africa Twin, GS and Multistrada - this is rare. Tiger 1200, if taken apart, will always be second or third, never leading in anything. There is nothing outstanding, but it also has no frenzied drawbacks of other models.
Just a sturdy touring bike with no pretensions. Balanced or unenchanting, to put it in one word. What I mean? For example, I am often asked to recommend this or that motorcycle and I cannot safely recommend many motorcycles without extended information. Literally all 1200s are good, but with some of their own nuances in riding, which is why you cannot recommend it to everyone.
On Tiger, one can only discuss his great weight, but the way he rides will appeal to the widest circle of people from all competitors. It is not the fastest, but fast, it is not the most comfortable, but comfortable. Through the review keep in mind that I am talking about a slightly used motorcycle, I do not recommend buying a new one unless it is at a very large discount. Because we are waiting for the new model with our fingers crossed. Further there will be reviews of other adventure motorcycles. Subscribe not to miss, and don't switch.
2021-10-18 18:38
Show Video
Other news