'Bloomberg The Open' Full Show (04/04/2022)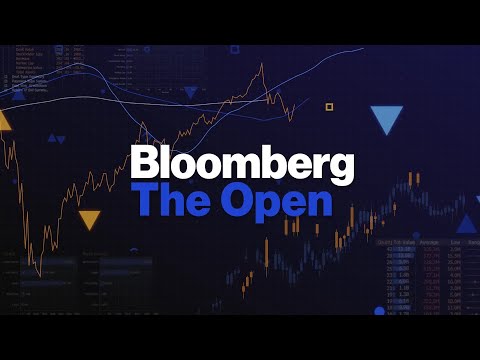 Show Video
JONATHAN: GOOD MORNING. EQUITY FUTURES BASICALLY UNCHANGED. THE COUNTDOWN TO THE OPEN STARTS RIGHT NOW. >> EVERYTHING YOU NEED FOR THE START OF U.S. TRADING. THIS IS A BLOOMBERG: THE OPEN WITH JONATHAN FERRO.
LIVE FROM NEW YORK CITY, AND YIELD CURVE INVERSION. >> THE GUILT CURVE INVERSION. >> THE INVERSION OF THE YIELD CURVE RAISES THE RISK OF RECESSION.
>> IT IS A MORE CHALLENGING ENVIRONMENT FOR EQUITIES. >> IT IS TELLING US THE ECONOMY IS A STRONG TODAY BUT MAY NOT BE IN THE FUTURE. >> IT IS TELLING US THAT DEFENSE POLICY REACTION FUNCTION HAS MOVED TOWARD FIGHTING INFLATION.
>> IN TERMS OF YIELD CURVE INVERSION, THIS IS WHERE THE DEBATE IS BEING HAD. >> IF THE FED NEEDS ANOTHER LOVER TO PAUL -- LEVER TO PULL -- JONATHAN: JOINING US NOW IS MORGAN STANLEY'S KATERINA AND KRISTIN OF LAFAYETTE COLLEGE. -- JUST ABOUT -2/10 RIGHT NOW. >> THE BIGGEST CONCERN IS IS THIS SOMETHING THAT IS GOING TO INDICATE THE FACT THAT WE ARE GOING TO HAVE A RECESSION IN THE NEAR FUTURE? NOT NECESSARILY. WE ARE CONCERNED ABOUT THE MARKET. THERE IS SO MANY RISKS THAT WE ARE DEALING WITH THAT WE HAD BEFORE THE WAR IN UKRAINE STARTED.
WHEN WE ARE LOOKING AT THE YIELD CURVE, IT IS ONE OF THE COMPONENTS WHEN WE ARE CONCERNED ABOUT A RECESSION, MAY BE IN 2023. JONATHAN: TAKE A LISTEN TO THIS -- THE S&P HAS TYPICALLY POSTED POSITIVE RETURNS FOLLOWING A YIELD CURVE. THE EXPERIENCE WHEN THE S&P ENTERED A BEAR MARKET OFFERS AN EXAMPLE OF THE DOWNSIDE RISK TO EQUITIES OF THE CURRENT HIGH INFLATION ENVIRONMENT. >> THE KEY POINT IS FOCUSING ON INVERSION IS A LOOKING IN A MIRROR, TELLING YOU ALREADY KNOW . THE FED IS GOING TO TIGHTEN. EVEN THE FED HAS NO IDEA HOW MUCH IT WILL HALF TO TIGHTEN TO GET INFLATION UNDER CONTROL. IN THAT SORT OF ENVIRONMENT,
LOOKING AT YIELD CURVES AND WHAT HAPPENED IN 1843, 1937 IS SOMEWHAT IRRELEVANT. THE FAT IS ON A TIGHTENING PATH, AND THE PATH IS UNCERTAIN ON THE UPSIDE. THEY ARE GOING TO TIGHTEN A LOT MORE PERHAPS. JONATHAN: YOU THINK THERE IS A BIG UPSIDE RISK, SOMETHING CODE IN JAMIE DIMON ANNUAL AT HER. HE SAID, I LEAVE THIS COULD BE
SIGNIFICANTLY HIGHER. >> THERE ARE A LOT OF RISKS. WHEN YOU CONSIDER WHAT THE FED IS TELLING US AND THEIR AGGRESSIVE OUTLOOK, THE FED IS KILLING US THAT THE ECONOMY IS STRONG ENOUGH TO WITHSTAND THIS. THEY ARE TELLING US THE LABOR MARKET IS STRONG ENOUGH.
I AM NOT CONVINCED JUST YET. I DO THINK THERE ARE A LOT OF RISKS OUT THERE. THE BIG RISK IS A DEMAND DESTRUCTION WITH INFLATION, MONEY SPENT AT THE PUMP CANNOT BE SPENT ELSEWHERE. WE WERE ALREADY FACING THE BECAME INTO THE YEAR RIGHT NOW.
THE FISCAL STIMULUS IS WELCOMING THE REVIEW ERROR. WHEN YOU CONSIDER HOUSEHOLD BALANCE SHEETS, A LOT OF THAT IS THAT THE HIGHER INCOME LEVELS. LOWER INCOME LEVELS GETTING PINCHED EVEN MORE AT THE PUMP. WHEN YOU THROW IN FED TIGHTENING, IT IS A MURKY OUT. WE THINK IT IS BALANCED, BUT THE FED DOES HAVE TO THREADED THE NEEDLE PARENT THEY ARE TELLING US THEY ARE GOING TO BE AGGRESSIVE, BUT WE WILL SEE WHERE WE ARE IN 6, 9, 12 MONTHS. JONATHAN: LOOKING AHEAD TO MAY, THE OUTLOOK IS CLEAR.
MARY DALY HAD THIS TO SAY -- BARRING ANY NEGATIVE SURPRISE BETWEEN NOW AND MAKE, I AM MORE CONFIDENT THAT TAKING THESE EARLIER ADJUSTMENTS WOULD BE APPROPRIATE. MIKE, THE FED HAS THE HARD JOB TO DO. LET US WISH THEM THE BEST. MIKE: HE SAID HE PITIES THE FED.
KRISHANA SAID IT IS LIKE LOOKING AT A MIRROR. YOU KNOW THIS FUN HOUSE MIRRORS? YOU'VE GOT TO PICK THE YIELD CURVE. THAT IS INVERTED AND TELLING A STORY BUT WHAT IS THE THREE MONTHS, 10 YEAR TELLING YOU? IT IS NOT INVERTED. THE FED ALSO LOOKING AT THE REAL YIELD CURVE, WHICH DOES NOT SHOW SIGNS INVERSION.
PICK YOUR YIELD CURVE, PICK YOUR OUTLOOK. THE FED LIKELY TO GO 50 BASIS POINTS. WHAT HAPPENS WITH THE BALANCE SHEETS FOR THE MARKETS? WEDNESDAY, WE GET THE FENCE MINUTES FROM THEIR LAST MEETING.
THEY WANT TO KNOW WHAT IS THE ROLE OF GOING TO BE? IT WAS RISING CAPS. THEY WENT UP TO $30 BILLION. THE BALANCE SHEETS IS BIGGER, SO PROBABLY THE CAPS ARE GOING TO BE HIGHER, BUT DOES IT HAVE ANY EFFECT ON THE YIELD CURVE? EVERYBODY IS NOW THINKING THE FED IS GOING TO MAKE A STAKE. THIS IS FED FUNDS FUTURES VERSUS EURO-DOLLAR'S 18 18 MONTHS. THE MARKET ALREADY STARTING TO PRICE IN RATE CUTS IN 2024. THIS IS A MOST UNUSUAL TIME, HARDER TO KNOW WHAT TO MAKE. AS JAMIE DIMON SAYS, YOU HAVE
GOT TO PITY THE FED. JONATHAN: THE FED. GOOD LUCK TO THEM. HAVE WE FULLY TERRIFIED THE REACTION FUNCTION OF WHAT THIS COULD WOULD TO? IF WE GOT TO THE BACK END OF THIS YEAR AND GROWTH WAS SEWING INFLATION IS STILL WHERE IT IS NOW? MIKE: FROM WHAT JAY POWELL HAS SAID, THEY WILL CONTINUE TO FOCUS ON UNEMPLOYMENT. THEY BELIEVE UNEMPLOYMENT WILL -- THEY WILL CONTINUE TO FOCUS ON INFLATION. IF THE ECONOMY SLOWS A LOT, THEY MAY CHANGE THE PACE OF TIGHTENING, BUT THEY THINK INFLATION WILL COME DOWN ANYWAY OVER THE NEXT COUPLE OF MONTHS. TOM: IS THE FED WILLING TO CONTAIN INFLATION? KRISHNA: THE RHETORIC SO FAR HAS BEEN THAT THEY ARE SINGULARLY FOCUSED ON INFLATION, BECAUSE WHERE EMPLOYMENT NUMBERS ARE, THEY DO NOT HAVE TO DO ANYTHING ON THE TODAY, BUT THE REAL QUESTION IS, WHAT IS IT THAT THE EQUITY MARKET IS SEEING THAT WE IN THE BOND MARKET ARE NOT? ONE HAS TO SPECULATE AS TO THE RESOLVE OF THE FED. MAYBE THEY WILL STOP, BECAUSE THINGS HAVE SLOWED DOWN ENOUGH.
WE ARE DOING A LOT OF THINGS ON THE INFLATION FRONT. MAYBE IT IS COUNTERPRODUCTIVE. I DO NOT KNOW, BUT THAT PROBABILITY IS INCREASING. JONATHAN: SOMETHING MIKE WILSON AND MORGAN STANLEY HAVE PICKED UP ON -- THE BEAR MARKET RALLY IS OVER.
THAT LEAVES US MORE INSTRUCTIVE ON BONDS AND STOCKS OVER THE NEAR-TERM. INVESTORS FACE MULTIPLE HEADWINDS AND GROWTH WILL BE HARDER TO IGNORE. KATERINA, CAN I ASK YOU TO BUILD ON THAT? GROWTH SLOWING DOWN, DOES NOT BECOME THE DOMINANT CONCERN? KATERINA: OF COURSE. WE DO SEE THIS AS A BEAR MARKET.
THEREFORE, THE RALLIES, AS EXCITING THEY MIGHT BE FOR INVESTORS, SHOULD HIT IS A VERY MARKET RALLY. THE WAY WE INVEST, THERE IS A SPECIFIC TOOLSET WE NEED TO USE. SPECIFICALLY, THERE IS A LOT OF RISK IN INVESTING. WE ARE CONCERNED ABOUT THE GROWTH POSSIBILITY.
BUT YOU ABSOLUTELY CAN FIND INVESTED OPPORTUNITIES THAT ATTRACT VALUATIONS WITH INTEREST IN INDIVIDUAL BONDS. THE NAME OF THE GAME IS QUALITY, FOCUSING ON SECTORS LIKE FINANCIALS, HEALTH CARE AND LITTLE BIT LESS ENTHUSIASTIC ABOUT GOODS. WE ARE EXCITED ABOUT POSSIBILITIES IN THE SERVICE SECTOR. WHAT WE NEED TO FOCUS ON IS THE FACT THAT HIGHER GAS PRICES ARE GOING TO HAVE ON CONSUMER YOU HATE YOUR.
GENERALLY, CONSUMER BEHAVIOR IS THE MAIN DRIVING FORCE OF THIS MARKET. INFLATION IS SOMETHING THE FED IS LOOKING AT VERY CLOSELY. THEY ARE GOING TO BE DEALING WITH THIS. WE ARE GOING TO HAVE A VOLATILE MARKET. DESPITE BEAR MARKET RALLIES, WE
HAVE TO BE SMART. JONATHAN: AROUND THE OPENING BELL, KATERINA DISTINGUISHED BETWEEN A BEAR MARKET RALLY AND SOMETHING YOU MIGHT WANT TO GET BEHIND. EQUITY MARKET UP 0.1% ON THE S&P 500. ABIGAIL: ONE STOCK THAT IS ABSOLUTELY SWEARING IS THE NASDAQ 100 FUTURES TECH INDEX, TWITTER UP SHORTLY ON THE NEWS THAT ELON MUSK HAS TAKEN A 9.2% PASS. TESLA UP 0.4% AS IT DID PRE-ANNOUNCEMENT OF DELIVERIES. RECORD NUMBER FOR THE FIRST QUARTER.
THE COMPANY MANAGING SUPPLY CHAIN ISSUES WELL. THE CHINESE EV COMPANY UPGRADED, SAYING THAT IT IS ATTRACTIVE AFTER THE BIG DROP AND NEW PRODUCT CYCLE. STAR TREK'S DOWN 3.8% AS HOWARD SCHULTZ HAS RETAKEN THE WHEEL
AS CEO AND CUT THE BUYBACK. JONATHAN: ZELENSKYY RALLYING SUPPORT. >> WE ARE FIGHTING RUSSIA, WHICH BRINGS HORRIBLE SILENCE. TELL OUR STORY. JONATHAN: THAT RESCISSION TOPIC NEXT.
>> MUSICIANS, WHERE BODY ARMOR -- TO THE WOUNDED. THE MUSIC WILL BREAK THROUGH. WE DEFEND OUR FREEDOM. ON OUR LAND, WE ARE FIGHTING RUSSIA, WHICH BRINGS HORRIBLE VIOLENCE WITH ITS BOMBS. TELL OUR STORY. JONATHAN: NEW SANCTIONS AGAINST RUSSIAN GROWING, DEEPLY DISTRESSING IMAGES OUT OF BUCHA. ANTONY BLINKEN CONDEMNING RUSSIAN FORCES. >> YOU CANNOT HELP BUT SEE THESE IMAGES AS A PUNCH TO THE BACK.
WE BELIEVE RUSSIAN FORCES HAVE COMMITTED WAR CRIMES. WE ARE TIGHTENING SANCTIONS, ADDING ONES. JONATHAN: THE KREMLIN TWEETING, ALL THE VIDEOS PUBLISHED ARE JUST ANOTHER PROVOCATION.
DREAMING US NOW IS -- JOINING US NOW IS GUY JOHNSON. WHAT KIND OF RESPONSE CAN WE EXPECT FROM THE EUROPEANS? GUY: EUROPE HAS A MASSIVE AND GROWING PROBLEM. ON THE ONE HAND, WE HEARD THIS VOCALIZED BY THE CEO OF DEUTSCHE BANK. IF WE SEE OIL AND GAS SANCTION, A RECESSION IS INEVITABLE. ON THE OTHER HAND, IT IS BECOMING INCREASINGLY CLEAR THAT TERROR REMAINS PART OF THE RUSSIAN ARSENAL, TERRORIZING CIVILIANS AND THERE IS THE DISTINCT POSSIBILITY THAT WE WILL SEE FURTHER SHOCKING SCENES OF UKRAINE.
WHAT COMES NEXT IS A DIFFICULT QUESTION. ON THE ONE HAND, YOU HAVE A RECESSION. ON THE OTHER HAND, YOU MIGHT HAVE TO DO SOMETHING. WE'VE GOT THE AMBASSADORS MEETING ON WEDNESDAY, EMMANUEL MACRON TALKING ABOUT INDICATIONS OF WAR CRIMES, CALLING FOR SANCTIONS ON OIL AND COAL.
RUSSIA SENDS AROUND HALF OF ITS OIL PRODUCTS TO EUROPE, BUT GAS IS NOT INCLUDED ON MACRON'S LIST. WE ARE GOING TO SEE A DIFFICULT CONVERSATION, BUT IT LOOKS LIKE, INCREASINGLY, IS GOING TO BE FORCED DOWN THIS ROAD, BUT THAT PROBABLY INEVITABLY MEANS A RECESSION. JONATHAN: ANNE-MARIE, THE U.S. IS ROLE? ANNE-MARIE: IT IS A DIFFICULT CONVERSATION THAT EUROPE IS HAVING. LITHUANIA, ALTHOUGH THEY ARE SMALL, THEY DID CUT OFF IMPORTS. THEY WILL NO LONGER BE IMPORTING RUSSIAN ENERGY.
THE U.S., THEY WANT TO TRY TO AID EUROPE IN THIS POTENTIAL CUTTING OFF OF RUSSIAN OIL AND GAS. WHEN YOU LOOK AT ALREADY WHAT THE U.S. SAID ALREADY, SEVEN OUT OF 10 ELLEN G CAR GOES ARE ALREADY BEING SHIPPED TO EUROPE. THAT IS BECAUSE THE MARKET IS SO ELEVATED, IT MAKES SENSE, MORE LNG'S NEED TO COME ON AROUND THE WORLD TO FILL THIS MASSIVE HOLE. THE U.S.
WILL PARTNER, BUT IT HAS YET TO CALL OUT THE EUROPEANS AND EMBARRASS THEM PUBLICLY. THEY WANT TO REMAIN IN LOCKSTEP ARE SUPPORTING THEM. JONATHAN: IN ABOUT 40 MINUTES, GUY WILL RUN YOU THROUGH THE EUROPEAN PRICE ACTION. FURTHER THE OF THE SITUATION, A
CLEAR RECESSION IN GERMANY WOULD BE INEVITABLE. AN INEVITABLE RECESSION EVEN WITHOUT THAT? >> I DO NOT KNOW ABOUT INEVITABLE, BUT IT IS A DIFFICULT SITUATION IN EUROPE RIGHT NOW. OBVIOUSLY, THE CONFLICT HAS A MAJOR ROLE, BUT THERE IS A LOT OF MOVING PARTS. THAT DOES POSE A HUGE RISK. IN THE U.S., WE ARE TRYING TO ALLEVIATE SOME OF THE PRESSURE ON THE ENERGY MARKET, BUT AT THE END OF THE DAY, THIS DOES NOT APPEAR TO BE GOING AWAY. HERE WE ARE IN EARLY APRIL, AND IT DOES NOT LOOK LIKE WE ARE CLOSER TO THE END.
IT DOES RAISE THE RISK, BUT I FALL SHORT OF SAYING INEVITABLE. JONATHAN: KATERINA? KATERINA: INEVITABLE IS A BIG WORD. NOTHING IS INEVITABLE, BUT CERTAINLY THE GEOPOLITICAL RISKS WE ARE FACING RIGHT NOW INTRODUCE A NEW VARIABLE. VETTING ELSE, WE ARE GOING TO LEARN THAT BEING DEPENDENT ON RUSSIAN OIL AND GAS IS NOT GOOD FOR ANYONE. RECESSION IN EUROPE IS A HIGH POSSIBILITY.
THERE IS A POSSIBILITY IN THE U.S., BUT IT IS NOT INEVITABLE. KRISHNA: I THINK THERE IS A DECENT POSSIBILITY THAT WE LOOK BACK UPON THE CURRENT SITUATION SIX MONTHS FROM TODAY AND REALIZE THAT THE POSITION HAS ALREADY BEGUN. IF IT HAS NOT BEGUN, IF THE CURRENT TRENDS CONTINUE, THEN THERE IS NO REASON TO BE EXTERNALLY HOPEFUL ON THAT FRONT, THEN I WOULD AGREE. IT RECESSION IN EUROPE IS EITHER UNDERWEIGHT OR INEVITABLE. JONATHAN: IF THAT IS THE CASE, HOW DO YOU DIFFER ON YOUR VIEW OF EUROPE? IF EUROPEAN BANKS COME INTO THIS YEAR? KRISHNA: OVERALL, THE VULNERABILITY OF EUROPEAN MARKETS HAS BEEN SIGNIFICANTLY HIGHER. FOR THAT MATTER, ALL INTERNATIONAL MARKETS HAVE BEEN SIGNIFICANTLY HIGHER THAN THE U.S.
WE ARE STILL A VERY DOMESTIC ECONOMY. THE CURRENT GROWTH RATE HAS A BIT OF MOMENTUM. IT IS HAPPENING LESS. GLOBAL PMI'S HAVE BEEN GOING
DOWN WHILE U.S. PMI'S HAVE GONE DOWN BUT HELPED INDIVIDUALS. FOR A U.S. INVESTOR, THE CASE FOR INTERNATIONAL INVESTING WAS SPOTTY TO BEGIN WITH GIVEN THE CURRENT ENVIRONMENT, IT NOT KNOW HOW YOU MAKE THE CASE AT ALL. JONATHAN: IN THE U.S., PAYROLLS LOOKED FANTASTIC. "I" LESS SO.
IT IS SLOWING DOWN. IS THAT A FLASHING LIGHT ON MY DASHBOARD? COLLIN: IT IS. EVEN THOUGH THE ABSOLUTE NUMBER IS STILL STRONG, WELL ABOVE 50, THAT SEEMS TO BE THE LINE OF DEMARCATION, IT HAS BEEN DECLINING AND EXPECTATIONS FOR IT TO CONTINUE TO DECLINE. THAT DOES POSE A RISK. WE ARE IN SYNC. THE LABOR MARKET IS STRONG. IT IS CLEARLY SOMETHING THE FED IS FOCUSING ON.
LAST FRIDAY'S UNDERLYING DETAILS WERE STRONG. WHAT WE ARE LOOKING AT IT LABOR FORCE PARTICIPATION RATE AND PRIME AGE. THAT CAN HELP BRING DOWN WAGES AND SOME PRESSURES THAT COULD LEAD TO SOME SORT OF WAGE CRISIS. WELL YEAR-OVER-YEAR HOURLY EARNINGS CONTINUE UP, IN THE LAST THREE MONTHS, IT APPEARS TO BE MODERATING A BIT. IF WE CONTINUE TO SEE PEOPLE JOIN AND REENTER THE LABOR FORCE, IT HELPS US PROLONG THE GROWTH WE HAVE AND SEEING. THE CLIENT IS NOT A GOOD THING, BUT THERE IS UNDERLYING STRENGTH RIGHT NOW. JONATHAN:
COMING UP, TWITTER SHARES SOARING AFTER ELON MUSK TAKES A STICK. -- A TAKE. EQUITY IS DOING WELL. JONATHAN: JUST ABOUT SQUEEZED OUT A WEEK OF GAINS ON THE S&P 500 LAST WEEK. THIS WEEK, JUST A LITTLE HIGHER.
PRICE ACTION -- WE KICK THINGS OFF WITH THE JP MORGAN PRICE TARGET AT $150. SEASONAL FACTORS. NEXT UP, THE STOCKS PRICE EVALUATION WEAKENING INVESTOR SENTIMENT. FINALLY, MAINTAINING ON TESLA AFTER ELON MUSK TAKES A MAJOR STAKE IN TWITTER. THAT STOCK OF LAKE 0.5%. ELON MUSK WITH THE NEXT BEST THING.
OPENING BELL FOUR MINUTES AWAY. JONATHAN: 23 SECONDS FROM THE OPENING BELL. EQUITY MARKET UP 0.1%, ON THE NASDAQ UP ABOUT 0.2%.
JUST LAST WEEK, SQUEEZING OUT GAINS, EVEN WITH YIELD CURVE INVERSIONS. YIELDS JUST A LITTLE BIT HIGHER AND LOWER AT THE FRONT END. THE EURO-DOLLAR DOWN 0.5% AT 1.09. CRUDE BACK UP. AROUND THE OPEN, A FLAT OPEN ON THE S&P 500. ENERGY UP BY 0.6%, UTILITIES DOWN ABOUT 0.6%, AND ONE STOP
TAKING CENTER STAGE. ELON MUSK BECOMING THE LARGEST SHAREHOLDER, TAKING A 9.2% STAKE. ED LUDLOW, I WAS NOT EXPECTING THIS ONE. ED:
I WAS NOT EXPECTING IT EITHER. REGULATORY FILING DATED MARCH 14 . ELON MUSK ASKING HIS FOLLOWERS WHAT THEY THOUGHT ABOUT FREE SPEECH ON TWITTER. HE SAID HE WOULD CONSIDER HIS OWN PLATFORM, BUT THAT FILING SHOWS HE HAS BEEN THINKING ABOUT THIS FOR A WHILE. I AM SEEING A GAIN OF ABOUT 5%
ON TWITTER. ELON MUSK BECOMES THE SINGLE BIGGEST SHAREHOLDER. LOOK AT THIS. JACK DORSEY STEP DOWN IN NOVEMBER OF LAST YEAR. THIS IS A TOUGH ONE, BUT CLEARLY MUSK IS THINKING ABOUT SOME KIND OF ACTION POOR, BECAUSE IT IS A 13 G FILING, THIS IS A PASSIVE STATE. TWITTER GROWTH HAS NOT KEPT UP WITH LEVELS THAT THE COMPANY WOULD HOPE. THE QUESTION IS, HELP WILL IS
THIS? WALL STREET HYPOTHESIZING IT IS A PASSIVE STATE, BUT HOW QUICKLY DOES THIS BECOME ACTIVE IESCO --? JONATHAN: WOULD YOU DESCRIBE ELON MUSK AS PASSIVE? THERE IS NOTHING PASSIVE ABOUT HIM. WHAT DOES HE WANT TO DO WITH THIS? ED: HE HAS BEEN CRITICAL OF MAINSTREAM MEDIA, LIKES TO FOLLOW INDIVIDUAL JOURNALISTS. BROADLY, HE IS CRITICAL OF TRADITIONAL MEDIA. HE HAS HINTED THAT HE WAS NOT HAPPY ABOUT JACK DORSEY STEPPING DOWN, BUT HE DID NOT RELATE LIKE THE PERSON WHO REPLACED HIM. HOW MUCH OF THIS IS FUN AND GAMES FOR ELON MUSK? TWITTER IS THE ONLY PUBLIC STOCK THAT HE NOW OWNED OTHER THAN TESLA. INTERESTING WHAT DAN HAS TO SAY. JONATHAN: LOOKING FORWARD TO THAT.
STOCK UP BY ABOUT 32% -- 22% BASED ON THAT MOVE. ABIGAIL: STICKING WITH THE ELON THEME, LET US START WITH SHARES OF TESLA, EVER SO SLIGHTLY LOWER AFTER THE COMPANY PRE-ANNOUNCED DELIVERIES FOR THE FIRST QUARTER, A RECORD NUMBER, MORE THAN 310,000. INVESTORS BACKING OFF.
OCCIDENTAL PETROLEUM UP 0.9%. WARREN BUFFETT'S STAKE IS ABOVE 10%. ALIBABA UP 3.7%, AS CHINA HAS MADE THE AUDIT NEWS OFFICIAL,
WHICH WILL HELP THESE COMPANIES KEEP TRADING. JP MORGAN DOWN. THIS COMPANY COULD POTENTIALLY HAVE DECENT EXPOSURE TO RUSSIA. JONATHAN: APRIL 13, AT JP MORGAN EARNINGS JUST AFTER CPI. A LOT TO GET THROUGH NEXT WEEK. THIS MARKET HAS HAD EVERYTHING FROM AT IT -- GEOPOLITICAL CONCERNS, AND INVERTED YIELD CURVE, ON THE YEAR, DOWN 4.7 PERCENT. WHAT A MOVE. KAILEY: ABOUT 5% OFF THE RECORD HIGH, UP AFTER RUSSIA INVADED UKRAINE.
THIS MARKET RALLYING TO THE UPSIDE IN DEFIANCE OF A LOT OF BEARS OUT THERE. THE INDEX NOW RALLYING PAST THAT EARLY FEBRUARY HIGH, WHICH COULD INDICATE A TARGET OF AROUND 5200 IS FEASIBLE, BUT NOT EVERYONE AGREES WE ARE HEADED IN THAT DIRECTION. MIKE WILSON SAYING BEAR MARKET RALLY OVER. WE STOCKS THAT WERE THE WORST PERFORMERS FROM DECEMBER TO MARCH, AT THE BOTTOM 10% NOW UP 22% SINCE MARCH 14. THE SECOND-WORST CAN PERCENT UP 70% SINCE THAT TIME.
THE PATTERN HOLDS UNTIL YOU GET TO THE TOP 20% OF THE MARKET. HISTORICALLY, APRIL A GOOD MONTH FOR STOCKS, BUT THERE REMAIN RISKS, INCLUDING EARNINGS AND NOW GROWTH CONCERNS REFLECTED IN AND INVERTED YIELD CURVE, BUT LOOKING BACK, IT HAS TAKEN AN AVERAGE OF 18 MONTHS FOR THE S&P 500 TO TALK OUT. IF YOU STOP AT THE POINT OF INVERSION, YOU WOULD MISS OUT ON A 90% RALLY ON AVERAGE -- A 19% RALLY ON AVERAGE. ABIGAIL:
SOME BREAKING NEWS ON JP MORGAN -- JAMIE DIMON MAY REMAIN THE CHAIR WHEN HE EVENTUALLY QUIT AS CEO. THE STOCK IS DOWN AROUND 1.6%. JAMIE DIMON MAY REMAIN THE JP MORGAN CHAIR WHEN HE EVENTUALLY QUIT AS CEO. JONATHAN: MORE DETAIL IN OUR STORY FROM HANNAH LEVITT THIS MORNING THE BANK PLANS TO SEPARATE THE ROLES WITH THE NEXT CEO TRANSITION SUBJECT TO THE BOARD'S OF THE LEADERSHIP STRUCTURE THAT BEST SERVES THE BOARD THE TIME. MANY BANKS HAVE SEPARATE CHAIR AND CEO POSITIONS.
A SUBSTANTIAL MAJORITY OF THOSE WITH WHOM WE ENGAGE -- WOULD ENABLE OUR CURRENT CO2 SERVE AS NONEXECUTIVE CHAIR. EVERY TIME JAMIE DIMON IS ASKED ABOUT THIS, HE WILL SAY, FIVE YEARS. KATERINA, YOU TALKED ABOUT BEAR MARKET RALLIES. CAN YOU HELP ME UNDERSTAND HOW YOU IDENTIFY A BEAR MARKET RALLY AND WHAT IS SOMETHING YOU DO NOT WANT TO GET BEHIND? KATERINA: OVER THE LAST COUPLE OF YEARS, WE HAVE ENJOYED AN AMAZING BULL MARKET, FIELD BY THE STIMULUS AND COVID RECOVERY, AND INVESTORS THAT ARE USED TO ATTRACTIVE GAINS IN SECTORS LIKE TECHNOLOGY IN THE AREAS THAT BENEFITED FROM THIS POST-COVID ENVIRONMENT.
IN THE BEAR MARKET, WHICH IN OUR VIEW IS WHERE WE ARE AT, WE HAVE TWO BREAK OUT AT DIFFERENT LABELS. THIS MARKET IS GOING TO SHOW BIG RALLIES, BUT SAFE INVESTMENT STRATEGIES THAT WORKED DURING THE BULL MARKET ARE NOT GOING TO WORK HERE. WE HAVE TO PAY SUPER CLOSE ATTENTION.
WE ARE EXCITED ABOUT EARNINGS AND ABOUT EMPLOYMENT NUMBERS, BUT WE ARE FULLY EXPECTING EARNINGS PROVISIONS TO BE NEGATIVE. WHAT DOES THAT MEAN? THAT MEANS WE HAVE TO LOOK FOR COMPANIES THAT HAVE PRICING POWER, COMPETITIVE ADVANTAGE, THAT ARE GOING TO BE ABLE TO REPOSITION TO MAKE MONEY IN THIS BEAR MARKET. THERE IS MORE OPPORTUNITIES TO MAKE MONEY IN THEIR MARKETS THAN SOMETIMES IN BULL MARKETS THAT TENDED TO BE MORE SPECULATIVE.
THIS IS THE TIME TO POSITION FOLIOS FOR QUALITY, TO PAY ATTENTION TO REAL YIELDS. THE OTHER FACTORS WE ARE DEALING WITH IS INFLATION. IT CHANGES EVERYTHING. WE HAVE TO LOOK AT PORTFOLIOS THROUGH THE PERSPECTIVE OF QUALITY. WE HAVE TO GET AWAY FROM THE SECTORS THAT WORKED BEFORE AND IF IT TOWARDS QUALITY, TOWARDS YIELD PIVOTS, TOWARD ALLOCATIONS TO THESE SECTORS THAT PRESENT INTERACTIVE INFLATION HEDGES, THAT HISTORICALLY WORKED IN THIS ENVIRONMENT. THIS IS NOT THE END OF THE WORLD. BEAR MARKETS HAPPEN.
THIS IS WHAT WE HAVE NOW. RALLIES CAN BE EXCITED, BUT WE CANNOT BE FOOLED BY THEM. JONATHAN: YOU KNOW HOW THIS WORKS. SOME MIGHT SAY THIS IS A BEAR MARKET RALLY.
OTHERS MIGHT SAY, WE HAD A CORRECTION. THIS IS A RALLY. WE ARE STILL ENABLE MARKET. HOW DO YOU DISTINGUISH BETWEEN THE TWO? KRISHNA: YOU CAN ONLY TELL THAT THIS IT WAS A BEAR MARKET RALLY IN HINDSIGHT.
ASSERTING THAT THIS WAS A BEAR MARKET RALLY IS DIFFICULT. HAVING SAID THAT, I AGREE WITH THEIR POSITION. GIVEN WHAT WE ARE FACING, WHICH IS A SIGNIFICANT RISE IN FED POLICY RATES AND UNCERTAINTY WITH RESPECT TO HOW FAR THEY ARE GOING TO GO, SAYING THAT THE BEAR MARKET IS OVER IS DIFFICULT TO SQUARE WITH WHAT WE BASED ON POLICY.
IT DOES NOT MEAN THAT WE WILL NOT HAVE SECTORS OF THE MARKET THAT WILL DO WELL, BUT POSITIONING YOUR PORTFOLIO -- IF YOU WANT TO MAINTAIN EXPOSURE -- , POSITIONING TOWARD THE QUALITY END IS PROBABLY THE MOST EFFICIENT THING YOU CAN DO WHERE YOU WANT HER AND DOWNSIDE. JONATHAN: WHEN WAS THE LAST TIME YOU WERE THIS PARISH? KRISHNA: 15 YEARS. I THINK IF YOU THINK ABOUT IT, THE DRIVER OF MY OPTIMISM EVER SINCE THE FINANCIAL CRISIS WAS THE FACT THAT INFLATION WAS GOING TO REMAIN DORMANT AND THEREFORE POLICY RATES ARE GOING TO REMAIN LOW. IF YOU GENERATE ANY ROSE, YOU ARE GOING TO GET PRICES FOR THAT.
IN THE LAST YEAR OR YEAR AND A HALF, ALL OF THAT HAS GONE OUT THE INDO. IT MAY HAVE GONE OUT FOR THE NEXT TWO OR THREE DECADE, BECAUSE WE HAVE THIS INCREASE IN DEFENSE SPENDING AND UNCERTAINTY WITH RESPECT TO COMMODITIES MAY PUT A CAP UNHALLOWED LOW-INTEREST RATES CAN REMAIN FOR THE NEXT DECADE. LAST YEAR IT WAS A PIVOT POINT, BUT IT MAY BE A BIGGER PIVOT POINT THAN TODAY. JONATHAN: COLLIN? COLLIN: WE ARE NOT AS PESSIMISTIC.
YOU ARE TALKING ABOUT BEAR MARKET RALLIES. AS A RELATES TO BOND BEAR MARKETS, WE HAVE SOME GOOD NEWS. WE ARE NOT NECESSARILY CALLING THIS THE END. WE THINK YIELDS CAN MOVE UP A LITTLE BIT, BUT THE WORST IS LIKELY BEHIND US. THAT FIRST QUARTER PERFORMANCE,
THERE WAS NOWHERE TO HIDE, BUT WHEN YOU LOOK AT WHERE THE YIELD CURVE IS TELLING US, THAT REGARDLESS OF THE FED HIKES, ONCE THE FED GETS TOO TIGHT, IT IS LIKELY TO CUT AT SOME POINT. SEE THE LIMITED UPSIDE FOR MOST OF THE YIELD CURVE RIGHT NOW, BUT THERE ARE OPPORTUNITIES FOR INVESTORS. EVEN THOUGH THE FED JUST STARTED HIKING, THERE IS THIS PERCEPTION THAT YIELDS ARE STILL LOW. THAT IS NOT THE CASE. THERE ARE YIELDS THAT WE THINK ARE ATTRACTIVE RIGHT NOW, WELL ABOVE AVERAGE OVER THE PAST 13 YEARS.
INVESTORS SHOULD TAKE A LOOK AT OPPORTUNITIES AND CONSIDER THAT WE DO NOT THINK YOU ARE GOING TO RISE THAT MUCH. JONATHAN: COMING UP, ELON MUSK TAKING A 9.2% STAKE IN TWITTER. >> TECHNOLOGY HAS BEEN A STRUCTURAL WINNER OVER TIME.
JONATHAN: THIS IS BLOOMBERG. >> TECHNOLOGY HAS BEEN A STRUCTURAL MARGIN WINNER OVER TIME. IT NOW ACCOUNTS FOR A DISPROPORTIONATE SHARE OF EARNINGS, MUCH BIGGER IMPACT NOW THAN IN THE PAST. JONATHAN: ELON MUSK BECOMING CRITTERS LARGEST SHARE HOLDER. THE MOVE FEELING SPECULATION AFTER MUSK TWEETED, FAILING TO ADHERE TO FREE-SPEECH PRINCIPLES FUNDAMENTALLY UNDERMINES DEMOCRACY.
WHAT SHOULD BE DONE? ED: BIGGEST JUMP SINCE NOVEMBER 2017. -- DATED MARCH 14, A GOOD TWO WEEKS BEFORE THOSE TWEETS ABOUT THE UTILITY OF TWITTER AS A TOOL IN FREEDOM OF SPEECH AND QUESTIONS ABOUT WHAT SHOULD BE DONE. YOU ASKED ME, WHY IS ELON MUSK DOING THIS? IF YOU LOOK AT HIS EXISTING HOLDINGS, THE FIRST THING THAT COMES TO MIND IS HIS STAKE IS THE FIRST PUBLIC COMPANY STAKE HE HAS HELD APART FROM TESLA. HE HAS PRIVATE SHARES IN SPACEX, BUT NOW IN TWITTER AS WELL. WHAT TO DO ABOUT IT? THE REACTION FROM ANALYSTS ON WALL STREET IS THAT THEY DO THINK THAT EVEN THOUGH THIS SEEMS TO BE A PASSIVE STATE THAT WE COULD SEE A MORE ACTIVE ROLE. THAT IS THE SHARE PERFORMANCE OF THOSE COMPANIES OVER THE LAST FIVE YEARS. IF THERE IS ANYTHING YOU CAN
SAY, HIS COMPANY HAS DONE WELL WHERE TWITTER HAS NOT PERFORMED AS STRONGLY. JONATHAN: DAN, YOUR REACTION ON THE BACK OF THIS NEWS? DAN: THIS IS JUST THE START. I THINK THIS WILL BE AN ACTIVE, PAST 10%. IT STARTS WHAT IS GOING TO BE A BROADER STRATEGIC INITIATIVE FOR ELON AT TWITTER. FOR TESLA, THE OLD DO NOT TAKE YOUR EYE OF THE BALL, IN TERMS OF THE OVERALL EFFORT SYSTEM, INVESTORS VIEW IT AS MAYBE A SITE NET POSITIVE FOR MUSK AND THE BROADER ECHO SYSTEM. WHEN YOU LOOK AT TWITTER, IF THERE WAS A TIME HE WAS GOING TO GO AGGRESSIVE, THIS WAS THE TIME.
IT HAS BEEN VIEWED AS IN THE REARVIEW MIRROR. HE WAS NOT GOING TO BUILD A PLATFORM FROM THE ROUND UP THIS IS THE START OF A MUCH BROADER CAMPAIGN. JONATHAN: IF THIS MORE ABOUT HIS PERSONAL VIEWS? DAN: I THINK ANYONE THAT HAS FOLLOWED HIM OVER THE LAST FEW MONTHS, IT HAS CROSSED THE LINE. IT HAD BECOME MORE PERSONAL. IT IS SOMETHING THAT FOR HIS VIEW OF TWITTER IS ONE WHERE HE DOES THINK HE CAN CHANGE DEPLATFORM. THERE COULD BE BOARD CHANGES. BEHIND THE SCENES, THEY WILL TALK, BUT I THINK THERE IS A BETTER CHANCE OF ME PLAYING IN THE MASTERS THIS WEEKEND THAN HIM KEEPING A PASSIVE STATE.
JONATHAN: I DO NOT THINK ANYONE THINKS HE IS PASSIVE. WE ARE TRYING TO WORK OUT WHAT HE IS GOING TO DO. STRATEGY -- HOW WOULD YOU GET A READ ON WHAT HE WANTS TO DO? DAN: ONE, MONETIZATION. THERE NEEDS TO BE A LOT OF CHANGES, WHETHER ALGORITHMIC OR FROM A MARKETING PERSPECTIVE IN TERMS OF NEW DEMOGRAPHICS.
TWO, FROM AN ADVERTISING PERSPECTIVE, IT IS WHEN THEY ARE LOSING IN THIS SOCIAL MEDIA GAME. HE IS GOING TO EMBARK CHANGES WHICH WILL BE IMPORTANT. THIRD, WITH DORSEY IN THE BACKGROUND, THERE IS A VOID FROM A LEADERSHIP PERSPECTIVE. OBVIOUSLY, THIS GOES INTO THE WHOLE TWITTER PLATFORM, HAS CREATED CONTROVERSY.
MUSK'S VIEW IS HE IS GOING TO ROLL UP HIS SLEEVES AND TRY TO CHANGE IT. JONATHAN: I AM LOOKING AT A PRICE TARGET OF $1400. WE TRADED AT 1076. WHAT IS THERE OUTSIDE OF HIM? DAN: I DO NOT BELIEVE AT LEAST IN THE NEXT FIVE YEARS THAT HE RESIGNS AS CEO AT TESLA. UNTIL WE START TO GET FSD ROLLING, YOU LOOK AT BRADLEY AND , AT THE BARBECUE ON THURSDAY, TESLA IS JUST HITTING ITS NEXT GEAR OF GROWTH. THERE IS ALWAYS A RISK OF THAT WITH LAST, BUT YOU START TO BUILD A BINGE UNDER HIM. TURNOVER WILL START TO DECREASE, BUT RIGHT NOW, IN TERMS OF THE NEXT LEG OF THE STORY, WE SAW THAT WITH DELIVERIES.
FOR OTHERS, IT HAS BEEN A DEBACLE. JONATHAN: TAGGER, THE MASTERS, IS THIS GOING TO HAPPEN? DAN: HE HAS HIS PRESS CONFERENCE TOMORROW. I THINK HE PLAYS. TIGER PHRASE, A CABBIE IS WEAK FOR SPORTS FAN. JONATHAN: GOOD TO CATCH UP. COMING UP, YOUR TRADING DIARY
FROM NEW YORK CITY THIS MORNING. THIS IS BLOOMBERG. JONATHAN: RIGHT NOW, ANOTHER ECB, THE PROSPECT OF ENDING NEGATIVE INTEREST RATES. DOING BETTER THAN OK UPON THE NASDAQ, UP 0.33 PERCENT ON THE S&P 500. THE PRESIDENT OF THE U.S. SPEAKING 1:45 EASTERN ON SUPPLY CHAINS. FED MINUTES ON WEDNESDAY. LOOK OUT FOR DETAILS.
VANISHING REDUCTION. BUT EXECUTIVES HEADING TO CAPITOL HILL TO TESTIFY ON GAS PRICES. THAT IS MUCH -- MUST WATCH TV. FROM NEW YORK CITY, THANK YOU FOR CHOOSING BLOOMBERG TV.
2022-04-08 14:40
Show Video
Other news