'Bloomberg Technology' Full Show (10/18/2021)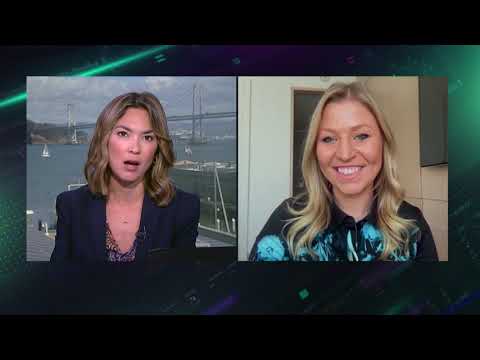 Show Video
>> THIS IS BLOOMBERG WITH EMILY CHANG. EMILY: COMING UP IN THE NEXT HOUR, APPLE SHOWCASED NEW DEVICES AT AN UNLEASED EVENT AND WE'RE LOOKING AT THE UP AND ITS MOST DRAMATIC MOVE YET. OR THAN 6.7 BILLION VACCINE DOSES HAVE BEEN ADMINISTERED, ENOUGH TO FULLY VACCINATE OVER 43% OF THE GLOBAL POPULATION. SPEAKING WITH THE MODERNA CEO IN AN EXCLUSIVE INTERVIEW. AND FOR MERELY GOING BROKE TO A BILLION-DOLLAR DOLLAR BUYOUT FROM AMAZON. WILL TALK TO THE CEO OF RING
ABOUT LIVING UNDER THE AMAZON ROOF AND THE HOTTEST PRODUCTS, COMING UP THIS HOLIDAY SEASON. ALL THAT IN A MOMENT, BUT FIRST LET'S GET A LOOK WITH -- AT THE MARKETS. >> GREEN ON THE SCREEN, ALL THANKS TO BIG TECH.
MICROSOFT LEADING THE INDEX HIGHER. A LITTLE BIT OF DEFENSIVE POSITIONING, THAT'S WHAT WE SAW, WE ALSO HAVE A LOT OF RISK ON SENTIMENT, IT LOOK LIKE AFTER HOURS IS GOING TO SLIP FROM THAT OVER 61,000 LEVEL, SOMETHING TO WATCH AS WE GO TO TOMORROW'S SESSION. ONE OF THE THINGS THAT HAPPEN IN THE PAST COUPLE OF WEEKS WAS THE CORRECTION FOR A LOT OF THESE BIG TECH NAMES. YOU START TO SEEING THEM GET A LITTLE BIT OF A RENEWED BID. MICROSOFT IN PARTICULAR, THAT'S
THE WHITE LINE THERE, NOW RETURNING TO ITS ALL-TIME HIGH. AFTER HITTING THAT PULLBACK TERRITORY, I WANT TO SHOW YOU WHAT APPLE IS DOING TODAY. REALLY LEADING THE GAINS FOR THE S&P 500. WE HAD A LOT OF CONCERNS FOR APPLE, PRODUCTION CONCERNS, THE FACT THAT THEIR SUPPLY CHAINS ARE STRETCHED. IT LOOKS LIKE AFTER A COUPLE OF DAYS OF VOLATILITY THERE GETTING A RENEWED INVESTOR BID. WE WILL SEE IF IT STICKS AROUND.
EMILY: I WANT TO GET TO THAT BIG NEWS FROM APPLE, SPECIAL UNLEASED EVENT REVEALING THE COMPANY'S LATEST FOCUS IS ON MUSIC. AN UPDATE TO THE AIRPODS AND AN UPDATE TO THE MACBOOK PRO, INCLUDING ITS MOST AGGRESSIVE STEP AWAY FROM INTEL CHIPS IN FAVOR OF APPLE'S OWN HOMEGROWN SEMICONDUCTORS. MARK, A LOT TO GET THROUGH TODAY. LET'S START WITH THE UNLEASED EVENT. WHAT WAS MOST SIGNIFICANT TO
YOU? MARK: THE NEW MACBOOK PRO, THERE WERE SKY HIGH EXPECTATIONS FROM MACBOOK USERS AND I WOULD SAY IT MET ALL THOSE EXPECTATIONS AND EVEN A BIT MORE. THE NEW PROCESSOR SPEED IS IN -- EXTREMELY IMPRESSIVE INDEFINITELY OUTPERFORMED COUNTERPARTS. THE NEW DISPLAY WAS ALSO HIGHLIGHT. THE MAGNETIC CHARGER, BEING ABLE TO RUN APPS AT INCREASED SPEEDS, UP TO 21 HOURS OF BATTERY LIFE AND THE BIGGER SIX INCH MODEL ARE VERY IMPRESSIVE. EMILY: LET'S TALK ABOUT THE CHIPS. OBVIOUSLY APPLE HAS BEEN MAKING A MOVE TOWARD ITS OWN CHIPS FOR MANY YEARS. THIS DOESN'T HAPPEN OVERNIGHT,
BUT WITH THE NEW MACBOOK PRO, THEY ARE TAKING A STEP AWAY FROM INTEL. TALK TO US ABOUT WHAT THAT MEANS. MARK: THE FIRST MAC CHIP THEY RELEASED LAST YEAR WAS AT THE LOW END, FOR THE ENTRY-LEVEL MACBOOK PRO AS WELL AS THE ENTRY IMAC AND APPLE AIR. THESE ARE THE HIGHER INCOME A HIGHER PERFORMING CHIPS FOR THE HIGHER END MACS, THEY ARE STARTING WITH THE MACBOOK PRO FOR THAT. THERE ARE A BUNCH OF OTHER MACS THEY NEED TO UPDATE FOR THE NEXT YEAR. THERE'S A NEW VERSION OF THE
IMAC MANY AND A NEW VERSION OF THE MAC PRO OVER THE COURSE OF THE NEXT YEAR AND EVEN INTO 2022. THEY SAID IT IS A TWO-YEAR TRANSITION AND WE ARE AT THE HALFWAY POINT. THEY APPEAR TO BE ON TRACK FOR ALL INTENTS AND PURPOSES. EMILY: A LOT OF PEOPLE ARE EXCITED ABOUT NEW AIRPODS. IT'S ABOUT WORKING AT HOME AND NEEDING TO BE INCREASINGLY CONNECTED TO ANYWHERE, RIGHT? MARK: ABSOLUTELY. THE NEW IPODS COME IN AT $180, $30 MORE EXPENSIVE, BUT THE OLD ONES CAME OUT ALMOST THREE YEARS AGO OR $130.
SO THAT'S THE CHEAPEST PRICE FOR IPODS AT THIS POINT. EMILY: IT WILL LIKELY BE A BIG SELLER FOR THE HOLIDAY SEASON. MARK, THANK YOU VERY MUCH. MEANTIME, ANOTHER FACEBOOK WHISTLEBLOWER HAS TESTIFIED BEFORE LAWMAKERS, THIS TIME IN THE U.K.. SHE TOLD BRITISH PARLIAMENTARIANS THAT SHE BELIEVED THE SOCIAL NETWORK ALLOWS AUTHORITARIAN GOVERNMENTS TO MANIPULATE POLITICAL CONVERSATIONS. MEANTIME FACEBOOK RELEASED AN ALL-ENCOMPASSING STATEMENT SAYING THAT MORE NEGATIVE STORIES ABOUT THE COMPANY COULD BE COMING. SAYING WE BELIEVE WE SHOULD
CORRECT THE RECORD. WE WILL CONTINUE TO FOLLOW ALL OF THOSE DEVELOPMENTS. COMING UP BITCOIN INCHING TOWARD A RECORD, EXPECTING TO GO LIVE ON TUESDAY. WE WILL LOOK INTO THE RALLY AND WHAT RISKS COULD LIE AHEAD, NEXT. TAKE EARNINGS KICK OFF THIS WEEK. WE WILL GET REPORTS FROM NETFLIX TUESDAY, THEN TESLA AND IBM WEDNESDAY, AND INTEL ON THURSDAY. INVESTORS WILL BE KEEN TO HEAR
HOW FORECAST AFFECT THEIR INVESTING STRATEGY. THIS IS BLOOMBERG. ♪ EMILY: SHARES OF ZILLOW FELL MORE THAN 9% MONDAY. THE COMPANY SAYING IT WILL STOP BUYING NEW HOMES AND WORK TO CLEAR OUT A BACKLOG OF PROPERTIES IT ALREADY HAS. ZILLOW ACQUIRED MORE THAN 3800 HOMES IN THE SECOND QUARTER. THE SEATTLE-BASED COMPANY HAS
SEEN ITS STOCK PRICE TUMBLED 27% THIS YEAR AFTER NEARLY TRIPLED IN 2020 AMID THE PANDEMIC FUELED HOUSING MARKET BOOM. THE BITCOIN FUTURES ETF IS EXPECTED TO DEBUT ON THE NYSE TUESDAY. THANK YOU FOR JOINING US. OUR INVESTORS RIGHT TO BE THIS EXCITED ABOUT A BITCOIN ETF? >> IT'S GREAT TO SEE BITCOIN GETTING SO MUCH WELL-DESERVED ATTENTION, COMING AFTER NEWS THAT EL SALVADOR IS INCREASING BITCOIN AS LEGAL TENDER.
BITCOIN HAS EMBRACED OVER 35 MILLION TODAY AND FIDELITY REPORTED THAT 33% OF U.S. INSTITUTIONAL INVESTORS ARE INVESTED IN DIGITAL ASSETS TODAY. WE'VE SEEN AN INCREASE IN THE NUMBER OF INTER-GRAPHIC JOIN THAT EXIST ON OTHER CHAINS LIKE IT THEORY AND.
IT SPEAKS TO HOW BIT GOING -- EMILY: TO BE CLEAR, IT ISN'T AN EXCHANGE TRADED FUND BAT -- BACKED BY ACTUAL BITCOIN. DOES THE HYPE ACTUALLY MATCH THE EXPECTATIONS? TEGAN: IT'S A GREAT QUESTION AND IT IS IMPORTANT THAT YOU ARE EDUCATING THE LISTENERS ON THE FACT THAT THIS IS NOT A BITCOIN BACKED ETF, IT IS A FUTURES ETF, NOT A SPOT BASED ETF. I DO THINK IT IS A STEP IN THE RIGHT DIRECTION, BUT A SPOT BASED ETF WOULD WOULD BE MUCH MORE PREFERRED.
HOPEFULLY THE SEC APPROVES THAT AS WELL. EMILY: HOW DO INVESTORS WAY WHETHER IT'S A BETTER PLATFORM? TEGAN: IT'S A GREAT QUESTION. WITH BITCOIN, WITH THE ETF APPROVED BY THE SEC, IF YOU WANT TO BET ON THE PRICE OF BITCOIN IN THE FUTURE, THAT'S GREAT WAY TO DO IT. BUT IF YOU WANT TO HOLD UNDERLYING BITCOIN ASSETS, THE BEST WAY TO DO IT IS THROUGH PLATFORM LIKE COINBASE OR CRACK IN. EMILY: WE ARE WAITING FOR THE SHOE TO DROP ESSENTIALLY BUT WE DON'T KNOW EXACTLY WHAT THAT'S GOING TO LOOK LIKE. TEGAN: ABSOLUTELY, IT'S A STEP IN THE
RIGHT DIRECTION FOR CRYPTO ASSETS IN GENERAL. I HOPE THEY DO APPROVE A SPOT BASED ETF IN THE FUTURE. EMILY: WHAT IS YOUR TAKE ON THE SPOT BASED DYNAMIC? THINGS SEEM TO BE BACK ON THE RISE, BUT STILL A LOT OF UNCERTAINTY HANGING IN THE BALANCE. TEGAN: WE'VE SEEN BITCOIN RECOVER FROM AN OUTRIGHT BAN IN CHINA.
NOW WE HAVE THIS NEWS, SO I THINK IT'S REALLY EXCITING TIME FOR BITCOIN AND BLOCKCHAIN. EMILY: THANK YOU SO MUCH FOR JOINING US, LOTS TO KEEP WATCHING. THE LARGEST ASSEMBLER OF IPHONES, FOXCONN HAS REVEALED ITS FIRST ELECTRIC CAR. THIS IS A MILESTONE THAT COULD
BOOST THE COMPANIES CREDENTIALS AS A SERIOUS BIDDER FOR APPLE SECRETIVE CAR PROJECT. IT'S A CONCEPT THEY PLAN TO BILL RATHER THAN SELL UNDER ITS OWN BRAND. COMING UP, HOME SECURITY IS GETTING HIGHER TECH.
WE WILL TALK ABOUT THAT WITH A CEO, NEXT. THIS IS BLOOMBERG. ♪ EMILY: CONNECTED ON -- CONNECTED HOME TECHNOLOGY IS GETTING IN HIGHER AND HIGHER TECH. DRONES FOR YOUR HOME, THAT'S ONE OF THE NEW RING PRODUCTS RECENTLY UNVEILED ALONG WITH THE HOME ROBOT.
BUT AS THE HOME AND THE WORLD REALLY READY FOR ALL OF THIS? WE'LL TALK MORE ABOUT THIS WITH THE RING FOUNDER AND CEO. GREAT TO HAVE YOU WITH US. THE ALWAYS ON HOME KARMA THAT FLIES THROUGH YOUR HOME EVEN WHEN YOU ARE NOT THERE, TALK ABOUT THE MOTIVATION FOR THAT. IS THIS SOMETHING CONSUMERS REALLY WANT AND NEED? >> I THINK WHAT THEY REALLY WANT AND NEED IS THE REASON WHY WE BUILT IT. THERE ARE TIMES WHEN YOU WANT TO SEE EVERYWHERE IN YOUR HOME AT EVERY ANGLE.
YOU PROBABLY DON'T WANT TO HAVE AN INDOOR CAMERA IN EVERY ROOM IN YOUR HOME AT EVERY ANGLE. THIS SOLVES THE PROBLEM OF WHEN YOU ARE AWAY FROM YOUR HOME AND SOMETHING IS GOING ON IN YOUR HOME, GIVING YOU THAT ANGLE, THAT SHOT WITHOUT HAVING TO HAVE AN INDOOR CAMERA EVERYWHERE. SO THERE IS A PURPOSE BEHIND THE TECHNOLOGY, BUT I WILL SAY THAT IT IS PRETTY COOL. EMILY: WHAT HAS BEEN THE RESPONSE SO FAR? HOW MANY PEOPLE ARE INTERESTED IN THIS RIGHT NOW, OR DO YOU SEE IT TAKING OFF IN A MATTER OF YEARS, LITERALLY AND FIGURATIVELY? JAMIE: I THINK IT MIGHT BE A NEW AREA OF HOME SECURITY. IT'S AFFORDABLE SECURITY THAT ALLOWS YOU TO SEE EVERYWHERE IN YOUR HOME, AND WERE GETTING AN INCREDIBLE RESPONSE FROM IT. THE YOUTUBE PIECE PUT OUT TO DEMONSTRATE THE PRODUCT HAS THE MOST YOU BAT -- THE MOST VIEWS OF ANYTHING WE PUT ON YOUTUBE.
I THINK IT CAPTURES THE IMAGINATION OF OUR CUSTOMERS AND PEOPLE AND IT REALLY DOES SERVE A LEGITIMATE PURPOSE THAT YOU CAN UNDERSTAND IN A SECURE HOME. EMILY: A SPECIAL FOCUS ON JOB SITE SECURITY, WHAT IS NEW AND IMPROVED THEIR? JAMIE: WE WERE ABLE TO PUT THE PHYSICAL SECURITY AND DIGITAL SECURITY, PUT THE TWO TOGETHER AND BY DOING THAT WE CREATED OTHER THINGS FROM IT LIKE INTERNET BACKUP. WITH HOME DEPOT WE'VE LAUNCHED A PROJECT CALLED JOB SECURITY PACKAGE. I SEE IT ALL THE TIME HERE, LUMBER PRICES, THE THINGS ON THE JOBSITE ARE WORTH A LOT MORE NOW AND THESE ASSETS ARE SITTING THERE IN OUR NEIGHBORHOODS. NOW YOU HAVE A SYSTEM TO SECURE THEM, A CAMERA ON THEM, LIGHTS, A FULL PATCH -- FULL PACKAGE TO SECURE YOUR JOBSITE. EMILY:
I WANT TO KNOW HOW YOU ARE BEING IMPACTED BY THE SUPPLY CHAIN CHAOS. HOW IS THIS INFLUENCING YOUR PRODUCTION AND WHAT ARE THE BIGGEST CHALLENGES, ESPECIALLY AS WE GO INTO A HOLIDAY SEASON WHERE YOU NEED TO BE MEETING THE DESIRES OF YOUR CUSTOMERS? JAMIE: WE'VE HAD A LOT PHONE AT US FROM THE PANDEMIC AND NOW SUPPLY CHAIN ISSUES. WE JUST TRY TO KEEP FOCUSED ON OUR MISSION OF KEEPING NEIGHBORHOODS SAFER, GET OUT THE PRODUCTS WE CAN, KEEP IN STOCK WHEN WE CAN. SO FAR WE'VE DONE A GREAT JOB WITH THAT, WITH WHAT MY TEAM HAS BEEN ABLE TO PRODUCE. A LOT OF IT IS JUST WAIT AND
SEE. THERE IS NOTHING GUARANTEED. EMILY: WHAT ARE THE BIGGEST CHALLENGES RIGHT NOW? THIS IS SOMETHING EVERY COMPANY AND EVERY EXECUTIVE IS COMPLAINING ABOUT. JAMIE: THE CHALLENGE FROM LABOR TO CHIPS TO SHIPPING, IT'S JUST BECOME A VERY TOUGH YEAR TO DELIVER. BUT WE HAVE BEEN THROUGH A LOT OF TOUGH TIMES, YOU JUST KEEP YOUR HEAD DOWN AND KEEP WORKING ON BEHALF OF CUSTOMERS AND KEEP DELIVERING. SO FAR WE'VE BEEN ABLE TO DO THAT. EMILY: THERE ARE A LOT OF
CONVERSATIONS HAPPENING NOW ABOUT PRIVACY WHEN IT COMES TO INCREASING TECHNOLOGY ENCROACHING ON HER HOMES. RING CAMERAS HAVE COME UNDER PUBLIC SCRUTINY FOR THE EAVESDROPPING FEATURE. THEY CAN RECORD CONVERSATIONS MORE THAN 60 FEET AWAY AND THAT AUDIO RECORDING FUNCTIONALITY IS ON BY DEFAULT. WHY NOT LEAVE THAT OFF BY DEFAULT? TALK TO ME ABOUT THE STRATEGY THERE. JAMIE: WE GIVE OUR CUSTOMERS A VERY GRANULAR WAY TO SECURE THEMSELVES. TWO FACTOR AUTHENTICATION, AND IF YOU TALKED ABOUT WITH THE AUDIO, IT IS OUR CUSTOMERS CHOICE WHETHER TO TURN IT ON OR OFF.
WE HAVE OBFUSCATION ZONES SO YOU CAN PUT IN THE CAMERA WHERE YOU WANT TO SEE AND WHERE YOU DON'T WANT TO SEE. WE HAVE LED THE INDUSTRY ON ALL THE FEATURES THAT ALLOW OUR CUSTOMERS TO USE THEIR CAMERAS IN THE WAY THEY WANT TO USE THEM. OBVIOUSLY IF YOU ARE ON A LARGE PIECE OF PROPERTY, YOU MIGHT WANT TO HAVE MORE DISTANCE, MORE MOTION DETECTION, AND IF YOU'RE ON A SMALLER PROPERTY YOU CAN TURN OFF THE AUDIO OR OBFUSCATION ZONES, ETC.. EMILY: AND PARTNERING WITH POLICE DEPARTMENTS, SHARING PRIVATE DOORBELL FOOTAGE WITH THEM THAT THEY CAN ACCESS WITHOUT A WARRANT. I UNDERSTAND YOU'VE GOTTEN SOME COMPLAINTS ABOUT THIS, SOME LEGAL DEMANDS, AND IS SOMETHING OTHER COMPANIES SHARE BUT RING DOES NOT. CAN YOU TALK ABOUT HOW MANY USERS HAVE HAD THEIR DATA SHARED WITH POLICE? JAMIE: THAT'S ACTUALLY NOT HOW IT WORKS.
WE HAVE PUBLIC SAFETY AGENCIES IN AREAS, THOSE AGENCIES SENT OUT OF PUBLIC REQUESTS WHICH EVERYONE SEES. IT GOES PUBLICLY ON OUR NEIGHBORS OUT AS WELL AS OTHER PLACES. THEN OUR CUSTOMERS ARE ABLE TO SEE THAT REQUEST AND IF THEY WANT TO SHARE SOMETHING WITH THE AGENCY, THEY CAN SAY YES. IT'S A VERY PRIVACY CENTERED WAY OF ALLOWING PEOPLE IN COMMUNITIES TO WORK WITH THEIR PUBLIC SERVICE AGENCIES AND PUBLIC AGENCIES WORK WITH THEM IN A WAY THAT BENEFITS ALL, WHILE KEEPING EVERYTHING PRIVATE AND IN 100% CONTROL OF OUR CUSTOMERS. EMILY: WHAT ABOUT AMAZON SIDEWALK, THIS NEW FEATURE THAT RING IS GOING TO BE A PART OF? LINGERING CONCERNS ABOUT THIS AS WELL.
HOW DO YOU ENFORCE THAT A THIRD PARTY WON'T TAKE ADVANTAGE OF SOME OF THIS INFORMATION THAT YOUR DEVICES ARE COLLECTING? JAMIE: SIDEWALK IS THE IDEA OF, WHEN I GREW UP AS A KID, I WALKED DOWN THE STREET WHEN MY MOM RAN OUT OF SUGAR, I'D GET A CUP OF SUGAR FROM THE NEIGHBOR. IT ALLOWS YOU TO DO THINGS LIKE, IF YOUR RING GOES DOWN, YOU CAN NOW OFF YOUR NEIGHBOR'S HOUSE OPT INTO SIDEWALK, YOU CAN SEE IT AND GET BACK ONLINE. IT'S A WAY FOR NEIGHBORS TO WORK TOGETHER TO SHARE THEIR BANDWIDTH WHEN THEY NEED TO, BUT IT'S VERY SMALL. EMILY: CERTAINLY INTERESTING TO HAVE YOU ON THE SHOW, ESPECIALLY AS ALL OF THESE DEVICES ARE GETTING MORE HIGH-TECH. JAMIE, THANK YOU SO MUCH FOR
JOINING US. THE LOGISTICS ARM OF THE CHINESE COMPANY, JD LOGISTICS AIMS TO HAVE AT LEAST 100 AIRCRAFT BY 2030. THERE -- THE CEO SPOKE EXCLUSIVELY ABOUT THE ONGOING IMPACT ON THE GLOBAL SUPPLY CHAIN CRUNCH. >> COVID HAS HEAVILY IMPACTED THE GLOBAL SUPPLY CHAIN INDUSTRY. ANY COMPANIES HAVE ENCOUNTERED
DIFFERENT CHALLENGES AND DIFFICULTIES DURING THE PANDEMIC. SEEN THE SHORTAGE OF RESOURCES IN SHIPPING AND AIRFREIGHT. WE BELIEVE IT IS A SHORT-TERM IMPACT, BUT FOR THE LONG-TERM, GLOBAL TRADE ROUTES WILL RETURN TO NORMAL. WE ARE PREPARED TO SET UP OUR OWN AIRFREIGHT CARGO COMPANY THAT WAS RECENTLY APPROVED BY AUTHORITIES. >> WOULD YOU BUY PLANES AND OPERATE THOSE PLANES YOURSELF? >> YES. WE PURCHASED PLANES OR LEASED THEM. THE CARGO FREIGHT OPERATION
SHOULD COMPLY WITH LOCAL REGULATIONS. IN THE FUTURE, WE MIGHT OWN AIRFREIGHT COMPANIES IN OTHER COUNTRIES. WE MIGHT RUN CARGO BUSINESSES AND COMPLY WITH LOCAL LAWS AND REGULATIONS.
>> HOW MANY PLANES DO YOU THINK YOU WILL NEED? >> BY 2030, I WOULD SAY IT WON'T BE LESS THAN 100 PLANES. >> DO YOU HAVE A PRIORITY IN TERMS OF MARKETS? >> IN NORTH AMERICA AND EUROPE, WE WILL INVEST MASSIVELY IN WAREHOUSE AND A LOGISTIC CENTERS. IN THE NEXT ONE OR TWO YEARS, WE'VE CAN PROVIDE MORE SUPPORT TO CHINESE SELLERS WHO WANT TO DO BUSINESS ABROAD. CHINA IS THE WORLD'S LARGEST CONSUMER AND HAS A GREAT DEMAND FOR PRODUCTS. EMILY: JD LOGISTICS CEO THERE. COMING UP, THE VETERAN APPLE
EXECUTIVE IS BACK IN THE SPOTLIGHT, THIS TIME BRINGING A NEW COMPANY TO THE PUBLIC MARKETS. HE WILL JOIN US, NEXT. THUS, A LOOK AT BOOSTER SHOTS. WILL BE JOINED BY THE MODERNA CEO IN EXCLUSIVE INTERVIEW ABOUT THE LATEST MODERNA NEWS, BOOSTERS, AND STRATEGIES TO SCALE UP THE VACCINE GOING FORWARD. THIS IS BLOOMBERG. ♪ >> LOOK FOR THE INTERVIEW ON THE BLOOMBERG TERMINAL AND ON BLOOMBERG RADIO. THIS IS BLOOMBERG.
EMILY: WELCOME BACK TO "BLOOMBERG TECHNOLOGY." I'M EMILY CHANG IN SAN FRANCISCO. TO GET MORE ON MARKET MOVES, I BELIEVE YOU'RE TAKING US TO CHINA. >> CHECK WAS IN CHARGE PER THAT WANT TO SHOW YOU THE BEST OF THE TRADE AND THE WORST OF THE TRADE. LET'S START WITH THE BEST, THE CHINESE ADR'S.
REGULATORY SCRUTINY HAS BEEN WEIGHING. A LOT OF TECHNICAL ANALYST SAY DESPITE THE REGULATORY SCRUTINY IN THE BACKGROUND, YOU SEE THAT ASSET GOLD INDEX. IT SHARES UP OVER 1.3% IN THAT INDEX. INTERESTING WHEN YOU TALK ABOUT HOW THEY ARE DOING COMPARED TO U.S. TECH. I WANT TO SHOW YOU THE DOWNSIDE OF TECH TRADE, IT HAS EVERYTHING TO DO WITH BIOTECH, DOWN. THE ONLY PART OF THE TECH UNIVERSE THAT UNDERPERFORMS. LOOK AT THE TOP THREE POINT CONTRIBUTORS OF THE INDEX.
HAS EVERYTHING TO DO WITH THE REPORT OF THE PFIZER BIONTECH AND MODERNA VACCINES WILL DOMINATE THE NON-CHINA VACCINE MARKET IN 2022. CRUCIAL WHEN WE TALKED ABOUT HOW MUCH THE VACCINE MAKERS WILL HAVE AS THEY BOOST SUPPLY TO HIGH, MIDDLE INCOME, AND LOW INCOME NATIONS. THEY GOT THERE POINT PROVEN TODAY. EMILY: WE WILL BE SPEAKING WITH THEM A DHARNA -- WITH THE MODERNA CEO, STEPHANE BANCEL. REDUCING AN EARNINGS FORECAST AFTER GLOBAL SUPPLY CHAIN PRODUCTION.
THE CEO TOLD BLOOMBERG TELEVISION IT IS A MATTER OF CHIPS AND SHIPS. >> IT IS A MATTER OF CHIPS AND SHIPS. WE HAVE A SHORTAGE OF CHIPS AND WE SEE CONGESTION IN THE PORTS THAT INTENSIFIED DURING THE QUARTER. YOU SAW THE BIGGEST IMPACT IN SEPTEMBER AND THAT SET US BAST AT LEAST $150 MILLION IN THE QUARTER. EMILY: NOW TO ANOTHER COMPANY WITH A SPOKE IN THE TECHNOLOGY, JUST HIT SPAC. RON JOHNSON BETTING ON THE FUTURE OF CONNECTED HOMES AND HYBRID WORK. HE IS THE CEO AND JOINS US LIVE
FROM THE NASDAQ. BIG DAY FOR YOU. WHY SPAC AND WHY IS TODAY THE RIGHT DAY FOR ENJOY? RON: WE HAVE RAPID GROWTH. WE WILL START IN 1000 MOBILE RETAIL STORES. WE SUPPORT OUR BUSINESS PARTNERS. IT IS A PERFECT TIME TO GROW. A SPAC WAS PERFECT FOR US. WE WENT PUBLIC VIA SPAC. WE WERE FORTUNATE TO RAISE 200 $50 MILLION TODAY TO CONTINUE ON OUR JOURNEY. EMILY: TALK ABOUT THAT JOURNEY AND HOW
ENJOY HAS EVOLVED, HOW IT IS DIFFERENT FROM THE BEST BUY GEEK SQUAD, WHICH IS NOT THE RIGHT PARALLEL, BUT IT IS WHAT MANY OF US KNOW. RON: THE GEEK SQUAD IS TECHNICAL SUPPORT. ENJOY, I SPENT A LIFETIME REIMAGINING THE RETAIL EXPERIENCE. I DID THAT AT APPLE, TARGET,
TRIED TO FOR JCPENNEY. WHY NOT BRING THE STORE TO THE CUSTOMER? I SAW THEM BRING AIRBNB TO THE HOTEL AND PELOTON THE STUDIO. WE HAVE INVENTORY AND TRAIN PEOPLE. WHEN YOU ORDER FROM APPLE, YOU TAKE EXPERIENCE AND WE BRING THE STORE TO YOU. YOU CAN DO EVERYTHING IN THE HOME YOU CAN DO IN A STORE. EMILY: BECAUSE OF SUPPLY CHAIN ISSUES, PEOPLE CANNOT GET WHAT THEY ARE ORDERING. IT TAKES MONTHS. HOW ARE YOU SEEING THAT PLAY
OUT? HOW BAD IS IT GIVEN HOW MANY YEARS YOU HAVE SPENT IN THIS INDUSTRY? RON: I HAVE BEEN DOING IPHONE LAUNCHES SINCE THE FIRST ONE FOR THE APPLE STORE. IT IS VERY COMMON AT THE BEGINNING OF A LAUNCH TO HAVE CHALLENGES WITH INVENTORY. THAT IS EXACERBATED THIS YEAR WITH ALL THE CHALLENGES WE ARE READING ABOUT. THE IPHONES ARE REALLY POPULAR.
THAT LASTS FOR A BIT AND YOU HAVE TO KEEP MOVING FORWARD. EMILY: EVEN THIS ONE? YOU WOULD NOT SAY THIS PARTICULAR SUPPLY DYNAMIC IS AN ANOMALY? RON: I DON'T REALLY HAVE INSIGHT. YOU CAN READ DOWN POINTS FROM APPLE'S WEBSITE, BUT IT IS HARD TO KNOW HOW CONSTRAINED IT REALLY IS. EMILY: IF THERE ARE SUPPLY CONSTRAINTS
AND CONSUMERS CANNOT GET WHAT THEY WANT, DOES THAT IMPACT ENJOY AT ALL? THEY ARE WAITING A LOT LONGER THAN THEY HAVE IN YEARS PAST. RON: IT AFFECTS ALL OF US, EVERYONE IN A RETAIL PRACTICE. FORTUNATELY, WE RAISED A LOT OF CAPITAL. WE WILL HAVE A GREAT YEAR NEXT YEAR. THE VERY SIGNIFICANT GROWTH AS WE ADD MORE STORES. WE ARE GETTING INTO 100 NORTH AMERICAN MARKETS.
WE SERVE AT&T IN THE U.S., ROGERS IN CANADA, BRITISH TELECOM AND THE U.K. WE JUST GOT THIS DISRUPTIVE MODEL THAT CUSTOMERS LOVE, AND I AM SUPER CONFIDENT IN RAPID GROWTH. EMILY: TELL US ABOUT THE FUTURE, WHICH COMPANIES YOU CURRENTLY WORK WITH AND WHO ELSE YOU WANT TO BRING ON BOARD. RON: IT IS TO BECOME THE WAY THE WORLD GETS THEIR CONNECTED DEVICES. WE HAVE SMART PHONES WATCHES, COMPUTERS. WE ARE ON THEM FOR HOURS A DAY.
THE HARD PART IS MAKING THEM PLAY TOGETHER. WHEN YOU BRING A PERSON INTO THE EQUATION, IT IS GAME CHANGING. ESPECIALLY IN THE HOME. ENJOY DELIVERS A RETAIL EXPERIENCE IN THE HOME. 40 MINUTES ON AVERAGE IS HOW MUCH TIME. WE THINK IT IS A GLOBAL OPPORTUNITY.
WE ARE IN THREE COUNTRIES TODAY, OUR SEVENTH YEAR. I EXPECT TO BE IN MOST OF THE DEVELOPED WORLD IN THE YEARS AHEAD. EMILY: HOW DO YOU SEE THE RETAIL EXPERIENCE CHANGING FOR GOOD, POST-PANDEMIC? IT ACCELERATED A MOVED ONLINE, BUT THERE IS SOMETHING ABOUT GOING TO A STORE AND TOUCHING A PHYSICAL PRODUCT. WHAT DO YOU SEE AS THE BALANCE THAT WILL LIVE ON LONG TERM FOR YEARS TO COME? RON: I AM IN NEW YORK TODAY WHEN WE WENT PUBLIC. I WENT TO MY FAVORITE STORES
AND HAD A GREAT TIME THERE IT I LOVE STORES. IT IS CLEAR WE WILL GO TO STORES LAST AND START ONLINE MORE. THE WORLD HAS NEW MODELS TO INNOVATE DELIVERY AND SPEED.
WE ARE ONE OF THEM TO BRING THE RETAIL STORE TO YOU. THE FUTURE IS THE HOME IT I THINK COMMERCE AT HOME IS THE FUTURE. WE USED TO CALL IT ONLINE SHOPPING, BUT THE CHOICE YOU MAKE, I WILL SHOP FROM HOME, GO TO THE STORE. SHOP FROM HOME IS THE NEW FRONTIER. EMILY: HOW WILL ENJOYING MEET UP ON THE NEW FRONTIER? RON: WE WILL BE ONE OF THE FAVORITE CONNECTED DEVICES. OUR AMBITION IS TO CREATE THE LARGEST NETWORK OF MOBILE STORES IN THE WORLD THAT CAN DELIVER A RETAIL EXPERIENCE IN AS FAST AS 15 MINUTES. THAT IS WHAT WE ARE WORKING
TOWARD. EMILY: RON JOHNSON, ENJOY TECHNOLOGY CEO, GREAT TO HAVE YOU BACK. CONGRATS ON THE BIG DAY. FACEBOOK ANNOUNCED THE CREATION OF 10,000 JOBS IN THE EUROPEAN UNION OVER THE NEXT FIVE YEARS AS PART OF THE SOCIAL NETWORK'S PUSH TO DEVELOP A METAVERSE, THE NEW INTERNET FRONTIER, THEY SAY.
IT TARGETS MUCH OF EUROPE, POLAND, ITALY, BUT THE U.K. WILL MISS OUT. FACEBOOK IS EXPECTING A RECORD LEVEL OF ADVERTISING DURING THE UPCOMING HOLIDAY SEASON, DESPITE SUPPLY CHAIN CHALLENGES. A LOOK AT BOOSTER SHOTS, WE'RE
JOINED BY THE MODERNA CEO STEPHANE BANCEL, FOR THE LATEST NEWS ON WHEN THAT AUTHORIZATION IS HAPPENING. HOW MUCH VACCINE THEY WILL PRODUCE OVER THE NEXT YEAR. SO MUCH TO TALK ABOUT. THIS IS BLOOMBERG. ♪
EMILY: WELCOME BACK TO "BLOOMBERG TECHNOLOGY." I AM EMILY CHANG IN SAN FRANCISCO. BOOSTER SHOTS ARE THE TOPIC OF EVERY DAY. ALMOST 9 MILLION AMERICANS HAVE GOTTEN A BOOSTER DOSE OF THE PFIZER VACCINE, THE ONLY BOOSTER AUTHORIZED BY THE FDA. FOR THE OTHER TWO VACCINES WORKING THROUGH THE REGULATORY PROCESS, BOOSTER SHOTS ARE LIKELY TO BE AVAILABLE FOR SOME PEOPLE SOON.
I WANT TO BRING IN THE MODERNA CEO, STEPHANE BANCEL, FOR AN EXCLUSIVE INTERVIEW FROM THE HEALTH CONFERENCE IN BOSTON. THANK YOU FOR JOINING US. LET'S TALK ABOUT THE STATUS OF THAT AUTHORIZATION. WHAT HAVE YOU HEARD ON THE
TIMING FROM THE FDA ON THE AUTHORIZATION FOR THE MODERNA BOOSTER? STEPHANE: HELLO, THANK YOU FOR HAVING ME. THERE WAS THE MEETING. WE ARE VERY PLEASED THERE WAS A UNANIMOUS VOTE TO APPROVE A BOOSTER FOR MODERNA. NOW THE FDA IS REVIEWING AND WE EXPECT THIS WEEK THE AUTHORIZATION OF A BOOSTER.
THE CDC MEETING IS SCHEDULED THIS WEEK, TO MAKE A RECOMMENDATION. I AM HOPEFUL BY THE END OF THE WEEK EVERYTHING IS REVIEWED AND NEXT WEEK AMERICANS CAN GET THE MODERNA BOOSTER. LAST FRIDAY DR. FAUCI AND HIS TEAM SHARED INFORMATION ABOUT
MIXING VACCINES. THE VACCINES CAN BE MIXED SAFELY. THAT IS VERY GOOD FOR PEOPLE WHO WANT THE MODERNA VACCINE AS A BOOSTER, BECAUSE IT IS A HIGHER DOSE WHICH PROVIDES LONGER PROTECTION. EMILY: THAT WAS MY NEXT QUESTION. DO YOU GET A MODERNA BOOSTER OR
CONSIDER A MODERNA IF YOU GOT PFIZER OR J&J FIRST, GIVEN THE EFFICACY? WHAT WOULD YOU LIKE TO SEE FROM U.S. REGULATORS IN TERMS OF APPROVAL OR TACIT PERMISSION TO MIX AND MATCH DOSES? STEPHANE: IT IS A BIG QUESTION OF WHAT WILL HAPPEN THIS WEEK. THE DATA FROM DR. FAUCI AND HOSPITALS IN THE U.S. IS THAT YOU CAN MIX AND MATCH THE VACCINE, WHICH IS NOT SURPRISING.
IF YOU THINK ABOUT IT, THE FLU SHOT, I DON'T THINK PEOPLE REMEMBER WHICH BRAND THEY GOT LAST YEAR AND THIS YEAR. I THINK THE DATA WAS VERY STRONG. IT SHOWS THE MODERNA VACCINE PROVIDES STRONG PROTECTION. IT IS THE HIGHEST ANTIBODIES YOU CAN GET, THROUGH THE MODERNA VACCINE. I AM HOPEFUL THE REGULATORS
WILL ALLOW AMERICANS WHO WANT HIGHER PRODUCTION -- PROTECTION TO GET THE MODERNA VACCINE. EMILY: WHY IS AUTHORIZATION IN TEENS TAKING SO LONG? HOW WORRIED ARE REGULATORS ABOUT HEART RISKS? STEPHANE: OUR APPLICATION WAS SUBMITTED. BY THE TIME THEY GOT SUBMITTED, THERE WERE A FEW CASES REPORTED BY THE CDC. THERE WAS DATA ACROSS MILLIONS OF AMERICANS.
THE INCIDENCE IS RARE, AND VERY MANAGEABLE BY CLINICIANS. I THINK THE DIFFERENCES, OUR VACCINE DID NOT HAVE THE STANDARD DATA SET AND REGULATORS TOOK A CAUTIOUS STANCE TO ENSURE THE SAFETY OF THE AMERICAN PEOPLE. I AM HAPPY THE REGULATORS DO THIS THOUGHTFULLY AND THOROUGHLY TO MAKE SURE EVERY AMERICAN GETS A VACCINE THAT IS SAFE. EMILY:
HOW LIKELY IS IT TO -- CHILDREN 12 AND UNDER WILL GET A MODERNA VACCINE? STEPHANE: IT IS A HIGHER PROBABILITY. VACCINES FOR TEENS HAVE BEEN APPROVED FOR EUROPE AND COUNTRIES AROUND THE WORLD. THE U.S. IS ONE OF THE FEW COUNTRIES WHERE IT IS NOT AUTHORIZED YET.
FOR YOUNGER AGED CHILDREN, WE WILL GO WITH A LOWER DOSE. WE BELIEVE THESE SHOULD HELP OUT REGULATORS. WE ARE HOPEFUL THE VACCINE IN THE U.S.
WILL BE AVAILABLE TO AMERICAN TEENAGERS AND AMERICAN CHILDREN VERY SOON. EMILY: HOW MUCH VACCINE DO YOU EXPECT TO PRODUCE NEXT YEAR? STEPHANE: CURRENT PLAN WE HAVE IS TO GET 2 BILLION TO 3 BILLION DOSES. THIS IS MOSTLY FOR LOW INCOME COUNTRIES. THE TOTAL POPULATION, LESS THAN ONE BILLION PEOPLE. 100% MARKET SHARE, AND EVERYONE WILL WANT A BOOSTER, THOSE TWO THINGS ARE NOT TRUE NECESSARILY. WE WANTED TO INCLUDE THE CAPACITY TO GET TO 2 BILLION TO 3 BILLION.
EVERYBODY WANTS A VACCINE, EVERYONE WHO WANTS A BOOSTER, CAN GET ONE. WE CAN SLOW DOWN THIS PANDEMIC AND GET TO A PHASE WHERE WE CAN JUST HAVE AN ANNUAL BOOSTER LIKE WE DO FOR THE FLU. AND NOT BE WORRIED ABOUT THIS VIRUS. EMILY: BIDEN ADMINISTRATION OFFICIALS SAY MODERNA IS NOT DOING ENOUGH TO INCREASE THE SUPPLY OF YOUR VACCINE TO POOR COUNTRIES. WHAT ARE YOU DOING TO INCREASE
SUPPLY TO POOR COUNTRIES IN THE NEXT THREE MONTHS? HAVE YOU DELIVERED ANY VACCINES TO COVAX, THE SUPPLY FACILITY FOR POOR COUNTRIES, OR IS THAT IN THE FUTURE? STEPHANE: WE HAVE INDEED SENT COVAX, MORE THAN OTHERS IN 2022. IN 2021 WE WERE OBLIGED BY THE CONTRACTS WE HAD TO SERVE THE U.S., EUROPE AND OTHER COUNTRIES. MOST PEOPLE HAVE FORGOTTEN IN JANUARY 2020 WHEN THE PANDEMIC STARTED, MODERNA HAD FEWER MANUFACTURING PLANTS.
WE USED PREPAYMENT FROM THE U.S. TO START MANUFACTURING, WHICH IS NOW USED FOR LOW INCOME COUNTRIES. PEOPLE IN THE PHILIPPINES, PERU, BOTSWANA, AND MANY OTHER COUNTRIES HAVE ACCEPTED VACCINE AS WE SPEAK. WE WANT TO EXPAND ACCESS. WE ARE TALKING TO DIFFERENT ORGANIZATIONS AROUND THE WORLD, LOW INCOME COUNTRIES, TO MAKE SURE EVERYONE WHO WANTS A VACCINE HAS ACCESS TO ONE. EMILY: WILL YOU ACCELERATE THOSE
DELIVERIES EVENTUALLY, AND HOW? STEPHANE: IN THE NEXT FEW MONTHS IT WILL BE HARD TO ACCELERATE BECAUSE AS YOU KNOW, MAKING SAFE VACCINE DOES NOT HAPPEN OVERNIGHT. IT IS A SIX-MONTH TO NINE-MONTH PROCESS, MINIMUM, TO GET THE RAW MATERIAL, THE MACHINE DESIGN, MADE, SHIPPED, SENT OUT. TO TRAIN THE NEW WORKER THAT YOU HIRE.
YOU CANNOT JUST HIRE SOMEBODY AND HAVE THEM MAKE VACCINE THE NEXT DAY. IT IS MANY WEEKS OF TRAINING. IT TAKES SIX MONTHS MINIMUM TO CHANGE. WE ARE INCREASING CAPACITY MODERNIZE INVESTMENT TO GET TO $1 BILLION -- 2 BILLION DOSES. WE WILL DELIVER ON OUR PLAN AND
GIVE TO COVAX AND LOW INCOME COUNTRIES. IT IS NOT ALWAYS REPORTED IN THE MEDIA THAT THE ENTIRE VACCINE INDUSTRY IN THE LAST 30 DAYS PRODUCED 1.3 BILLION DOSES. THINK ABOUT IT. THE ANNUAL USAGE OF FLU SHOTS IS 500 MILLION DOSES FOR THE PLANET. JUST IN THE LAST 30 DAYS THE INDUSTRY PRODUCED 1.3 BILLION DOSES. IF YOU LOOK AT IT, WE SHOULD BE
A FEW MONTHS AWAY, NOT YEARS AWAY, FROM HAVING ENOUGH VACCINES TO VACCINATE EVERYONE. THE THING I WORRY ABOUT IS THE LAST MILE. IF YOU LOOK AT THE DATA OF THE LAST FEW WEEKS, A NUMBER IS GOING DOWN AROUND THE WORLD. LIKE WE SAW IN THE U.S. IN THE SPRING.
THERE IS NOT ENOUGH VACCINES GETTING TO PEOPLE. EMILY: SOMETHING ELSE THE WHITE HOUSE HAS BEEN HARD ON MODERNA ABOUT IS, WHY NOT SHARE THE FORMULA, RATHER THAN SCALING UP PRODUCTION YOURSELF? WHY NOT SHARE THE SECRET RECIPE WITH DEVELOPING COUNTRIES THAT COULD END THE PANDEMIC MORE QUICKLY? STEPHANE: I DON'T THINK IT WILL END THE PANDEMIC MORE QUICKLY. THERE IS A DIFFERENCE BETWEEN TECHNOLOGIES. THERE IS NO PLANT SITTING IDLE WITH MRNA EQUIPMENT AROUND THE WORLD, IT DOES NOT EXIST. THERE HAS NEVER BEEN THIS PRODUCT BEFORE. EVEN IF WE ARE TO DO THAT,
THERE WOULD BE NO MACHINE AND NO PEOPLE TO TRAIN, AROUND THE WORLD. WE LOOKED AT THIS VERY CAREFULLY. IT WOULD SLOW DOWN OUR ABILITY TO MAKE PRODUCTS. THE SAME ENGINEERS WE WOULD PUT ON A PLANE TO GO TO A COUNTRY, THE ONES THAT ARE SCALING UP CAPACITY THAT YOU JUST ASKED ABOUT. THAT IS THE TRADE WE ARE MAKING. EVEN IF THERE WAS A PLANT AVAILABLE WILLING TO DO SOMETHING, AS LONG AS WE COULD ENSURE QUALITY. THE THING WE CARE ABOUT IS THE QUALITY AND SAFETY OF THOSE VACCINES. THE SAFETY OF THE PRODUCT IS OUR NUMBER ONE PRIORITY AND WE NEED TO ENSURE THAT. EMILY:
SPEAKING OF MRNA TECHNOLOGY, YOU ARE WORKING ON A FLU VACCINE USING THAT SAME TECHNOLOGY. GIVE US AN UPDATE. WHEN ARE YOU EXPECTING DATA ON THAT VACCINE, AND WHEN MIGHT THAT BE AVAILABLE? STEPHANE: WE COMMUNICATED ABOUT THE STUDY. WE EXPECT IN THE COMING MONTH TO GET THE CLINICAL DATA. AS SOON WE GET IT, WE WILL SHARE IT WITH THE WORLD. I EXPECTED TO BE POSITIVE BECAUSE WE ALREADY TESTED TWO FLU VACCINES IN THE EARLY DAYS OF MODERNA, IN 2015 AND 2017. THEY ALREADY LOOKED VERY STRONG. I EXPECT THIS TO BE STRONG. ONCE WE HAVE THAT, WE WILL
COMBINE IT WITH THE COVID BOOSTER. GIVE YOU ONE DOSE, A SINGLE DOSE, WHERE YOU GET YOUR COVID BOOSTER AND YOU ARE FLU BOOSTER, AND YOU HAVE A SAFE AND HAPPY TIME. EMILY: WILL IT BE IN TIME FOR THIS FLU SEASON OR NEXT FLU SEASON? STEPHANE: THE BEST CASE SCENARIO IS THE FALL OF 2023. IN THIS BOOSTER SEASON PEOPLE WILL GET THE SAME VACCINE THEY ALREADY GOT, ALREADY AVAILABLE IN PHARMACIES AS WE SPEAK. THE QUESTION WE HAVE TO SETTLE IN THE NEXT FEW MONTHS IS, WHAT IS THE BOOSTER IN THE FALL? WE ARE WORKING CLOSELY WITH A NEW VARIANT. IT MIGHT BE A NEW VARIANT WE PUT IN THAT VACCINE.
HOPEFULLY, WE MIGHT HAVE A COVID BOOST AND FLU BOOST IN THE SAME SHOT. EMILY: MODERNA CEO STEPHANE BANCEL, THANK YOU FOR JOINING US. WE WILL BE BACK WITH MORE "BLOOMBERG TECHNOLOGY." THIS IS BLOOMBERG. >> LOOK FOR THE FULL INTERVIEW ON THE BLOOMBERG TERMINAL AND ON BLOOMBERG TV AND RADIO. THIS IS BLOOMBERG. EMILY: THE SOUTH KOREAN HIT SHOW "SQUID GAME" HAS BEEN TOPPLED IS THE MOST WATCHED SHOW ON NETFLIX.
IT WAS IN THE TOP SPOT FOR 25 DAYS, AND IS STILL THE BIGGEST SERIES LAUNCH EVER, SINCE ITS SEPTEMBER 17 RELEASE PER THE NEW CHART LEADER IS THE THIRD SEASON OF "YOU." THAT DOES IT FOR THIS EDITION OF "BLOOMBERG TECHNOLOGY." TOMORROW WE HAVE ANOTHER GREAT SHOW LINED UP. ANDRE SWANSON WILL BE JOINING US, ALONG WITH CATHIE WOOD. CONVERSATIONS YOU DON'T WANT TO MISS. I AM EMILY CHANG IN SAN
FRANCISCO. THIS IS BLOOMBERG. ♪
2021-10-22 05:18
Show Video
Other news