'Bloomberg Surveillance Simulcast' Full Show (10/27/21)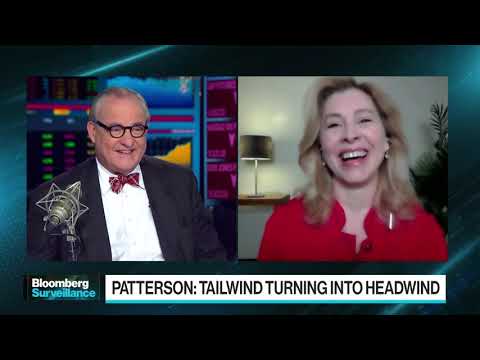 Show Video
>> THE ECONOMIC CYCLE IS MOVING AT WARP SPEED. >> SOME CENTRAL BANKS ARE TRYING TO PUSH BACK AGAINST THE MARKET VIEW. >> THE MARKET HAS REPRESSED SIGNIFICANTLY.
>> THE MARKET IS VERY QUICK TO PRICE OUT INTEREST RATE HIKES BY THE FED IN THE MIDDLE OF NEXT YEAR. >> WE DON'T THINK THEY WILL BE RAISING RATES UNTIL 2023. >> THIS IS "BLOOMBERG SURVEILLANCE," WITH TOM KEENE, JONATHAN FERRO, AND LISA ABRAMOWICZ. JONATHAN: ANOTHER WEDNESDAY WITH ANOTHER ALL-TIME HIGH.
FROM NEW YORK CITY, FOR OUR AUDIENCE WORLDWIDE, GOOD MORNING, GOOD MORNING, THIS IS "BLOOMBERG SURVEILLANCE," LIVE ON TV AND RADIO. ALONGSIDE TOM KEENE AND LISA ABRAMOWICZ, I AM JON FERRO. YOUR EQUITY MARKETS SLIGHTLY NEGATIVE, DOWN 5 ON THE S&P, DOWN .1%. BIG TECH DOING WHAT BIG TECH DOES. TOM: BIG TECH DELIVERS, ABSOLUTELY, JON.
I SAT WITH MY BEVERAGE OF MY CHOICE, AND I SAID I'M GOING TO LOOK AT THE BLOOMBERG ANALYSIS. WE WILL NOT SLOW DOWN THE SHOW, BUT JON, THE YEAR-END OF 2022 OF BIG TECH IS $1.404 TRILLION IN REVENUE WHERE IS THE DIGITAL PLACE IN THE FUTURE, IT IS JOIN OR MESS -- GINORMOUS. JONATHAN:
IT IS A DEFLATIONARY FORCE IN AN INFLATIONARY ECONOMY. TOM: IT IS INCREDIBLY TRUE AND CUTS THAT WAY. JON, 31% EBITA MARGINS, EVERYONE RAISING THE PRICE TARGETS, I THINK GOOGLE, PIPER JAFFRAY ONE UP AS WELL.
JOHN, -- JON, IT IS A SHIFT. JONATHAN: LISA, PRICE HIKES AT JAFFREY, ALPHABET. PEOPLE SEE IT AS A DISAPPOINTMENT, STOCKS UP 60% YEAR-TO-DATE. LISA: IN REVENUE ALMOST DOUBLED, JUST TO REALLY DRIVE THE POINT HOME HERE. THE CLOUD REVENUE LOWER THAN
EXPECTED, THE IDEA OF WHETHER THEY ARE ACTUALLY COMPETING IN THE SAME KIND OF WAY THAT PEOPLE HAD EXPECTED. THESE ARE BLOCKBUSTER EARNINGS. MY ISSUE IS -- WHAT IS BEING PRICED IN ALREADY, AND HOW MUCH DOES THIS HINGE, FRANKLY, ON WHAT YOU WERE SAYING EARLIER? JONATHAN: WE WILL SPEND A LITTLE BIT OF TIME TALKING ABOUT WASHINGTON AS WELL. ANY TAKERS? [LAUGHTER] TOM: I WILL GO FIRST. ALWAYS GOOD, BUT TODAY, JON, EXCEPTIONALLY BROAD AND A SCATHING NOTE ON THE BILLIONAIRES' TAX. WHAT WE SAID WITH ANNMARIE HORDERN YESTERDAY IS WHAT IS THE CHAIRMAN OF THE HOUSE WAYS AND MEANS COMMITTEE GOING TO DO? CONGRESSMAN NEIL OF MASSACHUSETTS IS "SERIOUS" OVER A VAGUE PRINCIPLE, RAPTOR ARE GOING AFTER 10, 20, 40 PEOPLE. JONATHAN:
I SAW 700 PEOPLE INTO HUNDRED COMPANIES. THAT IS THE TAX BASE NOW. TOM: IT IS ORIGINAL, SERIOUSLY, WHAT IS THE CONSTITUTIONALITY? I AM NOT QUALIFIED TO ANSWER THAT. LISA: THAT IS THE ISSUE, RIGHT? WILL IT BE HELD UP IN COURT? JONATHAN: WE WILL HEAD TO D.C., LISA, IN A FEW MINUTES. S&P NEGATIVE ABOUT .1%.
IN THE BOND MARKETS, YIELDS COME IN AT A BASIS POINT, LOOK HOW, T K, 60 BASIS POINTS A LITTLE BIT EARLIER. TOM: CURVES FLIGHTS AND INCOME A DIFFERENCE BETWEEN THE 10-YEAR YIELD AND THE TWO-YEAR YIELD THIS IS NOW GETTING THE REMAINDER, JON, 120 TO 118 IS NOT A BIG DEAL. 120 TO 110 GETS MY ATTENTION. LISA: THIS, TO ME, IS THE STORY OF THE DAY, THE WEEK COME OF THE YEAR. WHAT DO THEY DO WITH RESPECT TO
THE HIGHER INFLATION RATES, REGARDLESS OF WHETHER THEY ACTUALLY CAN CONTROL THEM, DUE TO SUPPLIES CHAIN -- SUPPLY CHAIN CONSTRAINTS. THE EXPECTATION IS FOR THEM TO REMAIN PAT, HOWEVER, THEY ARE EXPECTED TO CURTAIL THEIR WEEKLY BOND PURCHASES, AS THEY HAVE DONE FOUR OTHER TIMES SO FAR OVER THE YEAR. HERE IS THE QUESTION, THOUGH -- HOW DOES CANADA, HOW DOES THE FEDERAL RESERVE, HOW DOES THE ECB, WHICH WILL COME OUT TOMORROW -- HOW WILL THEY ALL RESPOND TO INFLATIONARY PRESSURES THAT ARE OUT OF THEIR CONTROL, THAT RELY ON A CHAIN AND LABOR DISRUPTION THAT, FRANKLY, WILL TAKE TIME AND EFFORT TO WORK FOR? WE GET EARNINGS FOR GENERAL MOTORS. THE BIG QUESTION FOR ME IS HOW THEY COMPLETE WITH -- COMPETE WITH TESLA, AFTER WHAT WE JUST SAW, HOW DO THEY DEAL WITH SOME OF THE COMPONENT SHORTAGES THAT HAVE REALLY DELAYED PRODUCTION? TESLA SHARES OF A MERE 1451% -- IS THAT EVEN A PERCENTAGE POINT ANYMORE? [LAUGHTER] WE WILL HEAR FROM GENERAL MOTORS CEO MARY BARRA COMING UP LATER TODAY, 8:45 A.M., DON'T MISS THAT.
TOM, I AM DOING THAT FOR YOU, FIVE-YEAR OPTION FOLLOWING YESTERDAY'S TWO-YEAR OPTION, WHICH CONFIRMS A RATE HIKE COMING SOONER THAN FED OFFICIALS EXPECTED. TOM: THE ONLY THING CONSTRUCTIVE ABOUT 1:00 P.M. THIS AFTERNOON AS I WILL BE DEEP INTO THE "SURVEILLANCE" NAP. JONATHAN: I WILL BE LONG GONE, TOO, TOM. LISA: WHEN A PREVIEW OF THIS OPTION.
"I'LL BE SLEEPING." [LAUGHTER] JONATHAN: WITH US NOW IS REBECCA PATTERSON, SENIOR INVESTOR BRIDGEWATER. LET'S TALK ABOUT HOW QUICKLY WE HAVE REPRICED THE FRONT END OF THE YIELD CURVE. WHAT IS THAT TELLING YOU, REBECCA? REBECCA: I THINK CHAIRMAN POWELL PROBABLY HELPED MOVE THE NEEDLE A LITTLE BIT HERE WHEN HE CONTINUE TO SAY INFLATION WOULD BE TRANSITORY, BUT IN A SLIGHT CHANGE OF TONE ACKNOWLEDGED HAVE OUTSIDE RISKS -- UPSIDE RISK.
IT IS HARD TO SAY WE DON'T HAVE UPSIDE RISK WHEN THERE'S NOT ENOUGH SHIPS, NOT ENOUGH TRUCKS TO MAKE LABOR DEMAND. THE BIG ONE, THOUGH, WILL BE WAGES. TOM: REBECCA, LONG AGO -- I UNDERSTAND THE WAGES YOU, BUT YOU ARE SO GOOD AT PINNING TOGETHER ALL THE DYNAMICS OF THE MARKET, FUNNELED THROUGH FOREIGN-EXCHANGE AND DOLLAR DYNAMIC. WHAT IS THE DYNAMIC NOW WRAPPED AROUND THE FED TALK? WHAT IS THE DYNAMIC NOW YOU ARE STUDYING EVERY MORNING AT BRIDGEWATER? REBECCA: WE THINK THIS REALLY WAS A DEMAND SHOCK MORE THAN A SUPPLY SHOCK. TOM: INTERESTING.
REBECCA: BECAUSE WE HAD EXTRAORDINARY MONETARY AND FISCAL EASING. WE SEE THAT EVERYDAY NOW, WHETHER IT IS HIGH SAVINGS RATES COMING DOWN, RECORD NET WEALTH IN AMERICA HAS INCREDIBLY GONE DOWN, BOTH FOR CONSUMERS AND COMPANIES AND A LOT OF SPENDING. SO THAT SUPPLY IS THERE IN A LOT OF CATEGORIES.
IT CAN'T KEEP UP WITH DEMAND. WE HAVE MORE SHIPS THAN EVER ON THE OCEAN. PORTS ARE PROCESSING MORE IMPORTS THAN EVER IN THE UNITED STATES, IT IS JUST THAT THE DEMAND IS THAT STRONG. NOW SUPPLY CANNOT KEEP UP, AND, YOU KNOW, THE RELEASE VALVE, IF YOU WILL, WILL BE HIGHER WAGES, HIGHER INFLATION. WHAT WE SEE IN EARNINGS SEASON IS SO FAR, MOST COMPANIES CAN PASS THAT ON. LISA: HAVE WE SEEN PEAK MARGIN PRESSURES, REBECCA? REBECCA: YOU KNOW, I DO THINK WE NEED TO BE CAREFUL LOOKING AT MARGINS GOING AHEAD, BUT, AGAIN, WHAT WE SEE IF THERE ARE A FEW COMPANIES PULLING THEM GUIDANCE SLIGHTLY BECAUSE OF THE SUPPLY CHAIN ISSUES, BUT WE CONTINUE TO SEE VERY STRONG MARGINS OF GROWTH. I DO WORRY, AS WE LOOK AHEAD,
AND WE START SEEING THE FED PULLBACK, RIGHT, WE NOW HAVE TWO PRICE HIKES FOR NEXT YEAR, YOU WILL SEE LIQUIDITY, PROBABLY AT THE END OF THIS YEAR, AND THEN GOING TO RATE HIKES. THE U.S. EQUITY MARKET HAS BECOME SUBSTANTIALLY MORE SENSITIVE TO LIQUIDITY CONDITION. WHEN WE MEASURE IT, WE NOW HAVE ABOUT 40% OF U.S. COMPANIES VULNERABLE TO WITHDRAWAL OF LIQUIDITY.
THAT WILL BE PRIMARILY COMPANIES OF LONGER CASH FLOWS, LONGER DURATIONS, SOME TECHNOLOGIES IN PARTICULAR. GIVEN THE WEIGHT OF TECHNOLOGIES, THE SECTOR WEIGHT, THAT IS SOMETHING WE ARE KEEPING AN EYE ON A BIT MORE CAUTIOUSLY. NOT BEARISH -- WE ARE STILL CONSTRUCTIVE ON THE U.S. MARKET -- BUT WE THINK WHAT HAS BEEN A HUGE TAILWIND IS SLOWLY STARTING TO TURN INTO A HEADWIND. JONATHAN: YOU CALLED THIS A DEMAND SHOCK. A LOT OF OTHER PEOPLE CALLED IT A SUPPLY-SIDE STORY.
WHEN THEY COME ON, THEY GET THEIR VIEW ON MARKETS, TOO.YOUR VIEW IS DIFFERENT IN THE SENSE THAT YOU SAY IT IS A DEMAND SHOCK. HOW WAS YOUR INVESTMENT DIFFERENT, IF AT ALL? REBECCA: WE STARTED OUT THE SHOW TALKING ABOUT THE FED, AND WHAT ARE CENTRAL BANKS GOING TO DO IN GENERAL. WHEN WE SAW THIS DEMAND SHOCK, WE THOUGHT OK, WE HAVE THIS BACKDROP THAT WILL ALLOW FOR A LOT OF SPENDING. COMPANIES ARE NOT TO BE ABLE TO KEEP UP. THEY ARE GOING TO HAVE TO RAISE WAGES TO BRING LABOR IN, TO GET INPUTS IN. HOW IS THAT GOING TO PLAY OUT?
INFLATION FOR HIGHER THAN PRICED IN, OR A FED THAT HAS TO CATCH UP. SO WE HAVE BEEN POSITIONED IN OUR PORTFOLIO FOR BOTH THEM ASSETS THAT WOULD BENEFIT FROM HIGHER INFLATION, AND THAT WAS INTERESTING, THAT WAS ME NOT MOVING ENOUGH -- THE LIGHTS JUST WENT OUT IN HERE. JONATHAN: THE LIGHTS ARE STILL GOOD. REBECCA: AS LONG AS I LOOK GOOD, THAT'S FINE. [LAUGHTER] TOM: THAT'S VERY IMPORTANT. REBECCA: ANYWAY, WE HAVE BEEN CONDITIONED BOTH FOR HIGHER INFLATION AND HIGHER YIELDS IN OUR PORTFOLIO, AND THINKING ABOUT WHAT YOU HIGHER YIELDS MEAN FOR OTHER ASSETS, TOM, TO YOUR POINT.
WE HAVE THE DOLLAR, AND WE ARE CONSTRUCTIVE ON THE DOLLAR FOR CERTAIN CURRENCIES, OR FOR EQUITIES. WHICH EQUITIES WILL BE MORE VULNERABLE FOR HIGHER RATES? WHICH COMPANIES WILL BENEFIT FROM HIGHER RATES? SOMETHING LIKE FINANCIAL RATE EARNINGS, PART OF THAT IS THAT YIELD CURVE, WHICH TODAY IS A LITTLE, AND THEN COMPANIES MORE VULNERABLE TO LIQUIDITY WITHDRAWAL, LIKE WE SAID. TECHNOLOGY WOULD BE AN AREA WE KEEP AN EYE OUT. JONATHAN:
REBECCA, THANK YOU. IT IS GOOD MOOD LIGHTING FOR THIS TIME OF THE MORNING. TOM: THIS IS COST CONTROL, RIGHT? REBECCA: I'M SURE. IT'S OUR SUSTAINABILITY EFFORT, COME ON. [LAUGHTER] JONATHAN: REBECCA, THANK YOU. REBECCA PATTERSON OF BRIDGEWATER. TOM, JUST A SENSE OF HOW THEY ARE THINKING ABOUT THE WORLD AT BRIDGEWATER, AND HOW WOULD A SLIGHTLY NUANCED.
MOST PEOPLE ON THE STREET WOULD CALL IS PRIMARILY A SUPPLY-SIDE SHOCK. TOM: LET'S BE CLEAR, RAY DALIO IS A PIÑATA ON THIS. THE COMPANY GENERATES, JON, REALLY INTERESTING AND CONTROVERSIAL VIEWS WRAPPED AROUND PARITY STRATEGY, TAKING IN REBECCA WITH HER HISTORY FROM J.P. MORGAN AND CUSTOMER TRUST -- IT IS A MUCH MORE HOLISTIC, BROADER VIEW. WHAT I LOVE, THAT COMMENT, JON, THIS IS A DEMAND SHOCK -- THAT IS CONTROVERSIAL. JONATHAN: A POSITIVE DEMAND SHOCK GOING
INTO THE START OF THE YEAR, TOM. AND BECAUSE OF THAT, LISA, THIS IS WHY PEOPLE GO FULL CIRCLE BACK TO THE DECISIONS MADE BY THIS ADMINISTRATION TO REALLY JUICE THIS ECONOMY AS IT REOPENS. LISA: THIS IS ONE OF THE REASONS WHY INFLATION IS SUCH A HOT TOPIC, BECAUSE PEOPLE ARE SAYING IT IS BECAUSE OF SOME OF THE FISCAL POLICIES EARLIER IN THE YEAR THAT WE ARE SEEING SOME OF THE INFLATIONARY PRESSURES THAT ARE CRIMPING CERTAIN AMERICANS. JONATHAN: WE HAVE TO HEAD DOWN TO D.C. AMH TELLS ME THAT BILLIONAIRE TAXES 107 PAGES LONG. HAVE YOU BEEN READING IT TOM/ -- HAVE YOU BEEN READING IT, TOM? TOM: I HAVE BEEN.
THEY MISSPELLED "BEZOS." THEY SPELLED "MUSK" CORRECTLY. [LAUGHS] LAURA: WITH THE FIRST WORD NEWS, I AM LAURA WRIGHT HERE ON CAPITOL HILL, DEMOCRATS HAVE UNVEILED TWO NEW TAXES THEY HOPE WILL PAY FOR PRESIDENT BIDEN'S SOCIAL SPENDING PACKAGE. ONE WILL TARGET BILLIONAIRE ASSETS OVER $100 MILLION A YEAR FOR THREE YEARS IN A ROW. THE OTHER IS A TAX FOR CORPORATIONS THAT WOULD REQUIRE THE COMPANIES THAT REPORT MORE THAN $1 BILLION IN PROFITS TO PAY AT LEAST A 15% TAX RATE, EVEN IF THEY QUALIFY FOR A LOT OF TAX BREAKS.
CHINA PLANNED EFFORTS TO BOOST THE TAIWAN'S QUALIFICATIONS IN THE UNITED NATIONS ORGANIZATIONS. BEIJING SAYS THE SELF-RULED ISLAND HAS NO RIGHT TO JOIN THE U.S. AT HALF CENTURY OVER IT WAS KICKED OUT. SECRETARY ABE LINCOLN HAS CALLED FOR A -- SECRETARY BLINKEN HAS CALLED FOR SUPPORT. AND UBER WILL BE ABLE TO OFFER SERVICES WITH TESLA VEHICLES RENTED FROM HERTZ, STARTING NEXT WEEK. HERTZ WILL PROVIDE THE VEHICLES FOR THE RIDE-HAILING GIANT BY 2023. GLOBAL NEWS, 24 HOURS A DAY, ON
AIR AND @QUICKTAKE BY BLOOMBERG, POWERED BY MORE THAN 2700 JOURNALISTS AND ANALYSTS IN MORE THAN 120 COUNTRIES. I AM LAURA WRIGHT. THIS IS BLOOMBERG. ♪ >> WE KNOW THAT WE ARE CLOSE TO A DEAL.
>> WE ARE UNITED IN THIS LEGISLATION, AND I WANT TO MAKE IT VERY CLEAR. WHEN YOU ARE UNITED, DOES NOT NECESSARILY MEAN THAT YOU ARE UNANIMOUS. >> WE ARE ON THE PRECIPICE OF SOMETHING REALLY EXTRAORDINARY THAT IS GOING TO TRA TRANSFORM THE LIVES OF PEOPLE IN AMERICA. JONATHAN: FROM NEW YORK CITY THIS MORNING, GOOD MORNING. TOM KEENE AND LISA ABRAMOWICZ,
I AM JONATHAN FERRO. PULLING BACK FROM ALL-TIME HIGHS BY A WHISKER. IN THE BOND MARKET, YIELDS AT A BASIS POINT, IT IS THE FRONT END TO GET YOUR ATTENTION. THIS MOVE IS BUILDING TOWARDS 50 BASIS POINTS IN AMERICA, BARELY BREAKING THROUGH THAT LEVEL, ONE WEEK FROM NOW, YOU WILL HEAR FROM THE FEDERAL RESERVE CHAIR JAY POWELL AFTER THAT NEWS CONFERENCE AND DECISION WITH THE FEDERAL RESERVE. WHAT WE HAVE HEARD SO FAR FROM THE SENATE PLANNING COMMITTEE CHAIR IS THERE ARE TWO TAX CODES IN AMERICA. THE FIRST IS MANDATORY FOR
WORKERS WHO PAY TAXES OUT OF EVERY PAYCHECK. SECOND IS VOLUNTARY FOR BUILDING TO DEFER PAYING TAXES FOR YEARS, IF NOT INDEFINITELY. TOM: IT IS. THIS IS THE DEBATE RIGHT NOW. A LOT OF PEOPLE SAYING THERE HAS TO BE CHANGED HERE, BUT IT IS THE WAY YOU DO IT.
LET'S BRING BACK THESE SUBSECTIONS, 170 PAGES HERE. I PICKED THIS UP VERY QUICKLY, PAGE FOUR, AND TALK -- ON TOP OF THE DOCUMENT IN PROCESS. SUBTITLE A ELIMINATION OF BLAH BLAH BLAH, ANY ACTION SUBSCRIBED SUBSECTION B1, WITH RESPECT ANY TRADABLE COVERED ASSET SHOULD NOT BE TAKEN INTO ACCOUNT IN DETERMINING THE HOLDING PERIOD. I TALKED TO HER ACCOUNTANT. ANNMARIE HORDERN COME OUR BLOOMBERG WASHINGTON CORRESPONDENT. ANNMARIE, IS IT ANYWHERE CLOSE
TO WHAT WE WILL SEE? ANNMARIE THERE'S A GREAT QUESTION. THERE ARE CONCERNS IN THE PARTY AND WHETHER OR NOT THEY CAN PUSH THE BILLIONAIRES TAX THROUGH. FIRST, YOU HAVE THE HOUSE WAYS AND MEANS COMMITTEE, WHICH ALREADY SAID WE HAD A PLAN THAT THE PUBLIC LIKED, THAT HAD WIDE SUPPORT, BUT OF COURSE THERE WAS A HOLDOUT IN THE SENATE, KYRSTEN SINEMA. WE DID NOT KNOW ABOUT THE BILLIONAIRE TAX JUST YET. WE KNOW SHE IS ON THAT 50% MINIMUM CORPORATE TAX.
REALLY TWO BIG TAX DETAILS COMING OUT YESTERDAY. WHEN YOU LOOK AT THE BILLIONAIRES' TAX, THOUGH, THE OTHER BIG QUESTION IS -- DOES THIS PAST THE 16TH AMENDMENT, WILL THIS PASS MUSTER IN COURT, OR WILL HE SAY THIS IS UNCONSTITUTIONAL? THIS IS A GRAINY WAY OF LOOKING AT TAXATION AND WEALTH IN THIS -- OR WILL THEY SAY THIS IS UNCONSTITUTIONAL? THIS IS A BRAND-NEW WAY OF LOOKING AT TAXATION AND WEALTH IN THIS COUNTRY. JONATHAN: WHEN PEOPLE SAY "TAX THE RICH," WHEN PEOPLE NEED TO PAIR THEIR FAIR SHARE, WHEN IT COMES DOWN TO IS ABOUT 700 COMPANIES. WHAT YOU HEAR IS HIGHLY DIVISIVE LANGUAGE THAT THERE IS A GROUP OF PEOPLE THAT DON'T DO THEIR PART OF SOCIETY, AND THE OTHER CARRY THE BURDEN. THAT DOES NOT MATCH PAYS INCOME
TAXES IN AMERICA, A HIGHLY PROGRESSIVE TAX CODE, AND WHAT IT FINALLY REVEALS, AND I WILL REPEAT IT, ANNMARIE, INCLUDING THE WHITE DRESS WITH "TAX THE RICH," IT IS 700 PEOPLE, 200 COMPANIES. THAT IS QUITE REVEALING. ANNMARIE: IT IS QUITE REVEALING. THIS IS A SMALL SUBSET OF THE AMERICAN POPULATION, WHEN YOU LOOK AT IT YESTERDAY, ALTHOUGH SENATOR ELIZABETH WARREN SAID THE GRADUATING CLASS WILL PAY MORE THAN THE BILLIONAIRES. READING THROUGH THE 170 PAGES, IT CAN BE QUITE CONFUSING. WHAT THIS ACTUALLY WOULD DO IS,
SAY YOU BOUGHT A STOCK AND YOU PAID $5 BILLION, AND TODAY IT IS WORTH $30 BILLION. YOU WOULD HAVE TO PAY TAXES ON THAT $25 BILLION. THAT GAIN, THAT WEALTH APPRECIATION, AT A 23.8% RATE, NEARLY $6 BILLION THAT WOULD BE GOING INTO THE SYSTEM, AND IT WOULD GIVE YOU ABOUT FIVE YEARS TO DO THAT. SO FOR SOMEONE LIKE TOM KEENE, THAT WOULD PROBABLY MEAN A LITTLE LESS VOTE TIES OR BOTTEGA WALLETS, BUT THIS IS POTENTIALLY A WAY THAT THEY ARE TRYING TO SCRIBBLE TO GET MONEY TO PUSH THROUGH THIS MASSIVE SOCIAL SAFETY NET, RECONCILIATION FOR MEDICARE, CLIMATE INITIATIVE, AND A HOST OF OTHER ISSUES. LISA: ANNMARIE, A LOT OF PEOPLE ARE DISCOUNTING THE BILLIONAIRES' TAX AS SOMETHING THAT IS QUESTIONABLY GOING TO PASS OR NOT THROUGH THE SAME COURT, CONSIDERING THE COMPOSITION -- THROUGH THE SUPREME COURT, CONSIDERING THE COMPOSITION THERE.
THAT IS WHY THEY TALK ABOUT THE 15% MINIMUM TAX THAT WOULD TAX REVENUE. IT IS A DIFFERENT METHOD OF TAXATION TO TRY TO CAPTURE, FRANKLY, THE BIG TECH GIANTS IN PARTICULAR. CAN YOU GIVE US A SENSE OF HOW MUCH BIPARTISAN SUPPORT THAT THEY HAVE? ANNMARIE: THIS DEFINITELY HAS MORE MOMENTUM. WHEN WE GOT THE DETAILS OF THIS YESTERDAY, LAST NIGHT, WE HEARD FROM KYRSTEN SINEMA ON TWITTER, GIVING IT HER BLESSING, THAT IT IS A "COMMON SENSE APPROACH OR CODE REMEMBER, SHE WAS ONE OF THE HOLDUPS THAT NOT WANT TO AND CRIES -- COMMON SENSE APPROACH.
REMEMBER, SHE WAS ONE OF THE HOLDOUTS THAT DID NOT WANT TO INCREASE TAXES. THE SHAREHOLDERS WOULD GET A 15% MINIMUM TAX, REGARDLESS OF WHETHER THEY HAVE ANY SORT OF LOOPHOLE TO TRY TO OFFSET THOSE TAXES. IT IS BLACK-AND-WHITE -- YOU PAY 15% ON THAT PROFIT YOU REPORT TO SHAREHOLDERS. AND THIS HAS WIDE SUPPORT AT THE MOMENT. THE PROBLEM IS, THIS WOULD BRING IN ROUGHLY, EXPERTS SAY, $400 BILLION. WE ARE TALKING ABOUT THEM AT THE MINIMUM, A $1.5 TRILLION
PACKAGE. JONATHAN: WHAT'S NEXT IN D.C. TODAY? ANNMARIE: IT'S GOING TO BE A LOT OF TALK ABOUT TAXES. WE ONLY GOT THE DETAILS OF THE BILLIONAIRES' TAX AT 5:00 A.M. I AM WAITING TO HEAR WHAT THE
HOUSE WAYS AND MEANS SAYS NOW THAT THEY SEE THE TEXT. IT IS GOING TO BE A SCRIBBLE, BECAUSE, REMEMBER, THE PRESIDENT LEAVES TOMORROW TO GO TO ROME, SO FOLLOWING THAT, HE WILL GO TO THE CLIMATE CONFERENCE IN SCOTLAND. THEY WANT TO GET THE FRAMEWORK, AT THE VERY LEAST, BEFORE HE IS WHEELS UP. WE ALREADY HAVE PROGRESSIVES WITHOUT A VOTE ON BOTH OF THESE PACKAGES, THEY WILL NOT SUPPORT IT. JONATHAN: AMH, WE HAVE GOT SOME WORK TO
DO. ALPHABET AND MICROSOFT, BETWEEN THEM, MORE THAN $200 BILLION IN CASH SITTING ON THE BALANCE. LISA: THIS IS PART OF THE DILEMMA. WE TALK ABOUT FAIR SHARE AND WHAT GETS TAXED, IN THE ISSUE WITH SOME OF THESE BIG TECH GIANTS IS THE WAY THEY COMPOSE THE REVENUES AND HOW THEY HAVE THEIR STREAMS OF CASH HAS NOT NECESSARILY COHERENT WITH THE WAY THE TAX LAW IS WRITTEN. DO YOU CHANGE THE BENCHMARK
RATE, OR DO YOU FIND NEW WAYS TO ENFORCE THAT? JONATHAN: TOM, WOULD YOU BELIEVE IT, THAT THING ABOUT CORPORATE TAX, THAT CUT BY THE FORMER PRESIDENT, COULD PROVIDE THIS ADMINISTRATION? PRETTY UNTHINKABLE MAYBE 6, 9 MONTHS AGO. TOM: LISA BROUGHT THIS UP YESTERDAY, AND I THINK IT IS THE HEART OF THE MATTER, BUT, JON, WHAT THIS IS IS A SYMBOLISM TO ALL LYRICAL PERSUASION, ALMOST A BAND-AID APPROACH -- POLITICAL PERSUASION, ALMOST A BAND-AID APPROACH TO RICHARD NEAL IS, QUOTE, "FURIOUS." I WOULD WATCH THE CONGRESSMAN FROM SPRINGFIELD. JONATHAN: AND IT IS HARD TO GET THINGS DONE IN WASHINGTON. TOM KEENE AND LISA ABRAMOWICZ, JONATHAN: STARTING THE WEEK QUITE NICELY.
RECORD HIGHS ON MONDAY, RECORD HIGHS ON TUESDAY, ON WEDNESDAY, ALL-TIME HIGHS, THEN WE PULLED DOWN. NASDAQ, DOWN ABOUT .1%. NAMES TO WATCH OUT FOR THE CLOSE YESTERDAY AND THE OPENING BELL THIS MORNING, MICROSOFT AND ALPHABET. ALPHABET, WHAT JEFFREY AND BIMAH WENT BERKELEY ARE CALLING A DISAPPOINTMENT. TOM: WHAT IS REALLY IMPORTANT ON THAT, EVERYTHING IS LOOKING AT YOUTUBE AND THAT DIVISION AND SAYING, STILL YEAR-OVER-YEAR, IT IS A NICE POP THERE. JONATHAN:
MICROSOFT, TOM, A FEW EARNINGS SURPRISES. LAST TIME THEY MISSED WAS THE THIRD QUARTER OF 2016. IT HAS BEEN FIVE YEARS. TOM: THE QUARTERLY POP GOES BACK TO 2014. JONATHAN: THE STOCK IS UP 2%.
IT KEEPS MOVING. AND NO ONE TALKS ABOUT IT. I FIND IT AMAZING EVERY YEAR, THE MICROSOFT UP 40% YEAR-TO-DATE OR SOMETHING LIKE THAT, AND NOBODY TALKS ABOUT IT. YOU ARE RUSHING ME ALONG, TOM. [LAUGHTER] THIS IS NOT THE ACADEMY AWARDS. EVERY MORNING. "GET OUT. WRAP IT UP."
10-YEAR, TOM KEENE, THE CURVE A LITTLE BIT FLATTER THIS MORNING, THE FRONT END IS MOVING HIGHER. TOM: I AM WATCHING THE CURVE, .4991 ON THE TWO-YEAR. JILL MOAK -- GILLES MOEC SPEAKS OF THE LINKAGE OF CENTRAL BANKS. WE ARE THRILLED HE CAN JOIN US, FREE ECB.
GILLES, I WILL LET JON FERRO DIVE INTO MADAME LAGARDE AND THE ECB. MY QUESTION TO YOU IS MORE THOROUGH -- HOW LINKED ARE THESE CENTRAL BANKS RIGHT NOW? GILLES: THEY ARE KIND OF LINK, BECAUSE THEY HAVE SIMILAR POLICIES, AT THE PEAK OF THE PANDEMIC, AND THE P IR STARTING POINT IS VERY SIMILAR BETWEEN THE FED AND THE ECB, THREE PROGRAMS IN BOTH REGIONS. HOWEVER, I WOULD SUGGEST THAT EUROPE AND THE U.S. ARE STILL IN TWO VERY DIFFERENT POSITIONS FROM THIS POINT OF VIEW. THE RECOVERY STARTED EARLIER IN
THE U.S. THE FISCAL STIMULUS WAS HIGHER THAN IN EUROPE, WHICH MEANS THE OUTPUT GAP IN THE U.S. IS PROBABLY CLOSE TO 0 RIGHT NOW, SO THAT THE FED TALKS ABOUT REMOVING QE ENTIRELY, FIND THAT SOME MEMBERS TALK ABOUT HIKING RATES, FINE, BUT WE ARE NOT THERE IN EUROPE. AND THE RISK IS THAT THE MARKET TRIES TO CREATE A BUCKET WHERE EVERY SINGLE CENTRAL BANK WOULD FIND THEMSELVES. IT IS TRUE THAT INFLATION IS RISING EVERYWHERE, ALBEIT TO A LESSER DEGREE IN EUROPE, BUT YOU CAN FEEL THE PRESSURE. IF SOMEONE MOVES OR TALKS ABOUT HIKING A RATE SOMEWHERE, IT IS CREATING MOOD MUSIC EVERYWHERE. EUROPE IS NOT IN A SITUATION
WHERE WE NEED TO THINK ABOUT THAT RIGHT NOW. JONATHAN: WE STILL HAVE CENTRAL BANK LIKE NEW ZEALAND, LIKE THE BANK OF ENGLAND. GILLES, YOU ARE RIGHT TO POINT OUT THE ECB. THE OPPORTUNITY TO PUSH BACK IS THE DECEMBER MEETING.
PRESIDENT L LAGARDE CALLED IT AN IMPORTANT ONE. PERMISSION TO GET TECHNICAL, IF YOU WISH. HOW DO YOU LOOK AT WHAT IS NEXT, TO WHAT COMES INTO 2022? GILLES: I THINK IT IS CLEAR, BECAUSE THE PROGRAM THEY HAD TO FIX WOULD BE KILLED, ANY MARKET WOULD TEXT THE ISSUE, PEPP, ITALY IS NOT GETTING IN TO TROUBLE, SPAIN IS NOT GETTING INTO TROUBLE, BECAUSE INVESTORS NEVER KNEW IF, WHEN, AND HOW MUCH THE ECB WOULD ACT TO HELP A MARKET. APP, THE ORDINARY PROGRAM, WHICH IS LIKELY TO SURVIVE AND CONTINUE POSSIBLY WELL INTO 2023 IS MUCH LESS FLEXIBLE.
YOU BUY ACCORDING TO IT. THEY PROBABLY NEED TO MOVE SOME FLEXIBILITY FROM PEPP TOWARD A.P.P. GREECE WAS NOT COVERED BY A .P.P. I GUESS THEY WILL HAVE SOME ROOM TO MANEUVER AROUND THE CAPITAL DRIVER A LITTLE BIT, BUT IN ANY CASE, I DO NOT THINK THEY WILL FIND A MAJORITY IN THE COUNSEL TO COMPLETELY TRANSFORMAPT INTO PEPP, AND THAT IS A COMPLICATED MOMENT FOR THE MARKET IN EUROPE. THUS IN GENERAL, I THINK WHAT HAS BEEN HAPPENING IS THAT THE MARKET KNOWS THAT THE ECB CAN BE FLEXIBLE, THEY COULD ALWAYS BRING BACK THE ABILITY. WE LEARNED FROM THIS SECOND, THIS YEAR -- LAST YEAR, SORRY, THAT IS A BIG CHANGE FOR THE MARKET. LISA:
YOU SAID SOMETHING REALLY IMPORTANT, GILLES, THAT EUROPE IN THE ECB IS IN A DIFFERENT POSITION THAN THE FEDERAL RESERVE, AND THIS UNDERSCORES THE POSITION THAT REBECCA PATTERSON AT BRIDGEWATER WAS SAYING EARLIER, THAT IN THE UNITED STATES THERE IS MORE OF A DEMAND-SIDE SHOCK, AND PERHAPS THERE IS LESS OF ONE IN EUROPE AND OTHER PLACES, EACH INDIVIDUAL TO SAVE THE FISCAL STIMULUS. WHAT DOES THIS MEAN, THEN, IN TERMS OF WHAT WE CAN EXPECT TO SEE WITH INFLATION IN THE EUROZONE AS WELL AS HOW THE ECB WILL RESPOND, IF THEY WILL EVER RAISE RATES, GIVEN SUCH AN DYNAMICS THERE? GILLES: I THINK IT IS KEY. THE U.S. IS LITERALLY HALF IN THE U.S., SO WE ARE NOWHERE NEAR PACES. SECOND, IF YOU LOOK AT DEMANDS,
JUST LOOK AT WHERE PRODUCT CONSUMPTION IS IN THE U.S. RIGHT NOW. AT THE END OF THE SPRING OF THIS YEAR, IT WAS EXACTLY WHERE THE VALUE OF CONSUMPTION SHOULD HAVE BEEN, IF NO PANDEMIC HAD HAPPENED. IT WAS BASICALLY BANG ON ITS TREND VOLUME.
IN EUROPE, WE ARE STILL SOMETHING LIKE 7% BELOW OUR TRADE VOLUME. SO THEY SHOULD BE PATIENT, AND I THINK THEY WILL BE PATIENT. TOM: GILLES, VERY IMPORTANTLY, MR. WEIDMAN STUDIED ACADEMICS IN PARIS, IN FRANCE. YOU HAD A HERO OUT OF DEUTSCHE BANK. I THINK THIS MAKES YOU QUALIFIED TO TAKE OVER AT THE BUDDHIST BANK.
I CAN SEE MOEC AT THE BUNDESBANK -- AT THE BUDDHIST BANK. I CAN SEE MOE -- AT THE BUNDESBANK. I CAN SEE MOEC AT THE BUDDHIST BANK. -- BUNDESBANK. [LAUGHTER] MAYBE NOT. WHO WILL TAKE OVER? GILLES: I DON'T THINK THAT WILL INFLUENCE OVER THE ECB, THAT GREAT. AND ACTUALLY COME OF THE POINT
FOR GERMANY RIGHT NOW, IS GOING TO FIND SOMEONE WHO WILL GAIN INFLUENCE AT THE ECB, AND I THINK THE RIGHT WAY TO DO THIS IS TO SELECT SOMEONE WHO WILL BE CLOSER TO THE CENTER OF THE ON THE NEXT GOING THIS BANK BUS -- BOONE THIS BANK -- BOONE THIS BANK -- BUNDESBANK BOSS. IT IS KNOWN BY GERMAN STANDARDS, WHERE IT WILL BE MORE STEEPED INTO THE BUNDESBANK TRADITION. IT WILL BE MORE OF A PRACTICAL CHOICE, BUT I THINK GERMANY HAS AN IMPORTANCE HE REALLY TO REGAIN INFLUENCE, BUT THE RIGHT WAY TO REGAIN INFLUENCE IS TO CHOOSE SOMEONE WHO WOULD BE A BIT FURTHER AWAY FROM THE USUAL AMERITRADE MULTI-CULTURE OF THE BUNDESBANK, SOMEONE CLOSER TO THE WAY WE THINK OF THOSE THINGS IN FRANCE. JONATHAN: GILLES, FANTASTIC AS ALWAYS. GOOD TO GET YOUR INSIGHT. GILLES MOEC, OF ACCENT INVESTMENT, AND THE UNOFFICIAL CANDIDATE TO TAKE OVER THE BUNDESBANK. LISA: [LAUGHS]
JONATHAN: WE HAVE HAD TWO FRENCH INDIVIDUALS LEAD THE CENTRAL BANK, AN GERMAN, WE HAVE YET TO HAVE AN ITALIAN. TOM: IT IS CONTROVERSIAL, TO SAY THE LEAST. I AM NOT AN EXPERT IN THAT. I WONDER WHAT THAT DEBATE WOULD BE. IT IS A DIFFERENT DEBATE NOW WITH BREXIT. I WILL BE VERY HONEST. JONATHAN:
WE ARE GOING TO HAVE A DIFFERENT DEBATE AS WELL, TOM. WHEN ARE WE GOING TO START TALKING ABOUT THIS A LITTLE BIT MORE, THE PRESIDENT GOING INTO THIS A LITTLE BIT MORE. TOM: I SAW THAT. JONATHAN: I THOUGHT BY NOW WE WOULD HAVE A DECISION, GOING INTO NOVEMBER. TOM:
IT IS A LITTLE BIT DISTRACTING. JONATHAN: A, TOM. TOM: COP26 IS NOT MAKING A BIG DEAL IN AMERICA. JONATHAN: LISA, DO WE EXPECT TO HEAR ANYTHING ANYTIME SOON? LISA: PRESIDENT BIDEN IS RUNNING OUT OF TIME.
POWELL'S TERM, HIS FIRST TERM, EXPIRES IN FEBRUARY. HE HAS TO BE RECONFIRMED BY CONGRESS, BY THE SENATE, IN ORDER TO GET HIM BACK IN THE SEAT IN TIME. WHAT IS PRESIDENT BIDEN GOING TO DO? THIS IS THE KEY ISSUE. WHICH CONSTITUENTS DOES HE WANT TO APPEAL TO WITHIN THE DEMOCRATIC PARTY? JONATHAN: A GREAT PERSON TO BLAME IF INFLATION GOES ON TOO LONG, RIGHT? A FANTASTIC PERSON TO BLAME. LISA: CAN YOU GET MORE DOVISH? [LAUGHTER] JONATHAN: THAT'S MY POINT. LISA:
BUT THE ISSUE IS, CAN YOU GET MORE DOVISH, AND DOES PRESIDENT BIDEN WANT TO PUT A HAWKISH FED CHAIR? WHAT PRESIDENT WANTS A HAWKISH FED CHAIR? JONATHAN: ALONGSIDE TOM KEENE, LISA ABRAMOWICZ, I AM JONATHAN FERRO. EQUITIES JUST A LITTLE BIT SOFTER. RECORD HIGHS AGAIN AT THE CLOSE ON TUESDAY.
INTO THE BOND MARKET, YIELDS ARE LOWER BY COUPLE OF BASIS POINTS, 1.5887. AND CRUDE, A LOT OF WEAKNESS IN THE COMMODITY COMPLEX THIS MORNING, CRUDE 83.54, NEGATIVE 1.3%. LAURA: WITH THE FIRST WORD NEWS, I AM LAURA WRIGHT. DEMOCRATS ARE TRYING A NEW AND RISKY APPROACH TO GET JEFF BEZOS TO PAY FOR PRESIDENT BIDEN'S AGENDA. THOSE WITH AT LEAST $1 BILLION IN ASSETS AND THOSE WHO EARN AT LEAST $100 MILLION THREE YEARS IN A ROW. MEANWHILE, A SEPARATE TAX WOULD REQUIRE COMPANIES THAT REPORT MORE THAN $1 BILLION IN PROFIT TO PAY AT LEAST A 15% TAX RATE.
PRESIDENT BIDEN IS ZEROING IN ON WHETHER TO RENOMINATE JEROME POWELL FOR ANOTHER TERM AS CHAIR OF THE FEDERAL RESERVE. THE PRESIDENT HAS STARTED TO MEET WITH TOP WHITE HOUSE AND TREASURY AIDS TO REVIEW CANDIDATES. HE HAS NOT SETTLED ON A CHOICE, AND IT IS UNCLEAR WHETHER HE IS LEANING TOWARD REAPPOINTING POWELL OR REPLACING HIM. BLOOMBERG HAS LEARNED THAT THE MAKER OF BRITISH SUPERCAR MCLAREN IS RESIGNING. HE HAS BEEN CEO OF MCLAREN FOR MORE THAN EIGHT YEARS.
HEINEKEN GOT A REMINDER THE PANDEMIC IS NOT OVER YET. THE WORLD'S SECOND LARGEST BREWER REPORTED A 30% PLUNGE IN THEIR SHIPMENTS IN ASIA AS COUNTRIES REENTER LOCKDOWN. ASIANS ACCOUNT FOR NEARLY 1/6 OF THEIR SALES. GLOBAL NEWS, 24 HOURS A DAY, ON AIR AND @QUICKTAKE BY BLOOMBERG, POWERED BY MORE THAN 2700 JOURNALISTS AND ANALYSTS IN MORE THAN 120 COUNTRIES. I AM LAURA WRIGHT.
THIS IS BLOOMBERG. ♪ JONATHAN: LIVE FROM NEW YORK CITY, FOR OUR AUDIENCE WORLDWIDE COME ON RADIO AND TV, THIS IS "BLOOMBERG SURVEILLANCE ." I KNOW WE CAN TALK ABOUT YOU TO -- YOUTUBE AD REVENUE, BUT LET'S BE REAL, ALPHABET STOCK IS UP. INTO THE BOND MARKET, WE ARE DOWN TWO BASIS POINTS, THIS CURVE IS FLATTER.
BECAUSE, LISA, THERE IS A MOVE ON TWO, TWO-YIELD FOR THE FIRST TIME POST-PANDEMIC. IT IS NOT ABOUT TAPERING. THEY ARE GOING TO TAPER ANYWAY. IT IS ABOUT PUSHING BACK ON RATES. LISA: AND, FRANKLY, THE FACT THAT THEY HAVE NOT YET, WE HAVE FOR THIS FROM DIFFERENT STRATEGISTS, WE ARE LOOKING AT POTENTIALLY A DEMAND-SIDE STOCK. THAT IS WHAT SOME PEOPLE ARE
LOOKING AT WHEN THEY LOOK AT BOTH SIDES OF THIS. IF IT IS DEMAND DRIVEN, THE FED MAY HAVE TO RESPOND MORE QUICKLY THAN OTHER CENTRAL BANKS. JONATHAN: WE WILL HEAR FROM APPLE TOMORROW ON THE EARNINGS SIDE. TOM, A BIT OF NEWS ON EVERCORE I WENT TO WORK WITH YOU ON. RALPH HAS STEPPED DOWN AS CO-CEO AND COCHAIRMAN OF EVERCORE, BEGINNING FEBRUARY 25.
TOM: FULL DISCLOSURE, ONE OF MY FAVORITE PEOPLE IN WALL STREET, RALPH OUSLEY -- ROURALPH SCHLOSSTEIN. YEARS AGO, RALPH SCHLOSSTEIN HELPED TO BUILD EVERCORE, AND THIS IS ONE OF THE BIG SUCCESS STORIES. SOME WORK AND SOME DON'T. WHAT IS IMPORTANT HERE IS THE PUBLIC SERVICE OF OATH OF THESE INDIVIDUALS, AND SCHLOSSTEIN IS THE ONE THAT REALLY DROVE THE TONE FORWARD. AND THAT IS UNFORTUNATE. JONATHAN: HE IS STEPPING DOWN AS COCHAIRMAN AND CO-CEO, EFFECTIVE FEBRUARY 25, OVER AT EVERCORE.
LISA, COULD YOU READ THAT STORY ABOUT EVER GRANDE, THE FOUNDER AND LEADER OF EVERGRANDE? LISA: WHAT WAS IT CALLED AGAIN, SOMETHING AMAZING, THE ACTUAL SHELL COMPANY HE ENDED UP PURCHASING, IT HAD TO DO WITH FAST FOOD RATHER THAN THE ACTUAL DEVELOPMENT COMPANY. HE ALSO GOT BILLIONS OF DOLLARS IN DIVIDEND PAYMENTS FROM THE COMPANY OVER HIS TENURE. THIS IS WHAT THE GOVERNMENT IN CHINA IS TRYING TO TARGET, TAKE SOME OF THAT WEALTH AND PUT IT BACK IN THE COMPANY. JONATHAN: THAT IS WHERE THE FOCUS IS RIGHT NOW.
THE CHINESE COMMUNIST PARTY EXPECTED TO BE LEANING ON THE OWNER, THE FOUNDER OF THAT COMPANY, TO USE HIS OWN PERSONAL MONEY TO PAY BACK THE DEBT. WITH A SUSPECTED TEST OF A HYPERSONIC WEAPONS SYSTEM IN CHINA, A FASCINATING CONVERSATION IS TAKING PLACE WITH GENERAL MARK MILLEY, THE CHAIRMAN OF THE JOINT CHIEFS OF STAFF, WITH DAVID RUBENSTEIN. TAKE A LISTEN TO WHAT HE HAS TO SAY. GEN. MILLEY: I THINK IT IS CHINA, AND I SAID THAT PUBLICLY MANY TIMES. AS WE LOOK TO THE FUTURE -- AND I THINK WE ARE LIVING IN A HISTORICAL EPIC, ACTUALLY -- WHERE WE ARE SEEING THE RISE OF A COUNTRY THAT IS UNLIKE SOMETHING WE HAVE SEEN PROBABLY EVER BEFORE. AND IT IS ONE OF THE GREAT HISTORICAL PIVOT POINTS, I THINK, THAT WE HAVE EVER WITNESSED, WHICH IS THE RISE OF CHINA.
AND FROM THE REFORMS OF 1975 AND BEEN JOKING -- BIN JAO PING, THEY HAD AN INCREDIBLE ECONOMIC RUN, AND WITH THE MILITARY, THAT IS REALLY SIGNIFICANT. AS WE GO FORWARD OVER THE NEXT 10, 20, 25 YEARS, THERE IS NO QUESTION IN MY MIND THAT THE BIGGEST GEOSTRATEGIC CHALLENGE TO THE UNITED STATES WILL BE CHINA. I HAVE NO DOUBT ABOUT THAT AT ALL. RUSSIA IS IMPORTANT. RUSSIA HAS VERY SIGNIFICANT CAPABILITIES. BUT I THINK CHINA IS THE MOST SIGNIFICANT GEOSTRATEGIC -- GEO SIGNIFICANT -- GEOSTRATEGIC THREAT WE WILL FACE. DAVID: CHINA HAS A HYPERSONIC MISSILE THAT COULD THEORETICALLY GO INTO SPACE AND THEN COME DOWN WITH A NUCLEAR BOMB, ESCAPING OUR ABILITY TO KNOCK IT DOWN. IS THAT SOMETHING I SHOULD BE
WORRIED ABOUT OR ALL AMERICANS SHOULD BE WORRIED ABOUT? GEN. MILLEY: WELL, WHAT WE SAW WAS A TEST OF A HYPERSONIC WEAPONS SYSTEM, AND IT IS VERY CONCERNING. I THINK I SAW IN SOME OF THE NEWSPAPERS, THE USED OF THE TERM "SPUTNIK MOMENT." I DON'T KNOW IF IT IS QUITE A SPUTNIK MOMENT, BUT IT IS VERY CLOSE TO THAT. IT IS A VERY SIGNIFICANT TECHNOLOGICAL EVENT OR TEST THAT OCCURRED BY THE CHINESE, AND IT HAS ALL OF OUR ATTENTION, BUT THAT IS JUST ONE WEAPONS SYSTEM. THE CHINESE MILITARY CAPABILITIES ARE MUCH GREATER THAN THAT.
THEY ARE EXPANDING RAPIDLY -- IN SPACE, IN CYBER, AND THEN THE TRADITIONAL DEMANDS OF LAND, SEA, AND AIR. AND THEY HAVE GONE FROM A PEASANT-BASED INFANTRY ARMY AND 90'S OF THE NINE TO A VERY CAPABLE MILITARY THAT COVERS ALL OF THE DEMANDS AND HAS GLOBAL AMBITIONS. CHINA IS VERY SIGNIFICANT ON OUR HORIZON DAVID: I PRESUME THAT THE UNITED STATES HAS THOUGHT OF DOING A HYPERSONIC MISSILE AS WELL AND THAT WE ARE NOT COT COMPLETELY FLAT-FOOTED IN OUR ABILITY TO MAYBE PRODUCE SOMETHING LIKE THAT OURSELVES? GEN. MILLEY: WE ARE CLEARLY EXPERIMENTING AND TESTING AND DEVELOPING TECHNOLOGIES TO INCLUDE HYPERSONIC SOME ARTIFICIAL INTELLIGENCE, ROBOTICS, A WHOLE WIDE RANGE. NOW, IF YOU TAKE A STEP BACK, WHAT WE ARE IN, HISTORY WISE, IS WE ARE IN ONE OF THE MOST SIGNIFICANT CHANGES IN WHAT I CALL THE CHARACTER OF WAR. BUT TODAY, WITH THE ABILITY TO SEAL OVER THE WORLD, ARTIFICIAL INTELLIGENCE, ROBOTICS, HYPERSONICS -- ALL OF THESE THINGS TOGETHER, THIS IS AN AMORPHOUS -- ENORMOUS CHANGE IN WAR, AND WE HAVE TO CHANGE GOING FORWARD. JONATHAN: GENERAL MARK MILLEY WILL BE
SPEAKING WITH DAVID ROBINSON IN, -- DAVID RUBENSTEIN IN FULL. "PEER TO PEER CONVERSATIONS." WHAT WE SAW WAS A VERY SIGNIFICANT EVENT OF A TEST BAY HYPERSONIC WEAPONS SYSTEM, AND IT IS VERY CONCERNING. HE GOES ON TO SAY, I DO NOT KNOW IF IT IS QUITE A SPUTNIK MOMENT, BUT IT IS VERY CLOSE TO THAT. IT HAS ALL OF OUR ATTENTION. TOM: BORN IN 1957, JON, I RELIVED THAT IN MY CHILDHOOD MEMORY, AND THERE WAS AN INTENSE FEAR OF SPUTNIK AND WHAT WE DO. WITHIN THE CLASSIFICATION OF WHAT WE CANNOT CANNOT TALK ABOUT, JON, I REALLY WANT TO SAY, MORE THAN ANY OTHER MILITARY OFFICER WE HAVE NOW, HE IS THE MOST ON ESTIMATED. HE IS ROTC OUT OF PRINCETON.
I CANNOT CONVEY HOW UNUSUAL THAT IS. MOST IMPORTANTLY, HIS FATHER WAS ON THE SHORES OF IWO JIMA. LISA: WHAT WE SEE IN BOTH THE RHETORIC THAT, FRANKLY, HAS BEEN HARSH OUT OF THE ADMINISTRATION AND THE INCREASING MOVES OF CORPORATIONS OUT OF CHINA.
HOW DOES THIS DIVERGE? AT WHAT POINT DO CORPORATIONS HAVE A ROLE TO PLAY IN THIS? I SEE THIS, BECAUSE, ACTUALLY, IF YOU'LL TAKE A LOOK AT TECH GIANTS, CO'S THE -- CEO'S THERE, THEY HAVE BEEN MEETING WITH OFFICIALS. JONATHAN: IT IS A BIT OF A PROBLEM. LOOKING FORWARD TO CATCHING UP WITH DAVID AT 8:15 EASTERN TIME COME IN ABOUT ONE HOUR AND 20 MINUTES AT THIS PROGRAM. YOUR EQUITY MARKETS DOWN .1%. WE LEAN HIGHER. IT IS THE RATE HIKE STORY. >> IT SEEMS LIKE THE ECONOMIC CYCLE IS MOVING AT WARP SPEED. >> THEY ARE PUSHING BACK.
>> THE MARKET HAS REPRICED. >> VERY QUICK TO PRICE OUT THE FED IN THE MIDDLE OF NEXT YEAR. >> WE DON'T THINK THEY WILL RAISE RATES TO LIMITLESS 2023. JONATHAN: FROM NEW YORK CITY AND AUDIENCE WORLDWIDE, GOOD MORNING, GOOD MORNING, THIS IS "BLOOMBERG SURVEILLANCE." TK, COCA-COLA, IT'S A RAISE AND NUMBERS DROPPED.
TOM: WHAT I SEE IS MCDONALD'S, WAY BETTER THAN 10%. JONATHAN: THAT SOMETHING THEY DON'T HAVE, 10% ON THE ESTIMATE. TOM: I'M WATCHING THE 90 DAY FIANCE ON THE ONE THERE. JONATHAN: I BET YOU ARE. CONFIDENCE IN THE UNDERLYING MOMENTUM IN THE BUSINESS. TOM: WE SAW ADAPT AND ADJUST AND WE COULD SEE THAT TOMORROW.
DOES IT FILTER DOWN FROM BIG NAMES, JUGGERNAUT TECH NAMES. MID-CAP TO SMALL-CAP, THAT'S A TANGIBLE QUESTION. JONATHAN: I SAID IT BEFORE AND I WILL SAY IT AGAIN, SO FAR, SO GOOD.
>> IS THIS JUST THE BEGINNING? FRANKLY COMPANIES HAVE BEEN ADJUSTING UNTIL NOW AND WILL IT BE MORE DIFFICULT? JOHN, THIS REALLY IS A QUESTION. CAN WE COUNT ON THAT GOING FORWARD? JONATHAN: CORPORATIONS PERSIST, COCA-COLA TALKING ABOUT ELEVATED COMMODITY PRICES IN 2022. THE OFFICIALS AND THE POLICYMAKERS, THAT'S A DATE CHANGE. CORPORATE AMERICA IS TALKING ABOUT THIS GOING WAY BEYOND. >> WE PUT OUT A STOCK -- CHART ONE PART GETS DELAYED IN THE WHOLE THING GETS THROWN OFF. HOW DO WE GET THROUGH THIS? JONATHAN: EQUITY FUTURES ARE DOWN THREE, NEGATIVE .1%.
IT'S THE MOVE THAT GETS THE ATTENTION WITH A MOVE TOWARDS 50 BASIS POINTS AND WE BREACHED THE LEVEL BRIEFLY. THE SMALLEST OF CHALLENGES TO CHAIRMAN POWELL. TOM: EACH MOVE IS NOT A BIG DEAL BUT I'M SORRY, WE ARE BACK TO 110 BASIS POINTS ON THE SPREAD. CAN YOU IMAGINE A FLAT CURVE? JONATHAN: HOW HARD CAN THEY PUSH BACK? LISA ABRAMOWICZ: IT'S HARD TO PUSH BACK GIVEN THAT EACH SIDE IS LOOKING AT DEMAND-SIDE PRESSURES IN THE U.S. ECONOMY. IS IT THE SAME FOR THE EGG OF AMERICA, BANK OF ECB? THE EXPECTATION, NO MOVE IN TERMS OF THE RATES. THE EXPECTATION IS TO CURTAIL THE BOND PURCHASES.
BUT HERE'S THE ISSUE, HOW MUCH THEY INDICATE THE CURTAIL FROM'S LABOR MARKET SHORTAGES THAT MOST PEOPLE THINK WILL ABATE VERSUS DEMAND-SIDE PRESSURES LIKE THE RESERVE IS FACING. FORD, GENERAL MOTORS, EARNINGS ARE FRONT AND CENTER, COMPETING AGAINST TESLA, WORTH $1 TRILLION. HOW DO THEY SAY YES, WE ARE GOING TO GET A PIECE OF THE PIE AND INVEST OUR CASH? HOW MUCH ARE THEY GETTING IN VEHICLES AND HOW MUCH CAN THEY KEEP THE PRICES AS HIGH AS THEY HAVE BEEN? THEY'VE BEEN ON A TEAR, 20% YEAR-OVER-YEAR, TRYING TO GET A SENSE OF JUST WHAT WE EXPECT TO SEE WITH THE RATE HIKE CYCLE OVER THE MIDTERM, NOT JUST THE NEAR TERM. THIS IS WHERE A LOT OF THE ACTION HAS BEEN BUT OF LATE YOU HAVE SEEN THE TWO-YEAR TAKE THE LEAD, PEOPLE PRICING IN NEAR TERM HIKES, BUT FEWER OF THEM AS THE RESERVE RECKONS. JONATHAN:
DID YOU THINK THAT 50 BASIS POINTS WOULD BE SEEN AS A SMALL CHALLENGE FOR THE FEDERAL RESERVE? TOM: NO, THAT'S HOW SILLY IT IS. JONATHAN: THE GLOBAL HEAD OF MACRO STRATEGY AT WELLS FARGO JOINS US NOW. DID YOU THINK 50 BASIS POINTS ON A TWO-YEAR WOULD BE SEEN AS A FALL -- SMALL CHALLENGE TO THE FEDERAL RESERVE? MIKE: FRANKLY IT'S CRAZY. TWO OR THREE MONTHS AGO, 50 WOULD SEEM LIKE A BIG NUMBER.
BUT I AGREE WITH YOU, IT'S PRETTY CRAZY FOR THAT TO UPSET THE FEDERAL RESERVE AND FRANKLY WE THINK THAT THE EXPECTATIONS AND THE RATE HIKE ARE SERIOUSLY OVERCOOKED. I AGREE WITH YOUR POINT, THEY MIGHT NOT PUSH BACK TO AGGRESSIVELY BUT THE MARKET IS GETTING AHEAD OF ITSELF. TO SOME DEGREE THE FED DOESN'T KNOW WHAT TO EXPECT. THINKING ABOUT THE SOURCE OF INFLATION, YEAH, ITS SUPPLY CHAIN, BUT WHAT CAN THE FEDERAL RESERVE OR THE BANK OF ENGLAND TO ABOUT CHIPS OR THE CONTAINERS GOING FROM SHANGHAI TO LOS ANGELES? NOT MUCH. BUT THEY CAN DEAL WITH EXPECTATIONS AND I THINK THAT POLICYMAKERS ARE CONCERNED THAT EXPECTATIONS HAVE BECOME UNGLUED.
WHAT THEY LIKE TO TAMP IT DOWN A BIT? YES. AGGRESSIVELY? I DON'T THINK SO. JONATHAN: WE ALL -- TOM: WE ALL HAD A BELIEF, CALL IT SUMMER, LATE SUMMER INTO AUTUMN, GOING INTO THE EDGE OF NOVEMBER. HOW DO YOU ON A GLOBAL BASIS EXTEND OUT THE INDUCED BOOM ECONOMY AS IT TRIES TO GET BACK TO SOMETHING NORMAL? ARE YOU IN 2023? MIKE: IT PROBABLY IS. 22 THERE ARE CROSSWINDS AT PLAY AND I'M SURE SARAH WOULD AGREE, THE BIG THING THAT STRIKES US IS THE LEVEL OF UNCERTAINTY OUT THERE. YOU JUST DON'T KNOW HOW QUICKLY
THESE SUPPLY ISSUES WILL BE RESOLVED AND WITH RESPECT TO THE CONSUMER BASKET THERE HAS BEEN A TREMENDOUS BID FOR GOODS AND PEOPLE HAVE BEEN SURPRISED I THINK THAT SERVICES LANGUISHED. WHAT IF THAT EXCEPT STEAM AND YOU SEE CONSUMERS PICKING UP A LOT MORE INTEREST IN SERVICES WITH INFLATION STAYING HIGH FOR QUITE A WHILE. I DO IMAGINE THAT IT WILL BE 23 WHEN WE GET A MUCH MORE NORMAL LOOKING ECONOMY. LISA: CALLING IT SUPPLY DRIVEN, BUT EARLIER IN THE SHOW WE HEARD FROM REBECCA PATTERSON OF EDGEWATER THAT SHE THINKS IT IS DEMAND DRIVEN.
WHY ARE YOU CONFIDENT THAT IT IS DRIVEN BY SUPPLY CHAIN DISRUPTIONS MORE FRANKLY THAN THE FACT THAT SPENDING HAS REMAINED SO STRONG IN THE FACE OF FRANKLY EVEN THE HIGHER UNEMPLOYMENT RATE SIMPLY BECAUSE SOME OF THOSE CHECKS AND OTHERS SUPPORT? MIKE: I CAN'T RECALL ANY RECESSION EVER, FRANKLY, IN WHICH YOU HAVE HAD CONSUMER SPENDING STAY PRETTY AGGRESSIVE WITH PERSONAL INCOME REMAINING PRETTY HIGH, ESPECIALLY IN THE U.S. WITH THE FEDERAL SUPPORT. BUT ON THE SUPPLY SIDE IT'S INTERESTING WHEN YOU LOOK AT HOW INFLATION HAS BEEN PUSHED, IT SEEMS MUCH MORE TO BE ON THE GOOD SIDE. I THINK THAT UNTIL YOU GET THE SWITCHOVER TO SERVICES, FROM OUR PERSPECTIVE IT'S MORE GOODS AND ON THE SUPPLY SIDE LESS DEMAND. LISA: WHAT WILL MAKE YOU SHIFT YOUR VIEW ON THAT, WHAT DATA? MIKE: CALL IT ZERO PRICE INCREASE OVER THE LAST FIVE OR SIX MONTHS, SOMETHING LIKE THAT. IF THERE IS A DECENT UPTICK
THERE THAT WILL BE AN INDICATOR THAT THINGS ARE SWITCHING. 7% GOODS INFLATION IS FLIPPING. THAT'S GOT TO BE A CASE WHERE THE POT COMES OFF THE BOIL. JONATHAN:
ARE YOU A BUYER ON THE TREASURY CURVE? MIKE: I'M NOT IN HERE'S WHY, LIKE MOST OF THE WORLD CHAIRMAN POWELL SUSPECTS TAPERING NEXT WEEK AND IT'S PRICED IN IF EVERYONE EXPECTS IT. I THINK MOST OF IT IS, BUT NOT ALL. WHEN YOU CONSIDER THE TREASURY CURVE AND WHAT INVESTORS REALLY WANT TO BUY, THE LINCHPIN HAS BEEN THE FIVE-YEAR. CALL IT FOUR OR FIVE YEARS, SOMETHING LIKE THAT. UNTIL YOU GET THE TAPER ANNOUNCEMENT. AFTER THAT WE MIGHT REVERSE. JONATHAN: INTERESTING.
MIKE SCHUMACHER, THANK YOU. NEXT WEEK, FULL COVERAGE, SPECIAL PROGRAMMING IS ALWAYS ON THE FEDERAL RESERVE DECISION, THE FED DECIDES. THERE WILL BE A NEWS CONFERENCE AFTER WITH CHAIRMAN POWELL. TOM KEENE, A LITTLE MORE DETAIL FROM MCDONALD'S. THIS IS PRETTY INTERESTING STUFF, THE TEAM BREAKING IT DOWN, THE REGIONAL STORY, CHINA IS THE CLEAREST NEGATIVE, SALES SLIPPING DUE TO THE COVID-19 RESURGENCE IS. INSIGHT INTO AN ECONOMY FROM AN
INDIVIDUAL COMPANY. THERE IT IS FROM MCDONALD'S ON CHINA, THE CLEAREST NEGATIVE. JONATHAN: THEY ARE DOING IT DIFFERENTLY. PEDIATRIC VACCINE IN AMERICA, HOW REMOVED IS THE REST OF THE WORLD FROM THAT WONDERFUL NEWS? JONATHAN: CLEARLY THE THRESHOLD IS DIFFERENT BUT TO HEAR A COMPANY SAY WHAT THEY ARE EXPERIENCING ON THE GROUND GIVES YOU MORE COLOR. LISA: AND FRANKLY A HINT AS TO WHAT THE POTENTIAL SLOWDOWN COULD REAP IN TERMS OF HOW IT TRICKLES OUT INTO THE REST OF THE COMPLEX. I MEAN HOW CONFIDENT ARE WE
ABOUT THE NUMBERS THEY HAVE BEEN PUTTING OUT IN TERMS OF AN ACCURATE PERSPECTIVE? JONATHAN: WE HAVE SEEN IT IN BANK AFTER BANK. MCDONALD'S SALES, PLUS 12.7%. REVENUE OVER AT COCA-COLA, 13% TO 14%. THAT'S THE FULL-YEAR VIEW, 12 TO 14 IS A SMALL UPGRADE.
IT'S A BEAT AS WELL ONCE AGAIN. LOOKING GOOD FOR CORPORATE AMERICA ONCE AGAIN. JONATHAN: THEY ARE ADAPTING WITHIN A GOOSED BOOM ECONOMY. GROWTH REVENUE ESTIMATED FOR COCA-COLA WITH A CENTER TENDENCY OVER 13% AND THAT'S EXTRAORDINARY.
THOSE AREN'T NORMAL NUMBERS. THAT'S NOT A NORMAL BANNER ON TV AND RADIO. ALL YOU NEED TO KNOW IS THAT IT IS SUPPOSED TO BE NOMINAL GDP. IT'S A BOOM. JONATHAN: 1500 RESTAURANTS GLOBALLY. I KNOW IT'S YOUR FAVORITE RESTAURANT. TOM:
THE PARAGRAPH ON THAT, MCDONALD'S IN ZURICH, SWITZERLAND, THAT VALUE MEAL. JONATHAN: EXPENSIVE. THEY ARE CLOSING RESTAURANTS IN THE U.S. IN 2021. BUT 800 NET RESTAURANT ADDITIONS. I THINK WE SHOULD GO TO MCDONALD'S TO MAKE A VIDEO. WHAT DO YOU WANT TO EAT? TOM: I USUALLY HAVE A DOUBLE APPLE TART THING. JONATHAN: OK, YOU DOUBLE THEM UP.
DO YOU REALLY? TOM: OH YEAH. JONATHAN: I SHALL RECORD THAT LATER. RADIO AND TV, I WILL SPARE YOU THAT. FROM NEW YORK, THIS IS BLOOMBERG. ♪ LAURA: ON CAPITOL HILL, DEMOCRATS HAVE UNVEILED TWO NEW TAXES THAT THEY HOPED WOULD PAY FOR THE SOCIAL SPENDING PACKAGE OF PRESIDENT BIDEN.
ONE TARGETS BILLIONAIRE ASSETS, ALL THOSE WHO EARN $100 MILLION A YEAR FOR THREE YEARS IN A ROW. THE OTHER IS A MINIMUM TAX FOR CORPORATIONS REQUIRING THAT COMPANIES THAT REPORT MORE THAN $1 BILLION IN PROFIT SHOULD PAY AT LEAST A 15% TAX RATE, EVEN IF THEY QUALIFY FOR LOTS OF TAX BREAKS. CHINA, FLAT U.S. ASSETS ON THE UNITED NATIONS ORGANIZATION. BEIJING SAID THAT THE ISLAND HAS NO RIGHT TO JOIN THE U.N.
HALF A CENTURY AFTER IT WAS KICKED OUT. ANTONY BLINKEN CALLING ON OTHER COUNTRIES TO JOIN THE U.S. IN PUSHING TO GIVE TAIWAN A GREATER ROLE AT THE U.N. AND IT'S ANOTHER BLOCKBUSTER DEAL INVOLVING HERTZ AND TESLA. UBER DRIVERS IN THE U.S. WILL BE ABLE TO OFFER SERVICES WITH TESLA ELECTRIC VEHICLES RENTED FROM HERTZ STARTING NEXT WEEK AND MEANWHILE THEY SIGN UP WITH CARVANA TO DISPOSE OF RENTABLE CARS THEY NO LONGER WANT.
EARLIER THIS YEAR -- THIS WEEK THEY MADE A DEAL WITH TESLA. SHOTS FOR SCHOOL-AGE CHILDREN FOR CORONAVIRUS IN THE U.S. IS ON TRACK FOR APPROVAL IN THE PANEL OF EXPERT SAYS THAT THE BENEFIT OF THE VACCINE MADE BY PFIZER BION TECH FOR CHILDREN FIVE TO 11 EXCEED RISKS. GLOBAL NEWS -- GLOBAL NEWS 24 HOURS A DAY ON AIR AND ON QUICKTAKE BY BLOOMBERG, POWERED BY MORE THAN 2700 JOURNALISTS AND ANALYSTS IN OVER 120 COUNTRIES. I'M LAURA WRIGHT, THIS IS BLOOMBERG.
I THINK THAT THERE >> IS A HIGH PROBABILITY >> THAT THAT IS GOING TO HAPPEN AND I WOULD HOPE THAT IT PASSES WEDNESDAY EVENING. THE PRESIDENT NEEDS TO TAKE SOMETHING WITH HIM BY THE END OF THE WEEK. JONATHAN: THE WORDS OF SENATOR JOE MANCHIN THERE FROM WEST VIRGINIA. TOM KEENE, LISA ABRAMOWICZ, JONATHAN FERRO, JUST A LITTLE BIT LIGHT, SOFT AND LOWER ON THE NEGATIVE TWO S&P 500 WITH NUMBERS SO FAR DOING WHAT THEY DO, BEATING EXPECTATIONS. COCA-COLA, MCDONALD'S THIS MORNING. JONATHAN:
-- TOM: THE CYNIC IN YOU IS 100% RIGHT. I DON'T LIKE THE WORD BEAT, FRANKLY, BUT IT'S THE WAY WE ARE BEATING WITH A REVENUE MOVING FORWARD AND OUTRIGHT GUESSTIMATES ON REVENUE. IT'S REALLY SOMETHING. JONATHAN: PEOPLE THOUGHT THAT THE CONSTRAINT ON HIGH PRICES MIGHT WEIGH IN ON DEMAND BUT HAS THAT HAPPENED? IT DOESN'T LOOK LIKE IT'S HAPPENED IN A BIG WAY. TOM: IT'S MICROECONOMICS WITH AMBIGUITY AND A GIVE-AND-TAKE AND FRANKLY THERE IS AN UNKNOWN AND WE ARE LEARNING AS WE GO IN A NATURAL DISASTER. BUT I'M SORRY, COMPANY TO COMPANY, THINGS ARE BETTER THAN GOOD. JONATHAN: AND IT'S GOING TO GO ON LONGER. COCA-COLA IS EXPECTING ELEVATED
COMMODITY INFLATION. TOM: DOUG HAS A LONG-TERM VISION ON AMAZON. WHAT'S OUR VISION, OUR COLLECTIVE VISION, JOHN, OF SOME OF THESE COMPANIES, I DON'T CARE WHERE THEY ARE, THREE YEARS, FIVE YEARS, 10 YEARS? NO ONE IS DOING IT, NO ONE IS THINKING THAT FAR. JONATHAN: WE WILL HEAR FROM WASHINGTON SOON. TOM: JACK, I'M CONFUSED, YOU PROVIDE
ACCURACY AND BRILLIANCE. DO THESE BILLS PASS TOGETHER OR SEPARATE? WHERE DO WE STAND ON THAT RIGHT NOW? JACK: DEMOCRATIC LEADERSHIP IT WOULD SEEM WOULD LIKE TO GET THE INFRASTRUCTURE BILL PASSED. IT'S ALREADY PAST THE SENATE AND IS WAITING IN THE HOUSE. AFTER MEETINGS BETWEEN SPEAKER PELOSI AND FOR MILLER JAYA PAUL THERE DOES SEEM TO BE A SIGNIFICANT AMOUNT OF OPPOSITION TO VOTING ON AN INFRASTRUCTURE BILL UNTIL THERE IS AN ACTUAL BOAT ON THE -- VOTE ON THE TAX AND SPEND RECONCILIATION BILL AT A POINT WHERE THEY NEED TO TRY TO WITH THE VOTES TO GET TO THE POINT WHERE REPUBLICANS CAN MAKE UP FOR ANY LOSS, PROGRESSIVE VOTES COULD DO IT, BUT AS OF LATE YESTERDAY IT DIDN'T LOOK LIKE THERE WAS A CLEAR PATH FORWARD ON DOING INFRASTRUCTURE WITHOUT RECONCILIATION. TOM: FROM THE CONGRESSMAN WEST -- WEST VIRGINIA, THEY TALKED ABOUT A VAGUE AGREEMENT IN PRINCIPLE. IS THAT WHAT YOU ARE GIVING, JACK? AGREEMENTS IN PRINCIPLE? OR ARE THEY ACTUALLY LEGISLATING? JACK: RIGHT NOW THEY ARE TALKING BULLET POINTS RATHER THAN LEGISLATIVE LANGUAGE AND IT WOULD PROBABLY TAKE A WHILE TO TURN THESE PROPOSALS INTO LEGISLATIVE LANGUAGE. WHAT WE SAW LAST NIGHT ON THE
SO-CALLED BILLIONAIRES TAX PROPOSAL FROM SENATOR WYDEN IS A SUMMARY AND SOMEWHAT DETAILED LIST OF HOW IT WOULD WORK, BUT WE DON'T HAVE A BILL ON THAT. SENATE DEMOCRATS, TO SUPPORT THIS, THEY SAID THEY NEED MORE DETAIL. SO THIS IS A SORT OF PROPOSAL THAT IS IN PRINCIPLE THEY MIGHT GET TO A REAL AGREEMENT IN PRINCIPLE, SIGNALING THAT THEY CAN PASS SOMETHING WITH A MAJORITY OF THE SENATE, BUT A LOT OF TIMES WHEN THAT KIND OF THING HAPPENS WITH A HANDSHAKE DEAL, IT CAN TAKE A WHILE TO TURN THAT INTO LEGISLATIVE TEXT. AND THEN ISSUES POP UP, SO WE
ARE NOT REALLY THAT CLOSE TO THE FINISH LINE RIGHT NOW. LISA: I FEEL LIKE WE HAVE BEEN HAVING THE SAME CONVERSATION FOR THE LAST COUPLE OF MONTHS OR EVEN LONGER. DO THEY HAVE A DEAL, DON'T THEY HAVE A DEAL, WE DON'T KNOW. HOW CAN YOU JUDGE PROGRESS AT A TIME WHEN THERE ARE SO MANY DISPARATE PARTIES GOING BACK AND FORTH IN THESE NEGOTIATIONS? JACK: ONE, IF THEY ANNOUNCE A DEAL, EVEN IF YOU SHOULD BE SKEPTICAL THAT THEY ARE FULLY ON BOARD, IT'S A STEP FORWARD BECAUSE LAWMAKERS DON'T WANT TO HOLD A PRESS CONFERENCE AND TAKE PICTURES AND SAY THEY HAVE A DEAL AND THEN HAVE EVERYTHING FALL APART. BUT REALLY YOU CANNOT SAY THAT THEY ARE GOING TO CROSS THE FINISH LINE UNTIL THEY HAVE THE BOAT. ESPECIALLY IN A 50-50 SENATE WITH A VERY CONTESTED HOUSE, UNTIL IT PASSES THE CHAMBER. YOU PROBABLY REMEMBER WITH THE
INFRASTRUCTURE BILL, BEFORE THEY COULD PASS IT IN THE SENATE THEY ANNOUNCED TWO DEALS. A DEAL ON WHAT WOULD BASICALLY BE IN THERE AND THEY TURNED IT INTO LEGISLATIVE TEXT. THERE WERE ISSUES THAT CAME UP IN THE DETAILS AND THEN ANOTHER BIG ANNOUNCEMENT SAYING THAT THERE WAS A DEAL. THE RECONCILIATION BILL IS COMPLICATED ENOUGH THAT WE COULD HEAR ABOUT MULTIPLE DEALS MOVING THROUGH THESE PHASES.
EACH IS A STEP FORWARD BUT IT ISN'T PASSED UNTIL IT'S PAST. JONATHAN: I ASK THIS -- LISA: I ASK THIS AS BIDEN HEADS TO THE G20 MEETING AND THE DISAGREEMENTS IN THE NATION TIE HIS HANDS IN TERMS OF CONVINCING ALLIES THAT THIS TIME IS DIFFERENT AND THAT FRANKLY AMERICA IS BACK WITH RESPECT TO HOW IT ACTS IN THE WORLD. A LOT OF PEOPLE SAY THAT IT IS TOO DIVIDED TO HAVE THAT ROLE. HOW IS BIDEN TRYING TO MESSAGE THAT AS HE HEADS TO MEET WITH NATIONAL LEADERS? JACK: ON THE QUESTION OF WHETHER IT IS TOO DIVIDED, THAT MAY BE ANCILLARY TO THE FACT THAT BIDEN NEEDS SOME ACCOMPLISHMENTS, NEEDS MAJOR LEGISLATIVE ACCOMPLISHMENTS AND IS STRUGGLING AT A POINT WHERE HIS POLLING IS NOT GREAT AND HE'S TRYING TO PUSH THINGS A CROSSED. PROBABLY THE BIGGER QUESTIONS THAT HE FACES INTERNATIONALLY WITH THIS BACK AND FORTH LEGISLATION IS WHEN HE MAKES PROMISES ON CLIMATE ISSUES AND TRIES TO PUSH OTHER COUNTRIES, WHAT CAN HE ACTUALLY ACCOMPLISH AT HOME IN THIS RECONCILIATION BILL? THE PRESIDENT MAKES IT VERY CLEAR THAT THIS WAS BOUND TO BE SORT OF A MESSY PROCESS, PUSHING MEASURE LEGISLATION THROUGH THIS KIND OF HOUSE AND SENATE, SO THE DIVISION ISN'T NECESSARILY THE BIG CONCERN FOR HIM, BUT THE FACT THAT HE IS TRYING AT A TIME WHEN HIS WHOLE NUMBERS ARE TOUGH, 2022 LOOKS DIFFICULT TO GET SOMETHING SIGNIFICANT DONE, THAT'S THE MAIN CHALLENGE. JONATHAN: JACK, THANK YOU, SIR. THE FIRST BIG TEST OF THE ELECTORATE, IN VIRGINIA OF NEXT WEEK, NOVEMBER 2.
TOM: AND IT'S INTERESTING TO SEE THE PLAY, WITH MR. MCAULIFFE AND YOU WONDER WHERE MR. TRUMP FITS IN. JONATHAN: THEY WANTED TO BE A REFERENDUM ON THE CURRENT PRESIDENT BUT THE CURRENT PRESIDENT WANTED TO BE A REFERENDUM ON THE FORMER PRESIDENT. JONATHAN: I THINK I UNDERSTOOD WHAT YOU JUST SAID. JONATHAN:
DOES THAT MAKE SENSE? DOES THAT MAKE SENSE? IT SEEMS TO BE THE STRATEGY FROM THE DEMOCRATS. LISA: HOW DO YOU GALVANIZE UNITY? HE WAS ONE OF THE GREATEST UNIFYING FACTORS FOR DEMOCRATS OUT THERE, TRUMP WAS AND IT HIGHLIGHTS SOME OF THE CHALLENGES IN WASHINGTON THIS MORNING. JONATHAN: FUTURES ARE A BIT OF A SNOOZE THIS MORNING.
IT'S A BIT OF CALM THIS MORNING. YIELDS ON A BASIS POINT, 10-YEAR, UP A COUPLE OF BASIS POINTS ON THE FRONT END, IF YOU BASIS POINTS THIS MORNING, THAT'S YOUR NEXT STOP FOR THIS MARKET. EARNINGS LOOK GOOD. APPLE, AMAZON TOMORROW, THEN CHAIRMAN POWELL ON WEDNESDAY JONATHAN: WEDNESDAY MORNING, GOOD MORNING, THE EQUITY MARKET, A BIT OF A SNOOZE AFTER YESTERDAY. IT WAS A BEAT ON COCA-COLA, EQUITY MARKETS DOING NOTHING. SMALL CAPS DOWN FOUR AND AFTER NEXT WEEK, GETTING OVER TOMORROW WITH APPLE AND AMAZON IN THE MIX , NEXT WEEK THERE'S A FEDERAL RESERVE DECISION ON A WEDNESDAY, FRIDAY. ON THE LONG END, BREAKING 160 939, DOWN JUST BELOW 2% HERE.
THE MOVE ON THE FRONT-END, TOM, THE LIFT AGAIN COMING FROM CHAIRMAN POWELL NEXT WEDNESDAY, HOW HARD DOES HE PUSH BACK AGAINST THIS? JONATHAN: YOU WERE OUT -- TOM:YOU WERE OUT FRONT ON THIS. WHERE WILL WE BE ON NOVEMBER 1 OR NOVEMBER 2? I KNOW WHAT YOU'RE SAYING. JUST FINISHING WHAT YOU WERE SAYING. THE FED DECISION. MAKES PEOPLE CONFUSED. TOM: THANK GOD. JONATHAN: WEDNESDAY WON'T BE A LIVE MEETING FOR INTEREST RATE HIKES ON THE FEDERAL RESERVE THAT THURSDAY COULD BE FOR BANK OF ENGLAND.
STERLING, 137 RIGHT NOW. 100 3420 SEVEN IS WHERE WE WERE AT THE BACK END OF SEPTEMBER, TOM. THE FEAR IS THEY MIGHT BE HIKING INTO WEAKNESS. THIS IS WHERE THEY PLAY THE
MUSIC. IS THIS IT? DO I INTERRUPT TOM AGAIN? DID YOU DO THIS? KILL THE MUSIC. 137 22. I KNOW WHO'S IN CHARGE HERE.
STERLING, JUST A BIT WEAKER. TK IS THE MEETING, A LIVE ONE, CHIEF BANK ECONOMIST SAYS IT IS. JONATHAN: TAYLOR WANTS TO KNOW WHAT SHE PARACHUTED INTO. [LAUGHTER]
JONATHAN: I WILL WRAP IT UP. THAT'S THE STERLING. TOM: THANK YOU. JONATHAN: GOOD MORNING, TAYLOR. TAYLOR: IT'S MY PLEASURE TO BE HERE AND ACCORDING TO DAN, IT MAY NOT BE A 600 TYPE DOWN WITH A WORLD SERIES, BUT MICROSOFT IS DARN CLOSE. IT'S NOT OFTEN YOU SEE A COMPANY THIS SIZE POSTING THESE GAINS, BUT IT'S AN OPPOSITE STORY FOR ALPHABET. EARNINGS YESTERDAY HAD SIGNS OF
SLOWING IN THE CLOUD MARKET WITH THE FOURTH QUARTER SETTING UP NICELY, BUT DON'T GET TOO CONCERNED. THAT WITH TWITTER IT LOOKS BETTER THAN SOME OF THE WARNINGS WE GOT FROM FACEBOOK OR SNAP AROUND THE APPLE CHANGES, SO OVERALL PRETTY GOOD BUT WHAT ISN'T GOOD IS ROBINHOOD, DOWN ABOUT 9%. IT'S SO INTERESTING, THEY HAD ONE MILLION CUSTOMERS ON THE WAITLIST FOR THE CRYPTO TRADING PLATFORM BUT CRYPTO REALLY SLOW DOWN IN THE REVENUE AND IT CAUSED A BIG CONCERN. TOM:
IS THAT TRADITIONAL SECURITIES ANALYSIS FROM ROBINHOOD? IT'S BASED OFF HE DOES, RIGHT? -- THE DOES GOING -- THE DOJ, RIGHT? TAYLOR: ONE MILLION CUSTOMERS ON THE WAITLIST FOR THE NEW WALLET, BUT YEAH, CRYPTO TRADING DIDN'T LOOK GOOD IN THE ORDER, SO I WILL LEAVE YOU AT THAT. I'M NO EXPERT ON DOJ. I THOUGHT WE ONLY DID THIS STUFF IN THE AFTERNOON. LET'S GET TO SOME OF THE OTHER SERIOUS HEAVY HITTER STUFF HERE. TAKE A LOOK AT MCDONALD'S AND, OF COURSE, COCA-COLA. WE HAVE SEEN THIS FROM THE RAISED QUARTER, MCDONALD'S CUSTOMERS ARE ORDERING MORE AND PAYING MORE AND REALLY NAVIGATING THE LABOR SHORTAGE WELL.
COCA-COLA, GOING OUT TO EAT, RESTAURANT SALES ARE DOING WELL. JONATHAN: COME BACK SOON. GOOD TO SEE YOU. THANK YOU. TOM: WRAP IT UP, TAYLOR. LET'S TALK SERIOUSLY NOW ABOUT THE CHARACTER THAT THE MARKET HAS DEFINED THROUGH THEIR DERIVATIVE SPACE. WHAT DO YOU DO WITH ALL OF THESE EARNINGS IN THIS BOOM ECONOMY AND THIS BULL MARKET? WHAT DO YOU DO FOR WORDS? STUART HAS AN OPTIMISTIC TONE.
WHAT ARE YOU GOING TO WRITE ABOUT FOR MONDAY? I'M JUST CURIOUS HOW YOU TAKE THIS ODD BULL MARKET AND DRIVE IT FORWARD WITH A DERIVATIVES ANALYSIS. >> IT'S A GREAT QUESTION, HOPEFULLY I GET TO PICK MY OWN EXIT MUSIC. THE MARKET HAD BEEN UNDERINVESTED BECAUSE OF WHAT HAPPENED IN SEPTEMBER, GOING THROUGH THE NUMBERS WITH BIG EATS ACROSS THE BOARD, THE MARKETS ARE RESPONDING POSITIVELY TO THAT THAT I DO THINK THAT YOUR QUESTION IS THE RIGHT ONE. A COUPLE OF BIG WEEKS OF
EARNINGS WITH THE FED IN THE BACKDROP AND IN THE RATE MARKET, HOW DOES THE FED BEHAVE WHEN THE EARNINGS ARE BEHIND US? WE HAVE SEEN LARGE TECH QUALITY DEGRADING EARNINGS WITH THOSE RESULTS AND USUALLY WHEN WE GET THROUGH YOU GET BACK INTO THE VALUE TRADE. THAT WOULD BE THE CASE. JONATHAN: -- TOM: WHEN YOU SYNTHESIZE INTO DERIVATIVES, DO YOU SEE A REDUX? I CAN'T DO THE MATH, HELP ME. JANUARY OF NEXT YEAR, ARE WE GOING TO BE DOING THE SAME BALLET THAT WE ARE DOING THIS MORNING? MIKE: JANUARY IS GOING TO BE INTERESTING ON EARNINGS AND GDP.
EARLY NEXT YEAR WILL BE A TRICKY TIME FOR THE MARKETS AS THEY TRY TO BALANCE WHAT IS PROBABLY INFLATION THROUGH Q1 AND AN OUTLOOK FOR SLOWER GROWTH, SO THAT IS PROBABLY GOING TO BE A TRICKY TIME FOR THE MARKETS BUT AT THE END OF THE YEAR, HOPEFULLY PEOPLE JUST WANT TO RUN IT BACK AND THAT WOULD BE THE GENERAL ASSUMPTION AT THIS POINT. LISA: LET'S TALK ABOUT INFLATION AND WHEN IT PEAKS. THE DEMAND IS THERE. EVEN AT THESE HIGH PRICES. WHAT IS YOUR VIEW? MIKE: INFLATION HAS BEEN TRICKY, BOTH MACRO AND MICRO.
WE HAD CLIENTS FOCUSING ON STOCKS TO BE THE LOSERS IN THE INFLATION STORY AND WE SAW A LITTLE BIT OF THAT WITH THE LARGER CONSUMER STAPLES STOCKS THAT MADE LARGE MOVES, SO I THINK THERE IS A MICRO STORY HERE WITH SOME STOCKS THAT CAN DEAL WITH HIGHER INFLATION AND OTHERS CAN'T. ANY OTHER MACRO STORY, BIG PICTURE, THE PATH OF INFLATION, WHAT WE ARE MOST CONCERNED ABOUT IS EQUITIES THAT RESPONDENT GENERALLY POSITIVELY TO INFLATION UNTIL IT HITS A CERTAIN LEVEL AND FOR A LOT OF MARKETS WE ARE STARTING TO GET TO THOSE LEVELS WHERE INFLATION STARTS TO BE A NEGATIVE, NOT A POSITIVE. IT COULD BE A MICRO STORY OR A MACRO STORY AND THE MARKET IS TRYING TO SORT IT OUT NOW. LISA: THIS IS IMPORTANT, YOU SAY THAT THE LEVELS OF INFLATION ARE GOING TO HURT BIG TECH? MIKE: YEAH, WITH THE NASDAQ MARKETS, IT'S ALREADY STARTING TO SHIFT NEGATIVE FOR S&P, POSITIVE BUT CLOSER TO ZERO AND WE DO THINK THAT THERE ARE PARTS OF THE MARKET ALREADY THAT ARE NOT REAL HAPPY WITH WHERE INFLATION IS RIGHT NOW. TOM: HOW DO YOU HANDLE BIG TECH WITH, I ADDED IT UP THE OTHER DAY, EVERYBODY'S GOT THE BENT, BUT STUART, HOW DO YOU HANDLE THAT INTELLECTUALLY WHEN YOU LOOK AT ALL THE MATHEMATICS YOU ARE DEALING WITH? MIKE: TECH IS A TOUGH ONE FROM A MACRO PERSPECTIVE.
AS I MENTIONED, IT MIGHT BE UNDER SOME PRESSURE BUT I THINK THE REAL HARD QUESTION IS IF YOU GET INTO EARLY NEXT YEAR, INFLATION IS HIGH BUT GROWTH IS DECELERATING, DO INVESTORS WANT TO HIDE IN TECH AGAIN? STRONG MARGINS WITH STRONG EARNINGS? OR ARE THEY SCARED BY THE RATES? FROM OUR PERSPECTIVE WE TRIED TO BE INVOLVED IN TECH WHEN WE THOUGHT EARNINGS WOULD BE RECORDED AND PEOPLE WOULD FOCUS ON STRONG FUNDAMENTALS BUT IN BETWEEN WITH FOLKS FOCUSED ON INFLATION, WE HAVE SHIED AWAY. IT HAS BEEN OF WHACK-A-MOLE TO SOME DEGREE. LISA: THE BIGGEST ARGUMENT AGAINST WHAT YOU JUST SAID IS THE EARNINGS THAT WE SAW THAT ABSOLUTELY DIDN'T SHOW ANY KIND OF RAMIFICATION FROM HIGHER INFLATION. IT'S STILL THERE AND FRANKLY THERE'S A QUESTION THAT GOES TO WHAT TOM ASKED EARLIER ABOUT BIG COMPANIES DOING BETTER THAN SMALLER COMPANIES, ABLE TO CONSOLIDATE AND PASS ALONG PRICE INCREASES MUCH MORE. HOW DO YOU COUNTER THOSE
ARGUMENTS WHERE WE HAVE ALREADY PASSED UP WHEN IT CAME TO AN ASIAN RATES AND BIG TECH? MIKE: PEOPLE WHO ARE WORRIED, I THINK IT HAS MORE TO DO WITH VALUATION AND I THINK WE COULD HAVE A DEBATE OVER WHETHER LARGE TECH CAP COULD BE SENSITIVE TO RATES FROM THE VALUATION PERSPECTIVE BUT I THINK MOST INVESTORS LOOK AT IT THROUGH THAT LENS. THE QUESTION WOULD BE IF YOUR EARNINGS ARE STRONG AND YOU HAVE STRONG RATES ON INFLATION IMPACT FROM A NEGATIVE PERSPECTIVE, HOW DO YOU BALANCE THAT? THINKING ABOUT THE NEGATIVE IMPACT OF INFLATION ON TECH, THAT WILL BE THE VALUATION IN GENERAL. JONATHAN: YOU ARE FIVE NIL UP, THE OTHER TEAM IS DOWN TO 10 MEN, DON'T YOU JUST GO FOR IT WITH 30 MINUTES OR LESS? GO FOR IT, MAKE IT SIX OR SEVEN? MIKE: IN A RIVALRY GAME, DEFINITELY. TOM: THE RIVALRY GAME IS AT DARBY. JONATHAN: WHY DID THEY DO IT ON SUNDAY? THEY SHOULD HAVE MADE IT PAINFUL. MIKE: I THINK THEY WERE TRYING TO ENJOY IT, RIGHT? EMBRACE IT. JONATHAN: THANK YOU.
THAT WAS THE IMPORTANT ONE, I KNOW YOU WATCHED THE GAME AS WELL. THERE'S A SINGLE NAME AT UBS, GM , GENERAL MOTORS, UP 38% YEAR-TO-DATE AND IN THE PREMARKET IT'S 5924, 20%, HERE IS WHY. IT'S THE BEAT ON EPS WITH THE ESTIMATE IN TERMS OF GUIDANCE WHERE THEY SEE THE FULL YEAR AT 570 TO 670 WITH 540 TO 640. A BEAT AND A RAISE FOR A COMPANY WHERE THE STOCK IS HAVING A GREAT YEAR. FORD IS ON THE BACK OF THIS BY MORE THAN 1% AND I BELIEVE THAT WE CATCH UP WITH A CHIEF OVER AT GM LATER THIS MORNING? TOM: WHAT'S FASCINATING TO ME IS THEY CAN'T BUILD THE CARS, THEY ARE WORRIED, WORRIED, WORRIED, BUT THE ANSWER IS THE CADENCE HAS CHANGED. THE DISCUSSION, JOHN, OF DETROIT AND A BIG AUTO MAKING EIGHT CENTS, NINE CENTS, 10 CENTS ON THE DOLLAR, IT'S A CHANGE DISCUSSION. JONATHAN:
VALUING THESE COMPANIES LEANING TOWARDS TECH A LITTLE BIT MORE. LISA: WITH THE REVENUE LOANS GROWING IN 2023 ALL THE WAY UP TO $90 BILLION AT THE END OF THE DECADE. JONATHAN: WE WILL CATCH UP WITH MARY BARRA LATER THIS MORNING. LOOKING FORWARD TO THAT CONVERSATION I BELIEVE WITH DAVID WESTIN. TOM: IS THAT THE RAPID UP MUSIC THAT THEY ARE PLAYING? JONATHAN: IT IS THE POLITE WAY TO GET TO A BREAK. NOT THE RUDE WAY. I THOUGHT WE WERE COLLEAGUES. TOM KEENE, LISA ABRAMOWICZ,
JONATHAN FERRO. TOM AND I ARE PAID TO LIKE EACH OTHER. THE SWAP COMES UP LATER. THIS IS BLOOMBERG. ♪ LAURA: DEMOCRATS ARE TRYING A NEW, RISKIER APPROACH TO TAXATION TO HELPS SAVE THE PRESIDENT BIDEN SOCIAL AGENDA PROPOSING A TAX THAT WOULD AFFECT ABOUT 700 PEOPLE, ONE BILLION DOLLARS IN ASSETS FOR THOSE THAT EARN AT LEAST $100 MILLION THREE YEARS IN A ROW AND MEANWHILE THE SEPARATE PATH WOULD REQUIRE COMPANIES THAT REPORT MORE THAN $1 BILLION IN PROFITS TO PAY A 15% TAX RATE. PRESIDENT BIDEN IS ZEROING IN ON WHETHER TO RENOMINATE JEROME POWELL FOR ANOTHER TERM AS CHAIR OF THE FEDERAL RESERVE. THE PRESIDENT HAS STARTED TO MEET WITH TREASURY AIDS TO REVIEW CANDIDATES AND HASN'T SETTLED ON A CHOICE AND IS NOT CLEAR WHETHER HE IS LEANING TOWARDS REAPPOINTING POWELL OR REPLACING HIM. THE CHINESE PRESIDENT IS CALLING FOR BREAKING NEW GROUND IN RECORDS DEVELOPMENT, SAYING CHINA MUST ESTABLISH A MODERN MANAGEMENT SYSTEM FOR THE DEFENSE INDUSTRY, COMING AFTER TAIWAN, THE U.S., AND CHINA REBALANCED FORCES FOR WHAT THE
BIDEN ADMINISTRATION CALLED STRATEGIC COMPETITION. THIRD-QUARTER SALES BEATING EXPECTATIONS AT MCDONALD'S WITH U.S. CUSTOMERS PLACING LARGER ORDERS WHILE PAYING HIGHER PRICES AND INTERNATIONAL RESULTS WERE USED TO IT BY FEWER PANDEMIC RESTRICTIONS AND COMPARABLE SALES WERE UP 12.7%. GLOBAL NEWS 24 HOURS A DAY ON AIR AND ON QUICKTAKE BY BLOOMBERG, POWERED BY MORE THAN 2700 JOURNALISTS AND ANALYSTS IN OVER 120 COUNTRIES.
>>>> THE MARKET HAS BEEN SCREAMING THAT THE ECONOMY WAS NOT GOING TO ROLL OVER FOR QUITE A WHILE NOW. IT FEELS AS THOUGH PEOPLE ARE WAKING UP TO THAT. THE CALL ON THE BIG CORRECTION I THOUGHT WAS COMPLETELY MISGUIDED BECAUSE THEY WERE SAYING KNOW THAT THE ECONOMY WAS STRENGTHENING AND MY EXPERIENCE IS THAT A BIG CORRECTION COMES WITH A GROWTH SCARE, NOT AN ACCELERATION. TOM: COMING OFF A VAULT -- JONATHAN: COMING OFF ALL-TIME HIGHS, FROM NEW YORK, I'M JONATHAN FERRO, EQUITY FUTURES HEADING LOWER, YIELDS ON THE BASIS POINT AROUND 22 AND SO FAR, SO GOOD. MCDONALD'S, COCA-COLA, GENERAL MOTORS, WE WILL CATCH UP WITH MARY BARRA A LITTLE BIT LATER. HEADING TO WESTMINSTER BRIEFLY, YOU THINK WE ARE DOING THIS FOR ME? WE ARE NOT. WE DO THIS FOR TOM.
CHANCELLOR SUMAC DELIVERING WHAT IS TRADITIONALLY CALLED THE AUTUMN STATEMENT. WHAT YOU GET FROM THEM TWICE A YEAR, TOM, IS THE UPDATED FORECAST FROM THE OFFICE OF BUDGET RESPONSIBILITY AND AN UPGRADE TO THE FORECAST. UPGRADE TO THE FORECAST OF 21, LOOKING FOR 4% GROWTH, NOW 6.5%. THE ECONOMY COULD GROW IN 2022 AND HERE'S WHAT'S ORIGINAL ABOUT THIS MOMENT IN THE U.K. COMPARED TO OTHER PLACES, BETTER GROWTH AHEAD IS FIND, BUT THIS IS THE COMMENTARY FROM SUMAC, WE NEED TO STRENGTHEN THE PUBLIC FINANCES. UNDERLYING NET DEBT MUST BE FALLING AS A PERCENTAGE OF GDP. THAT, TOM, IS WHERE THE FOCUS
ALREADY IS FOR THIS CHANCELLOR. I HAVE TO SAY THERE IS A BIT OF DAYLIGHT HERE, A FISCAL HAWK COMPARED TO THIS PRIME MINISTER. TOM: TO GET THEM REELECTED, TO USE AN AMERICAN PHRASE, HOW DISTANT IS THIS MESSAGE FROM THE CONSERVATIVE OR BORDERLINE CONSERVATIVE DISTRICTS THEY STOLE FROM LABOR? JONATHAN: IT'S CALLED RED WOOL IN THE NORTH, TOM. TOM:
LIKE A GAME OF THRONES. JONATHAN: YES, THERE'S WORK TO BE DONE. IF THAT RECOVERY IS GOOD, THEN OK. IF INFLATION BECOMES A BIGGER STORY AND WE DON'T GET A HANDLE ON GDP, WE MIGHT HAVE SOME TROUBLE. TOM: AT THE DESKS, CAN I GET MY OWN BREADBOX? JONATHAN: YOU KNOW WHAT WAS ORIGINAL ABOUT THIS, FOR THE SPRING BUDGET THE CHANCELLOR COULD HAVE AN ALCOHOLIC BEVERAGE. BUT NOT FOR THIS ONE. BUT TRADITIONALLY FOR THE
SPRING BUDGET YOU COULD HAVE AN ALCOHOLIC BEVERAGE. IT WASN'T JUST HER BREADBOX, YOU COULD HAVE A DRINK. TOM: REALLY? JONATHAN: ARE WE DONE? WE DON'T GO TO WESTMINSTER FOR ME, TO THE AUDIENCE OUT THERE.
TOM LOVES IT. TOM: I LOVE IT. THIS IS IMPORTANT. I GOT TO GET MY GLASSES. THIS IS LIKE A THREE HOUR CONVERSATION THAT WE'S REASON TO KNOW TIME THIS MORNING. WHAT IS THE SINGULAR FEATURE WE
WANT TO EXPLAIN ABOUT THE TECH MOMENT OF MICROSOFT, AMAZON, APPLE, GOOGLE, ALPHABET? WHAT'S THE THING WHEN YOU LOOK AT THE REVENUE INCOME STATEMENTS, WHAT DOES IT SAY ABOUT TECH AMERICA? >> SPENDING IS PHENOMENAL, THERE MIGHT BE SLIGHT TAPERING, BUT IT IS INTENDING ANYTIME SOON. TOM: HOW DO YOU RESPOND TO THIS JOY AND THE IDEA THAT THE GENTLEMAN FROM MICROSOFT SAYS IT COULD BE DISINFLATIONARY TO AMERICA? TECH, ALL THESE TO
2021-10-31 00:48
Show Video
Other news