'Bloomberg Surveillance Simulcast' Full Show (10/25/21)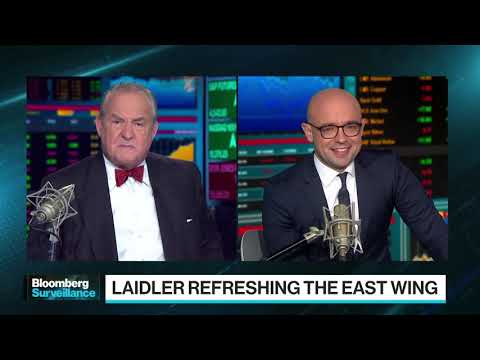 Show Video
>> INFLATION GOES TO THE POINT WHERE THE FED HAS TO RAISE RATES AND THEY ARE OUT AND IF THE STOCK MARKET CORRECTS THEY ARE NOT COMING BACK. >> INFLATION IS A FOCUS BUT THE MARKET HAS PRICED IN A GOOD AMOUNT OF THAT. >> THE MARKET IS PRESSING IN AN ACCELERATION OF THE FED. >> EXPECTATIONS ARE RISING AND THEY NEED TO MANAGE THAT STUFF >> RISING INTEREST RATES IS THE SIGN OF GOOD NEWS IN THE ECONOMY. >> THIS IS BLOOMBERG SURVEILLANCE. JONATHAN:
LET'S GET THE TRADING WEEK STARTED STEP GOOD MORNING. THIS IS BLOOMBERG SURVEILLANCE LIVE. YOUR EQUITY MARKET IS ABOUT UP A 10TH OF 1%. THIS WEEK IT'S ABOUT BIG TECH. TOM:
WE WILL TALK ABOUT BIG TECH LATER. I SOME MORE MISINFORMATION THIS WEEKEND ON ECON 101. TIM COOK IS NOT WORRIED ABOUT HYPERINFLATION. JONATHAN:
HERE IS THE LINE FROM JACK DORSEY. HIGHLINE INFLATION WILL TAKE -- WILL CHANGE EVERYTHING. YOU CANNOT SAY THIS IS A GUY WHO IS CRAZY.
THIS IS THE CEO OF A 100 BILLION DOLLAR FIRM IN THE FINANCIAL SERVICE TECH INDUSTRY. TO HEAR SOMEONE SAY SOMEONE DO SOMETHING LIKE THAT. IF YOU CAN IMAGINE IF JAMES GORMAN SAID SOMETHING LIKE THAT? TOM: BRIAN MOYNIHAN IS THE BEST SPINNER OF THIS. THESE PEOPLE DON'T WANT TO DO ECONOMICS.
WE WILL TALK TO DIFFERENT OPINIONS FROM ECONOMISTS ABOUT THIS INFLATION WORRY. THAT'S AN OVERLAY ON EARNINGS. MY NUMBER FOR THE DAY IS 16% REVENUE GROWTH. THEY SAY IT'S NOT JUST ABOUT EARNINGS, IT'S ABOUT REVENUES GROWING. REVENUES ARE GROWING 16.1% SO FAR. JONATHAN: HYPERINFLATION UNDERPINS A LOT OF FAITH IN THE CURRENCY. IS AN AMERICAN FINANCIAL FIRM GOING TO QUESTION THE CURRENCY? LISA: THIS IS A CEO WHO LIKES BITCOIN. I WONDER HOW MUCH THIS
UNDERSCORES A BELIEF GROWING IN THE MAINSTREAM THAT HAS BEEN A DRIVER OF THE CRYPTO COMPLEX. WHAT IS THE INTEREST IN DOING THIS. WHY WOULD HE WANT PEOPLE TO BELIEVE THIS? JONATHAN: IT'S BITCOIN BUT I DON'T THINK WE SHOULD ALLOW STATEMENTS LIKE THAT TO PASS BECAUSE IT'S JACK DORSEY AND ELON MUSK AND THEY THINK IT'S OK BUT IT'S RIDICULOUS. LISA: THE MARKETS ARE NOT BUYING IT. YOU HAVE THE LIKES OF NOT JUST JACK DORSEY BUT ALSO LARRY SUMMERS SAYING THE RISK OF INFLATION IS MORE THAN EVER BE OR.
YOU WONDER WHY MARKETS ARE AS TIGHT AS THEY ARE DESPITE SOME OF THESE PROGNOSTICATIONS. JONATHAN: THIS IS A CONVERSATION THAT BELONGS IN A CIRCUS. THAT'S THE PROBLEM EXCEPT IT IS SERIOUS BECAUSE IT'S THE CEO OF SQUARE. IT'S RIDICULOUS. TOM: THERE IS NO AMBIGUITY HERE. YOU GET SOME INFLATION IN GOOD
TIMES AND YOU GET SOME INTEREST RATE WORRY AND FED WORRY BUT IF THOSE ARE THE WORRIES WE HAVE, MOMENTS AGO, GETTING OVER THE LOSS, THEY SAY EARNINGS ARE GOOD ENOUGH. JONATHAN: IF YOU ARE AN ANALYST OF SQUARE, YOU SHOULD BE ON THAT CALL ASKING WHAT ARE THEY SEEING IN THE BUSINESS THAT ALLOWS THE CEO TO GO AROUND TALKING ABOUT HYPERINFLATION. IF THEY SAY IT WAS JUST JACK'S OPINION, THAT'S NOT GOOD ENOUGH. IF YOU ARE RUNNING A CORPORATION IN AMERICA, YOU HAVE THE RESPONDENT -- THE RESPONSIBILITY NOT TO THROW AROUND TERMS LIKE HYPERINFLATION.
INTO THE BOND MARKET, YIELDS OF A COUPLE OF BASIS POINTS. CRUDE IS UP THREE QUARTERS OF 1%. TOM: A GALLON OF GAS IN AMERICA IS A LEGITIMATE WORRY. LISA: WE WILL HEAR FROM SOME POLITICIANS LATER THIS AFTERNOON STEP AS FAR AS ECONOMIC DATA, IT'S LIKE UNTIL THE BACK HALF OF THE WEEK AND TO THE DAY WE GET THE DALLAS FED MANUFACTURING AT 10 A.M. I'M WONDERING TO SEE HOW MUCH
THE FACTORY SECTOR CAN GAIN THIS BITE THE DISRUPTIONS IN THE FOOTAGE OF THOSE CONTAINER SHIPS MORE IT OFF THE COAST OF LOS ANGELES OVER THE WEEKEND THAT WAS FASCINATING STEP THE CALPERS CHIEF INVESTMENT OFFICER WILL JOIN US. HE OVERSEES THE INVESTMENTS FOR THE SECOND-BIGGEST U.S. PENSION WITH $300 BILLION PLUS IN ASSETS. HOW ARE THEY POISED?
HOW DO YOU LOOK AT THIS? IS THIS THE BEGINNING OF A LONGER-TERM TREND OR IS THIS JUST ANOTHER PIT STOP ON THE WEIGHT LOWER IN YIELDS? THIS IS THE MAIN CONUNDRUM FOR A LOT OF THE INVESTMENT WORLD STOP FACEBOOK REPORTING THIRD QUARTER EARNINGS AND THEIR STOCK IS DOWN MORE THAN 15% SINCE THE SEPTEMBER 7 HI WHICH IS TRIPLE THE LIKES OF APPLE AND ALPHABET. THE OTHER BIG TECH NAMES HAVE NOT GOTTEN PENALIZED AS MUCH AS FACEBOOK. HOW MUCH IS THE ADVERTISING ISSUE AND REGULATORY ISSUES AS WE HEAR ABOUT THE DRUMBEAT TO THE EARNINGS? JONATHAN: LET'S TALK ABOUT THE EQUITY MARKET AND EARNINGS. LET'S TALK WITH A GLOBAL MARKET STRATEGIST. WE START WITH THE GROWTH AT THESE BIG TECH FIRMS. HOW BIG WILL IT BE THIS WEEK?
>> HOPEFULLY, PRETTY BIG. I THINK IT'S ABOUT TOPLINE GROWTH. IT'S OVERWHELMING EVERYTHING ELSE AND IT'S A REMINDER OF THE REPORT THAT THE MARKET SUSPECTS HAVE BEEN UNFOUNDED. REVENUES HAVE BEEN BEATING AND BMI IN THE U.S.
LAST WEEK WAS 57 LAST WEEK AND CHINA WAS 28 PERCENT EXPORT GROWTH WITH BETTER RETAIL SALES. EVERY DAY TELLS YOU IT'S BEARISH WHETHER IT'S EARNINGS GROWTH AND THEY SAY IT'S MISPLACED. THIS IS GOING TO BE ANOTHER QUARTER OF ALL TIME HIGH MARGINS. THE TOP LINE GROWTH IS MORE THAN OFFSETTING ANY PRESSURE. TOM:
HOW DO YOU ADJUST FOR THE WORD STAGFLATION? HOW DO YOU STAY COMMITTED TO A DOUBLE DIGIT CALL ON OCTOBER RETURN GIVEN STAGFLATION GLOOM? >> I DON'T THINK YOU WILL SEE IT. I HAVE OVER DISCOUNTED THIS A LITTLE BIT. THE MARKET HAS BEEN QUICK TO PRICE OUT INTEREST RATE HIKES BY THE FED AND WE WILL SEE WHETHER THAT HAPPENS IN THE MIDDLE OF NEXT YEAR OR NOT. THE MESSAGE FROM CENTRAL BANKS ON INTEREST RATES THIS YEAR IS WHEN THEY DO HIKE, MARKETS GO UP. THERE IS A RELIEF IN DEALING WITH INFLATION AND A RELIEF
THAT THEY FINALLY MOVE AFTER WE DISCOUNT IT. THE FED WILL SET UP WITH INTEREST RATES AND TAPERING WHEN IT STARTS NEXT MONTH. I THINK THE MARKETS WILL MOVE ON FROM THAT STEP LISA: I THINK OF THE OIL COMPLEX AND THE IDEA THAT HIGHER OIL RISES ARE BEING VIEWED AS A TEST EITHER REPRESENTING HIGHER DEMAND OR IT REPRESENTS PEOPLE NOT GETTING THEIR DRILLS UP TO SPEED. HOW DO YOU VIEW THIS AS WE SEE CRUDE CLIMB? >> IT'S A BIT OF A RED HERRING. MANUFACTURING IS A HUGE PERCENTAGE OF GDP RIGHT NOW . IT'S NOT HELPFUL IN THE BROADER NARRATIVE.
LET'S NOT OVERDO IT. I THINK MARKETS ARE PRICING SOME OF THIS IN CERTAINLY ON THE FED YOUR AND INFLATION EXPECTATIONS. WE GO FROM THERE TO STAG ELATION. -- STAGFLATION.
IT YOU BELIEVE -- IF YOU BELIEVE THE FORECAST, THIS IS THE P AND I THINK WE ARE A FAR WAY FROM STAGFLATION. TOM: THIS IS WHAT HAPPENS, YOU START DRILLING EARLY IN THE MORNING JUST TO GET THE EAST WING BUILT OUT. JONATHAN: WE'VE GOT TO GET YOU -- LET YOU RUN, THANK YOU. THE BIG FIVE TECH FIRMS REPORTING THIS WEEK AND WE ARE LOOKING FOR 19% GROWTH. TOM:
I DID NOT KNOW THAT. YOU'RE A FOUNT OF WISDOM. JONATHAN: I JUST REGURGITATE WHAT THE BLOOMBERG TERMINAL SAYS. TOM: OK, I WILL GO WITH IT. IPHONE SALES, WEEKS AGO THEY WERE UP 6.5% AND SOMEBODY ELSE
CAME OUT AND SAID 10%. WE DON'T KNOW GIVEN ALL THE SUPPLY WORRY. IT WILL BE INTERESTING TO SEE. JONATHAN: WE ARE FAMILIAR WITH THE DEMAND SIDE OF THE STORY SO IT WILL BE INTERESTING TO SEE WHAT HAPPENS WITH SUPPLY. FRANCINE LACQUA WITH THE INTERVIEW WITH ITV LATER TODAY.
LISA: THAT'S WHAT WE SAW WITH SNAP LAST WEEK, HOW MUCH DOES THIS GIVE A SENSE OF WHAT WE SHOULD EXPECT FROM FACEBOOK. JONATHAN: DO YOU WANT TO TALK ABOUT MANCHESTER UNITED NOW? TOM: YOU ARE BETTER AT THAT THAN ME. JONATHAN: FROM NEW YORK CITY THIS MORNING, GOOD MORNING TO YOU ALL.
FUTURES ARE POSITIVE AT A 10TH OF 1%. THIS IS BLOOMBERG. ♪ LAURA: CHINA IS WARNING THAT COVID INFECTIONS WILL CLIMB THE NEXT FEW DAYS. OFFICIALS WARNING OF CIVIL AND CRIMINAL ENTITIES FOR ANYONE DISOBEYING THE ORDER. ALMOST 6 BILLION TOWNS FOR THE NATIONAL HEALTH SERVICE IN THE U.K. THERE ARE BACKLOGS CAUSED BY THE COVID PANDEMIC. THE TURKISH LIRA FELL TO A RECORD WITH THE ONGOING DIPLOMATIC PROBLEMS UNDER PRESSURE FOLLOWING A LARGER THAN EXPECTED RATE CUT.
THE PRESIDENT SAID COUNTRIES ARE NO LONGER WELCOME IN TURKEY. PAYPAL SAYS IS NOT PURSUING AN ACQUISITION OF PINTEREST, ENDING DAYS OF SPECULATION OVER A POTENTIAL $45 BILLION DEAL. PAYPAL HAS APPROACHED PINTEREST ON A DEAL. IT WOULD HAVE USED IT PAYPAL'S AMBITION. GLOBAL NEWS, 24 HOURS A DAY, >> WITH 90% OF THE BILL AGREE TO AN WRITTEN, THERE ARE SOME OF THE LAST DECISIONS TO BE MADE. WE WILL PROBABLY HAVE A WEALTH TAX.
>> I WOULDN'T CALL IT A WEALTH TAX BUT IT WOULD HELP GET AT CAPITAL GAINS WHICH ARE AN EXTRAORDINARILY LARGE PART OF THE INCOMES OF THE WEALTHIEST INDIVIDUALS AND RIGHT NOW,. JONATHAN: HOW DO YOU TAX UNREALIZED GAINS? FROM NEW YORK CITY THIS MORNING, GOOD MORNING, YOUR EQUITY MARKET IS UP SIX ON THE SNP AND YIELDS ARE HIGHER BY A COUPLE OF BASES POINTS. CRUDE IS POSITIVE NINE/10 OF 1%. HOW DO YOU TAX UNREALIZED GAINS? TOM: DAN ON, THERE IS A LIST OF REASONS AND THE DESPERATION WE SEE IN WASHINGTON. EMILY WILKINS JOINS US RIGHT NOW. LET'S TAKE US AN IMAGE OF 110 MILLION DOLLARS. ALL YOU NEED TO KNOW IS IT'S JUST WITH JONATHAN FERRO JUST DRIFT -- JUST DESCRIBED. IT IS A PAINTING THAT'S
INTANGIBLE. EMILY WILKINS, HOW DOES SPEAKER -- HOW WILL SPEAKER PELOSI TAX WHOEVER OWNS THIS MONET? EMILY: DEMOCRATS ARE UNDER PRESSURE TO FIGURE IT OUT MOST OF RAISING THE CORPORATE TAX RATE IS OFF THE TABLE, DEMOCRATS ARE SCRAMBLING TO FIND OTHER WAYS TO MAKE OF FOR THE REVENUE TO PAY FOR JOE BIDEN SOCIAL SPENDING AND TAX PLAN. AS WE SEE INFLATION CONCERNS GO UP TODAY, DEMOCRATS ARE TRYING TO MAKE IT VERY CLEAR THAT WHATEVER SPENDING PACKAGE THEY PASSED WILL BE PAID FOR SO THERE'S -- SO THIS REVENUE PART IS INCREDIBLY IMPORTANT TO FIGURE OUT. TOM: EXPLAIN THE PROCESS OF TAXING BILLIONAIRES. HOW DO YOU ACTUALLY GO THROUGH A LEGISLATIVE PROCESS TO PICK ON 200 PEOPLE? EMILY: DEMOCRATS ARE LOOKING AT THOSE WHO ARE MAKING MORE THAN ONE BILLION PER YEAR OR MAKING MORE THAN 100 MILLION OVER THREE CONSECUTIVE YEARS AND THEY WOULD BE SUBJECT TO ANOTHER INCOME TAX. THAT'S ONE OPTION THEY'RE LOOKING AT AND THEY ARE LOOKING AT BOLSTERING THE IRS AS FAR AS MAKING SURE THEY CAN DO A THOROUGH REVIEW OF INDIVIDUALS. THAT'S GETTING CRITICISM FROM
REPUBLICANS WHO SAY THEY ARE AND BOULDERING THE IRS TO EXAMINE THE AVERAGE AMERICAN SPENDING ON -- AND TAXES SO THERE'S LOTS OF OPTIONS ON THE TABLE AND NOT A LOT OF CLARITY AT THIS POINT FOR WHAT OPTIONS DEMOCRATS WILL CHOOSE. LISA: WAS THIS THE MAIN TOPIC OF DISCUSSION AT THE BREAKFASTE YESTERDAY IN DELAWARE? MILY: IT'S NOT THE ONLY THING UP FOR DEBATE STUFF CLIMATE IS A HUGE PIECE OF THIS. ONE OF THE REASONS PRESIDENT BIDEN IS PUSHING SO HARD TO GET THIS DONE IS THAT HE WILL HAVE SOMETHING TO TAKE TO THE U.N. CLIMATE MEETING. THE MAIN CLIMATE PIECE OF THE WILL, THE CLEAN ENERGY PLAN IS NOW OUT OF THE LEGISLATION.
DEMOCRATS ARE TRYING TO THINK OF ANOTHER WAY TO REDUCE EMISSIONS BY 50% BY THE YEAR 2030 WITHOUT THAT PIECE OF THE PLAN. A LOT OF STUFF GOING ON AND SPEAKER NANCY PELOSI SAID THEY ARE 90% OF THE WAY THEY ARE BUT THAT OTHER 10% INCLUDES MANY THINGS THAT NEED TO BE DECIDED ON BEFORE THE END OF THE WEEK. LISA: HOW DO YOU VIEW PROGRESS OTHER THAN NANCY PELOSI SAYING 80 OR 90%? HOW DO YOU JUDGE WHETHER THEY ARE MOVING FORWARD? EMILY: THE MAIN GOAL IS TO GET FROM THE $3.5 TRILLION NUMBER TWO $2 TRILLION. TUITION FREE COMMUNITY COLLEGES
OUT IN THE CHILDCARE TAX CREDIT WILL ONLY BE EXTENDED FOR YEAR AND TO HEAR DEMOCRATS SAY WHAT THE CUTS WILL BE SUGGESTS THERE IS PROGRESS BEING MADE OVER THE FINAL GOAL OF TRIMMING THE BILL. AS YOU POINT OUT, THERE IS A LOT LEFT TO DO AND NOT A LONG TIME TO DO IT. TOM: WHAT IS YOUR WORKING NUMBER RIGHT NOW ON THE SOCIAL LEGISLATION? ARE YOU AT ONE POINT $9 TRILLION OR NORTH OR SOUTH OF THAT? EMILY: YOU HEAR DIFFERENT NUMBERS IN THAT RANGE FROM DIFFERENT LAWMAKERS. TOM: WHERE ARE YOU? EMILY: I JUST TALKED TO THE PEOPLE AND ASK WHAT THEY ARE THINKING. IT WILL BE HARD. YOU SEE HOW MUCH PEOPLE VALUE VARIOUS PROVISIONS IN THE BILL AND HOW DIFFICULT IT IS TO DO THINGS LIKE SCALE BACK ON MEDICARE TO REDUCE PAID FAMILY LEAVE, THOSE DISCUSSIONS ARE NOT INS -- THOSE DECISIONS ARE NOT IN STONE AND WE ARE HEARING PEOPLE COME OUT STRONGLY AGAINST THEM.
THE LOWER THE DEMOCRATS GO, THE MORE THEY INFURIATE THEIR BASE. IT SEEMS LIKE THAT THE LOWER THEY GO, THE MORE DIFFICULT IT WILL BE FOR LAWMAKERS. JONATHAN: WE WILL LEAVE IT THERE AND TALK OF -- TALKING ABOUT ISOLATING THE BASE. LET'S TALK ABOUT THE INDEPENDENCE.
34% OF INDEPENDENTS APPROVE OF THE JOB JOB BIDEN IS DOING BUT THAT'S THE LOWEST OF HIS TERM. THE PRESIDENT STRUGGLING WITH INDEPENDENCE. TOM: TO BE FAIR, WITH THE PREVIOUS ADMINISTRATION, WE LOOKED AT THE POLLS ON AN HOURLY BASIS. THIS GUY HAS HAD A DIFFERENT SCRUTINY THE MAYBE THE PREVIOUS GUY. JONATHAN: AND STRUGGLING. HE IS STRUGGLING IN THE POLLS AS THEY TRY TO REFOCUS THE EFFORT IN WASHINGTON. LISA: HOW MUCH IS IT THE OIL PRICE OR THE IDEA THAT INFLATION IS TICKING UP AND PERHAPS SOME OF THE EARLIER SPENDING WAS PART OF A CONTRIBUTING FACTOR TO THIS? THE PICTURE IS DIFFICULT TO DECIPHER. IS THIS A FEELING THAT WE CAN'T
GET ANYTHING DONE IN WASHINGTON OR REFLECTION OF THE SENTIMENT THAT COMES IN SPOTTY. TOM: CAN YOU ASK LANE HAVE THE MANCHESTER UNITED COAT STILL HAS HIS JOB? JONATHAN: I DON'T KNOW THE ANSWER TO THAT. TOM: HE'S LIKE TED LASSO. JONATHAN: HE LOOKED ABSOLUTELY MISERABLE AND IN THE NEXT SHOT, IT SHOWED THE LIVERPOOL LEGEND LAUGHING HIS FACE OFF. TOM: I CANNOT PRONOUNCE HIS NAME. IS HE THE CLOSEST TO TED LASSO IN SOCCER? JONATHAN: HE'S NOT.
I'M SURE SOME MANCHESTER UNITED FANS FEEL THAT WAY. THAT CLUB HAS ROBBED HIM'S IN THAT TEAM HAS BIGGER ISSUES AS WELL STUFF THE DEFENSIVE PERFORMANCE WAS RIDICULOUS. TOM: WHAT WAS HARRY KANE DOING? JONATHAN: HE WASN'T DEFENDING.
TOM: IT WAS POETRY. JONATHAN: THREE WEEKS OF GAINS ON THE S&P 500, GOOD MORNING, THIS IS BERG SURVEILLANCE. EQUITY FEAR CHOOSE -- EQUITY FUTURES ARE UP. THE BIG FIVE TECH FIRMS WILL BE REPORTING THROUGH THE WEEK. TUESDAY, TENS AND 30'S WITH YIELDS HIGHER IN BONDS.
PEOPLE ARE GETTING INCREASINGLY FRUSTRATED. YOUR FAVORITE CURRENCY PAIR? RECORD WEAKNESS FOR THE TURKISH LIRA. TOM: IT'S THE VIEW OF THE MODERN MIDDLE EAST AND WHEN DOES IT BECOME CONTAGION? JONATHAN: THEY CLEARED OUT THE CENTRAL BANK, THEY CUT WHENEVER ASSETS ARE HIKING AND NOW THEY ARE CLEARING OUT THE AMBASSADORS. TOM: ARE YOU DONE? I'M READY. 220 PAGES AND I WILL SAY IT'S A COVER TO COVER READ, IT'S ON CHINA AND IT'S ABSOLUTELY SPECTACULAR. CONGRATULATIONS. THIS IS THE ESSAY OF THE YEAR BY DR. RAMMER OF THE EURASIA GROUP.
PEOPLE'S AND THE TECHNOLOGY GROUPS INTO INTERNATIONAL RELATIONS. EXPLAIN THE INTERNATIONAL RELATIONS OF AMAZON. >> IAN BREMMER'S CONTRIBUTION IS NOT TO POINT OUT WHAT WE ALREADY KNOW STUFF THESE ARE MAJOR ACTORS IN SHAPING THE WORLD. THEY ARE LIKE STATES THEMSELVES. WHEN YOU LOOK AT THE BIG PLAYERS COME IN AT AMAZON AND ALPHABET AND FACEBOOK AND AMERICAN LEADERS ALSO THE BIG CHINESE TECH COMPANIES. WHICH MODEL OF TECH COMPANY WINS OUT IN SHAPING CYBERSPACE. CAN IT DETERMINE THE ENDERLE -- INDIVIDUAL FUTURE? TOM: THE GENTLEMAN WENT AFTER NATO AND CONTINENTAL EUROPE.
HE IS SCATHING ON THE U.S. APPROACH TO CHINA. HOW REALISTIC IS THE. >> DON MIRSHIMER LOOKS BACK AT U.S.-CHINA STRATEGY AND HE CAUSES THE BIGGEST MISTAKE WE HAVE MADE IN THE HISTORY OF AMERICA. HE SEES THE THING THAT CHINA WOULD BECOME MORE LIBERAL AND MORE ACQUIESCENT AND MORE LIKE THE UNITED STATES. THE OPPOSITE HAS HAPPENED, IS BECOME MORE ASSERTIVE AND IT'S NOT LIBERALIZED ENERGY JINPING HAS THE MOST -- HAS BEEN THE MOST ASSERTIVE CHINESE LEADER SINCE MAO. THIS IS EXTENDED THE RECOGNITION THAT STARTED UNDER
OBAMA AND UNDER PRESIDENT TRUMP, THE IDEA OF CHINA AS OUR MAIN COMPETITOR IN THE FOCAL POINT OF AMERICAN FOREIGN POLICY. THE BIDEN CHINA POLICY HAS BEEN TOUGH AND ASSERTIVE AND HAWKISH IN SOME WAYS AND THAT HAS CHANGED AND AMERICAN FOREIGN POLICY. THIS IS PROBABLY THE MOST BIPARTISAN POLICY WE HAVE. LISA:
IF THIS IS THE NEW APPROACH FOR A LONGER TIME ESPECIALLY WHEN THE TRADE DEFICIT CONTINUES TO DEEPEN BETWEEN THE U.S. AND CHINA? >> THIS IS THE MILLION-DOLLAR QUESTION. WE DECIDE WE NEED TO BE TOUGHER AND WE DECIDED THIS IS THE CENTRAL CHALLENGE FOR AMERICAN FOREIGN POLICY PROPOSAL PARTIES HAVE TO FIGURE OUT WHAT WE DO FROM HERE.
THE CHINESE, AND HIS PARTY WILL PROBABLY NOT GO AWAY AND SHE THING PAYING WILL BE -- NG CHING PING WILL BE IN POWER FOR A WHILE. THERE IS A CLIMATE CHANGE CONFERENCE IN GLASGOW IN A FEW DAYS AND WE HAVE TO FIND A WAY TO COEXIST IN THIS WORLD EVEN FROM THE PERSPECTIVE OF U.S. FOREIGN POLICY WHERE YOU CAN PUSH BACK ON SOME OF THESE WORRYING THINGS YOU SEE FROM CHINA. THERE IS THIS ONGOING QUEST TO FIGURE OUT WHERE THIS ALL GOES AND WHAT GOAL WE ARE AIMING FOR. I WOULD SAY THAT'S THE QUESTION
WE WILL TRY TO FIGURE OUT OVER TIME AND IT'S A QUESTION THAT POLICYMAKERS AND THE BIDEN ADMINISTRATION AND BEYOND WILL BE GRAPPLING WITH. LISA: THE STATE OF AMAZON IS QUITE CLEAR, IS TO MAKE MONEY AND WE SEE THIS IN RECENT SHIFT INTO CHINA DESPITE THE HARDENED I'LL FROM THE UNITED STATES. HOW SHOULD THE U.S. RESPOND IN TERMS OF REGULATING
THE U.S. BUSINESS INTERESTS IN THE CHINA MAINLAND? >> THERE IS THIS NOTION THAT THESE TECH COMPANIES ARE BOTH CRITICAL TO NATIONAL POWER. ONE HUGE PIECE OF THAT IS WHO WILL HAVE THE TECHNOLOGICAL EDGE WHEN IT COMES TO EVERYTHING FROM AI TO QUANTUM COMPUTING TO CYBER TOOLS. AS WE ALL KNOW, THE PRIVATE SECTOR ACTORS ARE CENTRAL IN THAT STEP EVEN AT THIS MOMENT WHEN THESE PRIVATE COMPANIES HAVE BECOME MAJOR GLOBAL PRESENCES IN VARIOUS TECH SECTORS AND AS THEY BECOME THESE HUGE IVA SECTOR PLAYERS, WHEN WE TALK ABOUT U.S.-CHINA PETITION AND U.S. POWER, A LOT OF IT COMES DOWN TO WHO WAS DEVELOPING TECHNOLOGY FASTER. TOM:
I SHOULD ASK YOU OF YOUR KNOWLEDGE BACK TO GEORGE MARSHALL IN CHINA. GIVEN THE ONCE OVER ON TAIWAN AS IT STANDS NOW, HOW SHOULD THE UNITED STATES EJECT A MODERATE GEORGE MARSHALL TO TAIWAN AND MAINLAND CHINA? TOM: THANK YOU FOR BRINGING UP >> GEORGE MARSHALL. WHEN YOU LOOK AT HIS CHINA, IT WAS ALL ABOUT BALANCE. YOU NEED TO BE TOUGH AND CLEAR AND STRONG BUT YOU NEED TO BE AWARE OF RISK AND BALANCE THOSE THINGS AND THAT'S EXACTLY WHAT THEY ARE TRYING TO DO IN TAIWAN TODAY. CHINA HAS BEEN MUCH MORE AGGRESSIVE AT LEAST IN ITS RHETORIC WHEN IT COMES TO TAIWAN AND REUNIFICATION WITH TAIWAN AND THE U.S. IS TRYING TO PROJECT STRENGTH AND PROTECT ITS COMMITMENT BUT WITHOUT GOING SO FAR AS TO INCREASE RISKY BEHAVIOR BY OTHERS.
IT'S A FINE BALANCE AND IS A VERY DANGEROUS SITUATION AND YOU CAN SEE YOU HAVE THE CHINESE IN THE TAIWAN STRAIT SO IT COULD ESCALATE QUICKLY. TOM: THERE WERE DOMESTIC CHALLENGES YEARS AGO TO PRESIDENT XI. WITH ALL YOUR CONTACTS, IS PRESIDENTXI THREATENED BY DOMESTIC AFFAIRS? >> I'M HAPPY TO TELL YOU THAT WE WILL HAVE AN ESSAY IN OUR NEXT ISSUE WHICH WE YOU JUST WHICH YOU WILL GET. I WILL GIVE YOU A PREVIEW.
FROM OUTSIDE, IT'S EASY TO SEEXI JIN PING IS A -- AS THIS INCREDIBLY POWERFUL LEADER. WHEN YOU LOOK AT THE RATE OF THREATS TO HIS POWER BY THE DEMOGRAPHICS AND SOME OF THE THREATS THE CHINESE ECONOMY HAS, HE'S GOT A LOT OF REASONS TO WORRY SO HE'S GOING INTO HIS OWN PARTY CONGRESS AND YEAR TO SECURE HIS OWN POWER FOR ANOTHER FIVE YEARS BUT HE'S GOT A LOT TO DEAL WITH AT HOME AND YOU CAN IMAGINE IF YOU WERE SITTING IN HIS POSITION WHY YOU WOULD FEEL INSECURITY. JONATHAN: GREAT TO CATCH UP. I BELIEVE THE CHINESE COMMUNIST
PARTY IS NOT LEFT THE COUNTRY SINCE THE LOCKDOWN. TOM: IT'S A CITY STATE STRUCTURE AND I'VE STUDIED IT OVER THE YEARS. HE NEEDS TO SUPPORT SHANGHAI AND NEEDS TO SUPPORT THE CITY'S SURROUNDING HONG KONG.
IT'S VERY DIFFERENT THAT OUR FEDERAL VIEW OF THE RED DOORS IN BEIJING. JONATHAN: THERE WAS A REPORT THAT GIGI PING WOULD LIKE A PROPERTY TAX AND BEING PUSHED BACK WITHIN THE PARTY AND THAT'S A LITTLE SIDEBAR. HE DOESN'T ALWAYS GET HIS WAY. TOM: IT FOLDS INTO THIS WEEK FOR BLOOMBERG SURVEILLANCE AND YOU WONDER HOW THESE BIG TECH COMPANIES WILL ADDRESS CHINA, NOT ONLY FOR DEMAND BUT THE MANUFACTURE OF THEIR PRODUCT WITH THE TAIWAN SEMICONDUCTOR FRONT AND CENTER. JONATHAN: FACEBOOK WILL HAVE A DIFFERENT VIEW. TOM: I WAS TRYING TO PULL BACK INTERNATIONAL RELATIONS.
JONATHAN: PRIME MINISTER BORIS JOHNSON IS WORRIED. TOM: WE ARE SETTING UP FOR THIS NOW. I DID A PANEL NEXT NUMBER OF YEARS AGO AT DAVOS AND IT WAS A JUMBLE THERE AND I THINK IT'S MORE OF A JUMBLE NOW. JONATHAN:
FROM NEW YORK CITY THIS MORNING, ANOTHER STEP THIS TIME IN SCOTLAND. EQUITY FUTURES UP MORE THAN ONE SLIGHT -- 1/10 OF 1%. ALL-TIME HIGHS ON THE S&P. FROM NEW YORK CITY, THIS IS BLOOMBERG ALL STOP ♪ ERIK: LAURA: WEST VIRGINIA DEMOCRATIC SENATOR JOE MANCHIN APPEARS TO BE IN LINE WITH THE TAXES ON BILLIONAIRES TO PAY FOR PRESIDENT BIDEN'S SCALED-BACK SOCIAL CLIMATE CHANGE PACKAGE. CNN IS REPORTING HE IS OK WITH THE $1.75 TRILLION PACKAGE. THAT FOLLOWS A MEETING SUNDAY BETWEEN PRESIDENT BIDEN AND SENATE MAJORITY LEADER CHUCK SCHUMER AT THE PRESIDENT'S HOME IN DELAWARE. THE U.S. LABOR SHORTAGES WILL PROCESS IN
2022 AND CONTRIBUTE TO A PERMANENT INCREASE IN BUSINESS COSTS. THAT'S ACCORDING TO THE LATEST SURVEY FOR BUSINESS ECONOMICS. WORKERS SAY THEY EXPECT THE SHORTAGES TO END SOMETIME NEXT YEAR. 14% THE SHORTAGES WILL LAST INTO 2023 OR LATER. THERE ARE LIKELY INCREASE AT HSBC AND THERE WILL BE A PRETAX PROFIT THAT ROSE BEATING ESTIMATES. REVENUE CLIMBED SLIGHTLY IN THE THIRD QUARTER.
MICHAEL JORDAN'S EARLIEST KNOWN REGULAR-SEASON SHOES SOLD AT SOTHEBY'S FOR $1.47 MILLION. HE WORE THE SHOES IN HIS FIFTH NBA GAME DURING HIS ROOKIE SEASON IN 1984 AND THAT'S THE MOST EXPENSIVE SNEAKERS EVER SOLD AT AUCTION BUT NOT THE PRICIEST SHOES EVER SOLD. THERE WAS A $1.8 MILLION OF THE KANYE WEST SNEAKERS. >> WE REALLY SHOULDN'T BE CONFUSING ALL THREE PRODUCTS. THE MIX-AND-MATCH MEANS THAT UNDER THE SITUATION IF YOU WERE ORIGINALLY VACCINATED WITH ONE PRODUCT, COULD YOU AND WOULD IT BE APPROPRIATE AND SAFE AND EFFECTIVE TO GET BOOSTED WITH THE THIRD SHOT WITH DIFFERENT BRANDS BY ANOTHER PRODUCT.
THE ANSWER IS IT'S PERFECTLY FINE. JONATHAN: DR. FAUCI FROM OVER THE WEEKEND, GOOD MORNING. YOUR EQUITY MARKET IS UP SIX ON THE S&P 500. YIELDS ARE HIGHER AFTER TRAVELING LOWER THROUGH FRIDAY'S SESSION. IT'S A BLACKOUT TIME FOR THE FEDERAL RESERVE, NO FED SPEAK OF THIS WEEK. YOU WILL GET A FED DECISION NEXT WEEK. TOM: GOING INTO OUR SPECIAL
PROGRAMMING FOR THAT EVENT, IT WILL BE MOST INTERESTING. BRENT CRUDE IS ABOVE $86 PER BARREL. JONATHAN: IT'S PICKING UP. TOM: THERE IS THE TRUE JOY FROM CANADA AS THEY ANNOUNCE VERY SHORTLY THAT ALL KINDS OF TROUBLE CAN RERECORD -- CAN REOCCUR. DOVETAIL THAT WITH THE VACCINATION OF OUR CHERUBS. JOHNS HOPKINS BLOOMBERG SCHOOL JOINS US NOW. DR., I LOOK AT THIS AND AS YOU MENTIONED, IT IS ABOUT A
GAINING OF CONFIDENCE. WE GET CONFIDENCE WHEN WE SEE CANADA TRULY OPEN UP AND WE LEARN CONFIDENCE WHEN WE DO SOMETHING NEW IN VACCINATION SUCH AS OUR CHERUBS. >> IN GENERAL, THE PROJECTION THAT THE PANDEMIC IS GOING DOWN IS GOING DOWN. THE QUESTION IS HOW LOW IT WILL GO WHEN THAT WILL DEPEND ON HOW MANY PEOPLE GET VACCINATED AND WHETHER PEOPLE CAN TAKE PRECAUTION WHERE THE CASES ARE GOING UP. JONATHAN:
DO YOU THINK DR. FAUCI IS HELPING WHEN HE IS IN THE MEDIA EVERY OTHER WEEKEND? >> I THINK MANY PEOPLE HAVE COME TO RELY ON HIM. I THINK PEOPLE WOULD BE ANXIOUS IF HE DIDN'T SHOW UP TO TELL US WHAT'S GOING ON. THERE ARE OTHER GOOD MESSENGERS. IT WOULD PROBABLY BE HELPFUL TO BE TALKING A LITTLE BIT AHEAD ABOUT WHAT THINGS ARE COMING AND I THINK THEY'VE DONE A BETTER JOB OF THAT. I THINK WHAT WILL BE IMPORTANT
IS EXPLAINING NOT JUST THE DECISION FOR THE PEDIATRIC VACCINE BUT HOW ADDITIONAL DATA WILL BE GATHERED SO PEOPLE WHO ARE RELUCTANT INITIALLY, CAN GET QUESTIONS ANSWERED. LISA: HOW IMPORTANT IS TOMORROW'S FDA MEETING? >> IT'S IMPORTANT BECAUSE IN THIS COUNTRY, WE DON'T DO WELL OF PEOPLE JUST ANNOUNCE THINGS. THE CHALLENGES WE HAVE HAD THIS YEAR BECAUSE THINGS HAVE BEEN ANNOUNCED BEFORE THEY BEEN EXPLAINED. WITH AN ADVISORY COMMITTEE, PEOPLE TALK OVER THE DATA AND TALK ABOUT DIFFERENT THINGS AND INFORMS JOURNALISTS AND PEOPLE WHO ARE WATCHING CAREFULLY BUT MORE GENERALLY, IT'S GOING TO CREATE THIS IDEA THAT WE'VE LOOKED AT THE DATA BEFORE MAKING A DECISION TO GO FORWARD AND I THINK THAT WILL BE HELPFUL. A KEY POINT IS THAT IT'S NOT A POINT IN TIME DECISION, IT'S A CURRENT DECISION WHICH I THINK WILL LIKELY BE TO MOVE FORWARD BUT AT THE SAME TIME, THEY WILL COLLECT MORE DATA AND AS THAT HAPPENS IN AS MANY KIDS GET VACCINATED. LISA:
THE QUESTION WILL BE WHAT IS THE NEW NORMAL WE SHOULD BE COMFORTABLE WITH. WHAT IS THE APPROPRIATE NEW NORMAL WE SHOULD BE LOOKING TOWARD AND WHEN DO WE GET THERE? >> I THINK WE ARE STARTING TO GET THERE IN MANY PARTS OF THE WORLD. FOR ME, GOING BACK TO SCHOOL AND I TEACH IN PERSON, WE STILL HAVE MASKS INSIDE THE SCHOOL OF PUBLIC HEALTH.
BUT AS THE NUMBER OF CASES IN THE COMMUNITY GOES DOWN, THOSE PRECAUTIONS MIGHT GO AWAY. I THINK WE NEED MORE FLEXIBILITY, RECOGNIZING WHEN THERE IS A SURGE IN THE COMMUNITY, WE SHOULD DO MORE I THINK MASKS WILL BE LIKE UMBRELLAS WHERE IT MAKES SENSE TO WEAR THEM AND THAT COULD BE TO PROTECT US AGAINST THE FLU. TOM: DO WE HAVE LESS HOTSPOTS NOW? >> IN GENERAL, YES BUT THERE ARE CERTAINLY SOME LACES LIKE IN PARTS OF MINNESOTA, THIS IS A VIRUS THAT WILL FIND THE PLACES THAT ARE NOT VACCINATED IN THOSE PLACES DON'T HAVE A LOT OF HOSPITALS AND YOU WILL SEE A REAL HEALTH CARE CRISIS ON THAT CONTINUES TO HAPPEN ON A SMALL SCALE. MANY PEOPLE GOT DELTA OVER THE SUMMER IN THE PLACES THAT WERE ALREADY HIT HARD. WE DON'T KNOW EXACTLY WHAT IS
HAPPENING WITH THE VIRUS AS IT MAY BE MUTATING MORE. WE HAVE A HIGH PERCENTAGE OF PEOPLE VACCINATED, THERE WILL BE THIS RISK AND WE WILL HAVE TO REMAIN FLEXIBLE. JONATHAN: THANK YOU FOR YOUR TIME. BEIJING IS THE FOCUS AND PEOPLE ARE THINKING ABOUT SUPPLY-SIDE ISSUES AND THINKING ABOUT THE PANDEMIC STEP BEIJING HAS ALL BUT BANNED ENTRY FOR PEOPLE ENTERING THE COUNTRY ON FROM ALMOST ANYWHERE. THE RESTRICTIONS ARE TIGHTER. TOM: WE ARE SEEING CANADA OPEN UP AND REAL SUCCESSES WHERE WE LIVE AS WELL AND THE HOTSPOTS JUST MENTIONED. THE REST OF THE WORLD IS A
COMPLETELY DIFFERENT STORY WITH NATIONAL HOTSPOTS AND IT'S ALMOST EVERY NATION FOR ITSELF RIGHT NOW. JONATHAN: SECRETARY JANET YELLEN SAYS THESE ISSUES WILL PERHAPS GET HER BY THE MIDDLE OF NEXT YEAR. A LOT OF THAT WILL BE PINNED ON ONE COUNTRY AND THINGS GETTING BETTER IN PLACES LIKE CHINA. NOT TO MENTION THE PORTS IN CALIFORNIA. LISA:
IT'S BECOMING A NATIONAL DEBATE, THE IDEA THAT THEY DON'T WANT TO SEE ANYTHING IN HONG KONG AND ON THE MAINLAND. HOW DO YOU DOVETAIL THIS INTO SUPPLY CHAINS GETTING EVENED OUT? THERE WAS A RECENT NABE SURVEY THAT SAID NO BUSINESS EXPECTED THESE ISSUES TO DISSIPATE THIS YEAR. JONATHAN: THE MESSAGING HAS SHIFTED A LITTLE BIT FROM SECRETARY YELLEN AND CHAIRMAN POWELL.
IT'S JUST BEEN PUSHED DOWN A LITTLE BIT MORE. WHAT HAPPENS AS THE YEAR PROGRESSES NEXT YEAR? TOM: THE SOLE SINGLE SOLUTION IS TO PUSH IT OUT. JONATHAN: THAT WAS BEAUTIFUL. >> INFLATION GOES TO THE POINT WHERE THE FED HAS TO RAISE RATES, THEY ARE OUT. IF THE STOCK MARKET CORRECTS,
THEY ARE NOT COMING BACK. >> INFLATION IS A FOCUS BUT THE MARKET IS -- BUT THE MARKET HAS PRICED IN A GOOD PART OF THAT. >> INFLATION EXPECTATIONS ARE RISING IN THE TWO MEN IS THE EXPECTATION. >> A RISING INTEREST RATE IS A SIGN OF CONFIDENCE IN THE ECONOMY, NOT A >> >> PROBLEM FOR STOCKS. THIS IS BLOOMBERG SURVEILLANCE. JONATHAN:
FROM NEW YORK CITY, FROM OUR AUDIENCE WORLDWIDE, GOOD MORNING, THIS IS BLOOMBERG SURVEILLANCE LIVE. YOUR EQUITY MARKET IS UP FIVE IN THE S&P 500. WE'VE GOT TO PUT THE OBSESSION WITH THE FED TO ONE SIDE AND FOCUS ON BIG TECH TOM: TOM:.
NOT ONLY EARNINGS SURPRISING OF 117 COMPANIES BUT THERE IS THE IDEA THAT REVENUES ARE DOUBLE DIGIT, NOT NOMINAL GDP. WE SEE ANOTHER QUARTER OF PRETTY DARN GOOD SALES GROWTH. JONATHAN: ALARMED BY THE DROP IN TEEN USAGE ON FACEBOOK, LEAVING INVESTORS IN THE DARK IS A BIG STORY. THE STOCK IS NEGATIVE ABOUT 1%. LISA: THE IDEA THAT TEENAGERS ARE SPENDING LESS TIME ON FACEBOOK IS AMONG THE DRUMBEAT OF DISCLOSURES FOR FRIEND -- FROM FRANCIS HOGAN, THE IDEA OF THE FUTURE FOR A FACEBOOK THAT HAS BEEN AT THE CENTER OF DISCOURSE FOR THE UNITED STATES THAT HAS REMAINED OUT OF THE PURVIEW OF REGULATORS FOR SO LONG? JONATHAN: IN MARCH, GROUP OF RESEARCHERS INSIDE THIS BOOK COMPILED A REPORT FROM ONE OF THEIR MOST POWERFUL EXECUTIVES. THE PAPER INCLUDED A SERIES OF CHARTS AND DATA HIGHLIGHTING A TROUBLING TREND THAT SEEMS TO BE ACCELERATING.
FACEBOOK WAS LOSING POPULARITY WITH TEENS AND YOUNG ADULTS. TOM: DID THEY GO TO INSTAGRAM? THAT'S WHAT I OBSERVED AT HOME. IT'S VERY GOOD RESEARCH. WHERE DID THEY GO? JONATHAN: HERE ARE THE NUMBERS. TEENAGERS TIME ON FACEBOOK WAS DOWN 16% YEAR OVER YEAR.
PAUL SWEENEY IS WITH US. A TOXIC ATMOSPHERE THIS BEEN REPORTED ON THE LAST COUPLE OF YEARS FOR THIS COMPANY. WHAT ARE WE LEARNING THIS MORNING? >> WHEN WE THINK ABOUT SOCIAL MEDIA COMPANIES, THE OPPOSITION THEY PURPLE DESPERATE THEY PROVIDE FOR THEIR ADVERTISES WE WILL GIVE YOU A BIG AUDIENCE AND THEY DO. AND WE WILL GIVE YOU A LOT OF ENGAGEMENT.
OUR AUDIENCE SPENDS A LOT OF TIME ON OUR PLAT FORMS WHETHER IT'S FACEBOOK OR INSTAGRAM OR WHATSAPP. TO THE EXTENT THAT CERTAIN DEMOGRAPHICS LIKE TEENS ARE SPENDING LESS TIME, THAT'S AN ISSUE. THAT GOES TO THEIR ABILITY TO GENERATE ADVERTISING REVENUE. THIS IS SOMETHING THAT I THINK WILL BE AN ISSUE FOR THIS COMPANY GOING FORWARD AND THEY WILL HAVE TO MANAGE THEIR WAY THROUGH IT WITH THEIR ADVERTISING PARTNERS. THE STOCK IS UP 18 OR 19% THIS YEAR SO IT HAS NOT BEEN THAT BIG OF AN ISSUE YET BUT YOU HAVE TO FEEL THIS IS WHAT HE FUNDAMENTAL TO THE ORDER OF THEIR BUSINESS. TOM: IAN BREMMER IS MY ESSAY OF THE YEAR. IT'S THE POWER OF BIG TECH.
DOES ANYBODY AT FACEBOOK HEADQUARTERS GIVE A DAM WITH THE MEDIA SAYS ABOUT THEIR DEMOGRAPHICS AND DYNAMICS? >> I THINK THEY DO AND THEY DEPEND ON ADVERTISERS AND ADVERTISER, IF IT DOESN'T WANT TO BE ASSOCIATED WITH THEIR PLOT OR THEM, THAT'S AN ISSUE. TOM: THEY COULD GO TO INSTAGRAM. >> INSTAGRAM IS OWNED BY FACEBOOK THAT IT'S NOT NECESSARILY OUT THERE BUT I THINK THEY NEED TO GET A HANDLE ON THIS. CURRENT MANAGEMENT TEAM DOES NOT SEEM TO HAVE THE ABILITY TO REALLY GET AHEAD OF THIS VERY MUCH. THEY DON'T PERFORM THAT WELL IN FRONT OF THE REPRESENTATIVES IN WASHINGTON, D.C. SO I THINK THAT WILL BE AN
ISSUE. YOU WOULD LIKE TO THINK FACEBOOK COULD GET IN FRONT OF THIS BECAUSE IT GOES TO THEIR CORE PROPOSITION WHICH IS TO DELIVER A HUGE AUDIENCE FOR ADVERTISERS AND THAT'S BEEN THE STORY. IF KIND OF GOT FACEBOOK AND GOOGLE AND MAYBE AMAZON A LITTLE BIT YOU'RE LEFT WITH FACEBOOK AND THE PROPERTIES THEY HAVE. LISA: WHAT DO PEOPLE WANT TO HEAR FROM MARK ZUCKERBERG TODAY AFTER THEY DELIVER THEIR EARNINGS? >> THEY WILL WANT TO HEAR THEY HAVE A HANDLE ON THEIR BUSINESS AND THEY ARE ALLOCATING A LOT OF RESOURCES AND TRYING THEIR BEST TO DEAL WITH THESE ISSUES AND THERE ARE A BUNCH OF ISSUES AS IT RELATES TO DATA PRIVACY, HATE SPEECH, THE ELECTIONS COMING UP AGAIN WILL BE A BIG ISSUE FOR THIS COMPANY.
WHEN IT FIRST HAPPENED WHEN FACEBOOK WAS LINKED TO SOME ELECTION MISINFORMATION, THE RESPONSE FROM FACEBOOK WAS WE WILL HIRE 10,000 FISH AND A PEOPLE AND ALLOCATE BILLIONS OF DOLLARS OF TECHNOLOGY TO ROOT OUT THESE ISSUES AND HERE WE ARE A COUPLE OF YEARS LATER AND WE STILL HAVE THESE ISSUES. WHATEVER THEY HAVE DONE, IT HAS NOT BEEN ENOUGH AND I THINK INVESTORS WILL WANT TO HEAR WHAT ELSE WILL THEY DO. JONATHAN: THANK YOU, THE STOCK IS DOWN ABOUT 1.1%.
COMING UP ON THIS PROGRAM, WE WILL CATCH UP WITH MICHAEL NATHANSON OF FACEBOOK. AS YOU POINT OUT, THE STOCK IS DOING OK. TOM: I WANT TO TALK ABOUT NETFLIX AND STREAMING. PAUL SWEENEY HAS BEEN OUT FRONT ON WHAT WE ARE DOING WITH STREAMING, WHAT ARE WE WATCHING, WE DON'T HAVE RATINGS ON THIS STUFF. JONATHAN: WHAT MATTERS FOR A IS AD SPEND. EVERY TIME WE HAVE THIS CONVERSATION, THE AD SPEND IS NOT OLD BACK. -- HAS NOT PULLED BACK. TOM:
DO YOU KNOW ANYBODY ON FACEBOOK? I DON'T KNOW ANYBODY ON FACEBOOK. JONATHAN: I DON'T USE IT ANYMORE. LISA: I DON'T USE INSTAGRAM EITHER. TOM: PRIYA SPENDS EIGHT HOURS A DAY ON FACEBOOK. JONATHAN: IT'S THE FED BLACKOUT BUT THE -- BUT WHAT DID WE LEARN FROM CHAIRMAN POWELL? >> I THINK HE IS MANAGING EXPECTATIONS THAT EVEN THOUGH THEY HAVEN'T PULLED BACK FROM THE TALK OF FACE -- OF INFLATION, THEY ARE TELLING US INFLATION SUPPLY CHAIN INITIALS WILL LAST FOR A WHILE. HE DIDN'T TALK ABOUT HIKING
SOONER SO THE MARKET HAS REPRICED THE HIKING CYCLE SIGNIFICANTLY AND WHAT WE HEARD FROM SECRETARY POWELL WAS THAT INFLATION SUPPLY CHAIN ISSUES ARE LIKELY TO LAST WELL INTO 2022 SO THEY ARE TRYING TO TELL US THIS WILL BE WITH US FOR A WHILE IN THE FED IS GOING TO TAPER VERY SOON SO WE CAN EXPECT AN ANNOUNCEMENT NEXT WEEK BUT THE HIGHS ARE STILL FURTHER OUT ON THE MARKET IS CALLING THE FEDS BLUFF. THEY ARE SAYING THEY WOULD BE FORCED TO START HIKING MUCH SOONER. I THINK INFLATION WILL DECELERATE AT SOME POINT NEXT YEAR. WE THINK THERE IS A LOT OF LABOR MARKETS LACK SO WE ARE PUSHING BACK AGAINST THIS MOVE. LISA:
WHAT WILL IT DECELERATE TO? THERE IS THE IDEA THAT PEOPLE ARE SEEING A LOWER INFLATION RATE AND NOW BUT NORTH OF 2.5%. AT WHAT POINT DOES THE FED START TO PAY ATTENTION TO THAT AND TREAT THAT AS THE RIGHT WAY TO VIEW LONGER-TERM INFLATION? >> WE HAVE BEEN USED TO THE LAST 20 YEARS OF MUCH LOWER IN ELATION. MAYBE THE NEXT DECADE WILL BE 2% TYPE OF INFLATION. I THINK WHAT THE FED WILL WATCH
FOR HIS LONG-TERM INFLATION EXPECTATIONS. ALSO THEY WILL BE LOOKING AT WAGE INFLATION. HAS THE LABOR MARKET STRUCTURALLY CHANGED? THE WILL THAT REMAIN OR WILL PEOPLE COME BACK? PEOPLE HAVE LEFT THE LABOR FORCE AND A LOT OF THEM WILL COME BACK. SOME HAVE RETIRED AND SOME WILL COME BACK IN SAVINGS WILL RUN OUT.
AS WAGES START TO STABILIZE OR HAD LOWER, WAGE INFLATION COULD GIVE THE FED CONFIDENCE THAT THERE IS LABOR MARKETS LACK IN RAISING INTEREST RATES TO SOLVE ACE OF I CHAIN ISSUE IS NOT THE SOLUTION. RAISING RATES TO SOLVE THE LABOR MARKET BEING TIGHT, ABSOLUTELY, THAT WILL BE THE RESPONSE. I THINK IT WILL COME DOWN TO THE LABOR MARKETS LACK STOP -- LABOR MARKET SLACK. TOM: THAT'S WHERE I WANTED TO GO.
WHEN YOU FOLD IN YOUR INTEREST RATE WORK WITH ECONOMIST WORK, DUSEK -- DO YOU SUGGEST A BREAK AT TRUE NOMINAL AND POSITIVE REAL WAGE INFLATION OR CAN YOU NOT SAY THAT? >> WE PREFERRED THE ECI OVER THE AVERAGE EARLY EARNINGS. WHEN PEOPLE MOVE JOBS, THEY SHOULD EARN A HIGHER RATE AND ECI LOOKS AT PEOPLE WHO HAD THE SAME JOB OVER THE LAST FIVE YEARS. I THINK THE IDEA OF HOW THE LABOR MARKET IS STRUCTURING CHANGE, THE ECI DOES A MUCH BETTER JOB AND WE THINK PEOPLE WILL RETURN BUT IT WOULD TAKE A WHILE. THERE ARE FRICTIONS IN THE LABOR MARKET SO WHEN PEOPLE COME BACK, ECI IS A MUCH MORE COMPREHENSIVE MEASURE. WE DON'T SEE WAGE INFLATION PICKING UP AT ALL FOR A WHILE WHICH IS WHY WE WILL HAVE THE FIRST FED RATE HIKE IN EARLY 2023. I THINK IT'S VERY ATTRACTIVE AND I THINK PEOPLE SHOULD NOT TAKE DURATION RISK. SHOULD MOVE OUT FROM BUYING
TENDS INTO FIVES AND THREES AND I THINK THE FED IS A LONG WAY FROM HIKING RATES. JONATHAN: YOU THINK WE HAVE PRICED TOO MUCH INTO THE BELLY OF THE CURVE? >> WE PRICED A LOT INTO THE FRONT AND IN THE MARKET IS CAN USE THAT THE FED MIGHT HAVE TO START HIKING BUT CAN THE ECONOMY WITHSTAND MUCH HIGHER INTEREST RATES? WOULD THE FED WANT TO RAISE RATES IF THEY CAN ONLY RAISE IT TO 1.5? I THINK THE BELLY MAY HAVE MORE ROOM TO RIDE AT THE FRONT AND WHICH IS ABOUT THE START OF THE CYCLE. JONATHAN: THANK YOU. TD SECURITIES JOINING US. HERTZ IS SET TO BUY 100,000 TESLAS. THAT'S A BIG PURCHASE, 4.2 BILLION DOLLARS WORTH OF TESLA.
TOM: IN A HUGE SYMBOL OF EVERY DAY BECOMING MORE OF A CAR COMPANY. TO ME, IT DOESN'T MATTER, I CANNOT GET IN A TESLA, THEY ARE WORSE THAN A CAMRY FOR HEADROOM. I'M EITHER WALKING OR GETTING SOMETHING I CAN GET INTO. JONATHAN: I DON'T THINK THAT WILL HELP TESLA RIGHT NOW. THEY ARE UP BY 3.47% IN THE PREMARKET. LISA:
HERTZ WILL ALSO BUILD OUT THE ELECTORATE CAR CHARGING NETWORK. HOW CAN PEOPLE ADAPT TO AN ELECTRIC VEHICLE WORLD WHEN THEY DON'T HAVE THE CHARGING STATIONS TO KEEP THEMSELVES GOING SO THIS PROVIDES SOME OF THE ANSWER TO THAT PERHAPS AND IT RAISES WESTON'S ABOUT THE IDEA OF WHAT IS THE NEW MODEL OF RENTING CARS? IS IT ABOUT HAVING AN OH THOMAS CAR SHOWING UP? HOW MUCH DOES THIS -- DOES THIS DISRUPT AN INDUSTRY AND ELIMINATE THE NEED FOR DRIVERS? JONATHAN: I PAY A MONTHLY SUBSCRIPTION FOR AN APP FOR MERCEDES. I COLLECT THE CAR AND IT ARRIVES FOR ME TOMORROW MORNING AND DRIVES ME TO WORK STOP THAT'S THE PERFECT SET UP, $500 PER MONTH AND 10 TOM: TOM: THOUSAND MILES WORTH OF TRAVEL. I'M TRYING TO LOOK ON THE NEW YORK STATE CHARGING VEHICLE MAP.
THERE IS A FAIR NUMBER OF CHARGING STATIONS WHERE THE FANCY PEOPLE LIKE YOU LIVE. THERE ARE TWO CHARGING STATIONS IN SOHO, SOUTH OF HOUSTON STREET. JONATHAN: WHERE IS THAT? WHY WOULD YOU TELL PEOPLE WHERE I LIVE? TOM: I'M NOT.
HE LIVES LIKE 42 BLOCKS IN A CONCENTRIC CIRCLE. JONATHAN: THANK YOU. I GIVE UP WITH YOU. UP 1/10 ON THE S&P 500, ALL-TIME HIGHS ON THE S&P 500 TOM: STEP THERE IS A JONATHAN: JONATHAN: CHARGING STATION NEAR GOLDMAN SACHS. DO I LIVE NEXT DOOR TO THEM? JUST GIVE THEM A DOOR NUMBER. THIS IS BLOOMBERG.
♪ LAURA: CHINA'S WARNING THAT NEW COVID-19 INFECTIONS WILL INCREASE IN THE COMING DAYS AFTER THE LATEST OUTBREAK WHICH IS FUELED BY THE DELTA VARIANT AND CONFINED TO 11 PROVINCES THAT LOCKED DOWN HUNDREDS OF THOUSANDS OF PEOPLE IN THE NORTH ASKING THEM TO STAY HOME STUFF OFFICIALS ARE WARNING OF CIVIL AND MOLD PENALTIES FOR ANYONE CROSSING THE BORDER. THE U.K. CHANCELLOR WILL ANNOUNCE BILLIONS OF POUNDS FOR THE U.K. HEALTH SERVICE AS THE U.K. NUCLEAR BACKLOGS CAUSED BY THE PANDEMIC.
IT'S ONE OF THE FEW MAJOR GIVEAWAYS LIKELY IN THEIR FINANCIAL STATEMENT. IT'S COMPLICATED BY A STUTTERING ECONOMIC EVERY WITH FASTER INFLATION AND A SURGEON VIRUS CASES. THE TURKISH LIRA FELL TO A RECORD AMID THE COUNTRY'S ONGOING DIPLOMATIC SPAT.
THERE WAS A LARGER THAN EXPECTED RATE CUT LAST WEEK IN THE SEA SLID AGAIN AFTER PRESIDENT ERDOGAN SAID THE INVESTORS OF 10 NATIONS INCLUDING THE U.S., GERMANY AND FRANCE WERE NO LONGER WELCOME. THEY ARE DEMANDING THE RELEASE OF A PROMINENT IS THIS MAN AND PHILANTHROPIST STOP PAYPAL SAYS IT IS NOT GOING THROUGH WITH THEM ACQUISITION OF INTEREST.
IT WOULD'VE BEEN A 45 LIEN DOLLAR DEAL. THERE WAS A POTENTIAL DEAL. IT WOULD HAVE BOOSTED THE PAYPAL AMBITION TO BECOME THE NEXT GLOBAL SUPER APP. THIS IS BLOOMBERG.
♪ >> WE ARE GOING THROUGH INFLATION THAT IS HIGHER THAN AMERICANS HAVE SEEN IN A LONG TIME BUT WE HAVEN'T LOST CONTROL. I EXPECT THESE BOTTLENECKS TO SUBSIDE AND AMERICANS WILL RETURN TO THE LABOR FORCE AS CONDITIONS IMPROVE. JONATHAN: THE TREASURY SECRETARY SPEAKING ON CNN STUFF YOUR EQUITY MARKET IS UP SIX ON THE S&P 500 AND WE VANCE TO LITTLE MORE THAN 1/10 OF 1%. THIS ADMINISTRATION IS HAVING A CONVERSATION IT DOESN'T WANT TO HAVE WHICH IS A WIN FOR THE REPUBLICANS. EVERY TIME THEY GO ON AIR IN
THE UNITED STATES ON BROADCAST TELEVISION OR THE RADIO, IT'S A CONVERSATION ABOUT INFLATION AND THAT'S EXACTLY THE CONVERSATION THE REPUBLICAN PARTY TO HAVE. TOM: THE KEY WAY TO MEASURE THIS IS THE DIFFERENCE IN EACH CITY. THE HOUSTON ASTROS PLAY THE BOSTON BRAVES COMING O COMING OFF. -- COMING UP. JONATHAN: CHAIRMAN POWELL IS MORE ANXIOUS ABOUT INFLATION.
TOM: IT'S ABOUT THE MARKET PRICING. A SCATHING ESSAY THIS MORNING ON SEVEN REASONS WHY THE BILLIONAIRE TAX WILL GO DOWN IN FLAMES LIKE EVERY OTHER TAX AS WELL. HOW LIKELY IS IT WE WILL SEE A BILLIONAIRE OR MILLIONAIRE TAX? EMILY: POTENTIALLY, THIS WILL FACE CONSTITUTIONAL CHALLENGES AND HOW DO YOU HAVE A VALUE FOR SOMEONE WHO HAS A COIN COLLECTION AND WHAT HAPPENS IF THOSE VALUES GO DOWN? WE DON'T KNOW YET THE PLAN OF THIS. THEY ARE DISCUSSING IT BUT WHAT WE KNOW IS THAT SENATOR KYRSTEN SINEMA IS NOT ON BOARD WITH THE ORIGINAL ALSO TO FUND THIS SOCIAL SPENDING PLAN WHICH WAS THE CORPORATE INCOME RATE AND COULD INCREASING THOSE RATES ON TAXES SO THEY ARE LOOKING AT THIS POTENTIAL TAX BUT THERE IS STILL SO MANY QUESTIONS. IT FEELS LIKE A LITTLE BIT OF PROGRESS IN TERMS OF THE TALKS BUT IT WILL BE A WHILE TO SEE PEN TO PAPER. THIS IS A TAX THAT HAS NOT BEEN VETTED AND SOMETHING THAT'S NOT DONE ANYWHERE ELSE IN THE WORLD. I WILL BE CYNICAL THAT THIS
WILL GET DONE IN A COUPLE OF DAYS. JONATHAN: THE NUMBER 700 IS IMPORTANT. WHEN YOU HEAR PEOPLE IN THE DEMOCRATIC PARTY TALK ABOUT BILLIONAIRES, IT IS AS IF THERE ARE CITIES OF THEM. THERE ARE 700 OF THEM. MANY ARE CRITICIZING THE EFFORT NOW. THE GOAL WAS TO GET BILLION ERRORS, 700 THEM -- 700 THEM 700 OF THEM IN THE UNITED STATES. I KEEP HEARING LET'S GO AFTER
THE BILLION ERRORS IN SIMULTANEOUSLY, I HEAR LET'S TAX PEOPLE EARNING MORE THAN 400 K. IF YOU WANT TO GO AFTER THE SO-CALLED BILLION EUROS, THAT DOESN'T GET IT DONE. THERE ARE ONLY 700 BILLIONAIRES IN THE UNITED STATES OF AMERICA ACCORDING TO FORBES. THESE ARE THE CONVERSATIONS WE'VE GOT TO HAVE. TOM: I THOUGHT OF THE DEFINITIVE BOOK WE HAD A DECADE OF GO. BEHAVIOR IN TAXES.
WHAT'S THE BEHAVIOR HERE? HOW DESPERATE ISE THE DEMOCRATIC LEADERSHIP? MILY: INCREDIBLY DESPERATE TO GET THIS BILL PASSED. PRO PUBLIC A DID A REPORT ON THIS LOOKING AT IRS DATA OVER THE SUMMER AND YOU HAVE THE LIKES OF JEFF BEZOS WITH NO INCOME TAX AND THAT'S WITH THE LIKES OF SENATOR WARREN AND SENATOR RON WYDEN WHO WILL DRAFT THIS FOR BOZO AND THAT'S WHAT THEY ARE TRYING TO GET AT. IT'S NOT ABOUT THE ENTIRE COUNTRY PAYING ITS FAIR SHARE. IT'S ABOUT THOSE ESCAPING THE
INCOME TAX RATES AND IF THEY ARE, HOW DO YOU GO AFTER THAT UNREALIZED CAPITAL GAINS? THE DEMOCRATS WORKED OVER THE ENTIRE WEEKEND. THE NOTICE WE HAVE THIS MORNING IS THAT SENATOR JOE MANCHIN HAS BEEN ABLE TO COME UP AND HAS LIFTED HIS LINE IN THE SAND 1.5 TO 1.75. THERE IS STILL A NUMBER OF ISSUES AT PLAY BUT IT'S A CRITICAL WEEK. THE PRESIDENT WANT SOMETHING BEFORE HE GOES TO EUROPE AND WHEN HE COMES BACK I'M A HE FACES TO IMPORTANT GOVERNOR RACES IN THE DEMOCRATIC PARTY. LI THEY WANT TO GET A FRAMEWORK DONE BY OCTOBER 31 STOP IS THE SELF-IMPOSED DEADLINE AND ON THE HIGHWAY FUNDING SO THEY WANT BILLIONS OF DOLLARS INSTEAD OF DOING A SEPARATE FUNDING MEASURE TO EXTEND THE FUNDING TO PASS THE BIPARTISAN INFRASTRUCTURE AND THEY WANT TO CAMPAIGN IN VIRGINIA, CAMPAIGN IN NEW JERSEY AND HELP THE DEMOCRATS AND SAY WE ARE MOVING FORWARD, THEY HAVE WIDE BIPARTISAN SUPPORT BUT IT'S A GOOD QUESTION, IS IT ENOUGH TO GET THROUGH? THERE ARE STILL TONS OF QUESTIONS. IF YOU GET JOE MANCHIN AND
KYRSTEN SINEMA ON BOARD WITH THIS TAX PROPOSAL, WHAT HAPPENS WHEN IT COMES TO MEDICARE? THE PRESIDENT SAID THAT DOESN'T WILL NOT LOOK LIKE IT WILL BE THE EXPANSION OF VISION, DENTAL AND HEARING THAT MANY PROGRESSIVES WANTED. WHAT'S -- WHAT HAPPENS TO SENATOR BERNIE SANDERS? THE BASIC NEEDS OF THESE CENTERS NEED TO BE MET TO GET A FRAMEWORK AGREED-UPON. JONATHAN: THANK YOU AS ALWAYS. THIS TOPIC IS DIFFICULT AND COMPLEX IN ITS MORE COMPLEX THAN THE CONVERSATION IN WASHINGTON WOODS JUST. IT'S NOT JUST ABOUT TAXING THE RICH. KNOWS PEOPLE ARE SALARIED AND EARNING OVER 400,000 ARE PROBABLY AT A 50% TAX. WE ARE TALKING ABOUT THE SO-CALLED BILLIONAIRES.
THERE ARE ABOUT 700 BILLIONAIRES IN THE UNITED STATES. WHAT ARE THE POLICIES THAT WILL EXTRACT MORE TAX FROM 700 PEOPLE? IT'S NOT A PUSH UP IN THE HIGHER RATE OF INCOME TAX, IT'S SOMETHING ELSE. TOM: LET'S TAKE IT TO THE ULTIMATE BILLIONAIRES.
THE QUEEN MOTHER DIED AND QUEEN ELIZABETH ESCAPED ALL SORTS OF TAX. I'M SURE THROUGH PROPER BRITISH LAW AND FANCY LAWYERS AND NANCY TRUSTS. IT'S AN AGELESS THINGS FOR PEOPLE WITH A LOT OF MONEY.
JONATHAN: JUST PUSHING UP THE INCOME TAX THRESHOLD IS NOT WHAT GETS IT DONE. TOM: I SEE DESPERATION HERE. AND A LOT OF UNINTENDED CONSEQUENCES. JONATHAN:
YOU ARE NOT THE ONLY ONE, GOOD JONATHAN: COMING BACK FROM ALL-TIME HIGHS FROM THE CLOSE ON FRIDAY, BREAKING THAT SEVEN DAY WINNING STREAK ON THE S&P 500. ADVANCING A LITTLE MORE THAN 1/10 OF 1%. THE NASDAQ HIGHER BY A QUARTER OF A PERCENT. THE RUSSELL, UNCHANGED, LOOKING AHEAD TO A WEEK FULL OF REPORTS. WHAT A WEEK WE HAVE COMING UP,
CHAIRMAN POWELL IN THE FED DECISION ON WEDNESDAY, PAYROLLS ON FRIDAY. YIELDS HIGHER AGAIN BY THREE BASIS POINTS ON 10'S, 30'S. IT IS THE TWO-EURO SEGMENT OF THE CURVE I WANT TO TALK ABOUT. 46 BASIS POINTS.
IF YOU TOOK THE CHART OF THE TWO-YEAR YIELD OVER THE LAST FIVE YEARS, WE HAVE BARELY TAKEN A BITE OUT OF IT. WE HAVE A LIFT BUT NOWHERE NEAR WHERE WE WERE GOING INTO THE PANDEMIC. WE HAD TO CUT RATES SO AGGRESSIVELY. WHAT IS INTERESTING ABOUT THIS PICKUP IS THE DEGREE OF PUSHBACK WE GOT FROM CHAIRMAN POWELL. NOT MUCH.
THE FOCUS SEEMS TO BE MORE ANXIOUS ON INFLATION, LESS UNEMPLOYMENT. YOU WONDER WHAT MEANS FOR THE NEWS CONFERENCE NEXT WEEK. , THEY PUSHBACK AGAINST RATE PRICING? TOM: THEY WILL MEET FOR MORE DATA AND TO GET TO THE NEWS CONFERENCE, THEY HAVE TO SEE THAT DATA. JONATHAN: THEY WILL GET MORE DATA THE FRIDAY AFTER THE DECISION. TOM: THAT IS -- THOSE OF YOU ON RADIO, THE CHART THAT JONATHAN HAD WAS EXTRAORDINARY SHOWING WHAT THE NORMAL WAS IN THE TWO-YEAR YIELD WE REMEMBER. THE EQUITY DERIVATIVES STRATEGIST, RESEARCH NOTES ARE SOPHISTICATED AND HAVE LOADS OF GREEK LETTERS.
SHE DISTILLS IT DOWN TO SHUT UP AND HAULED OR SHUT UP AND BY. AMY WU, YOU ARE ALL FIRST DERIVATIVE THIS EARNINGS WEEK. WHY? AMY: THIS IS REALLY THE WEEK THE MARKET REPORTS. YOU BASICALLY HAVE A DIME BAG ATTACK -- THE MAGNETEK NAMES AND THEY MAKE UP 20% OF THE S&P. FOLKS USING OPTIONS RIGHT NOW PARTICULARLY FOR THIS FRIDAY'S EXPIRATION, THEY ARE EITHER TRYING TO HEDGE THIS MOVEMENT IN PRICE WHICH COULD RESULT IN MOVEMENT IN THE MARKET, OR THEY ARE DOING IT INDIVIDUALLY. THESE MEGA-CAP NAMES ARE DRIVING THE MARKET OVERALL BECAUSE OF THEIR SIZE. JONATHAN: I WANT TO GIVE OUR AUDIENCES
THAT IDEA OF WHAT IS IN YOUR RESEARCH NOTES. I WANT TO TALK ABOUT THE DELTA, RATE OF CHANGE, WHAT YOU SEE IN THE CROSS MOMENTS. TAKE APPLE. IF SOMEBODY WANTS TO GO LONG OR HEDGE THEIR LONG, HOW RICH IS THE DERIVATIVES MARKET FOR APPLE? TO BE CLEAR, DELTA IS NOT AN AIRLINE. AMY: WELL, IT IS AN AIRLINE, BUT IN THE CONTEXT OF OPTIONS, IT IS THE CHANGE OF PRICE TO STOCK PRICE. THAT IS BUT WE ARE LOOKING FOR ESPECIALLY WHEN THERE IS AN EVENT. SURPRISINGLY, APPLE OPTIONS ARE NOT THAT EXPENSIVE. WE COMPARE IT TO THE MARKET,
COMPARE IT TO ITS OWN REALIZED VOLATILITY OVER TIME. HEADING INTO EARNINGS, APPLE OPTIONS ARE FAIRLY INEXPENSIVE. THE AMOUNT OF DEMAND FOR HEDGES IS ACTUALLY DECLINING, WHICH WE THINK IS INTERESTING, GIVEN IT WAS AT THE CENTER OF THE STORM AROUND THE PRIVATELY ISSUE THAT LED PEOPLE INTO SNAP AND OTHER TECH NAMES WE SAW LAST WEEK. LISA: DOES THAT MEAN PEOPLE ARE
PRETTY OPTIMISTIC HEADING INTO THESE TECH EARNINGS, THAT THEY THINK A LOT OF THE BAD NEWS AND POTENTIAL DISCREPANCIES STEMMING FROM THESE SUPPLYING TO INTEREST RUCTIONS HAVE BEEN PRICED IN? AMY: WHEN WE LOOK TO THE OPTIONS MARKET, THAT WAS ONE OF MY TAKEAWAYS. ONE EXAMPLE, SNAP IS DOWN 26% ON EARNINGS, BUT IF YOU LOOK TO THE DERIVATIVES MARKET, THE DEMAND OR CALL IS NOW OUTWEIGHING THE DEMAND FOR PUTS. THAT IS A FAIRLY ABNORMAL EVENT, ALWAYS HAPPEN IN OPTIONS, IS SIGNALING AN EXTREME LEVEL OF BULLISHNESS.
WE ARE SEEING THAT IN FACEBOOK, APPLE. PEOPLE CAN BE WRONG IN THE OPTIONS MARKET, JUST AS THEY ARE IN THE STOCK MARKET, BUT THE SENTIMENT IS CERTAINLY SHIFTING MORE BULLISH. LISA: ONE OF THE WONDERFUL THINGS YOU DO IS TRACK THE CORRELATIONS, TRY TO UNDERSTAND THE TRIGGERS. HERE WE ARE HEADING INTO TECH EARNINGS WHEN THERE IS INCREASING BEARISHNESS AROUND BONDS, DURATION.
TYPICALLY, TECH HAS BEEN VIEWED AS THE MOST DURATION-HEAVY AREA. HOW DO YOU DEAL WITH CORRELATION WHEN THE TECH SECTOR HAS BEEN POSTING BLOCKBUSTER EARNINGS? AMY: GREAT QUESTION, ALSO THE VIEW RELATED TO THAT, TECH IS AT THE CENTER OF THE VALUE TRADE COMPARED TO BONDS. CORRELATIONS WILL TEND TO BREAK DOWN A LITTLE SIMPLY BECAUSE WE ARE GOING INTO EARNINGS, AND EXTREMELY IN USED SOCRATIC EVENT. IF THERE WAS ANY TIME FOR THAT
DISPERSION TO APPEAR ON THE MARKET, IT WOULD BE NOW. AS WE HEAD INTO YEAR END, THAT WILL BE SOMETHING PEOPLE WATCH CLOSELY, WHERE TECH IS RELATED TO THE BOND RELATED ETF'S. JONATHAN: CAN YOU DO A DERIVATIVE ANALYSIS OF A MOONSHOT, UP ON 800, DOWN ON TESLA, UP THIS MORNING ON THE ARTICLE. CAN YOU DO A GREEK LETTER ANALYSIS OF SOMETHING AS ORIGINAL AS TESLA? AMY: I LOVE TESLA FROM AN OPTIONS PERSPECTIVE. IT HAS BECOME ITS OWN SPECIAL ANIMAL.
WE HAVE A THOUSAND STOCKS THAT WE WANT ALL THE TIME AND OCCASIONALLY WE HAVE TO PUT TESLA IN ITS OWN BUCKET. ONE THING I WILL SAY ABOUT TESLA, IF EQUITIES SKEW, WHAT I THINK IS INTERESTING, IT IS STILL PRETTY HIGH, AND EARNINGS ARE OVERPAYMENT WHAT IS THE MARKET CONCERNED ABOUT ON TESLA? JUST BEFORE I STARTED THE CALL WITH YOU, WE SAW THE HERTZ ANNOUNCEMENT ON TESLA, SO MAYBE THAT CHANGES TODAY. . JONATHAN: WHAT IS SO IMPORTANT, AND I DON'T WANT TO GET TO IN THE WEEDS HERE, BUT IF YOU HAVE A CONTINUED HEDGE VALUE TO TESLA, AT SOME POINT, THEY HAVE TO RECOVER. IS THERE A CONVEXITY OPPORTUNITY FOR TESLA, WHERE WE SEE AN ACCELERATION AS BUSTED TRAITS ARE COVERED? AMY: YOU ARE REFERRING TO WHAT PEOPLE CALL THE GAMMA HAMMER, WHERE A LOT OF TIMES YOU SEE THAT INVERSION IN SKEW. CALL DEMAND OUTWEIGHING THAT PUT DEMAND. FORCING DEALERS, WHO ARE NOT TRYING TO TAKE DIRECTIONAL BETS, TRY NOT TO TAKE BETS ON DELTA, JUST FACILITATE PEOPLE ON BOTH SIDES.
IF THERE IS EXTREME CALL BUYING, YOU CAN SEE A SITUATION BECAUSE OF THAT GAMMA SQUEEZE IN TESLA. LISA: I WOULD LOVE TO GET A GAUGE OF HOW ACTIVE TRADERS HAVE BEEN GOING INTO EARNINGS SEASON. THE IDEA THAT WE HAVE GOTTEN SO MANY OF THE GAINS, THE YEAR IS ALMOST OVER, ESPECIALLY AS PEOPLE RECALIBRATE THEIR EXPECTATIONS FOR FED POLICY.
HOW MUCH OF AN IDEA IS THIS THE LAST ROW BEFORE PEOPLE PACK UP THEIR BAGS AND GO ON VACATION? AMY: WE HAVE SEEN A LOT OF INSTITUTIONAL ACTIVITY, HEDGING IN 111'S. A LOT OF THAT IS RELATED TO HOW LARGE THE MARKET CAP IS REPORTING. WE HAVE SEEN THE TRADITIONAL YEAR AND HEDGING. BUT WE HAVE SEEN A DROP OFF IN RETAIL DEMAND.
RETAIL WAS BUSY TREATING CALL OPTIONS, IN DEGREES LAST YEAR DURING THE PANDEMIC, THAT HAS DROPPED. THEY ARE BUSY TRADING CRYPTOCURRENCIES NOW, BUT THAT ACTIVITY HAS LESSENED MORE THAN AT THIS POINT LAST YEAR. JONATHAN: THANK YOU AS ALWAYS, AMY WU SILVERMAN. A BIG WEEK FOR BIG TECH.
MICROSOFT, UP BY 39% TODAY. BARELY GETS A LOOK IN ANYMORE. JONATHAN: SOME -- TOM: SOME DO IT ONE YEAR, PAUSE, AND DO IT ANOTHER YEAR. THE PEOPLE WE WERE TALKING ABOUT, EVEN DOUG CHASSE, I CANNOT SAY ENOUGH ABOUT BRINGING IN AMY WU TRULY TALKING GREEK, THE VALUE FOR GLOBAL WALL STREET. SOME OF THE STUFF SHE WAS TALKING ABOUT IS INSIDE BASEBALL. JONATHAN:
SHE MENTIONED HOW MUCH SHE LIKES TESLA, UP 4% IN THE PREMARKET. GREAT STORY FROM OUR COLLEAGUE ERIK SCHATZKER. HERTZ PLACED AN ORDER FOR 100,000 TESLAS IN THE FIRST STEP AN AMBITIOUS PLAN TO ELECTRIFY ITS CAR FLEET. THAT IS A $4.2 BILLION PRICE TAG, ACCORDING TO THE STORY. LISA: THE BIGGEST SINGLE PURCHASE OF ELECTRIC VEHICLES EVER, AND THE IDEA OF HERTZ OUT OF BANKRUPTCY, THEY GET SOME MONEY AND THEY MAKE A BOLD INVESTMENT.
FRANKLY, INVESTORS CELEBRATE THAT. PEOPLE ARE LOOKING FOR BULLS AT A TIME WHEN MONEY IS FREE. JONATHAN: HOW DOES GENERAL MOTORS OR OTHERS RESPOND? TOM: CLEARLY, THEY ARE WORKING ON IT RIGHT NOW. JONATHAN: THE PORSCHE OFFERING OUTSELLING THE 911. THOSE TWO NAMES HAVE HAD A GREAT RUN THIS WEEK, SO MUCH SO, WE ARE NOW DISCUSSING DAN IVES COVERING THESE NAMES NOW.
TOM: I HAVE A CLOSING MARKET CAP ON TESLA OF UNDER $1 TRILLION. WE MAY BE A TRILLION DOLLARS BY THE END OF THE DAY. JONATHAN: COMING UP ON FACEBOOK LATER, MICHAEL NATHANSON, FOUNDING PARTNER AND SENIOR RESEARCH AL ANALYST. THIS IS BLOOMBERG. ♪ >> WEST VIRGINIA DEMOCRATIC SENATOR JOE MANCHIN APPEARS TO BE ON BOARD WITH WHITE HOUSE PROPOSALS FOR NEW TAXES ON BILLIONAIRES AND CORPORATIONS TO HELP PAY FOR PRESIDENT BIDEN'S SCALED-BACK SOCIAL SERVICES AND CLIMATE CHANGE PACKAGE. CNN IS REPORTING MANCHIN IS OK WITH A $1.75 TRILLION PACKAGE, FOLLOWING A MEETING ON SUNDAY. U.S.
LABOR SHORTAGES WILL PERSIST INTO 2022 AND CONTRIBUTE TO A PERMANENT INCREASE IN BUSINESS COSTS, ACCORDING TO THE LATEST SURVEY BY THE NATIONAL ASSOCIATION FOR BUSINESS ECONOMICS. 36% OF RESPONDENTS ARE CURRENTLY EXPERIENCING RECORD SHORTAGES AND SAY THEY EXPECT THEM TO END AT SOME POINT NEXT YEAR. NONE SEE IT HAPPENING BEFORE THE END OF 2021.
A BIG MOVE FOR CAR RENTAL COMPANY HERTZ, WHICH IS BARELY FOUR MONTHS OUT OF BANKRUPTCY. HERTZ PLACED AN ORDER FOR 100,000 TESLAS. IT IS REPORTEDLY THE FIRST STEP OF AN AMBITIOUS STEP TO PROVIDE ITS RENTAL CAR FLEET. SOURCES SAY IT IS THE SINGLE LARGEST PURCHASE EVER FOR ELECTRIC VEHICLES AND AMOUNTS TO ABOUT $4.2 BILLION IN REVENUE FOR TESLA. HSBC IS OUTLINING A BULLISH OUTLOOK IN THE MONTHS AHEAD YIELD HIGH INTEREST RATES. THEY ALSO SAID IT WOULD KICKOFF
A HIGHER-THAN-EXPECTED SHARE BUYBACK PROGRAM. ADJUSTED PRETAX PROFIT ROSE IN THE QUARTER, BEATING ESTIMATES. REVENUE CLIMBED SLIGHTLY FOR THE FIRST TIME IN TWO YEARS. GLOBAL NEWS 24 HOURS A DAY, ON-AIR, AND ON BLOOMBERG QUICKTAKE, POWERED BY MORE THAN 2700 JOURNALISTS AND ANALYSTS IN OVER 120 COUNTRIES. I AM LAURA WRIGHT. THIS IS BLOOMBERG. >> THERE IS THIS DANCE BETWEEN WHAT OFFICIALS AT THE CENTRAL BANK WANT TO SEE HAPPEN AND WHAT THE MARKET WANT TO SEE HAPPEN, AND SOMETIMES THEY ARE PERFECTLY ALIGNED, LIKE THEY WERE EARLIER THIS YEAR ABOUT TRANSITORY INFLATION, AND SOMETIMES THEY ARE NOT. JONATHAN:
WE HAVE SEEN THIS MOVIE BEFORE, TENSION BETWEEN WHAT THE MARKET IS PRICING, GUIDANCE FROM THE CHAIRMAN OF THE FEDERAL RESERVE. TOM KEENE, JONATHAN FERRO, LISA ABRAMOWICZ. FUTURES ADVANCING ABOUT .1%. YIELDS LOWER FROM FRIDAY. CRUDE HEADING NORTH AGAIN, UP BY 1.24%. WTI, $84.80. TOM:
THAT IS CLOSER TO 90 THAN 80. RIGHT NOW, WE ARE GOING TO TALK TO DAVID WILSON ABOUT THE FORMER PRESIDENT AND THE IMPORTANT REPORTING OF ERIK SCHATZKER ON TESLA AND THE REST BE MADE WHAT DO WE HAVE THIS MORNING? DAVE: DONALD TRUMP'S MEME WORLD BABY THERE WAS A DEAL LAST WEEK FROM A SPECIAL PURPOSE ACQUISITION COMPANY SPAC, DIGITAL WORLD ACQUISITION TO TAKE OVER THIS SHOW WE FLEDGLING MEDIA BUSINESS. YOU SAW THE SHARES TAKE OFF ON THURSDAY AND FRIDAY BUT IT WAS NOT JUST THE DIGITAL WORLD. YOU ALSO HAD THIS OTHER COMPANY THAT HAD WORKED FOR TRUMP'S REELECTION CAMPAIGN IN 2020, SOFTWARE MAKER, AND ITS SHARES WERE UP EVEN MORE. THEN YOU LOOK AT OTHER SPACS TIED TO THE CEO OF DIGITAL WORLD, AND THEY WERE RISING AS WELL. BENESSERE CAPITAL IS HIGHER AGAIN TODAY.
HE IS THE CEO OF THAT COMPANY. THEN THERE IS YUNHONG INTERNATIONAL, WHICH HE ALSO RUNS. IT IS NOT JUST ONE MEME STOCK BUT FIVE COMING OUT OF THIS SINGLE DEAL. TOM: GREATLY APPRECIATE IT THIS MORNING. IMPORTANT REPORTING ON TOO MANY
LEVELS. WE WILL NOT REVIEW THE REPORTING OF ERIK SCHATZKER ON TESLA, HERTZ, BUT WE WILL DRIVE FORWARD WITH THE STORY WITH MR. SCHATZ KER. CONGRATULATIONS ON THE
REPORTING. I CALCULATE $1000 A SHARE ON TESLA VEHICLES TO A $1 TRILLION COMPANY. ERIK: IT WILL NOT JUST BE HERTZ. EVENTUALLY, AVIS, MAYBE NOT YOUR CAR BECAUSE THEY ARE OWNED BY VOLKSWAGEN, BUT THEY WILL ALL MOVE TOWARD EV'S. IF YOU BELIEVE HERTZ, BY ORDERING TESLA'S, IS CHANGING THE GAME FOR THE RENTAL CAR INDUSTRY, I WILL NOT PUT A VALUATION ON TESLA BUT YOU KNOW THERE IS MORE DEMAND BEHIND THIS. LISA: HOW INSTRUMENTAL IS IT FOR OTHER COMPANIES TO BUILD OUT THE ELECTRIC NETWORK? THAT WAS PART OF YOUR REPORTING, THAT HERTZ WOULD INDEPENDENTLY INVEST IN THOSE CHARGING STATIONS THAT ARE KEY TO HAVING TESLA BE MORE MAINSTREAM. ERIK:
HERT HAS TO BUILDZ ITS OWN NETWORK OF CHARGERS BECAUSE YOU CANNOT TAKE A RENT-A-CAR AND HAVE TO DRIVE IT TO A TESLA SUPERCHARGER IN ORDER TO HAVE IT READY FOR THE CUSTOMER. THE IMPLICIT QUESTION EMBEDDED IN WHAT YOU ASK IS WHETHER THESE CHARGERS THAT HERTZ IS BUILDING WILL BECOME A PART OF A NATIONWIDE, AT LEAST HERE IN THE U.S., AND BROUGHT A MORE CONTINENTAL, SOMETHING SIMILAR HAPPENING IN EUROPE, NETWORK AVAILABLE TO OTHER USERS. MAYBE THEY ARE NOT EVEN HERTZ CUSTOMERS OR EVEN TESLA OWNERS, BUT THEY ARE MORE COMPANIES COMING OUT WITH EV'S. WE KNOW THAT FORD HAS AMBITIOUS PLANS. GENERAL MOTORS IS AN EARLY
PLAYER BUT HAS NOWHERE NEAR AS AMBITIOUS PLANS. EVENTUALLY, IN THEORY, PEOPLE WILL NEED TO HAVE ACCESS TO CHARGERS THE SAME WAY THEY HAVE ACCESS TO MULTIPLE BRANDS OF GASOLINE. LISA: HE JUST EMERGED FROM BANKRUPTCYRTZ DAVID WHERE DID THEY GET THE MONEY FROM THIS? ERIK: THE RENTAL CAR INDUSTRY HAS TURNED AROUND DRAMATICALLY SINCE MAY OF 2020, WHEN HERTZ FILED FOR BANKRUPTCY PAYMENT BACK THEN, THERE WAS NO DEMAND. BUSINESS TRAVEL WAS GONE, LEISURE TRAVEL WAS GONE. HERTZ HAD A BAD BALANCE SHEET. AVIS, ENTERPRISE DID NOT FILE FOR BANKRUPTCY. BANKRUPTCY, AS WE KNOW, CAN BE A BEAUTIFULLY CLEANSING PROCESS.
NOW HERTZ IS A MUCH MORE NUBILE COMPANY, HAS NEW OWNERSHIP. THE FORMER CEO OF FORD IS ITS INTERIM CEO. THIS IS AN ILLUSTRATION OF WHAT A NEWLY EMPOWERED COMPANY CAN DO IN AN OLD COMMODITIZED INDUSTRY. TOM: YOU AND I CANNOT GET INTO A TESLA. WHAT IS THE EV CAR THAT WILL ACTUALLY BE THAT FIRST AMERICAN CAR? NOT THE CAR OF THE ELITE? ERIK: IT IS THE MODEL 3, AND THAT IS WHY HERTZ IS ORDERING 100,000 OF THEM. THIS IS THE EV EQUIVALENT OF LET'S SAY A CHEVY AND PAULA BUT IS MUCH NICER TO DRIVE. TOM:
WHAT IS MARY BARRA DOING THIS MORNING? ERIK: FIGURE OUT GM'S STRATEGY FOR THE MIDDLE OF THE MARKET. RIGHT NOW THEY ARE PLAYING WITH THE VOLT AT THE BOTTOM END OF THE MARKET. THE ONLY PLACE THAT HERTZ CAN GO FOR 100,000 EV'S IS TESLA. THEY ARE THE ONLY ONES WITH THE CAPACITY AND THE CAR. TOM:
FABULOUS NEWS OUT OF CANADA THIS WEEKEND, THEY ARE SAYING COVID IS DONE. WHAT IS CANADA DOING DIFFERENT THAN THE UNITED STATES? ERIK: TORONTO FEELS LIKE IT IS THREE MONTHS BEHIND THE UNITED STATES, NEW YORK CITY. BUT I AM NOT SO SURE. WE CAN TALK ABOUT A COVID SCORE.
CANADA IS DOING BETTER. ONTARIO ONLY HAS 325 CASES A WEEK, BUT LOOK AT THE ECONOMY. LIFE IN CANADA HAS NOT RETURNED NEARLY AS MUCH BACK TO NORMAL AS IT HAS HERE. THAT IS THE BALANCE THAT WE ARE TRYING TO WEIGH. TOM:
WE HAVE TO LEAVE IT HERE. WE ARE RUNNING OUT OF TIME. HE HAD TICKETS AT THE GARDEN. JONATHAN: GREAT STORY, FANTASTIC REPORTING. THE STOCK IS UP BY A LITTLE
MORE THAN 4%. STANDING DOWN A $1 TRILLION MARKET CAP. WE HAVE THE REAL PROSPECT OF A $1 TRILLION EQUITY. TOM: YOU BROUGHT THAT UP A COUPLE OF TIMES WHEN YOU LOOK AT THE DEBT STRUCTURE, BUT WHAT IS SO IMPORTANT HERE IN THE INDUSTRY, IS WHEN YOU ARE WRONG. I WAS WRONG ON TESLA, SCHATZKER WAS RIGHT. WHO ELSE WAS RIGHT?
JONATHAN: I WAS DEAD WRONG. TOM: SCHATZKER DRIVES THE STOCK TO 950. JONATHAN: 4.3%. KEEPS GETTING IT DONE. TOM KEENE, JONATHAN FERRO, LISA ABRAMOVITZ. I THINK HE IS AN ICE HOCKEY
PLAYER. THAT IS JUST A GUESS. YIELDS UP TWO BASIS POINTS ON 10'S. EQUITY FUTURES UP MORE THAN .1%. FROM NEW YORK, THIS IS BLOOMBERG. >> THERE IS THIS DANCE BETWEEN WHAT OFFICIALS AT THE CENTRAL BANK WANT TO SEE HAPPEN AND WHAT THE MARKET WANTS TO SEE HAPPEN.
>> INFLATION IS A FOCUS, BUT THE MARKET HAS PRICED A GOOD AMOUNT OF THAT. >> THE MARKET IS TRADING DEFENSE MAXIMUM EMPLOYMENT STRATEGY. >> I THINK THERE IS A LIMIT TO THIS.
>> IF YOU CANNOT MEET DEMAND, WHY ADVERTISE? CUT YOUR AD SPENDING. TOM: GOOD MORNING, EVERYONE. LATER IN THE HOUR, $86 A BARREL OIL. THAT WILL BE AN IMPORTANT
CONVERSATION. LOOKING AT EQUITIES, EARNINGS. IN A FEW MINUTES, WE CONSIDER THE BREAKEVENS, THE SOPHISTICATED PART OF JUDGING INFLATION TO THE YIELD MARKET, AND HOW IT FALLS INTO EVERYTHING ELSE WE DO. JON FERRO, WHAT ARE YOU FOCUSED ON IN THAT LANDSCAPE? JONATHAN: TECH EARNINGS. IF YOU CANNOT MEET DEMAND, MY
ADVERTISE, CUT AD SPEND. WHAT A PHENOMENAL LINE FROM JONATHAN GOLUB. MAY BE REFLECTED IN THE NUMBERS THAT WE SEE FROM ALPHABET, FACEBOOK. AND THAT APPLE, ON OCTOBER 28. OUR SUPPLY CHAIN DIFFICULTIES HOLDING BACK THEIR ABILITY TO MEET THE IPHONE DEMAND? TOM: WE WILL FOLD THAT IN -- T IS A LOT OFHERE THAT SPEAK. JONATHAN:
THIS IS A WEEK WHERE PEOPLE ARE VERY GRATEFUL THAT WE GET NO FED SPEAK FOR A WEEK, AND THEN CHAIRMAN PANEL NEWS CONFERENCE. TOM: GOOD MORNING, LISA. IN WASHINGTON, RIGHT NOW, IT IS EXTRAORDINARY. I HAVE NO IDEA WHAT THEY WILL DO OTHER THAN TAX YOU AND THE REST OF THE BILLIONAIRES PAYMENT LISA: THERE IS AN ISSUE WITH FISCAL STIMULUS BUT ALSO NEXT WEEK, HOW MUCH HAVE WE CALCULATED WHAT TAPERING LOOKS LIKE? HOW MUCH HAVE WE UNDERSTOOD WHAT BOND PURCHASES DOES TO A MARKET THAT CANNOT SEEM TO GO DOWN TOO MUCH? I THINK THIS WILL INCREASINGLY BE THE DEBATE AS JAY POWELL TRIES TO DIVORCE THE CONVERSATION FROM TAPER TO RATE HIKING. TOM: ARE WE GOING TO GET TAX LEGISLATION? I CANNOT FIGURE IT OUT. LISA: I CANNOT UNDERSTAND HOW THEY ARE TRYING TO GET POLICY VERSUS A TALKING POINT THEY CANNOT COALESCE AROUND. WHAT IS THE THRESHOLD TO
FINALLY VOTE ON THE INFRASTRUCTURE PLAN THAT EVERYONE AGREES UPON? I DON'T EVEN UNDERSTAND THAT. TOM: I DON'T UNDERSTAND LIVERPOOL-MAN U. THE DESPERATION IN WASHINGTON IS EXTRAORDINARY. JONATHAN: IS IT DESPERATION OR A REALIZATION THAT WE NEED TO FIND OUT HOW TO GET MORE TAXES FROM BILLIONAIRES, AND HOW MANY BILLIONAIRES THERE ARE? THERE ARE ABOUT 700 IN AMERICA.
LET'S HAVE A CONVERSATION ABOUT HOW TO GET MORE TAX. I CAN GET TO THE POINT WHERE THE FACADE OF THE ARGUMENT BREAKS DOWN. TAX THE RICH. ARE THEY? MAKE SURE THEY PAY THEIR FAIR SHARE. WHAT IS FAIR? TOM: WE ARE TAXING MONETS. LET DO THE DATA CHECK. FUTURES UP SEVEN. VIX, 15.84.
I WOULD LOOK FOR THAT TO BE LOWER BUT IT IS NOT. JONATHAN: WTI APPROACHING 85. TOM: UP 1.1%. WEST TEXAS UP 1.3%. IN THE METALS COMPLEX, IT HAS COME OUT OF THE ELEVATOR. JONATHAN: LET'S GET TO OUR FIRST GUEST, SHAHID LADHA. THE AMOUNT OF DAYLIGHT AT THE
MOMENT BETWEEN THE GUIDANCE WE ARE GETTING FROM THE CHAIRMAN OF THE FEDERAL RESERVE AND WHAT HAS BEEN PRICED IN THIS RATES MARKET. SHAHID: THANK YOU, JON. POWELL AND THE FED ARE INCREASINGLY OPEN TO THE PROSPECTS OF PERHAPS A QUICKER HIKING AND TIGHTENING CYCLE THAT MANY THOUGHT POSSIBLE SOME MONTHS AGO. THE LACK OF PUSHBACK LAST WEEK FROM POWELL, I THINK, UNDERLINES IT. MARKETS ARE PRICING A LITTLE AROUND TWO RATE HIKES NEXT YEAR. THERE SHOULD BE FOUR LIVE MEETINGS BETWEEN NOW AND DECEMBER. PERHAPS WE COULD GET AS MANY AS FOUR, NOT 25 BASIS POINT RATE HIKES. JONATHAN: DO YOU THINK A MEETING NEXT
YEAR COULD BE A LIE ONE? DO YOU THINK THE FEDERAL RESERVE, THE FIRST MEETING FOR RATE HIKES COULD COME AS SOON AS THE SUMMER OF NEXT YEAR? SHAHID: ABSOLUTELY. EVERY MEETING AFTER THAT COULD STAY LIVE. WE HAVE BEEN MORE AND MORE CONDITIONED TO EXPECT A SLOW HIKING CYCLE, BUT IF INFLATION IS DIFFERENT THIS TIME, PERHAPS THE FED NEEDS TO MOVE QUICKER. WE DID GET BIGGER INCREMENTS OR MORE FREQUENCY IN 25 BASIS POINT SITE DELIVERY. LISA: BEFORE WE GET THERE, THE FED
WILL START TAPERING THEIR BOND PURCHASES. I'M UNCLEAR HOW MUCH AGREEMENT THERE IS ON HOW MUCH INFLUENCE THERE IS THAT THE BOND PURCHASES HAVE HAD ON THE $20 TRILLION U.S. BOND MARKET. WHAT IS YOUR SENSE OF THE INFLUENCE AND AFFECT DRAWING SOME OF THAT -- WITHDRAWING SOME OF THAT? SHAHID: WHEN YOU LOOK AT 2020, THE INFLUENCE WAS CLEAR. THERE WAS SO MUCH QE. NET SUPPLY, DESPITE THE EXPLOSION OF THE DEFICIT WITH PANDEMIC RELATED STIMULUS, SET SUPPLY IN STIMULUS WAS EVEN. SINCE THEN, THERE HAS BEEN AN IMPACT, BUT THE FLOW OF QE HAS NORMALIZED TO ABOUT $80 BILLION A MONTH ON TREASURIES, $40 BILLION A MONTH ON MBS. IN THE MEANTIME, TREASURY
SUPPLY HAS INCREASED FROM ABOUT 230 TO $370 BILLION A MONTH. IN OTHER WORDS, THE FED REMAINS THE LARGEST BUYER OF TREASURIES RIGHT NOW. BUT SOME DEGREE OF ALMOST COORDINATED STIMULUS, AND WHAT SEEMS LIKE A COORDINATED EXIT FROM STIMULUS, SHOULD MAKE THE PART OF NEXT MONTH'S SUPPLY TO THE MARKET, THE PAPER THE MARKET NEEDS TO BUY, RELATIVELY
2021-10-28 12:30
Show Video
Other news