2022 State of Latino Entrepreneurship Forum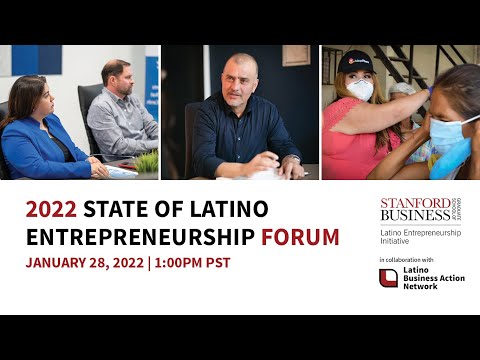 Show Video
[MUSIC] State of Latino Entrepreneurship Forum, I am Arturo Cazares [LAUGH] Welcome, everyone. And thank you for joining us for the seventh annual State of Latino entrepreneurship forum. I am Arturo Cazares, CEO of Latino Business Action Network LBAN. It is great to see the strong interest in our forum today. We usually have this at Stanford but obviously for Health safety reasons it's going to be virtual. But it is great to see so many people from across the country joining us live via YouTube.
We're a non-profit organization founded by Stanford Emeritus Professor Jerry Boras and Stanford trustee Victor Arias who is our chairman. At LBAN we have a big mission to empower Latino entrepreneurship across the country, and partner with Stanford through the Stanford Latino Entrepreneur Initiative, also known as SLEI. we have three main pillars of focus. First, is to collaborate with Stanford on foundational research for Latino entrepreneurship. This forum today is focused on that research.
The second pillar of LBAN and SLEI is a transformative business scaling program for Latino business owners. There are now almost 900 Latino entrepreneurs that have completed our SLEI business scaling program at Stanford. Our third pillar of focus is building an empowering ecosystem of Latino entrepreneurship.
The ecosystem is based on our growing network of alumni plus a growing network of capital providers and mentors. We are very grateful to Stanford for their partnership and support since the beginning of LBAN and today we're very excited we have a full agenda. This forum essentially is segmented into three parts.
First, you will hear the research presented by the people that made it happen. Dr Merlino Roscoe and Professor Paul Euler. Then you will hear a panel discussion moderated by LBAN COO Jennifer Garcia in discussion with entrepreneurs from our SLEI business scaling program. And finally, the keynote of our forum today is a fireside chat between Dean Levin of the Stanford Graduate School of Business, and administrator Guzman of the SBA.
In closing my remarks I want to acknowledge LBAN's lead sponsors, Wells Fargo, Bank of America and the Cerner Foundation. They have been with us for much of our journey and their support and ongoing partnership have made LBAN and all of our programming possible. We have several other sponsors and we are grateful to all of our supporters.
I will wrap up now and give the forum over to the president of Stanford University Mark Tessier-Levigne. He will then be followed by Stanford emeritus professor and founder of LBAN Jerry Porras. With that it is my great honor to hand the forum over to President Tessier-Levigne.
Thank you. >> Good afternoon. I'm Stanford President Mark Tessier-Levigne and I'm delighted that you've joined us for today's program. As part of today's meeting, the Stanford Latino Entrepreneurship Initiative will announce findings from its seventh annual State of Latino Entrepreneurship report.
Through this report, our researchers provide deep insights into the opportunities and challenges facing Latino entrepreneurs in the US and show how their success contributes to a stronger national economy overall. The report has helped policymakers, industry leaders and entrepreneurs better understand how to support and scale Latino owned businesses. In addition to the annual report, the SLEI Education Scaling Program helps Latino business owners enhance their networks and scale their businesses.
Together, the research program and the executive education program, provide a model for supporting the success of minority entrepreneurs, one that other universities and business action networks can follow. I want to thank the Stanford Latino Entrepreneurship Initiative for their long term commitment to improving our understanding of today's landscape for Latino entrepreneurs and to supporting these entrepreneurs. I'm proud of SLEI's leadership in this space.
And I know today's discussions will spark additional insights to further advance this course. Thank you once again for joining us. >> Thank you President Tessier-Lavigne. Also I want to give you my personal thanks for your continued support the Stanford Latino Entrepreneurship Initiative. You've made a substantial difference in our growth and success. And we really appreciate it.
Sadly, I'd like to acknowledge of the passing earlier this week of John Riga. John was a significant benefactor and supporter of our efforts from the very beginning of SLEI. I extend my deep condolences to his family. My name is Jerry Porras.
I am a professor emeritus here at the GSB and CO faculty director of SLEI. To all of you joining us online a very warm welcome. We look forward to presenting the key results of our 2021 national survey of over 15,000 Latino and white entrepreneurs. In addition to the research results, you'll hear stories about their experiences from real life Latino entrepreneurs as well as policy perspectives from our keynote speaker SBA Administrator Guzman.
Before we begin I want to first set a context for the research findings and discussions to come. The SLEI research program and this forum are part of a larger effort focus on supporting the growth and success of Latino entrepreneurs across the country. I'd like to share the perspective that drove us to create SLEI.
Let me start by posing a question to you. Are Latinos an asset or liability to the US economy? We all know that in a company, a key goal for any successful leader is to increase the size and strength of the business's assets, while at the same time working to reduce the size and scope of its most of its liabilities or possibly completely eliminating them. What if we apply this framework to the way we think about Latinos in the US. Here are a few facts about US Latinos to help us determine if they are assets or liabilities. At the individual level, according to the 2020 census Latinos make up 19% of the total us population Haven't grown 23% since 2010. That's about 62 million Latinos in the US today.
It's expected that by 2050, Latinos will make up around 30% of the total US population. According to a recent LDC report in 2019 Latinos as consumers and homeowners contributed over 1.9 trillion to the overall US GDP. In the business arena There were over 5 million Latino owned US companies in 2020. With this number having grown at a rate of about 44% in the last 10 years.
This growth rate can be compared to just 4% for non-Latino owned businesses. Put another way, this is a net growth of more than 1 million and a half new businesses during the previous decade. The total contribution to the US GDP by Latino owned businesses is over $800 billion. Adding the individual contribution figure to the business generation figure, the total economic output of US Latinos in 2020 was approximately $2.7 trillion. About 13% of the total 21.4 trillion in the US GDP.
If US Latinos were a country, its GDP would be the seventh largest in the world, approximately equal to France. And whose growth rate would be tied for the third fastest of the entire world behind China and India. So today Latinos as individual consumers and as business owners are making an important impact on the economy of this country. And more importantly, that impact has been growing significantly over the past several decades.
Therefore, it behooves us as a country to make sure that this segment of our society is just as prosperous as everyone else. One example of the potentially dramatic effect of Latinos on GDP is in the area of equalizing family incomes. The 2020 census population survey revealed that the median household income for Latinos families was around 29% less than for Whites.
If Latinos were generating median annual family incomes at similar levels as Whites, the impact on US consumption levels would be trillions of dollars per year. Investing in making this happen seems like a wise business decision. Let's consider another area where equalizing prosperity can have an enormous impact. The gap between the average revenues of Latino owned businesses and non Latino owned businesses. If that gap were close to zero, so the two groups of businesses generate the same average annual revenues, the impact on GDP would be at least $1.5 trillion. Seems to me that we very worthwhile investing in ways to help Latino business owners grow their revenues to the point where they match non Latino owned businesses.
We believe that by these measures, Latinos should be considered an asset to the US. One that deserves significant investment to promote his economic growth and impact. This view becomes even more compelling when we face the fact that in just a few decades, one of every three people in this country will be Latino. As we move into the future, we can see the economic success of this country will be heavily dependent on the economic success of Latinos both as individuals and as companies.
More specifically, we believe that the economic success of Latinos as individuals can be greatly accelerated by the growth in number and size of Latino owned businesses. Of these two factors increasing the size of Latino owned businesses is a key leverage point for accelerating the growth in Latino community wealth. Not only will owners of growing businesses generate more personal wealth that will spread into the communities that they live in. They will also tend to hire more Latinos and promote them to senior management positions at greater rates, all of which eventually will contribute to increase Latino wealth. So let's look more closely at Latino owned businesses.
Although, Latinos are quite adept at starting businesses, growing them to be large is another story. Only 3% of all Latino owned businesses are scale. That is if they have annual revenues of greater than $1 million. The comparable number for White owned businesses is 6%.
Considering only employer firms, that is those that have at least one employee beyond the founder, only 9% are Latino compared to 21% for White owned businesses. If our country is to enjoy an economically prosperous future, not only must there be many more Latino owned businesses with greater than 1 million in annual revenues. But, and maybe more importantly, there also must be many, many more very large Latino owned businesses.
Why is size important? Because large companies have a very powerful impact on the economic, political and social arenas of our country. They shape the lives of all of us in many significant and meaningful ways. Therefore, it's our view that Latinos need to be owning and leading more very large companies. This then is the reason SLEI was created.
Put simply, the purpose of SLEI is to strengthen the United States by promoting the development and growth of very large Latino owned businesses. Now SLEI is an umbrella organization that brings together in a collaboration the Latino Business Action Network, LBAN, a nonprofit 501(c)(3) organization led by Arturo Cazares. And the Graduate School of Businesses Center for Entrepreneur Studies led by Deb Whitman. SLEI's co-faculty directors are Paul Oyer and me. In this collaboration, LBAN develops broad project ideas and then raises the funds needed to implement them.
GSB faculty interested in collaborating on a proposed project implements it with funding support from LBAN. SLEI's effort to date can be divided into three different thrusts. First is a research effort in which we seek to generate data on the state of us Latino owned businesses. Data that can be used by policymakers in government, business and academia to make research based decisions that will promote the success of this segment of our economy. Today, we conducted seven annual national surveys of Latino owned businesses. We've collaborated with other entities, most notably the Federal Reserve Bank of New York on more focused studies.
We've assembled a national group of researchers focused on studying Latino entrepreneurship and published a book of readings titled Advancing US Latino Entrepreneurship, a National Imperative. SLEI second thrust is an educational program focus on helping scale Latino owned companies become very large. This is a Stanford Latino entrepreneurship initiative scaling program. This program offered in two unique cohorts per year, invite 75 to 80 Latino business owners.
Specifically, CEOs or CEO from all over the country and from all industries to participate in a rich experience focused on helping them learn how to scale their companies. We specifically target scale companies business owners who aspire to build very large companies. To date, we've offered the program to 12 cohorts with a 92% completion rate, we now have 874 graduate companies.
From 34 states, Puerto Rico and DC, employing over 42,000 people with combined annual revenues of over $5.4 billion. And finally, SLEI's third thrust is a development of an ecosystem focused on promoting the growth of Latino owned businesses. This ecosystem currently consists of over 150 mentors and a network of 50 capital providers who previously participated in the scaling program.
A robust network of over 800 of our scaling program alumni connected together through the mobilized platform. Relationships with other organizations across the country who focus on Latino owned businesses. Such as the Hispanic Chamber of Commerce, Various Latina Oriented Professional Development Associations. Minority Supplier Organizations and Minority Supplier Executives within large corporations such as Apple The Oban team plays a key role in coordinating and stimulating interactions across the various networks. This ecosystem constantly expands and becomes more robust.
So there you have it. That's what SLEI is all about. So now, let's turn to the research. I'd like to introduce Professor Paul Oyer, Co-faculty Director of SLEI< who will kick off the presentation of our 2021 survey findings. Paul.
>> Thank you, Jerry. I'm thrilled to be part of this event, to present our research findings and to see the other speakers and the panel. Miriam is much closer to the details of this study than I am and has really devoted all of her energies over the past year to the report that we are releasing today. So I'm going to let her take you through the details. I just wanted to introduce some of the themes and the big picture for Latino entrepreneurs.
We are really pleased to have our largest survey to date. This allows us to do more precise analysis and to tell a more complete story. Again, as we introduced last year, we compare Latino owned businesses with white owned counterparts. And we're very grateful to both Bain and Alban for their partnership in being able to allow us to have such big sample.
Now, sadly, the pandemic lingers. This is our second survey where we can look at its effects on our sample. And as with last year, the epidemic is a big challenge for our sample but the trend is definitely going in the right direction. One thing many of us who worked on the report particularly enjoyed is using the stories of individual entrepreneurs to bring some of our conclusions to life.
The evidence in any of these stories is anecdotal, of course, but you can often see the parallels between what our analysis shows and what the entrepreneurs say. This slide highlights two things about Latino-owned businesses. First, as with many of the analyses in our report, it's striking that the similarities between white-owned and Latino-owned businesses are greater than the differences. The overwhelming majority of businesses of both kinds are consumer businesses, and business to business is another large chunk. But overall, they look very similar. To the extent that there are differences, Latino-owned businesses tend to be more direct to consumer, while there's a larger business to business core among white-owned businesses.
I now want to turn to how businesses are rebounding from all the challenges of the pandemic. 2020 was a really terrible year, as you can all remember quite well. And while certainly not a great year, 2021 looks better for the businesses in our sample. So to be a little more specific about what's going on on this graph, over three quarters of businesses reported moderate to large negative impact of the pandemic in 2020. But that dropped to about 60% in 2021. The hardest hit group, those reporting a large negative impact, fell by more than half from 2020 to 2021.
On balance, the pandemic is still clearly a challenge, but the outlook has improved markedly. And again, I just want to note that Latino-owned businesses don't look any different from their white-owned counterparts. The reports of the impact of the pandemic are almost identical across the two groups. The story of LeeAnna Fresquez bring some of the ideas I just mentioned to life. Now, you're going to hear from LeeAnna herself a little bit later on our panel and I'll be thrilled to hear her perspective on this. But just to give you an idea of how what she's doing lines up a little bit with what we've talked about from a research perspective.
First, she's a business to consumer entrepreneur, as she owns a restaurant chain that's focused on airports in the Southwest. She took over the business from her parents back in 2008, and she grew it steadily. But as you can imagine, the pandemic presented an existential threat to the business. As bad as the pandemic was for all restaurants, you can imagine how the challenges were even now much greater for restaurants in airports.
The first and hardest challenge was downsizing dramatically and immediately. She furloughed 80% of our staff in the early 2020. LeeAnna got PPP funding in the first round of work closely with her community bank. As I said, 2021 was still a rough year. She's still about a third smaller than before the pandemic.
But she's growing again and has rehired most of the people she had to let go. LeeAnna and her team are optimistic about 2022, hoping for a record year. And we'll hear more about that from her in a little bit. But before we get to that, we have a lot to tell you about a much broader set of entrepreneurs, 15,000 to be exact.
So, I now want to turn you over to Marlene Orozco, who will dive much deeper into the findings of this year's report. >> Good afternoon from us here in California, and thank you, Professor Paul Oyer, for providing that overview. It's a real pleasure to be here today and share with you the key findings from our 2021 SLEI survey of US business owners.
This marks our seventh report, which means we've been at this for a while now, bringing you all the latest trends on Latino entrepreneurship in the United States. This also marks our second year unveiling our annual report virtually, as we are still experiencing the ever present effects of the pandemic. Nonetheless, 2021 brought with it some semblance of a bounce back compared to 2020, as you just heard. The venture industry set a number of records and corporations began to put some real resources behind racial justice and equity efforts.
This is just the beginning, as there's still much more work ahead. And importantly, our data really speak to the opportunities and largely untapped potential of the Latino business segment. To put things into perspective, the latest population census shows that Latinos now represent nearly one out of every five people in the US.
Along with population growth, consumption patterns total $1.85 trillion. But of course, Latinos are not just consumers, we are producers too, which is why we're here today. Latinos continue to start businesses at a faster rate than all others, 44% in the last 10 years, compared to just 4% for non-Latinos. This production value alongside consumption trends would make Latinos in the US the seventh largest country in the world in terms of output. So with that context in mind, I'll now share key findings based on the analysis of our largest survey to date of 15,000 business owners. In terms of methodology, our survey and report focuses on employer firms, unless we share otherwise.
And an employer firm is a business with at least one paid employee other than the owner. We focus on employer firms to align with the approach taken by the US census bureau and the annual business survey, which we rely on for statistical purposes to make our sample as nationally representative as possible. So first, We have historically reported on the growth in the number of Latino owned businesses. This year, we also highlight these businesses as job creators, as our first key finding shows. We find that Latinos are increasing their number of employees at a dramatically faster rate than their White counterparts. Related to this theme of employees this year, we also look at the kind of jobs that are being created.
We created an opportunities and benefits index. And find that Latino-owned businesses are more likely to provide their employees with benefits and opportunities. Including promotions, employer paid benefits, above minimum wage jobs. And the development of skills and training. Now we're starting with these positive trends.
But we also report on the ongoing impacts of the pandemic. Things were still tough in 2021 although there were some bounce backs compared to 2020. Importantly, we find that in response to the pandemic, Latino business owners are more likely to make proactive strategic business changes to mitigate the negative challenges. And next, it's important to note the kinds of businesses Latinos are starting.
Last year, we reported on the fact that Latinos are starting businesses at a faster rate across virtually all industries. This year we dig a little deeper and find that Latino owned businesses are just as likely to develop and sell technology or software product. This propensity towards tech is a finding that we validate using census data. And lastly, we want to shed light on the perennial challenge in accessing capital.
We find that Latino owned businesses are more likely to be asked to provide collateral compared to their White counterparts, even after holding constant their business performance. I'll detail all these key findings one by one, and we'll start with a detailed look at employee trends. So we've long reported the fact that Latinos are starting and continue to start businesses at a faster rate than all other groups. In fact, 50% of net new small businesses are created by Latinos. What this figure now shows is the growth trajectory and the number of employees across Latino owned and why don't businesses since 2007. The number of jobs created by Latino owned businesses has grown from 1.9
million to 2.9 million in 2019 representing a 54% growth rate. This is compared to 10% job growth among White owned businesses over that same time period. And to add more clarity to this employment picture, we explore the quality of jobs being produced. The good jobs Institute put together a framework for good jobs as meeting people's basic needs this includes pay benefits schedules and career paths. So we created two indices to measure how businesses treat their employees, an employee benefits index and an employee opportunities index. The ladder considers whether employees have opportunities for promotions, training, and pay above minimum wage among other career advancement measures.
And although it may come as no surprise, it is important to note that Latino owned businesses are more likely to have Latinos represented on their leadership teams with 98% reporting Latino execs other than the owner, and in relation to other opportunities, we ran the index across a number of business and owner characteristics. And we find that Latino owned businesses provide similar or even greater opportunities to their employees. And in this figure, we see that across a number of employer based benefits, including health insurance, flexible work, paid holidays, retirement and so on. Latino's report providing greater employer based benefits. You'll hear from Daniel Montes, CEO and founder of Brilliant General Maintenance, and other entrepreneurs in a panel discussion to follow, but he strongly credits his team for making it the company it is today. His employees have heartfelt testimonials about Daniel helping them grow in their work, and as individuals, by helping them get an education.
He's really built a team culture of familia and indicates that even those that have moved on will always have a home there. And on the next figure I want to note that what we see for Latino owned employer businesses, really centering employees and their well being, this happens across virtually all business revenue categories. So it's not just that the scaled or million dollar Latino owned business that is prioritizing employees. We see this across smaller revenue companies too.
So I want to transition now to the ongoing impact of the pandemic. An important storyline of course, is the revenue decline that many small businesses experience. But what we hardly hear about is the resourcefulness of entrepreneurs to ensure that their business survives.
An important lifeline was the pay check protection program with the SBA administering over $800 billion in federal relief aid to small businesses. And I do hope that you all will stay tuned for more from the 27th administrator of the SBA coming up in our programming. And in fact when we consider the full timeframe of this PPP 30% of Latino owned employer businesses received funding.
This next finding is about other proactive and strategic business responses taken to mitigate the negative impact of the pandemic. This list shows that Latinos made more strategic business pivots throughout the course of the pandemic. 21% report improvements in technology.
You'll soon hear from Ileana frescas president of frescas concessions that use several of these strategies to emerge from the pandemic stronger. And as one example the company automated its accounts payable process with the system that now uses artificial intelligence to read invoices and code them. And while she says that the pandemic really forced their hand to lean on technology, these adaptations will more likely show downstream upside. Now other business pivots include 18% of Latino owned businesses moving into e commerce, and 16% offering a new product or service, outpacing the share of White owned businesses taking up these strategies.
And in many ways, the pandemic accelerated the technology transition. But as this next key finding shows, Latinos are just as likely to develop and sell a technology or software product. In our survey, we use the standard industry classifications or the NAICS as this is used by federal statistical agencies to report on the US, business economy. These industries include industries like food and accommodations, professional services, construction and so forth. It's important to note that technology intersects virtually all traditional industries and businesses are producing new technologies or are being enabled by tech in innovative ways.
And in this year survey we define tech businesses as those that develop and sell technology or software products. We find that 19% of Latino owned businesses report developing and selling technology or software products. And this is compared to 14% among White owned businesses. Now as this infographic shows White owned employer businesses outnumber Latino owned employer businesses by a factor of 14.
Nonetheless we show there is an equal if not greater propensity among Latino entrepreneurs that crossed the employer threshold to be tech businesses. And we validate this finding by looking at more specialized technology production as captured in the US Census annual business survey. And here across the share of Latino owned businesses, there's a comparable representation in artificial intelligence, robotics, and specialized software.
So taken together, these findings counter the widely held belief that the Latinx entrepreneurial pipeline in tech doesn't exist. Or that minority entrepreneurs have less of an inclination towards starting tech businesses. Up next you'll hear from Paola Santana. She's the CEO and founder of social glass who sells a software platform to government.
She says that as Latinos, we don't often see ourselves as tech entrepreneurs, but as people solving problems and developing a piece of technology so that we can get our work done. Santana also describes Latinos as being super resourceful, something we have certainly seen throughout the course of the pandemic. Now, we've also reported in the past that such resourcefulness and bootstrapping can only take a company so far. Businesses often need external capital to scale and grow.
So I want to move on to our final key finding around capital. Last year we reported on a very big gap in national bank loan access whereby Latinos with comparable business performance measures and credit Scores similar to their white counterparts have 60% lower odds of getting their financing approved. This year we build on this access to capital story and uncover another one of the five C's of credit collateral. We find that Latinos are required to offer up more collateral than their white counterparts. This figure shows that one out of four white business owners don't need to put up collateral compared to one out of five among Latino business owners.
This means that the odds of not needing collateral are higher or better for white business owners. And certainly the pandemic has impacted the need for financing to mitigate challenges. But I want to end with the reported reasons why financing was soaked. Both Latino owned and white owned businesses report needing to meet their operational expenses as the number one reason for financing. But even in a pandemic year, Latino owned businesses are more likely to report applying for financing to expand their business or to acquire additional capital assets.
And as always, our report is fact forward and ultimately demonstrates the formidable opportunity and potential of Latino entrepreneurs. For policymakers looking to encourage economic expansion and the growth of quality jobs, the growing Latino business sector is worthy of attention. Not only do US Latinos have $2.7 trillion in annual economic output,
but there would be an additional $1.4 trillion of unlock potential, if Latino owned businesses achieved revenue parity, with own businesses. This year survey found that Latino owned firms continue to be less successful in securing business loans, despite displaying similar characteristics across to approval criteria, credit and collateral.
We also sparked the question of whether the VC industry is missing opportunities to invest in the Latino tech sector. Cruch base has reported that only 2.6% of VC dollars in 2020 went to Latino and black founders. And with the VC industry breaking records we hope that this infusion of dollars is also growing and flowing to these groups.
And importantly, we're heartened by the pandemic business pivots of Latinos and their optimism about rebounding. I encourage you all to read our 2021 state of Latino entrepreneurship report to learn more about these findings, and many others that we were unable to cover today. I'll now pass our virtual stage to Jennifer Garcia. CEO of the Latino business Action Network who's going to introduce our All Star panel, as they elaborate on these findings from their own experiences. >> Great well thank you Marlene that was very well done.
I'm sure that the audience can agree that you delivered an insightful presentation. As Marlene mentioned, my name is Jennifer Garcia. I'm the Chief Operating Officer for Latino business Action Network.
Can I just say how great it is to see hundreds of people joining us live today from across the country and even internationally. I'm glad you're here. And I hope that you found the research presentation informative. But even more importantly, that you find utility in the data that you allow the data to influence the work that you do. And one small action step that you can take today and even right now is to go social, share the data share some of those headlines on your social media or forward the report to a colleague. My goal in this segment of the agenda is to bring the data to life, through a series of real stories from entrepreneurs.
LBAN leads the Latino business scaling program at Stanford GSB also known as SLEI Ed. The program is designed for Latino owned businesses with over a million dollars in revenue or 500,000 in external funding, who are ready to scale their company. The three panelists you will hear from today are graduates of this program, and they are part that were our alumni network of nearly 900 entrepreneurs. You could see them in the chat shouting out their cohort now.
As I welcome the panelists to the stage I invite you to drop the line in the chat if you want to learn more about our program. So let's meet the entrepreneurs. We have LeeAnna Fresquez from Fresquez Concession.
It is a people oriented family owned food service organization that was started in 1976 in northern New Mexico. 46 years later, the organization has grown to 21 restaurants with 16 brands in three states, New Mexico, Texas and Colorado. Daniel Montes CEO and founder of Brilliant General Maintenance, which was also founded here in Silicon Valley in 1983 as a facilities maintenance organization focused on providing a worry free experience to clients and a career path for their employees. It's a family owned business operated with four offices here in California, as well as Nevada, New Mexico, Texas, Michigan and Tennessee.
Paola Santana is the CEO and founder of social glass, a Silicon valley based government technology startup leveraging artificial intelligence to transform government purchases worldwide. This software has helped governments across the US acquire over 4.5 million items directly from small businesses. You are all in for a treat I'm very excited to share the stage with all of these panelists. So thank you very much for being here.
Let's dive right in we certainly can't talk about businesses without talking about COVID. And Marlene shared how COVID has impacted businesses in a variety of ways. Some are those positive other those negative, LeeAnna lets start with you first. You are in the food industry and we all know that the food industry has been extremely impacted. Tell us a little bit about your experience and what if any is the bright spot from the last 22 months.
>> Well, thank you, Jennifer, and just so excited to be here today. The last two years is certainly been the roller coaster that I know we've all experienced and coming off of 2019 that was the strongest year organization I've ever had. So, just as March 2020 hit, there's just so much uncertainty that really affected us, we had 500 employees at that time and It just felt like our entire organization was being decimated. And everything that my family has worked for it was just slipping through our fingers. So a lot of hard decisions we had to make, as particular here in New Mexico, where we had multiple shutdowns to full-service restaurants.
And those are some of our strongest revenue generating restaurants within our company. So just the hardship and the heartache that came along with closing for the first time. And then having to go through reductions in forces, as we see that we're probably going to be shut down for a really long time, really challenged our family, a lot of sleepless nights. I mean, I could get real emotional about just how challenging that time was for us. And really the silver lining for us was understanding the world, people focus business, and we had boots on the ground. We had to expand and contract so many times through multiple shutdowns.
The team members that stuck with us and that we were able to keep on, we just developed this new level of resiliency and trust as a team. So it really like strengthen the culture of our team members in our company to where we have this new level of trust with each other. And I think we all lead from a little bit more of a vulnerable place, so leading with a little more vulnerability, I should say.
And so, I guess, that's one of the silver linings in addition to what was mentioned earlier as far as us really, really leaning on technology through those times. I mean, at one point I was doing some accounts payable and running the checkbook. And so, as I'm going through this I'm like, why are we doing this way, there is a technology for this. So I definitely say that us leaning on technology has really propelled us and has allowed us to focus on initiatives that we wanted to get to. So that's really where insert in cohort A, what I learned from slay, and 2019 has really benefited us to where we're at right now and continue to grow. >> That's awesome.
What a great lesson for entrepreneurs that the opportunity to leverage technology. And you don't necessarily have to be in a pandemic to do so, that is your bright spot coming out of it. Daniel, I want to go to you here, you too have a story of making some strategic pivots during the pandemic, and your business is considered and was considered an essential business. Tell us a little bit about your experience. >> [COUGH] Well, [COUGH] obviously, it was a game changer.
I mean, we had to change everything from people used to clock in in the same location. Now we can no longer congregate, we have to rely on technology to allow those employees to clock in and out, to send their COVID surveys, to do all the inspections. All the activities had to be redone without having to congregate. So, on a way, we were already ahead of the curve with some of these areas that were being handled through technology, whether it was favorable delivery and so on, through direct deposit. But this really pushed it to a whole other level.
It changed everything because we needed to protect our people, and it was a must. So we had to come up with creative solutions in every aspect of our business since we didn't stop. A lot of our business was considered essential, so we had to be out there in the middle of everything doing everything different while protecting our people. >> Yeah, absolutely. Paola, let me just bring you into this conversation.
Is there anything that you would add to your experience during the pandemic? I don't think we could hear you. Absolutely, so while Paola gets her mic set there, let's transition to capital. Marlene pointed out, and has been covering capital and the access to capital for several years now. LeeAnna, I want to start with you, you have a very interesting story around capital because your business banker played a very active role, tell us about that experience with capital. And maybe in that story, I would love to hear the advice that you would offer to other entrepreneurs.
>> Absolutely, yes, our business banker, we had worked with him for over ten years. And so, we followed him from one bank to another. And what was really important, I guess, I'm going to lead with advice to entrepreneurs.
[LAUGH] And what was really important that my dad really made sure that we knew and is really important to him is understanding the idea of the relationship, and what is needed, and what levels each person in a bank can approve. So building those relationships to understand when that's needed, can I rely on this person, and can they call? Can they write me that letter of credit when it needs? Just keeping that in the back pocket, I think really benefited us during this time. So having those relationships built and already established. Our story is different because it was very collaborative, and we're really established.
Thankful to be so established in the community here in New Mexico. So they did call and they were very proactive with us to ensure that once our application was through and we could sign on the dotted line, we were first in line. He called on the president of the bank, called my parents and said, okay, be here at 9:00AM. And so we're just so, so grateful for that opportunity, and that level of care that was extended to us.
>> That's a phenomenal story, and one that I would love to hear more often, right? Having the relationship with your banker so that they are advocating for you, championing you, and inviting you to sign when appropriate, that's great. Thank you for sharing that. Paola, let me just check if you're back online and connected.
Not yet, okay. Okay, Daniel, let me go to you, and I would love to hear a little bit about your experience accessing capital. >> [COUGH] Well, we're very fortunate to not having to access capital on our own other than the PPP that came on board this last year. So, I wouldn't be able to give you a lot of information and to what it takes, other than the stories that I have heard from my peers, that is normally very difficult. But I think what LeeAnna touched on is something that is super important, is having that network, is talking to the right people prior to needing capital.
You don't want to be developing a relationship when you are in desperate need of finances resources, you want to develop those ahead of time. You want to establish a credit line when you don't need it so that they that you have the need for that capital is already in place. That's what I would say to you, as my advice to young entrepreneurs. Get the funding when you don't need it. So, when you need it is available to you. >> That's absolutely right at Alabama we talk to entrepreneurs and small business owners all the time.
And one of the things that we say is exactly what you said the best time to build a relationship with your banker is now before you need capital. And certainly, the kind of led into this but we didn't get a lot of the details but that relationship did happen during the pandemic. That relationship with her father and the business leaders happened over the years and perhaps even decades that she could speak to as well.
Great I want to talk a little bit Daniel, you mentioned that you haven't had a lot of experience with capital. And when we were in our intimate group here, one of our members said, Daniel doesn't have a story about capital because he has been bootstrapping his business for so many years. And that's one of the things that Marlene highlighted in the report is that when there is a barrier to accessing capital, what Latinos are doing is becoming very resourceful.
I would love to just hear from your perspective Daniel, what are those areas where you felt you've had to be very resourceful? >> I think it's cultural to we're very conservative as a culture and we believe in cash business. So I understood I had to scale but I was also very concerned with, over stretching over investing. So my conservative nature allow me to be very creative in how to reinvest how to make deals that if they had a risk, it was a calculated risk.
It was in a very conservative nature but we were we have managed to grow our business without having the need or raising capital to the level that we have gotten it. We always knew that at some point we would have to. We just haven't gotten to that level. We've be very successful. And I attribute to our entire team because of the way they function. They're all investors in the company.
They're all invested their life and their career. They understand our business. They are not just into department. They understand our entire business from the moment they come into our organization.
How they contribute, whether it's a department that is creating revenue or a department that is supporting the revenue creating departments. So it's a culture within our culture, but I attributed to our conservative nature, but it's a formula that has worked because we have never had to rely on getting outside funding. >> And I do want to come back to you in just a little bit because that you're alluding to the culture of your team and how you operate.
So I'm going to come back to you in just a little bit on that. But let's Pella, I think we're back live with her. I want to come to you and transition into the concept of capital as it pertains to tech companies and Marlene and her presentation. Really combative, a common perception that Latinos are not in tech and they're not starting tech firms. But certainly the data is showing that Latinos are just as likely to own tech companies and Paola, you're the perfect example of this. Your first company was a drone delivery company.
And now you're leading your second company, tech company, which is leveraging AI to transform governments. So you certainly are no stranger to the world of tech and specifically to raising capital. But I know that this time around you were raising capital in the midst of a pandemic.
Tell us about that. >> That's correct Jennifer, can you hear me now? I hope you can, awesome. So this is such a big personal topic for me because I see so many Latinos developing tech, designing great user experiences. Running companies were 80% of some of their processes are automated in some way or another. And then they tell me they're not tech entrepreneurs.
I'm like, what are you talking about? What are you talking about? You're a digital creator, you're creating new experiences, new products, new solutions for the world. It's just that as generations wouldn't consider themselves tech entrepreneur, when they are building some pieces of technology or even worse. We think we need to do big efforts to bring this diversity to the table when this diversity is already creating the tables where we're sitting. We just need to give them stages or the spotlight or feature their or highlight their work more because we've been always there. So that's number one.
I don't think I think we need to do more effort to bring more diversity, especially Latinos Latinas to the tech conversation, but I would rather do we bring them to the leadership table. Because we are already there doing the work, that's first part. Second part is, recognize I think that many of the solutions that we are creating are enabled by tech and that some of that tech has been created in house. So we discuss with LeeAnna that some of the technology pieces she's been using internally in her businesses are. Part of technology that she acquired from someone else and then some customization that she did. But she doesn't know that many other businesses like her could be using that and leveraging that technology that she built internally.
She doesn't consider her company, a tech company, but I'm sure she's taking some of those processes to the next level by adding that level of customization. That's number two, and then capital, the fact that we're super resourceful, the most powerful and resilient people I know are Latin women. I have to say it. And then because we just do what we can with what we have and the problem is that we leave so much money on the table.
So I tell my fellow insure tech entrepreneurs money's not going to come and knock on your door. But that money is being deployed right now, especially in Silicon Valley. And if you're not out there telling people, I'm a woman, I'm developing tech. I'm developing deep tech in industries that haven't been cracked before the investor will never know that you're around. So it's our duty to go out and reclaim that money that is being powered right now into billions and billions of dollars into amazing tech solutions. And many of them are being developed and led by Latinas.
>> Paola you said so many things there that I really want to underscore and highlight so that our audience doesn't miss this. I love how you said we have always been there but now we are being highlighted. It's really important to know that there are so many great companies that are not only enabled tech enabled leveraging tech but also the creators of tech.
And so let me ask you there was a CrunchBase article this week that said despite the dollar increase in VC funds. The overall percentage of VC funds going to Latino owned businesses is still extremely low, less than 2%. What would you say to the VC community to ensure that they're not missing investment opportunities in Latino tech founders such as yourself and many others.
>> This is a great question so I'm going to put it let's talk with data. We were raising money we're Silicon Valley based, this is my second tech company so I'm a. Citizen tech entrepreneur, I'm deep into golf tech because I'm a government expert.
I came to the United States with a Fulbright scholarship to figure out the future of governments. And I think Latinos, we tend to work on problems that are real life problems. So when I am in Silicon Valley, pitching this golf tech company, to improve governments worldwide.
Many Silicon Valley investors would tell me that's an industry we kind of don't like. And I'm like, yeah, but that's the industry that needs massive change. As I'm trying to do that pitch, I raise over half a million dollars which by the way in many tech media, if you don't raise at least $1 million, you're not going to get featured. So I raise half a million dollars a little bit more and in the middle of raising that money, the pandemic hit and suddenly I cannot continue raising money. Because my customers that our governments are knocking on every channel that I have telling me, don't sell me your software I actually need your help right now.
So what ended up happening is that just having launched our tech product four months prior we ended up having $4 million in in direct government sales. Which I stopped for raising because I was making money directly from my clients that investors were telling me was an almost impossible to crack client. What am I telling you with this? I understood my market. I'm still open to understand my market better than anyone else.
And then if an investor is closed on their traditional way to assess risk and assess opportunities, they're going to miss opportunities like mine. So I know so many people cracking real challenges not the next app with the next color filtering thing. I'm talking about problems that 99% of the world has and the word cracking it today it's not a future solution in 10 years is something that I'm doing today. And the validation is there, how can investors find me? They need to look for me I'm going to be out there also looking for them and I'm encouraging all Latinos to be out there raising millions of dollars.
I also talked to Latinos and they're like well I'm raising $100,000, I'm raising $500,000, that's nothing. You need to go big, you need to have a deck that is raising five to $10 million if you only raise 2.5 million, that's okay for a starter. Because many people that I know that are in Silicon Valley, they have a slide deck that is not fully completed and they can raise $2.5 million. Why can't we? >> I love it, love it, that's really great. LeeAnna, Daniel, do you want to add anything to anything that Paola just said? Okay, one thing that I also want to mention here is that you said we need to be out there and, and VC community needs to look for you right? How do they find you? How do they find other Latino startup companies? There is a proactive you need to be proactive in this. So thank you for just calling that out.
I appreciate it. I want to transition now to another key finding in the report around benefits. And I find it a remarkable storyline that Latinos are starting businesses at a faster rate, their job growth rate grew 53.9% from 2007 to 2019.
In comparison to 9.8% for white owned businesses. In addition to all that, Latino owned businesses are providing benefits and advancement opportunities to their employees at a higher rate. Certainly we're all familiar with the headlines about the great resignation and the labor shortage.
So Daniel I want to go to you on this question and ask you. What has been your experience with a great resignation and how has benefits played a role into your ability to retain employees or not. >> Well, the great resignation is real, I mean the shorter labor pool is real. I don't think it's just here in California, Silicon Valley, I think it's throughout many parts of the nation. But what I would say when we think benefits, a lot of times we think are just fringe benefits. But the reality is investing in your people, providing that career path, making them feel at home, having them understanding how they contribute, having them understand how they can benefit from your growth.
And thus a bigger investment that a lot of us tend to overlook how to invest in your people, how to create that environment that will allow it to be successful as they're growing within your company. And what price that you put on that loyalty, on that history, on that knowledge about your processes, your product, your delivery, your customer service and everything else. So, I invite you guys to think a little different and invest on your employees as part of the benefit that your company will get a great return on investment. I know that, if you talk to the employees you always want to grow you always want to do a very good job and you want to be a skilling yourself as a career. So for me to you is the biggest investment that we have made and as paid off as per created a great return on our investment. >> You alluded to something earlier, Daniel, where you mentioned the culture of your company that you're establishing with your employees is that they know how to move the needle.
Tell us a little bit about what that means specifically in your company. >> What it means is that in our company and there's this the way we put it. You may work in one department as your major, but it is your job to have a minor about the other departments and understand. And play in a cohesive role, on how to move that needle and the direction corporate has designed the company to go. How do we better take care of our customers? How do we better take care of our employees? We all have to have an understanding so that we can contribute to the overall corporate strategy. That sounds easy is a little bit difficult once you get into the mix, but if you stick to your brand, if you understand your brand.
People tend to once they get it, they understand it and they go and they give you the maximum. And you're going to see their smiles on their faces when they achieve certain goals. Personal or company wide within the department or other groups within the company. So it's been a great formula for us and will continue to support it as long as he works. So.
>> That's great, I find this really interesting because Paola, you're in tech and we all know that tech is extremely competitive when it comes to talent. Tell us a little bit about how you leverage the benefits in the tech role. >> Well, a couple of things and this is a tricky question. Because contrary to Daniel and Leeanna that have multi billion dollars almost companies I would say and they've been around in business for a while.
My first tech company, as you mentioned, is over now 10 years old and it's a drone delivery company. But the second company is a golf tech company that I founded only four years ago. So, we have a highly specialized workforce that is younger, they are not focused necessarily only on monetary compensation, but they do need a sense of purpose and belonging.
And being part of a bigger, larger vision for themselves in the world which is amazing because we're totally aligned on something that we want to do that is transforms governments worldwide. And this one hasn't been done at the speed that the world needs. So they come writing and they get ready to lead. Many of the new I would say activities that need to be led in a team that is trying to create a new path for things that have never been done in the past. So number one, we have a remote team man has a lot of flexibility to manage their time, to manage they don't clock in.
But at the end of the day we have all these remote tools where they do need to stick to a goal every week. So, that's number one. Number two, they have incentives to join the company by also having ownership on the company. I invest in the terms of stock options. Number three, we know that they many of them are not in the United States. So we need to provide them the equivalent of the basics like health care, how can we provide our people with a good question.
So if something happens, they can access good health care worldwide. So we cannot have a benefit plan in the United States but we are give them the equivalent of what they would pay for health care access in their country and in their currency. And lastly, we encourage them and actually it's not, I wouldn't necessarily say it's a benefit, but we push them to do attack training or some sort of program online program that would advance their career. And they have the option to change divisions within the company or to even say what title they would want to have in the company. So some of them would come like I like this title, I want to have these title and then they would also say but I'm not there. So you can work together with them to create that vibe of this is how you get there, this is how you get to this title.
And I've received push back from you. These people a Latina leader show me these she told me you cannot hire people for where they are you need to hire them so they can come and get what they need in your companies, in practice. So that's the opportunity I'm giving the people that work with me and I never set out to hire Latinos necessarily, I wanted just to hire the best and then we have a company that is 90% Latinos, building tech in Silicon Valley. So, it's just what they see, they see we can do. >> That's fantastic, LeeAnna, let's hear from your experience in terms of benefits. And I know that kind of played out a little bit differently, so I would love hear how you managed that.
>> Yeah, I'm just really enjoying hearing Danielle and follow as far as what you're saying
2022-02-06 19:49
Show Video
Other news