2021 SVIP Demo Week Day 4: Global Perspectives on Pandemic Future Proofing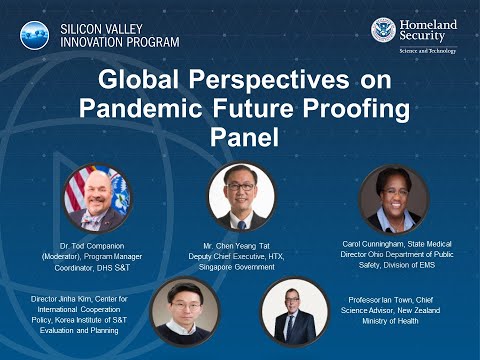 Show Video
♪♪♪ ♪♪♪ Darryl Kramer: Thanks very much Nathan, and I would like to just say I'm very impressed with each of our partners in this area. I'm very interested to know if any of our, any of you attendees that are logged in right now, if you could go to the chat and let me know or let us know what you think of these companies or what you think of the topic areas that we've been selected for to help find solutions to. And just know, our Silicon Valley Innovation Program is leading these efforts, but we do not lead it alone.
We work very closely with technical managers who've been assigned to our topic areas, they come out of the mission support, Mission Capability Support Division within Science and Technology Directorate, which gives you my segue into today's panel discussion, which is focused on global perspectives on pandemic future proofing, and it is my pleasure to introduce, he is the Director of Program Management for the Department of Homeland Security Science and Technology's Mission Capabilities Support Division where he leads a huge team of federal and contractors to deliver capabilities to DHS components, leveraging SNTs $400 million R and D budget. He has over 20 years of experience in civil service, he started at NASA, now he works for DHSSNT, and in 2020 he received the DHS Secretary's Award for Pandemic Heroism for leading the COVID-19 R and D team for DHS. Ladies and gentlemen, it is with great pleasure for me to introduce the moderator for today's panel on global perspectives and pandemic future proofing, Dr. Tod Companion, Tod? Tod Companion: Darryl, I feel like there should be, like sparks or something shooting up, that was a very grand introduction, thank you very much. Well, I want to say I'm really glad to be here, this is an exciting panel, the previous panel had a lot of intriguing technologies on it.
I wanna thank SVIP for the invitation, everyone who's here for hanging on the last part of the last day on a Friday. I especially wanna shout out the folks you're about to meet, because three of our panelists are coming to us from tomorrow, or yesterday, across the dateline, and they have sacrificed sleep to come spend time with us to talk about technologies to beat the pandemic. So, I'd like to ask our panelists to go ahead and turn their cameras on, and I'm gonna introduce them now. We have Carol Cunningham, MD, State Medical Director for the Ohio Department of Public Safety, division of EMS.
We have Jinha Kim from the Center of International Cooperation Policy, the Korea Institute of S and T Evaluation and Planning. Professor Ian Town, Chief Science Advisor to the New Zealand Ministry of Health, and Mr. Chen Yeang Tat, Deputy Chief Executive for Operations from the Home Team Science and Technology Agency, HTX, in Singapore. I'm not seeing--has everyone come off camera, I can't see anybody, so--let me see if I can fix this. There we go, hello everyone, good to see you. Yeang Tat Chen: Hello.
Tod: So, I think what I'd like to do is give each of you, like, one minute to introduce yourself, and then talk briefly about your, like, key technology interest in pre--in pandemic preparation, and then we have three questions we'll go through and do around the table panel answers, and then we'll open it up for questions. So, if I could start with my friend Dr. Cunningham. Carol Cunningham: Oh, good morning, good afternoon, whichever, wherever you are, I'm Dr. Carol Cunningham, the State Medical Director for the Ohio Department of Public Safety Division, EMS. My concentration during this pandemic has been on the pre-hospital aspect of it for those first responders that transport potentially infected patients to medical facilities.
And looking at the gaps that we've experienced and identified, not only in patient care, but also protecting our workforce, which has been challenged by not only infection, but also just the stress of the pandemic. Thank you. Tod: Thanks Dr. Cunningham.
If I could ask Director Tat to tell us what his--introduce himself, and then talk about his key need, he thinks his first key need for technology and planning for the next pandemic. Looks like he's frozen, unfortunately. Then I will ask Mr. Kim to step in. Jinha Kim: Oh yes, hi. At first, I am happy to have a chance to join this meaningful program, and it's an honor to participate in this program as a panel.
My name is Jinha Kim, I am working at Korea Institute of Science and Technology Evaluation, Planning, in short, KSTEP, and I'm Director of Center for International Cooperation Policy. To explain KSTEP briefly, KSTEP is the government affiliated organization working with the Ministry of Science and IST, and KSTEP is the only think tank for science and technology policy of Korea. But to respond to this COVID-19 and future pandemic KSTEP have performed various activities based on our role and responsibility. Right after breaking out COVID-19, KSTEP grasped onto COVID-19 proactively and established the government strategies for new infectious disease, including COVID-19, and we proposed government R and D investment plan focusing on COVID-19, and as a result 96% of our infectious disease response area were at KSTEP studied and published ten emerging technologies for responding to post-COVID-19 era on March 2020. This is right after COVID-19 outbreak, and we operated lots of seminars and forums about COVID-19, and after COVID-19 to respond to future pandemic. Moreover, we analyzed the status of government R and D programs and proact new infectious disease and diagnose to where we have to focus on for the future pandemic.
Thank you. Tod: Thank you, Director Kim. Can I ask Chief Chen to speak? I'm sorry, I scrambled your name up earlier, sir. Yeang Tat Chen: Sorry, is that my turn? Tod: Yeah, could you introduce yourself and tell us if there was one thing you could do for the response for planning in the future, what would it be? Yeang Tat: Hi, good afternoon, I'm Yeang Tat, DC Operations for the Singapore Home Team Science and Technology Agency, or HTX in short. Give me some time to introduce HTX.
HTX was formed in December 2019, alright, under the Singapore Ministry of Home Affairs. HT stands for Home Team, it refers to all the frontline law enforcement, security, and emergency response agencies, right, under the Ministry of Home Affairs. As for X, it symbolizes force multiplier.
So, our mission is to be the home team's force multiplier. So, we were formed by building upon the scientists and engineers that were centralized from the home team departments. Today we are 1,500 strong and still growing, our scientists and engineers are specialized in 15 technology domains across digital, sciences, and engineering fields. For example, forensic science, chemical, biological, radiological, nuclear, and explosives, biometrics, data analytics and AI, as well as C Cubed systems, sensors, just to name few.
Right, in Singapore the pandemic strike us in early 2020, and our Home Team departments such as the immigration and checkpoint authority, they are assigned to enforce the tightened border control managers, and this is very dynamic and changes according to the recent profile of countries that were prescribed at the national level, and our police force has to support the heightened alert or circuit breaker measures, right, and then our civil defense has to transport the infected personal, the suspected infected personal from the border checkpoints to the hospital, right. As for HTX, our job is to really enable our frontline workers to do the job better, keep them safe, right, enable them to be more effective and more efficient as the workload piled on them. Alright, so in the future pandemic we want to, you know, raise the productivity and keep them safer, if possible, enable them with, you know, more robotic support, and remove them from the frontline if possible.
Alright, we also provide our support to the other government agencies. For example, we help the Ministry of Health in the COVID-19 testing, as well as the National Environment Agency in the wastewater testing, right. So, I want to take this opportunity to thank the DHS team for inviting us and giving us the opportunity to further our collaboration. I think the DHS has been a longtime partner in our homeland security, so our bilateral relationship has gone back more than a decade before the agency was established. Right, so international partners like the DHS are key to HTX, so we continuously look for opportunities to work with others on this kind of cutting edge homeland security solutions, so, thank you. Tod: Thank you, Chief, I'm really glad to hear you speak about the frontline workers, it's something we've been very concerned about.
Professor Town, could you talk--introduce yourself and talk about New Zealand's interests in future pandemics, noting that you are dealing with significant outbreaks at this time as well. Ian Town: Yes, well, greetings and good day from New Zealand, we are coming to you from the future, as you mentioned, and it is already tomorrow. So, an early start for us here, but a real pleasure to have been invited to join you. So, my name's Ian Town, I'm the chief scientist, Chief Science Advisor at the Ministry of Health, and the Ministry of Health here in New Zealand has been the lead agency for the pandemic response. We did have some natural advantages in dealing with the response, not least of which being a very long way from almost everywhere. Our biggest neighbor, Australia, is nearly 2,000 kilometers away, and so our moat became something of a protective ring around our small country.
We have had extraordinary leadership from our Director General of Health and Prime Minister, the right honorable Jacinda Ardern. One of the things we are most proud of in managing our elimination strategy has been the way in which science has been at the forefront of our pandemic response, and I think in many countries where that has occurred, there's been clear evidence of good leadership and also good results. So, the outcome of our elimination strategy, although being challenged at the moment, as you say, has been a very low burden on our healthcare system and only 27 deaths in total across the pandemic so far in this country, something we are very proud of. When we come back, we'll talk a little bit about the elimination strategy in a bit more detail and some of the innovations in wastewater testing. So, thank you, it's a pleasure to be part of the panel, thank you.
Tod: Thank you, professor. So, the first question I'm gonna ask our panelists to prepare to answer is, what are key examples of best practices you would carry into any pandemic or health crisis response in the future? And I'll say from my perspective in DHS's role, we are not the lead health agency of the department, but we have on demand research capabilities through our national bio-analysis--Bio-Defense Analysis Encounter Measures Center, and that allowed us to fill some research gaps, so we were able to rapidly grow and characterize the decontamination--or characterize the virus and test decontamination strategies as they arose, which allowed us to provide real time information and share information across our federal government. And in the federalized United States, that proved to be very useful. We created something called the master question list, which was simply a list of key questions about the pandemic that people wanted answered, who was working on them, were their publications, and that's a role we're still playing, which--we just updated the master question list with key questions about the Delta variant within the last few weeks.
So, actually, I'm gonna go right back to Professor Town and ask him key examples of best practices that you would carry forward, and maybe about two minutes, sir. Ian: Thank you, Tod. Yes, logistics, staying a little on the elimination strategy, this is something that had not been considered possible previously. We even had trouble at one stage with an outbreak of measles, which had been considered to have been eliminated here in New Zealand.
So, in thinking about the elimination strategy, we actually stumbled into it as a result of our initial Level 4 Lockdown last March. And that lockdown, which was pretty stringent by international standards, actually reduced our case numbers at that time very quickly, within about three or four weeks. So, we were able to adopt that strategy really as a result of a decision made by the government very early on not to allow exponential transmission of the virus last year. As we've slowly adapted to life under different sorts of alert levels, we have used extensive testing, obviously, as colleagues have around the world. We have been able to stand up whole genome sequencing, so virtually all samples that have been positive through PCI here in New Zealand have been subject to whole genome sequencing, which has helped us enormously in terms of tracking connections between cases and clusters, and we've been able to join the Next Strain Partnership, which is that global partnership tracking phylogeny.
The other thing to mention briefly is our wastewater testing. We had our national research and infectious diseases laboratory was able to develop wastewater testing because of previous experience they had in using wastewater testing for the detection of illicit drugs in wastewater, so that was a contract they had with the New Zealand Police Service. So, they were able to quickly convert that technology, and now today over 150 sites throughout New Zealand are monitored two or three times a week for any evidence of COVID-19, and that has enabled us to reassure us in terms of our national approach that there are regions with no detectable COVID-19, and this is reassuring for the government in terms of future outbreaks or predicting outbreaks, so there's a couple of examples, Tod, of things that have worked well here in New Zealand, thank you.
Tod: That's remarkable, whole genome sequencing, that would be--that would be tremendous if we were as uniformly organized, that's fantastic. Chief Chen, I'm wondering if you could talk about technologies you would like to see, or best practices, and I know you did some innovative work with drones. Yeang Tat: Me? Tod: Chief Chen.
Jinha: Yeah. You mean Jinha, right? Tod: Yes, yes, I'm sorry. Jinha: Oh, yeah, I'm sorry, Jinha, yeah, I'm sorry.
Actually, as you know, Korea is one of the countries that successfully responded to COVID-19. In my opinion, there are three respects that Korea is able to respond stably to COVID-19. The first one is the government policy support. To start out, the government's response to COVID-19 was the urgent meeting on January 27 of 2020. The Korea Center for Disease Control and Prevention, KCDC, took the action like organizing the meeting with experts and researchers from private companies and research institutes right after recognizing the possibility of the spread of COVID-19, which was based on the experience of the government failure on MERS outbreak in 2015.
In dealing with COVID-19, the Korea government focused on two things, diagnostic capabilities and monitoring system, and the government approved emergency use of procedure and supported the development of precise and rapid COVID-19 diagnostic kits. Moreover, the government increased the number of the screening centers and drive through centers to increase the further testing of COVID-19 and continued to inform the people the progress of the daily COVID-19 situation through press briefing through testing news, and this information enabled the people to respond on their own in their daily lives. Moreover, Korea government continues to expand R and D investment to new infectious disease area, and we reorganized KCDC to KDCA, Korea Disease Control and Prevention Agency, to strengthen its functions and roles by raising its status. The second one is a scientific and technological effort of scientists and engineers. The Korean scientists and engineers in private and public sector, like other countries, have tried to develop diagnostic kits that sends medicines along with developing IST based monitoring and management system.
As a result, Korea was able to shorten the diagnosis time by developing the works first, the real time PCR, RTPCR, so it was possible to check if he or she is positive or negative in a few hours, and KDCA sent the result by test in 24 hours. Moreover, many scientists conducting cooperative research to develop vaccines and medicines with other countries and institutes. Actually, the start of the vaccination of Korea was somewhat later than other countries, but the--recently, the vaccination speed is the highest in the world now. In addition, IST engineers with the government have developed epidemic investigation systems based on beta hubs so that the government can track the infection route of lots of confirmed cases at once. Absolutely, it's based on the consent to collection and use of our personal information, not including real personal information like a name, social security number, and addresses, but only personal locations.
It's this that allows both the government and the people to track the information about COVID-19 and to respond in real time. In December, our Korea government published a report flattening the curve on COVID-19, showing our pace of cases based on COVID-19 response to share our experiences with other countries. I think the last affecter that we are able to respond to COVID-19 successfully is the voluntary cooperation and the will of the people. In responding to COVID-19, the Korean people voluntarily maintained a cooperation system such as wearing masks everywhere and keeping social distance in accordance with the government guideline. Actually, the Korea government provided the guideline based on scientific evidences, and the civil society, the people, trusted the government, that's why it works properly. These kind of activities not only just on effective response to COVID-19, but also in flows to on positive social economic effect, so most of the country's like--including Korea who were relatively in 2020 and 2021, but Korea is just still staying--it's still staying in the top tier at economic growth rate, so I think that it is a great significance in that people themselves have a stable foundation for protecting themselves and continuing their economic activities in personal level and in national level.
Moreover, this kind of public awareness made it possible for the government to successfully respond to COVID-19 without any lockdown policies. Tod: Thank you, sir, that was great. Really important insight in the necessity of sharing data but protecting people's privacy. Let me ask Dr. Cunningham things that she would--best practices she would carry forward into the next pandemic.
Carol: First of all, unlike most sectors in medicine, emergency medical services, and certainly is my role as an emergency physician, COVID testing is not really helpful because of the time it takes to get the results, so we are going into approaching people not knowing what they have, and our focus really is on, again, protecting the workforce, 'cause without the workforce, the patients don't get taken care of, there's nobody to take care of them. One of the things that we did very early on, we had a shortage of personal protective equipment, particularly with N-95 masks, and we found a company actually based here in Ohio that had a method of decontaminating those masks so we could reuse them up to 20 times, which was huge. We just had to have a coordinated system, which we built in Ohio, so things could get recycled real quickly and distributed to where they were needed. The other avenue which was really helpful was use of telemedicine in those systems that had it so we could actually view and talk to a patient without actually being in their airspace. We also, like most systems, advised folks not to use aerosolized treatments to support respirations, but again, that was very difficult, you know, in terms of patient care, and sometimes inadequate.
Yet, again, we found avenues to do that, to protect the workforce. And then I think a big thing is community engagement. We, you know, when I look at the pandemic before and after the vaccine, there was a lot of panic at the beginning, and a lot of people would call and really not qualify for admission to a hospital, so we created a community, a public service video to educate people and make them our partners on when to call 9-1-1 and when, you know, in-patient medical care may be, may have been needed. And then the other post-vaccine, we actually--I should say during the H1N1 influenza, we authorized Ohio EMS providers to administer vaccinations, and they have been a huge segment of our public health workforce support in administering the COVID vaccine to the general public. Back during H1N1 in Ohio, EMS providers administered over 50% of all the vaccines administered to the public, and I'm really excited and curious to see what that will be, what those statistics will be for COVID-19.
I'm proud to say that my vaccine was administered by my local EMS paramedic, and he gave me my second dose, so proof in the pudding. Tod: Thank you. Yeah, the--knowing when to go to the hospital was a really serious problem. I know in New York City they had a lot of people who waited far too long, so they had progressed into serious respiratory distress before they went to the hospital, and I think that's, like, some really crucial information. We always talk about managing the detection and testing, but really managing treatment is equally important.
When do you put--when do you lean into the emergency medical system, I appreciate that viewpoint. And our colleague from Singapore, examples of best practices that you would carry into the next pandemic. Yeang Tat: Okay, I will be glad to share three practices.
The first is that in Singapore we recognized that no single agency has enough resources to deal with a pandemic alone, right, so we operate as a whole of government, and I think that this whole of government approach is very effective. It extend to the science and technology space as well. So, for example, you know, a innovative solution in one agency can find its use in another agency. In our case, we have the traffic police who has, you know, we have a digital app for them to deal with traffic offenders, and this comes in very handy in the current enforcement situation where every agency has to enforce restricted social gathering in their own spaces, so we adapted that app to help them. And on another instance is helping, for example, you know, using the wearable technology to help people track travelers who are supposed to stay, you know, serving stay at home notice at the hotels for certain days, so the wearable technologies really alleviate the requirement for the law enforcers to be on the ground, right? So, these are two very good examples I can think of for the, you know, operating as one whole government approach. The second thing I think is that you can't wait for the pandemic to arrive and then start to scramble for solution, and therefore in our current day to day, you really need to build the core expertise, alright.
So, I mentioned earlier that we have 1,500 engineers and scientists and they are specialized in 15 over technology domains. So, I give you an example on how we have, you know, lent our expertise to the Ministry of Health. So, you know that in November when COVID-19 first struck the conventional notion was that it is--the infected people are symptomatic, alright, that was the conventional notion, alright.
So, the MOH, all their resources are spent on testing people who are symptomatic, but because for us, HTX, we are considered ancillary support to them, so we were assigned to go and do random check on those who are asymptomatic, and entrusting the, you know, we managed to find many returning Singaporeans who were asymptomatic, they were students, and they were found to be infected. So, that was very alarming, and then that led to the government tweaking the policy and putting all the asymptomatic people to quarantine at hotels, you know, and stay. So, that, I think, is also a very good best practice that we need to build up this core capability in this time and also, number two, number two is that not to take, you know, sometimes when the pandemic struck, the information is still being gathered, alright. People are still trying to understand the nature of the way it is transmitted, so, you know, it's also important to have some agency that has the capacity to check against those assumptions, and that is what we did.
Alright, the third thing that I want to say is that this partnership with industry is crucially important as well. And I think it is this partnership with industry that has allowed us to develop and fine tune our test kits as well, and then also in many of our robotic deployment that can help the law enforcement front liners on the ground, alright. So, well, these are the three points that I would be pleased to share. Tod: Thank you, sir, that's fascinating. I think I'm really fascinated by the idea, and I think, I mean, I know Dr. Cunningham and I were on a panel previously, it is really hard to work in real time as you're learning about a disease how to manage the response, because people are used to the single beneficial action they can take to fix all their problems, and this sort of uniform response from leadership, and we may not have all that information, so I think that is a really interesting and important point.
So, the second question we have, and I'm gonna go in reverse order here, so, what are some of the challenges you saw--oh, I'm sorry, I forgot to scroll my phone. What are some of the challenges you saw that needed to be considered when preparing for a future crisis? So, what is a big challenge that surprised you? And so, from my point of view, when DHS was managing its response, we--half of our workforce is front line, they're transportation security officers, they're customs and border protection agents, they're folks from the United States Coast Guard, and so they're working in the front line, and our supply chains were not adequate to keep feeding them the protection, the gloves and the decontamination and that stuff, we were really challenged to collect and make sure everyone had all the protective stuff they wanted, and then when the supply chains started to shift it caused shortages elsewhere in the system. So, the just in time model of our current economy posed supply chain challenges, and so that's the one challenge I would surface as being aware of as we go into the next pandemic. And so, I'll go right back to Singapore and ask, what's the one big challenge you see facing in the next pandemic? Yeang Tat: Thank you, sorry, I would like to offer three instead of one. Tod: Do it in a minute or two though.
Yeang Tat: So, I share, I mean, I, it resonate with me, this resilience of the supply chain, and that is evident to, I think, every country. And so it is that our supply chain were, for the front liners were also severely tested. Not just supplies, but also equipment as well, because all our development programs were stalled because of the lockdowns and all that, so we faced that challenge as well. So, I think the lesson learned is really to diversify and reexamine the sources of supply, and in fact, looking to up production and stockpiling measures as well.
The second point I want to mention or so is this over reliance on contractor support to upkeep our systems, and that is also critically important, because many of our home team assets are maintained by vendors, alright, so that that would also cost us to rethink when they are affected in the lockdown that--whether or not we can totally outsource, you know, the--how much, where do we outsource and where do we keep in house, so that is another level of challenge. And the third thing is that, you know, when the crisis drag on, the front liners are very tired, they are mentally, you know, they are mentally exhausted, so really, we need to think ahead to enable a more mobile work force that is equipped with very, how should I say it, very good decisions of part 2s and other things that can alleviate their cognitive workload, alright, so that I think that is crucially important as well. Tod: Thank you, that is a remarkable answer.
I know Dr. Cunningham shares these concerns about the exhaustion of the workforce, so I'm actually gonna go right back to her. Big challenge for the next pandemic.
Carol: As I'm dressed to go to work, here is this, so work. I think from my standpoint, trying to reproduce the protective measures that are in a hospital, trying to get that into our first responders's resources. You know, we got some PPE, we were able to figure out how to decontaminate masks, but then we had a gown shortage, and there was really no technology to decontaminate and reuse gowns. Airway protection is huge. We have negative pressure rooms in hospitals, I would love to see technology developed where we could, like, insert some type of device into an ambulance window where we could generate the same type of negative pressure protection in a vehicle without, you know, an agency having to buy, spend hundreds of thousands of dollars to buy one that's already built in, particularly in those areas where I live where there's snow. You can't just open up a window and ventilate the, you know, ventilate the ambulance without freezing the patient.
And then, we also have to realize in the pre-hospital setting we don't know what we're dealing with. We're picking up patients with--who actually are on oxygen at home, so to have a protective measure, put a mask on the patient, that really doesn't help, because there's--how do you mask a patient and really get a good aerosolized protection when they already have a nasal cannula on or some other device, and then to keep within the time frame and not scare everybody to death, but I think we've always been behind and will be even more behind in looking at our pediatric resource as the D-variant has come out and we're seeing a huge increase and our pediatric tertiary care center is being overwhelmed. You know, it's a universal thing, children are our future, so if we're unable to protect our children, we're in trouble. Tod: I agree, thank you.
And I wonder if our colleagues from Korea could share their biggest challenge for the next pandemic. You're on mute sir. Jinha: Yes, I agree with Tod's opinion and agree with--similar with Dr. Cunningham. I think based on the Korea experience, I think that Korea has faced two challenges in the earlier of the COVID-19 outbreak. In the earlier of the COVID-19, Korea had some supply chain disruption of masks.
As we all did after COVID-19 outbreak, the demand for masks increased tremendously, however the mask production did not keep up with the demand, so many people had to try to purchase masks. It's a situation, it's because this vital preemptive protection of the spread of COVID-19, the demand for masks was not a point considered. So, to dealing with this situation, Korea government needed to stably supply masks to all people promoted to encourage mask production through the support of companies. Along with this, Korea government established a temporary regulation, it's a little bit--temporary regulation to enable people to purchase masks by setting a date to purchase masks based on their social security number.
So, for example, if your social security number ends with 9, then you can purchase some masks on the day related to 9, like the 9th, 19th, 29th. Currently we do not operate this regulation. Moreover, the government and IST companies developed an application that provided information on pharmacy that have remaining masks, so people could purchase masks easily. The reason it was able to operate stably without any difficulties was because of active and voluntary participation of the people with support of the government, that is, the to respond to future pandemic, I think we have to predict and prepare supply chain disruption in various ways, including masks, along with policy support.
But second is, you know, what we are currently facing after COVID-19 outbreak, it requires the increase of the number of medical staffs like Dr. Cunningham and the support for them. As is numerous medical staffs are still struggling with COVID-19 and trying to treat numerous patients, a lot of patients.
Like other countries, in Korea public and private medical staffs are trying, are treating COVID-19 patients without a break after the outbreak. While the number of the confirmed case is greatly increasing, the number of medical staff is finite, so there is not only a limit to treatment on the patient, but also this situation has been threatening the health of the medical staffs as well as the medical system. Actually, the Korea government is also making its own effort, but it's not enough, I think.
Therefore, it's necessary to secure more medical staff and provide the institutional support in response to future new infectious disease crises. Thank you. Tod: Thank you, Professor Town, the biggest challenge you think you'll face in the next pandemic. Ian: Thank you, well, just to echo my panelists, colleagues, we have had all of the same problems that have been described, particularly in the supply chain, such a long way from international markets.
Our biggest challenge as we look the future is a project we're calling Reconnecting New Zealand. Obviously, our economy is very much dependent on tourism and business travel, particularly to Australia and to the Northern Hemisphere, so although our elimination strategy has been successful, it has been at the expense of a very tightly held border, and our experience with managing the border, of course, has been like many other countries through the repurposing of hotel facilities as isolation and quarantine locations. And in fact, 170,000 New Zealanders have been allowed to return home over the last year or so, but we know we have a number of our citizens and permanent residents who are at this stage unable to get access to those facilities in a timely manner, so that challenge will be very much there for us as we look to the future. In that regard, of course, as we open up the border, then with new variants, this will place our elimination strategy at risk.
So, in terms of our social license and the conversations the government is having with the wider New Zealand population, there will need to be pretty exceptional communication to strike that balance between keeping us safe, but also then safely reconnecting with the world and allowing the freer travel. So, those challenges are, I think, not only physical and procedural in terms of how the border is managed, and we will be looking at pilots of things like home isolation and monitoring people outside of a facility, but then also for our government, the way in which these changes and the recognition that we may not be able to maintain elimination, how that is communicated to the government as leads are rebuilt of our economy. Thank you, Tod. Tod: Terrific, thank you, Professor Town.
So, we're gonna move to questions and answers. I'm gonna throw a question to the panel and ask each of them to give one technology that they would like to see available for the next pandemic, and then I'd like to invite the audience to put their questions in the Q and A, there's a Q and A button at the bottom of the screen, to put their questions in there, and that--they'll feed the questions to me to feed to the panel. We have about 13 minutes or so, so we can get some good questions in. So, I'm gonna go right back to Singapore and say, what is one big technology that HTX would like to have for the next pandemic? Yeang Tat: Well, we hope that we have a technology that can keep, you know, the virus, everything at the border and not come into the Singapore, not come through our borders. So, we hope to have sensor, pervasive sensors that can detect whether they are airborne viruses or contact based transmission, so we hope to have technology that can detect, that is one thing.
Second is that if they're forced to, we want to be able to have some kind of technology that can sanitize the area very quickly and also keep our front liners safe and can, you know, protect our front liners. So, this is one big thing that I hope, keep the infection from coming through the borders, alright, and keep our front line, the borders clean and safe for both the travelers as well as our frontline workers, yeah. Tod: Great, how about we go back to New Zealand? What's one technology you would like to see, Professor Town? Ian: Thank you, Tod. Our focus for the next little while will be the building of tenements and the empowering of our community management of future cases, particularly as we have a highly vaccinated population by year end and with the prospect of therapeutics. So, our focus will need to be on tenements and technology and platforms, wearable sensors that communicate with family care practitioners, and bringing together that ability for people with mild to moderate COVID-19 to be managed in the community safely without recourse to hospital treatment, which, of course, as my colleague from the US has already mentioned, presents huge challenges in terms of infection prevention and control and risk management, with the risk of health care settings becoming an outbreak center in their own right.
So, community care will be our focus here in New Zealand, thank you. Tod: Dr. Cunningham, was there a technology--I know you talked about ventilation for ambulances, but another technology you'd like to see as we go forward? Carol: Yeah, there's--patient care is a focus, that, if we could transition high flow oxygen delivery, which we've been using in the hospitals, into an ambulance setting, that would be great. It was used in New York City, but many of those squads would run out of the oxygen, which is 50 liters per minute, of, you know, it'd be nice if we could have that, a greater capacity without turning the ambulance into a potential bomb.
Especially for rural departments, who may actually have longer transports, and then we also found that proning patients who were severely hypoxic worked, but we were transferring to another facility, it would be great if we had a structure that would more adequately support that patient during transport, you know, put them in the prone position. And then the negative pressure for the squad, for the squad members are helpful. Tod: Yeah, I've been watching videos from various emergency and ICUs, and the proning is a critical care, but it's very difficult and hazardous to the patient and the health care team. Carol: But for some patients, that was the only way to ventilate them. Yet, when they were being transferred to another hospital, either due to lack of beds or lack of facilities, we found our EMS providers would try and put them in the normal position and they would desaturate, but, you know, they really did need to be placed in a prone position, and our structure's designed to not accommodate that.
Tod: That's an important insight, thank you. And in Korea, one technology you'd like to see for the next pandemic. Jinha: I think it's a line of I mentioned before, the clear, transparent information providing system and management system will be very important to future pandemic, because especially for front line workers, the reputable provision of correct and clear information on infectious disease is very important, because if such information provided late, then enormous damages may occur at a regional and national level, as all levels, in the individual level. So, it is very important to provide accurate information related to tracking, its portrait, learning about the information and management and everything system. So, the information system needs to be established as fast as we can to prepare for the future pandemic, I think. Yeah, thank you.
Tod: That's a fascinating insight, I know we've had significant information sharing challenges, layers of jurisdiction and distributed in timeliness of information is crucial for that. So, I'm not seeing any questions from my edited box here, so I think this is the time when I thank my esteemed colleagues for joining us today, I'm really grateful for your time, I wanna thank our International Cooperative Program Office for getting our folks from across the planet, especially Professor Town and Chief Chen and Mr. Kim, I want to thank you very much for getting up early, and we hope tomorrow is a good day, and I wanna thank Dr. Cunningham and wish her good luck as she goes
on duty in the emergency room, and I will hand it back to the Silicon Valley Program, Melissa Oh. ♪♪♪
2021-11-09 06:19
Show Video
Other news