2021 Space Symposium | Women's Global Gathering Luncheon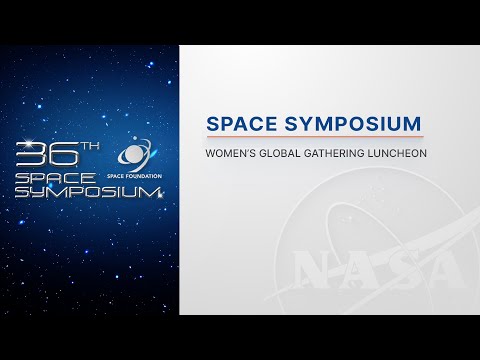 Show Video
[ APPLAUSE ] >> WELL, GOOD AFTERNOON, EVERYONE, AND WELCOME TO THE WOMEN'S GLOBAL GATHERING. AT THE-- AS PART OF THE 36th ANNUAL SPACE SYMPOSIUM. THAT'S RIGHT, I JUST WANNA REPEAT THAT. THE 36th ANNUAL SPACE SYMPOSIUM. IN PERSON, IN COLORADO SPRINGS, AT THE BROADMOOR. SO, THANK YOU.
[ APPLAUSE ] PLEASE CONTINUE TO ENJOY YOUR MEALS DURING OUR AFTERNOON EVENT. I AM HONORED FOR SERVE AS THE MASTER OF CEREMONIES FOR SUCH A SPECIAL OCCASION. TODAY, WE'RE PLEASED TO HAVE YOU JOINING US FOR OUR FOURTH ANNUAL WOMEN'S GLOBAL GATHERING.
IN PREVIOUS YEARS, THIS EVENT HAS BROUGHT SOME OF THE INDUSTRY'S LEADING WOMEN TOGETHER TO SHARE HOW THEY HAVE NAVIGATED THEIR RESPECTIVE CAREERS AND WHAT THEY'VE ACCOMPLISHED IN THEIR FIELDS. WELL, TODAY'S EVENT WILL BE NO EXCEPTION. WE HOPE TO INFORM AND INSPIRE ALL OF YOU, INCLUDING THE NEXT GENERATION OF WOMEN LEADERS IN THE SPACE INDUSTRY. I WOULD LIKE-- [ APPLAUSE ] I KNOW SJC, YOU'RE OUT THERE, SO YOU'RE OUR NEXT LEADERS. I WOULD LIKE TO THANK OUR SPONSOR FOR TODAY'S LUNCH, L3HARRIS. THANK YOU FOR ALL YOU DO.
[ APPLAUSE ] TODAY, WE'RE HONORED TO HAVE STEPHANIE DICKMAN, THE VICE PRESIDENT, STRATEGY AND BUSINESS DEVELOPMENT FOR THE SPACE BUSINESS-- WITHIN THE SPACE AND AIRBORNE SYSTEM SEGMENT AT L3HARRIS TECHNOLOGIES. AND WE'RE ALSO PLEASED TO HAVE JACKIE SCHMOLL, GENERAL MANAGER INTELLIGENCE, SURVEILLANCE, RECONNAISSANCE, SPACE, AND AIRBORNE SYSTEMS FOR L3HARRIS. SHE'S ALSO JOINING US AS THE MODERATOR TODAY.
NOW-- YES. THEY DEFINITELY DESERVE A ROUND OF APPLAUSE. [ APPLAUSE ] NOW, WITHOUT FURTHER ADO, I'D LIKE TO WELCOME TO THE PODIUM STEPHANIE DICKMAN! [ APPLAUSE ] THANK YOU SO MUCH FOR YOUR SPONSORSHIP.
WE'RE SO EXCITED TO HAVE YOU. ♪ ALL YOU NEED ♪ ♪ TO BE A DREAMER ♪ ♪ IS A DREAM ♪ ♪ SOMETHING TO BELIEVE IN ♪ ♪ AND SOMEONE ♪ ♪ TO BELIEVE IN YOU ♪ ♪ TO BELIEVE IN YOU ♪ ♪ MM ♪ [ MUSIC ] [ APPLAUSE ] >> THANK YOU, SHELLI, FOR THE WARM INTRODUCTION, AND THANK YOU EVERYONE. I'M VERY HAPPY TO BE HERE.
HELLO AND WELCOME TO THE FOURTH WOMEN'S GLOBAL GATHERING LUNCHEON AT THE 36th SPACE SYMPOSIUM. I FIGURED OUT I HAVE ATTENDED THE SPACE SYMPOSIUM FOR THE LAST 18 YEARS, BUT I HAVE NEVER BEEN AS HAPPY TO BE HERE AS I AM TODAY, TO SEE YOUR SMILING FACES WITHOUT MASKS ON, IT IS WONDERFUL. UM, I HOPE YOU ENJOY THE LUNCH TODAY, AND I HOPE YOU MEET SOME NEW FRIENDS AND ACQUAINTANCES. AS SHELLI SAID, MY NAME IS STEPHANIE DICKMAN. I'M THE VICE PRESIDENT OF STRATEGY AND BUSINESS DEVELOPMENT WITHIN THE SPACE AND AIRBORNE SYSTEMS DIVISION AT L3HARRIS TECHNOLOGIES.
WITH OVER 47,000 EMPLOYEES, L3HARRIS IS A GLOBAL AEROSPACE AND DEFENSE TECHNOLOGY INNOVATOR. WE DELIVER SOLUTIONS THAT MEET OUR CUSTOMERS' MISSION CRITICAL NEEDS, AND WE PROVIDE ADVANCE DEFENSE AND COMMERCIAL TECHNOLOGIES ACROSS AIR, LAND, SEA, SPACE, AND CYBER DOMAINS. YOU MIGHT BE FAMILIAR WITH SOME OF OUR WORK.
WE ARE RESPONSIBLE FOR THE POSITION, NAVIGATION, AND TIMING SIGNAL FOR THE GPS ENTERPRISE THAT HELPS YOU FIND YOUR WAY AROUND THE WORLD. WE'VE BUILT THE MOST SOPHISTICATED METEOROLOGICAL IMAGING INSTRUMENTS FOR NOAA SATELLITES, WHICH ARE ESSENTIAL TO SUPPORT SEVERE WEATHER FORECASTING. AND WE'VE PARTNERED WITH NASA FOR OVER 60 YEARS, CURRENTLY SUPPORTING THE JAMES WEBB SPACE TELESCOPE AND THE NANCY GRACE ROMAN SPACE TELESCOPE PROGRAMS. AND MOST RECENTLY, WE'VE WON PROTOTYPE CONTRACTS IN THE MISSILE WARNING ARENA, SUPPORTING A SPACE-BASED SENSOR DEVELOPMENT PROGRAM AND BUILDING FLIGHT SPACE HARDWARE TO DETECT AND TRACK HYPERSONIC MISSILES.
IT HAS BEEN A FANTASTIC WEEK HERE AT THE 36th SPACE SYMPOSIUM. THANK YOU TO THE SPACE FOUNDATION FOR ORGANIZING YET A VERY-- ANOTHER VERY SUCCESSFUL CONFERENCE AT THE BROADMOOR, DESPITE THE MANY CHALLENGES. AS YOU'VE LEARNED THIS WEEK FROM THE MANY FEATURED SPEAKERS, TALKS, EXHIBITS, AND FORUMS AT THE CONFERENCE, YOU ALL KNOW, IT IS A THRILLING TIME TO BE IN THE SPACE INDUSTRY, AND WE AT L3HARRIS ARE HONORED TO BE A PART OF IT. MY COLLEAGUE, JACQUELINE SCHMOLL WILL BE THE MODERATOR FOR TODAY'S EVENT.
JACKIE IS THE GENERAL MANAGER OF THE INTELLIGENCE, SURVEILLANCE, AND RECONNAISSANCE DIVISION WITHIN SPACE AND AIRBORNE SYSTEMS. AFTER LUNCH, JACKIE WILL BE THE MODERATOR FOR OUR PANEL AND SHE WILL INTRODUCE THE IMPRESSIVE PANELISTS THAT WE HAVE FOR YOU TODAY. THANK YOU VERY MUCH FOR TAKING THE TIME TO ATTEND OUR EVENT. ENJOY YOUR LUNCHEON, AND SAFE TRAVELS HOME.
THANK YOU. [ APPLAUSE ] >> GOOD AFTERNOON. AS STEPHANIE SAID, I AM JACKIE SCHMOLL WITH L3HARRIS. UM, SO I'M PLEASED TO HAVE THE OPPORTUNITY TODAY TO BE THE MODERATOR FOR TODAY'S PANEL.
AND I AM JOINED TODAY BY AN ESTEEMED TEAM OF PANELISTS. BEFORE I INTRODUCE OUR PANEL, I'D LIKE TO TAKE A MINUTE TO REFLECT ON THE PAST YEAR AND A HALF SINCE WE SAT IN THIS ROOM TOGETHER. SINCE THE LAST WOMEN'S GLOBAL GATHERING, WE HAVE EXPERIENCED MANY CHALLENGES AND OPPORTUNITIES IN SPACE.
SEVERAL FIRSTS INCLUDED THE U.S. SPACE FORCE ESTABLISHED BY THE FY20 NDAA. [ APPLAUSE ] WE HAD AN ALL-WOMEN SPACE WALK. [ CHEERS AND APPLAUSE ] TWO COMMERCIAL LAUNCHES OF HUMANS INTO SPACE THAT WERE NOT ASTRONAUTS. [ APPLAUSE ] KAMALA HARRIS WAS NAMED THE FIRST FEMALE VICE PRESIDENT AND HIGHEST RANKING FEMALE OFFICIAL IN U.S. HISTORY
AND CHOSEN TO CHAIR THE NATIONAL SPACE COUNCIL. [ APPLAUSE ] WE HAD THE PERSEVERANCE ROVER THAT LANDED ON MARS, AND NASA'S OSIRIS-REx LANDED ON AN ASTEROID AND COLLECTED A SAMPLE. [ APPLAUSE ] AND FINALLY, WE RETURNED HUMAN LAUNCH CAPABILITY TO U.S. SOIL FOR THE FIRST TIME SINCE 2011. [ APPLAUSE ] WE ALSO HAD SEVERAL ANNIVERSARIES.
THE 60th ANNIVERSARY OF THE FIRST PERSON IN SPACE, YURI GAGARIN. WE HAD THE 50th ANNIVERSARY OF APOLLO 11. [ APPLAUSE ] AND THE HUBBLE'S 30th ANNIVERSARY. [ APPLAUSE ] AND OF COURSE, WE HAD COVID.
[ LAUGHTER ] IN TODAY'S DISCUSSION, WE ARE GOING TO DIVE DEEPER INTO SOME OF THE NEW ESTABLISHMENTS THAT HAVE BROUGHT WITH THEM POLICY CHANGES, CHANGES TO OUR MILITARY FORCES, AND NEW OPPORTUNITIES, WITH A LITTLE SLANT TOWARDS THE CONTRIBUTIONS OF A DIVERSE WORK FORCE, NOW AND IN THE FUTURE. EACH OF OUR PANELISTS WILL PROVIDE ADDITIONAL INSIGHTS INTO OUR CURRENT DYNAMIC SPACE INDUSTRY FROM THEIR UNIQUE PERSPECTIVES. AND AT THIS TIME, I WOULD LIKE TO INVITE OUR PANELISTS TO COME FORWARD AND TAKE THEIR SEATS. [ APPLAUSE ] ALL RIGHT. THANK YOU, PANELISTS, FOR JOINING US TODAY.
I'M GOING TO WALK THROUGH SOME BRIEF INTRODUCTIONS AND THEN I'LL ASK EACH OF YOU TO TELL US A LITTLE BIT ABOUT YOUR ORGANIZATION, ITS MISSION, AND ITS ROLE. MAJOR GENERAL DEANNA BURT, COMMANDER OF THE COMBINED SPACE FOR-FORCES SPACE COMPONENT COMMAND, U.S. SPACE COMMAND, AND VICE COMMANDER, SPACE OPERATIONS COMMAND OF THE U.S. SPACE FORCE.
[ APPLAUSE ] MS LISA CALLAHAN, VICE PRESIDENT AND GENERAL MANAGER FOR LOCKHEED MARTIN, COMMERCIAL CIVIL SPACE. [ APPLAUSE ] PROFESSOR, DR. PASCALE EHRENFREUND, PRESIDENT OF THE INTERNATIONAL ASTRONAUTICAL FEDERATION.
[ APPLAUSE ] MS AUDREY SCHAFFER, DIRECTOR FOR SPACE POLICY, NATIONAL SECURITY COUNCIL. [ APPLAUSE ] AND FINALLY, MS VANESSA WYCHE, DIRECTOR OF THE NASA JOHNSON SPACE CENTER. [ APPLAUSE ] ALL RIGHT, AT THIS TIME, PANELISTS, PLEASE PROVIDE YOUR OPENING REMARKS, STARTING WITH DEANNA. >> WELL, GOOD AFTERNOON.
UH, I AM HONORED TO BE HERE TODAY. UH, MY NAME IS DEANNA BURT, I AM THE COMBINED FORCE SPACE COMPONENT COMMANDER. I AM PRIVILEGED TO BE A COMPONENT COMMANDER, UH, TO GENERAL DICKINSON AT U.S. SPACE COMMAND. AND THE MISSION WE DO OUT OF VANDENBERG SPACE FOR-FORCE BASE IS TO MAKE SURE WE ARE INTEGRATING THOSE COMBAT EFFECTS, SPACE WAR FIGHTING EFFECTS TO THE MULTI-DOMAIN FIGHT, BOTH TO OUR JOINT AND MULTI-NATIONAL PARTNERS ON BEHALF OF THE NATION. UH, SO I'M PROUD TO LEAD A VERY DIVERSE TEAM, UH, WHO DELIVERS THOSE EFFECTS DAY IN AND DAY OUT, 365 DAYS A YEAR.
ME PERSONALLY, UH, MY HUSBAND JUST RETIRED, UH, FROM THE AIR FORCE. UH, I AM A CAREER SPACE OPERATOR, HAVE JUST JOINED THE SPACE FORCE THREE MONTHS AGO, SO VERY PROUD TO BE A NEW GUARDIAN. UM...
THANK YOU. [ APPLAUSE ] ON A PERSONAL NOTE, AGAIN, MY HUSBAND JUST RETIRED FROM THE AIR FORCE. I HAVE A STEP SON WHO JUST LEFT FOR COLLEGE. SO, TOTALLY UNDERSTAND MANY OF YOU AS YOU'VE HAD YOUNGSTERS LEAVE OR START BACK TO SCHOOL.
UH, SO, HAPPY TO TALK ABOUT ANY OF THOSE THINGS, UH, BUT PROUD TO BE HERE TODAY. THANK YOU. [ APPLAUSE ] >> OKAY, I'M, UH, LISA CALLAHAN. I HAVE THE PRIVILEGE OF LEADING OUR COMMERCIAL CIVIL SPACE BUSINESS AT LOCKHEED MARTIN.
I OFTEN SAY I HAVE ONE OF THE COOLEST JOBS IN THE WORLD, AND I FIRMLY BELIEVE THAT. UM, AT LOCKHEED MARTIN, IN OUR COMMERCIAL SPACE BUSINESS, WE BUILD SPACECRAFT THAT ARE GONNA TAKE HUMANS BACK TO THE MOON AND BEYOND. UM, WE HAVE, UH, SPACECRAFT THAT ARE ROBOTIC, THAT ARE EXPLORING OUR ENTIRE SOLAR SYSTEM, AND HAVE BEEN TO EVERY PLANET IN OUR SOLAR SYSTEM, INCLUDING PLUTO, WHICH I STILL INCLUDE AS ONE OF OUR PLANETS.
[ APPLAUSE ] >> WE ALL LIKE PLUTO. >> WE HAVE THE HONOR TO WORK WITH NASA AND NOAA IN BUILDING WEATHER SATELLITES, EARTH S-- UH, SCIENCE SATELLITES, UM, TO PROTECT LIVES AND PROPERTY. AND, UH, WE BUILD COMMERCIAL COMMUNICATION SATELLITES THAT CONNECT THE WORLD. UM, PERSONALLY, UM, I HAVE A DAUGHTER WHO WAS HOME FOR THE LAST YEAR BECAUSE OF COVID WHO JUST RECENTLY LEFT FOR MEDICAL SCHOOL, AND I COULDN'T BE PROUDER, BUT I'M BACK TO AN EMPTY NESTER AGAIN, SO... AND, UH, THANK YOU FOR HAVING ME HERE TODAY.
[ APPLAUSE ] >> YES. I'M PASCALE EHRENFREUND. I'M PRESIDENT OF THE INTERNATIONAL ASTRONAUTICAL FEDERATION, AND IT'S AN INTERNATIONAL, UH, ORGANIZATION, AND I JUST WANT TO SAY, FOUNDED IN 1951 IN THE TIMES OF THE COLD WAR.
IT'S NOW THE WORLD'S LEADING SPACE ADVOCACY BODY WITH 400, UH, MEMBERS, 400-- OVER 400 MEMBERS FROM 70 COUNTRIES. AND, UH, WE REALLY ARE LOOKING FORWARD TO SHARING KNOWLEDGE FROM INTERNATIONAL COOPERATION AND, UH, BUILDING THE WORKFORCE AND PREPARING THE WORKFORCE FOR TOMOR-- UH, FOR TOMORROW. SO, UM, PERSONALLY, I'M, UM, VERY MUCH INVOLVED IN SPACE EXPLORATION SINCE 30 YEARS, AND IT HAS BEEN ALREADY MENTIONED.
IT'S AN INCREDIBLE, EXCITING TIME RIGHT NOW, UH, WITH SO MANY ACTORS, COMMERCIAL ACTORS, INVESTMENT, AND, UH, ALSO SO MANY COUNTRIES. IT'S REALLY AN INTERNATIONAL ENDEAVOR, AND I'M REALLY PROUD AND-AND-AND ALSO HAPPY THAT I'M STILL INVOLVED IN SOME OF THE EXCITING, UH, SPACE MISSIONS. AND, UM, I AM, UM, ACTUALLY MOVING INTO MY FOURTH, UH, EXECUTIVE JOB, AND, UM, UH, IT'S A BIT STRANGE BECAUSE IT'S THE FOURTH, UH, UH, LEADERSHIP JOB I HAVE WHERE I AM THE FIRST WOMAN. YEAH, SO, UH, UH, THAT-THAT-THAT-- THAT SOUNDS ALWAYS A LITTLE BIT STRANGE AND, UM, SO, I WILL BE LEADING THE INTERNATIONAL SPACE UNIVERSITY, MANY OF YOU KNOW-KNOW, WHICH IS SITUATED IN STRASBOURG, BUT HAS, OF COURSE, A HUB IN NORTH AMERICA.
IT'S A SPACE ELITE SCHOOL, AND I THINK IT IS REALLY, REALLY IMPORTANT. UM, IT WAS A TOPIC AT THIS CONFERENCE IN PARTICULAR. STEM EDUCATION, WE HAVE A-A-A GREAT LACK IN-IN-IN-IN-IN STEM. UH, UH, UH, PEOPLE AND STUDENTS, AND WE NEED, REALLY, UH, TO, UM, EDUCATE AND, UH, TO DEVELOP, UH, A-- REALLY, AN EXCEPTIONAL WORK FORCE FOR SPACE FOR TOMORROW. THANK YOU. [ APPLAUSE ] >> GOOD AFTERNOON, EVERYONE.
MY NAME IS AUDREY SHAFFER. I'M THE DIRECTOR FOR SPACE POLICY ON THE NATIONAL SECURITY COUNCIL STAFF. UH, WHAT THAT MEANS IS THAT I'M THE LEAD FOR NATIONAL SECURITY SPACE POLICY WITHIN THE EXECUTIVE OFFICE OF THE PRESIDENT AT THE WHITE HOUSE, UH, AND THE LEAD FOR, UH, SPACE MATTERS WITHIN THE NATIONAL SECURITY COUNCIL REPORTING OUT TO THE NATIONAL SECURITY ADVISOR.
UH, SO I ADVISE THE PRESIDENT AND THE NATIONAL SECURITY, UH-- EXCUSE ME, THE PRESIDENT AND THE NATIONAL SECURITY ADVISOR ON MILITARY INTELLIGENCE, CIVIL AND COMMERCIAL SPACE POLICY MATTERS. I DO THIS IN CLOSE COORDINATION WITH MY COLLEAGUES AT THE WHITE HOUSE. UM, COLLEAGUES FROM THE NATIONAL SPACE COUNCIL, OUR NEW EXECUTIVE SECRETARY, CHIRAG PARIKH, UH, THE OFFICE OF SCIENCE AND TECHNOLOGY POLICY, AND OF COURSE, THE OFFICE OF MANAGEMENT AND BUDGET. UM, AND WE ALSO WORK, OF COURSE, CLOSELY WITH ALL OF OUR COLLEAGUES FROM ACROSS THE DEPARTMENTS AND AGENCIES, WHETHER THAT'S NASA, THE DEPARTMENT OF DEFENSE, THE INTELLIGENCE COMMUNITY, COMMERCE, FAA, DHS, AND THE LIST GOES ON AND ON. UM, I AM AN ALUMNI OF THE INTERNATIONAL SPACE UNIVERSITY, SINCE YOU BROUGHT IT UP.
UH, THE SUMMER PROGRAM IN BEIJING IN 2007. UM, AND ON A PERSONAL NOTE, I-I DO HAVE A SON WHO, UH, REMINDS ME THAT HE RECENTLY CELEBRATED HIS THREE AND THREE QUARTER BIRTHDAY. [ LAUGHTER ] [ APPLAUSE ] >> GOOD AFTERNOON. I'M VANESSA WYCHE, UH, DIRECTOR OF NASA'S JOHNSON SPACE CENTER IN HOUSTON, TEXAS. WE ALSO HAVE A FUEL CENTER IN WHITE SANDS, NEW MEXICO. UH, I AM VERY PROUD TO LEAD OVER 10,000 EMPLOYEES AND WITH OUR MISSION OF HUMAN SPACE FLIGHT AND TRANSFORMATION.
AND, UH, RIGHT NOW AT THE JOHNSON SPACE CENTER, WE'RE VERY EXCITED. WE HAVE MANY PROGRAMS THAT ARE GOING AND UNDERWAY. UM, UH, LIKE GENERAL BURT, UH, WE DO HAVE, UH, OPERATIONS 365 DAYS WITH THE INTERNATIONAL SPACE STATION.
UH, SOME OF THE IMAGERY THAT YOU'RE SEEING AS YOU, UM, ARE LOOKING AT THE SCREEN, UH, ARE JUST SOME OF THE EXCITING THINGS THAT HAVE BEEN HAPPENING IN SPACE. UH, WE'RE VERY EXCITED TO BE WORKING IN LOW EARTH ORBIT. UH, WE'RE LEADING AN EFFORT CALLED COMMERCIAL LEO, AND, UH, THAT IS, UH, TAKING THE OPPORTUNITY, UH, TO SHARE AND, UH, HAVE, UM, PAYLOADS AND SOON TO BE PRIVATE ASTRONAUTS THAT WILL BE GOING TO THE INTERNATIONAL SPACE STATION, AND EVENTUALLY, FREE FLYING SPACE STATIONS.
IN ADDITION TO THAT, UH, WE ARE WORKING ON THE ARTEMIS PROGRAM. UH, WE'RE WORKING ON THE ARTEMIS PROGRAM FIRST WITH A PROGRAM UNDER THE SCIENCE MISSION DIRECTORATE CALLED COMMERCIAL LUNAR PAYLOAD SERVICES. AND THAT WILL BE ROBOTIC PAYLOADS GOING TO THE SURFACE OF THE MOON, LAUNCHED BY COMMERCIAL COMPANIES. AND THAT'S GONNA BE HAPPENING IN 2022. UH, BUT WE ARE ALSO VERY PROUD OF OUR HUMAN EFFORTS WITH THE ORION, UH, WORKING WITH LISA CALLAHAN AND LOCKHEED MARTIN, AND, UH, WITH THE GATEWAY, UH, PROGRAM.
AND THE GATEWAY IS A SMALL PLATFORM THAT WILL BE IN [ INDISTINCT ] SPACE THAT WILL ALLOW OUR ASTRONAUTS, UH, TO GET, UH, ON THE ORION TO THE GATEWAY AND THE HUMAN LANDING SYSTEM WILL MEET THERE AND THEN GO TO THE SURFACE OF THE MOON. SO, WE'RE VERY EXCITED ABOUT WHAT'S GOING ON IN SPACE. UH, WE'RE WORKING ALL OF THESE EFFORTS WITH OUR COMMERCIAL PARTNERS, OUR INTERNATIONAL PARTNERS, AND WITH OTHERS ACROSS THE AGENCY.
UH, ON A PERSONAL NOTE, UH, I AM A MOTHER AND I HAVE ONE SON, UH, WHO ACTUALLY, DURING COVID, UH, RECEIVED HIS MASTER'S DEGREE. SO, THAT WAS A GOOD USE OF COVID TIME. [ LAUGHTER ] AND, UM, SUPER PROUD OF HIM.
THANK YOU. >> THANK YOU. [ APPLAUSE ] ALL RIGHT, SO, HOPEFULLY, THIS MIC IS STILL WORKING? ALL RIGHT, GREAT. SO, THAT WAS AMAZING. SO, THIS IS GONNA BE A-A GREAT PANEL.
UM, SO LET'S START WITH SOME QUESTIONS. SO, JUST AS A REMINDER, THERE ARE GOING TO BE AUDIENCE QUESTIONS. I THINK THEY'LL FLASH A NUMBER UP ON THE SCREEN, UM, WHERE YOU'LL BE ABLE TO TEXT IN YOUR QUESTIONS. UH, FIRST, WE'LL START WITH SOME QUESTIONS THAT WE REALLY WANTED TO GET TO, BUT PLEASE FEEL FREE, AS-- AS THE PANELISTS MENTIONED, TO ASK AWAY. ALL RIGHT, SO THE FIRST QUESTION IS GOING TO GO TO VANESSA.
UM, "HUMAN SPACE FLIGHT AND TRAVEL INTERESTS ARE ON THE RISE IN CIVIL AND COMMERCIAL SPACE. WHAT ARE THE OPPORTUNITIES AND CHALLENGES ACROSS CIVIL, COMMERCIAL, AND DOD FROM THIS RISE IN SPACE TRAVEL?" >> WELL, THANK YOU. UH, YEAH, SO THE OPPORTUNITIES ARE-ARE-ARE VAST, YOU KNOW? BECAUSE AS, UM, WE HAVE OTHERS THAT ARE PARTICIPATING IN SPACE, ESPECIALLY, UH, COMMERCIAL OPPORTUNITIES, UM, IT ALLOWS FOR-- FOR EXAMPLE, FOR NASA, TO THINK ABOUT DOING THINGS DIFFERENTLY AND EXPANDING WHAT OUR CAPABILITIES CAN BE BY LEVERAGING WHAT WE'RE WORKING ON WITH OUR COMMERCIAL PARTNERS. SO, FOR EXAMPLE, UH, WITH COMMERCIAL CARGO, WE LEARNED A LOT, AND, UH, WE EXPANDED INTO COMMERCIAL CREW, AS YOU SAID. WE NOW ARE LAUNCHING AGAIN FROM FLORIDA.
UH, BUT TO DO THAT, UH, REQUIRES NOT ONLY, UH, NASA ASSETS, BUT IT REQUIRES DOD ASSETS, FAA ASSETS. AND SO, AS WE HAVE MORE AND MORE COMPANIES, UM, DOING THEIR OWN, UH, VENTURES, THEN WE'RE GONNA ALSO HAVE OPPORTUNITIES FOR US TO HAVE, UH, SUPPORT TO THOSE ACTIVITIES AS WELL. SO, UM, I SEE IT AS AN OPPORTUNITY AND A CHALLENGE BECAUSE WE NEED TO MAKE SURE THAT WE HAVE THE STEM WORK FORCE, A-AVAILABLE TO-TO MEET THE DEMAND THAT'S, UM, COMING ACROSS TO US. AND, UM, SO AT NASA, YOU KNOW, WE HAVE EFFORTS TOWARDS STEM ENGAGEMENT, UH, JUST LIKE MANY OF THE OTHER, UM, ORGANIZATIONS, BUT WE KNOW THAT WE HAVE TO BRING THE NEXT GENERATION ALONG SO THAT WE CAN CONTINUE TO EXPAND IN SPACE. >> YEAH, THAT'S GREAT. THANK YOU.
UM, DEANNA, DID YOU WANNA ADD ANY-ANYTHING TO THAT? >> NO, I-I-- THANK YOU. I-- VANESSA IS-- AND THE TEAM AT NASA ARE GREAT PARTNERS. I-- MANY OF YOU MAY NOT KNOW, UH, ON BEHALF OF GENERAL DICKINSON, UH, I HAVE THE RESPONSIBILITY, VERY IMPORTANT RESPONSIBILITY OF HUMAN SPACE FLIGHT SUPPORT, UH, DAY IN AND DAY OUT FOR NASA AND OUR GOVERNMENT, UH, ASTRONAUTS AS THEY GO OUT. SO, THAT'S BOTH IN LAUNCH, UH, IN RECOVERY, AND ANY EMERGENCY, UH, SEARCH AND RESCUE OR ANYTHING, GOD FORBID, SOMETHING GO WRONG, HOW DO WE-- HOW DO WE TAKE CARE OF AND SUPPORT, UH, NASA? I THINK THE CHALLENGE FOR US, UH, AND ON GENERAL DICKINSON AS THE COMBATANT COMMANDER IS, AS WE START TO SEE MORE COMMERCIAL TRAVEL, UH, HOW WILL WE AS A DEPARTMENT IN SUPPORT OF THAT COMMERCIAL TRAVEL, UH, IF SOMETHING WERE TO HAPPEN? IN OTHER DOMAINS, YOU WILL HAVE, YOU KNOW, UH, AIRCRAFT THAT GO DOWN OR ABANDONED SHIPS OR THINGS THAT ARE SINKING. HOW DO EACH OF THE DEPARTMENTS PLAY AND HOW DOES THAT GET COORDINATED, UH, IN EMERGENCY SITUATIONS? SO, I THINK, UH, THAT'S DEFINITELY SOMETHING, AN OPPORTUNITY IN THE FUTURE MOVING FORWARD, HOW DO WE TEAM AND WORK WITH NASA, UH, AND WITH THE COMMERCIAL ENTITIES? UH, THE OTHER CHALLENGE THAT I WOULD POSE IS THAT, UH, YOU'VE HEARD MANY PEOPLE FROM THE STAGE TALK ABOUT, UH, THE NUMBER OF OBJECTS AND PROLIFERATION OF SATELLITES, UH, AND CONGESTION.
UH, SO, THE DOD TRACKS ABOUT 32,000, UH, OBJECTS, WHETHER THEY BE LIVE OR NOT. UH, AND THAT IS, AGAIN, NOW WE'RE PUTTING HUMANS IN THE DOMAIN AND MORE FREQUENTLY. AND SO, HOW DOES THAT CHANGE THE CALCULUS OF, IF, YOU KNOW, WE'VE TALKED IN THE PAST, YOU'VE HEARD GENERAL HAYDEN AND OTHERS SAY SATELLITES DON'T HAVE MOMS.
AND SO, IF SOMETHING BAD HAPPENS TO A SATELLITE, PEOPLE GO, EH, IT'S A MACHINE. NO BIG DEAL. BUT WE'RE TALKING ABOUT AMERICANS, HUMANS FROM AROUND THE WORLD TRAVELING. THINK ABOUT GOING FROM SUBORBITAL FROM, UH, PARIS TO L.A., UH,
OR TRAVELING IN THAT RESPECT AND IF SOMETHING WERE TO HAPPEN TO THOSE FOLKS. SO, UH, WORKING CONGESTION, SPACE TRAFFIC MANAGEMENT, HOW DO WE DO THOSE THINGS MOVING FORWARD, UH, AS A NATION AND AS A GLOBE TO ENSURE WE PROTECT THOSE HUMANS, UH, OUT IN THE DOMAIN AND BEYOND IS GONNA BE VERY, VERY IMPORTANT. AND THAT'S GONNA BE A TEAM EFFORT ACROSS COMMERCIAL COALITION, UH, AND CIVIL TO MAKE THAT SAFE, UH, THAT SPACE TRAFFIC MANAGEMENT AND SAFETY OF FLIGHT. >> AND I WOULD JUST LIKE TO ADD-- UM, YEAH. I WOULD JUST LIKE TO ADD, ABSOLUTELY.
I MEAN, WE HAVE A LONGSTANDING RELATIONSHIP AND, UM, YOU KNOW, FOR THE-THE 18th, UM, THE GUYS, UM, IN MY FLIGHT OPERATIONS DIRECTORATE REMINDED ME OF, YOU KNOW, JUST THE MANY TIMES THAT-- THAT, YOU KNOW, THEY MAKE THE CONTACT AND THEN WE WORK IT TOGETHER, UH, IS A VERY CLOSE RELATIONSHIP. THANK YOU FOR THAT. >> ANYONE ELSE WANNA COMMENT? GOOD, OKAY.
SO, LET'S GO TO THE NEXT QUESTION. SO, AUDREY, "HOW DOES THE VICE PRESIDENT'S LEADERSHIP OF THE NATIONAL SPACE COUNCIL IMPACT THE ENTIRE COMMUNITY?" >> THANKS, JACKIE. AND-- SO, I KNOW YOU ALREADY SAID IT, BUT I WANNA SAY IT AGAIN IN THIS ROOM. UM, I THINK, YOU KNOW, IN THIS ROOM, AT THIS GATHERING, WE SHOULD, FIRST, JUST CELEBRATE THAT OUR NATION HAS ITS VERY FIRST WOMAN VICE PRESIDENT, UH, WHO IS ALSO THE CHAIR OF OUR NATIONAL SPACE COUNCIL. UM, NOW, PUTTING ASIDE WHETHER SHE'S A MAN OR WOMAN, I THINK, YOU KNOW, THE REAL BENEFIT OF THE NATIONAL SPACE COUNCIL IS THAT IT KEEPS ADVOCACY AND FOCUS ON SPACE ISSUES AT REALLY THE VERY HIGHEST LEVEL OF OUR GOVERNMENT.
UM, AND, YOU KNOW, ACTUALLY, REGARDLESS OF YOUR POLITICS, I THINK YOU CAN SAY THAT THE NATIONAL SPACE COUNCIL IN THE LAST ADMINISTRATION WAS INCREDIBLY EFFECTIVE. UM, WE SAW, YOU KNOW, A LOT OF THE ACCOMPLISHMENTS THAT JACKIE ALREADY MENTIONED, UH, THE STAND UP OF THE SPACE FORCE, SPACE COMMAND, THE ARTEMIS PROGRAM, THE GATEWAY PROGRAM, THIS BURGEONING AND INCREDIBLE PRIVATE SECTOR. UM, YOU KNOW, JUST AMAZING THINGS THAT THAT BODY REALLY, UH, DROVE. AND, YOU KNOW, IT'S ABLE TO DO THAT BECAUSE OF THAT LEADERSHIP AT THE HIGHEST LEVEL. AND SO, THIS ADMINISTRATION REALLY SAW THE PROGRESS THE SPACE COUNCIL HAD MADE, UH, PREVIOUSLY AND RECOGNIZED THE BENEFITS AND THE ROLE THAT SPACE PROVIDES, YOU KNOW, TO HUMANITY, TO SCIENCE, TO DEFENSE, UH, TO OUR ECONOMY, AND SAW HOW HAVING THAT ADVOCATE AT THE WHITE HOUSE COULD REALLY BE AN ENABLER ACROSS ALL OF THOSE ACTIVITIES. UM, AND SO THE DECISION TO NOT ONLY RETAIN THE SPACE COUNCIL, BUT TO KEEP THE VICE PRESIDENT AS ITS CHAIR, UM, I THINK REALLY SHOWS, YOU KNOW, THIS ADMINISTRATION'S COMMITMENT TO SPACE, THE PRIORITY THEY'RE GOING TO PLACE ON IT, AND I REALLY HOPE THAT WE'RE ABLE TO MAKE JUST AS MUCH PROGRESS IN THIS ADMINISTRATION AS WE DID IN THE LAST ONE.
>> WANNA ADD ANYTHING? >> YEAH, I WOULD ALSO, UM, LIKE TO ADD, I-I AGREE. YOU KNOW, WE HAD, UM, SOME OF THE-THE POLICY GOALS I-IN PLACE FROM THE LAST ADMINISTRATION. UH, WE'VE MADE, UH, VERY GOOD PROGRESS, AND I THINK WE WILL CONTINUE TO DO THAT. YOU KNOW, LIKE-- AS, UM, WAS MENTIONED, WORKING ON DEBRIS, UH, TRAFFIC MANAGEMENT. THAT'S VERY IMPORTANT. BUT NOW, WITH THIS ADMINISTRATION, THE FOCUS ON CLIMATE CHANGE, UM, STEM ENGAGEMENT, UH, THOSE PRIORITIES, UH, HELPS US ALL TO WORK ACROSS AGENCIES TOGETHER ON THOSE.
AND THEN THE OTHER THING I'LL MENTION, WE-WE DID NOT TALK ABOUT YET, IT'S-- IT IS WOMEN'S EQUALITY DAY TODAY. >> OH! PERFECT TIMING. [ APPLAUSE ] THAT WAS GOOD. I SHOULD'VE HAD THAT IN MY BULLETS.
ALL RIGHT, SO, UH, PASCALE, WE'RE GONNA MOVE OVER TO YOU. UM, CAN YOU SPEAK TO SOME OF THE INTERNATIONAL AND COMMERCIAL OPPORTUNITIES IN SPACE THAT YOU'RE SEEING FROM YOUR PERSPECTIVE? AND HOW HAS THE SPACE SECTOR REALLY CHANGED IN THE LAST DECADE? >> WELL, I THINK IT HAS CHANGED ENORMOUSLY. AND, UH, IT IS VERY DYNAMIC, AND, UM, YOU SEE THAT ALSO ON THIS, UH, SPACE CONFERENCE, WHICH IS AN ENORMOUS PORTFOLIO AND TOPICS WHICH WE ARE DISCUSSING. AND, UM, I THINK, UH, WE HAVE SEEN, UH, THE-THE, UM, UH, THAT SPACE IS MUCH MORE ACCESSIBLE, THAT, UH, WE HAVE MARKET DISRUPTIONS, UH, THAT WE HAVE NEW TECHNOLOGIES AND ARTIFICIAL INTELLIGENCE, AND ONLY TO NAME A-A FEW. YOU-YOU-- REUSABILITY, IT IS A REALLY, REALLY IMPORTANT TOPICS, UH, WHICH LEAD, YOU KNOW, TO INNOVATION AND TO NEW COMMERCIAL PLAYERS AND-AND-AND TO NEW COMPANIES. SO, UH, I THINK WE ARE LIVING IN AN INCREDIBLE TIME, AS HAS BEEN MENTIONED ALREADY, AND, UH, THAT HAS TO, UH, THAT LEADS ALSO TO, UH, THE FACT THAT MUCH MORE, UH, YOUNG PROFESSIONALS ARE ENTERING THE SPACE SECTOR.
AND WE, UM, SEE THAT THROUGH THE ENTREPRENEURSHIP WE HAVE, UM, YOU KNOW, UH, EXCEPTIONAL ENTREPRENEUR LEADERSHIP. UH, WE HAVE, UH, STRONG INVESTMENTS AND ONE HAS TO SAY THAT, UH, WHEN YOU LOOK AT THE STATISTICS AND THE DATA IN, UH, UH, E-EVEN IN THE YEAR OF COVID, THE SPACE SECTOR IS INCREDIBLY ROBUST, YEAH? UH, UM, SO, UM, WE HAVE SEEN, FOR INSTANCE, IN THE INTERNATIONAL ASTRONAUTICAL FEDERATION THAT WE HAVE A REALLY NEW GENERATION AND THAT WE HAVE A COMPLETE SHIFT UM, UH, UH, OR NOT COMPLETE SHIFT, BUT WE HAVE A SHIFT IN GENERATIONS. WE HAVE, UH, 50% OF OUR PARTICIPANTS ARE NOW UNDER 35 YEARS OLD.
AND THIS IS REALLY AMAZING, AND I THINK IT REALLY, UH, VERY IMPORTANT THING. YOU SEE IT ALSO HERE. THE-THE-THE NEXT GENERATION IS INTERESTED, IS PUSHING, AND, UH, IS BRINGING INNOVATION AND, UM, YOU KNOW, THINKING OUT OF THE BOX. AND I THINK WE HAVE ALSO TO ADAPT, UH, TO, UH, TO, UH, THIS NEW, UH, MOVEMENT AND, UH, TO THE COMMERCIAL SECTOR AND ORGANIZATIONS LIKE, UH, THE I.F. OR ALSO SPACE FOUNDATION TO HAVE NEW ACTIVITIES, WHICH REALLY ADDRESS THAT AND WHICH FOSTER THAT AND SUPPORT THAT. >> THANK YOU.
I'M GONNA THROW A CURVE BALL. LISA, DO YOU WANNA ADD ANYTHING TO THAT? YOU KNOW, FROM YOUR PERSPECTIVE, YOU KNOW, YOU'VE BEEN IN INDUSTRY FOR-FOR A WHILE. WHAT-WHAT DO YOU-- WHAT ARE YOU SEEING THAT'S CHANGED? >> SO, I THINK, UM, I MEAN, IF YOU JUST LOOK AT WHERE WE ARE RIGHT NOW IN THE WHOLE SPACE DOMAIN, RIGHT, THERE ARE MORE, UM, COMMERCIAL COMPANIES IN SPACE THAN EVER BEFORE.
THERE ARE MORE, UH, SPACE AGENCIES THAN EVER BEFORE. THERE ARE-- THERE'S MORE INVESTMENT DOLLARS BEING FLOWN INTO SPACE THAN EVER BEFORE. ALL OF THAT, I THINK, IS JUST GOING TO HELP, UM, WITH THE EXCITEMENT OF WHERE SPACE CAN TAKE US. UM, AND, YOU KNOW, IT'S THE INNOVATION THAT WILL COME OUT OF THAT DIVERSITY, UM, AND, UM, HOW ALL OF THAT CAN JUST COME TOGETHER TO HELP US AS, UH, INSPIRE THE WORLD, REALLY, AS WE MOVE FORWARD. UM, IT'S A-- IT'S BEEN MENTIONED THROUGHOUT THE CONFERENCE, BUT I THINK IT'S WORTH FOOT STOMPING, RIGHT? IT'S A-AN INCREDIBLY EXCITING TIME TO BE INVOLVED IN SPACE.
AND, UM, EVERYONE IN THIS ROOM SHOULD BE REALLY PROUD OF WHAT THEY'VE ACCOMPLISHED. >> ANY COMMENTS? OKAY. UM, SO, DEANNA, FROM YOUR PERSPECTIVE, WHAT ARE SOME OF THE TRENDS IN THE AEROSPACE INDUSTRY? AND-AND WHAT ARE SOME OF THE OPPORTUNITIES? >> THERE'S BEEN A LOT OF TRENDING. I THINK EVERYONE RECOGNIZES, IF YOU'VE HEARD GENERAL RAYMOND SPEAK, WE TALK A LOT ABOUT STANDING UP, UH, THE UNITED STATES SPACE FORCE AND TO BE A DIGITAL SERVICE. UH, THE SPACE FORCE IS BORN IN THE DIGITAL AGE.
UH, AND IT'S DIFFERENT THAN THE OTHER SERVICES WHO WERE LARGELY, YOU KNOW, BORN IN-- AND BUILT IN THE INDUSTRIAL AGE. SO, HOW DOES THAT CHANGE THE TECHNOLOGIES? I'VE BEEN VERY EXCITED THIS WEEK, UH, WITH THE INDUSTRY ENGAGEMENTS THAT I'VE HAD, UH, TO SEE THAT ALL OF YOU ARE ACTIVELY GETTING INVOLVED IN SOFTWARE MANAGEMENT. AGAIN, IT'S NOT ABOUT BUILDING SATELLITES.
IT IS, BUT IT'S ABOUT HOW DO WE MAKE THEM SOFTWARE-BASED? HOW DO WE GET MULTIBAND RECEIVERS THAT CAN BE RE-REPROGRAMMED QUICKLY AS THE ENEMY EVOLVES, OR THE THREATS ARE THERE? UH, I THINK HAVING MORE SOFTWARE BASED-- AGAIN THIS GETS BACK TO WHAT WE'VE BEEN TALKING ABOUT-- THE TECHNOLOGY. UH, THE YOUNGER GENERATION GETS IT. HOW DO WE USE ARTIFICIAL INTELLIGENCE, MACHINE-TO-MACHINE OPERATIONS, UH, AS WE GO OUT INTO THIS DOMAIN? AND SO IT'S REALLY IMPORTANT. UH, THINGS ARE GETTING SMALLER-- MICROSATS WHICH MAKES OUR JOB AT-AT CFCS A LITTLE HARDER, TO KEEP DOMAIN AWARENESS, UH, BUT AGAIN, HOW DO WE WORK THROUGH THOSE THINGS OF MAKING THINGS SMALLER, MORE DIGITAL, UH, MORE RE-PROGRAMMABLE MOVING FORWARD? UH, I THINK IT WILL HELP US, AGAIN, CONTINUE TO EXTEND OUR OPERATIONS IN THE DOMAIN. UH, WE ALSO HAVE OTHER CHALLENGES, DIFFERENT TYPES OF THREATS IN THE DOMAIN, AND HOW DO WE RESPOND TO THEM? UH, HYPERGLIDE VEHICLES, UH, OTHER CAPABILITIES THAT, UH, CAN BE DIFFICULT AND, UM, MORE COMPLEX PROBLEMS FOR US TO SOLVE.
HOW DO WE WORK THROUGH THOSE? SO AGAIN, THE TECHNOLOGY ENABLES A LOT, BUT THEN IN THE SAME BREATH, FOR THE THREAT, HOW DO WE RESPOND, DETECT, AND REPORT THOSE TYPES OF INFORMATION? SO AGAIN, THAT COALITION OF COMMERCIAL COALITION PARTNERS AND INDUSTRY IS GONNA BE CRITICAL MOVING FORWARD. >> THANK YOU. LISA, DID YOU WANT TO ADD SOMETHING TO THAT? >> YEAH, UM, I-I'LL JUST TAKE WHAT GENERAL BURT SAID, AND, UM, WHICH WAS REALLY FROM AN OPERATIONAL POINT OF VIEW AND JUST SAY FROM AN INDUSTRIES PERSPECTIVE, AS A DEVELOPER OF THOSE SYSTEMS, WE'RE REALLY USING THAT DIGITAL TRANSFORMATION TECHNOLOGY AND BRINGING IT INTO OUR WORKFLOW, UM, WHETHER THAT'S-- THROUGH THE ENTIRE LIFECYCLE, FROM OUR DESIGN INTO OUR MANUFACTURING, AND REALLY MAKING THAT SEAMLESS, UM, REALLY ELIMINATING HUMAN ERROR IN THE FUTURE, UM, AND I WILL FOOT STOMP YOUR, UM, COMMENT ABOUT SOFTWARE AND RE-PROGRAMABILITY AND, UM, I THINK THAT'S CRITICAL TO THE FUTURE, PARTICULARLY IN KEEPING PACE WITH THE THREATS. I AGREE. >> THANK YOU. ALL RIGHT, AU-- BACK TO AUDREY.
SO THERE'S BEEN A LOT OF TALK RECENTLY ABOUT NORMS OF BEHAVIOR. WHERE ARE WE WITH DEVELOPING SPACE NORMS, AND WHAT MORE WORK NEEDS TO BE DONE? >> YEAH, THANKS FOR THAT QUESTION. THE NORMS IS AN AREA THAT I'VE WORKED IN FOR A REALLY LONG TIME IN MY CAREER.
AND I ACTUALLY THINK AFTER YEARS AND YEARS OF TALKING ABOUT NORMS AND SAYING THAT WE NEED NORMS, WE ARE FINALLY STARTING TO HAVE SOME NORMS ACTUALLY FALL INTO PLACE. UM, YOU KNOW, I'VE BEEN THINKING RECENTLY ABOUT, LIKE, THREE DIFFERENT CATEGORIES OF NORMS OR GROUPING NORMS INTO THREE DIFFERENT BUCKETS. UM, THE FIRST BUCKET ARE NORMS FOR, YOU KNOW, SAFETY AND SUSTAINABILITY, NORMS THAT APPLY TO EVERY SATELLITE OPERATOR, REGARDLESS OF WHETHER YOU'RE MILITARY INTELLIGENCE, COMMERCIAL, CIVIL-- IT DOESN'T MATTER, RIGHT? JUST LIKE THE TRAFFIC RULES THAT EVERY SINGLE CAR HAS TO FOLLOW ON THE ROAD, UM, YOU KNOW, THESE NORMS PROVIDE SAFETY AND PREDICTABILITY FOR THE OPERATING ENVIRONMENT FOR THE GOOD OF EVERYBODY. UM, AND IN THAT AREA, WE'VE HAD GREAT SUCCESS.
UM, THE UNITED NATIONS COMMITTEE ON THE PEACEFUL USES OF OUTER SPACE ADOPTED LONG-TERM SUSTAINABILITY GUIDELINES IN 2019 THAT ARE DIRECTLY ADDRESSING SOME OF THESE CHALLENGES. UH, THE SECOND CATEGORY OF NORMS I'M CALLING THE-- THE FINAL FRONTIER NORMS, RIGHT? THE NORMS FOR HOW WE DO SPACE EXPLORATION, RESOURCE UTILIZATION, RIGHT? HOW WE ACT. HOW WE OPERATE. HOW WE COLLABORATE, UM, YOU KNOW, ON THE MOON, IN CISLUNAR SPACE, RIGHT? AND SORT OF PUSHING THE FRONTIERS OF-OF OUR SPACE EXPLORATION ACTIVITIES. UM, AND IN THAT REGARD, WE'RE ALSO SEEING, UH, PROGRESS, RIGHT? THE ARTEMIS ACCORDS THAT NASA ROLLED OUT LAST YEAR-- I-I SHOULD HAVE BROUGHT THE NUMBER, BUT I DIDN'T. UM, WE'VE GOT A NUMBER OF NATIONS WHO ARE SIGNED.
YOU MAY HAVE THE NUMBER. UM, WE HAVE A NUMBER OF NATIONS WHO HAVE SIGNED UP TO THE ARTEMIS ACCORDS, AND SO WE'RE STARTING TO SEE, AGAIN, SOME COALESCENCE IN THAT AREA OF WHERE THE, UH, HOW DO WE BEHAVE, UM, UH, ON THE MOON AND IN OTHER CELESTIAL BODIES? AND THEN THE FINAL CATEGORY ARE NORMS, REALLY FOR SA-- EXCUSE ME, FOR STABILITY AND SECURITY IN THE OUTER SPACE DOMAIN, RIGHT? SO THOSE THAT HELP US REDUCE THE CHANCES OF MISPERCEPTION UH, REDUCE THE CHANCES OF MISCALCULATION, AND ULTIMATELY HELP ENHANCE INTERNATIONAL PEACE AND SECURITY. AND WHAT WE'VE SEEN IN THAT AREA IS JUST ABOUT, UM, SIX WEEKS-- NO, MAYBE MORE LIKE EIGHT WEEKS AGO, UH, THE DEFENSE SECRETARY AUSTIN UH, RELEASED A MEMO ON TENETS OF RESPONSIBLE BEHAVIOR, AND IT REALLY OUTLINES AT-AT A VERY HIGH LEVEL, UH, KIND OF WHAT BEHAVIORS, UH, AT LEAST DOD SPACE OPERATIONS, WILL FOLLOW. UM, AND I THINK THAT'S REALLY AN EXCEPTIONAL START FOR HAVING THAT CONVERSATION BOTH WITH OUR ALLIES AND PARTNERS AS WELL AS INTERNATIONALLY ABOUT HOW WE CREATE THOSE UM, NORMS, REALLY FOR SECURITY ACTIVITIES. UM, SO I CA-- I GUESS, LIKE, SORT OF THE BOTTOM LINE FROM MY PERSPECTIVE IS, UH, ALTHOUGH I DO THINK WE HAVE SOME MORE WORK TO DO, I THINK WE'RE REALLY IN A GREAT PLACE RIGHT NOW.
>> PASCALE, CAN YOU ADD TO THAT FROM AN INTERNATIONAL PERSPECTIVE? >> YEAH, I THINK, UM, I THINK IT IS REALLY IMPORTANT THAT EVERYBODY IS, UH, LOOKING IN THE FUTURE, UH, THAT WE NEED TO EVOLVE TOWARDS A COMMON, UH, SHARED AND INTERNATIONAL, UM, FRAMEWORK. UM, AND, UM, THAT'S FOR MANY, MANY DIFFERENT TOPICS. AND WE HAVE A LOT IN PLACE WHICH IS SOFT LAW, AND I WANT TO COME BACK TO PLANETARY PROTECTION, BECAUSE I THINK IT IS REALLY AN IMPORTANT SUBJECT. UM, IT IS ALSO REALLY IMPORTANT TO HAVE THE DIALOGUE WITH THE DIFFERENT STAKEHOLDERS. WHEN YOU LOOK AT PLANETARY PROTECTION, AND YOU SEE ALL THIS ENORMOUS AMOUNT OF M-- OF MISSIONS NOW, UH, FROM COMMERCIAL ACTORS, WE-- YOU HAVE TO HAVE A DIALOGUE AND REALLY TO INFORM EACH OTHER, BECAUSE, UM, A COMMERCIAL PLAYER WHICH HAS A MISSION FOR A MOON OR MARS HAS REALLY TO UNDERSTAND, WHAT IS THE LATEST KNOWLEDGE OF THIS PLANETARY BODY, AND, UH, WHAT, UM, UH, IS ACTUALLY GONNA HAPPEN? WHAT IS EVENTUALLY DESTROYED, OR WHAT COULD ACTUALLY BE OF HELP TO NOTE? I THINK THIS DIALOGUE-- WE HAVE ONCE AT GEORGE WASHINGTON UNIVERSITY SPACE POLICY INSTITUTE HAVE WRITTEN A REALLY BIG PAPER ON THAT. TO, UH, TO BRING ALL THE PEOPLE TOGETHER, TO HAVE THE STAKEHOLDERS REALLY DISCUSSING AND, UH, THEN GOING FROM A SOFT LAW TO MORE BINDING AGREEMENTS, AND WE HAVE, RIGHT NOW, UH, THE COMMITTEE OF SPACE RESEARCH IN PLACE, UH, WHICH HAS A PANEL ON PLANETARY PROTECTION, AND IT IS STRONGLY LINKED TO THE UNITED NATIONS, TO U.N. [ INDISTINCT ]
AND HAS NOW, UM, UH, REPRESENTATIVES OF THE SPACE AGENCIES INCLUDED, SO THAT'S A REALLY GOOD STEP, WHERE YOU HAVE SCIENTISTS, WHERE YOU HAVE ALL THE, UM, COMMERCIAL PLAYERS, AND WHERE YOU HAVE THE SPACE AGENCIES SITTING ON ONE TABLE AND DISCUSSING, UH, UH, THE FUTURE OF, YOU KNOW, SPACE EXPLORATION. AND I THINK THIS IS THE WAY TO GO. THIS IS A-A VERY-- THE DIALOGUE IS ALWAYS IMPORTANT BECAUSE THE STAKEHOLDER, UH, HAVE DIFFERENT LANGUAGES, AND WE NEED TO PULL IT TOGETHER. >> GREAT. SO, DEANNA, HOW DO THESE SPACE NORMS APPLY TO YOU AND THE DOD? >> YOU KNOW, I-I THINK, UH, I-I'M VERY PROUD THE DEPARTMENT OF DEFENSE, UH, LED WITH HOW WE DO SPACE OPERATIONS, OR AT LEAST FROM THE SECTOR'S PERSPECTIVE, THE TENETS THAT WE HAVE FOLLOWED.
I'VE BEEN A CAREER SPACE OPERATOR FOR 29 YEARS. AND-AND THOSE ARE THE TENETS WE FOLLOWED, AND THAT'S WHAT I LEARNED AS A YOUNGSTER, AND HOW WE'VE OPERATED, UH, THROUGHOUT MY CAREER, AND SO I WAS VERY PROUD THAT WE PUT THOSE FORWARD, WE HAD A RESPONSIBILITY TO, RIGHT? WE'VE BEEN OPERATING IN THE DOMAIN FOR A VERY LONG TIME. I WOULD ASK THIS AUDIENCE TO THINK ABOUT THAT WE HAVE ENTERED IN THE SPACE DOMAIN KIND OF BACKWARDS. AND WHAT I MEAN BY THAT IS, IF YOU LOOK AT, UH, MOST OTHER DOMAINS, WE ENTERED WITH THEM, UH, IN A POSITION WHERE THERE'S AN ENTREPRENEUR UH, AN INVENTOR, SOMEONE WHO BUILDS SOMETHING BRAND NEW, AND THEN AT SOME POINT, THE MILITARY SEES THE VALUE OF IT, AND WE THEN MILITARIZE IT, AND THEN NORMS AND BEHAVIORS HAVE BEEN CREATED. SO I'LL GIVE YOU THE EXAMPLE-- HENRY FORD BUILT A CAR.
WE BUILT ROADS. WE TALK ABOUT HOW YOU OPERATE ON THE ROAD. THEN THE MILITARY LOOKS AT THE CAR AND SAYS, "HEY, THAT COULD BE A TANK." [ LAUGHTER ] OKAY? SAME THING. ORVILLE AND WILBUR FLY AN AIRPLANE, AND AT THE END OF WORLD WAR I, WE GO, MAN, IT WOULD BE GREAT TO FLY OVER THE-- AND DO INTELLIGENCE AND SURVEILLANCE AND RENAISSANCE OF BATTLE SPACE, AND EVENTUALLY WE COULD DROP BOMBS OFF OF IT.
OH, HEY, THERE'S OTHER GUYS WITH AIRPLANES. WE'RE GONNA SHOOT AT THEM. DO-DO YOU SEE WHERE I AM SAYING? AS THE NORMS GET BUILT-- HAVE BEEN BUILT HISTORICALLY IN DOMAINS BY OTHER TRAVELERS, ADVENTURERS, OTHER PEOPLE, AND THEN THE MILITARY, THE GOVERNMENT COME ALONG WITH, UH, ON TOP OF SOME BEHAVIORS THAT HAVE ALREADY SORT OF BEEN ESTABLISHED.
IN THIS CASE, BECAUSE OF THE COST OF ENTRY AND WHERE WE ARE, THAT DOESN'T MEAN INDUSTRY WASN'T ENGAGED WITH US HAND-IN-HAND BUILDING THOSE CAPABILITIES. BUT THEY REALLY WERE BUILT FROM A DEFENSE POSITION WITH SPUTNIK-- AND YOU'VE HEARD MANY PEOPLE. GENERAL HYTEN TALKED ABOUT IT. MANY PEOPLE HAVE TALKED ABOUT THE HISTORY OF SPACE AND HOW WE-- IT WAS A SPACE RACE AS PART OF THE COLD WAR. SO I WOULD THINK IT'S IMPORTANT THAT THE DOD AT LEAST PUT OUT FRONT WHAT WE'VE DONE, WHICH SAYS, HERE ARE OUR NORMS.
UH, I WOULD ALSO SAY AS THE DEPARTMENT OF DEFENSE, WE RECOGNIZE WE ARE NOT HERE ALONE. THIS IS CRITICAL THAT AS-AS PASCALE SAID, THIS IS-- ALL THE PARTNERS HAVE TO BE ENGAGED IN THIS DISCUSSION. UH, WE JUST OFFER ONE PERSPECTIVE. I THINK IT'S IMPORTANT THAT OUR COALITION PARTNERS, WE HAVE THE COMBI-- UH, THE COALITIONS SPACE OPERATIONS INITIATIVE, THE CSPO INITIATIVE, WHERE WE MEET WITH OUR PARTNERS. I ALSO THINK THE UNITED KINGDOM, CANADA, AUSTRALIA, NEW ZEALAND, FRANCE, AND GERMANY, AND WE TALK ABOUT THESE THINGS.
AND WE HAVE DIALOGUE ABOUT WHAT IS ACCEPTABLE BEHAVIOR OR NORMS OF BEHAVIOR, BECAUSE FROM A DEFENSE DEPARTMENT PERSPECTIVE, HOW DO I DETERMINE WHAT IS SOMETHING THAT IS HOSTILE? I HAVE TO FIRST DEFINE WHAT IS NORMAL SO THAT THEN WE CAN HOLD OTHERS ACCOUNTABLE OR DEFEND WHEN WE HAVE THE INHERENT RIGHT OF SELF-DEFENSE AND THE DOMAIN ONCE WE'VE DETERMINED SOMETHING IS IRRESPONSIBLE, UH, OR IS CONSIDERED A HOSTILE ACT. BUT YOU CAN'T GET TO THOSE DEFINITIONS UNTIL YOU FIRST DEFINE WHAT IS ACCEPTABLE, SO I'M-I'M REALLY EXCITED ABOUT WHERE WE'RE GOING. THERE'S A LOT OF, UH, THINGS AND WORK WE NEED TO DO, AND I AGREE THAT WE'VE GOT A LOT OF WORK TO DO, BUT I-I AM VERY PROUD THAT WE'RE DOING IT AS A COALITION WITH THE INDUSTRY AND OUR COMMERCIAL AND CIVIL PARTNERS, UH, AND INTERNATIONALLY, BECAUSE THAT'S WHAT IT'S GONNA TAKE, BECAUSE IT'S FOR EVERYONE TO BE FREE AND TRANSPARENT AND USE THE DOMAIN FOR ALL. >> THANK YOU. I LOVE THE EXAMPLES OF THE CARS AND PLANES AND-- PUTS IT ALL IN PERSPECTIVE.
ALL RIGHT, SO, AUDREY, WHAT IS THE ROLE OF SPACE IN STRATEGIC COMPETITION? >> OKAY, UM, ALL RIGHT, WELL, THANKS FOR THE DOUBLEHEADER THERE. UM, SO, UH, OKAY, SO, UM, SO THIS MARCH, UM, THE ADMINISTRATION-- THE PRESIDENT RELEASED A DOCUMENT CALLED "THE INTRIM NATIONAL SECURITIES STRATEGIC GUIDANCE." IT'S SORT OF LIKE A MINI NATIONAL SECURITY STRATEGY, UM, AND IT'S INTENDED TO PROVIDE GUIDANCE, UH, YOU KNOW, FOR THE NATIONAL SECURITY APPARATUS OF GOVERNMENT, UH, WHILE WE DEVELOP OUR MORE FULSOME NATIONAL SECURITY STRATEGY, AND, UM, IF YOU HAVEN'T READ IT, I WOULD ACTUALLY REALLY COMMEND IT TO YOU.
IT'S A PRETTY SHORT READ, AND, UH, IT DOES A REALLY GOOD JOB OF ARTICULATING THIS ADMINISTRATION'S POLICY PRIORITIES AS WELL AS ITS VALUES. UM, AND WHAT IT DESCRIBES IS REALLY A-A CHALLENGING GLOBAL LANDSCAPE, UM, AND ONE IN WHICH CHINA IS REALLY THE ONLY NATION THAT'S ABLE TO KIND OF MARTIAL ALL OF THE TOOLS OF NATIONAL POWER-- ECONOMIC POWER, MILITARY POWER, TECHNOLOGICAL POWER-- TO CHALLENGE, YOU KNOW, THE INTERNATIONAL SYSTEM. AND I ACTUALLY THINK THAT LAST PART'S REALLY INTERESTING, TOO, BECAUSE IT'S NOT JUST CHALLENGING SORT OF THE UNITED STATES.
IT'S ACTUALLY CHALLENGING THE ENTIRE RULES-BASED INTERNATIONAL ORDER THE UNITED STATES AND ITS LIB-- LIBERAL DEMOCRATIC ALLIES BUILT UM, AFTER WORLD WAR II, AND THAT, FRANKLY, HAS BENEFITED US GREATLY, UM, IN THOSE INTERVENING YEARS. UM, AND SO WHEN WE CONFRONT THIS ARENA WHERE CHINA IS SEEKING TO REALLY CHALLENGE THAT, UM, WORLD ORDER, I LOOK AT SPACE, ACTUALLY, AND I SEE SPACE AS NOT ONLY AN ARENA OF STRATEGIC COMPETITION SORT OF IN AND OF ITSELF, BUT ALSO A TOOL THAT WE CAN USE AS PART OF THAT STRATEGIC COMPETITION AMONG NATIONS. AND I, YOU KNOW, I COULD GO INTO MUCH MORE DETAIL, BUT I WON'T TODAY, ABOUT HOW THAT KIND OF BREAKS DOWN ACROSS ALL THOSE DIFFERENT TOOLS OF NATIONAL POWER, BUT JUST TO GIVE YOU A FEW EXAMPLES, RIGHT? IF YOU THINK ABOUT ECONOMIC COMPETITION, I THINK WE HAVE AN INCREDIBLE OPPORTUNITY WITH THIS BURGEONING SPACE SECTOR THAT EVERYONE HAS TALKED ABOUT ON THIS STAGE ALREADY, TO REALLY ENHANCE THE COMPETITIVENESS OF U.S. INDUSTRY AND TO THINK ABOUT HOW WE LEVEL THE PLAYING FIELD FOR OUR COMMERCIAL COMPANIES SO THAT THEY CAN COMPETE, UH, CAN COMPETE INTERNATIONALLY. UM, IF YOU LOOK AT INFLUENCE, RIGHT? AND PRESTIGE, OBVIOUSLY, SPACE HAS BEEN USED FOR THAT, UH, YOU KNOW, IN-IN ITS ENTIRE HISTORY. UM, AND YOU CAN SEE, WHERE, UH, PROGRAMS, UH, YOU KNOW, WHAT-- WHERE CHINA IS ACTIVELY PURSUING, UH, PROGRAMS LIKE ITS OWN SPACE STATION AND, UH, ITS OWN LUNAR, UH, PROGRAM TO ENHANCE ITS INTERNATIONAL PRESTIGE.
SO-SO HOW DO WE IN THE UNITED STATES AND WITH OUR, UH, PARTNERS, UM, SORT OF DO THE SAME, AND ACTUALLY ALSO USE THOSE OPPORTUNITIES TO EXPAND INTERNATIONAL COOPERATION TO PARTNERS WHO MAY NOT HAVE BEEN OUR TRADITIONAL SORT OF SPACE, UH, PARTNERS, RIGHT? I THINK THERE'S A LOT OF OPPORTUNITY FOR SO-CALLED SOFT POWER, UM, AND BUILDING RELATIONSHIPS IF WE THINK IN THAT MIND SET. AND THEN, FINALLY, WE'VE TALKED A LOT ABOUT NORMS ALREADY, SO I WON'T REALLY SPEND TOO MUCH TIME ON THAT, BUT, YOU KNOW, WITH THAT INFLUENCE COMES THE OPPORTUNITY TO KIND OF SHAPE THAT INTERNATIONAL ORDER FOR SPACE AS WELL, TO BUILD UPON THE ORDER THAT WE HAVE HERE ON EARTH AND EXTEND THAT UM, INTO OUTER SPACE. UM, SO WHEN I THINK ABOUT SPACE AND STRATEGIC COMPETITION, THAT'S KIND OF WHERE MY HEAD IS.
I THINK IT'S A REALLY HELPFUL LENS TO LOOK AT OUR ACTIVITIES AND THINK ABOUT WHAT OUR PRIORITIES OUGHT TO BE AND WHAT OUR POLICES OUGHT TO BE. AND I THINK IT'S, UH-- SO ANYWAY, THAT'S REALLY WHERE I'M GOING TO BE THINKING OVER THE NEXT COUPLE OF MONTHS WHEN I KIND OF EXPAND UPON WHAT'S, UM, IN THAT NATIONAL SECURITY STRATEGIC GUIDANCE INTO SOMETHING FOR THE SPACE INDUSTRY. >> YEAH, I'M THINKING NEXT YEAR THEY NEED A PANEL ON NORMS WITH THE WAY YOU'RE SPEAKING ON IT. UM, DEANNA, DID YOU WANT TO ADD ANYTHING TO THAT FROM A PERSPECTIVE OF STRATEGIC COMPETITION? >> NO, I THINK FROM THE DEPARTMENT OF DEFENSE, I AGREE WITH EVERYTHING AUDREY JUST SAID. I MEAN, WE HAVE TO WORK THIS TOGETHER, AND COMPETITION IS OBVIOUSLY AN OPPORTUNITY, UH, FOR ALL OF YOU IN INDUSTRY.
THE MORE OF YOU THAT ARE INVOLVED, THE PRICE POINT GOES DOWN FOR THE DEPARTMENT OF DEFENSE ON THE CAPABILITIES THAT WE WANT TO PURSUE, AND SO IT-- COMPETITION CAN BE A GOOD THING. WHEN WE TALK ABOUT STRATEGIC COMPETITION, THOUGH, WITH OUR POTENTIAL ADVERSARIES, AGAIN, THE KEY FOR US, AND THE SECRET SAUCE IS OUR RELATIONSHIPS BOTH WITH OUR CIVIL, COMMERCIAL AND COALITION PARTNERS. HOW DO WE CONTINUE TO BUILD, UH, AND COUNTER THAT COMPETITION BY HAVING THOSE KEY STRATEGIC RELATIONSHIPS THAT ALLOW US, UH, TO CONTINUE TO OPERATE? ALSO RESILIENCY AND BEING ABLE TO FIGHT THROUGH IF WE ARE CONTESTED. UH, WE DO NOT WANT A WAR THAT EXTENDS INTO SPACE. THAT'S NOT GOOD FOR ANY OF US.
BUT WE NEED TO BE PREPARED AS THE DEPARTMENT OF DEFENSE UNDER THE LEADERSHIP OF THE UNITED STATES SPACE COMMAND TO FIGHT AND WIN IF ASKED AND CALLED UPON BY THE NATION, AND WE WILL, BUT WE WILL DO THAT IN PARTNERSHIP, UH, WITH OUR COALITION. WE WILL DO THAT, UH, THROUGH RESILIENCY, AND WE WILL DO THAT THROUGH MAKING SURE THAT WE'RE CONTINUING TO WORK WITH INDUSTRY TO KEEP BUILDING NEW CAPABILITY AND STAYING AHEAD OF OUR COMPETITORS. >> THANK YOU. ALL RIGHT, SO, VANESSA, WE'RE GONNA GO OVER TO YOU. AND SO WE'RE GONNA FLIP INTO A LITTLE BIT OF HUMAN SPACE TRAVEL THAT WE TALKED ABOUT IN THE BEGINNING, SO, UM, NOW THAT THERE ARE MORE-- >> I'M THINKING, YOU KNOW, MORE STRATEGIC COOPERATION. >> OH, DO YOU WANT TO-- OKAY, SO WE COULD-- WE COULD DO THAT.
SO DO YOU WANT TO ADD ANYTHING ON TO THE LAST QUESTION? >> NO, NO, NO, JUST THE-- JUST THE FLIP OF THAT IS, YOU KNOW, WE HAVE BEEN, UM, YOU KNOW, WORKING INTERNATIONALLY USING THE SPACE STATION, AND PRIOR TO THAT IN NASA'S HISTORY, OTHER MISSIONS AS WELL, BUT IF YOU THINK ABOUT, YOU KNOW, COOPERATION, THE INTERNATIONAL SPACE STATION HAVING HUMANS ONBOARD FOR OVER 20 YEARS WORKING TOGETHER INTERNATIONALLY, THE CREW THAT'S ONBOARD TODAY REPRESENTS, UM, THE EUROPEAN SPACE AGENCY, THE UNITED STATES, REPRESENTS JAXA, MANY, UM, OF THE COUNTRIES WORKING TOGETHER. AND THEN WHAT WE'RE DOING UH, GOING FORWARD, YOU KNOW, WE ARE WORKING WITH OTHER COUNTRIES THAT ARE INTERESTED IN, UM, BECOMING A PART OF SPACE EXPANDING. SO WE TALKED ABOUT THE ARTEMIS ACCORDS, AND WORKING WITH, UH, ADDITIONAL COUNTRIES, UH, BUT ALSO BRANCHING OUT AND WORKING, UM, WITH, LIKE, UNITED ARAB EMIRATES, AND THEM, UM, BECOMING A PART OF-- USING IT FOR SOFT POWER, YOU KNOW, FOR GOOD. AND SO, UM, BUT I DO THINK THAT'S WHAT WE'LL CONTINUE TO DO. AND WE'RE DOING THAT NOW ALSO WITH, UH, ARTEMIS, WITH GATEWAY, OTHER INTERNATIONAL, UM, PLAYERS AS WELL.
>> THANK YOU. SO LET'S NOW PIVOT TO, UH, HUMANS IN THE SPACE DOMAIN, AND-- LISA I'M GONNA, THROW YOU A CURVEBALL, 'CAUSE WE'RE GONNA START WITH YOU. SO, YOU KNOW, YOU'RE WORKING-- >> IT'S A LONG WEEK. [ LAUGHING ] I WAS ON A PANEL BEFORE THIS, AND YOU'RE THROWING CURVEBALLS? >> YEAH, LIS-- [ LAUGHING ] LISA ONLY FOUND OUT SHE WAS ON THIS PANEL, LIKE, MONDAY, I THINK. SO THANK YOU, LISA, FOR JOINING.
UM, YOU KNOW, WHEN YOU TALK ABOUT HUMANS IN SPACE, AND YOU'RE WORKING A LOT OF PROGRAMS WHERE YOU'RE TRYING TO DO JUST THAT, UM, WHAT DOES IT MEAN NOW THAT THERE ARE MORE HUMANS, YOU KNOW, COMMERCIALLY, UM, GOING INTO SPACE? UM, HOW DO YOU PROTECT THOSE PEOPLE? UH, DEANNA TOUCHED ON IT A LITTLE BIT IN HER INTRODUCTION-- UM, INTRODUCTORY REMARKS. BUT FROM YOUR PERSPECTIVE, ARE YOU SEEING ANYTHING DIFFERENT FROM AN INDUSTRY PERSPECTIVE? >> YEAH, I THINK, UM, YOU KNOW, I THINK DEANNA, UM, TALKED ABOUT IT IN TERMS OF, UM, THE DEBRIS THAT WE HAVE IN LOW EARTH ORBIT, AND, YOU KNOW, WHEN WE'VE GOT HUMANS THAT ARE IN LOW EARTH ORBIT TODAY, AND WILL CONTINUE, IN, UM, THE FUTURE, I THINK, WE-- WE NEED TO FIND A WAY IN WHICH WE CAN PROTECT THEM. UM, AND EVEN FOR, UM, SPACECRAFT LIKE ORION THAT ARE GONNA GO BEYOND LOW EARTH ORBIT AND TO THE MOON, UM-- IT'S MORE DIFFICULT TODAY TO GET THERE THAN IT WAS IN THE APOLLO DAYS, RIGHT? AND SO, UM, I THINK THERE'S AN OPPORTUNITY THERE FROM A MARKET PERSPECTIVE, UM, TO REALLY LOOK AT HOW ARE WE GONNA HANDLE ORBITAL DEBRIS? UM, AND HOW ARE WE GOING TO ELIMINATE THAT IN THE FUTURE? AND I KNOW THERE'S A LOT OF PEOPLE OUT THERE THAT ARE THINKING ABOUT THAT, BUT WITH ALL THE FLOW OF, UM, MONEY THAT'S COMING INTO THE COMMERCIAL SPACE IN-- INDUSTRY, I THINK THERE'S OPPORTUNITY THERE TO REALLY FOCUS IN ON THAT, 'CAUSE I THINK THAT'S A HUGE CHALLENGE FOR US GOING FORWARD, AND I DON'T SEE IT SLOWING DOWN IN TERMS OF THE NUMBER OF SATELLITES THAT ARE BEING LAUNCHED, AND, UM, WERE INEVITABLY GOING TO HAVE COLLISIONS, WHICH WILL JUST CREATE EVEN MORE DEBRIS. SO, UM, SO IF YOU'RE OUT THERE AS AN ENTREPRENEUR, START THINKING ABOUT HOW TO GET RID OF IT ALL. [ LAUGHING ] >> YEAH, AND ACTUALLY-- YOU WEREN'T-- YOU WEREN'T ON OUR PREP CALL, BUT DEANNA, YOU WERE-- YOU WERE ACTUALLY TALKING ABOUT THAT A LITTLE BIT, IN TERMS OF, YOU KNOW, WHAT ARE THE NEW COMPANIES THAT ARE GONNA COME UP NOW BECAUSE OF JUST THAT? >> AND-AND I THINK IT'S REALLY IMPORTANT THAT THIS COMPANY, THEY'RE FROM INDUSTRY OR FROM A COALITION, OR, UH, SPACE EXPLORATION OR FOLKS WHO ARE LOOKING AT THIS, BECAUSE IF IT COMES A DEPARTMENT OF DEFENSE PERSPECTIVE, IT'S IMMEDIATELY ASSUMED TO BE DUAL USE.
SO IF I CAN REACH OUT AND PICK YOU UP AND PUT YOU INTO A LOWER ORBIT OR DE-ORBIT YOU, OBVIOUSLY I COULD DO THAT, AND IT WOULD BE A MILITARY PURPOSE. UM, IF I CAN REACH OUT AND TOUCH YOU AND PUT GASOLINE OR SOMETHING IN YOU, IF THE SATELLITES WERE BUILT THAT WAY, OR TO ATTACH, UH, AN ABILITY TO GIVE YOU MORE LIFE ON THE SATELLITE OR VEHICLE, UH, THOSE THINGS CAN ALSO BE SEEN AS DUAL USE, OR AS A MILITARY IMPLICATION. SO AGAIN, I THINK WE AS THE DEPARTMENT OF DEFENSE ABSOLUTELY ARE INTERESTED IN THAT, AND WE WANNA WRING EVERY TAXPAYER DOLLAR OUT OF EVERY CAPABILITY THAT WE HAVE. WE HAVE MANY SATELLITES THAT WERE DESIGNED FOR SEVEN YEARS, AND THEY NOW CAN DRINK, AND THEY'RE 21. SO, I-I WULD SAY WE DO THAT EVERY DAY TO TRY TO-- TO REALLY BRING OUR CAPABILITIES AS-- AS LONG, AS FAR AS WE CAN, BUT AGAIN, WE SEE VALUE, UH, IN ON-ORBIT SERVICING. AND I THINK FROM G.O.
AND BELOW, UH, IT IS NICE TO HAVE, UH, I THINK AS LISA IS TALKING ABOUT, AND WHAT SHE'S DOING, UH, BEYOND G.O., UH-- XGO IS GOING TO BE REQUIRED. AND HOW DO WE SET UP THOSE REFUELING STATIONS, EITHER AT LAGRANGE POINTS OR IN VARIOUS PLACES, UH, TO CREATE, WE JOKE IN THE MILITARY, WE'RE GONNA HAVE OUR AAFES STATION TO GET YOUR SLIM JIMS AND YOUR-- AND YOUR GAS, BUT WHAT-- WHERE ARE YOU GONNA GO TO GET THOSE THINGS? AND SO I THINK IT'S DEFINITELY AN IMPERATIVE AS WE GO BEYOND G.O., WHAT DO WE NEED TO DO, AND HOW DO WE DO SERVICING MOVING FORWARD FOR IT TO BE SUCCESSFUL? >> I-I'LL JUST, UM, TAKE WHAT YOU SAID AND MAKE IT A CHALLENGE TO INDUSTRY. >> YES.
>> UM, I THINK WE WILL NOT BE ABLE TO REACH THE SPACE ECONOMY THAT WE WANT TO HAVE IF WE DON'T SOLVE THE PROBLEM OF DEBRIS. SO, UM, FROM A LOCKHEED MARTIN PERSPECTIVE, I AM HAPPY TO PARTNER WITH WHOEVER WANTS TO HELP IN THAT DOMAIN, BECAUSE I THINK IT'S A PROBLEM AND A CHALLENGE THAT WE ALL HAVE THAT WE HAVE TO SOLVE TOGETHER. >> YEAH, THANK YOU. LISA, CAN YOU TALK TO SOME-- YOU HAVE YOUR OPEN MIC, UM, LIKE ON ARCHITECTURAL PLANNING WHEN YOU'RE PLANNING TO DO, UM, WHETHER IT'S A CONSTELLATION WORKING WITH YOUR CUSTOMERS, HOW HAS SOME OF THIS DEBRIS REALLY AFFECTED HOW YOU LOOK AT, UH, SPACE ARCHITECTURE? >> WELL, I THINK WHAT WE'RE SEEING IS IT STARTING TO IMPACT, UM, OUR ABILITY FOR WHEN WE LAUNCH, WHAT THE, YOU KNOW, ORBITAL TRAJECTORY'S GONNA BE FOR THAT LAUNCH, PARTICULARLY AS WE START TO TALK ABOUT FLYING HUMANS, RIGHT? UM, AND SO IT'S GONNA START TO, AND IT'S PROBABLY ALREADY IMPACTING, YOU KNOW, OUR ABILITY IN TERMS OF THE LAUNCH WINDOWS THAT WE CAN HAVE. AND, UM, YOU KNOW, WE DO A LOT IN PLANETARY MISSIONS, AND WE ALREADY HAVE A VERY TIGHT LAUNCH WINDOW FOR THOSE JUST BECAUSE OF HOW THE PLANETS ALIGN AND BEING ABLE TO GET TO THOSE PLANETS.
AND SO I THINK WE HAVE A LOT OF EXPERTISE ON, UM, YOU KNOW, HOW DO WE MANAGE THE RISK AND MAKING SURE WE'RE MEETING THE LAUNCH DATES AND THINGS FOR THOSE. BUT IT'S GONNA BE, UM, EVEN MORE IMPORTANT, I THINK, ACROSS ALL OF OUR PROGRAMS AS WE START TO DO THAT WITH OUR HUMAN RACE AS WE START TO FLY HUMANS, UM, BECAUSE IT'S GOING TO START TO IMPACT IT. IT JUST GOES BACK TO THE, UM, THE NEED IN MY MIND FOR HOW ARE WE GONNA ADJUST THE DEBRIS ISSUE, BECAUSE WITHOUT THAT, YOU KNOW, IT'S, UM, SPACE TRAFFIC MANAGEMENT, UM, IS JUST GONNA BE A-A-A PROBLEM THAT'S GONNA START TO-TO IMPACT THE ABILITY AND-AND FOR THAT SPACE ECONOMY, I THINK, IN THE LONG RUN. >> RIGHT, YEAH, AND I WOULD ALSO ADD, YEAH, FOR ARCHITECTURAL PLANNING PURPOSES, YEAH, YOU'RE RIGHT. YOU-- IF YOU ACTUALLY SOLVED THE-THE-THE IMAGERY OF THE DEBRIS THAT'S AVAILABLE AROUND THIS TODAY, IT MIGHT SCARE EVERYBODY IN THIS ROOM. HOWEVER, BUT WE DO KNOW THAT WE CAN, YOU KNOW, PROTECT OURSELVES.
AND, YOU KNOW, AGAIN, THANK YOU TO THE A TEAM FOR HELPING US WITH THE-THE COLLISION AVOIDANCE. BUT ONE OF THE THINGS THAT WE CAN DO IS WE, UH, CAN LOOK AT WHAT ARE THE BEST PRACTICES FOR, UM, ASSESSING THE DEBRIS AND MAKING SURE THAT WE UNDERSTAND WHERE IT IS. AND THEN, FOR THOSE THAT ARE BUILDING NEW SATELLITES, HELPING THEM TO UNDERSTAND THE BEST WAY FOR THEM NOT TO HAVE DEBRIS COME OFF OF THEIR SATELLITES. SO, UM, WE ARE WORKING UP THE BEST PRACTICES HANDBOOK. UH, AND I-I'M BEING TOLD THAT IT'S GONNA BE AVAILABLE ON NASA.GOV, BUT WE DO WANNA MAKE SURE THAT OTHERS ARE AWARE THAT THERE ARE WAYS TO MITIGATE THE DEBRIS THAT YOU PUT OUT.
THANK YOU. >> THANKS, SO WE'RE GONNA NOW DO OUR LITTLE SWITCH TO THE DIVERSITY AND LEADERSHIP KINDA FLAVOR. I WANNA REMIND YOU TO TEXT QUESTIONS, IF YOU HAVE THEM, BUT WE HAVE OUR OWN TOO. SO, UM, VANESSA, WE'RE GONNA GO BACK TO YOU. SO WHAT ARE SOME OF THE EXPERIENCES AND CONTRIBUTIONS THAT YOU'VE HAD THAT HAVE REALLY PREPARED YOU TO BE A SENIOR LEADER, AND WHAT LESSONS DID YOU LEARN ALONG THE WAY? >> YEAH, SO FOR ME, UM, JACKIE, I THINK THE-THE ONE THING, UH, I STARTED OUT AS A PROJECT ENGINEER, UH, BUILDING, UH, SPACE HARDWARE. AND SO LEARNING LESSONS ABOUT WHAT IT TAKES TO FLY, UH, AND CERTIFY HARDWARE FOR SPACE.
BUT, UM, GOING FROM THERE TO BEING A PROGRAM MANAGER, AND UNDERSTANDING, UH, LEADING LARGE, COMPLEX MISSIONS AND LARGE TEAMS. SO HAVING TH-THOSE EXPERIENCES, BUT IN ADDITION TO THAT, TAKING ADVANTAGES OF, UM, LEADERSHIP PROGRAMS AND TRAINING. RIGHT NOW TODAY, I'M-I'M A FELLOW IN THE INTERNATIONAL WOMEN'S FORUM BEING, UH, EXPOSED TO LEADERSHIP, UH, WHERE THY'RE WOMEN DOING INCREDIBLE THINGS, LIKE THE WOMEN HERE ON THIS PANEL.
UH, AND HAVING ALLIES, YOU KNOW? THAT YOU CAN GO TO FOR, UH, CONVERSATIONS TO LEARN FROM ONE ANOTHER. UH, SO THOSE ARE SOME OF THE EXPERIENCES THAT HAVE PREPARED ME TO GET TO WHERE I AM TODAY. I WAS FORTUNATE, UM, TO GROW UP THROUGH THE RANKS OF THE JOHNSON SPACE CENTER, UH, SO GOING FROM BEING A PROJECT MANAGER, UH, TO BEING A MANAGER OF SHUTTLE MISSIONS, UM, MISSIONS THAT ACTUALLY BUILT THE SPACE STATION.
SO I UNDERSTAND THE SYSTEMS. I UNDERSTAND THE BUSINESS THAT I'M IN, AND SO THAT HAS PREPARED ME TO, THEN, LEAD THE ORGANIZATION THAT I LEAD TODAY. >> THANK YOU, DEANNA, DO YOU WANNA ADD? >> I-I THINK IT'S FOR-- IN THE MILITARY PERSPECTIVE, IT'S ALWAYS FIRST AND FOREMOST LEARNING YOUR WEAPON SYSTEMS, BEING AN EXPERT AT WHAT YOU DO. AND, AGAIN, ONE OF THE THINGS I TELL MY YOUNG AIRMEN AND GUARDIANS ALL THE TIME IS WHEN YOU STOP LEARNING, YOU STOP LEADING. SO I AGREE WITH VANESSA.
IT'S TAKING THOSE TRAINING OPPORTUNITIES UP IN BLAST TO GO TO A VARIETY OF-OF, UH, GREAT SCHOOLS WITHIN THE AIR FORCE, THE U.S. AIR FORCE WEAPONS SCHOOL, THE SCHOOL OF ADVANCED AIR AND SPACE STUDIES, PROFESSIONAL MILITARY EDUCATION AT-AT THE MAJOR AND LIEUTENANT COLONEL LEVEL. SO, I MEAN, ALL OF THOSE OPPORTUNITIES ARE WHAT SHAPE YOU AND BUILD YOU, UH, MOVING FORWARD.
AND I AGREE WITH VANESSA, I-I'VE BEEN BLESSED TO-TO HAVE, UH, ALLIES, MALES I'VE WORKED FOR OVER THE YEARS WHO'VE BEEN WILLING TO GIVE ME A CHANCE, UH, AND GIVE ME A LEADERSHIP OPPORTUNITY AND TO LET ME LOOSE AND LET ME LEAD. I KNOW I WAS PROBABLY SCARING MANY OF THEM. UH, BUT, UH, I-I APPRECIATE-- I THINK EVEN MY CURRENT BOSS, UH, HAS BEEN GREAT ABOUT EMPOWERING US AND LETTING US LEAD AS FUNCTIONAL COMPONENTS, UH, AND GET THE JOB DONE. UH, BUT IT ALSO TAKES NOT JUST ALLIES, BUT IT ALSO TAKES MENTORS. SO I CHALLENGE ALL OF THE WOMEN IN THE ROOM, UH, OR FOLKS OF DIVERSITY, DO YOU MENTOR AND PAY IT FORWARD TO THE FOLKS WHO LOOK LIKE YOU? UH, I'VE HAD AMAZING MENTORS, SOME OF THEM IN THIS ROOM, PAM LINCOLN, UH, NINA ARMAGNO, UH, GENERAL LORI ROBINSON, UH, MANY THAT WERE JUST AHEAD OF ME OR I GOT THE OPPORTUNITY TO ENGAGE WITH WHO TOOK THE TIME, UH, AND WOULD TALK TO ME AND SHARE PERSONAL THINGS.
UH, MENTORING IS TOUGH. UH, BOTH SIDES HAVE TO BUILD A RELATIONSHIP OF TRUST, AND THAT MEANS MAKING YOURSELF VULNERABLE. AND AS A SENIOR LEADER, THAT SOMETIMES CAN BE SCARY, WHEN YOU START TO TELL PERSONAL STORIES, UH, TO THE FOLKS WHO WORK FOR YOU BECAUSE YOU'RE SORT OF SHOWING THEM THE-- HEY, I'M NOT-I'M NOT PERFECT. UH, AND SO SOMETIMES THAT CAN BE HARD. BUT ALSO FOR THE MENTEE TO TRUST YOU AND BE ABLE TO TELL YOU AND-- THE PROBLEMS AND THE THINGS THEY'RE STRUGGLING WITH AND THE CHALLENGES THEY ARE HAVING.
THAT'S VERY DIFFICULT. BUT THAT'S HOW THE TRUST IS BUILT, AND SO I WOULD JUST SAY IF YOU ARE FROM A DIVERSE COMMUNITY, WHETHER IT'S ETHNICITY, RACE, GENDER, UM, SEXUAL ORIENTATION, I DON'T CARE WHAT IT IS, ARE YOU PAYING IT FORWARD IN THAT COMMUNITY AND REACHING OUT PROACTIVELY SO THAT PEOPLE ARE NOT INTIMIDATED OR SCARED TO TALK TO YOU, UH, AND THAT YOU'RE MAKING THAT STEP? 'CAUSE SOMETIMES IT CAN BE INTIMIDATING FOR MENTEES TO FIND YOU. AND I'VE BEEN BLESSED THAT THERE HAVE BEEN, UH, WOMEN IN FRONT OF ME WHO'VE BEEN MORE THAN WILLING, UH, TO MENTOR ME ALONG WITH THE ALLIES AND MALES THAT I'VE WORKED FOR, UH, AND THE GREAT LEADERS WHO HAVE GIVEN ME THOSE OPPORTUNITIES. >> UH, LISA, DID YOU WANNA ADD? >> YEAH, I-I THINK, UM, VANESSA AND DEANNA HAD GREAT COMMENTS.
I THINK I'LL JUST ADD ONTO YOUR MENTORING COMMENT, IF I COULD. UM, MAYBE UNLIKE MOST OF THE WOMEN THAT ARE UP HERE, I DIDN'T GROW UP IN THE SPACE AREA. I'VE ONLY BEEN WORKING IN SPACE FOR THE LAST FIVE YEARS. AND I'VE HAD THE FORTUNE OF BEING ABLE TO MOVE AROUND LOCKHEED MARTIN AND A LOT OF DIFFERENT DOMAINS. I STARTED IN UNDERSEA SYSTEMS. I'VE DONE TRAINING IN SIMULATION.
I'VE DONE MISSILE DEFENSE. UH, WENT BACK TO UNDERSEA SYSTEMS. WORKED AT CORPORATE, AND NOW I'M IN SPACE, RIGHT? AND SO THERE'S BEEN A LOT OF TRANSITIONS IN MY CAREER, AND ONE OF THE THINGS THAT I HAVE DONE, AND I WOULD ENCOURAGE ALL OF YOU, WOMEN OR NOT TO DO, IS TO BUILD A MENTORING BOARD OF DIRECTORS. UH, AND BY THAT, I MEAN, ONE OF THE THINGS THAT'S HELPED ME IS WHEN I GO INTO A NEW JOB, I FIND SOMEBODY THAT CAN MENTOR ME ON THAT ORGANIZATION.
WHAT'S THE CULTURE OF THIS ORGANIZATION? WHO'S WHO IN THE ZOO? UM, WHO DOES WHAT? WHAT DO I NEED TO DO? SOMEBODY THAT CAN MENTOR ME ON THE CUSTOMER SIDE. THIS IS A NEW CUSTOMER. I DON'T KNOW HOW THEY OPERATE. UM, YOU KNOW, WHAT ARE THE RELATIONSHIPS I NEED TO BUILD THERE? SOMEBODY THAT CAN HELP MENTOR ME ON THE TECHNOLOGY SIDE.
I'VE HAD TO LEARN NEW TECHNOLOGIES IN EVERY ONE OF THOSE NEW ROLES, SO WHO ARE THE PEOPLE THAT I CAN LEAN ON TO HELP ME UNDERSTAND THE TECHNOLOGIES OF THIS JOB? AND THEN THE CAREER MENTORING PIECE. SO IF YOU THINK OF YOURSELF AS THE CENTER OF THAT, AND BUILDING YOUR BOARD OF DIRECTORS OF MENTORS THAT CAN HELP YOU, AND EVERY TIME YOU TAKE A NEW JOB, IT'S PROBABLY EVEN MORE IMPORTANT TO, UH, TO F-FORM THAT CRITICAL BOARD OF DIRECTORS TO ENABLE YOU TO BE SUCCESSFUL IN THOSE NEW ROLES. >> YEAH, THANK YOU. SO, PASCALE, HOW DO WE INCREASE THE NUMBER OF WOMEN WHO PURSUE AND ADVANCE THEIR CAREERS IN TECHNICAL FIELDS AS WELL AS THE AEROSPACE INDUSTRY? >> WELL, I THINK, UM, UH, ALTHOUGH THIS PANEL SHOWS A LITTLE BIT A DIFFERENT PICTURE, I THINK, UM, THERE IS STILL A LOT OF PROGRESS, UH, CONCERNING, UH, GENDER DIVERSITY, UH, IN THE-IN THE SPACE SECTOR. AND, UM, UH, I THINK, UH, IT IS IMPORTANT TO, UH, LIKE ORGANIZATIONS MEN, LIKE FOR INSTANCE THE IAF OR ALSO THE UNITED NATIONS, THE SPACE FOUNDATIONS, TO HAVE A LOT OF ACTIVITIES. BECAUSE THE SPACE SECTOR, UH, THE SPACE ECONOMY, UH, IS, UH, REALLY EVOLVING, UH, AND-- GLOBALLY.
AND, UH, WE, UH, REALLY NEED TO-- UH, DIVERSITY WOULD BE A VERY IMPORTANT COMPONENT IN WHETHER TO ADDRESS, UH, FUTURE QUESTIONS TO, UH, ENGAGE IN NEW MARKETS AND TO MAKE EVERYTHING REALLY INNOVATIVE AND, UH, AND INTERESTING IN THE FUTURE. I THINK THIS IS A VERY IMPORTANT-- WE HAVE TO, UH, FIND INITIATIVES, UH, AND CREATE INITIATIVES, UH, HOW TO FOSTER DIVERSITY. AND OF COURSE WE ALL HAVE OUR PROGRAMS, UH, BUT I THINK WE HAVE TO MAKE A STRONGER-- A STRONGER, UH, LEAP BECAUSE THERE ARE SO MANY NEW NATIONS NOW FROM THE INTERNATIONAL PERSPECTIVE COMING IN.
AND WE HAVE FOR INSTANCE CREATED AN INTERNATIONAL ASTRONAUTICAL FEDERATION, UH, COMMITTEE ON DEVELOPING COUNTRIES AND EMERGING COMMUNITIES WHERE WE REALLY TRY TO DO CAPACITY BUILDING SIMILAR TO THE PEOPLE AS, UH, TO-TODAY DISCUSS, UH, HOW, UH, CAPACITY BUILDING IS DONE IN THE UNITED NATIONS FOR THE SPACE SECTOR. SO THERE ARE MANY ACTIVITIES, AND WE WILL PROBABLY HAVE TO INCREASE IT BECAUSE WHEN YOU LOOK AT THE STUDIES, DIVERSITY, UH, UM, IS REALLY MAKING AN IMPACT ON THE ECONOMY AND ON THE SUCCESS OF COMPANIES. THERE ARE STUDIES WHICH HAVE BEEN PUBLISHED. AND, UM, UM, I THINK, UM, UH, ONE ASPECT THAT'S REALLY IMPORTANT IS WE HAVE TO CONVINCE WOMEN VERY, VERY EARLY ON TO ENTER, UM, INTO THE STEM SECTOR AND TO GET THEM REALLY INTERESTED. SO WE CAN, OF COURSE, HERE DISCUSS A LOT, BUT WE HAVE TO START MUCH, MUCH EARLIER, YEAH? KINDERGARTEN'S OF COURSE ONE THING, YEAH.
BUT, UH, UM, UH, WE HAVE REALLY TO CONTINUOUSLY, BECAUSE THERE IS A-A-A VERY STR-STRANGE SITUATION THAT WE NEED AN INCREDIBLE AMOUNT OF STEM EDUCATED, UH, PEOPLE, AND, UH, OF COURSE ALSO WOMEN. AND, UH, WE DON'T FIND THEM. AND, UH, THIS LACK OF, UH, OF STEM EMPLOYEES IS ALL OVER THE WORLD. AND WE HAVE TO MAKE, UM, A REALLY AN IMPORTANT IMPACT.
AND ALREADY DISCUSS THAT IN SCHOOLS AND REALLY MAKE, UH, ACTIVITIES AND I THINK MORE AT LARGE. AND SOMETHING THAT I SEE, EXPECIALLY IN EUROPE, I-I DON'T KNOW THE STATISTICS OF THE UNITED STATES, BUT WE ARE LOSING WOMEN THROUGH THE LEAKY PIPELINE. THIS MEANS WE HAVE A LOT OF GRADUATES NOW.
IT'S GETTING MORE AND MORE WITH THE YOUNG GENERATION. YOU ALWAYS SEE WHEN THE NEXT GENERATION-- WHEN THE SPACE GENERATION COMES HERE, THIS IS MORE OR LESS VERY BALANCED. 52-50%. BUT, UH, WHEN YOU'RE LOOKING IN ACADEMIC CAREERS, UM, WE HAVE AS MANY GRADUATES AND, UH, WHEN YOU GO UP THE ACADEMIC LADDER OF PROFESSOR, YOU HAVE THE FORK, AS WE CALL IT, 80-20%. AND, UH, THIS IS AT LEAST SOMETHING WHAT WE SEE IN EUROPE. AND WE HAVE REALLY TO FIND A WAY, YOU KNOW, TO INTERCEPT THIS LEAKY PIPELINE, AND IT ALSO, UH, THERE IS A NEW STATISTIC YOU HAVE PROBABLY ALL READ, UH, THAT THERE ARE MORE WOMEN IN THE SPACE SECTOR NOW.
BUT AGAIN, IN PARTICULAR ABOUT EARTH OBSERVATION DATA ANALYSIS IN THE SPACE EXPLORATION SECTOR, LAUNCH SECTOR. SO, WE STILL MISS A LOT OF WOMEN, IN PARTICULAR, ALTHOUGH, IN LEADERSHIP POSITIONS. AND I THINK WE HAVE REALLY TO WORK TOGETHER AT DIFFERENT LEVELS AND VERY EARLY ON, IN ORDER TO ENCOURAGE THEM TO CHANGE THE PICUTRE, UH, IN THE FUTURE. IT'S NOT ONLY ENOUGH TO HAVE THEM GRADUATE.
WE HAVE ALSO TO ACCOMPANY THEM. AND THERE WERE MANY EXAMPLES WHICH HAVE BEEN SAID ABOUT MENTORSHIP. IN-IN EUROPE WE HAVE SOMETHING THAT IS NOT VERY POPULAR, WHICH ARE MANDATED QUOTAS FOR WOMEN. ALSO IN LEADERSHIP POSITIONS, IN BOARD OF TRUSTEES.
IT'S NOT ALWAYS VERY POPULAR, BUT IT HELPS. AND, UH -- BUT I THINK THE MOST IMPORTANT THING IS INSPIRING, UH, YOUNG WOMEN AND TELLING THEM THERE ARE SO MANY EXCITING POSITIONS ACTUALLY AVAILABLE. AND, UH, PLEASE BE INTERESTED. JOIN US.
YOU HAVE ALL THE ABILITIES AND-AND BE ONE OF THEM. >> OKAY, SO WE DO HAVE SOME AUDIENCE QUESTIONS THAT I WANNA HIT. SO, I KNOW YOU WANNA SAY SOMETHING. >> WELL, IF I COULD ADD JUST REALLY QUICKLY ON THIS ONE-- JUST REALLY QUICKLY, BECAUSE WHAT YOU JUST SAID REALLY SPARKED SOMETHING. AND I KINDA WANTED TO BUILD ON. WHICH IS, YOU KNOW, I THINK WE DON'T DO A GOOD ENOUGH JOB IN THE SPACE INDUSTRY OF REALLY TELLING A STORY OF ALL OF THE DIFFERENT KINDS OF JOBS YOU CAN HAVE AND STILL BE IN THE SPACE SECTOR.
[ APPLAUSE ] OKAY, THANK YOU. SO, IT WAS WORTH IT. OKAY. AND JUST TO-- YOU KNOW, REAL QUICK, LIKE-- AND I REALLY, FOR ME PERSONALLY, THIS WAS ACTUALLY SOMETHING THAT I WAS CHALLENGED WITH EARLIER IN MY CAREER. I THOUGHT I WANTED TO BE -- I KNEW I WANTED TO DO SPACE, EVER SINCE I WAS A LITTLE KID.
AND I ASSUMED THAT MEANT, UM, I HAD TO BE AN ENGINEER. AND SO, YOU KNOW, I WENT OFF TO COLLEGE, I STUDIED ENGINEERING. I HAVE A VERY NICE DEGREE. IT HANGS ON MY WALL.
UM, BUT I LEARNED IN THAT EXPERIENCE THAT I DIDN'T WANNA DO AEROSPACE ENGINEERING, WITH ALL DUE RESPECT TO THE AEROSPACE ENGINEERS IN THE ROOM. UM, AND IT TOOK ME A WHILE TO REALLY FIGURE OUT WHAT I DID WANNA DO IN THE SPACE INDUSTRY. AND SO I USED, YOU KNOW, INTERNSHIPS AND THINGS THAT WERE AVAILABLE TO ME AS A COLLEGE STUDENT AND AS A GRAD STUDENT TO TRY AND TEST OUT DIFFERENT, LIKE, PARTS OF THE BUSINESS. AND I WAS LUCKY ENOUGH TO, YOU KNOW, KINDA FIND MY PASSION IN SPACE POLICY, WHICH IS REALLY WHAT I'VE DONE EVER SINCE. UM, BUT I THINK, PARTICULARLY WITH WOMEN, WE JUST DON'T EXPLORE THOSE ALTERNATIVE CAREER PATHS.
UM, AND SO I THINK MORE THAT THOSE OF US THAT AREN'T DOING -- AND, OF COURSE, AS IMPORTANT AS STEM IS, FOR THOSE OF US WHO AREN'T SORT OF, LIKE, STRICTLY DOING THE SCIENCE OR THE ENGINEERING, I THINK IT'S REALLY IMPORTANT TO SORT OF BE EVANGELICAL ABOUT ALL THE DIFFERENT OPPORTUNITIES THAT ARE PRESENT IN THE SPACE CENTER, WHETHER YOU WANNA DO BUSINESS DEVELOPMENT, POLICY, UM, YOU KNOW, GOVERNMENT RELATIONS, UH, PUBLIC AFFAIRS. I MEAN, REALLY, IT'S JUST TRULY EVERY INDUSTRY HAS A WIDE RANGE OF OPPORTUNITIES, SORT OF DEPENDING ON, YOU KNOW, YOUR STRENGTHS AND YOUR INTERESTS. >> THANK YOU.
SO, YEAH, EVERYONE LIKES THAT ONE. >> IT'S OKAY. >> SO, VANESSA, YOU WERE
2021-09-08 23:35
Show Video
Other news