2021 Space Symposium | Technology Drives Exploration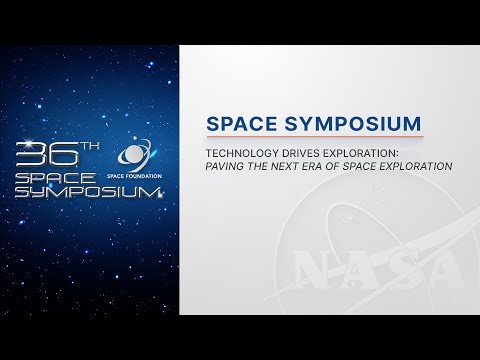 Show Video
>> WELL, GOOD MORNING, EVERYONE, AND WELCOME TO OUR -- OUR PANEL DISCUSSION. I HAVE TO SAY IT'S A LITTLE BIT SURREAL TO BE HERE IN -- IN BEAUTIFUL COLORADO SPRINGS AFTER BEING WHAT SEEMS LIKE HOLED UP FOR 18 MONTHS IN MY HOUSE. BUT -- SO, IT'S A -- IT'S A PLEASURE TO BE HERE. AS [indistinct] SAID, MY NAME IS TRUDY KORTES AND I AM THE DIRECTOR OF TECHNOLOGY DEMONSTRATIONS AT NASA HEADQUARTERS.
TDM, AS I LIKE TO CALL IT, IS PART OF NASA SPACE TECHNOLOGY MISSION DIRECTORATE AND I'LL BE YOUR MODERATOR FOR THE PANEL DISCUSSION TODAY. SO, AT NASA SPACE TECHNOLOGY MISSION DIRECTORATE OUR MAIN FOCUS IS SUPPORTING HOW TECHNOLOGY DRIVES EXPLORATION TO THE MOON, MARS, AND FURTHER OUT, WHICH IS ABSOLUTELY CONVENIENT BECAUSE THE THEME OF WHAT WE'RE GOING TO BE TALKING ABOUT TODAY IS TECHNOLOGY DRIVES EXPLORATION: PAVING THE NEXT ERA OF SPACE EXPLORATION. OUR DISCUSSION TODAY WILL FOCUS ON THE IMPORTANCE OF CONTINUED INVESTMENTS TO MATURE SPACE TECHNOLOGY TO ENRICH OUR NATION THROUGH ECONOMIC AND SOCIETAL IMPACTS. AND NASA, I WOULD SAY, BY EXTRAPOLATION AND THEN STMD MORE SPECIFICALLY OUR MISSION IS TO DRIVE INNOVATION AND ADVANCED TECHNOLOGY TO ENSURE AMERICAN LEADERSHIP IN A VIBRANT AND DYNAMIC AND ROBUST SPACE ECONOMY. AND WHAT I MIGHT ADD IS ABSOLUTELY WITH RELEVANCE, WITH RELEVANCE TO THE COMMUNITIES AND THE INDIVIDUALS WHO ARE OUT OF OUR AEROSPACE COMMUNITY.
I'D ALSO JUST LIKE TO STATE THAT THERE'S A LOT HAPPENING IN THE WORLD RIGHT NOW. LIKE I SAID, WE'RE COMING INTO ABOUT 18 MONTHS OF THIS PANDEMIC AND THERE ARE ECONOMIC IMPACTS OF THAT, KIND OF THE BOUNCE-BACK THAT WE'RE -- WE'RE SEEING TRY TO TAKE PLACE BUT STILL WITH SUPPLY CHAIN ISSUES AND LABOR SHORTAGES THAT -- WE'RE NOT IMMUNE TO THAT, AS WELL AS THE INTERNATIONAL TURMOIL WE SEE HAPPENING TODAY. ADDITIONALLY, JUST A FEW MONTHS BACK WE SAW THE BEGINNING FORAY INTO PRIVATE SPACE TRIPS.
SO, THERE'S -- THERE'S A LOT OF DYNAMICS AT PLAY THERE. SO, WITH THAT, AND SETTING THAT CONTEXT FOR YOU ALL, WE ARE GOING TO JUMP INTO OUR PANEL DISCUSSION. BEFORE I SAY THAT, WE ARE GOING TO RESERVE A BLOCK OF TIME AT THE END FOR QUESTIONS.
AND SO, OPERATORS ARE STANDING BY TO TAKE YOUR QUESTIONS. [ CHUCKLES ] THERE USED TO BE A COMMERCIAL ABOUT THAT, OPERATORS ARE STANDING BY, BUT LITERALLY BEFORE THIS THEY TOLD ME OPERATORS ARE -- ARE READY TO TAKE QUESTIONS AND THEN SEND THEM UP TO US. SO, TODAY WE HAVE WITH US FOUR LEADERS IN GOVERNMENT, BUSINESS, AND ACADEMIA. SO, WE FEEL LIKE WE HAVE ALL OF OUR BASES VERY WELL COVERED.
SO, OUR OUTSTANDING GROUP TODAY WILL DISCUSS THE IMPORTANCE OF INVESTING IN TECHNOLOGY. AND STARTING WITH THAT, I WOULD LIKE TO INTRODUCE FIRST DR. BHAVYA LAL; BHAVYA IS NASA'S SENIOR ADVISOR FOR BUDGET AND FINANCE. MS. LATONIA JONES;
LATONIA IS THE MINORITY SERVING INSTITUTIONS STEM RESEARCH AND DEVELOPMENT DIRECTOR. MS. LISA CALLAHAN; LISA IS LOCKHEED MARTIN'S VICE PRESIDENT AND GENERAL MANAGER FOR COMMERCIAL CIVIL SPACE. AND DR. JANET KAVANDI;
SHE IS THE EXECUTIVE VICE PRESIDENT OF SIERRA SPACE. SO WITH THAT, WE ARE GOING TO JUMP RIGHT IN. BHAVYA, I'M GOING TO ASK YOU THE FIRST QUESTION. HOW DO YOU SEE NASA'S LONG-TERM ROLE IN BOOSTING THE OVERALL SPACE ECONOMY? AND IF YOU COULD ADDRESS MORE SPECIFICALLY, HOW CAN NASA ASSIST IN GROWING THE EMERGING CISLUNAR ECONOMY? >> THANKS, JUDY. FIRST OF ALL, THANKS FOR THE -- FOR THE INVITATION. I'M DELIGHTED TO BE HERE AND THANKS ALL OF YOU FOR HANGING ON A DAY FOR THE CONFERENCE.
SO, TO TRUDY'S QUESTION, I SEE NASA'S ROLE FALL INTO KIND OF TWO BUCKETS. AND, YOU KNOW, THIS IS MY TRAINING AS BOTH AN ENGINEER AND A POLICY ANALYST. SO, NASA PLAYS AN IMPORTANT ROLE WHEN -- WHERE THERE'S LIKELY TO BE A MARKET FAILURE. SO, FOR EXAMPLE, WHEN TECHNOLOGY DEVELOPMENT WILL TAKE TOO LONG OR TECHNOLOGY IS TOO EARLY STAGE OR IT'S TOO RISKY, AS IN WE DON'T KNOW IF WE ARE GOING TO REACH THE OUTCOMES WE DO. SO, THESE ARE THE SORTS OF AREAS WHERE THE PRIVATE INDUSTRY IS TYPICALLY NOT AS MOTIVATED.
THE SECOND ONE IS WHEN -- WHEN BENEFITS BELOW ARE TO COMPETITORS, OR WHAT'S CALLED, YOU KNOW, PRE-COMPETITIVE R&D. A COOL ROLE FOR NASA THERE. A THIRD AREA IS, AGAIN, WHAT'S CALLED INDUSTRIAL COMMONS. DATABASE CURATION, TEST PADS, FACILITIES, AREAS WHERE THERE ISN'T ENOUGH INCENTIVE OR ENOUGH FUNDING FOR -- FOR THE PRIVATE INDUSTRY TO -- TO MAKE AN INVESTMENT.
SO, FOR EXAMPLE, AND AGAIN TO YOUR QUESTION, TRUDY, ON-ON THE MOON, SO MUCH OF WHAT WE WILL DO ON THE MOON AND WHAT WE ARE DOING ON THE MOON IS AN EXAMPLE OF CORRECTING THESE MARKET FAILURES, RIGHT? SO, WHETHER IT'S ISRU OR MOBILITY OR SCIENCE ON THE FAR SIDE. INDEED, A STUDY I DID AND I HOPE YOU CAN FIND IT ONLINE, WE FOUND THAT AT LEAST IN THE NEXT DECADE OR SO THERE IS VERY LITTLE OF COMMERCIAL -- VERY LITTLE ON THE MOON THAT WOULD BE COMMERCIALLY VIABLE. AND NASA WILL HAVE TO, AND THE GOVERNMENT, AND THE DEPARTMENT OF DEFENSE, AND OTHER PARTS OF THE GOVERNMENT ARE LIKELY TO BE CORE CUSTOMERS, BOTH FROM THE PERSPECTIVE OF FUNDING UP-FRONT R&D BUT ALSO FROM -- FROM THE BACK END, BEING CUSTOMERS. THERE'S A SECOND MAJOR BUCKET WHERE NASA HAS A PRETTY KEY ROLE, AND THIS IS SOMETIMES THAT'S OFTEN FORGOTTEN, AND THAT'S A SYSTEMIC OR SYSTEM-WIDE THINKING WHERE ONE INDIVIDUAL PLAYER ISN'T MOTIVATED TO THINK ABOUT THE BIG PICTURE.
FOR EXAMPLE, COORDINATING WITHIN AN OUTSIDE GOVERNMENT AGENCY, COORDINATING INTERNATIONALLY, DEVELOPING, FOR EXAMPLE, THE VISION FOR A LUNAR -- LUNAR STATION. ANOTHER AREA WHERE NASA HAS TO PLAY A REALLY IMPORTANT ROLE IS MAINTAINING INTERNATIONAL COMPETITIVENESS. AGAIN, AN AREA WHERE INDIVIDUAL COMPANIES MAY NOT BE AS-AS DRIVEN, BUT AS A COUNTRY, AS A GOVERNMENT, IT'S IMPORTANT FOR US, AN EXAMPLE BEING WE WANT TO MAKE SURE WE -- WE STAY LEADERS IN LUNAR EXPLORATION. WHETHER IT'S LANDING ON THE MOON OR HAVING PERMANENT PRESENCE ON THE MOON.
AND LAST, BUT NOT LEAST, NASA PLAYS A CRITICAL ROLE IN DISRUPTIVE INNOVATION. MAINSTREAM PLAYERS, WITH ALL DUE RESPECT TO THE MAINSTREAM PLAYERS IN THE ROOM, THERE ISN'T -- AS MAINSTREAM PLAYERS TYPICALLY WILL NOT INVEST IN TECHNOLOGY THAT CANNIBALIZES THEIR EXISTING TECHNOLOGIES. A REALLY GOOD EXAMPLE IS THE CREATION AND DEVELOPMENT OF CUBESATS. RIGHT? THIS IS NOT SOMETHING THAT CAME FROM THE BIG PLAYERS.
THEY WERE -- CUBESATS WERE INITIALLY SEEN AT -- AS TOYS, DEVELOPED ACTUALLY IN A COMMUNITY COLLEGE WITH -- WITH NASA FUNDING, AND ALSO INITIALLY PROMOTED BY STARTUPS. AND, OF COURSE, OVER TIME THEY HAVE BECOME IMPORTANT. SO, THOSE ARE SOME OF THE AREAS WHERE NASA HAS PLAYED AN IMPORTANT ROLE.
AND IT ISN'T JUST FUNDING, IT'S ALSO HOW NASA FUNDS. SO, WE CAN GET INTO SOME OF THAT AS WE TALK SOME MORE. >> OKAY. OKAY, THANKS -- THANKS, BHAVYA.
THAT WAS HELPFUL. AND I KNOW FOR ME AND MY PROGRAM, THAT RESONATED. WE HAVE QUITE A FEW PARTNERSHIPS AND COLLABORATORS OF ALL DIFFERENT SIZES, INCLUDING ONE THAT MAYBE PEOPLE DON'T TRADITIONALLY THINK OF. BUT IN SOME AMOUNTS, WE HAVE ACADEMIA ALSO CONTRIBUTING, WHICH LEADS ME THEN TO MY FIRST QUESTION FOR LATONIA.
SO, LATONIA, ACADEMIA IS A CRITICAL COMPONENT OF NASA'S TECHNOLOGY RESEARCH AND DEVELOPMENT ECOSYSTEM AS WELL AS A GATEWAY TO RECRUIT AND RETAIN STUDENTS IN STEM. SO, AS WE LOOK TO THE FUTURE OF SPACE TECHNOLOGY, HOW DO YOU SEE THE ROLE OF ACADEMIA CHANGING, OR NOT, TO MEET NEW CHALLENGES AND DEMANDS FACED BY THE AGENCY? >> WELL, THANK YOU, TRUDY, FOR THE QUESTION AND THANK YOU FOR ALLOWING ME TO BE ON THIS AMAZING PANEL. THAT IS AN AMAZING QUESTION BECAUSE ACADEMIA IS THE NEXT GENERATION OF FUTURE LEADERS. AND I THINK, FROM AN ACADEMIC STANDPOINT, THAT THE PROGRAMS THAT WE HAVE WE CAN INCORPORATE WHAT THE INDUSTRY AND THE AGENCIES HAVE WITHIN THE UNIVERSITIES. WE HAVE NONTRADITIONAL UNIVERSITIES LIKE THE TECH SCHOOLS THAT APPLY THAT. BUT WITHIN TRADITIONAL UNIVERSITIES, WE NEED TO DO A BETTER JOB OF MAKING SURE THAT THE AGENCIES AND THE INDUSTRY TECHNOLOGIES ARE ON THE CUTTING EDGE WITHIN THE UNIVERSITIES.
HAVING MORE CURRICULUMS THAT FEATURE THINGS THAT ARE GOING ON IN THE OUTSIDE WORLD. NOT JUST THEORY, BUT MORE OF DOING. AND I THINK HAVING THAT WOULD ACTUALLY EXPAND AND ENHANCE THE DIVERSITY GIVEN TO THE INDUSTRY. WE HAVE INTERNSHIP PROGRAMS. YES, THAT'S WONDERFUL, THAT'S GREAT.
EVERYBODY IS NOT AFFORDED THE TIME TO GO AND DO AN INTERNSHIP. BUT EVERYBODY GOES TO CLASS. AND SO, WITHIN ACADEMIA, INVOLVING THE LEADING AND CUTTING TECHNOLOGIES THAT ARE ALREADY OUT THERE WITHIN THE EDUCATIONAL INSTITUTION WOULD GROW AND HELP FOR A BETTER STUDENT POPULATION AS WELL AS THE BUSINESS POPULATION AFTER THEY GRADUATE. >> VERY GOOD. SO, SOME REALLY PRACTICAL APPLICATIONS, TOO, FOR STUDENTS TO KNOW ABOUT IN THE CLASSROOM.
>> ABSOLUTELY. >> ABSOLUTELY. OKAY, SO, LET'S FOLD IN LISA CALLAHAN TO THE DISCUSSION.
SO, LISA, I KNOW FOR-FOR TDM, FOR MY PROGRAM, TECHNOLOGY DEMONSTRATIONS, WE'VE PARTNERED WITH A FEW, WHICH I TOUCHED ON EARLIER WITH BHAVYA, NONTRADITIONAL PARTNERS. ONE GOOD EXAMPLE FOR US IS OUR MARS OXYGEN INSTITUTE RESOURCE UTILIZATION EXPERIMENT, OR WHAT WE CALL MOXI, WHICH IS ACTUALLY ON THE SURFACE OF MARS NOW. IT JUST RAN ITS FOURTH OPERATING CYCLE TO PRODUCE OXYGEN AND OUR FIRST ROLE ADVENTURE INTO THE ISRU, INSTITUTE RESOURCE UTILIZATION TECHNOLOGY AREA. THAT WAS PROPOSED THROUGH A COLLABORATION WITH MASSACHUSETTS INSTITUTE OF TECHNOLOGY AND THE JET PROPULSION LAB. AND SIMILARLY, EARLIER THIS YEAR LOCKHEED MARTIN ANNOUNCED A PARTNERSHIP WITH GENERAL MOTORS TO DEVELOP A LUNAR TERRAIN VEHICLE. AND, YOU KNOW, ALTHOUGH GM PLAYED IMPORTANT ROLES IN THE APOLLO ERA, IT ISN'T A COMPANY MOST ASSOCIATED WITH SPACE EXPLORATION.
AND I'LL ALSO ADD THAT THE DAUGHTER OF A FATHER WHO WAS A FORD MOTOR COMPANY EXECUTIVE FOR HIS ENTIRE CAREER AND ENGINEERING MANAGER FOR HIS ENTIRE CAREER, IT ALWAYS IS CLOSE TO MY HEART TO KNOW THAT THERE'S SYNERGIES BETWEEN THE AEROSPACE COMMUNITY AND -- THE AEROSPACE INDUSTRY AND THE -- AND THE AUTOMOTIVE INDUSTRY. SO, WITH THAT, DO YOU ENVISION LOCKHEED MARTIN USING PARTNERSHIPS WITH WHAT WE WOULD CONSIDER, YOU WOULD CONSIDER NONTRADITIONAL PLAYERS MORE OFTEN? OR TELL US YOUR PERSPECTIVE ON THAT. >> YEAH, ABSOLUTELY.
SO, FIRST OF ALL, THANK YOU AGAIN FOR HAVING ME HERE. AND IT'S WONDERFUL TO BE WITH ALL THESE LADIES HERE ON STAGE. SO, YOU KNOW, AS WE LOOK TO THE FUTURE OF EXPLORATION AND TAKING HUMANS DEEPER INTO OUR SOLAR SYSTEM, WE ABSOLUTELY THINK IT'S GOING TO TAKE ALL OF US COMING TOGETHER. NOT JUST THE UNITED STATES, MULTIPLE COUNTRIES COMING TOGETHER. BUT ALSO, AS YOU MENTIONED, INDUSTRIES. AND SOME OF THEM MAY BE NONTRADITIONAL INDUSTRIES IN THE SPACE DOMAIN.
I THINK WHAT WE SEE IN THE CURRENT ENVIRONMENT RIGHT NOW IS THAT SPACE IS REALLY EXCITING. THERE'S A LOT OF NEW ENTRANTS INTO -- INTO THE SPACE MARKET. AND AT LOCKHEED MARTIN, WE'RE EMBRACING THAT. WE'RE REALLY LOOKING TO PARTNER WITH SOME OF THOSE NEW ENTRANTS INTO THE MARKET SPACE. A COUPLE OF EXAMPLES OF THAT IS WE'RE WORKING WITH TYVEK ON THE SDA TRANSPORT LAYER OR WE'RE PARTNERING WITH ABL SPACE SYSTEMS IN TERMS OF THEIR SMALL LAUNCH CAPABILITY AND HAVE PARTNERED TO BUY UP TO 58 LAUNCHES FOR THAT.
AND THEN YOUR EXAMPLE THAT YOU USED WITH GENERAL MOTORS WHERE WE'RE REALLY LEVERAGING THE INVESTMENT OF THE AUTO INDUSTRY AND ELECTRIFYING THEIR FLEET -- THE BATTERY TECHNOLOGY INVESTMENT THEY'RE MAKING, THE AUTOMATION TECHNOLOGY THAT THEY'RE DOING, AND TRYING TO BRING THAT INTO THE SPACE DOMAIN. THERE'S CRITICAL TECHNOLOGIES AND CAPABILITIES THAT ARE BEING DEVELOPED HERE ON EARTH FOR THINGS THAT WE NEED TO DO THAT ARE GOING TO BE EXTREMELY RELEVANT TO WHAT WE NEED TO DO WHEN WE START TO PUT HUMANS FURTHER INTO SPACE. SO, AS I THINK ABOUT THE FUTURE, I THINK THERE'S A LOT OF COMPANIES OUT THERE THAT DON'T CONSIDER THEMSELVES SPACE COMPANIES THAT ARE GOING TO FIND THEMSELVES AS A SPACE COMPANY IN ONE WAY OR ANOTHER. SO, IF YOU ARE INTO MINING OR ENERGY OR CONSTRUCTION, THOSE ARE ALL INDUSTRIES THAT ARE GOING TO BE NEEDED AS WE START TO BUILD UP ON THE LUNAR SURFACE OR ON MARS. EVEN IF YOU'RE IN THE ENTERTAINMENT INDUSTRY, YOU KNOW, WHEN WE SEND ASTRONAUTS DEEP INTO SPACE AND TO MARS AND THEY'RE THERE FOR A FEW YEARS, RIGHT, WE NEED TO HAVE SOMETHING TO KEEP THEM OCCUPIED.
SO, I THINK, AS I SAID, THERE'S GOING TO BE COMPANIES THAT DON'T EVEN KNOW THEY'RE IN SPACE AND THEY WILL BE IN SPACE. >> YEAH. >> SO, I'M EXCITED ABOUT IT. >> INTERESTING.
GREAT POINTS. AND ALMOST, TOO, MAYBE US EVEN CHANGING OUR THINKING ABOUT WHO WE-WE PARTNER WITH TO BRING IN SOME -- SOME DIFFERENT ENTITIES THAT WE NORMALLY WOULDN'T THINK ABOUT. >> ABSOLUTELY. >> YEP. SO, DR. KAVANDI, JANET.
IF YOU WOULD, TALK A LITTLE BIT ABOUT HOW PUBLIC-PRIVATE PARTNERSHIPS, WHICH I KEEP MENTIONING MY PROGRAM, BUT IT IS BIG FOR -- FOR MY PROGRAM. WE HAVE -- ABOUT 25% OF THE WORK THAT WE DO IS WITH SOME KEY PARTNERSHIPS. THAT HAS SPURRED INNOVATION WITHIN THE SPACE SECTOR, SO, WHAT DO YOU THINK IS NEEDED TO CONTINUE TO BROADEN THE SPACE ECONOMY? AND IF YOU COULD PROVIDE ANY EXAMPLES OF AREAS OF TECHNOLOGY WHICH SIERRA SPACE MIGHT BE TARGETING. >> THANK YOU, TRUDY.
IT IS A PLEASURE TO BE HERE WITH EVERYONE. YEAH, I THINK IF I DIDN'T MENTION DREAM CHASER, I WOULD BE NEGLIGENT. THE EVOLUTION OF LIFTING BODIES FROM THE -- YOU KNOW, NASA LANGLEY WORKED ON THEM FOR YEARS AS THE HL20 AND EVENTUALLY SPACEDEV BOUGHT THAT CAPABILITY, BOUGHT THE IP. IT CAME INTO SPACEDEV AND THEN SIERRA NEVADA CORPORATION BOUGHT IT. AND SO NOW IT'S SIERRA SPACE.
WE'VE HAD LIFTING BODY DESIGNS FOR DECADES BUT WE'VE REALLY NEVER USED THEM YET. AND SO, WE'RE FINALLY ENABLING A LIFTING BODY TO LAUNCH NEXT YEAR ON THE VULCAN ROCKET USING THE TECHNOLOGIES. AND AGAIN, WE'RE TALKING ABOUT PARTNERSHIPS, LISA'S GROUP HELPED BUILD OUR DREAM CHASER SPACE PLAN, THE COMPOSITE STRUCTURE PART OF IT. SO, WE ARE PARTNERS IN MANY WAYS. AND NOW WE'RE FINISHING THAT DESIGN AND WE WILL LAUNCHING THAT NEXT YEAR. SO, THAT'S ONE REALLY KEY EXAMPLE, YOU KNOW, FROM MY COMPANY OF A TRANSITION FROM GOVERNMENT TO PRIVATE SECTOR TO -- TO USE IN SPACE AND BE USED AGAIN BY THE GOVERNMENT.
WELL, WHEN WE'RE THINKING ABOUT COMMERCIALIZATION OF LOW EARTH ORBIT AND WE'RE TAKING ALL THE EXPERTISE AND THE EXPERIENCE THAT WE'VE HAD IN-- IN LIVING ON THE SPACE STATION FOR ALL THESE MANY YEARS. ALL OF THIS SCIENCE THAT HAS BEEN OBTAINED FROM WORKING ON THE SPACE STATION, HAVING WORKED PAYLOADS IN A FORMER LIFE AND, YOU KNOW, ALL THE SCIENCE, ESPECIALLY IN THE MEDICAL TECHNOLOGY AREAS THAT WE CAN TRANSFER, THAT ALL OF US ARE BENEFITTING FROM HERE ON -- ON THE PLANET AND HOW WE WILL CONTINUE TO TRANSFORM THAT KNOWLEDGE INTO USEABLE TECHNOLOGIES HERE ON THE GROUND. REMOTE-REMOTE MEDICAL SERVICES, EVEN ROBOTIC OPERATIONS ARE POSSIBLE. NOW WE ADD MCNEIL SAY 3D PRINTING TO THE MIX AND THAT WAY YOU CAN MAYBE PERHAPS PRINT ORGANS IN SPACE THAT YOU COULDN'T POSSIBLY, YOU KNOW, PRINT ON THE GROUND FOR MICROGRAVITY REASONS.
SO, THERE'S JUST A CONTINUING EVOLUTION AND DISCOVERY OF ALL THE THINGS THAT WE'VE DONE IN SPACE, PRIMARILY GOVERNMENT SPONSORED, THAT ARE NOW TRANSITIONING INTO THE PRIVATE SECTOR. AND WE WILL CONTINUE TO EVOLVE THAT AND BRING SOME OF THOSE TECHNOLOGIES HOME AND THEN DISCOVER MORE THINGS IN THE FUTURE THAT WE WILL BE ABLE TO -- TO PUT UP THERE AND EXPLORE EVEN FURTHER INTO THE UNIVERSE. SO, REALLY COOL EVOLUTION. >> IT IS. IT'S REALLY A SIGNIFICANT ECOSYSTEM.
>> YEAH. >> IN HOW THAT ALL TRANSLATES. AND ESPECIALLY, LIKE YOU SAID, WITH TERRESTRIAL APPLICATIONS, WHAT WE CAN DO. WE LIKE TO TALK ABOUT SPINOFFS, BUT TERRESTRIAL APPLICATION OF -- OF SOME OF THE -- THE THINGS THAT WE'VE DEVELOPED. AND, LISA, A FEW MINUTES AGO YOU MENTIONED THE ENTERTAINMENT INDUSTRY.
I'LL JUST SAY THESE -- THESE LIGHTS ARE REALLY BRIGHT. I COULD USE HOLLYWOOD HAIR AND MAKEUP RIGHT NOW, I THINK SO, BECAUSE IT'S -- IT MUST BE, I DON'T KNOW, LIKE YOU CAN SEE EVERY -- EVERY LINE. ANYWAY, OKAY.
ENOUGH ABOUT THAT. MOVING ON. BHAVYA, BACK TO YOU. SO, LET ME-LET ME ASK YOU WHAT DO YOU SEE AS THE KEY TENANTS FOR THIS ADMINISTRATION IN TERMS OF PARTNERING WITH INDUSTRY, ACADEMIA, SMALL BUSINESSES, AND HOW MIGHT THAT PLAY OUT OVER THE NEXT FEW YEARS, PARTICULARLY AS IT RELATES TO TECHNOLOGY DEVELOPMENT? >> SURE.
SO, IT WAS, IN FACT, UNDER THE BIDEN -- OBAMA/BIDEN ADMINISTRATION THAT NASA PURSUED COMMERCIAL CREW AND LAST YEAR'S SUCCESSFUL LAUNCH OF AMERICAN ASTRONAUTS FROM AMERICAN SOIL ON AMERICAN ROCKETS. BY THE WAY, THAT NEVER GETS OLD; I LOVE SAYING THAT. DEMONSTRATES THAT GOVERNMENT CAN BUY SERVICES, PREVIOUSLY CONSIDERED INHERENTLY GOVERNMENTAL, FROM THE PRIVATE SECTOR.
AND MORE RECENTLY, NASA HAS USED A COMMERCIAL APPROACH TO LAND ASTRONAUTS ON THE SURFACE OF THE MOON. AND I REMAIN OPTIMISTIC OF SUCCESS IN THIS DOMAIN AS WELL. THE ADMINISTRATION EXPECTS TO CONTINUE TO EXPLORE CREATIVE MECHANISMS TO AFFORDABLY EXPLORE SPACE AND GROW THE SPACE ECONOMY, TECH DEVELOPMENT AND JOB CREATION, ESPECIALLY IN UNDERSERVED AREAS. AND MINORITY-SERVING INSTITUTIONS IS A PRIORITY OF THE VICE PRESIDENT AND THE ADMINISTRATION. AND, YOU KNOW, THE NASA SPACE TECHNOLOGY DIRECTORATE THAT -- WHERE YOU'RE AT, TRUDY, IS -- IS REALLY SUPER-WELL ALIGNED WITH ADMINISTRATION'S PRIORITIES.
SO, STMD, FOR EXAMPLE, PARTNERS WITH INDUSTRY THROUGH THE TIPPING POINT; YOU MENTIONED THAT. AND THE ANNOUNCEMENT OF COLLABORATIVE OPPORTUNITIES ACO PROGRAM, THE TECH -- THE TECH DEMONSTRATION MISSIONS PROGRAM, THE GAME CHANGING DEVELOPMENT, GCD PROGRAM, SMALL SPACECRAFT TECHNOLOGY PROGRAMS. ALL OF THEM TOGETHER REALLY DO FOCUS ON BRINGING IN OUTSIDE PARTNERS INTO NASA MUCH MORE SO THAN MANY PARTS OF THE GOVERNMENT. AND WITH ACADEMIA, WE -- WE HAVE THE SPACE TECHNOLOGY RESEARCH INSTITUTE'S PROGRAM, THE SPACE TECHNOLOGY RESEARCH GRANTS PROGRAM, AND, OF COURSE, SBIR, STTR PROGRAMS ALSO FOCUS ON BRINGING OUTSIDE ENTITIES INTO THE FOLD.
AND, YOU KNOW, ACROSS THESE PROGRAMS WE COVER THE WATERFRONT OF TECHNOLOGICAL -- TECHNOLOGIES THAT ARE CRITICAL TO JUMPSTART WHAT -- I HOPE WE GET A CHANCE TO TALK ABOUT THE SPACE INDUSTRIAL REVOLUTION. THESE ARE TECHNOLOGIES LIKE ON-ORBIT SERVICING, ASSEMBLY, AND MANUFACTURING. SPACE NUCLEAR PROPULSION AND POWER, YOU KNOW, UNIQUE APPROACHES TO -- TO LAUNCHES. ACROSS THE BOARD, YOU KNOW, WE ARE INVESTING IN THE FUTURE OF SPACE AND I DON'T SEE WHY THIS TREND WILL SLOW DOWN. TWO PARTICULAR APPROACHES THAT I THINK NASA HAS -- HAS EXPERIMENTED WITH SUCCESSFULLY, I STARTED WITH SOME OF THOSE AND WE HOPE TO CONTINUE TO -- TO WORK ON THOSE.
OVERALL, SORT OF THE -- THE, YOU KNOW, THERE'S -- THERE'S A PLACE FOR COST-PLUS PROGRAMS, OBVIOUSLY, BUT, YOU KNOW, GOING FORWARD, NASA WANTS A HOLE DUG; INSTEAD OF SPECIFYING, YOU KNOW, USE THIS DRILL BIT AND -- AND, YOU KNOW, THIS KIND OF TECHNOLOGY, NASA JUST WOULD SAY THIS IS THE DIMENSION OF THE HOLE WE NEED AND LET INDUSTRY AND -- AND STARTUPS AND INTERNATIONAL PARTNERS PROPOSE SOLUTIONS WHICH TEND TO BE INNOVATIVE AND COST EFFECTIVE. ANOTHER MECHANISM THAT WE WANT TO BE LOOKING MORE ARE ADVANCE PURCHASE COMMITMENTS. THESE ARE SORTS OF MECHANISM THAT ARE PRETTY COMMON IN OTHER SECTORS, YOU KNOW, VACCINES. YOU KNOW, GOVERNMENTS OFTEN, YOU KNOW, LOOK AT, YOU KNOW, RARE DISEASES AND VACCINES AND-AND SAY, HEY, IF YOU PRODUCE THIS, WE WILL BUY IT. NASA SHOULD BE LOOKING AT SOME OF THESE APPROACHES.
FOR EXAMPLE, ON THE MOON WE COULD BE, INSTEAD OF DEVELOPING POWER SOLUTIONS, MAYBE WE SHOULD BE JUST PURCHASING POWER, RIGHT? WE WOULD SAY, YOU KNOW, WE WILL PAY X-DOLLARS PER KILOWATT HOUR FOR POWER OR WATER OR REGULATE OR, YOU KNOW, PROPELLANT. AND IT'S HARD, THE ECONOMICS IS HARD. IT'S LEGALLY HARD, BUT THOSE ARE THE SORTS OF THINGS WE WANT TO BE DOING AS WE -- AS WE MOVE FORWARD.
>> OKAY. OKAY, THANK YOU. SO, YOU MENTIONED MSI'S. SO, LATONIA, FROM YOUR EXPERIENCE, WHAT ARE THE BIGGEST CHALLENGES THAT MSI, SUCH AS HISTORICALLY BLACK COLLEGES AND UNIVERSITIES FACE WHEN COMPETING FOR NASA OR MAYBE EVEN OTHER ORGANIZATION'S OPPORTUNITIES? AND WHAT ARE SOME ACTIONS THAT THE AGENCY COULD TAKE IN THE NEAR TERM TO ADDRESS THOSE CHALLENGES? >> THAT IS A REALLY GREAT QUESTION.
THE BIGGEST CHALLENGES I THINK THAT THE KNOWLEDGE OF KNOWING THE CAPABILITIES FOR THE MSI'S. FOR INSTANCE, WE MENTIONED 3D PRINTING. WE HAVE A UNIVERSITY THAT'S WITHIN OUR CONSORTIUM. WE ARE THE ONLY CONSORTIUM THAT HAS A CONGLOMERATION OF 70 MSI'S WHERE YOU CAN COME INTO OUR CONSORTIUM, IT'S RAPID ACQUISITION; IT'S NOT THE TEDIOUS PROCESS OF GOING THROUGH THE NORMAL -- NORMAL ACQUISITION PROCESS.
BUT SHE MENTIONED 3D PRINTING; WE HAVE A UNIVERSITY THAT ACTUALLY HAS HAD ALL THE PHASES OF THE STTR -- PHASE 1, PHASE 2, AND PHASE 3 BECAUSE THEY ARE DEVELOPING A FUNCTIONAL ELECTRONIC TO BE ABLE, IF YOU'RE IN SPACE AND LET'S SAY SOMETHING BREAKS DOWN, YOU KNOW, HOW CAN YOU GET TO WHAT IT IS THAT YOU NEED? SO, THIS 3D PRINTER IS ACTUALLY SUPPOSED TO BE ABLE TO DEVELOP THAT PRODUCT. SOMETHING BREAKS DOWN, I NEED A TOOL, YOU KNOW, YOU USE THIS 3D PRINTER. SO, I THINK KNOWLEDGE OF KNOWING WHAT THESE MSI'S HAVE TO OFFER IS PROBABLY THE BIGGEST CHALLENGE.
WE TALK OFTENTIMES ABOUT THINKING OUTSIDE OF THE BOX, BUT A LOT OF TIMES WE HAVE TO GET OUT OF THE BOX IN ORDER TO THINK OUTSIDE OF THE BOX. AND SO, GOING TO THE NORMAL INSTITUTIONS TIME, AND TIME, AND TIME AGAIN IS EASY, BUT THAT'S NOT INNOVATIVE. YOU-YOU-- IF YOU DON'T UNDERSTAND WHAT'S OUT THERE, YOU DON'T UNDERSTAND WHAT THE MSI'S HAVE TO OFFER, THEN YOU CANNOT DIVERSIFY YOUR PORTFOLIO.
AS I SAID, A LOT OF UNIVERSITIES WE HAVE WITHIN OUR CONSORTIUM EITHER THE AGENCIES CAN COME DIRECTLY THROUGH OUR UNIVERSITY-- THROUGH OUR CONSORTIUM, THROUGH THIS VEHICLE IN ORDER TO GET TO THE MSI'S. IF THERE IS NO KNOWLEDGE OF THEIR CAPABILITIES, THEN YOU CAN'T GET TO THEM. THAT IS, BY FAR, THE BIGGEST CHALLENGE. SO, I THINK WHAT NEEDS TO BE DONE AND WHAT CAN BE DONE IS, YOU KNOW, THE AGENCIES NEED TO GET OUT MORE, UNDERSTAND WHO'S OUT THERE, LOOK AT THE RESEARCH CAPABILITIES FOR THE MSI'S. THERE ARE 835 MSI'S. THERE ARE 102 HBCU'S.
I DON'T THINK ANYONE KNOWS ABOUT OR CONSORTIUM. I ALSO DON'T THINK ANYONE KNOWS THAT THERE IS A WHITE HOUSE INITIATIVE FOR HBCU'S THAT-- THAT EXECUTIVE ORDER WAS ISSUED IN 1980. NO ONE KNOWS ABOUT THAT EXECUTIVE ORDER. THAT EXECUTIVE ORDER IS TO PROMOTE HISTORICALLY BLACK COLLEGES AND UNIVERSITIES TO HAVE THESE OPPORTUNITIES, TO AFFORD THEM THE OPPORTUNITIES TO BE ABLE TO COMPETE WITH OTHER INDUSTRIES.
SO, I THINK AGAIN THE KNOWLEDGE, KNOWING THE CAPABILITIES OF THE MSI'S IS PROBABLY THE-- THE BIGGEST CHALLENGE. >> THANK YOU FOR THAT. SO, REALLY EDUCATING-- EDUCATING OURSELVES ON WHAT-- ON WHAT'S OUT THERE. LIKE YOU SAID. >> ABSOLUTELY. >> YEAH, OKAY. SO,
COMMUNICATION AND EDUCATION IS-- IS KEY TO THAT. SO, LISA, SIMILARLY, I ASKED JANET ABOUT TECHNOLOGIES FOR CERASPACE. SO, WHAT NEW TECHNOLOGIES DOES LOCKHEED MARTIN HAVE ON THE HORIZON THAT YOU BELIEVE ARE KEY TO TAKING SPACE EXPLORATION TO THE NEXT LEVEL OR-- OR REALLY NEEDED TO SUSTAIN EXPLORATION? >> OKAY, THANKS.
TRUDY, YOU MENTIONED EARLIER COVID AND THAT WE'VE ALL BEEN THROUGH THAT AND IN LOCKDOWN. AND I THINK EVERY ONE OF US HERE HAS FACED THE NEED TO REALLY USE DIGITAL TOOLS AND A VIRTUAL ENVIRONMENT IN WHICH WE COULD COLLABORATE AND KEEP MOVING FORWARD TO MEET OUR MISSION NEEDS AND THINGS DURING COVID. AND SO, ONE OF THE AREAS THAT LOCKHEED MARTIN IS INVESTING HEAVILY IN IS IN DIGITAL THREAD, BEING ABLE TO USE DIGITAL TECHNOLOGIES TO INTEGRATE FROM, YOU KNOW, PROPOSAL, TO DESIGN, TO MANUFACTURING, TO ACTUALLY OPERATIONS AND LEVERAGING THE SAME TOOLS AND THE SAME, I'LL SAY, DIGITAL DESIGN OR DIGITAL TWIN THROUGHOUT THAT WHOLE PROCESS. AND SO, THAT'S A TECHNOLOGY THAT I THINK INDUSTRY-WIDE IS-- IS DOING.
BUT COVID REALLY ENABLED US TO-- IT WAS A FORCING FUNCTION TO REALLY ACCELERATE A LOT OF THAT. SO, I THINK WE'RE IN A MUCH BETTER PLACE. IT'S THE SILVER LINING, ONE OF THE SILVER LININGS, I THINK, IN MY VIEW, OF-OF COVID, WHICH HAS OBVIOUSLY BEEN A-- A HORRIFIC PANDEMIC AND DISEASE. BUT I ALWAYS LIKE TO TRY TO FIND SOMETHING POSITIVE TO COME OUT OF THAT.
AND SO, YOU KNOW, WE ARE LOOKING AT HOW-- HOW CAN WE BUILD THAT DIGITAL TWIN, AND ON PROGRAMS LIKE ORION, HAVING THAT DIGITAL TWIN, BEING ABLE TO USE IT INTO THE MANUFACTURING PROCESS WHERE WE CAN USE AUGMENTED REALITY AND ACTUALLY SEE WHERE CLIP BONDS OR EQUIPMENT NEEDS TO GET PUT ONTO AN ORION SPACECRAFT WHERE THE TECHNICIANS JUST SIMPLY PUT ON AR GOGGLES AND THEY CAN LOOK AT THE VEHICLE AND THEY CAN SEE THE INSTRUCTIONS THAT THEY HAVE FOR WHERE THOSE CLIP BONDS GO. IT'S-IT'S SAVING US, YOU KNOW, ON THE ORDER OF 90% IN OUR LABOR, WHICH IS JUST AMAZING. AND SO, FOR THE EXPLORATION THAT WE WANT TO DO, COST SAVINGS AND AFFORDABILITY ARE A HUGE DRIVER TO THAT. BUT IF YOU TAKE THAT EVEN FARTHER AND YOU LOOK AT THE OPERATIONAL USES OF THAT, AS WE GO DEEPER AND DEEPER INTO SPACE, PARTICULARLY IF WE START TO SEND HUMANS TO MARS, THEY'RE NOT GOING TO BE ABLE TO RELY ON THE GROUND IF THEY HAVE AN ISSUE. AND SO, IF WE HAVE THAT DIGITAL REPRESENTATION OF THE VEHICLE THAT THEY'RE FLYING IN, THEY CAN ACTUALLY USE TECHNOLOGY LIKE DIGITAL ASSISTANCE TO ASK QUESTIONS OF THEIR SPACECRAFT TO TRY TO DEBUG THINGS AND GET ANSWERS BACK.
OR THEY COULD LEVERAGE 3D PRINTING TO BE ABLE TO PRINT SPARE PARTS AND NOT HAVE TO CARRY ALL THAT WITH THEM IN THEIR TRANSPORTATION. SO, THIS WHOLE DIGITAL THREAD I THINK HAS HUGE IMPLICATIONS GOING FORWARD. FROM A CAPABILITIES PERSPECTIVE, YOU KNOW, WE'RE VERY FOCUSED ON SPACE NUCLEAR.
WHETHER THAT BE NUCLEAR POWER OR NUCLEAR PROPULSION, WE THINK THAT JUST PROVIDES GREAT INPUT, PARTICULARLY AS WE GO FURTHER AND FURTHER INTO SPACE AND WE NEED TO SUSTAIN OURSELVES ON LIKE THE LUNAR SURFACE FOR LONGER PERIODS OF TIME. HABITATION IS GOING TO PLAY A ROLE WHEN WE BRING ASTRONAUTS AND CIVILIANS INTO SPACE AND THEY NEED TO BE ABLE TO SURVIVE IN THOSE ENVIRONMENTS. AND THEN MOBILITY, AS WE'VE ALREADY TALKED ABOUT, FROM THE PARTNERSHIP WE HAVE WITH GENERAL MOTORS. ONCE THEY-- THE ASTRONAUTS GET TO THE SURFACE, THEY'RE GOING TO NEED TO TRAVEL PLACES TO DO SCIENCE AND THINGS AND WE THINK MOBILITY WILL BE CRITICALLY IMPORTANT, WHETHER IT'S WITH HUMANS OR ROBOTICALLY. >> VERY GOOD.
SO, HOLD THAT THOUGHT ON NUCLEAR POWER AND PROPULSION; I THINK WE'RE GOING TO BE ABLE GET BACK TO THAT IN A FEW MINUTES. BUT THE AGENCY HAS A CONCERTED EFFORT NOW, TOO, IN DIGITAL TRANSFORMATION. >> YEP. >> AND I WAS JUST TALKING TO SOMEONE HERE THIS MORNING ABOUT DIGITAL ENGINEERING. SO, SO INTERESTING TO HEAR ALL OF THAT WITH SOME FUTURE WORK TO BE DONE.
>> YEAH. >> SO, JANET, BACK TO YOU. YOU HAVE MANY YEARS OF EXPERIENCE IN BOTH NASA AND INDUSTRY. AND I'LL JUST NOTE THAT JANET RECENTLY RECEIVED THE LIFETIME ACHIEVEMENT AWARD FROM THE WOMEN IN AEROSPACE ORGANIZATION.
SO, CONGRATULATIONS ON THAT. >> THANK YOU. [APPLAUSE] >> THANK YOU. >> I JUST HAPPEN TO BE ON THEIR EMAILING LIST AND I SAW THAT COME THROUGH YESTERDAY.
>> OH! >> AND I THOUGHT I MIGHT SURPRISE HER AND MENTION THAT. >> THANK YOU. >> I HOPE THAT DIDN'T EMBARRASS YOU TOO MUCH. BUT CONGRATULATIONS ON THAT. SO, WITH-WITH THAT EXPERIENCE, JANET, WHAT, IF ANYTHING, DO YOU WISH YOU HAD KNOWN ABOUT PARTNERING WITH INDUSTRY WHEN YOU WERE ONE OF THE-- THE LEADERS AT NASA? >> YEAH, THAT'S A GOOD QUESTION. ONE OF THE FIRST THINGS I WOULD RECOMMEND, IF YOU GO FROM NASA TO INDUSTRY, I KNOW NASA IS THE KING OR QUEEN OF ACRONYMS, BUT THERE'S ONE ACRONYM I DID NOT KNOW, WHICH WAS EBITDA.
SO, IF I-I EMBARRASSED MYSELF TERRIBLY WHENEVER I WENT INTO INDUSTRY AND DIDN'T KNOW THAT ACRONYM. SO, THAT WOULD BE ONE AREA OF ADVICE. ACTUALLY, LEARNING HOW FINANCES AND BUSINESS WORK-- BUSINESSES WORK ON THE FINANCIAL SIDE IS VERY HELPFUL BECAUSE NASA, OF COURSE, DOESN'T HAVE TO MAKE A PROFIT, AS OTHER GOVERNMENT AGENCIES DON'T HAVE TO DO THAT. BUT IT'S VERY IMPORTANT IN THE PRIVATE INDUSTRY.
SO, YOU KNOW, LEARNING ABOUT MARGINS AND RATES AND ALL OF THE KINDS OF THINGS WHEN YOU'RE DOING PROPOSALS AND HOW YOU CAN BE COMPETITIVE YET NOT SO COMPETITIVE THAT YOU LOSE MONEY. THOSE KINDS OF THINGS THAT-- THAT WE DON'T OR DIDN'T-- I DIDN'T GET TO DO AS AN EMPLOYEE IN THE GOVERNMENT. THERE IS, I THINK, WAS AN ASSUMPTION ON MY PART AND MAYBE SOME OTHER PEOPLE'S PART THAT IT MIGHT BE FASTER, BETTER, CHEAPER IN INDUSTRY.
SOMETIMES IT IS AND SOMETIMES IT'S NOT. I MEAN, IT'S STILL CHALLENGING. SPACE IS-- IS STILL HARD. >> YEP. >> NO MATTER WHO'S BUILDING WHATEVER ROCKET OR SPACECRAFT OR COMPONENTS THAT THERE ARE. SO, ASSUMING THAT IT'LL BE EASIER FOR INDUSTRY TO DO THINGS ISN'T ALWAYS THE CASE.
SO, I THINK THE CHALLENGES ARE STILL THERE. WE STILL HAVE TO WORK THROUGH THOSE AND WE STILL NEED TO MAKE SURE THEY HAVE ALL THE RIGHT SKILLSETS AND QUALITY ASSURANCE TO MAKE-- AND SNMA TO MAKE SURE THAT EVERYTHING GETS-- GETS BUILT TO THE-- TO THE QUALITY LEVEL THAT NASA HAS ALWAYS DEMANDED. AND HAVING THAT EXPERIENCE IN THE AGENCY REALLY HELPS ME IN PRIVATE INDUSTRY TO MAKE SURE WE'RE BUILDING A QUALITY PRODUCT. SO, THOSE ARE A COUPLE OF THE-- THE BUSINESS ASPECTS. I GUESS THE OTHER THING IS THAT AT NASA YOU CAN PRETTY WELL REST ASSURED THAT YOUR WORKFORCE IS GOING TO BE WITH YOU FOR MOST OF THEIR CAREERS.
MOST PEOPLE WILL-- WHO START AT NASA RETIRE AT NASA. THEY MAY GO OUT AND DO SOMETHING DIFFERENT, LIKE I DID AT THE END OF THEIR CAREER, BUT YOU CAN COUNT ON HAVING YOUR WORKFORCE-- A PRETTY STEADY WORKFORCE. AND IN INDUSTRY, ESPECIALLY LATELY, I THINK IT'S-- YOU CAN'T COUNT ON A STEADY WORKFORCE. PEOPLE WILL SWITCH JOBS FREQUENTLY.
AND WHAT YOU HAVE TO PAY TO RETAIN PEOPLE IS SIGNIFICANT. SO, IT'S-- IT'S HARD TO-- TO COMPETE IN THAT AREA, ESPECIALLY IN THIS AREA WHERE WE'RE IN AN AREA WHERE YOU HAVE A LOT OF AEROSPACE COMPANIES ALL SEEKING OUT THE SAME TALENT. SO, PROBABLY DOING A BETTER JOB OF RECRUITING AND MAKING SURE WE HAVE INCLUSIVITY AND DIVERSITY IN OUR WORKFORCE AND IMPROVING IN THAT AREA I THINK IS SOMETHING I WANT TO REALLY FOCUS ON IN THIS-- IN THIS JOB. AND TO TRY TO ATTRACT EARLY CAREER PEOPLE AND RETAIN THEM LONGER. AND WE'VE LEARNED ANOTHER SILVER LINING, I THINK, FROM COVID IS THAT WE CAN BE MORE FLEXIBLE. YOU KNOW, IF WE HAVE THE DIGITAL TOOLS, WE CAN ALLOW PEOPLE TO WORK REMOTELY MORE OFTEN THAN WE COULD IN THE PAST.
AND WE GET VERY GOOD QUALITY WORK FROM PEOPLE. THEY-THEY ACTUALLY-- A LOT OF PEOPLE WORK MORE WHEN THEY'RE WORKING REMOTELY THAN THEY DO IN THE OFFICE BECAUSE THERE'S FEWER DISTRACTIONS AND THEY SAVE ALL THE TRAVEL TIME. SO, ADJUSTING TO THAT PARADIGM, AS WELL, IS PROBABLY SOMETHING NASA IS DOING, AS WELL. BUT SOMETHING THAT AT LEAST I'VE EXPERIENCED IN THE LAST COUPLE OF YEARS AND LEARNED TO ADAPT TO AND TRYING TO ADJUST TO THAT MORE, AS WELL. >> YEAH. YEAH, THE COMPETITION FOR LABOR RIGHT NOW IS-- IS PRETTY INCREDIBLE, WHAT WE'RE-- WHAT WE'RE SEEING PRETTY MUCH ACROSS THE BOARD.
AND WE HEARD THAT-THAT SPACE IS HARD THEME OPENING-- OPENING DAY HERE A COUPLE OF TIMES. AND IT REALLY IS. AND IT'S NOT JUST THE DIFFICULTY OF THE TECHNOLOGIES WE'RE DEVELOPING.
JUST IF YOU THINK ABOUT THE INTEGRATION PIECE, WE'VE ALL TALKED ABOUT HOW THIS IS AN ECOSYSTEM AND THERE ARE A LOT OF PLAYERS AND JUST THE COMMUNICATION AND THE EDUCATION OF EACH OTHER. I MEAN THAT ALL-- THAT ALL TIES TOGETHER. TO ME, THAT'S ONE OF ALSO THE-- THE HARD PARTS ABOUT SPACE IS JUST THAT-- THAT ELEMENT OF BEING ABLE TO BRING IT ALL TOGETHER. SOMETIMES YOU WATCH A LAUNCH AND I THINK IT'S AMAZING THAT IT GOT OFF THE GROUND WITH JUST EVERYTHING THAT HAD TO GO INTO IT.
OKAY. SO, JUST A REMINDER, IF YOU DO HAVE QUESTIONS, TEXT THEM IN. I BELIEVE A PHONE NUMBER WAS PROVIDED TO YOU ALL TO DO THAT. SO, NOW IS THE-- THANK YOU, IT'S RIGHT BEHIND ME.
OKAY, IT'S RIGHT BEHIND ME. THANK YOU, BHAVYA. IT'S RIGHT BEHIND ME. SO, NOW IS THE TIME TO TEXT IN YOUR QUESTIONS IF YOU HAVE ANY. BUT IF I COULD PIVOT FOR JUST A MINUTE TO SOMETHING THAT'S A LITTLE BIT MORE SPECIFIC, SPACE NUCLEAR POWER AND PROPULSION ARE BOTH VERY IMPORTANT FOR EXPLORATION BEYOND LEO, AND BOTH NASA AND THE DEPARTMENT OF DEFENSE ARE WORKING TO ADVANCE THESE TECHNOLOGIES.
SO, I'D LIKE TO ASK WHAT PEOPLE ON THE PANEL, ANYONE CAN JUMP IN. I THINK I MIGHT START WITH BHAVYA, BUT WHAT ARE YOUR THOUGHTS ABOUT THE CHALLENGES FACING THOSE TECHNOLOGY AREAS, NUCLEAR POWER AND PROPULSION, BOTH TECHNICALLY AND IN TERMS OF PUBLIC PERCEPTION AND POLITICS? SO, BHAVYA, LET'S START WITH YOU IF WE COULD. >> SURE. SO, I WAS IN A NATIONAL ACADEMIES COMMITTEE THAT LOOKED AT NUCLEAR PROPULSION AND, IN PARTICULAR, SORT OF FIGURING OUT, YOU KNOW, THE TRADEOFFS BETWEEN NUCLEAR THERMAL AND NUCLEAR ELECTRIC PROPULSION. AND ACTUALLY, IT IS A-- IT IS A HARD PROBLEM. THE BOTTOM LINE OF THE ACADEMIES COMMITTEE REPORT WAS THAT THERE ISN'T ENOUGH-- THERE HASN'T BEEN ENOUGH INVESTMENT IN AN EP NUCLEAR ELECTRIC PROPULSION, IN PARTICULAR, TO BE ABLE TO-- TO DO A DOWN SELECT.
SO, ONE OF THE BIG CHALLENGES WE NEED TO OVERCOME IS GET ENOUGH INFORMATION THAT THE DOWN SELECT CAN HAPPEN. AND, OF COURSE, THE OTHER MAJOR CHALLENGE IS IN ADDITION TO SOME OF THE TECHNOLOGY CHALLENGES, IS FUNDING. YOU KNOW, WE-- NASA WOULD LIKE TO HAVE, YOU KNOW, A MISSION-- A HUMAN MISSION GOING TO MARS BY 2039 AND THE COMMITTEE ASCERTAINED THAT WITH NTP, NUCLEAR THERMAL PROPULSION, WITH AGGRESSIVE FUNDING THAT WOULD BE FEASIBLE. HOWEVER, IF WE WENT THE NEP CHEMICAL ROUTE, THAT IS LIKE-- 2039 IS LIKELY NOT AN ATTAINABLE DATE.
SO, A LOT OF THINKING THAT NEEDS TO BE DONE. AND WHEN YOU'RE MAKING THESE TRADEOFFS, IT ISN'T JUST ABOUT, YOU KNOW, THE CORE TECHNOLOGY ISSUES THAT ARE UNIQUE TO EACH TECHNOLOGY. SO, FOR NTP, FOR EXAMPLE, YOU NEED VERY HIGH TEMPERATURES FROM MATERIALS AND REACTOR PROPERTIES THAT CAN RESPOND TO THAT. BUT THERE'S ALSO BROADER CONCERNS THAT WE NEED TO THINK THROUGH. FOR EXAMPLE, ONE ADVANTAGE NUCLEAR OFFERS OVER CHEMICAL IS A HIGHER SPECIFIC IMPULSE WHICH ESSENTIALLY TRANSLATES INTO A LESS-- NEED FOR LESS PROPELLANT.
AND AS YOU KNOW, LESS PROPELLANT MEANS FEWER LAUNCHES AND FEWER LAUNCHES MEANS LOWER COST. BUT THE QUESTION IS, IS THE NEED FOR LESS PROPELLANT, AKA IF YOUR LAUNCH IS IMPORTANT, IF YOU ARE TRYING TO GROW THE SPACE ECONOMY, THE NEED FOR MORE LAUNCHES MAY BRING MORE COMMERCIAL AND INTERNATIONAL PARTNERS IN THE GAME. SO, MAYBE THAT'S A GOOD THING, WHICH MAYBE FAVORS NTP. BUT WHAT HAPPENS ALSO IF THE COST OF LAUNCH PLUMMETS AND WHAT HAPPENS IF WE CAN HAVE PROPELLANT DEPOTS IN SPACE? AND A NUMBER OF LAUNCHES BECOMES A LESS RELEVANT FIGURE OF MERIT. AGAIN, HOW DO--
HOW DO WE DO TRADES DIFFERENTLY IF THOSE SORTS OF THINGS HAPPEN? MY POINT IS THAT WE NEED TO BE STRATEGIC ABOUT HOW TO USE THE MISSION PULL FROM MARS TO EXPAND THE-- THE SPACE ECONOMY. FOR EXAMPLE, WHICH PROPULSION SYSTEM COULD PROVIDE A RATIONALE FOR ISRU ON THE MOON? BECAUSE ONE OF THE PROBLEMS WE HAVE WITH ISRU, APART FROM A TECH PUSH, WHICH IS, YOU KNOW, FULL OF CHALLENGES, BUT THERE'S ALSO NOT A STRONG MISSION PULL, SO COULD MARS PROVIDE THAT? SO, THESE ARE SOME OF THE QUESTIONS TO ASK. AND, YOU KNOW, THERE IS, YOU KNOW, TRUDY, YOU MENTIONED IT ISN'T JUST TECHNOLOGY CHALLENGES, THERE'S LEGAL REGULATORY CHALLENGES, AS WELL.
LUCKILY, IN 2019 THE-THE-- THERE WAS A PRESIDENTIAL MEMORANDUM THAT LAID OUT THE PROCESS FOR HOW YOU MIGHT APPROVE THE LAUNCH OF A SPACE NUCLEAR, A FISSION SYSTEM, WHICH SOMETHING-- WHICH UP UNTIL THEN WASN'T REALLY A-- LAID OUT IN MORE DETAIL. AND LAST, I GUESS, I WOULD WANT TO SAY THAT, YOU KNOW, THE CHALLENGES ARE POLICY AND POLITICS. YOU KNOW? VAN BRAUN SAID WE CAN LICK GRAVITY, BUT SOMETIMES THE PAPERWORK IS OVERWHELMING. SO, I THINK THIS IS A CHALLENGE WE WILL FACE AND AS WE DEVELOP SPACE NUCLEAR, HAVING SAID THAT, IT IS A CHALLENGE WORTH ADDRESSING BECAUSE, AS TRUDY SAID, WE CANNOT EXPLORE THE SOLAR SYSTEM WITHOUT SPACE NUCLEAR POWER AND PROPULSION. >> VERY GOOD.
ANYONE ELSE WANT TO JUMP IN ON THE-- ON THE NUCLEAR? >> I'LL JUST ADD, BECAUSE I WOULD NEVER ARGUE WITH BHAVYA ON THIS. BUT I WOULD JUST ADD THE OTHER CHALLENGE THAT WE SEE IS A CRYO FLUID MANAGEMENT AND STORAGE PIECE OF THAT. AND WE'RE REALLY EXCITED TO BE PARTNERED WITH STMD ON THE TIPPING POINT TO DO A CRYO FLUID MANAGEMENT DEMONSTRATION HERE IN SPACE IN THE FUTURE. AND I THINK THAT WILL HELP US WITH SOME OF THAT TECHNOLOGY ADVANCEMENT, AS WELL. >> YEAH.
>> THAT IS ABSOLUTELY A CORE CHALLENGE FOR NTP. >> YES. >> AND, TO SOME EXTENT, NEP, AS WELL. YEAH. >> AND I'LL JUST ADD CRYOGENIC FLUID MANAGEMENT IS MAKING A ROARING COMEBACK IN MY PROGRAM.
IT'S QUITE A HEALTHY PORTFOLIO THAT WE HAVE NOW. FOUR PUBLIC-PRIVATE PARTNERSHIPS THAT WE ANNOUNCED LAST YEAR AND ARE EITHER AWARDED OR IN THE PROCESS OF GETTING AWARDED. LIKE YOU SAID, LISA, ONE WITH LOCKHEED MARTIN. SO, THAT TECHNOLOGY AREA HAS BEEN A LONG TIME COMING. IF YOU TALK TO THE-- THE TECHNOLOGISTS IN THE AREA AND THE COMMUNITY, SINCE THE SIXTIES WE'VE NEEDED SOME ON-ORBIT DEMONSTRATION. SO, WE'RE LOOKING FORWARD TO THOSE AND THEN THE NEXT COMING YEARS WITH-- WITH OUR PARTNERS AND THEN A LOT OF IN-HOUSE WE HAVE GOING ON AT THE AGENCY.
SO, IF THERE ARE NO QUESTIONS FROM THE AUDIENCE, I'M NOT SEEING ANY NECESSARILY, THEN I THINK WE-- THANK YOU, BY THE WAY, ALL OF YOU FOR BEING HERE TODAY. I'VE LEARNED SO MUCH FROM-- FROM YOU AND I'VE WORKED IN THIS AREA FOR A LONG TIME. SO, IT WAS FASCINATING FOR-- FOR ME TO HEAR EVERYTHING YOU HAD TO SAY, YOUR PERSPECTIVES. BUT I WOULD LIKE TO CALL ON EACH OF YOU, IF YOU WOULDN'T MIND MAKING A FEW CLOSING REMARKS. IT CAN BE A WORD, IT CAN BE A SENTENCE, IT CAN BE A FEW COMMENTS THAT YOU HAVE ABOUT THIS AREA, COLLABORATION, ALL THE THINGS WE'VE TALKED ABOUT THIS MORNING.
BUT I THINK I'M GOING TO REVERSE ORDER THEN, AND LET'S START WITH JANET ON THE END, IF THAT'S OKAY WITH YOU. >> ALL RIGHT. THANKS, TRUDY. NO, I-I STAYED IN THE SPACE BUSINESS. I SPENT 25 YEARS AT NASA. I LOVED EVERY MINUTE OF IT.
I HAD THE WONDERFUL OPPORTUNITY TO FLY IN SPACE MYSELF AND TO EXPERIENCE WHAT IT'S LIKE TO BE THERE. AND I WOULD REALLY LIKE TO SHARE THAT OPPORTUNITY AS MUCH AS POSSIBLE WITH AS MANY PEOPLE AS I CAN. SO, I-I CHOSE A COMPANY THAT I RESPECT GREATLY AND I REALLY, REALLY WOULD LOVE TO BE ABLE TO FLY A SPACE PLANE AGAIN. I'M A-- I'M NOT A CLOSET-- I'M A SHUTTLE HUGGER. I-I LOVE THE SPACE SHUTTLE AND I LOVED EVERYTHING THAT IT COULD DO. SO, I'M HOPING TO BE ABLE TO BRING ANOTHER SPACE PLANE BACK TO OUR RUNWAY AND ENABLE CREW AND CARGO ON THAT VEHICLE IN THE FUTURE AS WELL AS PROVIDE A DESTINATION AT SOME POINT.
IF YOU LOOK AT OUR DISPLAY, YOU'LL SEE A LIFE HABITAT, WHICH IS AN INFLATABLE MODULE THAT'S THREE STORIES TALL. SO, WE THINK THAT WE CAN ALWAYS CONTINUALLY IMPROVE ON OUR ABILITY TO PROVIDE DESTINATIONS IN LOW EARTH ORBIT TO PROVIDE CONTINUING TECHNOLOGIES, OPPORTUNITIES IN SPACE TO PROVIDE INTERNATIONAL COOPERATION IN SPACE, PROVIDE DIVERSITY AND INCLUSION IN SPACE, AND JUST CONTINUE TO DEVELOP SPACE INTO THE ECONOMY THAT I BELIEVE IS-- IS DESTINED TO HAPPEN. SO, APPRECIATE BEING HERE. THANKS VERY MUCH FOR YOUR ATTENTION TODAY. >> OKAY, VERY GOOD.
THANKS, JANET. OKAY, LISA, IF YOU COULD. >> SO, I WOULD JUST SAY THIS IS AN INCREDIBLY INCREDIBLE TIME TO BE IN SPACE. I MEAN, IF YOU JUST WALK THE EXHIBIT FLOOR OR LISTEN TO THE DISCUSSIONS THAT HAVE BEEN TAKING PLACE HERE THIS WEEK, THERE IS NO BETTER PLACE TO BE IN MY MIND RIGHT NOW THAN TO BEING IN THE SPACE DOMAIN. AND I'LL JUST EMPHASIZE AGAIN, I THINK IT'S GOING TO TAKE ALL OF US TO GET TO THAT, YOU KNOW, SPACE EXPLORATION THAT WE WANT TO, THE ECONOMY THAT WE'RE LOOKING FOR IN SPACE.
I HAVE ENJOYED THE PARTNERSHIPS THAT WE'VE HAD WITH DIFFERENT INDUSTRY PARTNERS, WITH ACADEMIA, WITH THE GOVERNMENT, AND WITH INTERNATIONAL PARTNERS. AND-- AND, YOU KNOW, I THINK IT'S-- IT'S NOT AN OR, IT'S AN AND. IT'S ALL OF US COMING TOGETHER AND INSPIRING THE WORLD. AND I JUST THINK WE'RE AT A TIME ACROSS THE WORLD RIGHT NOW, WITH ALL THAT WE'VE BEEN THROUGH OVER THE LAST 18 MONTHS AND MORE AND THE IMPACT THAT COVID AND OTHERS HAS HAD ON PEOPLES' LIVES THAT SPACE IS HERE TO BE INSPIRATIONAL.
AND I THINK WE SHOULD LEVERAGE THAT TO INSPIRE THE WORLD AND BRING US TOGETHER AS ONE. >> OKAY, VERY GOOD. THANK YOU. AND LATONIA? >> GREAT. SO, I THINK THIS IS A GREAT TIME, AS SHE SAID.
TODAY IS KATHERINE JOHNSON'S BIRTHDAY. SHE WAS BORN AUGUST 26. AND IF ANYONE DOESN'T KNOW HER, SHE'S A BRILLIANT AFRICAN AMERICAN MATHEMATICIAN. YOU PROBABLY KNOW HER FROM HIDDEN FIGURES. AND SO, I THINK IT'S-- IT'S AN AMAZING TIME TO BRING ACADEMIA, ESPECIALLY, YOU KNOW, HISTORICALLY BLACK COLLEGES AND UNIVERSITIES.
SHE GRADUATED FROM WEST VIRGINIA UNIVERSITY, WHICH IS A HISTORICALLY BLACK COLLEGE. YOU KNOW, I DON'T WANT IT TO-- I DON'T WANT TO WAIT UNTIL THERE'S A MOVIE ABOUT, YOU KNOW, A BLACK FEMALE MATHEMATICIAN OR A BLACK FEMALE ASTRONAUT. YOU KNOW, NOW IS THE TIME TO KIND OF, YOU KNOW, RISE UP AND UNDERSTAND THAT, YOU KNOW, DIVERSITY IS HERE. IT'S ALWAYS BEEN HERE, JUST MAKING SURE THAT YOU KNOW THAT THE KNOWLEDGE BASE IS THERE AND, YOU KNOW, LOOKING FORWARD TO, YOU KNOW THE FUTURE.
I'M-I'M VERY HOPEFUL FOR WHAT'S TO COME. >> AND LEVERAGING THAT. VERY GOOD. OKAY. AND BHAVYA, WE'LL FINISH WITH YOU. >> SO, IT'S NEAR TO THE END OF THE CONFERENCE AND I WANT TO LEAVE YOU ALL WITH SOME-- SOME FOOD FOR THOUGHT.
SO, YOU KNOW, THE LAST 200 YEARS HAVE SEEN A SERIES OF INDUSTRIAL REVOLUTIONS THAT HAVE TRANSFORMED MODERN SOCIETY. SO, THE FIRST ONE YOU KNOW, WELL, THE STEAM ENGINE BROUGHT ON THE FIRST INDUSTRIAL REVOLUTION. THE AGE OF SCIENCE AND MASS PRODUCTION MARKED THE SECOND AND THE RISE OF DIGITAL TECHNOLOGY BEGAN A THIRD ONE WHICH, OF COURSE, CONTINUES THROUGH TODAY WITH AI, AND COMPUTING, AND DATA. BUT THROUGHOUT THIS TIME, HOWEVER, WE HAVE REMAINED EARTH-CENTRIC, LIMITED BY OUR ABILITY TO LIFT RESOURCES. THE SIZE OF THE ROCKET, FARING, RIGHT? GOING FORWARD, AS THE ACCESS-- AS A COST OF ACCESSING SPACE FALLS, AS WE DEVELOP CAPABILITIES TO SERVICE, ASSEMBLE, AND MANUFACTURE IN SPACE, AS WE GROW OUR ABILITY TO PROVIDE MORE POWER AND PROPULSION IN SPACE, I BELIEVE WE ARE POISED TO EXPAND THE BOUNDARIES OF WHAT IS CONSIDERED OUR REALM, AND WITH ACCESS TO NEARLY INFINITE CAPABILITIES AND RESOURCES OF SPACE. THIS IS WHAT I'M CALLING THE SPACE INDUSTRIAL REVOLUTION AND IT IMPLIES THAT WE SWITCH FROM THIS EARTH-CENTRIC PARADIGM TO-TO ONE THAT, AS JACK MARBURGER, WHO WAS PRESIDENT BUSH'S SCIENCE ADVISOR SAID, BRING THE SOLAR SYSTEM INTO OUR ECONOMIC REALM.
THE PARADIGM SHIFT, I'VE HEARD IT CALLED AT THIS CONFERENCE A SPACE SUPERHIGHWAY, I'VE HEARD IT CALLED THE SPACE INFOSTRUCTURE, SPACE LOGISTICS, WOULD ALLOW, AND AGAIN, SPEAKING, PUTTING ON MY NASA HAT, WOULD ALLOW OUR SPACE SYSTEMS TO LIVE LONGER AND JOURNEY FARTHER. AND MAKE BOTH ROBOTIC AND HUMAN SPACE FLIGHT MORE SUSTAINABLE, MORE AFFORDABLE, AND MORE RESILIENT. WHICH RETURNS ME FULL CIRCLE TO THE TOPIC OF THIS PANEL. THIS IS HOW TECHNOLOGY DRIVES EXPLORATION. AND I CANNOT WAIT FOR US ALL TO BE PART OF THIS NEW INDUSTRIAL REVOLUTION. >> VERY GOOD.
OKAY, THANK YOU. SO, I'LL JUST CLOSE WITH A FEW THINGS. FIRST OF ALL, ALL OF THESE WONDERFUL INDIVIDUALS, THE PANEL HERE TODAY, THEIR BIOS ARE ONLINE. WE DID NOT READ THROUGH THEM TODAY IN THE ESSENCE OF TIME.
BUT IF-- IF YOU'D LIKE TO GO READ MORE, AS WELL AS OUR ORGANIZATIONS, YOU CAN LOOK UP THAT INFORMATION, AS WELL. REGRETTABLY, SOME QUESTIONS DID COME IN, BUT THE INBOX WAS NOT SET TO THE RIGHT-- IT WASN'T SET TO THE RIGHT INBOX SO I DIDN'T GET THEM. HOWEVER, WE HAVE A FEW MINUTES LEFT AND THERE ARE SOME SPECIFICS FOR INDIVIDUALS.
IF YOU'D LIKE TO COME UP AFTER WE FINISH AND HAVE CONVERSATIONS, OR OUT IN THE LOBBY, I THINK WE'D BE HAPPY TO-- TO DO THAT, IF ANYONE IS INTERESTED IN THAT. SO, THANK YOU, EVERYONE. I'LL JUST REITERATE WHAT BHAVYA JUST SAID.
TECHNOLOGY DRIVES EXPLORATION. THAT IS OUR SPACE TECHNOLOGY MISSION DIRECTORATE TAGLINE. WE SAY IT AND WE SAY IT OFTEN, BUT THAT'S BECAUSE WE-- WE BELIEVE IT. IT'S VERY IMPORTANT THAT WE KEEP DOING THIS FOR SEVERAL OF THE GREAT REASONS WE MENTIONED TODAY. BUT JUST, TOO, THERE'S A LOT OF RELEVANCE HERE IN A MORE THAN $900 BILLION SPACE ECONOMY.
SO, THANK YOU FOR YOUR ATTENDANCE TODAY. WE HOPE YOU ENJOYED THIS SESSION. AND LIKE I SAID, IF YOU'D LIKE TO SPEAK TO ANY OF THE PANELISTS OR MYSELF OUT IN THE LOBBY, WE'D BE HAPPY TO DO SO. THANK YOU. [APPLAUSE] >> THANK YOU. >> THANK YOU.
2021-09-04 15:16
Show Video
Other news