2021 Space Symposium | Opening Ceremony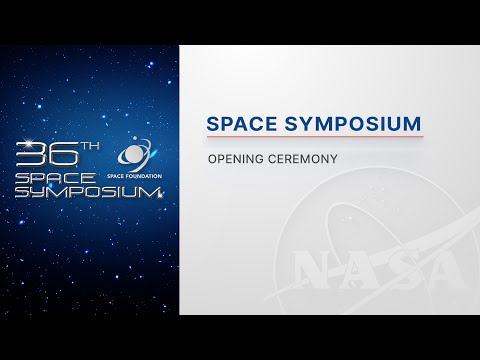 Show Video
>> EXPLORING... DEFENDING... DISCOVERING... EVEN THE WORLD STOPPING COULDN'T STOP US. PUSHING FORWARD... DESIGNING...
BUILDING... AND LAUNCHING. BRINGING TOGETHER BRILLIANT MINDS FROM ACROSS THE GLOBE, THOSE WHO LOOK TO THE STARS AND DREAM, FUELED BY AN UNRELENTING DESIRE TO TAKE ON THE BIGGEST CHALLENGES. CHALLENGES THAT DRIVE US TO GO BEYOND THE KNOWN. FROM ENSURING SECURITY ON EARTH, TO UNDERSTANDING THE VERY ORIGINS OF OUR UNIVERSE. TO NOT JUST MAINTAIN THE STATUS QUO IN SPACE, BUT TO REACH NEW HEIGHTS OF POSSIBILITY.
THE FUTURE IS HERE. WE'RE BUILDING IT. AND THERE'S NO LIMIT TO WHAT WE CAN ACCOMPLISH.
TO SOME, IT WAS A CHALLENGING YEAR. BUT AROUND HERE, CHALLENGING IS WHAT WE DO BEST. DEFENDING FREEDOM AROUND THE GLOBE, MAKING THE WORLD MORE CONNECTED, EXPLORING THE MYSTERIES OF THE UNIVERSE TOGETHER. >> IGNITION. LIFTOFF! >> LADIES AND GENTLEMEN, PLEASE WELCOME TO THE STAGE SPACE FOUNDATION CEO, REAR ADMIRAL RETIRED, TOM ZELIBOR. [ MUSIC ] >> WELL, GOOD EVENING, EVERYONE.
I CAN'T TELL YOU HOW GOOD IT FEELS TO BE STANDING HERE IN FRONT OF YOU TODAY, IN PERSON. [ APPLAUSE ] IF GOOD THINGS COME TO THOSE THAT WAIT, TO WAIT, THE LAST 18 MONTHS, THEY WERE GONNA PROVE THAT THIS IS GONNA BE A GREAT WEEK, AND WE'RE ABSOLUTELY PLEASED TO HAVE YOU ALL HERE. I ALSO WANNA THANK NORTHROP GRUMMAN FOR THE OPENING VIDEO, AND FOR BEING TONIGHT'S CORPORATE HOST. AND WELCOME TO ALL OF YOU, TO THE 36TH SPACE SYMPOSIUM. OR SHOULD I SAY, WELCOME HOME. [ APPLAUSE ] MY STAFF HAS PLANNED THIS EVENT THREE TIMES OVER THE LAST TWO YEARS.
YOU KNOW HOW HAPPY THEY ARE WITH ME? NOT MUCH. ONLY TO HAVE THE FIRST TWO ATTEMPTS POSTPONED, SO NEEDLESS TO SAY, THEY ARE ANXIOUS TO FINALLY BE IN THE EXECUTION MODE. WE'RE BACK AT THE BROADMOOR, RIGHT WHERE WE BELONG, READY TO SHOWCASE THE PEOPLE, IDEAS, AND ORGANIZATIONS THAT ARE DRIVING THE ERA OF ACCESS AND OPPORTUNITY IN THE GLOBAL SPACE ECOSYSTEM. WHAT'S DIFFERENT? THERE'S GONNA BE A LOT DIFFERENT THAT YOU'LL NOTICE WHILE YOU'RE HERE. BUT IT IS IN AUGUST, IT'S THE FIRST TIME WE'VE EVER HAD A SYMPOSIUM IN THE SUMMER, SO I'M ANTICIPATING LITTLE OR NO WIND, NO HAIL, NO SNOW, AND PROBABLY NO LOCUSTS. BUT YOU WILL JUST HAVE TO ENDURE THE INTENSE HEAT OF BEING AT 6,223 FEET AT 95 DEGREES WITH NO-- LITTLE ATMOSPHERE BETWEEN YOU AND THE SUN.
SO, WE'RE EXCITED, UH, TO GET THINGS GOING. UH, BEFORE I WANT-- CONTINUE MY REMARKS, I WANT TO DO A LITTLE BIT OF HOUSEKEEPING. YOUR HEALTH AND SAFETY ARE TOP PRIORITY FOR US, AND WE'RE TAKING COVID VERY SERIOUSLY. AS YOU'VE ALL BEEN INFORMED, WE ARE REQUIRING MASKS TO BE WORN AT ALL TIMES IN INDOOR SYMPOSIUM EVENTS, REGARDLESS OF YOUR VACCINATION STATUS. ALSO, AT ALL OF OUR CHECK-IN AREAS, THERE'S A COVID CARD THAT YOU CAN PICK UP, AND IT PROVIDES INSTRUCTIONS OF WHAT YOU SHOULD DO, UH, JUST IN CASE YOU'RE EXPERIENCING ANY SYMPTOMS, AND IT ALSO INCLUDES PHONE NUMBERS OF, UH, PEOPLE YOU CAN CALL OR MEDICAL FACILITIES.
AND SECONDLY, I WANNA MANAGE EVERYBODY'S EXPECTATIONS A BIT ABOUT THIS WEEK. THIS SYMPOSIUM IS ALSO DIFFERENT SINCE WE DO NOT HAVE THE ENTIRE BROADMOOR LIKE WE NORMALLY DO. THERE ARE TWO OTHER CONFERENCES BEING CONDUCTED AT THE SAME TIME, AND THAT-- WHEN THAT HAPPENS, THAT MEANS THAT THERE ARE LESS ROOMS, UH, MORE COMPETITION FOR BROADMOOR RESOURCES, AND THERE'S OTHER CHALLENGES. BUT I WILL TELL YOU WHAT I'M GONNA-- WHAT I TELL MY STAFF ALL THE TIME, AND THEY, UH-- AFFECTIONATELY CALL IT "TOM'S TRINITY." BE KIND, BE FLEXIBLE, AND CHECK EACH OTHER'S SIX.
IF WE ALL WATCH OUT FOR EACH OTHER, AND HELP EACH OTHER OUT, WE'RE GONNA HAVE A TREMENDOUS WEEK. AND AS ALWAYS, WE WILL MAKE EVERY EFFORT TO ENSURE YOU EXPERIENCE THE SAME QUALITY THAT YOU ARE USED TO AT THE SYMPOSIUMS. IT'S OBVIOUSLY BEEN A WHILE SINCE WE'VE ALL BEEN TOGETHER, AND A LOT HAS HAPPENED IN OUR COMMUNITY. MARS IS NOW HOME TO MORE ORBITING SATELLITES AND SURVEYING ROVERS. EVEN ONE WITH ITS OWN HELICOPTER.
THE DOORS OF COMMERCIAL SPACE FLIGHT HAVE BEEN OPENED WIDE BY INDUSTRY. THE SPACE FORCE AND U.S. SPACE COMMAND ARE NOW OPERATIONAL. AND WE HAVE A LOT OF NEW LEADERSHIP ACROSS MANY OF THE CIVIL SPACE ORGANIZATIONS.
THE MOON IS IN CLOSER REACH THAN IT HAS BEEN IN NEARLY 50 YEARS. AND NEW TECHNOLOGIES HAVE COME ONLINE THAT TOUCH EVERY INFRASTRUCTURE AND CONTINENT TO BETTER LIFE ON EARTH. WE'VE ALSO SEEN HOW OUR COMMUNITY HAS RESPONDED TO THE PANDEMIC BY PROVIDING LIFESAVING PERSONAL PROTECTIVE EQUIPMENT, WITH NEW VENTILATORS AND HEALTH CARE TOOLS TO SUPPORT PUBLIC OPERATIONS AROUND THE WORLD. WHEN YOU COUPLE THOSE WITH THE GOOD WORKS AND CONTINUED ECONOMIC AND JOB GROWTH, AS WE, UH, SAW, DESPITE THE, UH, THE PANDEMIC.
IT IS WHY I SAY WITH A LOT OF CONFIDENCE THERE IS NO BETTER TIME TO BE PART OF THE SPACE ECOSYSTEM, AND EVERYBODY HERE IS PART OF THAT. WHILE WE HAVE MUCH TO BE PROUD OF, UH, WE STILL HAVE CHALLENGES THAT WE MUST FACE. WE WILL EXPLORE MANY OF THOSE THIS WEEK WITH A PROGRAM THAT IS AS DIVERSE AS IT IS DYNAMIC. WE DO THAT BY SHARING THE WEEK WITH YOU HERE AT THE BROADMOOR, AS WELL WITH, FOR THE FIRST TIME, A VIRTUAL AUDIENCE WHERE MOST OF OUR EVENTS ARE BEING LIVESTREAMED, AND THAT'S GLOBAL IN SCALE.
ADDING THIS VIRTUAL ASPECT TO OUR PROGRAM IS THE FIRST FOR US IN SYMPOSIUM HISTORY, AND WE'RE EXTREMELY EXCITED TO EXTEND THE SYMPOSIUM EXPERIENCE IN THIS AREA. AS WE'VE ALL LEARNED OVER THE PAST 18 MONTHS, CONNECTIVITY IS CRITICAL TO KEEP THE IDEAS AND INSIGHTS OPEN AND FLOWING. BY EXTENDING THE REACH OF THIS WEEK'S CONVERSATIONS, WE ARE EXPANDING PARTICIPATION IN ENGAGEMENT IN MANY NEW WAYS. TO OUR VIRTUAL AUDIENCE, I WELCOME YOU ALSO. ONE OF THE UNIQUE FACETS OF SPACE SYMPOSIUM IS BRINGING TOGETHER THE ENTIRE SPACE COMMUNITY TO ENGAGE IN DIALOGUE. IT'S ALWAYS AMAZING TO SEE CIVIL AND NATIONAL SECURITY SPACE ALONG WITH COMMERCIAL AND INTERNATIONAL SPACE ALL CONTRIBUTING TO THE EXCHANGE OF IDEAS.
I BELIEVE THIS IS ONE OF OUR GREATEST STRENGTHS OF OUR COMMUNITY, AND CERTAINLY ONE OF THE SIGNIFICANT ELEMENTS OF THE SPACE SYMPOSIUM. SPACE FOUNDATION IS PRIVILEGED TO BE PART OF THIS, PROVIDING THIS SIGNATURE VENUE FOR INFORMATION AND DISCUSSION ALONG WITH NETWORKING AND CONDUCTING BUSINESS. WE SERVE ALL SECTORS, LIVE AND ONLINE, TO LEARN, CONNECT, AND CONDUCT EVEN MORE BUSINESS. AT THE CLOSE OF TONIGHT'S CEREMONY, WE WILL OPEN THE LARGEST AND MOST EXPANSIVE, UH, EXHIBIT HALL WE HAVE EVER HAD. THIS YEAR WE HAVE OVER 270 EXHIBITORS FROM AROUND THE WORLD, SHOWCASING THE CREATIVITY, INGENUITY, AND CRAFTSMANSHIP OF A COMMUNITY THAT NEVER CEASES TO AMAZE OR INSPIRE.
I WANT TO GIVE MY PERSONAL THANKS AND GRATITUDE TO THE BROADMOOR LEADERSHIP AND ITS OWNERS. AND BECAUSE WE HAVE NOW MORE THAN DOUBLED OUR AMOUNT OF SPACE WE HAVE TO SHOWCASE THE SPACE COMMUNITY ACHIEVEMENTS. THE TEMPORARY PAVILION THAT MANY OF YOU NO DOUBT REMEMBER IS LONG GONE, AND WE NOW HAVE THE STATE OF ART FACILITY THAT WILL ALLOW YOU TO EXPERIENCE MORE THAN YOU EVER HAVE BEFORE AT SYMPOSIUM. IT'S NOW TIME TO HONOR SOME TRULY REMARKABLE PEOPLE AS WE NOW CONVENE THE 36TH ANNUAL SPACE SYMPOSIUM.
SINCE WE WERE NOT ABLE TO GATHER LAST YEAR, WE HAVE ASSEMBLED A BRIEF VIDEO TO RECOGNIZE OUR 2020 AWARDEES. >> THE 2020 DOUGLAS S. MORROW PUBLIC OUTREACH AWARD WAS PRESENTED TO THE SMITHSONIAN INSTITUTION'S NATIONAL AIR & SPACE MUSEUM FOR THE PRODUCTION OF THE APOLLO 11 50TH ANNIVERSARY CELEBRATION. THE NATIONAL AIR AND SPACE MUSEUM TEAM BROUGHT THE APOLLO 11 MISSION TO LIFE, PROJECTING SPECTACULAR IMAGERY ONTO THE SIDE OF 555-FOOT-TALL WASHINGTON MONUMENT. THE SPACE FOUNDATION PRESENTED TWO SPACE ACHIEVEMENT AWARDS IN 2020.
THE FIRST SPACE ACHIEVEMENT AWARD WAS PRESENTED TO THE CHINA NATIONAL SPACE ADMINISTRATION FOR ACHIEVING THE FIRST SUCCESSFUL SOFT LANDING ON THE FAR SIDE OF THE MOON WITH THE SUCCESSFUL CHANG'E 4 ROBOTIC SPACECRAFT MISSION. THE 2020 SPACE ACHIEVEMENT AWARD IS ALSO PRESENTED TO THE CANADIAN SPACE AGENCY, EUROPEAN SPACE AGENCY, JAPAN AEROSPACE EXPLORATION AGENCY, NATIONAL AERONAUTICS AND SPACE ADMINISTRATION, AND ROSCOSMOS, IN RECOGNITION FOR THEIR SHARED LEADERSHIP, INITIATIVE, AND INVESTMENT IN THE INTERNATIONAL SPACE STATION PROGRAM. NASA JPL'S INSIGHT MARS CUBE ONE JOINT PROJECT FLIGHT TEAMS RECEIVED THE 2020 JOHN L. JACK SWIGERT, JR. AWARD FOR THEIR CONTRIBUTIONS IN THE FIRST MISSION TO DIRECTLY STUDY THE DEEP INTERIOR OF MARS. THE 2020 GENERAL JAMES E. HILL
LIFETIME SPACE ACHIEVEMENT AWARD, THE SPACE FOUNDATION'S HIGHEST HONOR WAS PRESENTED TO LEGENDARY NASA FLIGHT DIRECTOR EUGENE F. KRANZ, WHOSE LIFE AND LEGACY ECHO THROUGHOUT NASA'S HISTORY. KRANZ'S PRESENCE AT NASA JOHNSON SPACE CENTER'S MISSION CONTROL INSTILLED CONFIDENCE AND COMPETENCE DURING SOME OF THE MOST ASTONISHING AND ADVERSE MOMENTS IN SPACE FLIGHT HISTORY, AND HIS LEGACY CONTINUES TODAY. PLEASE JOIN US IN CONGRATULATING ALL OF THE 2020 AWARDEES.
[ APPLAUSE ] >> SO NOW IT'S TIME TO HONOR THIS YEAR'S AWARDEES. AND LIKE THEIR PREDECESSORS, THEY TOO ARE SHINING EXAMPLES OF SUPERIOR PERFORMANCE AND INSPIRATION. WE BEGIN WITH THE ALAN SHEPARD TECHNOLOGY AND EDUCATION AWARD. >> PRESENTING THE ALAN SHEPARD TECHNOLOGY AND EDUCATION AWARD, AND REPRESENTING THE ASTRONAUT MEMORIAL FOUNDATION IS CHAIRMAN OF THE BOARD OF DIRECTORS, SHERYL CHAFFEE, AND LAURA SHEPARD CHURCHLEY. [ MUSIC ] >> GOOD EVENING. NOT ONLY AM I THE CHAIR OF THE ASTRONAUT MEMORIAL FOUNDATION, BUT I AM ALSO THE DAUGHTER OF ROGER CHAFFEE, WHO DIED IN THE APOLLO 1 FIRE WITH GUS GRISSOM AND ED WHITE.
THE ASTRONAUT MEMORIAL FOUNDATION IS SO THANKFUL FOR THE SPACE FOUNDATION GIVING US THIS OPPORTUNITY TO HONOR OUR FALLEN ASTRONAUTS AND TO PRESENT THE ALAN SHEPARD TECHNOLOGY AND EDUCATION AWARD. THIS AWARD IS PRESENTED JOINTLY BY THE SPACE FOUNDATION, ASTRONAUT MEMORIAL FOUNDATION, AND NASA IN RECOGNITION OF INNOVATIVE USE OF TECHNOLOGY BY EDUCATORS AND DISTRICT-LEVEL EDUCATION PERSONNEL. AND HERE TO PRESENT THE AWARD IS ALAN SHEPARD'S DAUGHTER, LAURA SHEPARD CHURCHLEY. [ APPLAUSE ] >> THANK YOU, SHERYL. HELLO, EVERYBODY. WE'RE VERY HAPPY TO BE HERE.
AND, UM, I HAVE A REALLY SHORT TIME, SO I'M GOING TO SHOW YOU SOMETHING THAT I KNOW YOU HAVEN'T SEEN. THIS IS A REPLICA OF THE GOLF CLUB THAT DADDY USED ON THE MOON. I KNOW YOU-- NOT MANY OF YOU HAVE SEEN IT, BUT IT'S-- THE REAL ONE IS IN THE UNITED STATES GOLF ASSOCIATION MUSEUM IN NEW JERSEY. AND I JUST THOUGHT I WOULD LET YOU SEE IT. THIS IS THE PART THAT EVERY ASTRONAUT, OF THE 12 ASTRONAUTS WHO HAVE GONE TO THE MOON, THIS IS THEIR LITTLE, UH, POLE THAT THEY ATTACH A SHOVEL ONTO, OR A PROBE, OR A FORK TO LIFT SOME HEAVY ROCKS OR SOMETHING.
ANYWAY, I JUST THOUGHT IF YOU WANNA COME SEE ME LATER, I'LL SHOW YOU HOW IT WORKS. I THOUGHT IT'D BE FUN FOR YOU TO SEE IT. AND I'LL BE REALLY FAST. UM, I AM HERE TO INTRODUCE YOU TO KACI HEINS, WHO YOU-- SHE SO DESERVES THIS AWARD, SHE'S SO FULL OF LIFE FOR-- AND ENTHUSIASM FOR EDUCATING SEVENTH AND EIGHTH GRADERS IN TECHNOLOGY.
AND I'M NOT GONNA GO ANY FURTHER, BECAUSE SHE'S-- SHE SELLS HERSELF. KACI, COME ON UP. [ APPLAUSE ] [ MUSIC ] >> ALL RIGHT! WOW, I DON'T KNOW WHAT'S MORE INTIMIDATING, THIS ROOM FULL OF THE SPACE INDUSTRY, OR MY EIGHTH GRADE CLASSROOM. I THINK MY EIGHTH GRADERS. [ CHUCKLING ] I WANNA THANK THE SPACE FOUNDATION, THE ASTRONAUT MEMORIAL FOUNDATION, THE SHEPARD FAMILY, AND NASA FOR THIS INCREDIBLE HONOR.
I ALSO WANNA THANK MY LOVING FAMILY AND MY WONDERFUL EDUCATOR FRIENDS FOR SUPPORTING ME ON THIS INCREDIBLE JOURNEY. AND SPEAKING OF EDUCATORS, I WANT YOU TO THINK OF THOSE TEACHERS AND MENTORS THAT HELPED YOU GET TO WHERE YOU ARE SITTING HERE TODAY. IT TOOK SOMEONE OR SOMETHING TO INSPIRE YOU TO GET ON THE STEM PATHWAY. I'M HERE TO TELL YOU THAT THE SPACE FOUNDATION TEACHER LIAISONS, EDUCATORS ACROSS THE COUNTRY AND AROUND THE WORLD ARE TAKING ON THAT CHARGE BECAUSE WE KNOW THAT YOUR FUTURE WORKFORCE IS IN OUR CLASSROOMS AS WE SPEAK. AND WE CHOOSE TO INTEGRATE STEM IN SPACE INTO THE CLASSROOM, NOT BECAUSE IT IS EASY, BUT BECAUSE IT IS AWESOME! [ APPLAUSE ] [ LAUGHING ] NEVER HAVE I SEEN A TOPIC INSPIRE CURIOSITY AND WONDER IN STUDENTS YOUNG AND OLD LIKE SPACE. SO I CHALLENGE YOU, UNTIL THE NEXT SYMPOSIUM NEXT APRIL, TO GET MORE INVOLVED IN YOUR COMMUNITIES.
DO A VIDEO CHAT WITH A SCHOOL, PARTNER WITH A LOCAL TEACHER, BECAUSE TOGETHER, WE CAN INSPIRE AN AMAZING NEW CAREER AND WORKFORCE FOR YOU, FOR OUR COUNTRY, FOR THE WORLD, AND WE CAN DARE MIGHTY THINGS TOGETHER. THANK YOU. [ APPLAUSE ] [ MUSIC ] >> THE JOHN L. "JACK" SWIGERT JR. AWARD FOR SPACE EXPLORATION WAS ESTABLISHED BY THE SPACE FOUNDATION TO HONOR THE COLORADO NATIVE BY RECOGNIZING EXTRAORDINARY CONTRIBUTIONS TO THE MISSION OF UNDERSTANDING SPACE THROUGH EXPLORATION. ALONGSIDE ASTRONAUTS JAMES A. LOVELL JR.
AND FRED HAYES, AND WITH THE HELP OF NASA'S MISSION CONTROL, SWIGERT COORDINATED THE APOLLO 13 CREW'S SAFE RETURN TO EARTH AFTER A PERILOUS OXYGEN TANK RUPTURE EN ROUTE TO THE MOON. THE SPACE FOUNDATION IS PROUD TO NAME THE NASA JET PROPULSION LABORATORY MARS INGENUITY FLIGHT TEAM AS THE 2021 RECIPIENT OF THE JOHN L. "JACK" SWIGERT JR. AWARD FOR ITS CONTRIBUTION TO PERFORMING THE FIRST FLIGHT OF POWERED AND CONTROLLED AIRCRAFT ON ANOTHER PLANET.
THE NASA INGENUITY MARS HELICOPTER IS A MILESTONE IN AVIATION AND AERONAUTICS HISTORY, ALLOWING EXPLORATION OF MARS FROM AN AERIAL PERSPECTIVE, WHILE ENABLING THE COLLECTION OF DATA ABOUT FLIGHT OPERATIONS IN A CHALLENGING ATMOSPHERE. WE CONGRATULATE JPL'S MARS INGENUITY FLIGHT TEAM, WINNER OF THE 2021 JOHN L. "JACK" SWIGERT JR. AWARD FOR SPACE EXPLORATION. >> ACCEPTING ON BEHALF OF THE NASA JPL INGENUITY HELICOPTER TEAM, PLEASE WELCOME LIEUTENANT GENERAL LARRY JAMES, U.S. AIR FORCE RETIRED,
ACTING DIRECTOR JET PROPULSION LAB, AND DR. BALARAM, CHIEF ENGINEER INGENUITY HELICOPTER AT JET PROPULSION LAB, AND THE NASA ADMINISTRATOR, SENATOR BILL NELSON. [ MUSIC ] >> AGAIN, TOM AND THE SPACE FOUNDATION, THANK YOU FOR THIS INCREDIBLE AWARD. UH, THIS REALLY IS A TEAM EFFORT.
I KNOW IT SAID JPL UP THERE, BUT IT WAS INVOLVING CENTERS ALL ACROSS NASA. IT WAS INVOLVING ORGANIZATIONS AT NASA'S HEADQUARTERS, AND IT WAS INVOLVING OUR INDUSTRY PARTNERS TO REALLY BRING THIS INCREDIBLE MISSION TOGETHER, AND I THINK IT REALLY JUST SHOWS WHAT THIS NATION IS CAPABLE OF, WHAT THE PEOPLE OF NASA AND OUR INDUSTRIAL BASE ARE CAPABLE OF WHEN GIVEN AN INCREDIBLE CHALLENGE TO ACTUALLY MAKE IT REALITY, TO MAKE IT OPERATE AND WORK, CREATE HISTORY, AND ALSO EXCEED ALL EXPECTATIONS. WE EXPECTED TO FLY FIVE TIMES, WE'VE NOW FLOWN TWELVE TIMES. SO TO ECHO OUR TEACHER WINNER, WE DARE MIGHTY THINGS. SO, BOB? [ APPLAUSE ] >> THANK YOU, LARRY. UM, SOME SAID THAT YOU COULDN'T FLY AN AIRCRAFT ON MARS, BUT, UH, INGENUITY IS GOING STRONG-- A MILE AND A HALF IN THE MARTIAN SKIES, OVER 20 MINUTES OF FLIGHT TIME, AND IT'S A GREAT HONOR FOR ME AS THE CHIEF ENGINEER TO ACCEPT THIS AWARD ON BEHALF OF OUR TEAM AT NASA JPL, NASA AMES, NASA LANGLEY, AND OUR INDUSTRIAL PARTNERS AT AEROVIRONMENT, QUALCOMM, [ INDISTINCT ], AND MANY OTHERS.
WE ALL WORKED REALLY WELL AS A GREAT TIME TOGETHER AND MADE THIS HAPPEN, SO IT'S A GREAT HONOR FOR ALL OF US. THANK YOU. [ APPLAUSE ] >> THE DOUGLAS S. MORROW
PUBLIC OUTREACH AWARD HONORS AN ORGANIZATION OR INDIVIDUAL WHO HAS MADE SIGNIFICANT CONTRIBUTIONS TO THE PUBLIC AWARENESS AND UNDERSTANDING ABOUT SPACE PROGRAMS AND TECHNOLOGY. ACADEMY AWARD WINNING SCREENWRITER AND PRODUCER DOUG MORROW WAS A SPACE ADVOCATE AND EARLY MEMBER OF THE BOARD OF DIRECTORS OF THE SPACE FOUNDATION. THE SPACE FOUNDATION HAS RECOGNIZED NASA HEADQUARTERS SENIOR CONTRACT PHOTOGRAPHER BILL INGALLS AS RECIPIENT OF THIS YEAR'S AWARD FOR CAPTURING THE PEOPLE, MISSIONS, AND SPACE EXPLORATION PROGRAMS FOR MORE THAN THREE DECADES. SINCE 1989, BILL INGALLS HAS CAPTURED STUNNING PHOTOGRAPHS OF A WIDE-RANGING SERIES OF SUBJECTS FOR NASA. WHETHER SHOOTING IMAGES FOR THE SHUTTLE PROGRAM, ISS CREW LAUNCHES AND LANDINGS ABOARD SOYUZ IN RUSSIA, JPL'S CONTROL ROOM DURING MARS LANDINGS, CELESTIAL EVENTS, SUCH AS ECLIPSES, NEIL ARMSTRONG'S BURIAL AT SEA, OR THE FIRST IMAGES OF ASTRONAUTS ABOARD CREW DRAGON AFTER SPLASHDOWN, BILL'S VISUAL ARTISTRY HAS CONTRIBUTED IMMENSELY TO PUBLIC KNOWLEDGE OF AERONAUTICS AND ITS IMPACT ON HUMANKIND. CONGRATULATIONS TO BILL INGALLS, THIS YEAR'S WINNER OF THE DOUGLAS S. MORROW
PUBLIC OUTREACH AWARD. >> PLEASE WELCOME BILL INGALLS, NASA'S SENIOR CONTRACT PHOTOGRAPHER. [ APPLAUSE ] >> HOLD ON, GUYS. I'M GOING TO-- [ LAUGHTER ] LET'S HEAR IT FOR THESE EVENT PHOTOGRAPHERS WORKING HARD. [ APPLAUSE ] UH, I'LL TRY TO BE SHORT AND SWEET.
RICH TOLD ME THERE WAS A GUN INVOLVED IF I WASN'T. SO, UH, I'M MUCH BETTER BEHIND A CAMERA THAN IN FRONT OF ONE, SO, UM, JUST THANK YOU SO MUCH-- THE SPACE FOUNDATION. THIS IS AN INCREDIBLE HONOR. UM, I'M NOT DONE YET. PLEASE, THIS IS NOT THE END.
I HOPE I HAVE MORE TO GO. UH, I NEED TO HANG OUT OF HELICOPTERS, GO IN VOLCANOES, AND DO ALL KINDS OF STUFF A FEW MORE TIMES, SO... BUT I ALSO WANT TO THANK, UH, MAURY ASSOCIATES, THE COMPANY I'M CURRENTLY WORKING FOR, AND, OF COURSE, NASA, AND THE, UH, NASA HEADQUARTERS COMMUNICATION TEAM WHICH I COULDN'T BE PROUDER TO BE A PART OF. UH, MY COLLEAGUES ARE INCREDIBLE.
THEY TEACH ME EVERY DAY. I'M STILL LEARNING ALL THE TIME. UM, AND NASA HAS BEEN JUST A WONDERFUL PLACE AS FAR AS PHOTOGRAPHY. THE SUBJECT MATTER-- COME ON, I MEAN, THAT'S-- THAT'S PRETTY HARD TO RESIST BUT, UM, NASA'S BEEN HONEST. UH, WHEN WE MAKE MISTAKES, WE SHOW OUR MISTAKES, UM, AND WE SHOW THE GLORY AS WELL, AND THAT'S HUGE. THAT'S REALLY IMPORTANT.
UM, AND THAT'S HOW YOU GAIN THE RESPECT OF EVERYONE. WHEN YOU'RE-- WHEN YOU'RE HONEST. FAILURE LEADS TO, UH, THESE SUCCESSES, SO, UM, THANK YOU SO MUCH.
I WILL SAY MY COLLEAGUES, AUBREY AND JOEL, WHO AGAIN, UH, JUST TEACH ME SO MUCH EVERY DAY-- WE-WE WERE ASKED JUST A FEW DAYS AGO TO GIVE QUOTES FOR INSTAGRAM, UH, WORLD PHOTOGRAPHER DAY, AND ALL THREE OF US ENDED UP WITH THE SAME WORDS, WHICH WAS, "PRIVILEGE, "HONOR, RESPONSIBILITY" FOR WHAT WE HAVE TO DO AT NASA, AND I CAN'T THANK YOU ENOUGH. THANK YOU SO MUCH. I APPRECIATE IT. [ APPLAUSE ] >> THE SPACE FOUNDATION SPACE ACHIEVEMENT AWARD IS PRESENTED ANNUALLY TO AN INDIVIDUAL OR ORGANIZATION THAT HAS DEMONSTRATED SPACE ACHIEVEMENT, BREAKTHROUGH SPACE TECHNOLOGY, OR PROGRAM OR PRODUCT SUCCESS THAT REPRESENTS CRITICAL MILESTONES IN THE EVOLUTION OF SPACE EXPLORATION AND DEVELOPMENT. THE 2021 SPACE ACHIEVEMENT AWARD IS PRESENTED TO THE U.S. SPACE FORCE
FOR ESTABLISHING A NEW MILITARY SERVICE BRANCH IN ADDITION TO THE MISSION OPERATIONS AND PARTNERSHIPS THAT WILL SECURE OUR NATIONAL AND ECONOMIC SECURITY GOING FORWARD. BEGINNING WITH A CORPS FORMED BY THE FORMER AIR FORCE SPACE COMMAND, THE U.S. SPACE FORCE, IN FEWER THAN 18 MONTHS, DEVELOPED THE DOCTRINE, PROCESSES, LEADERSHIP, ORGANIZATIONAL STRUCTURES, AND OPERATIONS OF THE WORLD'S FIRST INDEPENDENT SPACE FORCE. THE SPACE FOUNDATION IS PROUD TO RECOGNIZE THE EXTRAORDINARY EFFORTS OF THE U.S. SPACE FORCE,
THE RECIPIENT OF THE 2021 SPACE ACHIEVEMENT AWARD. >> PLEASE WELCOME GENERAL JOHN "JAY" RAYMOND TO ACCEPT THIS AWARD. [ MUSIC ] >> IT IS GREAT TO BE BACK. THANK GOODNESS WE'RE NOT DOING THIS OVER ZOOM OR TEAMS OR ANY OF THESE OTHER THINGS.
IT'S GREAT TO ACTUALLY HAVE HUMAN CONTACT. UM, TOM, I CAN'T THANK YOU ENOUGH. THANK YOU FOR YOUR LEADERSHIP. UH, THANK YOU FOR-- TO YOUR TEAM FOR PULLING THIS EVENT TOGETHER THIS YEAR. I KNOW HOW IMPORTANT IT IS TO YOU, AND I KNOW-- I KNOW PERSONALLY HOW IMPORTANT IT IS TO ALL OF US TO BE HERE, AND SO THANK YOU. UH, THE ONLY WAY I CAN BE UP HERE IS TO ACCEPT THIS AWARD ON-- A-AWARD ON BEHALF OF THE NEARLY 12,000 GUARDIANS, BOTH ACTIVE DUTY AND CIVILIAN, UH, THAT COME TO WORK EVERY DAY TO BUILD THIS NEW SERVICE.
I WILL TELL YOU ON, UH, 20 DECEMBER OF 2019 WHEN THE LAW WAS SIGNED ESTABLISHING THE SPACE FORCE, UH, WE FOUND, UH, THERE WAS NO CHECKLIST ON HOW TO DO THIS. AND, UH, THESE 12,000 FOLKS THAT COME TO WORK EVERY DAY COMMITTED, UH, TO GETTING THIS RIGHT DESERVE ALL THE CREDIT. AS YOU HAVE HIGHLIGHTED IN-IN THE-- IN THE LITTLE VIDEO, REORGANIZED, BUILT THE PERSONNEL PROCESSES, BUILT DOCTRINE. PROBABLY THE THING I'M MOST IM-- MOST PROUD OF ARE THE PARTNERSHIPS THAT WE-- THAT WE HAVE BUILT, UH, WITH OUR-OUR-OUR, UH, INTERNATIONAL PARTNERS-- SO MANY REPRESENTED HERE-- WITH OUR COMMERCIAL PARTNERS, WITH OUR CIVIL PARTNERS.
UH, MR. NELSON, THANK YOU, SIR, FOR THE-- FOR THE STRONG PARTNERSHIP. AND WE'RE JUST REALLY EXCITED FOR WHERE WE ARE, AND I CAN TELL YOU WITHOUT HESITATION THAT WE'RE BETTER POSTURED TODAY TO HANDLE THE CHALLENGES THAT WE FACE IN SPACE THAN WE WERE, UH, THE LAST TIME THE SPACE SYMPOSIUM GOT TOGETHER. SO AGAIN, MY HAT'S OFF TO THE SPACE FOUNDATION. I CAN'T THANK YOU ENOUGH FOR THE HONOR, AND IF-- I-I CAN'T SEE ANYBODY, UH, BUT IF THERE'S GUARDIANS OUT THERE, IF YOU WOULDN'T MIND STANDING UP, AND UH, THIS AWARD IS FOR YOU.
[ APPLAUSE ] >> HOW ABOUT IF WE GIVE, UH, ALL OF OUR AWARDEES, UH, BOTH LAST YEAR'S AND THIS YEAR'S ONE MORE ROUND OF APPLAUSE, PLEASE? [ APPLAUSE ] ONCE AGAIN, I WANT TO THANK ALL OF YOU FOR BEING HERE. AND WE LOOK FORWARD TO A SAFE AND PRODUCTIVE WEEK. UM, SOMETHING ELSE THAT'S DIFFERENT THIS YEAR IS WE HAVE A-A VERY SPECIAL AWARD. IT'S OUR PREMIER AWARD, UH, THAT THE SPACE FOUNDATION GIVES EVERY YEAR, AND WE WANT TO DO THAT TONIGHT. UM, WE ARE NOT DOING ENTERTAINMENT LIKE A LOT OF OUR OPENING CEREMONIES. I GUARANTEE YOU, YOU DON'T WANT ME TO STAND UP HERE AND SING FOR A-- FOR ALL OF YOU.
THAT'S FOR SURE. BUT THIS IS A VERY SERIOUS AWARD, AND IT GOES TO A VERY IMPORTANT PERSON, UH, IN THE SPACE, UH, I'LL CALL IT "ECOSYSTEM." THAT'S OUR NEW WORD, AND WE'LL, UH, YOU'LL HEAR ABOUT IT HERE IN A SECOND, SO THANK YOU ALL VERY MUCH.
[ APPLAUSE ] >> PLEASE WELCOME BLAKE BULLOCK, VICE PRESIDENT OF NATIONAL SECURITY SYSTEMS, NORTHROP GRUMMAN. >> GOOD EVENING. ON BEHALF OF NORTHROP GRUMMAN, I AM HONORED TO BE HERE TODAY TO SPEAK TO SO MANY COLLEAGUES AND LEADERS FROM AROUND THE WORLD AT THE 36th ANNUAL SPACE SYMPOSIUM IN PERSON. CONGRATULATIONS TO ALL THE WINNERS ANNOUNCED THIS EVENING. TAKING IN YOUR ACCOMPLISHMENTS TRULY IS INSPIRING. SO I GOTTA SAY, IT WAS GREAT CATCHING UP WITH SO MANY OF YOU EARLIER TODAY.
AND BASED ON SOME OF THE CONVERSATIONS WE WERE HAVING, I DID WANT TO ASK BY A SHOW OF HANDS, ARE THERE ANY PARENTS OF GRADE SCHOOL CHILDREN IN THE AUDIENCE TONIGHT? MOMS? DADS? OKAY. HANDS TOO TIRED TO LIFT IT UP? I THINK SO. ANYONE ELSE WHO FOUND THEMSELVES PARTICIPATING IN HOME SCHOOL 2020, LIKE GRANDPARENTS AND, UH, CAREGIVERS? OKAY, I SEE SOME MORE HANDS THERE. SO, UM, ONE THING I LEARNED WAS THAT MY EXPERIENCE IN ENGINEERING AND MY ADVANCED DEGREE IN ASTROPHYSICS WAS NOT GOOD PREPARATION TO SERVE AS A GRADE SCHOOL TEACHER FOR MY TWO CHILDREN. IT DEFINITELY DIDN'T HELP ME PUT TOGETHER A PANDA BEAR OUT OF PIPE CLEANERS, AND, UH, THERE WERE A LOT OF TEARS IN OUR HOUSE, AND THAT WAS MAINLY MY HUSBAND AND ME, SO I KNOW SOME OF YOU CAN RELATE. IT WAS A SPECIAL KIND OF STRESS FOR SOME OF US.
UM, BUT, OF COURSE, THAT WAS ONLY A MICROCOSM OF THE REAL LOSS IN OUR COMMUNITIES. WE FACED SICKNESS. WE LOST PEOPLE. WE WELCOMED NEW BABIES IN ISOLATION AND SAID GOODBYE TO PEOPLE VIA A SCREEN. UH, WE MISSED A LOT, AND WE LOST A LOT, SO, UM, MYSELF, AS AN ORDINARY CITIZEN, IT WAS A REAL OPPORTUNITY TO APPRECIATE THE WORK OF THE ESSENTIAL WORKERS IN HEALTHCARE AND FOOD SUPPLY, LAW ENFORCEMENT, AND-AND OF COURSE A-AN OPPORTUNITY FOR GRATITUDE TO THE MEMBERS OF THE WORLD'S ARMED FORCES AROUND THE WORLD WHO ARE SACRIFICING SO MUCH TO SERVE US EVERY DAY, SO THANK YOU FOR YOUR SERVICE, PAST AND PRESENT.
[ APPLAUSE ] SO TODAY'S OPENING CEREMONY FILM WAS ABOUT RESILIENCY AND HOW WE IN THE SPACE INDUSTRY PRESERVED AND PERSEVERED DURING THE PAST 18 MONTHS OR SO. SO WHILE THE WORLD WAS BATTENING DOWN THE HATCHES, OUR INDUSTRY KEPT THE SPACE STATION OPERATING, SAFE AND SUPPLIED, AND, OF COURSE, SPECTACULARLY LAUNCHED THE FIRST COMMERCIAL CREW TO THE INTERNATIONAL SPACE STATION. [ APPLAUSE ] NASA LANDED A ROVER APTLY NAMED PERSEVERANCE ON THE SURFACE OF MARS WHILE THE WORLD WATCHED ON SCREEN HOLDING THEIR BREATH AND CHEERING ALL OF US ON. UH, WE PERFORMED THE FIRST IN THE WORLD IN ORBIT SATELLITE SERVICING MISSION WITH THE SATELLITE STILL IN MISSION, AND THEN WE DID THAT AGAIN.
SO FROM THE LARGEST-- LARGEST ORGANIZATIONS TO THE SMALLEST, UH, SPECIALTY SHOPS, OUR WORKFORCE SHOWED UP, DEFENDED OUR NATIONS, CONNECTED THE WORLD, AND EXPANDED OUR KNOWLEDGE. BUT OF COURSE, OUR SUCCESSES ARE ONLY RIVALED BY THE SERIOUSNESS OF THE CHALLENGES WE'RE NOW FACING. AS SPACE BECOMES MORE CONGESTED AND CONTESTED, WE NEED TO WORK TOGETHER AS ALLIES TO AGREE ON WHAT CONSTITUTES GOOD PRACTICES. WE MUST CONSIDER HOW TO PROTECT OUR SAFE AND CONTINUED FUNCTION AGAINST POTENTIAL THREATS AND WEAKNESSES. WE NEED GUIDELINES TO PROCEED US INTO THE EVER-GROWING SPHERE OF HUMAN PRESENCE IN THE SOLAR SYSTEM.
WE NEED TO PROTECT OUR PLANET, OUR SPACE ENVIRONMENT, AND OUR DESTINATIONS, AND WE NEED TO DO MORE TO ENGAGE, LISTEN, AND WORK WITH NATIONS THAT ARE DEVELOPING AND GROWING THEIR SPACE CREDENTIALS ACROSS THE SPECTRUM OF PARTNERS INCLUDING START-UPS AND NONTRADITIONAL SUPPLIERS. WE NEED TO USE OUR COLLECTIVE ABILITIES TO ENSURE THAT THE VANTAGE POINT OF SPACE IS AVAILABLE TO EVERYONE WHO ACTS RESPONSIBLY IN THE COMMONS. WE FACE THESE CHALLENGE, BUT THEY ARE NOT HOLDING US BACK.
SO BACK TO PEOPLE. WE KNOW WE NEED OUR BEST AND BRIGHTEST TO REALIZE THE VAST POTENTIAL FOR SPACE COMMERCE, EXPLORATION, DISCOVERY, AND TO KEEP THE WORLD SAFE. WE KNOW THAT CAPABILITY, HARD WORK, AND DETERMINATION-- THE THINGS WE'RE LOOKING FOR-- ARE HARD TO FIND. BUT IT ALSO TAKES OPPORTUNITY, ACCESSIBILITY, AND ON-GOING SUPPORT, AND THAT IS A TALL ORDER. AND IT'S THAT LAST PART I JUST WANTED TO SPEND ONE MORE MINUTE TALKING ABOUT.
THE LAST YEAR AND A HALF PROVIDED AN OPPORTUNITY TO SHINE A LIGHT ON DIFFERENCES BETWEEN OUR EXPERIENCES. WE STOPPED TO BOTH LOOK AT OUR OBSTACLES AND RECOGNIZED OUR PRIVILEGES. I'D LIKE TO CHALLENGE MYSELF AND EACH OF US TO TAKE A HARD LOOK AT HOW WE CAN DO A BETTER JOB PROVIDING SUPPORT TO OUR PEOPLE. ADDRESSING THE CHALLENGE OF OUR WORKFORCE PIPELINE AND BRINGING PEOPLE IN THE DOOR IS CRITICAL, BUT IT ISN'T ENOUGH. WE HAVE TO FOSTER A TRUE SENSE OF CONNECTIVITY AND BELONGING TO BRING THE TALENT TOGETHER THAT WE REQUIRE TO BE SUCCESSFUL.
SO HOW DO WE DO THAT? BY ASKING PERHAPS ONE OF THE MOST DREADED QUESTIONS OF THE PAST YEAR, "HOW ARE YOU?" FOR ME, I, OF COURSE, COULD NOT HAVE MADE IT THROUGH THE LAST YEAR OR EVEN TO THE PODIUM HERE TODAY IF IT HADN'T BEEN FOR MY PEOPLE-- MY PARTNER AND MY FAMILY AT HOME, MY TEAM AND MY SUPPORTERS AT WORK. SO I'M ASKING-- MAYBE WE SHOULD HAVE A CONVERSATION WITH SOMEONE WHO APPEARS TO BE STRUGGLING. HAVE A CONVERSATION WITH SOMEBODY WHO DOES NOT APPEAR TO BE STRUGGLING. AND LET'S SEE IF WE CAN REMOVE SOME OF THE BURDEN OF WORKING SO HARD TO CONCEAL THE FACT THAT THIS ISN'T EASY. WE CAN BE OUR AUTHENTIC SELVES.
WE CAN REACH FOR HELP WHEN WE NEED IT. AND WE CAN FREE OURSELVES TO FOCUS ON THE REASON WHY WE CAME HERE IN THE FIRST PLACE-- THE MISSION. PERHAPS IN A FUTURE MENTORING SESSION, INSTEAD OF ASKING, "WHAT DO YOU WANT TO DO NEXT," WHAT IF WE ASKED "HOW ARE WE GOING "TO GET YOU THERE TOGETHER?" THANK YOU FOR YOUR SUPPORT AND THE OPPORTUNITY TO SHARE SOME THOUGHTS THIS EVENING, AND PLEASE HAVE A WONDERFUL SYMPOSIUM THIS WEEK. THANK YOU. [ APPLAUSE ] >> PLEASE WELCOME THE CHAIRMAN OF THE BOARD OF DIRECTORS, SPACE FOUNDATION DR. KATHRYN THORNTON.
>> WELL, GOOD EVENING. AND AS TOM SAID EARLIER, WELCOME HOME. IT'S GREAT TO SEE ALL OF YOU AGAIN, ALTHOUGH I CAN'T SEE ANY OF YOU AT THE MOMENT, AT THIS YEAR'S SYMPOSIUM. THERE ARE ALWAYS GREAT TAKEAWAYS AT ASSEMBLIES LIKE THIS.
SOMETIMES IT'S A KEYNOTE ADDRESS LIKE WE JUST HEARD, WHICH WAS WONDERFUL, OR A NOTABLE PANEL OF LEADERS DEBATING A TOPIC, OR EVEN POSSIBLY AN AWE-INSPIRING EXHIBIT. NO DOUBT WE WILL HAVE SEVERAL OF THOSE TAKEAWAYS THIS WEEK, BUT THERE'S ANOTHER SET OF TAKEAWAYS, AND THAT IS THE AWARDS THAT WE GATHERED TO PRESENT HERE TONIGHT. EACH PERSON AND ORGANIZATION THAT WE'VE RECOGNIZED HERE THIS EVENING ARE MORE THAN DESERVING OF THE HONORS.
ALL OF THEM ARE PART OF A CLASS OF PIONEERS THAT INSPIRE YOUNG PEOPLE, ENGAGE THE PUBLIC TO CONNECT-- TO CONNECT THEM TO OUR COMMUNITY, ACHIEVE THE ONCE UNIMAGINABLE, AND ASSEMBLE THE FOUNDATION FROM WHICH OTHER GREAT MISSIONS WILL BE FULFILLED. AS PIONEERS, THEY ARE ALL INSPIRATIONS FOR THE RISKS THEY'VE TAKEN AND THE REWARDS THEY'VE EARNED AND MOST DEFINITELY SHARED WITH ALL OF US, AND WE ARE GRATEFUL FOR ALL OF THEM. BUT THERE'S ANOTHER PIONEER WE CELEBRATE AND HONOR THIS EVENING, A PERSON WHOSE PIONEERING SPIRIT AND HEART STOOD UP AND IN SEEING BARRIERS TO ACCESS AND OPPORTUNITY HAD THE COURAGE TO BREAK THEM DOWN AND OPEN DOORS FOR ASPIRATIONS TO BE FULFILLED, AND SHE SPENT A LIFETIME DOING IT, AND THERE ARE MANY PEOPLE IN THIS ROOM AND AROUND THE WORLD, INCLUDING MANY WATCHING TONIGHT'S GATHERING ONLINE, THAT ARE THE DIRECT BENEFICIARIES OF HER SPIRIT, HER HEART, AND HER COURAGE. HER NAME IS PATTI GRACE SMITH, AND THIS IS HER STORY.
>> ON THE MORNING OF JULY 11, 2021, VIRGIN GALACTIC'S GLEAMING WHITE SPACECRAFT, VSS UNITY, AND ITS SLEEK CARRIER AIRCRAFT VMS EVE, CLIMBED INTO THE SKY ABOVE NEW MEXICO'S SPACE PORT AMERICA CARRYING A CREW OF SIX. AFTER REACHING A ALTITUDE OF 50,000 FEET, UNITY SEPARATED FROM ITS MOTHER SHIP, FIRED ITS HYBRID ROCKET MOTOR, AND SOARED TO AN ALTITUDE OF 56 MILES, BECOMING THE FIRST FULLY CREWED COMMERCIAL SUBORBITAL MISSION TO REACH THE EDGE OF SPACE. LESS THAN TWO WEEKS LATER, BLUE ORIGIN'S NEW SHEPARD SPACECRAFT ROCKETED OFF ITS WEST TEXAS LAUNCH PAD, REACHING A SPEED MORE THAN THREE TIMES THE SPEED OF SOUND BEFORE THE CREW CAPSULE SEPARATED, CROSSING THE VON KARMAN LINE INTO SPACE.
THE CREW ABOARD NEW SHEPARD REACHED AN APOGEE OF 66 MILES DURING THEIR SUBORBITAL FLIGHT. WITH THESE TWO SUCCESSFUL FLIGHTS, VIRGIN GALACTIC AND BLUE ORIGIN JOINED SPACEX WITH IT'S CREW DRAGON SPACECRAFT AS COMMERCIAL COMPANIES CAPABLE OF CARRYING HUMANS TO SPACE. WHAT DO EACH OF THESE HIGHLY VISIBLE SPACE COMPANIES HAVE IN COMMON? ALL WERE MADE POSSIBLE BY THE PIONEERING EFFORTS OF A WOMAN WHO WAS A CHAMPION OF COMMERCIAL SPACE TRAVEL AND WHOSE LEADERSHIP AND ADVOCACY HELPED OPEN NEW WORLDS OF OPPORTUNITY FOR THE EXPLORATION AND DEVELOPMENT OF SPACE. HER NAME IS PATTI GRACE SMITH, THIS YEAR'S RECIPIENT OF THE GENERAL JAMES E. HILL LIFETIME SPACE ACHIEVEMENT AWARD.
BORN IN TUSKEGEE, ALABAMA IN 1947, PATTI WAS THE GRANDCHILD OF RAILROAD WORKERS AND TENANT FARMERS. HER FATHER, AFTER RETIRING FROM THE AIR FORCE, MANAGED THE CANTEEN AT THE VETERANS ADMINISTRATION MEDICAL CENTER IN TUSKEGEE. HER MOTHER WORKED AS A CLERK AT THE HOSPITAL. IN THE EARLY 1960s, RACIAL INJUSTICE AND PREJUDICE WERE RAMPANT THROUGHOUT THE JIM CROW SOUTH.
AS A TEENAGER IN 1963, SHOWING GREAT COURAGE, POISE, AND DIGNITY, PATTI AND HER SISTER JOINED A GROUP OF 12 AFRICAN AMERICAN STUDENTS AS PLAINTIFFS IN A LEGAL ACTION IN AN ATTEMPT TO DESEGREGATE PUBLIC SCHOOLS IN MACON COUNTY, GEORGIA. OVER THE PROTESTS OF STATE OFFICIALS IN THE ADMINISTRATION OF GOVERNOR GEORGE C. WALLACE, THAT LANDMARK LEGAL CASE LED TO THE INTEGRATION OF PUBLIC SCHOOLS IN ALABAMA, A CASE LATER UPHELD BY THE SUPREME COURT.
AFTER GRADUATING FROM TUSKEGEE INSTITUTE IN 1969, PATTI MOVED TO THE EAST COAST TO BEGIN A CAREER IN RADIO AND BROADCASTING. HER NEXT MOVE WAS TO THE NATIONAL ASSOCIATION OF BROADCASTERS IN WASHINGTON D.C. AND FROM THERE, SHE BEGAN HER DISTINGUISHED CAREER IN GOVERNMENT. SHE BECAME INTERESTED IN AEROSPACE THROUGH HER WORK AT THE DEPARTMENT OF DEFENSE AND THE FEDERAL COMMUNICATIONS COMMISSION, WITH AN INCREASING INTEREST IN THE FIELD OF SATELLITES. SHE EVENTUALLY MOVED TO THE U.S. DEPARTMENT OF TRANSPORTATION IN THE OFFICE OF COMMERCIAL SPACE TRANSPORTATION BEFORE JOINING THE FEDERAL AVIATION ADMINISTRATION IN 1995, WHERE SHE WAS SOON NAMED AN ASSOCIATE ADMINISTRATOR.
DURING HER 11-YEAR CAREER AT THE FAA, SHE WORKED DILIGENTLY ON LICENSING, REGULATING, AND PROMOTING THE ENTIRE U.S. COMMERCIAL SPACE TRANSPORTATION INDUSTRY. DURING THE 2000s, SHE DEVELOPED THE FIRST RULES FOR COMMERCIAL SPACE FLIGHT, OVERSAW THE LICENSING OF THE FIRST COMMERCIAL SPACEPORT IN THE UNITED STATES, THE FIRST COMMERCIAL ASTRONAUT LAUNCH, AND THE FIRST LAUNCHES OF ELON MUSK'S PRIVATELY DEVELOPED ROCKET, THE SPACEX FALCON 1. TODAY, THE MODEL SHE DEVELOPED AT THE FAA FOR PRIVATE HUMAN SPACE FLIGHT AND SPACE REGULATION IS FOLLOWED BY NATIONS AROUND THE WORLD. PATTI RETIRED FROM GOVERNMENT SERVICE IN 2008, BUT CONTINUED HER SERVICE TO THE INDUSTRY AS A CONSULTANT AND ADVISOR TO A NUMBER OF ORGANIZATIONS. SHE WAS ELECTED TO THE BOARD OF DIRECTORS OF THE SPACE FOUNDATION IN 2010.
PATTI GRACE SMITH PASSED AWAY ON JUNE 5th, 2016. IN OCTOBER 2020, THE PATTI GRACE SMITH FELLOWSHIP WAS ESTABLISHED. THE FELLOWSHIP IS A PAID INTERNSHIP, MENTORSHIP, AND GRANT PROGRAM FOR FIRST AND SECOND YEAR BLACK COLLEGE UNDERGRADUATES SEEKING A CAREER IN AVIATION OR AEROSPACE. THE FIRST BATCH OF 43 FELLOWS WAS ANNOUNCED EARLIER THIS YEAR. PATTI UNDERSTOOD THAT THERE IS A LIGHT THAT SHINES WITHIN US ALL. AND FROM HER EARLIEST YEARS, HER LIGHT SHINED LIKE A BEACON, MAKING THE WORLD A BETTER PLACE FOR US ALL.
THE SPACE FOUNDATION IS PROUD TO RECOGNIZE PATTI GRACE SMITH, RECIPIENT OF THE GENERAL JAMES E. HILL LIFETIME SPACE ACHIEVEMENT AWARD. [ APPLAUSE ] >> LADIES AND GENTLEMEN, PLEASE WELCOME TO THE STAGE CHAIRMAN EMERITUS OF THE SPACE FOUNDATION BOARD OF DIRECTORS, MR. LON LEVIN. [ MUSIC ] >> I'M VERY PRIVILEGED TO CELEBRATE WITH THE HILL AWARD THE LIFE AND ACHIEVEMENT OF OUR BELOVED FRIEND AND COLLEAGUE, PATTI GRACE SMITH. TODAY, THE IDEA OF SPACE COMMERCIALIZATION IS SELF-EVIDENT.
I MEAN, OF COURSE IT MAKES SENSE. AND BY THE WAY, THERE'S A WHOLE GENERATION NOW THAT THEY BELIEVE, THEY UNDERSTAND THAT PART OF THE INDUSTRY IS TO BE COMMERCIALIZED. THERE ARE THE PARTS THAT AREN'T, BUT FROM THEIR PERSPECTIVE, IT JUST MAKES SENSE THAT THINGS SHOULD BE COMMERCIALIZED, AND THE MORE, THE BETTER. BUT 15 YEARS AGO, 15 YEARS AGO, THERE WERE MANY PEOPLE IN GOVERNMENT AND INDUSTRY WHO DISMISSED THE IDEA AND SOME EVEN RIDICULED IT. BUT LET ME BE CLEAR, IT WAS NOT SINISTER. THESE WERE NOT BAD ACTORS.
THEY BELIEVED THAT THE BEST WAY TO PROTECT THE PRECIOUS SPACE INDUSTRY WAS TO KEEP ON DOING WHAT THEY WERE DOING AND THEY JUST DIDN'T KNOW ANOTHER WAY. BUT IN RETROSPECT, I FEEL SORRY FOR THEM. BECAUSE, WELL, THEY CAME UP AGAINST PATTI GRACE SMITH, AND YOU JUST DON'T DO THAT. SHE HAD THE BRAINS, SHE HAD THE POLITICAL SKILLS, SHE HAD THE CHARM, SHE HAD THE PERSEVERANCE, SHE HAD THE COURAGE, AND SHE HAD THE VISION. AND SHE WAS GOING TO HAVE HER WAY, AND SHE DID.
GENE, HER SON, TEQUISHA, HER DAUGHTER-IN-LAW, SISTER, WILMA, AND BROTHER, DOUG. THANK YOU SO MUCH FOR SHARING PATTI GREATS-- PATTI GRACE SMITH WITH OUR INDUSTRY. SHE CHANGED US ALL. THANK YOU. [ APPLAUSE ] >> THANK YOU, LON, FOR THOSE POIGNANT THOUGHTS. I REC-- I REPEAT ALL OF 'EM.
AS LON SHARED, PATTI'S PRESENCE ON THE BOARD OF THE SPACE FOUNDATION WAS AN HONOR AND A PRIVILEGE FOR ALL OF US. DAMN, I KNEW THIS WAS GONNA BE HARD. LIKE EVERYTHING IN HER LIFE, SHE SHARED HER SPIRIT AND HER HEART AND IT SHOWED IN EVERYTHING SHE DID. AT THE SPACE FOUNDATION, WE SET A VERY HIGH STANDARD FOR THE RECIPIENT OF OUR HIGHEST HONOR, THE JAMES E. HILL LIFETIME
SPACE ACHIEVEMENT AWARD. IT IS SET ABOVE ALL OF OUR OTHER HONORS TO RECOGNIZE OUTSTANDING INDIVIDUALS WHO HAVE DISTINGUISHED THEMSELVES THROUGHOUT LIFETIME CONTRIBUTIONS TO THE WELFARE OR BETTERMENT OF HUMANKIND THROUGH THE EXPLORATION, DEVELOPMENT, AND USE OF SPACE. OR THE USE OF SPACE TECHNOLOGY INFORMATION, THEMES, OR RESOURCES IN ACADEMIC, CULTURAL, INDUSTRIAL, OR OTHER PURSUITS ABROAD BREADTH TO HUMANITY. PATTI GRACE SMITH NOT ONLY MEETS THOSE MEASURES, BUT EXCEEDS THEM. AND IT IS MY PLEASURE TO PRESENT TO HER FAMILY, WHO ARE HERE WITH US THIS EVENING, THE 2021 JAMES E. HILL
LIFETIME ACHIEVEMENT AWARD TO PATTI GRACE SMITH. [ APPLAUSE ] [ MUSIC ] [ MUSIC ] [ MUSIC ] >> GOOD EVENING TO ALL. I AWAKENED THIS MORNING EXCITED ABOUT ATTENDING THIS ILLUSTRIOUS EVENT.
IT BRINGS ME SUPREME PLEASURE AND PRIDE TO BE STANDING BEFORE A GROUP OF SUCH INTELLIGENT BEINGS. GIVE YOURSELF A ROUND OF APPLAUSE. [ APPLAUSE ] WHEN MYSELF, ALONG WITH MY FAMILY GOT WORD THAT THE SPACE FOUNDATION WAS AWARDING MY BELOVED MOTHER WITH THEIR HIGHEST HONOR, THE GENERAL JAMES E. HILL
LIFETIME ACHIEVEMENT AWARD, WE WERE SO VERY HONORED AND HUMBLED TO BE HERE. SPECIAL THANKS TO THE SPACE FOUNDATION FOR INVITING US. MY MAMA WAS MY MAMA. I HAD NO CLUE OF THE IMPACT HER LIFE MADE ON OTHERS AND THE OVERALL INDUSTRY OF SPACE UNTIL SHE PASSED JUNE 5th OF 2016. PATRICIA GRACE SMITH WAS THAT HUMBLE OF A WOMAN.
I WAS AWARE OF HER AND HER SISTER, MISS WILMA SCOTT'S CONTRIBUTIONS TO THE DESEGREGATION OF THE ALABAMA COUNTY IN WHICH THEY RESIDED IN, BUT ONLY THROUGH NEWSPAPER PRINT. WE NEVER DISCUSSED IT IN THE HOUSE. THESE HISTORICAL CONTRIBUTIONS MAMA NEVER DISCUSSED WITH ME. OUTSIDE OF THE NUMEROUS AWARDS SHE HAS EARNED THROUGHOUT HER CAREER, SHE WAS SUCCESSFUL IN LEAVING A REAL LEGACY, ONE THAT YOUNG WOMEN AND MEN CAN CLEARLY SEE, THAT THROUGH HARD WORK AND DETERMINATION, AS CLICHE AS IT MAY SOUND, ANYTHING IS POSSIBLE AND DREAMS DO COME TRUE THROUGH PERSEVERANCE AND STICKING TO A PLAN. AS I COMPOSE THESE REMARKS, THE WORLD'S WEALTHIEST MAN, MR. JEFF BEZOS,
ALONG WITH YOUNGER BROTHER, MARK BEZOS, MISS WALLY FUNK, AND THE YOUNGEST TRAVELER, OLIVER DAEMEN MADE HISTORY, TRAVELING 60 PLUS MILES ABOVE THE EARTH'S SURFACE. AS I WATCHED AND I LISTENED TO THEIR COMMENTS OF PURE JOY, COMMENTS LIKE, "IT'S DARK UP HERE," AND, "THERE IS A VERY HAPPY CREW UP HERE," I WANT YOU TO KNOW, FILLS MY HEART, KNOWING THAT MY MOTHER, MRS. PATRICIA GRACE SMITH CONTRIBUTED TO HISTORY BEING MADE. SPECIAL THANKS TO CEO, TOM-- MR. TOM ZELIBOR, MR. RICH COOPER,
MR. WILL POMERANTZ, MISS CARAH BARBARICK, AND MR. LON LEVIN AND EVERYONE WHO TOOK PART IN MAKING THIS HAPPEN. TODAY, WE HONOR ALL THE HONOREES AS WELL AS MRS. PATRICIA GRACE SMITH, MY MAMA.
THANK YOU. [ APPLAUSE ]
2021-08-30 19:11
Show Video
Other news