2021 Space Symposium | NASA Administrator Bill Nelson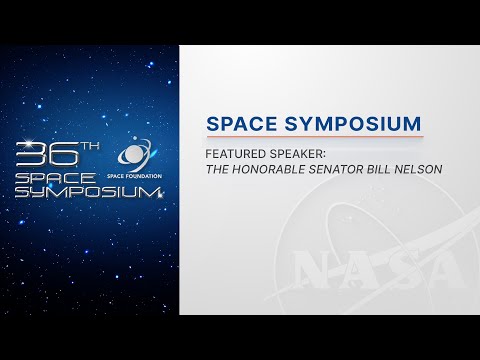 Show Video
>> SO, HELLO, FAMILY AND FRIENDS. AS THE CURRENT CHAIRWOMAN OF THE SPACE FOUNDATION BOARD OF DIRECTORS, I'M EXCITED TO BE BACK AND WELCOME YOU TO THE IN-PERSON 36th SPACE SYMPOSIUM. IT'S BEEN A LONG TIME SINCE WE WERE ALL IN THE SAME ROOM, AND IT'S A GREAT SIGHT TO BEHOLD. IT'S MY PLEASURE TO WELCOME TO THE STAGE OUR NEXT SPEAKER.
SPACE RUNS IN HIS BLOOD AND HIS LONG, ILLUSTRIOUS PUBLIC SERVICE HAS BEEN MARKED BY SUPPORT FOR AMERICA'S SPACE PROGRAM. HAVING SENATOR BILL NELSON SERVE AS NASA ADMINISTRATOR IS A GREAT CAPSTONE TO HIS DISTINGUISHED CAREER, AND WE ARE PLEASED THAT HE IS ABLE TO JOIN US IN PERSON. WHILE WE'LL SEE HIM TOMORROW AT OUR HEADS OF AGENCY PANEL, IT IS MY PLEASURE TO BRING TO THE STAGE FELLOW ASTRONAUT, BILL NELSON FOR HIS KEYNOTE REMARKS. [ APPLAUSE ] >> GOOD MORNING.
THE STORY THAT, UH, GENERAL RAYMOND TOLD ABOUT NICK HAGUE, THERE'S ANOTHER PART TO THE STORY. UH, HIS FIRST, UH, ATTEMPT GOING TO THE STATION ON THE SOVIET ROCKET, UH, WELL INTO THE ASCENT, THE ROCKET EXPLODED. AND THE EJECT SYSTEM, UH, WORKED AS DESIGNED, BUT FOR 30 MINUTES, NICK'S WIFE DID NOT KNOW THAT HE WAS ALIVE. FIVE MONTHS LATER, SHE ALLOWED HIM TO GO BACK AND LAUNCH AGAIN. AND THUS, UH, YOU ALL HAD THE OPPORTUNITY OF, UH, TWO YEARS AGO, SEEING, UH, NICK, AS GENERAL RAYMOND EXPLAINED, UH, ON THE SCREEN, SPEAKING FROM THE INTERNATIONAL SPACE STATION. THANK YOU TO THE SPACE FOUNDATION.
THIS ANNUAL SYMPOSIUM, IT'S, UH... IT ALLOWS US TO BE REGENERATED, REVIVED FOR YEAR-ROUND ADVOCACY. AND THE FOUNDATION HAS BEEN A CHAMPION FOR SPACE ACTIVITIES AND THE BENEFITS OF SPACE. I'M GRATEFUL THAT YOU ALL WERE KIND ENOUGH TO HAVE ME. THANK YOU FOR THE CONTRIBUTIONS THAT YOU MAKE EVERY DAY TO THIS INDUSTRY. IT'S AN HONOR TO TRY TO OFFER A LITTLE BIT OF LEADERSHIP TO THE WORLD CLASS WORKFORCE OF NASA.
EVEN DURING THIS ONGOING PANDEMIC, WE ARE CONTINUING OUR MISSIONS, MAKING GROUNDBREAKING SCIENTIFIC ADVANCES, AND SHOWING SOCIETY THE BENEFIT OF OUR WORK. I'VE BEEN BLESSED AS A MEMBER OF THE NASA FAMILY, FIRST, IN MY CAPACITY IN THE CONGRESS ON THE COMMITTEES AS THE CHAIR, AND THEN FLYING IN THE EARLY PART OF THE SPACE SHUTTLE PROGRAM. AND IN THE PAST FEW MONTHS, I'VE GOTTEN A CLOSER LOOK UNDER THE HOOD. AND LET ME TELL YOU THAT NASA'S BUDGET MAY BE SMALL COMPARED TO ALL THESE OTHER AGENCIES, BUT ITS IMPACT IS ENORMOUS. THERE ARE, EVERY DAY, IMPROVEMENTS FROM NASA SPINOFFS.
THE SENSOR IN YOUR CELL PHONE CAMERA. THE SKI GOGGLE LENSES WITH BLUE LIGHT CANCELLATION THAT INCREASES VISIBILITY ON THE SLOPES. THE EXCITEMENT THAT WAS GENERATED BY ALMOST-- IN THE HEARTS OF ALMOST EVERY AMERICANS WHEN PERSEVERANCE ENDURED SEVEN MINUTES OF TERROR AND THEN INGENUITY STARTED TO FLY. AND AGAIN, ANOTHER EXAMPLE OF THE EXPERTISE IN OUR AGENCY, THAT IT HAS LIVED LONG BEYOND ITS DESIGN LIFE, AND IT HAS NOW BECOME A SCOUT FOR THE ROVER. IT'S CUTTING EDGE TECHNOLOGIES THAT FOSTER INNOVATION, LIKE SUPERSONIC AIR TRAVEL.
WE'RE DEVELOPING A LOW BOOM SO THAT SUPERSONIC FLIGHT COULD OCCUR OVER POPULATED AREAS. IT'S THE BRIDGES THAT NASA BUILDS WITH THE WORLD, ESPECIALLY SINCE MORE NATIONS THAN EVER ARE ACTIVE IN SPACE. AND ITS THE HUNDRED-- HUNDREDS AND THOUSANDS OF GOOD-PAYING JOBS THAT NASA SUPPORTS ACROSS THIS COUNTRY. WE'RE IN COLORADO. TAKE, FOR EXAMPLE, THIS STATE IS A FITTING HOME FOR THE SPACE SYMPOSIUM.
WHEN YOU LOOK AT THE ECONOMIC IMPACT OF NASA IN COLORADO, THE PROOF IS IN THE PUDDING. TODAY, 500 SPACE-RELATED COMPANIES AND SUPPLIERS ARE HERE IN COLORADO, NEARLY 23,000 JOBS ARE SUPPORTED BY NA-- NASA ACTIVITIES. AND THESE EMPLOYMENT OPPORTUNITIES ARE BOUND TO INCREASE AS WE PREPARE TO GO BACK TO THE MOON AND THEN ONTO MARS. NASA'S VALUE IS NOT LIMITED TO SPACE. THINK ABOUT NASA'S WORK TO STOP WILDFIRES AND ADDRESS OUR CHANGING CLIMATE.
OVER THE PAST WEEK, A THICK PLUME OF SMOKE FROM WILDFIRES RAGING FROM THE PACIFIC NORTHWEST SWEPT ACROSS THE SKY HERE IN COLORADO. AS NASA, WE WILL ALWAYS LOOK UPWARD AND PUSH OUTWARD INTO THE UNKNOWN. CENTRAL TO OUR MISSION IS PROTECTING THIS PLANET.
RIGHT NOW, IT'S THE ONLY ONE WE INHABIT. AND THAT'S WHY NASA IS PLANNING TO ESTABLISH A NEW WILDFIRES PROGRAM. THE PROGRAM WILL DRAW FROM OUR SATELLITE AND AIRBORNE OBSERVATIONS, OUR EYES IN THE SKY.
THAT TECHNOLOGY WILL DEVELOP DATA-DRIVEN TOOLS TO SUPPORT THE HEROES WHO ARE FIGHTING THE FIRES. AND THEY'RE TRYING TO PREVENT THE NEXT FIRE. TODAY, WE ARE ANNOUNCING A NEW WEB APPLICATION. OPENET WILL BE MADE AVAILABLE TO THE PUBLIC. STARTING IN SEPTEMBER, OPENET WILL PUT NASA EARTH SATELLITE DATA INTO THE HANDS OF FARMERS, WATER MANAGERS, AND CONSERVATION GROUPS. IT HAS THE POWER TO ASSIST WITH WATER MANAGEMENT IN THE WEST, TELLING USERS HOW MUCH WATER IS BEING CONSUMED BY AGRICULTURAL CROPS.
ALL OF NASA'S MISSIONS BEGIN ON THIS PLANET. AND EACH BRINGS EXTENSIVE VALUE. ONE THAT'S GONNA LEAVE THIS PLANET IS THE NEW JAMES WEBB SPACE TELESCOPE, THE BIGGEST TELESCOPE EVER BUILT.
IT WILL LAUNCH ON AN ARIANE FROM FRENCH GUIANA. THIS TELESCOPE WILL FUNDAMENTALLY ALTER OUR UNDERSTANDING OF THE UNIVERSE. FOR THE FIRST TIME, WE'LL SEE THE LIGHT FROM FIRST GALAXIES THAT FORMED IN THE EARLY UNIVERSE.
WEBB IS NEARLY READY TO TAKE FLIGHT. WITH MOST MISSIONS, LAUNCH CONTRIBUTES MOST OF THE RISK. NOT SO WITH WEBB. WITH WEBB, MOST OF THE RISK WILL COME WELL AFTER IT SETS OUT TO EXPLORE THE HEAVENS, AND IT WILL KEEP US ON THE EDGE OF OUR SEATS FOR WEEKS AS IT UNFOLDS ITS MIRRORS, IT LOOKS OUT INTO DEEP SPACE, IN A POSITION A MILLION MILES FROM EARTH AT A LAGRANGE POINT ON THE OPPOSITE SIDE OF THE EARTH FROM THE SUN.
IT EVEN HAS A BLANKET THAT WILL UNFOLD ON ITS BACKSIDE TO KEEP ADDITIONAL LIGHT OUT. IT WILL LOOK THROUGH A KEYHOLE, NOT THE BROAD EXPANSE OF THE UNIVERSE. THROUGH A KEYHOLE, AND IT WILL PEER BACK TO THE LIGHT AND CAPTURE IT FROM OVER 13 BILLION YEARS AGO.
AND THEN, THERE'S BUCK ROGERS. LIKE MILLIONS OF AMERICANS, I AM A MEMBER OF THE APOLLO GENERATION. GROWING UP NEAR THE CAPE, THE NAMES OF THE FIRST ASTRONAUTS WERE KNOWN TO ALL MY SCHOOLMATES. I WAS A LIEUTENANT OVER BEHIND THE IRON CURTAIN WHEN APOLLO 11 TOOK OFF. AND I WATCHED ITS LANDING, RETURNING TO THE STATES ON A GRAINY BLACK AND WHITE TV IN A HOTEL ROOM IN LONDON. THE EXPLORERS AND ADVENTURERS AND INNOVATORS OF TOMORROW WILL BELONG TO A NEW GENERATION.
THE ARTEMIS GENERATION. IT'S NASA'S 21st CENTURY LUNAR EXPLORATION PROGRAM. ITS MISSIONS WILL MAKE NEW DISCOVERIES, ADVANCE TECHNOLOGIES, AND SHOW US HOW TO LIVE AND TO WORK IN ANOTHER WORLD.
AND FOR THAT TO BE POSSIBLE, THE SPACE PROGRAM NEEDS A CONSTANCY. THAT'S WHY NASA MUST BE A NON-PARTISAN AGENCY, AND WHY THE ARTEMIS PROGRAM HAS BIPARTISAN SUPPORT. YOU'LL HEAR LATER FROM SENATOR MORAN OF KANSAS. HE'S A REPUBLICAN, I'M A DEMOCRAT, AND HE IS A PARTNER IN OUR SPACE PROGRAM.
FOR THE FIRST TIME IN MORE THAN 50 YEARS, NASA WILL RETURN HUMANS TO THE MOON, AND WE WILL GO IN A WAY THAT REFLECTS THE WORLD TODAY. WITH GOVERNMENT, WITH INDUSTRY, AND WITH INTERNATIONAL PARTNERS IN A GLOBAL EFFORT. I WANNA HAND IT OVER TO DREW BARRYMORE AND MY COLLEAGUES AT NASA TO HELP ANSWER THE QUESTION, WHY THE MOON? ROLL THE TAPE. I HOPE THIS IS NOT THE 10-HOUR DELAY. [ LAUGHTER ] WELL, THE TAPE IS NOT ROLLING. OUR MOON ROCKET, THE SPACE LAUNCH SYSTEM IS THE MOST POWERFUL ROCKET THAT NASA EVER BUILT.
AND THE ONLY ROCKET BUILT TO SEND MORE THAN 57,000-- 57,000 POUNDS TO DEEP SPACE. AT LIFTOFF, ARTEMIS 1 WILL HAVE 8.8 MILLION POUNDS OF THRUST TO SEND OUR ASTRONAUTS AND SUPPLIES THE 239,000 MILES TO THE MOON. AFTER LAUNCH FROM THE CAPE IN A FEW MONTHS, ARTEMIS 1 WILL SPEND 26 DAYS IN LUNAR ORBIT, TRAVELING TO DISTANCES THAT NO HUMAN RATED CREW VEHICLE HAS EVER BEEN. AND WE'LL ALSO SOON BE LANDING OUR FIRST ROBOTIC LANDER ON THE MOON SINCE 1968, USHERING IN A NEW ERA OF GLOBAL SCIENCE AND EXPLORATION.
NOW, I'M SUPPOSED TO HAND IT BACK OVER TO DREW-- >> [ INDISTINCT ]. >> OKAY. WILL YOU RUN BOTH VIDEOS, PLEASE? OKAY, TAKE IT AWAY. OKAY, WE NEED ONE MINUTE. SO, LET'S SEE IF I'M GOOD AT FILLING TIME. [ LAUGHTER ] I HAVE JUST BEEN AMAZED.
UH, I THOUGHT I KNEW NASA OVER NEARLY 50 YEARS OF PUBLIC SERVICE, UH, BUT WHEN I HAVE, UH, GOTTEN INTO NASA-- I MEAN, IT'S JUST AMAZING, AND WHAT GENERAL RAYMOND TALKED ABOUT, UH, YOU'RE GONNA HEAR LATER FROM DR. SCOLESE, WE SPENT, UH, THREE HOURS ON THE PLANE TALKING TO EACH OTHER. UH, WE'VE MET SEVERAL TIMES. UH, THIS IS THE KIND OF PARTNERSHIP THAT WE'RE GONNA HAVE, AND THE PEOPLE AT NASA ARE SO ENTHUSIASTIC. THEY'RE ABOUT TO BUST OUT OF THEIR SHIRTS. AND YOU OUGHTA SEE OUR INTERNS.
WE HAVE 1,600 INTERNS. AND WHENEVER YOU MET 'EM, THEIR EYES ARE AS WIDE AS SAUCERS. THIS IS THE ARTEMIS GENERATION. OKAY, ROLL THE TAPE. [ LAUGHTER ] >> WE ARE GOING. THE HISTORY OF THIS AGENCY IS MARKED WITH BROKEN BARRIERS, ONCE VIEWED AS IMPOSSIBLE.
WITH SCIENCE FICTION TURNED REALITY. WITH INNOVATIONS THAT HAVE SPUN INDUSTRIES ALL THEIR OWN. AND WITH DEMONSTRATIONS OF PEACE FOR ALL HUMANKIND. >> WE SOAR IN THE SKIES OF OUR HOME PLANET, WE MAINTAIN OUR HUMAN PRESENCE JUST OUTSIDE OF GRAVITY, AND WE TOUCH POINTS ALL ACROSS THE SOLAR SYSTEM AND BEYOND. WE'RE GOING BACK TO THE MOON, AND THIS IS WHY.
>> THE MOON IS A TREASURE TROVE OF SCIENCE. >> IT HOLDS OPPORTUNITIES FOR US TO MAKE DISCOVERIES ABOUT OUR HOME PLANET, ABOUT OUR SUN, AND ABOUT OUR SOLAR SYSTEM. >> THE WEALTH OF KNOWLEDGE TO BE GLEANED FROM THE MOON WILL INSPIRE A NEW GENERATION OF THOUGHT AND ACTION. >> WITHOUT FAIL, EVERY MAJOR PROGRAM AND MISSION NASA HAS INVESTED IN HAS LED TO TECHNOLOGIES AND CAPABILITIES THAT HAVE SHAPED OUR CULTURE. >> THE BREAKTHROUGHS OF THE ARTEMIS ERA WILL DEFINE OUR GENERATION AND THE GENERATIONS TO FOLLOW.
>> THE TENS OF THOUSANDS OF JOBS ASSOCIATED WITH PROPELLING US TO THE MOON TODAY ARE JUST THE BEGINNING OF A LUNAR ECONOMY THAT WILL SEE HUNDREDS OF THOUSANDS OF NEW JOBS DEVELOP AROUND THE WORLD. >> THIS IS NOT AN AMBITION OF ONE ENTITY OR ONE COUNTRY. THE EXPLORATION OF THE MOON IS A SHARED EFFORT. >> WOVEN TOGETHER BY A DESIRE FOR THE GREATER GOOD. >> WHY THE MOON? BECAUSE THE MISSIONS OF TOMORROW WILL BE SPARKED BY THE ACCOMPLISHMENTS OF THE ARTEMIS GENERATION TODAY.
>> BECAUSE THE AMBITION TO GO HAS ALREADY BEGUN. >> AND BECAUSE MARS IS CALLING. WE NEED TO LEARN WHAT IT TAKES TO ESTABLISH COMMUNITY ON ANOTHER COSMIC SHORE. SO LET'S CAMP CLOSE BEFORE PUSHING OUT.
>> AND SO, WE GO TO THE MOON NOW, NOT AS A SERIES OF ISOLATED MISSIONS, BUT TO BUILD A COMMUNITY ON AND AROUND THE MOON CAPABLE OF PROVING HOW TO LIVE ON OTHER WORLDS. [ MUSIC ] >> WE'LL USE THE LESSONS FROM MORE THAN 50 YEARS OF PEACEFUL EXPLORATION TO SEND A NEW GENERATION TO THE LUNAR SURFACE TO STAY. >> WE WILL ANCHOR OUR EFFORTS ON THE LUNAR SOUTH POLE TO ESTABLISH THE ARTEMIS BASE CAMP. >> POSITIONING US FOR LONG-TERM SCIENCE AND EXPLORATION OF THE LUNAR SURFACE.
>> WE WILL PROVE WHAT IT TAKES TO ASSEMBLE A COMPLEX SHIP IN DEEP SPACE. >> WE WILL PERFECT ASCENDING DOWN TO AND RETURNING FROM A DISTANT SPACE. >> WE WILL LEARN HOW HUMANS CAN SURVIVE AND THRIVE IN A PARTIAL GRAVITY ENVIRONMENT. >> WITH IMPROVED SPACE SUIT DESIGNS, MOBILE HABITATS, AND WITH RECONNAISSANCE ROBOTS PREPOSITIONING AND RELOCATING SUPPLIES. >> WE WILL LEARN HOW TO UTILIZE THE RESOURCES WE FIND ON THESE OTHER WORLDS. STARTING WITH FINDING WATER ICE AND PURIFYING IT TO DRINKABLE WATER.
>> AND REFINE THAT INTO HYDROGEN FOR FUEL AND OXYGEN TO BREATHE. >> WE WILL ESTABLISH FISSION FIRE PLANTS ON THE SURFACE OF THE MOON CAPABLE OF SUPPORTING A GROWING COMMUNITY OF EFFORTS. >> AND WE WILL EXPAND THE LOGISTIC SUPPLY CHAIN.
>> TO ENABLE COMMERCIAL AND INTERNATIONAL PARTNERS. >> TO RESUPPLY AND REFUEL DEEP SPACE OUTPOSTS. >> NONE OF THIS IS SIMPLE OR EASY. BUT NOTHING IN OUR HISTORY EVER HAS BEEN. >> THE EAGLE HAS LANDED. >> WE GOT A BUNCH OF GUYS ABOUT TO TURN BLUE.
WE'RE BREATHIN' AGAIN. THANKS A LOT. >> THIS KIND OF CONTINUOUS LUNAR PRESENCE IS A NATURAL EXTENSION OF ALL THAT WE'VE LEARNED IN LOW EARTH ORBIT. AND WHAT WE WILL ACCOMPLISH THERE WILL ENSURE THE MONUMENTAL MISSIONS TO MARS ARE WITHIN REACH.
AS WE READY THE LAUNCH OF THE FIRST ARTEMIS MISSION AND AS COMMERCIAL COMPANIES READY THEIR LUNAR LANDERS FOR THE FIRST PRIVATE PAYLOAD DELIVERIES, WE HAVE ALREADY BEGUN TO TAKE THE NEXT STEP. [ APPLAUSE ] >> YOU SAW ON THE SCREEN BOB CABANA, WHO I STOLE FROM THE KENNEDY SPACE CENTER AND WHO I'VE KNOWN FOR OVER 36 YEARS AS OUR ASSOCIATE ADMINISTRATOR. AND OF COURSE, UH, THE LADY WHO IS OUR DEPUTY ADMINISTRATOR IS THE ONE THAT I RECOMMENDED TO JOE BIDEN TO BE THE ADMINISTRATOR OF NASA, UH, PAM MELROY. AND WHEN I GOT THE CALL, THEY SAID, "HE WANTS YOU TO TAKE NASA," I SAID, WELL, I'D ONLY DO IT UNDER ONE CONDITION. THAT HE NOMINATE, UH, SOMEONE LIKE PAM, AND FORTUNATELY, THEY DID. THE THREE OF US WORK TOGETHER.
WE'RE A TEAM. WE COLLABORATE ALMOST EVERY HOUR OF EVERY DAY. WHAT YOU SAW ON THE FILM IS ONLY THE BEGINNING OF A NEW ERA. IT'S A NEW ERA OF FIRST. TOGETHER, WITH OUR INTERNATIONAL AND COMMERCIAL PARTNERS, ARTEMIS MISSIONS WILL SEND MORE ASTRONAUTS TO EXPLORE MORE OF THE MOON THAN EVER BEFORE, INCLUDING THE FIRST WOMAN AND THE FIRST PERSON OF COLOR. FOR THE FIRST TIME, NASA WILL LAND INSTRUMENTS ON THE FAR SIDE OF THE MOON, WE WILL STUDY MOON QUAKES, INVESTIGATE METEORITE IMPACT, AND UNDERSTAND ITS INTERIOR.
FOR THE FIRST TIME, OUR ASTRONAUTS WILL EXPLORE THE LUNAR SOUTH POLE. OUR VIPER MISSION WILL MEASURE HOW MUCH WATER IS BELOW THE SURFACE, AND IT WILL DETERMINE WHETHER THAT WATER CAN BE EXTRACTED, AND NOT JUST FOR HYDRATION. WE'LL LEARN IF IT'S POSSIBLE TO CREATE BREATHABLE AIR AND ROCKET FUEL TO POWER MISSIONS DEEPER INTO THE COSMOS. WE'LL BUILD A GATEWAY, AN INTERNATIONAL OUTPOST IN LUNAR ORBIT FOR SCIENCE THAT WILL ALSO GIVE ACCESS FOR ASTRONAUTS TO THE ENTIRE MOON. AND WHAT WE LEARN, WHAT WE DEVELOP, AND WHAT WE EXPERIENCE WILL PREPARE US FOR THE NEXT GIANT LEAP, SENDING HUMANS TO MARS.
IT'S NOT GONNA BE EASY. UH, THE RECRUITING VIDEO, IF I WERE YOUNG WHEN I SAW GENERAL RAYMOND'S VIDEO, I'D SIGN UP. SPACE IS HARD. MULTIPLE COMPONENTS ARE INVOLVED IN ITS COMPLEX MISSION.
LIKE GATEWAY, A COMMERCIAL HUMAN LANDING SYSTEM, AND A NEXT GENERATION SPACE SUIT. OUR HUMAN LANDING SYSTEM DEMO AWARD HAS BEEN HELD UP BY DELAYS AND BY LITIGATION. THE SPACE SUITS, WHICH, FOR THE FIRST TIME, WE BUILT BY OUR COMMERCIAL PARTNERS HAVE BEEN TECHNICALLY CHALLENGING.
AND COVID-19 HAS CAUSED UNPRECEDENTED DISRUPTIONS IN THE SUPPLY CHAIN. BUT REMEMBER BACK, WHAT KENNEDY SAID AT RICE UNIVERSITY IN 1962. "WE CHOOSE TO GO TO THE MOON IN THIS DECADE AND DO OTHER THINGS.
NOT BECAUSE THEY ARE EASY, BUT BECAUSE THEY ARE HARD." WE CAN DO HARD THINGS. WE ARE A CAN DO PEOPLE. WE'RE PRESENTED WITH THE OPPORTUNITY FOR AMERICA TO LEAD ON THE CHALLENGES WE FAC-FACE TODAY. AS A NATION AND AS MEMBERS OF A GLOBAL SOCIETY. FOR AMERICA TO LEAD IN SPACE AND IN TURN, TO CONTINUE TO LEAD HERE ON EARTH, IT WILL TAKE ALL OF US WORKING TOGETHER.
IT HAPPENS TO MOST SPACE FLYERS WHEN YOU LOOK OUT THE WINDOW OF THE SPACECRAFT ORBITING AT 17,500 MILES AN HOUR, 90 MILE-- 90 MINUTES AROUND THE GLOBE. IT HAPPENS THAT YOU SEE THIS INCREDIBLE CREATION, SO COLORFUL, SUSPENDED IN THE MIDDLE OF NOTHING. AND IT LOOKS ALSO SO FRAGILE. I WANTED, UH, AS A RESULT OF THAT EXPERIENCE TO COME BACK HOME AND BE A BETTER STEWARD OF OUR PLANET. BUT THERE WAS SOMETHING ELSE THAT HAPPENED TO ME, UH, AS A PUBLIC SERVANT.
BECAUSE WHEN I LOOKED OUT, I DIDN'T SEE RACIAL DIVISIONS. I DIDN'T SEE RELIGIOUS DIVISIONS. I DIDN'T SEE POLITICAL DIVISION. WHAT I SAW WAS THAT WE ARE ALL IN THIS TOGETHER AS CITIZENS OF THE PLANET. AND THE SPACE PROGRAM IS ONE OF THE FEW THINGS THAT UNITES US HERE ON EARTH. LET US BUILD IT CAREFULLY, AND LET US USE IT WISELY.
THANK YOU AND GOD BLESS YOU. [ APPLAUSE ] [ MUSIC ]
2021-08-28 04:07
Show Video
Other news