2021 HYBE BRIEFING WITH THE COMMUNITY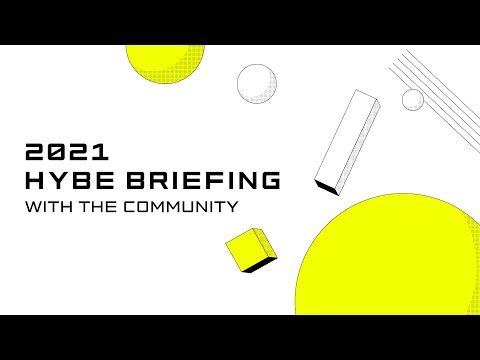 Show Video
Hello, I am Bang Si-Hyuk, Chairman of HYBE. It's good to greet you again. Joining me today is Scooter Braun, CEO of HYBE America. Hi, Scooter. Hi, everyone. Greetings from LA This is Scooter Braun. It's already been six months since HYBE and HYBE America, or HYBE and Ithaca Holdings, became partners.
I took a moment to think about what had changed. HYBE always stressed words such as "global" and "connected," but now such expressions have really come to life. The boundaries have disappeared. If I were to describe the last six months, I would like to call it "Boundless."
We are working together without national and cultural boundaries. So in that aspect, "Boundless" can also be seen as the way HYBE works. No matter what kind of work you do or with whom, our partnerships transcend country, culture, or even industries.
I can't agree more with the word "Boundless". Because of COVID-19, we couldn't physically meet each other all the time but I didn't feel so far apart either with technology we came together. When we exchange ideas in LA and Seoul, well, we discover new and interesting possibilities that surprise us both. Historically, merging companies and culture has always been a challenge. With language and cultural barriers, it has been difficult for such firms to find a common ground and communicate and work together. But music, more than any other medium, can cut through that boundary and be a universal language.
It's been beloved by citizens and civilizations throughout time. Music brings us together. That is why this merger and partnership has and will be successful. Importantly, since the focus of both management teams of HYBE and HYBE America are similar, we will bring further value, including great experiences for our fans, from synergies in the combined company.
We envision a fully integrated "global entertainment lifestyle platform company" with no border between the US, South Korea, and Japan, or with any country for that matter. We will have only one HYBE. As Scooter said, we are engaged in boundless business and collaborationsas one HYBE. HYBE first started with music and artists, but now we have a platform that is loved in over 200 countries around the world, and we are expanding limitlessly into e-commerce, game, original content, publishing, and education businesses. Across online and in-person realms and in myriad ways we enjoy our music and our artists we meet fans across the entire globe. When you think about it, music lovers worldwide, including myself, have no boundaries between their daily lives and music.
We listen to our favorite music while working, we shop on our cell phones, playing games to pass the time, watch videos, webtoons, and TV shows featuring our favorite artists. What if content and services could be constantly connected in such a way that people could enjoy their daily lives without any inconvenience? I think that is exactly the challenge we need to solve and the mission we need to fulfill. That's right. I hope all music lovers enjoy music 24 hours a day. To make that possible, we must constantly strive to understand those who love our music and our artists. "Boundless joy", so to speak? So let's put our heads together without any limits.
I think that is a good segue to talk more about the boundless expansion of HYBE today. These are exciting news that we will see in the not-too-distant future. Absolutely. The first thing I would like to do is introduce our "original story," which is currently under development both in the US and in Korea. I want to talk about "stories" as another way to enjoy music. So, just like music and artists, stories can be the new IP.
I understand that story is a very important element in the Korean music scene. And I know that HYBE has always been creating interesting stories for a long time. We also have been creating stories on the Ithaca side in the US with HYBE America for quite some time but in our own way. The idea that a compelling story can meet music and artists, and bring them together by new content, expanding through our platform, it's all really exciting.
Even in the US, this type of story business is not something new. I can't disclose it yet, but HYBE America is also preparing an Original Story business. The stories will be in a collaboration with our artists, as I've hinted to Bang earlier.
Yes, I was really surprised to hear that. It was fascinating to hear that we had the same idea and were developing similar projects around the "story" content format although we might have different starting points. The story that HYBE presented in Korea was a story that enriched the artists and the artists' creations.
The new project I'm introducing to you today is "Original Stories," which are more vital and expandable, where the story itself has its own originality. Seeing is believing, so let's take a look these stories and hear about what they are. I think it's time for us to say goodbye and turn it over to Sangwoo. Sounds great. It's always good talking to you my friend. Until next time! Hello, I am Shwan Hwangbo of HYBE.
Since the days of Big Hit Entertainment, HYBE has been telling stories through its music. It is a story that everyone today can relate to and be moved by. Perhaps it is not a new concept to say that music is a story because music incorporates the story of the times and the imagination beyond it or the artist's thoughts. Through this "inherent story" that combines narrative and character, HYBE has created content that connects the artists to music and allows you to enjoy and immerse yourself more in the music. Artists and their creations have been further enriched through these stories.
Through this process, we realized the infinite power, fun, and value of "stories." The story itself will become a source of IP, creating a synergy between artists, music, and content that crosses boundaries and visits you in various forms. Let's imagine what that would be like. In fact, one could say that with each song, with each album, an artist becomes a character of a particular story. And the artist tells us the story of the song as the character.
The artist's image, which can be shown through a three- to a four-minute song, will no longer be limited to the syntax of "music," but melted into a "story," a form that can be more freely transformed and expanded in various ways. Creating content that can be communicated and enjoyed with you with a longer breath through the format of a story, where there is no limit to your imagination. The starting point and core in creating such content is the "original story" that HYBE will introduce today. Through its "Original Story" business, HYBE will directly plan and develop unique story IP and showcase richer content based on this IP in more diverse ways. The concept is to cast various artists from HYBE to appear in the "original story."
The story and the artists will exist as their own IP, but the artists, the music, and the story will "be collaborated" to maximize the value and enjoyment of each other's content. From music and webtoons to web novels, animations, games Original stories will not be limited to any genre and will be collaborated with HYBE artists to welcome you in even more vibrant forms. The coming year of 2022 will mark this start. We'll be premiering four original stories in the form of webtoons and web novels. This will be in conjunction with the recently announced "Super Casting" project for NAVER webtoons.
We plan to showcase Original Stories, collaborated with HYBE's various artists, to the whole world through the NAVER Webtoons platform. "THE STAR SEEKERS" is a story about growth set in the fantasy genre. It is an original story in collaboration with TOMORROW X TOGETHER. The story is about boys who live as an idol group in a world where magic and reality coexist.
Then, one day, they awaken and realize their magical abilities and face the secrets surrounding it. Fantasy elements such as imaginary creatures, magical performances will blend perfectly with the interesting stories of the entertainment world to provide a unique fun factor. Already in April of this year, based on "The Star Seekers" we unveiled the animation "The Doom's Night" and the pop-up book "The Tale of the Magic Island." We also plan to release webtoons and web novels at the same time to make it easier to understand and enjoy the story as a whole, which has so far been presented in short pieces, so please stay tuned. Please make sure to check out "The Star Seekers", which aspires to convey empathy and comfort to the young people living in this age devoid of hope, growing up, and worrying about their future.
The original story "DARK MOON" will be released as a series. "DARK MOON: the Blood Altar" is the first story in the "DARK MOON" series. It depicts the chemistry unfolding as vampire boys meet a girl with a secret, and the confrontation and friendship between them and the werewolf boys as an urban fantasy and high teen romance story. "the Blood Altar" is a combination of a heroine with the strongest abilities, youth, and friendship, and a secret story behind it, giving you a new and fun way that breaks away from the typical teen romance. The group ENHYPEN will be collaborating with "the Blood Altar" to bring life to the story of vampire boys who have fought long and lonely battles as borderline and transcendent beings.
"Crimson Heart" is a classic coming-of-age story of girls. The story takes place in Refugia, a controlled city completely cut off from the magic of Unknown, a magical land overrun by the Blue Fireflies. The story unfolds as the girls who have been managed through a perfect system in Refugia one day find a mysterious old book and a red necklace in the library, and go on an adventure to a strange world in search of "The Island of Blue Fireflies".
The last original story to introduce is The <7Fates: CHAKHO>. The <7Fates: CHAKHO> is an urban fantasy genre story set in a city of the near future. It was inspired by the "Chakhogapsa", the Beom (tiger) hunters of the Joseon Dynasty. It is a story re-created by reinterpreting the stories of bears and Beom in mythology and the traditional Korean beom tales with HYBE's own imagination.
CHAKHO will collaborate with BTS to create a dynamic story about seven boys bound by fate who grow up together through trials and tribulations, and why they must be seven and what their destiny holds. What did you think about the new Original Stories of HYBE? Today, we mainly talked about artist collaborations, but HYBE's Original Story is the story itself, and we plan to come to you in different ways with more diverse and borderless content. Finally, I'd like to end with a short interview with the artist about The <7Fates: CHAKHO>, the original story that will be released soon. This is a very exciting moment for me as well.
I would like to ask for your continued interest and support in the original story in collaboration with the artist and the contents that will be expanded based on this. Keep on eye on each story of the Beom (tiger) hunters to discover their tragic fate and to take revenge for losing their loved ones. This character is put in an awkward situation where he has to catch Beom using the ability of a Beom, but at the same time, he's not to be recognized as a Beom. The character had to be cut-throat to survive in the den of Beom.
It will be interesting to see what kind of decisions the characters will make and how those decisions will lead to different incidents. There's also an interesting set-up from old tales like Korean traditional goblins and Bulgasalyi. The <7Fates: CHAKHO> is an urban fantasy from the motive of the "Chakhogapsa", the army that used to catch tigers and bears of Korean tale. The story begins with monsters called "Beom" invading the city of "Sin-si" to hunt humans. And the seven hunters of the Beom called 'CHAKHO', have gathered.
The <7Fates: CHAKHO> perform different roles of Beom in a corrupted and confused city. Hello, I am Jiwon Park, CEO of HYBE. While eliminating the inconveniences fans have traditionally felt, HYBE has been at the forefront of breaking down the boundaries of the music industry by creating a platform for new experiences.
And what I'm about to share with you now is about expanding the fan experience once again. HYBE plans to respond to the ever-changing media trends and disparate fan lifestyles, and the changing consumption channels accompanying these shifts. We hope that HYBE's new games, the changes at WEVERSE, our media content and retail businesses, and the new business plan we are unveiling here become the playground where you can experience joy beyond your imagination. Hello, I am Wooyong Chung from HYBE. Your entertainment life is filled with a wide variety of content.
There is music, there are artists, and as mentioned earlier, there is content like story-based webtoons and animations. And there's another area where HYBE is working to expand the fun that artists and music provide into more diverse formats: games based on artists and music IP. Games are born from a multitude of interactions. Interactions between the intangible game and me, and between users create new narratives, rules, and a unique world within a game. However, these interactions also exist between artists and fans. Although not exactly the same in nature, there is a powerful interaction between the artist and fans, and between fans which brings rise to a new world that has never existed before.
Making that new world more fun and dynamic is the reason why HYBE makes games. The essence of the games created by HYBE is to provide an experience that allows people to enjoy artists and music in a more diverse and interactive way. To project this essence effectively, HYBE has introduced an "open development" method and is currently developing a new game. This is the game that we will be working on with BTS. BTS members are not just characters in this game but have been working together on the project for several months now, coming up with various ideas.
Here's a sneak peek of some of the many ideas we've been working on together. [SHOCKED] Wow, this is…? - Wow! - What's this? Ah…! [THE MEMBERS ARE WORKING HARD ON PRODUCING THE GAME] [THINKING HARD] [FOCUSING] This is perfect! I like things like this. This is exhilarating. This is pretty good. I'm nothing but creative ideas.
This is fun. [SUPER CONFIDENT] I'm doing it because I can do it. A lot of opinions by the game users are included in this game.
You'll get to play the game where our efforts are put in. Chill and have some fun. It will be a good and fun consolation.
I want people to relax by playing this game. We've worked very hard on this project. It's probably because the experts have joined the team and worked with us with great effort that the system of the game is set up well and it will be loved by many people for a long time. This new game will be released in the first half of next year, and in the meantime, we plan to add feedback from our fans.
Expanded enjoyment where the boundaries between artists and fans, developers and users disappear, expanded experience of enjoying not only music but also a variety of other content. This is the kind of game that HYBE can present to the world. Hi, I'm Scott Manson.
I lead the new business divisions of HYBE America including the content and consumer divisions. If a game enables interactions between artists and fans in a virtual world, HYBE America is developing businesses that can playfully discover the artist's presence in every moment of our lives. Both divisions have had exciting 2021s. The Content Division debuted multiple projects with Hollywood's top streamers and studios including J Balvin: The Boy From Medellin, Demi Lovato's Dancing With The Devil, Justin Bieber: Our World, and the second season of hit comedy DAVE. We also debuted our first kids and family franchise, The BeatBuds, with Nickelodeon in June and our first three podcasts with best in class partners like Spotify. The future is bright for the content division as we recently renewed our first-look deal in television with Amazon Studios and have dozens of exciting television, film, and audio projects in development.
Many with the best partners in Hollywood such as The Walt Disney Company, Netflix, Amazon, Paramount, and others. It has been a pleasure building relationships with our new colleagues at HYBE and discussing how to go to market with their exciting, world class intellectual property as well. The consumer division is a high growth area for us that is one of our primary focuses.
In 2021, we continued to grow our portfolio company DrewHouse as we launched exciting collaborations with Crocs, Balenciaga, and the Toronto Maple Leafs. Last month, we announced the upcoming Q4.21 launch of Ariana Grande's beauty business, r.e.m. beauty. And within 45 days of announcing the business, before it has even launched, the brand has over 800,000 followers on Instagram.
Building these businesses selling directly to the consumers is a key part of our strategy as we offer best in class products that our artists, their fans, and the general public love. As we continue to expand our global business strategy, we plan to discuss new collaborations with artists based in Korea and actively promote them here in North America, creating new opportunities for fans to connect with their favorite artists. Hello, I am Joon Choi of WEVERSE Company. When I heard the earlier talk from HYBE America, I realized that what started with music and artists is truly expanding without limits. But the reference point for expansion is clear.
HYBE moves according to what artists and music lovers need. WEVERSE is also a platform that was born out of our contemplation about "the services our fandom needs". It has been two years since we launched in 2019, and now it's time to show you the next evolution of WEVERSE. There are many platforms in the world, such as content, commerce, and messenger platforms. However, if WEVERSE were to define itself as a specific function, it may paradoxically become more difficult for us to discover new needs of fans. So we went back to the beginning and asked the question: With WEVERSE, most of the fandom life is possible, so what can we possibly add? No matter how much the trend of the platform industry changes, what remains the same for us is the fact that WEVERSE is a "fandom platform" for our fans.
I also want to ask a question to those who are watching this right now. What is the most exciting and happiest moment while using WEVERSE? Isn't it the new post and new moment notifications of the artists that pop up on WEVERSE? This is where the artist's "live notification" comes in. Real-time communication that used to take place via text and images will now be possible via live video. WEVERSE will be reborn in the first half of 2022 as a new version of WEVERSE with V-Live's Spot Live feature. The interconnection between WEVERSE and V-Live will not be limited to the addition of the Spot Live feature. We will create synergy with NAVER's powerful R&D capabilities in search, AI and more and greet you with the new and improved WEVERSE.
The integration of two platforms with different strengths not only means the birth of the largest and most unique fandom platform, but it also means a new fandom life experience you will get to enjoy. WEVERSE will be in every experience, in every moment that fans and artists share. WEVERSE will continue to be defined and created with you. Joon told us earlier that turning WEVERSE on lets us enjoy almost any fan experience we want throughout our daily lives, but if all we're trying to do is recreate past experiences online, we can't call it innovation. The "new and innovative fan experience" that will unfold in HYBE will include future experiences that fans have yet to experience but which they need most of all. Just as the release of WEVERSE has enabled real-time communication and connection between artists and fans, we hope to once again create a synergy between the music industry and new technologies so that fans can experience the future firsthand.
After a deep contemplation, we have found a partner company that supports HYBE's vision and the values that HYBE cherishes, and through a joint venture established under a strategic partnership will create businesses that will soon become reality. I would like to introduce HYBE's new partner, Chairman Song Chi-Hyung of Dunamu. Hello, my name is Song Chi-Hyung, Chairman of Dunamu Board of Directors. It is my pleasure to meet you through HYBE's Corporate Briefing.
I am an entrepreneur who dreams of industrial innovation, just like Chairman Bang Si-Hyuk. I was surprised to learn today that the theme of HYBE's event was "boundless" because it is a word that aptly represents the values that the Dunamu has been pursuing as well. We are a fintech company that pursues innovation through the meeting of finance and technology. Our company name "Dunamu" also means the adjoining of two big tree trunks: finance and technology. I wanted to talk about our company for those of you who may not be familiar with the name. Thank you for joining us today.
Chairman Song introduced Dunamu as a fintech company. In fact, given the apparent fact that all activities that occur through the exchange of value in our daily lives are all part of economic and financial activities, the realm of fintech seems to go beyond what we can imagine. Yes, it would be a little easier to understand if I tell you about the diversity of technologies and businesses that Dunamu holds and is developing. First, we operate "Upbit", a digital asset exchange based on blockchain technology. With the goal of creating an "industry standard" for blockchain and fintech, we also operate the Digital Asset Standard Index service which allows users to check the overall flow of the digital asset market, Securities Plus, which helps users to check stock information and link trades in regardless of the brokerage firm, and Securities Plus Unlisted, which innovatively improves unlisted stock trading. I'm sure our fans who have listened so far are more curious than ever.
I'll tell you right away without further delay. HYBE and Dunamu plan to develop an NFT business under a new joint venture, which will allow the artist IP-based content and products that HYBE has showcased to date to become digital assets for fans. Can you explain a little more about what technology will be utilized in the project and what new experiences - it will bring to the fans? - Certainly.
The hot topic of this year's fintech industry is definitely NFTs, or non-fungible tokens. I think the word "irreplaceable" was used in one of the BTS's songs. Irreplaceable, meaning something that is unique and one of a kind. You can think of an NFT as an irreplaceable digital asset that can be safely and reliably verified so that anyone can trust that there is only one in the world. Such digital assets are created when specific digital content or products are given a unique value through blockchain technology. This value becomes truly manifest when combined with areas where intangible assets are important, such as the games, arts, and entertainment industries, which are brought to life through creative activities.
This is because it is a technology that eliminates the counterfeit products that have been prevalent in the past, leaving only the authentic, and gives legitimate benefits to the only people who have created unique value and the customers who have discovered and have given their support to that value. We are already seeing concrete results, especially in the arts industry, and I believe that the fandom culture and industry itself are maturing to the level where HYBE's artist IP-based content and products that the HYBE showcases are now at a sufficient stage to be transformed into digital assets through these technologies. To make it easier for you to understand, I've brought something that has a special meaning to our fans: the photo cards that fans collect. Some of you may be familiar with them, and some of you may be surprised by their existence. In addition to their appearances on stage and in music videos, these photo cards are a kind of behind-the-scenes images that capture various charms and moments of the artists.
Many fans explore ways to keep them for a long time, and since they are released in limited quantities, they are sometimes exchanged among fans. We are working with Dunamu to create a way to expand the fan experience more diversely and securely, such as digitally authenticating the uniqueness of these photo cards and making them permanent, but also allowing them to be collected, exchanged, and displayed in a global fan community platform like WEVERSE. Instead of a single frame photo, it can be turned into a digital photo card with moving images and sound. Exactly. As you mentioned, we can think about creating a more synesthetic experience, like providing images, music, or the voice of the artist, when you click on the photo card.
For example, I think we can have fans come together and exchange cards with each other in a virtual space like an online community, such as WEVERSE you just mentioned. We will think hard and concentrate on developing a complete service so that the convergence of Dunamu's fintech technology and HYBE can bring another extended fan experience of value sharing and value exchange for fans around the world. Adding on to that thought, it seems like it won't be long before we can use digital photo cards within the platform to create a virtual space with our avatars, and fans can show such a space to each other and to the artists. In order to make this a reality, we will bring together the capabilities both companies have built up so far to introduce a new and exciting innovation ​to the global music and fintech industries.
Chairman Song, thank you for your time today. Thank you for having me today. Please look forward to the new play experience HYBE and Dunamu will be bringing. HYBE is able to sustain this limitless expansion as an entertainment lifestyle platform company because music and artists are at the center and foundation of HYBE.
You and I, we all have confirmed that good music with authenticity can transcend regional, linguistic and cultural boundaries and can resonate and move many people. HYBE will continue to create great music and focus all of our efforts on helping our artists reach their highest potential. And new talented artists who will usher in a new era are also getting ready to meet you. Hello, I am Lenzo Yoon from HYBE America. This time, I am greeting you from Los Angeles, California.
Since HYBE and UMG announced their strategic partnership in February this year, the best teams from both companies have been busy in LA working on a project that will surprise the world. It is the debut project of a global female pop group that will be active not only in the US market but also in the whole world. For this, we are preparing three things.
The first is the US-based local training system that will mobilize the full capabilities of HYBE and UMG. By utilizing the HYBE and UMG networks, we have gathered the best vocal trainers, the performance team that has choreographed for global pop stars, and the best music production team in the world. In addition, to help artists focus on their music and performance, experts from physical to psychological health will be working with them. This training system is unique to HYBE America and integrates HYBE's long-standing expertise in new artist development with an artist training method suited to the US music market.
UMG's expertise in music production, marketing, and distribution will be added to this program to support our artists through boundless collaboration with HYBE. The second plan of HYBE America for the debut of global pop groups is content. There is always a "storytelling" behind outstanding stars that conveys their true heart and highlights their characters.
HYBE America also has the content capabilities to work with new global pop groups. With their debut project, we plan to include this group's growth process and milestones that transcends national, cultural and artistic boundaries. It will be presented to the world in a new and innovative way. Finally, the third plan for the debut of the global pop group is the stage that signals the true start of this project, a global audition in which you will be the main character.
The global female artist group that will debut through HYBE and UMG will express their talent to the fullest, lead the global music market, and become a new icon that crosses the boundaries of regions, cultures, and genres. So, let's begin the global audition to find our star. Hi, my name is David Bolno. I am the COO of HYBE America. I've worked alongside Ithaca and the SBP Team from the very beginning.
Despite COVID and the ongoing complications, Scooter Braun Projects and our artists have had a very exciting year. Justin Bieber continues to achieve amazing success. His album Justice sold over 6.25 million global album equivalents and 1.45 million US album equivalents. The album was streamed nearly 9 billion times globally and almost 2.5 billion times in the US alone. His single Peaches streamed nearly 3 billion times globally and over 540 million times in the US.
The video for peaches was viewed nearly 400 million times. The album Justice was certified platinum and was number one on the Billboard 200. Peaches was number one on the Hot 100 and Justin Bieber was the first solo male artist to debut on the Hot 100 and Billboard 200 in the same week. Justin also has an international and US tour planned and routed for 2022.
Ariana Grande released Positions and the album was number one for two straight weeks and certified Platinum. There were over 2.7 billion streams on Spotify alone. The single Positions was number one on the Hot 100. The single Stuck with You was three-times platinum and the Save your Tears remix hit number one Ariana has assumed a new position as a coach on The Voice for season 2021 and the ratings for the premiere were higher than the previous season. While Ariana does not have any plans to release music for the balance of 2021, we'll be doing an activation around Fortnite in the upcoming weeks.
J Balvin was the 9th most streamed artist in the world on Spotify. He did over 30 in brand deals with over a billion media impressions globally. He also released his Amazon Prime Video documentary The Boy from Medellin, which ranks top 3 films of all times for Columbia and Latin America, and he also has planned and routed a tour for 2022. Other artists including Demi Lovato, Quavo, and Lil Dicky all had very successful years. Quavo had over a billion streams as a member of Migos and his Homecourt Show on Youtube is set to premiere in the fourth quarter of 2021. In 2022, both Quavo and Demi Lovato will be writing and recording new music.
Lil Dicky's season 2 of Dave was the biggest hit in FX history and in 2022 he will be writing and recording a new album and shooting season 3 of Dave. It's been an incredible year for SBP and all of our artists. We look forward to more success in 2022.
Hi, I'm Scott Borchetta, President, CEO, and founder of the Big Machine Label Group based in Nashville, Tennessee. As is the theme of this presentation, the reason HYBE can continue to expand without limits as an entertainment and lifestyle company is because our music and artists are the center and foundation of HYBE. The Big Machine Label Group is predominantly focused on the country and rock genres and BMLG is consistently one of the world's most successful label groups in all of country music. There is not an award we have not won, and there's not a chart we haven't topped.
Big Machine Records kicked off the year with a marquee performance on the presidential inauguration special, ushering in President Joe Biden, with a performance by Tim McGraw, and Tyler Hubbard singing their song about unity called Undivided. Another of this year's big breakthroughs is Carly Pearce, which highlights our unmatched artists' development. In the last year, Carly took home her very first Academy of Country Music Awards and a CMA award for her double-platinum hit song, I hope you're happy now, which was written by Big Machine writers Luke Combs and Jonathan Singleton. Carly just released her latest album "29: Written in stone", which has become one of the most critically acclaimed country albums of the year. 29 is up for Album of the Year at this year's CMA Awards on November 10th and has positioned Carly, as an early front runner for Grammy Award nominations later this year.
Thomas Rhett achieved his 18th number one song in a row with "Country Again" and released an album by the same name to rave reviews and much fanfare, and he is again nominated for Male Vocalist of the Year at this year's CMA Awards. We are projecting a massive 2022 with Thomas Rhett's next full-length album, the leadoff single will drop in November, and a duet with a major international pop star will be released in the first quarter. Through our label partnership with rock and roll enthusiast and American fashion mogul, John Varvatos, we have topped rock charts around the world, with the latest releases by Badflower, and Seattle-based rocker, Ayron Jones. Two of our biggest hits of the year are by Aaron Lewis, with his conservative-leaning, "Am I the only one", which debuted at number one on Billboard's Hot Country Songs chart and "Lil Bit" by Nelly and Florida Georgia Line, which is well on its way to a billion streams, globally.
Our publishing company, Big Machine Music has had an incredible year. We've been named, Publisher of the Year by Nashville's Association of Independent Music Publishers. We also landed BMI's pop song of the year, "The Bones", performed by Maren Morris and co-written by Big Machine writer, Laura Veltz. We also received a Grammy Award for Best Country Duo Performance by Dan + Shay for "10,000 hours", written by Big Machine writer Jessie Jo Dillon.
A consistent top 10 ranking in Billboard's all genre publisher chart for nine consecutive quarters, includes number one singles by Luke Combs, Carly Pearce, Brett Young and Ayron Jones. Year to date, Big Machine Music has had a phenomenal year with more than 230 songs already recorded. As we look to 2022 with perhaps our strongest ever lineup of brand new artists, the Big Machine Label Group will be bullish with such artists as Riley Green, Callista Clark, Tyler Rich, Connor Smith, Jackson Dean, Laci Kaye Booth, Tiera, Abbey Cone, and Kidd G. We also look forward to key album releases from established and superstar artists from the likes of Thomas Rhett, Brett Young, Brantley Gilbert, Justin Moore, Tim McGraw, Gary LeVox of Rascal Flatts, Midland, and more. It's going to be a great 2022. Hello. This is Hyunrock Han of HYBE Japan.
As you heard, there is a very interesting audition project going on at HYBE America. Today, HYBE Japan would also like to share some news with you. I know that many of you have been waiting to hear more about it.
It is the "Global Debut Project" of HYBE Labels Japan. Last year, through I-LAND these boys have proven their skills: K, Nicholas, EJ, and Taki And for the first time this year, as I've told you we will be selecting additional members to join them through &AUDITION. Although the schedule had to be adjusted due to COVID-19, the audition program is finally set to be broadcasted in Japan in 2022.
The broadcast will be streamed worldwide through its YouTube channel. We plan to provide tireless support to the four members who are working hard to prepare for their debut and the new members who will join them through &AUDITION so that they can grow into world-class artists as a global boy group. HYBE Japan has been building its very own artist training system, music production, management and marketing capabilities in Japan under its former name Big Hit Japan for four years now. In addition to this, we are developing businesses optimized for Japan from platform businesses such as fan cafe management to artist IP-related businesses like spatial businesses, MD businesses, and copyright management. HYBE Japan, along with Korea and the United States, will continue to serve as HYBE's main global hub and independent label, showcasing the best artists and strengthening HYBE's identity as a global company through global development of solutions and platform businesses. So with that, I think it's time for me to turn it over to the future artists that I'm sure you can't wait to meet.
It's said that we live in an unpredictable age. As technology develops, the world is changing with unimaginable speed. Jiwon, how do you think HYBE is preparing for the future in these unpredictable times? Today, we talked about a wide range of businesses and music, and I think the phrase "boundless expansion" I spoke about earlier really begins to resonate. The absence of boundaries, in other words, means that new possibilities exist inexhaustibly. That's why HYBE is preparing for a variety of music-based projects that are not limited to a specific industry area.
I think this kind of limitless imagination and fearlessness is how the HYBE prepares for the future. It's true. In an "boundless" era, where no single predetermined direction is the right answer, more collaboration and communication is necessary, and in the process, new businesses, content, and services are born.
The more we do this, the more we must not forget the essence of "why we do it." We have to think intensely about the new world these changes will bring. Only then, can we eventually create meaningful and valuable content and services for others that fill their daily life with joy. I think what we shared today are the outcome of what you've just mentioned.
I believe some of you may be surprised by the news we've shared with you today, so I'm sure you're wondering when we'll be unveiling content and services for you to experience firsthand. The new projects we've mentioned today will all be in full swing by the end of the year at the earliest, or early next year at the latest. After that, I'll be thinking hard and challenging myself to bring you more amazing news. Si-Hyuk, should we say our goodbyes now? Yes, we should.
Thank you for taking the time out of your precious day to stay with us till the very end. It is because of you that we are able to change, grow, and expand constantly.
2021-11-05 18:25
Show Video
Other news