2019 Nissan Murano: FULL REVIEW + DRIVE | Even More Style & Luxury for 2019!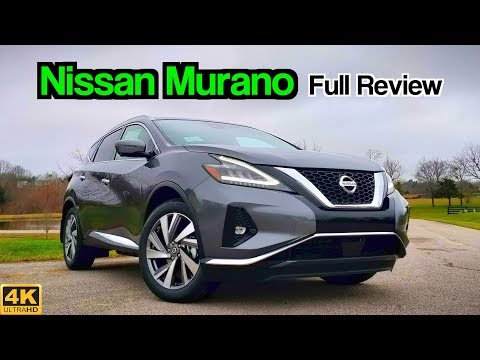 Show Video
Good. Morning people of YouTube. We've. Always liked the stylish, design, of the Murano so, we're happy to bring you one of the first reviews, of the newly refreshed 2019. Model this. Has always been a very popular, product for Nissan and these changes are designed to further elevate, the upscale feel. Of. Course we do an especially, thank our friends, at gates Nissan for providing us with this 2019, Murano and if. You're in the market for any new Nissan be sure to stop by their dealership, or visit, them on their website which we provided a link to in the video description so. With, all that said let's get to checking out the 2019. Changes. So. Starting with the exterior this. Is definitely the place where Nissan has done most of the work, now. Initially it won't seem like much has changed but. When viewed side-by-side. With the old model you'll, see that nothing from the front has carried over the, grill, itself is now made from a flat chrome beef filled, in with a honeycomb, texture, and then, the black area around the grille now goes down a lot further than it used to. Finally. There is also a chrome bar that goes across the, entire bottom. The. Headlights also haven't significantly, upgraded since. They are now fully, LED, across all the trims as opposed, to only the platinum last year, the. Overall shape is similar but, everything, just looks a lot more premium, especially. The daytime running light and, then. At the bottom SL, and platinum will also have LED, fog lights. Now. It is worth mentioning that none of this front changes, between the trims and at. Least for now there, is no mid night addition. Moving. On to the side nothing, here has changed so, it continues to look very unique, one. Of those unique elements, is the floating, roofline that, leads straight into the brand-new LED, tail lights just. Like the headlights they are now standard, across the board and look a lot more premium, than last year, and.
Then. At the bottom you'll continue to find dual exhaust outlets. So. Overall despite, the relatively, small changes, they, make a big difference in making the Murano look more modern and upscale, than ever before. Now. One thing that will look familiar to you on most trims are the wheels the. Lower two trims continue, to come with 18 inch alloys, and these, cool 20 inch contrast, alloys have moved down from the Platinum model, to the SL, trim. However. The platinum, trim does now get its own unique, 20, inch wheel this year. Checking. Out the mirrors they are always body-colored, power, adjusting, and also, heated, on the SL and Platinum. Blind. Spot monitoring is standard on all but the base model, with the indicator being, located inside the cabin. And. As far as all the other safety equipment Murano. Continues. To have a ton of it, you're. Looking at standard, automatic emergency braking on, all trims the. BSM with rear cross-traffic alerts. Starting, on SB, and adaptive. Cruise control on SL. Finally. The Platinum trim or SLE with tech package adds Lane Keeping Assist pedestrian. Detection Auto, high beams and, rear auto braking, and. Finishing. Up the outside all Muranos. Have a nineteen, gallon fuel tank which, is good for a fuel range of 437. Miles as equipped. It. Does use regular, unleaded fuel. Anyways. That's it for the changes, to the bold exterior so, now let's see what Nissan, has done with the cabin. So. As with most Nissan's, you do have standard, smart entry here on the Murano and you. Will find remote start on all but the very base trip. Now. We get inside the vehicle itself, there is no sensor, behind the door handle so you just press the button. Alrighty. So checking out the cabin, of the 2019. Murano as you, can see there's not been a big change to the design itself, but, instead refinements. To the material, selection, now. As far as all the different choices you've got you've, got three, different color schemes three, different seating materials, and three different trim pieces to choose from so, starting out with your colors you've got cashmere. Graphite. And mocha. And. Then, for your seating s and, SV will have cloth seats, this. SL comes, with real leather seating and, then. Now on the Platinum, you have an exclusive, quilted. Semi-aniline, leather for, the seating and it'll. Ask me for your trim pieces you have this silver trim a light, wood, trim or a dark, wood trim reserved for the Platinum only. Now, turning over here to the door trim it is very nicely appointed you, have a generous use of leather through here with a really nice-looking double. Stitched area. Through the armrest, you've. Got some of that faux. Wood trim right through here and all the other areas are soft touch. As. Far as the windows they are one touch automatic up and down for your driver and passenger, and then. On SL, and platinum you will find two person memory seating. Come. Over here to the seat it is 8-way power adjustable to, whale umm bar on, all that the bass s where, you have a six-way, manual, seat.
And. Of course like I already said this is real leather here on the SL has. A really premium feel, just like in a luxury vehicle and, if, that's not even enough of course like I said you've got the Platinum with the semi-aniline, leather, and. That's something you never see on vehicles, without a luxury, tag, on the front so that's, really impressive. So. The Murano has always had a really high-quality cabin, for a mainstream vehicle, and, that continues, for 2019. And. So on all of the upper - you've got a soft touch material, except for over the gauges here where you actually have a leather material, with a really nice stitching detail. Like. I said you got three different types of trim through here which is a faux aluminum, or some faux wood and, then. All this area is also soft touch. Finally. Down here at the bottom you, have a big swath of leather through here with stitching gives you a nice place to rest your knee against, so. All in all really, good materials, and everything fits together very nicely. Now. Start that Murano you do have push button start standard, on all the trims. When. You fire it up you will see an 8 inch touch display, on, standard, across all the trim levels. And. Checking out your gauges this premium set up dust comes standard across all trims as well this. Is a 7-inch central display for your driver and, it controls all different, types of functions that you expect like your drive computer, fuel economy. Including. Your safety systems, and like, your speed limit detection, as well I. Think. Coming back to the steering wheel of course, you do have electric power steering and you will find the leather wrap steering wheel, on all but the very base model. Up. Here you've got your various, phone and voice commands, as well as for your multi information display and, then, on this side since we have the tech package we do have adaptive, cruise control. The. Wheel itself is manually tilt and telescoping, on all but the Platinum we're at is power, however. On, both the SL, and platinum we do have steering wheel heating. Now, moving on to storage of course this is a crossover so it's very important to be practical, and the Murano does a really good job.
It's. Opening up your center console, here, as. You can see you've got a couple different tiers so you can keep things up close to the top and then, right next to it you've got a really deep area goes all the way down and there is a removable, pad down there at the bottom. Additionally. Outlet. As well. In. Front of that you've got your two cupholders and, another, big area to stick stuff. And. Then dropping down you've even got some storage that runs along through here. Well. Down here does give you a good view of the ambient, lighting which comes on SL and platinum and. That is also underneath, of your door handle, as well so, really nice looking. And. I do also want to mention your connections. Over here since you now have a USB, type-c, in addition. To your traditional USB. Port 12 volt outlet and aux jack. Now. Coming back to the shifter, this. Is pretty much the same as last year so it's just an easy to use traditional shifter. You, can bump over here to the left to shift manually, however, no, Murano comes with paddle shifters. And, then when you go into reverse on SL. And platinum you're gonna find Nissan's excellent, around view monitor. This. Course is the same as you've seen in other Nissan, and if they're new products you've got your traditional view, over, here on the left as well as your 360, view on the right and it, does have a moving object detection with, parking, sensors on all the sides so. You can tell when there's, any objects around additionally. The, mirrors do tilt down when it reverse to help you see the parking lines better. Now, moving back from the shifter here on the SL you will find two's mode heated, seats these. Are standard on both SL, and platinum optional. And SV however. To get seat ventilation you, have to go for the platinum. But. As far as all the rest of the climate controls these, are dual zone automatic across. All four of your terms, it's. A very simple setup to use that you can see you got your, two. Large knobs to control the temperature. For. Both sides as well as your traditional physical controls, for everything else down here and one easy-to-use place. And. Now that brings us up to our audio system, so, NSO and platinum you have an 11 speaker, Bose premium audio, system, so. We'll go ahead and take a list of the bet. Sound. Quality of this system is excellent, you can definitely tell that it's shared with a lot of Infiniti, models. But. Anyways that now brings us to our Nissan, connect system. Here so let's go ahead and take a quick look at that, alright. So this is the newest, Nissan, connect system. Same, as all the other Nissan products you've got your home screen, where, you can lay out different, apps as well as the widgets kind of like an Android phone so that's unique from a lot of other systems, you. Can of course click into these different widgets to expand, them so, here on our Bluetooth audio we can't play and pause the music straight from here you, can also click the source button to see all the various other sources available. There. Are shortcut buttons alongside clean. Your home button at the top and then. There are duplicate. Shortcut, buttons along the bottom as well. And. Over here we have navigation. On the SL, trim and the Platinum trim which is a little bit different, than last year since all four, of the trims have navigation.
However. Nevertheless, I all, four, of the trims do have Android auto and apple carplay so, regardless of whether you have the integrated navigation you, can still navigate with, Apple, or Google Maps. But. As far as the actual navigation, map itself by, it is reasonably, detailed very, responsive. And, looks pretty nice, well. It's pretty much the nissanconnect system, in a nutshell however. We do have a much more detailed tech, help video available if you want to learn more a length, of that video is provided in, the description. Moving, on up you will surprisingly, find an auto-dimming mirror with homelink universal. Remotes on all but the base model, and. Then, our model also comes with the panoramic. Moonroof, now. This is standard only on the Platinum however it can be added to both the SV, and SL, optionally, our, model comes through the technology, package as. You can see it isn't really big and, this, front portion does open up just like a traditional. And. You. Do have a windscreen as well. But. Overall I've always, been impressed by the Muranos interior, it's, a very luxurious space, and it gives you really a lot more luxury. Than a lot of the rivals do. Nissan's. Always claim that this competes, with the Lexus, RX more, than any other model and based. On the changes they've made for 2019, I'd say that's more true than ever. Now. I'll go ahead and hand it off to Mason who will finish up the rest of the video. So, in the back of the Refresh 2019, Murano you're gonna once again find a large amount of space you'll. Find 39 inches of rear legroom and 40, inches of rear headroom that. Does make it a little less than the Ford Edge, but it's larger than the Lexus RX. Now, coming over here to the door trim it is really nicely appointed, so you do have a leather armrest, with a really nice stitching detail going through here and you, do have some more of that silver trim as well as a nice door handle now. Down below you do have a fully automatic or, auto down window and you. Do also have a, duck course the door storage with a bottle holder. Now. The seat itself is a very comfortable design it is even perforated, here in the rear and it can also recline. Now, here in the center you will find that the Murano SL is loaded to the gills with features so. Up top we do have a little bit of a storage area and down, below that you will find two state heated rear seats on, the SL and Platinum trims which, is really nice for a chilly day like today now. In addition to that the 2019, refresh, adds the, USB type-c port, and there is an additional smart charging USB, now. Down below that we do also have some vents and it. Is outlined in Nice silver trim so it looks really nice. In. Addition to that we do have a nice armrests slow. The raft and it does have cup holders and storage at the end. And. Up, top we do also have the panoramic, moonroof which is a really nice touch really, helps air out the cabin and beside. That you do have some lighting which is LED now as, well. As an assist repent code book. Now, like I said this car comes in middle of the pack when it comes to space and, that shows behind drew seating position I have. Probably about a foot of legroom. Between my knees in the seat back with the seat adjusted to Drew and, my feet can't easily slide up under the seat and. Moving, over, even. With the seat scooted all the way back I still have a good 5 inches of rear legroom. But. Overall I'm super, impressed with the Nissan Murano s receipt I have, been since it came out in 2015, and this, rear seat just has all the luxury features, you could ever want and imagine and it really feels like a luxury car back here except, it's not at the luxury car price tag. Now, to fold the seats just grab this little strap. It. Will fold right down. Now. Heading around to the tailgate, it is hands-free power on the SL and platinum trims so, just wave your foot under the bumper and it will open right now.
Now. Once inside the morano's trunk you're going to find a lot of space again you'll, find 32, cubic feet behind the second rough seats and it expands to 67, cubic feet with the folded all the way now. That is significantly, larger than the Lexus RX but, it is once again a little smaller than the Ford Edge, now. Nissan does give you some handles, back here to fold the seat back so you can do it 3 as well and as. You can see it does give you a nice little flat loading floor. Now. Under the cargo floor here it. Is kind of hard to pull up you. Will find a spare tire and, it. Is really nicely finished back here with the carpeted floor mats. We'll. Talk about the pricing, here in a minute. Passenger. Sees that beautiful, design again and it, is also for white power adjusting, on all but the very base estimate. Now. In front of the passenger we do have really nice materials, so, you do have a padded dashboard, you have some silver trim and it does connect to the door which is a really nice touch and down. Below that you will find a nice glove box that is really nicely dampened, and it, is also a felt line. Now. Above that we do have a Sun Visor with. A mirror and light and. It does also detach, and, extend. Well. Guys that pretty much sums up all I'm going to talk about for the rear areas but, now let's go ahead and get to the powertrain and do a quick test drive. All. Right so let's go ahead and talk a bit about the morano's powertrain, this is one of the areas that hasn't really changed from last year much at all you've. Still got Nissan's, venerable. Three, and a half litre vq, v6, and. That continues to produce the same power which is 260, horsepower and, 240. Pound feet of torque, power. Is put to the ground we have the front wheels or optional, all-wheel drive and then. You continue to have the continuously, variable transmission. With, the D step logic, to simulate gear, changes. Finally. We don't have full EPA, 2019. Year ratings yet, however. This specific, model is rated, at 20 city 28, highway, 23 combined.
Which. Is a 1 mpg, combined, decrease, from the 2018 Murano, I was in but, like I said I don't know exactly if it were varies by trim this year, but. Anyways we'll go ahead and take it on a quick test drive right. Off. The bat you got I love that VQ, startup yes. Always. Been a fan. All right so sitting off the 2019. Murano. Initial. Takeoff is pretty good it. Definitely feels, responsive. Really, sounds great too. So, right off the bat I can already tell that the. Steering. And the handling, are, good. You. Know this, is a two row however. You know it's sized, pretty. Large it's a it's a large vehicle and. You. Know this definitely feels a lot tighter a lot more button down and the steering is a lot, more responsive, and you can see it really responds, quickly there's no dead spot or anything like that, so. Definitely. A lot better than I was expecting actually. Also, some rough spots here, on this road and. It, definitely seems to be taking the bump really well. As. Far as your a Nissan, xtronic, CVT like, I said it does have the D stop logic, system so, you've got simulated, gear changes now. It's not exactly, the same as like the in the newest products like the 2019. Altima. That I drove about a month ago. So. There's, not exactly like a kick sensation. Of a gear change what. You do have the audible, and visual, variation. Of the RPMs, to still make you seem, as though you're. Shifting. In. The ultimate you would do it at all times and the, older-style it would do it under hard acceleration. So. This is the older stuff so it will do it under harder acceleration. There. Is no auto start/stop, system on, this vehicle if you were wondering. You. Know that's a, pro. For some of you guys if that's something that annoys you which I know from comments, that some, people don't like the auto start/stop, system so, there is not one on this, vehicle and there are a lot of brands that will not even allow you to disable, it if you dislike it. I've already touched on briefly but, this road. Is. Pretty rough, now. You know for a car that claims, that it. Competes at the Lexus RX you've got to have really, good ride quality and. I am happy to say that it does. There's, this, road as rough like I said and. It is handled everything expertly. It. Really does right like a luxury, car in here yes, the seats are super, comfortable and it's, also very quiet, you, know you have not only the refined white ride but you also have a very quiet cabin and it's, a very luxurious experience, through and through because your seats are comfortable and everyone. If, you have a family is going to be really have, enjoy, the nice ride of this car. You, have power in this is definitely, adequate, for a vehicle like this. You, know idiots of the speed, perfectly. Fast it. You. Know it doesn't make a bunch of terrible noises, or anything like that it's. Actually as I already said. Might. Just be a personal thing but I like the BU the way it's a nose so. That's a pleasurable, in that respect. Almost, has a little bit of a recipe sound to it it's. Not like all the other 3.5. Liters. But, overall I've really enjoyed the, way that the Murano drives. I, didn't. Really know what to expect you know like. The rogue for instance is not really all that sporty. And. This is not like really, sporty or anything but I was impressed by the way it handles has, really, it. Has a tight, fast. And accurate steering and, you. Know going around corners, and stuff it feels pretty button-down, it doesn't feel as big as it is and. Of, course there's just so luxurious, you know so it really it's a good balanced package that gives you all.
The, Luxuries, you know it's as well-equipped as a luxury, vehicle. Well. Guys we hope you enjoyed watching the first in-depth, look at the 2019. Nissan. Murano SL. Stay. Watching for a booth of pricing, and don't, forget if those like and subscribe buttons below we'll. Catch you next time as we same for more of the latest automotive delicacies.
2019-01-06 17:28
Show Video
Comments:
Other news